Looking for the best places to visit in Mexico? You're in the right place! I've traveled all 32 states of Mexico and here are my 50 favorites.
As a big country, deciding the best places to visit in Mexico is hard. Travelers always tend to lean on visiting famous destinations like Cancun or Tulum, but I know many of you are looking for other ideas.
Most of the destinations in this list are not commonly visited and have fewer tourists. If you need help visiting these places, I have included all the individual travel guides for each destination.
I also arrange trips for travelers, so get in touch if you want me to plan your trip! Welcome to Mexico, and let me know if you have any questions!
Plan your trip to Mexico with us! Get expert travel advice and customized trip-planning itinerary from our local experts on the ground.
🗺️ Map of places to visit in Mexico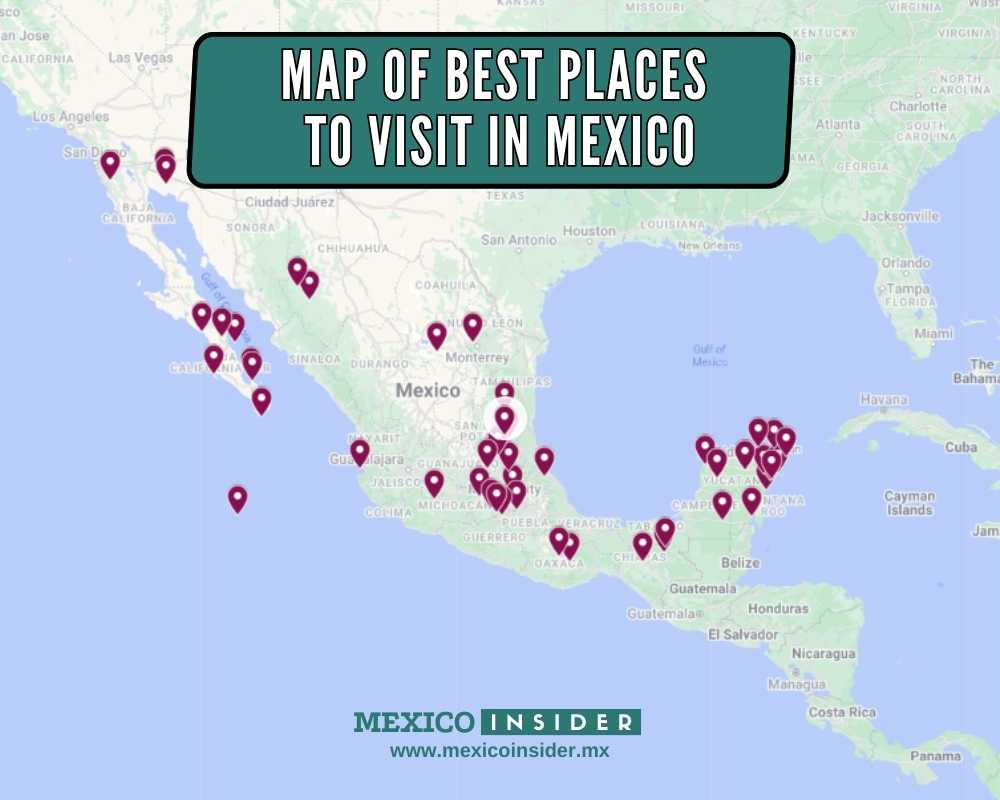 🇲🇽 Best places to visit in Mexico
1. Teotihuacan Pyramids
Teotihuacan Pyramids, located just outside Mexico City, is an ancient city known for its massive pyramids, the Sun and the Moon.
With a history dating back to 100 B.C., these structures stand as testament to a powerful Mesoamerican civilization.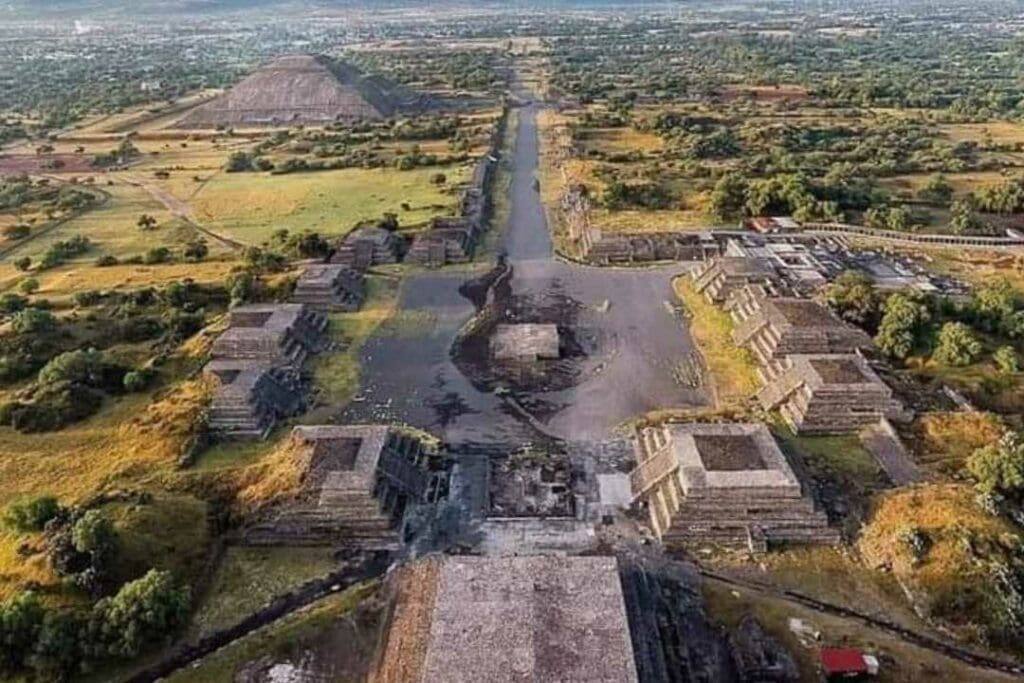 This UNESCO World Heritage Site offers a mesmerizing journey through time.
Walking the Avenue of the Dead and climbing the Pyramids gives travelers an unparalleled insight into pre-Columbian cultures and the mysteries they've left behind.
🚍 How to get to Teotihuacan Pyramids: From Mexico City, one can easily join a guided tour or take a direct bus from the North Bus Terminal (Terminal de Autobuses del Norte) to Teotihuacan.
2. Sumidero Canyon
Sumidero Canyon, carved by the Grijalva River in Chiapas, features colossal cliffs that rise dramatically over the water.
This natural wonder showcases a unique biodiversity, rich history, and spellbinding viewpoints.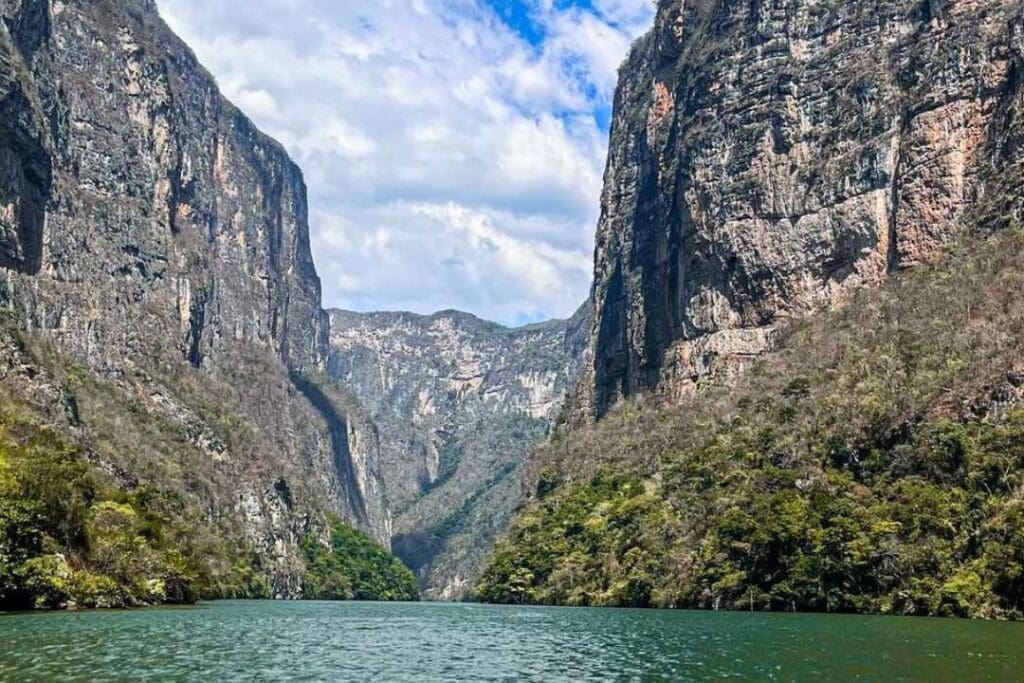 The breathtaking views and ecological diversity make it a must-visit. Boat tours offer a close-up look at the towering rock walls, and if lucky, visitors might spot crocodiles, monkeys, or numerous bird species.
🚍 How to get to Sumidero Canyon: The easiest way to reach Sumidero Canyon is from Tuxtla Gutiérrez or San Cristóbal de las Casas in Chiapas, where guided tours or local transport options are available.
3. Copper Canyon
Situated in the Sierra Madre Occidental in Chihuahua, Copper Canyon is a series of six distinct canyons. Its vastness and depth surpass that of the Grand Canyon in the U.S.
For nature lovers and adventure seekers, Copper Canyon offers hiking, horseback riding, and the famous El Chepe train journey.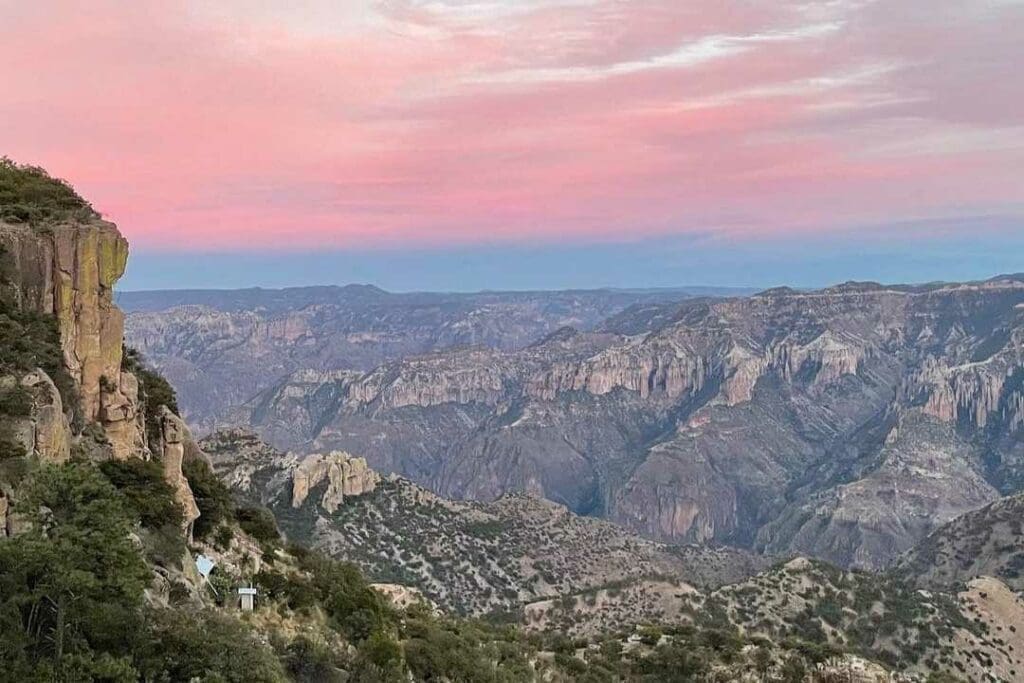 Its panoramic views, traditional Tarahumara inhabitants, and unique landscapes make it a top destination.
🚍 How to get to Copper Canyon: The most popular way to experience Copper Canyon is aboard the El Chepe train, which runs from Los Mochis to Chihuahua.
4. Agua Azul Waterfalls
Agua Azul Waterfalls in Chiapas is a series of cascading waterfalls running through lush greenery, famous for their vibrant turquoise waters due to their high mineral content.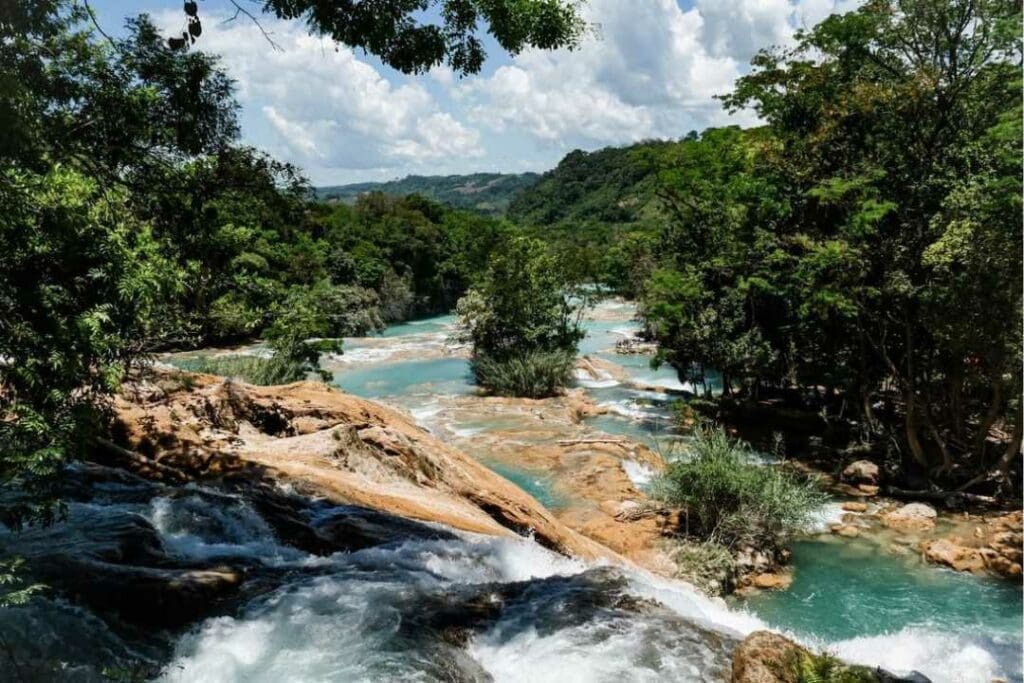 These falls are ideal for a tranquil escape surrounded by nature's beauty. The terraced pools make perfect natural swimming spots, offering a refreshing dip amidst breathtaking views.
🚍 How to get to Agua Azul Waterfalls: Agua Azul is accessible via a day trip from Palenque or San Cristóbal de las Casas, either by guided tour or local buses.
5. Palenque Archaeological Site
Nestled in the tropical jungles of Chiapas, Palenque is an ancient Maya city, famous for its well-preserved temples and inscriptions that provide a deep insight into the Maya civilization.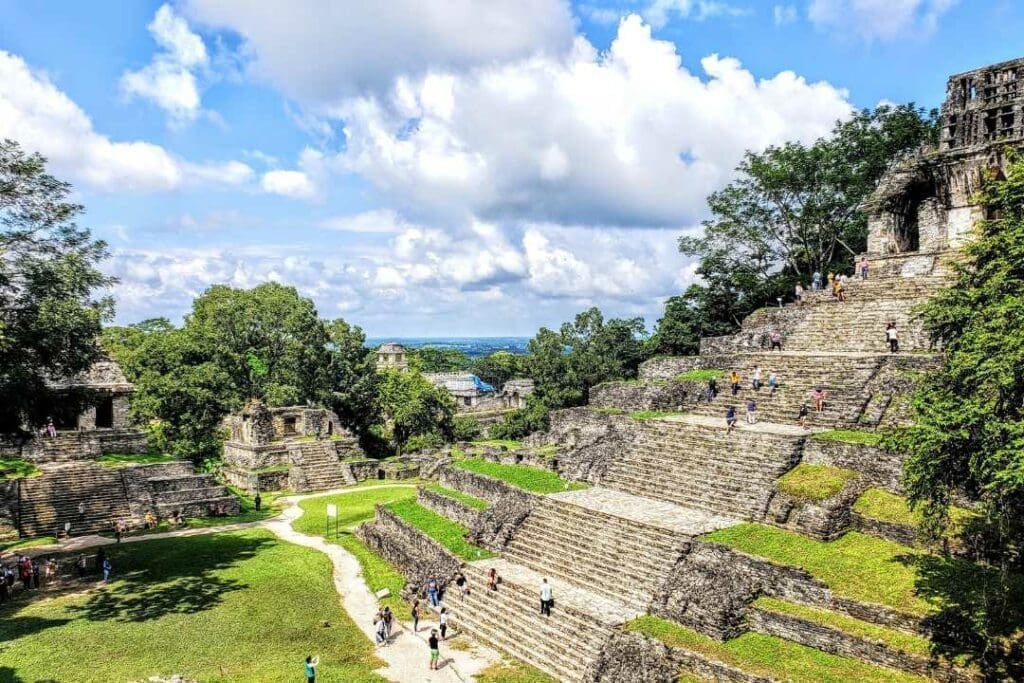 The site's intricate architecture and carvings combined with its jungle backdrop create a captivating atmosphere. Palenque provides a unique chance to explore Maya history amidst nature.
🚍 How to get to Palenque Archaeological Site: Palenque is easily reachable by bus from major cities like San Cristóbal de las Casas or Campeche. The nearest airport is in Palenque town itself.
6. Sian Ka'an Biosphere Reserve
Sian Ka'an, which translates to "Gateway to the Sky," is a sprawling biosphere reserve in Quintana Roo. It boasts tropical forests, mangroves, marshes, and a large marine section intersected by a barrier reef.
Recognized as a UNESCO World Heritage site, it's a haven for biodiversity. Nature enthusiasts can spot diverse wildlife, from jaguars to dolphins, while exploring serene landscapes.
🚍 How to get to Sian Ka'an Biosphere Reserve: Located near Tulum, travelers can take guided tours from the town or rent a car to drive to the reserve's entrance.
7. Hierve el Agua
Hierve el Agua, located in Oaxaca, is a set of natural rock formations that resemble cascading waterfalls. The site features mineral-rich springs, creating petrified "waterfalls."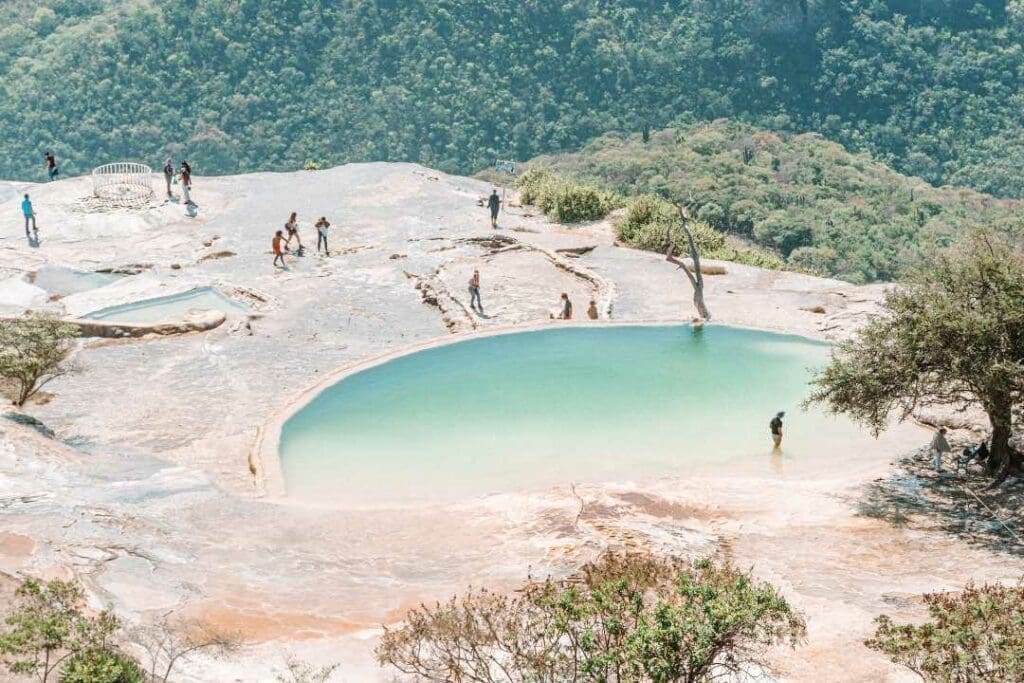 Beyond its unique geological formations, it offers mesmerizing panoramic views of the valleys below. The mineral pools are perfect for a rejuvenating dip.
🚍 How to get to Hierve El Agua: Book our guided tours from Oaxaca City. Alternatively, take a bus or colectivo to Mitla, followed by a local taxi or truck to Hierve el Agua.
8. Chichen Itza
Chichen Itza, situated in Yucatán, is one of the most famous Maya cities. Its iconic structure, El Castillo or the Pyramid of Kukulkan, stands tall amidst a vast archaeological site.
As a UNESCO World Heritage Site and one of the New Seven Wonders of the World, it's a testament to the astronomical, architectural, and cultural brilliance of the Maya.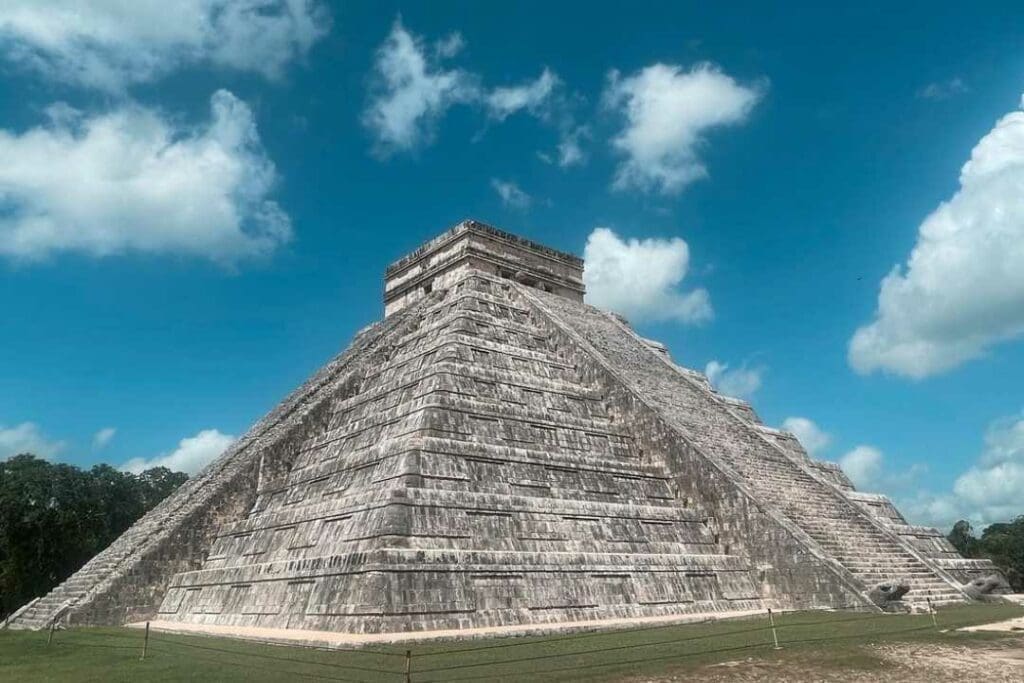 🚍 How to get to Chichen Itza: Easily accessible by bus or guided tours from Cancún, Mérida, or Playa del Carmen. The closest town is Valladolid.
9. Monte Alban Archaeological Site
Overlooking Oaxaca Valley, Monte Alban was once the capital of the Zapotec civilization. This archaeological site boasts terraces, pyramids, and ancient stone carvings.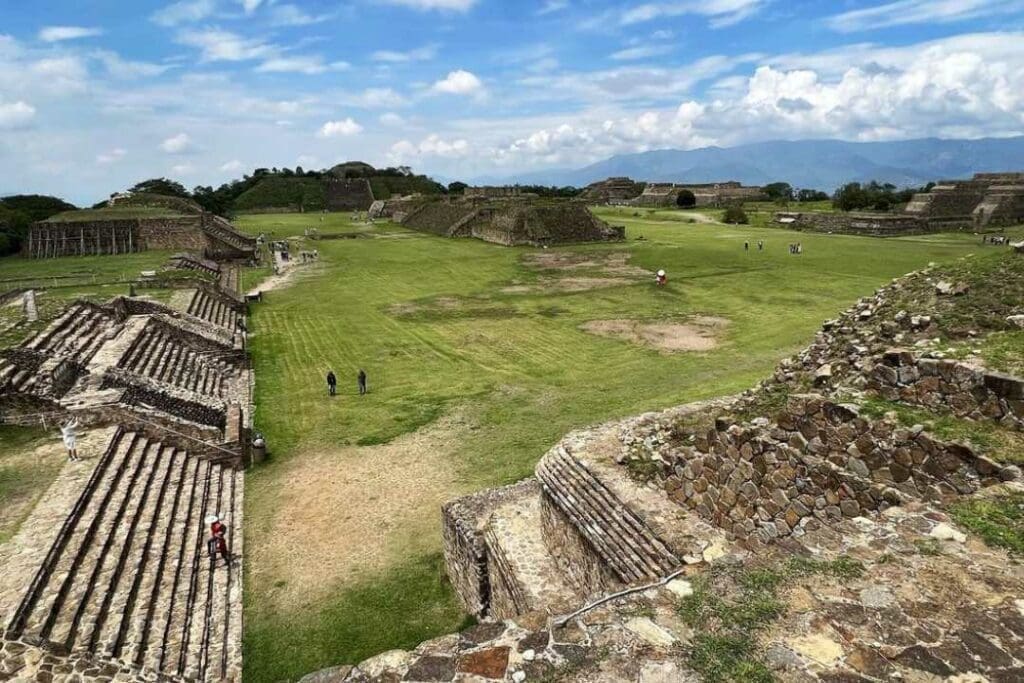 It's a powerful glimpse into Zapotec culture and offers a unique panorama of the valley below. The site's glyphs and carvings provide invaluable historical insights.
🚍 How to get to Monte Alban Archaeological Site: Regular buses and guided tours operate from Oaxaca City, a short 10 km journey to the site.
10. Tulum Ruins
Tulum Ruins, perched on a cliff along the Caribbean Sea in Quintana Roo, are the remnants of a pre-Columbian Maya walled city.
Tulum uniquely combines archaeological wonders with stunning sea views. It's a blend of history, culture, and nature, with the turquoise sea providing a picturesque backdrop.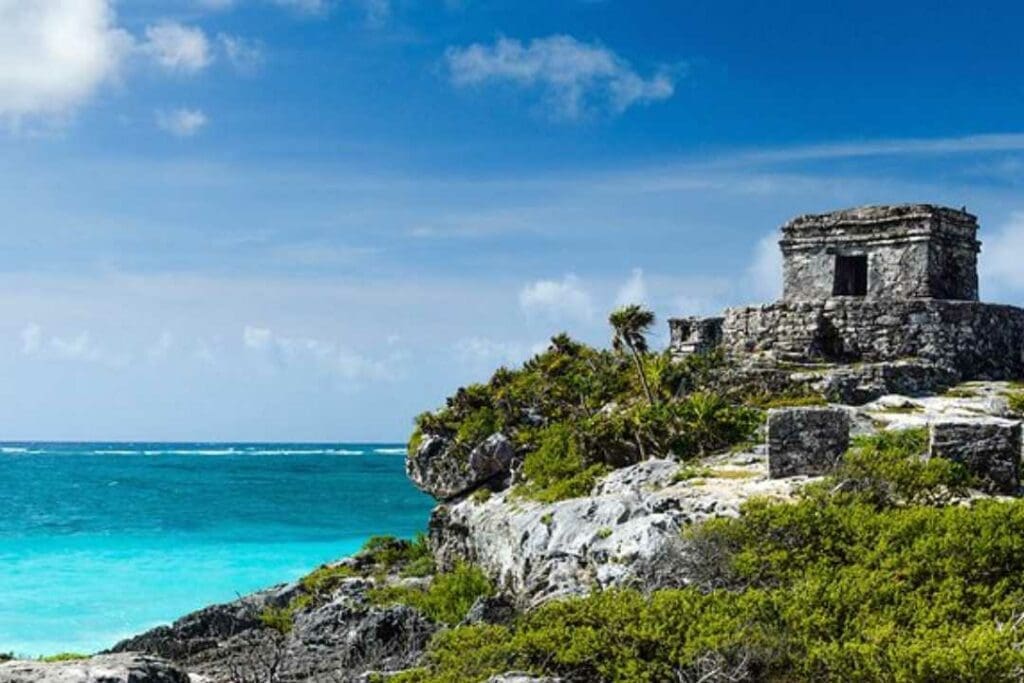 🚍 How to get to Tulum Ruins: Accessible by bus or colectivo from Playa del Carmen or Cancún. The ruins are located a short distance from Tulum town.
11. Coba Ruins
Coba, nestled in the Yucatán jungle, represents a once-thriving ancient Mayan city. Its vast grounds are interconnected by white stone pathways, with Nohoch Mul Pyramid being its tallest structure.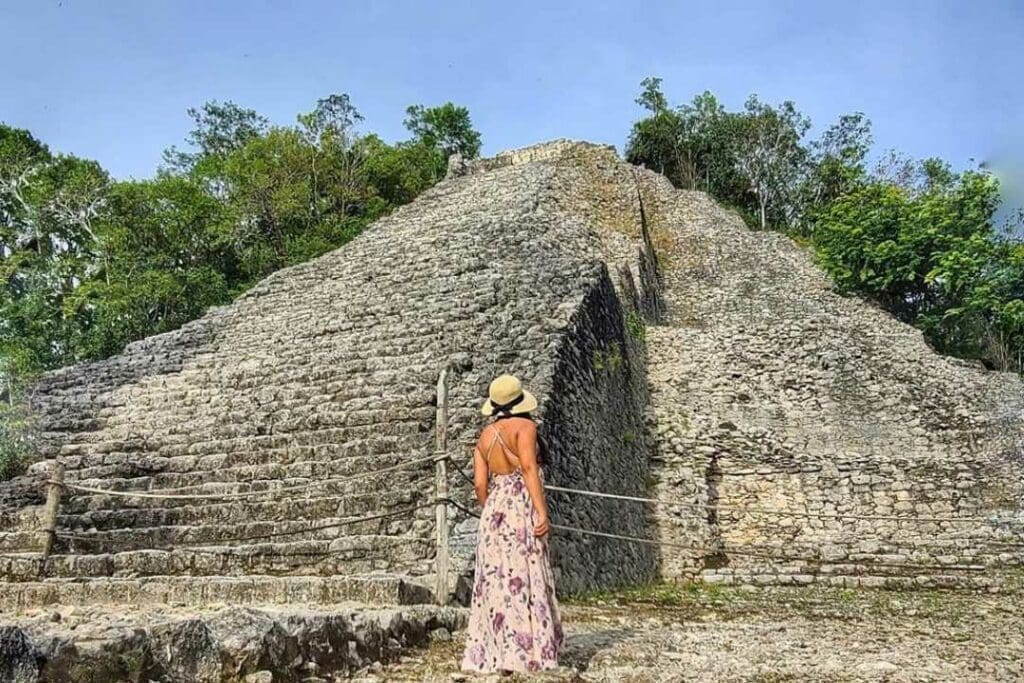 Unlike other archaeological sites, Coba retains a wild, untouched aura. Climbing Nohoch Mul provides a panoramic jungle vista, highlighting the city's impressive urban planning.
🚍 How to get to Coba Ruins: Buses and colectivos run from Tulum or Playa del Carmen. Guided tours are also popular and widely available.
12. Espíritu Santo Island
Located in the Gulf of California, Isla Espíritu Santo is an uninhabited island characterized by turquoise waters, rich marine life, and striking rock formations.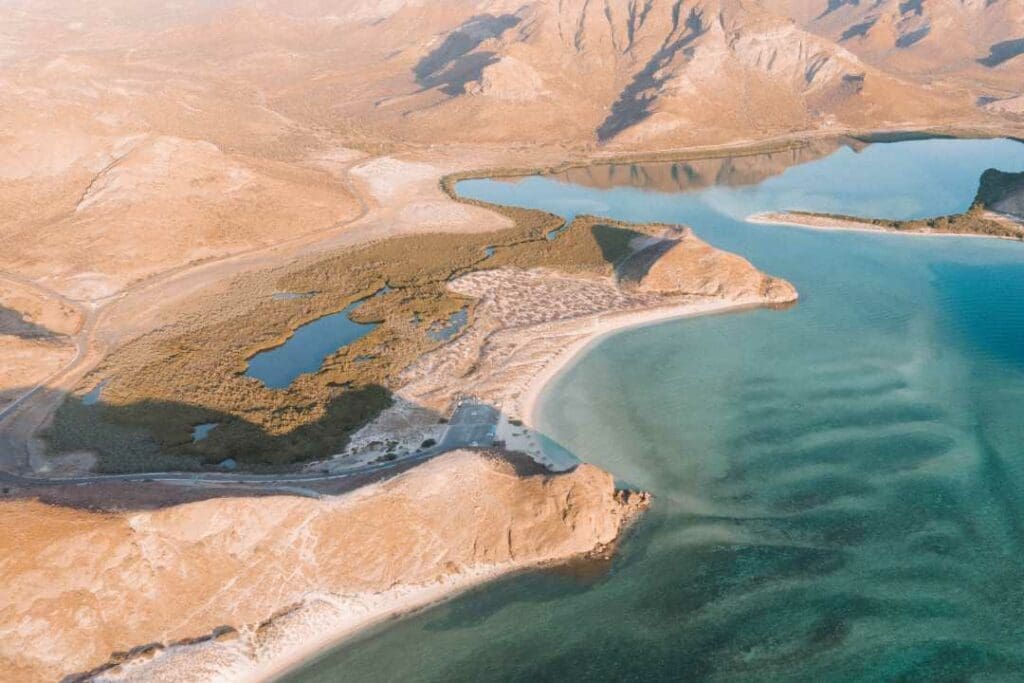 Designated as a UNESCO Biosphere Reserve, it offers pristine snorkeling and diving spots, making it a paradise for underwater enthusiasts keen to explore vibrant coral reefs and interact with sea lions.
🚍 How to get to Espíritu Santo Island: Depart from La Paz in Baja California Sur via boat tours, which usually include guided trips around the island and marine activities. [Book Espiritu Santo Island Day Tour]
13. Xcaret Park
Xcaret Park, situated in the Riviera Maya, is an eco-archaeological theme park. It seamlessly blends Mexico's rich cultural heritage with its abundant natural wonders.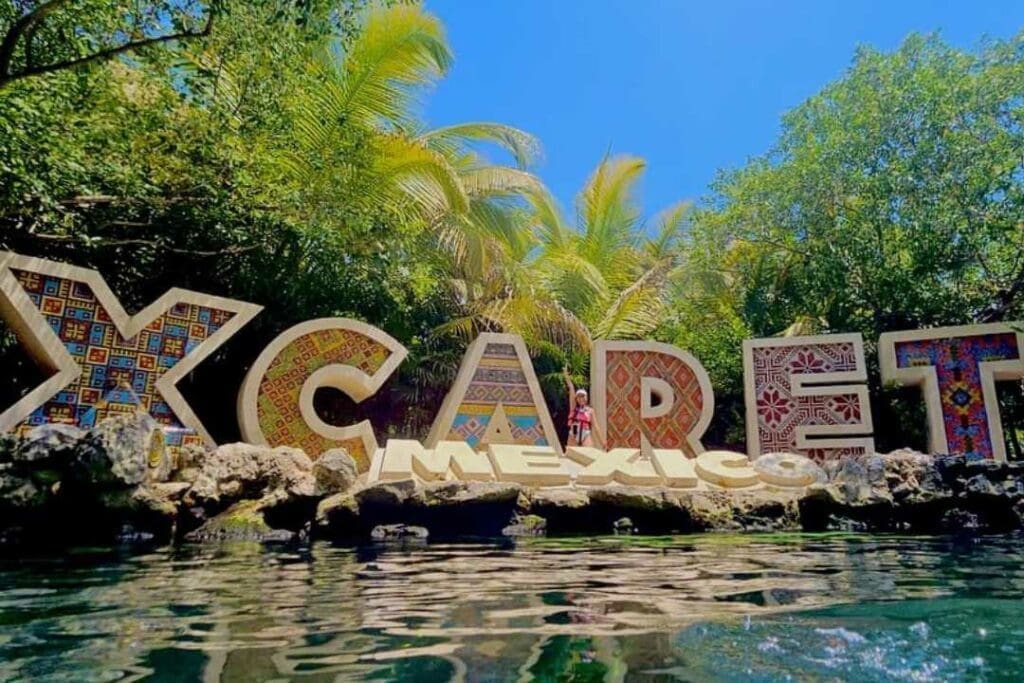 With underground rivers, traditional Mayan villages, wildlife encounters, and cultural shows, it provides a comprehensive experience of Mexican traditions and natural beauty in one place.
🚍 How to get to Xcaret Park: Easily accessible by car or bus from Cancún and Playa del Carmen. The park also offers its own transportation services.
14. El Rosario Monarch Butterfly Reserve
Located in Michoacán, El Rosario is the most famous sanctuary within the Monarch Butterfly Biosphere Reserve. Every year, it witnesses the awe-inspiring migration of billions of monarch butterflies.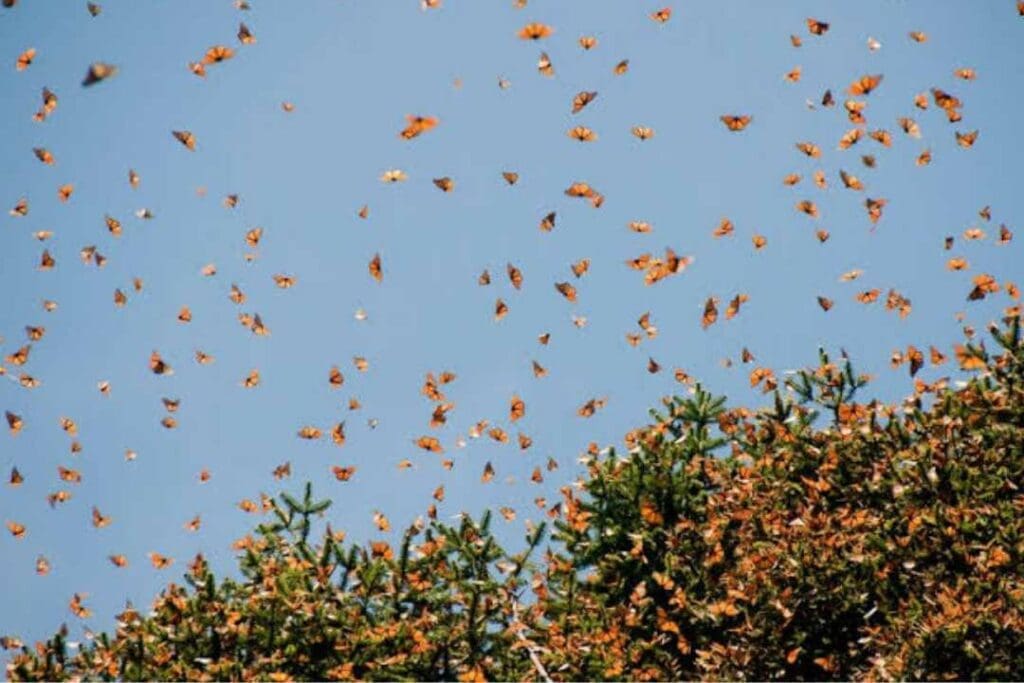 Here, you can witness the magical spectacle of countless butterflies clustering on trees is an unforgettable experience, a vivid display of nature's wonders.
🚍 How to get to El Rosario Monarch Butterfly Reserve: From Morelia or Mexico City, buses run to Zitácuaro. From there, take a local bus or taxi to the reserve.
15. El Tajín
El Tajín, in Veracruz, is an ancient city known for its unique architectural style, particularly the Pyramid of the Niches.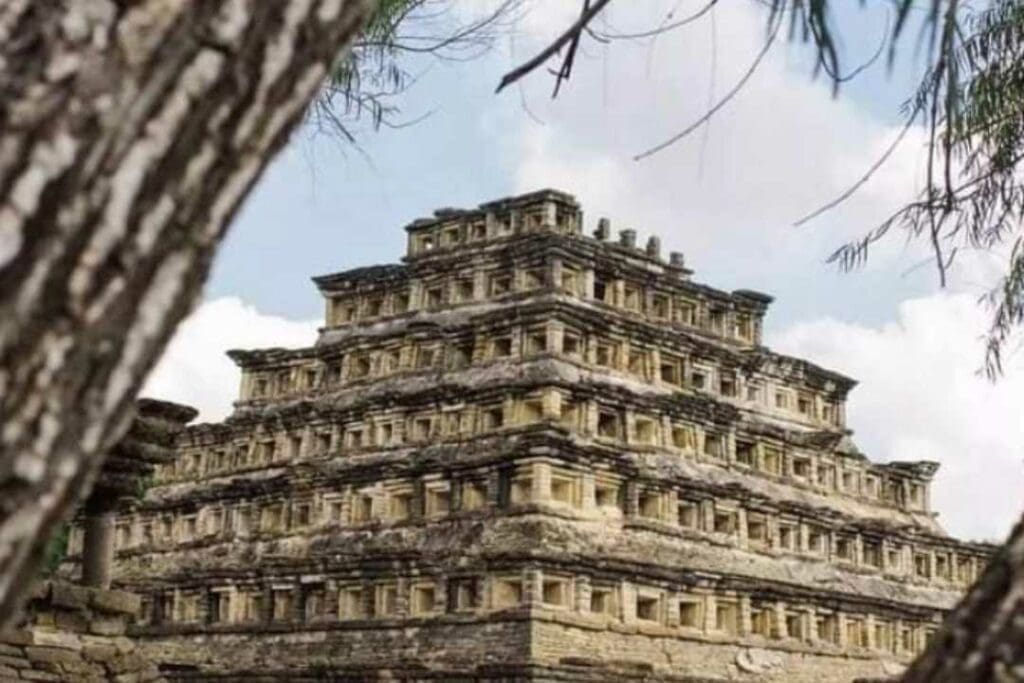 As a UNESCO World Heritage site, it offers a glimpse into the Classic Veracruz culture. The architectural intricacies and the famous ball court are standout features.
🚍 How to get to El Tajín: Accessible by bus from Poza Rica or Papantla. Many tourists also opt for guided tours.
16. Marieta Islands
Off the coast of Nayarit lies the Marieta Islands, a group of uninhabited volcanic islands known for their diverse marine life and the famous Hidden Beach.
A result of volcanic activity, their unique geological formations, coupled with rich biodiversity, make it a prime spot for snorkeling, diving, and witnessing dolphins and humpback whales.
🚍 How to get to Marieta Islands: Boat tours depart regularly from Punta de Mita or Puerto Vallarta. [Book Marietas Islands Tour from Sayulita]
17. Mesoamerican Barrier Reef
Stretching across the coasts of four countries, the Mesoamerican Barrier Reef is the second-largest coral reef system in the world.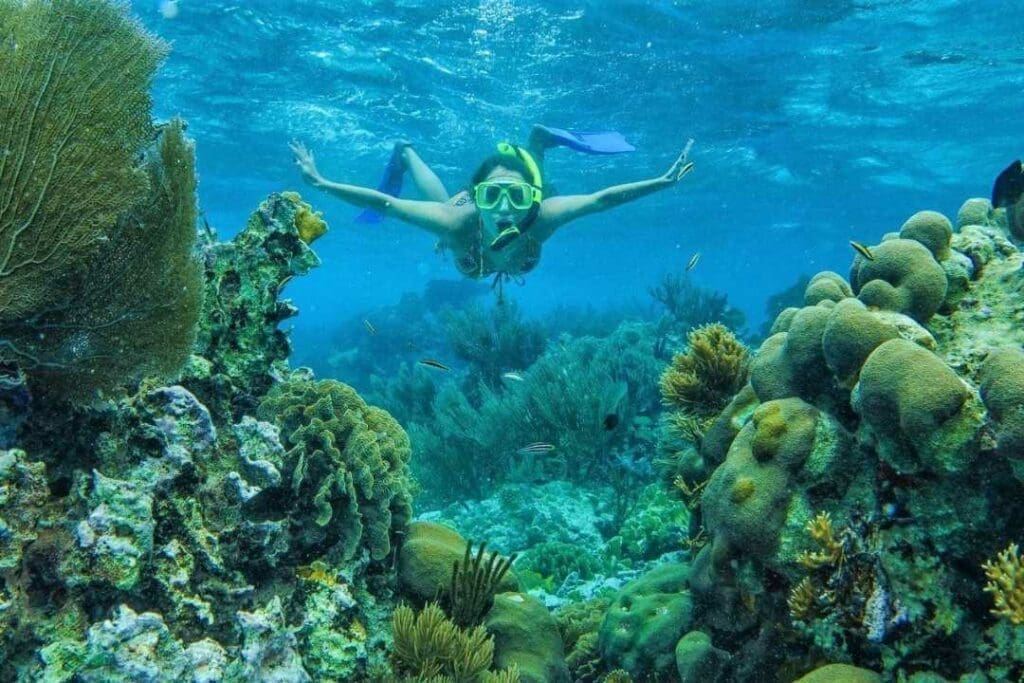 Divers and snorkelers are treated to a vibrant underwater world filled with diverse marine life, including whale sharks, turtles, and myriad fish species.
🚍 How to get to the Mesoamerican Barrier Reef: The reef is accessible from various points in Quintana Roo, with popular diving spots in Cancún, Cozumel, and Playa del Carmen.
18. Basaseachic Falls
Located in Chihuahua, Basaseachic Falls is the second-highest waterfall in Mexico, plunging dramatically into a canyon.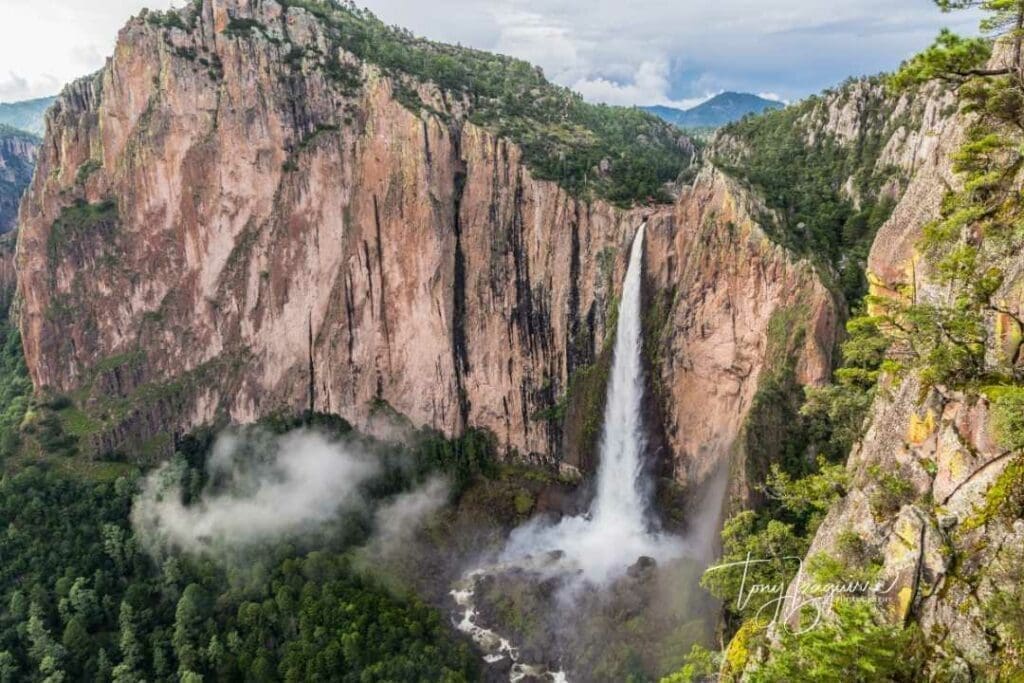 The falls provide a picturesque setting for hiking and nature photography, set amidst the larger Basaseachic Falls National Park with its diverse flora and fauna.
🚍 How to get to Basaseachic Falls: Buses from Chihuahua City go to Cuauhtémoc, from where you can hire a taxi or join a local tour to the falls.
19. Grutas de Tolantongo
Grutas de Tolantongo, in Hidalgo, is a natural paradise comprising hot spring pools, a thermal river, and steamy caves, all set within a picturesque canyon.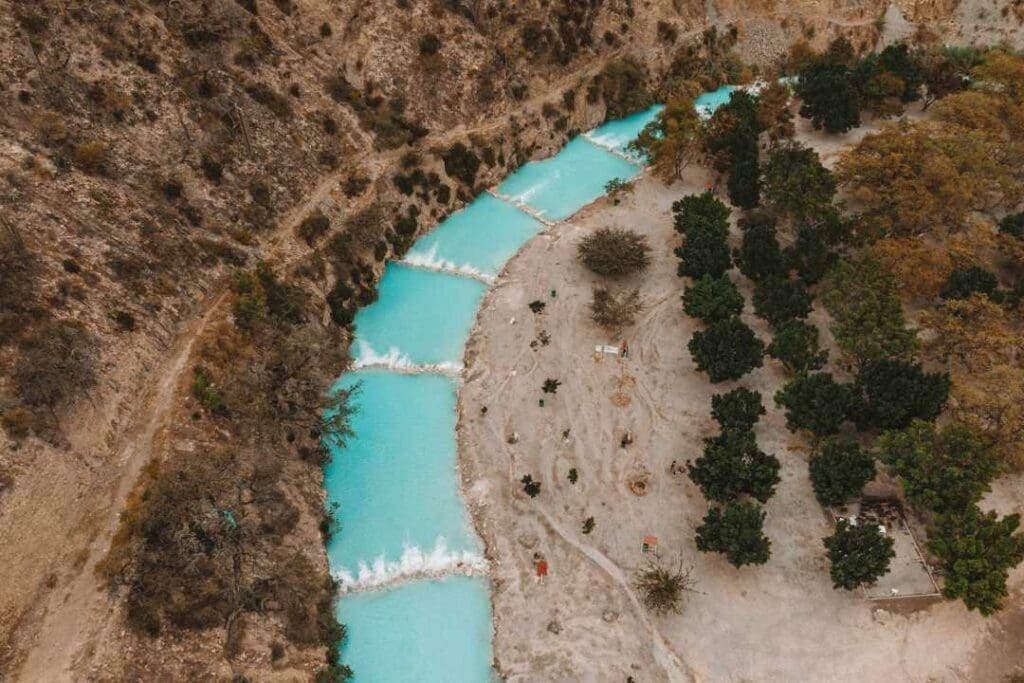 Perfect for relaxation and adventure alike, you can indulge in the warm waters, explore the caves, or simply marvel at the surreal blue-green setting.
🚍 How to get to Grutas de Tolantongo: Buses run from Mexico City's North Bus Terminal to Ixmiquilpan. From there, local transportation can take you to Tolantongo.
20. Isla Holbox
Isla Holbox is a serene island off Yucatán's northern coast, known for its sandy streets, vibrant murals, and abundant marine life.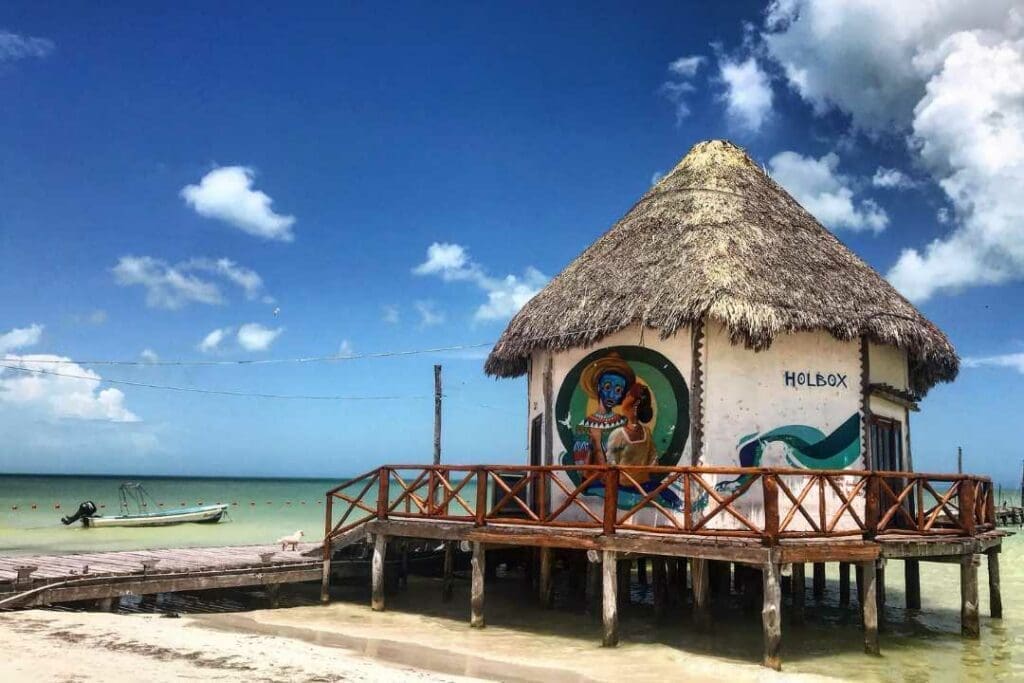 A paradise for those seeking tranquility, it's also a prime spot for bird watching, kiteboarding, and swimming with whale sharks during migration seasons.
🚍 How to get to Isla Holbox: Buses from Cancún go to Chiquilá, where ferries depart regularly for Holbox.
21. Calakmul Biosphere Reserve
Nestled in the state of Campeche, Calakmul is both an ancient Maya city and a vast biosphere reserve, home to an array of wildlife and lush forests.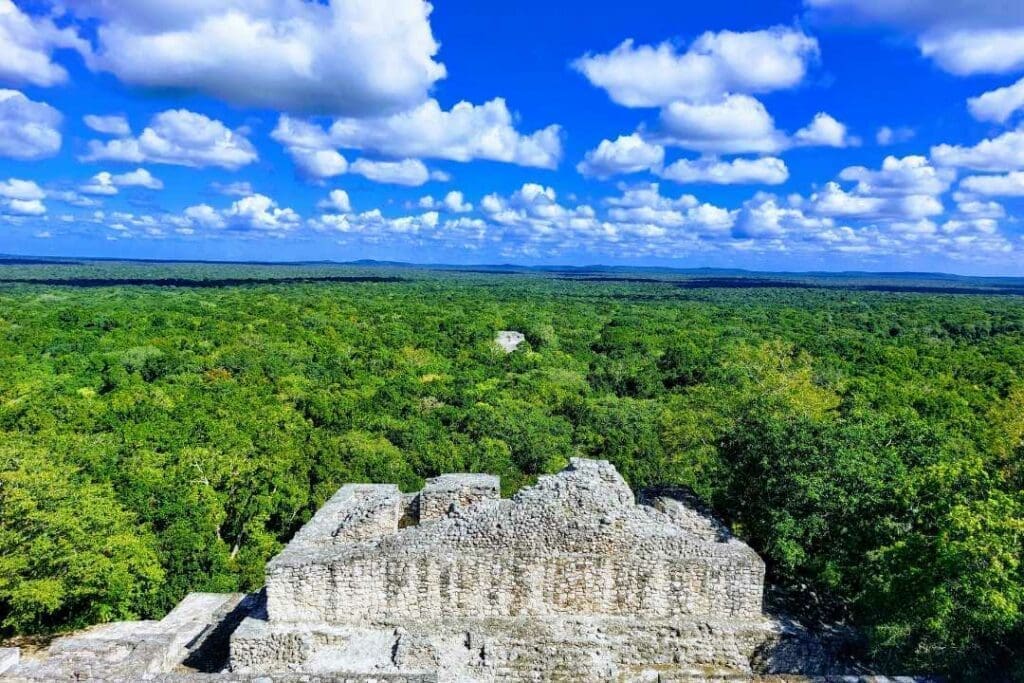 Beyond the archaeological wonders of Calakmul, the reserve is a biodiversity hotspot, making it a treat for nature enthusiasts and history buffs alike.
🚍 How to get to Calakmul Biosphere Reserve: Accessible by car from the town of Xpujil. Given its remote location, many visitors opt for guided tours to make the most of the experience.
22. Arch of Cabo San Lucas
El Arco, or The Arch, is a distinctive rock formation at the southern tip of Cabo San Lucas. This limestone arch gracefully stretches into the sea, marking the meeting of the Pacific Ocean and the Sea of Cortez.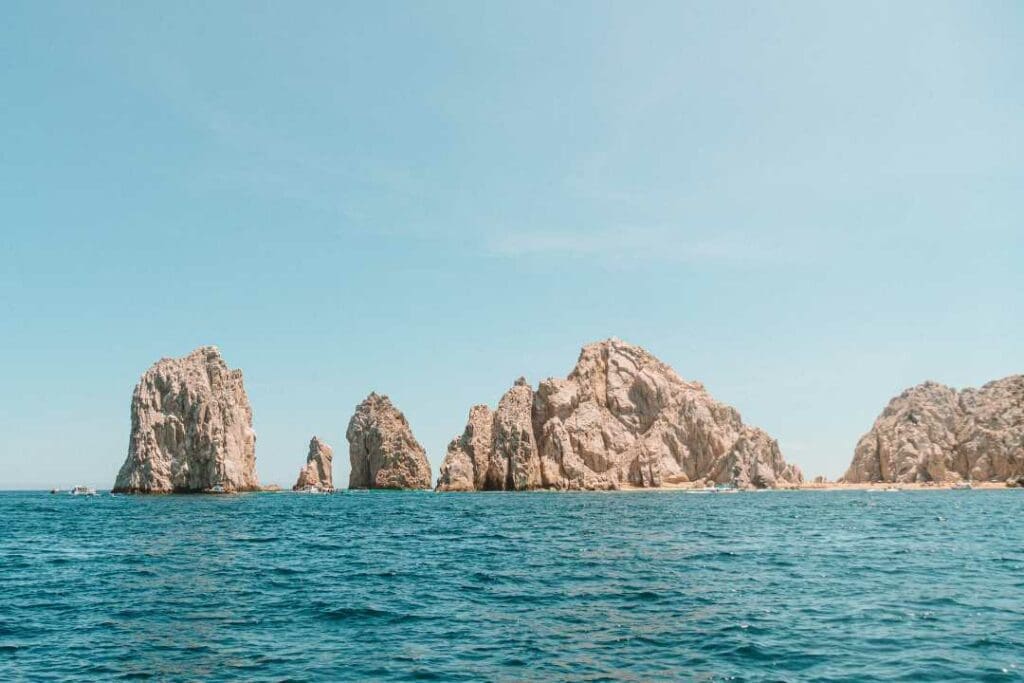 It's not just an iconic landmark; the surrounding waters teem with marine life, and sea lions are often spotted basking nearby. The Arch encapsulates the rugged beauty of the Baja Peninsula.
🚍 How to get to Arch of Cabo San Lucas: Boat tours frequently depart from the marina in Cabo San Lucas, taking visitors up close to El Arco.
23. Popocatépetl and Iztaccíhuatl Volcanoes
Towering over Central Mexico, Popocatépetl (active) and Iztaccíhuatl (dormant) are two majestic volcanoes with rich mythological significance. Their names translate to "Smoking Mountain" and "White Woman," respectively.
Besides their imposing beauty, they represent ancient Aztec legends of love and tragedy. They're also popular among mountaineers and trekkers for the challenging terrains they offer.
🚍 How to get to Popocatépetl and Iztaccíhuatl Volcanoes: They can be viewed from various points around Puebla and Mexico City. Guided hikes usually depart from nearby towns like Amecameca.
24. Celestún Biosphere Reserve
Located in the Yucatán, Celestún is a coastal biosphere reserve renowned for its vast flamingo colonies and diverse ecosystem, including mangroves and freshwater springs.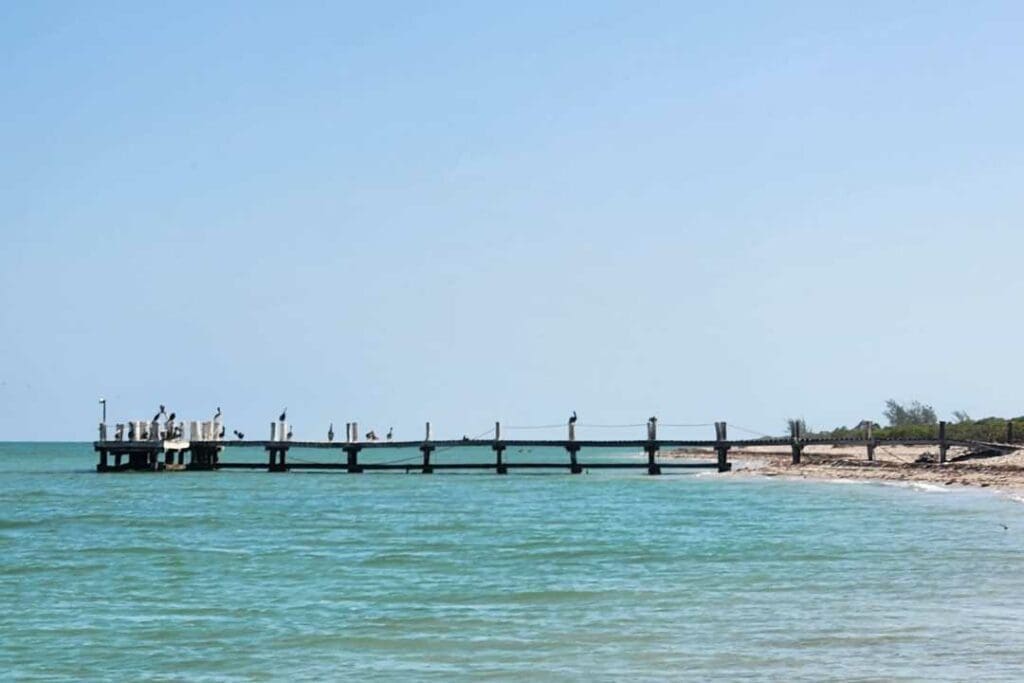 Witnessing the pink hues of thousands of flamingos in their natural habitat is a mesmerizing sight. The reserve is also a birdwatcher's haven, boasting over 300 bird species.
🚍 How to get to Celestún Biosphere Reserve: Buses run from Mérida to Celestún. Guided boat tours of the reserve are available from the town.
25. Uxmal Archaeological Site
Uxmal, in the Yucatán, represents the pinnacle of late Maya architecture with its majestic pyramids, palaces, and intricate carvings.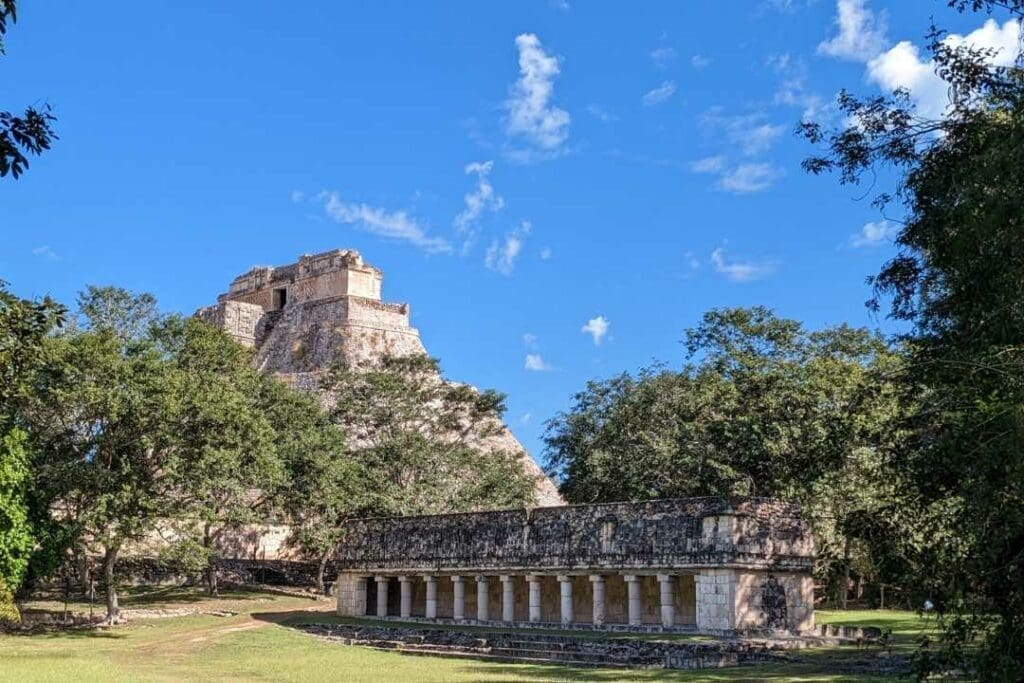 The Pyramid of the Magician, the Nunnery Quadrangle, and the Governor's Palace are some of the site's highlights. Uxmal offers a deep dive into the Puuc architectural style of the ancient Maya.
🚍 How to get to Uxmal Archaeological Site: Buses depart regularly from Mérida to Uxmal. Alternatively, guided tours are available from major towns and cities in the region.
26. Xel-Ha Park
Xel-Ha, on the Riviera Maya, is an aquatic theme park and natural aquarium. Its name translates to "Where water is born," reflecting its location by a lagoon where freshwater meets the sea.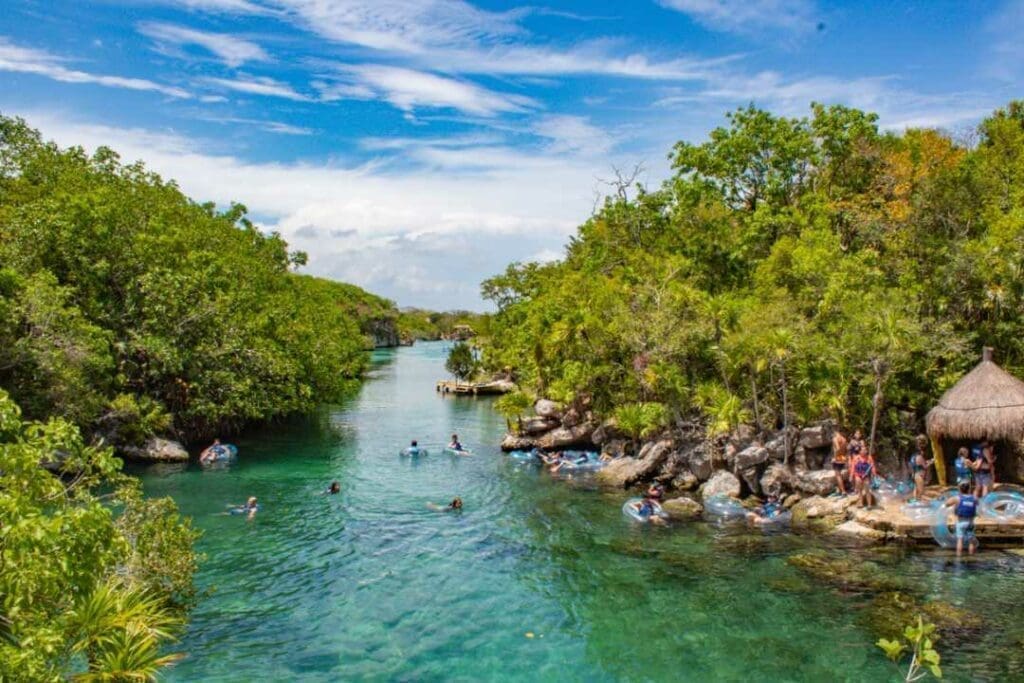 It's an ecological wonderland where visitors can snorkel, float down a lazy river, or explore cenotes. With diverse marine life and pristine waters, it's a family-friendly adventure spot.
🚍 How to get to Xel-Ha Park: Located between Playa del Carmen and Tulum, it's easily accessible by car, bus, or tours provided by the park itself.
27. El Castillo Pyramid
Located within the Chichen Itza archaeological site, El Castillo, or the Pyramid of Kukulkan, is a towering step-pyramid that stands as a testament to Maya astronomy and architecture.
This iconic structure showcases the incredible precision of ancient Maya astronomy, especially during the equinoxes when a play of light and shadow creates the illusion of a serpent descending the pyramid.
🚍 How to get to El Castillo Pyramid: As part of Chichen Itza, it's accessible by bus or guided tours from Cancún, Mérida, or Playa del Carmen.
28. Isla Mujeres
A short ferry ride from Cancún, Isla Mujeres is a tranquil island known for its stunning beaches, vibrant underwater world, and relaxed ambiance.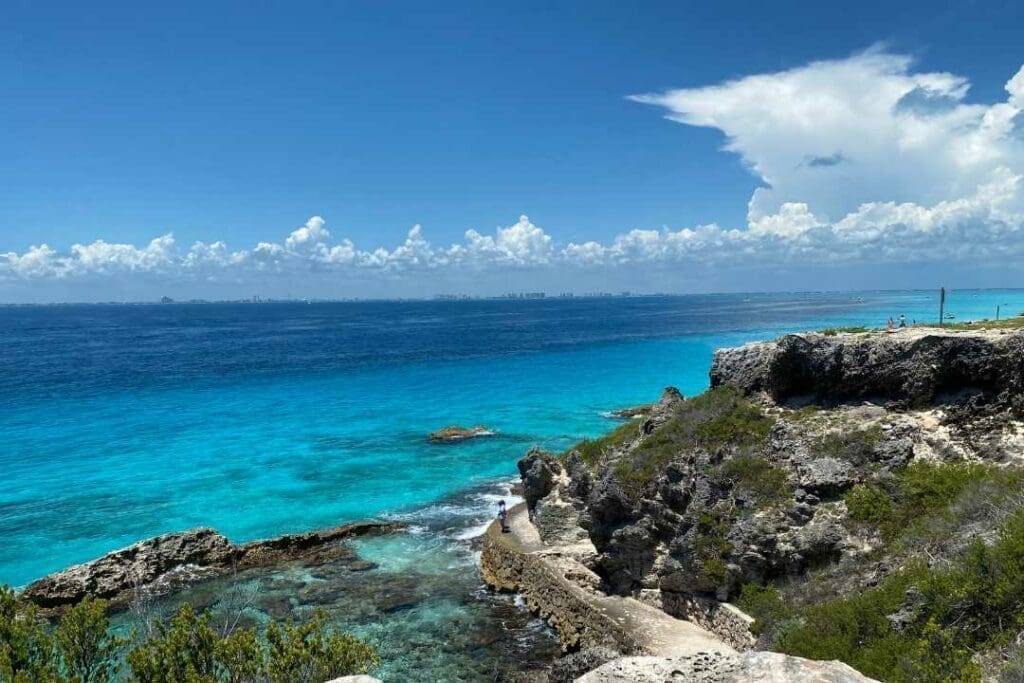 From the vibrant Playa Norte to the picturesque Punta Sur, the island is perfect for beach lovers, snorkelers, and those seeking a quieter alternative to the bustling Cancún.
🚍 How to get to Isla Mujeres: Frequent ferries run from Cancún to Isla Mujeres, making it an easy day trip or overnight destination.
29. Grutas de Garcia
Located in Nuevo León, Grutas de Garcia is a series of ancient caves known for their impressive stalactites and stalagmites formations.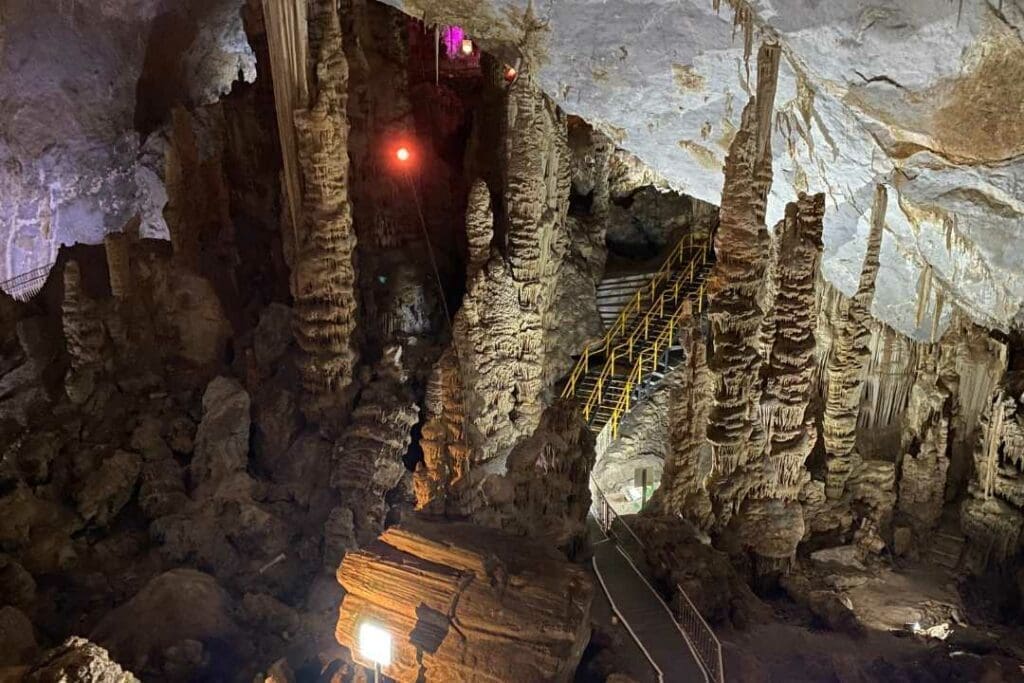 Inside, one can witness nature's artwork shaped over millions of years. The formations and the cave's illumination create an otherworldly atmosphere.
🚍 How get to Grutas de Garcia: The caves are about 30 km from Monterrey. One can drive, take a local bus, or opt for a guided tour from the city.
30. El Pinacate and Gran Desierto de Altar Biosphere Reserve
Located in Sonora, this UNESCO World Heritage Site showcases a striking blend of volcanic landscapes and expansive dune fields, painting a picture of dramatic contrasts.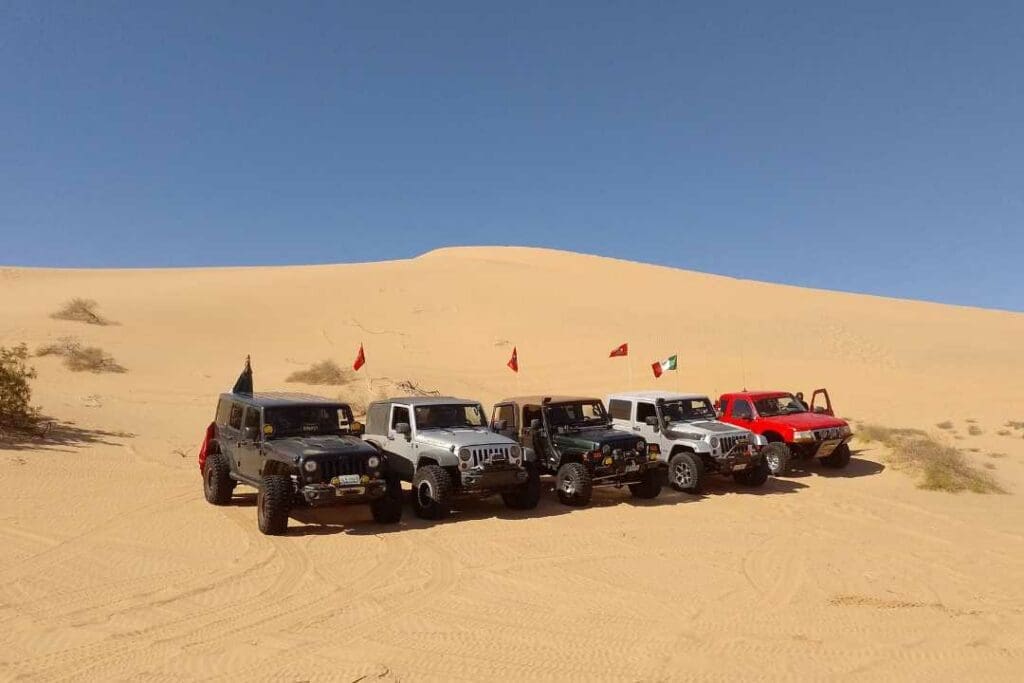 It's a place where nature's raw power is on full display, with large volcanic craters, solidified lava flows, and a sweeping desert landscape. An epitome of desert beauty.
🚍 How to get to El Pinacate and Gran Desierto de Altar Biosphere Reserve: It's accessible via Puerto Peñasco; a road leads directly to the reserve's entrance. Guided tours are available, offering deeper insights into the area.
31. Balandra Beach
Nestled in Baja California Sur, Balandra Beach is a coastal gem with pristine white sands, clear turquoise waters, and serene landscapes shielded by picturesque hills.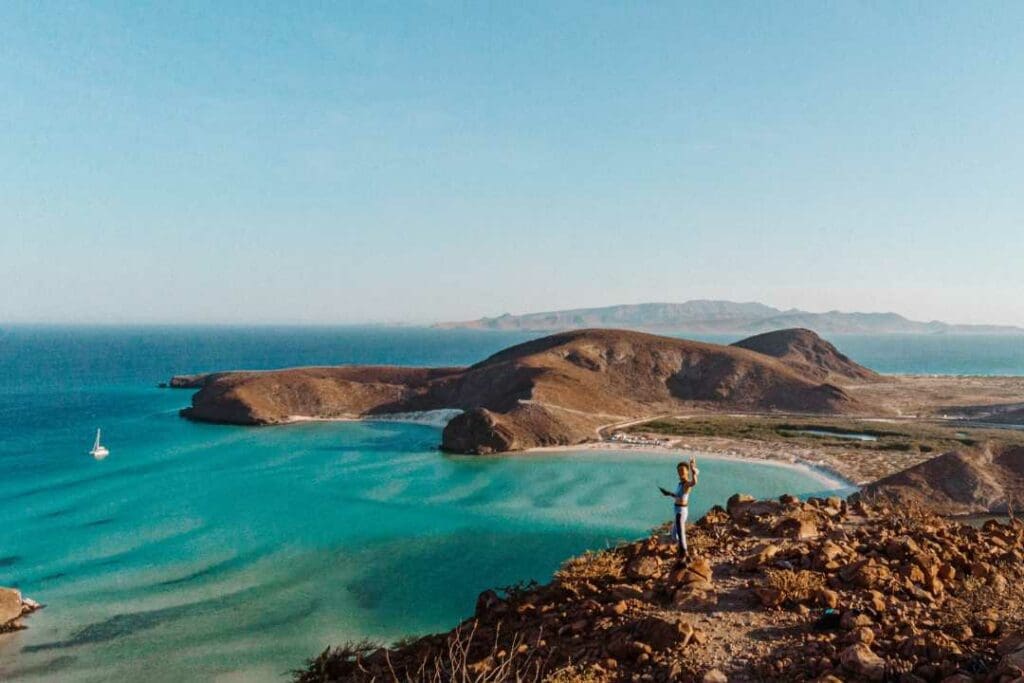 Recognized for its iconic mushroom-shaped rock, this shallow bay is ideal for wading, snorkeling, and absorbing the natural beauty of Baja's coastline.
🚍 How to Get to Balandra Beach: Located close to La Paz, it's a short drive from the city. Buses or taxis are easily available.
32. Micos Waterfalls
In San Luis Potosí lies Cascadas de Micos, a cascade system characterized by several waterfalls plunging into turquoise pools.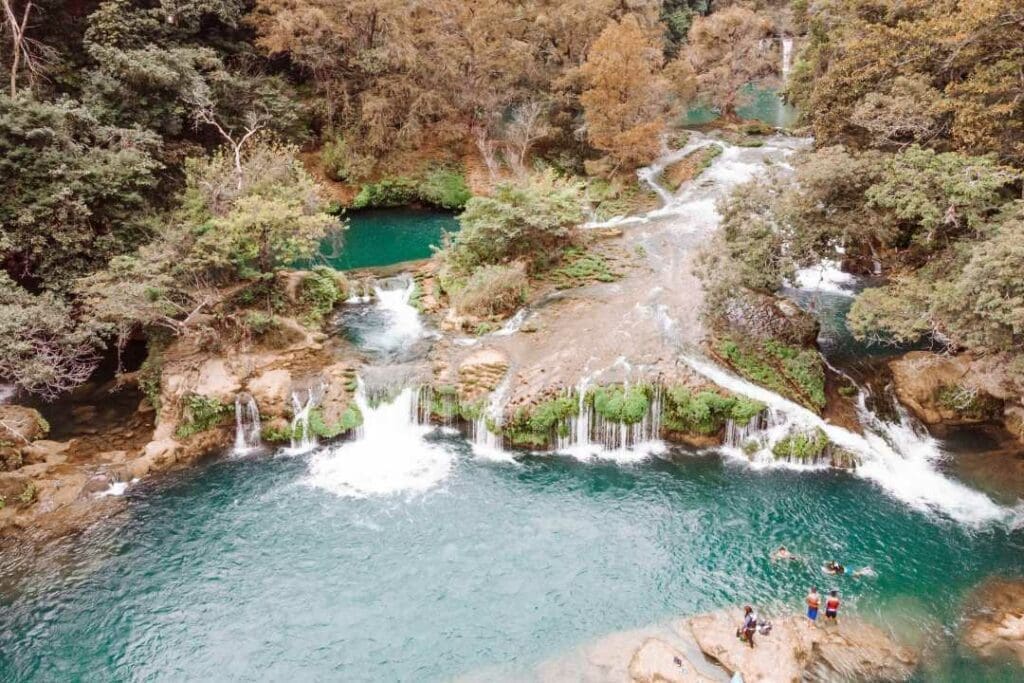 It's a haven for thrill-seekers, offering cliff-jumping opportunities amidst a lush jungle backdrop. The serene pools are perfect for a refreshing swim.
🚍 How to get to Micos Waterfalls: It's a short drive from Ciudad Valles. Public transport, taxis, or guided tours are commonly used by visitors.
33. La Huasteca Potosina
This region in San Luis Potosí is a treasure trove of natural wonders, from turquoise rivers to majestic waterfalls and surreal cave formations.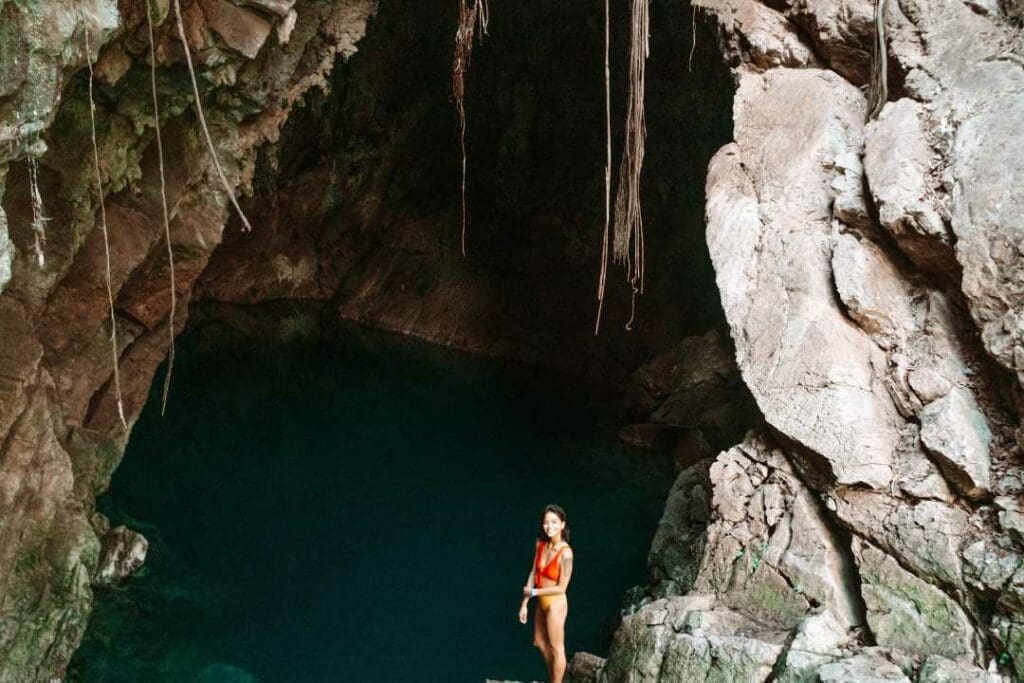 A diverse landscape offering cascades, cenotes, and caves; it's an adventurer's dream. Every corner promises a new discovery.
🚍 How to get to La Huasteca Potosina: The region is easily accessed from Ciudad Valles, which serves as the primary base for exploring La Huasteca Potosina.
34. Xochicalco Archaeological Site
In Morelos, Xochicalco stands as a fortified ancient city, reflecting the zenith of Mesoamerican culture with its intricate carvings, plazas, and the renowned Temple of the Feathered Serpent.
It provides a unique window into the post-Classic period of Mesoamerica. The observatory showcases the brilliance of ancient astrological understanding and is a highlight.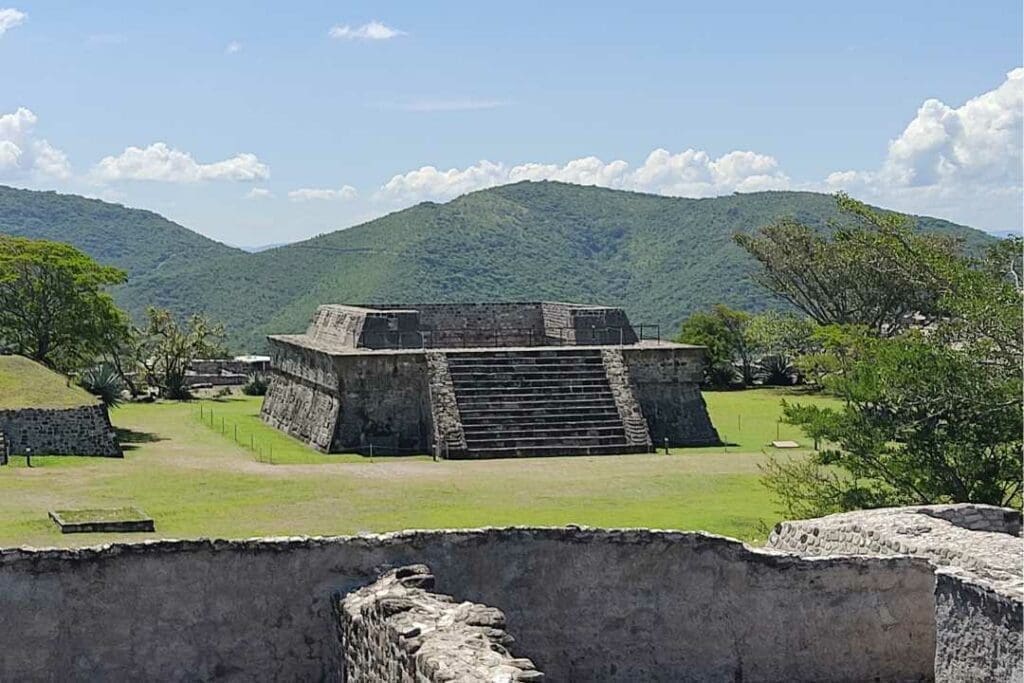 🚍 How to get to Xochicalco Archaeological Site: Buses run from Cuernavaca to the nearby town of Miacatlán, from where taxis or local transportation can be taken to the site.
35. El Cielo Biosphere Reserve
Located in Tamaulipas, El Cielo is a UNESCO Biosphere Reserve, housing diverse ecosystems ranging from tropical forests to cloud forests.
It's a biodiversity hotspot, home to various species of birds, mammals, and plants. An ideal spot for eco-tourists and birdwatchers.
🚍 How to get to El Cielo Biosphere Reserve: The nearest city is Ciudad Victoria, from where one can drive or take guided tours into the reserve.
36. Nevado de Toluca
This extinct volcano in the State of Mexico, also known as Xinantécatl, boasts the fourth-highest peak in Mexico. Its craters house two beautiful lagoons, the Sun and the Moon lakes.
Offering trekking and mountaineering opportunities with panoramic views, the serene lagoons and the mountainous landscapes are a sight to behold.
🚍 How to get to Nevado de Toluca: It's a short drive from the city of Toluca. While public transportation options are limited, guided tours or taxis are available.
37. Las Coloradas (Pink Lakes)
Tucked away on the Yucatán Peninsula, Las Coloradas is famous for its strikingly pink salt lakes due to high salt content and certain types of algae and plankton.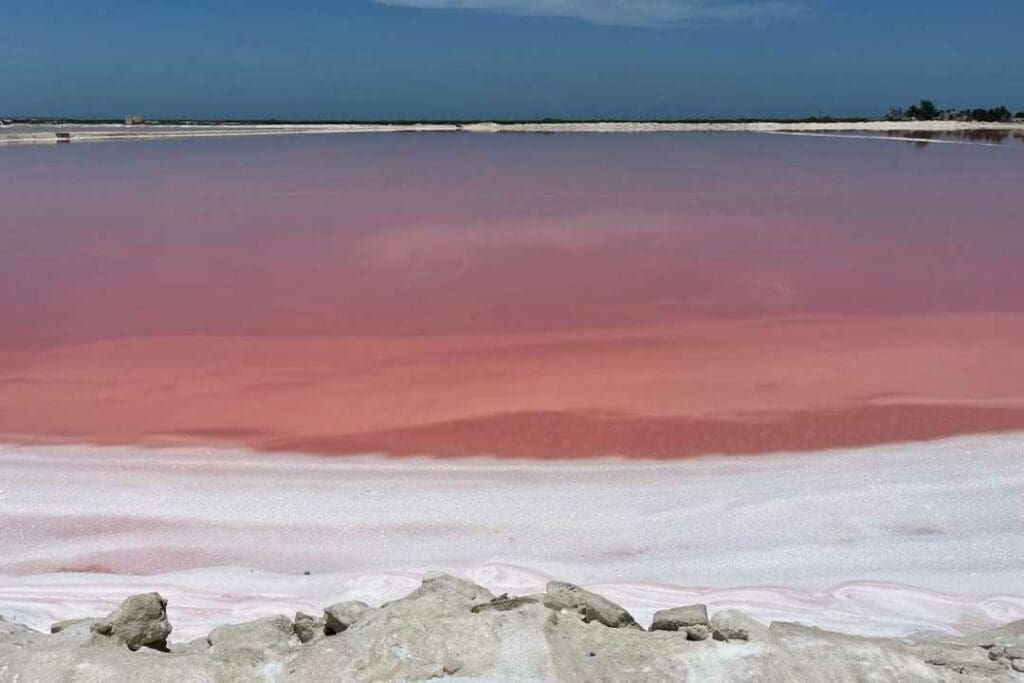 The surreal coloration of the lakes offers a unique visual experience and fantastic photo opportunities. Flamingos often frequent these waters, adding to the region's charm.
🚍 How to get to Las Coloradas: Las Coloradas is a drive away from Valladolid or Cancún. Guided tours are also available from major cities in Yucatán.
38. Laguna Bacalar (Lake of Seven Colors)
Positioned in Quintana Roo, Laguna Bacalar boasts fresh water that shimmers in seven distinct shades of blue and green, courtesy of its varying depths and mineral content.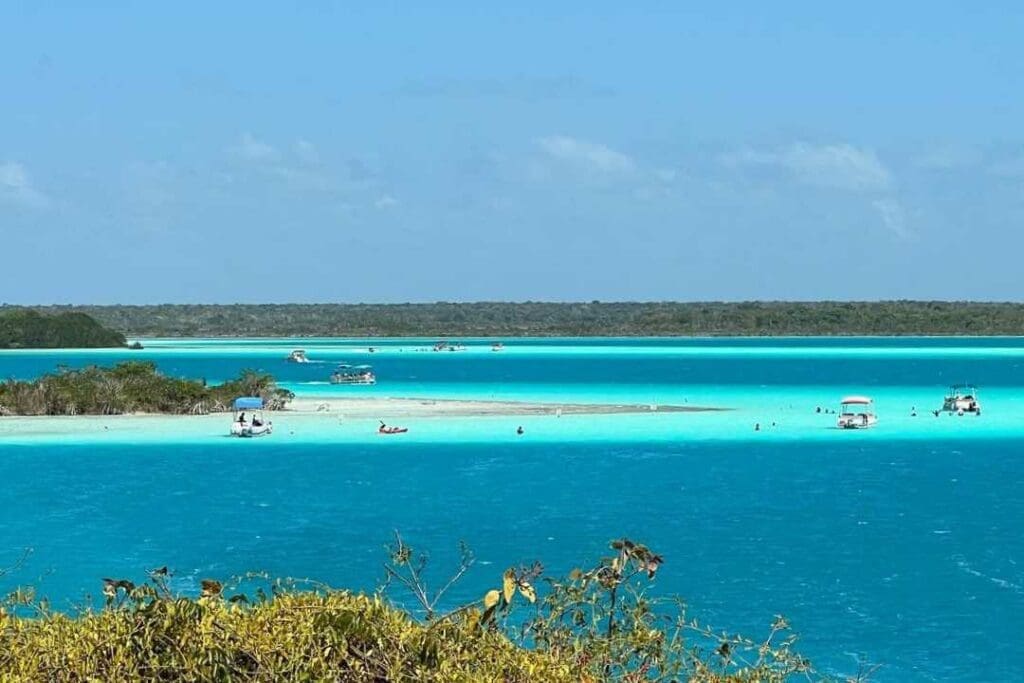 The calm waters and mesmerizing colors make for a tranquil escape, ideal for kayaking, swimming, and relaxing by the lakeside.
🚍 How to get to Laguna Bacalar: Located near the town of Bacalar, it's easily accessible by car, bus, or guided tours.
39. Parícutin Volcano
Located in Michoacán, Parícutin is the youngest volcano in the Western Hemisphere, rising from a cornfield in 1943 and growing rapidly in the subsequent years.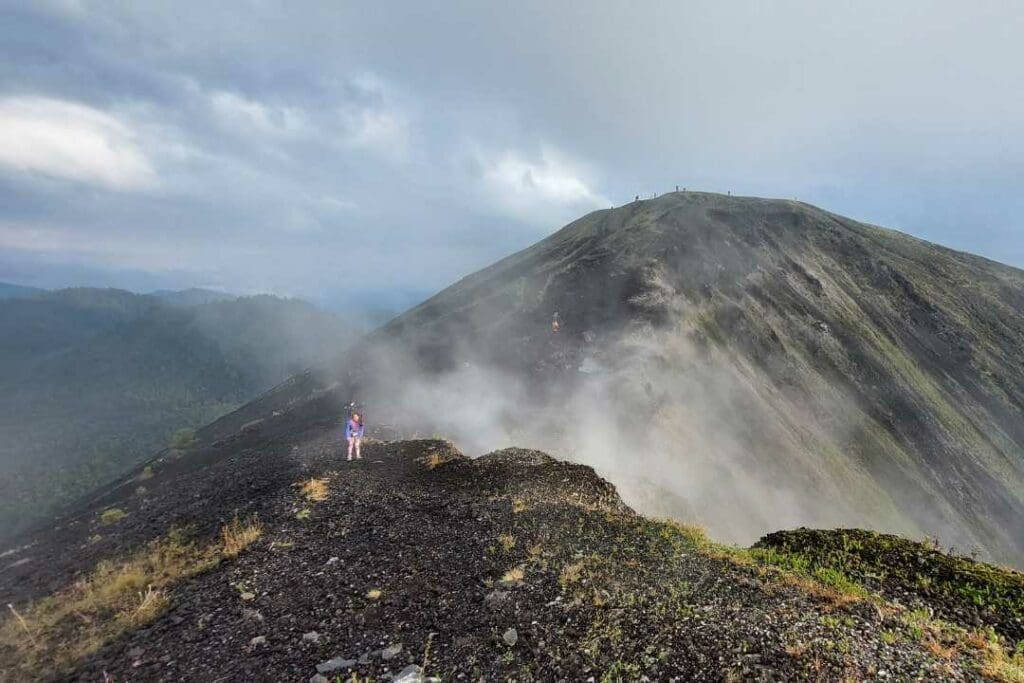 Witnessing the power of Mother Nature, the lava-covered ruins of a church are especially haunting and provide a testament to the volcano's impact on local villages.
🚍 How to get to Parícutin Volcano: Accessible from the towns of Angahuan or Uruapan, with horseback rides or hikes leading to the volcano.
40. Sierra Gorda Biosphere Reserve
Nestled in Querétaro, this reserve boasts a blend of ecosystems, from rainforests to semi-deserts, housing an array of flora and fauna.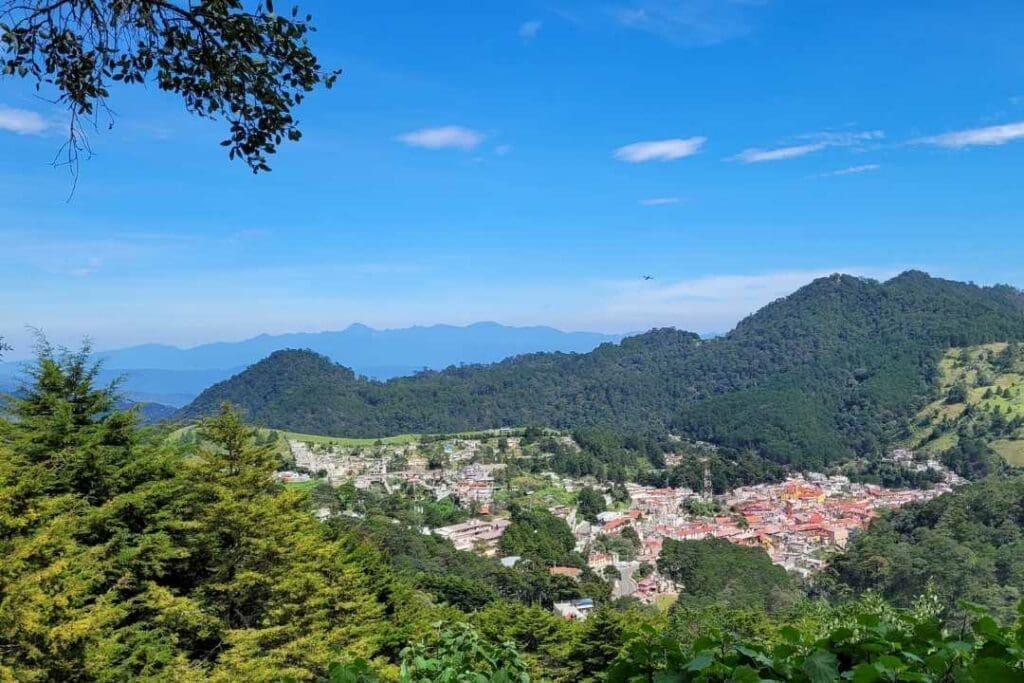 Its diverse landscapes offer myriad activities, including hiking, bird-watching, and exploring ancient Franciscan missions.
🚍 How to get to Sierra Gorda Biosphere Reserve: Accessible from the city of Querétaro by car or bus, with several entry points into the reserve.
42. Loreto Bay National Marine Park
Located in Baja California Sur, this marine sanctuary protects a stretch of the Sea of Cortez, characterized by its marine biodiversity, islands, and clear waters.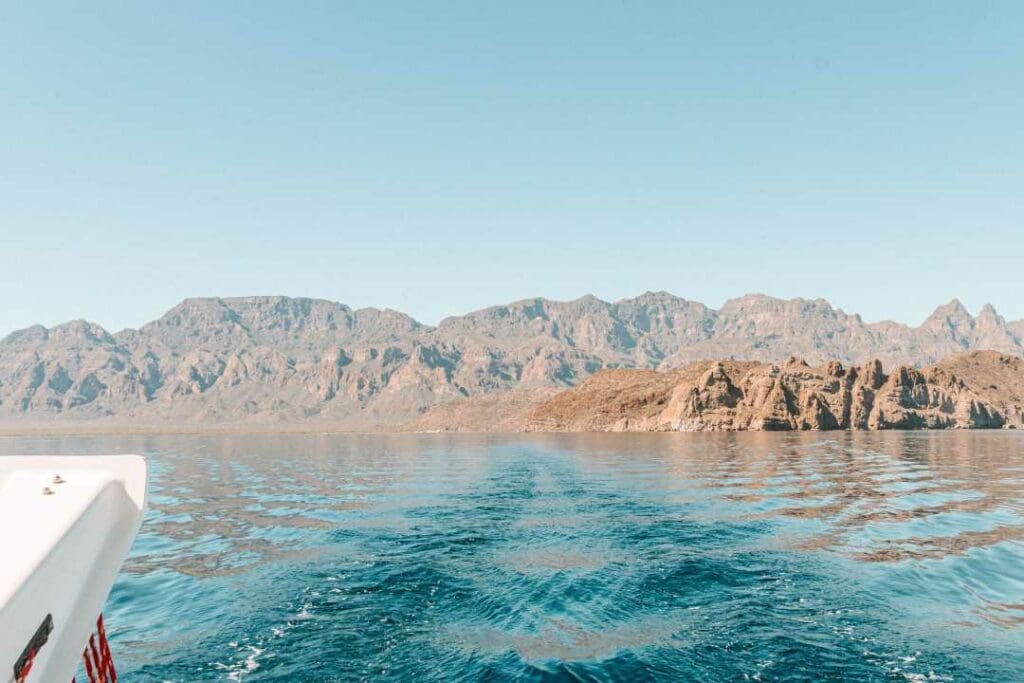 A haven for snorkeling, diving, and kayaking, the park is teeming with marine life, from playful sea lions to vibrant coral reefs.
🚍 How to get to Loreto Bay National Marine Park: The gateway to the park is the town of Loreto, with boat tours and rentals available.
43. El Vizcaíno Biosphere Reserve
Situated in Baja California, this reserve is one of the largest protected areas in Latin America, with a mix of desert landscapes, coastal lagoons, and rich marine habitats.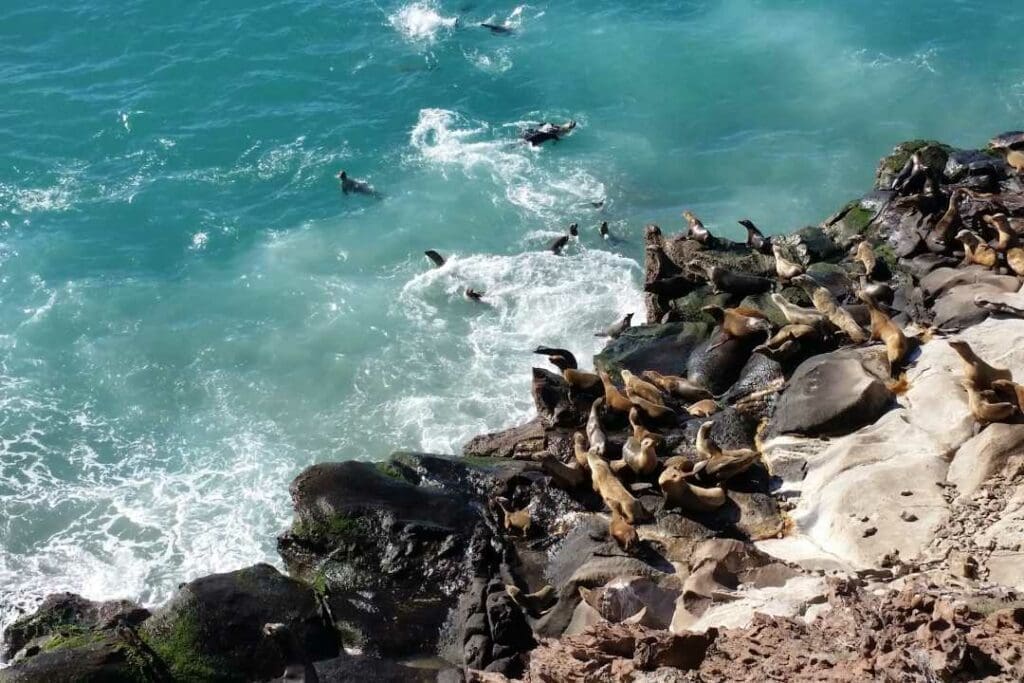 From whale-watching in the lagoons to exploring unique desert ecosystems, the reserve is a treasure trove of natural wonders.
🚍 How to get to El Vizcaíno Biosphere Reserve: Guerrero Negro is the main entry point, accessible by road or small aircraft.
44. Malinalco Archaeological Site
Located in the State of Mexico, Malinalco houses ancient temples carved directly into the cliffs, reflecting a blend of military and religious significance.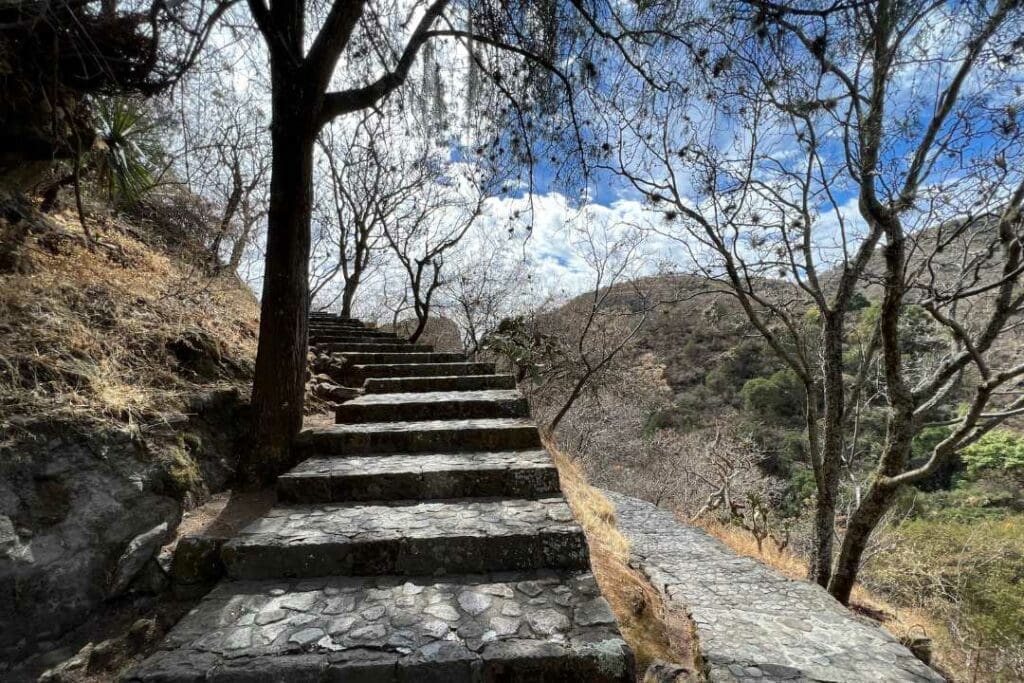 It offers a unique insight into the Aztec world, with the main temple dedicated to the Eagle Warriors. The site's setting amidst lush landscapes only enhances its allure.
🚍 How to get to Malinalco Archaeological Site: Malinalco town is the base, a short drive from Toluca or Mexico City. Public transportation options are available.
45. Valle de Guadalupe Wine Region
Baja California's wine country, Valle de Guadalupe, is a flourishing region of vineyards, boutique wineries, and gourmet restaurants.
As Mexico's premier wine destination, it offers wine tasting tours, culinary experiences, and a chance to delve into the local wine culture.
🚍 How to get to Valle de Guadalupe Wine Region: Located near Ensenada, it's a short drive from the city. Many opt for guided wine tours from various parts of Baja California. [Book weekend tour]
46. Magdalena Bay
Situated along the western coast of Baja California Sur, Magdalena Bay is a vast coastal lagoon system known for its mangroves, dunes, and rich marine life.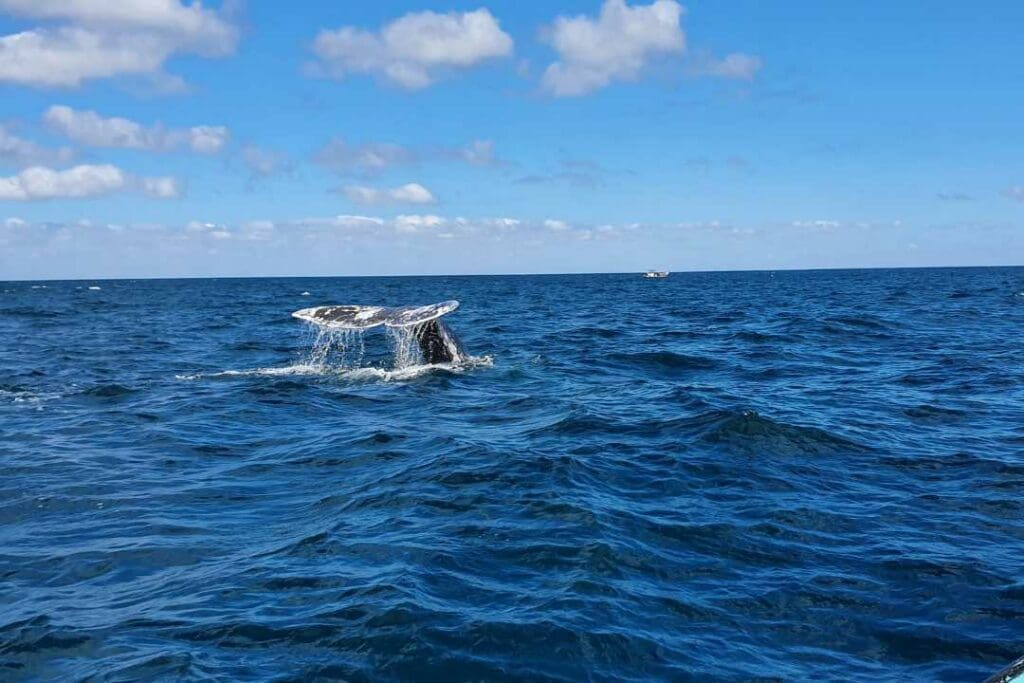 Famed for gray whale watching, especially between December and March, visitors can witness these majestic creatures in their natural habitat alongside sea turtles and bird species.
🚍 How to get to Magdalena Bay: The towns of San Carlos and Puerto Adolfo López Mateos are the primary access points to the bay. Both are reachable by road from La Paz or Los Cabos, and guided tours are available.
47. Pena de Bernal
Towering above the quaint town of Bernal in Querétaro, Pena de Bernal is one of the world's largest monoliths, with a commanding presence that can be seen for miles.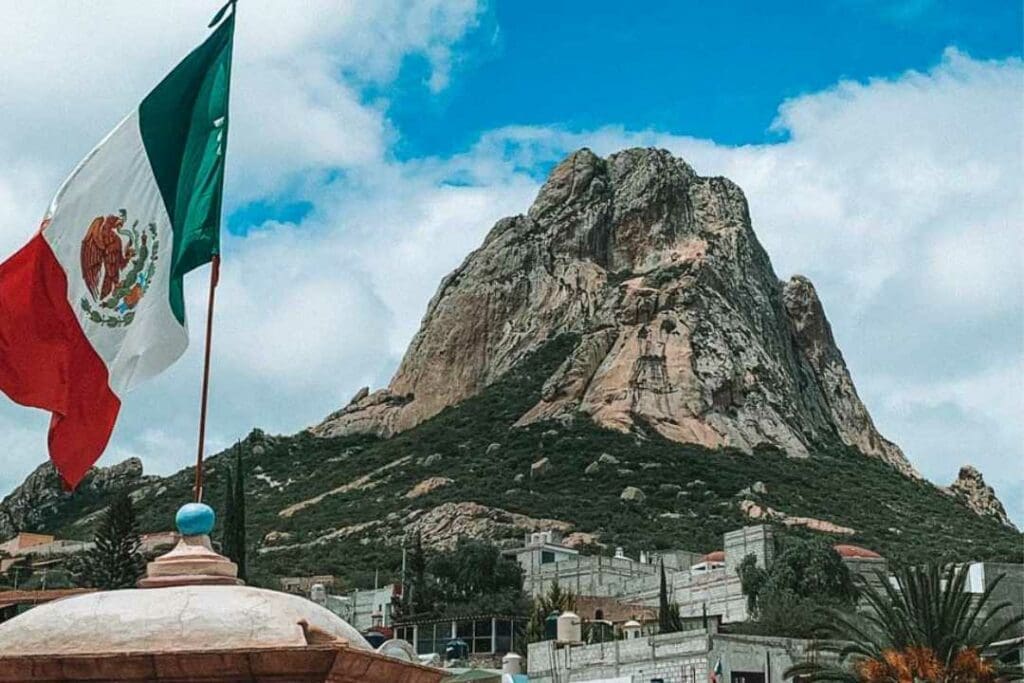 As a geological wonder and spiritual site, it draws visitors for climbing, hiking, or simply marveling at its grandeur. The panoramic views from the top are breathtaking.
🚍 How to get to Pena de Bernal: Bernal is about a two-hour drive from Querétaro City. Buses and tours are also available, and the monolith itself is just a short hike from the town.
48. Socorro Island
Part of the Revillagigedo Archipelago, located in the Pacific Ocean, Socorro Island is a volcanic island known for its vibrant marine life and pristine diving sites.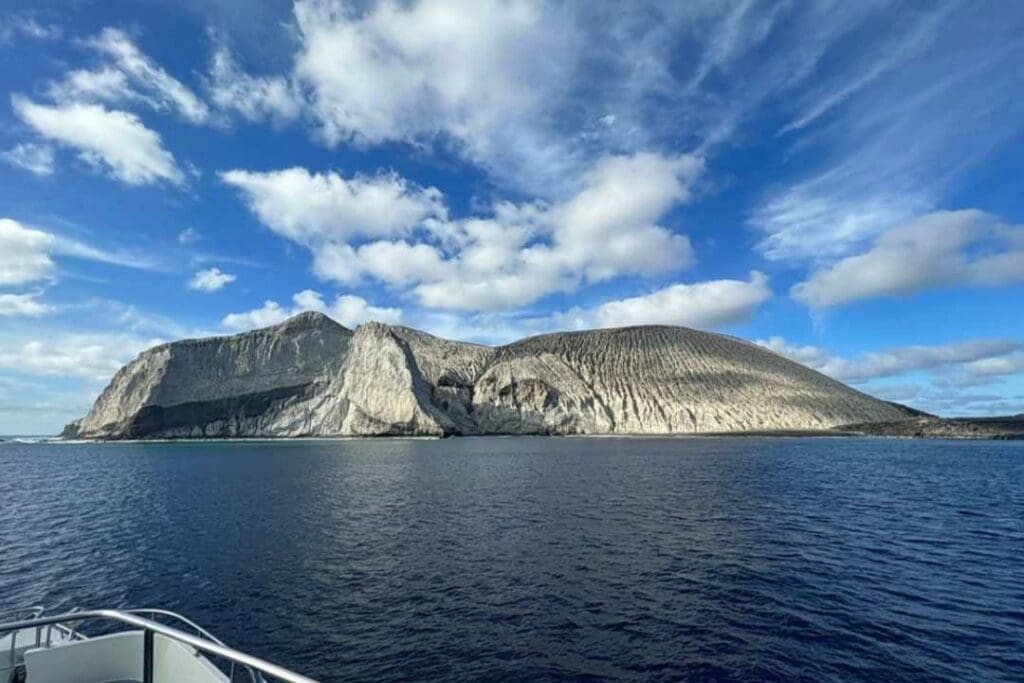 Divers flock here to swim with giant Pacific manta rays, hammerhead sharks, and playful dolphins in crystal-clear waters. It's a world-class diving destination.
🚍 How to get to Socorro Island: Access to Socorro is primarily through liveaboard dive boats, with most tours departing from Cabo San Lucas.
49. Scorpion Bay
Located on the Baja California Peninsula, Scorpion Bay is a surfer's paradise known for its long, rolling waves and relaxed atmosphere.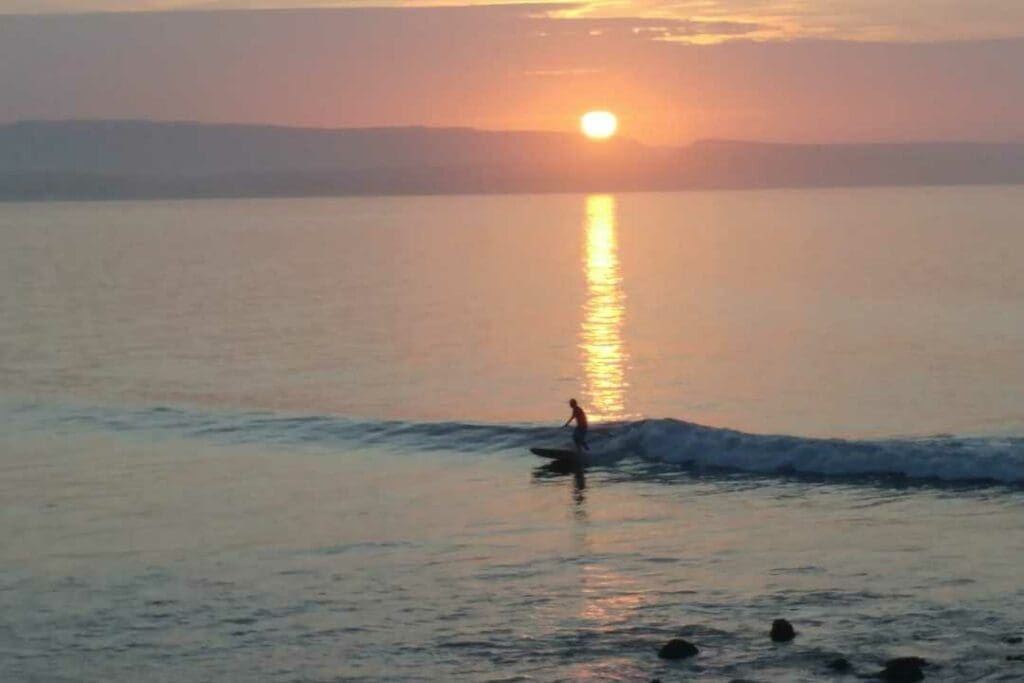 With some of the longest rideable waves on Earth, it's a must-visit for surf enthusiasts. The bay's remote beauty also ensures a tranquil escape.
🚍 How to get to Scorpion Bay: The bay is situated near the town of San Juanico. While it's accessible by car from cities like La Paz, the journey involves some rugged terrains, making a 4×4 advisable.
50. Casa Madero
Founded in 1597 in the Parras Valley of Coahuila, Casa Madero is recognized as the oldest winery in the Americas, boasting a rich history and tradition.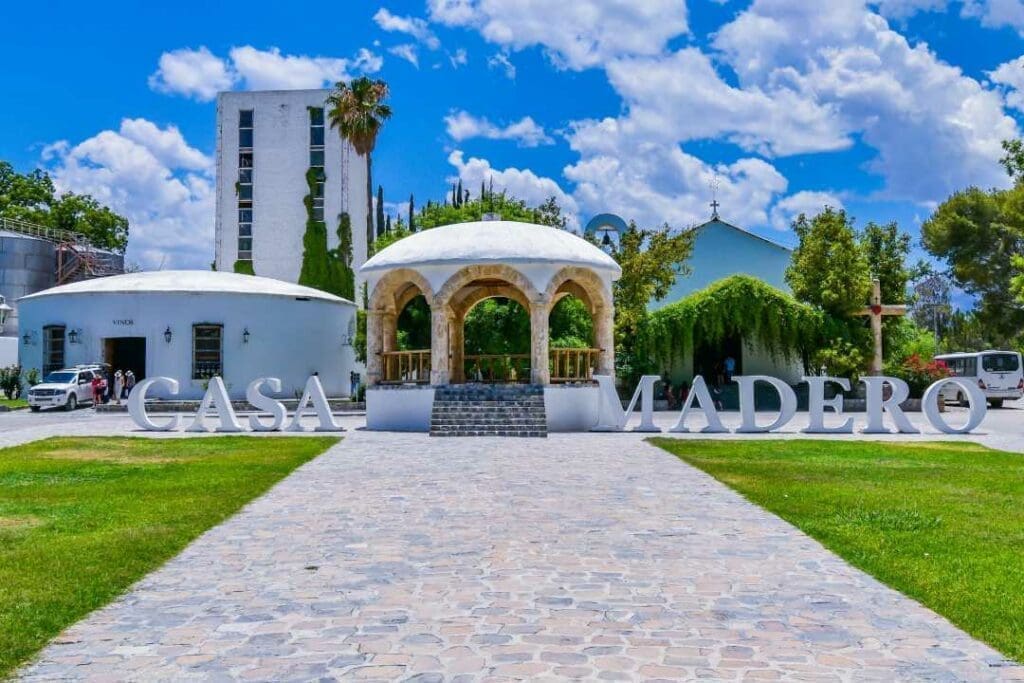 Wine enthusiasts will relish the opportunity to tour this historic winery, sample award-winning wines, and soak in the scenic beauty of vineyards surrounded by desert landscapes.
🚍 How to get to Casa Madero: Casa Madero is in Parras de la Fuente, which is about a two-hour drive from the city of Saltillo. Guided tours and buses are available, making the winery easily accessible.
⁉️ FAQ: Places to visit in Mexico
Trisha traveled to Mexico in 2018 and after a year, she found herself obtaining a 4-year residency visa in Mexico. She is the Editor-in-chief for our Living in Mexico Series which has helped over 3,000 Americans move to Mexico with ease. Trisha currently resides in Cabo San Lucas, Baja California Sur.