The Teotihuacan Pyramids are one of the biggest Mesoamerican mysteries. Teotihuacan Mexico can be easily visited on a day tour (4 hours) – the list of tour prices is discussed in this Teotihuacan travel guide.
So you made it to Mexico City (CDMX) and thought if visiting the Teotihuacan Pyramids is worth it.
It sure deserves to be added to your CDMX itinerary not only because of the Instagram pictures but this is a great site for those who love archaeological sites then traveling.
Also known as The City of Gods, Teotihuacan Mexico is designated a UNESCO World Heritage site in 1987.
There are many parts of Teotihuacan's history that is still unknown and this is why my visit turned into a guided tour instead of doing it myself.
For sure you got to this article because you want more information on how to visit the Teotihuacan pyramids.
These are our guides, tips, and advice for your historical and archaeological trip to this ancient city of Mexico.
🧐 Questions about Teotihuacan Mexico? Ask us on Tiktok.
Teotihuacan Pyramids: quick links
🗺️ Teotihuacan Map
🚕 How to get to Teotihuacan Pyramids from Mexico City
For those of you who are feeling extra adventurous and don't want to sign up for a tour, you can absolutely do a trip to the Teotihuacan pyramids on your own.
To get to Teotihuacan from Mexico City, you need to get on "Autobuses Teotihuacan" in the northern metro station of CDMX (right by gate 8).
The bus ride will take about an hour (depending on traffic inside CDMX) and it only costs $5 USD.
These busses are safe and comfortable so don't worry about your safety. Teotihuacan pyramids is a popular stop so the driver always informs passengers when you arrived.
✨ Tip: The bus driver will shout piramides which is the Spanish word for pyramids. Watch out for their call because they may not say Teotihuacan.
Once you arrive, the entrance tickets to Teotihuacan pyramids costs $3.62 USD. When you are on your own, many tour guides at the gate will offer you guided tours inside. You can simply say no if you don't want to.
Sometimes, they would even say it's FREE but bear in mind that Mexico is a tipping country. They'd expect to receive a generous tip since the Mexican salary is really low. It's really up to you to hire a tour guide.
🎫 Teotihuacan pyramids tour
The easiest way to get to Teotihuacan from Mexico City is to sign up for a tour. They usually don't cost a lot and they're all included.
The tour companies will also pick you up at your hotel but for most of the Teotihuacan Mexico shared tours, you will be instructed to go to a meeting point in Mexico City. The most common meeting point is in Reforma.
If you are traveling with 6 or more people, it's better to sign up for a private tour to Teotihuacan.
They will pick you up and drop you off at your accommodation and you can also stop whenever you want — the van is yours!
These private tours also stop in some tequila distillery and include a tasting activity on the way to Teotihuacan.
Later on, I will also give you some tips on what to combine with your Teotihuacan trip as you can mix different activities with this attraction.
🧭 What you'll see in Teotihuacan Mexico
The guides usually give you ample time to go around on your own and just tell you to meet at the meeting point in a certain hour (unless it's a guided tour where they will tell you the history of the Teotihuacan pyramids).
The names of the Teotihuacan pyramids: First, the Pyramid of the Moon which is located at the northern end of the complex is the second-largest pyramid in Teotihuacan. It is 43m (140 ft) tall and its base is about 130 x 156 m.
💡 Teotihuacan Mexico fun fact: Up until today, it is unknown who built Teotihuacan or how the city came about.
The Pyramid of the Sun is the largest and is actually everyone's favorite spot. It is 66 m tall (216 ft) and is facing the West.
Many archaeologists, historians, and researchers believe there used to be an altar on top of the Pyramid of the Sun to honor a deity.
Next is the Ciudadela which is in the south end. Ciudadela is referred to as the sunken plaza with 15-hectare courtyards that can house all of the city's inhabitants.
It contains some residential complexes where you can also find stone heads of the Feathered Serpent deity.
I have to be honest, the pre-COVID experience is way different than the limitations now. Teotihuacan Mexico is about 8 square miles (20 sq km) and the grounds are big for you to roam around.
But getting on top of the pyramids is a different experience as you can see the whole complex with fantastic views.
Just be careful because the stairs are really steep! The trick is climbing the Teotihuacan pyramids is to walk sideways.
🗺️ Best Teotihuacan Mexico tours
Teotihuacan early access with tasting
💲 from $39 USD per person
🕖 6 hours
If you are someone who wants to avoid the crowd, this tour will give you early access to Teotihuacan. Meaning, you'll be the first in line as soon as it opens!
Professional photographers usually love this tour as they can enjoy the complex without photoshopping people.
After the tour, you will be brought to a local tasting session where you will try not only tequila but mezcal and pulque as well. I'm not a super fan of pulque but let me know how was your experience!
"What an amazing day. The whole tour was incredible. Comfortable bus ride to the pyramids and our tour guide was so knowledgeable. Getting there early is definitely a bonus as it's cooler and less crowded. Teotihuacan is unreal, a real bucket list experience. The tequila, mezcal and pulque tasting was so entertaining and enjoyable. My wife and I had the best day. Absolutely book this tour you won't regret it. I'm so glad we did it."

Ali, United Kingdom
Teotihuacan Balloon tour
💲 from $135 USD per person
🕖 4-9 hours
This is super popular and is a great experience! I strongly encourage you to take an air balloon flight over Teotihuacan. This lasts for 45 minutes and it's not that expensive.
Please note that this is a sunrise tour so the tour company can pick you up as early as 5:00 AM. If you are doing this, it's also better to check the weather in Mexico City before booking.
You don't want to do this when it's raining!
"Great service, comfortable trip, the guide explained everything very well, was very flexible, and we had a very good time. The restaurant chosen was excellent, overall a very good experience, highly recommended."

Traveler Review, United States
Teotihuacan air balloon + bicycle tour
💲 from $275 USD per person
🕖 4-9 hours
You can also combine your air balloon ride with a bicycle tour around the complex! After the hot air balloon ride, you will go get breakfast at a Mexican restaurant nearby.
You will have an hour of rest at breakfast since you also need to be picked up early for this. After breakfast, you will start with your bike ride and take a stroll in the Teotihuacan pyramids.
You will also cycle through different Teotihuacan neighborhoods (Atetelco and Tepantitla Telitla), visit the Butterfly Palace, and finally a craft workshop where you can shop for gemstones.
The bike ride is about 10km. Breakfast, snacks, and a buffet lunch are already included in this tour. Alternatively, you can also book a bicycle tour through Teotihuacan (without the hot air balloon ride) for $86 USD.
"Amazing experience! You feel that the 13 hours of flight to arrive to Mexico are worth just for this excursion! Professionalism, ponctuality, good vibes from all staff! Big bravo to everyone!"

Traveler Review, Belgium
Teotihuacan afternoon tour
💲 from $35 USD per person
🕖 6 hours
This is the best in value and most affordable Teotihuacan pyramids tour as it's cheaper than most of the tours here.
Teotihuacan is also popular for afternoon visits where you can watch the sunset over the pyramids. There are also fewer people in the afternoon as most tour companies start in the morning.
"Great experience – Highly recommend! Our guide Leonardo was excellent. Transport out and back was comfortable and the site itself is breathtaking. The small group tasting after was delicious and informative. As others have said, the meet-up location can be tricky to locate. I recommend using the gps location in the app. It directs you to a sidewalk location as of Oct. '22."

Traveler Review, United States
Teotihuacan pyramids combo tours
One of the most important churches in the world is the Basilica de Guadalupe, a church in Tepeyac Hill, Mexico City which is devoted to the patroness of Mexico, Our Lady of Guadalupe.
You can visit Basilica de Guadalupe and Teotihuacan at the same time as these two places are just 38 minutes away from each other. It's a popular combo.
You can also add Tlatelolco to your itinerary for the day. Tlatelolco is another Aztec archaeological site that's also important in Mexico's culture. The tour price for this combo is $38 USD.
Below are more Teotihuacan tour combo suggestions:
✨ Teotihuacan travel guide and tips
Best time to visit Teotihuacan
Teotihuacan is near Mexico City so before planning your trip, check the weather in Mexico City. The best time to visit the capital is April to March and October to November.
Teotihuacan is open from 9:00 am – 5:00 pm 7 days a week.
I wasn't bothered with the big crowds as Teotihuacan is spacious so I really won't make a big deal about the best time of the day to go.
Climb the pyramids sideways
The steps of the Teotihuacan pyramids are small (no matter how small you are!) The easiest way to climb the steps of the Teotihuacan pyramids is to do it sideways and diagonally.
There are fewer people in the afternoon
Many Teotihuacan tours leave at 7:00 AM from Mexico City and majority of the tourists book the morning tours. At this time of the day (before midday), the complex is packed with tourists.
Ideally, early morning tours are recommended but to be honest with you, there are fewer tourists in the afternoon and you can enjoy a spectacular sunset over the Teotihuacan pyramids!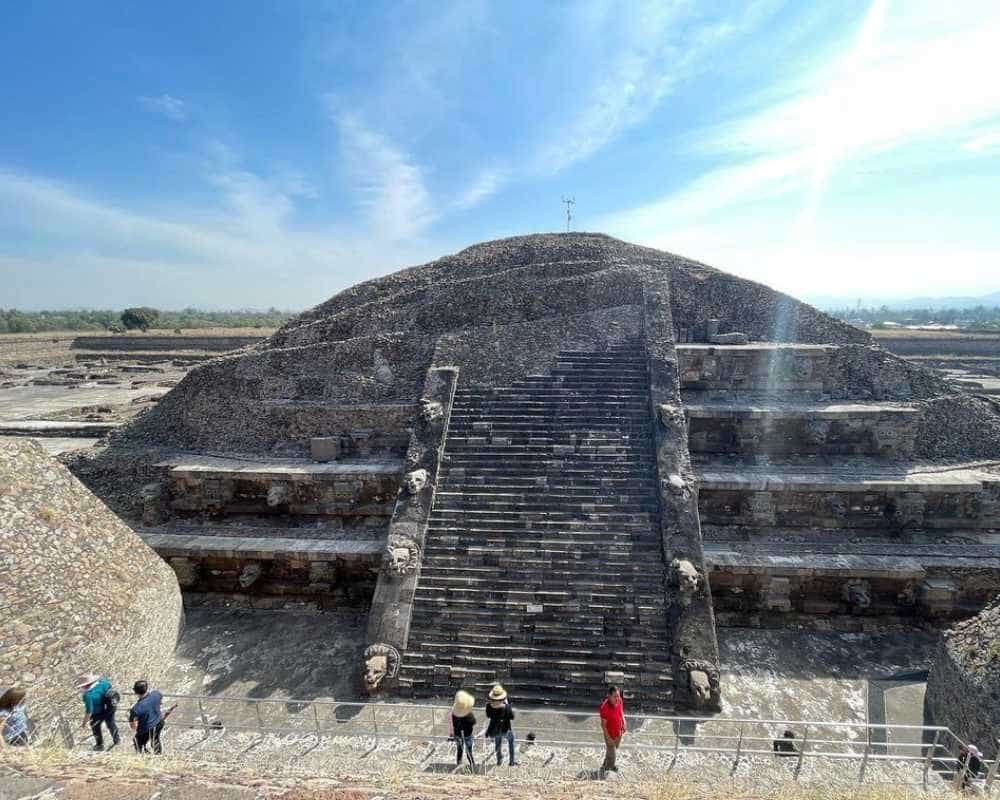 Afternoon Teotihuacan tours are also faster. This way, you can still do other things – you don't need a full day tour to see the Teotihuacan pyramids!
⁉️ Teotihuacan Travel Guide FAQ
Where is Teotihuacan Mexico?
Teotihuacan is an hour's drive from Mexico City but with traffic, expect the drive to extend for up to 1.5 hours.
While visiting Teotihuacan on your own is POSSIBLE, it won't be very easy to commute especially if you don't speak Spanish.
Is Teotihuacan Mayan or Aztec?
The origins of Teotihuacan is still a mystery but studies show that this is a pre-Aztec archaeological site. However, there are also evidences that the Mixtec, Mayan and Zapotec cultures have graced this ancient city.
What is Teotihuacan Mexico known for?
Aside from the Teotihuacan Pyramids, Teotihuacan is a municipality in the state of Mexico. It takes its name from the pyramids, but not many people know that Teotihuacan is actually a city!
Teotihuacan is known for adventures like biking. Many travelers from all over the world visit Teotihuacan for the air balloon ride which gives you an spectacular view of the whole city!
Who built the pyramids in Teotihuacan?
Up until today, the answer to who built the Teotihuacan pyramids is unknown. It is believed to be founded as early as 400 B.C. and was not completed until 300 A.D.
Teotihuacan was known to many after 100 years with a population of 200,000. It is not the most visited tourist attraction in Mexico.
Is Teotihuacan the same as Chichen Itza?
No, Teotihuacan and Chichen Itza are not the same. Teotihuacan is in Central Mexico while Chichen Itza is in the Yucatan peninsula.
Chichen Itza is also 100% Mayan with known, concrete facts and figures while Teotihuacan is believed to be pre-Aztec with no exact figures and history.
What are the main architectural features of Teotihuacan?
The main architectural features of Teotihuacan is The Pyramid of the Sun, The Pyramid of the Moon, the Citadel (Ciudadela), and the Temple of Feathered Serpent (Quetzalcoatl).
How many steps are there in Teotihuacan?
The Teotihuacan pyramids in the complex have different features. The main attraction is the Pyramid of the Sun which has 248 steps and is 75 meters tall.
This is where all the popular Teotihuacan pictures are taken, as you see on Instagram.
🇲🇽 Mexico City Travel Planning
🛫 Where can I book cheap flights to Mexico City?
Use the code MXINSIDER to get cheap flights to Mexico City upon checkout on WayAway.
🚑 Do I need insurance to travel to Mexico City?
Yes, you do! This is the number one requirement when traveling to Mexico. I use SafetyWing and I only pay $40 USD per month for my digital nomad travel insurance!
🛏️ Where can I find cheap hotels in Mexico City?
Budget travelers, use Hostelworld when looking for accommodations in Mexico City. A bed in a hostel dorm starts at $25 USD per night. Booking.com is best for boutique hotels while sustainable Airbnbs can be booked with Casai.
Trisha traveled to Mexico in 2018 and after a year, she found herself obtaining a 4-year residency visa in Mexico. She is the Editor-in-chief for our Living in Mexico Series which has helped over 3,000 Americans move to Mexico with ease. Trisha currently resides in Cabo San Lucas, Baja California Sur.