Destinations > Mexico City
Your dream vacation is just a click away. Use our Mexico City Travel Guide to craft a trip that captures the essence of this electric metropolis.
Mexico City Travel Guide: quick info
🇲🇽 State: Mexico City
⏰ Timezone: Central Standard Time (GMT-6)
✈️ Airport: Benito Juarez International Airport (MEX)
💲 Currency: Mexican peso (MXN)
✈️ Cheap flights: Kiwi.com
🕝 Average Trip Length: 3-5 days
🛃 Visa: 180 days
🚑 Travel Insurance: Ekta
📲 Best Sim Card: Telcel
🔌 Power plug: Type A (US, Canada)
🪴 Best neighborhood: Roma
✅ Safe areas: Polanco, Condesa, Roma
🚕 Taxi app: Uber
🚌 Best Bus Company: ADO
🚗 Best Car Rental: Discover Cars
💵 100 pesos in USD: $5.86 USD
🚰 Tap water: Not drinkable
👩‍🎨 Visitors per year: 2.9 million
🏨 Best hotels: Booking.com
💳 Credit cards: Some establishments
💵 Cashless: No, still uses cash
Best time to visit Mexico City
The best time to visit Mexico City largely depends on what you're looking to get out of your trip, as the city offers something for everyone year-round. However, there are certain periods that might be more favorable for different types of experiences:
Best time to visit for good weather
If you're looking for the most pleasant weather, the best time to visit Mexico City is between November and April. During these months, the city experiences its dry season, characterized by minimal rainfall and moderate temperatures. Daytime highs usually range between 18-24°C (64-75°F), while nighttime lows can drop to 6-12°C (43-54°F).
Cheapest month to visit
For travelers looking to save on expenses, the cheapest time to visit Mexico City tends to be the low season, which runs from late April to early June and late September to early November. During these off-peak periods, you'll find lower airfares and hotel rates, as well as fewer crowds at major attractions. However, it's essential to note that these months fall within the wet and rainy season.
High season
The high season in Mexico City corresponds with the dry and relatively cooler months of December through March. During this time, average temperatures range from 14°C to 18°C (57°F to 64°F). Easter is part of the peak season, so expect larger crowds and possibly higher prices.
Low season
The low season falls during the city's rainy period, from June to September. Average temperatures hover around 18°C to 19°C (64°F to 66°F).
Shoulder season
The shoulder season falls in the transitional periods between the high and low seasons, from April to May and October to November. These months offer a balance of reasonable weather, with temperatures averaging around 15°C to 20°C (59°F to 68°F).
Go on an all-inclusive 5-day vacation in Mexico City!
5 days, all planned for you, worry nothing – just go enjoy your trip, hassle-free.
Mexico City is located in the Valley of Mexico, a large valley in the high plateaus at the center of Mexico, at an altitude of 2,240 meters (7,350 ft). The airport that serves Mexico City is Benito Juarez International Airport.
You will find a lot of cab services at the airport's international and domestic arrivals, between gates 1 and 2. However, it is still more convenient to book a cab in advance since this is a busy airport.
Is Uber allowed at Mexico City Airport?
No, Ubers are not allowed at Mexico City Airport gates. You have to go out of the airport to go to the Uber meeting point. Though this is a cheaper option, there's extra work needed to walk out of the airport. The good news is you can take an Uber to the airport as Ubers are allowed to drop-off but not pick-up passengers.
Getting around Mexico City
Mexico City is walkable if you are staying in areas like Roma, Condesa, or Polanco. Find a hotel in these areas, and you won't need transportation. If you are staying in other neighborhoods, here are other ways to get around Mexico City:
By Uber: Uber in Mexico City are surprisingly cheap, and you can often get around for less than $10 USD. The flag-down fee is approximately 8 pesos (less than $1 USD), with an additional 2 pesos charged per kilometer.
By bus: Mexico City has an extensive bus system. The fares are quite affordable; single rides cost 5 pesos (roughly $0.25), while 1-day passes cost 30 pesos ($1.50 USD). Day passes can be used on any route at any time, and they offer discounts for senior citizens, children under 8 years old and disabled persons. Plus, some routes have air conditioning!
By train: Take a ride on the metro and enjoy cheap fares, with single tickets costing as little as $0.17 USD per person. Travelers can also purchase reloadable cards that store up to six rides, available in denominations of $0.45-$2 USD. If you want to venture further out of town, consider taking Tren Suburbano – an interurban railway line with stops in cities across the state of Mexico and fares starting at just $0.50 USD.
By rental cars: Renting a car in Mexico City is an easy and convenient way to explore this vibrant city. Prices are surprisingly affordable; you can find a rental car for around $35 USD per day. The process of renting a car in Mexico City is simple; most rental companies will offer you the option of picking it up at the airport or downtown.
Things to do in Mexico City
Mexico City, a sprawling metropolis steeped in history and bursting with modern energy, offers a diverse array of experiences for all traveler types, even families traveling with kids!
Whether you're an art aficionado, a history buff, or a foodie, you'll always find an activity that will fit your travel style. But first, here are the must-do things to do in Mexico City:
1. Teotihuacan Pyramids
Teotihuacan, often called the "City of the Gods," is a must-visit for anyone interested in archaeology or ancient civilizations. Located about 50 km northeast of Mexico City, this UNESCO World Heritage Site is home to some of the most majestic pyramids in the Americas, including the Pyramid of the Sun and the Pyramid of the Moon.
[See the best Teotihuacan tours]
2. Frida Kahlo Museum
The Frida Kahlo Museum, also known as Casa Azul, is definitely worth visiting. It's an intimate look into the life and works of one of Mexico's most iconic artists. Situated in the charming Coyoacán neighborhood, the blue house where Kahlo was born, lived, and died is now a museum displaying her personal belongings and some of her most famous paintings.
3. Lucha Libre
For a truly unique, high-energy experience, you can't miss a Lucha Libre show. Lucha Libre is Mexican professional wrestling, complete with colorful masks, flamboyant characters, and acrobatic moves. This spectacle offers a lively glimpse into modern Mexican culture. Whether you're a wrestling fan or not, the dramatic performances, crowd participation, and festive environment make it a must-see event in Mexico City.
[See the best Lucha Libre tours]
4. Anthropology Museum
The National Museum of Anthropology is an essential stop for anyone keen to understand Mexico's rich cultural tapestry. This world-class museum houses the most extensive collection of pre-Columbian artifacts in Latin America, including the famous Aztec Sun Stone and the jade mask of the Mayan king Pakal. With 23 exhibit rooms filled with ancient treasures, the museum provides a comprehensive overview of Mexico's complex history and diverse indigenous cultures.
5. Grutas Tolantongo
Though a bit of a trek from Mexico City, Grutas Tolantongo is a natural wonder that is well worth the journey. This canyon and cave complex offers hot springs, thermal pools, and stunning vistas of the surrounding landscapes. You can soak in mineral-infused waters that are said to have healing properties or explore the caves and rivers that carve through the region. It's a nature lover's paradise and a perfect retreat from the hustle and bustle of the city.
6. Trajineras of Xochimilco
Xochimilco, famous for its canals and colorful, flower-adorned trajineras (flat-bottomed boats), offers a unique and festive way to experience Mexico City. As you float down the ancient waterways, you'll encounter mariachi bands, floating vendors selling local snacks, and an overall atmosphere of communal celebration. It's an excellent place for families, groups, or couples to relax and enjoy a different pace of life while soaking in the local culture.
7. Cooking classes
Taking a cooking class in Mexico City isn't just about learning to prepare food; it's an immersive dive into Mexican culture and history. Through hands-on lessons, you get to explore the rich flavors and ingredients that make Mexican cuisine so diverse and delicious.
[See the best cooking classes]
8. Street food tours
No visit to Mexico City would be complete without indulging in its vibrant street food scene. From aromatic tacos al pastor and freshly made tamales to sweet churros and tangy esquites, the range of flavors is astonishing. Eating street food here isn't just quick and affordable; it's a cultural experience that offers a snapshot of daily life and the diverse culinary influences that shape it.
9. Neighborhood tours on a bicycle
Bicycling offers a unique and eco-friendly way to explore Mexico City's diverse neighborhoods and landmarks. The city is increasingly embracing cycling culture, with dedicated bike lanes and Sunday events like "Muévete en Bici," where main avenues are closed to motor traffic. Whether you're riding through scenic Chapultepec Park or navigating the historic streets of Coyoacán, biking provides an intimate, ground-level perspective of the city that you simply can't get from a car or bus tour.
[Check bicycle tours in Mexico City]
10. Mexico City nightlife
Mexico City's nightlife is as varied and pulsating as the city itself. Whether you're interested in chic rooftop bars with panoramic views, underground indie music venues, or traditional mariachi performances, the city comes alive when the sun sets. Experiencing the nightlife is not just about letting loose but also about tapping into the city's modern, youthful energy and diverse subcultures. It's a must-do for anyone looking to capture the full essence of Mexico City.
Where to stay in Mexico City
When looking for a place to stay in Mexico City, always check the distances from the Historic Center (Centro Historico) as this is where most of the landmarks are. Taking an Uber from anywhere in CDMX is cheap but for your convenience, stay in areas where it's less than 45 minutes from downtown.
10 best and safest neighborhoods in Mexico City
The safest neighborhoods to stay in Mexico City are Roma, Condesa, and Polanco. However, these days, with the tourism boom in the capital (particularly foreign remote workers), the "safest areas" list is becoming more extensive. Below are some great recommendations:
Centro Historico/Zocalo: the Historic Center of Mexico City is the heart of the capital, brimming with centuries of history showcased through its colonial architecture, ancient temples, and iconic landmarks like the Zócalo and Mexico City Metropolitan Cathedral.
Roma: a trendy and culturally rich neighborhood in Mexico City, known for its eclectic mix of architectural styles, art galleries, and vibrant culinary scene.
Polanco: an upscale, cosmopolitan neighborhood in Mexico City, renowned for its luxury shopping, high-end restaurants, and elegant architecture.
Condesa: a bohemian and stylish neighborhood in Mexico City, characterized by its Art Deco architecture, lush green parks, and a lively ambiance filled with trendy cafes, bars, and boutiques.
Coyoacán: a charming, colonial-era neighborhood in Mexico City, known for its cobblestone streets, colorful facades, and vibrant plazas teeming with artisans and performers.
Juarez: known for areas like the Zona Rosa, offering a mix of vibrant nightlife, LGBTQ+-friendly spaces, and a growing scene of trendy cafes and boutiques.
Santa Fe: a modern, upscale neighborhood in Mexico City that serves as a major business and financial hub. With its sleek skyscrapers, luxury hotels, and high-end shopping centers, it stands in stark contrast to the city's historic districts. Known for its contemporary architecture and state-of-the-art facilities, Santa Fe offers a glimpse into Mexico City's booming future.
San Angel: a charming, cobblestoned neighborhood that feels like a small colonial town within the metropolis. Known for its beautiful Spanish-style architecture, lush gardens, and the famous Saturday Bazaar, it's a haven for art lovers and antique collectors. The area is rich in history, with well-preserved colonial buildings and churches offering a serene escape from the city hustle.
Santa Maria La Ribera: a historic and culturally diverse neighborhood that's home to the iconic Kiosco Morisco, an ornate Moorish-style pavilion. The area boasts a mix of architectural styles, from Art Nouveau to Mexican Baroque, and is becoming increasingly popular for its burgeoning art scene and local food markets. It offers a more laid-back, community-oriented vibe compared to other parts of the city.
San Rafael: a neighborhood with a rich artistic heritage, once home to many of Mexico City's creative community. While somewhat quieter today, it still retains its cultural charm with numerous theaters, galleries, and cafes. The area is experiencing a renaissance, as a new generation discovers its tree-lined streets and historic 19th-century mansions, making it an emerging hotspot for bohemians and young professionals alike.
Best hotels in Mexico City
Hotels in Mexico City has distinctive architectural and interior design to highlight the city's rich history and modern style. It has a diverse range of options to suit any traveler's needs, from luxurious five-star resorts to budget-friendly hostels. Here are the best Mexico City hotels with nightly prices and star rating:
Where not to stay in Mexico City?
Some areas, like Tepito and parts of Doctores, are considered less safe for tourists. Always research and consult recent reviews or locals before booking accommodations. To make sure, just stay in Roma, Condesa, or Polanco.
Best restaurants in Mexico City
There are so many restaurants in Mexico City as it is a food paradise for all tastes and budgets. It's hard to answer what is the best! However, we'll trim it down to the "best" in terms of those that received international awards.
1. Casa Prunes
Casa Prunes is a gem in the heart of Mexico City, offering an authentic Spanish dining experience. Known for its meticulously crafted paellas and an extensive range of tapas, this restaurant provides a cozy, intimate setting. The wine list is carefully curated to complement the menu, making for a truly immersive culinary journey.
2. Contramar
A must-visit for seafood lovers, Contramar serves up dishes so fresh they taste like the ocean breeze. Their iconic tuna tostadas and grilled fish are legendary. The ambiance is effortlessly chic, buzzing with a mix of locals and tourists, ideal for casual lunches and celebratory dinners alike.
3. Sud 777
Located in a sleek, modern space, Sud 777 is an epitome of contemporary Mexican gastronomy. Offering a la carte and tasting menus, the restaurant features imaginative pairings that surprise and delight, like mole with white chocolate and foie gras.
4. Bakea
A bastion of Basque-French culinary traditions, Bakea provides a unique dining experience in a gorgeous villa setting. From foie gras to perfect pastries, each dish is a marriage of refined flavors and presentation, perfect for a romantic or special occasion meal.
5. Expendio de Maiz Sin Nombre
This unique eatery celebrates the humble corn, an essential Mexican ingredient, through a menu that's always changing but always authentic. There's no written menu, making each visit a delicious surprise of traditional Mexican flavors.
6. Dulce Patria
Led by Chef Martha Ortiz, Dulce Patria aims to represent the essence of Mexico through its cuisine. The restaurant offers a theatrical presentation of traditional dishes, making each course a stunning visual and gastronomic experience.
7. Carmela Y Sal
This restaurant offers farm-to-table Mexican cuisine in a setting that combines rustic and contemporary elements. Known for its seasonal menus and fresh ingredients, Carmela Y Sal has quickly become a staple for food connoisseurs.
8. Maximo Bistrot
Offering a laid-back, bistro-like atmosphere, Maximo Bistrot is an oasis of culinary creativity. The menu features locally-sourced ingredients prepared with French techniques, resulting in dishes that are both comforting and sophisticated.
9. Puyol
Led by renowned chef Enrique Olvera, Puyol offers an experimental approach to traditional Mexican cuisine. Featuring tasting menus that evolve with the seasons, the restaurant has earned a reputation as one of the world's best.
10. Quintonil
Located in the posh neighborhood of Polanco, Quintonil delivers a modern take on Mexican flavors. Chef Jorge Vallejo's innovative techniques and use of local ingredients have made this restaurant a fixture in global "best of" lists.
As for the other types of restaurants in Mexico City, see these food guides below by area, cuisine, and more!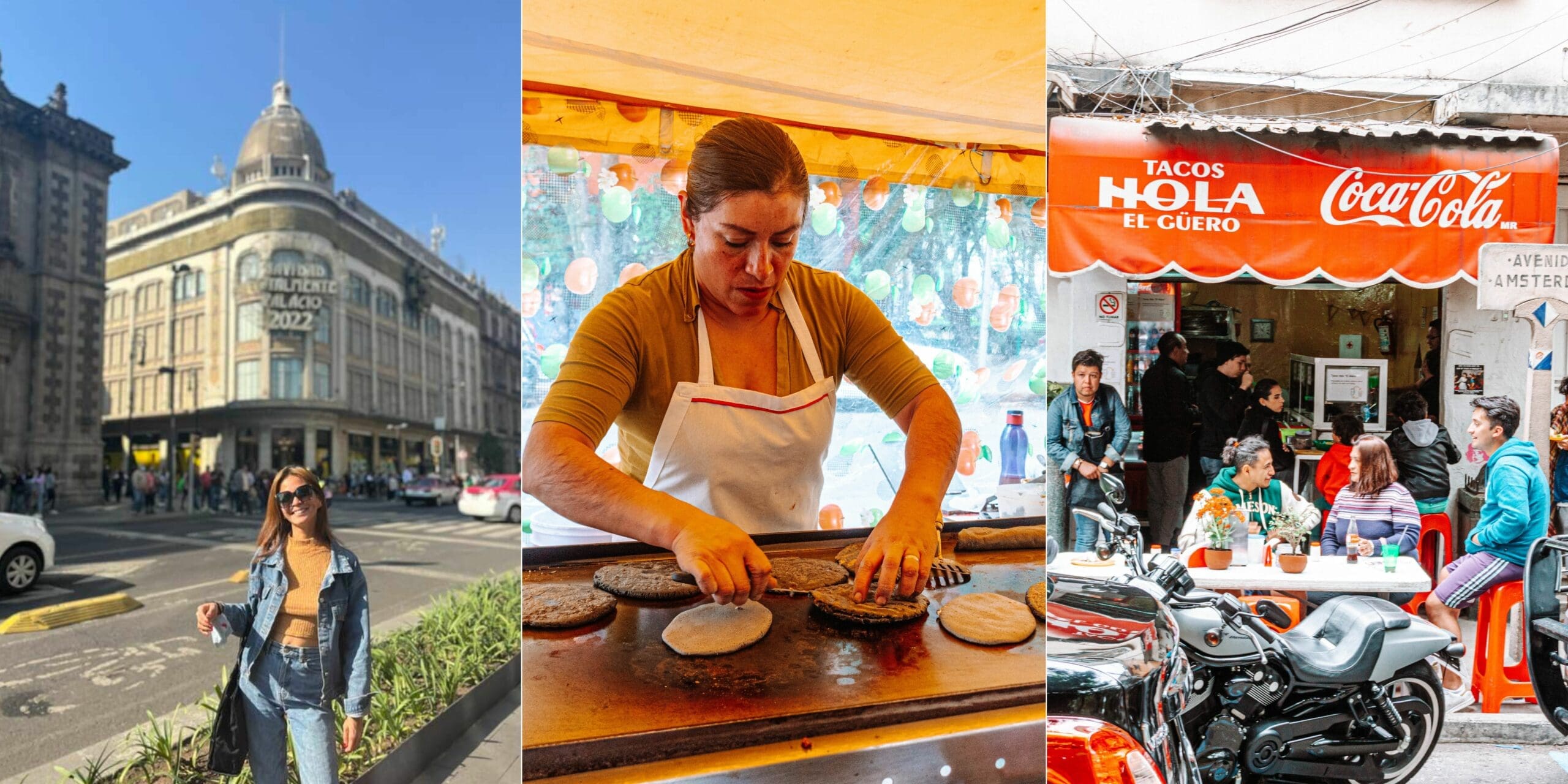 The affordability of a trip to Mexico City can vary depending on your travel style, but overall, the city is often considered a cost-effective destination, especially when compared to other major global cities.
Here's a breakdown of some of the costs for one person. Please note that this is only an example and is based on our personal trips.
| Item | Price |
| --- | --- |
| Hostels, guesthouses | $10-$20 |
| 3-star hotels | $50-$200 |
| 4-5 star hotels | $300-$800 |
| Street food | $5-$10 per day |
| Mid-range restaurants | $20-$40 per day |
| fine dining | $50-$100 per day |
| Metro/train | $0.25-$0.50 per ride |
| Taxi/Uber | $3-$10 per ride, within city |
| Museums | $5-$15 |
| Teotihuacan Tour | $125 USD |
| Lucha Libre tickets | $10-$50 |
| Sim card | $12 USD per month |
| Cooking Classes | from $100 |
| Nightlife (drinks, clubs, etc.) | $20-$100 |
How expensive is Mexico City?
Compared to North American and European cities, Mexico City is more affordable. However, costs vary: upscale dining and accommodations exist alongside budget options. Generally, food, transport, and entertainment offer great value for money.
Which ATMs to use in Mexico City?
When visiting Mexico City, using ATMs from well-known and reputable banks is generally the safest and most convenient way to access Mexican pesos. BBVA Bancomer is one of the largest banks in Mexico, with ATMs widely available throughout the city. These are considered safe and reliable.
Santander is another well-established bank with numerous ATMs across Mexico City, often found in shopping malls and supermarkets. HSBC, an international bank has multiple ATMs around Mexico City, and they are generally considered reliable.
What is standard tipping in Mexico City?
In Mexico City, the standard tipping rate is generally between 10-15% of the bill at restaurants and cafes. Tips are usually given in cash, even if the meal is paid for with a card. For small services like taxi rides or bellhops at hotels, a tip of around 10-20 Mexican pesos ($57-$15 USD) is customary. Some upscale establishments may automatically include a service charge, so check your bill carefully.
Like the United States, tipping is expected and is kind of obligatory in Mexico City. These days, waiters will actually frown if you tip less than 15%.
Is it better to pay with cash or card in Mexico City?
Both cash and card are widely accepted in Mexico City. However, smaller vendors and markets often prefer or only accept cash. It's advisable to carry a mix of both: use your card for larger purchases and accommodations, and keep cash on hand for tips, street food, and smaller shops.
Signing up for a tour in Mexico City offers a curated, insightful experience that can enhance your understanding of the city's rich history, culture, and culinary scene. It's an excellent way to maximize your time, especially if you're on a tight schedule, and offers the safety and convenience of organized travel.
Below are the best tours in Mexico City (curated by us!) — feel free to get in touch for a discount.
Travel Safety in Mexico City
The safety of Mexico City for tourists is a nuanced subject. While the city has made significant strides in improving safety and is generally considered safe for tourists in most areas, like any other major metropolis, it does have neighborhoods that are best avoided.
Tourist-heavy areas like Polanco, Condesa, Roma, and the Historic Center are typically safe during the day, and often into the evening, but it's always advisable to stay aware of your surroundings.
Common safety concerns are petty crimes like pickpocketing, especially in crowded areas or on public transport. Scams targeting tourists do exist, so it's good to be cautious and well-informed. Taxi scams can be avoided by using reputable taxi companies or ride-share apps like Uber.
To enhance safety:
Avoid displaying signs of wealth (expensive jewelry, high-end cameras, etc.).
Stick to well-traveled streets, especially at night.
Use ATMs in secure, well-lit locations.
Be cautious with alcohol and never leave drinks unattended.
Consult reliable travel advisories and local sources for the most current information, and consider purchasing travel insurance that covers health and theft. Mexico City is a destination that requires the same kinds of precautions you would take while visiting any large city. With common sense and vigilance, you can have a safe and enjoyable trip.
Is it okay to travel to Mexico City right now?
YES, absolutely! You can always travel to Mexico City without issues. Mexico City receives 2.9 million tourists yearly and tourism never stops here. It is also one of the hottest digital nomad cities in the world right now so expect many foreigners here.
Is Uber safe in Mexico City?
Uber operates in Mexico City and is considered a safer alternative to hailing street taxis. Many tourists and locals use Uber for its convenience and safety, though it's always prudent to verify driver details and share your trip with someone.
What is the safest way to travel in Mexico City?
The safest ways to travel in Mexico City include using well-reviewed taxi services, ride-sharing platforms like Uber, and the city's metro system during non-peak hours. Tourists are advised to avoid isolated areas at night and always remain aware of their surroundings.
Is taxi safe in Mexico City?
While many taxis in Mexico City are legitimate and safe, there have been reports of scams and thefts. For safety, it's recommended to use "sitio" taxis (taxi stands) or taxis ordered through a hotel or app rather than hailing one off the street.
Mexico City Travel Videos
⁉️ FAQ: Mexico City Travel Guide