This is where I currently live, and I never get tired of the view of the Arch of Cabo San Lucas. I can see it from my bedroom! In this post, I will give you all the information you need to know about visiting this world-famous arch.
📥 Hi Trisha! A friend from Seattle recently passed on your blog to me and I am very impressed! I also got some tips from your Japan blog when I went there last year. Such fantastic and honest content so thank you! I am going to visit Cabo next month and I was wondering if you can recommend some great tours for the Arch of Cabo San Lucas? If you have time, I would love to meet and pick your brain more about Mexico! Really love all your photos on Instagram so thanks for the valuable content.

Cari Bedford, Seattle (WA)
Hola Kari,
Thanks for following all my blogs – really much appreciated! Yes, I live here now and have recently moved to a house with a view of the arch of Cabo San Lucas!
The boat tours really depend on what kind of boat you want to be on. We are a boat city and there are many types such as catamarans, sailboats, fishing boats, or even a basic fisherman boat.
It also depends on what inclusions you want like open bar, food, snacks, transportation to and from your hotel, etc.
Anyway, I listed all these important things in this Arch of Cabo San Lucas guide so browse away. I will definitely want to meet you when you're here – just send me a message on Instagram and we'll arrange.
Xx, Trisha
🧐 Questions about the Arch of Cabo San Lucas? Ask us on Tiktok.
The Arch of Cabo San Lucas (located at the southern tip of Mexico's Baja California Peninsula) is an iconic landmark worldwide.
Situated in a breathtakingly beautiful setting between stunning mountains and pristine beaches, the arch is surrounded by crystal clear waters teeming with a wide variety of marine life.
This natural wonder was formed millions of years ago by powerful ocean currents gradually carved away its limestone walls.
It is a breathtaking natural structure that stands at over 40 meters high and spans 30 meters wide. It is also an important landmark for ships traveling through the Sea of Cortez.
This unique arch was formed by thousands of years of erosion, weathering away soft rock formations until only the hard limestone remained.
Arch in Cabo San Lucas: quick links
🗺️ Arch of Cabo San Lucas Map
🛥️ How to get to the Arch in Cabo San Lucas
Getting to the Arch of Cabo San Lucas is relatively easy from the Marina Cabo San Lucas. The Marina is easy to spot as it is the meeting point/landmark for all tours in Cabo.
There are many great companies that will take you to the Arch of Cabo San Lucas on a tour (all-inclusive) so that is probably your best option to get to the arch.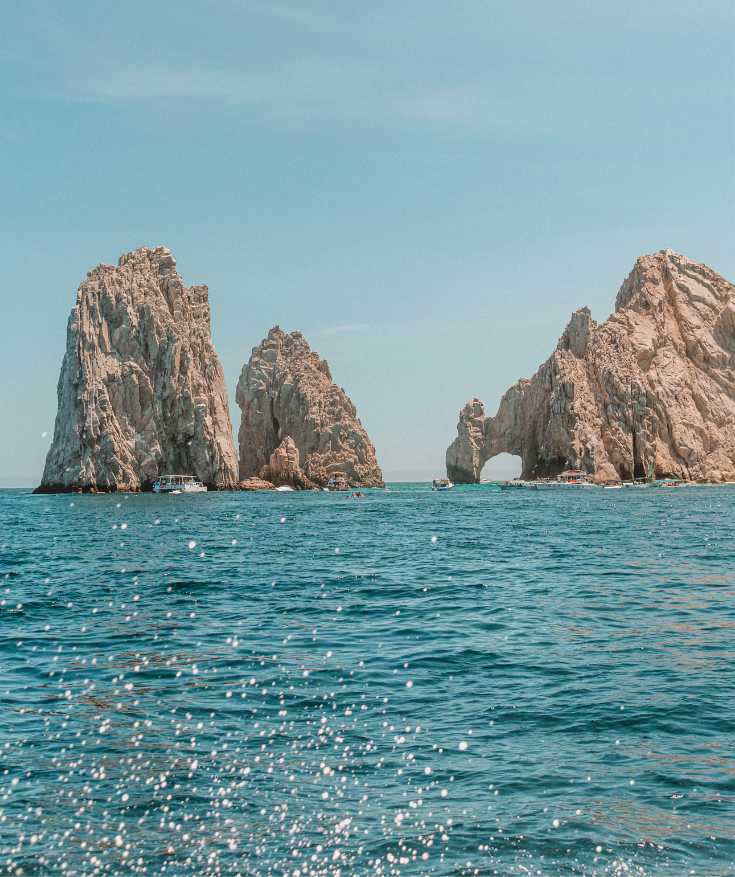 As for budget travelers, you can simply go to El Medano Beach and hail some local boat transfers there ($25 USD 2-way). This is relatively way cheaper than the tours that start from $85 USD.
I have a few local boat contacts in El Medano Beach so if you want to go to the Arch of Cabo San Lucas cheaply, get in touch with me and I will introduce you to my local boatman!
🏖️ Things to do in Arch of Cabo San Lucas
Lover's Beach
Lover's Beach is renowned for its panoramic views and tranquil atmosphere. It is a secluded beach between two large rock formations, Land's End and El Arco.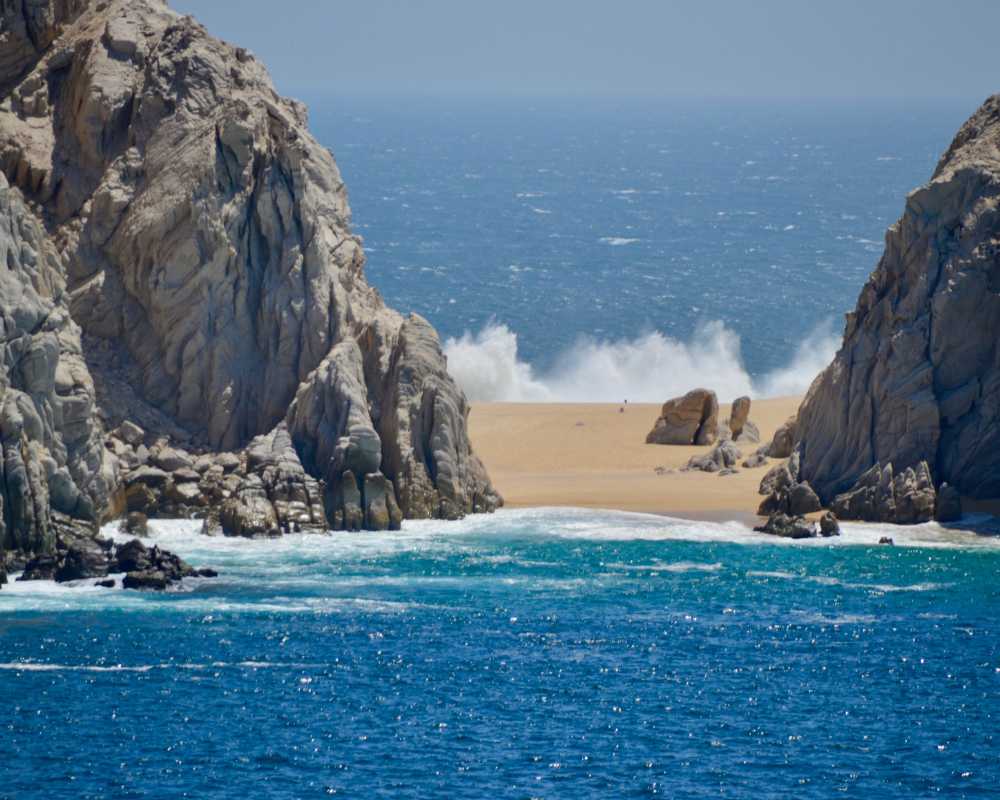 Due to its unique geography, the waters of Lover's Beach are calm as they are sheltered from the strong currents of the Pacific Ocean.
The northern cove features a tranquil atmosphere and calm surf, making it an ideal spot for swimming and sunbathing.
Divorce Beach
Divorce Beach, or Playa del Divorcio, is a crescent-shaped beach in Cabo. It is located between two rock formations known as El Arco and Lover's Beach.
The name "Divorce Beach" is believed to come from the fact that it was once used as a setting for high-profile divorces due to its exclusivity and privacy.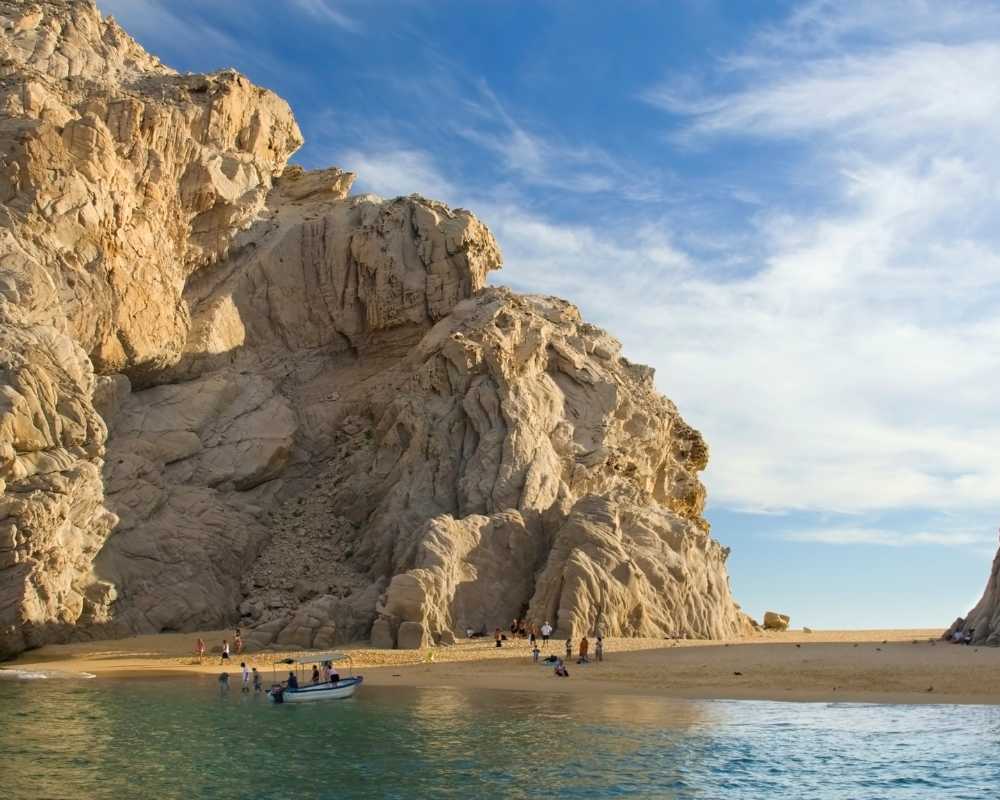 This beach has become a popular location for couples to go through a symbolic "divorce," wherein they toss their wedding rings into the sea to signify the end of their marriage.
The beach is well-known among locals for its pristine turquoise waters and miles of unspoiled shoreline.
Land's End
Land's End is a spectacular landmark comprised of a series of dramatic rock formations that form the southernmost tip of the Baja Peninsula.
The landscape is characterized by its rugged cliffs, deep caves, and arches that have been naturally formed due to years of tidal erosion.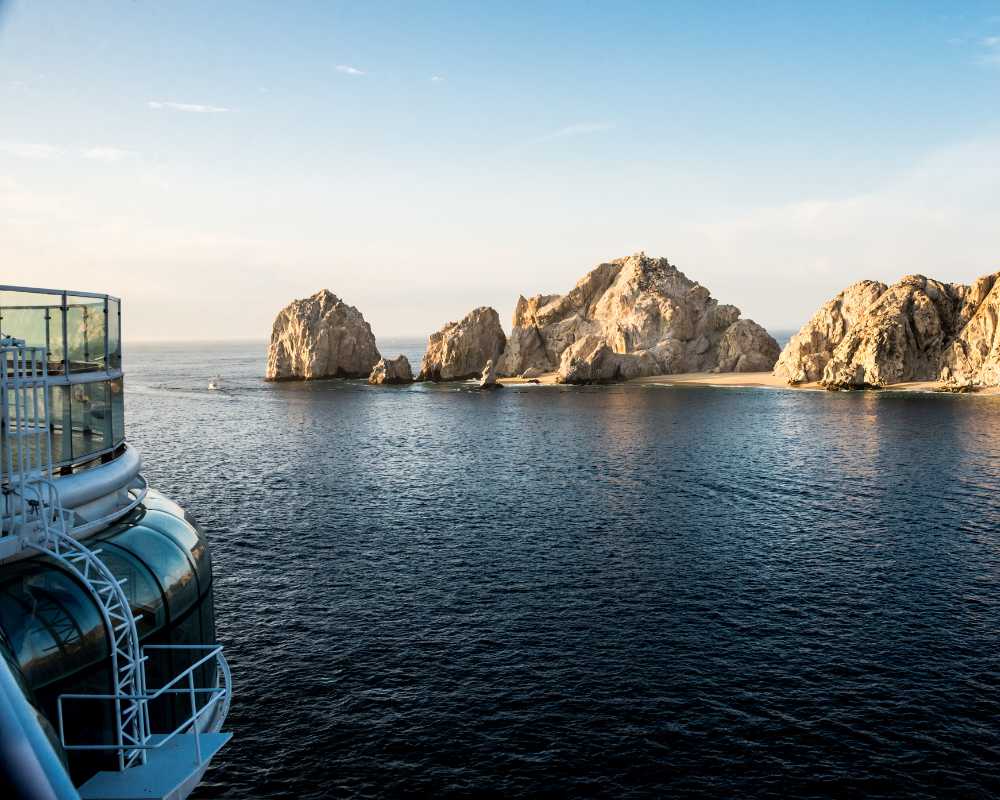 Moreover, Land's End's unique geological features offer a breathtaking view of the Sea of Cortez and the Pacific Ocean.
The beauty of Land's End lies in its striking landscape, characterized by dramatic cliffs, vibrant blue waters, and abundant wildlife.
Pelican Rock
Pelican Rock is another geological formation off the coast of the Baja California peninsula. It comprises several large rock formations situated adjacent to one another, thus forming the shape of a pelican.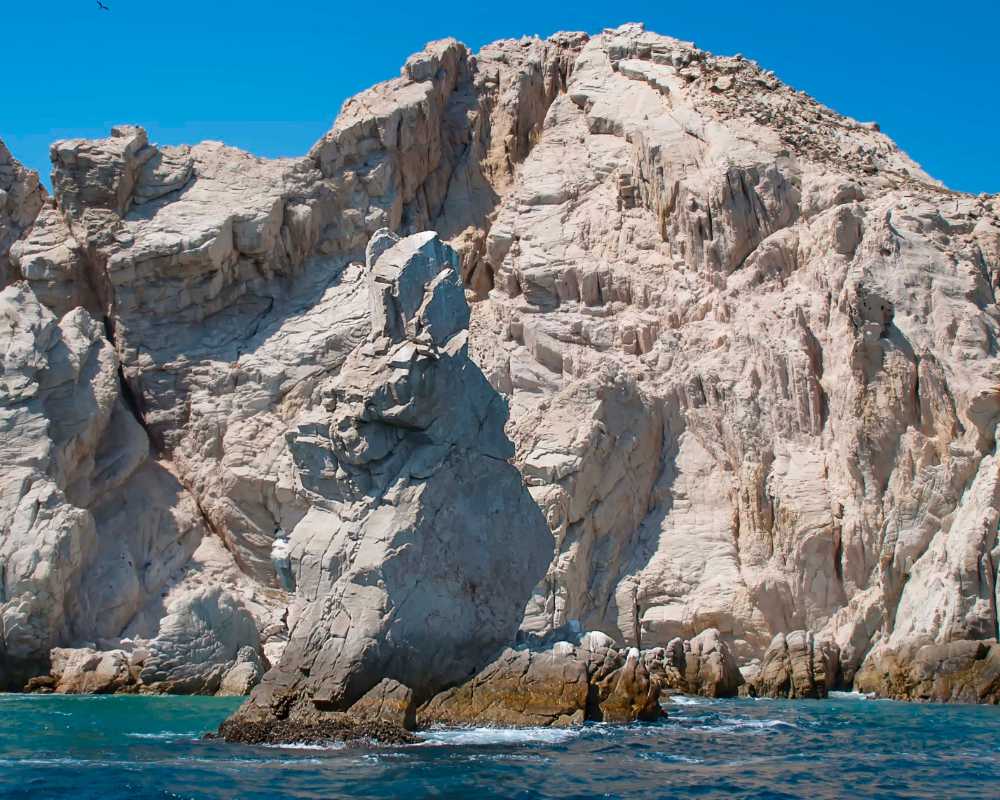 Due to its unique features and proximity to shore, Pelican Rock has become a popular spot for snorkeling and diving among locals and tourists alike.
As the name suggests, Pelican Rock is a large rock rising out of the sea, with many small caves and unique crevices forming a picturesque landscape.
Swimming in Cabo Arch
The Arch itself rises from the sea like a giant natural bridge and makes for a great site to behold from above or below water.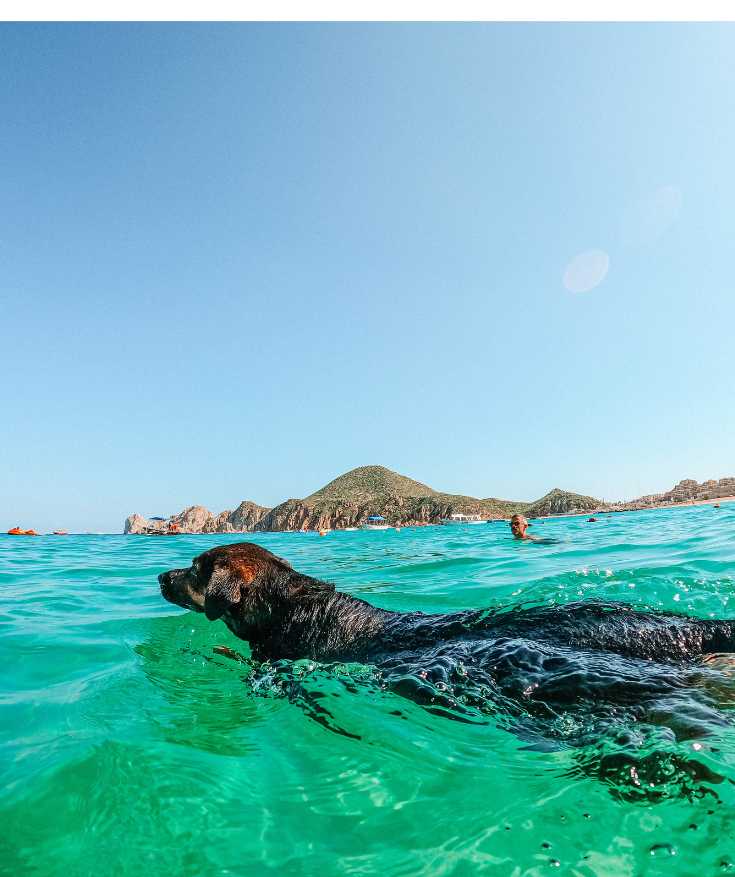 Its unique shape forms sheltered pools with gentle waves perfect for swimming, snorkeling, and diving – so whatever your skill level you can find something enjoyable to do!
Plus, beneath the surface, there are plenty of marine life to see such as tropical fish, starfish, and sea turtles. Later on in this post, I will clarify the subject about safety in swimming in Cabo so keep reading!
Snorkeling in the Arch of Cabo San Lucas
This popular snorkeling spot is home to an array of vibrant fish, sea turtles, dolphins, rays, and more.
There are many snorkeling tours in the arch of Cabo San Lucas where locals will take you to crystal clear waters and a diverse ecosystem teeming with life.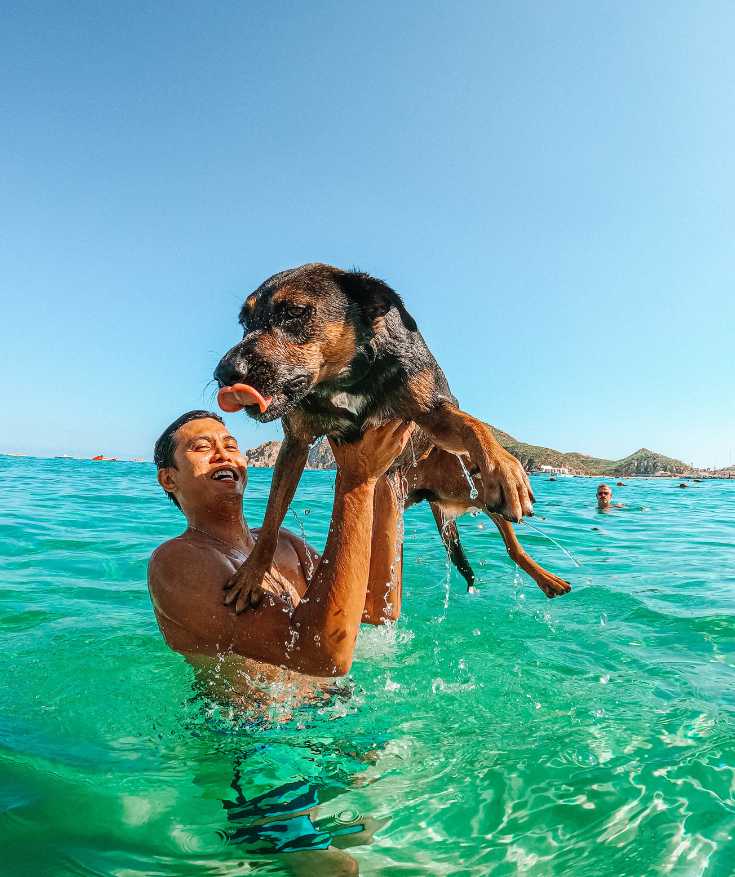 Though the visibility can vary depending on weather conditions or water currents, it's usually quite good at depths up to 20 feet from shore.
Snorkeling gear, life jackets, and other necessary equipment are provided when you book a snorkeling tour in Cabo.
Diving in the arch of Cabo San Lucas
Whether you're a beginner or an experienced diver, exploring the area (underwater) is safe, affordable, and a great experience.
Although the waters are cold – you will need to bring your wetsuit or you can rent with diving companies once you're here.
The Cabo Arch lies at depths ranging from 15 to 25 feet underwater and can be accessed from nearly any beach in Cabo San Lucas.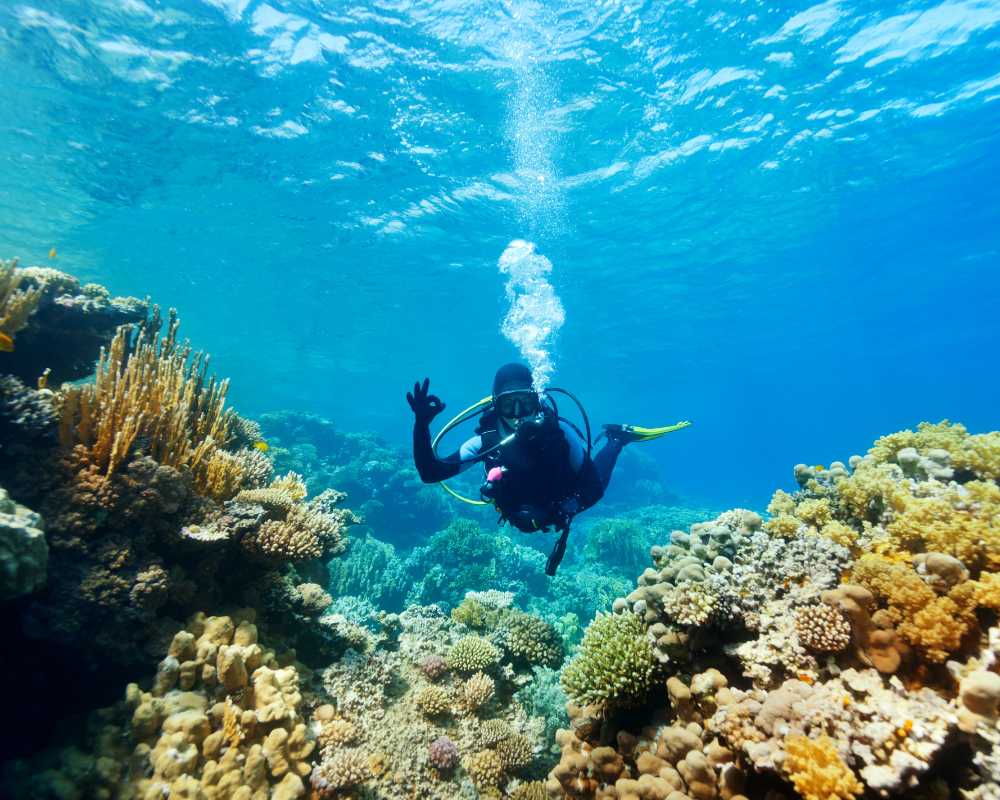 When diving around it, you'll spot abundant marine life, such as sea turtles, stingrays, and an array of colorful fish darting in and out of its crevices.
You may even get lucky enough to swim alongside dolphins! Experienced divers can explore afield and discover hidden caves filled with vibrant coral gardens. There are also options for night dives.
The price for diving in Cabo San Lucas starts at $125 USD per person (with 2 tanks).
Fishing in the arch
Fishing around The Arch of Cabo San Lucas is a unique anglers opportunity. This area offers some fantastic deep-sea fishing opportunities, with dozens of species including marlin, tuna, dorado and more lurking in these depths.
The Sea of Cortez (Gulf of Mexico) is where Cabo is located. It is famed to be the "aquarium of the world" and many pro-fishermen say there is nothing like it!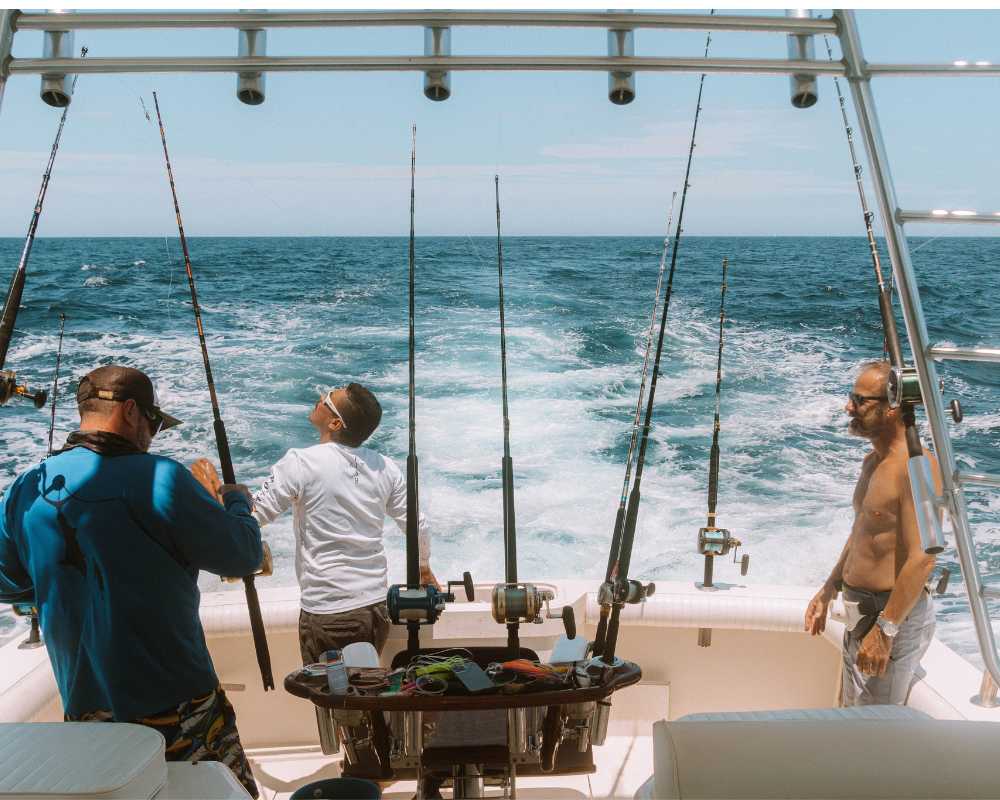 I know this because my husband (in the photos) is fishing every weekend here in Cabo! He is Swiss and keeps saying there is nothing like fishing in the Gulf of Mexico.
Fishing charters in Cabo San Lucas start from $300 USD for a full day. Prices depend on the size of the boat. Some boats don't have rod holders, FYi.
I have a local fishing charter guy from California, USA, so if you don't want to book with tour companies, get in touch with me and I will introduce you to some friends here.
Paddleboarding
Paddleboarding in Cabo San Lucas Arch is an increasingly popular form of recreational activity that allows participants to explore the unique marine environment in the region.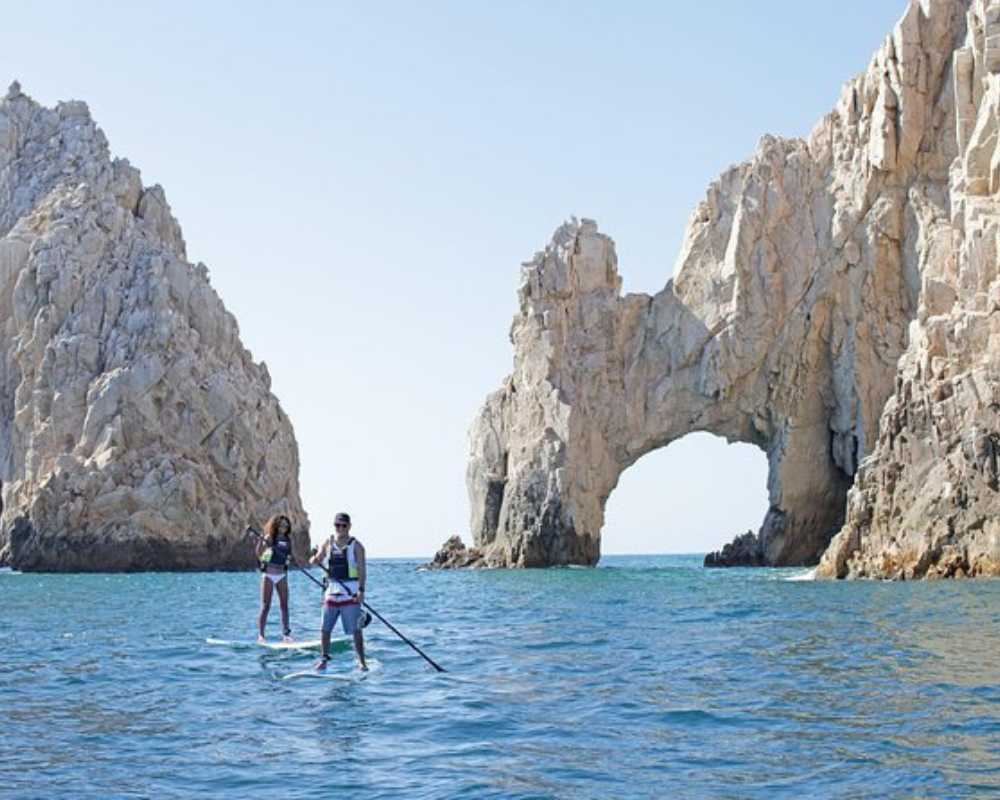 The arch is breathtaking, with its stunning sandstone cliffs and crystal-clear waters. For those who don't have experience paddling, there are plenty of local outfitters offering lessons and guided tours through the area.
You will see marine life, such as sea lions and whales, right up close as they pass by the arch! A paddleboarding tour (with snorkeling) starts at $129 USD.
Parasailing
Parasailing over the Arch of Cabo San Lucas is a thrilling experience. This iconic landmark can be seen from miles away and provides an incredible view when experienced from up above.
For those looking to participate in this activity, parasailing trips are offered daily throughout the region and it is safe even if you don't have experience.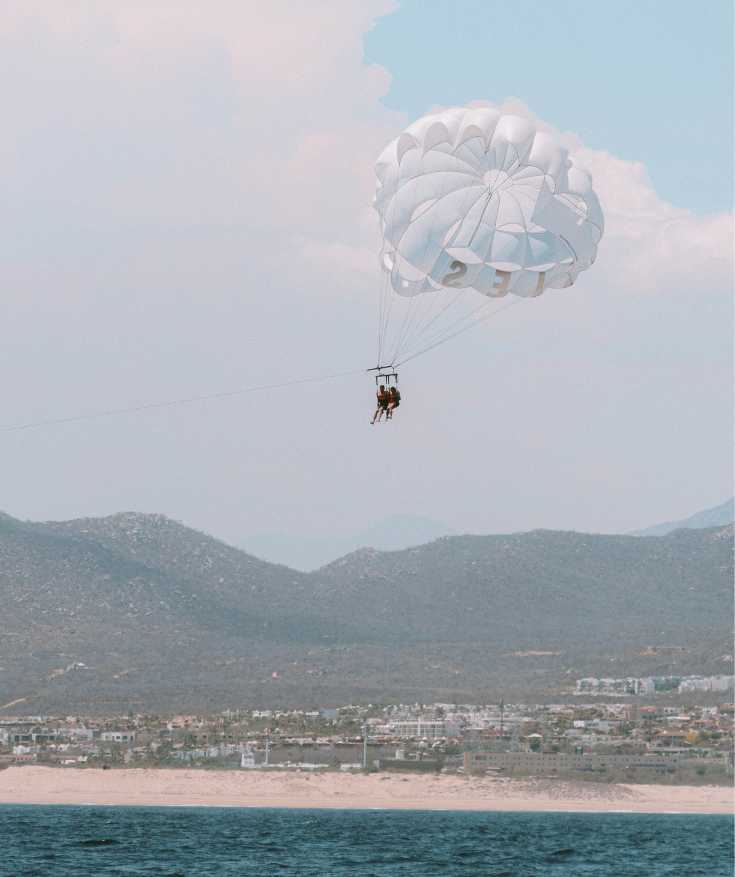 Children below 15 years of age are required to be accompanied by an adult. Alternatively, the guide can also accompany your kids. Parasailing in Cabo San Lucas starts at $100 USD.
🧭 Best Arch of Cabo San Lucas tours
Sunset Mexican Dinner Cruise Fajitas dinner & live music
⏰ 2 hours
💲 from $89 USD
On this three-hour cruise, you will see the gorgeous sunset while dining on a delicious Mexican buffet and listening to live music from local performers.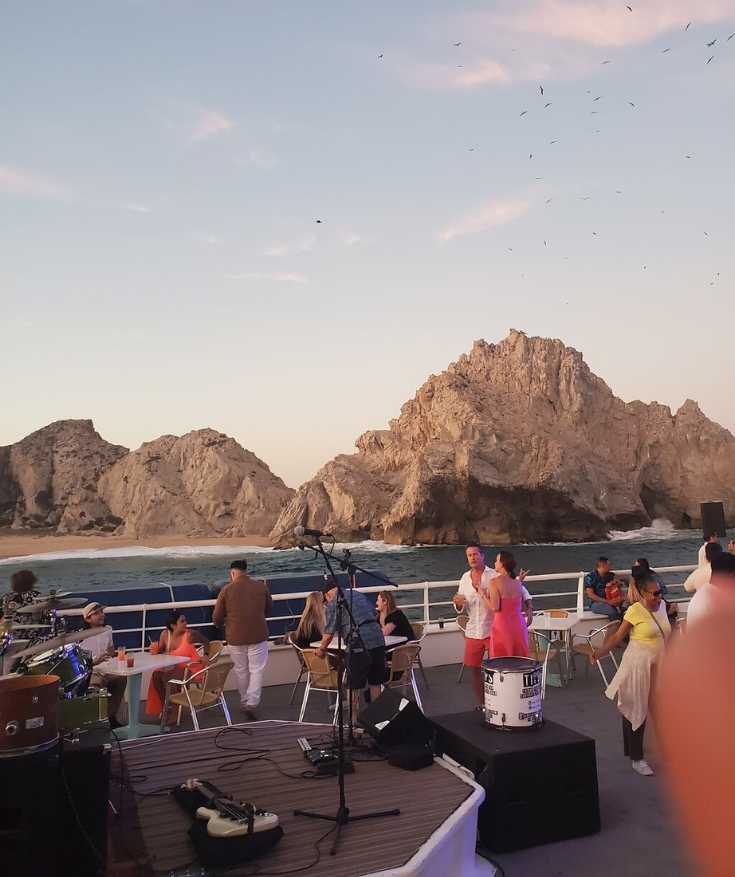 You will board a luxurious boat and make your way around Land's End, where you'll see the amazing rock formations that have made this area famous.
Los Cabos Luxury Sailing, Snorkel, and Lunch Cruise
⏰ 4 hours (approx)
💲 from $139 USD
This tour begins with a breathtaking view of Lovers Beach and the iconic Arch of Cabo San Lucas. From there, passengers board a luxurious sailboat and settle for an incredible voyage filled with snorkeling, stunning views, and delicious lunch.
In addition to enjoying views of Land's End, you will also explore colorful coral gardens teeming with tropical fish while snorkeling in crystal-clear waters.
If you don't want to do anything, that works too. You can sunbathe on the bow or take in vistas from the upper deck and birdwatch for blue herons along the shoreline.
Luxury Sailing Yacht and Chef Dinner
⏰ 2 hours
💲 from $89 USD
This sunset chef dinner tour will be embarking from Marina Puerto Los Cabos. You will set sail on a fantastic yacht that offers all the amenities you need for a relaxing voyage.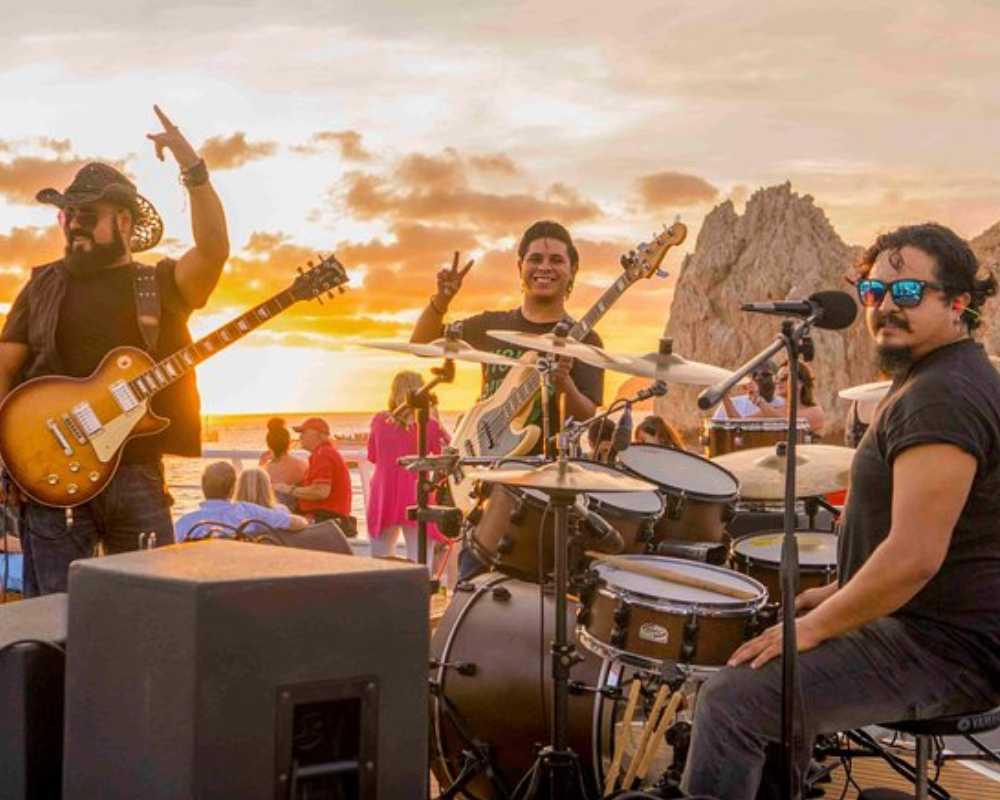 Enjoy breathtaking views as you cruise along stunning coasts and pristine waters, making your way to the renowned Arch of Cabo San Lucas.
Then settle in for a delicious dinner prepared right onboard by a professional local chef.
Hip Hop Sessions Boat Party Cabo San Lucas (Adults only)
⏰ 3 hours
💲 from $100 USD
The Rockstar Boat Party Hip Hop Sessions tour will take guests on a cruise under the iconic Arch of Cabo San Lucas, followed by an exclusive beach club party where you can dance the night away with their favorite DJs.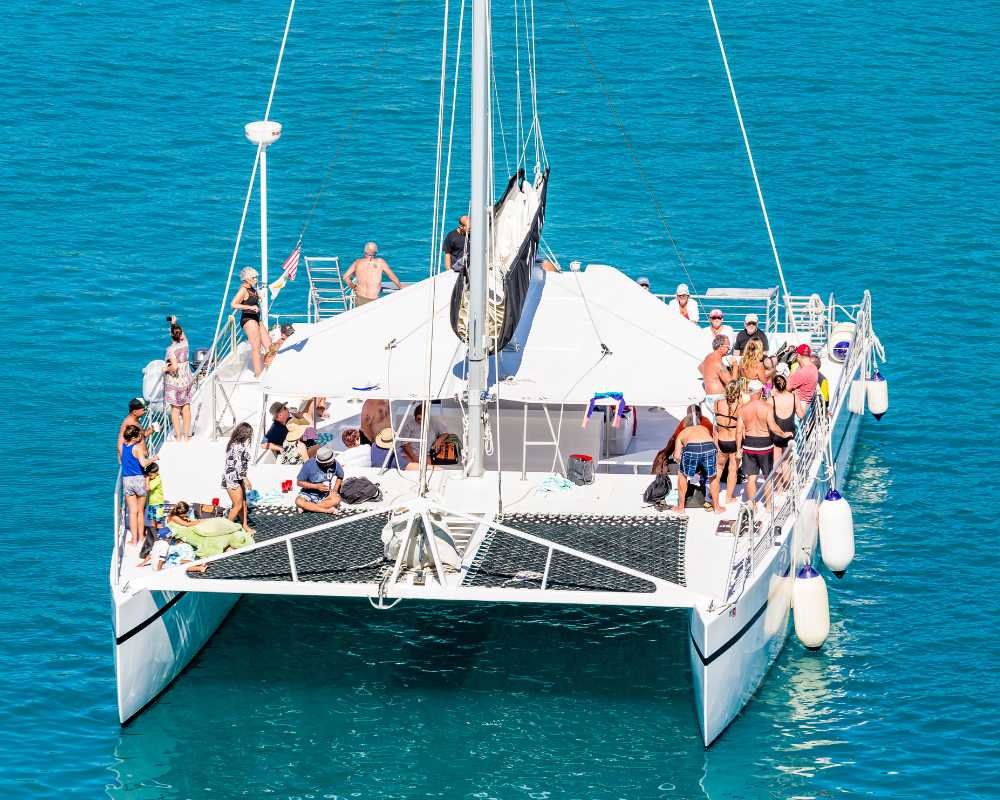 You will have food and drinks while enjoying live music and stunning views of Cabo. This is one of the best tours of the Arch for solo travelers. You will meet a lot of people on this boat!
🏨 Hotels with a view of the Arch of Cabo San Lucas
Hotel Tesoro Los Cabos
Hotel Tesoro Los Cabos features spacious suites with modern decor, an outdoor pool with breathtaking views overlooking the arch and ocean beyond, and a full-service spa and salon.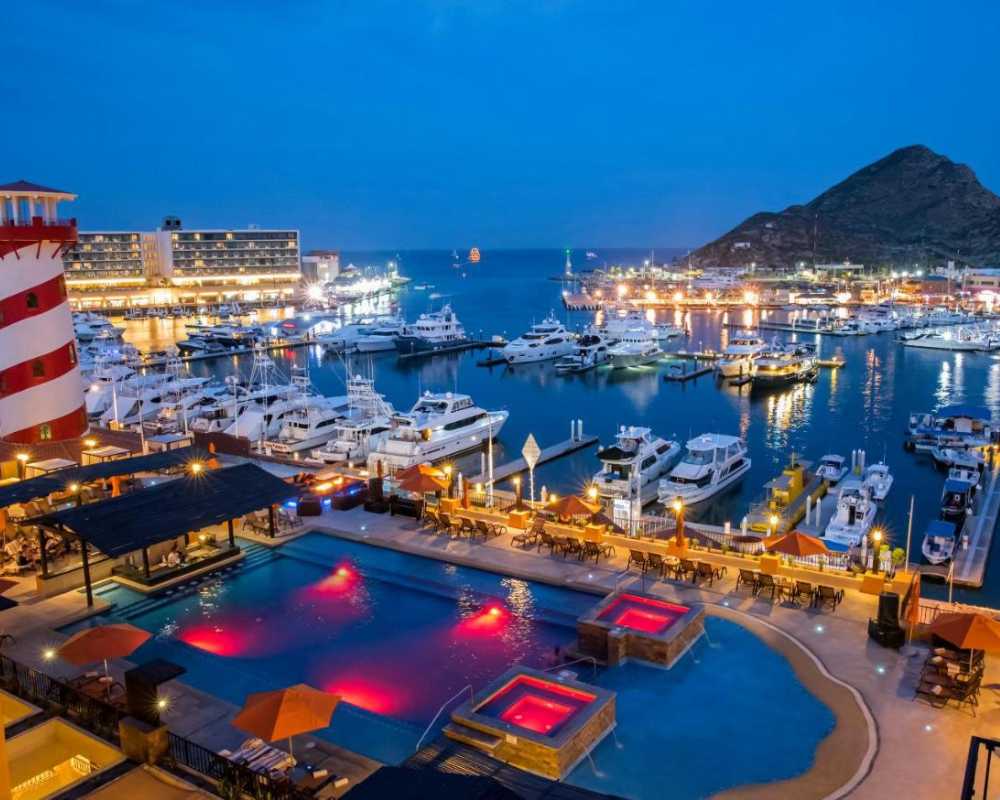 For those who want to explore local culture, there are plenty of nearby shops and restaurants to explore during your stay.
It's actually an all-inclusive resort but you can opt for a la carte. The rooftop area of Hotel Tesoro has the best view of the Arch of Cabo San Lucas as well as the marina.
Villa del Palmar
Villa del Palmar is one of the cheapest resorts in Cabo San Lucas that has an unbeatable location, modern amenities, and unparalleled service.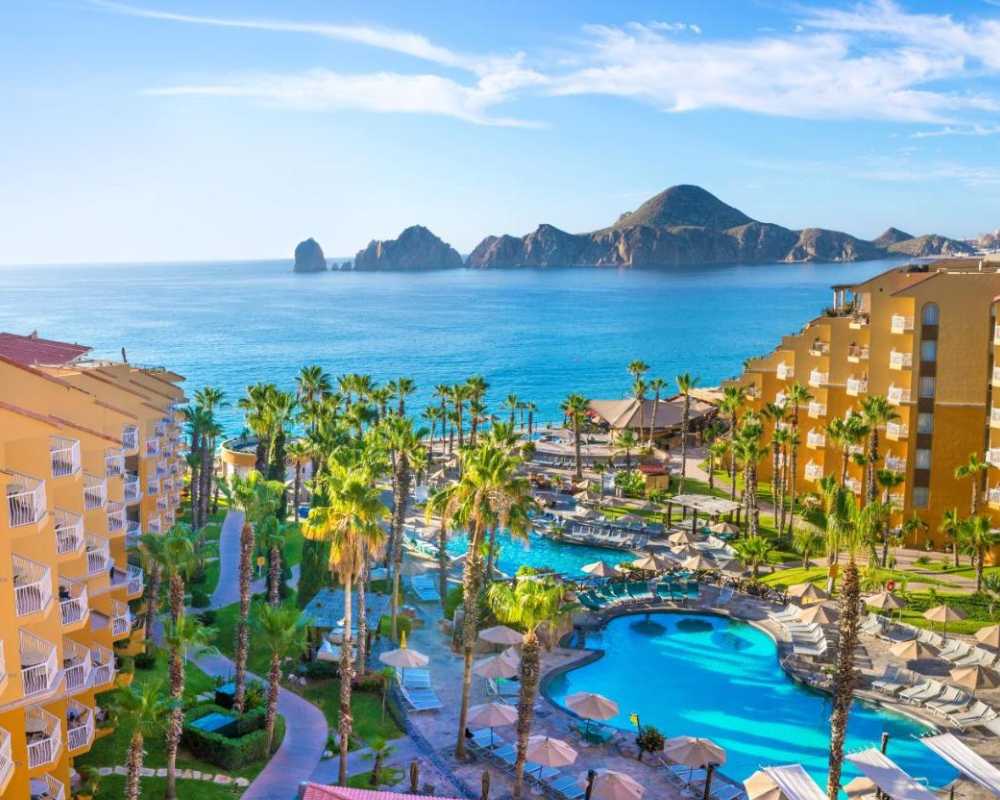 You can enjoy access to three infinity pools with panoramic views of the bay or take advantage of five restaurants on-site offering delicious international cuisine. This resort also has a spa.
Hacienda Encantada Resort & Spa
Hacienda Encantada Resort & Spa features a regulation-sized golf course that overlooks the spectacular ocean view. Guests can also take advantage of two infinity pools with waterfalls and hot tubs.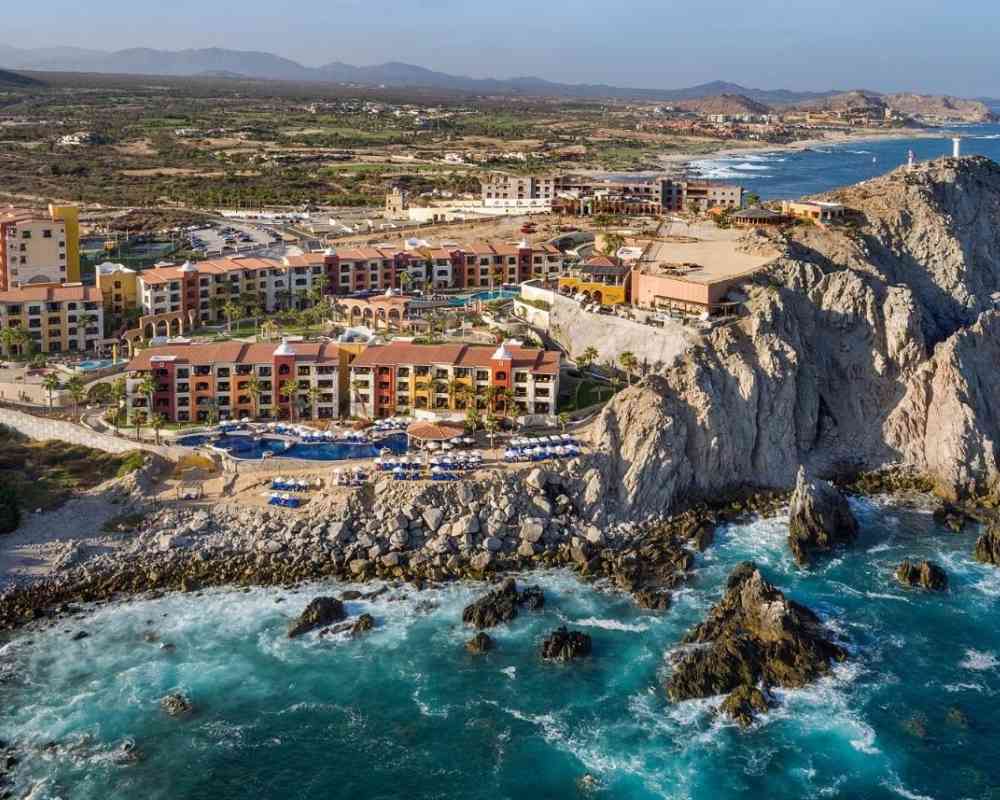 There are also two private beaches with beach chairs, pool bars, and restaurants. Hacienda Encantada is one of the best resorts for families.
Breathless
Breathless offers guests spacious suites with private balconies that provide excellent views of the arch of Cabo San Lucas.
They also have several on-site restaurants, bars, and lounges as well as a range of activities such as snorkeling excursions, yoga classes, and sunset cruises.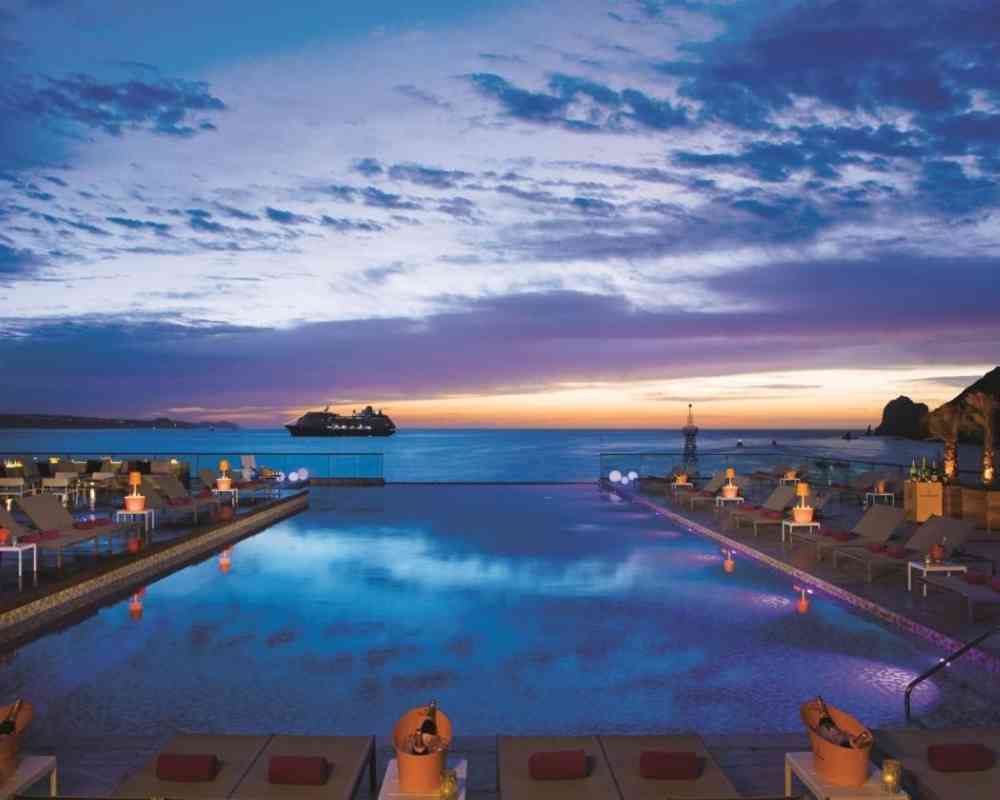 Moreover, there is 24-hour room service, free wifi access throughout their stay, and a spa with pampering treatments to make your vacation even more special.
🏊‍♀️ Can you swim at the arch in Cabo?
Swimming in the Arch of Cabo San Lucas is possible, but it's essential to understand the risks before you take a plunge. This is especially true if you're an inexperienced swimmer visiting this popular tourist destination during peak season.
The waters can become quite turbulent when waves crash against the rocks. Although it's generally safe to swim here, visitors should know that strong currents and rough seas can make it dangerous for those without much swimming experience.
🔱 Why is the arch in Cabo famous?
The Arch of Cabo San Lucas is a world-famous rock formation in Cabo San Lucas, Mexico. It is widely known as a symbol of the Baja California Peninsula's beauty and charm.
Located at Land's End, the arch marks the end of the peninsula and is considered one of its most iconic landmarks.
Formally known as El Arco de Cabo San Lucas, this natural wonder was formed by years of pounding waves against the cliffs – something that can easily be seen when visiting this awe-inspiring place.
Its unique shape makes it an eye-catching sight for tourists and locals alike! Its dramatic curves and deep blue hues make for some breathtaking photographs – no wonder it has become so famous!
⛵ How long is the boat ride from Cabo to the arch?
It depends on where and what type of boat you take or your itinerary. If you go straight to the arch without visiting other areas, you can easily get there within 15 minutes.
Most boat tours will not only bring you to the arch but to the surrounding areas as well.
🩴 Can you walk under the arch in Cabo?
Yes! The Arch of Cabo San Luca can be accessed directly from the beach. You can walk around or through it. To get closer, you'll need a boat tour or kayak rental to access either side of the arch's base.
Boats and kayaks must stay at least 50 feet from The Arch for safety reasons.
🌊 Why is Cabo not swimmable?
The Pacific Coast of Cabo is not swimmable due to strong rip currents and high surf. These dangerous conditions are often caused by deep-water circulation patterns, which can produce powerful ocean flows, creating an environment hazardous for swimming.
Additionally, large rocky outcroppings can impede visibility and cause treacherous waves. In turn, these conditions lead to an increase in water-related fatalities along the Pacific Coast of Cabo.
🇲🇽 Los Cabos Travel Planning
✈️ How do I fly to Cabo?
The airport that serves Cabo San Lucas is San Jose del Cabo (SJD). Our recommended booking platform for cheap flights is WayAway.
🚑 Do I need travel insurance to travel to Cabo?
YES, YOU DO! do not travel to Mexico without insurance. Check insurance plans on SafetyWing for as low as US$40 for full travel coverage.
🏨 Where can I book the best Cabo resorts and hotels?
The best platforms for booking your hotel in Los Cabos is Booking.com . You will find great deals on Cabo resorts on Expedia.
☕ Readers who support Mexico Insider help us continue bringing you the most honest content about Mexico. Consider donating to our coffee fund if you like the content that we do.
Trisha traveled to Mexico in 2018 and after a year, she found herself obtaining a 4-year residency visa in Mexico. She is the Editor-in-chief for our Living in Mexico Series which has helped over 3,000 Americans move to Mexico with ease. Trisha currently resides in Cabo San Lucas, Baja California Sur.