Destinations > Baja California > Tijuana
Tijuana Travel Guide
Everything you need to know about traveling to Tijuana, Mexico
TIJUANA TRAVEL GUIDE CONTENTS
Quick Info | Map | Getting Around | Budget | Blog | Things To Do | Restaurants | Hotels | Tips | FAQ
Traveling to Tijuana, Mexico is an exciting experience that should be on everyone's bucket list. As a Mexican border town, Tijuana offers a unique combination of cultural experiences, from traditional Mexican carnivals to modern nightlife venues. Whether you're looking for adventure or just want to relax and take in the sights, there's something for everyone in Tijuana.
Tijuana truly has it all: incredible food, stunning beaches, and buzzing nightlife. The city is renowned for its delicious street tacos and other culinary delights like ceviche and flautas. If you're feeling adventurous, try one of the local favorites like pozole or menudo. There are also plenty of great beach spots around town to soak up some sun or do some surfing.
In this Tijuana travel guide, you will find all the information you need including safety tips.
🙋 Questions about Tijuana Mexico? Talk to a travel expert.
✈️ Tijuana Travel Guide: Quick Info
🇲🇽 State: Baja California
⏰ Timezone: Mountain Standard Time (GMT-7)
✈️ Airport: Tijuana International Airport
💲 Currency: Mexican pesos (MXN) with $ sign used. Don't confuse it with US$ or USD. USD is widely accepted in Tijuana so you don't even have to change to Mexican pesos.
🔌 Power plug: Mexico uses a type A socket (US, Canada). For more information about power plugs in Mexico, see this link (with photos)
📱 Mexico sim card: The best provider that works in Sayulita area and the Riviera Nayarit is Telcel. See our complete Mexico sim card guide for more information.
📡 Wifi: The average Wifi speed in Tijuana is 25 Mbps with a fiber optic connection of up to 50 Mbps.
🛃 Visa: Mexico is no longer giving 180 days visa to tourists so make sure that you have proof of accommodation and outbound flight so you'll get the right visa.
🤟 Language: Everyone can speak English very well in Tijuana so you don't have to worry if you don't speak Spanish. It is still advised to learn some basic Spanish when visiting Mexico.
🌵 Culture: Tijuana is known to Americans to be a party town so expect a vibrant atmosphere and night life culture in Tijuana. It is also a melting pot of Mexico where you will find all nationalities not just from Latin America but all over the world! Most Americans who work in San Diego choose to lie in Tijuana (or Rosarito) for lower costs.
☀️ Best time to visit Tijuana
From April through October, temperatures usually range from 70-85F (21-30C), making it an excellent time for outdoor activities. The summer months are especially popular as temperatures stay mild throughout the day and night. Along with beautiful weather during these months, you can also enjoy some of the city's signature events like its famous Carnaval celebration in May or its massive music festival at Plaza Monumental in August.
🚦 Tijuana Transportation Guide
✈️ Tijuana Airport Transfer: Tijuana is the major airport in the state of Baja California so there are many taxi services to any point like Valle de Guadalupe and Ensenada. An airport transfer from Tijuana starts at $110 USD for groups of 3.
🚕 Taxi: Tijuana taxi rides are surprisingly affordable and easy to find. Most trips within the city cost between $2-$3 USD. It's always important when traveling abroad that you agree on a fare and confirm it with your driver before beginning your journey. Uber works in Tijuana, and it's safe!
🚌 Bus: Local buses frequently run throughout the town. You can get anywhere in Tijuana for less than $2 USD. To make things even easier, if you need help finding your route or making connections, friendly locals will be more than happy to help.
🚗 Rental cars: When you rent a car at Tijuana Airport, expect to pay between $20 – $40 USD per day for economy or compact cars. Mid-size and full-size vehicles will cost around $30-$60 daily. SUVs may be available for those looking for more space, but expect to pay top dollar; prices range from $50 – $80 daily.
💲 Tijuana Travel Budget
If you are backpacking, you can spend $25 USD per day given that you'll cook in your hostel or stay in a bed in a hostel dorm. Mid-range travelers can spend $75 USD per day (per person) which includes a stay in a boutique hotel.
There aren't all-inclusive resorts in Tijuana but more of 5-star and luxury hotels with pools and amenities like a resort.
ACCOMMODATION PRICES
There is no one-size-fits-all answer when it comes to accommodation prices in Tijuana. Luxury hotels can go up to $200 USD per night (for 2 people, while hotels start at $55 USD. There are also lovely Airbnbs under $100 USDA bed in a hostel dorm starts at $18 USD per night.
FOOD PRICES
To start off with lighter fare, tacos are typically the cheapest option available in most eateries. You can get a delicious taco for just $2-$3 USD – perfect for those on a budget! For something heartier and more filling, try some burritos or enchiladas – both usually cost around $4-5 USD per plate.
TOUR PRICES
Tours in Tijuana start from $35 USD and can go up to $300 USD. Again, there is no exact answer on how much you need for the tours and excursions – it will all depend on the activity that you want to do but group tours are always cheaper than individual tours.
💳 Use of credit cards: Credit cards are widely accepted in Tijuana, and some are even preferred over cash or debit cards. Visa and Mastercard are the two most commonly accepted cards throughout Mexico, but American Express is also welcome at many merchants. Additionally, if traveling to Tijuana, it is wise to carry cash, as not all small businesses take credit cards.
🏧 Cash/ATMs: Plenty of reliable and safe ATMs all over the city provide easy access to your money. Banamex is an excellent option for international travelers. With locations throughout the city and its convenient 24/7 customer service options, customers can easily withdraw pesos from their accounts with ease. Plus, Banamex has some of the lowest withdrawal fees around. If you've got an account at Santander, then head to one of their ATMs, as they offer great exchange rates and free withdrawals for both domestic and international users.
💱 Money exchange: USD is widely accepted in Tijuana, so you don't have to change to Mexican pesos. If you want convenience and security, head to Dolar Express. It provides secure currency exchange services with some of the lowest fees around town. They also offer a great selection of foreign coins.
💁🏻‍♀️ Tipping: When dining out in Tijuana, leaving a tip is always appreciated. The standard amount for good service is 10-15%, but feel free to leave more if you had a great meal. Double-check your bill before leaving; some restaurants may already include the gratuity! Tipping tour guides and drivers are also standard practice in Tijuana.
🌎 Tijuana Travel Blog
No posts
🏄‍♀️ Things to do in Tijuana
Explore the city of Tijuana
From savoring delicious Mexican cuisine, exploring downtown's bustling markets, and learning about local culture and history, there's a lot to see in the city of Tijuana! Visit key sites like Avenida Revolución, Mercado Hidalgo, Monumental Plaza de Toros, and Centro Cultural Tijuana (CECUT). Stroll along the beachfront promenade, where you can take in breathtaking views of the Pacific Ocean.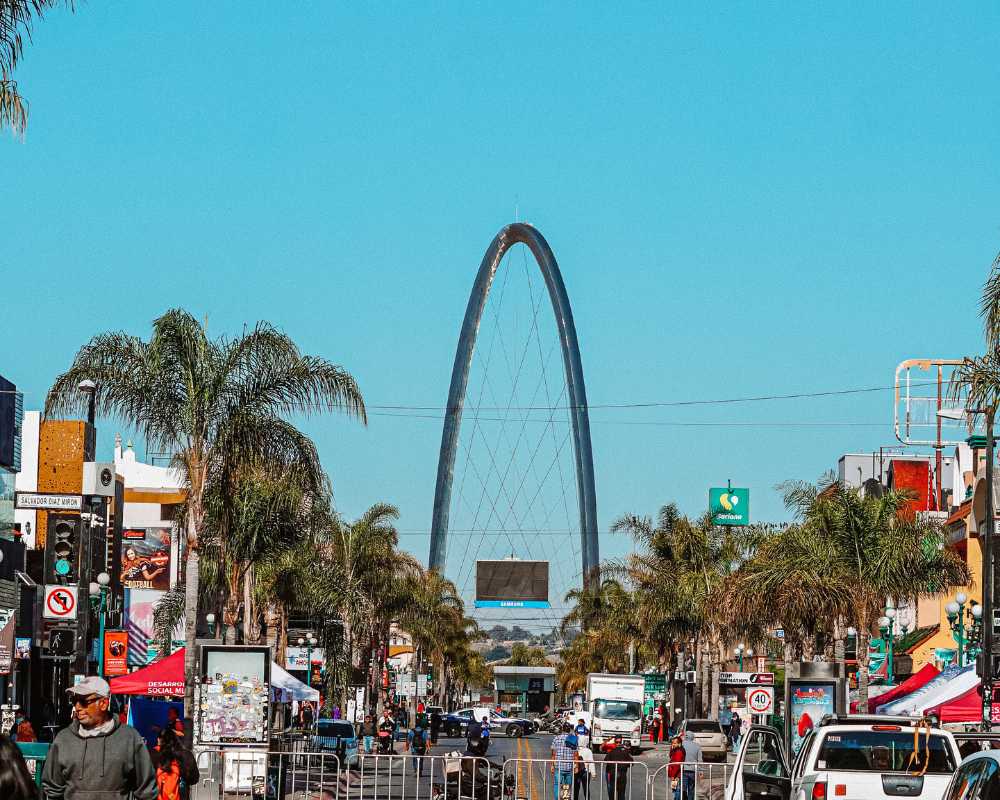 Stroll Avenida Revolucion
From street vendors to luxury boutiques, this lively avenue has no shortage of activity and entertainment. It's not all about the shopping, though; Avenida Revolucion also boasts several top-rated restaurants offering delicious Mexican cuisine that won't break the bank. Plus, with its lively bars and clubs staying open late into the night, it's a great place to hang out and get drinks while getting to know the culture of Tijuana.
Visit Playas de Tijuana
Playas de Tijuana is the best area to see the culture of the US and Mexico borders. Here, you will see San Diego from afar and see murals depicting both happy and sad stories about crossing this border.
Wine tour in Valle de Guadalupe
Learn about their unique history and sip on award-winning wines from across the globe. This tour offers something for everyone, from tastings to tours of vineyards and breathtaking views. Enjoy a gourmet lunch with beverages at a local restaurant before heading back to Tijuana or San Diego. This is a great day trip option from the USA.
Tijuana food tour: lobster trip
Go on an adventure from Tijuana to the charming lobster village of Puerto Nuevo. Along the way, you'll pass through quaint towns filled with colorful buildings and stunning ocean views. Once you reach Puerto Nuevo, indulge in some of the freshest seafood from local fishing villages.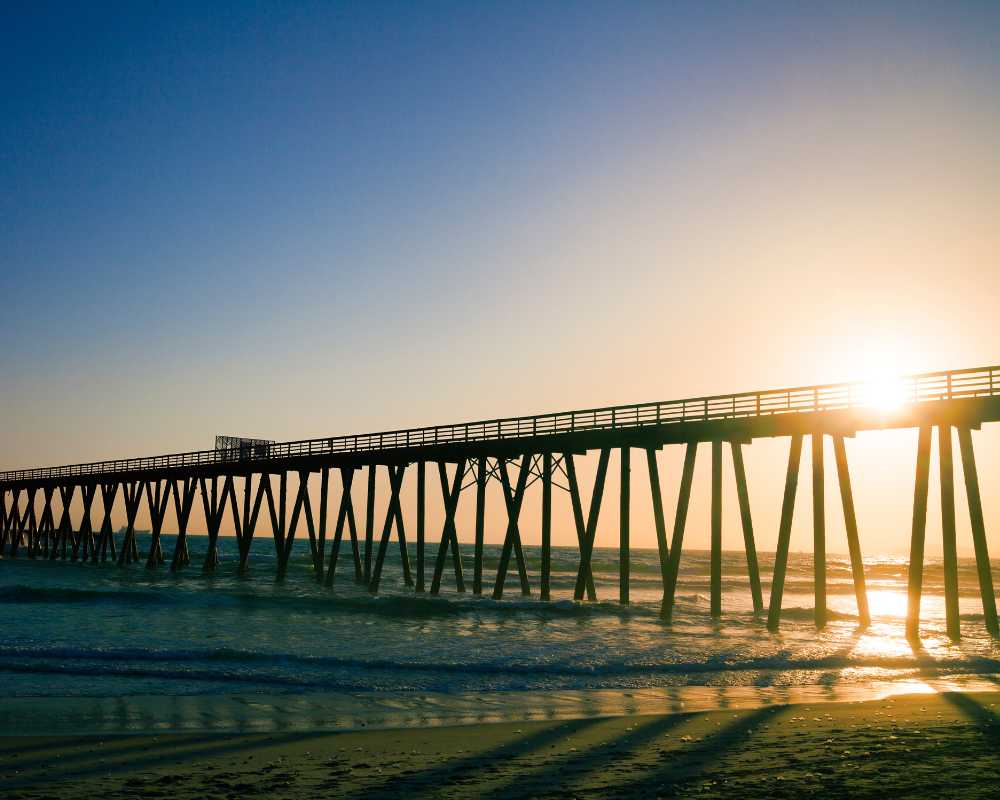 Spend an afternoon in Rosarito
This tour of El Vergel Pools and Malecon Beaches in Tijuana is a must! Swim in tranquil coves surrounded by lush vegetation before heading to El Vergel Pool Park, where you can explore waterfalls and hidden grottos. Enjoy a relaxing lunch with Mexican dishes at one of the park's restaurants before cruising down Malecon Beach to watch dolphins playing in their natural habitat.
Visit one of the oldest wineries in Mexico
Just 3 hours from Tijuana is Valle de Santo Tomas, one of the oldest wineries in Mexico. Go here if you want to change the usual Valle de Guadalupe route! The surrounding hills and mountains provide an idyllic setting for sunset dinners or leisurely walks through the rows of grape vines.
🧭 Tijuana tours
WE CUSTOMIZE TOURS IN TIJUANA!
We live here and have traveled the Baja California Peninsula from Tijuana to Los Cabos. Contact us for a quote: no hidden costs, just simple prices.
🛒 DISCOUNT CODE
Use the code MXINSIDER10 upon checkout on our website to get a discount on all our Tijuana tours!
Wine route with tasting
This 6-hour wine route tour is perfect for wine enthusiasts who are eager to explore some of Mexico's best wineries and vineyards. You'll get to sample some of the finest wines from renowned vintners in the region, as well as enjoy a delicious lunch and learn about Mexican culture and food.
Baja California region full-day tour
This full-day tour takes you through the markets and streets of downtown Tijuana. You'll have the chance to visit historical sites, amazing art galleries, and other local attractions. During your time here, you'll be able to sample authentic Mexican cuisine as well as get an up close look at some of the city's colorful murals. Plus, there will be opportunities for shopping along the way too!
Mixology tour
This mixology tour is perfect for adventurous travelers looking to explore the unique and vibrant culture of Tijuana. On this fun-filled day, you'll visit some of the city's best bars, get a crash course in tequila tasting, and learn about local history and culture from your expert guide. Plus, you'll have plenty of time for shopping at traditional Mexican markets!
Caesar's
📍Av. Revolución 8190

This iconic eatery is a must-try for all foodies visiting the area. With its delicious Mexican flavors and unique atmosphere, it's no wonder why this restaurant has been a local favorite since opening its doors in 1982. Caesar's in Tijuana is famed for being the birthplace of caesar salad, and they make the salad in front of you!
Pupusa (street food)
📍Av. Revolución

Pupusas are a delicious and unique street food! Originating from El Salvador, these stuffed corn tortillas have quickly become a favorite snack for many people. Pupusas are packed with flavor, as each one is filled with traditional fillings such as cheese, beans or pork. You will find the best pupusa street stand in Avenida Revolucion.
Palacio Royale
📍 Blvd. Agua Caliente 9650

Did you know that Tijuana is home to many Chinese restaurants because of the Chinese immigration in the 1880s? Palacio Royale is one of the best and you will see all their staff who are Chinese-Mexicans, which makes their food 100% Chinese (without Mexican fusion).
🛏️ Tijuana Hotels
Tijuana has many hotel types, with luxury hotels (no resorts) from $150 USD per night (2 people). Backpackers can stay in hostels for as low as $18 USD per night. Boutique hotels start from $55 USD and are the best option if you're looking for a simpler accommodation. Below are the best hotels in Tijuana (with prices) that we highly recommend:
✨ Tijuana travel and safety tips
Safety in Tijuana: If you are traveling to Tijuana for leisure and fun, it is safe! Tour guides will always bring you to safe spots for tourists. You will also see many Americans and Canadians living in the border so you will have a more familiar feeling of home.
Stay vigilant: keep an eye on your surroundings and keep your belongings close. Don't make yourself an easy target by walking around with flashy jewelry or backpacks full of electronics.
Local police are always present: don't hesitate to approach police in Tijuana. Both local law enforcement and private security companies are available 24/7.
Get a Sentri pass: This fast lane makes it quick and easy for pre-approved travelers to cross the U.S.-Mexico border quickly and hassle-free. With this particular pass, there's no waiting in line at immigration or customs – all you have to do is drive up, flash your card, and voila: you're on your way! Plus, since the Sentri lanes are dedicated only to those with the official pass, traffic moves quickly through these lanes – so no more sitting in gridlock for hours!
A day trip to Tijuana is easy from San Diego: Located just 20 miles south of San Diego, this vibrant Mexican border town is bursting with history, culture and amazing food – all ready for you to explore. Tijuana offers travelers a huge variety of activities to choose from – shop 'til you drop at one of the many open-air markets or get some inspiration from its buzzing art scene.
The Baja California wine region is near Tijuana: There are hundreds of vineyards spread all throughout Baja California Norte, all within 1-3 hours drive from Tijuana. Discover the most significant wine regions in Ensenada when you visit Tijuana!
⁉️ Tijuana FAQ
Still have questions about this Tijuana travel guide?
If you cannot find an answer to your question in our FAQ, you can always contact us; we will be with you shortly.