Monte Alban Oaxaca is one of the most popular places to visit in Oaxaca, and in this Monte Alban travel guide, you will learn everything you need to know about preparing for your visit.
Monte Alban is an important archaeological site in Mexico. It was once the capital of the Zapotec civilization, which grew up in the central valleys of Oaxaca.
It is thought to have been built by the Zapotecs around 500 BCE. It was an important center of Zapotec culture and politics for over a thousand years.
Monte Alban was at its best when it had as many as 18,000 people. It was known for its complex palaces, ballcourt for playing tlachtli, plazas, pyramids, and tombs, as well as its writing system, astronomical alignments, carved monuments, and even an observatory.
The Zapotecs were known for their complex political and economic systems and their skilled craftspeople, who made some of the most beautiful and intricate pre-Columbian art.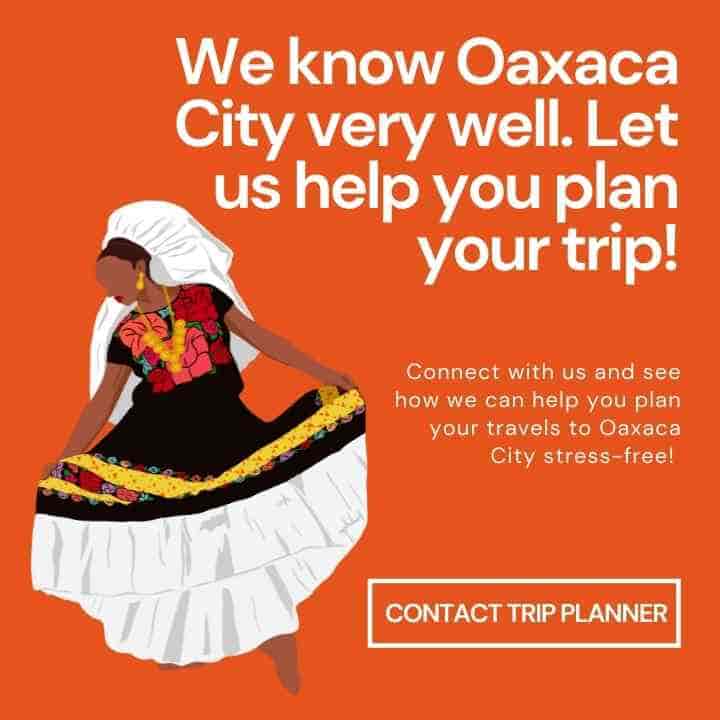 But the Zapotec culture fell apart over time, and Monte Albán was eventually left empty, which the Mixtec later found, and they reused some of the old Zapotec tombs as sacred burial grounds.
The site lay forgotten for centuries until Mexican archaeologists rediscovered it in the late 19th century. Mexican archaeologists.
Since then, many archaeological digs have been done on Monte Albán, which have been carefully fixed to protect its influential cultural history.
This archaeological site is one of the best places to visit in Oaxaca City, and in this Monte Alban travel guide, you will learn everything you need to know about preparing for your visit.
🧐 Questions about Oaxaca Mexico? Ask us on Tiktok.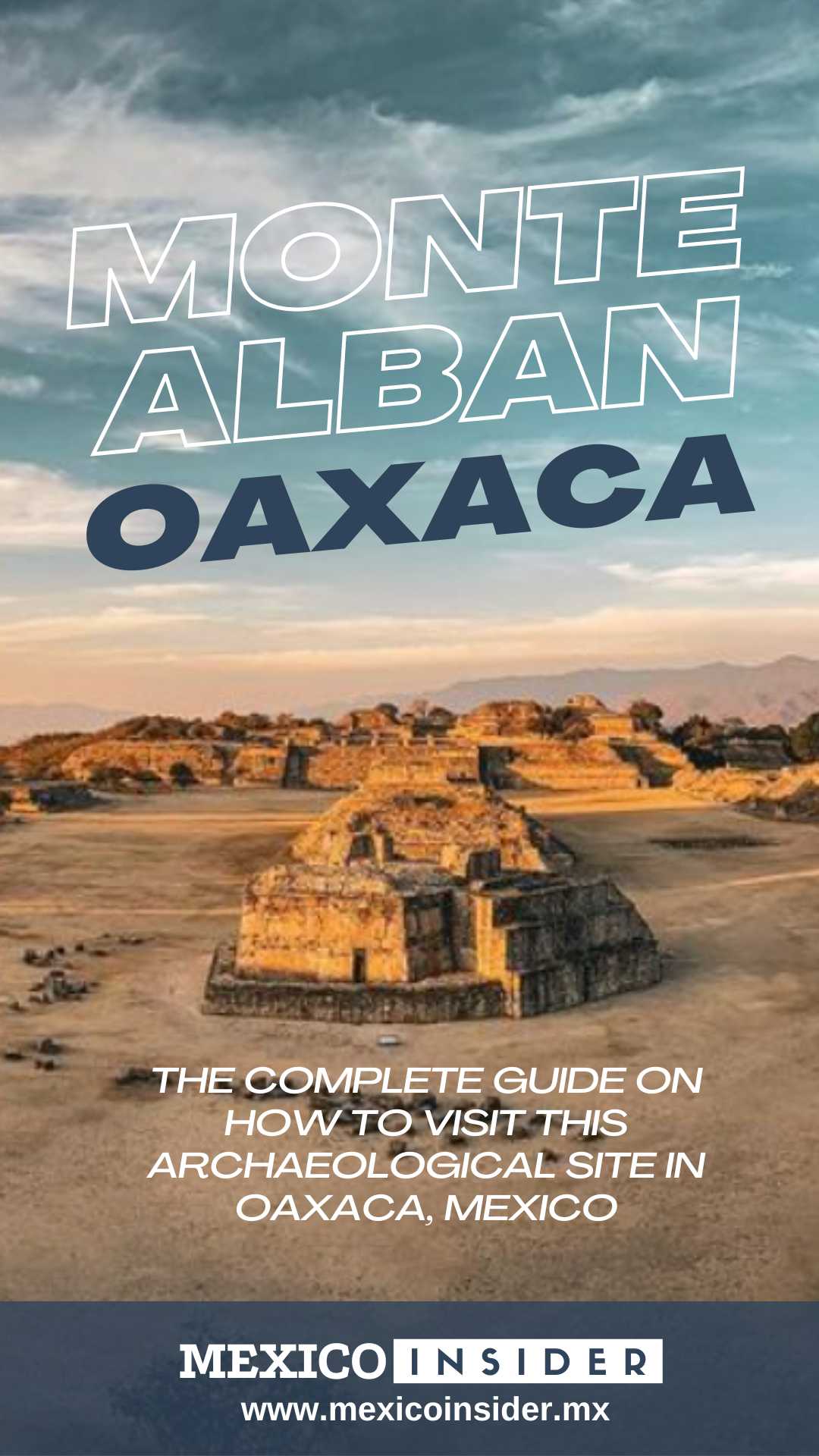 Monte Alban Travel Guide: quick links
📜 What is Monte Alban known for?
Monte Alban Oaxaca is known for its beautiful palaces, plazas, pyramids, and tombs, which are impressive architecture.
The city was built on top of a hill and was made to be easy to defend by having high walls and buildings in the right places.
It was also vital to the region's cultural and political development. The city was an important center for trade and business, and many of the most powerful Zapotec leaders lived there.
It is thought that this was used for religious and astronomical purposes, and it shows how knowledgeable the Zapotecs were about the stars.
In Monte Alban Oaxaca, you will also find beautifully carved monuments that remember important people, events, and leaders.
It is said that these monuments are some of the most critical pieces of Zapotec art and masterpieces of pre-Columbian art.
Monte Alban Oaxaca draws thousands of tourists and archaeologists. It was named a UNESCO World Heritage in 1987 and is a big part of Mexico's rich cultural history.
🗺️ Monte Alban Oaxaca Map
🚘 How to get to Monte Alban Oaxaca
Monte Alban Oaxaca by bus
The cheapest way to get to Monte Alban is via public bus. You can easily spot these buses because of their teal green color.
You can take a bus bound for Atzompa or Alamos from Calle de Tinoco Y Palacios near the Oaxaca Zocalo.
The bus ride takes about 30 minutes to get to Monte Alban. You need to walk about 30 minutes from there to Monte Alban as they won't take you directly to the gates. The fare is $4 USD round trip.
Monte Alban Oaxaca by rental car
One of the most popular ways to get to places in Oaxaca is via a rental car. A rental car in Oaxaca City starts at $25 USD per day (Sedan, 4-seater).
It is highly recommended to book your rental car in advance (at least a week before your trip). Discover Cars and Rental Cars Oaxaca are two of the great options.
Parking in Monte Alban is not challenging as there are many places to park. Just take note that you need a credit card to rent a car in Oaxaca City and a security deposit is required.
Monte Alban Oaxaca via tour operator
The easiest way to get to Monte Alban Oaxaca is via tour operators. The pick-up and drop-off is already included, so you won't have to think about taking a bus or a shared taxi (collectivo).
Tour prices in Monte Alban Oaxaca start for as low as $25 USD per person, and most of the tours already have food included.
This article has an extensive list of Monte Alban tours with detailed pricing and review. Feel free to choose what suits your budget and travel type!
💲 Monte Alban entrance fee
The entrance fee to Monte Alban Oaxaca is approximately $4 USD, which you can pay upon arrival; there is no need to book in advance, and it is open to the public from 8:00 a.m. to 4:30 p.m.
This is an excellent choice for those on a budget and those who want to take the adventure and get to Monte Alban independently.
FYI, weekends are free for Mexican nationals and foreign residents with valid FM cards.
🧭 Monte Alban travel guide: things to do
#1: Monte Alban Museum
The entrance to the archaeological site is where the Monte Alban Museum is. It was recently reopened and closed in 2020, but the museum has been open to the public since 1985.
It houses beautiful sculptures and ceramics made by the Zapotecs. It also has the engraved steles collection, some of which are the original pieces found on the site, and there are copies.
Three mummified bodies were buried with their original offerings to show how vital the Zapotecs' religious and burial practices were. The museum is divided into rooms with different exhibits.
#2: Monte Alban Observatory
The fact that the Monte Alban Observatory is situated in the middle of Gran Plaza demonstrates its significance.
It consists of stone blocks placed together to form an arrow-like structure. It was used to observe heavenly events.
Zapotecs were experts in astronomy and utilized their skills for agriculture and season forecasting, as it was essential for them to know when the rainy and dry seasons began.
#3: Los Danzantes
Los Danzantes is located within the central plaza are carved stone monuments. Amongst these carved stone monuments, the most famous ones are the Los Danzantes which means dancers.
These represent sacrificial victims, most likely lords of groups beaten in combat by the Zapotec. Los Danzantes is located close to Building L.
#3: Ballcourt
Upon entering the Gran Plaza, the first structure you will come across is the Ballcourt.
Mesoamerican societies utilized a more severe variant of the ball game to resolve political and other social issues, their version of modern-day judicial court.
The famous ball game in Mesoamerica consisted of putting a rubber ball through a high-mounted hoop on each wall.
When the rubber ball passed through the rings on either side of the court, points were awarded. They could use any part of the body except their hands.
#4: El Palacio
As you continue to make your way around the Grand Plaza, you will soon see a relatively large set of stairs leading to the central entrance.
El Palacio was built during the Zapotec Golden Age. While you cannot cross this barrier, you can still observe it from the outside. It was a construction exclusive to the Monte Albano elite.
Archaeologists uncovered a secret tunnel between the palace and other structures surrounding Gran Plaza not so long ago, allowing rulers and other leaders to move across the city undetected.
#5: North and South Plazas
The North and South Plazas are two distinct areas within the Monte Alban site.
The North Plaza was the political and religious center of Monte Alban and was the site of important events such as ceremonies, rituals, and political gatherings.
It is characterized by a large platform supporting a palace, several other buildings, and a ball court used for the Mesoamerican ballgame.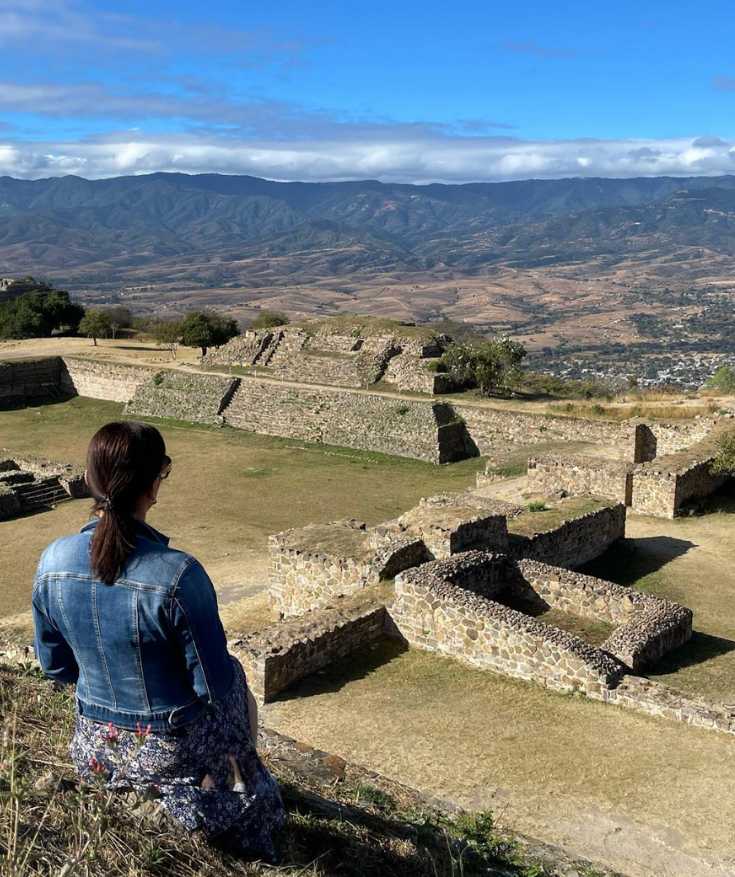 On the other hand, the South Plaza was the administrative center of Monte Alban and was home to several buildings, including a palace, tombs, and a building that was likely used for storage.
This area also features a large staircase leading to the top of a platform and offers excellent views of the surrounding countryside.
Together, the North and South Plazas represent the political and administrative centers of Monte Alban and provide insight into the Zapotec civilization and its way of life.
🏆 Best Monte Alban Tours
Monte Alban half-day tour
⏰ 5 hours
💲 from $35 USD
This Monte Alban half-day tour will bring you to this remarkable archaeological area and discover the unique culture and heritage of the Zapotec people.
Upon arrival at Monte Alban, guides provide detailed tours that offer insight into the history, architecture, and artifacts of Monte Alban.
The tour includes visits to various structures such as a palace, temples, tombs, and monuments, and an observatory where you can observe celestial events.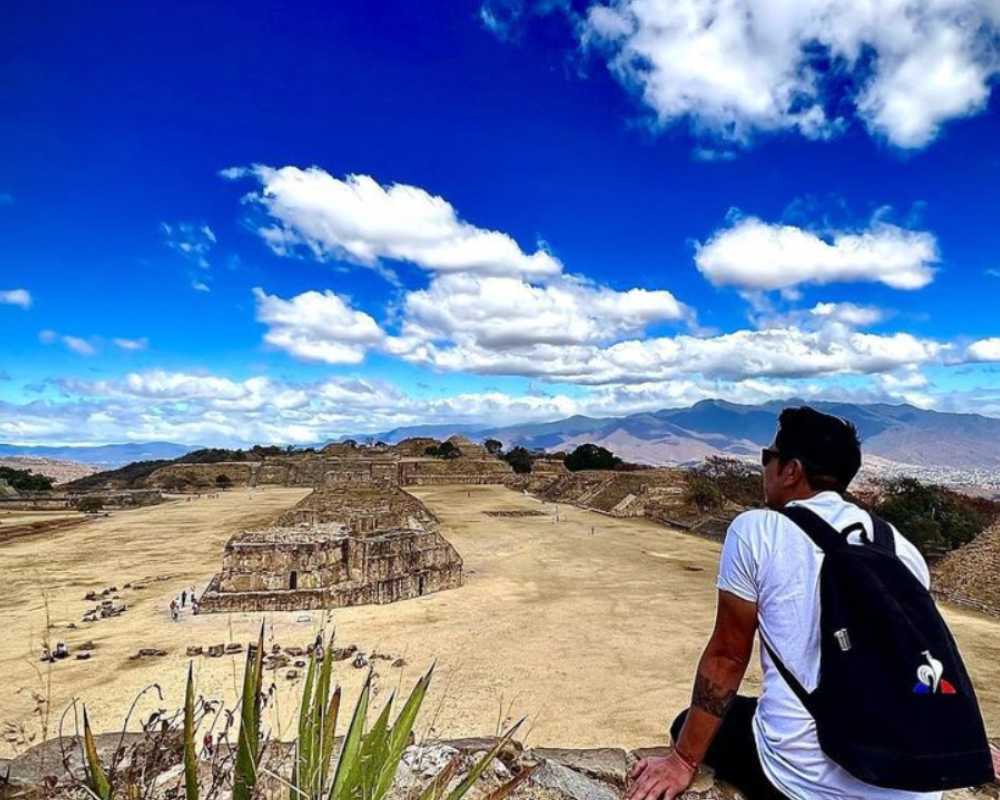 Typically, the on-site tour is from 10:00 AM to 1:30 PM, but they will want you to be early as there is a waiting time before you can enter the site, which usually takes up to 2 hours.
You'll also have time to wander through the museum. After your visit, you'll enjoy lunch at a local restaurant before returning to Oaxaca for your next destination.
Monte Alban, Arrazola, Culiapam, and San Bartolo
In this Monte Alban combo tour, you will explore three of the region's most important cultural and historical landmarks: Monte Alban, Arrazola, Coyotepec, and Cuilapam de Guerrero.
The tour begins with a visit to Monte Alban. You will see beautiful courtyards, temples, and tombs as you learn about one of the oldest civilizations in the Americas.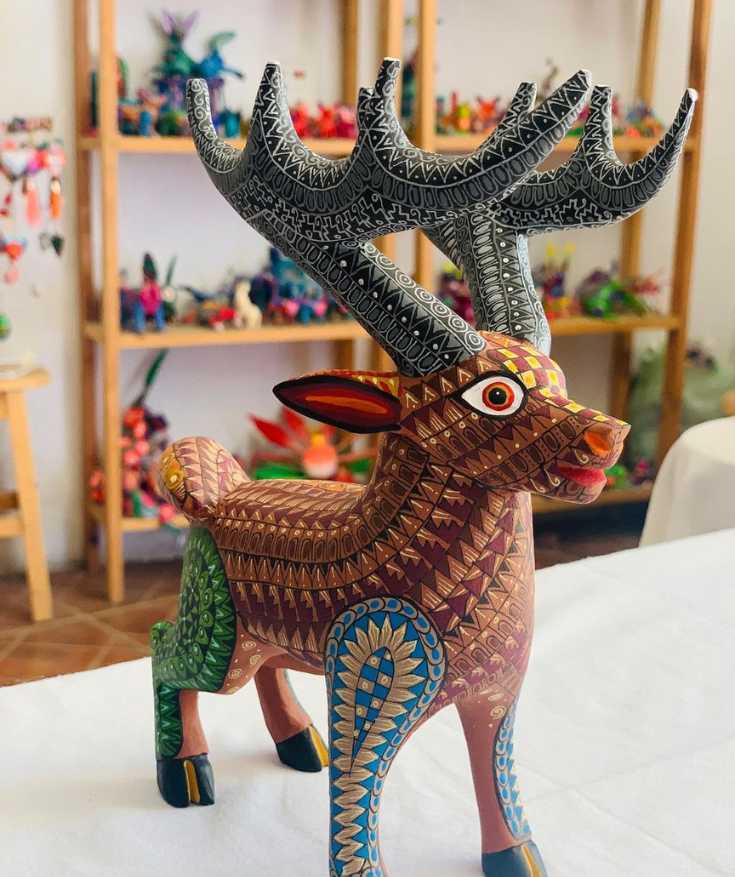 Afterward, you will visit and get to know the unique artistry of Arrazola – renowned for its vibrant-colored wooden carvings known as alebrijes.
Then you will head to Coyotepec, where they can observe traditional pottery-making processes. The tour concludes with a visit to Cuilapan de Guerrero – another Zapotec site home to huge pyramids and ancient stone carvings.
Monte Alban Tour: full day
This Monte Alban full-day tour will start in Monte Alban, a once powerful ceremonial center for the Zapotec people and contains some impressive structures, including a series of terraces, pyramids, tombs, and altars.
You will also visit three artisan towns in the surrounding area – San Bartolo Coyotepec, Tlacolula de Matamoros, and Zaachila.
Here you can learn about traditional Mexican crafts and artifacts, such as pottery and masks, typically made by pre-Columbian cultures.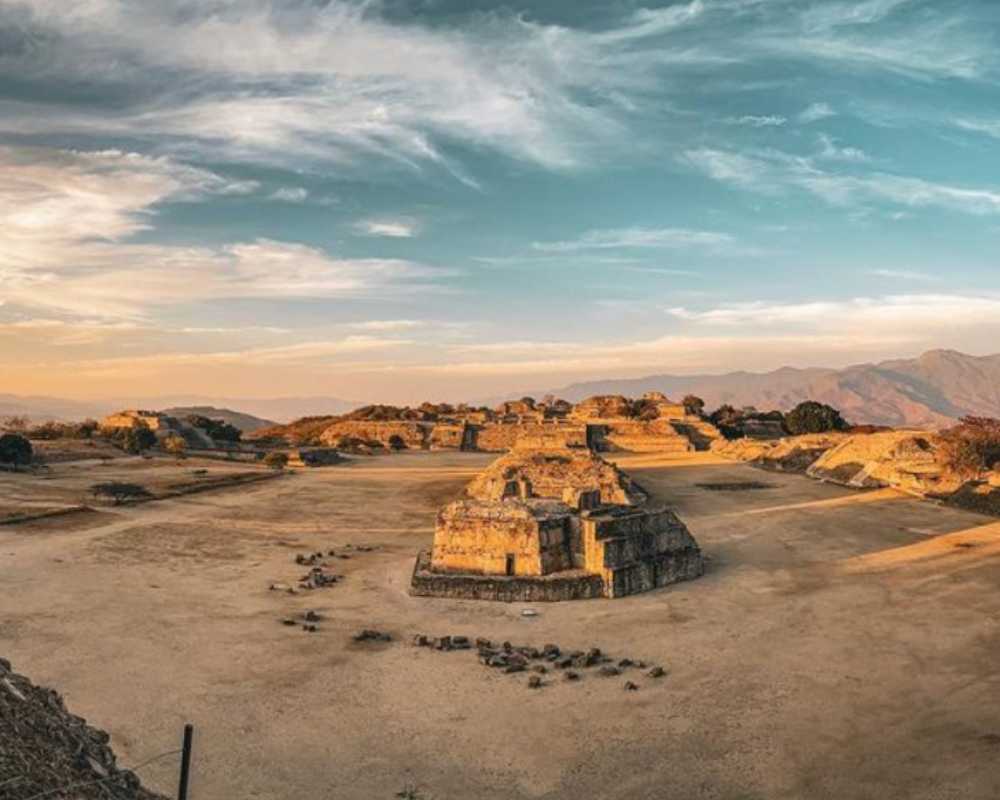 You will also have the chance to see how these crafts are created today with demonstrations from local artisans who still practice these techniques.
In addition to exploring fascinating ancient ruins and learning about traditional crafts, your tour provides an opportunity to taste regional cuisine during a stop at a restaurant in one of the villages.
Here you can sample recipes passed down through generations made with locally sourced ingredients such as beans, squash, and chiles. After lunch, you can browse stalls selling handicrafts before returning to Oaxaca City.
Monte Alban tour with craft workshop in Ocotlan Valley
This tour starts at the ancient site of Monte Albán, where visitors can explore the ruins of an ancient Zapotec city and learn about its history and culture.
After exploring Monte Albán, you will travel to Cuilapam de Guerrero. This village is full of vibrant colors and textures thanks to local artisans' unique selection of textiles and handicrafts using traditional techniques passed down through generations.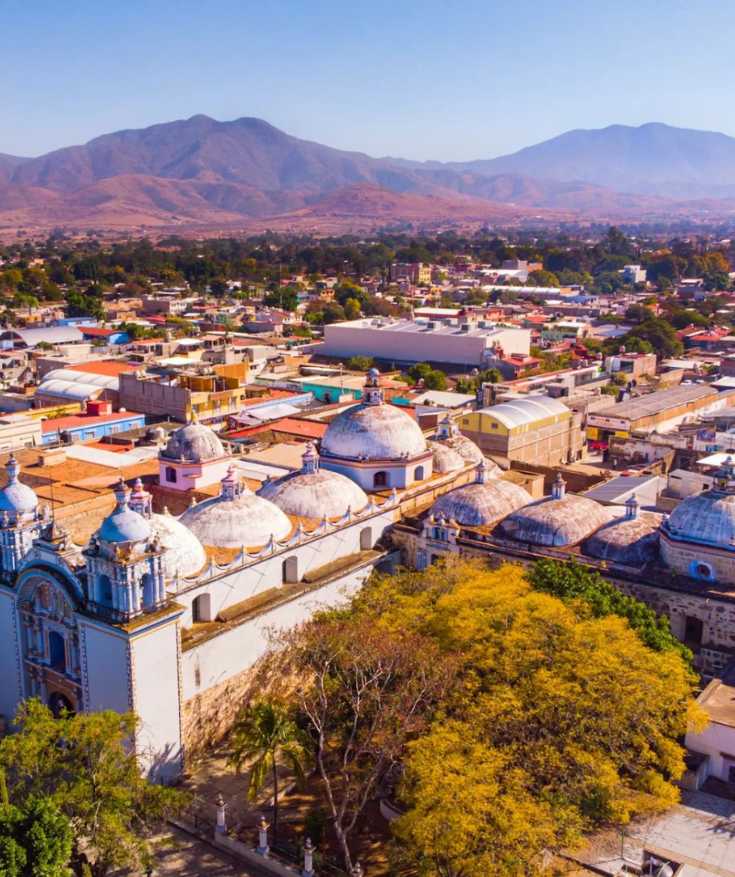 While there, you can spend some time browsing through these shops and getting a glimpse into Mexican folk art, as it is still practiced today!
Your final stop on this tour is Barro Negro, which is famous for its deep black pottery made from clay found in regionally specific areas around Oaxaca City.
Here you'll have a chance to watch a demonstration with one of the few remaining potters still practicing this craft and learn more about this unique style of pottery that has made Barro Negro an essential destination for tourists from all around the world who come here specifically for these pieces!
🍛 Monte Alban restaurants
Restaurante Monte Alban
📍 Monte Alban Museum and Restaurant
There is a restaurant inside Monte Alban Oaxaca, but it is usually crowded as it is the only restaurant in the area. This restaurant has an outdoor patio, so you'll have great views of Monte Alban!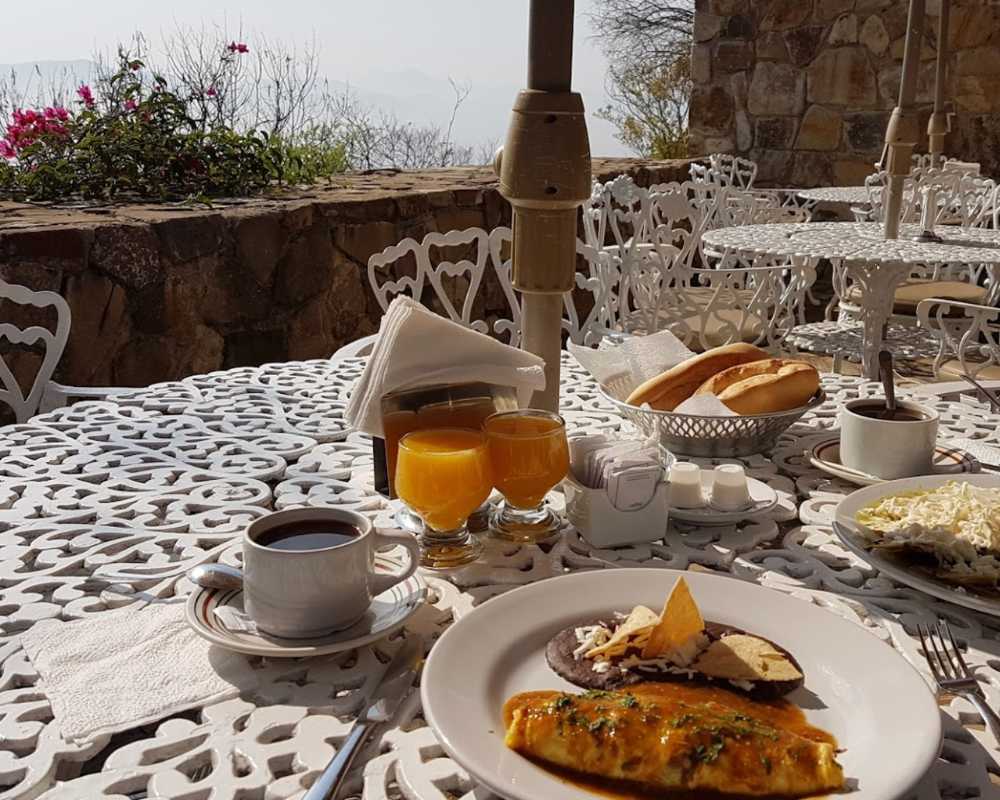 This is a Mexican restaurant, so expect the menu to have Mexican breakfast specials. This is an expensive restaurant compared to other great restaurants in Oaxaca City.
Monte Alban is touristy, so expect it to be overpriced (for what it is).
La Cofradía Restaurante
📍 Libertad #2, Carr. a Monte Alban
La Cofradia Restaurante is a traditional Mexican eatery that you will find between Oaxaca City and the Monte Alban highway.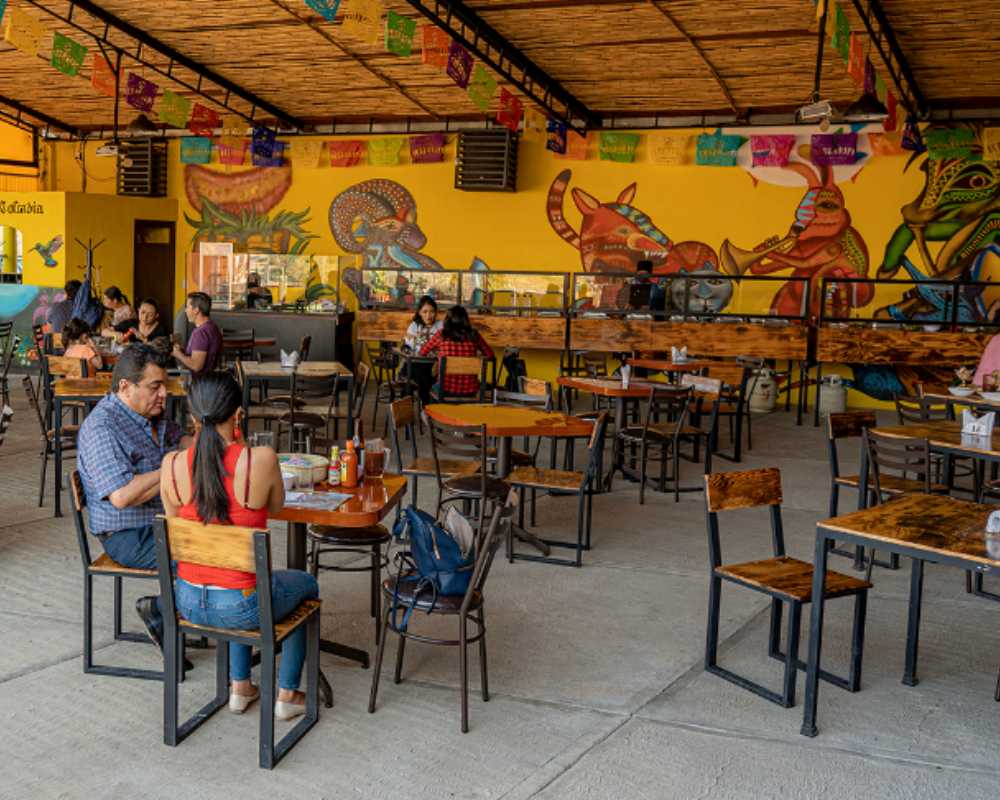 This is a way better option than the overpriced restaurant inside Monte Alban. They can also deliver to you if you find a spot to picnic in Monte Alban.
As this is a Mexican restaurant, expect more food from Oaxaca for lower prices. This is local-family owned, so you'll never go wrong with Cofradia!
Tlayudas el Güero
📍 Carr. a Monte Alban 5, La Fundicion
Also located in the Monte Alban Highway, Tlayudas El Guero, obviously, sells tlayudas.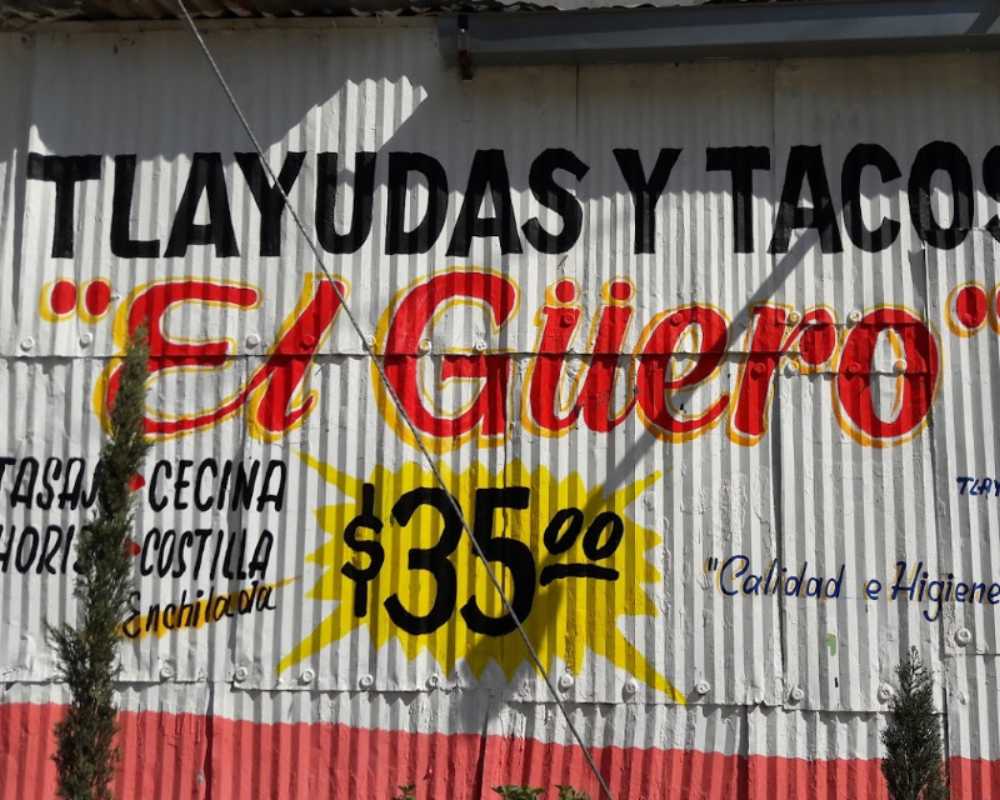 This is a great local spot for tlayudas, assuming you are not yet tired of eating this iconic Oaxacan street food in the city.
The prices here start for as low as $3 USD, and are the best choice for a quick stop after your Monte Alban Oaxaca tour.
🏺 What is the significance of Monte Alban?
Monte Alban is an archaeological site in the Oaxaca Valley of Mexico, recognized for its great significance to the country's history.
It was once the capital of the Zapotec culture and demonstrated a mastery of city planning and engineering by this ancient people.
Monte Alban is also one of only two Mesoamerican sites inscribed on UNESCO's list of World Heritage Sites based on its unique cultural importance.
The ruins are an important reminder that Mexico has been home to many different civilizations, each contributing differently to Mexican culture today.
🙋 Is Monte Alban Aztec or Mayan?
Monte Alban is believed to have been built by the ancient peoples between 500 B.C and A.D 700. Thus, Monte Alban Oaxaca is a Zapotec archaeological site that predates Aztec and Mayan civilizations.
🚌 How to get to Monte Alban from Oaxaca City?
The cheapest way to get to Monte Alban from Oaxaca City is by bus. Buses run regularly throughout the day, and tickets cost around $2.50 USD.
The trip takes approximately 40 minutes, depending on traffic. Alternatively, you could take a taxi, which would cost more but offer a quicker journey of about 25 minutes.
Taxis in Oaxaca City can give you a price, and you can haggle. The easiest way to get to Monte Alban from Oaxaca City is with a tour operator, mainly because you don't have to worry about transportation.
⁉️ Can you go to Monte Alban without a tour?
ABSOLUTELY! You can take a bus at the Oaxaca Zocalo. The shared bus costs around $4 USD and will take you to Monte Alban (30 minutes ride).
Once there, you can pay the entrance fee of $4 USD and explore Monte Alban by yourself. Just follow the tips in this guide on what to see or how to visit Monte Alban on your own.
🇲🇽 Oaxaca Travel Planning
🛫 Where can I book cheap flights to Oaxaca City?
Use the code MXINSIDER to get cheap flights to Oaxaca City upon checkout on WayAway.
🚑 Do I need insurance to travel to Oaxaca City?
Yes, you do! This is the number one requirement when traveling to Mexico. I use SafetyWing and I only pay $40 USD per month for my digital nomad travel insurance!
🛏️ Where can I find hotels in Oaxaca City?
Budget travelers, use Hostelworld when looking for accommodations in Oaxaca City. A bed in a hostel dorm starts at $25 USD per night. Booking.com is best for boutique hotels, while luxury hotels can be booked with Expedia.
🚘 Where can I rent a car in Oaxaca?
Rental cars in Oaxaca can be booked online prior to arrival. The cheapest recommendation is Discover Cars Oaxaca.
Trisha traveled to Mexico in 2018 and after a year, she found herself obtaining a 4-year residency visa in Mexico. She is the Editor-in-chief for our Living in Mexico Series which has helped over 3,000 Americans move to Mexico with ease. Trisha currently resides in Cabo San Lucas, Baja California Sur.