Destinations > Nayarit > Sayulita Travel Guide
Sayulita Travel Guide: Quick Info
🪴 Best neighborhood: Northside
🚕 Taxi app: White taxis, no Uber
🚌 Best Bus Company: ADO
🚗 Best Car Rental: Discover Cars
💵 100 pesos in USD: $5.86 USD
🚰 Tap water: Not drinkable
👩‍🎨 Visitors per year: Unknown
🏨 Best hotels: Booking.com
💳 Credit cards: Some establishments
💵 Cashless: No, still uses cash
The best time to visit Sayulita
Best time to visit for good weather
March is considered the best month to visit Sayulita for good weather. With temperatures ranging between 20-26°C (68-79°F), the climate is pleasant enough for beach outings, surfing, and other outdoor activities. Rainfall is minimal, and the skies are generally clear, making it an ideal time for outdoor activities.
Cheapest month to visit
The most budget-friendly time to visit Sayulita is September. It's the tail-end of the rainy season, with temperatures between 25-32°C (77-89°F). While you'll encounter some wet days, the lower prices on accommodations and flights make up for it.
High season for tourism
December through April marks the high tourism season in Sayulita. With daytime temperatures from 20-30°C (68-86°F), these months attract tourists looking for a warm escape. Expect higher prices and more crowded beaches.
Low season
June to September is the low season in Sayulita. This period coincides with the rainy season and brings hot, humid conditions with temperatures around 25-32°C (77-89°F). Tourist numbers dwindle, and many local businesses may close for the season.
Shoulder Season
The shoulder seasons in Sayulita are November and May. During these months, temperatures lie between 22-28°C (72-82°F). These months offer a balanced experience—pleasant weather and moderate tourist traffic—making it an ideal time for those who prefer a less crowded, yet still vibrant, atmosphere.
SAYULITA TRAVEL GUIDE
Plan your trip to Sayulita with us.
We lived in Sayulita and know it well! Get expert advice for your trip, custom itinerary planning, travel concierge, and more! Get on a call with us to learn more!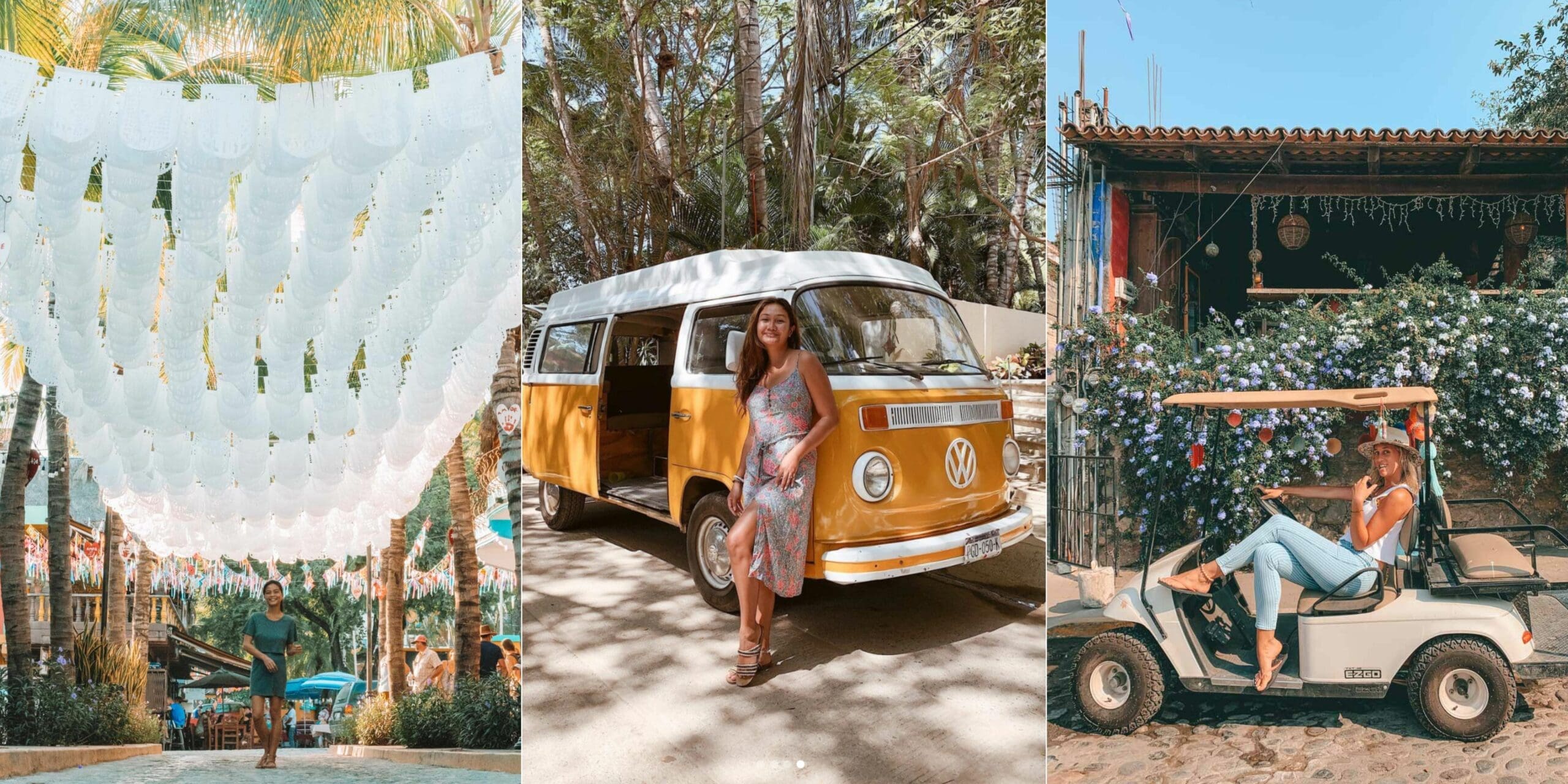 What's the best way to get from Puerto Vallarta to Sayulita?
The best way to get from Puerto Vallarta to Sayulita is by booking local taxi transportation from the airport, which costs around $89 USD (one-way). If you are on a budget, you can also take the bus for $5 USD. You need to cross the footbridge outside of the airport to get to the bus stop to Sayulita. Please note that Uber is not allowed inside Puerto Vallarta Airport.
How long is the taxi ride from Puerto Vallarta to Sayulita?
A taxi ride from Puerto Vallarta to Sayulita usually takes around an hour, depending on traffic and road conditions. These days, as tourism in Sayulita increases, expect the ride to exceed an hour, especially during peak hours.
Getting around Sayulita
Walking: Sayulita is a walking town. You can completely stroll the whole center of Sayulita within 20 minutes (on foot). The streets are narrow (and are mostly one-way) so expect car traffic to be heavy. The streets are also very safe and you will often see children all over town (whether crossing the street to go to school or playing in the plaza). Cars usually stop for pedestrians so you don't have to worry about safety while walking.
Renting a golf cart: A golf cart is widely used in Sayulita and is the main mode of transportation for residents and expats. You will see a pool of golf carts around the streets of Sayulita and most of them are customized to fit Sayulita's cobblestone streets. The cost of renting a golf cart in Sayulita can vary but typically ranges from about $40 to $70 USD per day.
Taxis: If your accommodation is not near the center, you can always take a taxi to your accommodation. The certified white taxis are parked by the plaza and cost $5 – $15 USD depending on where your accommodation is. Uber is not commonly used within town so you have to take the local taxis.
Car rental: This is the best way to get around Sayulita and neighboring towns in Riviera Nayarit. The car rental company in Sayulita already closed so your best bet is to rent a car at Puerto Vallarta Airport upon arrival. The daily car rental starts at $45 USD per day and the full tank for a Sedan is less than $50 USD.
Sayulita has a range of activities from outdoors to culture. It is definitely a destination for all types of travelers! Below are our best recommended things to do in Sayulita:
1. Take pictures at the flap street
This is an iconic spot in Sayulita and is probably the most famous image you see of Sayulita on Instagram. The flags at Flap Street are changed 2-3 times a year. This street has lots of good restaurants like Barracuda, Toscana, and Ruben's. You won't miss this spot – it's right in front of Sayulita plaza in front of the street of Chocobanana.
[Open location on Google Maps]
2. Visit the Marietas Islands
Just off the coast of Sayulita, Marietas Islands are a haven for nature lovers. Famous for its "Hidden Beach," the islands offer remarkable snorkeling experiences with vibrant marine life. Witness dolphins, humpback whales, and hundreds of species of fish. Tour prices start at $120 USD from Sayulita but you can also take this for a cheaper price from Puerto Vallarta.
[Book Marietas Islands Tour from Sayulita]
3. Take surfing lessons with a local family
Sayulita's consistent waves make it a fantastic spot for surfing, particularly for beginners. Numerous surf schools along the beach offer lessons for all age groups. The Sayulita main beach is the most beginner-friendly. Surfing lessons start at $75 USD (for 2-4 hours).
[Check prices for surfing lessons]
4. Hike Monkey Mountain
For panoramic views of the Nayarit coastline, a hike up Monkey Mountain is a must. The moderately challenging trek takes you through lush jungle to the summit, where you're rewarded with breathtaking vistas. Ideal for adventurers and nature enthusiasts alike.
[Check prices for Monkey Mountain hike]
5. Tequila Tasting
Immerse yourself in the rich culture of Mexico through a guided tequila tasting. Learn the history, manufacturing process, and the art of savoring this iconic beverage. This activity is best for couples, bachelorette parties, and big groups celebrating a special occasion.
[Check availability for tequila tasting]
6. Cooking classes
Get hands-on with Mexican cuisine in one of Sayulita's many cooking classes. Learn how to make local favorites like guacamole, enchiladas, and churros. Take home not just memories, but also the skills to recreate a Mexican feast.
[Check prices for cooking classes]
7. Sayulita nightlife
The town comes alive at night with an array of bars, beach clubs, and live music venues. Whether you're into dancing, chilling by the beach, or enjoying a cocktail, Sayulita offers a lively and eclectic nightlife. The best nightlife spot in Sayulita is Yambak. Remember, they have 2-for-1 on all national beers every Tuesday!
8. Visit all Sayulita Beaches
Don't settle for just one beach; explore them all. From the main Sayulita Beach to quieter options like Carricitos and Playa de los Muertos, each offers unique scenery and activities, making for a full coastal experience.
9. Local pottery class
In the town of Bucerias, about 45 minutes from Sayulita Mexico, we put together a super local tour where you can go to different local homes. The activities in this community tour include pottery, lunch at a home (with cooking classes) and Oaxacan textile classes.
[Check availability for pottery class]
10. Friday Market
Every Friday, Sayulita's Mercado del Pueblo comes to life, offering a unique blend of organic and locally-sourced products. From fresh fruits and vegetables to artisanal cheeses and baked goods, this market is a food lover's paradise. It's not just about produce; you'll also find handmade crafts, natural beauty products, and even eco-friendly household items.
Where to stay in Sayulita
What is the best neighborhood in Sayulita Mexico?
The "best" neighborhood in Sayulita depends on what you're looking for. The town is fairly small, but different areas offer distinct experiences:
Central Sayulita: Close to the main square and beach, this area is bustling with shops, restaurants, and nightlife. It's convenient but can be noisy.
North End/North Beach: A quieter area known for its less crowded beaches and a mix of rentals ranging from luxurious to modest. It's a popular choice for families.
Gringo Hill: Set on a hill overlooking the town, this area offers stunning views and is popular among expats. It's quieter than the town center but requires a bit of a climb or a short taxi ride.
South Sayulita: Known for its local vibe, this area is less touristy and offers a quieter, more laid-back experience.
Each area has its own charm and amenities, so consider your priorities when choosing where to stay.
Best hotels in Sayulita
As Sayulita is a walking town, you really don't need to worry about getting to the tourist spots and landmarks. You can get to them wherever you are staying. The trick to booking the best accommodation in Sayulita is to check the distance from Sayulita plaza.
Below are our best recommendations on where to stay together with nightly prices and star rating:
Note that if you are staying in accommodations like Punta Sayulita and other Airbnbs within the jungle, you will need to rent a car or call for taxi all the time. You can walk from these areas (40 minutes to town) but it's not really advisable.
Best restaurants in Sayulita
The restaurant scene in Sayulita is a culinary tapestry that reflects the town's eclectic soul, offering everything from traditional Mexican fare to international cuisine. The town is a paradise for food lovers, where one can savor the rich flavors of freshly caught seafood ceviche, experience authentic street food like tacos and tamales, or dine in style at upscale establishments serving gourmet dishes.
Here are our top 10 recommended Sayulita restaurants, by cuisine:
1. Best breakfast: Chocobanana
Chocobanana is an all-day breakfast restaurant by the plaza. What you'd like to know is that Chocobanana is the most sustainable restaurant in Sayulita as they recycle and don't use plastic. Try their signature choco banana to start. You may want to skip on the meat dishes because they are trying to sustainably source their meat as well.
2: Best raw food: Organi-k
Situated by the Sayulita bridge (and river), Organi-k has smoothies, acai bowls, and rice bowlsYou will always see Organi-k with long lines as early as 7:00 am. The place is small so a lot of people who are early-risers (mostly surfers) make a smoothie run before sessions.
3. Best Mexican: Mary's Traditional Cuisine
Their menu is packed with traditional Mexican cuisine that is presented simple, priced reasonably, and yet can make you feel the true food culture of Mexico. This curbside eatery is the best restaurant in Sayulita where you can get the Mexican experience that you will pay for less. The jalapeño poppers are highly recommended!
4. Best tacos: El Itacate
Itacate is also something you shouldn't miss. And I mean it. Here, you will find a lot of food options that involve cheese. Like this one pictured above which they call "Itacate," a taco-like dish that has cheese as a "tortilla" instead of the traditional corn tortilla. If you haven't tried pulque in your life, this is also the best place to do it.
5. Best fine dining: Sueños Creative Cuisine
Sueños Creative Cuisine is a new high-end restaurant in Sayulita that is suitable for date nights and dinners with big groups. The menu at Sueños Creative Cuisine was curated by an Italian chef, so expect a culinary trip to Italy when you dine at Sueños. Almost ALL of the plates are extremely tasty.
6. Best Asian: Achara Thai
The head chef, Sam, spent years working in Thailand and I am thankful that he's able to give Sayulita a little zest by having a Thai food option. If you don't eat meat, Achara can customize your meals. They can replace your protein with tofu or any vegetable you like! They also have vegan soy sauce and vegan fish sauce.
7. Best Yucatecan: Yeikame
Yeikame is an old-school Mexican dining experience headed by a great Mexican woman chef, Maribel, who's also become so close to me because she's my landlord's best friend! Her recipes have been passed by generations in her family so if you want to try authentic Mexican enchiladas, this is the place.
8. Best seafood: Alas Blancas
Alas Blancas is a beachfront restaurant that specializes in seafood like ceviche, aguachile, and shrimp cocktail. They also have a wide variety of Mexican plates. This beachfront restaurant can be visited for breakfast, lunch, and dinner plus it's a good spot for day drinking!
9. Best sushi: El Pescador Poke Bar
Enter El Pescador Poke Bar through a small staircase right by the plaza. This place is hidden and one of the local gems. Food is cheap, comfortable, and you get to have a great view of the plaza life. El Pescador Poke Bar specializes in raw poke bowls but they also have great Asian dishes. Our favorite (outside their bowls) is the chicken teriyaki with white rice!
10. Best American: Public House
A sports bar and day drinking spot in the day turns into an elegant dining at night – Public House has many faces and is always a good idea any time of the day! An upper-tier American bar food draws many foreigners to stay here (with or without a live game). Many vegetarians also love their cauliflower wings.
Is Sayulita inexpensive?
The cost of traveling to Sayulita can vary depending on factors like the time of year, your point of origin, and personal preferences. Below is a general list of expenses you might incur during a trip to Sayulita for one person:
Is Sayulita cash only?
No, you can also use credit cards in Sayulita. However, many establishments would prefer cash, especially street food or beach vendors.
How much do you tip in Sayulita?
When tipping in Sayulita, just think of how you would tip back home in the USA and Canada. If you are European or Australian and are not used to tipping, 10% is fine for a good service. Like the United States, tipping in Sayulita is kind of obligatory and expected.
Where is the best place to take out cash in Sayulita?
Intercam bank is the best place to take out cash in Sayulita, however, they also run out of cash, especially on Mondays. When this happens, Don Pedro's Restaurant has an ATM machine (both USD and Mexican pesos). It's always reliable and it's closer to town than Intercam!
Can you use credit card in Sayulita?
YES, credit cards are widely used in Sayulita. Visa and Mastercard are most common. AMEX is slowly getting popularity. Big establishments in Sayulita always have credit card terminals but it is still a cash society. You can't travel here without cash.
Tours are the best way to see Sayulita, especially if you are traveling on a strict time period. Below are the best tours we have on Sayulita and we can always cuustomie it according to your liking – just get in touch and we will give you the best price.
Travel safety in Sayulita
Is it safe to go to Sayulita Mexico RIGHT NOW?
ABSOLUTELY! There are no safety concerns when it comes to visiting Sayulita as a tourist as long as you do not involve yourself in sketchy activities like buying drugs. We always update this Sayulita travel guide according to current events so feel free to subscribe to our newsletters to get the latest news about Mexico travel straight to your inbox. NO SPAM. NEVER.
Is Sayulita safe for tourists?
Sayulita is safe for tourists who are practicing safety precautions as they do in other countries. There is no specific trick for being safe in Sayulita because bad things happen anywhere, even in your home. Just don't involve yourself in sketchy transactions and situations (i.e. buying drugs, talking to people you don't know, buying products from unknown resources).
Are the beaches in Sayulita swimmable?
Yes, the beaches in Sayulita are generally swimmable but always exercise caution as currents can be strong, especially during the rainy season. Lifeguards are usually on duty at the main beach. If you're looking for calmer waters, go to Playa de los Muertos.
Is the tap water in Sayulita safe to drink?
No, the tap water in Sayulita is not safe to drink. While some hotels and restaurants may have filtration systems, it's best to drink bottled or purified water to avoid potential gastrointestinal issues. Always confirm with your accommodation for specific advice on water safety. Most Airbnb hosts provide clean drinking water (garrafon).
Is it safe to walk in Sayulita at night?
YES, it is safe to walk in Sayulita at night. The main mode of transportation here is by foot so you will always see people walking around until late. Most of the accommodations are also walking distance from the center so you won't really need transportation here.
Check out our extensive articles on our Sayulita blog if you still need more information about traveling to Sayulita.
Frequently Asked Questions