Is Cenote Calavera Mexico in your list of cenotes to visit for your trip? Here's everything you need to know.
Cenote Calavera Mexico is a stunningly beautiful cenote or natural sinkhole that offers travelers a unique opportunity to explore an underground cavern and experience the breathtaking beauty of one of nature's wonders.
Located near the town of Tulum, Cenote Calavera is surrounded by lush jungle vegetation and provides visitors with an unforgettable adventure.
The cenote has crystal clear water reflecting sunlight from its depths and giving off a magical ambiance. Adventure seekers can participate in snorkeling, diving, or swimming activities as they explore this majestic cenote.
With its surreal atmosphere and abundance of wildlife, Cenote Calavera is sure to make an enjoyable day trip destination for any traveler!
🧐 Questions about Cenote Calavera Mexico? Ask us on Tiktok.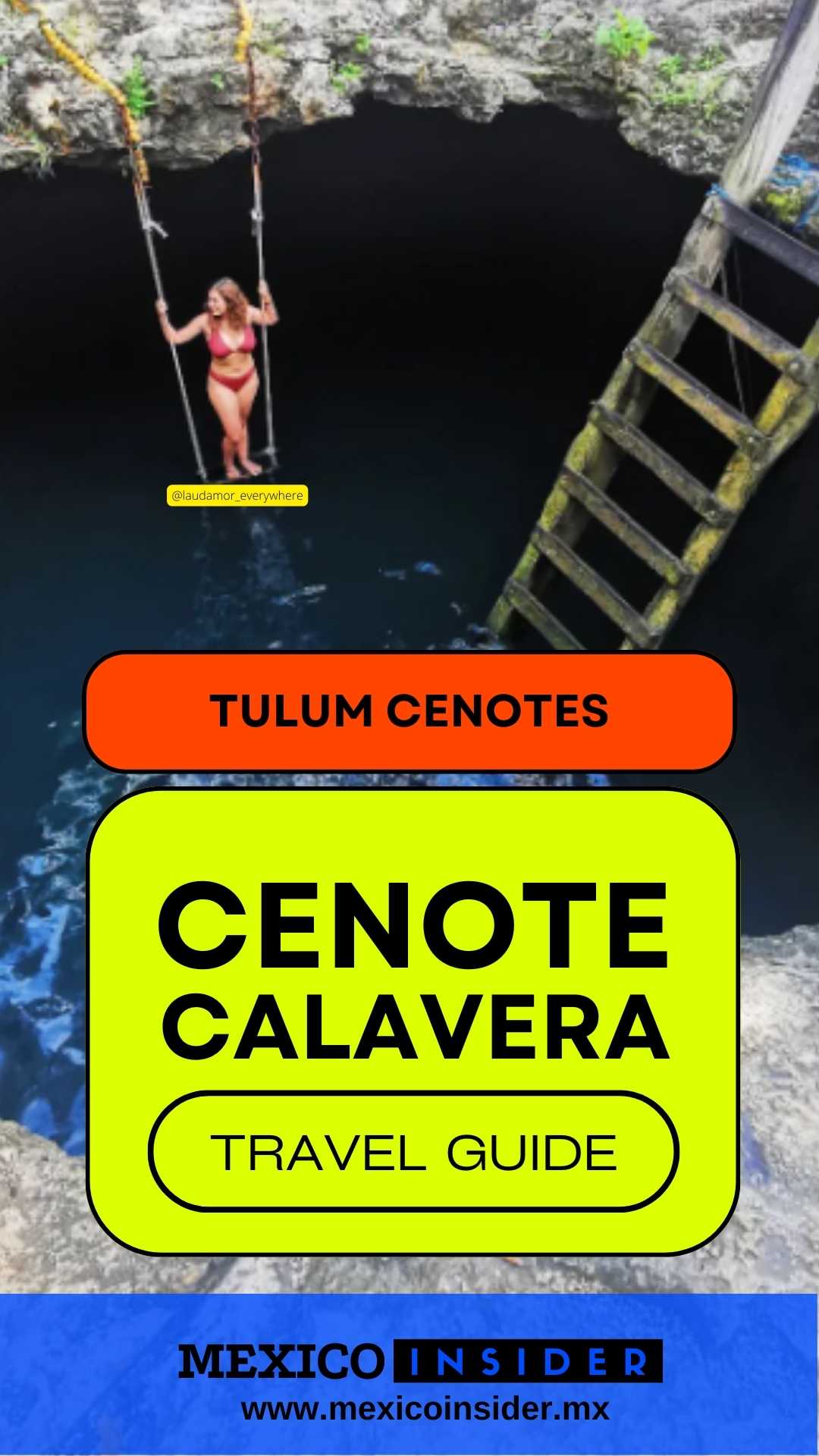 Cenote Calavera: quick links
📍 Where is Cenote Calavera Mexico?
Cenote Calavera Mexico is located in Quintana Roo. It is a cenote (sinkhole) located near Tulum and can be accessed through a mangrove tunnel.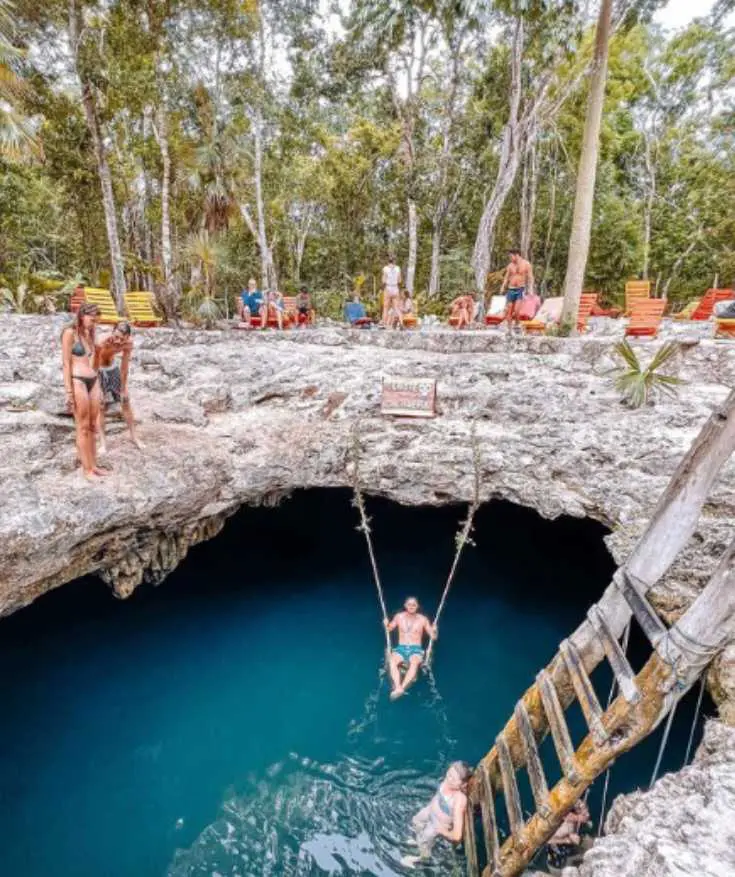 🗺️ Cenote Calavera Mexico Map
🚗 How to get to Cenote Calavera from Cancun
Cenote Calavera, located in the Yucatan Peninsula near the small town of Tulum, can be reached by taxi or rental car from Cancun.
The cenote is 108 kilometers away from Cancun, and the drive usually takes about two hours, depending on traffic.
If you're traveling by car, take Highway 307 south out of Cancun until you reach Tulum. Once in Tulum, take Highway 100 West towards Cobá.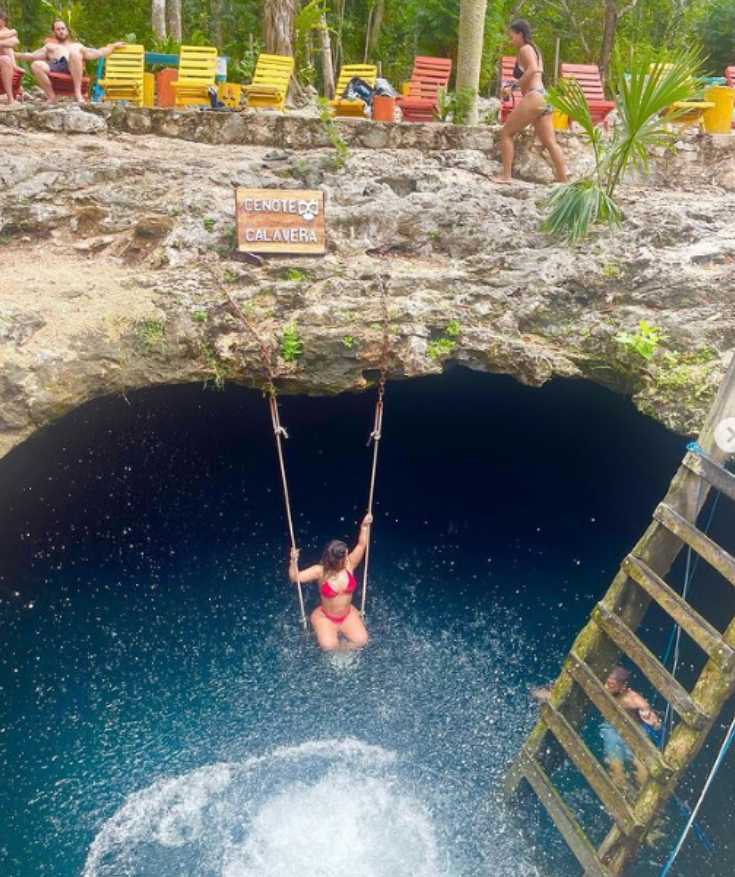 After about 30 kilometers, turn left onto El Cartel Road (also known as El Carretero). Follow this road for about three kilometers until you see a cinderblock arch with yellow paint that reads "Cenote Calavera."
Turn right here and follow the dirt road for another two kilometers until you arrive at the cenote.
🚖 How to get to Cenote Calavera from Tulum
The most convenient way to get to Cenote Calavera from Tulum is by taxi or car. . You can hire a taxi, rent a car, or actively use Uber services.
Another option is to take the public bus, Ruta 15, which departs every hour during the day and drops you off right in front of Cenote Calavera.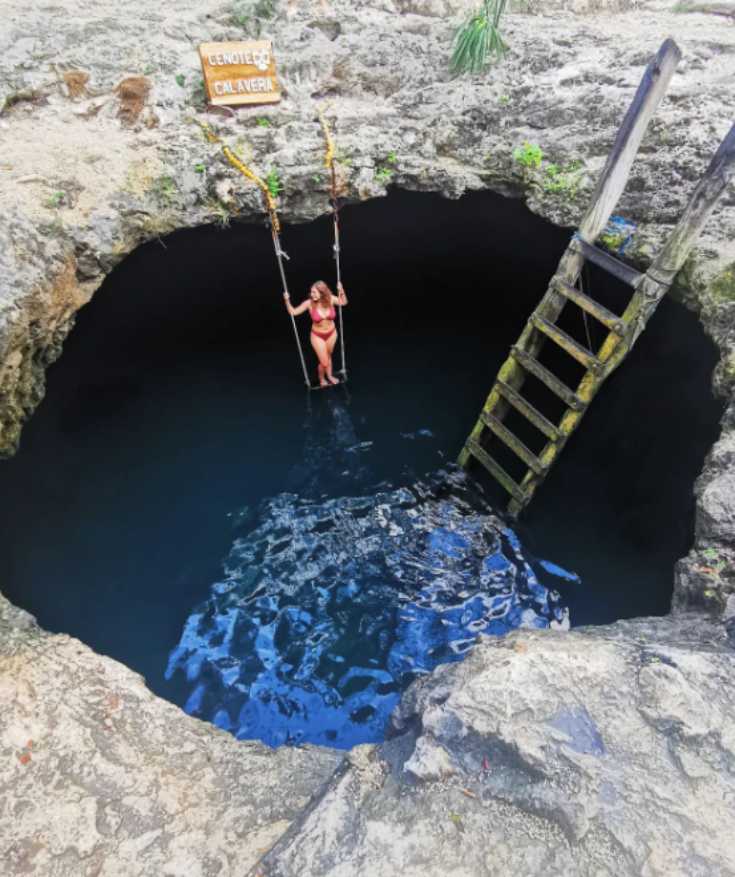 Alternatively, you can also book a tour through one of the many cenote adventure companies operating in Tulum for an easy and hassle-free experience at this natural wonder!
🚌 How to get to Cenote Calavera from Playa del Carmen
The best way to get to Cenote Calavera from Playa del Carmen is by car. You can either rent a car or hire a private driver.
Another option would be to take a public bus, which departs from the ADO Bus Station in Playa del Carmen and goes directly to Cobá, where you will find the cenote.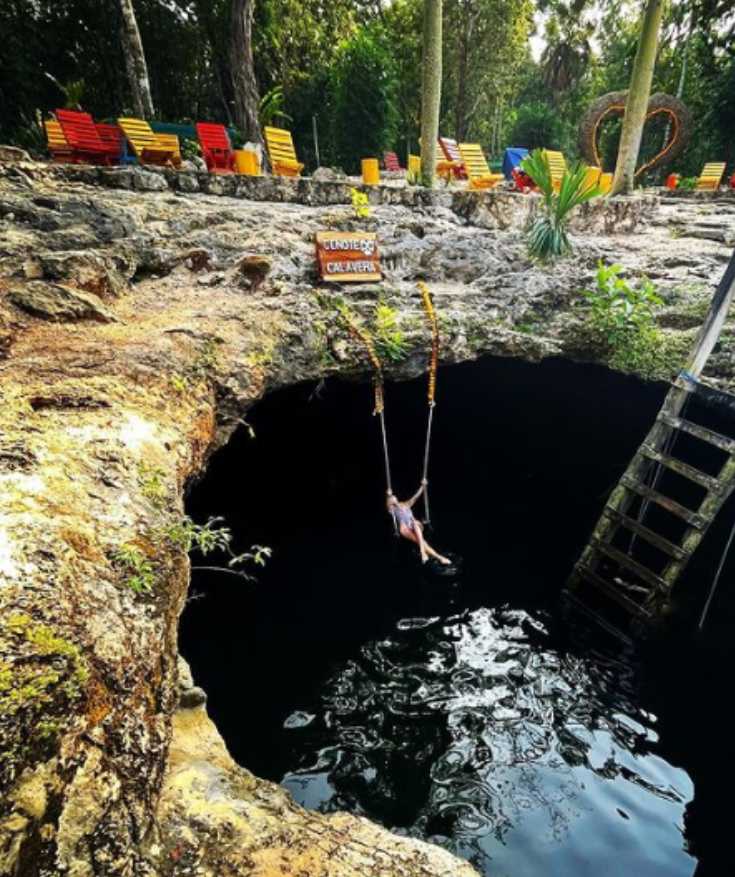 It takes about one hour and thirty minutes for this journey. Lastly, you can book an organized tour that will provide transportation from Playa del Carmen to Cenote Calavera.
This is usually the most convenient option as it eliminates any stress or hassle of organizing your transport and navigating directions.
💨 How to get to Cenote Calavera from Merida
To get to Cenote Calavera from Merida, you can take a taxi or rent a car in Merida. The journey should take approximately 1 hour and 15 minutes, depending on the traffic conditions.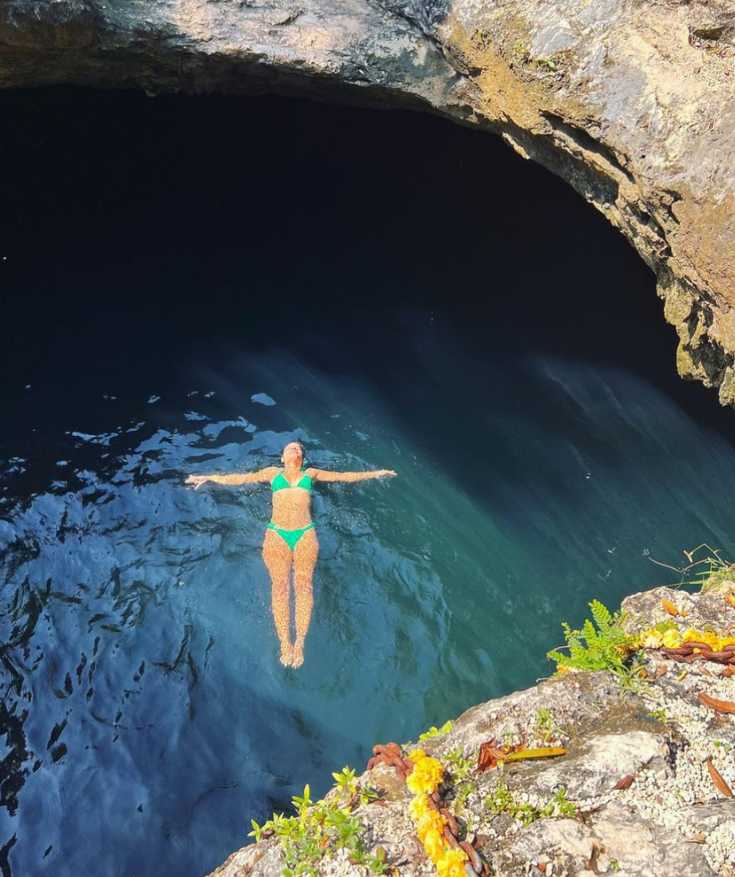 Alternatively, if you prefer public transportation, there are buses running direct between Merida and Cenote Calavera. The bus journey takes around 2 hours and 10 minutes.
🚍 How to get to Cenote Calavera from Bacalar
To get to Cenote Calavera from Bacalar, you'll need to drive south along Highway 307 for approximately 25 km before turning onto a dirt road.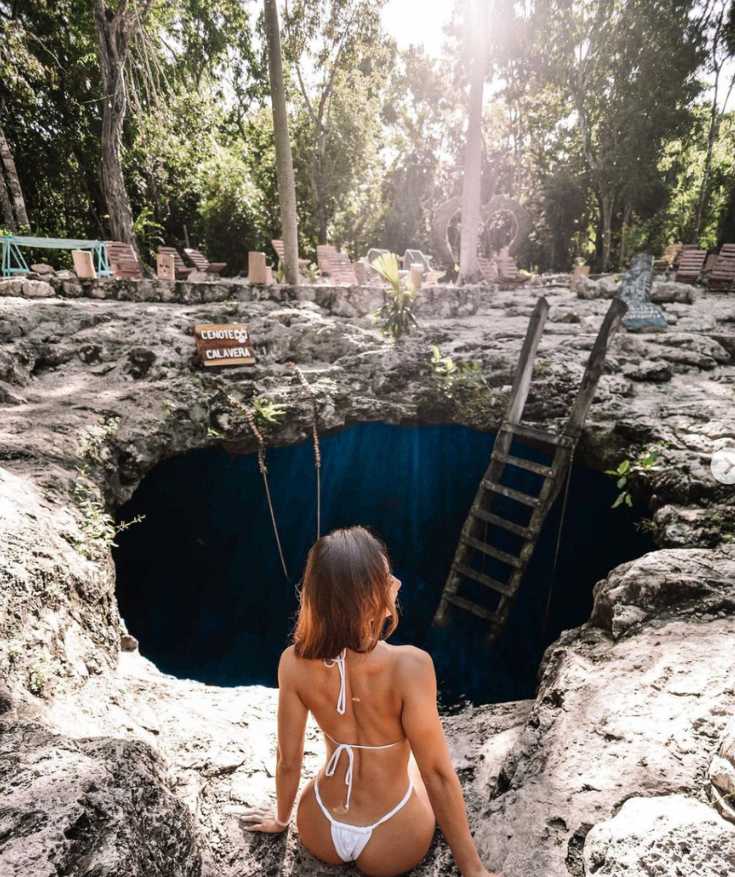 Once on the dirt road, follow the signs for about 8 km until you reach Cenote Calavera.
🏊‍♀️ Things to do in Cenote Calavera Mexico
The cenote itself is an awe-inspiring natural wonder filled with lush vegetation and crystal-clear turquoise waters – perfect for swimming and snorkeling amongst its diverse marine life.
Additionally, there are plenty of activities to keep visitors entertained, such as rope swinging into the cenote or climbing up onto its rocky ledges for some great views of the surrounding area.
Don't forget to bring your camera – Cenote Calavera makes for an amazing backdrop!
👙 What to bring to Cenote Calavera Mexico
Visiting cenote Calavera is a fun and memorable experience that people of all ages can enjoy.
To make sure you get the most out of your cenote-exploring adventure, it's important to come prepared with the essential items for a successful day.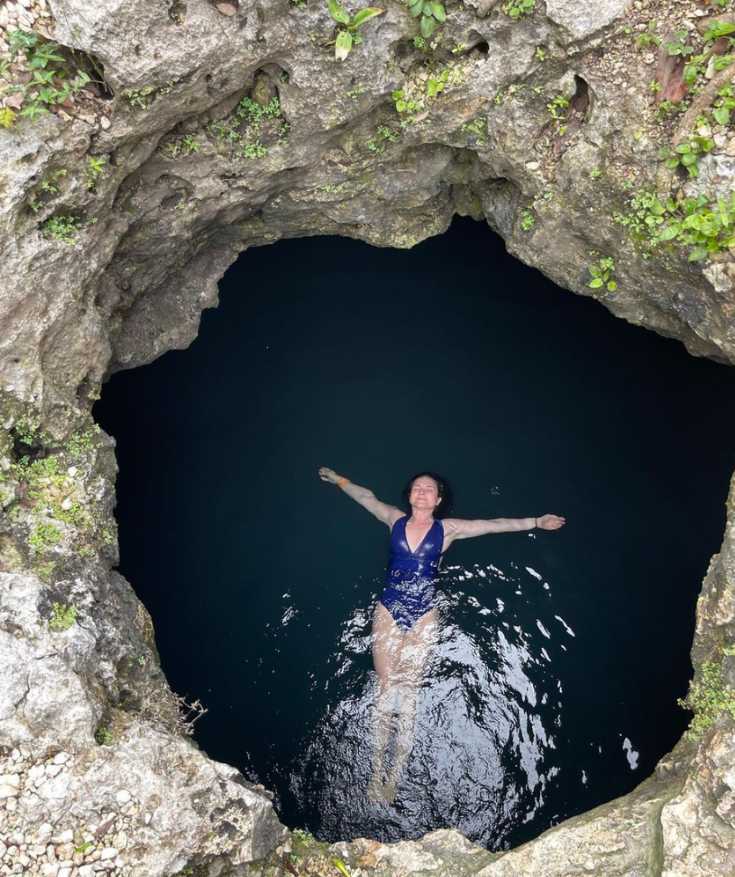 Here are five things you should consider bringing and packing when visiting Cenote Calavera Mexico:
Swimsuit and towel: cenotes are swimming holes filled with crystal-clear water, so of course you'll want to take a dip! Be sure to bring along a swimsuit, as well as a towel to dry off afterwards.
Sunscreen & Sunglasses: cenotes are often located in sunny areas, making them perfect for sunbathing and taking in the incredible scenery. However, it's also important to protect yourself from the UV rays with sunscreen and sunglasses.
Water Shoes: cenotes often have bedrock or gravel on their bottom that can be slippery when wet. Make sure you bring water shoes or aqua socks so you don't slip while exploring underwater!
Snacks & Water: cenotes can involve lots of activity under the hot sun, which means keeping yourself hydrated and nourished is key! Pack some snacks like trail mix or granola bars, as well as plenty of water to keep your energy up while cenote-hopping.
Go Pro Camera: cenotes offer some of nature's most beautiful backdrops and stunning views – immortalize your memories with a camera or Go Pro! Bring extra batteries in case your camera/Go Pro dies on you during your cenote adventure!
🛏️ Hotels near Cenote Calavera Mexico
Cenote Calavera can be visited from Tulum, Cancun, Playa del Carmen, Merida, and even Bacalar so you don't have to necessarily stay in hotels near the area.
It is closest to Tulum so those who are staying in Tulum hotels can access Cenote Calavera easily, even without a plan!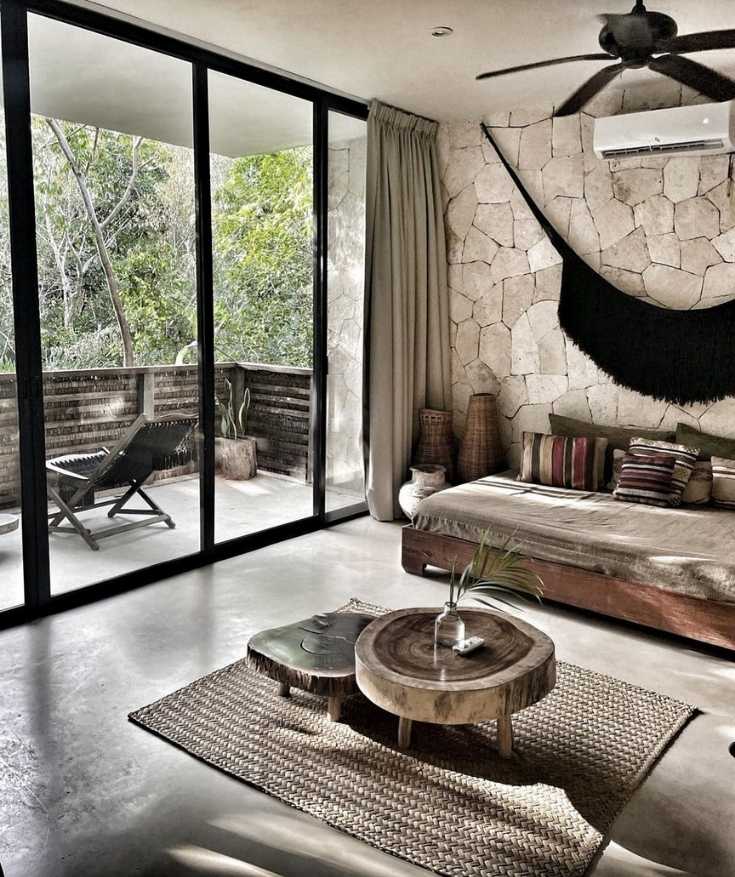 In case you want to stay close to Cenote Calavera and other cenotes near Tulum, below are some of the best hotels under $100 USD:
⁉️ What is a cenote?
The word cenote is from the Mayan word dz'onot, which means a natural well or reservoir. Most cenotes in Mexico are found in the Yucatan Peninsula, which is really close to Tulum but bear in mind that Tulum is in the state of Quintana Roo.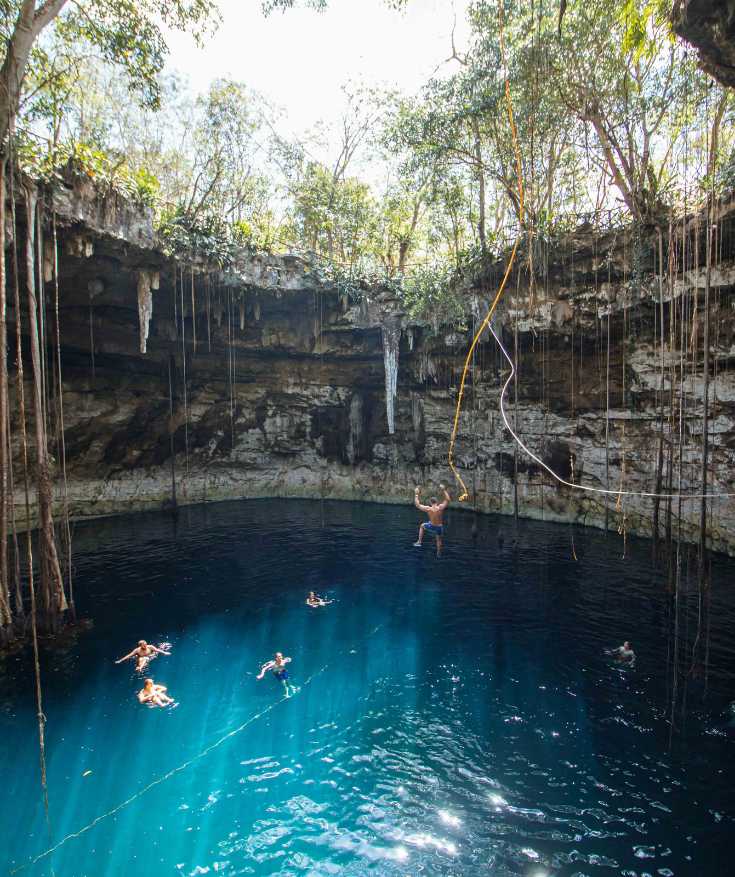 When the limestone surface collapses, the water underneath is exposed, thus forming a cenote.
Cenotes were the major source of water in ancient times in Yucatan and up until today, the state still depends on them for a water source.
💲 How much does Cenote Calavera cost?
Cenote Calavera typically costs around 250 pesos (about $12 USD) for a day trip. There are also cheaper options, such as discounted entry fees for children and student discounts.
Prices vary depending on the season and day of the week.
🤿 Is Cenote Calavera deep?
Yes, Cenote Calavera is deep. It has a depth of approximately 33 meters (108 feet) and contains an array of colorful fish, stalactites, and stalagmites.
🇲🇽 Tulum Travel Resources
✈️ Flights to Tulum
The airport that serves Tulum is Cancun International Airport. Use Kiwi.com to find the cheapest flights to Cancun. This is our favorite booking engine because they compare prices across all airlines for your route.
🛏️ Hotels and resorts in Tulum
Budget travelers can use HostelWorld to find cheap accommodations for as low as $25 USD per night. Resort vacationers, the best deals for all-inclusive stays in Tulum are on Booking.com!
🚑 Mexico Travel Insurance
Be prepared for the possibility that something can happen to you while traveling abroad. Do not travel to Tulum without travel insurance! We recommend SafetyWing (for digital nomad and entrepreneur trips) and Ekta Travel for comprehensive medical insurance starting at $0.99 USD!
Marianela Clement is a Swiss-Argentine marketing expert who moved to Mexico in 2017. She has lived in Queretaro for 4 years, traveling and working around Central Mexico. In 2021, Marianela decided to move to Tulum, and up until today, she is enjoying the joys of living in Tulum, Mexico.