Grutas Tolantongo, a paradise nestled in the mountains of the Mezquital Valley in Hidalgo, Mexico, is an enchanting hot spring resort. Here's a complete visitor's guide.
The resort, run by a cooperative of local families, has been a site of relaxation and rejuvenation for centuries, owing to the area's warm thermal waters, which are believed to have therapeutic properties.
The name Tolantongo translates to "home where it feels warm" in the local indigenous language.
A surreal river of bright turquoise waters heated by the earth's core flows through the lush green valley, a breathtaking sight further augmented by the park's natural hot springs, pools, grottos, and caves.
Here's a complete guide to visiting the Tolantongo Caves, including tips on how to get there, staying the night, restaurants, and more!
🚗 Additional info: I visited Grutas Tolantongo together with Huasteca Potosina (self-drive). You can check my driving route and this route is highly recommended for adventure travelers!
Plan your trip to Mexico with us! Get expert travel advice and customized trip-planning itinerary from our local experts on the ground.
🙋 Is Grutas Tolantongo worth visiting?
You're probably asking this question because you've seen those beautiful photos on Instagram. Yes, it is worth visiting, but note that there are a lot of logistics involved in going here.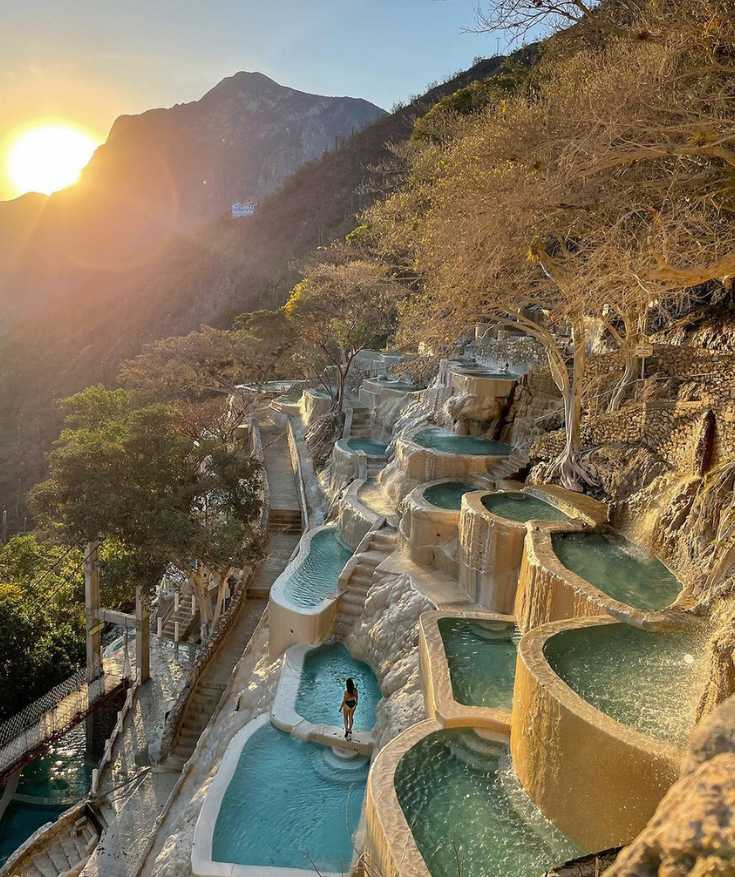 Most of those are not explained on social media but hey, nice pictures are the best souvenirs to take home these days.
Personally, I feel like IT IS WORTH VISITING, especially if you are already in Mexico City, but consider that this is an outdoor destination and requires a lot of physical work.
💡 Fun facts about Grutas Tolantongo
Its waters are naturally therapeutic
The water flowing in Grutas Tolantongo is not just ordinary spring water. It is geothermally heated by the volcanic mountains, maintaining a constant temperature of around 36-38°C (96-100°F).
This warmth, combined with its mineral content, is believed to have therapeutic benefits.
It is locally managed
Despite its popularity, Grutas Tolantongo is not a commercially-owned resort. The park is collectively run by a cooperative of about 120 local families who take care of the place, making it a unique community-based tourism spot.
It has diverse flora and fauna
Grutas Tolantongo is home to a wide variety of flora and fauna. It's common to spot hummingbirds, butterflies, and unique vegetation, adding to the park's vibrant ecosystem.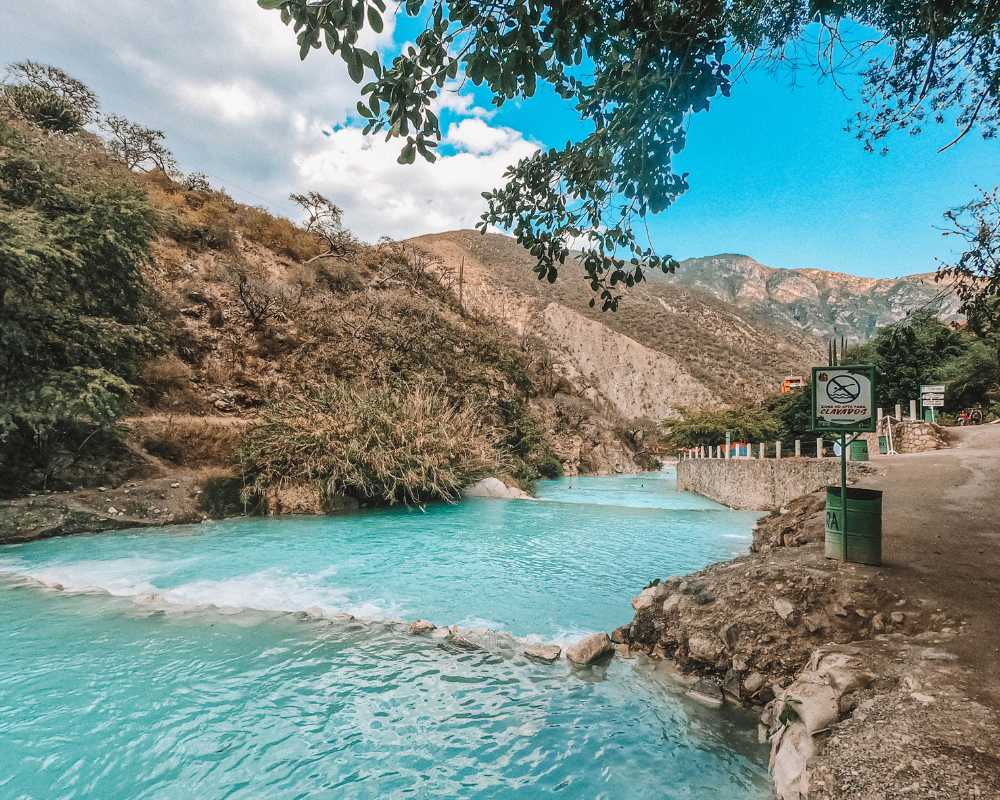 It has a cave exploration
The largest grotto, or cave, in the park is around 40 meters deep. Inside, stalactites and stalagmites formed over thousands of years provide a stunning spectacle and an exciting opportunity for exploration.
Unusual pool experience
The park's thermal pools are built into the side of mountains, creating an unusual and beautiful infinity pool experience with panoramic views of the valley.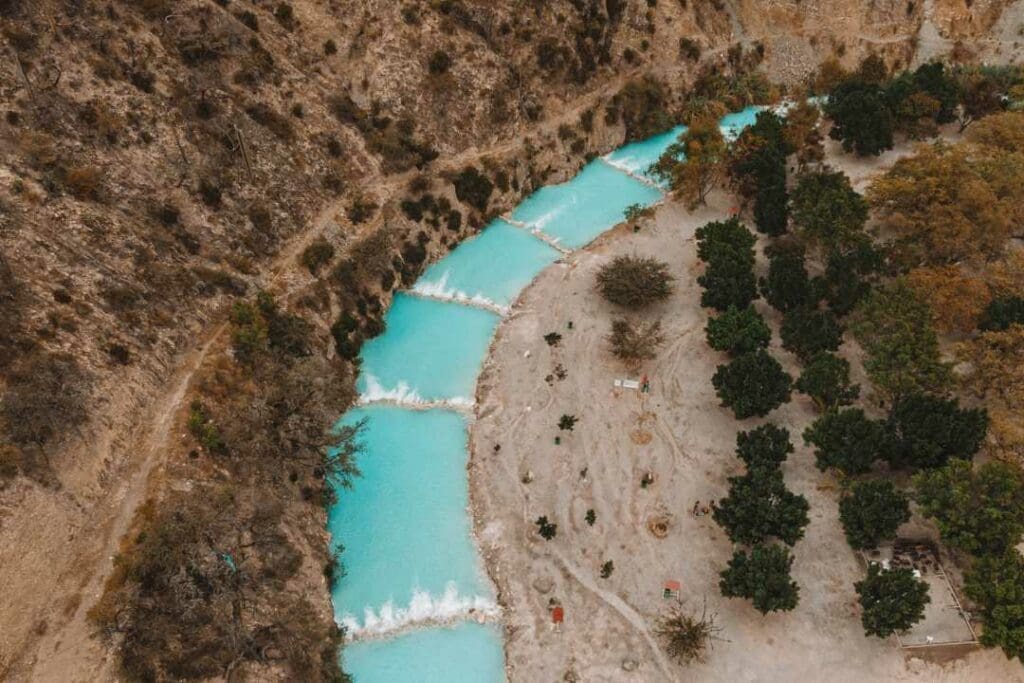 Archaeological artifacts
Archaeological artifacts have been discovered in the area, indicating it was likely inhabited by indigenous communities centuries ago. These artifacts are preserved and on display at a local museum.
Grutas Tolantongo can be visited all-year-round
Grutas Tolantongo remains open throughout the year due to the consistent warm temperature of the thermal waters, making it a perfect spot for winter dips too.
🗺️ Map of Grutas Tolantongo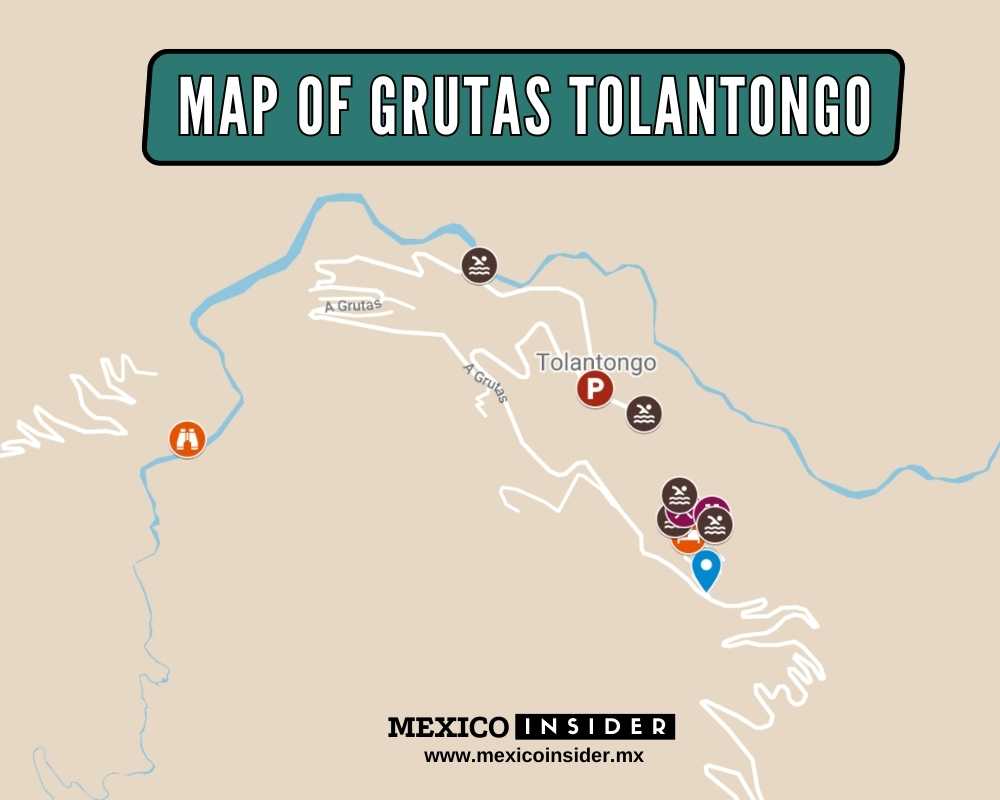 🚗💨 How to get to Grutas Tolantongo
Self-drive from Mexico City to Grutas Tolantongo
If you are coming from Mexico City and going to Grutas Tolantongo, renting a car can be the easiest way to have a hassle-free journey.
Rental Cars in Mexico City start as low as $25 USD per day, and several different types of cars are available depending on what kind of experience you're looking for.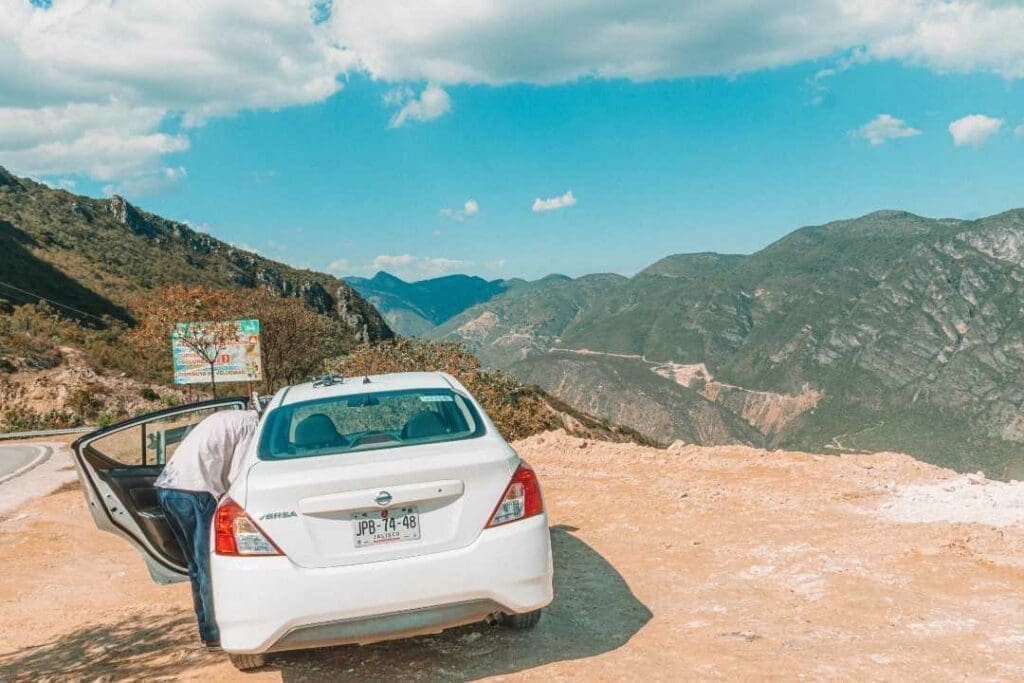 Just follow the Grutas Tolantongo location on Google Maps – it's really accurate. The Waze app also gives you alternative routes for traffic.
The drive is safe so long as you are comfortable in driving in another country. Driving is more convenient as private cars can park at the entrance of the pools. The parking fee is 30 pesos ($2 USD) per vehicle.
🅿️ If you are taking the shuttle service to Grutas Tolantongo, busses are only allowed to park at an area about 8 KM away from the entrance.
Bus from Mexico City to Grutas Tolantongo
This is a more tedious way because it is longer and there are many steps involved. I understand that some of you are adventure travelers or backpackers and this may be a cheaper way for you to visit Grutas Tolantongo:
To take the bus, go to the Mexico City Terminal del Norte. Don't look for busses going to Grutas Tolantongo but look for Ixmiquilpan.
You can buy bus tickets to Ixqumilpan in advance, but you can also buy them from the ticket offices at the bus station (from $15-$20 USD).
The busses depart from Platform 7, and the trip lasts about 1.5-2 hours.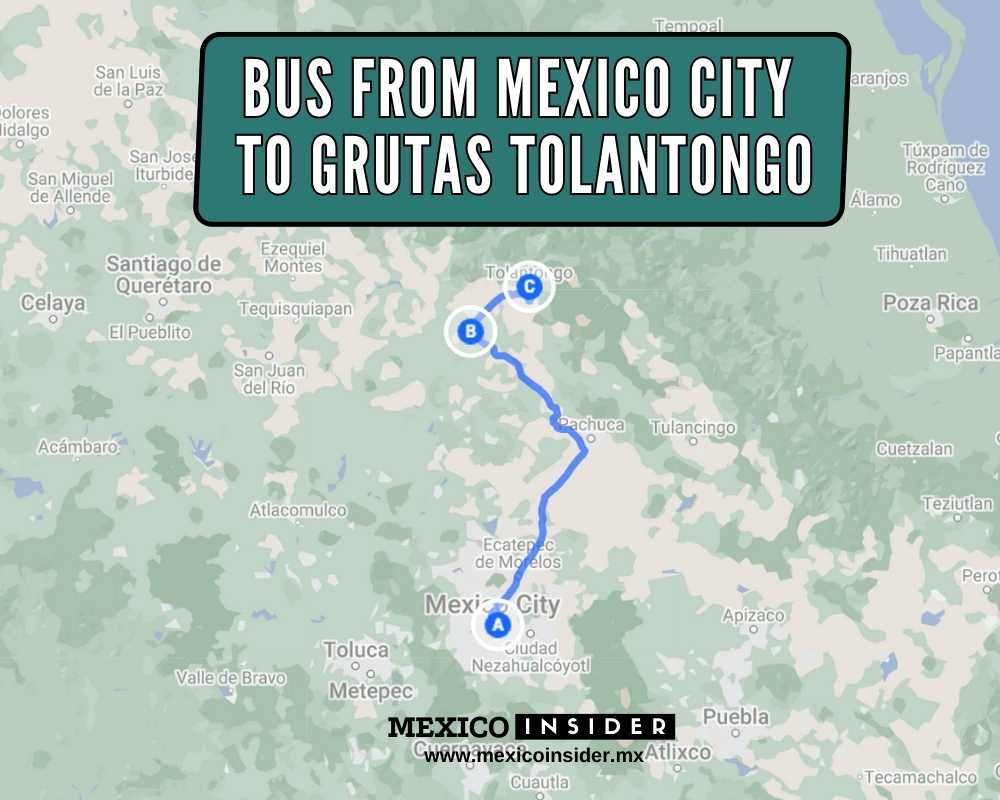 From the Ixmiquilpan bus station, take a taxi to Grutas Tolantongo for 400-600 pesos (around $30-$40 USD). You can haggle with the drivers and deal a better price.
For a cheaper option, there are shared shuttle services to Grutas Tolantongo by the San Antonio Church parking lot, a 21-min walk from the Ixmiquilpan bus terminal. [See walking directions]
Don't feel like walking? Take a shared van (collective) to get to San Antonio Church from Ixmiquilpan bus station.
Once at the church, just ask around for the "colectivo a Grutas Tolantongo" and the locals will point you in the right direction. The colectivo costs 60 pesos ($3.55 USD).
Below are the operating hours from Ixmiquilpan to Tolantongo:
Monday-Thursday: 9:30 AM, 11:30 AM, 1:30 PM, 3:30 PM and 5:30 PM
Friday-Sunday: departs every hour from 9:30 AM – 5:30 PM
From Tolantongo to Ixmiquilpan, the colectivo runs from:
Monday-Sunday: 7:30 AM, 11:30 AM, 1:30 PM, 3:30 PM, and 5:30 PM
🧭 Best Grutas Tolantongo tours
🎟️ Admission ticket prices for Tolantongo
The admission tickets to Grutas Tolantongo costs 180 pesos ($11 USD), from ages 5 and above. This is a full-day general admission ticket that allows you to access the: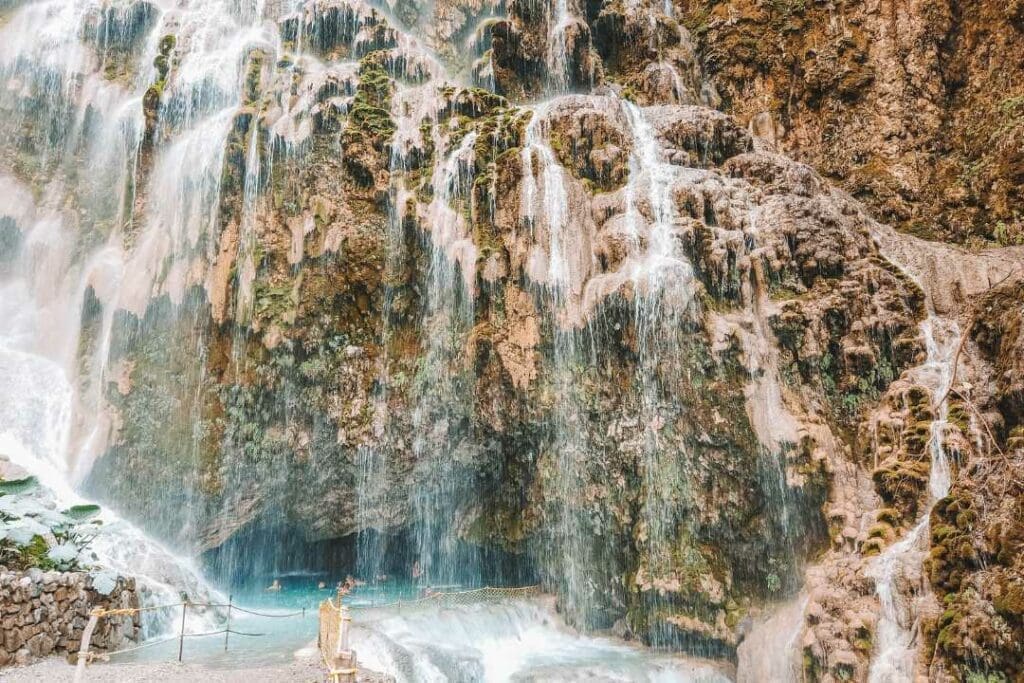 Caves and tunnels
Trek and hiking trails
Thermal pools
Suspension Bridge
Waterfalls
There are two zones within the park namely Paraiso Escondido and La Gruta and both are included in the admission fee.
🎟️ Please note that this is not a 24-hour ticket and is only valid from 7:00 AM – 8:00 PM. Meaning, if you are staying the night, you need to pay for 2 tickets.
⛰️ Things to do in Grutas Tolantongo
Swim in the Grutas Tolantongo hot springs
There are several hot springs scattered across the park. Many of these thermal pools are built into the sides of the mountains, providing a breathtaking view.
The temperature of the thermal pools and hot springs can vary but generally hover around 35-40°C (95-104°F), being heated by geothermal activity.
These temperatures make the springs warm and relaxing rather than excessively hot.
Since this is in the mountain, transferring from one pool to another can get cold. By 4:00 PM, the sun is not hitting the pools anymore so these areas will be shaded.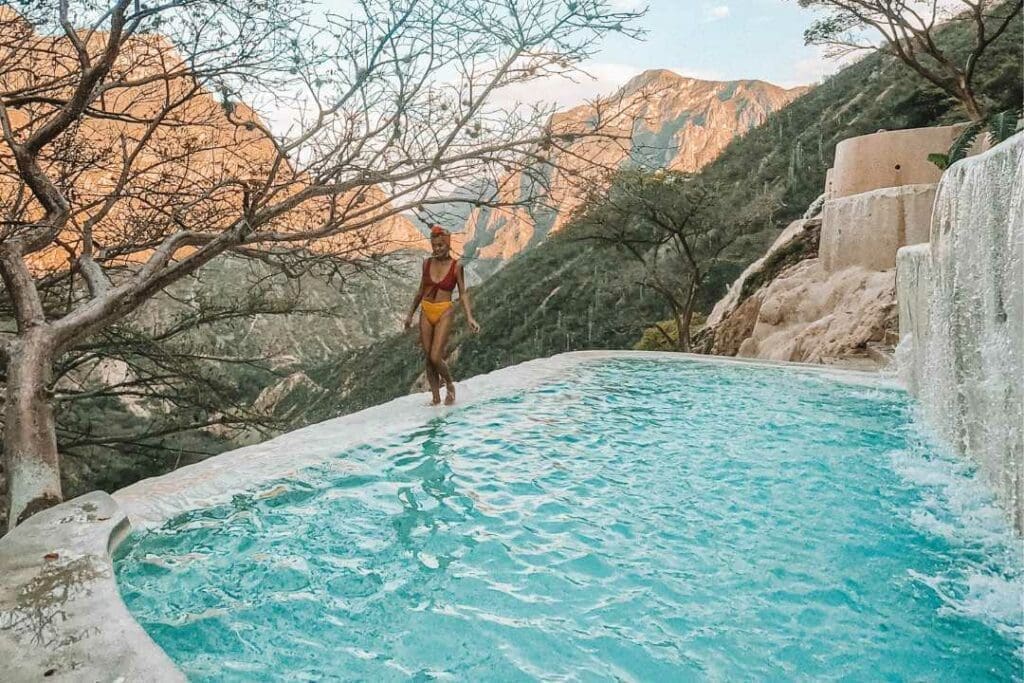 While there are many pools inside the Grutas Tolantongo, the most famous spot that you see on Instagram is another steep and long hike, which is the upper part of the Grutas Tolantongo.
To get there easily and safely, you can take the shuttle busses (colectivo) at the park entrance, which costs 15 pesos ($0.89 USD), running from 7 AM – 8 PM.
Instead of hiking up, you can take the colectivo both ways. This is a shared taxi, but you can also tell the driver you want a private ride, which will cost 30 pesos ($2 USD).
🛑 Important safety note: These pools are everyone's motivation to visit Grutas Tolantongo (for the gram), but please, for your safety, take the colectivo and do not attempt the hike. If you're driving, follow this direction.
See the caves and tunnels
The name 'Tolantongo' translates to 'home where it feels warm' in Nahuatl language, which references the heated mineral waters inside the caves.
The main cave's depth isn't extremely deep, allowing you to stand in many parts. A warm water stream flows through it, and the cave is spacious.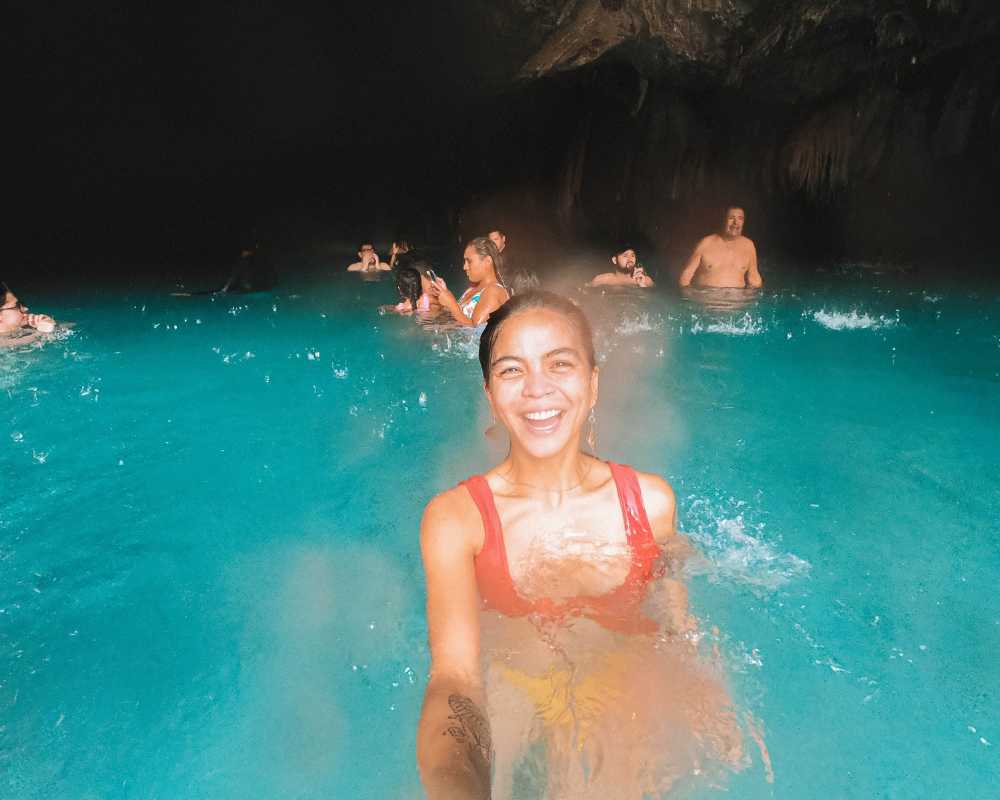 The water level varies, with deeper spots reaching about waist or chest level for an average adult. Some caves and tunnels to visit include:
La Gloria and La Luna are smaller grottos, less crowded than the main cave. Accessing these caves isn't particularly challenging; the water depth varies like the main cave.
Tunnel of Love: The Tunnel of Love is accessible and doesn't require a strenuous hike.
🛑 Generally, it's safe to swim if you're a confident swimmer, but always exercise caution, especially when traveling with children. It's dark as you go in so bring a waterproof headlamp!
Take photos at the suspension bridge
📍 Location of Suspension Bridge
A visit to Grutas Tolantongo would not be complete if you did not capture the moments and breathtaking views in the area.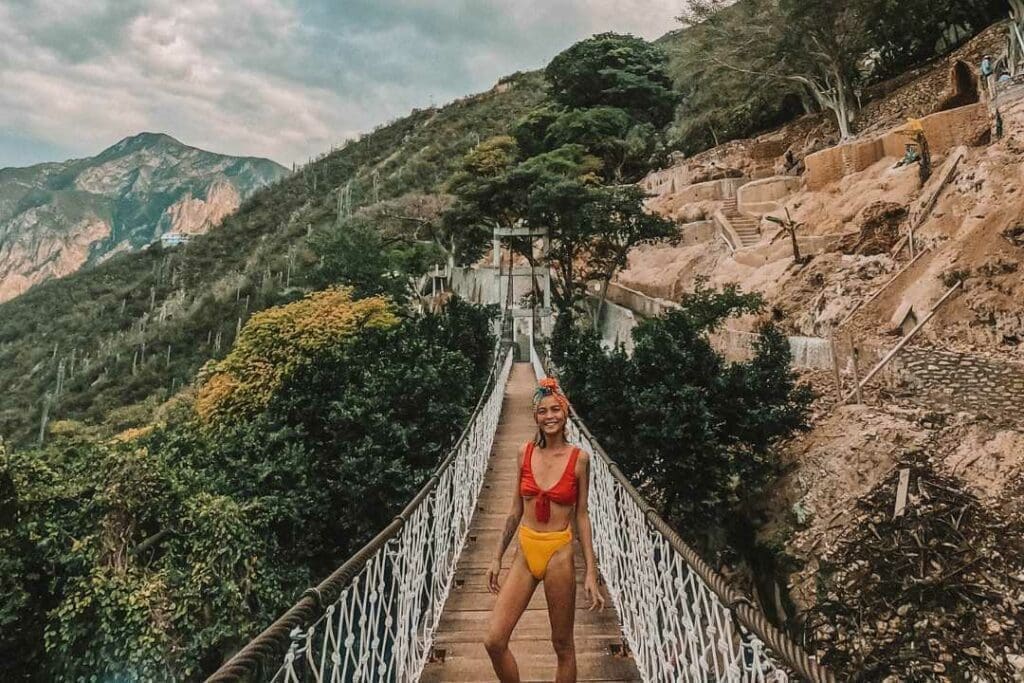 You can take great pictures by the thermal pools and walk across the suspension bridge that spans the picturesque canyon, providing a thrilling vantage point to capture the natural beauty of Grutas Tolantongo.
Tolantongo River
📍 Location of Tolantongo River
The warm river is another major attraction in the park. The volcanic activity in the area naturally heats it.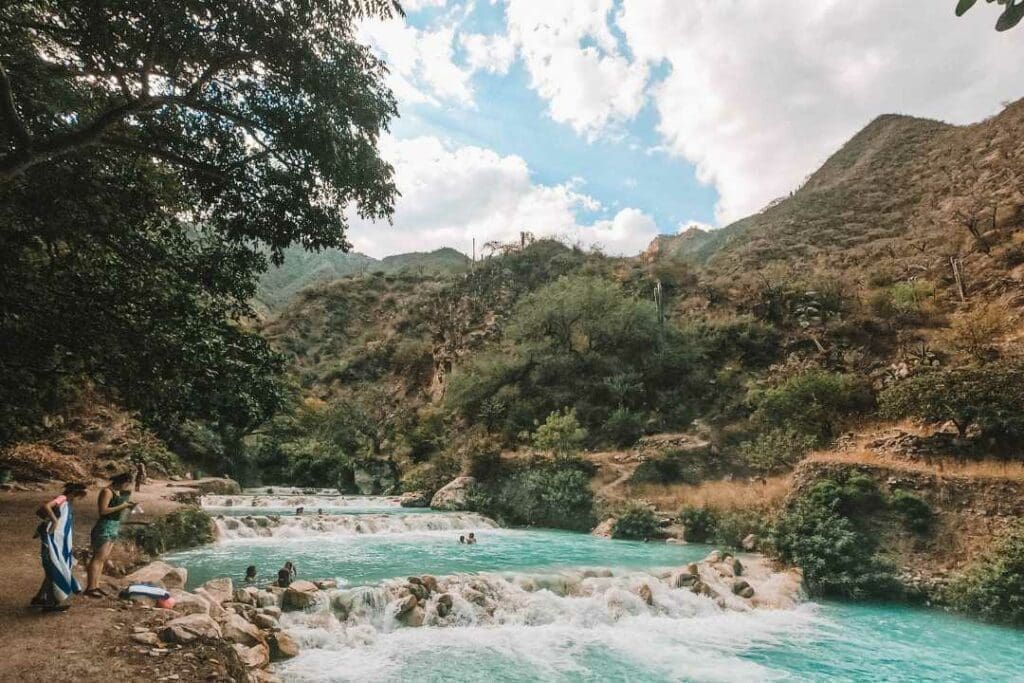 The river's depth and current can vary, and while it's generally safe for swimming, it's important to be cautious, particularly after heavy rainfall.
The river is heated naturally and provides a pleasant swimming experience. The depth can vary, with some parts shallow enough to stand and others requiring swimming.
⛺ This is the camp site in Grutas Tolantongo where you can rent tents.
Tolantongo Zipline
The zipline offers an aerial view of the stunning natural landscape of the park, including its mountains, river, and thermal pools. It's about 1,890 meters.
The price of the zipline is 250 pesos ($15 USD).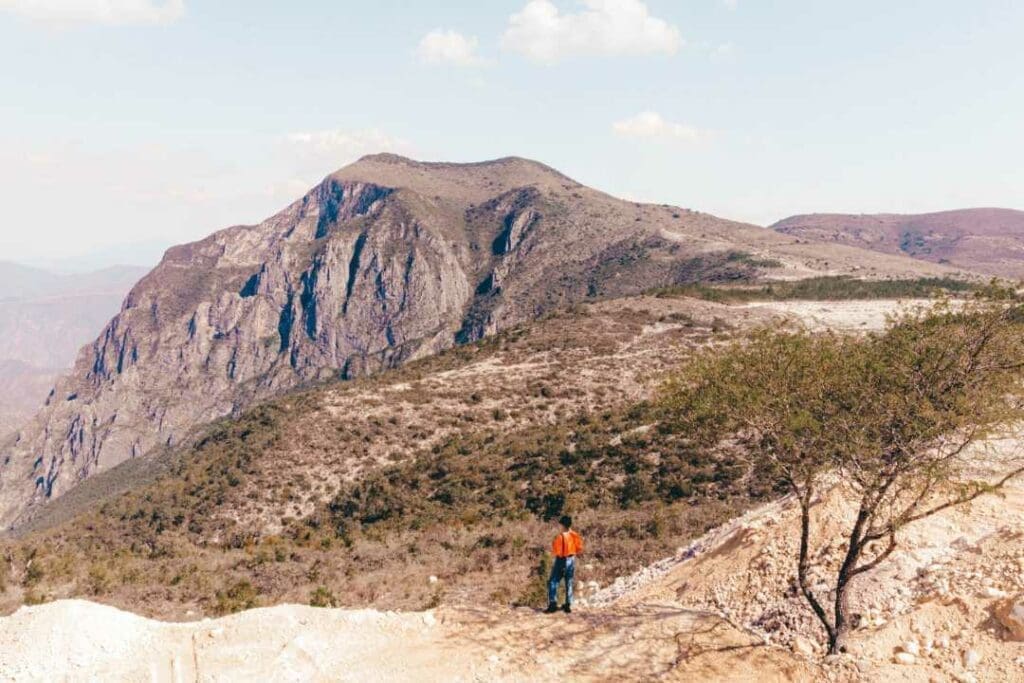 Hiking trails in Grutas Tolantongo
The entire area is nestled within scenic mountainous landscapes, so you'll find opportunities for exploration and hiking as you move between the different attractions such as the caves, the hot spring pools, La Gloria and La Luna, the river, and more.
🎒 What to bring/pack for Grutas Tolantongo
When visiting Grutas Tolantongo, it's important to pack a few essential items for a comfortable and enjoyable experience.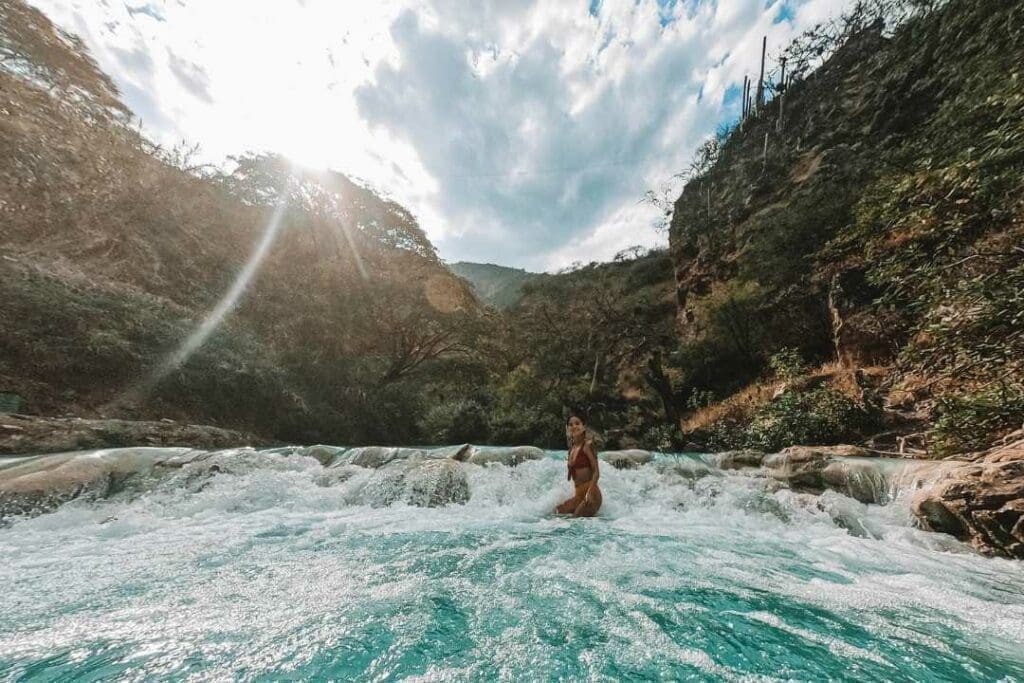 Here are five things you should consider bringing:
Swimwear: Grutas Tolantongo is famous for its natural hot springs and thermal pools, so don't forget your swimwear so you can take a dip and relax in the warm waters.
Towel: A towel is essential for drying off after swimming or enjoying the hot springs. Having a towel to sit on or use as a cushion when lounging by the pools is also handy.
Sunscreen and Hat: The sun can be pretty intense in the area, so protecting yourself from harmful UV rays is crucial. Apply sunscreen generously and bring a hat to shield your face and head from direct sunlight.
Water Shoes or Sandals: Grutas Tolantongo has rocky terrain and natural surfaces, so having water shoes or sandals with good traction will help you navigate comfortably and protect your feet.
Snacks and Water: While dining options are available on-site, bringing snacks and bottled water is always a good idea to keep you hydrated and energized during your visit.
Aside from these, remember to pack any personal medications, cash, a change of clothes, and any other items specific to your needs. It's also advisable to check the weather forecast and pack accordingly.
✨ Useful tips for visiting Grutas Tolantongo
There are hotels in Grutas Tolantongo
There are 5 main hotels in each area of Grutas Tolantongo, with different room types are prices:
Single room for 2 pax, 1 bed: 900 pesos ($53 USD). add 100 pesos for a room with balcony
Double room for 4 pax, 2 beds: 1,200 pesos ($70 USD); add 100 pesos for a room with balcony
Double King Size for 4 pax, 2 King beds: 1,600 pesos ($95 USD)
Cabin Room for 5 pax with 2 double beds and 1 sofa bed: 1,900 pesos ($112 USD)
Triple King size room for 6 pax with 3 King beds: 2,200 pesos ($129 USD)
The sections are La Gruta, Paraiso Escondido, La Huerta, Molanguito, and Paraiso II. Check-in is as early as 8:00 AM or 3:30 PM, depending on availability, while check-out is at 12:00 PM.
The most luxurious accommodation is the Paraiso II section, where single rooms start from 1,600 pesos ($95 USD).
Unfortunately, you can only book your stay upon arrival, which is a hit-and-miss. You can't call nor book online.
If you arrive early, you will get a hotel instantly. It's not always full and people are checking out by 12 PM.
Just make sure to do this first before going around the park. The earlier, the better. All payments must be made in cash only, and pets are not allowed.
No ATM in the park
All transactions in the park are cash only. Make sure to withdraw from Mexico City. If you're staying the night, remember that the hotels are also expecting cash payments so take at least 5,000 pesos to be sure.
All room's rentals are in the park. Just when you arrive to the park. We don't have reservations for internet or phone.
All payments all in the park and in the hotel are in cash. We don't have ATM's in the park.
Drone flying in Grutas Tolantongo
One of my acquaintances lost his drone while flying around Grutas Tolantongo. The mountains are blocking the landing point, so if you bring a drone, put it in manual settings.
It is not prohibited to fly a drone in Tolantongo but ensure you are landing and taking off in an open area. Sunset is the best time as people tend to leave by 3:00 PM.
⁉️ FAQ: Tolantongo Caves Travel
Trisha traveled to Mexico in 2018 and after a year, she found herself obtaining a 4-year residency visa in Mexico. She is the Editor-in-chief for our Living in Mexico Series which has helped over 3,000 Americans move to Mexico with ease. Trisha currently resides in Cabo San Lucas, Baja California Sur.