Hierve El Agua Oaxaca is open again after closing in March 2020. I was in Oaxaca for day of the dead and it was great timing. Here's what you need to know about Hierve el Agua's opening in November 2021.
When I went to Oaxaca last year, I was super sad to know that I won't be able to visit Hierve El Agua. From seeing these pictures on the Internet, I had a strong urge to see them in person.
I was in Oaxaca during day of the dead and had spare time to visit Hierve El Agua before the actual DOTD celebrations. However, my friends and I weren't really sure if it was open.
We asked all the local people we know and they weren't 100% sure as well. I didn't stop investigating because I really wanted to go. Finally, I contacted a friend in Oaxaca who has access to the mountains.
It's really hard to know in real-time since the local people are not equipped to do a status update on social media. They don't need it anyway.
People will visit Hierve El Agua no matter what. But of course, nobody wants to drive all that way if it's still closed.
My local friend confirmed that Hierve El Agua is open although I still had a small doubt in my head. In the past, there were a lot of rumors that there were secret ways to 'illegally' visit Hierve El Agua, which I was totally against because we don't want to violate the local community's rules and privacy.
I learned it the hard way because one of our friends illegally flew a drone there last year and got really busted by the local community. These are people with who you don't want to have a fight because you'll never win.
Some random local operator offered to bring me "illegally" to Hierve El Agua prior to arriving in Oaxaca but I said no. Even if I wanted to visit badly, I am respectful of the locals' rules.
So, we signed up for a local driver to bring us to Hierve El Agua for $75 USD per head (includes gas, water, beers, mezcal for the road, and entrance fees).
Since it was a private ride, was a little bit costly but the driver was my friend and I will do everything to support him. When I saw the rough roads, I was really thankful I didn't do it on my own or take the public bus because it looked very painful!
2 friends and I sat comfortably in an SUV and we stopped whenever we want. There was also no time limit on how long we wanted to stay in Hierve El Agua. It was a perfect (and worth it) deal!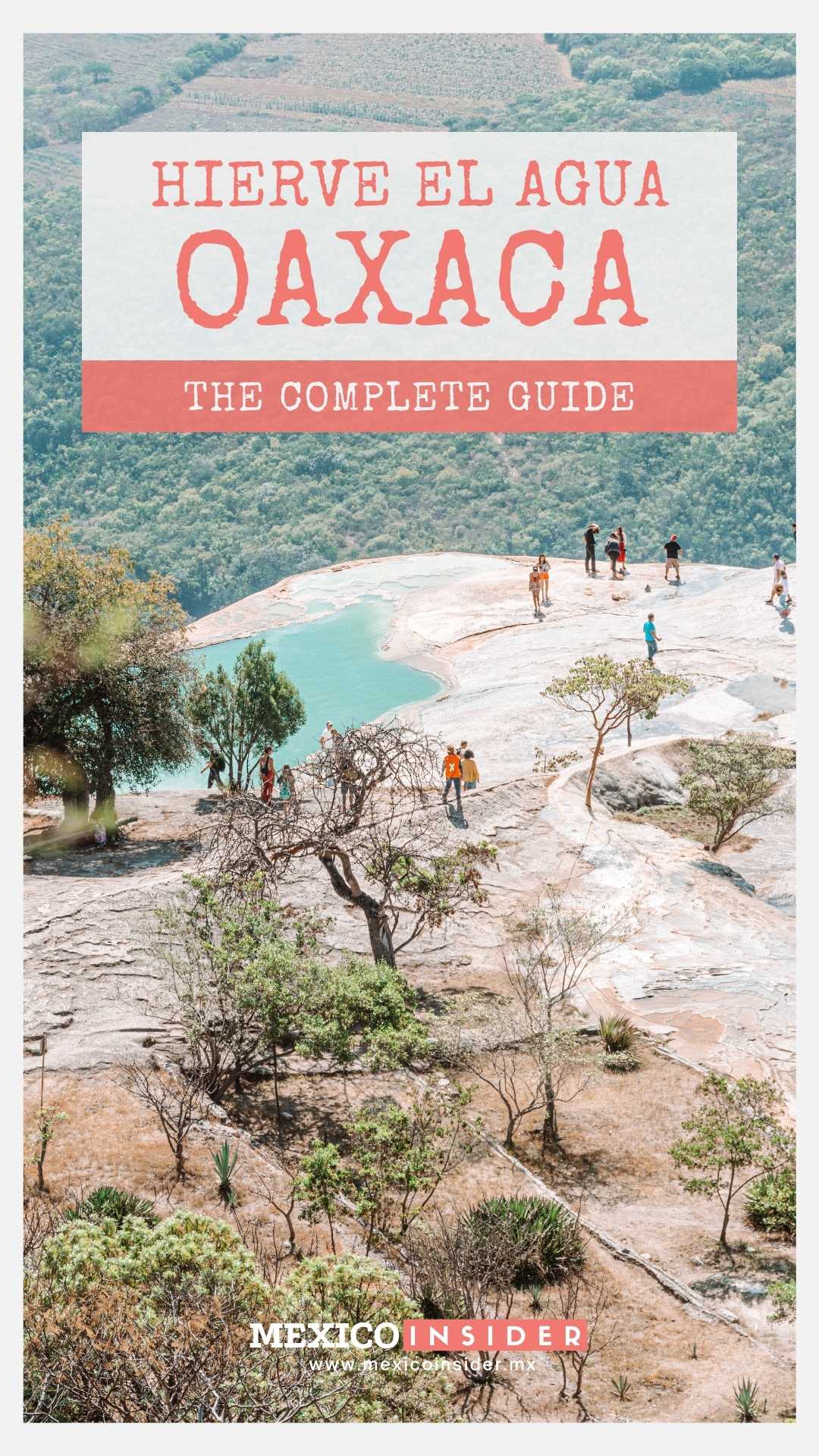 🔗 Hierve El Agua Oaxaca: quick links
🙋 What is Hierve El Agua?
In Spanish, hierve means to boil which has nothing to do with what Hierve El Agua is. It is definitely the opposite as these waterfalls are petrified, more like frozen in time.
The natural springs of Hierve El Agua Oaxaca have calcified and its waters were pushed to the edge of the cliff through karstic limestone creating the petrified waterfall. It is similar to Pamukkale in Turkey and Sichuan in China.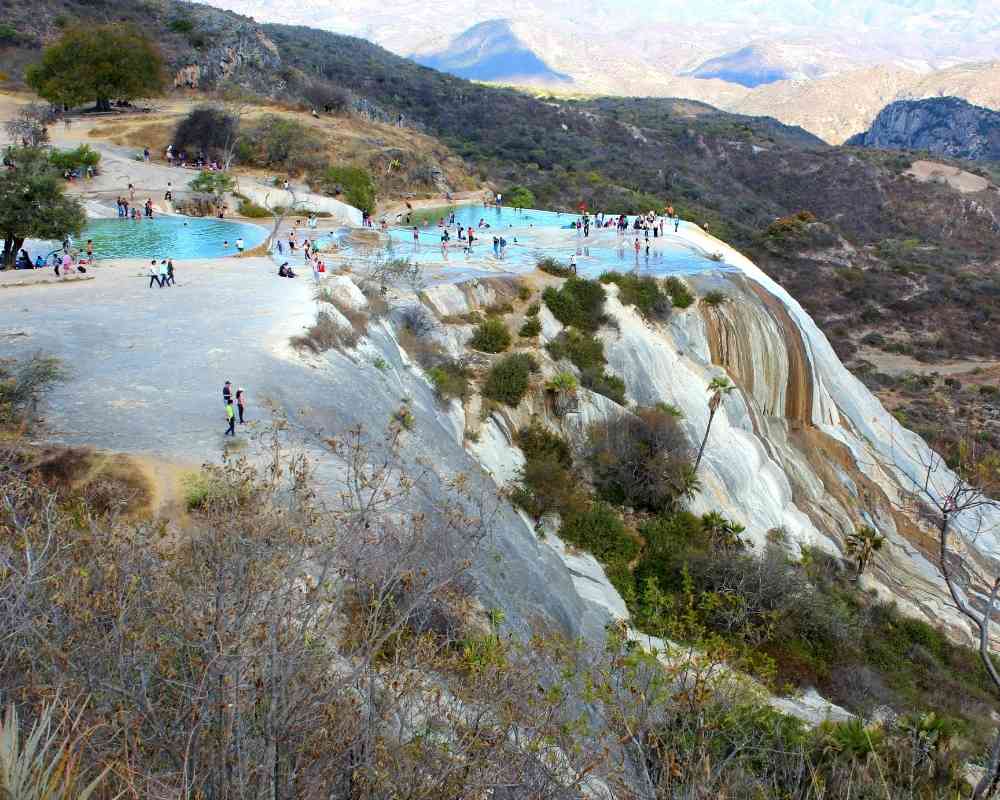 ✨ Getting to Hierve El Agua
I was traveling with 10+ people during the day of the dead. All of which, were invited to join us in visiting Hierve El Agua.
We had to leave a 7:00 am on November 1st but the problem was, we had a big Halloween party on October 31st (pre-DOTD) so most of the people in the group said "pass."
Nobody wanted to sleep at 5:00 AM and do a tour at 7:00 AM. 3 of us decided to be responsible and committed to seeing Hierve El Agua even if the parties were crazy so we slept early on the 31st.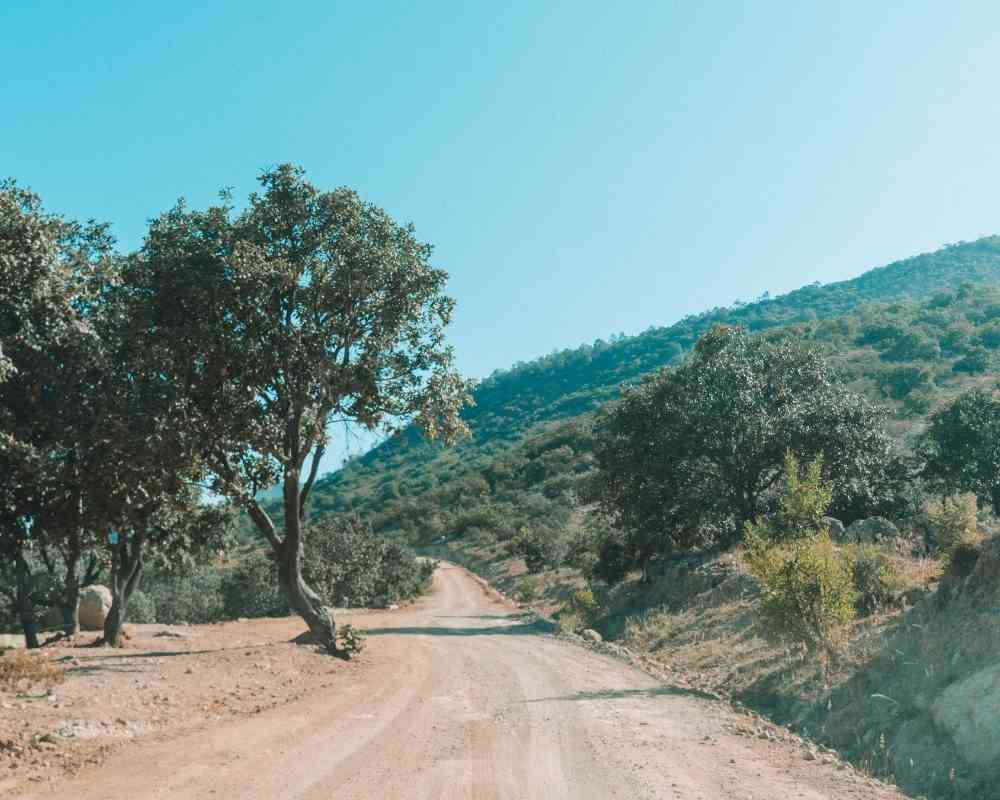 Actually, that's a lie. The three of us could've slept earlier but we still went out until midnight. We had enough time to sleep and I planned to sleep during the drive anyway.
Going with two of the most talkative gay people on Earth who can't sleep during a 2-hour drive derailed my plan to sleep during the drive.
I mean, I am also as talkative as them and we wanted to entertain the driver. The drive to the mountains was one-way and there were a lot of times when we had to back up to let other people pass. If I was the driver, I would've panicked!
Before getting to the gates of Hierve El Agua, we found the best breakfast spot on the planet. It wasn't easy to spot because the sign wasn't big.
It's called Comedor Citlaly and it's the only eatery you can find outside Hierve El Agua.
The moment we entered, I knew the food will be good because they were using comal, a flat griddle made from clay that is popular in Latin America, Thailand, and Vietnam.
It is usually used to make tortillas but Citlaly uses it for everything! This is actually the first time I've seen eggs fried in a comal.
There are many places and restaurants to eat when you are already inside the Hierve El Agua complex but they are all expensive.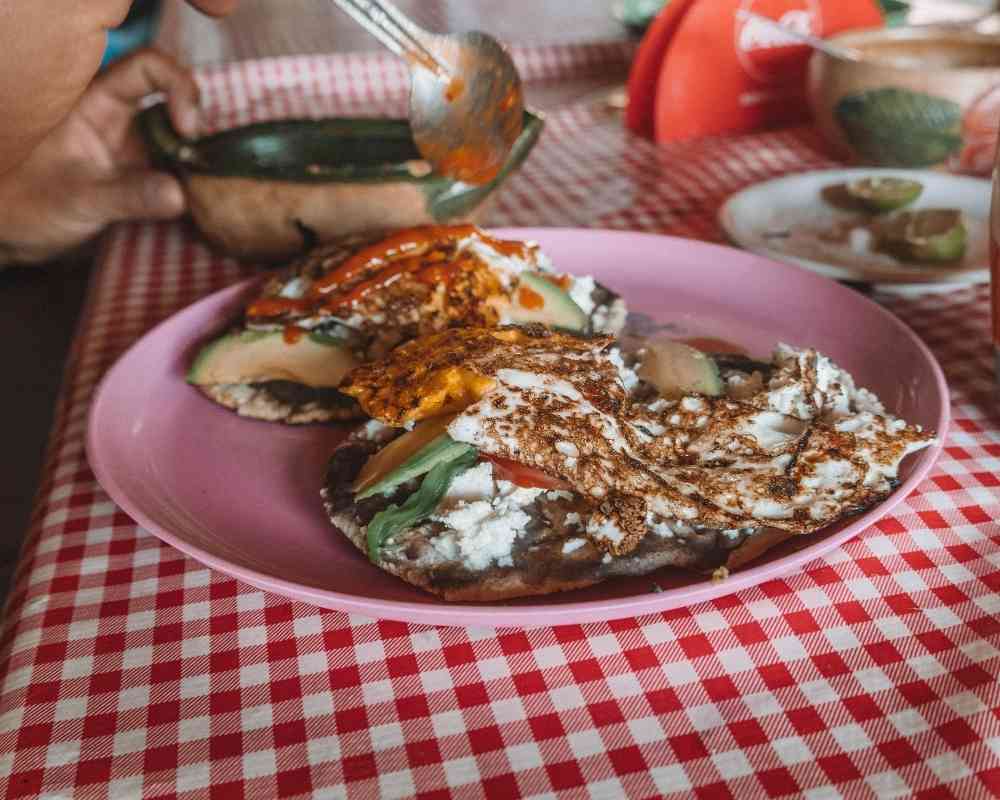 Stopping at Comedor Citlaly is a must on or before you start your Hierve visit. It's just a 5-min drive from the main entrance.
After breakfast, we arrived at the first parking lot for tourist busses. Since we were technically in a private car, we can go closer to the main entrance to the park. The parking fee is $50 MXN ($2.50 USD).
When we went down the car, we realized we needed to hike down to the pools but we stopped for a little bit to see the views of Hierve El Agua.
But this also means that we have to hike up to go back to the parking lot. On the way, we chose the wilder way which is through steep hills. Easy hike, don't worry. But you definitely need shoes!
Heading out, we went to the paved way that lead us to a market selling beers, micheladas, coconut drinks, etc. Only one place was selling 'real' food that isn't junk. Try the quesadilla de flor de calabaza (pumpkin flower) here – it is really iconic of Mexico and Oaxaca!
How to get to Hierve El Agua from Oaxaca City
If you're on a budget, you can definitely go to Hierve El Agua on your own. It's going to be an adventurous ride because the public transport is so unique!
Though signing up for a tour is easier and more convenient, I understand that some of us are traveling on a budget and don't mind a little adventure.
You can get a public bus from Oaxaca Centro to Mitla. This costs $1 USD and the drive will take an hour. You can take this bus to the Oaxaca 2nd class bus station.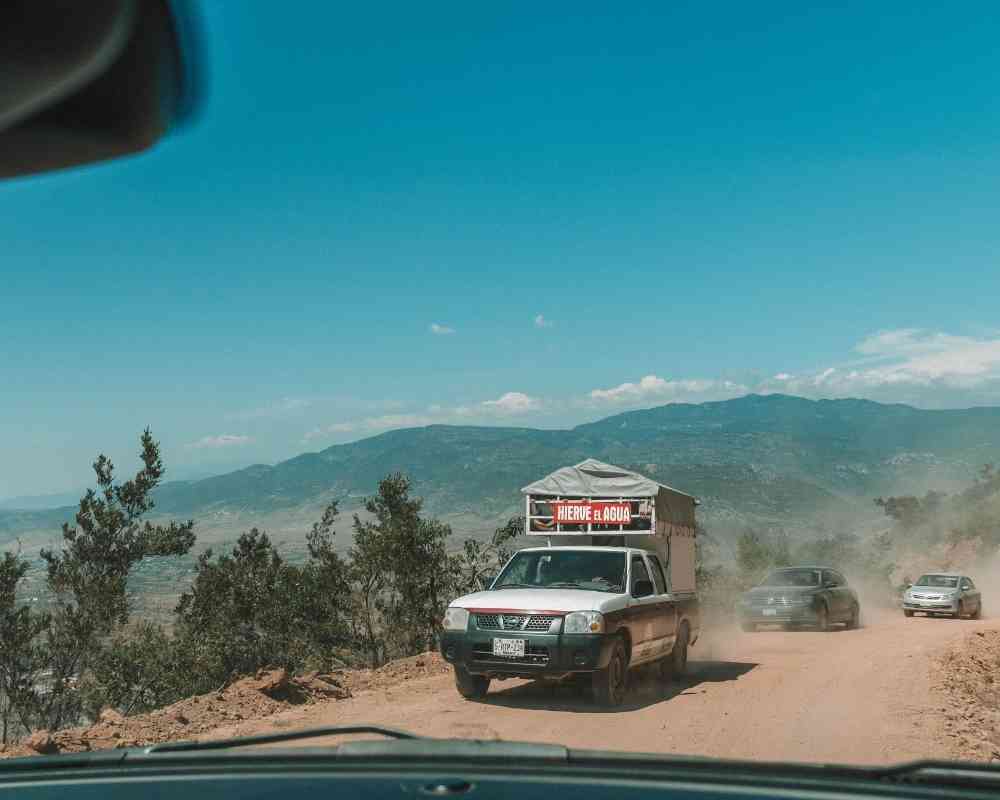 There are no fixed schedules on what time the busses depart but they go every 15-20 minutes. You don't even have to buy your tickets in advance or online. This is a popular route as many people go frequently from Mitla to Oaxaca City and back.
Depending where you are staying, you can also hail the bus on the side of the street at Blvd Jose Vasconcelos (Highway 190).
Busses to Mitla pass by here after loading at the 2nd class bus station. Make sure you are on the right side of the road and you'll see busses with 'Mitla' signs.
Once you arrive at Mitla, you can find camionetas with 'Hierve El Agua' signs. This costs $2 USD and can last for 1 hour (or a little bit more).
If you are traveling in groups of 3 or more, it costs $25 USD per day to rent a car in Oaxaca. I did a Oaxaca road trip from Puerto Escondido to Oaxaca City and you can check the car rental prices in that article.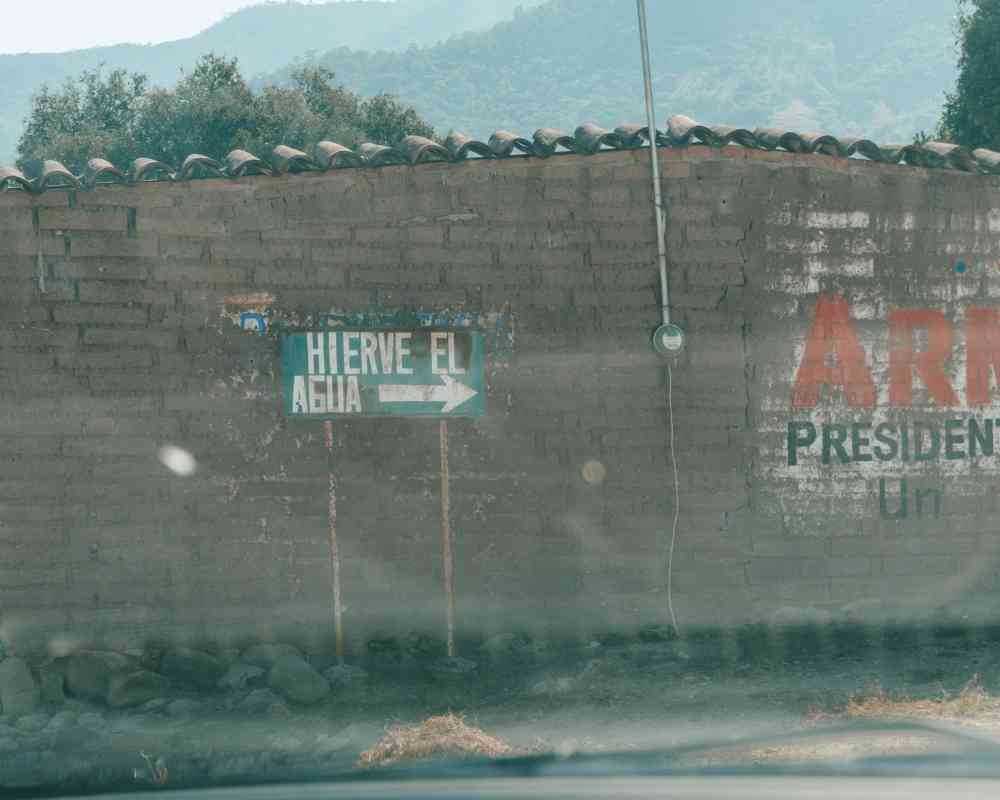 🏊🏽‍♀️ Swimming and Hierve el Agua hike
The previous night, my friend Nathan asked me "what should we bring for tomorrow?" I said, "nothing." So none of us actually brought swimming clothes except for our friend Brock who fashionably put board shorts as his outfit that day.
But honestly, the water is so cold I knew I wouldn't be able to last in there. The sun definitely helps but I am not very good with swimming in cold waters (let alone taking cold showers LOL).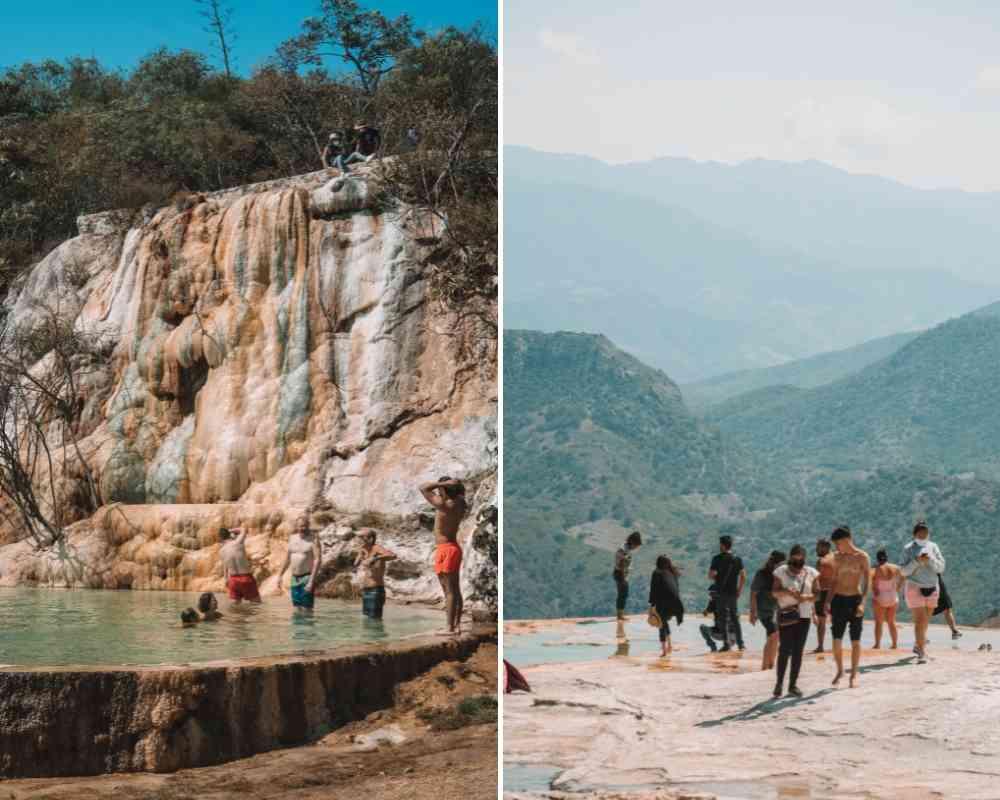 There are different pools to swim in Hierve El Agua and there are also (roofless) bathrooms where you can change and shower. Don't forget to bring a towel, too!
We arrived at 10:00 AM and when we were heading out at midday, we saw more people than when we entered. Better come early if you want to enjoy swimming otherwise it will get super crowded. I am not exactly sure how many daily visitors they accept but it didn't look like there was a limit.
If you want to hike the Cascada grande and chica, it will take about 40 mins (one-way). From that side, you will see the petrified waterfalls in person.
Many people skip the hike as you can already enjoy the views on one side but if you are feeling adventurous, better do the hike! It's easy and kids can come along, too.
Make sure to bring proper shoes although I've seen many foreigners go in flip flops. Better do this hike before 10:00 AM (prior to swimming) so it won't be very hot.
🍃 Responsible travel in Hierve El Agua Oaxaca
In May 2021, a study concluded that Hierve El Agua is at risk of drying up permanently due to the exploitation of criminal groups backed by a corrupt government which handicapped the livelihood of the local residents of San Lorenzo Albarradas.
The study is in Spanish but you can use the translator in your browser to understand better. Take time in reading this and educate yourself on how to responsibly travel Hierve El Agua.
There are also a lot of vandalizing incidents in Hierve El Agua. Tourists wrote "I was here" as a remembrance of their visit. There are signs everywhere that explain this crazy trend. Don't do this!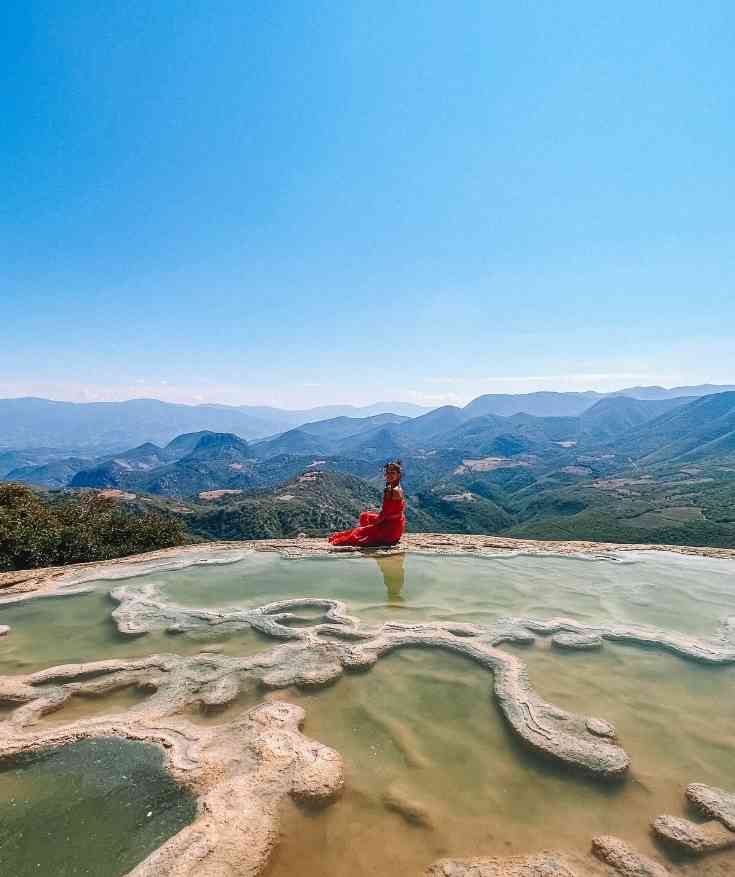 Be careful when walking on the mineral pools, especially the ones on the edge. I removed my shoes when I went in. It hurts a little to walk on it barefoot but I managed (as shown on the featured image of this article).
Two travel companies called Indajani Tours and El Andador were banned for running Hierve El Agua tours by the municipality. According to El Universal, Mexico's leading newspaper, these two tour companies have carried out various acts that violate the customs of the community.
Make sure to support companies that are sustainable and are obeying customs, rules, and regulations of Hierve El Agua.
🗺️ Hierve El Agua tour
Book a private car with my local friend
💲 from US$125 per person
My friend who is a local in Oaxaca City can be a private driver for your Hierve El Agua trip. He speaks English flawlessly and is the best host in Oaxaca!
I can definitely connect you with him (just send me a message) or click this link to directly book. He owns an SUV and your drive to Hierve is secured, safe, and comfortable!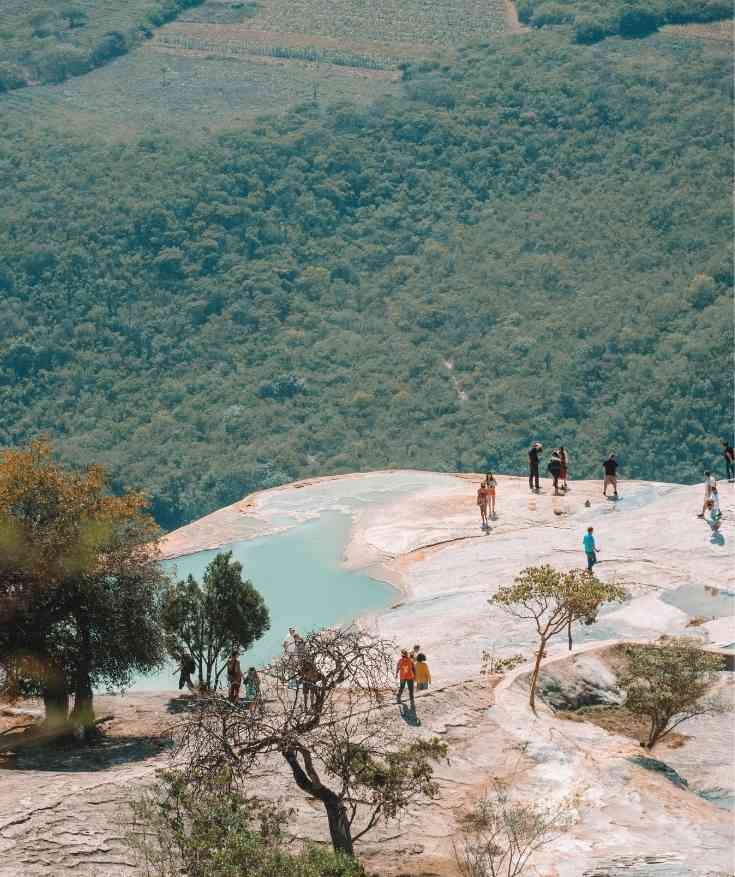 🔻 More Hierve El Agua tour options 🔻
⁉️ Hierve El Agua Oaxaca FAQ
✈️ Ready for your trip to Oaxaca? If you need more information about visiting Hierve el Agua, I'd be happy to update this post – just leave a comment below!
🇲🇽 Oaxaca Travel Resources
Trisha traveled to Mexico in 2018 and after a year, she found herself obtaining a 4-year residency visa in Mexico. She is the Editor-in-chief for our Living in Mexico Series which has helped over 3,000 Americans move to Mexico with ease. Trisha currently resides in Cabo San Lucas, Baja California Sur.