Destinations > Baja California > Ensenada
Ensenada Travel Guide
Everything you need to know about traveling to Ensenada, Mexico
ENSENADA TRAVEL GUIDE CONTENTS
Quick Info | Map | Getting Around | Budget | Blog | Things To Do | Restaurants | Hotels | Tips | FAQ
Ensenada is a coastal city located just south of the California border and offers a unique blend of Mexican culture, delicious cuisine, and breathtaking views. Whether you're an adventure seeker, foodie, or beach bum, Ensenada has something for everyone.
One of the top activities in Ensenada is whale watching. Between December and April, hundreds of whales migrate through the waters surrounding the city. Take a boat tour with one of the local companies for an up-close encounter with these magnificent creatures. If you prefer your adventures on land, visit La Bufadora – a natural blowhole that shoots water 30 feet into the air. It's located just 20 minutes from downtown Ensenada and provides stunning ocean views along the way.
In this Ensenada travel guide, you will find all the information you need, including safety tips.
🙋 Questions about Ensenada Mexico? Talk to a travel expert.
✈️ Ensenada Travel Guide: Quick Info
🇲🇽 State: Baja California
⏰ Timezone: Mountain Standard Time (GMT-7)
✈️ Airport: Tijuana International Airport
🚑 Travel Insurance: SafetyWing
💲 Currency: Mexican pesos (MXN) with $ sign used. Don't confuse it with US$ or USD. USD is widely accepted in Tijuana so you don't even have to change to Mexican pesos.
🔌 Power plug: Mexico uses a type A socket (US, Canada). For more information about power plugs in Mexico, see this link (with photos)
📱 Mexico sim card: The best provider that works in Sayulita area and the Riviera Nayarit is Telcel. See our complete Mexico sim card guide for more information.
📡 Wifi: The average Wifi speed in Ensenada is 25 Mbps with a fiber optic connection of up to 50 Mbps.
🛃 Visa: Mexico is no longer giving 180 days visa to tourists, so make sure that you have proof of accommodation and outbound flight, so you'll get the right visa.
🤟 Language: Everyone can speak English very well in Ensenada so you don't have to worry if you don't speak Spanish. It is still advised to learn some basic Spanish when visiting Mexico.
🌵 Culture: Ensenada is known to Americans to be a party town, so expect a vibrant atmosphere and night life culture in Ensenada. It is also a melting pot of Mexico where you will find all nationalities not just from Latin America but worldwide!
☀️ Best time to visit Ensenada
Ensenada is beautiful year-round, but there are definitely certain times of the year that stand out. If you're looking for sunny beach weather, the best time to visit Ensenada is during the summer months of June through August when temperatures average around 80°F (27°C). This is also peak tourist season, so expect crowds and higher prices.
Spring and fall are great shoulder seasons with comfortable temperatures in the mid-60s°F (around 18°C) and less crowded beaches. Winter may be cooler with highs in the low 60s°F (15°C), but it's still a lovely time to visit if you enjoy outdoor activities like hiking and whale watching.
🚦 Ensenada Transportation Guide
✈️ Ensenada Airport Transfer: Tijuana is the major airport in the state of Baja California so there are many taxi services to any point like Valle de Guadalupe and Ensenada. An airport transfer from Tijuana to Ensenada starts at $110 USD for groups of 3.
🚕 Taxi: For short trips around town, expect to pay between $3-5 USD depending on your destination. Longer rides may cost a bit more, but you can always negotiate with your driver if necessary. Uber works in Ensenada, and it's safe!
🚌 Bus: From local buses that can take you around town for just a few pesos, to luxury coaches that will whisk you away on day trips or longer excursions, there's something for everyone. One of the most popular bus companies in Ensenada is ABC Bus. They offer both local and long distance services, so whether you're just looking to get around town or explore further afield, they've got you covered. Local fares start at just 10 pesos (around 50 cents USD), while longer trips can cost anywhere from 150-300 pesos (around $7-$15 USD).
🚗 Rental cars: Expect to pay around $25-$30 USD daily for a standard sedan or compact car. For something more spacious like an SUV or minivan, prices generally start at around $50-$60 USD per day. If you plan on taking your rental across the border into the United States, be prepared to pay an additional fee of about $15-$20 USD per day.
💲 Ensenada Travel Budget
If you are backpacking, you can spend $25 USD per day given that you'll cook in your hostel or stay in a bed in a hostel dorm. Mid-range travelers can spend $75 USD per day (per person) which includes a stay in a boutique hotel. There aren't all-inclusive resorts in Ensenada but more of 5-star and luxury hotels with pools and amenities like a resort.
Accommodation Prices
For those on a tight budget, hostels such as La Bufadora Hostel offer dorm rooms starting at $10 USD per night. If you're looking for something more private, check out the many Airbnb options available throughout the city. Prices vary but can be found as low as $30 per night for a cozy apartment or private room in someone's home. And if you're willing to splurge a little, luxury hotels like Hotel Coral & Marina or Estero Beach Resort offer stunning ocean views and top-notch amenities starting at around $100 per night.
Food Prices
For breakfast, start your day with chilaquiles – a classic Mexican dish made from tortilla chips smothered in salsa and topped with eggs and cheese. You can find it at many local eateries for around $5-$6 USD. If you're feeling adventurous, try the fish ceviche – a refreshing mix of fresh seafood marinated in lime juice and spices. It's perfect for a midday snack and costs around $8 USD.
For dinner, head to one of Ensenada's famous taco stands.
Tour Prices
There are plenty of tours available in Ensenada, ranging from action-packed adventures to relaxing wine tastings. If you're looking for an adventurous activity, try out the zipline tour at Las Canadas Campamento Ecoturistico or take a horseback riding tour through the rugged terrain. For a more laid-back experience, consider visiting one of the many wineries in the area and tasting some of Mexico's finest wines.
Prices for tours in Ensenada range from $75 – $200 USD.
💳 Use of credit cards: Visa, Mastercard, and American Express are widely recognized and should be accepted at most restaurants and shops in the city. You may also be able to use your Discover or Diners Club card. One thing to remember is that some places may charge an additional fee for using a credit card. This can range from 3-5% of your total purchase amount. While this may not seem like a lot, it can add up if you're not careful. So, it's always a good idea to bring some cash with you just in case. If you decide to use your credit card while visiting Ensenada, notify your bank beforehand so they don't flag any transactions as fraudulent activity.
🏧 Cash/ATMs: The best banks for ATM withdrawals in Ensenada are Bancomer and Banamex. Both banks have multiple locations throughout the city and offer competitive withdrawal fees. It's always a good idea to check with your home bank before withdrawing cash abroad to ensure you know of any additional costs they may charge.
💱 Money exchange: While many places in Ensenada accept US dollars, having some Mexican pesos on hand for smaller purchases is always a good idea to avoid confusion with exchange rates. Exchange rates can vary depending on the money exchange house or bank you choose. Some of the best options for exchanging money in Ensenada include Casa de Cambio La Monedita, Casa de Cambio Chuyin, and Banco Azteca. Casa de Cambio La Monedita is located in downtown Ensenada and offers competitive rates with no commission fees.
💁🏻‍♀️ Tipping: Tipping 10-15% of the total bill is customary in restaurants. If the service was exceptional or you ordered a complex dish that required extra attention from the server, you can tip up to 20%. In bars, leaving 10-15% for bartenders. Leaving $1-$2 per day is generous and appreciated for hotel staff like housekeepers or bellhops.
🏄‍♀️ Things to do in Ensenada
Go on a scenic ride along the coast on a horse, taking in breathtaking views of the Pacific Ocean. Head inland and through picturesque ranches to enjoy delicious tacos and refreshing margaritas before continuing your journey.
Hop into a powerful Polaris RZR vehicle and start your engines as you embark on an exciting off-road ride through the rough terrain. Speed down dirt roads through narrow trails while taking in scenic views of the valley's stunning landscapes.
La Bufadora is a natural blowhole that shoots water over 100 feet in the air. Here, you'll witness this incredible sight from a safe distance before heading out on horseback to explore the rugged terrain. This is a must-do when in Ensenada so don't miss this!
Begin your day with a thrilling zipline ride through the beautiful countryside. With multiple lines to choose from, fly above the treetops at top speeds.
Zipline through the lush greenery to experience marine geysers. this tour is perfect for those who love outdoor adventures and want to experience Baja California's natural beauty firsthand.
This tour is perfect for groups of up to 14 people who want to explore the beautiful wine country of Mexico. The area boasts over 50 wineries and tasting rooms, each with their unique charm and flavor.
🧭 Ensenada tours
WE CUSTOMIZE TOURS IN ENSENADA! 🎉🥳
We live here and have traveled the Baja California Peninsula from Tijuana to Los Cabos. Contact us for a quote: no hidden costs, just simple prices. E-mail our office at [email protected] or call +52 473 171 5259.
🍲 Ensenada Restaurants
El Restaurante en Punta Morro
Restaurant Alebrije Ensenada
El Meson de Don Fernando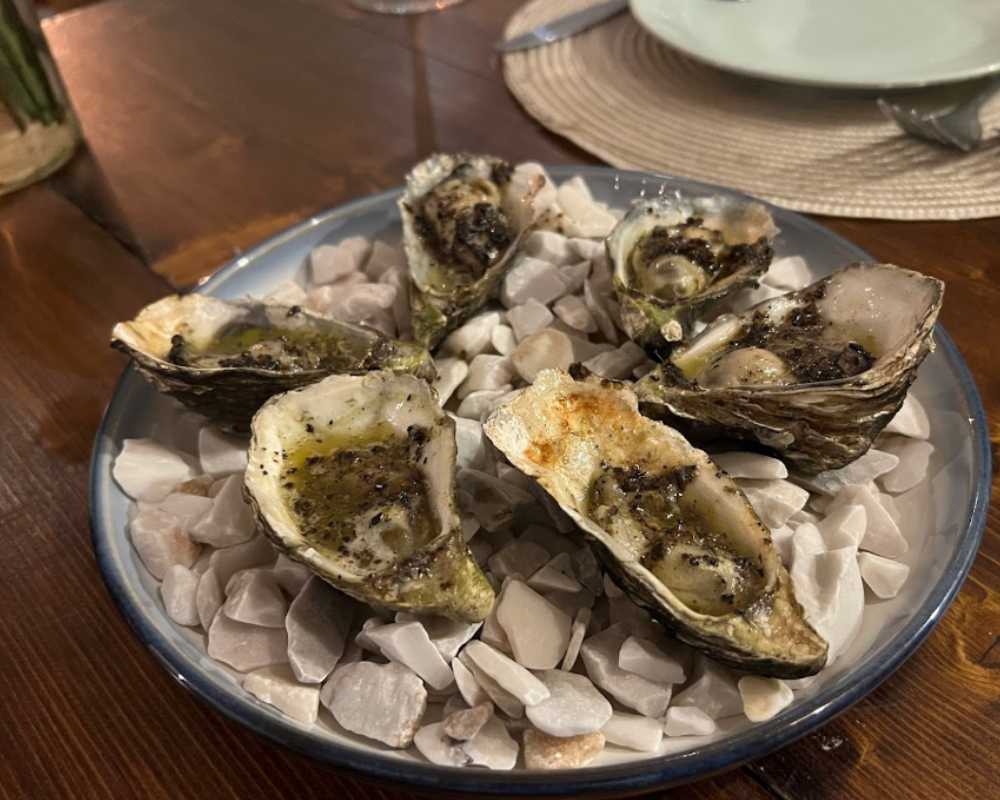 Cocina Madre
Hacienda de San Ángel
La Ensenada
🛏️ Ensenada Hotels
Ensenada has many hotel types, with luxury hotels (no resorts) from $150 USD per night (2 people). Backpackers can stay in hostels for as low as $18 USD per night. Boutique hotels start from $55 USD and are the best option if you're looking for a simpler accommodation. Below are the best hotels in Tijuana (with prices) that we highly recommend:
✨ Ensenada travel and safety tips
Be mindful of your surroundings at all time: Avoid wandering around alone or in unfamiliar areas after dark. Stick to well-lit streets and busy areas where there are plenty of people around. If you're not sure about the safety of a particular area or activity, ask locals or your hotel staff for advice.
Keep an eye on your belongings: Don't carry large amounts of cash or expensive items with you when you're out and about.
Local police are always present: don't hesitate to approach police in Ensenada. Both local law enforcement and private security companies are available 24/7.
Stay in well-lit areas at night, especially if you're exploring on foot. Stick to busy streets and avoid poorly lit alleyways.
ATM withdrawals: Be cautious when using ATMs and only withdraw money from trusted locations during daylight hours.
Get a Sentri pass: This fast lane makes it quick and easy for pre-approved travelers to cross the U.S.-Mexico border quickly and hassle-free. With this particular pass, there's no waiting in line at immigration or customs – all you have to do is drive up, flash your card, and voila: you're on your way! Plus, since the Sentri lanes are dedicated only to those with the official pass, traffic moves quickly through these lanes – so no more sitting in gridlock for hours!
A day trip to Ensenada is easy from San Diego: Located just 20 miles south of San Diego, this vibrant Mexican border town is bursting with history, culture, and fantastic food – all ready for you to explore. Ensenada offers travelers a huge variety of activities to choose from – shop 'til you drop at one of the many open-air markets or get some inspiration from its buzzing art scene.
The Baja California wine region is near Ensenada: There are hundreds of vineyards spread all throughout Baja California Norte, all within 1-3 hours drive from Ensenada. Discover the most significant wine regions in Ensenada when you visit Ensenada!
⁉️ Ensenada FAQ
Still have questions about this Ensenada travel guide?
If you cannot find an answer to your question in our FAQ, you can always contact us
; we will be with you shortly.