Destinations > Baja California > Valle de Guadalupe
Valle de Guadalupe Travel Guide
Everything you need to know about planning a trip to Valle de Guadalupe, Mexico
VALLE DE GUADALUPE TRAVEL GUIDE CONTENTS
Quick Info | Map | Getting Around | Budget | Blog | Wineries | Restaurants | Hotels | Tips | FAQs
Valle de Guadalupe is the biggest wine country in Mexico. With its close proximity to San Diego, this wine region is popular for day trips from California, USA. Home to the best wines of Mexico, Valle de Guadalupe is a great place for weddings, bachelorette parties, and any type of occasion you are celebrating.
Nestled in the heart of northern Baja California, this up-and-coming wine region offers a unique blend of culture, nature, and relaxation. From wine tastings to hot springs, there's something for every type of traveler.
Guadalupe is home to over 150 wineries producing award-winning wines that rival those from Napa Valley or Bordeaux. Take a tour and sample some of the region's signature red blends or crisp whites while enjoying stunning views of the surrounding mountains and vineyards. But it's not just about the wine – many wineries offer farm-to-table dining experiences with fresh ingredients sourced from their own gardens.
We visit this area every month and in this Valle de Guadalupe travel guide, we will give you all the information you need for your trip.
🙋 Questions about Valle de Guadalupe Mexico? Talk to a travel expert.
✈️ Valle de Guadalupe Travel Guide: Quick Info
🇲🇽 State: Baja California
⏰ Timezone: Pacific Daylight Time (GMT-7)
✈️ Airport: Tijuana International Airport
🚑 Travel Insurance: SafetyWing and Ekta Traveling
💲 Currency: The currency in Mexico is called Mexican pesos (MXN). Guadalupe and the state of Baja California accept US dollars, so you don't necessarily need to exchange money for your trip.
🔌 Power plug: Mexico uses a type A socket (US, Canada). For more information about power plugs in Mexico, see this link (with photos)
📱 Mexico sim card: The best provider that works in Guadalupe is Telcel. See our complete Mexico sim card guide for more information.
📶 Wifi: Wifi in hotels and vacation rental homes in Guadalupe is fair. The average speed is 24 Mbps.
🤟 Language: Valle de Guadalupe is close to California and is used to American visitors so everyone has basic English skills.
🪅 Culture: As a wine country, your trip to Valle de Guadalupe will be more about wine and food. It also has a little bit of American culture.
⛔ Safety: Guadalupe is one of the safest areas in Baja California. You don't need to worry about safety when traveling to his Mexican wine country!
🗺️ Valle de Guadalupe Map
☀️ Best time to visit Valle de Guadalupe
The best time to visit Valle de Guadalupe is between May and October when temperatures range from 21°C (70°F) to 32°C (90°F). During these months, the weather is warm with low humidity, making it perfect for outdoor adventures like hiking or visiting vineyards. The region experiences minimal rainfall during this season, so you'll have more opportunities to explore without worrying about getting wet.
August is vendimia season in Valle de Guadalupe so you'll have a different type of trip when you come here at this month. Vendimia means harvest in Spanish and during this time, you will get to see the harvest process, stomp on grapes, and go grapes picking!
🚦 Valle de Guadalupe Transportation Guide
✈️ Valle de Guadalupe Transfer: Tijuana is the major airport in the state of Baja California so there are many taxi services to any point like Valle de Guadalupe and Ensenada. An airport transfer from Tijuana to Valle de Guadalupe starts at $110 USD for groups of 3.
🚕 Taxi: There are no taxis within Valle de Guadalupe. You can't go around here without your own vehicle.
🚌 Bus: There are no busses within Guadalupe but you can definitely arrive here by bus from other parts of Baja California like Tijuana and Ensenada. Within town, you need a car.
🚗 Rental cars: Expect to pay around $25-$30 USD daily for a standard sedan or compact car. For something more spacious like an SUV or minivan, prices generally start at around $50-$60 USD per day. If you plan on taking your rental across the border into the United States, be prepared to pay an additional fee of about $15-$20 USD per day.
💲 Valle de Guadalupe Travel Budget
If you are backpacking, you can spend $45 USD per day given that you'll cook in your hostel or stay in a bed in a hostel dorm. Mid-range travelers can spend $95 USD per day which includes a stay in a boutique hotel. Wine resorts in Valle de Guadalupe start at $250 USD for 2 and include a tasting in the vineyard.
Accommodation prices
If you're looking to save some cash, there are plenty of affordable hotels and Airbnb rentals available in the area. Prices can range from around $50 to $100 per night, depending on your preferences and location.
Food prices
Eating out in Valle de Guadalupe won't break the bank! In fact, there are plenty of affordable options that offer delicious meals without hurting your wallet. Expect to spend around $30-$50 USD per person at some of the top-rated restaurants.
Tour prices
The cost of a typical wine-tasting package in Valle de Guadalupe ranges from $20 to $50 per person. This usually includes a guided tour of the vineyards, barrel room and cellar, followed by a tasting of four to six wines. Some wineries offer additional amenities, such as cheese pairings or gourmet snacks, for an extra fee.
💳 Use of credit cards: Visa and Mastercard are widely accepted throughout Valle de Guadalupe, as well as American Express, at select locations. You can travel in Guadalupe without worrying about carrying too much cash. Just remember to check for any foreign transaction fees that may apply when using your credit card abroad.
🏧 Cash/ATMs: Valle de Guadalupe isn't exactly known for its abundance of ATMs or banks. However, there are still places where you can withdraw cash safely and easily. The best ATMs in Valle de Guadalupe are located at Banorte and Santander banks. These ATM machines are secure and reliable with easy-to-use interfaces. These ATMs are sometimes faulty as Guadalupe is a small town. The best bet is to withdraw cash upon arrival at Tijuana International Airport.
💱 Money exchange: While many places in this wine country accept dollars, it's always a good idea to have some pesos on hand for any street vendors or local shops that may not take foreign currency. One of the top choices is De Cambio Casa de Cambio, which has multiple locations throughout Valle de Guadalupe and offers competitive rates. Another popular spot is Banorte, which has a convenient location nearby Ensenada and allows for online exchanges. If you prefer to use a bank for your currency exchange needs, Banco Azteca and Bancomer both have branches within driving distance of Valle de Guadalupe.
💁🏻‍♀️ Tipping: There is no one-size-fits-all rule for tipping in Mexico. It varies depending on the industry and location. However, tips generally range from 10% to 20% of the total bill. For example, if you're dining at a restaurant and receive exceptional service, consider leaving a tip of 15%. Similarly, if you're taking a wine tour with a guide who goes above and beyond to make your experience unforgettable, tipping 20% would be appropriate.
🌎 Valle de Guadalupe Travel Blog
🍷 Valle de Guadalupe Wineries
El Cielo Winery is open on Sunday to Friday from 10:00 AM – 8:00 PM and on Saturdays from 10:00 AM – 9:00 PM. Below are the tasting packages you can avail:
Vineyard tour on a cart + wine tasting (3 glasses): from $15 USD
Vineyard tour on a golf cart + wine tasting (3 glasses): from $15 USD
Gold medal wines tasting (best of El Cielo): from $40 USD
Underground cellar tasting: from $25 USD
Wine and chocolate pairing: from $100 USD
Baron Balche does vineyard tours from Saturdays to Sundays, from 12:00 PM – 6:00 PM. You can call to reserve a sport and below are the prices for the tours:
Vineyard on a golf cart tour (without tasting): $10 USD
Vineyard tour with tasting A (1 white, 1 rose, 1 red): $20 USD
Vineyard tour with tasting B (2 whites, 2 reds): $23 USD
Vineyard tour with tasting C (4 reds): $29 USD
Casta de Vinos is open on Mondays to Fridays from 11:00 AM – 5:00 PM, Saturdays from 12:00 PM – 8:00 PM, and on Sundays from 12:00 PM – 6:00 PM. Below are the wine-tasting packages at Casta de Vinos:
Wine tour with 3 glasses of wine: $10 USD
Wine tour with 4 glasses of wine: $12 USD
Wine tour with 5 glasses of wine (VIP): $25 USD
Cava Maciel is open daily from 11:00 AM – 5:00 PM. See tasting information below:
Basic wine tasting: $10 USD
Premium wine tasting: $15 USD
Wine tasting with cheese: $25 USD
If you are not staying at Don Tomas, you can still avail yourself of the cellar tours. See details below:
Basic tasting (4 varieties of young wines): $17 USD
Premium tasting (4 premium reds): $20 USD
Casa Magoni is open from Monday through Sunday from 11:00 AM to 5:00 PM. On Saturdays, they are open from 11:00 AM – 6:00 PM. Below are some information about wine tasting at Casa Magoni:
3 whites: $9 USD
1 white, 1 rose, 1 red: $10 USD
3 reds: $12 USD
Mixed (7 glasses): $15 USD
🧭 Valle de Guadalupe Tours
WE CUSTOMIZE TOURS IN VALLE DE GUADALUPE! 🎉🥳
We live here and have traveled the Baja California Peninsula from Tijuana to Los Cabos. Contact us for a quote: no hidden costs, just simple prices. E-mail our office at [email protected] or call +52 473 171 5259.
🌮 Valle de Guadalupe restaurants
Salvia Blanca
Latitud 32
Fauna
Animalon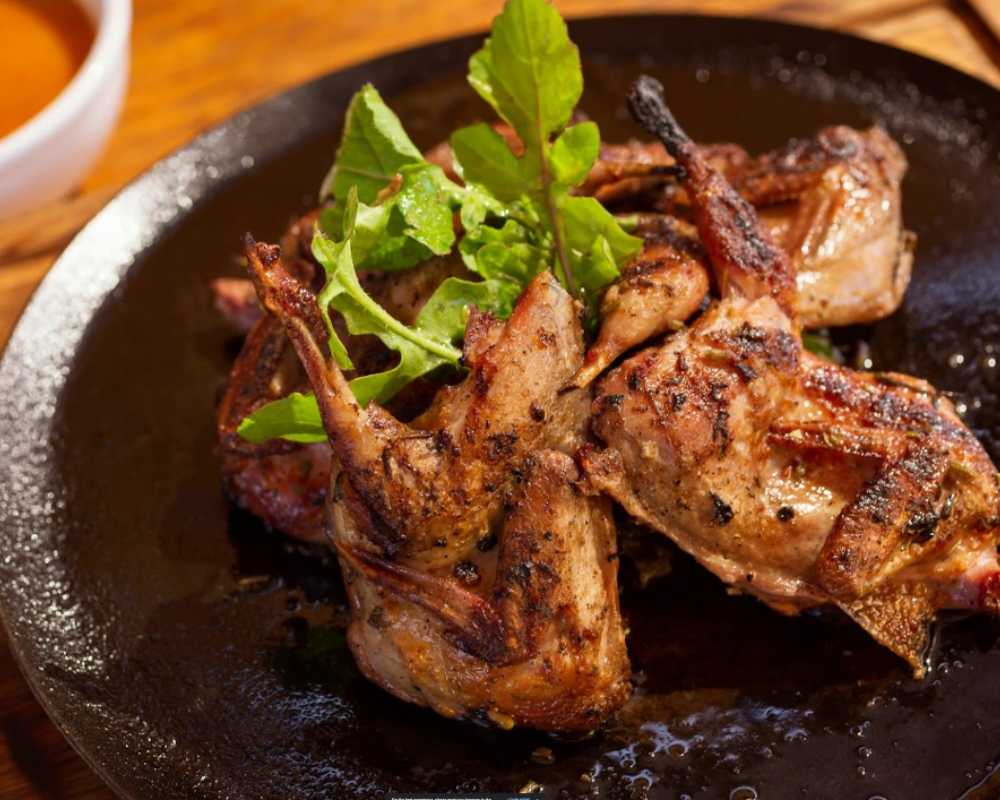 Finca Altozano
Savage
🛏️ Valle de Guadalupe hotels: where to stay
Valle de Guadalupe has many hotel types, with luxury hotels and wine resorts from $150 USD per night (2 people). Boutique hotels start from $55 USD and are the best option if you're looking for a simpler accommodation. Below are the best hotels in Valle de Guadalupe (with prices) that we highly recommend:
✨ Valle de Guadalupe travel tips
There is a wine museum in Guadalupe: The Museo del Vino offers visitors an immersive experience of Mexico's rich winemaking history. The museum showcases over 2,500 different wine bottles from across Mexico and worldwide. There are plenty of interactive exhibits to keep you engaged so don't miss it when you visit this valley!
This wine region can be visited on a day trip: from San Diego, you can spend a full day without staying the night in Guadalupe. For 8 hours, you can visit 3 wineries and have 2 meals in a restaurant.
Be mindful of your surroundings at all time: Avoid wandering around alone or in unfamiliar areas after dark. Stick to well-lit streets and busy areas where there are plenty of people around. If you're not sure about the safety of a particular area or activity, ask locals or your hotel staff for advice.
It is an upper-class destination: Guadalupe is more expensive than any other wine regions in Mexico. Here, you will experience fine dining and premium wine tastings.
Best street food stand: Few people know this, but Las Güeritas is one of the best street food stands in Guadalupe and is worth visiting when you get tired of fancy dining! They serve quail and rabbit which is very unique to the Baja.
In 8 hours, you can visit 4 wineries: Actually, 3 is enough, and 4 is a little it tight. We did a 7 vineyard visit and tasting in 2022 and we thought it was possible – but it's very exhausting, especially since you have to drink (and drive) in Guadalupe. Not all vineyards are close to each other.
⁉️ Valle de Guadalupe FAQ
Still have questions about Valle de Guadalupe?
If you cannot find an answer to your question in our FAQ, you can always contact us
and we will be with you shortly.