Destinations > Baja California > Valle de Guadalupe
Experience the beauty of Mexico's wine region. Dive deep into the best wineries, restaurants, and attractions with our Valle de Guadalupe Travel Guide.
Valle de Guadalupe Travel Guide: quick info
🚕 Taxi app: No taxis, must bring a car
🚌 Best Bus Company: ADO
🚗 Best Car Rental: Discover Cars
💵 100 pesos in USD: $5.86 USD
🚰 Tap water: Not drinkable
👩‍🎨 Visitors per year: 1 million
🏨 Best hotels: Booking.com
💳 Credit cards: 95% of establishments
💵 Cashless: No, still uses cash
When to travel to Valle de Guadalupe
The best time to visit Valle de Guadalupe is during the wine harvesting season from August to October. This is when grapes are harvested, and the region comes alive with the "Vendimia" or grape harvest festival. During this festival, there are multiple events, including wine tastings, gourmet meals, and live music.
However, there are certain months and seasons that might be more favorable for different types of experiences:
Best time to visit for good weather
From April to June, the weather in Valle de Guadalupe is mild and pleasant, making it ideal for vineyard tours and outdoor activities. The vineyards are lush, and vibrant, and come to life under the spring sun. This is the optimal period for those who prioritize comfortable temperatures and beautiful vistas.
Cheapest months to visit
November to February (excluding end-of-year holidays) are considered off-peak for wine tourism, accommodations and some activities might offer reduced rates. However, it's essential to note that while you might get a bargain, the atmosphere can be a bit quieter, and not all vineyards and establishments operate on regular hours.
High Season in Valle de Guadalupe
August to October, coinciding with the grape harvesting season, Valle de Guadalupe is bustling during these months. The "Vendimia" or grape harvest festival takes place, attracting a multitude of visitors. Expect larger crowds, and vibrant events, but also higher prices, especially for accommodations.
Low Season
After the hustle and bustle of the harvest festival and outside of the prime grape-growing season, the region sees fewer visitors from late November to early February. This is the best time for those who prefer a peaceful environment and don't mind the cooler weather. Some establishments might operate on limited hours or close for a brief period.
Shoulder Season
July and late February to March are shoulder season in Valle de Guadalupe. These months bridge the gap between the high and low seasons. July can be warm but leads up to the peak of the harvest, while late February to March sees the end of winter and the onset of spring. You can still enjoy many of the region's offerings but with fewer crowds and moderately priced accommodations.
Valle de Guadalupe is situated about 32 km (20 miles) north of the port city of Ensenada and approximately 130 km (80 miles) south of the U.S.-Mexico border crossing at San Ysidro in San Diego, California. Valle de Guadalupe is nestled in a valley surrounded by rolling hills and is often referred to as the "Napa Valley of Mexico" due to its thriving wine industry and numerous vineyards.
The drive from San Diego to Valle de Guadalupe is approximately 2 hours without major traffic delays, but this doesn't account for border crossing time which can vary. Once you cross into Mexico, follow signs for Route 1-D, the toll road (cuota) which bypasses downtown Tijuana and leads to Ensenada. After approximately 70 km (44 miles), take the exit to Route 3 toward Tecate, and this will lead you into Valle de Guadalupe.
The airport that serves Valle de Guadalupe is General Abelardo L. Rodríguez International Airport (TIJ). Located in Tijuana, this is the closest international airport to Guadalupe. It's about a one-hour drive from the airport to the valley.
Unfortunately, you cannot get around Valle de Guadalupe without a car. This area has no public transportation, not even a taxi service! It is still advisable to bring your own car from the US or rent a car at Tijuana International Airport.
Alternatively, you can also be picked up in San Diego by a private vehicle (from $100 USD per day) to take you around the Valle. The drivers will drive you around for 8 hours a day. We can arrange this transport for you – just get in touch!
Things to do in Valle de Guadalupe
The bulk of the things to do in Valle de Guadalupe is mostly about food and wine so 2 days is actually great. If you are bringing kids (toddlers), they may be bored but you can bring them to horseriding and zipline activities. Here's a background of the activities in Guadalupe:
1. Wine Tasting in Valle de Guadalupe
Valle de Guadalupe boasts over 100 wineries, ranging from boutique vineyards to larger, well-established producers. Embark on wine-tasting tours and savor the diverse array of wines the region offers, including its renowned red blends. Prices range from $15-$50 USD per person, depending on the winery and tasting package.
2. Gourmet Dining
The valley is not just about wine; it's a gastronomic hotspot. Many wineries have on-site restaurants or eateries that offer farm-to-table dishes, blending Mexican traditions with modern culinary techniques. Prices start from $30-$100 USD per person, depending on the restaurant and meal selection.
3. La Ruta del Vino (Wine Route):
This is a network of roads connecting various vineyards, restaurants, and boutique hotels in the region. Traveling along this route offers a comprehensive wine and cultural experience. This area is free to navigate, but individual attractions will have their costs.
4. Visit the Wine Museum (Museo de la Vid y el Vino):
Learn about the history and evolution of winemaking in the region. The museum offers a deep dive into the valley's viticultural traditions and the science of winemaking. The entrance fee to the Wine Museum is around $5-$10 USD.
5. Stay in Boutique Hotels & Lodges
Many accommodations in the valley provide unique experiences, such as staying amidst vineyards, in rustic cabins, or in modern architectural masterpieces. These lodgings often offer spectacular views of the surrounding landscape. Accommodation prices start at $100-$400 USD per night.
6. Horse Riding
Explore the picturesque landscapes of Valle de Guadalupe on horseback. Some vineyards and local operators offer guided horseback tours, allowing visitors to experience the valley's natural beauty up close. Prices start from $40-$100 USD.
7. Ziplining in Valle de Guadalupe
Ziplining in the region provides a unique vantage point to appreciate the valley's landscapes, vineyards, and natural beauty. If you enjoy picturesque views from an elevated perspective, this is a must-do. It is also a great activities for kids. Prices start from $100 USD per person but spots are limited.
8. Attend the Vendimia Festival
Held in August, this grape harvest festival celebrates the wine-producing tradition of the region. It features wine tastings, concerts, and gourmet events spread out over several weeks.
9. Hot Air Balloon Rides
For a bird's-eye view of the valley, consider taking a hot air balloon ride. Float above vineyards and rolling hills during sunrise, capturing the essence of Valle de Guadalupe's beauty. ($150-$300 USD per person)
10. Explore Artisanal Markets
Discover local products, from handcrafted cheeses and olive oils to artisanal breads and crafts. These markets give a glimpse into the region's rich agricultural and artistic traditions.
11. Relaxation & Spa Services
Some boutique hotels and lodges in the region offer spa services. After a day of exploring, indulge in a relaxing massage or beauty treatment that often incorporates local ingredients like grape seed oils and extracts.
Where to stay in Valle de Guadalupe
Valle de Guadalupe offers a range of accommodations to suit various preferences and budgets. From luxury resorts to rustic cabins, there's something for every type of traveler.
Here's a breakdown of the accommodation types in the region along with approximate price ranges. Please note that these prices can vary based on seasonality, specific location, and the services offered:
Boutique Hotels: Often set amidst vineyards, these hotels offer upscale amenities, gourmet dining, spa services, and wine-tasting events. ($150-$500+ USD per night)
Bed & Breakfasts (B&Bs): Cozy and often family-run, B&Bs provide an intimate experience, often with homemade breakfasts and personalized services. ($80-$250 USD per night)
Cabins & Eco-Lodges: Perfect for those seeking a rustic or nature-centric experience, these accommodations are typically set amidst nature and offer basic to moderately upscale amenities. ($70-$300 USD per night)
Glamping: "Glamorous camping" combines the experience of camping with some of the luxuries of a hotel, such as comfortable beds, electricity, and sometimes private bathrooms. ($100 – $350 per night)
Vacation Rentals: Ideal for families or groups, vacation rentals range from homes to apartments, offering more space and often equipped with kitchens and living areas. ($100 – $500+ per night, depending on the size and luxury of the property)
Luxury Resorts: Offering top-tier amenities, spa services, gourmet dining, and often panoramic views of the valley, these are the crème de la crème of accommodations in the region. ($250 – $1000+ per night)
Best hotels in Valle de Guadalupe
Here are our top recommended hotels in Valle de Guadalupe with nightly prices in USD and star ratings:
Best restaurants in Valle de Guadalupe
Valle de Guadalupe has firmly established itself as a food and wine destination, with numerous restaurants that are renowned both for their culinary delights and their ambiance. Here's a curated list of 10 must-visit restaurants in the region along with approximate meal prices.
1. Deckman's en el Mogor
Set within the picturesque confines of the Mogor Badán vineyard, Deckman's en el Mogor is a culinary creation of Chef Drew Deckman. The restaurant stands out not just for its gastronomic offerings but also for its unique open-air setting that seamlessly integrates the dining experience with the natural surroundings of the valley. The farm-to-table menu is a tribute to the region's bounty. Expect to spend approximately $40-$80 per person for a meal.
2. Fauna
Tucked away in the Bruma resort, Fauna is where Chef David Castro Hussong weaves his magic. The restaurant boasts a dynamic tasting menu that is as fluid as the seasons, ensuring that each visit offers something distinct. Merging local ingredients with avant-garde techniques, the dishes serve as a gastronomic exploration of the region. Meal prices typically range from $50-$100 per person.
3. Finca Altozano
A brainchild of the renowned Chef Javier Plascencia, Finca Altozano captures the essence of Baja Med cuisine. With its expansive outdoor kitchen and dining space, diners can relish sumptuous meals while soaking in panoramic views of Valle de Guadalupe. The cost of a meal here generally falls between $30-$70 per person.
4. Corazón de Tierra
Amidst a lush garden setting, Corazón de Tierra offers a dining experience that's both intimate and immersive. The restaurant is known for its six-course tasting menu that evolves daily, reflecting the freshest of local and seasonal produce. A meal here is an indulgence, with prices hovering between $60-$100 per person.
5. La Esperanza Baja Med
Another gem from Chef Javier Plascencia's culinary repertoire, La Esperanza Baja Med is a celebration of Mediterranean techniques fused with Baja's rich ingredient palette. The dishes are a testament to the region's diverse culinary influences. The meal prices range from $30-$70 per person.
6. Malva
At Malva, the dining experience is as much about the flavors as it is about the ambiance. With an open kitchen format set in a relaxed environment, the restaurant offers a delectable mix of seafood, local meats, and fresh produce. The average cost for a meal here lies between $40-$80 per person.
7. Laja
Often likened to the "French Laundry of Mexico," Laja is a culinary institution in Valle de Guadalupe. The restaurant's multi-course tasting menu is a curated journey through the region's gastronomic best. It's an upscale dining experience, with meal prices ranging from $50-$100 per person.
8. Origen Osteria
Cozy and inviting, Origen Osteria is where Italian inspirations meet Baja's flavors. The restaurant is known for its dishes that are rooted in locally-sourced ingredients, offering a unique fusion experience. A meal at Origen Osteria is typically priced between $30-$70 per person.
9. Terra Noble
Perched with views of sprawling vineyards, Terra Noble offers a diverse menu with a special emphasis on grilled dishes. From seafood to meats, every dish is a homage to the region's produce and flavors. Diners can expect to spend between $30-$70 for a meal.
10. TrasLomita
Nestled amidst the Lomita vineyards, TrasLomita offers a relaxed ambiance that's perfectly complemented by a menu that spotlights regional flavors. The dishes are both hearty and flavorful, with meal prices generally ranging from $30-$70 per person.
Valle de Guadalupe Travel Costs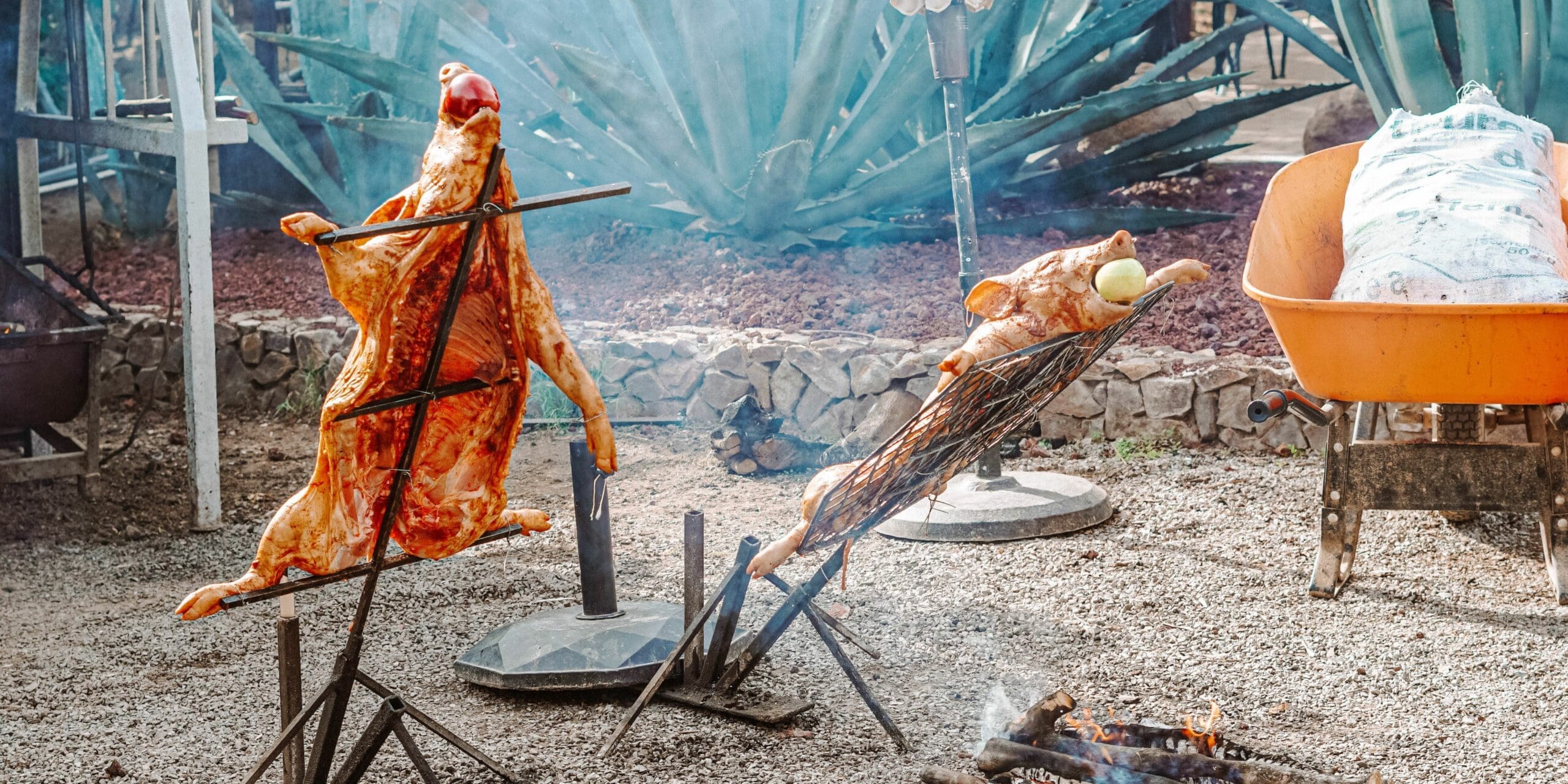 Is Valle de Guadalupe expensive? By Mexican standards, it is expensive, but still cheaper than Napa Valley in the US. While Valle de Guadalupe offers luxurious experiences that can be quite expensive, it's also entirely possible to have a more budget-friendly visit with careful planning.
Here's a breakdown of some of the costs for one person. Please note that this is only an example and is based on our personal trips.
| Item | Price |
| --- | --- |
| Car Rental (basic economy) | $40-$80 per day |
| Gas | $30-$50 |
| Luxury/Boutique Hotels | $150-$1,000+ per night |
| Mid-range Hotels/B&Bs | $80-$150 per night |
| Breakfast | $5-$20 |
| Lunch | $10-$40 |
| Dining at gourmet restaurants. | $70-$100+ |
| Wine Tasting | $10-$25 per visit |
| Travel Insurance | $25-$40 |
| Sim card (unlimited data) | $15 USD for 30 days |
Can you use US dollars in Valle de Guadalupe?
Yes, many establishments in Valle de Guadalupe accept U.S. dollars (USD) due to the region's proximity to the U.S. border and its popularity among American tourists. However, you might not get the best exchange rate when paying directly with USD. It's often advisable to use Mexican pesos (MXN) for transactions, especially in smaller establishments, to ensure you're getting the most value for your money.
ATMs in Valle de Guadalupe
While Valle de Guadalupe has seen significant development due to its booming wine and tourism industry, it remains a relatively rural area. As such, while you will find ATMs in the region, they might not be as ubiquitous as in bigger cities. Make sure to take out cash in Tijuana or Ensenada (on the way to Valle de Guadalupe).
Using credit cards in Valle de Guadalupe
Visa and Mastercard are widely accepted throughout Valle de Guadalupe, as well as American Express, at select locations. You can travel in Guadalupe without worrying about carrying too much cash. Just remember to check for any foreign transaction fees that may apply when using your credit card abroad.
Travel Safety in Valle de Guadalupe
Valle de Guadalupe is safe for tourists. However, as with any travel destination, it's always a good idea to be aware of your surroundings and exercise caution.
The roads leading to and within Valle de Guadalupe can sometimes be in less than optimal condition. Potholes and uneven surfaces are not uncommon. If you're driving, be sure to have a reliable vehicle, and if possible, travel during daylight hours.
Drink bottled water instead of tap water. While many of the upscale restaurants and wineries might have purified water, it's always safer to rely on bottled water.
It's a wine region, so it's quite common for visitors to enjoy wine tasting. However, if you're driving, be sure to have a designated driver or make arrangements for transportation.
Familiarize yourself with local emergency numbers. In Mexico, 911 is the general emergency number for police, fire, and medical services. Consider getting travel insurance that covers medical emergencies, trip cancellations, and other unforeseen events.
FAQ: Valle de Guadalupe Travel