Visiting Copper Canyon Chihuahua is one of my greatest dreams ever since I moved to Mexico. When Daniela and I started planning this trip, there weren't any clear resources about Chihuahua travel.
All we knew was that we had to land in Chihuahua City and from there, we planned our trip.
You can read our articles about Chihuahua to better understand routes and itineraries. In this article, I will only discuss how to visit Copper Canyon Adventure Park which is in Divisadero.
☕ Do you like our content? Help us continue to do better! Support our honest and transparent journalism by donating to our coffee fund.
???? Where is Copper Canyon?
Copper Canyon is located in the Sierra Madre Mountain in the small town of Divisadero, Chihuahua. It is often referred to as an extension of the Grand Canyon National Park in Arizona (they share borders).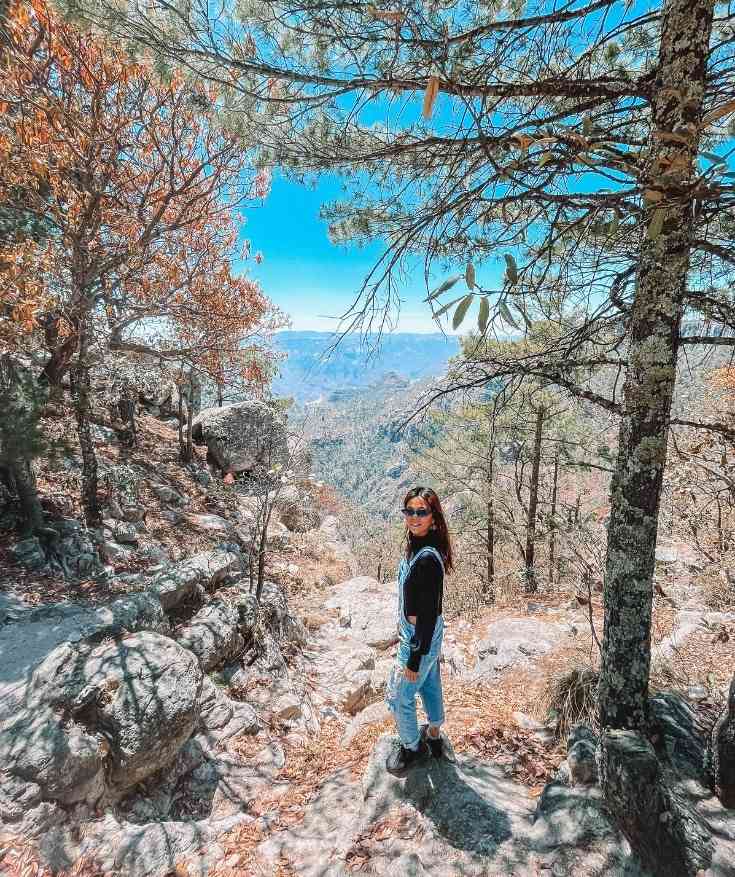 The Copper Canyon is four times bigger than the Grand Canyon although they have very different features. It's about 25,000 square miles and is home to Mexico's Tarahumara or Raramuris, one of the oldest indigenous tribes in North America.
Visiting the Copper Canyon usually entails a full train journey on Mexico's El Chepe, the only passenger train in the country.
⛔ Is it safe to visit Copper Canyon Chihuahua?
Chihuahua has the reputation of being one of the unsafest states in Mexico because of Ciudad Juarez (bordering El Paso, USA) where there are many drug wars.
However, if you're only visiting Chihuahua, it is relatively safe as the state is used to many foreigners doing the El Chepe train journey.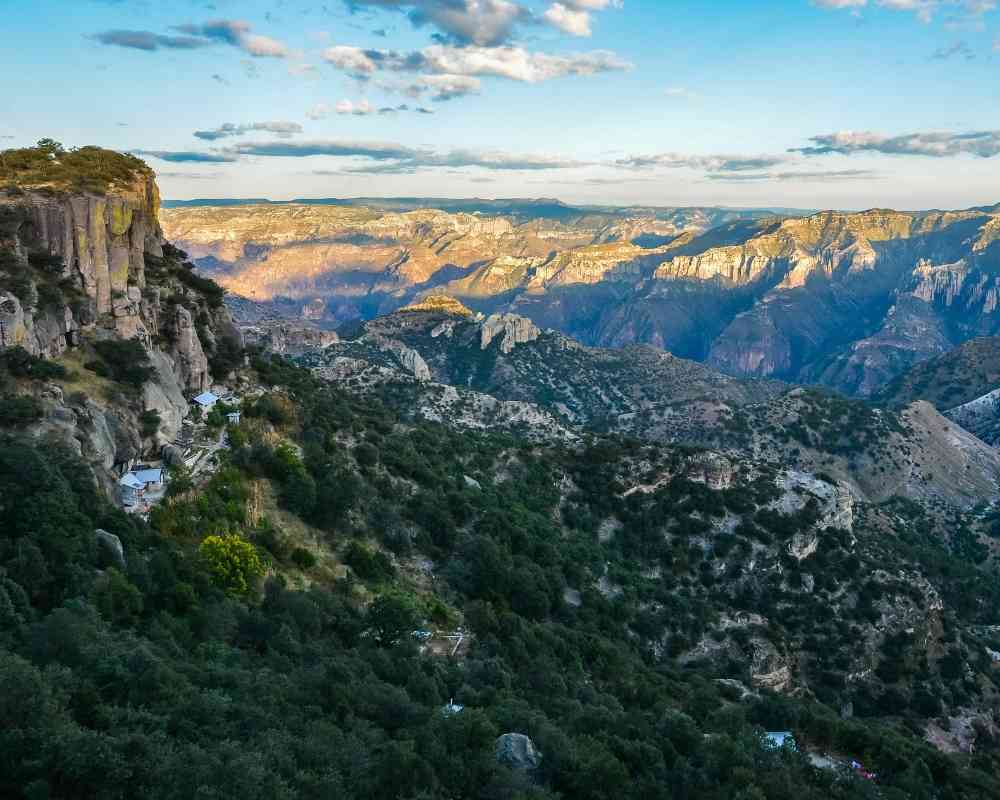 The people of Chihuahua (chihuahenses) are very warm, welcoming, and kind. I was really surprised by this and felt comfortable during the trip!
Just make sure not to fly through the Ciudad Juarez Airport. Chihuahua International Airport is still the safest and best place to arrive and depart.
Pin the image below on Pinterest to save it for your trip!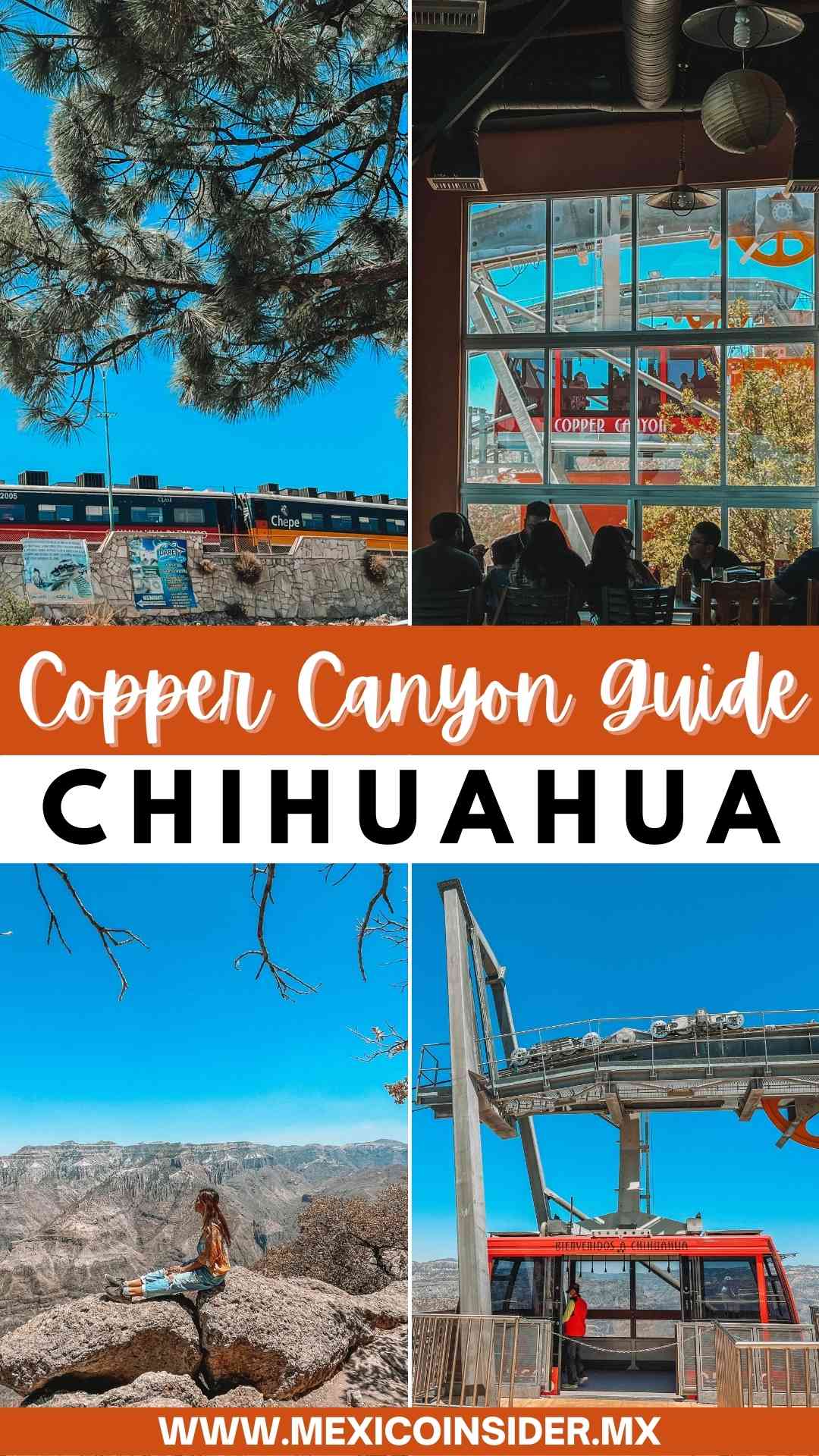 ⛰️ Copper Canyon Chihuahua travel guide
I combined this trip with riding the El Chepe train and renting a car for a road trip. Copper Canyon Chihuahua is big and covers different areas in the state.
The El Chepe train starts in either Los Mochis or Chihuahua City. The major stops for this train route are Creel and Divisadero. You need more time in these two towns.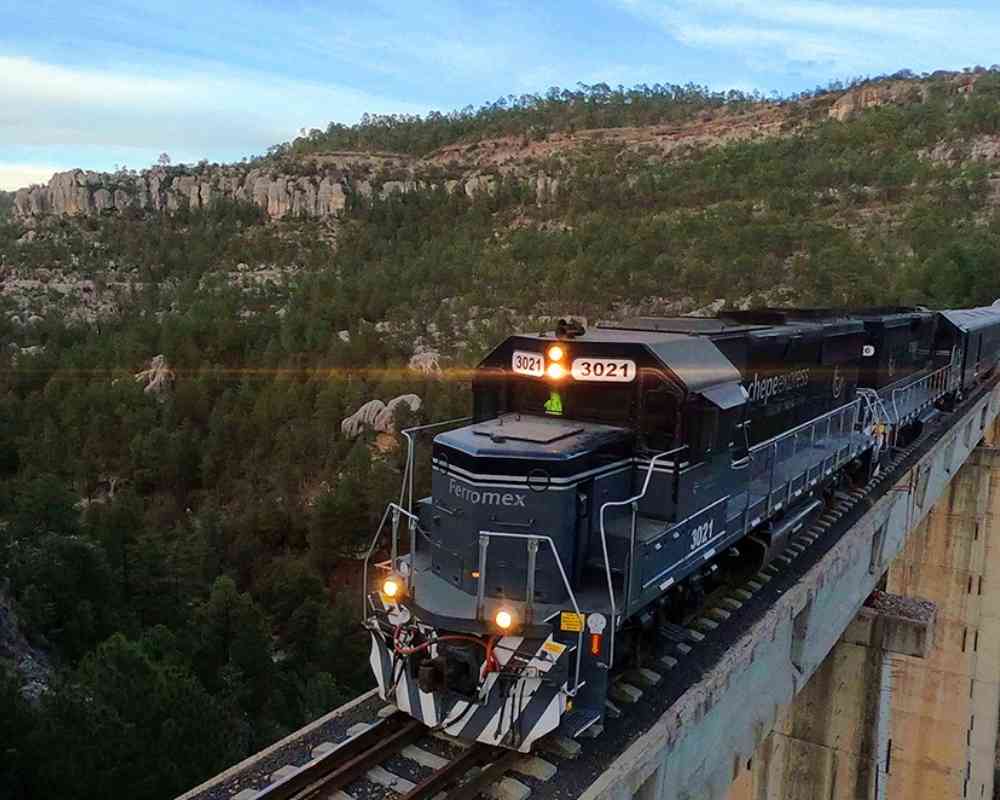 You can read our articles about Chihuahua to better understand routes and itineraries. In this article, I will only discuss how to visit Copper Canyon Adventure Park which is in Divisadero.
Arrival in Divisadero
The Chepe Express arrives in Divisadero at 9:30 AM while the Chepe Regional gets here around 2:30 PM. The train ride from Creel-Divisadero is probably the most beautiful route in El Chepe.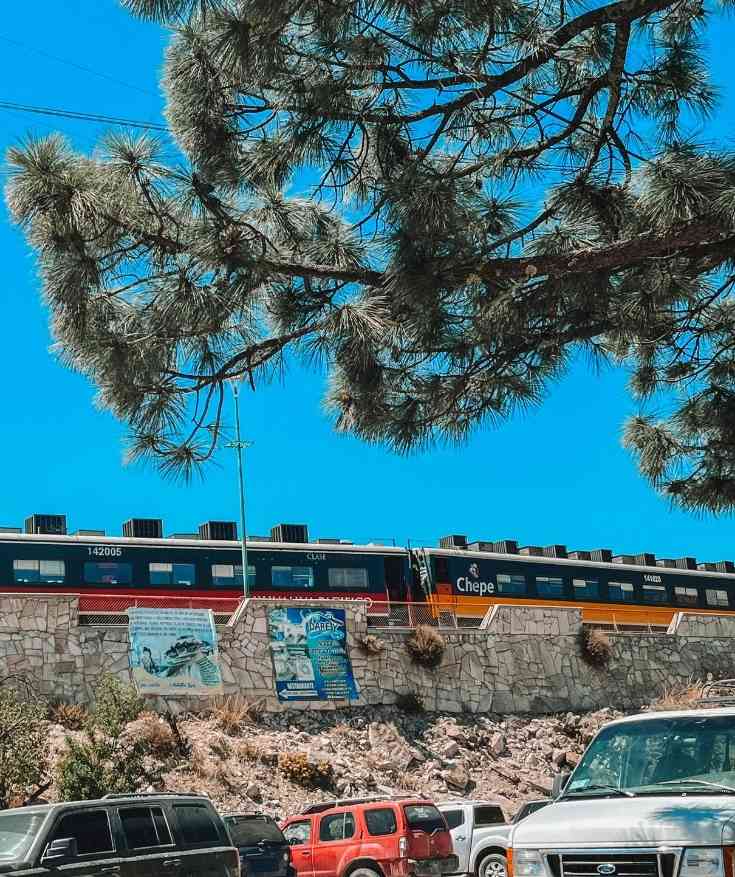 If you arrive in the morning (via Chepe Express), you can start the day right away by visiting Copper Canyon Adventure Park. If you arrive in the afternoon, you can chill at the hotel with views of Copper Canyon Chihuahua.
Where to stay in Divisadero
We stayed in Hotel Divisadero. Our room had a terrace with a view of the Copper Canyon. Since we arrived late, we didn't go out of the hotel.
Hotel Divisadero always has a 3-course dinner for US$17. This includes a starter, a main dish, and dessert. You can opt for an all-inclusive stay here for US$250 per night (4 pax).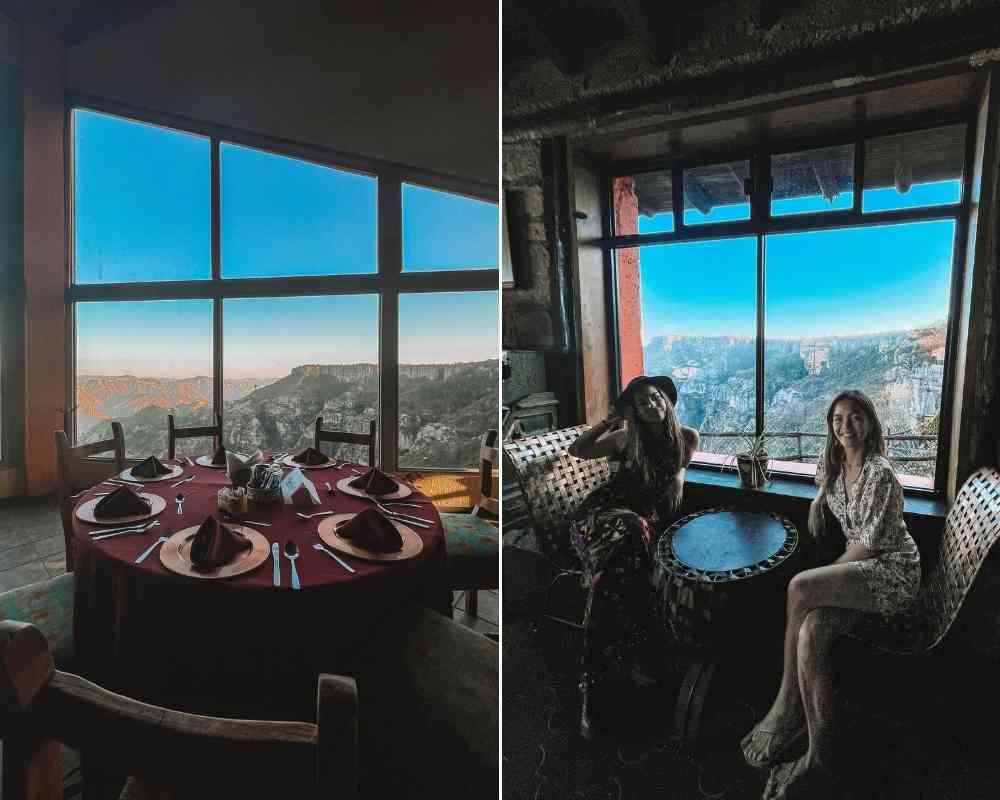 This hotel has a lot of outdoor spaces and common rooms with glass windows that allow you to regularly see Copper Canyon.
It is also a 2-minute walk from the entrance of the park so you don't have to hire a guide. You can easily do it on your own time!
There are daily busses from Hotel Divisadero that goes to the park from 9:00 AM. You have to pay for that separately. Alternatively, you can also sign up for a Copper Canyon Tour for US$81 if you don't want to do this on your own.
Things to do in Copper Canyon Chihuahua
After breakfast at the hotel, you can start walking to the park. It is a 2 KM walk and it's flat so don't worry. Many visitors who were also staying in our hotel had cars so they drove to the park.
Majority of the tourists we came across in Chihuahua are Mexicans who are driving from around the state. You can also rent a car at Chihuahua Airport if you want to do this by car.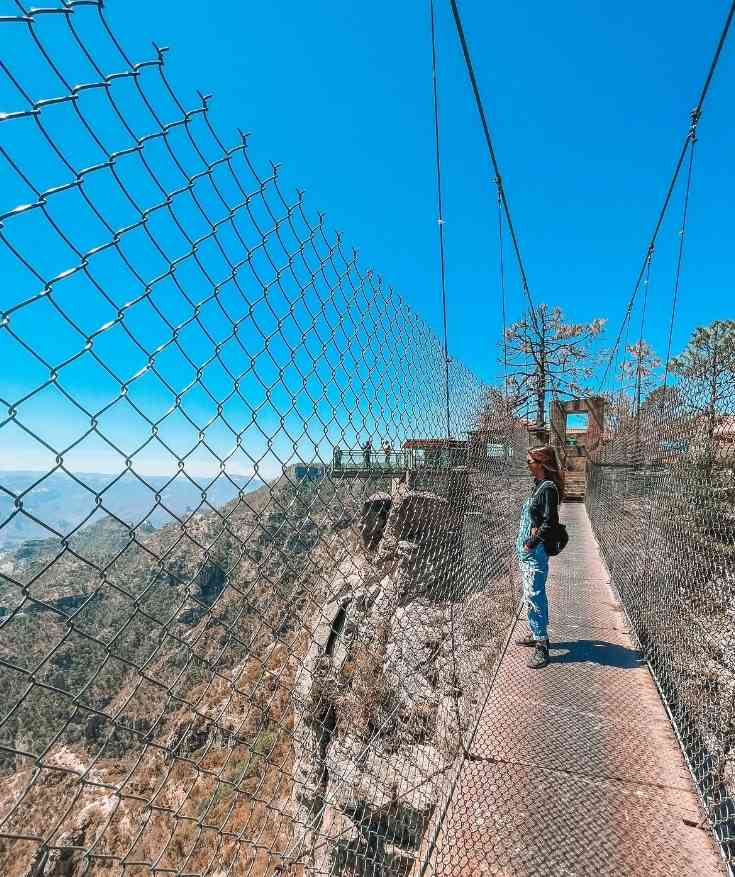 At the beginning of the walk to the park, you will pass through a few shops that sell souvenirs from Chihuahua. Of course, we had to stop and get some. I love taking stuff home from places I visit!
After this, you will see the entrance to the park. The entrance fee per person is US$1.50. They will give you a bracelet and you should wear it at all times in the park.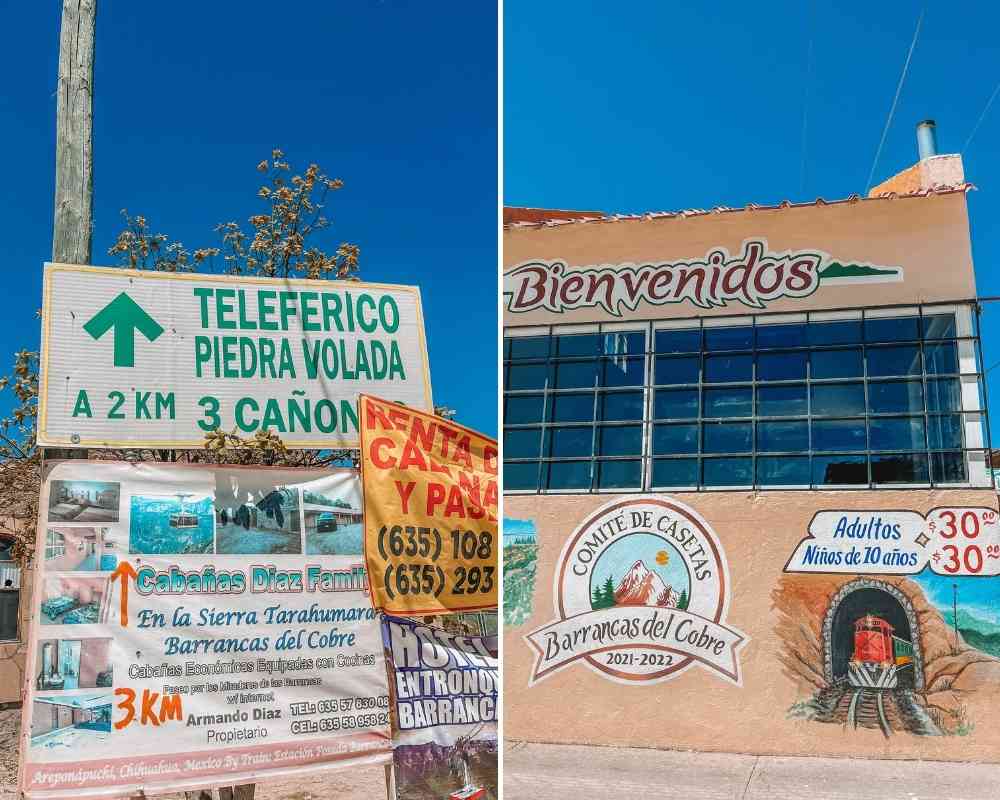 You can start walking and enjoy the views of the Copper Canyon. There are many scenic stops and the pine trees in this area of Mexico are really amusing to me! I've never seen anything like it!
After a 1KM walk, you will get to a big parking spot where all the busses of Copper Canyon Chihuahua are parked. They offer free service to the park but you can also choose to keep walking.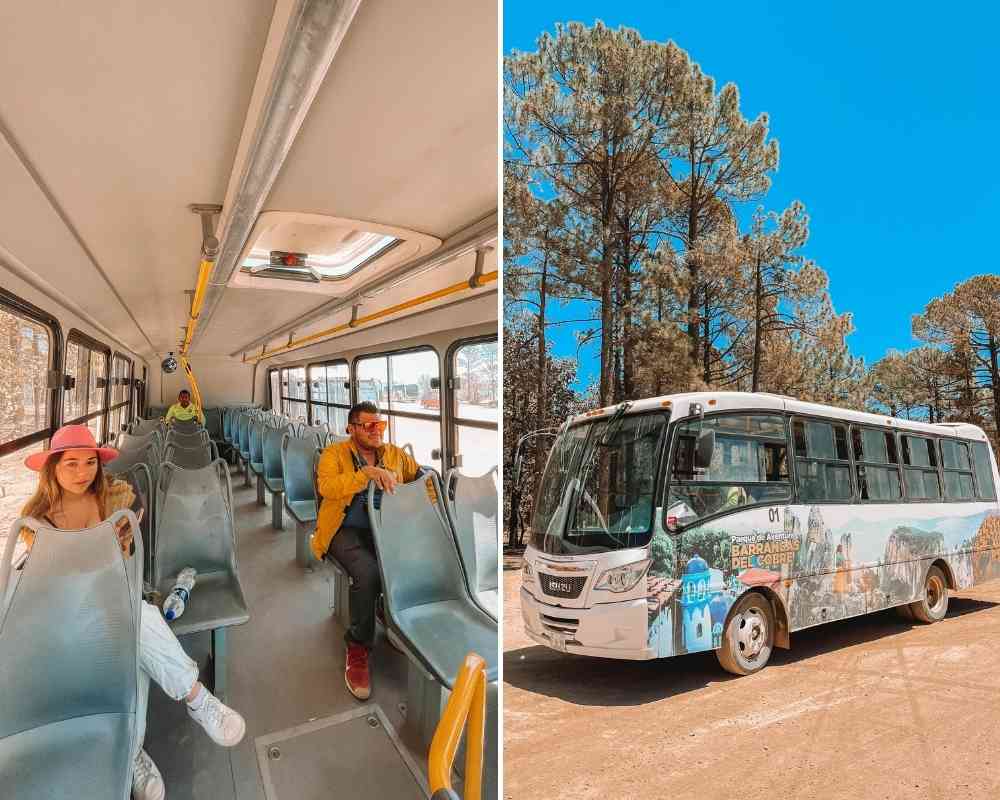 We chose the bus. Since many tourists have their own cars, we were the only people on the bus! The busses are actually very comfortable and the ride was less than US$5. Just tip the driver, please!
At the entrance of the park (where the buses park), there will be long rows of Mexican food sold. If you didn't have lunch yet, you can eat here or you can
We chose to eat in the restaurant on-site as we saw in the pictures that it has a glass-bottom area in the restaurant where you can see the Copper Canyon from above.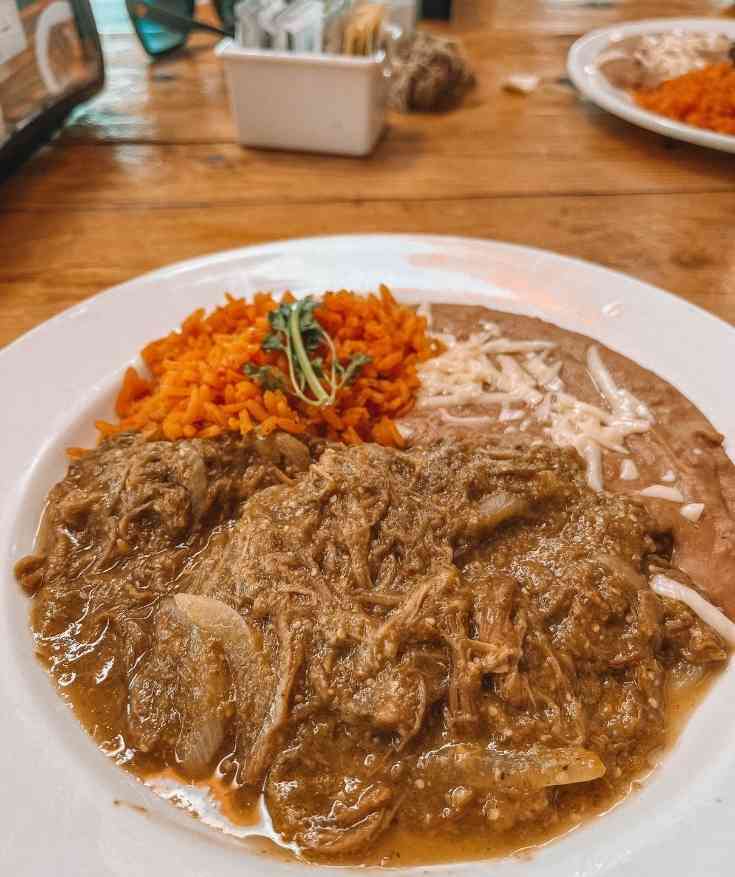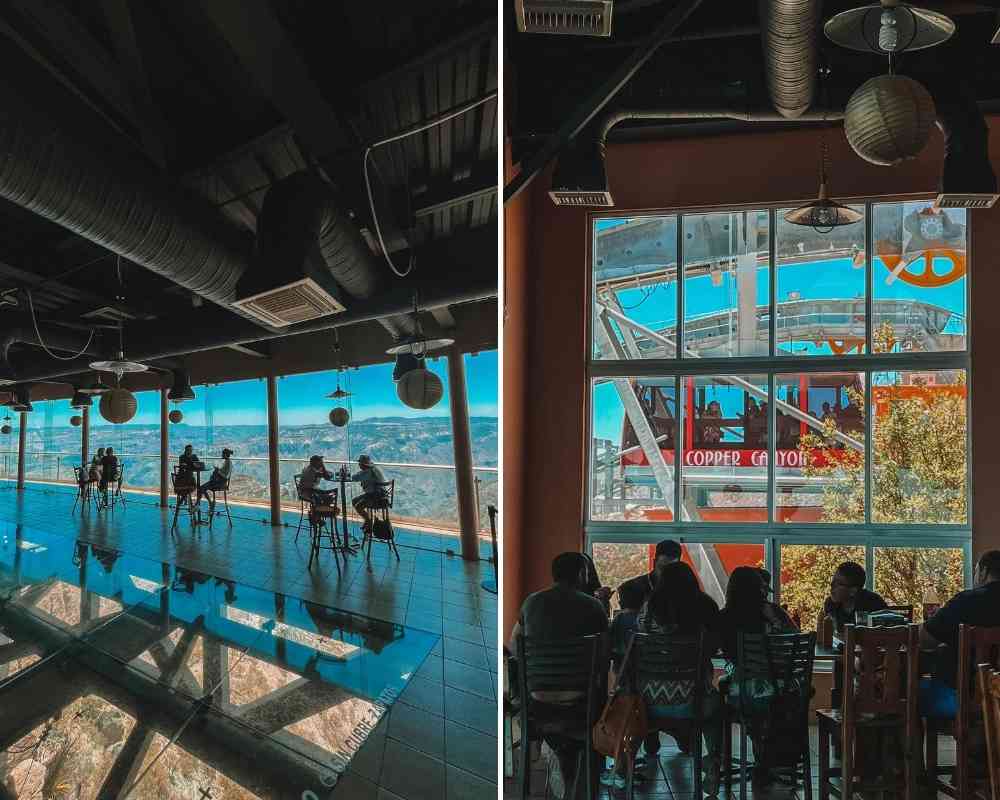 It was a nice and simple restaurant that have meals for US$15. I also love their menu as it has a lot of cuisines from Northern Mexico which is Mexican food that I don't know very well.
The only problem we encountered in Chihuahua (not just in Copper Canyon) is that it's hard to serve good coffee which is a shame because southern Mexico is really well-known for its good coffee!
After lunch, we decided to take the teleferico (cable car) that goes to the other side of the canyon. It cost US$12 for a 2-way ride and the cable car leaves every 30 minutes.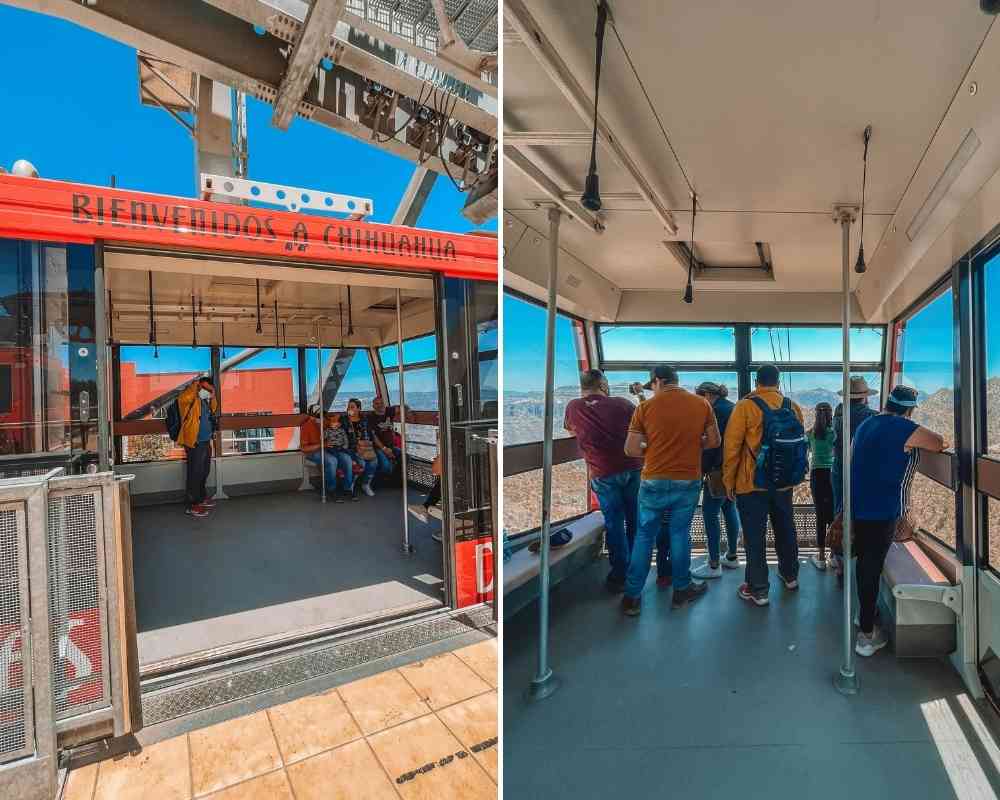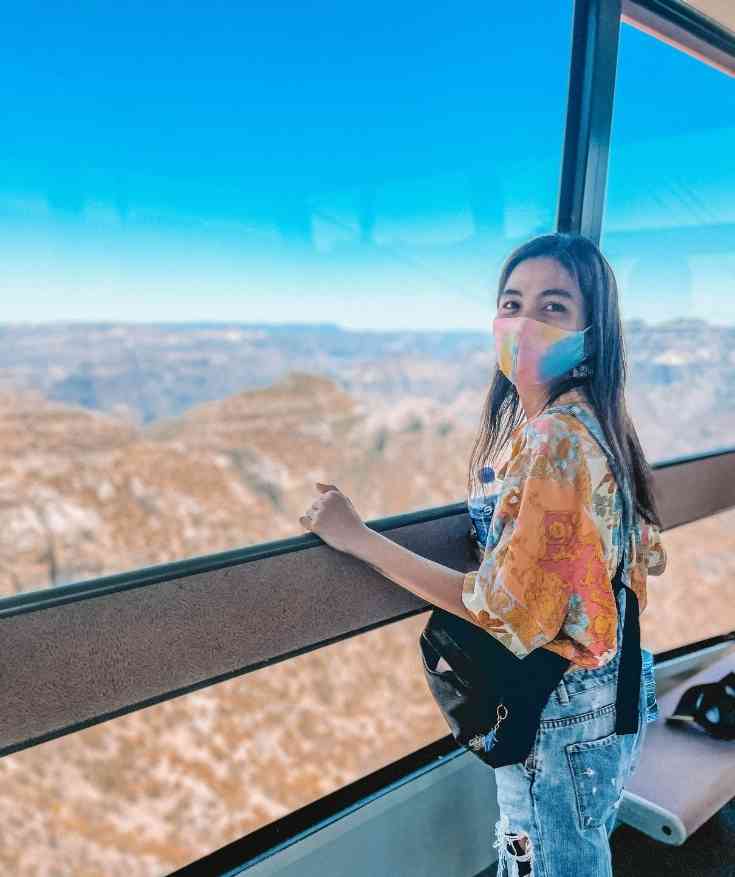 During the ride, the driver will explain the history of Copper Canyon. He even pointed out settlements of the raramuris and we could actually see them from above!
Once you arrive at the other side of the canyon, there will be snacks and souvenirs (same shebang everywhere) but you can see a different view of the Canyon.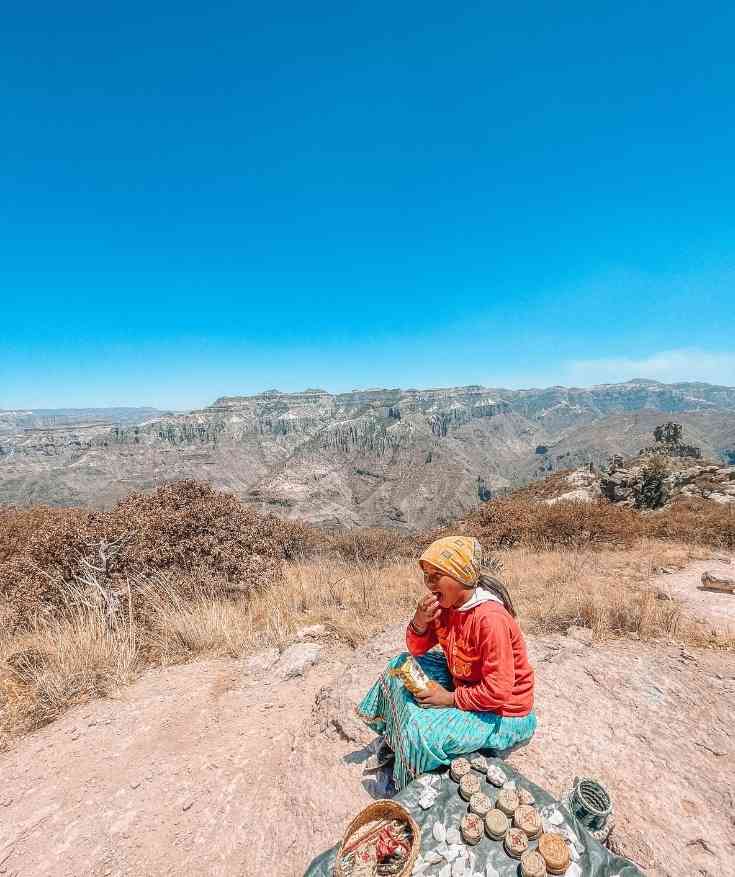 The raramuris we encountered here are also a little bit friendlier than usual. Most of the ones we met are very snob but in this area, they allowed us to take pictures of them and talked to them.
The raramuris are very reserved people as they have removed themselves from society. It's not very easy to keep cozy with them. We spent 30 minutes on the other side of the park before coming back.
Activities at the Copper Canyon Adventure Park
Aside from the cable car ride, you can also do the following activities in the park:
Aerial Forest
This is the ziplining activity where you can wander through the jungle and jump on treetops. Copper Canyon Adventure Park has 10 suspension bridges and a 50m zip line. Children below 11 years old and adults over 80 years of age are not allowed to do this activity.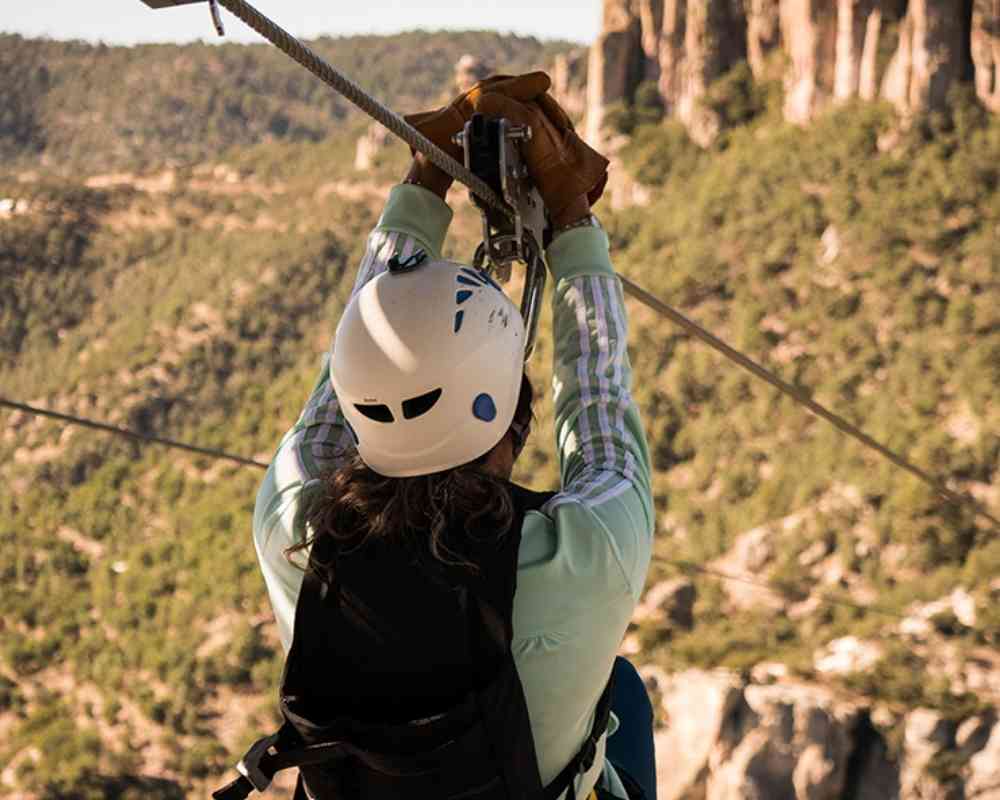 Rappelling
Rappel through the canyons at 131 feet high with 4 suspension bridges that they call "Tarzan's Jump." You will also get to visit two waterfalls. Make sure you are wearing comfortable clothes.
Activities for kids
If you are traveling with children, Copper Canyon Adventure park has rock climbing where your kids can go through 8 different climbs. There are also golf classes and bungy jumping for extra adventurous children.
☀️ Best time to visit Copper Canyon Chihuahua
Copper Canyon can be visited all year round but take note of the weather. We arrived here on May 10, 2022, and it was really cold at night. Take note that May is the beginning of the warm weather in Mexico but we still felt very cold!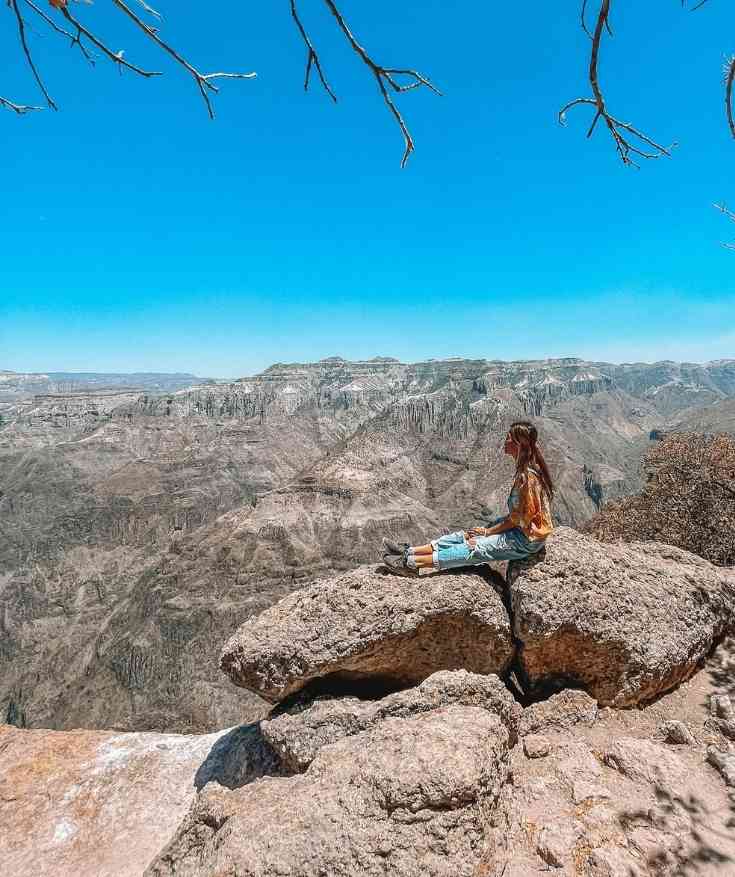 Many tourists who visit Copper Canyon Chihuahua prefer to see the snow-capped mountains. If you want to visit here during the winter, November to April is a great time. Everything will be white but it does not heavily snow in Chihuahua.
Either way, since it's in the mountains, always make sure to bring jackets and proper outdoor gear.
✈️ Ready for your trip to Copper Canyon? If you need more information about visiting Copper Canyon Chihuahua, I'd be happy to update this post – just leave your questions below!
Trisha traveled to Mexico in 2018 and after a year, she found herself obtaining a 4-year residency visa in Mexico. She is the Editor-in-chief for our Living in Mexico Series which has helped over 3,000 Americans move to Mexico with ease. Trisha currently resides in Cabo San Lucas, Baja California Sur.