Tulum Ruins are believed to have been built in the 13th century as a port city for the Mayan civilization. This Tulum Ruins travel guide will give you all the information you need to visit this site.
Tulum Ruins is an ancient Mayan city considered by many as the most beautiful of the Mayan Ruins sites around the city.
During its heyday, Tulum was a bustling port city (between 800 and 1521 AD) and is now one of Mexico's most popular tourist attractions. It also served as a home to a thriving Maya civilization.
The ruins are about two hours from Cancun, poised on a fifteen-meter-high cliff above the Caribbean Sea. It's renowned for its stunning views of the sea and surrounding jungles.
🧐 Questions about Tulum Archaeological Site? Ask us on Tiktok.
🔗 Tulum Archaeological Zone: quick links
🏺 What is so special about Tulum Ruins?
Before Tulum Ruins became one of the most remarkable archaeological sites in the world, it was once a city inhabited by the Mayan people. It served as a place for sea trade, where tribes from all over Mexico and Central America would travel.
Tulum Ruins is one of Mexico's most popular tourist destinations. With its stunning beachfront views, this ancient Mayan city has become a must-see for any traveler.
And because of its early history and how it was preserved for centuries, it has become a special place for the locals of Mexico and visitors worldwide.
🙋 Is Tulum Ruins worth visiting?
The Tulum Ruins are worth visiting. It is built on a bluff facing the rising sun and the Tulum beach, making it the only Maya settlement on the Caribbean's beaches.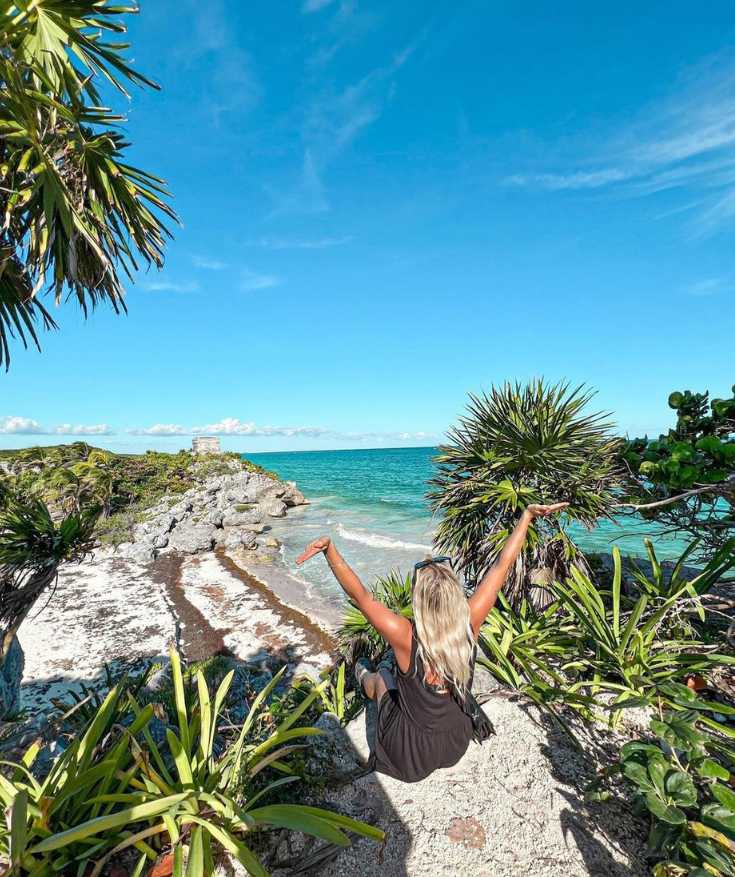 Many travelers describe the view in ruins as something to look forward to and a place you would want to revisit. And although the area is not that vast, it looks different compared to other Mayan sites in the Yucatan Peninsula.
Moreover, this ancient Mayan site is known for its view and because it's full of history and culture waiting to be explored.
🗺️ Tulum Ruins Mexico Map
📅 Best time to visit Tulum Ruins Mexico
Tulum Ruins is one of the most popular destinations among travelers and locals in Mexico. And, if you are looking for the best possible time to visit Tulum Ruins, here's what you need to know!
The climate in Tulum is entirely predictable most of the time, making your planning easier. Without much difference, Tulum experiences a tropical climate throughout the year (and day), and travelers should take note of the rainy season.
January to April is the best time to visit (weather-wise), but expect a high influx of tourists in the area. Meanwhile, from May to October, it is likely that you will experience more rain.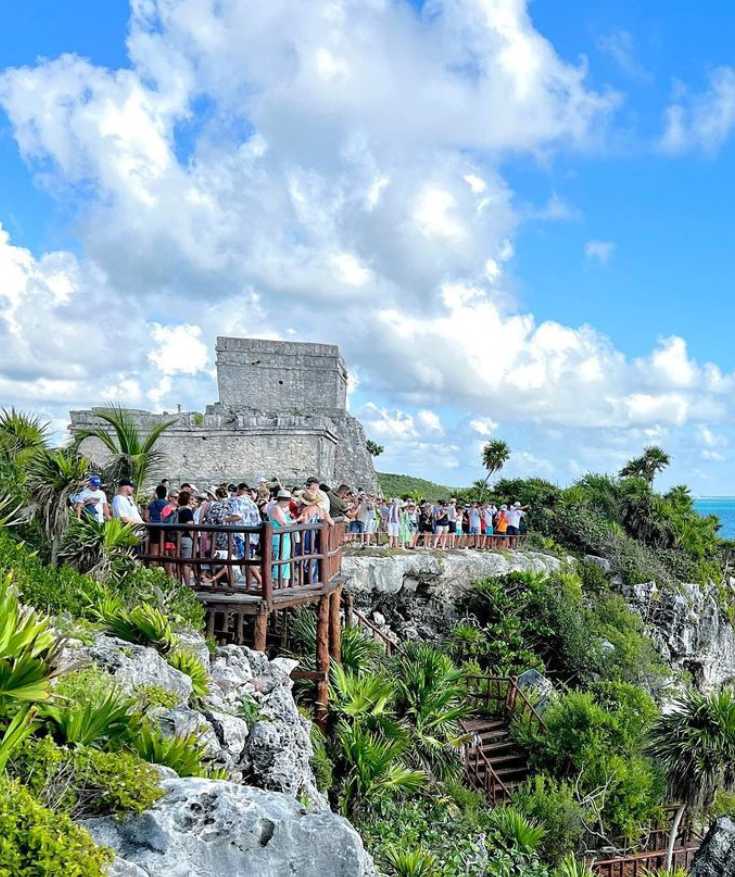 A visit from November to December is also a great time to visit the ruins as the rainy season has passed and the weather is not too hot.
Meanwhile, if you are still deciding whether to visit in the morning or the later part of the day, there are a few things you should take note of.
Visiting in the morning is an excellent option if you want fewer crowds and cooler temperatures. This will allow visitors more opportunities to get close-up views and take stunning photos without battling through swarms of tourists.
But if you plan to visit during the later parts of the day, then it's highly recommended to arrive in the late afternoon. You'll see the sunset over Tulum Ruins, a great time to catch the golden hour and picturesque scenes, creating beautiful backdrops for photos.
💲 How much does it cost to get into Tulum Ruins?
If you're wondering how much it will cost to visit Tulum Ruins, this depends on how you prefer to wander around the area.
First, if you're traveling on a budget and need something inexpensive, you can visit the Tulum Ruins with no guide, and you will need to pay around $3 USD to $4 USD each.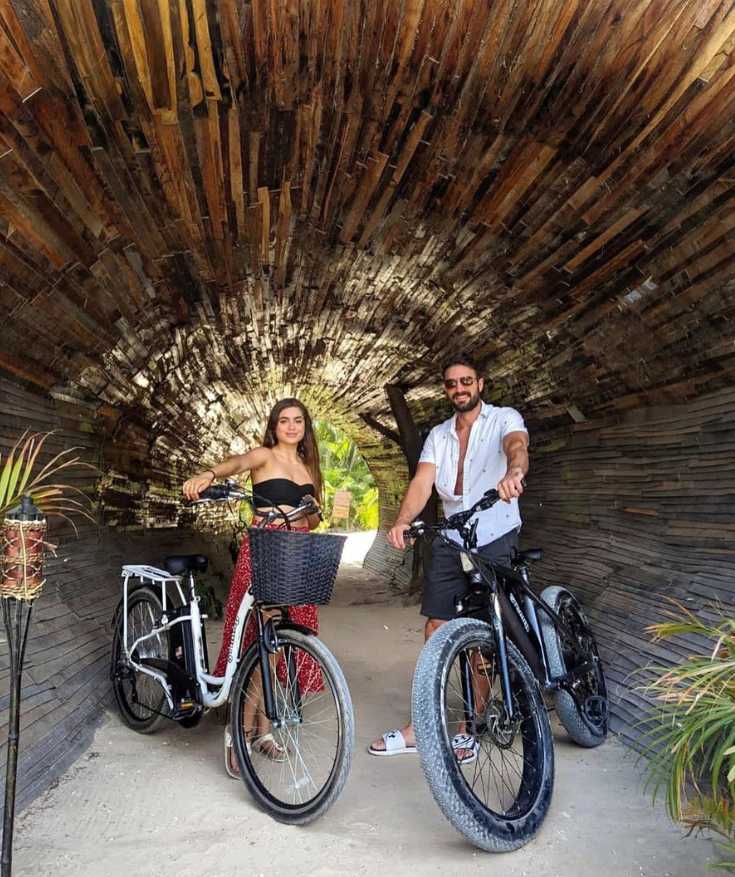 But if you want a tour guide, you must pay an additional $30 USD.
Since the ruins are far from the parking entrance, you can take a folkloric train for just $1 USD per person. You can also choose to walk and not pay for the train ride.
🚕 How to get to Tulum Ruins
How to get to Tulum Ruins from Cancun
Tulum is just roughly 80 miles south of Cancun. And when in the town of Tulum, seeing the archeological site of Tulum Ruins is a must. So, how do you exactly get there?
Reaching Tulum (the town and the ruins) from Cancun is easy. With various travel options, depending on your budget and style, there's a transportation option to suit your preference – by car, bus, or taxi.
If you'd like a free and flexible trip from Cancun to Tulum, renting a car is your best bet. A trip by a car going to Tulum takes about 90 minutes from Cancun.
You will be traversing along one highway that is relatively safe and will give you plenty of time to appreciate the breathtaking Mexican landscape.
Another option is to take the bus – it's convenient and cheap. Bus tickets from Cancun going to Tulum usually cost around $8 USD – and it only takes roughly two hours with no stops in between.
Surprisingly, you can also take a taxi going to Tulum. There are taxi services in Cancun that are equipped with air-conditioning that can take you to Tulum in under two hours. However, a ride might cost you $120 USD or higher, depending on the day of travel.
How to get to Tulum Ruins from Playa del Carmen
Are you trying to figure out how to get from Playa del Carmen to Tulum Ruins? Tulum Ruins is about 40 miles south of Playa del Carmen, and drive time is about 1 hour without traffic and delays.
Getting to Tulum Ruins from Playa del Carmen is easy as it's just straight down the main Highway 307. And there are lots of convenient travel options that you can take.
Public transportation is your best bet if you're looking for an affordable option.
You can take a colectivo, a shared van service that runs continuously between the two towns. The fare only costs $3 USD from Playa del Carmen to Tulum.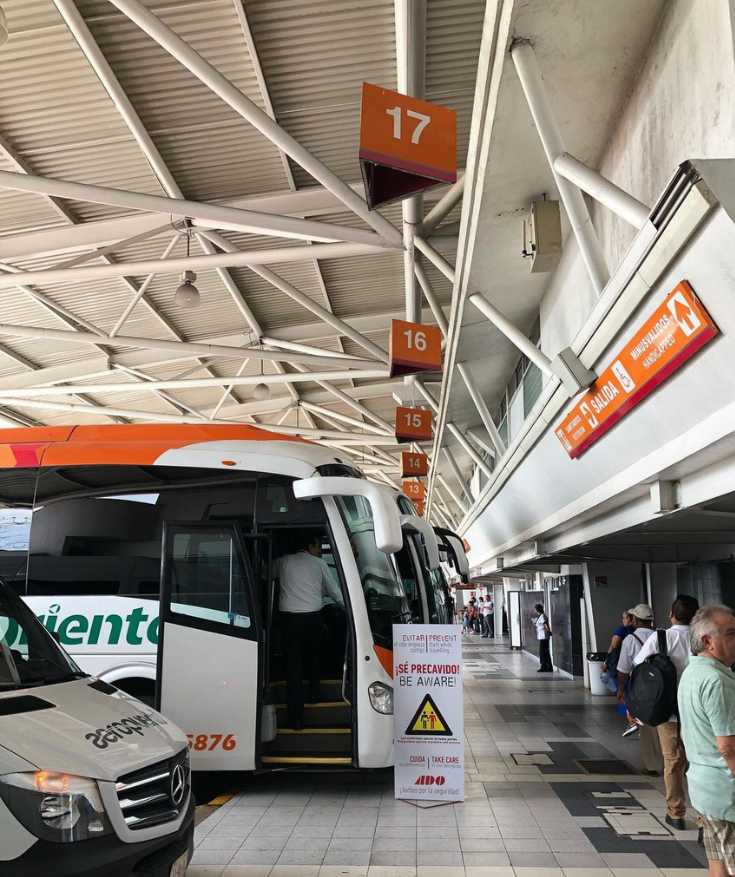 You also have the option to take the bus that regularly runs between Tulum and Playa del Carmen and takes an hour and a half each way. Bus fare costs around $5 USD.
Moreover, private taxis are also available in Playa del Carmen. Although hiring one will cost more, it also gives you more flexibility with your itinerary.
But if you decide to have a more comfortable and private trip, you can always arrange a private transfer or rent a car for the day.
How to get to Tulum Ruins from Merida
Merida and Tulum are on the opposite side of Mexico. It is approximately 160 miles apart, and driving time is about 3 hours. But no worries, there are a couple of ways to get from Merida to Tulum.
Taking the bus is the most popular option for travelers on a budget. Several bus tours operate between Merida and Tulum Ruins, and a ticket will cost around $17 USD for 4 hours of travel time.
Another public transportation you can take is the taxi. This is recommended if you prefer a convenient and comfortable ride, as it will take you from your pick-up point and directly to the Tulum Ruins. The average taxi ride is $87 USD, depending on the traffic and day of travel.
You can also drive yourself from Merida to Tulum, although it will take much longer as the trip is over 150 miles long.
And if you're up for an adventure, you can rent a motorcycle or bike and make the journey in just one day!
🎫 Tulum Ruins Travel Guide: things to do
Temple of the Frescoes
One of the essential structures in Tulum Ruins is the Temple of the Frescoes. It is a two-story building in Tulum Ruins, teeming with incredible artifacts that date back to the Maya civilization and has significant social and religious importance to society.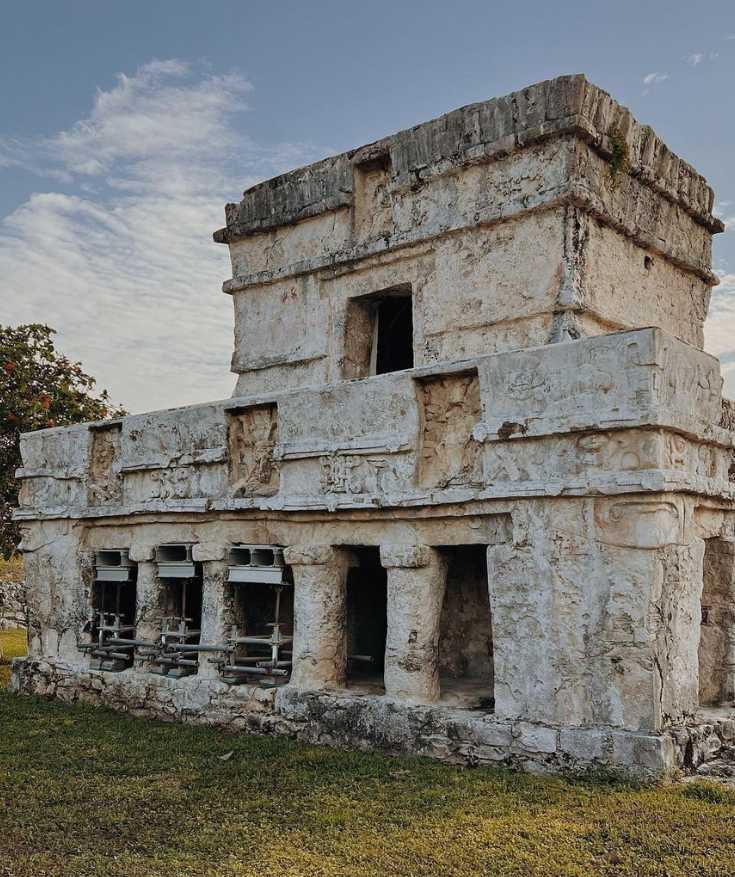 The temple stands out among other structures due to its preserved architectural elements and sculptures, believed to depict historical events such as military victories and religious ceremonies.
Visitors can also admire more minor details of the mural paintings in black, green, yellow, and red, which are representations of female and male deities, intertwined snakes, and offerings dedicated to the Gods.
El Castillo
Tulum's El Castillo is the tallest of all the pyramids in ruins. It stands 24 feet tall atop a 39-foot limestone bluff overlooking the Caribbean Sea.
Over the years, El Castillo has become one of the most impressive ruins in Tulum. The structure comprises four stairways leading up to a temple at its summit.
But before it became a tourist spot, its construction served as a fortress and a temple for religious ceremonies or sacrifices. It also served as a lighthouse that guided ships into the port.
House of the Columns
The House Of The Columns, also known as El Palacio, is a large building complex that consists of two structures, one with four columns and the other with six, which are believed to have been built by the Mayan people in 1200 AD.
Although much of its exact purpose remains unknown, it may have served as a palace or temple area.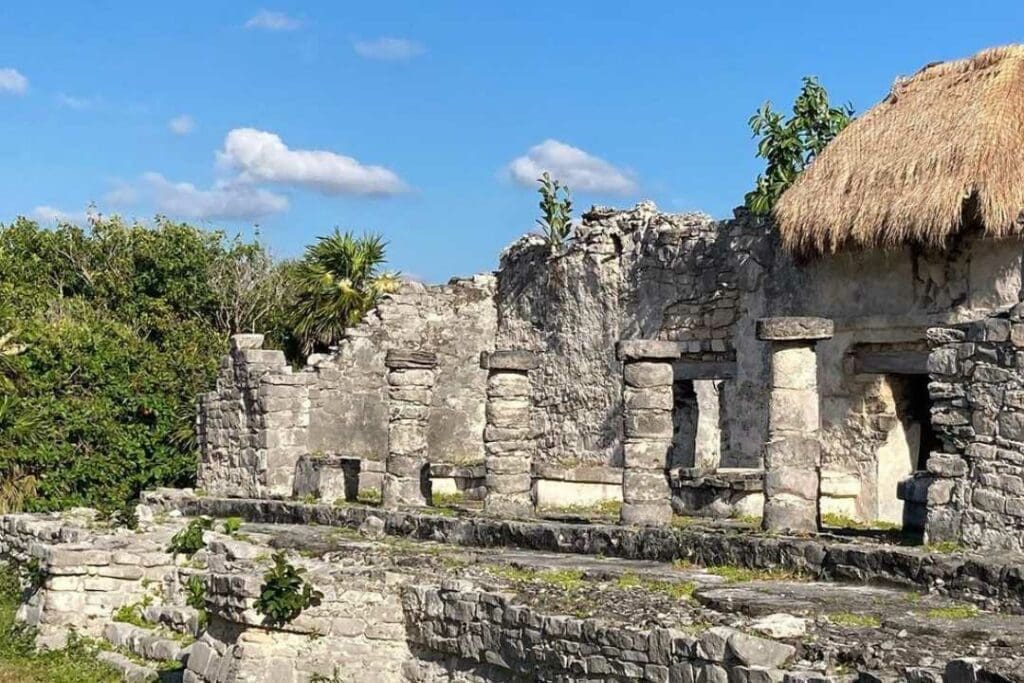 Visitors of the Tulum Ruins can explore the House of the Column while admiring its architecture, intricate carvings, and mysterious symbols.
Tulum beach
Tulum Ruins Beach is located in the ruins site, which you can admire from atop the cliff or visit yourself.
It boasts fine white sand and beautiful turquoise-colored water, ideal for swimming, snorkeling, or picture taking. To get there, you must go through the park to the cliffside coastline, where a wooden staircase winds down to the beach.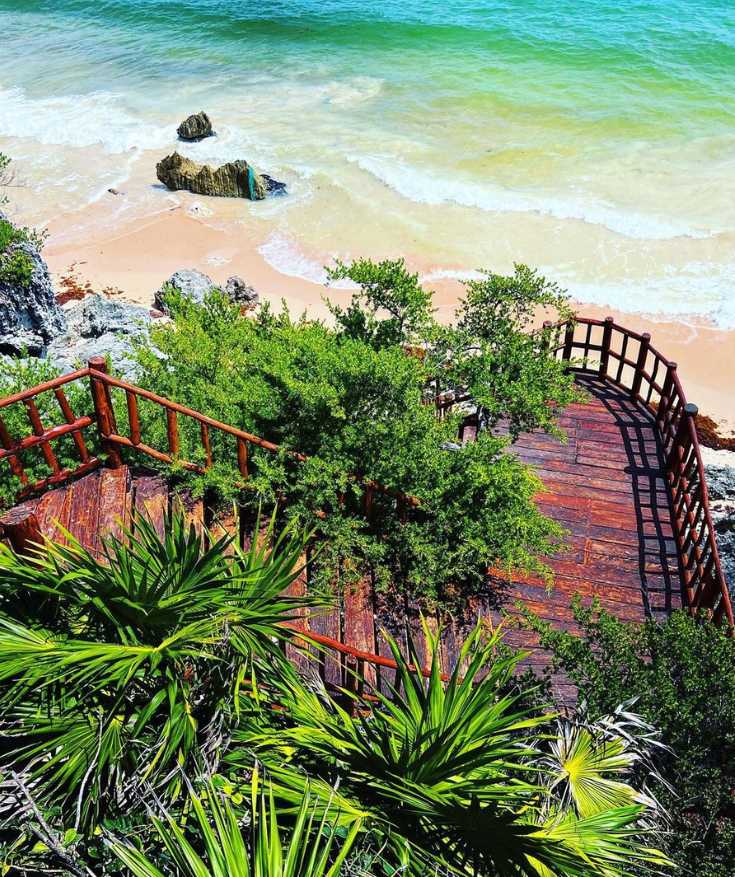 From there, you'll get an incredible Caribbean sea view and decide if you want to enjoy the warm beach.
🧭 Best Tulum Ruins tours
Tulum Ruins, Reef Snorkeling Plus Cenote and Caves
⏰ 8 hours
💲 from $109 USD
The Exclusive Combo Tour of Tulum Ruins, Reef Snorkeling Plus Cenote and Caves lets you experience and explore the highlights of Tulum.
During the tour, you will visit the archaeological site Tulum Ruins while giving you an up close and personal look at the Caribbean Sea. You will snorkel through coral reefs, swim in cenotes, and explore a limestone cave.
Tulum Ruins Tour (Private, Half Day)
⏰ 4 hours
💲 from $114 USD
If you want to explore the history of Tulum, you can easily take a tour of Tulum's famed ruins and discover centuries of ancient Mayan culture.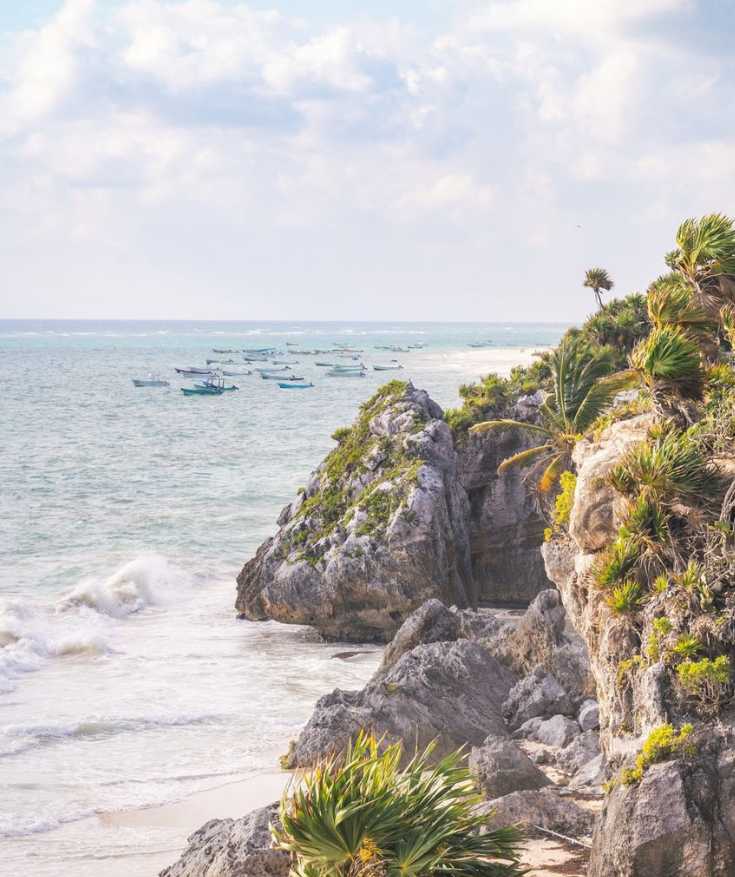 This tour is perfect for visitors who want to learn about the city's past and get an up-close look at its incredible ruins.
From exploring underground cenotes to visiting a natural temple, this Tulum Ruins Tour will only take approximately 4 hours, so it won't take much of your time.
Tulum Ruins 4 Cenotes & Giant Sculpture
⏰ 9 to 10 hours
💲 from $149 USD
The Tulum Ruins, 4 Cenotes & Giant Sculpture tour combines different spots and attractions in one trip. You will get on a 9-hour time in Tulum as you head on to explore ancient ruins, majestic caves, and underground cenotes.
First, you will explore the historical treasures of Tulum Ruins, located on a cliff overlooking the Caribbean Sea.
Afterward, you will head to a secluded underground cave at Aktun Chen Park, then dip in an enchanting cenote!
Finally, you'll enjoy a delicious lunch at one of Cancun's best restaurants before returning to your hotel.
🎟️ Can you go to Tulum Ruins without a tour?
The answer to that is a big YES! Exploring the ancient ruins of Tulum without a tour is possible (and surprisingly easy). You don't need to take a tour and have a guide to visit this well-preserved Mayan city.
Instead, with just some planning and preparation, you can explore the ancient ruins on your terms. This will give you ample time to learn about the historical site and the Mayan civilization. Just make time to do some research before visiting.
🛏️ Hotels near Tulum Ruins
Azulik Hotel
💲 from $102 USD
Azulik Hotel is a private, adults-only beach resort in Tulum. This all-inclusive luxury hotel provides guests with the experience of feeling connected with the jungle and the sea.
Designed with a modern and unique setting, Azulik aims to focus on visitors' wellness and, at the same time, reconnect with nature.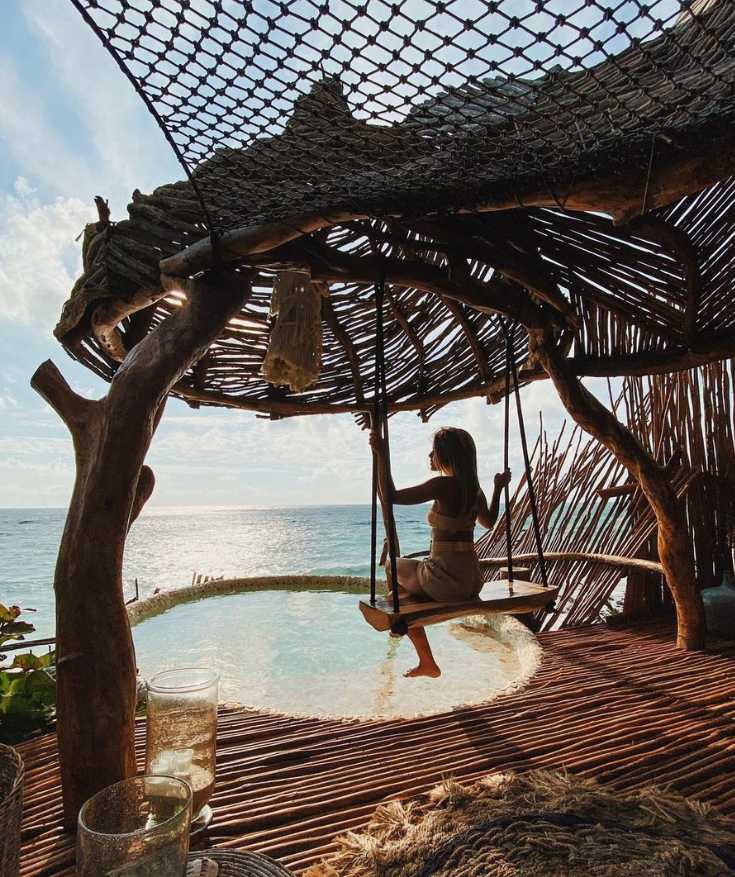 Azulik Hotel is a great hotel option near the famous Tulum Ruins – guests can walk from the hotel and explore the site. Moreover, there are also several nearby cenotes where visitors can swim or snorkel in crystal clear waters.
Zamas Hotel
💲 from $100 USD
Zamas Hotel of Tulum is quintessential, designed with colorful urban designs. It aims to provide its guests with a laid-back local vibe and jungle ambiance, perfect for the Tulum vibe.
Every suite inside the hotel has comfortable beds with Egyptian cotton sheets and air-conditioning to beat the heat. Plus, you can enjoy plenty of activities, the first of which is visiting the Ancient Ruins of Tulum nearby.
You can also swim in their private pool or relax in the hammocks while taking spectacular views of Tulum's sea and jungle.
Nawal Glamping Concept
💲 from $100 USD
Nawal Glamping Concept offers a unique way to lodge in Tulum, perfect for travelers who crave new experiences.
With a mix of glamping and five-star amenities, the Nawal Gamping Concept has rooms on wooden decks equipped with complete room amenities.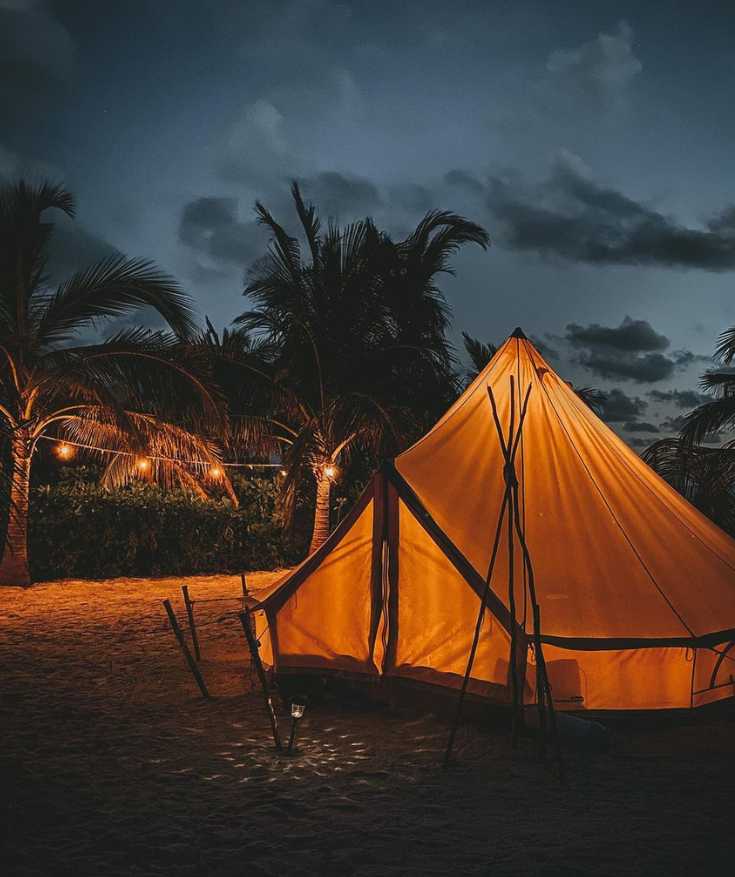 Plus, since it's near the ancient Tulum Ruins, you even get a great view of it while enjoying a cool breeze from the Caribbean Sea nearby.
Botanica Tulum
💲 from $109 USD
Botanica Tulum is a chic and modern hotel near the famous Tulum Ruins. It hosts guests worldwide who want dedicated time, space, and cross-cultural connections during their trip to Tulum.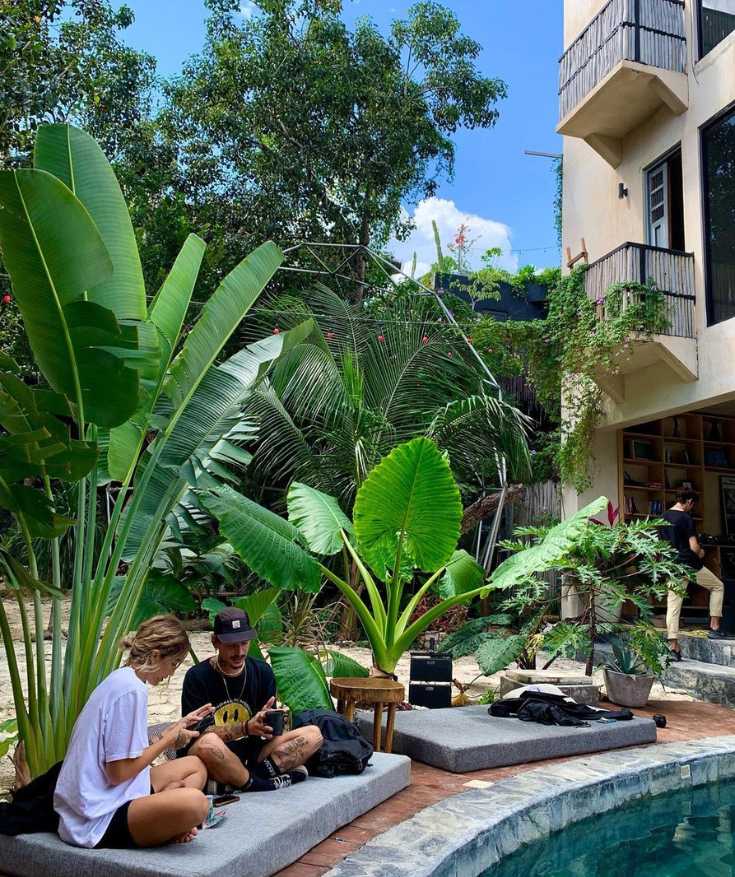 Botanica Tulum aims to welcome artists and non-artists across all fields to cultivate their creativity. It has lush outdoor gardens and amenities like free Wi-Fi for all guests and an on-site Mexican cuisine restaurant.
Poc Na Tulum Hotel
💲 from $133 USD
Poc Na Tulum Hotel is a beach-front hotel just 10 minutes from the archaeological Tulum Ruins site. It offers guests luxury accommodation while conveniently close to the area's attractions.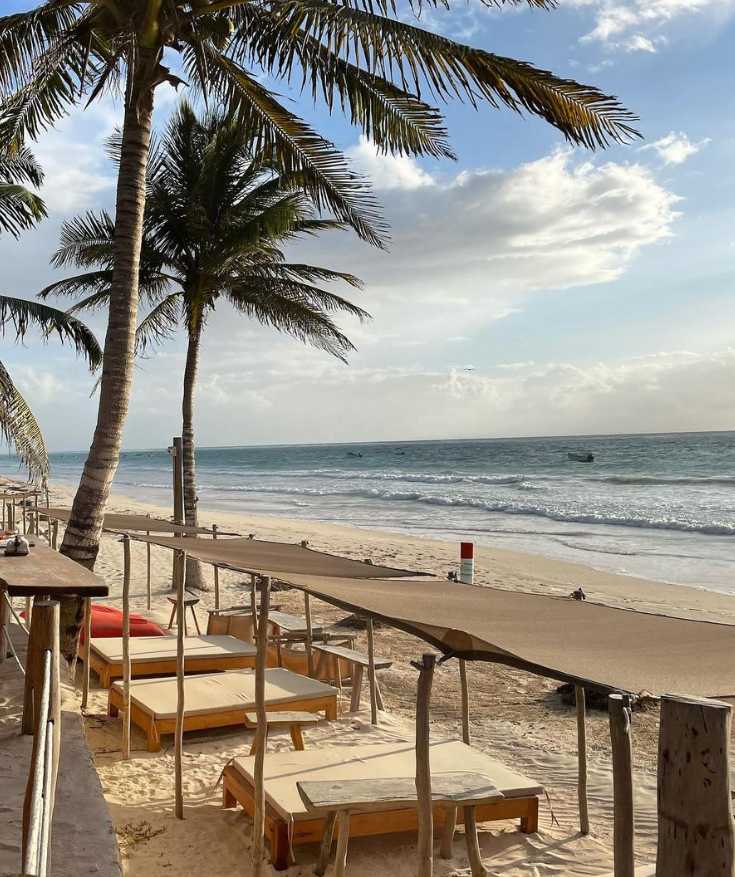 They have complete amenities like restaurants, a beach bar, lush gardens, a spa, etc. Poc Na Hotel is an excellent accommodation to enjoy quality beach time and relaxation in Tulum.
🇲🇽 Tulum Travel Resources
✈️ Flights to Tulum
The airport that serves Tulum is Cancun International Airport. Use Kiwi.com to find the cheapest flights to Cancun. This is our favorite booking engine because they compare prices across all airlines for your route.
🛏️ Hotels and resorts in Tulum
Budget travelers can use HostelWorld to find cheap accommodations for as low as $25 USD per night. Resort vacationers, the best deals for all-inclusive stays in Tulum are on Booking.com!
🚑 Mexico Travel Insurance
Be prepared for the possibility that something can happen to you while traveling abroad. Do not travel to Tulum without travel insurance! We recommend SafetyWing (for digital nomad and entrepreneur trips) and Ekta Travel for comprehensive medical insurance starting at $0.99 USD!
Marianela Clement is a Swiss-Argentine marketing expert who moved to Mexico in 2017. She has lived in Queretaro for 4 years, traveling and working around Central Mexico. In 2021, Marianela decided to move to Tulum, and up until today, she is enjoying the joys of living in Tulum, Mexico.