This Lucha Libre Mexico City guide will give you everything you need to know about watching this famous Mexican wrestling, ticket prices, tours, and everything you need to know.
Lucha Libre, which translates to "free fight" or "free wrestling," is a style of professional wrestling that originated in Mexico.
This form of wrestling is distinctive due to several unique characteristics, most notably because of its high-flying acrobatics, use of colorful masks by the wrestlers (luchadores), and the dramatic storytelling elements infused into the matches.
👺 In a hurry? Our best-recommended Lucha Libre tour in Mexico City is the Ultimate Lucha Libre Match tour. If you need a VIP private tour, we can arrange that for you, too!
In particular, using color masks during Lucha Libre is one of the highlights of the match, as they represent the luchador's persona in specific matches.
Lucha Libre Mexico City is one of the best things to do in the capital, and it is unique to Mexican culture, so make sure to add this to your Mexico City itinerary!
Plan your trip to Mexico with us! Get expert travel advice and customized trip-planning itinerary from our local experts on the ground.
🤼🏽‍♂️ Lucha Libre Mexico City Travel Guide
Where to watch Lucha Libre in Mexico City
There are two arenas in Mexico City to watch regular Lucha Libre Mexico City matches.
The Arena Mexico is the undisputed "Cathedral of lucha libre," built especially for the luchas (fights). It hosts regular luchas every Tuesday, Friday, and Sunday.
Here, you can see some of Mexico's most well-known luchadors (wrestlers), such as Máximo and Shocker, being threatened with removing their trademark masks and their masculinity, pride, and reputation.
Another arena where you can watch Lucha shows is the Arena Coliseo. Also known as the Lagunilla Funnel, this arena was the first lucha libre arena before the Arena Mexico took over.
And despite actually having been around for longer than its rival, this smaller and older arena didn't have the capacity of more than 16,000 people (total of Arena Mexico).
🛑 Safety Tip: These arenas are not in Roma and Condesa areas. While it is relatively safe, be mindful when walking around the arena at night. Don't walk alone or venture in streets you don't know. Take the taxi in front of the arena.
Lucha Libre Mexico City ticket prices
Lucha Libre ticket prices in Mexico City vary depending on the seating section and the event's popularity.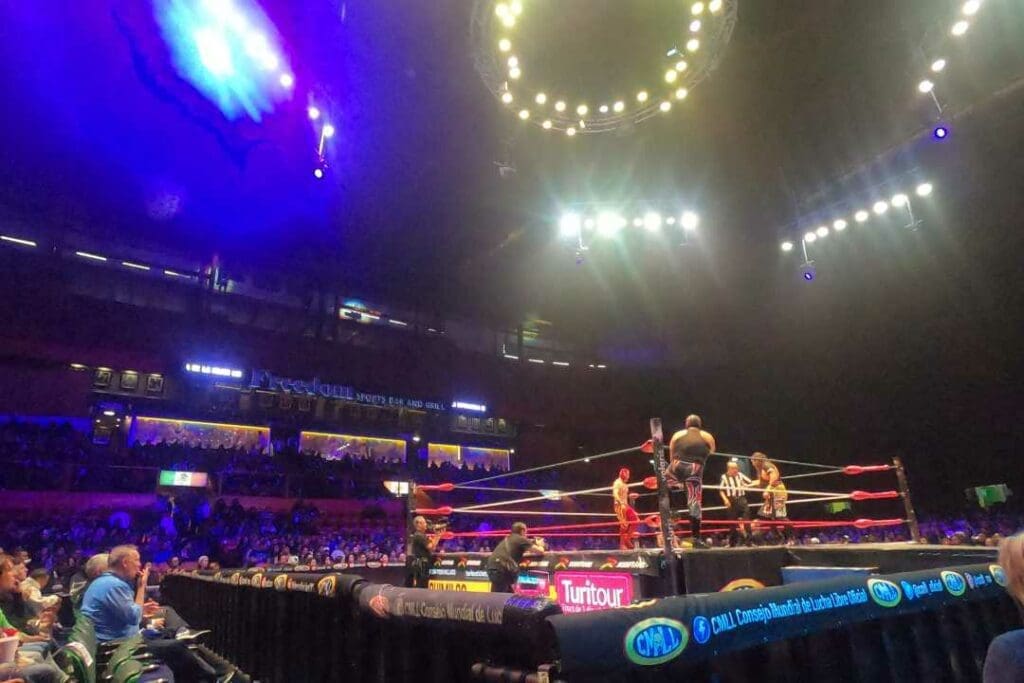 Generally, ticket prices start around $7 USD for general admission or basic seating, and they can go up to $35 USD or more for premium seating or ringside tickets.
🎟️ Purchasing online: While you can buy tickets at the venue, Arena Mexico is a busy place so don't risk it and buy your tickets online. [Book Lucha Libre tickets online]
Schedule for Lucha Libre Mexico City
Lucha Libre shows in Mexico City are typically held every Friday and Sunday. There are also regular shows in Arena Mexico every Tuesday, and it's always recommended to check the schedule in advance, as there may be occasional variations or special events on other days of the week.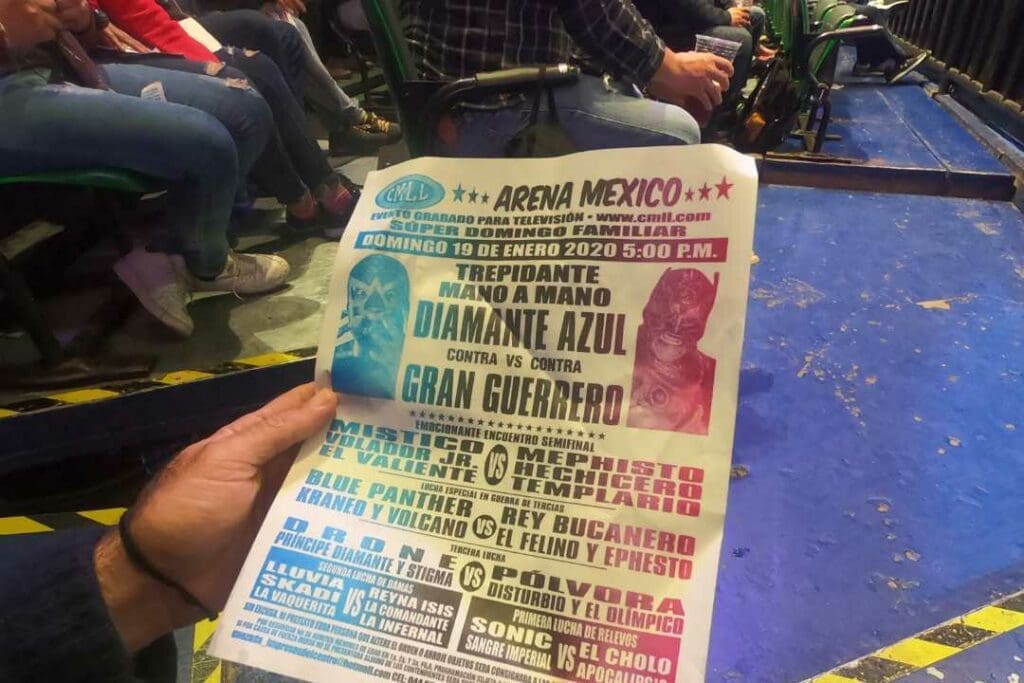 ⏰ Where to check show times: You can check schedules here for Lucha Libre Mexico City shows. This is a real-time daily schedule where you can see the show times.
Duration of a Lucha Libre show in Mexico City
The duration of a Lucha Libre fight can vary, but typically individual matches last around 10 to 20 minutes. More or less, your ticket includes more than 5 matches.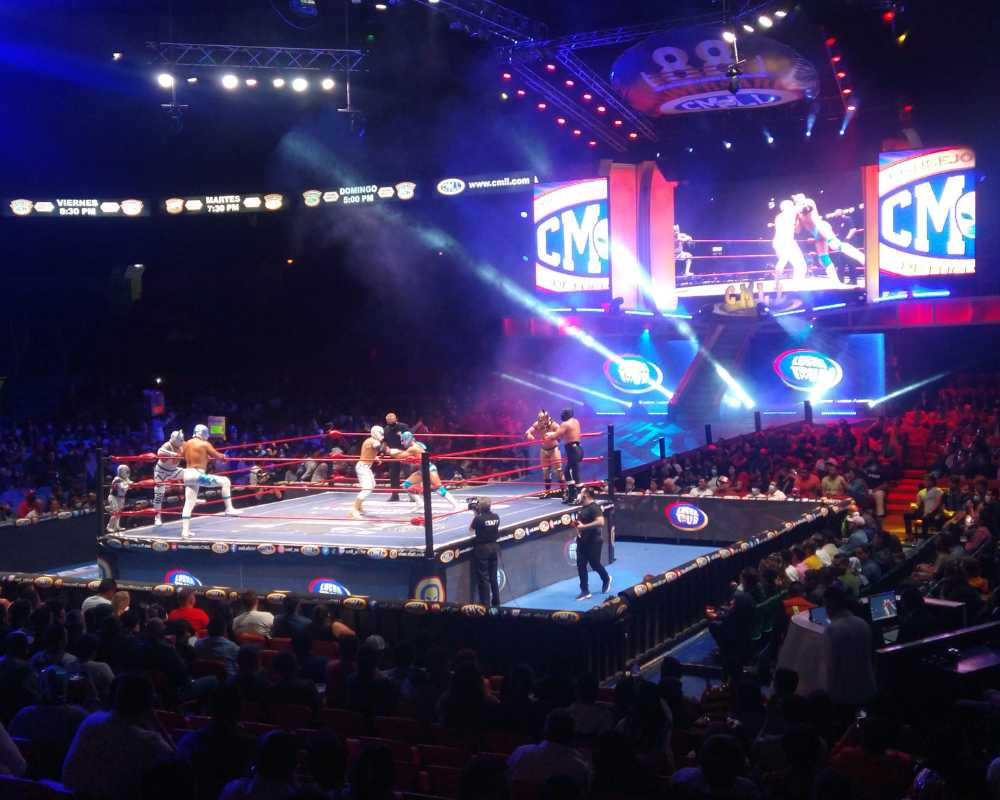 The overall length of a Lucha Libre event can range from 2-3 hours, including multiple matches and intermissions.
🦹‍♀️ Best Lucha Libre Mexico City tours
✨ Tips for watching Lucha Libre in Mexico City
You can go on a Lucha Libre without a tour
Going to a Lucha Libre Mexico City show without a tour is very much possible. Arena Mexico and La Arena Coliseo are popular venues to buy tickets directly. You can even purchase tickets in advance online.
The difference, however, is that a tour can provide additional context and insights. You can easily take an Uber from your hotel to the Arena, but purchase tickets in advance.
Buying Lucha Libre tickets at the door
While it is possible, I do not advise you to do it. This show is always full and busy, so if you show up without a ticket, there is a possibility you won't get one.
If you plan to buy your tickets at the door, arrive extra early (probably 2 hours before the show).
🍺 Tip: If you arrive early, Fritz is a good German bar to hang out and kill time! (open from 1 PM)
Engage with the crowd
Lucha Libre matches are as much about the crowd as they are about the wrestling. Don't be shy to join in with the chants and cheers. But remember, always be respectful to the wrestlers and the fans around you.
Understand the mask culture
The masks worn by the luchadores carry a rich symbolism and are a crucial aspect of their identity. If a luchador loses a match and must remove his mask, it's a significant event. Try to learn a bit about this tradition before you go, to deepen your understanding and appreciation of the event.
Food and drinks while watching Lucha Libre
Make sure to try the typical event food and drinks, like the Micheladas (a beer cocktail) or some of the street food outside of the arenas. Many vendors are in the vicinity of the arena, selling everything from tacos to tortas.
Lucha Libre Souvenirs
You'll see plenty of vendors selling a variety of Lucha Libre masks. They are not just for show; audience members often wear them during the matches.
Also, you can buy mini luchador figurines, t-shirts, and posters as a memento of your experience.
Respect the heel
In Lucha Libre, as in other forms of professional wrestling, there's often a clear 'heel' (villain) and 'face' (hero). Audiences often play along with the storyline, booing the heel and cheering the face. It's all part of the fun!
Some days of the week feature specific types of matches
For example, Friday nights at Arena Mexico often feature the most popular and experienced luchadores. Sundays might be more family-oriented shows with a mix of experienced and novice luchadores.
Visiting small and local Lucha Libre Mexico City arenas
If you can, visit some of the smaller local arenas too. The atmosphere can be more intimate, and you can often get closer to the action.
Visiting a smaller local arena can give you a different perspective on Lucha Libre. The shows are usually more intimate, and you can get closer to the action.
You may also see more experimental matches and younger luchadores just starting their careers. The fans at these shows are often very passionate, which can add to the experience.
Arena Coliseo: Known as "the Lagunilla Funnel" due to its location, it's one of the oldest Lucha Libre arenas in Mexico City, and the CMLL also operates it. Smaller than Arena Mexico, it offers a more intimate setting for the fights.
Arena Naucalpan: This is the home of International Wrestling Revolution Group (IWRG), one of the main independent lucha promotions. It's located in the Naucalpan municipality, just outside of Mexico City. The arena hosts matches every Sunday and has a strong local fanbase.
Arena Neza: Located in the Nezahualcoyotl municipality, it's known for its raucous atmosphere. This is another great option to see more grassroots Lucha Libre with a mix of local and more well-known luchadores.
Arena Lopez Mateos: This is another very popular independent venue, located in Tlalnepantla, to the north of Mexico City. They host a mix of local shows and events from smaller promotions.
Arena San Juan Pantitlan: This arena hosts shows from various independent promotions and has earned a reputation for hosting some of the region's more innovative and exciting matches.
🛑 Safety Tip: If you are not comfortable in blending in, some of these areas are not recommended for tourists in terms of safety. Be go with a local when visiting local Lucha Libre arenas. There aren't tours for these so you really need to find a chilango friend to go with!
Don't expect to understand everything
Lucha Libre matches have complex storylines and traditions. If you're new to Lucha Libre, you might not understand everything that's going on, and that's okay! Enjoy the spectacle, the athleticism, and the energy of the crowd.
Remember, a Lucha Libre show is not just a sporting event, it's a cultural experience. Immerse yourself, and enjoy the vibrant atmosphere.
You can also watch Lucha Libre in other parts of Mexico
If you missed the Lucha Libre Mexico City shows, don't worry! This is not only limited to the capital so if you are continuing your journey to other Mexican destinations, below are the cities that also host Lucha Libre:
Guadalajara: Guadalajara is the second largest city in Mexico and home to Arena Coliseo Guadalajara, another major venue for Lucha Libre. CMLL also runs it and has matches usually on Tuesdays and Sundays.
Puebla: In Puebla, you can visit Arena Puebla, one of Mexico's oldest arenas. They typically host shows every Monday night, often featuring wrestlers from the CMLL.
Monterrey: Monterrey is a hotbed for Lucha Libre. The city's Arena Coliseo Monterrey and Arena Monterrey regularly host matches from various wrestling promotions.
Tijuana: Tijuana is known for its wrestling culture as well. The Auditorio Municipal Fausto Gutierrez Moreno often hosts Lucha Libre shows.
Acapulco: Acapulco's Centro Internacional Acapulco occasionally hosts Lucha Libre matches.
Torreon: This city is known for its wrestling, with events often held at the local wrestling gym, Gimnasio de la Unidad Deportiva Torreón.
Xalapa: The state capital of Veracruz, Xalapa also has a lively Lucha Libre scene, with Arena Xalapa hosting regular events.
⁉️ FAQ: Lucha Libre Mexico City
Trisha traveled to Mexico in 2018 and after a year, she found herself obtaining a 4-year residency visa in Mexico. She is the Editor-in-chief for our Living in Mexico Series which has helped over 3,000 Americans move to Mexico with ease. Trisha currently resides in Cabo San Lucas, Baja California Sur.