Frida Kahlo Museum, also known as La Casa Azul (The Blue House) is one of the most visited museums in Mexico. This guide will tell you everything you need to know about visiting this famous museum in Mexico City.
I am not Mexican, but when I was young, my mother would always dress up like Frida and have Frida-themed parties with her friends.
I always wondered who this person was and why the world imitated her extremely strange outfits and flowers around their head.
🇲🇽 Want a customized and personalized Frida Kahlo Museum tour? We can arrange that for you according to your travel preference! [Chat with us]
Where I am from, this is a very popular Halloween costume. Even though people have no idea who Frida was, her portrait is famous in my country – an image of love, art, fear, suffering, and the joy of being alive.
Finally, I moved to Mexico and was able to visit the Frida Kahlo blue house. In this guide, I will share with you some of my experiences including Frida's colorful life history.
Plan your trip to Mexico with us! Get expert travel advice and customized trip-planning itinerary from our local experts on the ground.
🙋 Is it worth visiting Frida Kahlo Museum?
I enjoyed the whole tour and the only negative thing I can say about it is that the number of people seemed to be uncontrolled.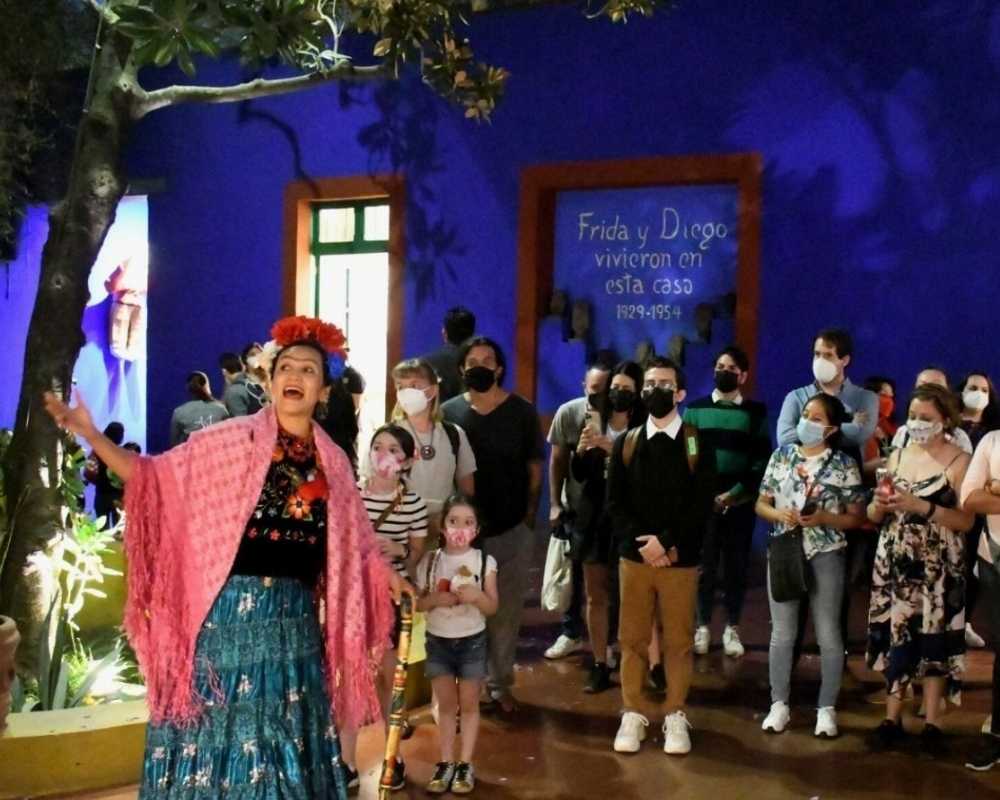 They say that they are monitoring the people entering every hour and that there's a certain number per day but I still found it very crowded inside.
I even missed the inside of the house because the line was just really long. On the other hand, the museum is worth visiting because, well, this is Frida's house. That's enough reason to visit!
🖼️ Frida Kahlo Museum tickets
Where to buy Frida Kahlo Museum tickets
There are no in-person ticket sales for the museum. To get access, you need to purchase them online or sign up for a tour.
This online ticket portal is always sold out, so it's best if you buy way in advance (1-3 months).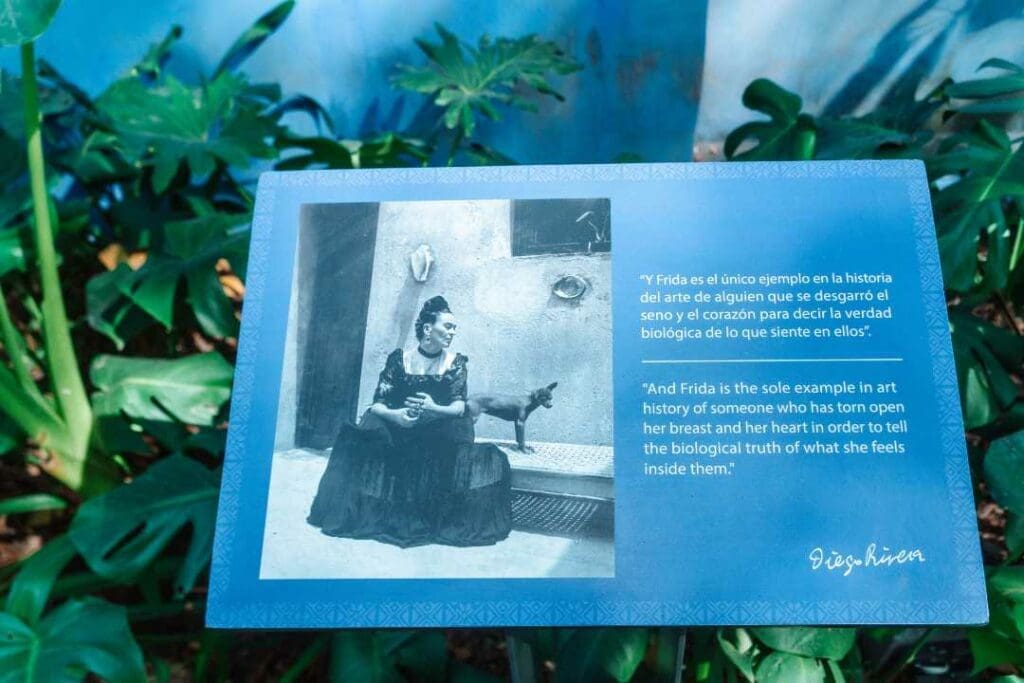 🎟️ The website to buy tickets above is in Spanish but you can purchase it in an English website, which is a little bit more expensive. [Book tickets on English website]
Prices for Frida Kahlo Museum tickets
Below are the prices for weekdays, Monday to Friday:
250 pesos ($15 USD): general admission/foreigners
110 pesos ($7 USD): Mexican citizens with an official ID
Weekend prices are different, so please refer to the list below:
$270 MXN ($16 USD): general admission/foreigners
130 pesos ($8 USD): Mexican citizens with an official ID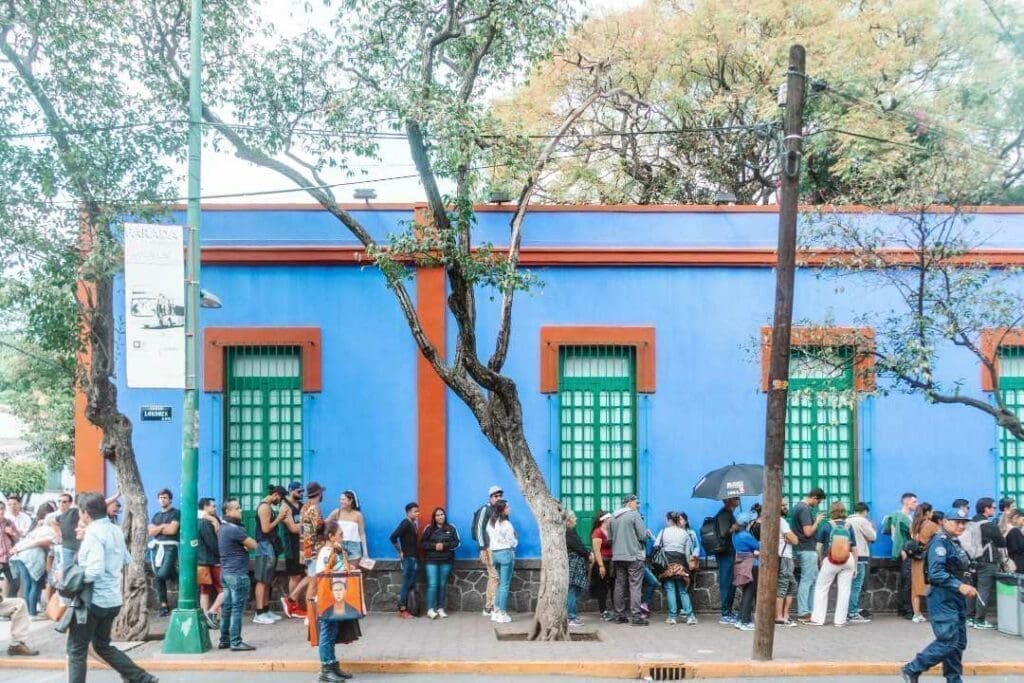 Students and teachers who can present valid enrolment identification have different price ranges. High school, University students and teachers pay 50 pesos ($3 USD) all days of the week.
All week, elementary students and seniors (with ID) are charged 25 pesos ($1.50 USD).
Frida Kahlo Museum offers free entrance to children ages 8 and below, persons with a disability, and even people who want to see the museum but don't have money to pay as long as they request it in advance.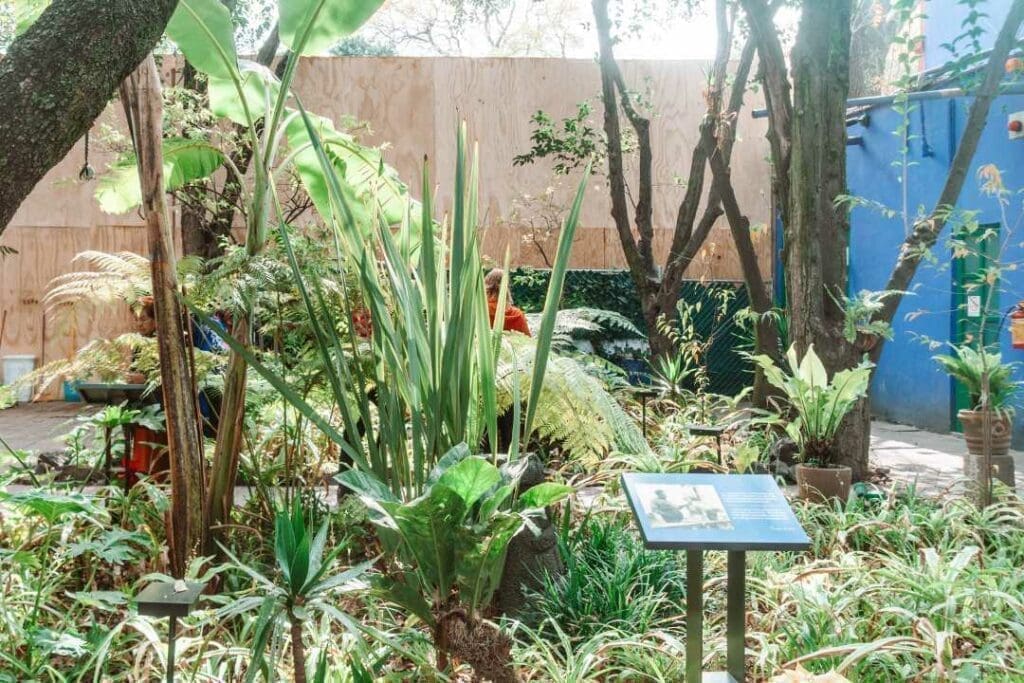 Other fees and tickets include:
50 pesos ($3 USD): tour guides and travel operators
30 pesos ($1.80 USD): permission to take photographs without a flash (indoor areas). Taking pictures outdoors are allowed and free of charge.
💲 These prices include a courtesy visit to Diego Rivera Anahuacalli Museum.
Lastly, if you are not visiting the museum with a guide, you can pay for a video guide for 80 pesos ($4.78 USD). Students with valid IDs can get it for 50 pesos ($3 USD).
Note that this is limited and is subject to availability. You can pay for this at the museum.
Frida Kahlo Museum virtual tour
If you are not in Mexico City and want to see the blue house, the museum also offers virtual tours where you can freely navigate the museum on your own!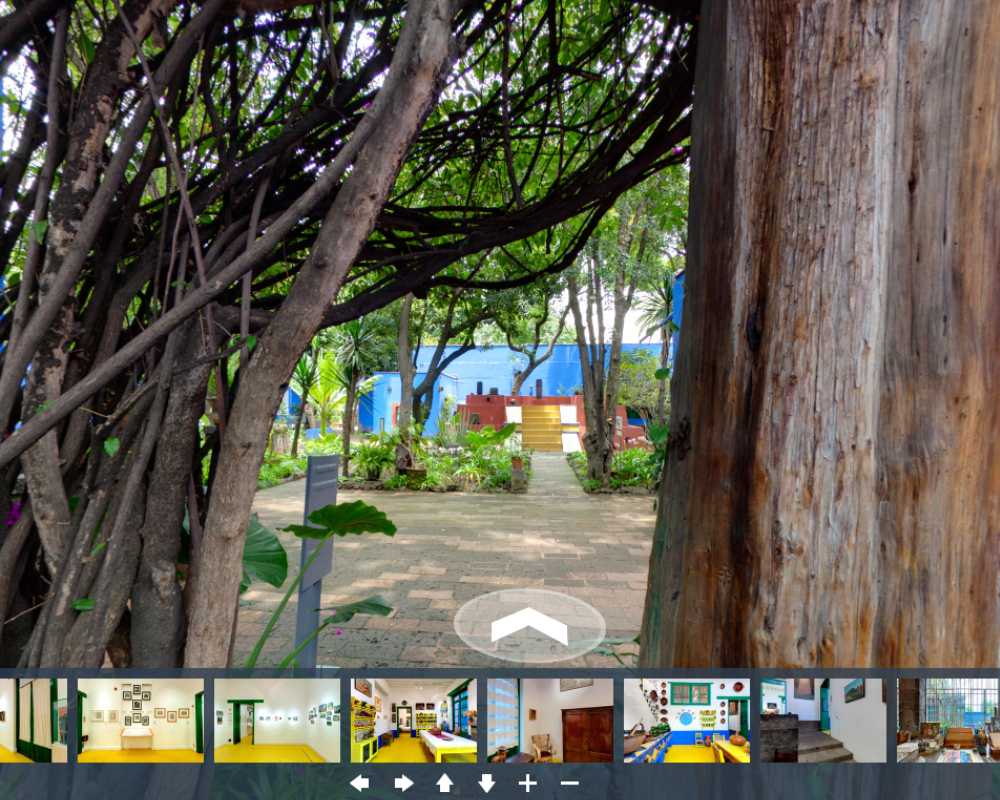 Click here to view Frida's house from the comfort of your home. It's FREE!
🎨 Things to do inside Frida Kahlo Museum
At the Frida Kahlo Museum, you can engage in a variety of activities to appreciate and learn about the life and work of the celebrated Mexican artist. Some of the things you can do at the museum include:
Explore the Blue House
The museum is housed in La Casa Azul, the vibrant blue residence where Frida Kahlo was born, lived, and died.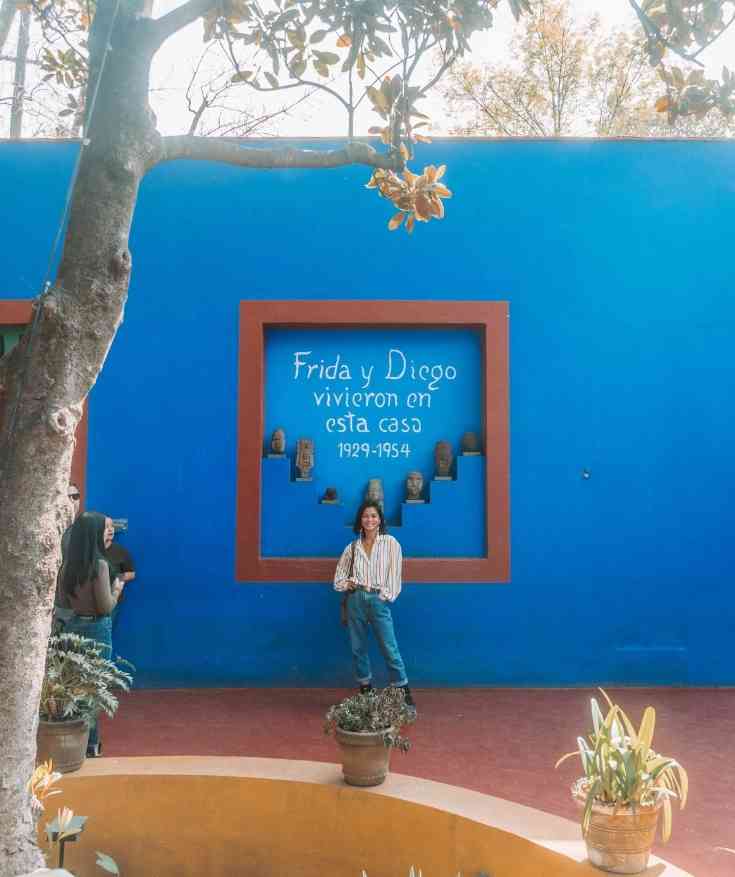 You can walk through the rooms of the house, which are preserved to reflect the time when Kahlo and her husband, Diego Rivera, lived there.
View artworks
The museum showcases a collection of Frida Kahlo's paintings, including some of her most famous works as well as lesser-known pieces.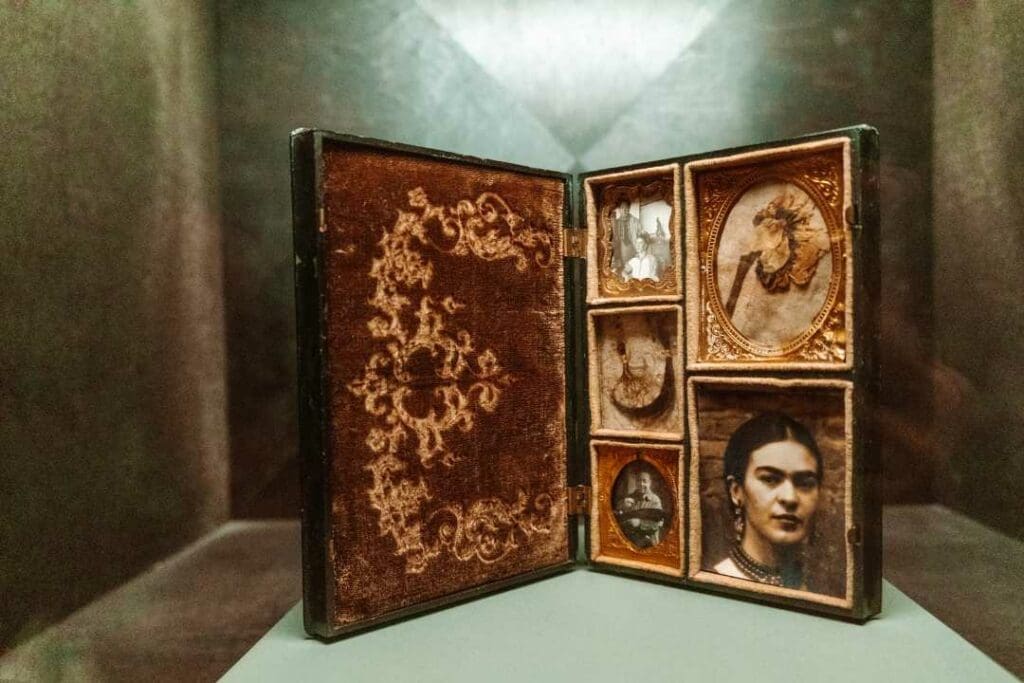 You can admire her art and learn about her unique style and themes.
Discover personal belongings
The museum exhibits a variety of Kahlo's personal items, such as her clothing, jewelry, and wheelchair. These objects offer a glimpse into her life and the challenges she faced due to her physical disabilities.
Learn about Diego Rivera
As the home of both Frida Kahlo and Diego Rivera, the museum also features some of Rivera's artwork and personal items, allowing visitors to learn about the couple's life together and their impact on each other's work.
Explore the garden
The Blue House is surrounded by a lush garden filled with native plants, sculptures, and a replica of the pyramid structure that Kahlo and Rivera had in their original garden.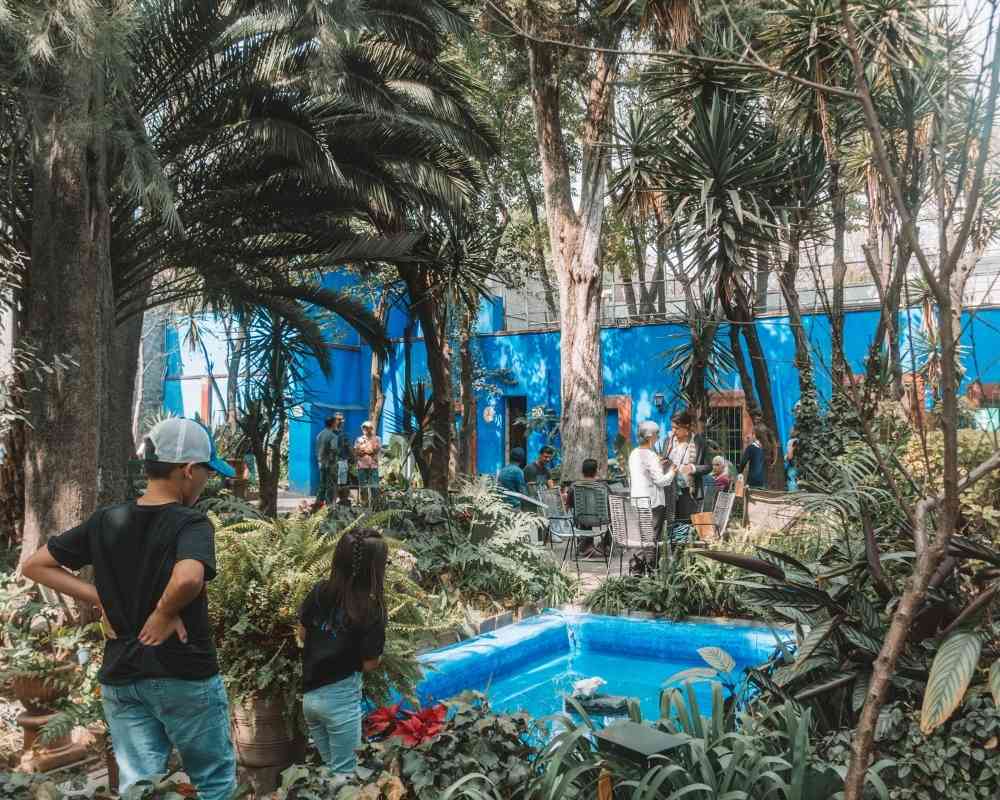 You can spend time in the garden, appreciating the serene atmosphere and the connection to the artists' lives.
Attend events or workshops
The museum occasionally hosts temporary exhibitions, workshops, lectures, or other events related to Frida Kahlo, Diego Rivera, or Mexican art and culture in general.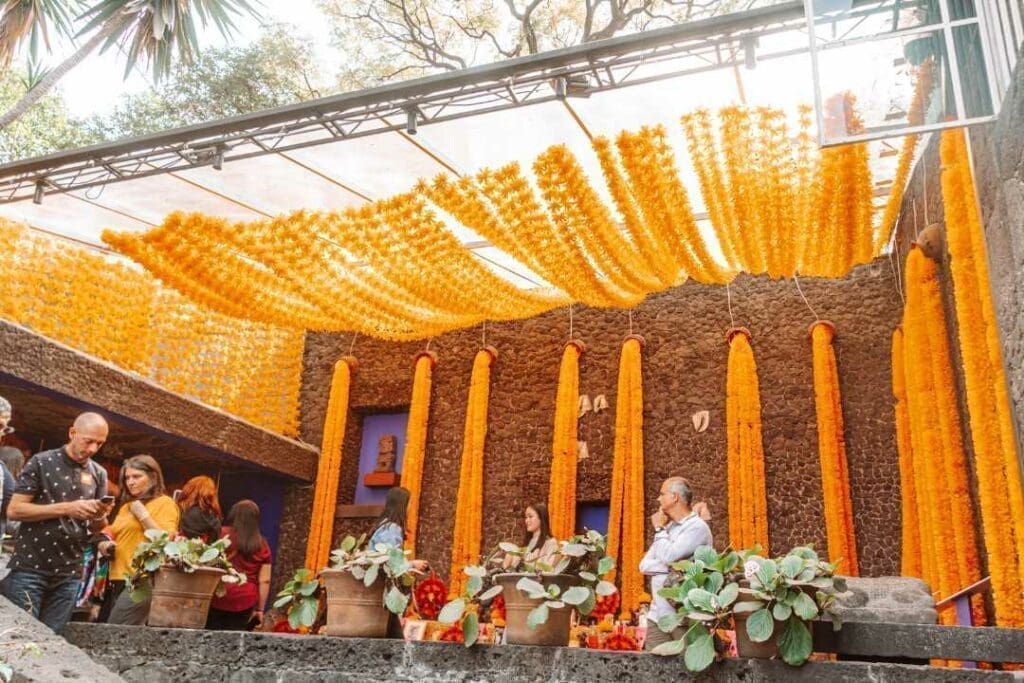 You can check the museum's official website or social media channels for information on upcoming events during your visit.
Watch performances
You can watch the museum performance called "Feet, what do I need them for, if I have wings to fly," a famous quote by Frida Kahlo brought to life by the Luna de Plata Theatre Association.
Get on the Fridabus
The Fridabus is an activity where you can visit the Frida Kahlo Museum and Diego Rivera Anahuacalli at the same time.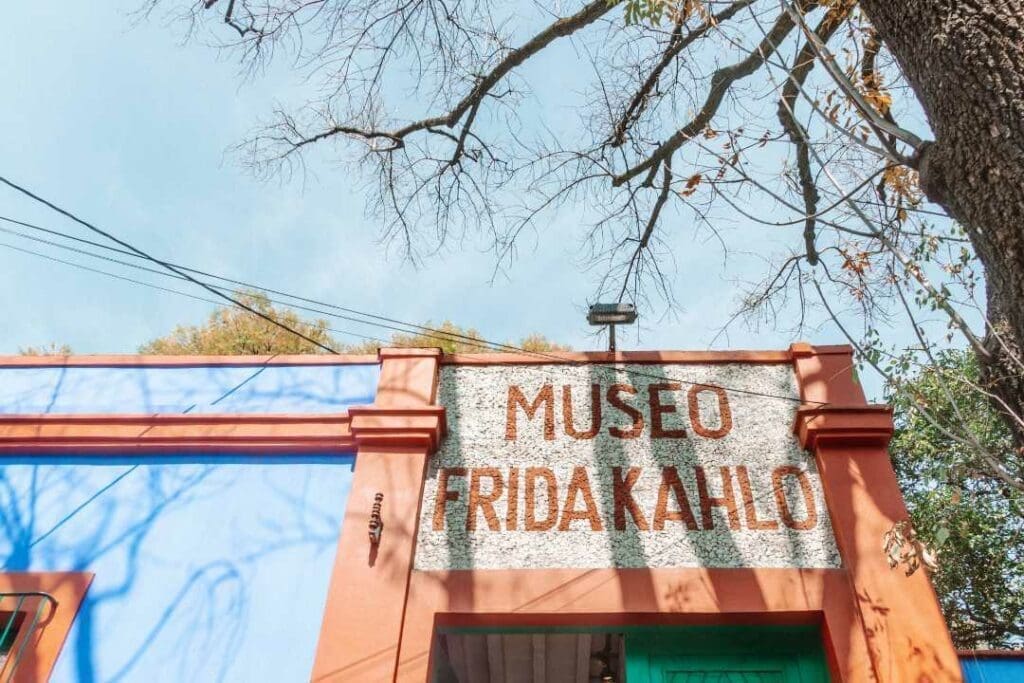 It costs 160 pesos ($10 USD) for adults and 80 pesos ($5 USD) for children below 8 years of age. Prices already include the tickets to both museums and transportation.
🎟️ You can only buy this ticket at the gates of the Frida Kahlo Museum and it only runs every weekend.
Coffee shop at the Frida Kahlo Museum
There is a souvenir shop inside the museum where you can buy souvenirs and order coffee while sitting at the garden.
The shop is open from Tuesday to Sunday (10 AM – 6 PM) and Wednesdays from 11 AM – 6 PM.
🧭 Book Frida Kahlo Museum tours
📋 11 important rules when visiting the museum
These are some rules you should take note when visiting the museum:
Backpacks no larger than 35 x 20 cm (13¾ x 7⅞ inches) are allowed in the museum. If your backpack is larger, you can leave it at reception. The coat room is temporarily unavailable until further notice so travel light!
Once you exit, you cannot re-enter the museum.
You can take photos without a flash only in the outdoor areas. If you are taking photos inside the exhibits, you must pay for a permit for 30 pesos ($1.79 USD). Still, flash is not allowed indoors. Video recording is not allowed.
Do not touch anything in the museum.
Bring a face mask as it is still required in the museum.
Suitcases, sharp objects, chewing gum, and firearms are not allowed in the museum.
You can't bring umbrellas, food, toys, liquids, selfie sticks, strollers, and baby carriers to the museum.
Only service animals that can provide a medical document/certification are allowed inside.
Don't wear hats, caps, and sunglasses inside.
Do not cross barriers in restricted areas.
No running for children. Make sure your kids are supervised.
🤩 Why is Frida Kahlo Museum popular?
Frida Kahlo Museum is popular because it offers a unique and personal perspective on the life and work of a beloved artist, allowing visitors to connect with her in a way that may not be possible through her art alone.
Below are some reasons why Frida Kahlo Museum is popular:
Connection to Frida Kahlo
The museum was the birthplace and residence of Frida Kahlo, one of Mexico's most celebrated artists. Kahlo is known for her powerful self-portraits and unique artistic style.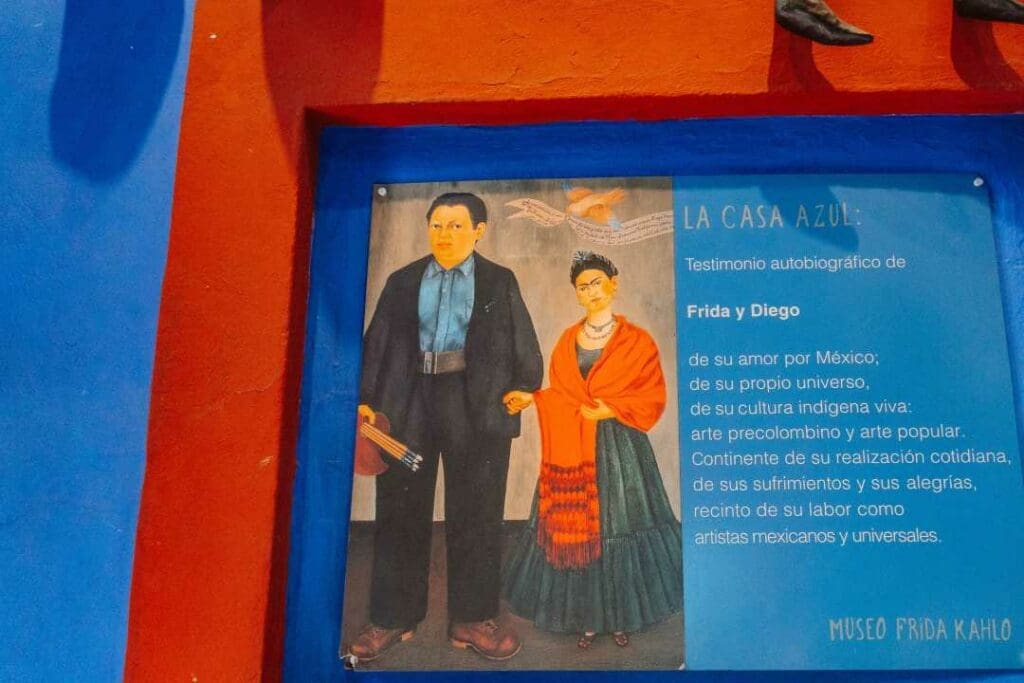 The museum offers a glimpse into her life and the environment in which she created her art.
Personal belongings and artwork
The museum displays a collection of Kahlo's personal belongings, such as clothing, jewelry, and her wheelchair, providing an intimate look at her life.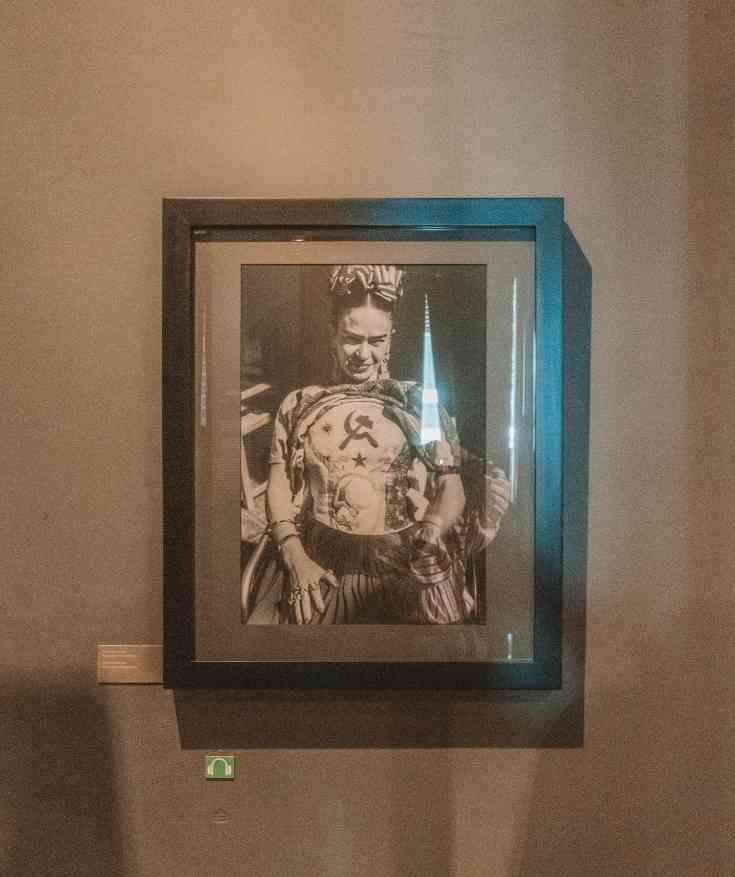 Additionally, some of her most iconic paintings and lesser-known works are exhibited, offering visitors a chance to see her art up close.
Diego Rivera's influence
Frida Kahlo's husband, Diego Rivera, was a renowned Mexican muralist. The couple's shared life and creative partnership are evident in the museum, showcasing some of Rivera's artwork and belongings.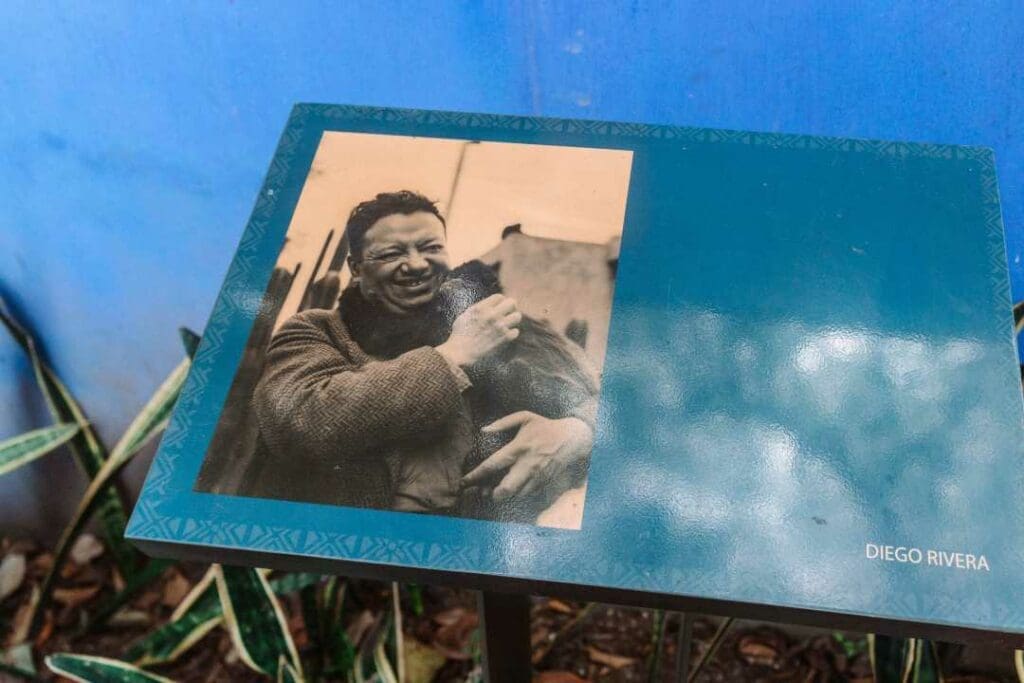 Cultural and historical significance
The museum not only celebrates the life and work of Frida Kahlo but also provides insight into Mexican culture and history during her time.
The architecture, furniture, and artifacts on display help visitors understand the social and cultural context in which Kahlo and Rivera lived.
Beautiful setting
The Blue House is known for its vibrant blue walls and lush garden, which create a serene and inspiring atmosphere.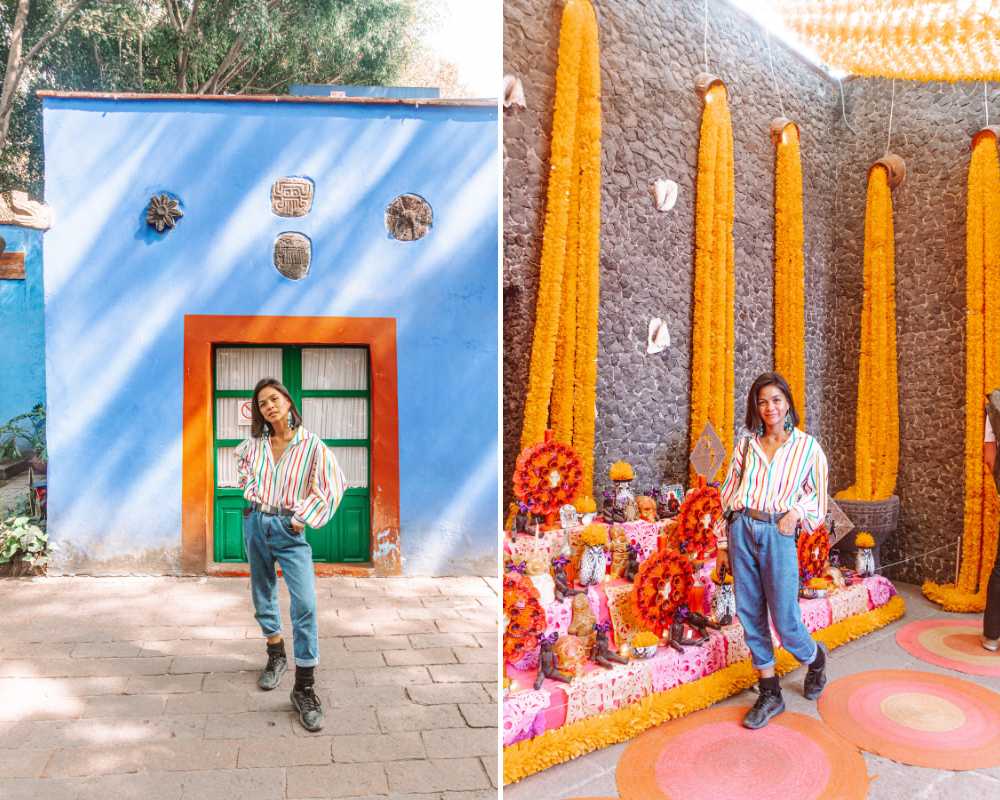 You can have the opportunity to explore the house and garden, which provide a lovely backdrop for understanding and appreciating Kahlo's work.
🏺 Frida Kahlo Museum history
Born in 1907 in La Casa Azul in Mexico City, Frida is considered one of Mexico's greatest artists. The blue house was built by his father Guillermo Kahlo in 1904 and this is where Frida grew up and died.
During the Mexican Revolution, the Kahlo family was financially challenged and they were not able to pay the mortgage, including Frida's medical care.
This is when Frida's husband, Diego Rivera came into the picture. He purchased the home which paid off the mortgage and debt that Frida's father accumulated, both in building the house and paying for Frida's accident.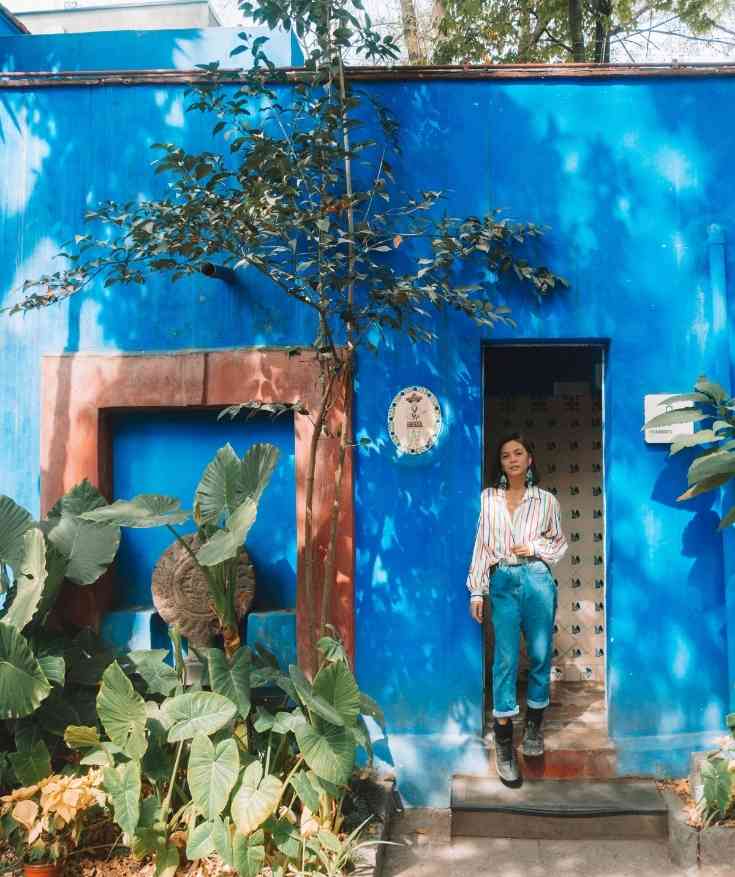 At age 6, Frida contracted polio which crippled her right leg. It grew shorter than her left leg which made her limp.
When Frida was 18, the bus she was riding collided with a trolley car, making her paralyzed for most of her life.
As she experienced poor health at a very young age, Frida's revolutionary work inspired many of us today – that one's life should not stop because of these 'pains.'
Frida continued to live the life she always imagined by doing what she loved most: art. Little did she know that one day, she will be a big icon not just in Mexico but all over the world.
Inside the Frida Kahlo house
Frida Kahlo's house is exaggeratedly blue, an iconic color in Mexico. There is a massive courtyard with a souvenir shop with seating areas surrounded by plants.
But part of this visit that I enjoyed the most was Frida's collection of clothes. You've seen how Frida expressed herself through her clothing.
This is called Tehuana traditional clothing, a fascinating matriarchal society based in the Isthmus of Tehuantepec, Oaxaca State, Mexico.
The name Tehuantepec was given by the Aztecs. It signifies the corridor of land on which the people reside.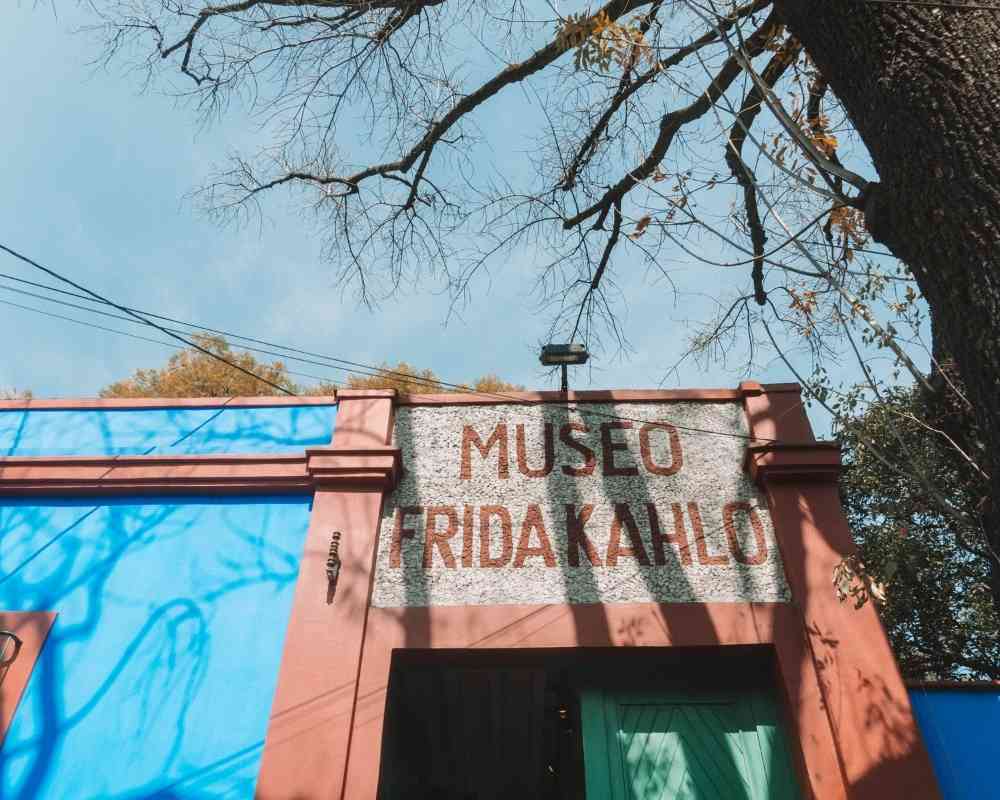 For Frida Kahlo, the Tehuana traditional dress is not only an object that she adopted to her body to hide her imperfections but something she fused with and wore like a second skin.
The Tehuana matriarchal society is administrated and dominated by women, and as such, their traditional attire is a strong symbol of female power and independence.
It has been said that Frida adopted this image to please her husband, Diego Rivera who was fond of the powerful Zapotec women from this region of Mexico.
Nonetheless, this exhibition of Frida's dresses proposes that far from being a simple act of love, her use of a hybrid dress was a calculated stylization.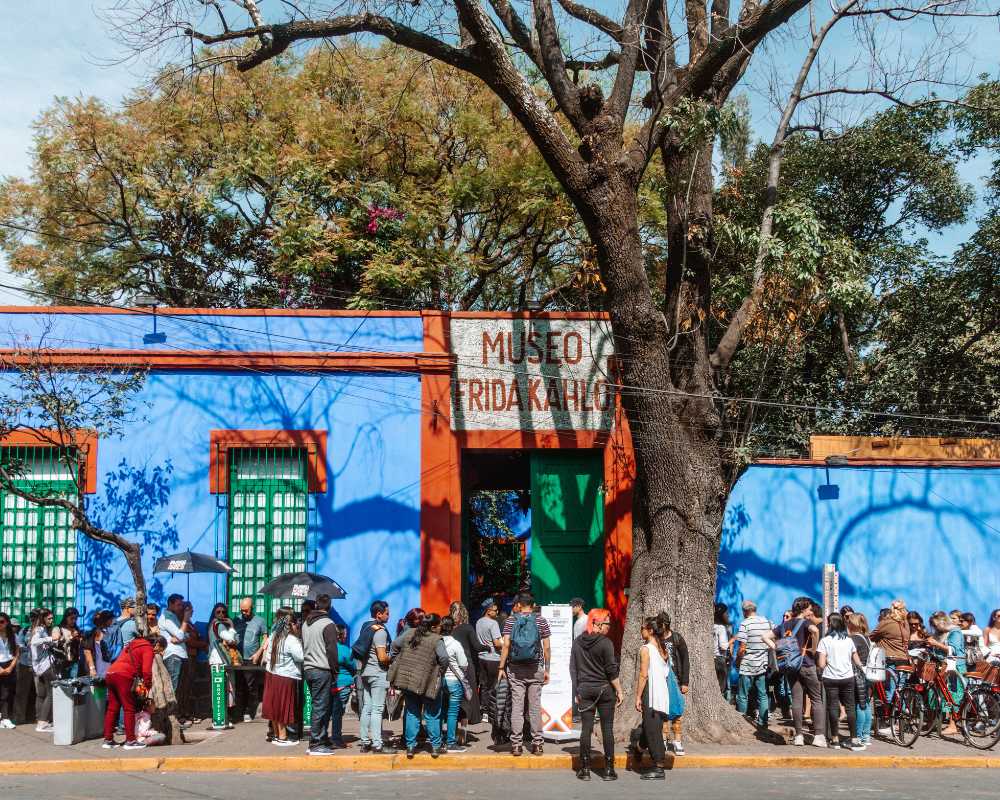 Frida Kahlo was able to perceive the semiotic quality of clothing, which lies within its role as a metaphorical vehicle, and is also easily understood by the eye of the onlooker.
Frida's use of this traditional dress to strengthen her identity, reaffirm her political beliefs, and conceal her imperfections also built on her own sense of heritage and personal history.
These wardrobes were only discovered in La Casa Azul in April 2004. It was hidden in the upper part of the house, in a tiled bathroom adjacent to Frida's room.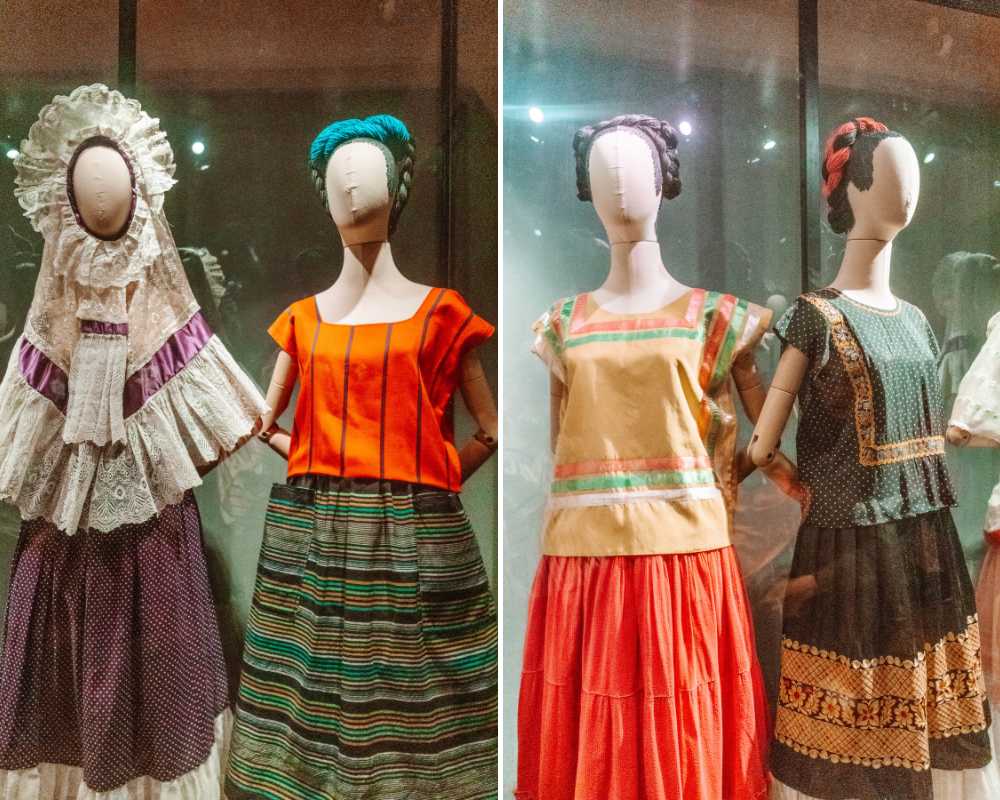 Her clothes were kept for more than 50 years at the request of her husband, muralist Diego Rivera. Around 300 dresses and jewelry, including her orthopedic wardrobes were discovered.
Another interesting thing is the display of her orthopedic devices in the Frida Kahlo Museum. Below is a text by author Hayden Herrera, published Frida: A Biography of Frida Kahlo.
Disability: a body less than perfect
Frida started identifying clothes as tools to create her own identity and conceal her physical imperfections at a very early age.
Two tragedies that were to befall Frida, even before she reached what is today considered the age of adulthood, would inform her wardrobe as much as they were to later form the bedrock of her existence and her art.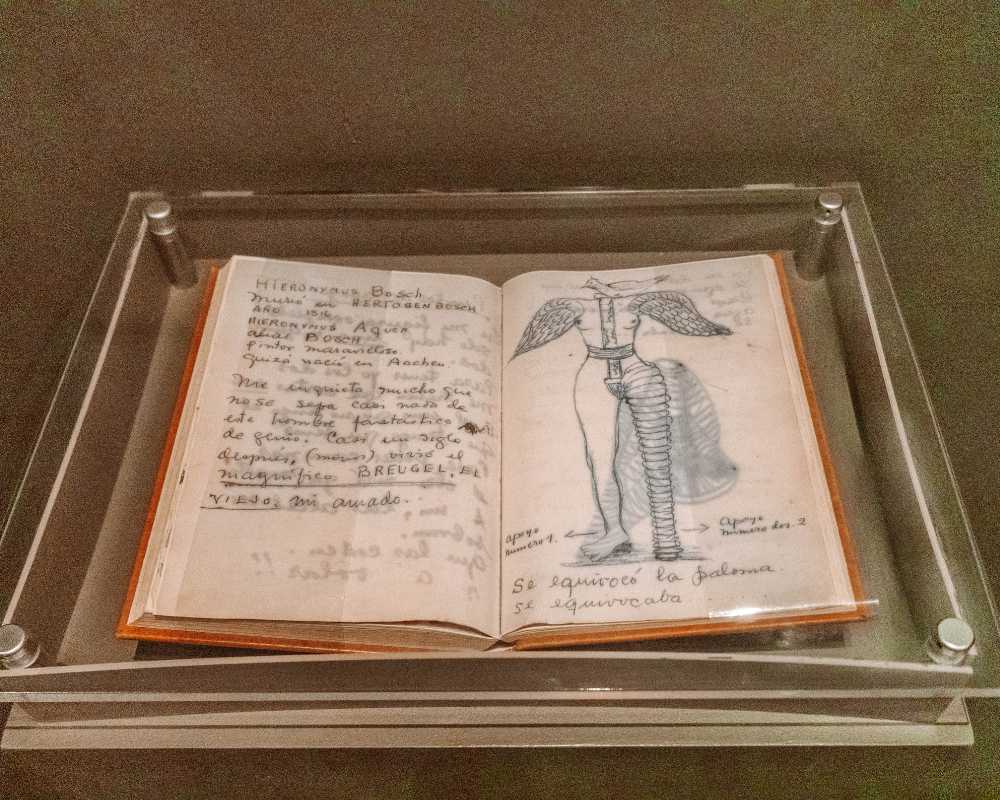 At the age of 6, Kahlo contracted polio: "it all started with a terrible pain at the upper part of my right leg." As a result, she was left with a withered and shorter leg for life
⁉️ Frida Kahlo Museum FAQ
Trisha traveled to Mexico in 2018 and after a year, she found herself obtaining a 4-year residency visa in Mexico. She is the Editor-in-chief for our Living in Mexico Series which has helped over 3,000 Americans move to Mexico with ease. Trisha currently resides in Cabo San Lucas, Baja California Sur.