Nestled on the edge of Quintana Roo state, the picturesque Laguna Bacalar is one of Mexico's top places to visit.
📥 Hello Trisha and team at Mexico Insider! I recently discovered your website and am impressed by your Mexico travel blogs. I plan to go to Bacalar Lagoon from Cancun or Tulum but I do not know if that's possible for a day trip? Can you give some advice, please? Thank you all and keep up the good content!

Jon Higgins, Nevada
Hola Jon!
Thanks for following and glad you decided to visit Bacalar! Yes, it is possible to visit Bacalar Lagoon (or Laguna Bacalar) from Cancun or Tulum.
It is actually one of the most common routes for travelers since it is easy to go around Quintana Roo—my first advice: rent a car at Cancun International Airport upon arrival.
This will allow you to visit other areas for a day trip. It is also relatively easy and safe to drive around Quintana Roo. Everyone does the same route, so you will meet many people along the way.
You will learn more as you read along this Bacalar Lagoon travel guide and if you have any questions that weren't answered here, I'd be glad to update this post – just let me know!
Good luck and enjoy your trip!
Xx, Trisha
🧐 Questions about Bacalar Mexico? Ask us on Tiktok.
Located at the southern tip of the Yucatan Peninsula, Bacalar Lagoon has a unique shape that resembles a seven-pointed star.
It is surrounded by lush jungles, Mayan villages, and stunningly clear turquoise waters. Moreover, Bacalar Lagoon is home to an impressive history dating back to the ancient Mayans.
Fed by underground rivers and cenotes (sinkholes), Bacalar Lagoon is home to seven different shades of blue, earning it the nickname "Lake of Seven Colors."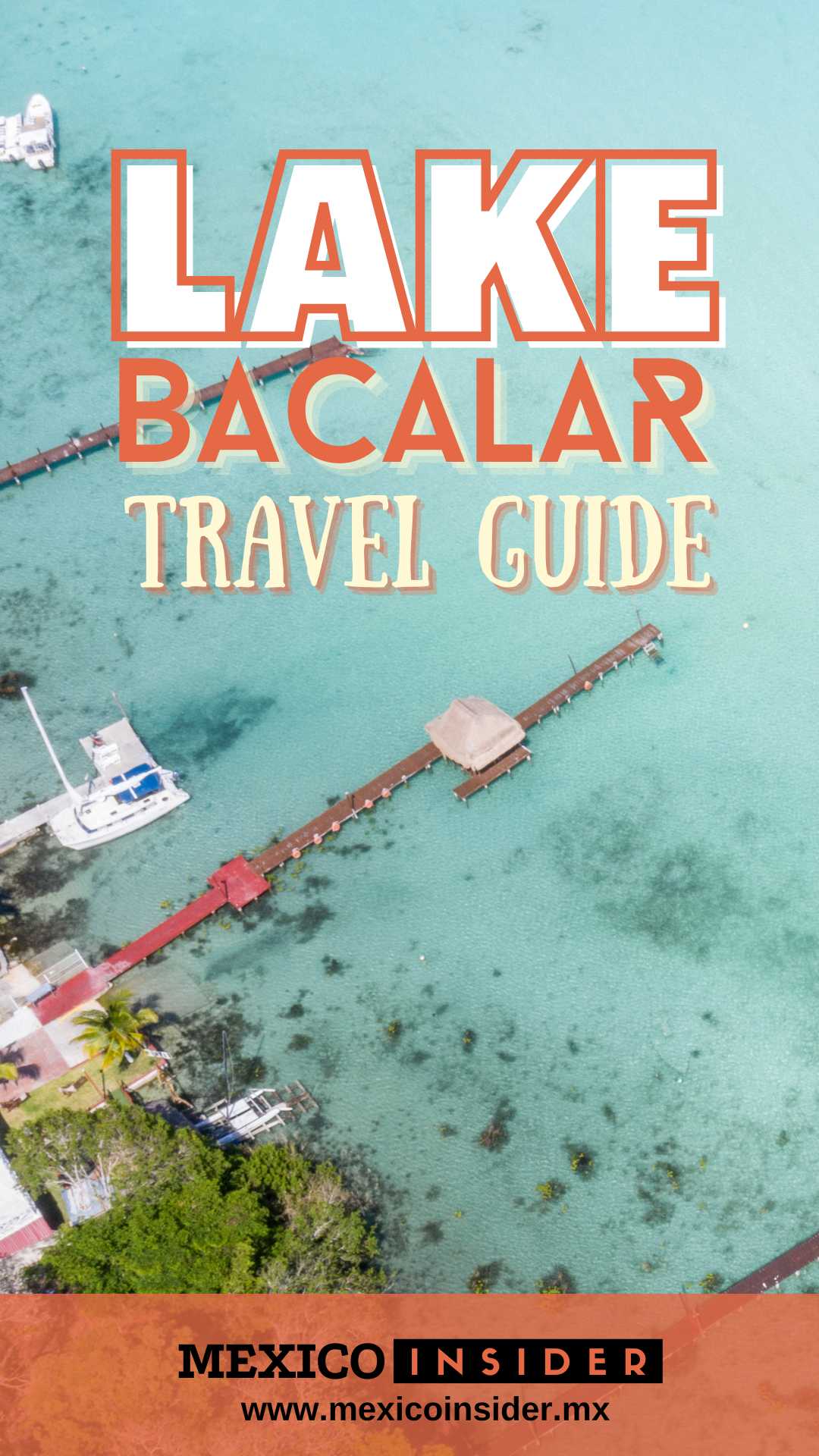 The vivid shades of blue, green, yellow, and grey contrast against the white sandy beaches that line the shores of this stunning lagoon. The crystal clear water reflects each color individually making it appear like a painting.
This body of water has been around since the Mayan times and offers stunning views from crystal blue waters to lush tropical foliage.
Laguna Bacalar: quick links
📍 Where is Laguna Bacalar?
Laguna Bacalar is a stunning, tranquil lake located in the Mexican state of Quintana Roo. With crystal clear waters and lush green mangroves dotting its banks, it's no surprise that this destination has become a popular spot for tourists.
It's also known as Laguna de los Siete Colores due to the seven shades of blue in its waters!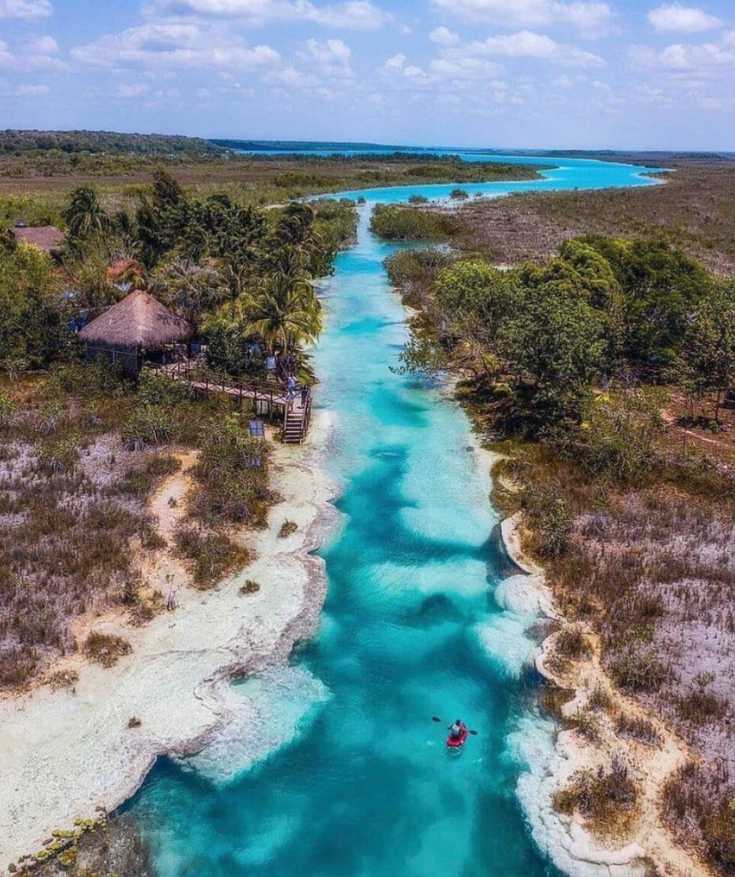 Bacalar Lake is just a few hours' drive from Cancun and Playa del Carmen – making it easy to access from any part of Quintana Roo.
You don't have to stay in the town of Bacalar to see the lake but mind you, they have stunning Airbnbs and ocean villas in Bacalar! It can be a great alternative if you want to avoid the hustle in Cancun and Tulum.
🏊‍♀️ Can you swim in Laguna Bacalar?
Yes, you can swim in Laguna Bacalar! The crystal clear waters make it easy to spot the abundant marine life below the surface.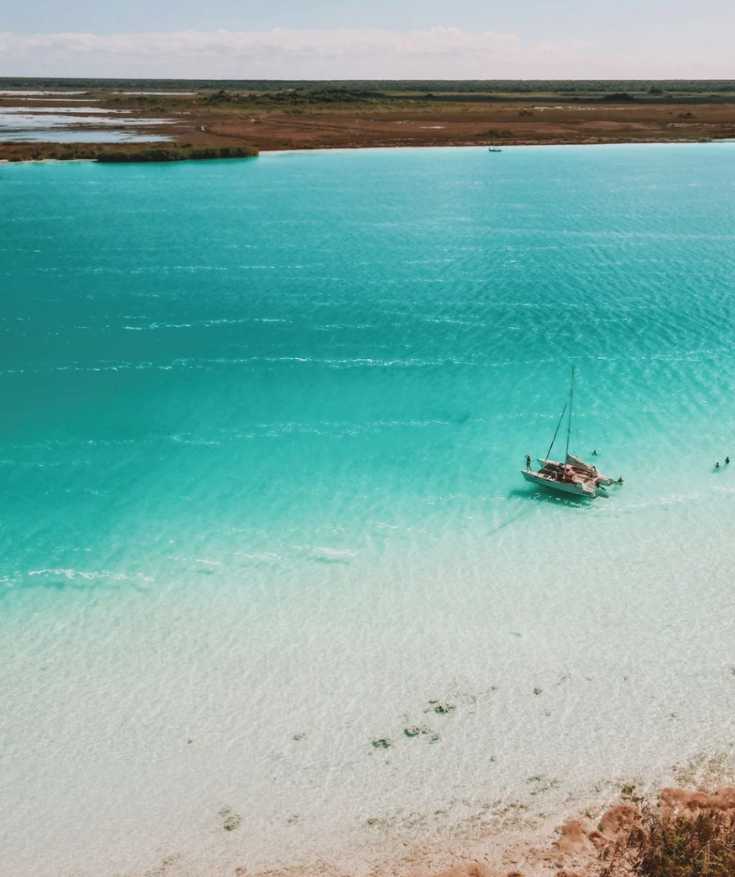 In addition to fish, visitors can also observe turtles, frogs, and even crocodiles from time to time. Swimming here is an incredible experience, and it is safe.
🙋 Is Laguna Bacalar worth visiting?
ABSOLUTELY! Lake Bacalar's incredible turquoise waters make it so special – they're incredibly inviting, and you'll want to jump right in!
In addition to its crystal clear waters, this lake offers plenty of activities, such as swimming, kayaking, or sailing. You can even take a boat tour around the lake for spectacular panoramic views.
Whether looking for an outdoor adventure or just a chance to relax by the lakeside, Laguna Bacalar has something for everyone, even for families traveling with kids!
🗺️ Bacalar Lagoon Map
🚌 Bacalar Lagoon travel guide: getting there from Cancun
First thing's first – book a flight to Cancun International Airport. It's about 3 hours away from Laguna Bacalar.
You can rent a car at Cancun International Airport or take public transportation on the bus to Chetumal, located near Bacalar Lagoon. This will take around 2-3 hours, depending on traffic.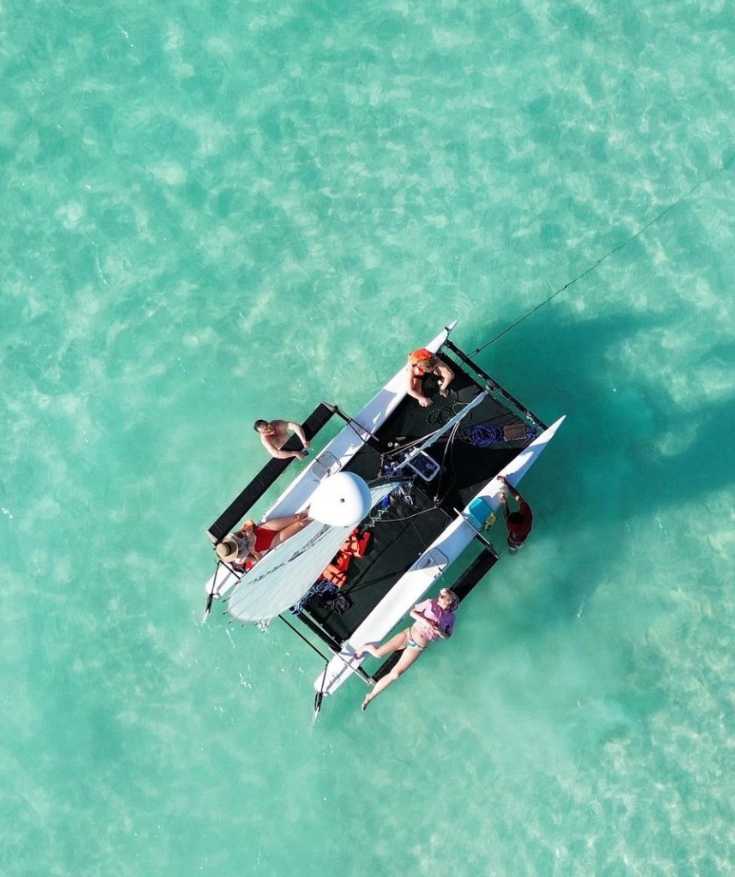 The bus from Cancun to Bacalar takes around 4-5 hours in total but costs less than other modes of transportation. (from $34 USD per person).
🚗 How to get to Bacalar from Tulum
The easiest way to reach Lake Bacalar from Tulum is by car. From downtown Tulum, head south on Highway 307 for about an hour until you reach the lake.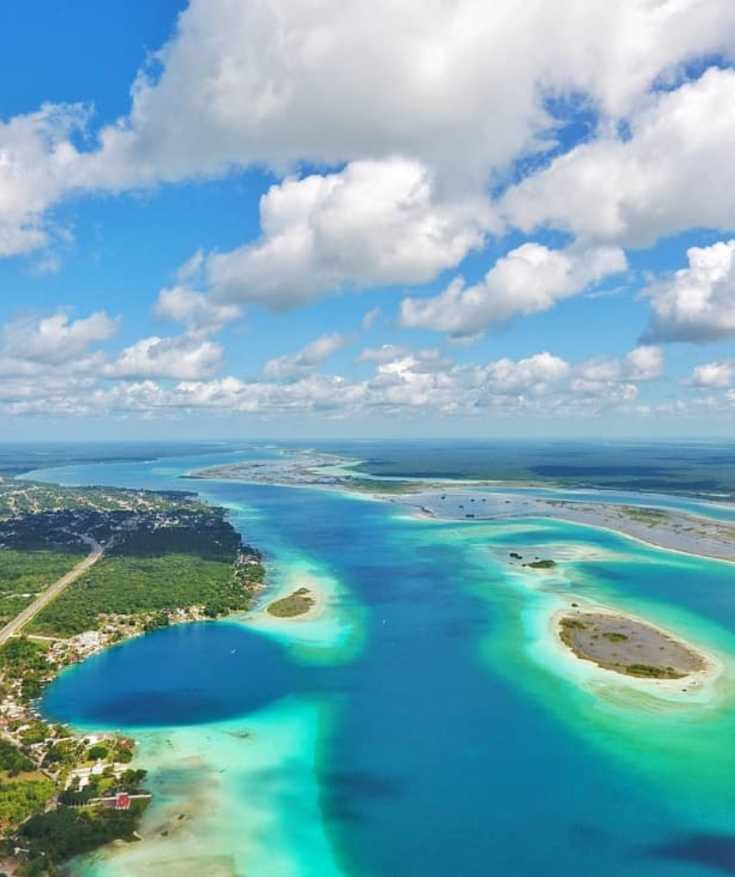 If you don't want to rent a car or drive yourself, plenty of tour companies offer day trips from Tulum to Laguna Bacalar.
The bus from Tulum to Bacalar costs around $18 USD and takes about two hours, depending on traffic.
🚕 How to get to Bacalar from Playa del Carmen
Take the bus from Playa del Carmen to Bacalar and buy tickets online. You can purchase tickets at 5ta Avenida station, located close to many popular hotels in the area.
The ride will take around 3 hours and cost approximately $23 USD per person – not bad for a quick escape!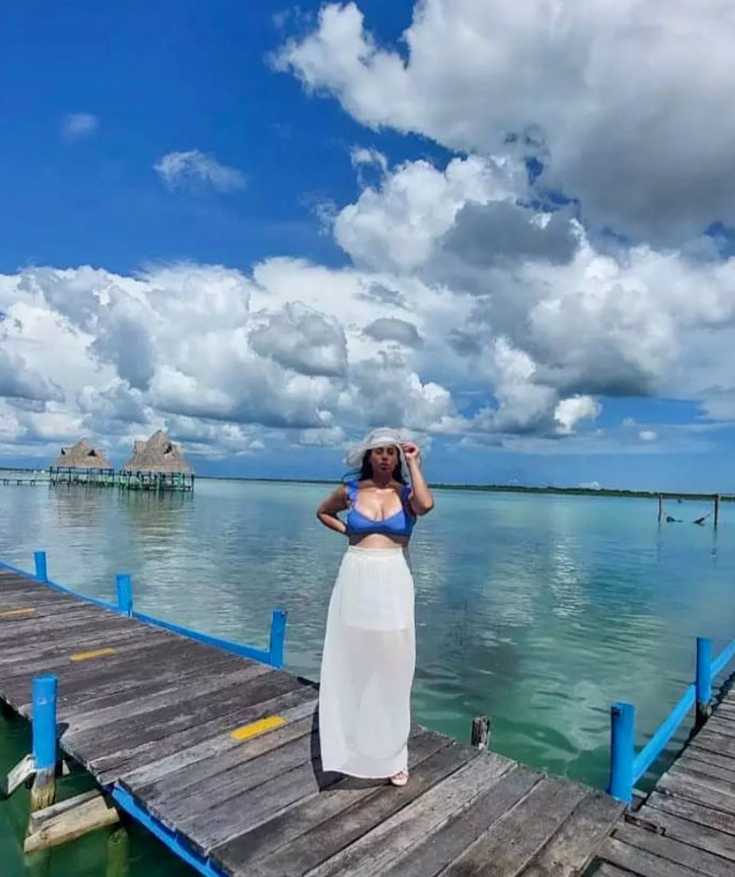 Once you're in Chetumal, hop on another bus going towards Xul-Ha, which will take around 45 minutes.
It is still way easier to rent a car in Playa del Carmen and drive yourself to Bacalar (from $45 USD per day).
🚍 How to get to Bacalar from Merida
To get to Lake Bacalar from Merida, your best bet is to rent a car in Merida or book an organized tour. It takes just over two hours by car, and the drive is pleasant, with rolling hills and lush scenery.
If you go with a tour company, they can pick you up from your hotel or other specified location in Merida for an additional fee.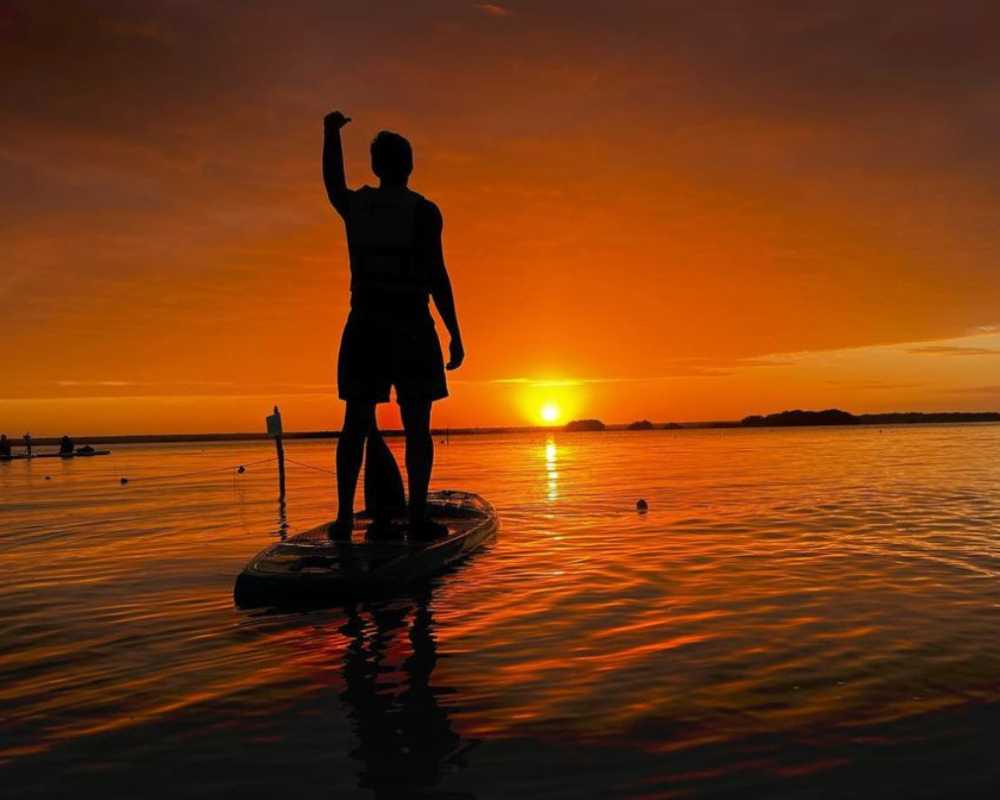 To get there by bus, find one of Merida's many bus stops or stations, like Estrella Blanca or ADO, where you can buy a ticket for your trip.
Tickets usually cost between $150-200 pesos per person depending on which company you choose and how far in advance you book them. It is recommended to book it online at least 24 hours before your intended visit ($35 USD approx).
🛏️ Bacalar Lagoon travel guide: where to stay
Khaban Bacalar Hotel Boutique
📍 112, 77930 Bacalar, Q.R., Mexico
Located on the edge of the lake, Khaban Hotel offers breathtaking views of the surrounding landscapes. The hotel has been built with Mexican-style architecture and features comfortable rooms equipped with modern amenities.
At Khaban Hotel, guests can relax and enjoy lounging by the pool or explore nearby attractions like Cenote Azul or Chacchoben Archaeological Site.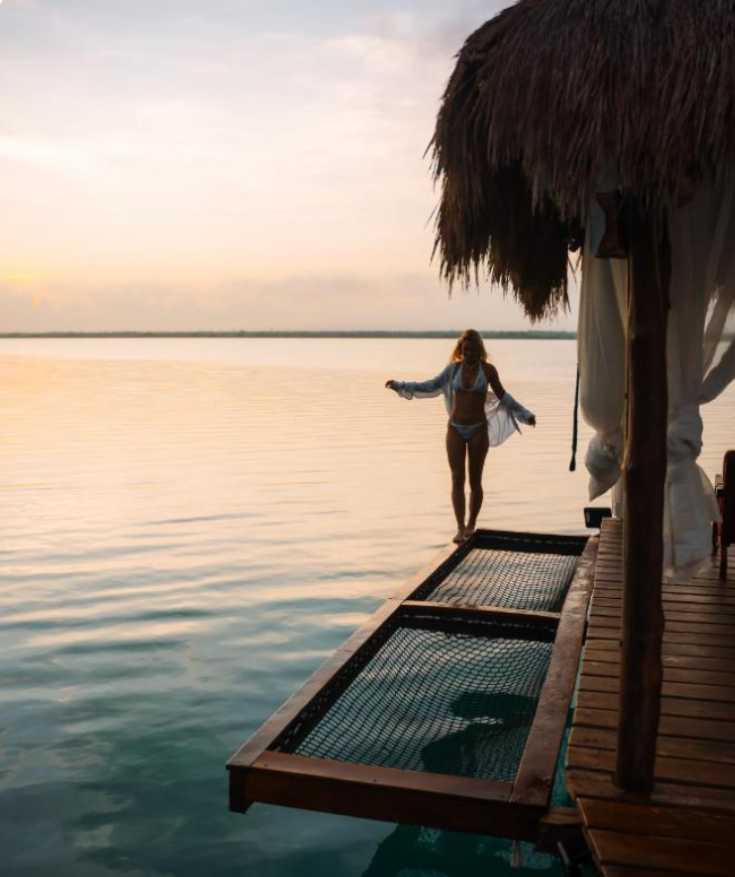 For adventurers looking for a more active experience, kayaking or swimming in Lake Bacalar are great options to take advantage of during their stay.
There is also a restaurant at the hotel that serves delicious local dishes in case you don't want to go out to eat.
Akalki Hotel y Centro Holistico
📍 Carretera Federal 307 Km. 12.5 Bacalar
Akalki Hotel y Centro Holistico is an excellent choice for travelers seeking relaxation, comfort, and convenience.
The hotel's location near the lake offers stunning views and access to plenty of outdoor activities like kayaking, fishing, and boating.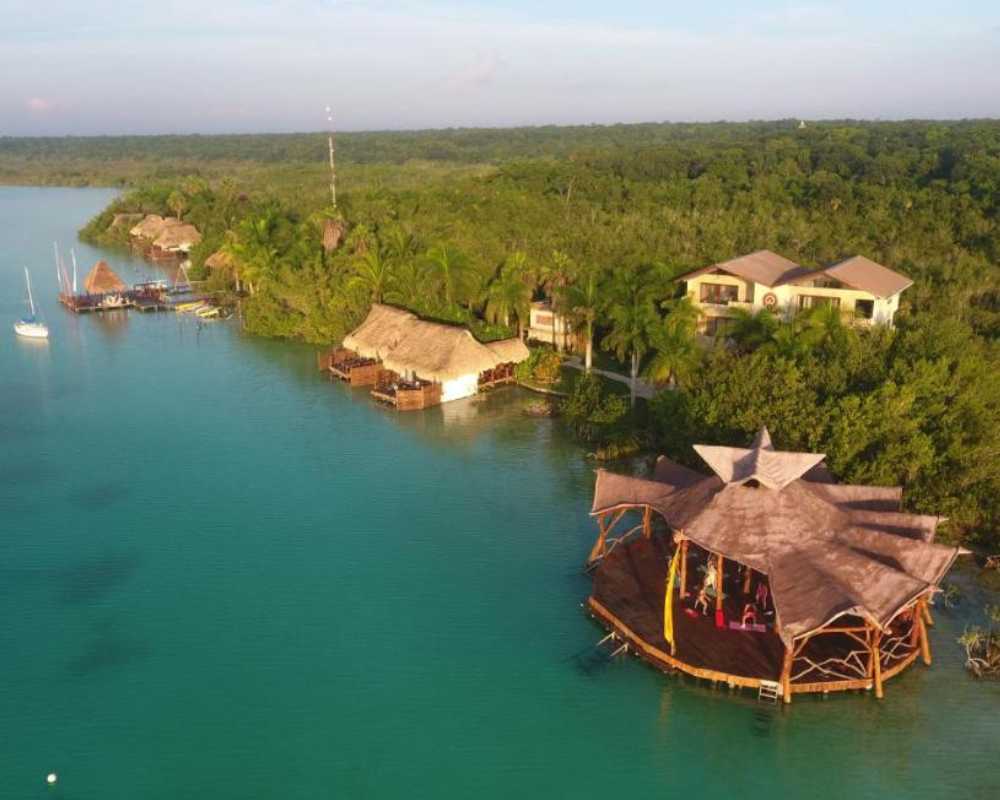 You can also take advantage of the onsite pool, spa, and fitness center – perfect for those looking to unwind after a day out exploring the lake.
In addition to its convenient location, Akalki Hotel y Centro Holistico also offers spacious rooms with flat-screen TVs, private balconies, and an onsite restaurant serving delicious regional fare.
Hotel Rancho Encantado
📍 Km 24, México 307, 77930 Bacalar
Located on the banks of one of Mexico's most beautiful lakes, Rancho Encantado offers an unparalleled experience that combines relaxation and adventure.
From its private beachfront cabanas to its spacious suites with stunning views of the lake, this property offers something for every kind of traveler.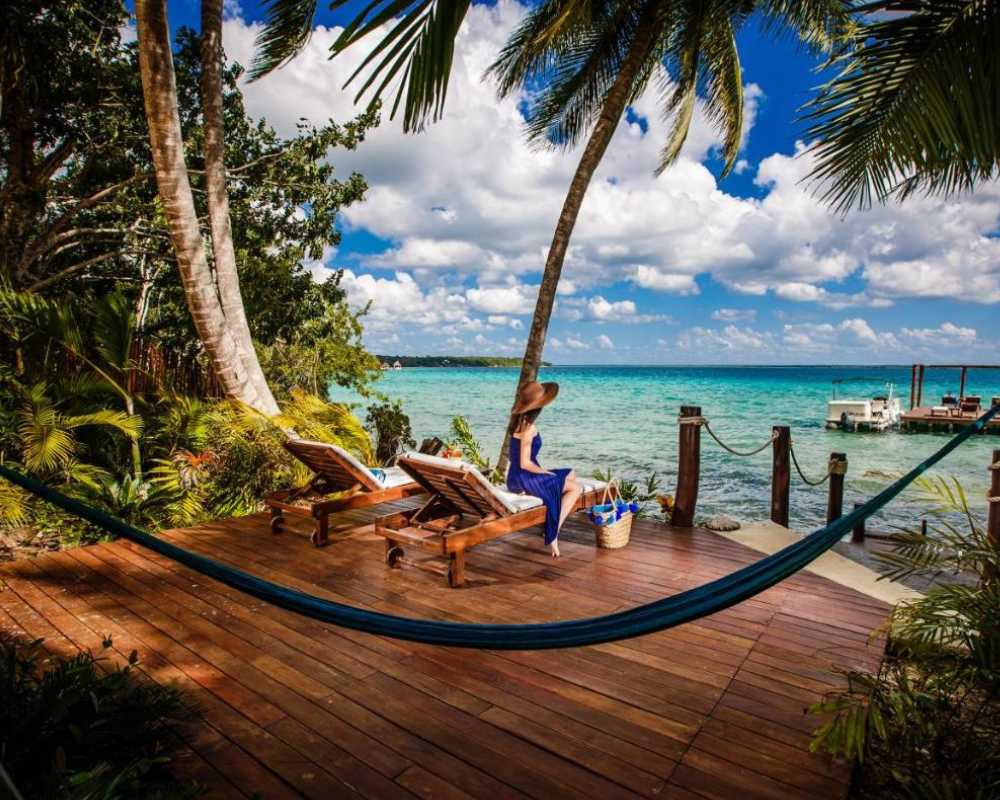 The outdoor areas feature lush gardens and a large pool surrounded by trees and plants – perfect for lounging or relaxing after exploring Laguna Bacalar.
Plus, with their on-site restaurant serving delicious local cuisine, you'll never go hungry during your stay here! Rancho Encantado also boasts plenty of activities off-site.
Bacalari
Located at the edge of this incredible lake, Bacalari offers guests an unbeatable combination of comfort and breathtaking views.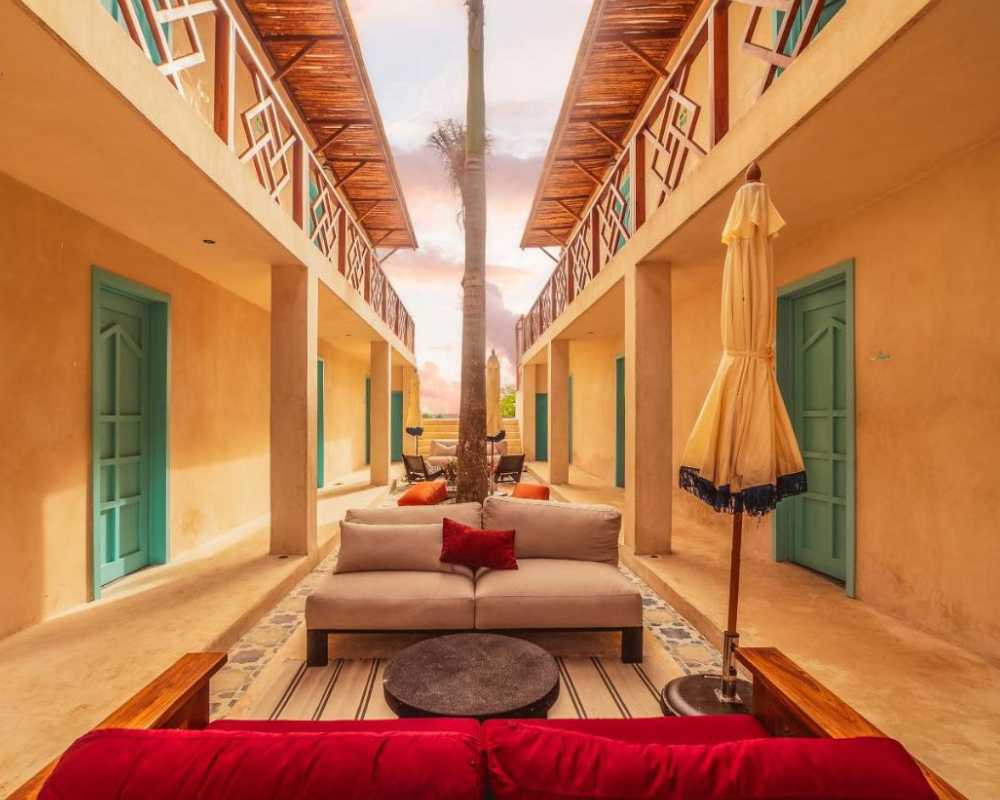 The hotel features two pools for guests to enjoy, with stunning lake views that are sure to add extra magic to your stay.
Plus, you can take advantage of daily activities like kayaking and snorkeling in the pristine waters nearby. For a more pampered experience, the spa at Bacalari offers relaxing treatments.
La Albarina
📍 Costera Bacalar 609 Atras del Cenote azul
With its convenient location on the lake's shoreline and many amenities, La Albarina has something for everyone.
You can enjoy a dip in the pool or soak up some sun on the terrace. For adventurous travelers, multiple outdoor activities like kayaking and fishing are available nearby.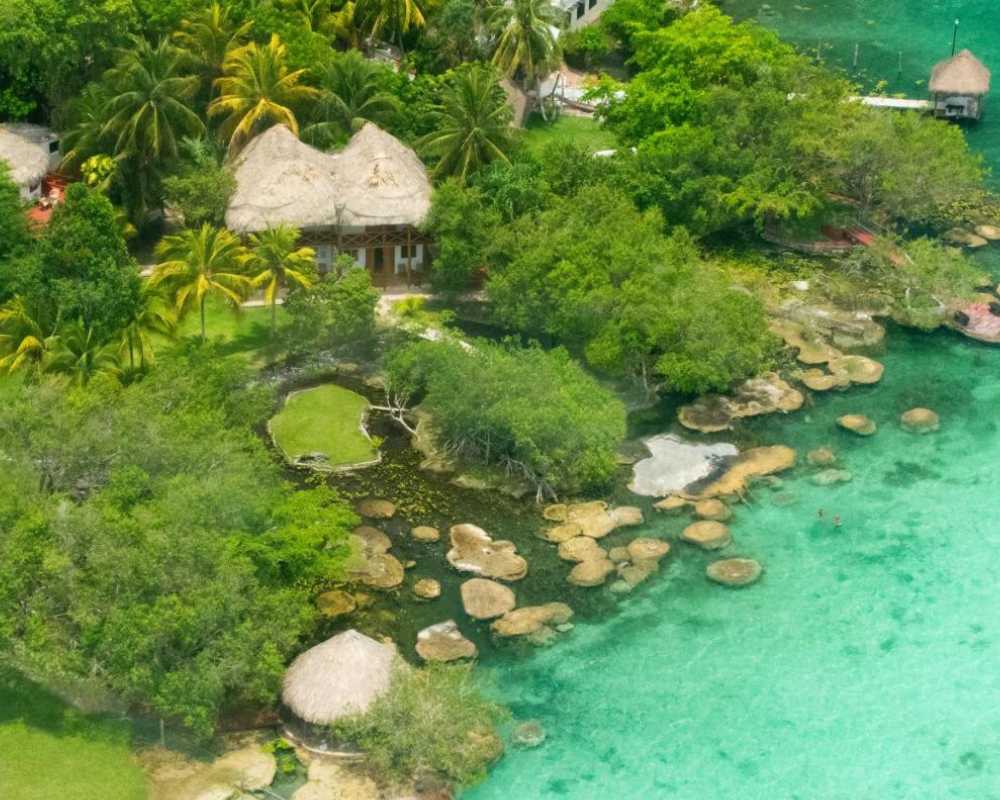 The staff at La Albarina is friendly and attentive, ensuring each guest feels at home. They offer daily yoga classes and Spanish lessons to help you learn a little about the local culture while you're visiting.
🚣‍♂️ Bacalar Lagoon travel guide: things to do
SUP in Bacalar Lake
Stand-up paddle boarding your way around Laguna Bacalar in Mexico is an experience like no other. With its crystal clear waters and lush vegetation, you will definitely enjoy paddle boarding here!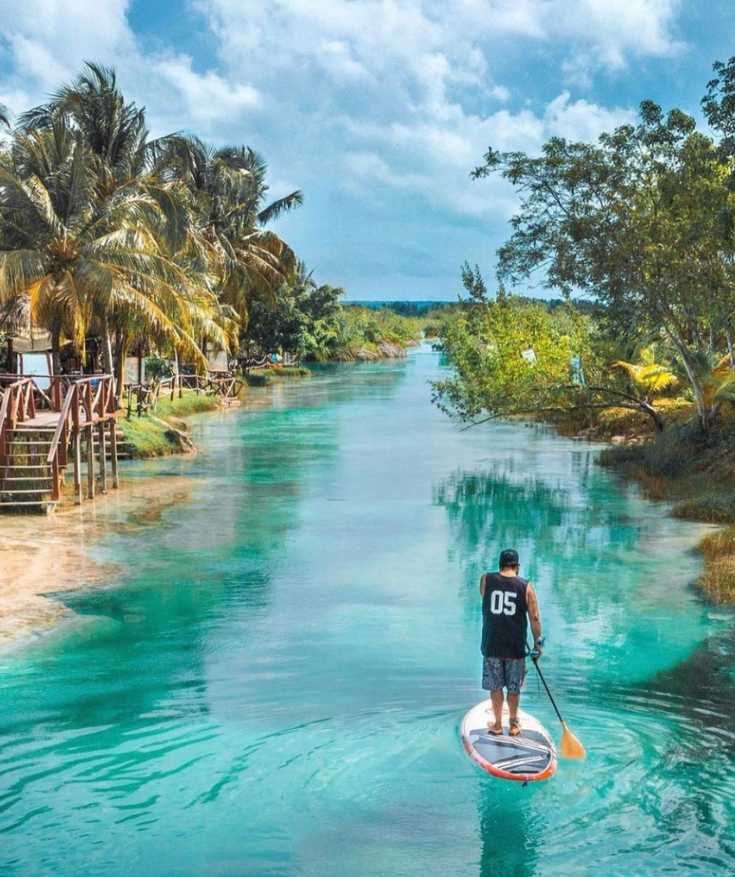 There are various conditions and terrain when paddle boarding in Laguna Bacalar: calm waters for beginners or choppy waves for more experienced paddlers.
With its warm weather year-round, Bacalar Lagoon is perfect for paddle-boarding enthusiasts and a fun way to work out while on vacation.
Los Rapidos Bacalar
Take a boat tour around the lake and visit nearby island cenotes. Enjoy the turquoise waters of Lake Bacalar while exploring hidden lagoons that can only be reached by boat.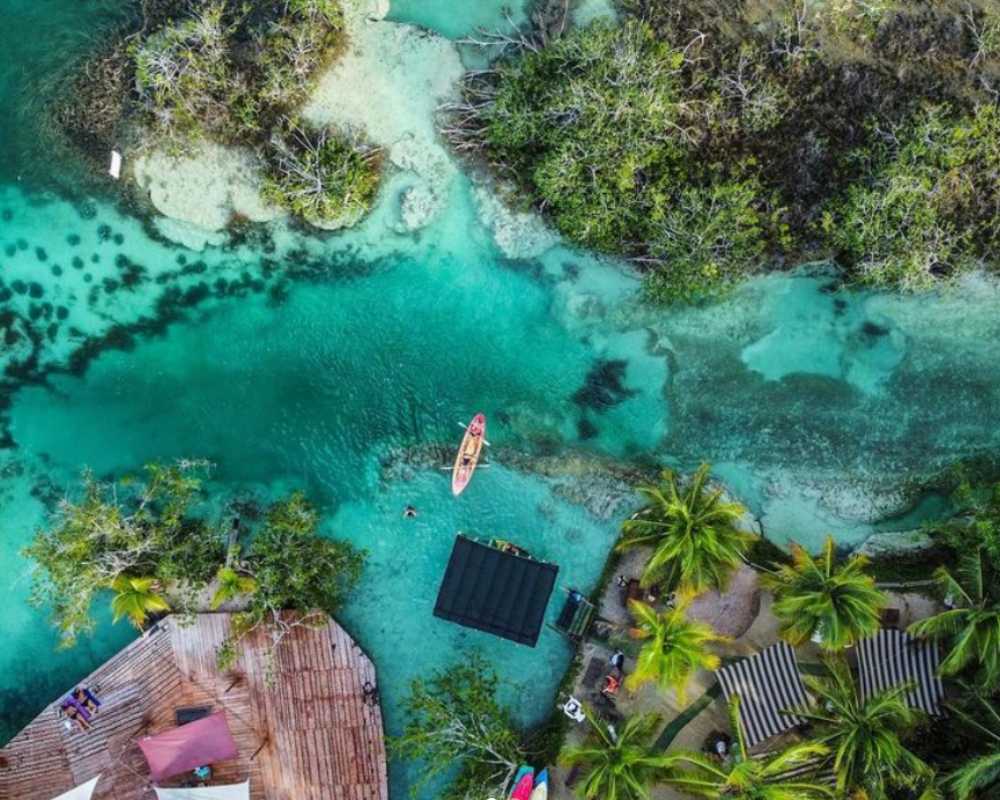 You can even take a guided kayak tour to explore the lakeside villages, mangrove marshes, and natural reserves.
For those seeking more adventure, go diving or snorkeling with colorful tropical fish or participate in exciting water sports such as wakeboarding or jet skiing.
Fuerte de San Felipe
The Fuerte de San Felipe is an old Spanish fort full of history, making it an excellent spot to visit during your stay. Take a tour of the grounds or climb onto the walls for fantastic views of the lake and nearby areas.
You can also take traditional boat rides around the lake and catch glimpses of beautiful wildlife. After exploring, grab lunch at one of the many cafes along the shoreline.
Mahahual Beach
Mahahual Beach in Mexico is a fantastic destination for a vacation getaway. Located on the Caribbean Coast of Mexico, it is one of the great beaches near Bacalar.
At Mahahual Beach, you can rent a kayak or paddleboard to explore the area's mangrove forests. You can also go snorkeling or diving around the coral reefs located offshore.
For those looking for more leisurely activities, take a stroll along the beach or do a birdwatching activity in one of the nearby lagoons.
Tirolesas Kan K'in
At Tirolesas Kan K'in, you can enjoy various activities, including kayaking and canoeing on the lake or taking a zip-line tour through the jungle.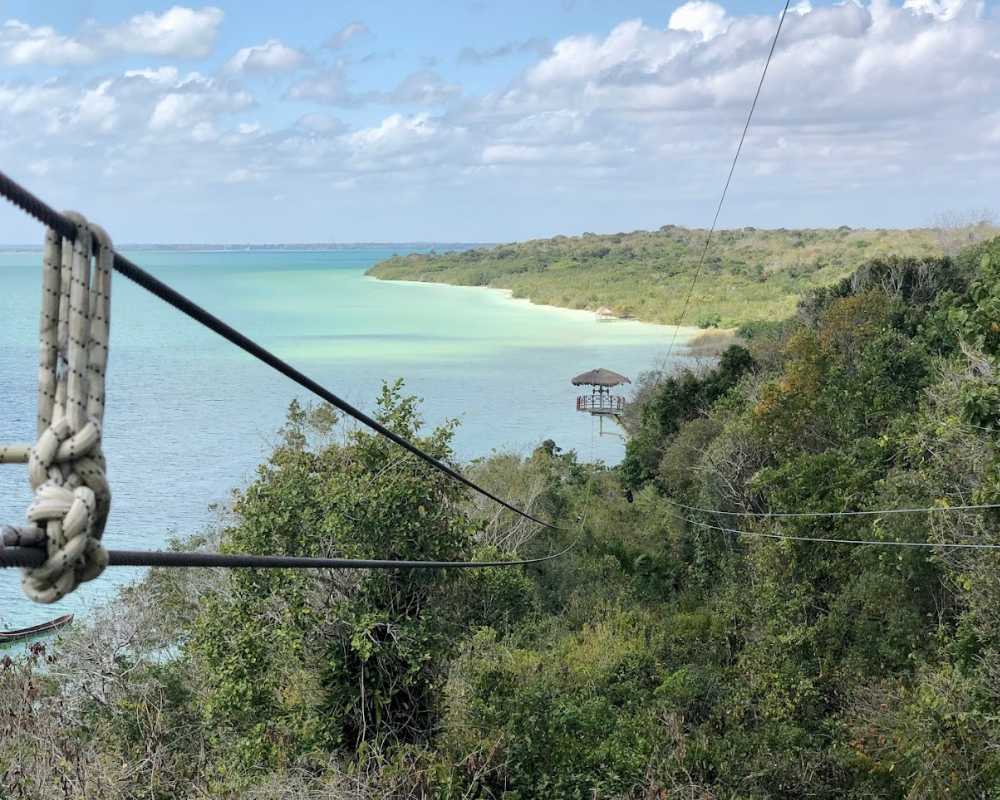 The zip line tours are especially thrilling as they soar across lush canopies and offer spectacular panoramic views of Laguna Bacalar and its surroundings.
Cenote Azul Bacalar
Cenote Azul Bacalar is one of the most picturesque spots at Lake Bacalar. Its clear turquoise waters are breathtaking, and there's plenty to do here!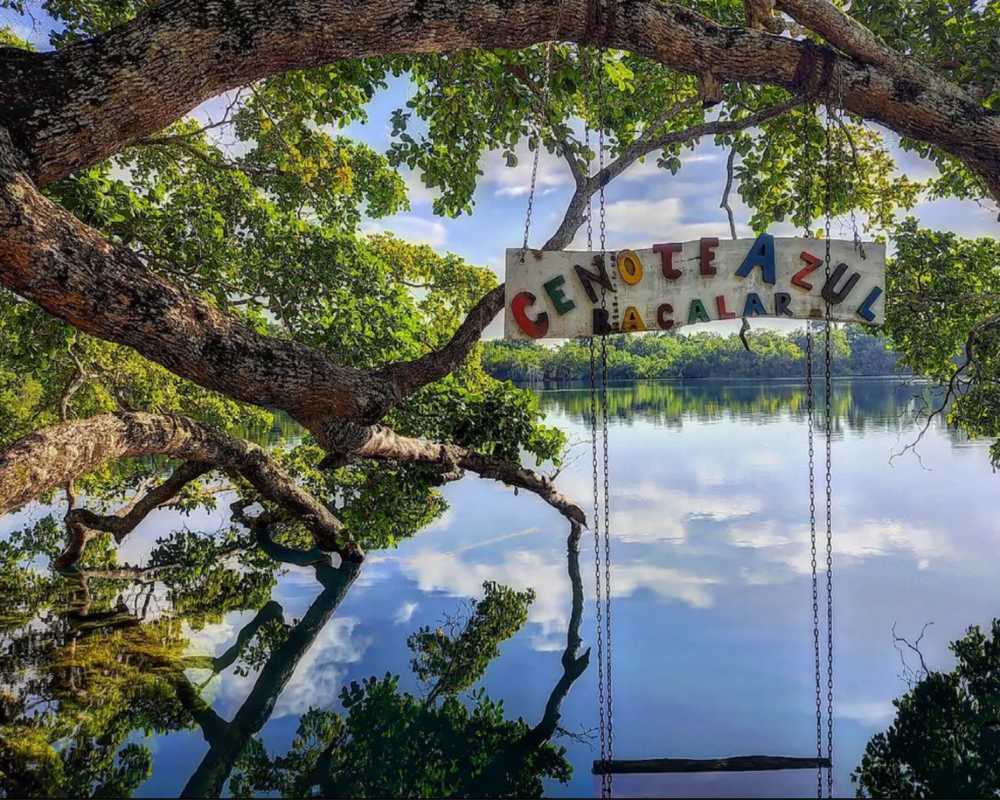 From swimming and snorkeling around its stunning underwater caves to renting kayaks or stand-up paddleboards, Cenote Azul is not as crowded as the cenotes in Tulum so expect fewer tourists in this area.
Beach Clubs in Bacalar (Balnearios)
The name "Balneario" comes from Spanish and literally translates to "spa," but they offer more than just a place to relax.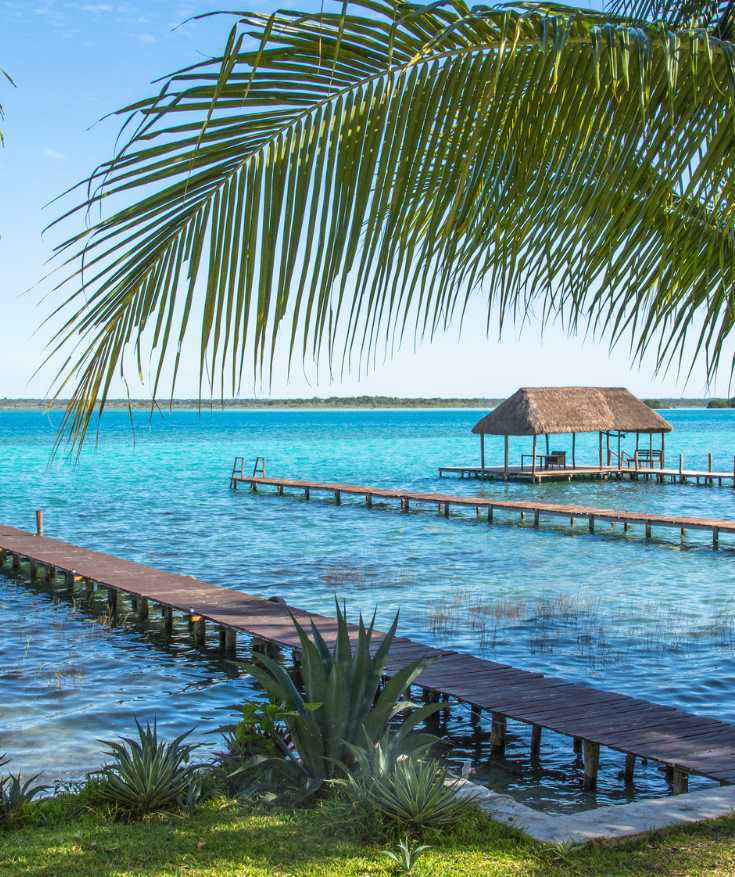 They're also places where you can swim, kayak, fish, or simply lounge on the beach. They often have restaurants and bars to enjoy stunning views while eating and drinking.
Kayaking in Bacalar
The best part about kayaking in Lake Bacalar? It's safe and accessible for everyone—from beginners just learning the ropes to experienced paddlers looking for a challenge.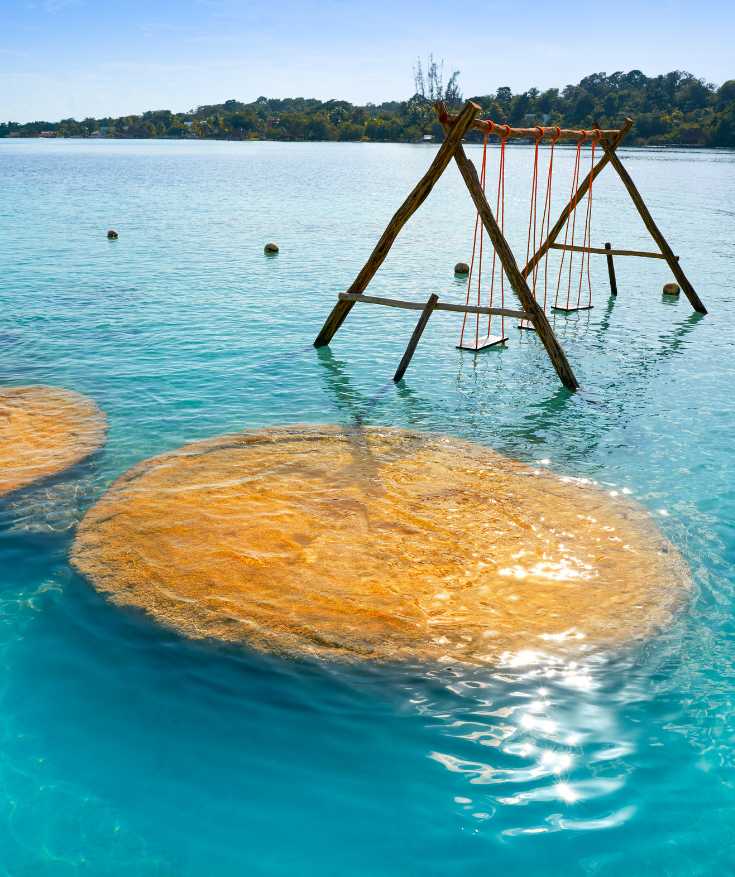 Plenty of guided tours are available if you want extra help navigating your way around all the different cenotes, caves, and islands that make up this beautiful lake.
Mayan Ruins near Bacalar
Just a short drive from Bacalar are some of the most spectacular Mayan ruins you can visit. The first ruin site to explore is Chacchoben – located about 2 hours away from Laguna Bacalar.
This ancient city was discovered in 1938, one of Mexico's most important Mayan sites. Filled with stone sculptures, altars, and buildings, these ruins will take you back in time as you explore its many secrets.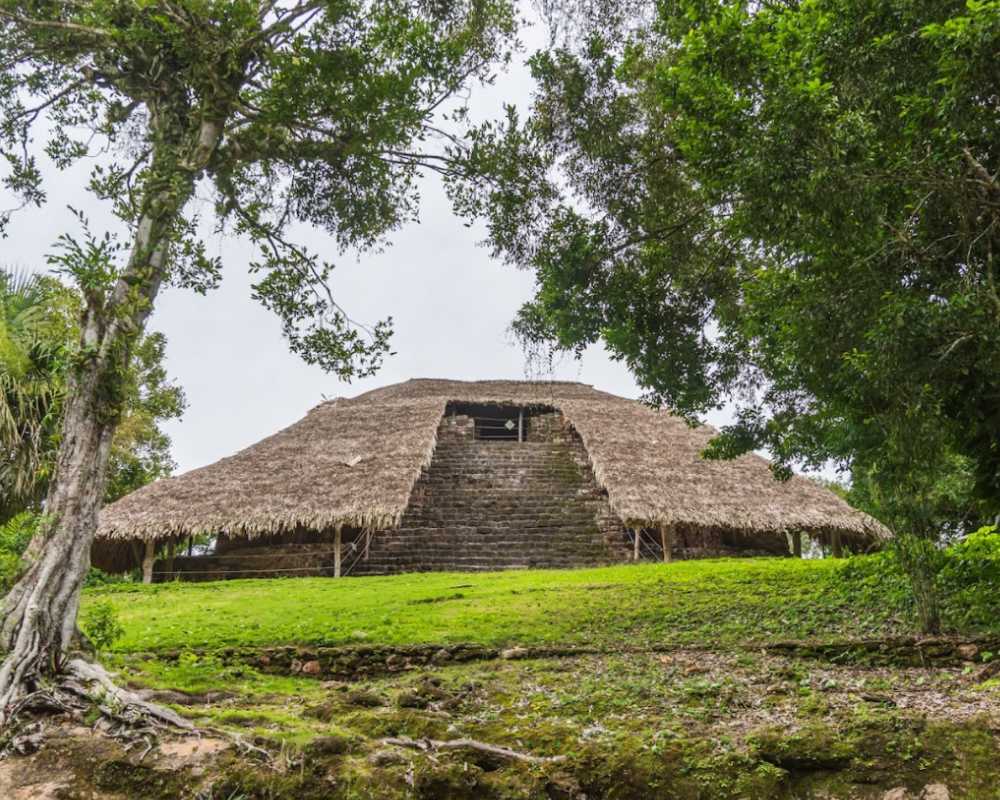 Another Mayan ruin to visit near Bacalar is Kohunlich, one of the most spectacular and well-preserved Mayan ruins in the Yucatan Peninsula.
Kohunlich was once an important city during the Classic period. From 250 CE to 1000 CE, it served as home to thousands of people who lived in lavish palaces and temples surrounded by lush vegetation.
Today, visitors can explore its many ancient structures, such as The Mask Temple, The Sun God Pyramid, and The Acropolis Palace Complex.
🐊 Are there crocodiles in Lake Bacalar?
No, you won't encounter crocodiles while visiting Laguna Bacalar. While the lake has various animal life, such as fish and turtles, crocodiles aren't one of them.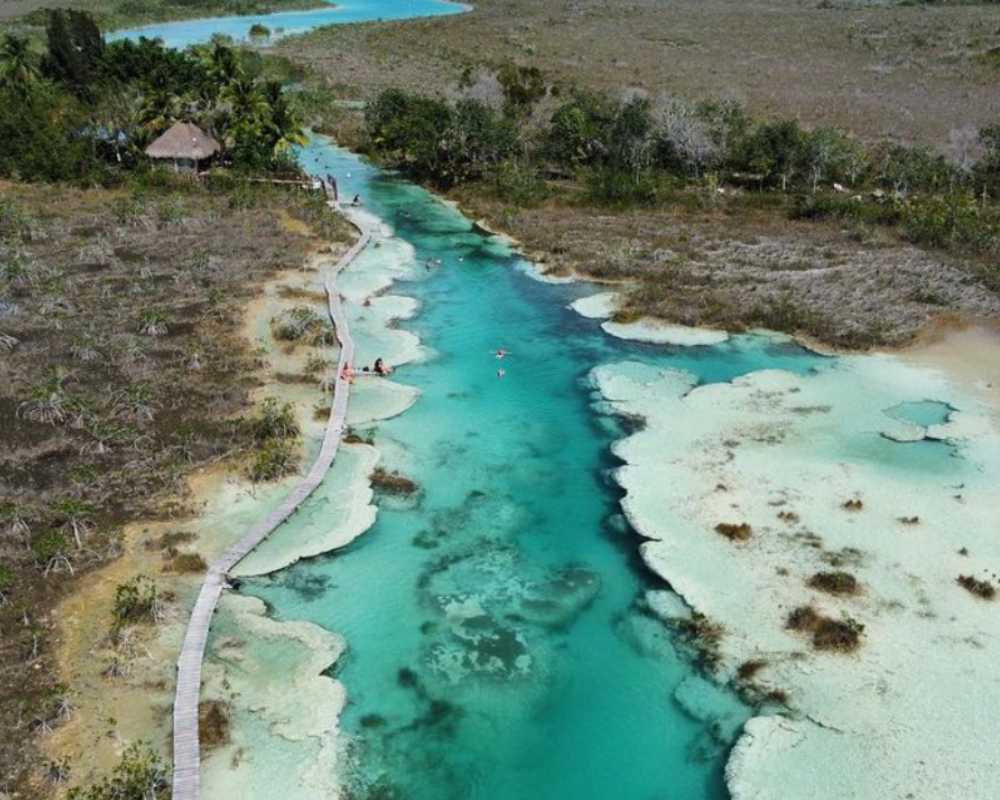 This isn't to say that there have never been crocodiles near the area before; some people report seeing them many years ago on the banks of the river connecting to Bacalar Lagoon.
However, since then, they have not been spotted again.
✨ Is Lake Bacalar clean?
ABSOLUTELY! The lake is considered one of Mexico's cleanest bodies of water, so you can feel safe taking a dip or cruising around the lagoon on a boat.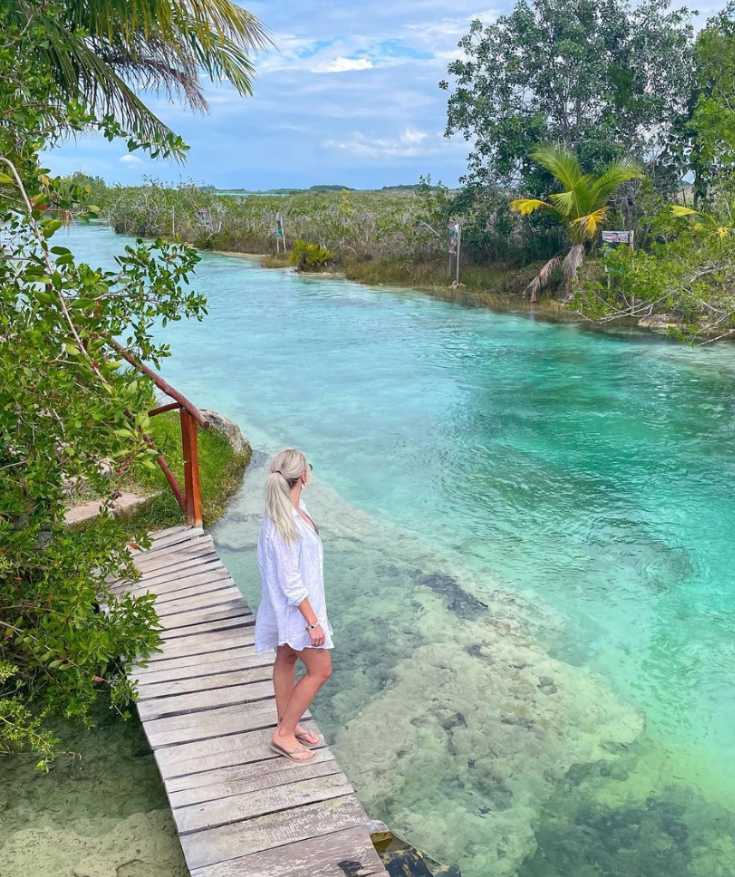 The local government has worked hard to keep Lake Bacalar pristine by controlling access and limiting activities like fishing, swimming with motorboats, and camping on its shores.
Many freshwater springs are scattered around the lake, which helps maintain the excellent water quality of Bacalar Lagoon.
⛔ Is Bacalar safe for tourists?
DEFINITELY! Despite some reports of crime in other areas of Mexico, it is very safe, and you should not be overly concerned about their safety while traveling there.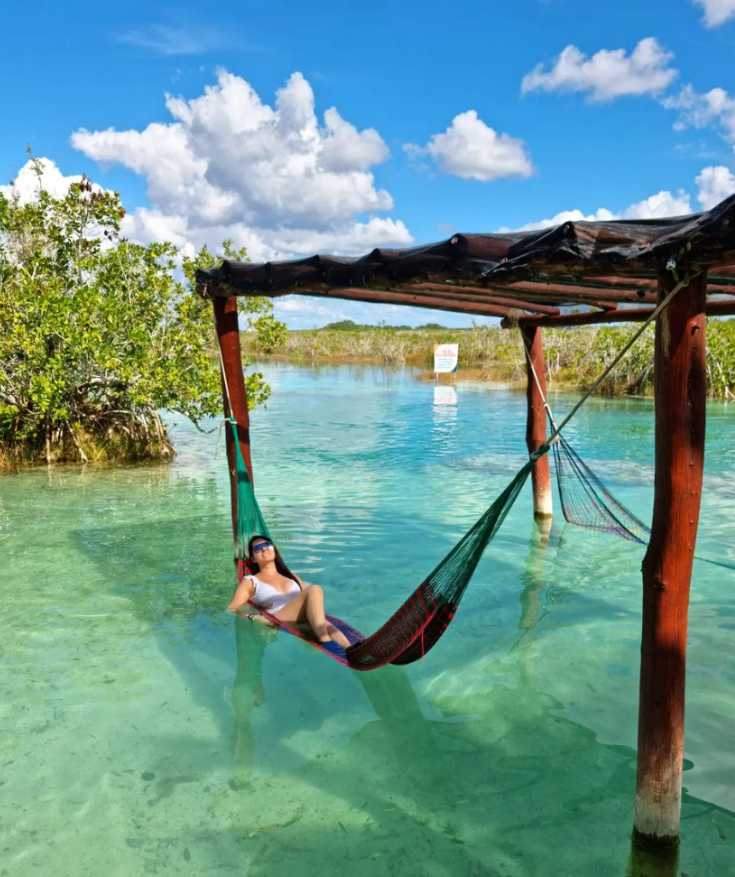 With regular police patrols and plenty of safe accommodation options, you can easily explore all the wonders this place offers without worrying about your safety and security.
🇲🇽 Bacalar Travel Planning
🛫 Where can I book cheap flights to Bacalar?
The airport that serves Bacalar is Cancun International Airport. Use the code MXINSIDER to get cheap flights to Mexico City upon checkout on WayAway.
🚑 Do I need insurance to travel to Bacalar?
Yes, you do! This is the number one requirement when traveling to Mexico. I use SafetyWing, and I only pay $40 USD per month for my digital nomad travel insurance!
🛏️ Where can I find the best hotels in Bacalar?
Budget travelers, use Hostelworld when looking for accommodations in Bacalar. A bed in a hostel dorm starts at $25 USD per night. Booking.com is best for boutique hotels, while all-inclusive resorts can be booked with Expedia Bacalar.
Trisha traveled to Mexico in 2018 and after a year, she found herself obtaining a 4-year residency visa in Mexico. She is the Editor-in-chief for our Living in Mexico Series which has helped over 3,000 Americans move to Mexico with ease. Trisha currently resides in Cabo San Lucas, Baja California Sur.