A helpful travel guide to Chichen Itza Mexico with tour information, prices, best time to go, and more!
Chichen Itza is an iconic archaeological site in Mexico that should be visited for its immense historical, cultural, and spiritual significance.
Built by the Mayan civilization around 600 AD, the pyramid-shaped monument is a UNESCO World Heritage Site and one of the Seven Wonders of the World.
Visitors to Chichen Itza can marvel at its majestic architecture, explore its intricate carvings and hieroglyphs, learn about ancient rituals performed here, and enjoy nearby attractions such as cenotes (natural swimming pools), sacred Maya caves, and other ruins.
Visiting Chichen Itza is a great way to experience the ancient culture and a fantastic opportunity to understand why this one-of-a-kind structure remains so relevant today.
Do not miss visiting Chichen Itza when you are in Cancun, Merida, Tulum, or anywhere in Quintana Roo! Here's a complete guide on how to do it.
🧐 Questions about Chichen Itza Mexico? Ask us on Tiktok.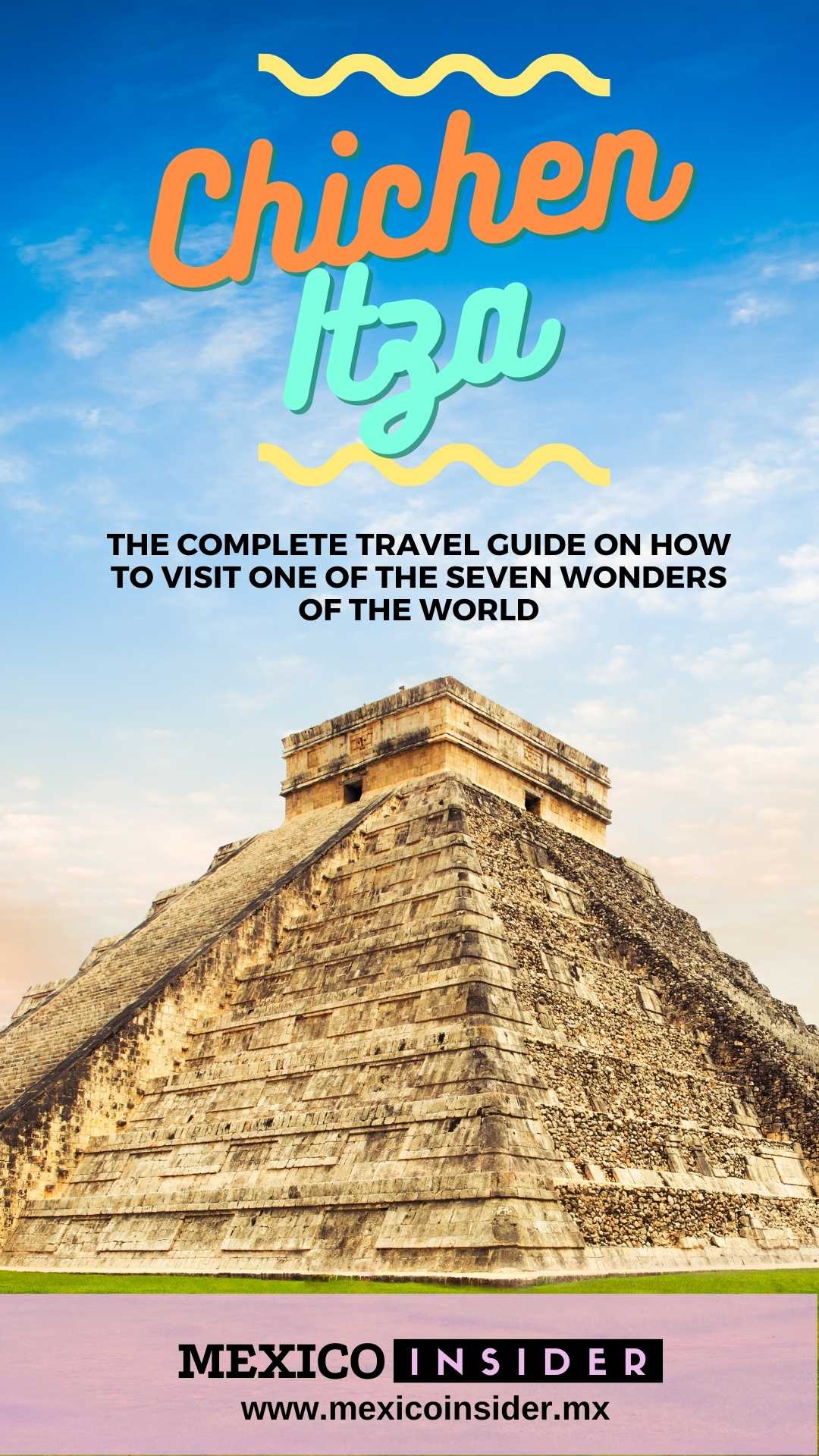 Chichen Itza Mexico: quick links
🏺 What is so special about Chichen Itza Mexico?
Chichen Itza was one of the most important cities of the ancient Mayan civilization, located in what is now the Yucatan Peninsula in Mexico.
It's special because it is considered one of the best-preserved archaeological sites from this period and contains elaborate and beautiful structures, such as El Castillo temple pyramid, Temple of Warriors, Great Ball Court, and Observatory.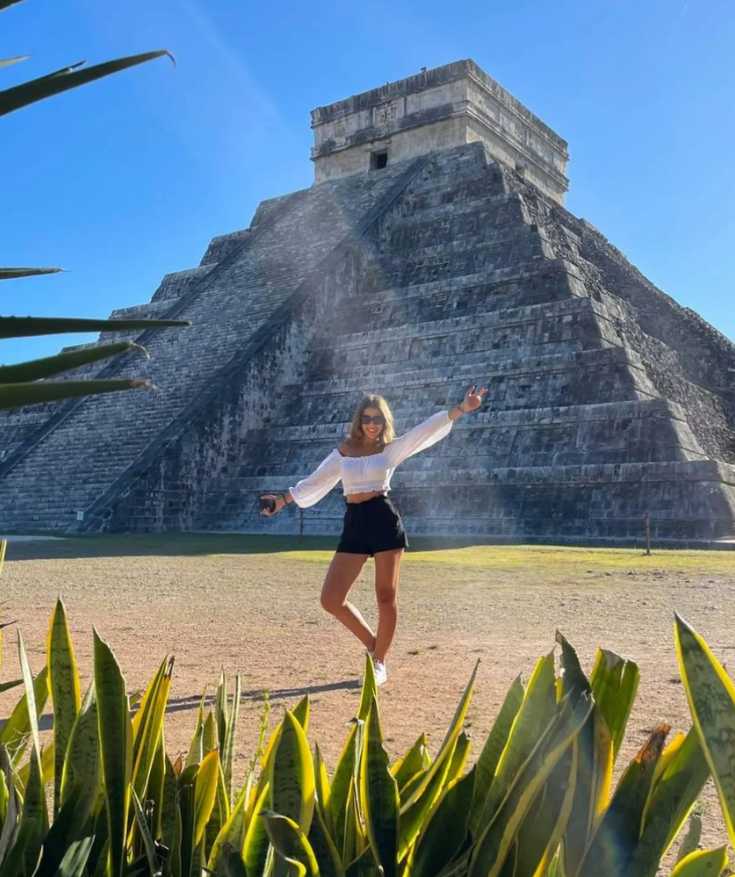 Chichen Itza stands out for its high state of preservation and complexity, showcasing various architectural styles such as Toltec and Maya. The ancient city has been designated as a UNESCO World Heritage Site since 1988.
💡 Chichen Itza Mexico Fun Facts
Chichen Itza is one of Mexico's most famous archaeological sites and one of the world's most impressive examples of Maya architecture. The architecture of Chichen Itza contains numerous temples, palaces, plazas, ball courts, and observatories built between 600-1200 AD.
Chichen Itza was likely used as a ceremonial site, but it wasn't just a temple or religious center – it was a political capital for the ancient Mayans who lived there. Considering its remoteness, this was a fantastic feat, being located on the Yucatan Peninsula and surrounded by dense jungles.
One of the most impressive structures at Chichen Itza is El Castillo (the Castle), which rises 79 feet above the plaza below and contains 91 steps on each side – making the total number of steps exactly 365, one for each day of the year and signifying Earth's journey around the sun.
Another exciting feature of Chichen Itza is its famous Ballcourt – one of the largest rain-fed chovals (ballcourts) ever built by any civilization in Mesoamerica, measuring over 150 meters long and 68 meters wide. The two teams would play against each other with a solid rubber ball weighing up to 9 pounds without using their hands!
Last but not least, Chichen Itza has been listed as one of six UNESCO World Heritage Sites in Mexico since 1988 and is rated as one of the New Seven Wonders Of The World due to its magnificence, historical importance, and deep connection with Mayan beliefs regarding astronomy and mathematics.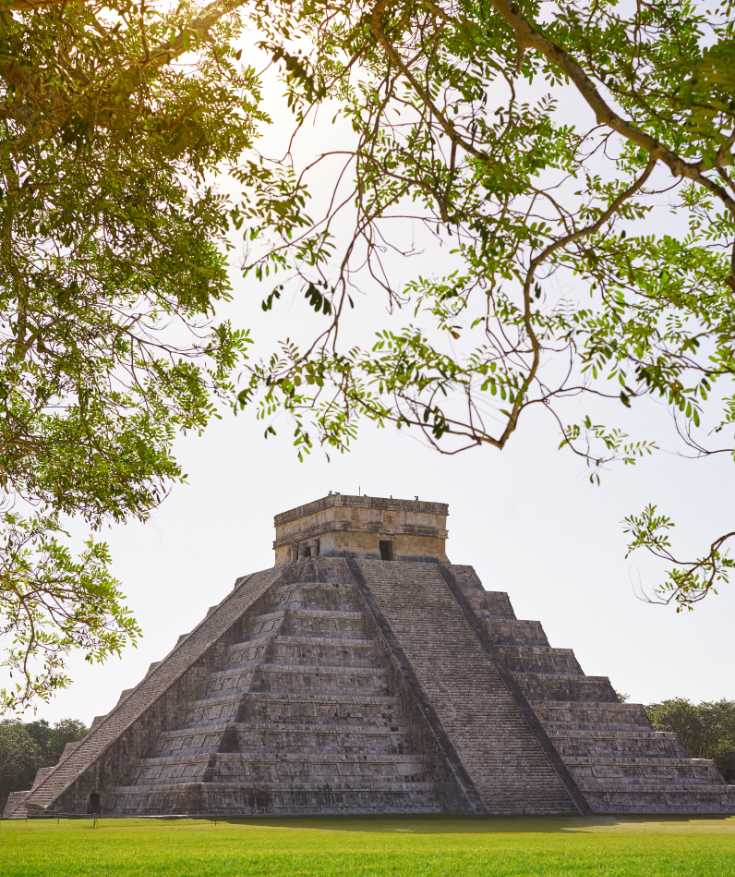 🗺️ Chichen Itza Mexico Map
🚘 Chichen Itza Travel guide: getting there from Cancun
The easiest way to get from Cancun to Chichen Itza is by car. Depending on traffic and your route, it will take approximately 2-3 hours.
You can get to Chichen Itza from Cancun by bus, though it will likely be slower than going by car. Public buses run between the two cities, and tickets may be purchased at the ADO or MAYAB counters in Cancun's main terminal.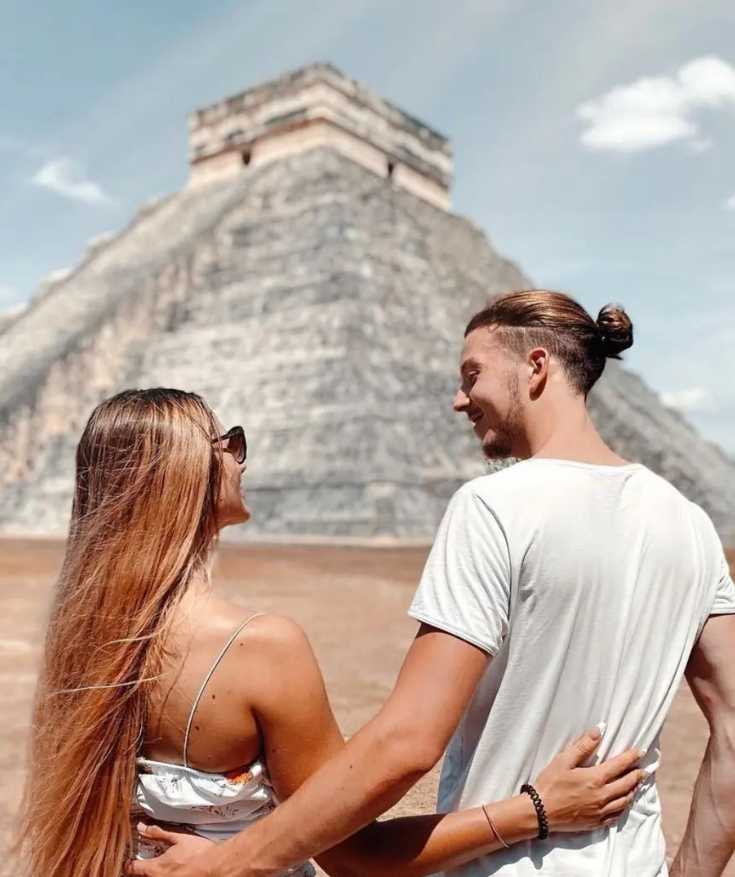 Alternatively, you can book private or shared tours, including transport from Cancun to Chichen Itza, with stops at various sites of interest.
This is a great option if you want to see other attractions en route.
🚌 How to get to Chichen Itza from Tulum
The easiest way to get to Chichen Itza from Tulum is by car. Depending on your route, it should take about two and a half hours.
You'll need to take Highway 180 towards Valladolid, then Federal Highway 183 south until you reach the ruins of Chichen Itza Mexico.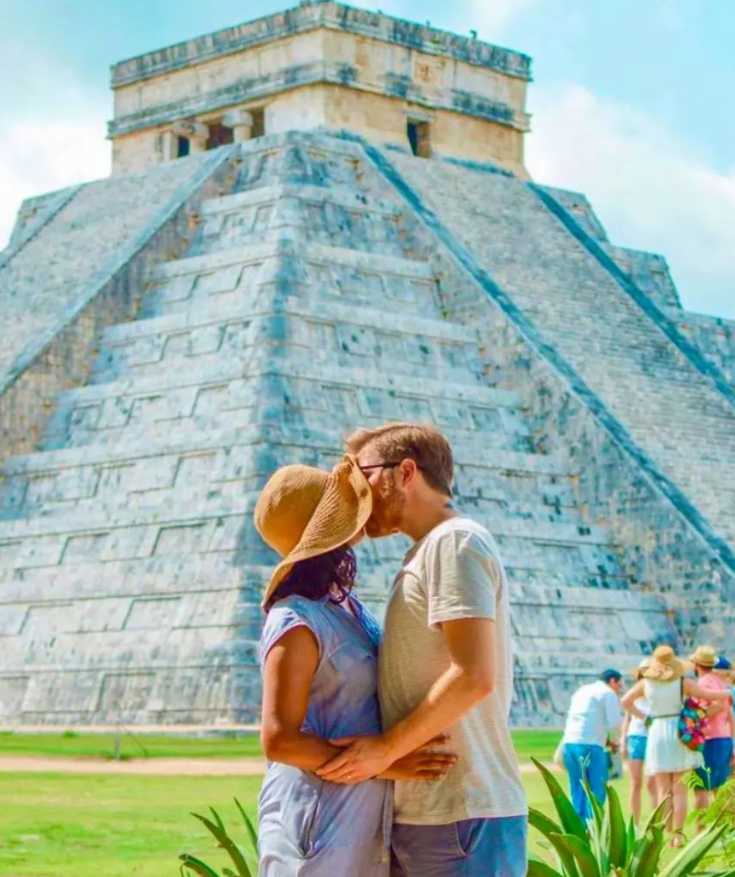 Alternatively, some buses run regularly from Tulum and Playa del Carmen, which will drop you off at Chichen Itza. Some tourist companies also offer guided tours with transportation included.
The bus from Tulum to Chichen Itza leaves early in the morning (7:50 AM, 8:57 AM, and 9:37 AM). Bus prices for this route start at $18 USD per person.
🚍 How to get to Chichen Itza from Merida
The best way to get from Merida to Chichen Itza is to take a bus or rent a car. Buses run regularly from Merida and drop off passengers just outside the ruins.
Renting a car in Merida gives you more flexibility, allowing you to stop for lunch and sightseeing. The drive takes about two and a half hours, with most of it on Highway 180 before turning onto Highway 186 at Tizimin.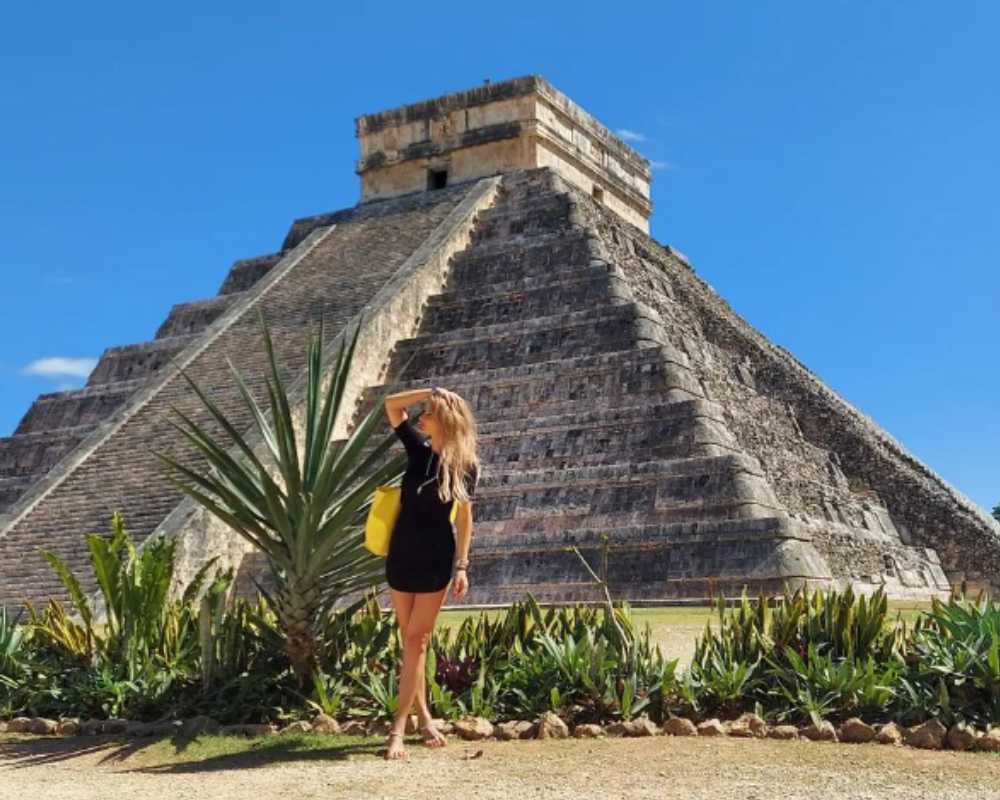 After that, it's just another 40km (25 miles) until the entrance of Chichen Itza itself. The bus from Merida to Chichen Itza leaves as early as 4:00 AM and costs $26 USD.
🚙 How to get to Chichen Itza from Playa del Carmen
The best way to get from Playa del Carmen to Chichen Itza is by car. It is approximately a two-hour drive, depending on the amount of traffic.
Alternatively, you can take a bus from Playa del Carmen central bus station for about 1 hour and 40 minutes, then transfer to Valladolid for another 30 minutes to reach your destination.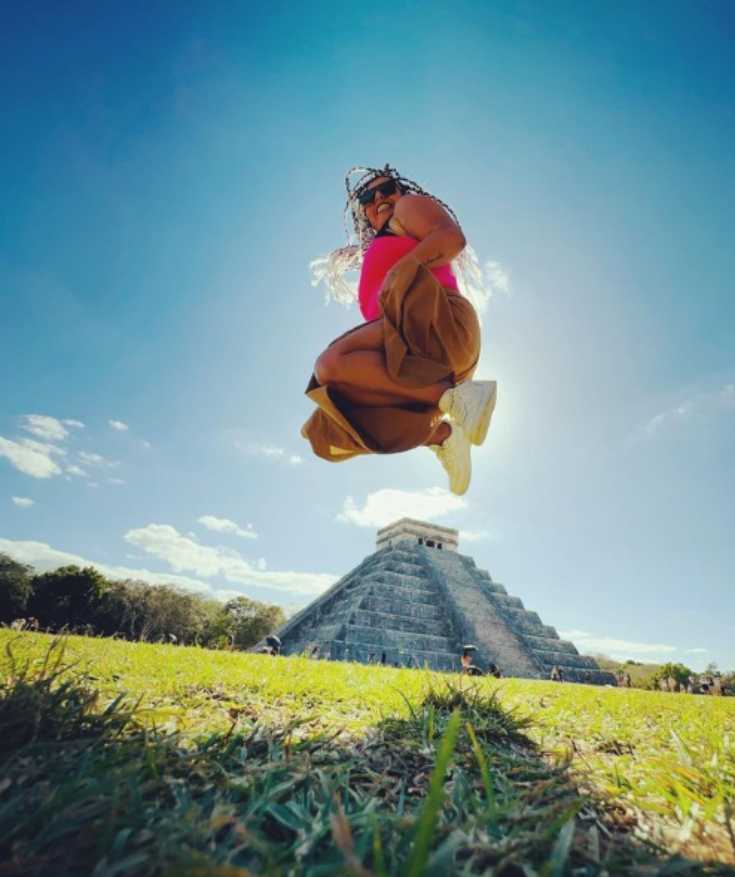 You can also take a shuttle service or private tour directly from your resort in Playa del Carmen to Chichen Itza.
🧭 Best Chichen Itza tours
Chichen Itza with buffet lunch, cenote, tequila tasting & Valladolid
This tour begins with a pickup from your hotel in Cancun and takes you on a comfortable journey to Chichen Itza, where you will be guided through this magical site by an experienced English-speaking guide.
As you explore the magnificent Mayan ruins, you will learn about their history, culture and importance in ancient times.
You'll also have time to visit the Temple of Kukulkán (El Castillo) and discover its incredible feathered serpent carvings on each side of its staircase.
Your knowledgeable guide will explain why it was built and how it served as an important religious center for the Maya.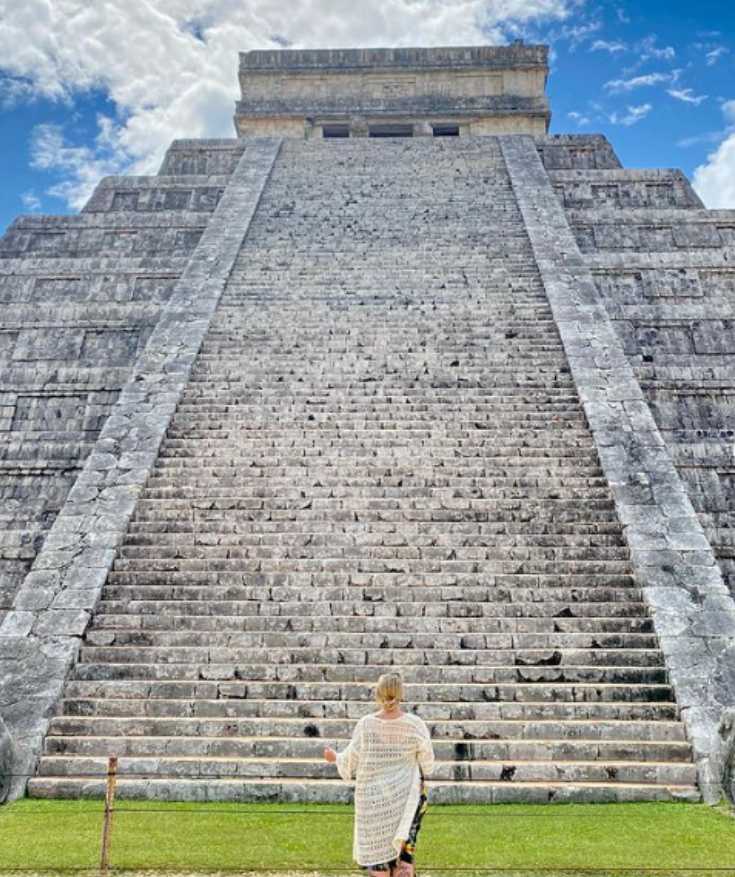 You'll also visit various other structures, such as El Caracol (the Observatory), Las Monjas (the Nunnery), and El Osario (the High Priest's Grave).
Along your tour, you'll learn about everything from chacmool sculptures to ball courts; all while taking in breathtaking views of nature surrounding this ancient site.
After exploring Chichen Itza's mysterious past, you'll head off for a unique experience: a dip in an idyllic cenote!
This natural swimming hole is filled with crystal-clear water that will allow you to cool off after your explorations at Chichen Itza.
Later, savor an authentic Mexican lunch before returning to Cancun with amazing memories of your day trip to one of Mexico's most mesmerizing historical sites.
Chichen Itza Early Access, Yaxunah, Cenote & buffet lunch
The tour will begin with an early-morning pick-up in Cancun before journeying to Chichen Itza. Upon arrival, you will be welcomed by their private archeologist guide, who will share stories and provide detailed information about the site's fascinating history.
You will marvel at the iconic pyramid of El Castillo – one of the world's most impressive Mayan landmarks and take in breathtaking views from its summit.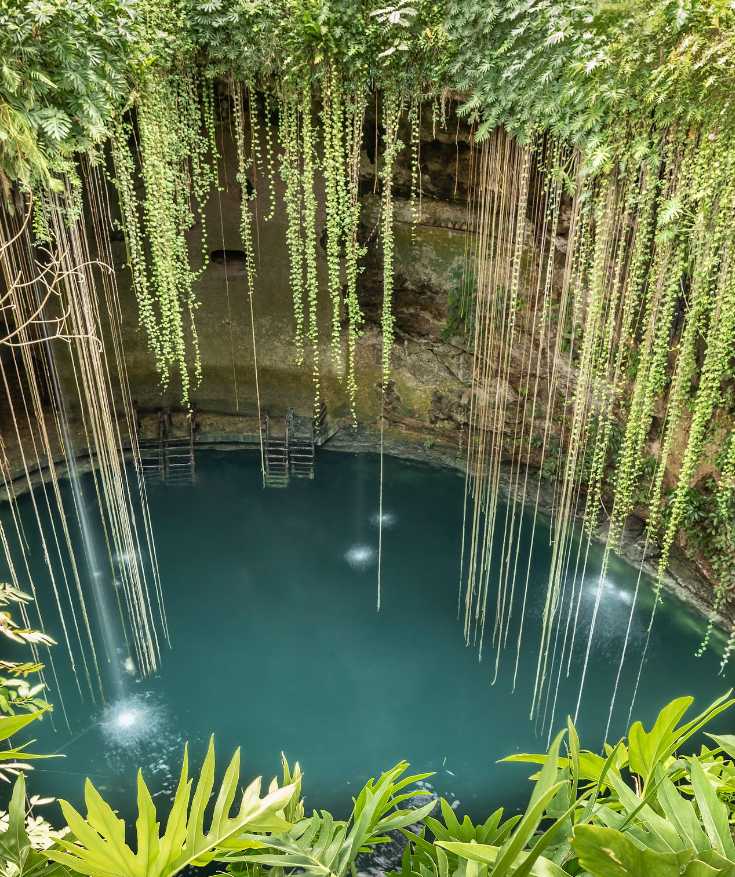 You will also learn about other essential buildings, such as the Ball Court, Observatory, and Temple of Warriors, which tell stories about ancient Maya life and beliefs.
The guide will also show you how to use traditional tools like chisels and brushes to uncover artifacts that hint at daily life in pre-Columbian times!
After a visit to a cenote (natural limestone sinkhole) for swimming or a refreshing dip, tour participants will have time to explore vendors selling handicrafts before returning to Cancun.
Chichen Itza and Valladolid (with lunch)
This is the best Chichen Itza tour from Cancun. Upon arrival, travelers receive an informative introduction to the area's culture, history, and architecture.
You will witness the iconic pyramid El Castillo and other pre-Hispanic structures like the Temple of Warriors, the Observatory, and sacred cenotes.
The tour includes a stop at a nearby Mayan village where travelers can learn more about traditional Mayan customs and purchase souvenirs.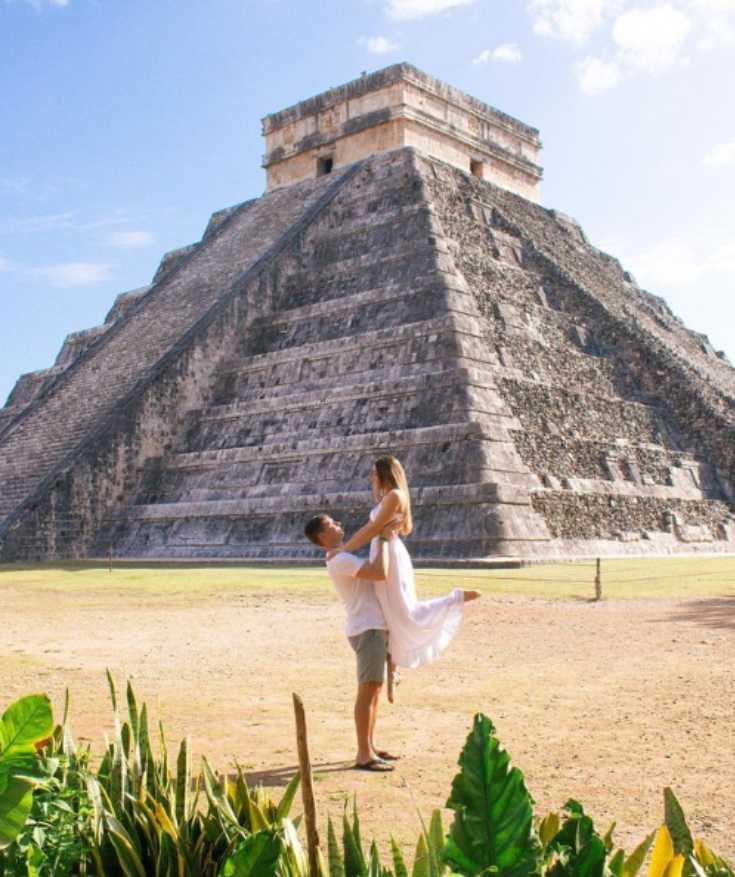 A professional, experienced guide is available throughout the day to help visitors make the most of their experience.
The tour also includes an opportunity for lunch in either a buffet or a la carte menu at one of two nearby restaurants.
You will visit La Casa de Piedra or Balam Nah Restaurant, offering delicious Mayan specialties such as chilmole pollo (chicken with chile sauce) and chirmole cochinita pibil (pork with chile sauce).
After lunch, visitors will have some free time before returning to your hotel or resort in Cancun.
✨ Chichen Itza travel guide and tips
Plan your trip to Chichen Itza ahead
Learn the best times of year to visit and hotels to stay in. The summer months can be scorching, so it is recommended to avoid this time if possible.
Be sure to book tickets for tours and attractions ahead of time, as some may require pre-booking, and spots tend to fill up quickly during peak times.
Chichen Itza dress code
Remember that dressing modestly is a must when visiting Chichen Itza Mexico as it's a sacred Mayan site.
This means keeping shoulders and legs covered, avoiding low-cut tops or tank tops, and wearing comfortable shoes suitable for walking on uneven surfaces or climbing steps.
It can get really hot
Pack plenty of sunscreen, water, and snacks with you, as there are limited opportunities to buy food or drinks from vendors at the site.
This is especially important if you plan to spend the entire day exploring Chichen Itza – the sun can be extreme in Mexico!
Don't forget your camera!
There are plenty of spectacular photo opportunities available around Chichen Itza, such as El Castillo pyramid, the Sacred Cenote, Temple of Warriors and Great Ball Court, among many other notable structures. Make sure you bring enough memory cards or batteries so you don't miss out on capturing those special moments!
Book with a knowledgeable tour guide
Take advantage of learning about the culture surrounding Chichen Itza from knowledgeable tour guides who have dedicated countless hours studying this incredible ancient city. You will gain invaluable insights into Maya history and be able to appreciate the beauty of this incredible place even more than before!
Best time of the day to visit Chichen Itza Mexico
The best time of the day to go to Chichen Itza is during sunrise or sunset. During these times, the light from the sun creates a magical aura that enhances the structures and sculptures found in this ancient Mayan site making it even more captivating.
Sunrise or sunset allows you to witness a breathtaking view of Chichen Itza bathed in beautiful colors created by dawn or dusk.
🙋 Is Chichen Itza Mexico one of the Seven Wonders of the World?
YES! Chichen Itza Mexico is part of the New Seven Wonders of The World for its cultural and historical significance in Mexico.
It was named as a UNESCO Heritage Site in 1988 and in 2007 became one of the New Seven Wonders of The World.
⁉️ Is Chichen Itza Mayan or Aztec?
Chichen Itza was a Maya-Toltec archaeological site built by the Maya civilization and most likely completed around the 12th century CE.
There is evidence of later Aztec influence, but it is widely accepted that Mayans primarily built Chichen Itza.
Trisha traveled to Mexico in 2018 and after a year, she found herself obtaining a 4-year residency visa in Mexico. She is the Editor-in-chief for our Living in Mexico Series which has helped over 3,000 Americans move to Mexico with ease. Trisha currently resides in Cabo San Lucas, Baja California Sur.