Explore the breathtaking Huasteca Potosina region in Mexico, a hidden gem offering stunning waterfalls, surreal gardens, and vibrant culture. Uncover adventure with outdoor activities, unique landscapes, and unforgettable experiences in this lush paradise.
I finally ticked off another adventure in Mexico by visiting San Luis Potosina on my Huasteca Potosina road trip!
In this post, I will show you how to carefully plan your San Luis Potosi travel and give you the best places to visit in the area.
San Luis Potosi, Huasteca Potosina and Ciudad Valles are three different things. The thing is, when you are seeing these spectacular nature adventure pictures on Instagram, the geotag is "San Luis Potosi" but it's not actually where these natural wonders are located.
To understand better, let me explain these three keywords so you'll know what to search to plan your San Luis Potosi road trip.
🧐 Questions about traveling to Huasteca Potosina? Ask us on Tiktok.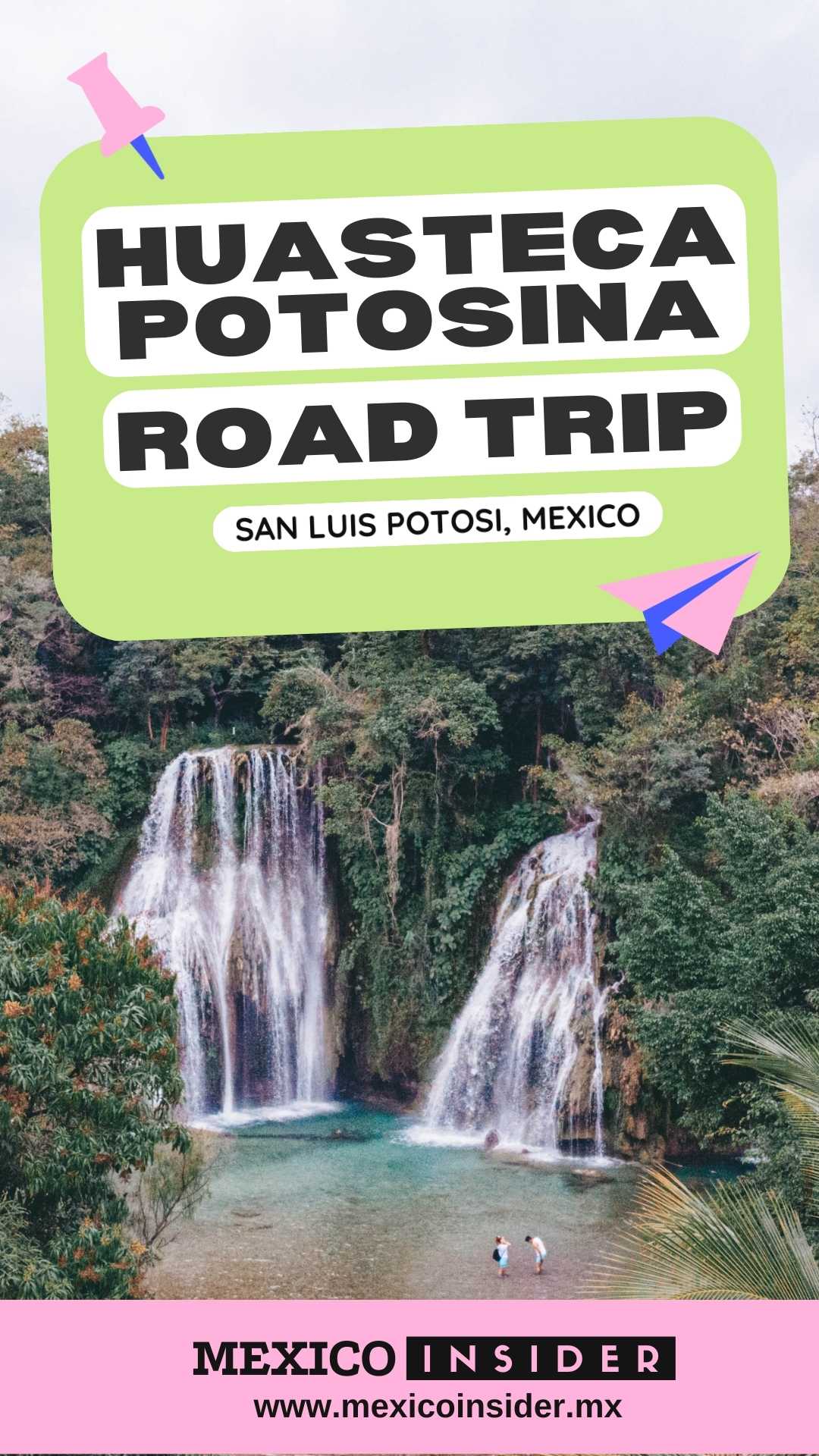 🔗 Huasteca Potosina Mexico: quick links
📍 About San Luis Potosi, Huasteca Potosina, and Ciudad Valles
San Luis Potosi: a state in Mexico (but is also a city)
From Mexico City, I put San Luis Potosi on the map but I saw that the waterfalls that I wanted to visit were not on that route that Google maps were suggesting – they were way East.
San Luis Potosi is a state in Mexico and the capital city (San Luis Potosi City) is also SLP.
Now you get why it is confusing and there seem to be no search results available on the Internet – at least the results that you are looking for.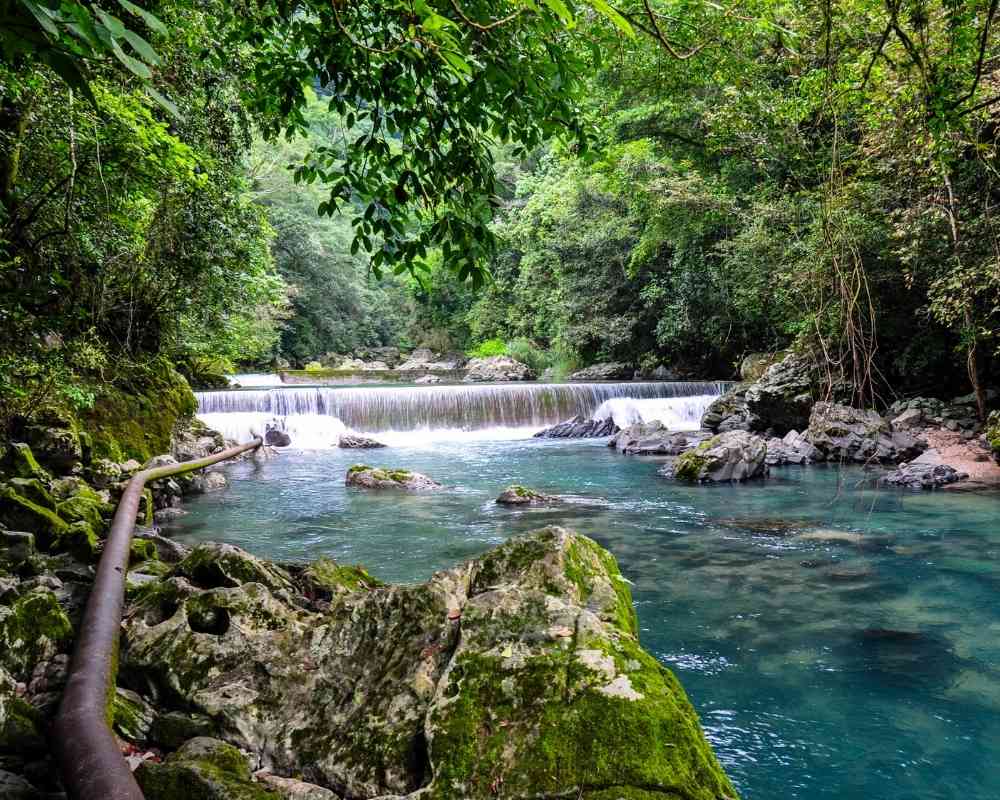 When you Google San Luis Potosi, none of the natural wonders will show up. Instead, it will give you suggestions on things to do like visit churches, go to a mezcal tasting, etc because your search term is referring to the city.
So, the correct words to put on your Google search should be Huasteca Potosina or Ciudad Valles.
Where is Huasteca Potosina?
Try putting Huasteca Potosina on Google map and you won't get any results. It does not show on the map because Huasteca Potosina is actually a region in the state of San Luis Potosi.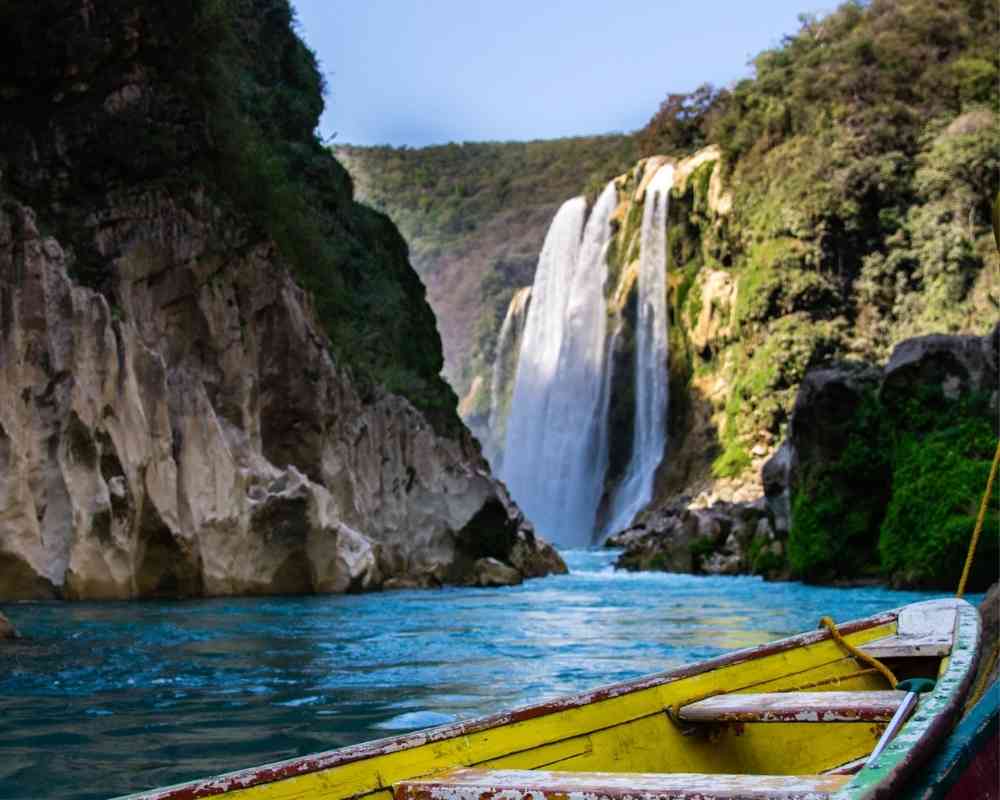 This is where all the waterfalls that you've been dying to see are located but the exact location on Google maps is unknown.
The Huasteca is one of the most beautiful destinations in Mexico and this was really one of my favorite road trips.
About Ciudad Valles
Ciudad Valles is the gateway to your Huasteca Potosina adventure and this is actually very accurate on Google maps.
There is nothing to do in this city but this is where the hotels and restaurants are located.
I was able to get a nice hotel here for cheap and if you want to go to all the waterfalls and cascades of the Huasteca, this is where you should stay and use it as your base.
🚘 Renting a car for your Huasteca Potosina road trip
My plan was to do a Central Mexico road trip (Mexico City, Queretaro, San Miguel de Allende, Guanajuato, etc) but that didn't work out because when I was already in Mexico City, I met a French guy in one of the Couchsurfing meet-ups I attended.
I told him about my route and he said I should go to San Luis Potosi. He showed me pictures of the waterfalls and I was like, "yes, change of plans. I need to make a little swerve to SLP."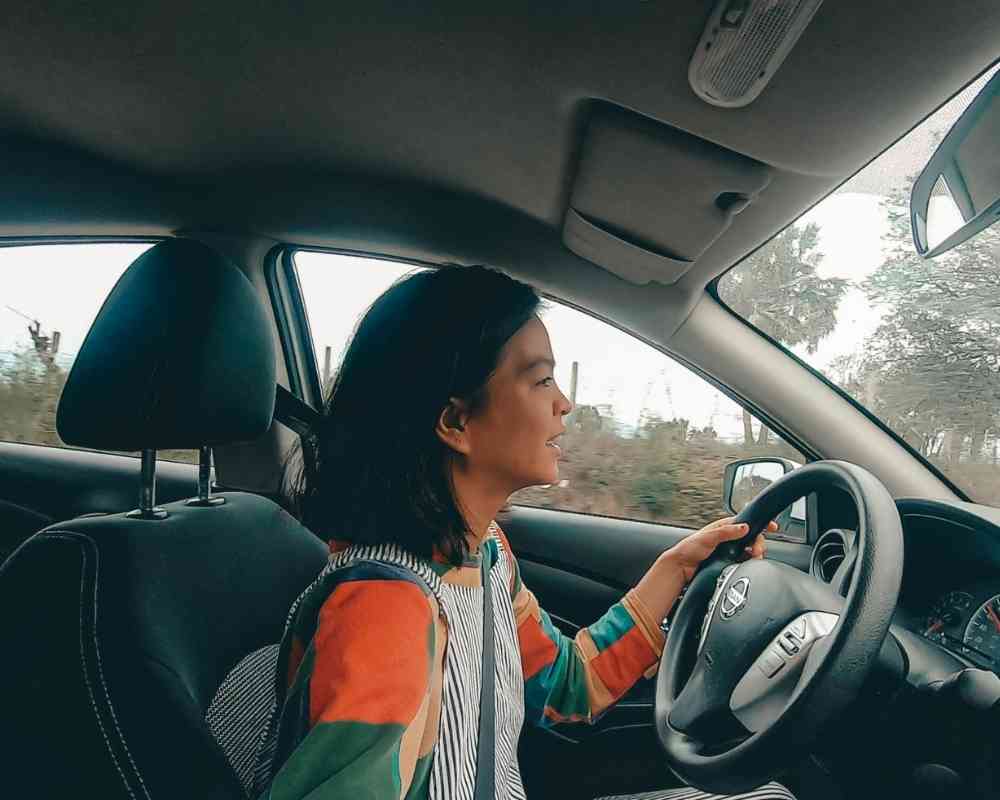 I still ended up doing extra destinations anyway that I included in this post (feel free to skip them).
Car rental prices from Mexico City are really cheap – I got mine for US$17 per day. But take note that if you have different pick-up and drop-off destinations for your car, most rental cars charge extra for having a different drop-off but it's not a lot.
In my case, I rented the car in Mexico City and dropped it off at Leon, Guanajuato. My last stop for this trip was San Miguel de Allende.
To understand the price difference, if I returned the car to Mexico City, the price of the daily car rental will be US$7 per day. Technically, it's US$10 more (per day) because I returned it in Leon.
I know a lot of people doubt booking cars online but I always do it on my road trips all over the world – it is guaranteed 100%, plus you won't be charged the safety deposit upon booking.
You will only pay the daily rates online. The deposit will be charged (in-person) when you are picking up the car at the rental office.
Mexico City has a lot of pick-up points all over the city (I got mine in Reforma). You don't need to go to the airport to rent a car!
Not all booking platforms tell you this but when you get to pick up your car, it includes the 16 IVA (taxes and fees).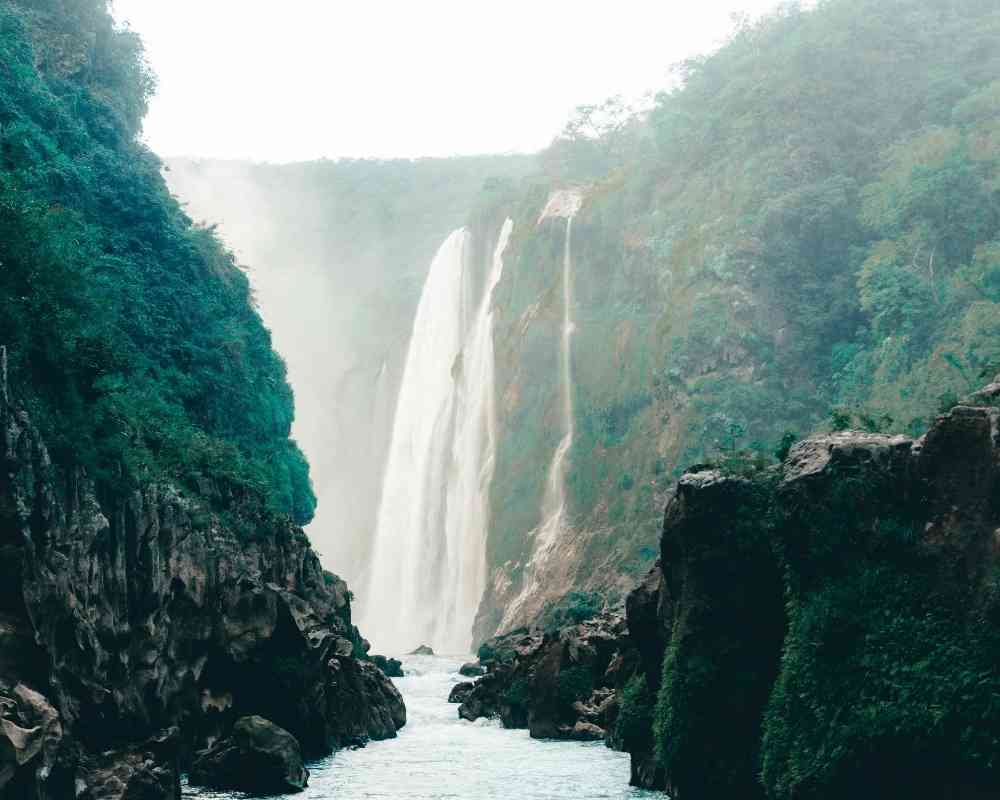 IVA stands for Impuesto al Valor Argregado in Spanish but in English, it's Value Added Tax (VAT). It's really up to you to decide.
Just keep comparing prices but these three rent-a-car online booking platforms are the ones I always use.
I tried different months (April, May, and June) when I compared the prices above. They all showed the same results.
➡️ Day 1: Huasteca Potosina road trip
Mexico City to Xilitla (7 hours – my longest drive)
The driving time from Mexico City to Xilitla is 6 hours and 30 minutes. I left Mexico City early in the morning and arrived at Xilitla really late (around 22:00).
Xilitla is very hilly so driving at night, I had a hard time locating the hotel I booked so I called the hotel receptionist and ask for help.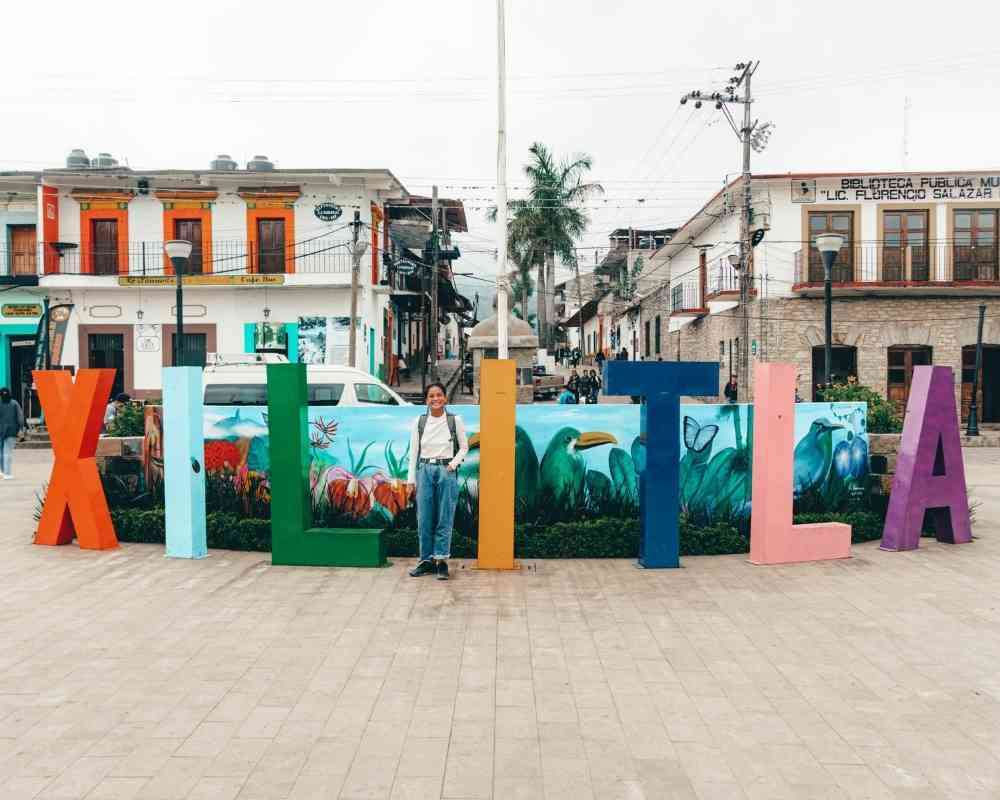 The streets were one way and most of them looked like dead-end so it was very confusing to arrive.
I then asked the receptionist to send me his exact location (he had to go out of the street to do this).
Where to stay: Xilitla hotels
I stayed at Posada Familiar Tonantzin. Before I booked, I called them and found out it's a family-run guest house so that was the best option for me since I can ask them for advice and I can always call them in case I get lost.
There are many nice hotels in Xilitla that are really nice but I stayed in the most basic one since I was only driving by. If you decide to spend more than a day in Xilitla, here are the best accommodation options:
➡️ Day 2: Huasteca Potosina road trip
Visit Las Pozas and Sotano de Las Huahuas, then drive to Ciudad Valles
Las Pozas, also known as Edward James' Surrealist Garden is nestled in the thick jungles of Xilitla and it's the only attraction in this city.
Edward Frank Willis James is a poet, an art collector, and a designer born in Scotland. He came to Xilitla in the 1940s' as he was looking for a place to write poetry.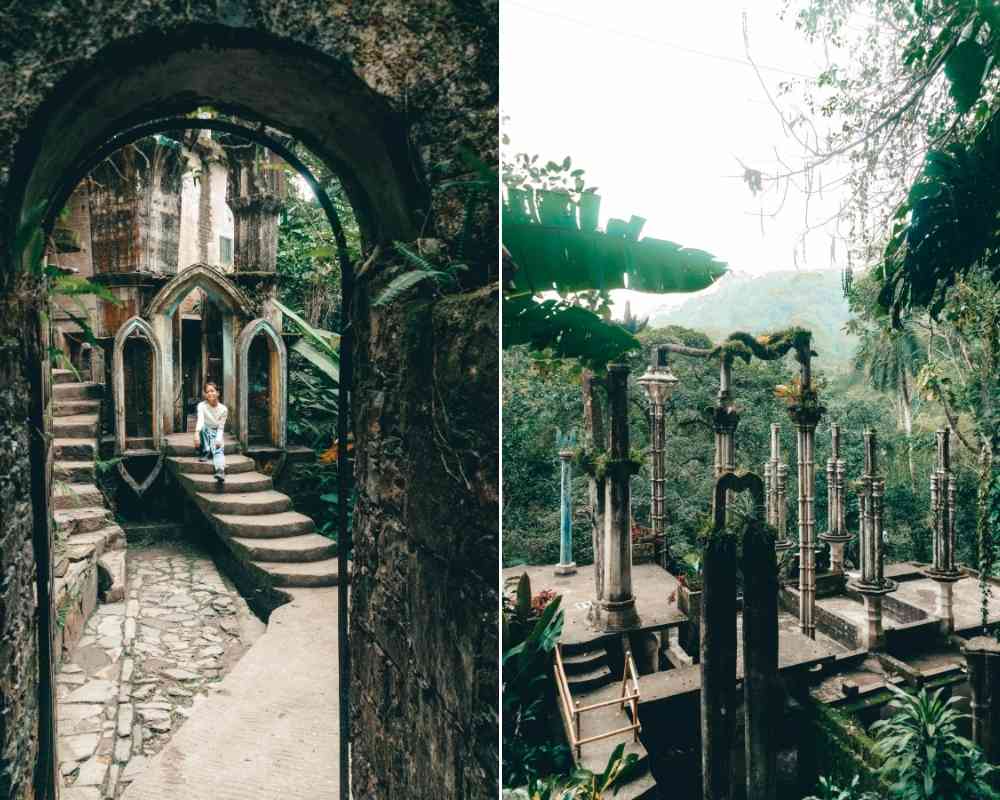 He ended up in Xilitla and through the help of the local community, he build Las Pozas, a US$5 million project which he funded by selling his art collections.
Las Pozas is like a secret garden. It is massive with structures that evoke nonsense, cut stairways to the sky, and doors leading to nowhere.
There are also a bunch of rivers inside where you can swim. It is a place of fantasy and it's worth visiting!
Visiting Las Pozas
Las Pozas is open from Wednesday to Sunday, from 9:00 am – 6:00 pm. Admission fees are at US$5 for adults and US$0.50 for adults over 65 years of age.
Children under 12 years of age are not allowed in the garden. Everyone must show a valid ID upon entry.
Las Pozas recommends buying your tickets online as the number of people they accept daily is limited. Purchasing your tickets online has an extra handling fee.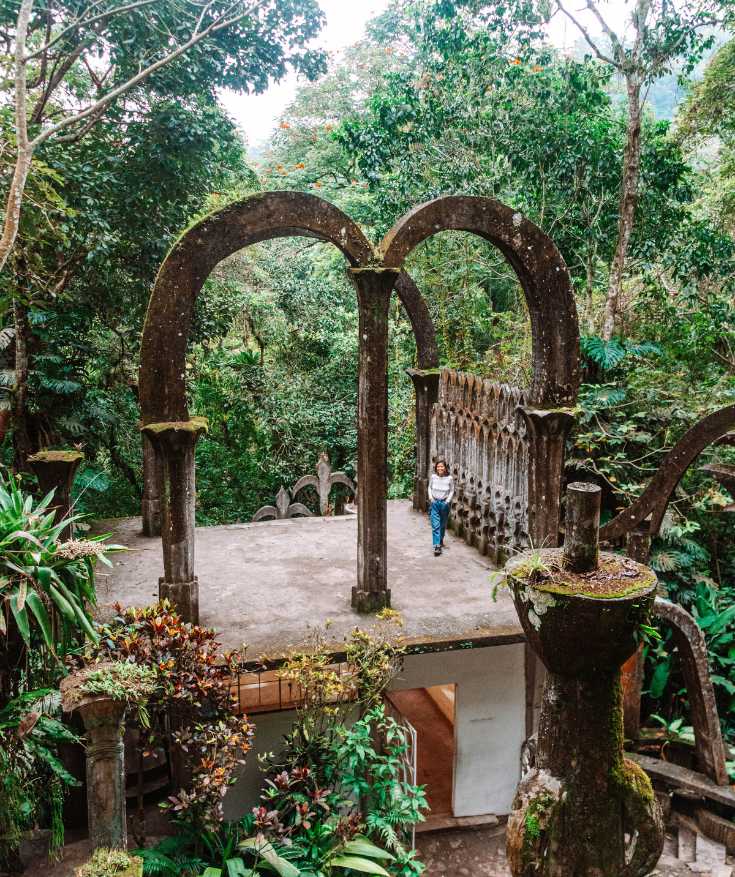 At the entrance, there are many guides who will offer you a tour but Las Pozas has certified tour guides that they allow inside the garden.
The price for the authorized guide is US$1.25 per person. I did not hire a private guide since there are lots of signs and posters inside the garden that tell you a bit of history about each area.
I also did two rounds of visits to the garden as I found it really nice to look at. I took my time without a private guide.
Sotano de las Huahuas: on the way to Ciudad Valles
Sotano de las Huahas is just 45 minutes away from Xilitla and it's in the middle of the route to Ciudad Valles.
It's usually a tour included with Xilitla. The Sanctuary of the Huahuas is an underground abyss 478 meters deep. It is declared a protected site in Mexico.
To reach Sotano de las Huahas, you need to walk 20-30 minutes to reach the abyss. The sunset here is spectacular so I was just in time before my trip to Ciudad Valles.
You need to hike to get here as it is not accessible by car. It is steep so you have to be careful and wear proper shoes (or go barefoot) to get here.
If you sign up for the tour (together with Las Pozas in Xilitla), the cost is US$55. You can definitely do this when you are already in Ciudad Valles but it's on the way from Mexico City so I opted to stop here first.
If you arrive at Sotano de las Huahuas later than 6:00 pm, forget it. It can be too dark and dangerous to go by yourself.
Sotano de las Golondrinas: on the way to Ciudad Valles from de las Huahas
Just 37 minutes away from Sotano de Las Huahas is Sotano de las Golondrinas, also known as Cave of Swallows. It is the 6th deepest abyss in the world with a total depth of 512 meters. The entrance fee is US$1.50.
As usual, it's another hike so you need to wear shoes. I don't really recommend this if you have some knee problems as the hike can be moderate-difficult.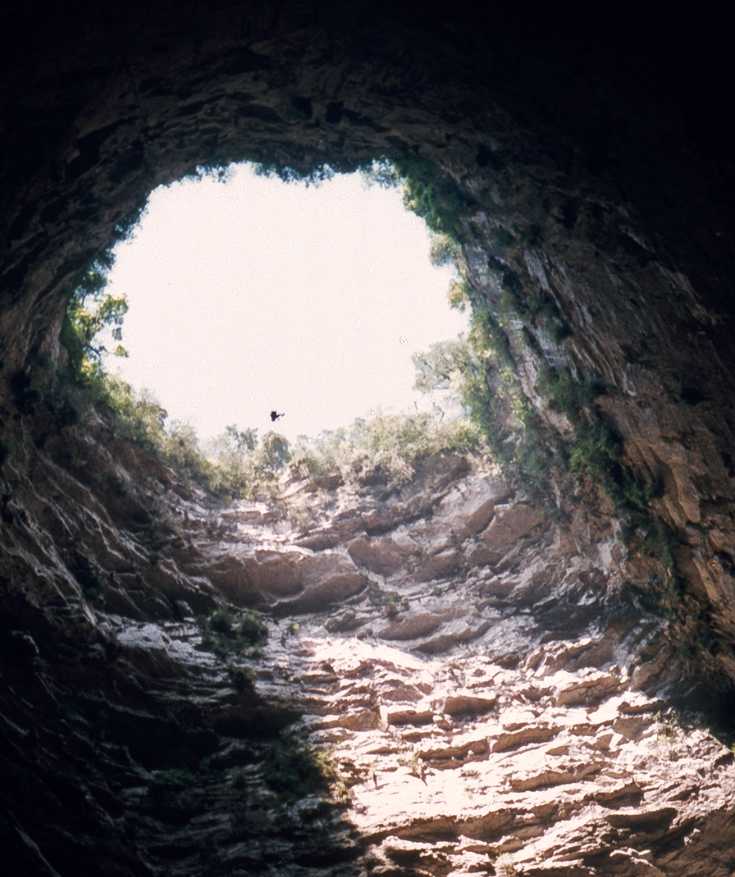 You can definitely go down the hole but there are some days that they don't allow it because of the weather conditions.
Of course, I wasn't able to experience the rappelling since it was a rainy day and they weren't allowing anyone to do it. I definitely should go back for the rappelling!
Many tour combos are offering Sotano de las Golondrinas with Xilitla Las Pozas tour. Prices start at US$64 and it includes transportation, 1 meal, 1 snack, and necessary tour equipment.
Driving to Ciudad Valles from Xilitla
After the Las Pozas tour, I had lunch in Xilitla before hitting the road. Xilitla is not a very tourist city but there are many restaurants in the area.
There aren't restaurants during the drive to Ciudad Valles so it's better to eat before leaving. I even had a takeaway sandwich from Xilitla!
The drive to Ciudad Valles takes almost 2 hours and the roads are pretty great. Ciudad Valles is not a touristy city but this is the gateway to the Huasteca Potosina attractions.
This is where I stayed when I visited all the waterfalls and there are many great accommodations here despite the lack of tourism in the area.
You will only see lots of locals and there isn't any sight of 'whiteness'. I also tried to explore the nightlife and it is non-existent.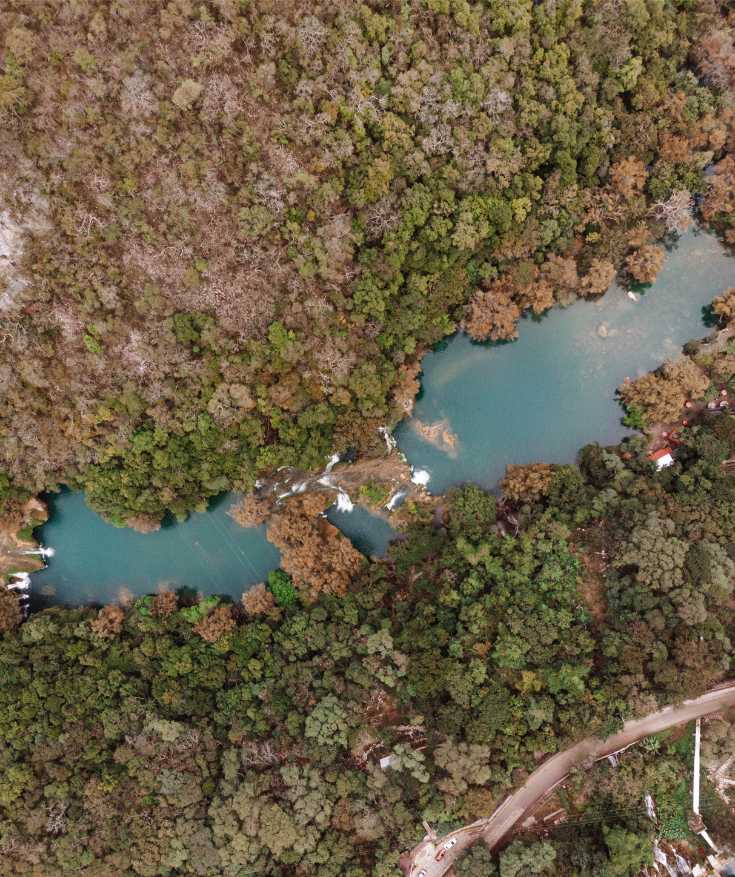 I booked a hotel that has a bar and that was the only nightlife option in the city.
I stayed in Mision Hotel Ciudad Valles and paid US$30 per night. The rooms are nice and there is a big parking space where my rental car was safe.
There was also a pool but I didn't go in – February is pretty cold in Ciudad Valles! I actually went to this area at a bad time – it was too cold and rainy.
I had to stay in the hotel some days because the rain was too hard I couldn't do anything. In the last part of this guide, I will also explain when is the best time to do your Huasteca Potosina road trip.
All Ciudad Valles hotels offers tours to the Huasteca Potosina. In the next sections of this page, I will share the tour prices plus what I spent by doing it on my own (with a rental car).
If you want to take public transport, the hotel can also give you directions. There is also an option to hire a private car in Ciudad Valles (with a driver) so you don't have to worry about driving.
Day 2 expenses cost summary: what I spent vs tour prices
Do-it-yourself: US$35
Rental car: US$17 per day
Las Pozas Entrance fee: US$5
Lunch: US$5
Las Huahuas entrance fee: US$1.50
Las Golondrinas entrance fee: US$1.50
Parking fees: US$5
Xilitla to Las Huahuas tour: US$55
All transportation included (hotel pick-up/drop-off)
1 full meal (lunch)
1 snack
Entrance fees
Necessary equipment needed
Xilitla to Las Golondrinas tour: US$64
All transportation included (hotel pick-up/drop-off)
1 full meal (lunch)
1 snack
Entrance fees
Necessary equipment needed
➡️ Day 3: Huasteca Potosina road trip
Tamul Waterfall
I decided to do Tamul Waterfalls by itself for one day since it was the attraction I was most drawn to. I also think that logistically speaking, getting here takes a lot more time. I drove to Tamul Waterfalls for an hour.
The directions were pretty straightforward on Google maps and Waze, however, you will reach deserted roads. However, you need to put La Morena on Google maps/Waze as it does not show the exact location of Tamul Waterfalls on the maps.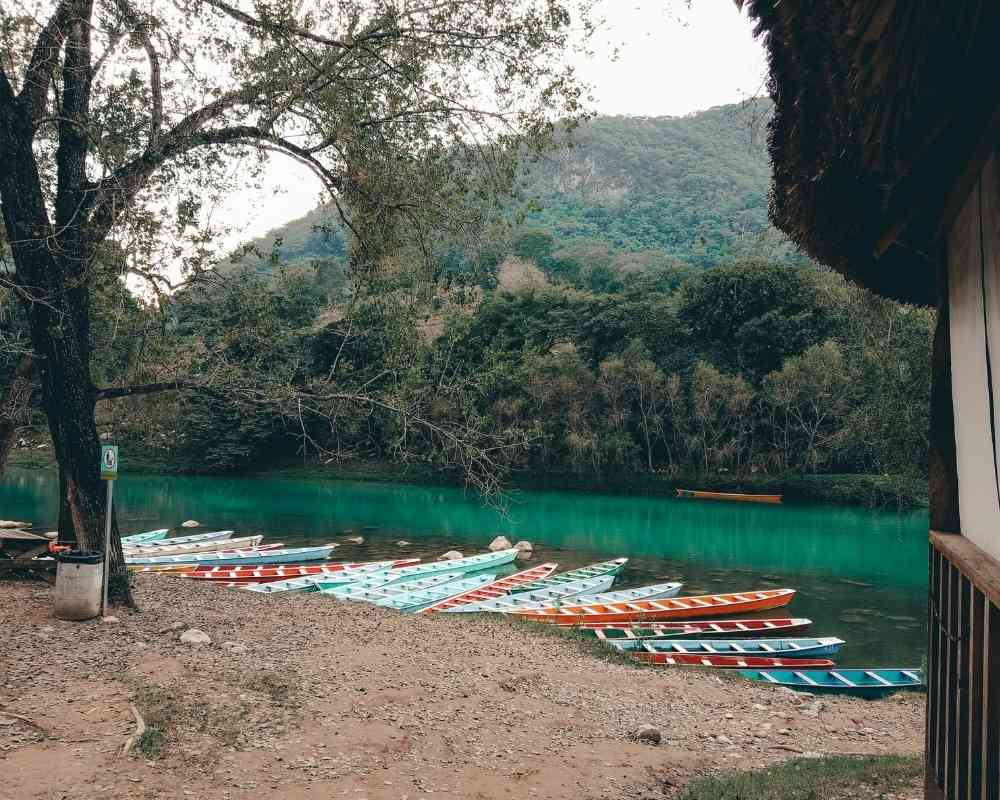 The signal was great but I had my own portable wifi device in case of emergency. My local Mexican mobile provider's signal wasn't working very well but this depends on your provider. I heard from locals that AT&T is stronger than Telcel in this area.
I found driving to Tamul Waterfalls really easy but the only concern is that it is quite deserted and there aren't a lot of people to ask for directions.
I cannot imagine going here by public transport (you have to walk a lot, the bus doesn't go to the waterfall) but I know a lot of people who've done it. They all said it wasn't easy by bus.
For the last turn, the landmark I remember was a primary school. You will see the pedestrian crossing for children where you need to turn right to get to the waterfall.
I went on a Wednesday and strangely, I did not see any children in the school. This area is really very quiet and deserted I wondered where everyone was!
I paid US$7 for the boat ride that I shared with 10 other people. It's very easy to purchase the boat ride when you are already there as there are many tourists whom you can join for a group ride.
In my case, there were only Mexican nationals when I visited. I did not see any foreign tourists at all.
The crazy thing about this boat ride is that all of us had to row the boat together with the boatman. He thought us how to do it and we all had fun rowing together.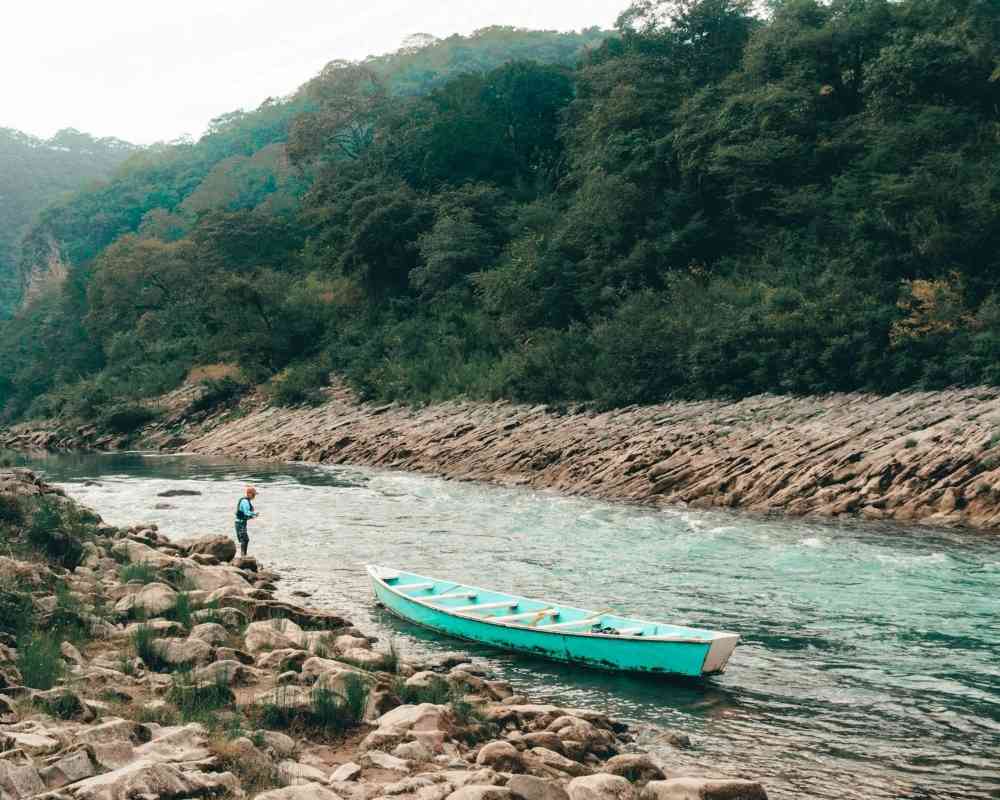 However, it wasn't a short ride – we rowed 45 minutes to Tamul Waterfalls through a river and my arms were very sore.
Some of my boatmates are also very lazy I saw them taking long breaks in between while the rest of us row. The current is against the boat on the way to Tamul so rowing was harder.
We also had to go down the boat and walk on the trail sides when the river gets too shallow. The boatman pushed the boat by himself while the rest of us hike to the meeting place.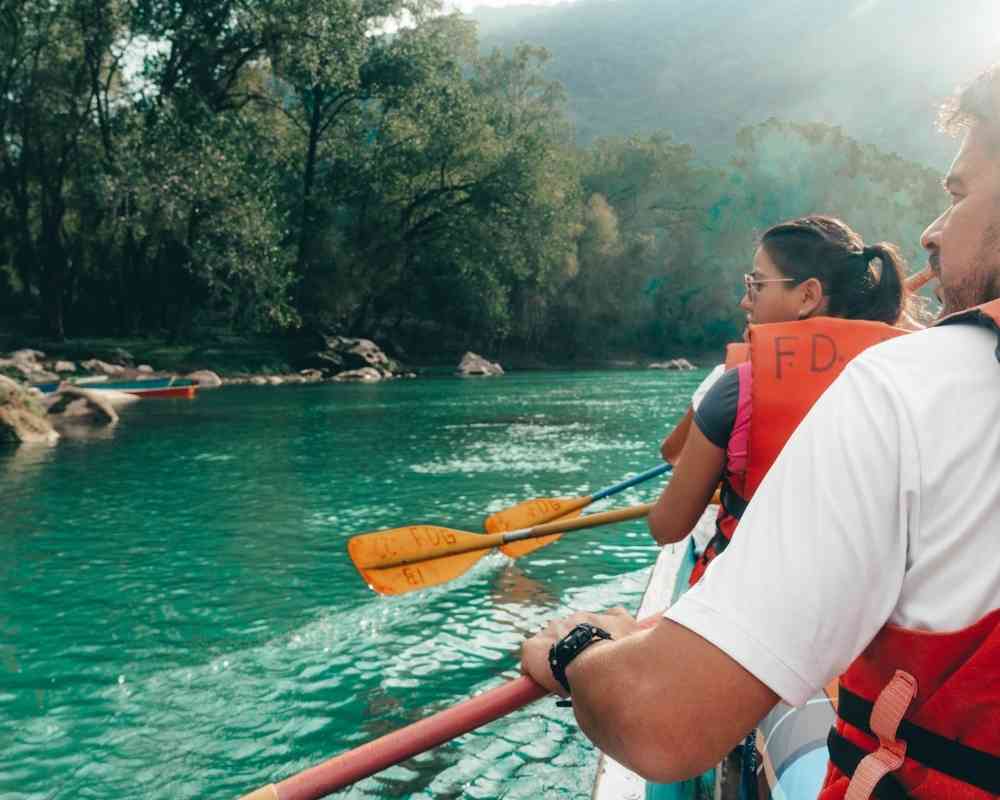 When we reached the Tamul Waterfalls, there aren't solid structures to step on. There is only a big rock where everyone can go up (you can see that in the featured image of this article), take pictures, and admire the waterfall.
Of course, when we reached this one particular rock, there were also other boats there waiting for their turn. We had to wait a little bit as the policy is per group, per boat.
This tour lasted 4 hours and it was already dark when we were coming back. Rowing back is easier since the current was not against us, but I couldn't feel my arms at the end of this tour!
Tamul Waterfall tour price
If you decide to book a tour in your hotel, the price per person is US$54. They will pick you up and drop you off at the hotel and you don't have to worry about getting lost.
This package includes transportation, 1 meal, snack, park entrance fees, and travel insurance.
Tamul Waterfall costs summary: what I spent vs tour prices
Do-it-yourself: US$29
Rental car: US$17 per day
Tamul Waterfall boat: US$7
Lunch: US$5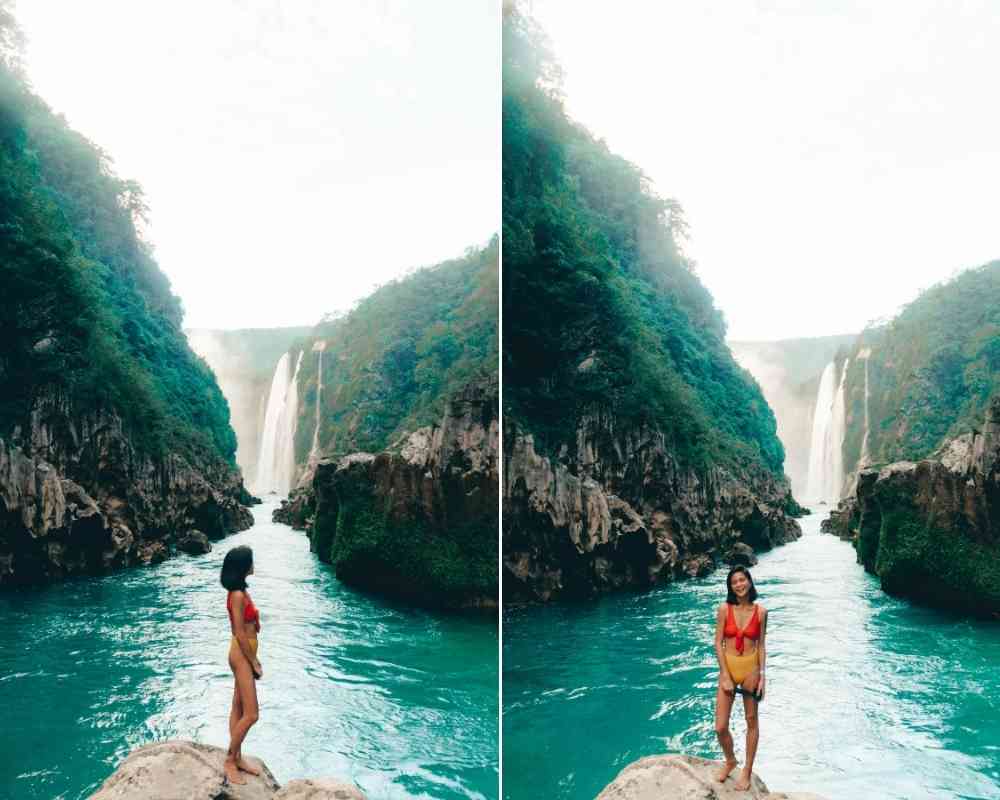 Tamul Waterfall tour package: US$54
All transportation
1 full meal (lunch)
1 snack
Entrance fees
Necessary equipment needed
WE CUSTOMIZE TOURS IN SAN LUIS POTOSI! 🎉🥳
We live here and have traveled the whole state of San Luis Potosi. Contact us for a quote: no hidden costs, just simple prices. E-mail us at [email protected] or call our office at +52 473 171 5259.
➡️ Day 4: Huasteca Potosina road trip
Tamasopo and Puente de Dios
Logistically speaking, Tamasopo and Puente de Dios are close to each other so I decided to do them at the same time.
The driving time from Ciudad Valles to Tamasopo is one hour and from Tamasopo, Puente de Dios is another 15 minutes.
Taking the bus will take 2 hours but you can easily take the bus at the station in Ciudad Valles for US$3.50.
The bus will drop you off at the entrance and you don't need to walk far unlike Tamul.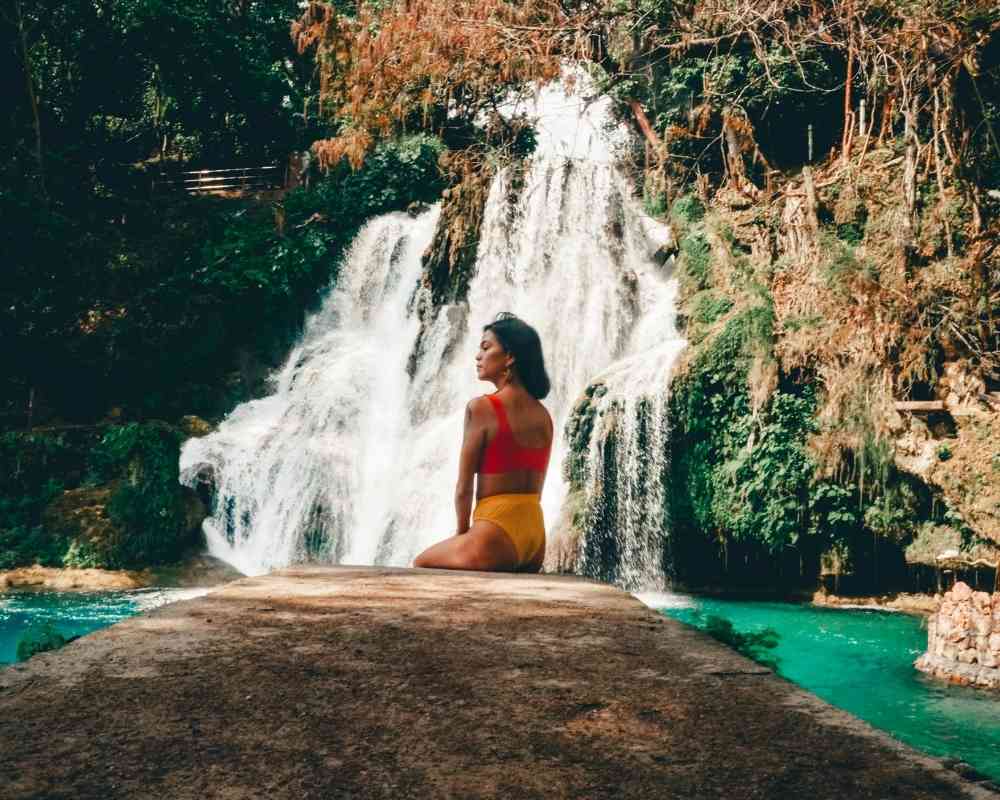 Tamasopo Waterfall is located inside a garden complex where there are restaurants so it was strategically easy to arrive here and spend half the day.
The entrance fee is US$1.50. The park has benches and has multiple waterfalls in it. If you want to swim, a lifejacket is required and you have to pay for it.
You can also jump the cliffs – I did it a lot when I visited but you need to be careful when jumping.
The waters have mild currents that's why a life jacket is required if you want to swim.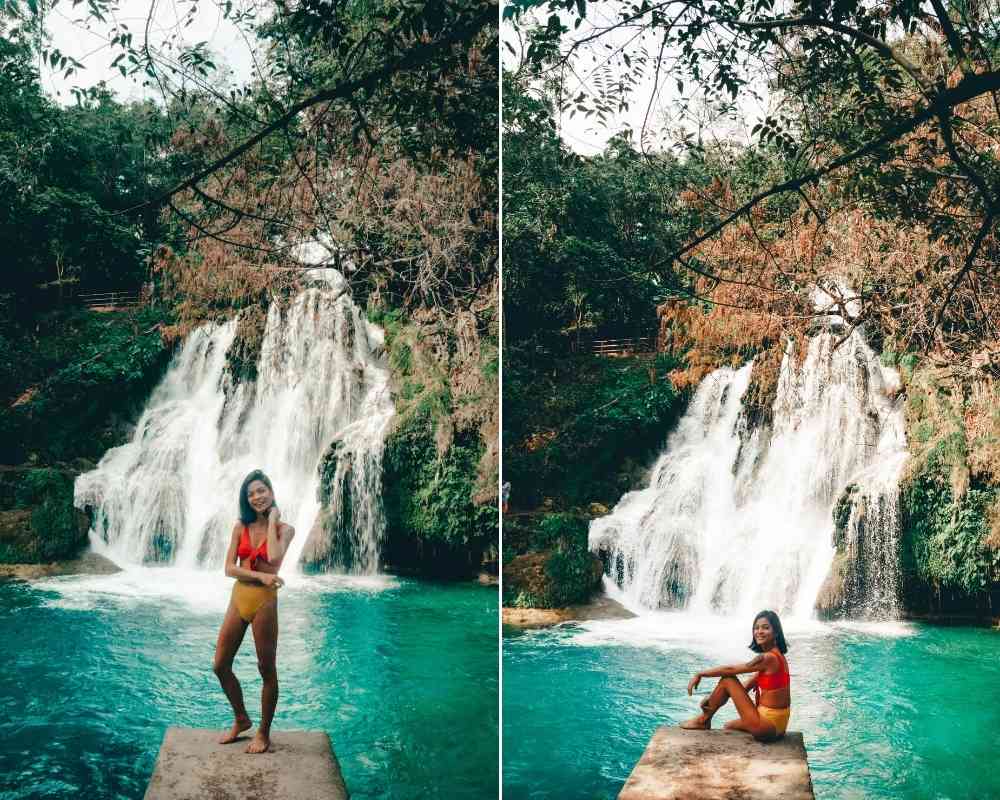 After this, I drove to Puente de Dios which was also easy as it is close to Tamasopo. You will reach a big parking lot area where the boys charged me US$0.50 for the parking. They also promised to take care of the car and I felt safe leaving the car with them.
From there, you need to walk for 15 minutes and pass train racks to get to the beginning of the trail.
There are many trains passing by but they are not passenger trains (they are delivery/cargo trains) so be careful in crossing the racks.
Right at the station, there are a lot of stores, souvenir shops, and street food so if you don't find any sign going to the Puente de Dios trail, you can easily ask the locals.
Puente de Dios trail is downhill and it's slippery. I did the trail barefoot as I was afraid to slip but if you prepared in advance, you can use hiking sandals or go barefoot as I did.
The only problem with going barefoot is that the train tracks are rocky so I painfully suffered crossing the racks. The rest of the Puente de Dios trail is cement (and muddy, considering I visited during the rainy season).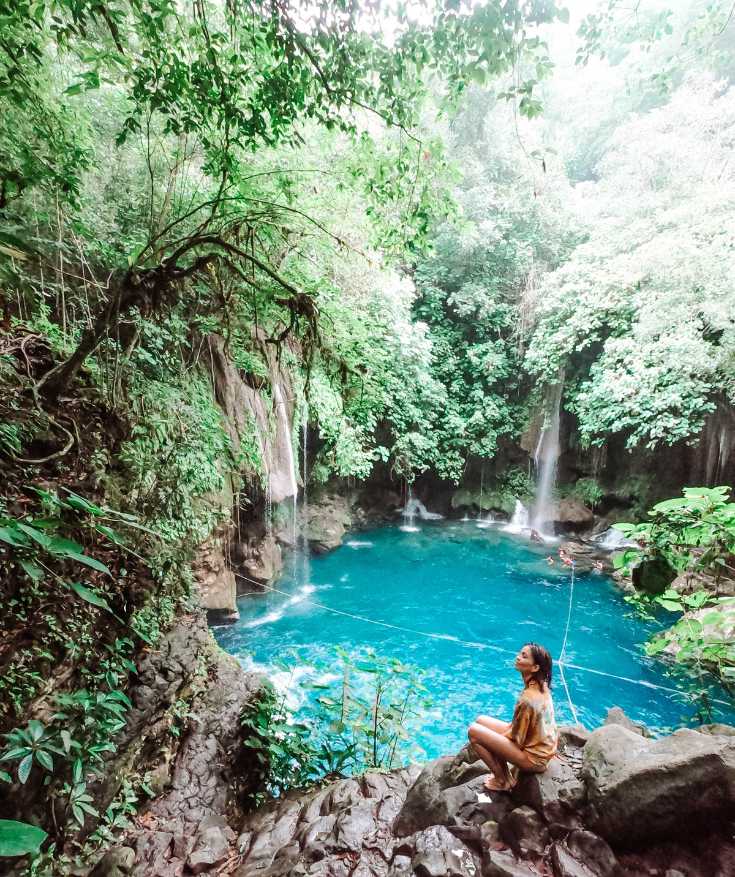 The admission fee for Puente de Dios costs US$0.50 for adults and US$1.72 for kids ages 4-10 years. It took me about 20 minutes to go down to Puente de Dios but the trail does not really show you the cove from below.
You just need to keep going until you hear the waters. There are no views going down Puente de Dios as it is covered by lush jungles. When I reached Puente de Dios, there were a lot of people and the trail leading to the main attraction was small. I had to wait for my turn.
You can definitely swim in Puente de Dios but the currents are too strong and seem to be coming from many directions. However, they put a rope where you can hold on to swim around.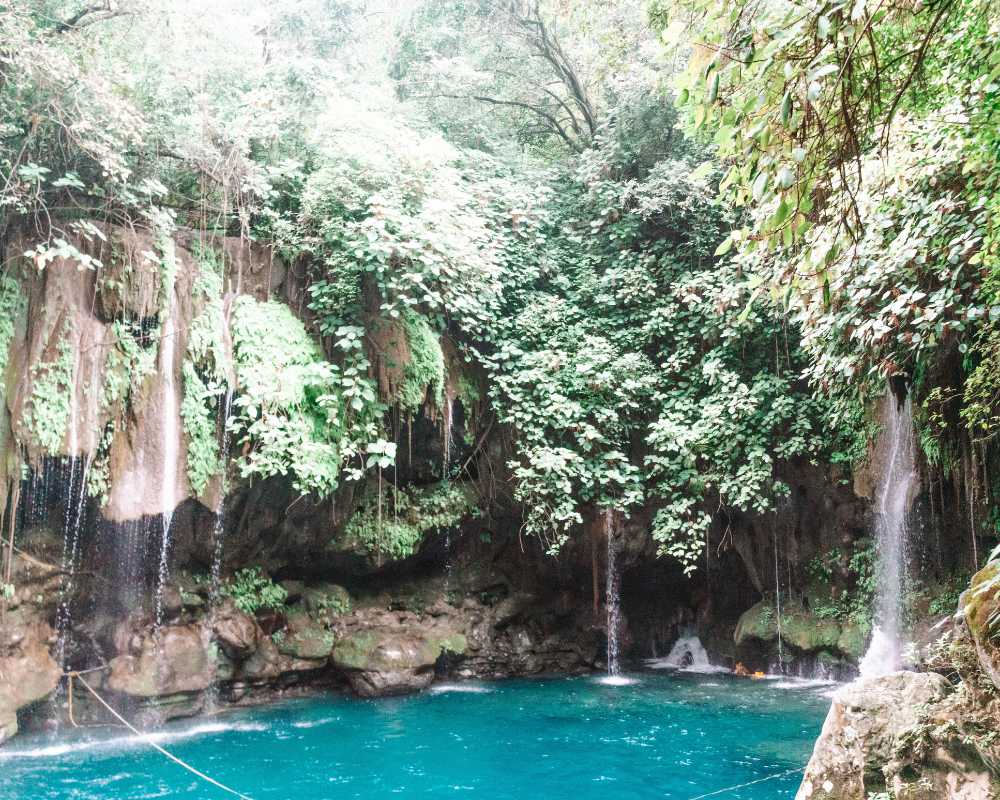 Even if I was holding on to these ropes, I still found myself being carried by strong currents and I actually broke my GoPro selfie pod with very few movements! I also tried to fly my drone from the bottom and it didn't go higher than 20 m because of the lush jungles.
The drone went berzerk as it can't get any signal or clear flight sight. I just flew the drone when I returned (up the trail) but the Puente de Dios cannot be seen from above.
Tamasopo and Puente de Dios Tour Prices
If you are to sign up with a tour company, the price of this tour is US$55 which includes all transportation, entrance fees, 1 meal, 1 snack, and all the necessary gear needed for the tour. Companies require a full day to visit these two attractions.
Tamasopo-Puente de dios costs: what I spent vs tour
Do-it-yourself: US$29
Rental car: US$17 per day
Puente de Dios entrance fee: US$0.50
Tamasopo entrance fee: US$1.50
Lunch: US$10
Tamasopo-Puente de Dios tour package: US$55
All transportation
1 full meal (lunch)
1 snack
Entrance fees
Necessary equipment needed
☕ Support this blog's honest and transparent journalism. Help us add value to what we are sharing. Keep Mexico Insider FREE for all by donating to our coffee fund. Muchas gracias!
➡️ Day 5: Huasteca Potosina road trip
Minas Viejas and Micos Waterfalls
Micos is only a 35-minute drive from Ciudad Valles but I went to Minas Viejas first since it was farther (but on the same route as Micos). From Ciudad Valles, Minas Viejas is about 1.5 hours so I left early for this and passed by Micos Waterfalls on the way back.
Having your own car gives you a lot of freedom to change and plan your route as you please. It was also not very expensive! I got really confused because there were no signs to Minas Viejas but when I took the turn I need to take, it took another 30-40 minutes to get to it.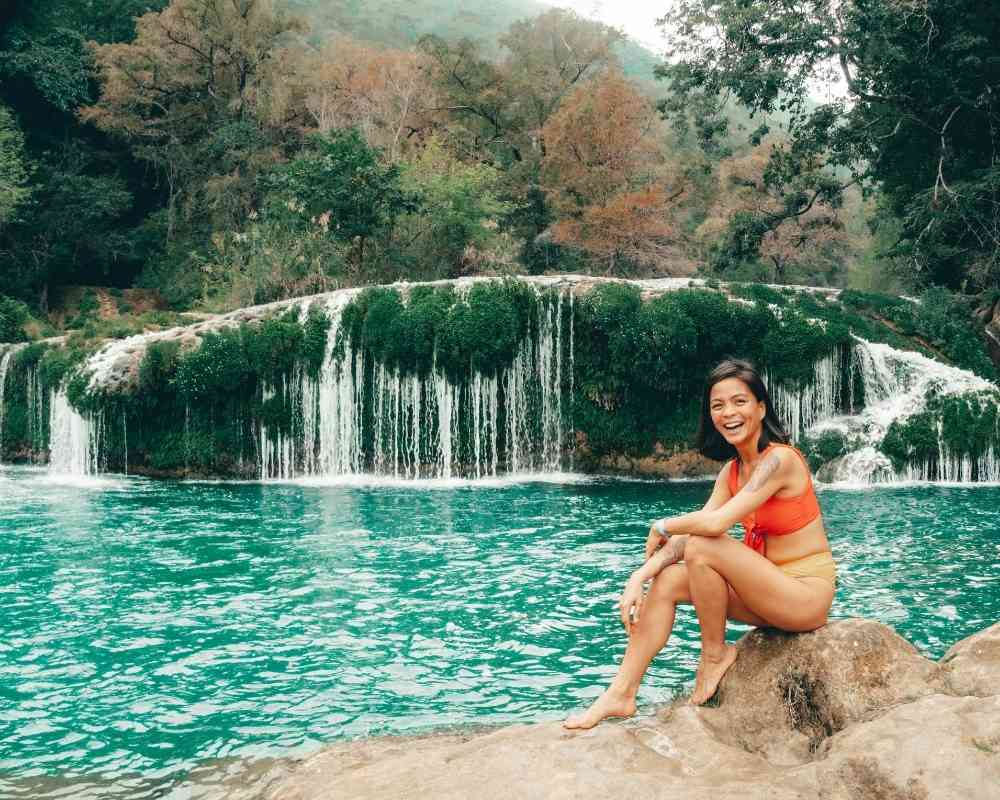 Of course, whenever I feel like the road is a dead-end, I always stop and ask for directions.
The locals will always say "just keep driving" but if you do not know the layout, it can really get confusing.
I also did not see any public transport on this highway so if you want to do this by bus, it's impossible. You need to have a car or a private taxi to take you. The entrance fee is US$1.5. I felt safe leaving the car with some locals but I gave an extra tip just in case.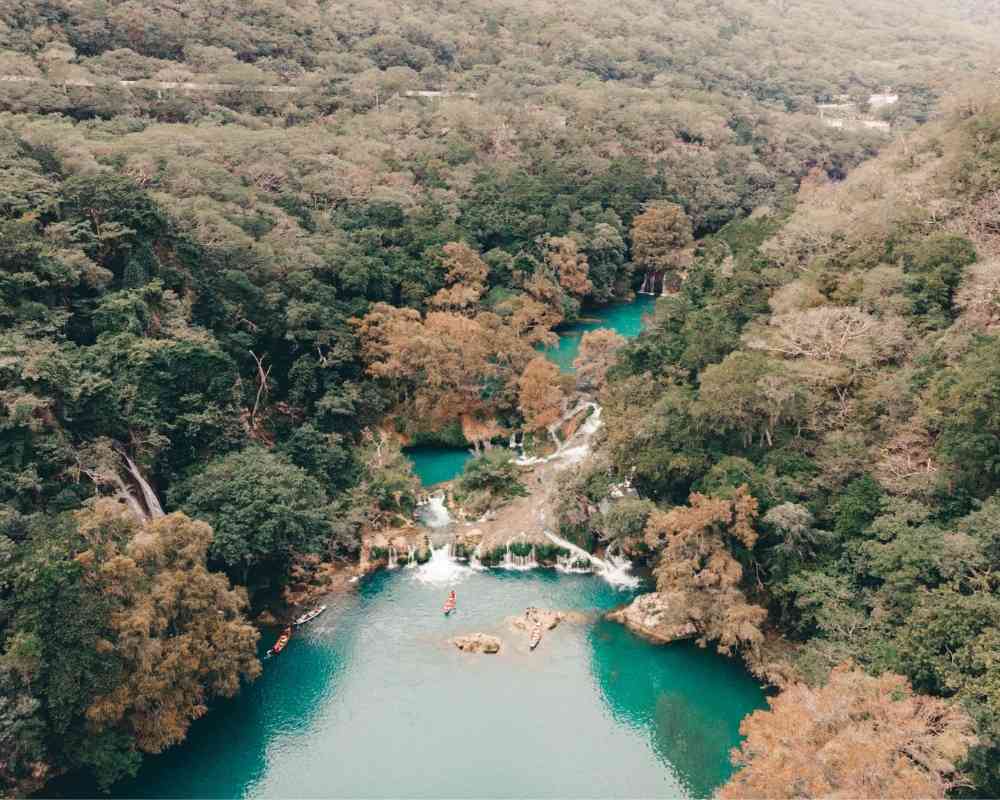 From there, you will have to take a hike of 200 plight of stairs. Then you will reach the river where the waterfall is located – this is one of the most beautiful sights I've seen in my life!
You can definitely swim in the Minas Viejas but life jackets are mandatory. The rental costs US$1.
You can also do some jumping in a few spots but I don't recommend it if you can't swim well. The water was also too cold but then again, I visited during the winter.
The drive from Minas Viejas to Micos Waterfalls was only for an hour towards Ciudad Valles.
Upon arrival in the Micos viewpoint, I did the Sky Bike ride where you get to see the waterfalls from above. It was one of the most daring things I've done! This costs US$48 and includes a zip-lining ride as well.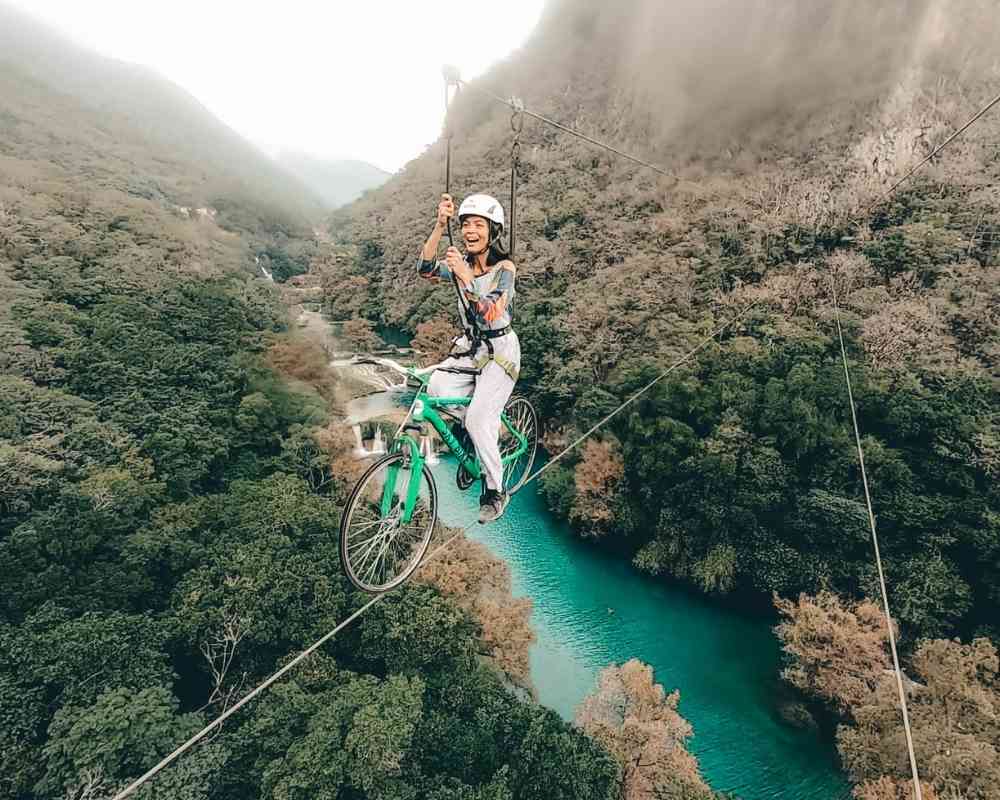 The entrance to the Micos Waterfalls costs US$2.12 per person. The parking lot was free of charge.
Micos is like Tamasopo as it is located in a park-like compound area. At the entrance, there are many food stalls where I had a mojarra frita for US$10.
There are also bathrooms available all over and they are all very decent. Micos was easy to get to compared to the other San Luis Potosi attractions.
Tour prices for Minas Viejas and Micos Waterfalls
I did not find a combo tour for this and the hotels also offer them separately. The price for the Minas Viejas tour is US$72 while the Micos Waterfalls tour is US$41 without the Sky Bike.
Both tours include rappelling, waterfall jumping, transportation, 1 meal, park entrance, snacks, and travel insurance.
Minas Viejas and Micos Waterfalls: what I spent vs tour
Do it yourself: US$78.50
Rental car: US$17 per day
Sky Bike: US$48
Micos Entrance: US$2
Minas Viejas Entrance: US$1.50
Lunch: US$10
Minas Viejas Tour package: US$72
Rappelling
Waterfall jumping
All transportation
1 meal
Park entrance
Snacks
Travel Insurance
Micos Waterfalls Tour package: US$41
Rappelling
Waterfall jumping
All transportation
1 meal
Park entrance
Snacks
Travel Insurance
☀️ Best time to do your Huasteca Potosina road trip
Unfortunately, I did not plan my San Luis Potosi travel road trip very well. I was there between January to February and it was raining a lot.
I did not do these attractions daily. There were some days that I had to stay in the hotel in Ciudad Valles and do nothing because the rain was pouring.
The hotel receptionist actually felt bad for me when I stayed 3 days in a row. I did not mind because honestly if you are to do all these things every day and you are driving on your own, it will wear you out.
I was told that the best time to visit is from May to September. I'm definitely coming back! If you can observe the photos in this post, they're all pretty cloudy.
It was also very cold and I wore thermals for the entire trip! Water temperatures were also freezing so I was not able to swim that much (except for Tamasopo where it was bearable).
🛣️ Is it safe to drive in Huasteca Potosina Mexico?
The Huasteca Potosina is super green and what I love about Mexican roads is that they are very developed. I love driving so I did not have a hard time but please be wary about the weather when visiting Huasteca Potosina.
The hardest part I did was going out of Huasteca Potosina towards San Luis Potosi City. I spent 4 hours on a foggy zigzag highway driving at 20km because I couldn't see anything.
I felt like crying because it was in the middle of the night and there was zero visibility. Along with these, there were also cars along the highway and I was so scared that none of us will see each other because of the thick fog.
I put my fog lamps on and tried to stop whenever my eyes were tired from not seeing anything. That drive took me 4 hours instead of 1.5 hours. I really went slow.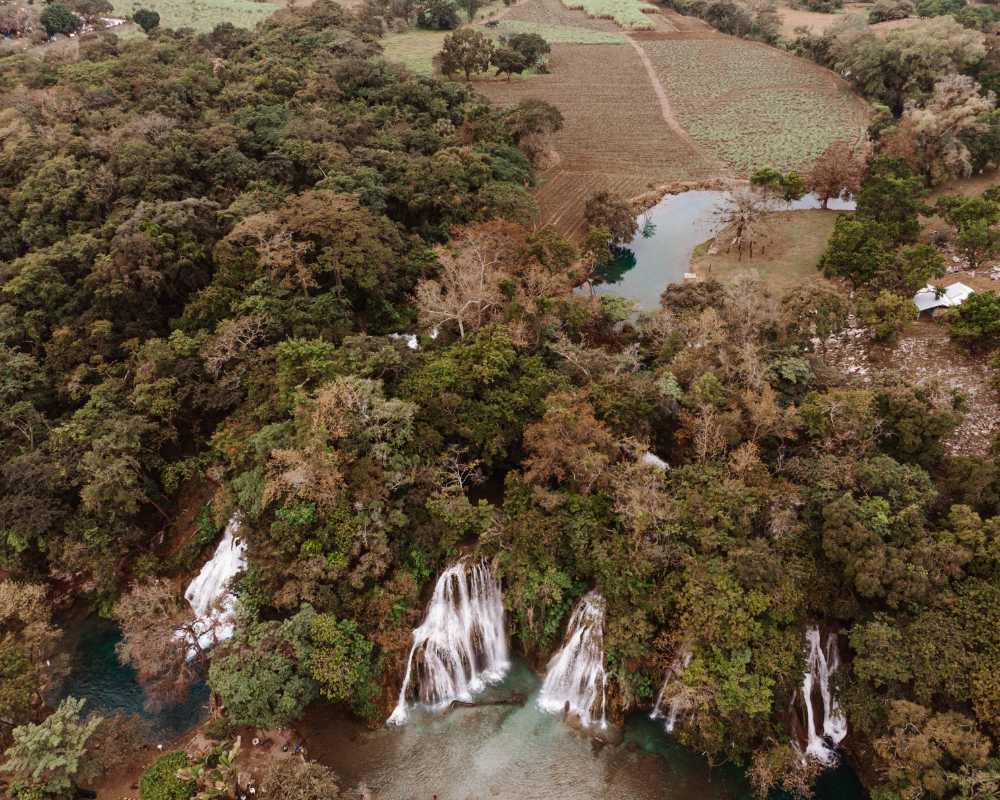 I also tried to knock on local homes and ask them if I can spend the night but it was too late. The town seemed deserted and I couldn't find anyone to ask for help from.
I think it's best if you do the long drives during the day. But within the Huasteca Potosina, I did not find any difficulty in the roads.
Everything is flat, there were signs everywhere and you can always ask locals for directions to the main attractions. I actually thought the layout of the Huasteca Potosina will be more touristy but that's not the case.
These roads are very deserted with almost no sign of tourism until you arrive at the destinations.That's the only time you'll see tourists but when navigating your way through them, there aren't tour busses or tourists on the highway.
If you're driving or taking public transport, you will definitely have to find everything on your own.
📋 Huasteca Potosina trip planning logistics
There are many options to plan your route. If you have your own car and are traveling with the group, I find this the best option since you are free to move anywhere you like and the drives are shorter vs public transport.
The costs are also almost for free if you are arriving there by yourself. All hotels in Ciudad Valles will offer tours but since I have a car, I did not have to avail any. I will put the tour prices in the next sections versus what I spent by arriving on my own.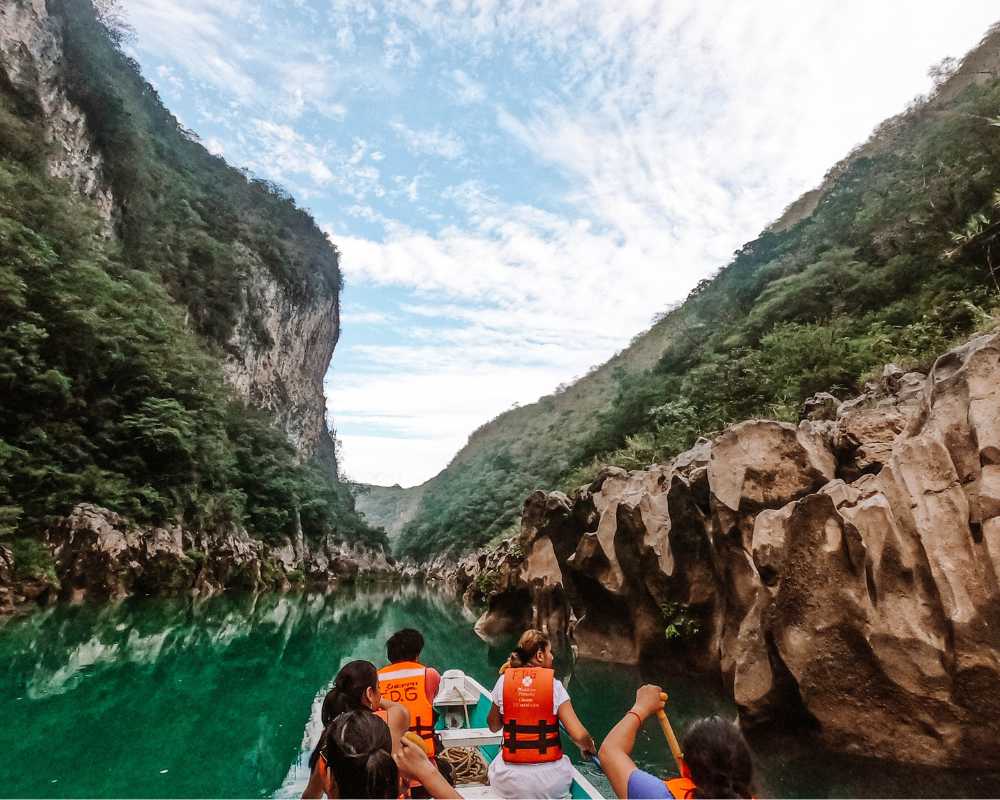 You can definitely do these all by staying in Ciudad Valles for a few nights or if you have a car. If you choose to do this, you can follow the route I gave above.
If you do not want to drive from Mexico City to start your Huasteca Potosina adventure, you can fly to San Luis Potosi from CDMX (they're really cheap) and rent a car when you are already in SLP City.
You just need to do the route I did backward as I came from the other side (Mexico City-Xilitla).
Trisha traveled to Mexico in 2018 and after a year, she found herself obtaining a 4-year residency visa in Mexico. She is the Editor-in-chief for our Living in Mexico Series which has helped over 3,000 Americans move to Mexico with ease. Trisha currently resides in Cabo San Lucas, Baja California Sur.