Day of the dead or dia de los muertos is very unique to Mexico. I've never seen anything like it in my life and this is one of the reasons why I love living in Mexico!
Historically, it is celebrated because the Mexicans believe that their departed loved ones come back (from the dead, literally) to visit them.
With this, the ever-so-entertaining Mexicans put on a grand show for the deceased relatives and friends by putting on a glamorous altar. Candles, photos, and even food are placed on the altar as offerings (ofrenda).
The Mexicans are also not afraid of death as they believe this is a normal cycle of life. Life should be celebrated as they say. I really admire this attitude because this makes them live a full life. I mean, look at how they celebrate their daily life!
Mexicans are the walking example of "we only have one life and we need to live it as best as we can." There is no other time in the world but NOW.
You might also like:
🕯️ Why celebrate the day of the dead in Oaxaca?
Quick answer: there is nothing like it. While I originally wanted to go to Mexico City to celebrate day of the dead (the flights were cheaper), I realized I've never really experienced Oaxaca day of the dead (not even once).
Oaxaca is the capital of day of the dead and I must warn you – if you do it here the first time, all the other DOTD celebrations in other parts of Mexico will be lame for you.
Take my credit card, please – now is a good time! I did spend a little more than what I planned because of last-minute poor planning that is why I am writing this Oaxaca day of the dead guide that doesn't break the bank.
Honestly, if I planned it sooner, it would've been so cheap. I will share all the booking and planning lessons I learned in this trip so keep reading!
🌼 How is the day of the dead celebrated in Oaxaca?
I don't even know how to begin but there will be events left and right. First, I would like to clarify that day of the dead in Mexico is not like Halloween. In fact, it is not Halloween. No trick or treating whatsoever.
As you are already familiar with how Mexicans are in terms of parties and celebrations, just imagine the most extreme festivity possible. You will be up against an unimaginable force of celebrating.
The whole city of Oaxaca will be filled with decorations from November 25th. All restaurants and establishments do their best with the decorations – there won't be a single place in Oaxaca that will not comply. The grander, the better.
There will be events left and right although they are not the same every year. Mezcal tastings, drag shows, street parties, lots of raves, you name it.
I really can't be specific with the events but along the way, you will definitely find one or five events that will suit your taste. I will give you tips later on how to find them.
You will feel left out (FOMO) because you can't even decide what to do first. It got so overwhelming for me to plan it with friends. We had this long list of events and things that we wanted to do but guess what?
In the end, we just lived in the moment and followed our days. For example, we planned to go to this mezcal tasting then it overlapped with a drag show that was announced last minute. We ended up doing the drag show instead!
The good thing about celebrating day of the dead in Oaxaca is whatever you end up doing for the day/night will always be awesome!
💀 Oaxaca Day of the Dead tips
Book flights 4-6 months before day of the dead
You can start booking your day of the dead flights as early as April. I booked mine 2 weeks before and guess what I paid for the domestic flight from Cabo? US$400, which, by Mexican standard is super expensive.
I live in Mexico and I know very well that you can easily get a domestic flight here for less than US$100. My flight was also super complicated as I had to stop in Mexico City for 8 hours!
It was the dumbest idea ever but for next year, my plan is to just book a 2-way flight (Cabo-Mexico City-Cabo) then take the bus from Mexico City to Oaxaca (and back).
The overnight bus only costs US$35 (one-way) and you don't have to pay for the luggage. Although I only travel with a carry-on, I did some shopping in Oaxaca so I had to pay for checked luggage (one-way). That cost me US$45 (UGH!).
Another good thing about taking the bus is that the ride will be throughout the night (7 hours) and you don't have to pay for accommodations. Just sleep in the comfortable bus which you can even upgrade to first class for US$50.
Because of poor planning, I had to stop in Mexico City for a night (both flights) and pay an extra US$40 for accommodation. I know I wasn't very smart on this trip but I am happy to share these stories as they can help you plan your Oaxaca day of the dead trip without spending as much as I did.
The bus should also be booked ahead of time via ADO. My friends Brock and Ciara got trapped because the busses were full and the bus website was not loading (a week before DOTD).
It was painful and stressful for them to stay in Mexico City while all of us were already celebrating in Oaxaca. Plus all the extra expenses you have to pay while being stuck in Mexico City.
It's not a bad place to be stuck in because it's my favorite city in the world but if you originally planned to party in Oaxaca, this is very frustrating! These two cities have very distinct day of the dead celebrations but many prefer Oaxaca over the capital.
Anyway, they made it in time but it was already the 30th so they definitely FOMOed. A lot already happened in our group and they missed out.
Mexican roads will also be crazy at this time so you want to be in Oaxaca by the 25th. Traffic was insane so the bus trip will take longer. Additionally, we also had friends whose flights were canceled last minute because of overbooking.
Remember that the most important thing to book during this event is transportation. Logistically, I find that harder to arrange because accommodation is always easy – you can always stay with friends when push comes to shove (which most of us did but more on that in the next part).
Secure your Oaxaca day of the dead accommodations 6 months before the trip
Tip, tip, tip! Golden golden tip. Let's start with the tip as I plan to do it now and for my future trips in Oaxaca. Book your accommodations as early as March/April.
I know that's too far ahead to book and that life can take you to different places for the next 6 months but guess what? If you decide to cancel, you can just sell the hotel reservation and probably even earn from it!
Many friends of mine canceled their trip to Oaxaca because you know, life just happened and they were able to sell their hotel accommodations for even a higher price!
You won't believe what people would pay for especially closer to the date. A friend who must not be named booked a private room for US$50 in April and he was able to sell it for US$100.
And fast! As soon as he posted it on Instagram, the hotel room was taken within the hour. I do hope you won't cancel your trip last minute but just in case, this is a freaking great alternative!
If you are alone, another money-saving tip is to book hostels in Oaxaca City. I swear to you, you will always be outside and you will not have the chance to stay in your hostel.
This party's round the clock, honey! It doesn't make sense for you to get an expensive Airbnb unless you're with a group and you'll split the costs. I don't remember being in my accommodation. I literally was just in my bed to sleep and that's it.
Since I always stay in hostels, I didn't really spend a lot on accommodations but often found myself sleeping in friends' hotel rooms because, oh well, the party went on until 5:00 am and I can't walk back. It's also not that safe to walk in Oaxaca after 10:00 pm so my friends always insisted I stayed (more on safety later).
What's so funny is that even if you're in a dorm in a hostel, you'll barely see people. It's crazy! I was in a 4-bed dorm and somehow just always never saw my dormmates.
There was one night that I decided to stay in. I slept at 8:00 pm and nobody was there so I popped a 10mg melatonin and slept like a baby. Having slept that early, of course, I woke up at 5:30 AM.
Surprise, surprise! I was still alone in the dorm room by the time I woke up. People just started coming in after 6:00 AM when I was already starting my day!
Everyone's always out and about so believe me, if you are on a budget, don't sweat on accommodation. Hostels are the cheapest without compromising your comfort.
What to wear for Oaxaca day of the dead
The day of the dead in Mexico is not Halloween so please avoid wearing costumes like zombies, or anything related.
Below are some great outfits for men and women to wear during day of the dead. Click on the images to order and check prices.
Where to do your day of the dead make-up
From October 25th, you will already see all the day of the dead make-up artists installing their small booths at the Andador Turistico. The make up should not cost you more than US$15 but it still depends on the design.
The best way to do it is to bring a picture of the make-up that you want and the make-up artist will copy them for you. Every time we do Oaxaca day of the dead, we usually have different make-ups every night.
Most of the make-up artists in the center are good but you also may want to explore further down the street of Andador Turistico to see smaller (and better!) make-up artists around the church and parks.
Arrival in Oaxaca
On day of the dead, taxi prices from the airport and from the bus stations can be unreasonable. Luckily, I have some local contacts in Oaxaca who give me the best rates.
If you take a normal taxi inside Oaxaca International Airport, they will charge you US$25 for a 10-minute ride to the city center which is a lot.
My local contact which is the Rodriguez family only charges me half the price. Javier, the eldest son has Instagram but he asked me not to publish it here so send me a message on Instagram and I will connect you!
If he's not available (which is highly unusual), I have a whole lot of phone numbers of taxi drivers in Oaxaca. Just send me a message and I will be happy to share!
How long should I be in Oaxaca for the day of the dead?
A week or even more. Look, you don't just want to experience the day of the dead – you want to experience Oaxaca in its fullness. Without the day of the dead celebrations, Oaxaca is a cool city and you need to explore it!
I would say 7 days is the most ideal since there is also other stuff to do outside of Oaxaca City. Don't worry, Oaxaca is one of the cheapest places in Mexico so I assure you, you can travel here at low costs.
In the next parts of this Oaxaca day of the dead guide, I will give you a sample itinerary. From there, you can decide how many days to stay.
📅 Oaxaca day of the dead dates
When I visited my local host family in Teotitlan (an hour's drive from Oaxaca), I was so surprised that the children weren't already in school on November 26th.
The parents told me that the government of Oaxaca declared November 25th as a holiday so the kids will have more than a week of vacation! It was all of day of the dead!
In reality, day of the dead is only celebrated for 3 days but the Mexicans always extend it to a week. Here are the important dates:
October 31st is what we know as Halloween but this is All Soul's Eve. On this day, it is believed that the angelitos (spirits of the children) are the first to return to spend time with their families.
November 1st is All Saint's Day is when the adult spirits return so expect a crazier shebang such as parades, drinking, and crazy parties.
November 2nd is All Soul's Day which I thought is going to be calmer but this year, it ended up to be the craziest night!
There are also the 3 ideal consecutive days to put your day of the dead make-up (Catrina) as I did. If you only plan to do it for one day, you should do it on November 1st.
It's only US$5 on the streets of Oaxaca. You will usually find the make-up artists on the streets of the Andador Turistico, on the corner of Murguia Street.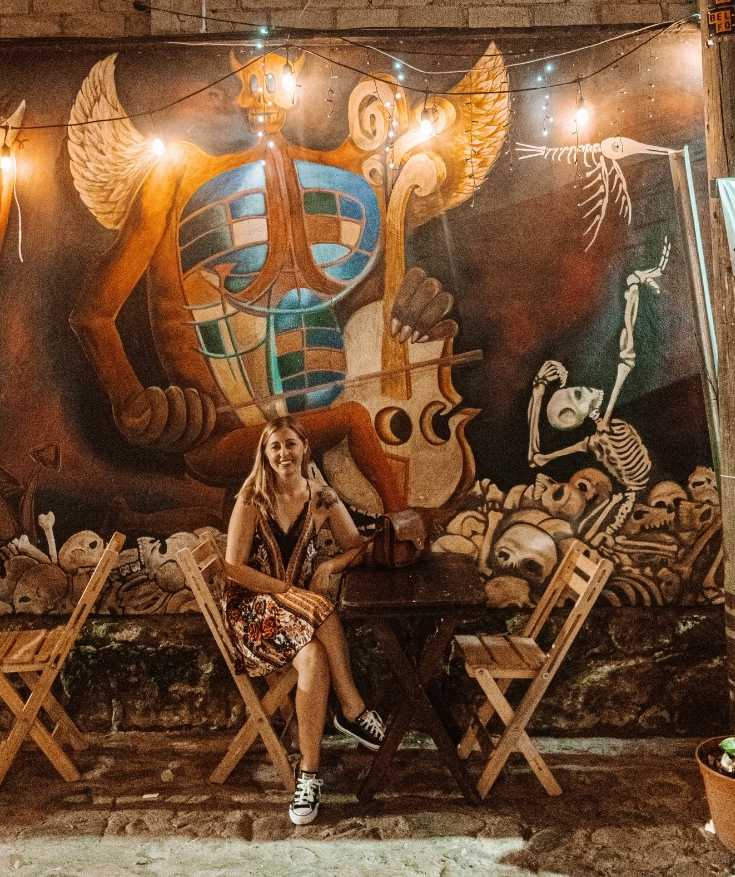 🧭 Oaxaca day of the dead calendar of events, traditions, and sample itinerary
Now, on this part, I will share with you what happens in Oaxaca day by day. You can choose to skip some of the activities as you deem fit but I highly recommend you go all in. That's what I am doing next year!
October 25th: Marigold field cultivation
I can't believe I missed it this year. Cultivos El Viejo is a marigold farm located in Zimatlan, just 45 minutes from Oaxaca City. This is where all those colorful photos you see on Instagram are taken.
They open their doors every year for guests to visit (and take photos) from 8:00 AM – 12:00 PM and 4:00 PM – 7:00 PM. Sadly, the. last day they allow it is November 24th because the flowers need to be delivered in many parts of Oaxaca by the 25th. I will definitely come ahead of time next year!
There is no entrance fee to enter these fields but they accept donations. You can also buy flowers from them directly to support what they do.
Please be careful not to step on the plants and move with caution while you are inside the farm! Also, don't do crazy Instagram photos that will damage the flowers.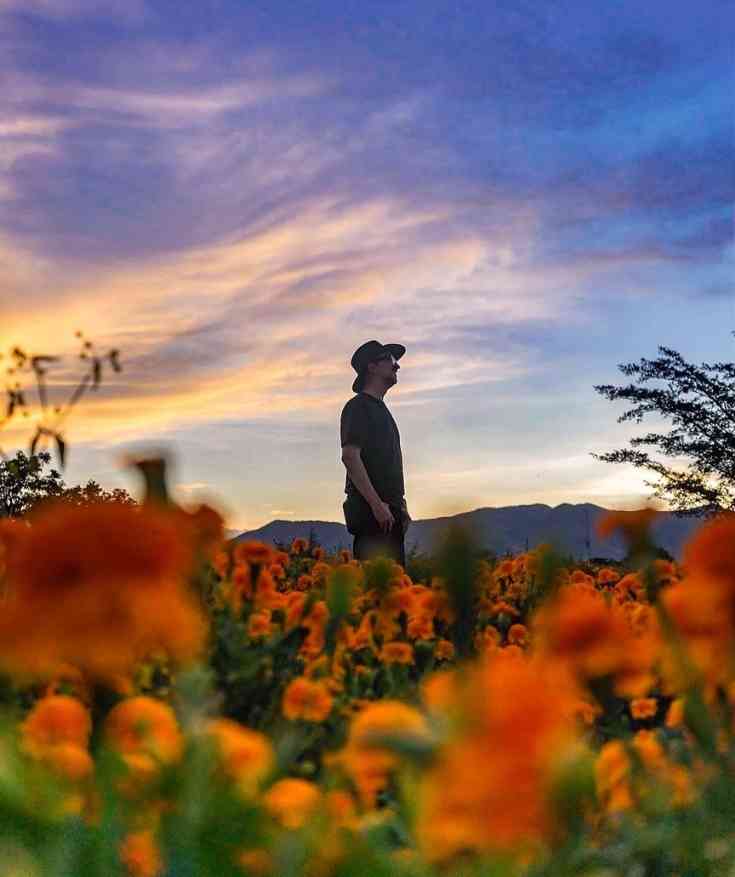 October 25th – 26th: Oaxaca City transforms with festive decorations
Although Oaxaca is already festive without the day of the dead decorations, you will notice the difference if you arrive before these dates.
The moment you go out on the 25th, you will see everyone super busy decorating the facade of their establishments. The most common you'll see apart from the marigolds are the altars.
The altar is very significant during day of the dead because this is specifically for their departed loved ones. There is no format in making the altar so you will see all of them differently.
The Mexicans get really creative with their altars and it's a joy to see! Below are the most important things that should be in the altars:
📷 Photos of the departed loved ones. You can even print yours and bring them during your trip. Just make sure to ask if it's okay to place your picture in their altars.
🎊 Confetti: Purple for Christian mourning and orange for pre-Hispanic mourning
🕯️ Candles (lots of it!): The candles are believed to be the light to guide the souls back to their loved ones. It also symbolizes faith.
💦 A glass of water: The moment the souls arrived, they will be tired from their journey so the first thing to give them is water. Well, others put beer and mezcal as well.
🌼 Flowers: The famous cempasuchil (marigold), cockscomb, and the Mexican white flower which we call flor de nube.
💀 Sugar skulls represent the deceased. And they're too cute! You will find them in many souvenir shops in Mexico even if it's not day of the dead.
🫓 Pan de muerto (literally translated to dead bread, I don't even know if it's correct). This bread is super traditional during day of the dead season! Even Starbucks features them at this time of the year.
🎇 Copal: you will see this all-year-round in any Mexican market. During DOTD, it is believed to purify and ward off bad spirits.
🍲 Food: Usually, Mexicans put the favorite food of their departed loved ones on the altar.
October 27th – 30th: Explore Oaxaca
There are so many things to do in Oaxaca so before the crazy celebrations, make sure to do the touristy stuff. I did a mezcal tasting in a wild agave field with a local family.
I feel very privileged to visit this local mezcal producer and get close to their family. Palenque Conejo in Santa Catarina Minas grows wild agave and produces small batches of mezcal.
When you go to Mexico, you probably prefer tequila over mezcal but Oaxaca is home to an abundance of agave plants and is a famous area for mezcal producers not just in Mexico but all over the world.
Don Conejo, his wife, and his children have dedicated their lives to sustainably producing mezcal so if you are in Oaxaca, this should be on your list of things to do.
Oaxaca is also known for its textiles. Up until today, they still use the old school method of weaving in Oaxaca, it's such a joy to see!
Josefina is the (woman) leader of the artisanal textile co-op in Teotitlan del Valle, just an hour outside of Oaxaca City.
Most tourists will think that these products are expensive but when you get to see how tedious this work is, you'll realize it's all worth the price. They even take months to produce one rug because everything is done manually.
This is my second time seeing this process and I admire these people for keeping this tradition alive, including passing it to their children.
I'm still working on my best things to do in Oaxaca post and I'll share it with you as soon as I gather them. I have a long list of super local things to do but these two top the list because they are important and they're outside Oaxaca City.
Within the city, you can definitely go around and take pictures. Oaxacan structure is one of a kind so take your camera and walk around town.
I always spend hours and hours around Oaxaca and I never get tired of looking at everything! It is really the prettiest city in Mexico. I even think it's more colorful than San Miguel de Allende or Guanajuato.
Make sure to visit the Jalatlaco neighborhood, my favorite in town. It's just a 15-minute walk from downtown and it has the best cafes, restaurants, and colorful streets!
Oaxaca is also the food capital of Mexico so don't forget to go on some food tours or explore the markets. My favorite was Oaxaca's meat tunnel inside the 20 de Noviembre Market. It was a one-of-a-kind experience!
When in Oaxaca, make sure to try food tours that involve markets, cacao, mole, mezcal, and tlayuda. These are the top food that you have to know when visiting Oaxaca.
Many places also offer cooking classes so make sure to sign up for that too! I am going to gather a list and send it to you – I've done a lot of cooking classes in Oaxaca and they're always worth it!
Fine dining is also very big in Oaxaca so make sure to try the best Oaxacan restaurants. Honestly, fine dining in Oaxaca is from US$15. It's just expensive by Mexican standards but imagine how far your money can go here when it comes to food!
Finally, one of the most important sights in Oaxaca is Hierve El Agua. The petrified waterfalls have been closed since March 2020 and they just opened it to tourists two weeks ago!
I've been trying to visit for the last 6 months and they were never open so even if I had to drag myself to wake up at 7:00 AM after a night of DOTD party, I did it anyway!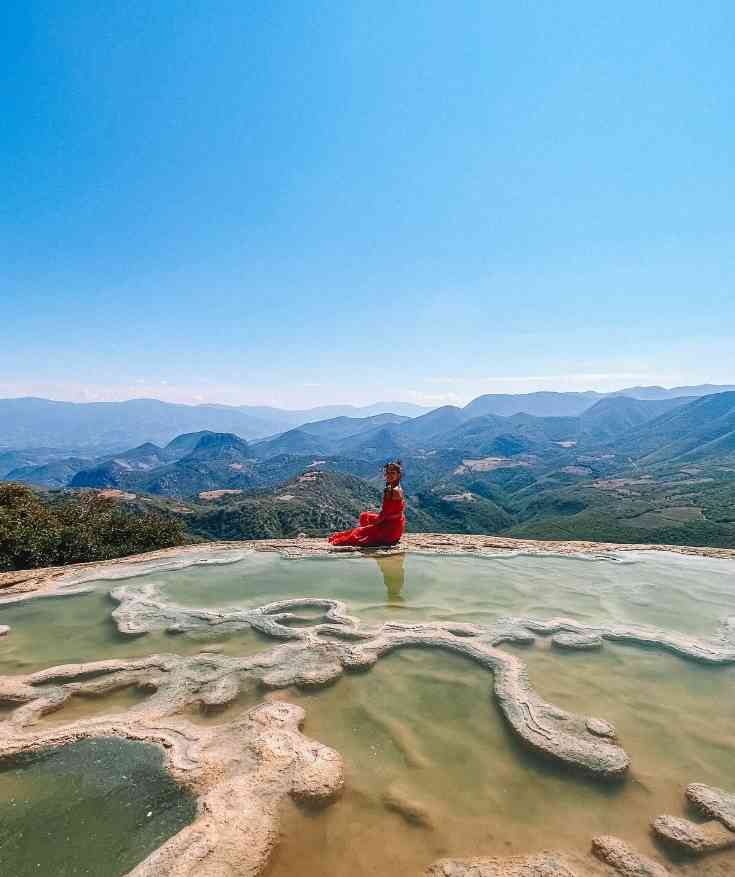 October 31st: Halloween! Well, sort of
Like I said, Oaxaca day of the dead is not Halloween. It is just implied to dress up because the date is very popular. Especially if all your friends are gringos like mine!
I usually do the make-up for 3 days and the 31st is always my first day. Coincidentally, the 31st always falls on a weekend so the events are more hyped. Even if it falls on a Monday, 31st is the 31st. It is a holiday no matter what and you need to go out!
This is also a time where Mexican families visit their loved ones in the cemetery. Because of COVID, tourists are not allowed in cemeteries.
However, since I know a lot of locals and can pass as a Mexican, I was able to visit cemeteries without problems. You won't believe how lively the cemeteries are at this time!
November 1st: Parades and raves
Oaxaca has suspended their parades and oddly managed to hold a rave in Mitla, about 40 minutes away from the city. Their argument was Mitla is an open field and can host an unlimited number of people so that wasn't canceled.
I didn't go to the rave because I am too old for that and the tickets are crazy expensive! They were charging US$150 for tickets and mind you, the prices on their website are in US dollars.
Surprisingly, Mexico City's parade went on. You'll see different kinds of floats, costumes, and vibrant colors – it's always a great experience to be on the streets and party!
November 2nd: Comparsa (a must do!)
I am not kidding, comparsas are the best highlight of my Oaxaca day of the dead experience. I really had a blast!!! A comparsa is a band/musical group that usually performs on the streets. They are most common in Spain and Latin America.
They will start playing in one place and from there, parade along the streets stopping at every major point. The crowd has to go with it – you can't wait for them in the spots they stop on.
The whole point of the experience is to parade with them and follow them around town. The most famous comparsas are that of Santiago de Cuba's and Barranquilla's carnivals.
It will be very crowded (check my Instagram stories) but the best thing to do is to always stick close to the band. If you are so far from the band, nothing is really happening and it's quite boring so do your best to be close to them!
🎊 Oaxaca day of the dead tours and things to do
⛔ Safety in Oaxaca during day of the dead
Sadly, this time of the year in Oaxaca is super dangerous at night. There are many tourists in town so expect the streets to be crowded and for bad people to take advantage.
Lots of theft after 10:00 PM
On our first day, one of our good friends was robbed and hit in the face. They took his wallet and his phone but no guns were involved. He had to cut this trip short to go home and that was just our first day (26th Oct).
The following days, we've heard from common friends that bartender A was attacked by kids with guns and masks. The stories went on and on that most of us got worried.
Only take yellow taxis if DiDi is not available
We all did a buddy system and promised not to walk home after 10:00 PM. Always take a taxi. In Oaxaca, they use the DiDi app, not Uber.
Taxis are not always available on DiDi so if you are hailing one from the street, make sure to only go with yellow taxis, not white. The yellow ones are safer.
Don't bring a lot of valuables. Leave your phone at your hotel if you can
Some of us also left our phones when we're going out at night. Don't bring a lot of valuables especially if you plan to get drunk. I mean, let's be real – it's day of the dead. Even if you don't plan to 'party,' it will happen.
Oaxaca is a cash city so you always need cash but don't bring crazy amounts with you. Bars and restaurants accept credit cards. But you need cash because you'll want to try street food and eat in the markets at night!
Don't party with people you don't know
Easier said than done. When everyone gets drunk, we all go huggy and friendly and we end up in random places with people we don't know.
I am speaking from experience and this is the dumbest thing I did in Oaxaca during the day of the dead. I am not ready to tell that story yet but it will be in my (future) book.
Don't take drugs at all costs
Also easier said than done especially if you are one of those kids who want to take molly in raves. Don't buy drugs on the streets because you will get in trouble.
This is the 'dangerous' Mexico everyone's talking about. You will only be in danger if you willingly involve yourself in this situation.
⁉️ Oaxaca day of the dead FAQs
✈️ Ready for your trip to Oaxaca? If you need more information celebrating Oaxaca day of the dead, I'd be happy to update this post – just leave your questions in the comment box below or join our communities where we answer questions for FREE.
Trisha traveled to Mexico in 2018 and after a year, she found herself obtaining a 4-year residency visa in Mexico. She is the Editor-in-chief for our Living in Mexico Series which has helped over 3,000 Americans move to Mexico with ease. Trisha currently resides in Cabo San Lucas, Baja California Sur.