Destinations > Oaxaca
Oaxaca Travel Guide
Everything you need to know about traveling to the state of Oaxaca, Mexico
The state of Oaxaca, located in the southern region of Mexico, is an enchanting destination for travelers seeking a rich cultural experience, diverse landscapes, and delicious cuisine. This vibrant state boasts a unique blend of indigenous and colonial history, evident in its stunning architecture, colorful markets, and ancient ruins.
Oaxaca City, the state's capital, is a UNESCO World Heritage site, where visitors can explore the beautiful Santo Domingo Church and the Museum of Oaxacan Cultures. For nature enthusiasts, the state offers many outdoor activities,, such as hiking in the Sierra Norte mountains, swimming in the natural pools of Hierve el Agua, and exploring the pristine beaches of Puerto Escondido or Huatulco.
Additionally, a visit to Oaxaca wouldn't be complete without sampling its world-renowned cuisine, including delicious mole dishes and artisanal mezcal.
Oaxaca is undoubtedly worth visiting for its diverse attractions and unique experiences. The state's rich cultural heritage and natural beauty provide a perfect setting for travelers seeking adventure and a deeper understanding of Mexico's history.
Oaxaca has a vibrant arts scene, exemplified by its numerous galleries, workshops, and street art. Its culinary offerings, including the famed mole sauces and locally-produced mezcal, provide an unforgettable gastronomic journey.
Furthermore, the state's warm and welcoming locals contribute to a memorable and authentic travel experience. Whether you're interested in history, culture, nature, or food, Oaxaca is a destination that should not be missed.
✈️ Planning a trip to Oaxaca Mexico? Talk to an expert trip designer.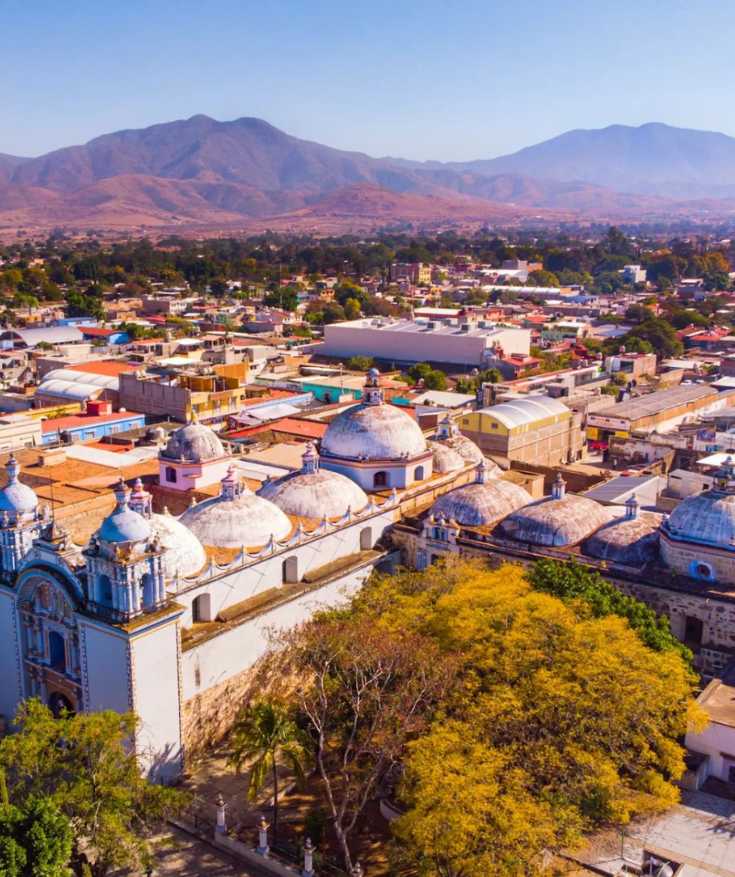 ✈️ Oaxaca travel guide: quick info
Capital: Oaxaca de Juarez
Major Airports: Oaxaca International Airport (OAX), Puerto Escondido International Airport (PXM), Huatulco International Airport (HUX)
Major Cities (population): Oaxaca de Juarez (266,033) San Juan Bautista Tuxtepec (144,555) Juchitlan de Zaragoza (85,869) Salina Cruz (76,219) Santa Cruz Xoxocotlan (65,873)
Size/Area: 36,275 square miles
Year of Statehood: 1824
Most visited destinations: Oaxaca City and Puerto Escondido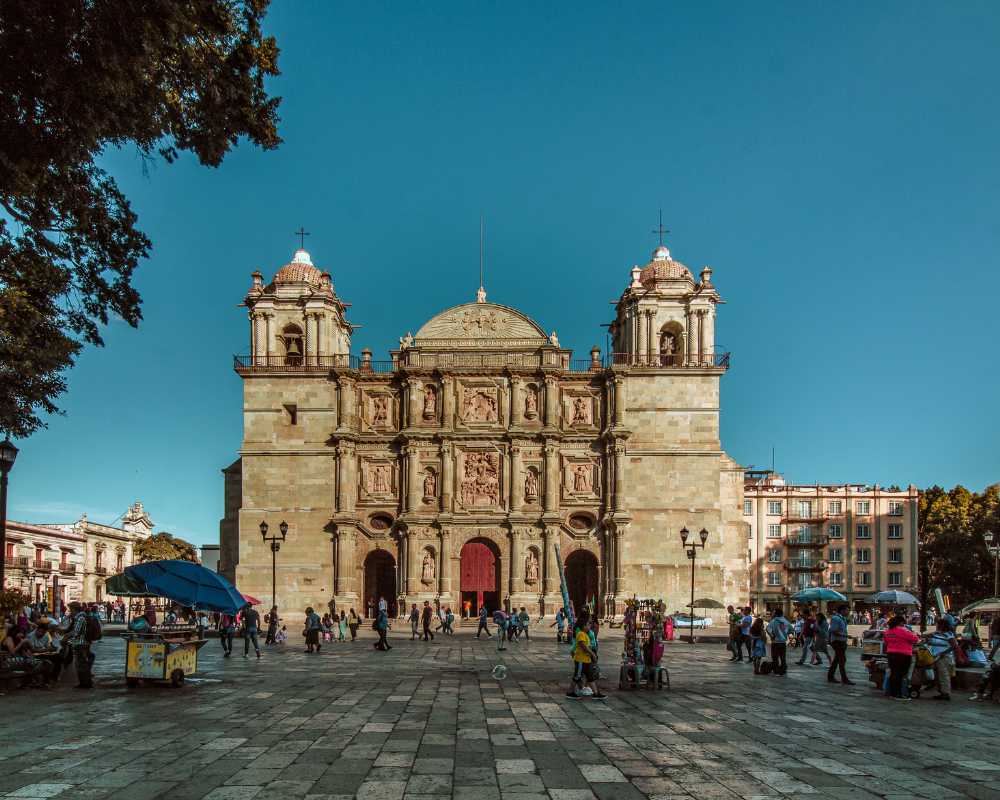 ✈️ Oaxaca travel tips for first-timers
Learn some basic Spanish: While many people in Oaxaca speak English, especially in tourist areas, knowing some basic Spanish phrases will greatly enhance your interactions with locals and help you navigate more easily.
Embrace local transportation: For a truly immersive experience, consider using local transportation options like colectivos (shared vans) and camionetas (pickup trucks with benches). This can be a cost-effective and authentic way to explore the region.
Visit indigenous villages: Oaxaca is home to many indigenous communities. Taking a guided tour to visit these villages, such as Teotitlán del Valle or San Bartolo Coyotepec, will give you a unique insight into their traditional customs, crafts, and way of life.
Try traditional Oaxacan dishes: Don't miss out on local culinary delights like tlayudas, memelas, and Oaxacan-style tamales. Visit local markets, like Mercado 20 de Noviembre in Oaxaca City, to taste authentic dishes and support local vendors.
Explore Oaxaca's textiles: The state is famous for its handwoven textiles, including rugs, clothing, and accessories. Visit workshops or cooperatives to see how these items are made and purchase unique souvenirs directly from artisans.
Attend a cooking class: To fully appreciate Oaxacan cuisine, consider taking a cooking class to learn the secrets behind making mole, tamales, or other traditional dishes. Many classes also include market tours, providing an immersive cultural experience.
Be mindful of local customs: Oaxacan people are known for their warmth and hospitality, but it's essential to be respectful of their customs and traditions. For instance, avoid taking pictures of people without permission, and dress modestly when visiting religious sites.
Plan your visit around local festivals: Time your visit to coincide with one of Oaxaca's many vibrant festivals, such as Guelaguetza, Día de Muertos (Day of the Dead), or the Night of the Radishes. These events provide a unique opportunity to experience Oaxacan culture and traditions firsthand.
Stay in locally-owned accommodations: To support local communities and gain a more authentic experience, consider staying in locally-owned hotels, guesthouses, or Airbnb rentals. This will allow you to connect with local residents and gain valuable insights into Oaxacan life.
Practice responsible tourism: Be mindful of your environmental impact and support local businesses during your visit. Avoid single-use plastics, respect wildlife, and purchase souvenirs from local artisans to ensure your trip has a positive impact on the state of Oaxaca.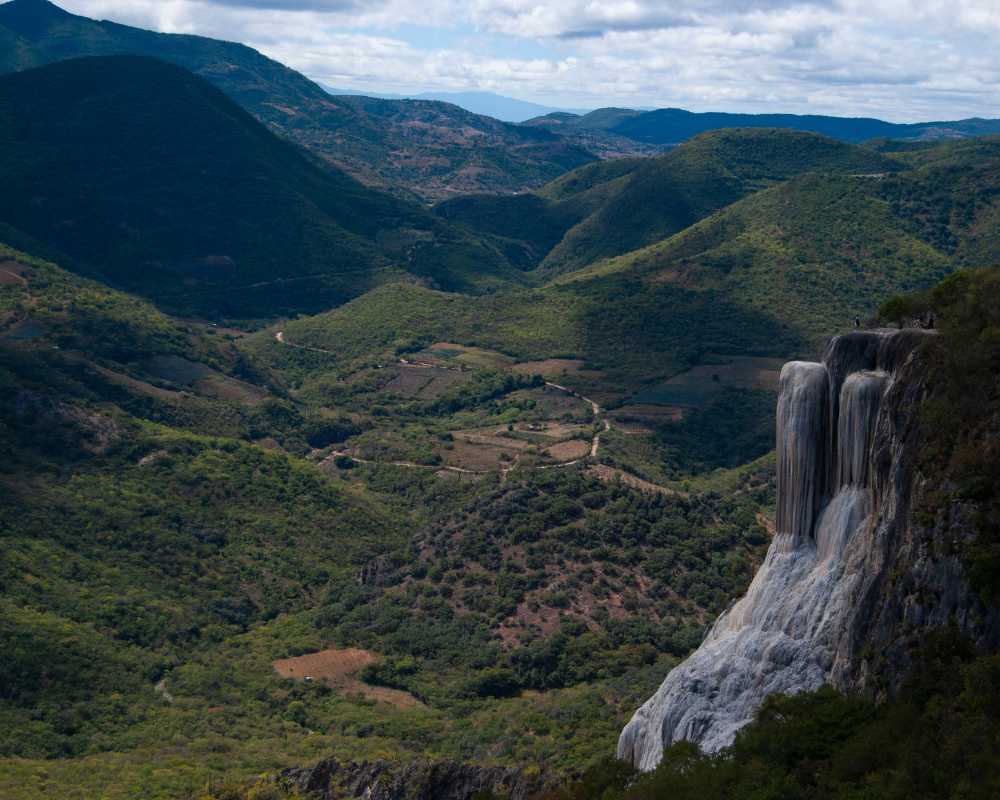 🚦 Oaxaca transportation guide
Air travel: Oaxaca has several airports, including Oaxaca International Airport (OAX) in Oaxaca City and Bahías de Huatulco International Airport (HUX) in Huatulco. These airports provide connections to major cities in Mexico and some international destinations.
Intercity buses: Comfortable and reliable intercity bus services connect Oaxaca City with other cities and towns within the state and neighboring states. ADO, OCC, and other bus companies operate various classes of service, from economic to luxury.
Colectivos: Colectivos are shared vans or minibuses that provide a more economical and local way of traveling between towns and cities. They usually follow fixed routes and are a popular option for short and medium distances.
Camionetas: These pickup trucks with benches in the back are another form of shared transportation often used in rural areas. They can be an adventurous and authentic way to explore off-the-beaten-path destinations.
Car rental: Renting a car provides the flexibility to explore Oaxaca at your own pace. Many international and local rental agencies operate in the state, offering a range of vehicles. Keep in mind that driving in Mexico can be challenging, and extra caution should be exercised, especially on rural roads.
Taxis: Taxis are available in cities and towns throughout Oaxaca. They can be a convenient and relatively inexpensive way to get around, especially for shorter distances. It's best to negotiate the fare before starting the journey or use taxi services with set rates.
Motorcycle and scooter rentals: In some tourist areas, it's possible to rent motorcycles or scooters, which can be a fun and flexible way to explore local attractions. Ensure you have a valid driver's license and exercise caution on the roads.
Bicycles: Biking is an eco-friendly option for getting around Oaxaca City and other towns, with many rental shops available. Some areas, like the Sierra Norte, offer mountain biking trails for more adventurous travelers.
Walking: In cities like Oaxaca City and smaller towns, walking can be an enjoyable and immersive way to explore, allowing you to take in the sights, sounds, and smells at a leisurely pace.
Boat transportation: For coastal areas like Huatulco and Puerto Escondido, boats can be used to access remote beaches or go on tours for snorkeling, fishing, or sightseeing.
☀️ The best time to visit Oaxaca
The best months to visit the state of Oaxaca for good weather are generally from October to April, when the climate is relatively mild and dry. During these months, you can expect sunny days, cooler nights, and minimal rainfall, making it an ideal time to explore the region's diverse attractions. The coastal areas, such as Puerto Escondido and Huatulco, offer pleasant beach weather during this period, while the highlands, including Oaxaca City and San José del Pacífico, provide comfortable temperatures for sightseeing and outdoor activities.
The cheapest months to travel to the state of Oaxaca typically fall during the low season, which occurs from May to June and September to November. Although this period overlaps with the rainy season, which lasts from June to September, visitors can still enjoy Oaxaca's beauty and attractions at more affordable prices. Accommodations, flights, and activities may offer lower rates or discounts during these months, allowing budget-conscious travelers to experience Oaxaca without breaking the bank. However, it's essential to be prepared for occasional rain showers and to plan your activities accordingly during the low season.
📅 Weather in Oaxaca by month
January in Oaxaca
January in Oaxaca is characterized by mild temperatures and low humidity, with average daytime highs around 27-29°C and nighttime lows around 12-14°C. The climate in January is dry, making it a pleasant time for sightseeing and outdoor activities. In terms of events, the Feria del Mezcal in Oaxaca City takes place in January, celebrating the local mezcal culture with tastings, music, and dance performances.
February in Oaxaca
February in Oaxaca sees similar weather conditions to January, with daytime highs of 27-29°C and nighttime lows of 12-14°C. The humidity remains low, and the weather is generally dry, providing excellent conditions for exploring the region. While there are no major festivals in February, you can take advantage of the favorable weather to visit the many attractions Oaxaca has to offer.
March in Oaxaca
March in Oaxaca shows a slight temperature increase, with daytime highs around 30-32°C and nighttime lows of 13-15°C. The weather remains dry, and the humidity is still relatively low. The Festival de las Mujeres Danzantes, a celebration of women in dance, typically takes place in Oaxaca City in March, featuring performances from local and international dance groups.
April in Oaxaca
Warm temperatures and a slight increase in humidity characterize April in Oaxaca. Daytime highs reach around 32-34°C, while nighttime lows hover around 15-17°C. The weather is still predominantly dry, making it suitable for outdoor activities. April sees the celebration of Semana Santa (Holy Week), with religious processions and cultural events occurring throughout the state.
May in Oaxaca
May in Oaxaca marks the beginning of the warmer months, with temperatures reaching 32-34°C during the day and dropping to 17-19°C at night. Humidity begins to rise, and the chance of rainfall increases towards the end of the month. The Calenda de Mayo, a traditional parade featuring music, dancing, and colorful costumes, is held in Oaxaca City in May.
June in Oaxaca
Warm temperatures, high humidity, and the beginning of the rainy season characterize June in Oaxaca. Daytime highs can reach 32-34°C, while nighttime lows are around 17-19°C. The Guelaguetza, one of Oaxaca's most significant cultural events, takes place in June and July, celebrating the diverse indigenous cultures of the region with music, dance, and traditional attire.
July in Oaxaca
July in Oaxaca continues to experience warm temperatures and high humidity, with daytime highs of 30-32°C and nighttime lows around 17-19°C. Rain is more frequent this month, but it typically falls late afternoon or evening. The Guelaguetza festival continues in July, drawing large crowds and providing a unique insight into Oaxacan culture.
August in Oaxaca
August in Oaxaca sees a slight decrease in temperature, with daytime highs around 28-30°C and nighttime lows of 16-18°C. The rainy season continues, and the humidity remains high. While there are no major festivals in August, you can still enjoy the region's natural beauty and cultural attractions, considering the possibility of rain.
September in Oaxaca
September in Oaxaca marks the end of the rainy season, with daytime temperatures around 28-30°C and nighttime lows of 15-17°C. Humidity begins to decrease towards the end of the month. Mexican Independence Day is celebrated on September 16th, with parades, fireworks, and cultural events occurring across the state.
October in Oaxaca
October in Oaxaca sees a return to milder temperatures and a decrease in humidity, with daytime highs around 27-29°C and nighttime lows of 13-15°C. The weather is generally dry, making exploring the region's attractions an excellent time. In late October, preparations for the Día de los Muertos (Day of the Dead) celebrations begin, with the actual festivities occurring on November 1st and 2nd. This important cultural event features elaborate altars, traditional food, and colorful processions in memory of deceased loved ones.
November in Oaxaca
November in Oaxaca is characterized by pleasant temperatures and low humidity, with daytime highs of 25-27°C and nighttime lows around 11-13°C. The weather is predominantly dry, providing favorable conditions for outdoor activities and sightseeing. In addition to the Día de los Muertos celebrations in early November, the International Mezcal Fair takes place in Oaxaca City, showcasing the region's famous mezcal production with tastings, workshops, and cultural events.
December in Oaxaca
December in Oaxaca features mild temperatures and low humidity, with daytime highs of 24-26°C and nighttime lows of 9-11°C. The weather is generally dry, making it a comfortable time to visit the state. Christmas and New Year's Eve are celebrated throughout Oaxaca with festive decorations, traditional foods, and various events. The Noche de Rábanos (Night of the Radishes) is a unique event in Oaxaca City on December 23rd, where locals display intricate radish carvings depicting scenes from Oaxacan culture and history.
OAXACA TOURS
We customize tours in Oaxaca!
We live here and have traveled the Oaxaca state. Get in touch with us by sending a Whatsapp message to +52 473 171 5259 to get a quote. No hidden costs, just simple prices.
📍 Places to visit in Oaxaca state
Oaxaca City: The capital of Oaxaca state, Oaxaca City, is a UNESCO World Heritage site with a rich history and vibrant cultural scene. The city is famous for its colonial architecture, museums, bustling markets, and art galleries.
Puerto Escondido: Known for its pristine beaches and world-class surfing, Puerto Escondido is a laid-back coastal town that attracts both surfers and travelers seeking relaxation. The town is also famous for its lively nightlife and fresh seafood.
Huatulco: A popular destination for its beautiful bays, Huatulco features a series of stunning beaches and crystal-clear waters ideal for swimming, snorkeling, and diving. The town offers a mix of luxury resorts and eco-friendly accommodations, catering to various types of travelers.
Mazunte: A small beach town on the Pacific coast, Mazunte is known for its bohemian atmosphere, beautiful beaches, and a focus on sustainable tourism. It is also home to the Mexican Turtle Center, which helps protect and conserve sea turtles.
San José del Pacífico: Nestled in the Sierra Madre mountains, San José del Pacífico offers a tranquil escape from the heat of the coast. The town is known for its stunning views, serene atmosphere, and local mushroom culture.
San Bartolo Coyotepec: A traditional Zapotec village, San Bartolo Coyotepec is famous for its unique black pottery. Visitors can tour local workshops to learn about the production process and purchase handmade crafts directly from artisans.
Teotitlán del Valle: Renowned for its traditional textile weaving, this indigenous Zapotec village offers visitors the opportunity to witness the intricate process of creating handwoven rugs and other textiles. The town also features a lively market where you can purchase these beautiful pieces.
Mitla: While the archaeological site is the main attraction in Mitla, the town itself is a charming and quiet destination. It offers visitors a glimpse into the traditional Oaxacan way of life and is an excellent base for exploring the surrounding countryside.
Santa María del Tule: Located close to Oaxaca City, Santa María del Tule is famous for the massive Montezuma cypress tree known as El Árbol del Tule. The tree is one of the oldest and largest in the world and is a popular destination for visitors.
Santa Catarina Juquila: A religious pilgrimage site, Santa Catarina Juquila is home to the Sanctuary of the Virgin of Juquila, which attracts thousands of visitors each year. The town's picturesque streets and serene atmosphere make it a peaceful destination for travelers.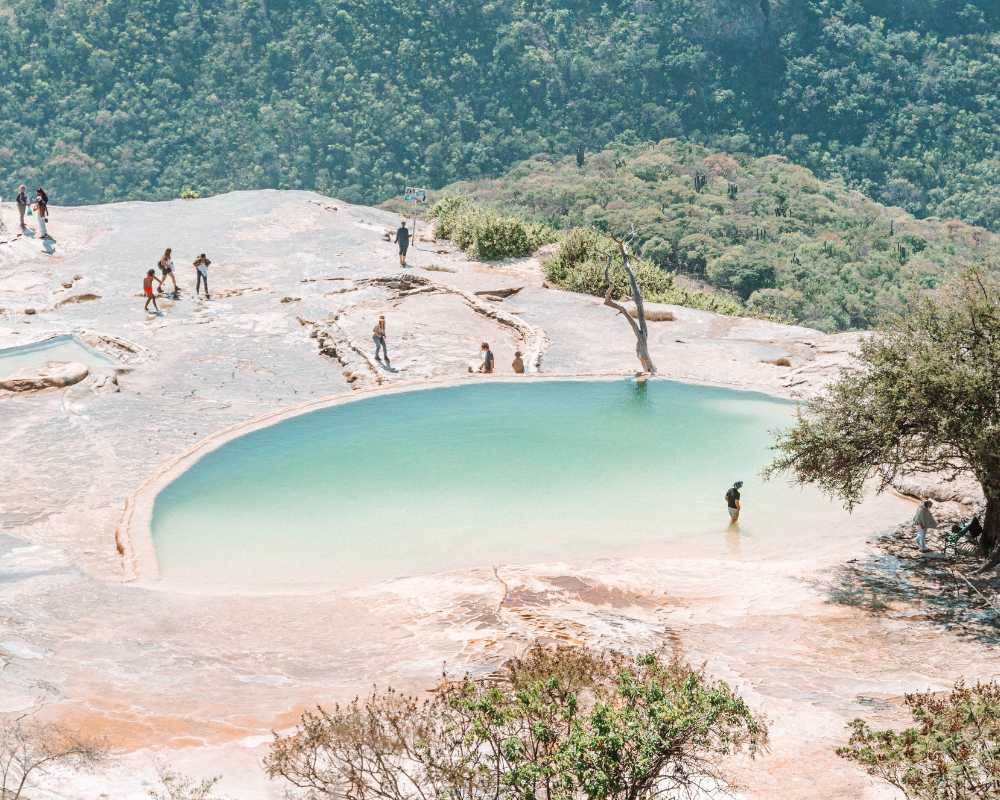 🏖️ Top things to do Oaxaca
Monte Albán: A UNESCO World Heritage site, Monte Albán is an ancient Zapotec city located just outside of Oaxaca City. It features impressive ruins, including temples, tombs, and plazas that offer a glimpse into the region's pre-Columbian history.
Hierve el Agua: These natural mineral springs, located in the mountains near Oaxaca City, are famous for their petrified waterfalls and stunning views. Visitors can swim in the refreshing pools, hike the surrounding trails, or simply enjoy the breathtaking landscape.
Santo Domingo Church and Cultural Centre: Located in Oaxaca City, the Santo Domingo Church is a stunning example of baroque architecture. The adjacent cultural center houses the Museum of Oaxacan Cultures, showcasing the region's rich history and art.
Ethnobotanical Garden of Oaxaca: Situated within the grounds of the Santo Domingo Cultural Centre, this beautiful garden showcases the diverse flora of Oaxaca and its importance in the region's cultural and historical development.
Mitla Archaeological Site: This ancient Zapotec religious center, located near the town of Mitla, is known for its intricate stone mosaics and well-preserved architecture. The site offers a fascinating look into the ancient culture and beliefs of the Zapotec people.
Puerto Escondido's Zicatela Beach: A world-renowned surfing destination, Zicatela Beach attracts surfers from around the globe with its powerful waves and vibrant atmosphere. The beach also hosts numerous surfing competitions throughout the year.
Mazunte's Mexican Turtle Center: Dedicated to the conservation and study of sea turtles, this research center and aquarium in Mazunte offers visitors the opportunity to learn about the various turtle species found in Oaxaca's coastal waters and their importance to the local ecosystem.
Yagul Archaeological Site: This pre-Columbian Zapotec city, located in the Tlacolula Valley, features a well-preserved palace, temples, and a unique ball court. Yagul is a fascinating destination for those interested in the ancient history of the region.
Zipolite Beach: Located near Mazunte, Zipolite is a beautiful and relaxed beach known for its bohemian atmosphere, golden sands, and stunning sunsets. The beach attracts a diverse mix of travelers seeking a laid-back, clothing-optional destination.
The Sierra Norte Mountains: This mountain range, also known as the Pueblos Mancomunados, offers breathtaking landscapes, lush forests, and a network of hiking and mountain biking trails. The area is home to several indigenous communities that welcome visitors and offer eco-tourism opportunities.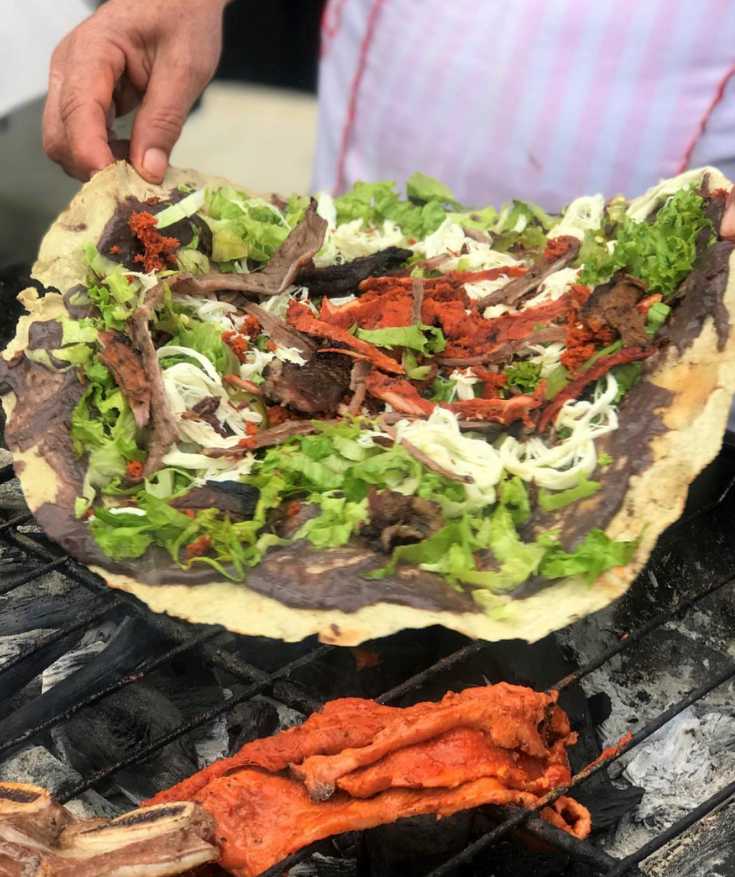 🌮 Food from Oaxaca Mexico
Mole: Oaxaca is known as the "land of the seven moles," with each variety featuring a unique blend of ingredients, such as chocolate, chiles, fruits, and spices. The most famous types include mole negro, mole rojo, mole coloradito, mole verde, mole amarillo, mole chichilo, and mole manchamanteles.
Tlayudas: Often called the Oaxacan pizza, tlayudas consist of a large, crispy corn tortilla topped with refried beans, Oaxacan cheese (quesillo), avocado, tomatoes, and a choice of meat, such as tasajo (thinly sliced beef) or cecina (marinated pork).
Memelas: These thick, oval-shaped corn masa cakes are topped with various ingredients, such as refried beans, quesillo, salsa, and meat. They are often enjoyed as a snack or breakfast item.
Oaxacan-style Tamales: Oaxacan tamales are different from other Mexican tamales due to their banana leaf wrapping and unique fillings, such as mole negro with chicken, mole verde with pork, or sweet tamales filled with fruits or chocolate.
Chile de agua relleno: This traditional dish features Oaxaca's native chile de agua, a spicy and flavorful pepper, stuffed with minced meat, vegetables, and spices, then battered, fried, and served with tomato sauce.
Barbacoa de Borrego: This slow-cooked, pit-roasted lamb dish is typically prepared for special occasions and family gatherings. The lamb is marinated in a mix of chiles and spices before being wrapped in maguey leaves and cooked underground for several hours.
Chapulines: A popular snack in Oaxaca, chapulines are grasshoppers that have been toasted with garlic, lime juice, and salt, often seasoned with chile powder. They can be eaten on their own or used as a topping for tacos and other dishes.
Caldo de piedra: This unique soup, originating from the Chinantec people, involves cooking river fish and vegetables in a hot stone bowl. The ingredients are placed in the bowl along with heated river stones, which quickly cook the soup due to their high temperature.
Tetelas: These triangular-shaped corn masa pockets are filled with ingredients such as beans, cheese, and salsa. They are similar to empanadas and are often enjoyed as a portable, satisfying snack.
Nicuatole: A traditional Oaxacan dessert, nicuatole is a corn-based pudding made with corn masa, sugar, cinnamon, and water. It is typically flavored with ingredients like chocolate or fruits and has a firm, gelatinous texture.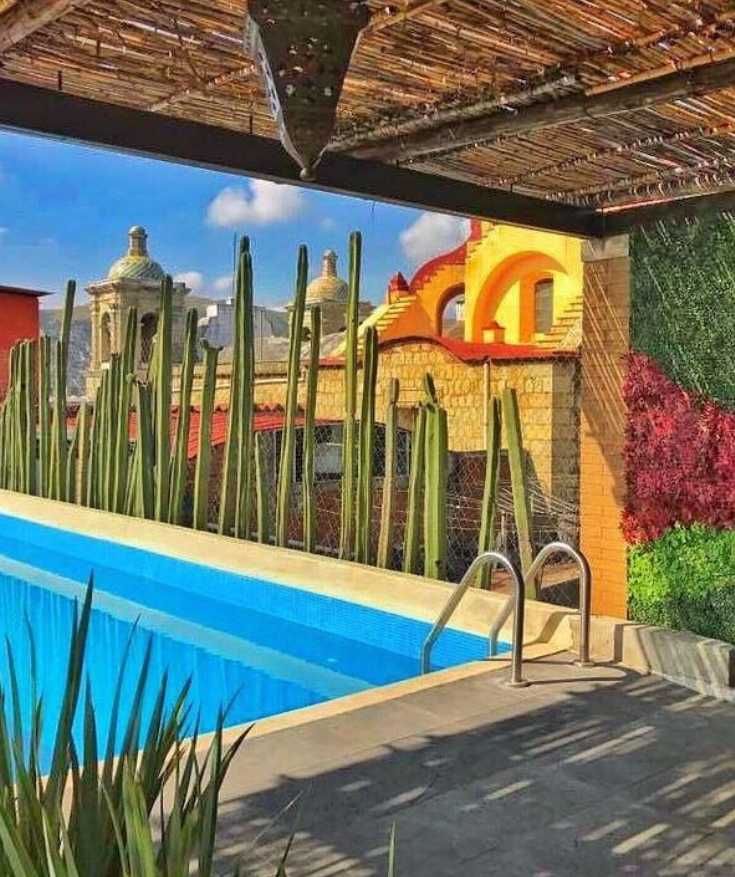 🛏️ Oaxaca Hotels & Accommodations
Hostels: Hostels are budget-friendly accommodation options, popular among backpackers and solo travelers. They typically offer dormitory-style rooms with shared facilities, as well as private rooms. Prices range from $10 to $25 per night for a bed in a shared dorm and $25 to $50 for a private room.
Budget hotels: These are simple, no-frills hotels that provide essential amenities such as private rooms, en-suite bathrooms, and basic services. Prices for budget hotels generally range from $20 to $50 per night.
Mid-range hotels: Mid-range hotels offer more comfortable accommodations and additional amenities, such as on-site restaurants, room service, and sometimes swimming pools or fitness centers. Prices for mid-range hotels in Oaxaca state can range from $50 to $100 per night.
Boutique hotels: Boutique hotels are smaller, stylish properties that focus on personalized service and unique experiences. They often feature local design elements and are located in prime locations. Prices for boutique hotels in Oaxaca state can range from $100 to $250 per night.
Luxury hotels and resorts: These high-end properties offer upscale accommodations, exceptional service, and a wide range of amenities, such as fine dining, spa facilities, and sometimes private beaches or golf courses. Prices for luxury hotels and resorts in Oaxaca state can range from $250 to $500 or more per night.
Vacation rentals and Airbnb: Vacation rentals, such as apartments or houses, offer travelers the opportunity to stay in a local property with the comforts of home. Airbnb is a popular platform for finding vacation rentals in Oaxaca state. Prices can vary widely depending on the property's size, location, and amenities, ranging from $30 to $200+ per night.
Eco-lodges and cabins: For those interested in sustainable and nature-focused accommodations, eco-lodges and cabins are available in Oaxaca state, particularly in the Sierra Norte region. These properties emphasize environmental conservation and often offer immersive cultural experiences. Prices can range from $40 to $150 per night.
Bed and breakfasts (B&Bs): B&Bs are smaller, family-run accommodations that provide a cozy, home-like atmosphere. They often include breakfast and personalized service from the hosts. Prices for B&Bs in Oaxaca state can range from $40 to $100 per night.
🤑 Oaxaca Money-Saving Tips
Travel during the low season: Visiting Oaxaca during the low season (May to June and September to November) can significantly save accommodations and activities. Be aware that the rainy season typically occurs from June to September, but this can still be an enjoyable time to visit.
Eat at local markets and street food stalls: Meals at local markets and street food stalls are authentic and more affordable than dining in restaurants. Look for popular spots among locals to ensure quality and value for money.
Use local transportation: Instead of relying on taxis or renting a car, consider using colectivos, camionetas, or local buses for a more budget-friendly and authentic travel experience.
Share expenses with travel companions: If you're traveling with friends or family, consider sharing expenses such as accommodations, transportation, and even meals to save money.
Stay in budget accommodations: Opt for budget hotels, hostels, or Airbnb rentals in less touristy areas to save on accommodation costs. Staying in locally-owned lodgings will also give you a more authentic experience.
Plan your itinerary strategically: Group nearby attractions together to minimize transportation costs and save time. Research free or low-cost attractions and prioritize them in your itinerary.
Take advantage of student or senior discounts: If you're a student or senior citizen, always carry your ID and inquire about discounts on attractions, accommodations, or transportation services.
Avoid bottled water: Tap water in Oaxaca may not be safe for drinking, but instead of buying bottled water, consider bringing a reusable water bottle with a built-in filter or using water purification tablets to save money and reduce plastic waste.
Learn basic Spanish phrases for bargaining: Knowing some basic Spanish phrases can help you negotiate prices at markets or with taxi drivers. Polite and friendly bargaining is common in Mexico, so don't be afraid to ask for a better price.
Look for local events and festivals: Many local events and festivals in Oaxaca are free or low-cost, providing an excellent opportunity to experience the region's culture and traditions without spending a lot. Check local event calendars or ask locals for recommendations.