Through storytelling on my personal blog, I have been known to speak highly of this small town that I once called home so if you're looking for reasons to visit Sayulita, you've come to the right place.
I moved to Sayulita in 2018 with the idea of just visiting for a week and 2 years later, I found myself renting a house and rescuing 2 dogs!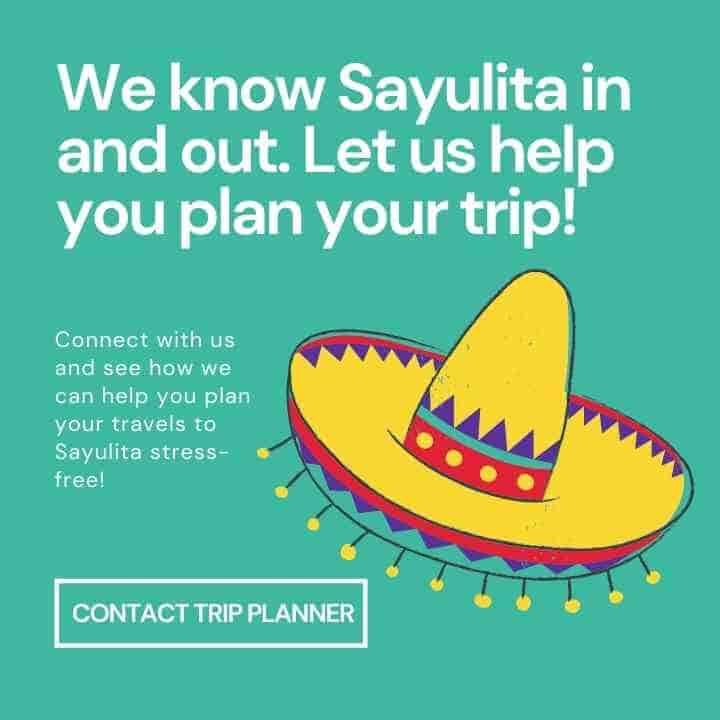 The quality of life in Sayulita is superb and it was just what I was looking for. It's always different when you live there versus visiting so in this reasons to visit Sayulita article, I will only focus on the tourism side but give you little previews of how life was like when I lived there.
Here are the top reasons to visit Sayulita. I hope you won't think twice to visit – I promise it will be a lot of fun!
🧐 Questions about Sayulita, Mexico? Ask us on Tiktok.
🔗 Reasons to visit Sayulita: quick links
🙋 Is Sayulita worth visiting?
Sayulita, a small town located on the Pacific coast of Mexico in the state of Nayarit, is definitely worth visiting for many reasons. The charming town has become increasingly popular with tourists over the years, but still maintains its authentic Mexican atmosphere.
In this post, we gave 15 reasons to visit Sayulita and if you have additional questions, we lived in this small town for 2 years so hit us up!
✨ Top reasons to visit Sayulita, Mexico
#1: Sayulita is for everyone
I've never seen a town or destination that caters to everyone. Sayulita is visited by couples, retirees, families with kids, and even people who travel with pets!
There isn't another destination I know in Mexico that caters to all types of travelers. There is something to do in Sayulita for everybody!
#2: Close-knit community
Before I decided to live in Sayulita, I was a tourist first. From only a week of being there, I already knew almost half of the town!
People are super-friendly and you'll all be going to the same bars and restaurants anyway – Sayulita is a very small place.
I really feel like this is a place for solo travelers since it's so easy to connect and make friends here! You'll never be alone!
But this close-knit community is also one of the reasons I left Sayulita after two years. My world has become smaller and I lost my privacy along the way.
Either way, I don't regret staying there a while and making new friends (and family). It's one of the best years of my life!
#3: It's not Tulum (yet)
Tulum is a more popular destination in Mexico although they are always compared with each other.
First off, Sayulita is not as expensive as Tulum. When I first visited Tulum, I was shocked by how high the prices were (i.e. a burger in Tulum is about US$20 while in Sayulita, you can get a good one for US$12).
Tulum and Sayulita have different beaches but what's advantageous for Sayulita is that we have mountains!
You can never really compare both but know that Tulum is more crowded than Sayulita. Both have the same type of travelers but I feel like you can still see a lot of Mexican culture in Sayulita.
☕ Support this blog's honest and transparent journalism. Help us add value to what we are sharing. Keep Mexico Insider FREE for all by donating to our coffee fund. Muchas gracias!
#4: The beaches of Sayulita!
Just within walking distance, there are already 5 beaches in Sayulita. What's really cool is that you can drive to the next towns like San Pancho, Punta de Mita, and Bucerias to see all types of beaches. It's also just an hour away from Puerto Vallarta so you can do that as a day trip, too!
The beaches in Sayulita are also quite unique as they are located in the jungle. You'll go through canopy walks to get to them and these paths are adventurous and relaxing!
#5: Wide variety of food choices
For a small town, the number of restaurants in Sayulita is quite impressive. And not only that – the quality of food is really good, too!
There is a big culture of vegetarian/vegans so you'll see these options in almost all restaurants. There will be food for everybody!
Sayulita's street food scene is also something to explore. Churros, burgers, tacos – the street carts here are safe and some of them are gourmet-style!
#6: Gorgeous vacation homes
One of the reasons to visit Sayulita is because of its gorgeous vacation rental homes with ocean views and private pools.
Family vacations of up to 25 people can be hosted in one villa in Sayulita. All villas are equipped with a kitchen, living room, common spaces, comfortable bedrooms, and balconies overlooking the ocean!
Whether you are celebrating a birthday, holding a bachelorette party, or even a wedding, Sayulita is a good destination for all occasions.
🧭 WE CUSTOMIZE SAYULITA TOURS!
Sayulita is our home and we traveled the whole state of Nayarit! E-mail us at [email protected] or call our office at +52 473 171 525. Readers of Mexico Insider get 10% discount while members of our Insider Travel subscription get 20%.
#7: Vibrant nightlife
In the state of Nayarit, Sayulita's nightlife has a good reputation. Many locals living in nearby towns come here for a weekend to party!
Sayulita may be loud until the wee hours of the morning but you will only hear it if your accommodation is in the center (plaza area).
Better consider this when you reserve your hotel especially if you're not really the partying type. Just check it on Google maps if it's around the plaza.
As for the young traveler, this party scene is definitely a plus. For a small town, the parties in Sayulita are quite impressive – there is always something happening everywhere at any time of the day!
#8: Too many outdoor activities
When I visited Quintana Roo, I saw more clearly its difference from the coast. We have so many mountains here in Sayulita that you can hike and I didn't see that a lot in the south.
Monkey Mountain is one of the most popular hikes but I am surprised that not a lot of people do it. I feel like not everyone knows about it so I always encourage clients to do this hike.
Some other active things to do in Sayulita include ATV rides, horseriding, fishing, and many other water activities you can think of!
If you want to participate in our Support Local project, you may check out our super local Sayulita tours handpicked by our Editors who interviewed these locals one by one.
#9: Sayulita is kid-friendly
You will see many children playing at the plaza by midnight while the adults are drinking at the bar next door.
If you are traveling with kids, they will never get bored here as they will always see local kids around. The kids in Sayulita are also very friendly and are used to tourists.
Bring your children to the SayuParke if you are looking for things to do for them. They will definitely meet many other children in this park (especially if they like skateboards).
#10: Sayulita is pet-friendly
Dogs on the streets and on the beach are unleashed. They are free to roam around town with their owners (or even on their own).
When I went to Cancun, some beaches don't allow dogs so I felt like it was a hassle traveling with my dogs there. It's also one of the reasons I did not move to Cancun.
Today, because of the free spay and neuter efforts of Sayulita Animals, we do not have any street dogs! Everyone has been rescued and has owners!
If you are traveling with pets, Sayulita has many pet-friendly hotels that you can stay in. Your dogs can also make friends with other dogs easily!
#11: Sayulita is a surfing town
Sayulita is visited by many surfers from all over the world but the Sayulita main beach is known to be a learning beach because of its surfable but friendly waves.
There are many surf beaches in Sayulita that are for the pros but you have to drive out of town (about 20-30 minutes).
However, if you are a hobbyist surfer or a beginner, you can stay at the main beach all day. It's really the best training ground for newbies!
You can also take surfing lessons in Sayulita with a local. I have many friends there that I can recommend and will give you a special price. Just get in touch!
#12: Sayulita is environmentally conscious
2 years ago, a hotel wanted to privatize Los Muertos Beach in Sayulita. The town rallied and camped there every night because Los Muertos is our beach – a new resort shouldn't be allowed to take that away from the community.
We won this case through the help of a lawyer in Nayarit and Los Muertos Beach remained public. Everyone can still go!
Every time things like this happen (mostly illegal buildings in Sayulita), members of the community come together to fight for what is ours.
Apart from active crusades, we also have the biggest recycling center in Nayarit, the turtle sanctuary, and the bird rescue mission.
Please be as environmentally conscious as possible when you visit Sayulita. You can simply participate by disposing of your waste properly as Sayulita has a big garbage problem because of tourism.
#13: Sayulita is flocked by holistic healing practitioners
Yogis, holistic healers, physical therapists, chiropractors – Sayulita has a big community of healers and health practitioners.
If you are in this industry, you will definitely thrive here as a nomad. Being health conscious is part of Sayulita's culture that's why our environmental crusades are also taken very seriously.
#14: We have the Marietas Islands!
One of the top reasons to visit Sayulita is the Marietas Islands, a group of islands located in Punta de Mita (about 20 minutes from Sayulita).
The Marietas Islands are one of a kind because of the hidden beach and the sea animals that live here. It is sometimes referred to as the Galapagos of Mexico.
#15: It's a golf cart area and everything is walkable
These days, traffic has become horrible in the center of town because of the influx of tourists but what I love about Sayulita is that you can walk everywhere!
The streets are safe and cars are always very respectful to pedestrians. Children can go play on the streets and they will never be harmed.
You'll never have to worry about fast cars or bustling traffic. Imagine a vacation where you don't have to take taxis and you'll just walk everywhere! I really feel this is a big plus!
⁉️ Reasons to visit Sayulita FAQs
How many days do you need in Sayulita?
The number of days you need in Sayulita depends on your interests, travel style, and the activities you want to engage in. Generally, a 3-4 day trip would be enough to experience the main highlights of Sayulita, such as the beaches, surfing, local cuisine, and the town's vibrant atmosphere.
However, if you want to take part in more activities, such as yoga retreats, exploring nearby towns, or embarking on outdoor adventures like hiking or snorkeling, you may want to consider a longer stay of 5-7 days or more.
Ultimately, the ideal duration of your stay in Sayulita will depend on your personal preferences and travel goals.
What is special about Sayulita Mexico?
Sayulita, Mexico, has gained popularity among travelers for its unique charm and laid-back atmosphere.
First, Sayulita is known for its vibrant, bohemian atmosphere, attracting artists, musicians, and creatives from all over the world. Its colorful streets are filled with art galleries, boutique shops, and lively cafes, adding to the town's unique character.
It is a renowned surfing destination, with consistent waves suitable for both beginners and experienced surfers. Surf culture is a significant part of the town's identity, with numerous surf schools, rental shops, and surf-themed businesses.
The town boasts several picturesque beaches, including Playa Sayulita, Playa de los Muertos, and Playa Carricitos. These beaches offer opportunities for swimming, sunbathing, and enjoying water sports.
Sayulita is known for its diverse culinary scene, ranging from street food to upscale restaurants. The town is particularly famous for its fresh seafood and traditional Mexican dishes, providing a delicious experience for food enthusiasts.
Apart from surfing, Sayulita offers various outdoor activities such as hiking, horseback riding, fishing, and snorkeling. The nearby Sierra Madre Occidental mountains and Marietas Islands provide ample opportunities for adventure and exploration.
Is Sayulita a party town?
Sayulita is not specifically known as a party town; however, it does have a lively atmosphere and offers a variety of nightlife options. The town has a laid-back, bohemian vibe and attracts a diverse crowd, including families, couples, and solo travelers.
While it may not have the same intensity as Mexico's more prominent party destinations like Cancun or Cabo San Lucas, Sayulita still provides opportunities for those looking to enjoy nightlife.
You can find several bars, beach clubs, and live music venues in Sayulita, where you can enjoy cocktails, local beers, and dance to a mix of music genres.
The nightlife is generally more relaxed and low-key compared to larger party destinations. If you're looking for a more vibrant nightlife scene, nearby Puerto Vallarta offers a broader range of options, including clubs, bars, and late-night entertainment.
In summary, while Sayulita is not predominantly a party town, it does offer a lively atmosphere and various nightlife options for visitors who want to enjoy some entertainment during their stay.
What is the best month to visit Sayulita?
The best time to visit Sayulita largely depends on your preferences for weather, crowds, and activities. In general, the months between November and April are considered the best time to visit, as the weather is warm and dry, with temperatures ranging from 70°F (21°C) to 85°F (29°C). This period is also known as the high season, with more tourists visiting the area.
Is Sayulita a hippie town?
Sayulita is often referred to as a bohemian or hippie town due to its laid-back atmosphere, artistic community, and vibrant culture. The town has attracted artists, musicians, and creatives from around the world, which contributes to its eclectic and relaxed vibe.
Its streets are filled with colorful murals, art galleries, boutique shops, and unique cafes that further enhance its bohemian character.
Sayulita is also known for its surf culture, yoga retreats, and wellness centers, which draw in a diverse crowd of travelers who appreciate its alternative and easygoing lifestyle.
While it may not be a traditional "hippie town," Sayulita does embody many elements of the bohemian and free-spirited lifestyle that appeal to those seeking a relaxed and unconventional travel experience.
Is Sayulita inexpensive?
Compared to some other tourist destinations in Mexico, Sayulita is relatively inexpensive, though prices can vary depending on the time of year, accommodations, and activities you choose.
The town has a range of options to cater to different budgets, from affordable street food and local eateries to more upscale dining experiences.
Accommodation options in Sayulita also vary, with budget-friendly guesthouses, hostels, and vacation rentals available alongside more luxurious hotels and villas.
Activities such as surfing lessons, yoga classes, and outdoor adventures can be found at different price points, making it possible to tailor your visit according to your budget.
While Sayulita may not be the cheapest destination in Mexico, it is still generally more affordable than some of the more prominent resort areas like Cancun or Los Cabos.
To make the most of your visit while keeping costs down, consider traveling during the low season, looking for deals on accommodations, and seeking out budget-friendly dining and activity options.
Is Sayulita safe for tourists?
YES, IT IS! Sayulita is a safe town as everyone knows everyone. You'd be surprised how you will gain new friends within 4 hours of your arrival. For a detailed personal experience, refer to our article about safety in Sayulita.
Can you walk anywhere in Sayulita?
Yes, Sayulita is a small and walkable town, making it easy to explore on foot. The town's compact size allows you to reach most attractions, restaurants, shops, and beaches without the need for a car or public transportation.
Walking around Sayulita is a pleasant experience, as it offers an opportunity to take in the vibrant colors, unique architecture, and local atmosphere at a leisurely pace.
However, if you plan to visit more remote beaches or explore the surrounding areas, you may need to rent a car, use public transportation, or hire a taxi.
Additionally, some accommodations may be located on hills or in less central areas, which could make walking less convenient for some travelers. In such cases, renting a golf cart, scooter, or bicycle can be a fun and efficient way to get around town and access nearby attractions.
🇲🇽 Sayulita Travel Planning
✈️ How do I fly to Sayulita?
The airport that serves Sayulita is Puerto Vallarta International Airport. Our recommended booking platform is WayAway.
🚑 Do I need travel insurance to travel to Sayulita?
YES, YOU DO! do not travel to Mexico without insurance. Check insurance plans on SafetyWing for as low as US$40 for full travel coverage.
🚗 How much is the car rental from Puerto Vallarta Airport to Sayulita?
The normal car rental rate from PV Airport to Sayulita is $25 USD per day. Check prices at Rental Cars Vallarta.
🏨 Where can I get deals on Sayulita hotels?
The best platforms for booking your hotel in Sayulita are Hostelworld (for budget travelers) and Booking.com for boutique hotels. You will find great deals on luxury hotels on Expedia.
☕ Readers who support Mexico Insider help us continue bringing you the most honest content about Mexico. Consider donating to our coffee fund if you like the content that we do.
Trisha traveled to Mexico in 2018 and after a year, she found herself obtaining a 4-year residency visa in Mexico. She is the Editor-in-chief for our Living in Mexico Series which has helped over 3,000 Americans move to Mexico with ease. Trisha currently resides in Cabo San Lucas, Baja California Sur.