I lived in Sayulita for 2 years and it is honestly the safest place I've been to in Mexico. I'm not just saying it to convince you to visit Sayulita so you'll visit, but I'll share some stories on how safe is Sayulita in this post.
📧 Hi Trisha! I really hope you read this e-mail because I am traveling to Sayulita soon. My friends and family keep warning me about Mexico safety and I don't know if I should cancel my trip. I found your solo travel blog about Sayulita and I am glad to have found your Mexico blog! Please encourage me to push through! I really want to see Sayulita but I am worried that it isn't safe. Thank you for all your honest posts!

William Z., United States
Hi William!
Safety in Mexico really depends on the area so, in this article, I will share with you some stories about how safe is Sayulita Mexico.
When I moved to Sayulita in 2018, I got the same comments from my family but that does not necessarily mean they know Sayulita. Mexico is just being generalized as one entity when it comes to safety.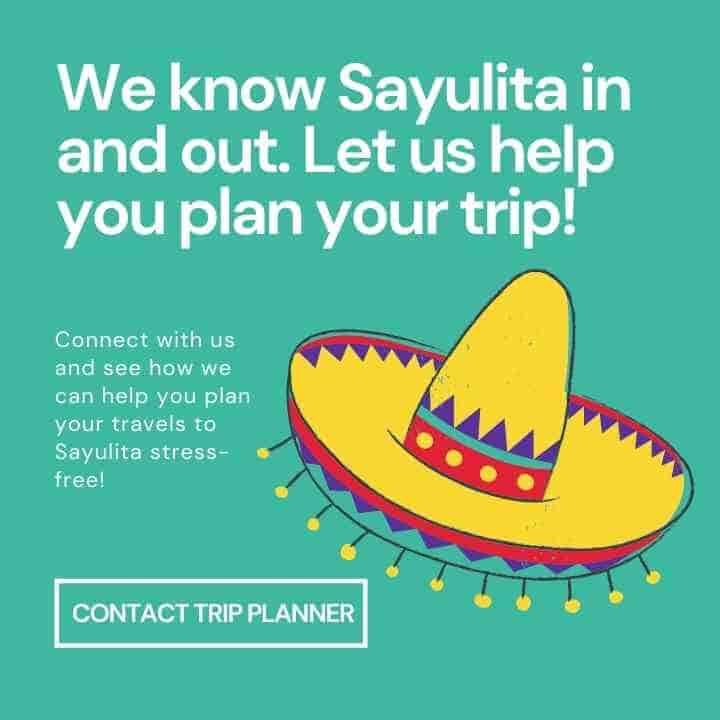 Short answer: you don't have to worry about your safety in Sayulita. It is extremely safe! But anyway, here's a detailed article together with my personal experiences.
I hope you still push through and tell you what, I'll introduce you to my friends so you'll feel safe in Sayulita. This will make your family feel better if they know you are with some foreigners there.
Just get in touch with me and I'll make an intro to my friends! Good luck and whatever you decide, Sayulita is always a good idea!
Cheers,
Trisha
🙋 Questions about Sayulita? Ask us on Tiktok!
🔗 How safe is Sayulita: quick links
⚠️ Is Sayulita safe?
ABSOLUTELY! I've been traveling all over Mexico and staying for more than 2 weeks in each area – Sayulita is the safest place I've been to.
From living in Sayulita for 2 years, I learned that what makes this town really safe is its size. Sayulita is small so expect to know everyone and anyone, even if you are vacationing for a week.
Families with kids love to travel to Sayulita because of its very child-friendly layout. The streets are so small so you won't have to worry about road safety.
This is a golf cart town so very few cars pass by and if there are cars, they are running at a very slow speed.
Cartel-wise, you won't really get into trouble or even come across them unless you are directly involved so just don't buy drugs.
You can live without it during your vacation because there are many other things to do in Sayulita than to party!
🚫 Is Sayulita safe at night?
YES! Take it from me. When I lived in Sayulita, my apartment was not in the center. It was a 10-minute walk and I always walked home because this is a walking town. There is no point in paying a US$5 taxi for a 2-minute ride.
The streets are well-lit and there is always someone on the streets even in the wee hours of the mornings. There were some cases of theft, which are not my experiences but my friends' so I can't really talk about it on a personal level.
Later on, I will include those stories in some parts of this article but please know that the experiences I share here are my first-hand experiences.
Like many other places, just be cautious walking by yourself at night although I never had issues with this in Sayulita considering I am a female.
💃🏽 How safe is Sayulita Mexico? Let's discuss crime rate
Riviera Nayarit has the lowest crime rate in Mexico. According to data gathered by the National System of Public Safety, this area is the top safest destination in Mexico.
The data was made public in December 2019 and it states that the national average of crime per 100,000 inhabitants is 1,601. Nayarit, the state where Sayulita is in had 379 incidents which makes it the 4th safest place to visit in Mexico.
We tend to rely on facts and statistics when researching for the safety in each destination but let's try to incorporate some personal experiences as well.
From living here for 2 years, I have not witnessed any crime that happened to me first-hand. Word goes out fast in a small town like this so when something happens, it will be on the Facebook groups in a matter of minutes.
I also don't feel paranoid about my belongings here. I can leave them on the shore while I am swimming. When I am in restaurants working on my computer, I leave all my belongings on the table and nothing has been stolen from me.
For me, I greatly consider my comfort when choosing where to live in Mexico. I don't want to live somewhere I feel unsafe and paranoid because that's definitely not the way I want to live my life, no matter how beautiful a place can be. This is always a top priority for me and Sayulita has delivered in this department.
👯🏾 The community contributes to Sayulita safety
One of the reasons why I loved traveling Sayulita solo when I first arrived is that everyone knows everyone. I never had to plan my day with anyone. I go to a bar when I want to and someone I know will always be there.
If not, I just sit on the bar and will end up chatting with newfound friends within the hour. The bartenders and servers who work there also live there so you will always have someone to chat with if you go out by yourself.
I was also privileged to be part of bigger community movements like the privatization of Los Muertos Beach in Sayulita.
The close-knit community is also one of the reasons why I feel extra safe in Sayulita. My dogs can wander around town and people know them so someone always ends up bringing them to my house. I do the same for other dogs I know.
Some nights I excessively enjoy the Sayulita nightlife, I forget where I parked my golf cart. As soon as I post it on the groups, "guys, have you seen my golf cart?" I get instant responses right away. I don't even lock my golf cart and people don't steal it!
However, one of the downfalls of this close-knit community that hit me hard was losing my privacy. While it's a good thing there is a community watching out for you, I kinda lost my privacy in the process – everyone knew my business and it involved a lot of drama.
While this is good if you are only visiting short-term, I found it very hard to be private while living in Sayulita so I had to leave. I mean, who wouldn't know you inside out when you lived in a small town for 2 years?!
👛 Sayulita safety: very rare case of theft
One of the craziest theft incidents I've witnessed in Sayulita was when 3 guys working at a famous bar stole the safe. They were caught within hours!
The product of the close-knit community? They were beaten up in public by the locals. It was so horrendous to see and at the same time, I felt that people here really take care of each other. This is a small town – you can't steal here!
Living in Sayulita is paradise and it is a privilege. Many people were kicked out from living here for doing stupid things and if you really want to live in Sayulita, you don't want to have a bad reputation because you can get thrown out.
One of my close friends who works as a bartender and walks home really late was once mugged at 4:00 AM. They didn't hurt him but they took his wallet.
He wasn't scared because he was Mexican but he said that there were 4 guys versus him solo so he didn't dare fight. He didn't have a lot in his wallet anyway.
In another instance, a foreigner left her bag at the main beach of Sayulita. She then contacted me on Instagram to see if we can find her bag.
I posted it in the group (that she wasn't a member of) and within minutes, we were able to retrieve her bag. Talk about the power of social media and Facebook community groups! I lived everywhere in Mexico and only experienced this in Sayulita!
🧭 WE CUSTOMIZE SAYULITA TOURS!
Sayulita is our home and we traveled the whole state of Nayarit! E-mail us at [email protected] or call our office at +52 473 171 525. Readers of Mexico Insider get 10% discount while members of our Insider Travel subscription get 20%.
🚰 Drinking tap water or eating out in Sayulita
Drinking tap water in Mexico is not safe. Not just in Sayulita. The water in Mexico is so contaminated even my dogs got sick!
When my dog was having stomach problems, the vet told me that I should change their water to potable drinking water. If an animal can get sick from drinking tap water, imagine what it can do to humans!
Whatever you do, do not drink tap water in Sayulita. Your accommodations will provide clean drinking water during your stay.
When eating in restaurants, they usually offer clean (and free) house water but if you are really sensitive, order mineral water instead.
Another thing that foreigners worry about is how the vegetables are washed in Mexico. When you are eating in restaurants, they wash the vegetables with microdyn (and clean water) so don't worry about ordering a fresh salad. It seems that this has been a very important subject when eating out in Mexico, most especially for raw food.
Street food in Sayulita? There's a lot and you should definitely try it! In my experience, I never got sick from it but again, you know your body better than anyone. Don't eat street food if your body is not used to it.
🌊 Sayulita sewage problem: the talk of the town
When you are researching about your trip to Sayulita, you will come across this Sayulita sewage problem topic everywhere! Which, I honestly didn't feel or see when I was living there in 2019.
However, my local sources say it's ongoing where there are claims that the water isn't sanitary. But then various governing bodies in Nayarit test the water continuously and all results remain within acceptable levels.
That's evidenced by people not getting sick like they were 3 years ago. So it seems stable and acceptable lately.
🏊‍♀️ Is Sayulita safe for swimming?
There are many beaches in Sayulita; the main beach is the most popular one. This is where people usually hang out because it's very accessible.
This is also where all the surfing classes take place because the waves are super friendly to beginners. Sayulita's main beach is a learning beach for new surfers because it is easy to navigate.
There was also an issue with the pumping system of the town that made the Sayulita main beach dirty. That was years ago and that's all been solved since 2019.
No need to worry about dirty water although I have to admit that our beaches here are not as clear as the Caribbean.
Some jungle beaches like Patzcuarito and Carricitos have stronger waves but they are still swimmable. Just be mindful of the current since there is an instance where one of my friends almost drowned in Carricitos.
It's always best to check the current first and don't go in if you are not a good swimmer!
🚧 Road safety in Sayulita
Sayulita roads are very narrow so few cars pass by. It can get packed during pick hours where traffic is crazy but these cars are not running more than 10 km.
Pedestrians are a priority so expect that you can cross the street safely, even with children! Sayulita is a walking town although we don't really have sidewalks for pedestrians.
There have been no cases of car accidents in Sayulita because of its layout. For transport, you can rent a golf cart in Sayulita that ranges from US$45 – US$60 per day.
You can even ride these golf carts to the jungle and secluded beaches since they are custom-made for Sayulita roads!
I know that you may want to rent a car in Mexico when visiting but in Sayulita, it's a pain! I barely drove my car there because parking is so hard and the streets are so narrow. Golf carts are the way to go!
🚔 Police presence in Sayulita
Sayulita has a heavy police presence, especially during the weekends. I never really turned to them for help but for many foreigners and travelers, seeing police cars in a touristy area makes them feel safe. I just want to include that here in case you're one of those people!
🏥 Are there hospitals in Sayulita?
There wasn't a hospital when I was living there. I always had to go to Punta Mita, Puerto Vallarta or Bucerias when I need the hospital (which was very rare).
In 2020, a new big hospital opened in Sayulita and you can go there for emergencies. It's pretty expensive though so you need to make sure you have travel insurance when you go to Sayulita!
💨 Is it safe to drive in Sayulita?
For those who are staying longer in Sayulita, you may want to rent a car to explore nearby towns such as Rincon de Guayabitos, San Pancho, Lo de Marcos, or even a day trip to Puerto Vallarta. Driving from Guadalajara with your own car is very easy as well!
I've had my car since 2020 and honestly, it has been so easy for me to drive around Riviera Nayarit. The roads are paved and traffic is well organized.
The only thing I fear is getting stopped by the police. More often than not, I am not doing anything wrong but the police still stop me just because.
In most instances, they will make up some crazy shit that you did and you have to bribe them if you don't want them to take your license.
As a foreigner or tourist, you don't want to get involved in this so don't give the police any reason to stop you. If they did, calm down and ask for your violation.
It's really stressful to deal with Mexican police so I don't really encourage everyone to drive here especially if you don't have the guts and attitude to talk to these people.
Our trusted local airport taxi drivers will take you to and from Sayulita. You can go anywhere you want and a driver will be really convenient if you're on a vacation.
You may use the code MEXICOINSIDER10 upon checkout if you need a private driver in Sayulita or Puerto Vallarta.
✨ Sayulita safety tips
Avoid drugs at all costs
You get offered a lot of drugs on the streets as a foreigner not just in Sayulita but all over Mexico. Simply say, "no, gracias," and don't engage in any transaction.
You will survive Sayulita without drugs, I promise you that. Do not do anything that will involve you in exchanges like this, not even a conversation. You don't want to end up in Mexican prison!
Don't go out with a lot of cash
While Mexico is still a cash country, many restaurants and establishments in Sayulita accept credit card payments. Only street food stalls require cash.
ATM withdrawals in Sayulita can be challenging as the machines always run out of money so be sure to get some when you arrive at Puerto Vallarta International Airport.
Join community Facebook groups in Sayulita
Again, the local community of Sayulita is very active in current events so if you want to be updated on what's happening in Sayulita, you may join Sayulita People and Sayulita People Comunidad.
For women who are traveling alone, the Whatsapp group Witches of Sayulita is a good place to gather info and meet people.
If you are looking for a trusted landlord and cheap apartments in Sayulita, Rentas Sayulita is the best group to join. It's in Spanish but every info and rental here is local!
When you're too drunk, don't walk home
Let's be honest – most young people who want to visit Sayulita are really after the nightlife. Sayulita has a vibrant nightlife and you can get carried away by the nightly parties!
This is something out of your control but you can always be mindful about your safe arrival at your accommodation. Make it a priority before you get drunk!
I understand that sometimes, you can get drunk and stray away from your group. If you feel like you are not well enough to walk, take the taxis that are stationed by the Sayulita plaza. They are reliable and safe!
Don't travel without insurance
I pay US$40 per month for my travel insurance and it's on a recurrent payment plan – I don't even need to think about paying it monthly! It automatically charges my card and it's super affordable!
My insurance provider also has insurance plans that cover COVID-19. In this time and day, we are living in, travel insurance should be on top of your travel expenses.
🇲🇽 Sayulita Travel Planning
✈️ How do I fly to Sayulita?
The airport that serves Sayulita is Puerto Vallarta International Airport. Our recommended booking platform is WayAway.
🚑 Do I need travel insurance to travel to Sayulita?
YES, YOU DO! do not travel to Mexico without insurance. Check insurance plans on SafetyWing for as low as US$40 for full travel coverage.
🚗 How much is the car rental from Puerto Vallarta Airport to Sayulita?
The normal car rental rate from PV Airport to Sayulita is $25 USD per day. Check prices at Rental Cars Vallarta.
🏨 Where can I get deals on Sayulita hotels?
The best platforms for booking your hotel in Sayulita are Hostelworld (for budget travelers) and Booking.com for boutique hotels. You will find great deals on luxury hotels on Expedia.
☕ Readers who support Mexico Insider help us continue bringing you the most honest content about Mexico. Consider donating to our coffee fund if you like the content that we do.
Trisha traveled to Mexico in 2018 and after a year, she found herself obtaining a 4-year residency visa in Mexico. She is the Editor-in-chief for our Living in Mexico Series which has helped over 3,000 Americans move to Mexico with ease. Trisha currently resides in Cabo San Lucas, Baja California Sur.