The best Sayulita beaches including location, how to get there, what to bring, and everything you need to know.
Sayulita beaches don't have blue waters like Cancun but what I love about the beaches in Riviera Nayarit is that you need to go through the jungle to reach them.
There are 4 walkable beaches within Sayulita so you don't have to rent a golf cart and a car to get to them. However, I added a few nearby beaches on this list (a 20-minutes drive) which you will surely love to explore.
Plan your trip to Mexico with us! Get expert travel advice and customized trip-planning itinerary from our local experts on the ground.
🏖️ 9 best Sayulita beaches
#1: Sayulita main beach
📍 [open on Google maps]
🚶‍♀️ in the center
☀️ sunset spot
Sayulita main beach is where all the bars and restaurants are so you'd like to explore this first. It is also a learning beach for surfers so there will be many activities here during the day.
Beach vendors are everywhere so that may be a hassle to your sunbathing escapades so I would recommend coming to this beach for lunch or day drinking, just so the vendors won't bother you inside the establishments.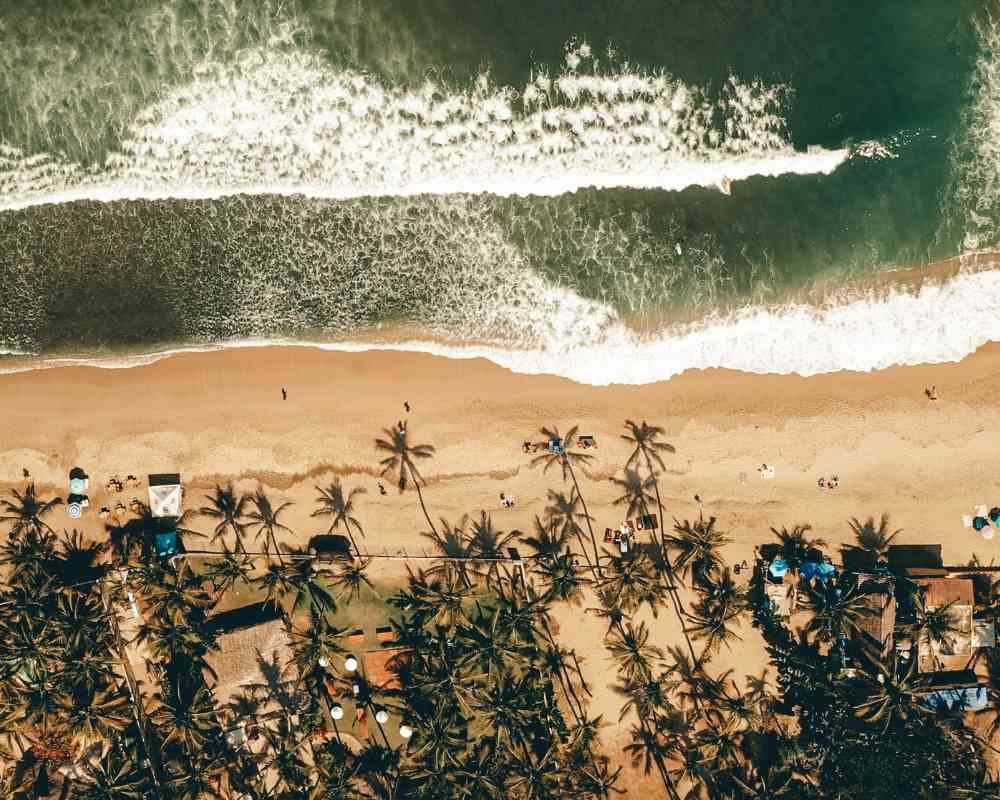 La Isla and Barracuda by the beach are two great spots for day drinking. They also have day beds where you can lay all day plus a great menu of food and beverage.
If you want to lay privately on the sand (while reading a book), walk all the way to the north side where there are fewer people.
#2: Playa Carricitos
📍 [open on Google maps]
🚶‍♀️ 30-min walk from the plaza
☀️ sunset spot
Carricitos is my second favorite beach in Sayulita but I go here quite a lot. From Monday to Thursday, it is very likely that you'll have this beach by yourself but during the weekends, expect more people hanging out on this beach (but not as much as the Sayulita main beach.
I like going to this beach because my dogs can have more space for themselves. My dogs like to play on the beach and there were many instances when they always get into fights with other dogs on crowded beaches.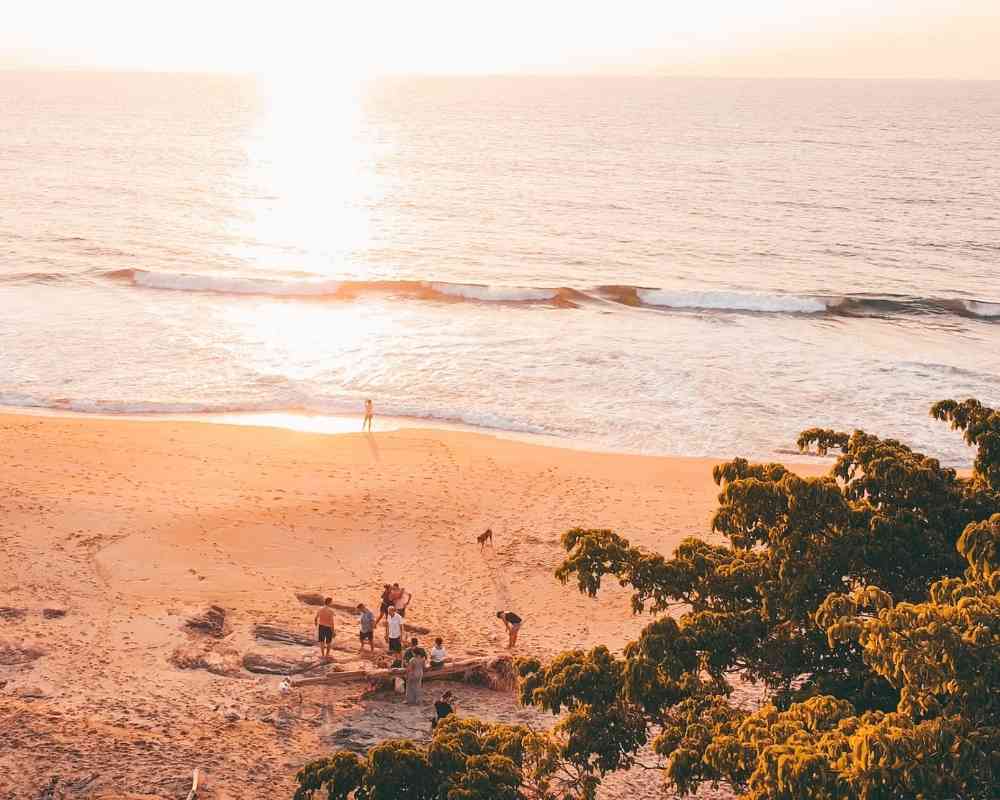 The waters of Carricitos beach are not for surfing – it all depends on the water condition but I've seen a lot of people surf there. It is definitely for swimming but beware of the undercurrents as they are very unpredictable.
There are no stores or bars on Carricitos beach so I recommend you bring your own beach mats, beers, and food if you're spending the day there.
The walk is also a canopied pathway so it won't be very hot if you choose to go on foot. This is one of the best small hikes in Sayulita and I promise you'll enjoy it!
#3: Playa Los Muertos
📍 [open on Google maps]
🚶‍♀️ 10-min walk from the plaza
☀️ sunrise spot
There is also Los Muertos Beach in Puerto Vallarta so don't confuse this with the one from Sayulita. You might be confused if you search it on Google maps and it will show you it's an hour's drive.
Los Muertos means "the dead" in English. To get to Playa Los Muertos, you need to pass by the town's cemetery, hence the name.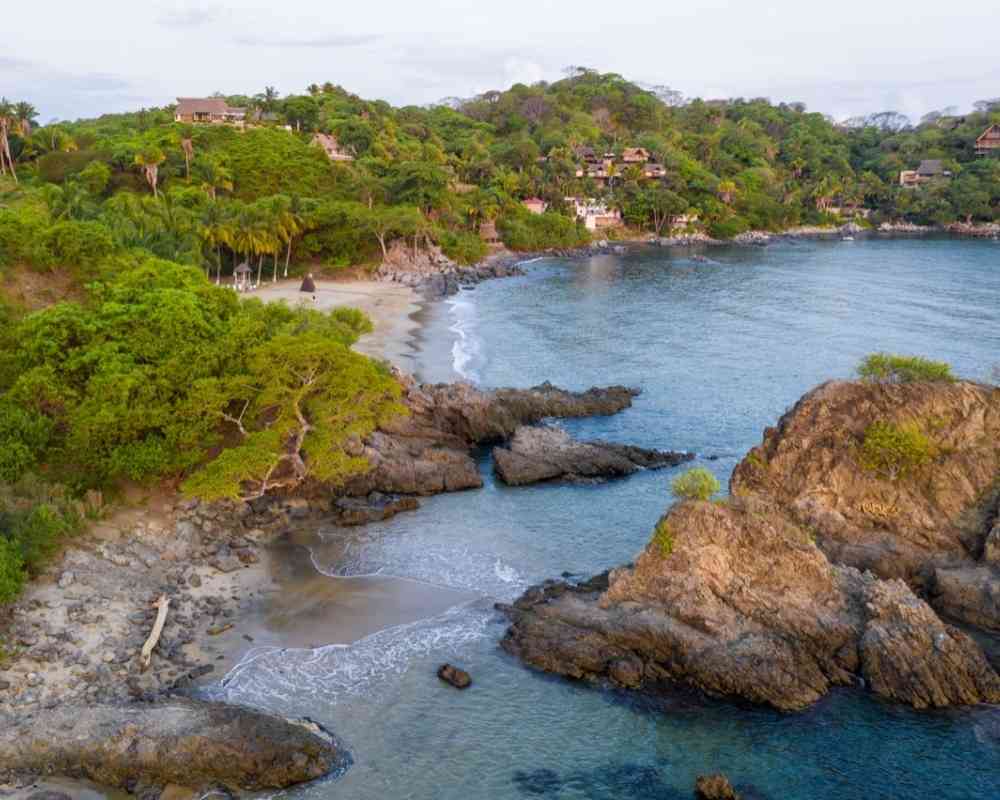 Don't worry, it's not scary! Mexican cemeteries are usually pleasing to look at and this will enable you to see the local culture of Sayulita. You will also pass by local homes along the way.
Los Muertos is in a cove and is a favorite for families traveling with children. The waves are not too strong and this beach is swimmable.
These days, vendors are already selling food and drinks here. You can also rent an umbrella for
#4: Patzcuarito
📍 [open on Google maps]
🚶‍♀️ 30-min walk from the plaza
☀️ sunset spot
This is my favorite beach in Sayulita and I come here every morning because it's always empty! Patzcuarito is not as popular as Carricitos but I prefer this more because of the canopy trail.
There aren't any stores or beach vendors here so you must bring your own food and drinks. There are no shaded areas so you need to bring an umbrella.
This is also a great camping spot if you want to stay the night. Just put your tent on higher ground because the tide gets really high in the evening.
#5: Patzcuaro
📍 [open on Google maps]
🚘 14-min drive from the plaza
☀️ sunrise spot
Note that there is also a Patzcuaro in the state of Michoacan so make sure to put 'Nayarit' on Google maps or follow the link above for directions.
Patzcuaro is a surf beach but I like to come here when I want to change the scenery. There is a different community in the Patzcuaro area despite its close proximity to Sayulita.
The beach is not extraordinary but you'll love the jungle drive where you'll pass by rivers and the rainforest of Riviera Nayarit.
If you want to stay the night, there are many beachfront vacation rentals here!
#6: Playa Mal Paso
📍 [open on Google maps]
🚘 14-min drive from the plaza
☀️ sunset spot
A 45-min walk through the Sayulita main beach, Mal Paso is another adventurous jungle trail that is fit for adventure-lovers. You don't need a guide to get here – just simply walk the shore north and you'll arrive easily!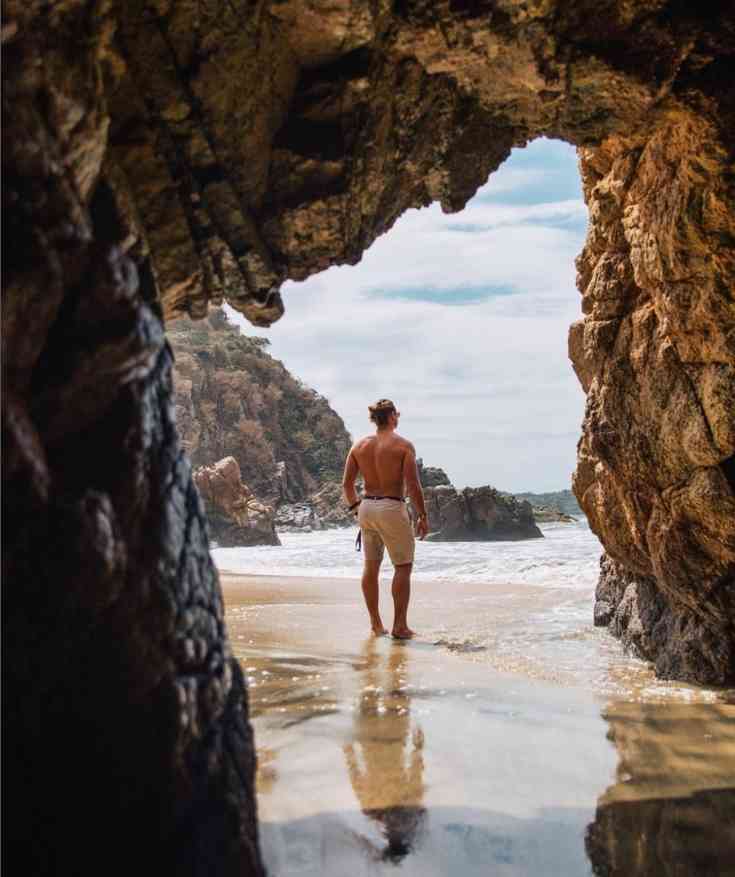 Mal Paso is remote and deserted so as usual, bring your drinks and food. I encourage you to spend the full day here. There are many trees around for shade so no need to bring an umbrella!
#7: La Lancha
📍 [open on Google maps]
🚶‍♀️ 30-min walk from the plaza
☀️ sunset spot
La Lancha is in Punta de Mita, about 20 minute drive from Sayulita. There is a 15-min jungle trail and despite having to walk long with their surfboards, surfers love this beach because of the intermediate to pro waves.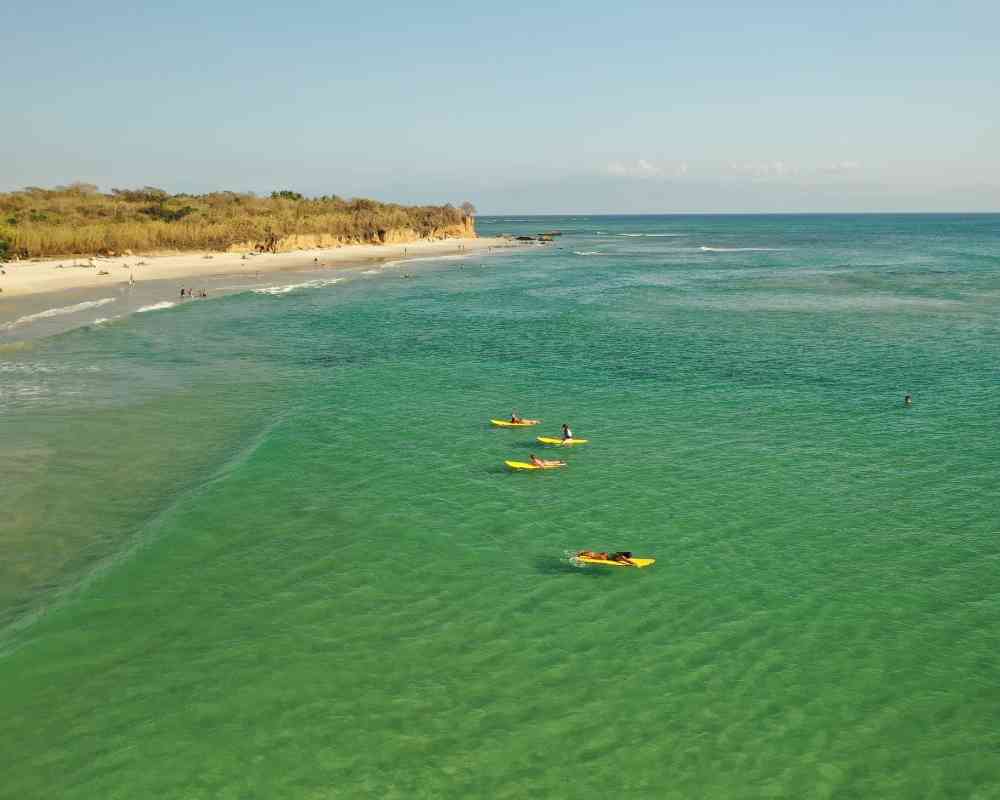 La Lancha beach is my Sunday jam because my dogs love this beach! When bringing pets, be mindful about the river as there can be alligators lurking around the area.
There are no stores in La Lancha beach but there is an Oxxo and a few restaurants at the beginning of the trail where you will also park your car.
#8: San Pancho main beach
📍 [open on Google maps]
🚶‍♀️ 30-min walk from the plaza
☀️ sunset spot
San Pancho is another small town that is only 10 minutes from Sayulita. It's also a great place to stay and it is much quieter than Sayulita (and also more expensive).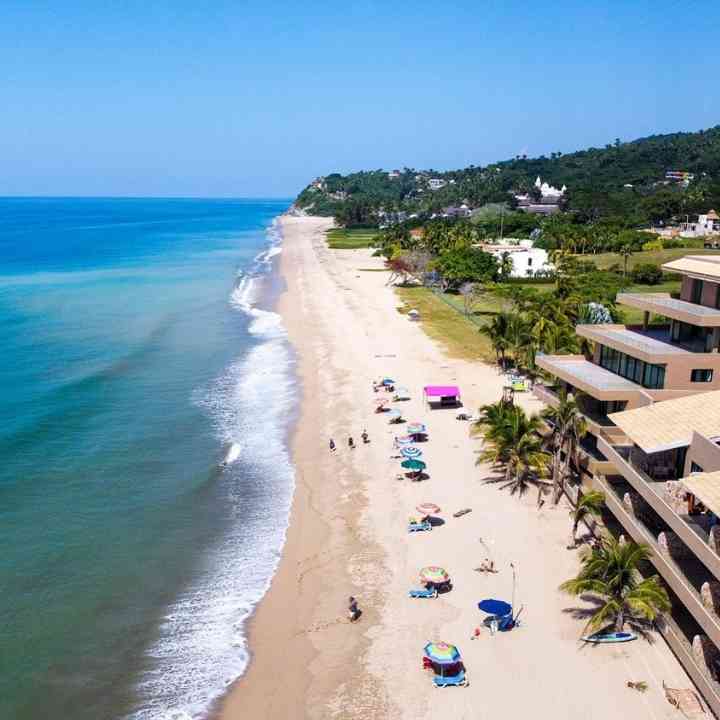 San Pancho's main beach has very decent waves (higher than Sayulita). I love going to San Pancho when I want to take a break from the bustling Sayulita noise.
There are also many restaurants on this beach but it is not (yet) as crowded as Sayulita's main beach. If you spend the day here, I also encourage you to take the San Pancho City tour with us!
🏊🏽 Can you swim on Sayulita's beaches?
All Sayulita beaches are swimmable but it really depends on the wave season. Carricitos and Patzcuarito have strong currents and it can be dangerous if you're not a skilled swimmer.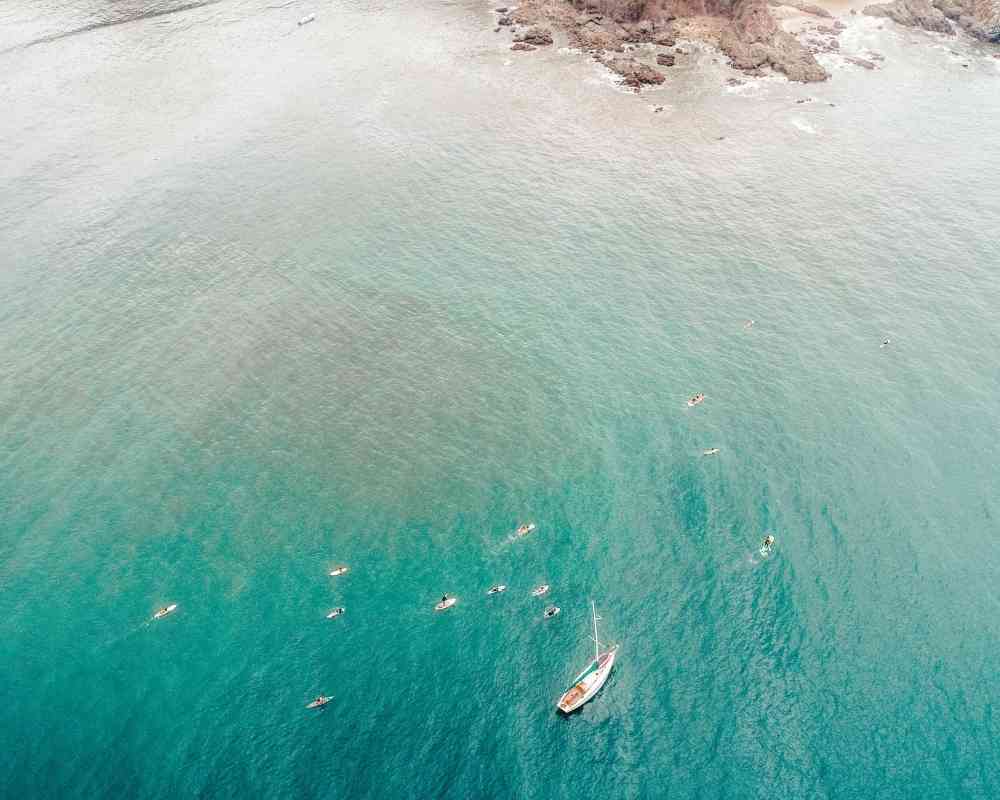 The main beach is always swimmable and is a favorite to new surfers because of its friendly waves. The only issue with the main beach is it's not 100% clean because of the sewage problems that Sayulita has been facing for years.
🚗 Do I need a golf cart to visit the Sayulita beaches?
Golf cart rental starts at US$55 per day but if you're on a budget, I recommend walking. It only takes 30 minutes to get to them. You'll also walk into a lush jungle on the way to these beaches so it won't be that painful.
I personally have my own golf cart that I use daily to go to the beach but if I have extra time after work, I usually just walk. It makes the dogs extra tired and it's also a good exercise for me!
Of course, it will be a fun and unique experience to rent a golf cart in Sayulita as this is the most common mode of transport in town.
I can't recommend a trusted golf cart company right now (since I've had many bad experiences) but once I find out who to trust, I will definitely update this post.
🇲🇽 Sayulita Travel Guide
Trisha traveled to Mexico in 2018 and after a year, she found herself obtaining a 4-year residency visa in Mexico. She is the Editor-in-chief for our Living in Mexico Series which has helped over 3,000 Americans move to Mexico with ease. Trisha currently resides in Cabo San Lucas, Baja California Sur.