Planning a trip to Riviera Nayarit and wondering when to visit Sayulita? Here's our insider tip including what to know during hurricane season in Sayulita.
Many visitors are wondering when is the best time to visit Sayulita or if Sayulita is an all-year-round destination. Well…. that's a yes and a no.
YES, because there are many foreigners who visit Sayulita who don't care about our dead season which is the hot humid weather. They still come because prices are low and the town is almost close to empty.
NO, because we do have a super dead season where half the bars and restaurants close. Though we are not saying that you won't be able to enjoy town this way, it's just slower than it actually is.
To understand better, we will give you a timeline and a month-by-month account of the best time to visit Sayulita. If you ask us, we'll pick it all year round but it's good to know what to expect if you book your trip in these months.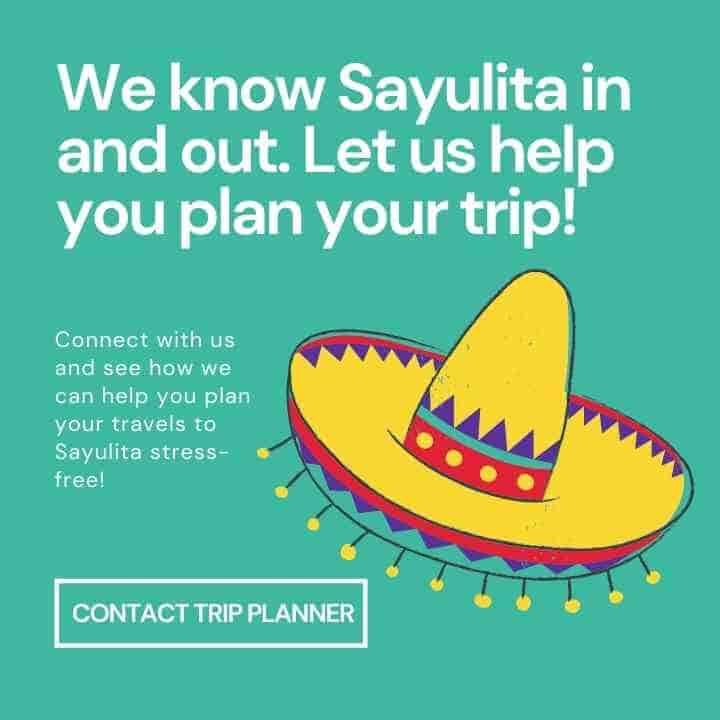 ☀️ When is the best time to visit Sayulita?
The best time to visit Sayulita Mexico is from October to March. At this time of the year, the weather is great but also expect it to be expensive.
These months are popular for big American holidays such as Thanksgiving, Christmas, New Year, Valentine's, and Spring Break. As there are many direct flights from the US, expect Sayulita to be full of tourists during these months.
📅 When is the exact date of the low season in Sayulita?
To give you a more clear idea, by June 15th, locals are already planning to leave Sayulita because of the heat. At this time, restaurants and businesses close up until the typhoon season in the first week of October.
Locals prefer to go inland where the weather is cooler like Mexico City or San Miguel de Allende. While foreigners go to Los Cabos because it also has different weather than Sayulita.
☔ What is the rainy season in Sayulita?
August and September are rainy seasons but September is the worst and rain can extend up to the second week of October. On New Year's day (January 1st), we also experience strong rain but for us locals, we make it a joke that it's like a blessing for the town. Everyone sleeps in on January 1st anyway!
⛱️ What is the high season in Sayulita?
The high season in Sayulita falls during the season of American holidays such as Thanksgiving, Christmas, New Year, and Spring Break.
It is safe to say that November to March is high seasons in Sayulita when foreigners are avoiding very cold winters in their countries. The weather during these months is the perfect time to visit Sayulita!
Note that the high season in Sayulita also means that prices are higher than usual. Make sure to reserve your accommodations 6 months in advance if you plan to travel to Sayulita on these months.
🐋 When is the best time to go whale watching in Sayulita?
Whale watching in Sayulita begins in November when you can see a few whales making their way up north (to Baja California Sur).
You don't even need to take a tour to see the whales. Just sit on the shore of the beaches in Sayulita and you will see them jumping!
The last batch of the whales are visible until March but after this, they all go to northern Mexico and then complete their trip to Alaska.
🛰️ Sayulita weather forecast: month-by-month
A quick overview of Sayulita weather forecast by month. ⬇️ is the coldest/lowest temperature while ⬆️ is the hottest.
January: ⬆️ 27°C (80°F) | ⬇️ 16°C (61°F)
February: ⬆️ 27°C (80°F) | ⬇️ 17°C (61°F)
March: ⬆️ 27°C (80°F) | ⬇️ 13°C (55°F)
April: ⬆️ 28°C (82°F) | ⬇️ 17°C (61°F)
May: ⬆️ 29°C (84°F) | ⬇️ 20°C (68°F)
June: ⬆️ 31°C (87°F) | ⬇️ 25°C (77°F)
July: ⬆️ 33°C (91°F) | ⬇️ 24°C (75°F)
☔ August: ⬆️ 33°C (91°F) | ⬇️ 24°C (75°F)
☔ September: ⬆️ 34°C (93°F) | ⬇️ 21°C (70°F)
October: ⬆️ 35°C (95°F) | ⬇️ 19°C (66°F)
November: ⬆️ 31°C (86°F) | ⬇️ 14°C (57°F)
December: ⬆️ 30°C (86°F) | ⬇️ 21°C (70°F)
⛅ Data by Accuweather Sayulita. Download this app as this will give you the most accurate Sayulita weather forecast!
You might also like:
🌤️ Best time to visit Sayulita by season
Low season in Sayulita: June-August
We experience unforgiving humidity from June to August so visitors don't really prefer to go during this season. Most accommodations in Sayulita have air conditioning so some foreigners don't worry about the extreme heat.
It's only crazy when you are out but you also don't want to spend your Sayulita vacation in your accommodation all the time.
Or maybe you want to? If this is the case, it is highly encouraged to book accommodation with a pool to cool down. We feel like this is the best time to visit Sayulita with friends as you can always just lounge in your amazing accommodations and have summer parties.
Accommodations are also cheaper at this time. Some bars and restaurants are open. Sayulita locals start to leave town slowly to go to other places like San Miguel de Allende, their homes in the USA/Canada, or anywhere cooler, actually.
As for the rain, well, it starts to rain but not too heavy yet. You will get about 5-10 minutes of rain every day (mostly in the evenings) but not hurricane levels yet. Wait for it….
Super low season in Sayulita: August and September
We've observed how tourists can still endure the June to mid-August weather but when it comes to late August and all of September, the town is totally empty.
This is when Sayulita experiences heavy rains, power outages, and extreme humidity all at the same time.
Many locals love the rainy season because we don't get rain often. It's the best time for us to enjoy "cold" weather. At this time, locals have totally left Sayulita to go to their second homes. 70% of bars and restaurants are closed.
But this is the time when we have the firefly and the crabs season plus the bioluminescence. It's a pity that not all people are able to see these very beautiful natural phenomena because of the lack of tourism during these months.
In these months, you will also find yourself sweating like crazy even if you are just sitting down. Not exaggerating – it's that harsh.
Super-high season in Sayulita: October to January
As it is around the world, October to January (ish) are the high season months in Sayulita. Dia de Muertos starts at the end of October, followed by Christmas in December, then New Year in January.
We particularly love October because it's kind of the turning point in the weather: after suffering from extreme September heat, we slowly change our wardrobes to jackets and cardigans toward the end of October.
If you don't live in Sayulita, well, this won't be too cold for you but for us who are here, this is the best time to take out those boots, jeans, and jackets (well, not wool) for a change of instagrammable outfits!
Although Americans, Canadians, and Europeans don't find this "cold," we still advise them to bring sweaters as the nights can get very cold.
High season in Sayulita: October – April
It won't be as busy as the holiday season but these are good months in Sayulita because the weather is fantastic! Let's say, it's sort of Spring in Paris – not too hot, not too cold.
Some locals still find January and February as jacket weather but foreigners are madly in love with this weather because they can be in Sayulita without sweating like crazy.
The town is super vibrant and you will see lots of tourists who are escaping harsh winters in their countries. 100% of the bars and restaurants are open.
The sun is not that strong although for us locals, having shorter days has a little disadvantage because we still get cold without the sun (LOL).
A little rain in January but it's not bad rain. It's actually what we call the New Year rain. It's not that strong For some reason, it always rains on the first day of the year!
Shoulder season: May
Most countries have 2-3 month shoulder seasons but in Sayulita, we have May. May is when the time change (daylight savings). During this month, we experience sunsets at 9:00 pm.
People are more productive because the days are longer and we actually have more time to go to the beach after work!
Sunrise is around 8:30 am. It's still completely dark by 8 which makes us get up (and start working) really late. We finish work at 7:30 PM and still have time for sunset until 9:00 pm. May is a win-win!
In terms of heat, well, May will slightly show signs of humidity but not extreme weather yet. But if you are American and Canadian, you will definitely start using the AC by May.
⛈️ Hurricane season in Sayulita
August and September are the wettest months in Sayulita. It is also Sayulita's summer so expect it to be humid even if it's raining.
Major typhoons in Mexico hit different areas in September so please check the weather in your destination before planning a trip. It is better to check the weather at least a month before booking your ticket as they are more accurate this way.
✈️ Ready for your trip to Sayulita? If you need more information about the best time to visit Sayulita, we'd be happy to update this post – – just leave your questions in the comment box below or join our communities where we answer questions for FREE.
🇲🇽 Sayulita Travel Planning
✈️ How do I fly to Sayulita?
The airport that serves Sayulita is Puerto Vallarta International Airport. Our recommended booking platform is WayAway.
🚑 Do I need travel insurance to travel to Sayulita?
YES, YOU DO! do not travel to Mexico without insurance. Check insurance plans on SafetyWing for as low as US$40 for full travel coverage.
🚗 How much is the car rental from Puerto Vallarta Airport to Sayulita?
The normal car rental rate from PV Airport to Sayulita is $25 USD per day. Check prices at Rental Cars Vallarta.
🏨 Where can I get deals on Sayulita hotels?
The best platforms for booking your hotel in Sayulita are Hostelworld (for budget travelers) and Booking.com for boutique hotels. You will find great deals on luxury hotels on Expedia.
🧭 Can you help me plan my trip to Sayulita?
ABSOLUTELY! We have locals on the ground who can plan itineraries with you. Get in touch with us and we will give you the best rates – no hidden fees, just transparent prices.
☕ Readers who support Mexico Insider help us continue bringing you the most honest content about Mexico. Consider donating to our coffee fund if you like the content that we do.
Trisha traveled to Mexico in 2018 and after a year, she found herself obtaining a 4-year residency visa in Mexico. She is the Editor-in-chief for our Living in Mexico Series which has helped over 3,000 Americans move to Mexico with ease. Trisha currently resides in Cabo San Lucas, Baja California Sur.