Planning to spend a weekend in Sayulita? Read this Sayulita itinerary based on my experience of living here for 2 years!
I recently visited Sayulita (for business and to see friends), and I've updated this post about new restaurants, hotels, and things to do.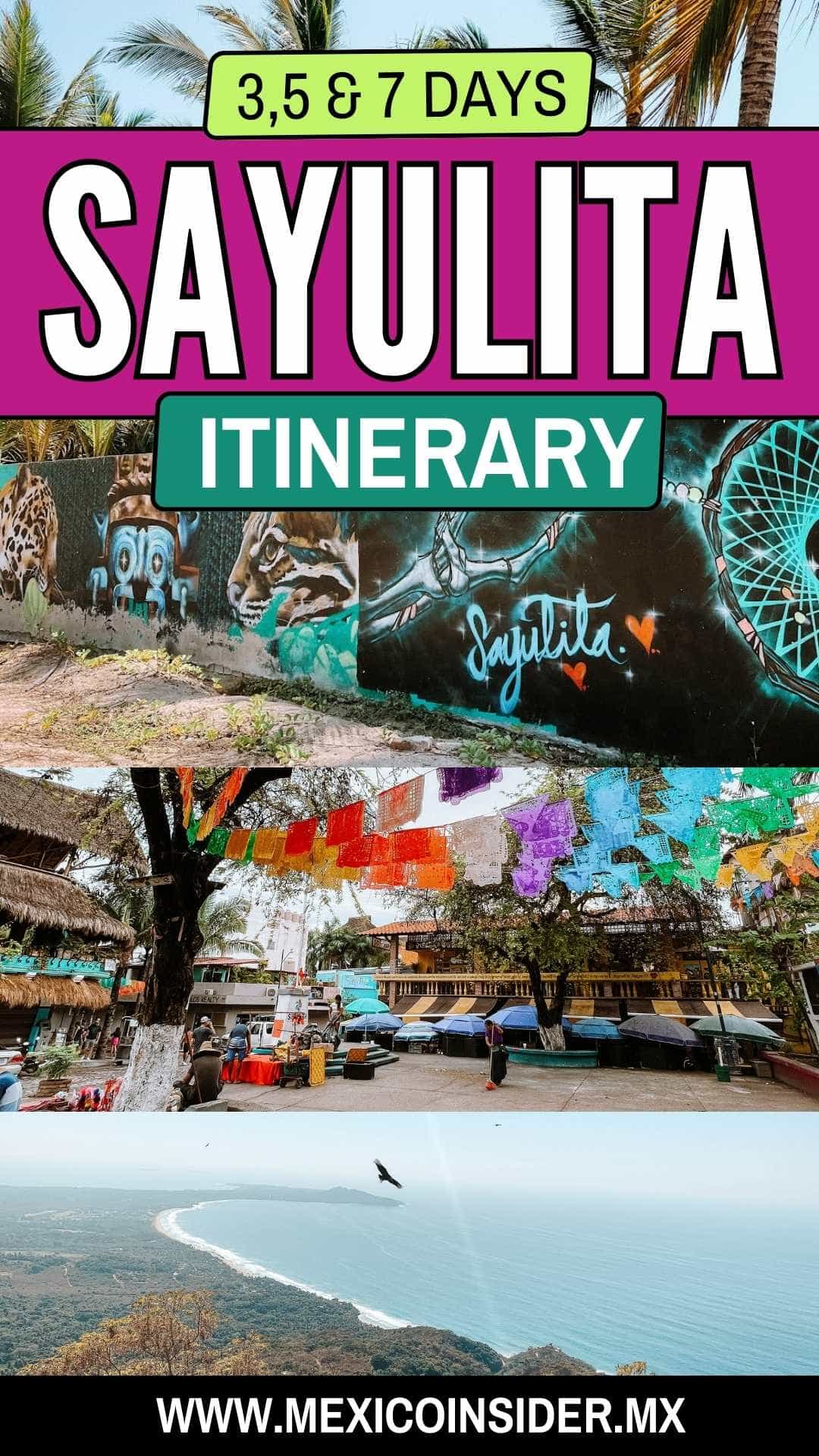 Sayulita is growing so fast and I understand why – I originally wanted to visit for two weeks and ended up staying for 2 years. It is a place where many visitors are drawn to stay longer.
However, if you on;y have a week, 5 days, or 3 days in Sayulita, this itinerary will work for you. I only included the most important things to do that you can realistically cover for a certain time frame but feel free to look at more resources about Sayulita travel in this blog.
Plan your trip to Mexico with us! Get expert travel advice and customized trip-planning itinerary from our local experts on the ground.
✈️ Planning your Sayulita itinerary
Is Sayulita worth visiting for a few days?
TOTALLY. Sayulita is one of the hot vacation spots in Riviera Nayarit. Even so, it's still not as crowded as Tulum or Cancun. Many Americans and Canadians actually live here because of the small-town vibe. Everyone knows everyone!
If you love small-town vibes, great beaches, and integrating with local life, Sayulita is worth visiting for a week. Who knows? You might end up moving to Sayulita as I did!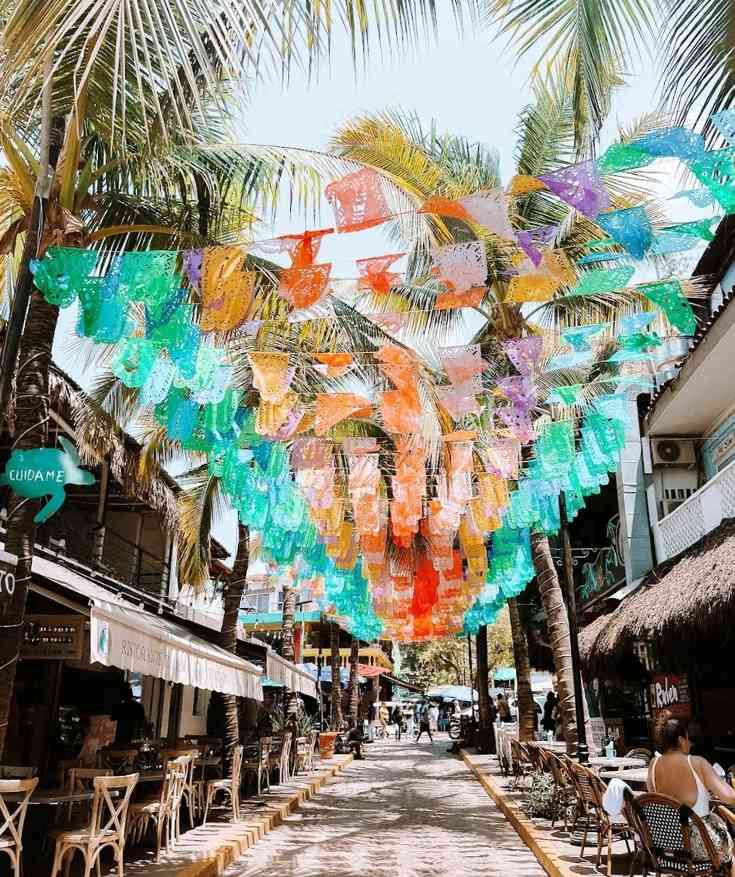 Many readers of this blog ask about the difference between Sayulita versus Tulum. Apart from being less crowded, Sayulita has jungles, mountains, and hikes that you can do. A lot of people are amazed to see our rich mountains pre-landing!
Although the Caribbean beaches are way different than the Pacific. We don't have crystal blue waters in Sayulita but the unique jungle beaches make it distinct from the touristy south.
I must warn you that Sayulita is getting popular by the minute and in the years to come, there is a prediction that it will be the next Tulum so come visit now!
When is the best time to visit Sayulita?
I used to stay from November to May (high season) is a good time but now, I feel like Sayulita is okay to visit all year round. The problem with the high season is that it's super hard to find accommodations and the town can get crowded.
Note that Sayulita is a really small town and has no infrastructure to hold more than 10,000 people at a time. This is actually the actual number of visitors during the high season. It's almost the same as the population of Sayulita which is 12,000.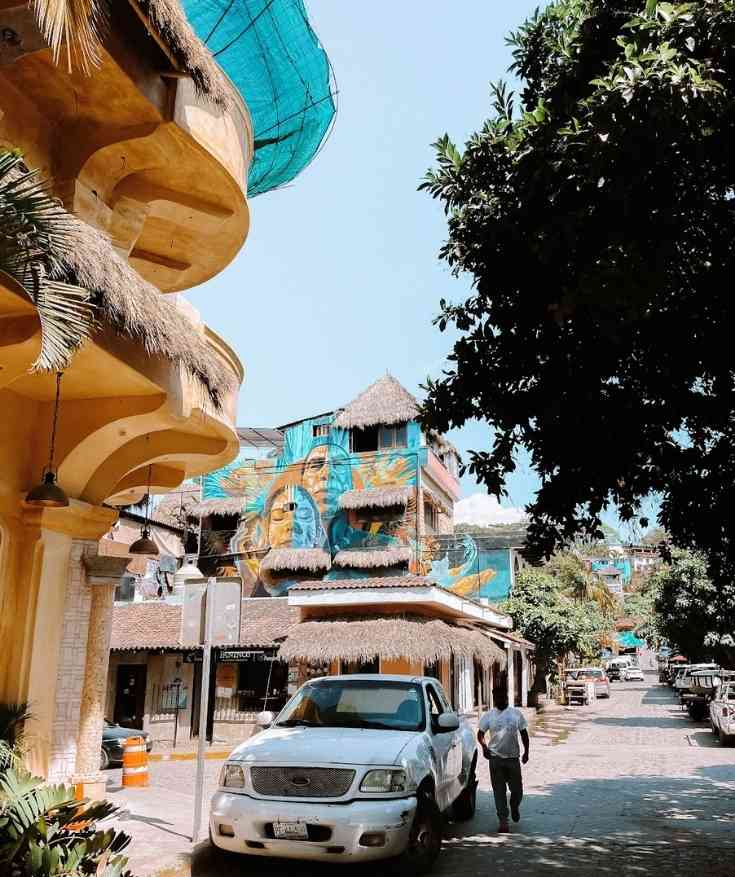 I worked closely with the tourism board of Nayarit and proposed that there is a limit to the daily/weekly/monthly/ visitors to Sayulita but they said there is no way to control that. People will come no matter what and it's hard to keep track.
Sayulita shares the Puerto Vallarta International Airport with Puerto Vallarta and they are only recording visitors who visit PV. They don't know which tourists are going to nearby towns like Bucerias, San Pancho, Sayulita, etc – all of which PVR Airport is serving.
The only problem with visiting during the low season (June-October) is that it's too hot. Most Americans and Canadians can't take this kind of heat.
But I assure you that if you go during the low season, traveling will be easier. Some restaurants close because of the extremely hot weather but I already spent 2 summers in Sayulita and I loved it!
Is Sayulita safe?
Sayulita is one of the safest places I've lived in, mostly because everyone knows everyone! Even you will end up being friends with many people when you visit.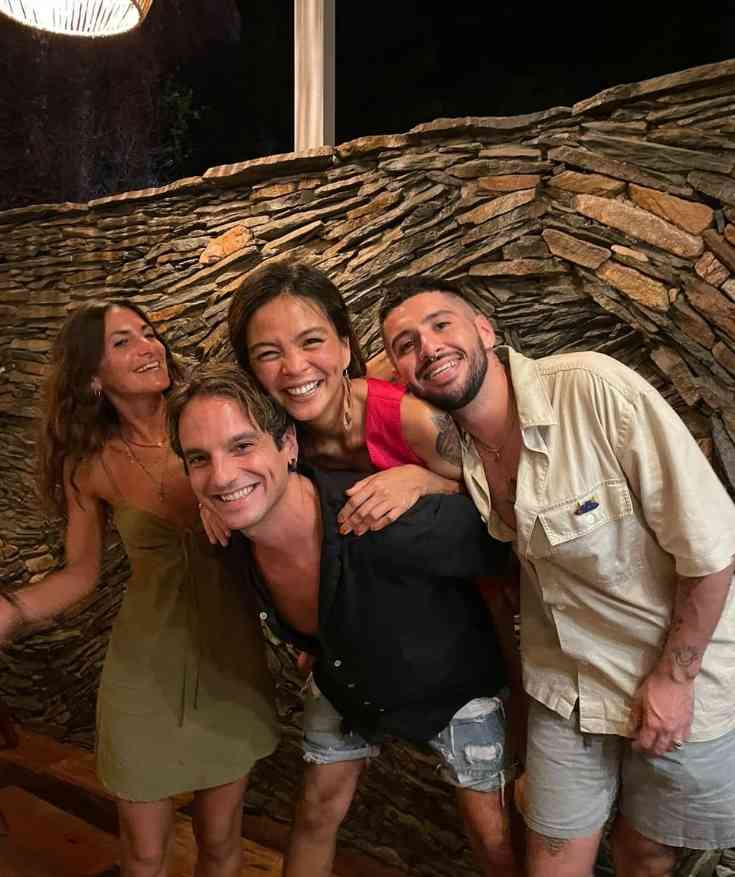 It's such a small town that people go to the same places all the time. We are also not very mindful of our bags and belongings because seriously if you are a local and you want to steal, there is actually no way out.
Everyone knows you and will humiliate you in groups if you do shit. Sayulita has a very close-knit community and you will feel very protected when you visit.
How to get to Sayulita from Puerto Vallarta Airport
There are 6 ways to get to Sayulita from Puerto Vallarta Airport but I can always connect you to the local driver that I am helping by promoting his services in this blog.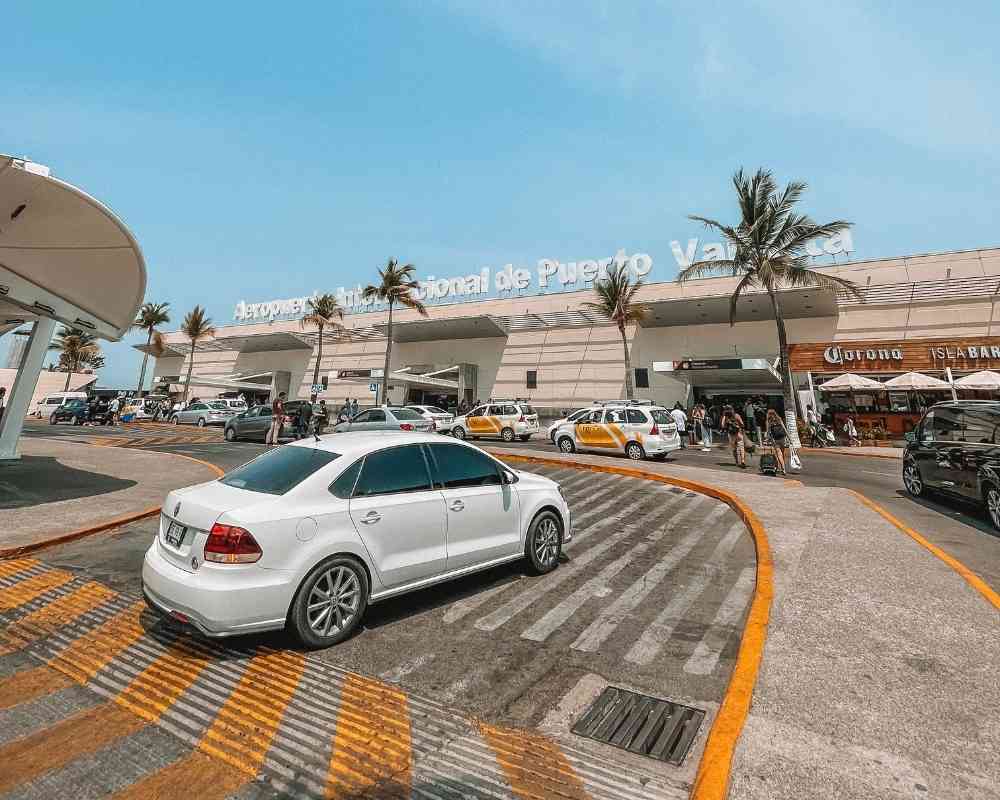 Check out the article above and see how you can get to Sayulita hassle-free, in any form that you want. Plus, I personally know these drivers so your safety is guaranteed.
🗺️ Day 1 in Sayulita
Check-in time in Sayulita is always after 3:00 pm. If you arrive before this time, you can inform your hostel or Airbnb host and ask if you can leave your stuff until check-in.
If you're taking a bus, most places are quite a walk (considering you have all the luggage) from the Sayulita bus station. Some accommodations offer free pick-up service at the bus station.
If you arrive between 9:00 am – 2:00 pm, you can go to Sayulita's Friday Market. It's only open on Fridays (closed in low season) and this is where the locals gather every week to shop, dine, and chat!
Sunset at Sayulita main beach
The main beach is an easy walk and stretches from north to south of Sayulita. Upon arrival, this is the first beach to check out. There are many bars and restaurants here and it's also full of vendors.
The shoreline is big enough for you to lay on the sand and read a book. There are many dogs here as Sayulita is a dog town. Owners like to walk their pets here so get ready for some puppy love!
If you don't want to lay on the beach, get a beer and watch the sunset. The beachfront bars in Sayulita that I recommend for sunset are:
Otherwise, feel free to walk the shoreline and see what beachfront bars is attractive to you! The list above is what I frequent but my friends and I love Bar La Isla.
The good thing about any of these bars is that it's so easy to chat with people you don't know especially when you are traveling alone!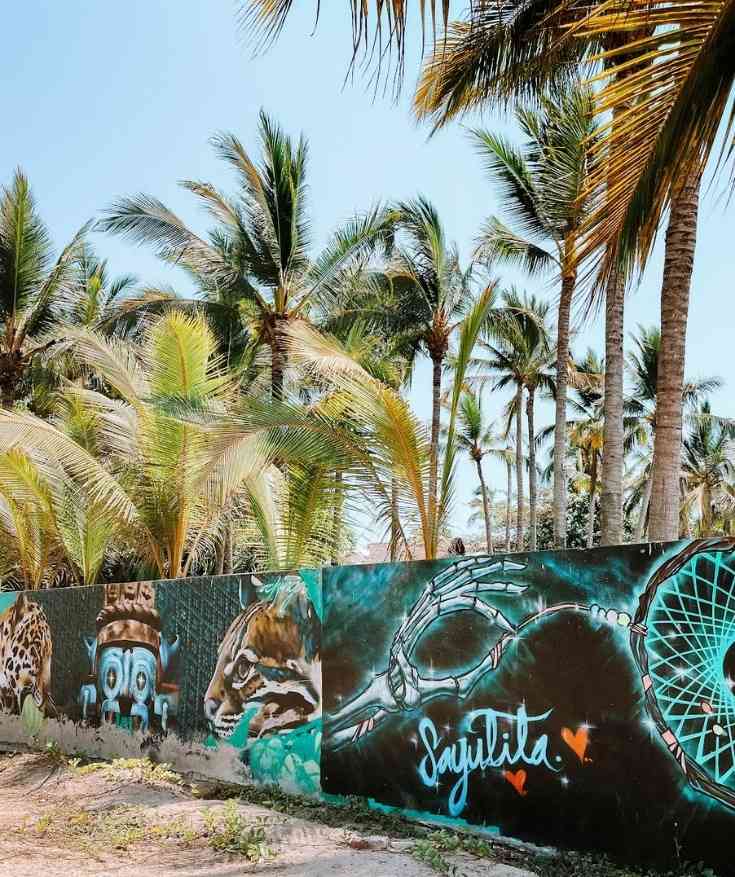 Dinner at El Itacate
No matter what time of the day, El Itacate is the first restaurant to explore in Sayulita. This place is famous for its very own Itacate, which is tacos in fried cheese. Instead of tortillas, they actually use cheese for your tacos!
Itacate opened their second floor last year so there's extra room for everyone. I still love their tables by the streets where you can observe local life. There's always a long line here but their service is fast and efficient. You don't need to call for reservation.
✨ Local tip: While waiting in line, get some cocktails at the bar next door called La Mariscal.
Explore the Sayulita nightlife
Sayulita is known as a party town and my Sayulita nightlife guide will give you a glimpse of the best bars to go to. People usually go out from 10:00 PM and the plaza can get super packed!
Actually, parties in Sayulita are more street parties and socialization. It's not a club setup. Although there are many DJs and events during the weekend. Just walk around and see where people are headed!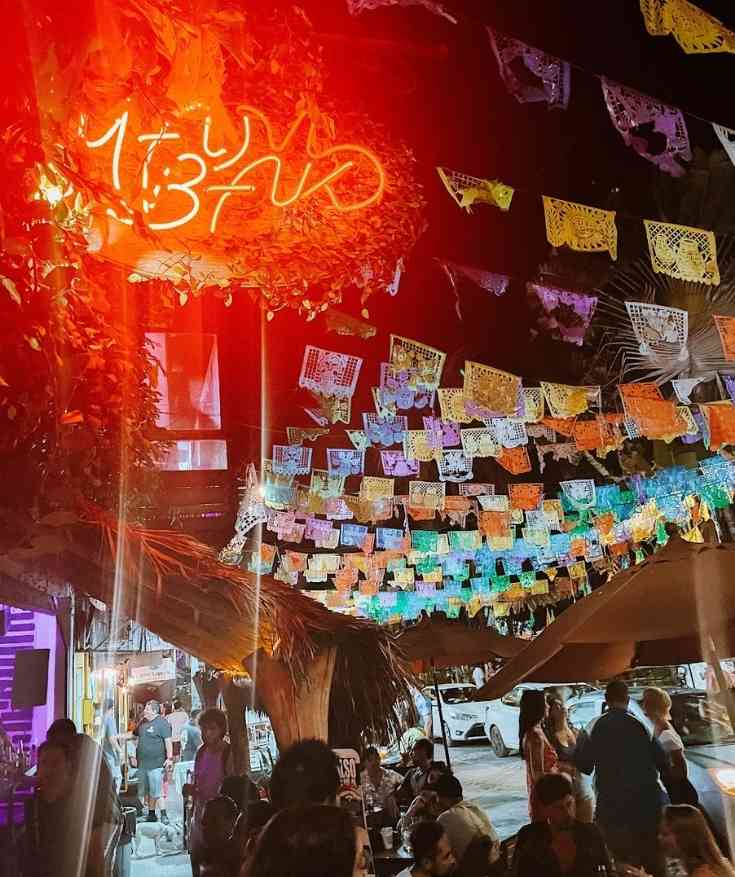 🧳 Day 2 in Sayulita
Brunch at a local chef's home
Let's say you partied Friday night and didn't wake up for breakfast – brunch is always a good idea and a local will always welcome you in her home!
This is one of the best local experiences in Sayulita if you really want to get to know our community. You just need to book it in advance since she's always busy but you can come any time of the day or week for brunch or breakfast.
Day drinking at Aloha
Locals go to Aloha on Saturdays as early as 10:00 AM. It's a really small place so you might have difficulties getting a table. But hey – locals would always invite you to their tables!
This is a great place for cheap beers and also hangover snacks. They have a specialized small menu. If you are a fan of shrimp cocktails, they have the best one in town!
There is also a fish taco place next door called The Real Fish Taco and Aloha will allow you to order food from there as long as you order drinks with them.
Sunset at Carricitos Beach
Let's be real: if you got drunk in Aloha and ended up meeting 100 people, you'll probably have time to go all the way to Carricitos for sunset.
But if you managed to discipline yourself (or you have a golf cart rented), Carricitos is the best beach in town! I go here every day but only during sunset. It's super remote and dogs love it!
It's a 20-minute walk from town so if you're spending long hours here, make sure to bring drinks and snacks – there are no stores along the way.
✨ Local tip: On your way to Carricitos, pass by Camacho's Mini Market. It's the cheapest place for 6-pack Mexican beers and it's on the way to Carricitos!
If you're walking, you can start your walk from Niños Heroes Street. You will pass by a hotel with a big whale mural.
At the end of this street, you will see an uphill road to the right at Jacarandas Street, and follow that path. There will be a fork street: take the left side.
The beginning of this trail will be a jungle walk. Follow the path until you reach another fork. Turn right. You can follow this direction via Google maps.
Dinner at Mary's Traditional Mexican Cuisine
If this is your first time in Mexico, a good Mexican restaurant in Sayulita that I recommend is Mary's. 90% of their menu is Mexican – mole, tacos, quesadillas, soups are their specialty.
Don't forget to try Jalapeño poppers because they're my favorite! You can have a good plate at Mary's for $100 MXN ($4.25 USD).
For those who are into deep exploration of Mexican food, try Mary's famous mole. You can choose your own meat and there are also vegetarian options.
10:30 PM – go to some secret weekend parties
As for Saturdays, let your take feet you anywhere or follow the locals. The good place to start is the Sayulita plaza where you will see lots of street performances and music.
Saturdays in Sayulita is full of surprises so if you want to party (or just experience the local nightlife), head out and walk around. You will surely find something you'd be interested to do.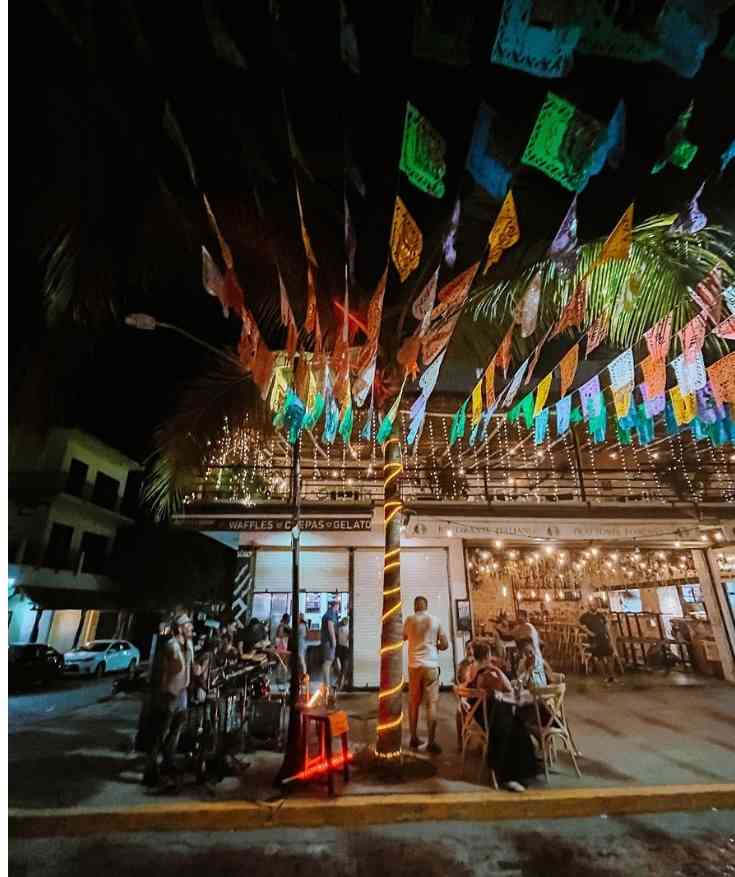 🧭 Day 3 in Sayulita
Brunch at Organi-k
Sundays are supposed to be chill but that doesn't mean that the town is sleepy and inactive. Jumpstart your day with a healthy breakfast bowl (or a power smoothie) at Organi-k.
This is usually a takeaway spot but they also have a few tables inside. Their coffee is great too but I only come here for the superfoods (I really love their ginger and turmeric shot).
It's right next to the Sayulita bridge so you won't miss it! If you're lucky, pick the outside bar seat for a great people-watching session.
Walk around town
Take your Organi-k to go and walk around town. The whole Sayulita can be explored within 30 minutes – it's really not that big!
There are many interesting things to see and do such as cool cafes, small streets, hidden restaurants, quirky food carts. Sayulita is so nice to look at!
This is also a great time to do your town photo sessions. If you'd like a professional photographer to take you to great spots (and also give you amazing memories in photos), I can recommend some friends – just contact me!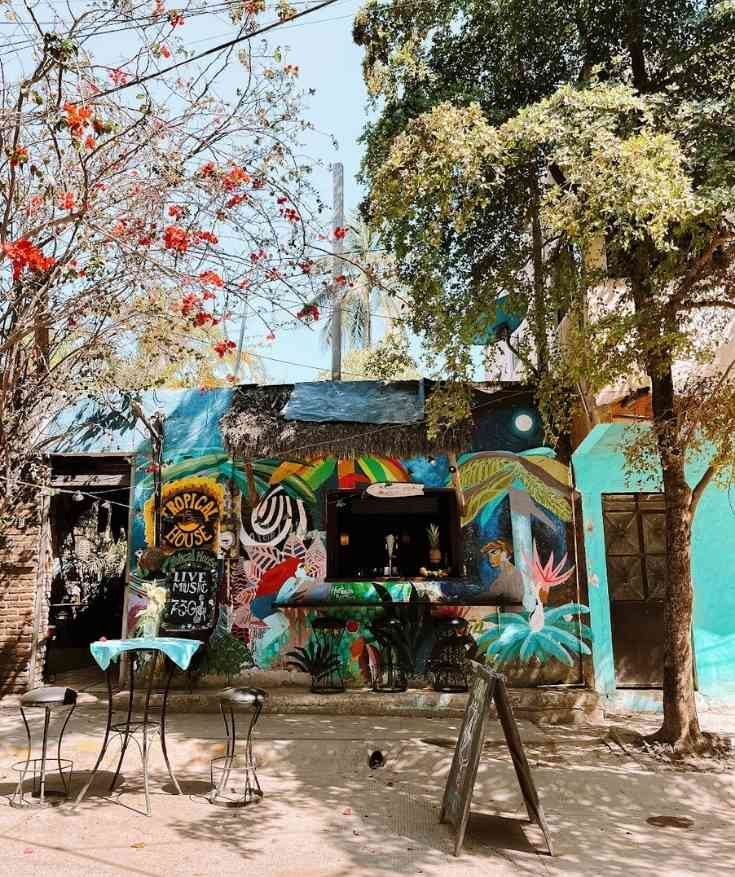 Sunset hike to Patzcuarito Beach
I am always recommending sunset sessions by the beach in this Sayulita itinerary because we do have the best beaches in the state. What makes them great? The journey!
To get to Patzucarito, you will walk through jungle paths (they are flat, don't worry). Golf carts are not allowed to go all the way here so you really have to hike!
Patcuarito is super remote and many tourists in Sayulita don't come here. This is my favorite sunset beach spot in Sayulita so I hope you can go!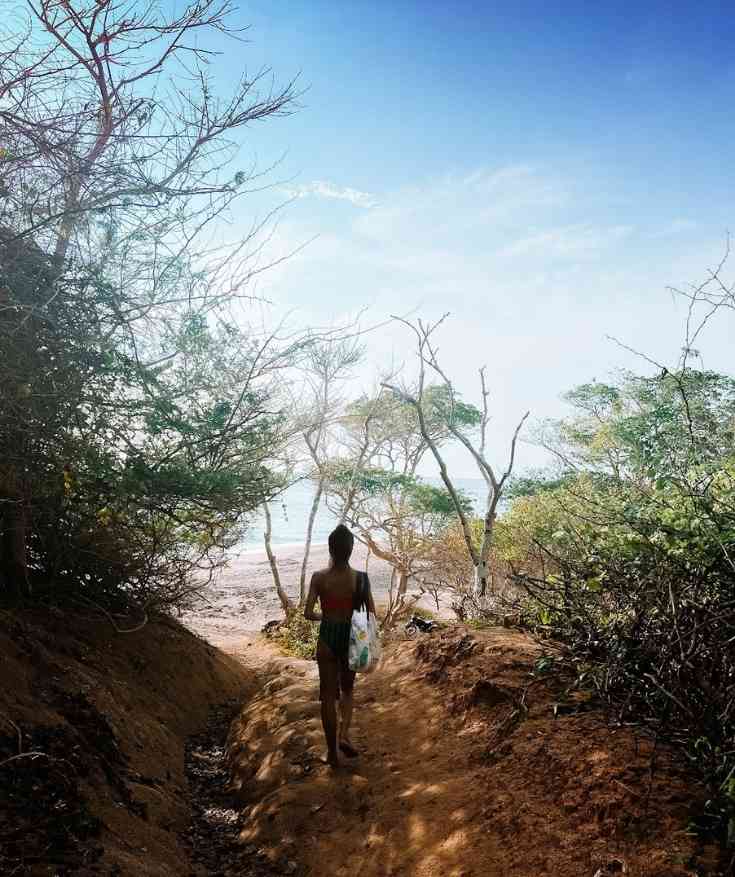 Dinner at a local taqueria
Now is the time to explore the best of street tacos in Sayulita – we have a lot! Tacos Ivan and Tacos Diaz are right next to each other (by the plaza) so you can choose to eat in any of them. Better yet, try both!
For tacos al pastor, I would always go for Tacos Diaz but for asada, I choose Tacos Ivan! Both have tables and chairs but I suggest you get a beer at the bar next door (Barrilito) then sit down at the plaza to eat your tacos!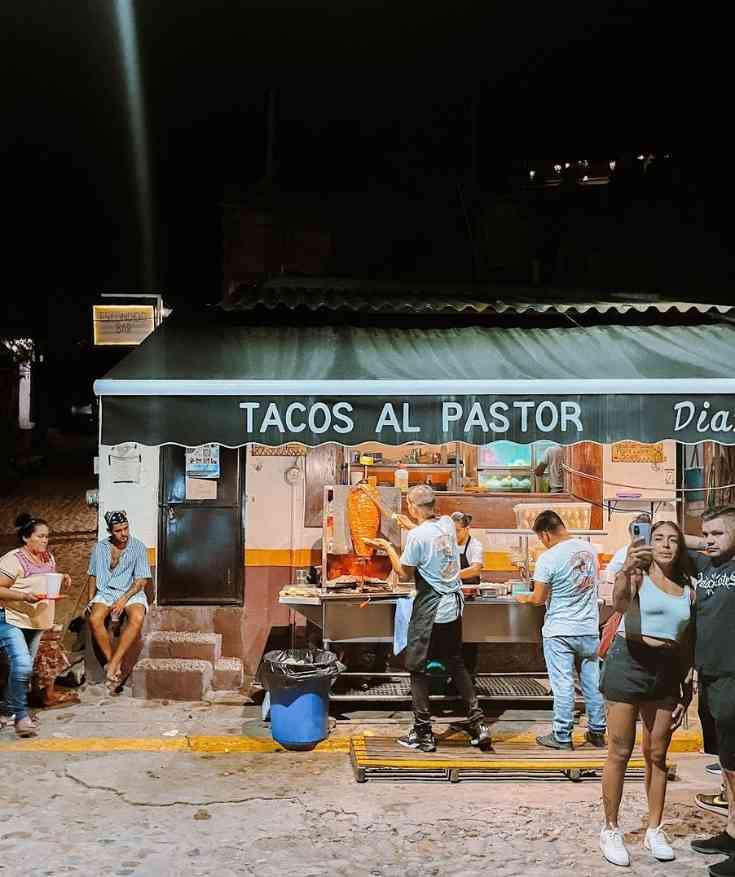 Chill nights at Cava mezcaleria
Cava is a really small place but has over 100+ mezcal types. Bero, the owner is Mexican. She went all around the country to find small family-owned mezcal producers so the products here are locally sourced.
She won't even share the location of these producers because it was hard work for her to find them! If you want to try a private tasting session, they also use these local and artisanal products. These guys can come to your accommodation for a private tasting!
Should you end up in Cava, the bartenders, David and Miguel are my friends. Sit at the bar and they will gladly chat with you! There are also many people going here alone so you won't really be alone.
🪅 Day 4 in Sayulita
Brunch at Anchor Cafe
In the middle of Gringo Hill, there's a hidden spot called Anchor Cafe where you can get the best brunch! I loved coming to Anchor for working a few hours while eating.
Anchor Cafe is so hidden that you can actually focus and not be obliged to every single person passing by the street. The place is also set-up for digital nomads – comfortable seating, plugs, and AC!
Spend the day at Mal Paso beach
Mal Paso beach is an easy 45-minute hike because you'll walk through the shoreline of the Sayulita main beach. Go all the way north of the beach (towards San Pancho) and you will get there.
This is a really secluded spot and you will have the beach to yourself. It is the most beautiful beach in Sayulita so if you can be extra adventurous, spend the day here!
Just BYOB and food. There is literally nothing here. Also don't walk back in the dark as there are no lights on the way. Sunset here is spectacular but I stay til late if I am with a group. One time, I went here with a group of 25 people for a birthday party!
Dinner at Don Pedro's
On your way back from Mal Paso beach, head south and you will see a great restaurant in a big palapa facing the sea. Don Pedro's is usually a family restaurant and is good for families traveling with kids.
But if you want a nice Sunday dining option, Don Pedro's is incredibly affordable for what it is. They have everything from seafood to meat.
There are also International cuisines here if you are tired of eating Mexican food. Try their sushi and their pizza for a change! The prices here are higher than other restaurants in Sayulita but hey – please treat yourself!
Cocktails at Bar Escondido
You can also have drinks and spend the whole night at Don Pedro's but you don't want to miss the cocktails at Bar Escondido. That is, if you are lucky to get a table. This place is small and super cozy – you'll love the ambiance!
Since you are by yourself, you can just order a drink and stand like many other people do when Bar Escondido is full. This way, you can actually chat with other humans.
It is also a very chill place where people are not crazy drunk. It's sort of a classy place that serves great cocktails. It's also a hidden spot by Gringo Hill (escondido means hidden in English).
Locally, we usually use this spot for Tinder dates. LOL.
🫶 Day 5 in Sayulita
Take a surfing class
Sayulita is well-known for its super-friendly waves for beginners. The main beach is what we call the learner's beach because you can easily ride the waves here. It's perfect for newbies!
Surfing is such a big part of the Sayulita culture. You will see the local kids riding big waves here and many old families in Sayulita are surfers.
You may not be interested to learn how to surf but treat it as a good one-hour activity to mingle with locals and get to know the surfing community in town. Who knows? You might end up loving it after just one class!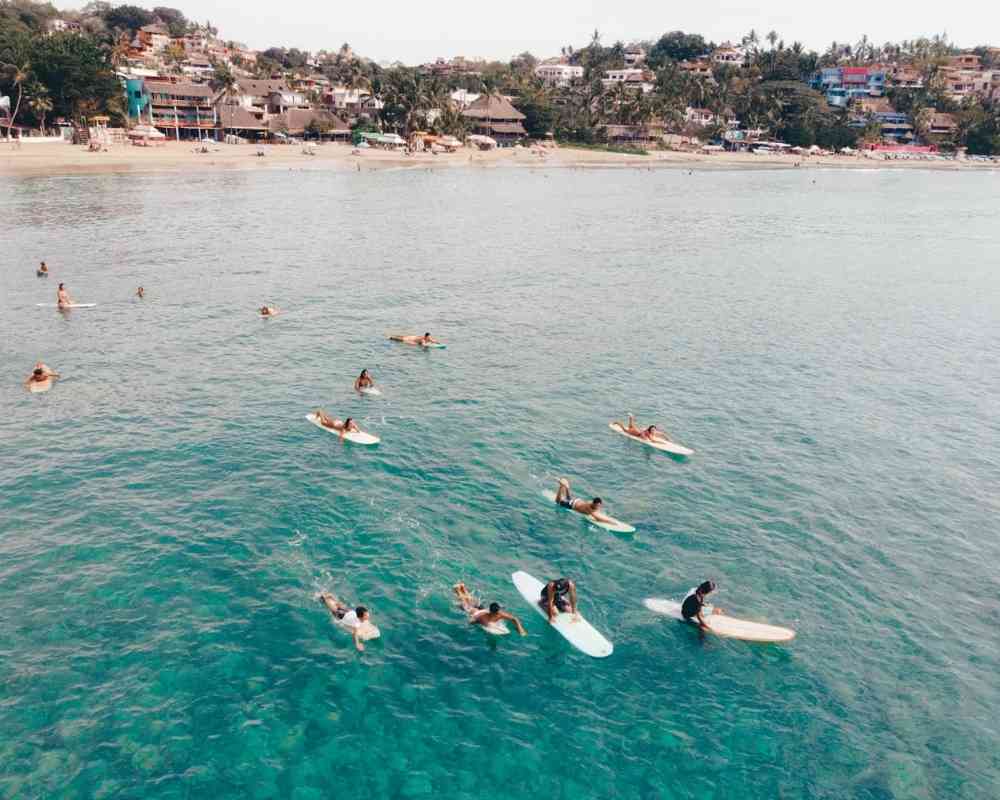 Brunch at Chocobanana
Choco Banana is a famous brunch place in Sayulita. It is packed every day as they serve breakfast all day long! If you're hungover and want a big meal, this place is it!
From American to Israeli breakfast, they have it all! Lots of Mexican breakfast options, too. Their servings are big but I cannot recommend them for sharing.
I think you will be able to finish a plate by yourself! The price range is between $80 MXN ($3.30 USD) to $150 MXN ($6.18 USD).
Chocobanana is also the only restaurant in Sayulita that is plastic-free. All their products are biodegradable and imported from the US.
The owner (who is a great amiga of mine) is a hardcore environmentalist so she's highly allergic to plastic. If you want to know about her work in Sayulita, I can definitely set up for you to visit her bird sanctuary.
Dinner Achara Thai
I know you are in Mexico but who doesn't like Thai food at any time of the day or any part of the world?! Achara is the only Thai restaurant in Sayulita and they do their food well. Believe me, I know my Asian food very well!
The best way to have dinner at Achara is to order all their food and share it. They have big plates and their small menu (4 options per course) will give you the chance to get a variety of Thai dishes.
So, this might be a better option if you already met friends after a few days in Sayulita. This is where big groups hang out and everyone loves this place!
If you are going on your own, I do that a lot in Achara so JUST GO and have a nice Thai plate by yourself. Don't forget to try their cocktails too. They are really good!
2 for 1 at Yambak from 8:00 PM
You may not want to drink on a Tuesday night but 2 for 1 at Yambak is a social gathering! Yambak is the most famous bar in Sayulita because of its very strategic location (by the plaza).
Not only that you will get 2 drinks for the price of 1 but you will also get to meet all the locals living in Sayulita. I swear, this is a Tuesday ritual and all of us do it!
Through the years I was living in Sayulita, it had become mandatory for us to go to 2 for 1 and we all dress up for it! I really encourage you to go because you will meet so many people!
🏖️ Day 6 in Sayulita
Breakfast at Alquimista
Wednesday traditions is for chilaquiles at Alquimista. Chilaquiles is a typical Mexican breakfast perfect for hangovers. You can request extra spicy for a guaranteed kick!
You will also love Alquimista since it's a curb-side restaurant (at the bottom of Libertad Street) where their tables and chairs are set outside.
Apart from chilaquiles, they have all types of traditional Mexican breakfasts that you can try but I really recommend you to go for the chilaquiles! This is the best place for it!
Marietas Islands boat trip
⏰ from 9:30 AM – 2:00 PM
The Marietas Islands are closed on Mondays and Tuesdays so Wednesday is a great day to go on a boat tour and visit it! Don't miss this when you go to Sayulita. This is really important!
You probably heard about his hidden beach on Instagram and yes, it is in Riviera Nayarit! Located in Punta de Mita, Marietas Islands tours depart from Sayulita 5 times a week.
You just need to reserve in advance if you want to do this because there are only 14 slots per fishermen allowed daily. Marietas is a federal protected area.
You can book this Marietas Islands tour with a local fisherman that I am supporting in Sayulita. I personally know these guys so I can vouch for them.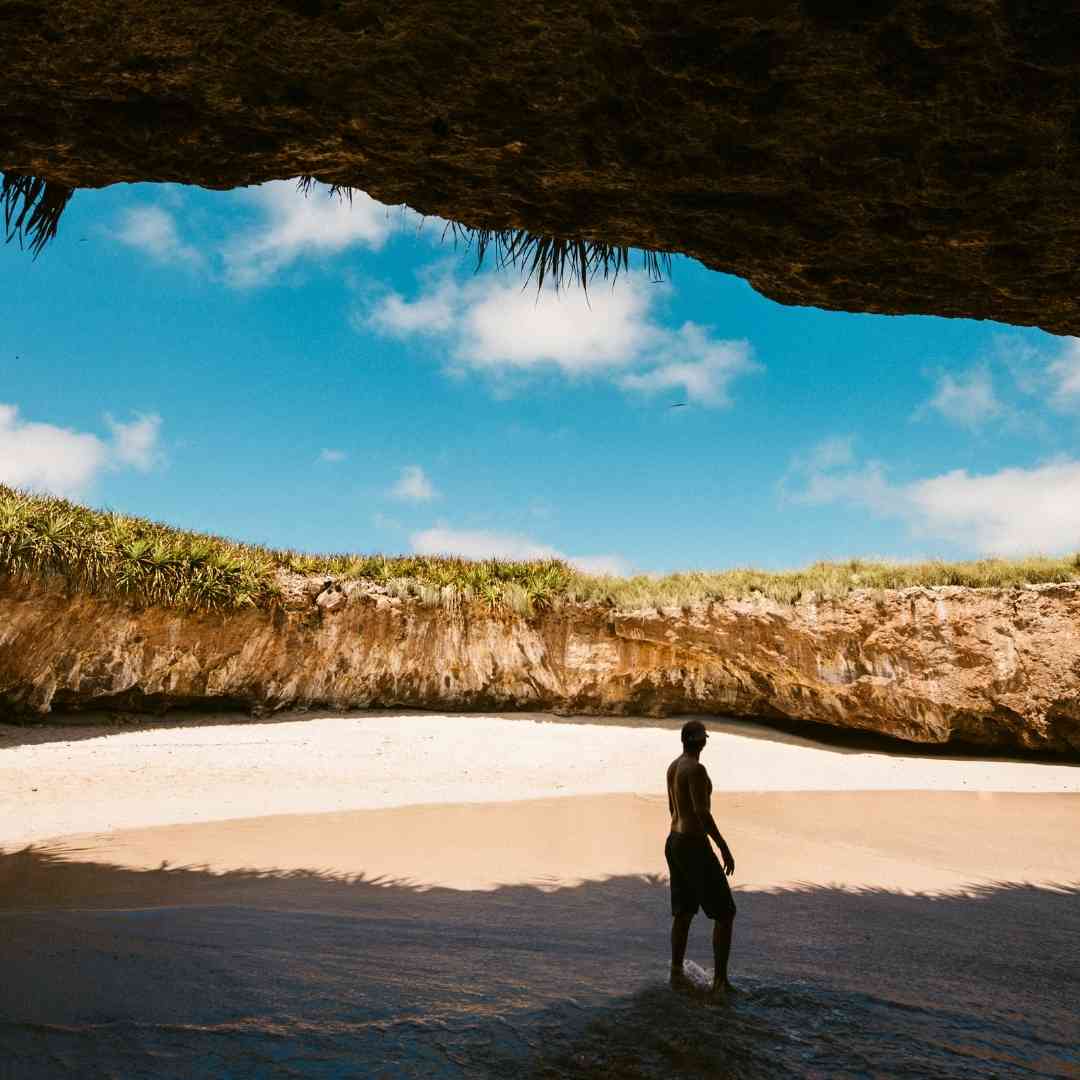 Late lunch at Tierra Viva
Tierra Viva specializes in gourmet dishes – with elaborate preparations and aesthetically balanced presentations of their food. Just look at the difference between their chilaquiles (pictured below) and the one from Alquimista.
I love having brunch here by myself (and with the dogs) because it's super quiet and I often bring a book with me. It's also on the street going to the beach so feel free to lay on the sand after eating!
They also have a large 2-floor space that's in one of the shaded streets of Sayulita. They don't have AC but you can definitely sit on the second floor surrounded by trees.
Their menu is also divided into breakfast, lunch, and dinner and is only served at certain hours.
Get a home service massage at your accommodation
Finish your Sayulita itinerary by getting a massage at your Airbnb. My local contact will bring a massage bed to your place at any time you request.
She comes to my house every week and I guarantee you that she is good! Apart from massages, she also have other services like facial and stone treatments.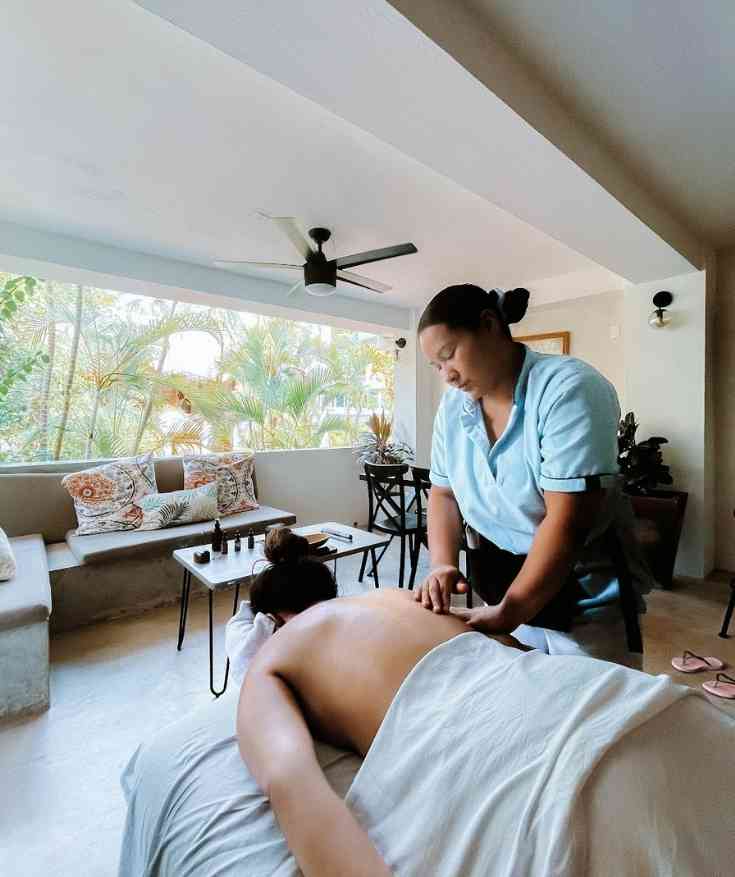 Farewell party at Atico
Atico has live bands almost every day and it's a local hangout! Most of the people working here live in Sayulita. This is actually the hub of young people living in town and I promise you everyone is super-friendly here.
Whatever drinks you want to have, they have it at Atico! They also have a small food menu for dinner. Hanging out at Atico and watching the live band is the best way to end your trip to Sayulita!
🌴 Day 7 in Sayulita
Finally, please make sure you already booked your taxi transport from Sayulita to Puerto Vallarta Airport. You don't want to miss your flight!
Also make sure that you leave Sayulita at least 3 hours before your flight. Keep your COVID tests handy and everything else you need for your flight.
Lastly, I hope you enjoy your solo trip to Sayulita. If you ever need me to connect you with cool people, contact me, and I will make an intro.
🇲🇽 Sayulita Travel Guide
Trisha traveled to Mexico in 2018 and after a year, she found herself obtaining a 4-year residency visa in Mexico. She is the Editor-in-chief for our Living in Mexico Series which has helped over 3,000 Americans move to Mexico with ease. Trisha currently resides in Cabo San Lucas, Baja California Sur.