Swimming safety, where to eat, driving in Cabo, etc: these Cabo travel tips will be very helpful for your trip to Los Cabos, Mexico and surrounding areas.
Hola! Glad you decided to travel to Cabo! I've been living here for the past 2 years and I wrote these non-generic Cabo travel tips with honest and transparent information.
There are many things that guides don't tell you about the city I now call home which is why I have put together many articles about Cabo that are unique to this blog.
The Cabo travel tips here cover transportation, budget tips, swimming, safety, and everything you need to know about Cabo travel (both in San Lucas and San Jose).
If you need further help, my team will be here to assist you and plan your Cabo travel. Meanwhile, if you are doing the planning on your own, here's everything you need to know, especially if it's your first time to travel to Cabo.
Always happy to answer questions – just leave them in the comment box below!
Plan your trip to Mexico with us! Get expert travel advice and customized trip-planning itinerary from our local experts on the ground.
🧳 Cabo travel tips for first-timers
Cabo Airport
The airport that serves Cabo San Lucas and San Jose del Cabo is called Los Cabos International Airport (SJD). There are many direct flights from the USA and Canada.
If you come from Europe, all flights go to Mexico City first and then SJD.
✈️ Pro tip: Due to the popularity of Cabo travel, there are times that flights may be delayed (departure) or re-directed to other airports like Puerto Vallarta (arrival).
There are no fixed Cabo Airport costs
Since Los Cabos has 2 sub cities, airport transfer costs vary by area or by resort. For example, the taxi fare to Zona Hotelera in San Jose del Cabo is different if you are staying downtown.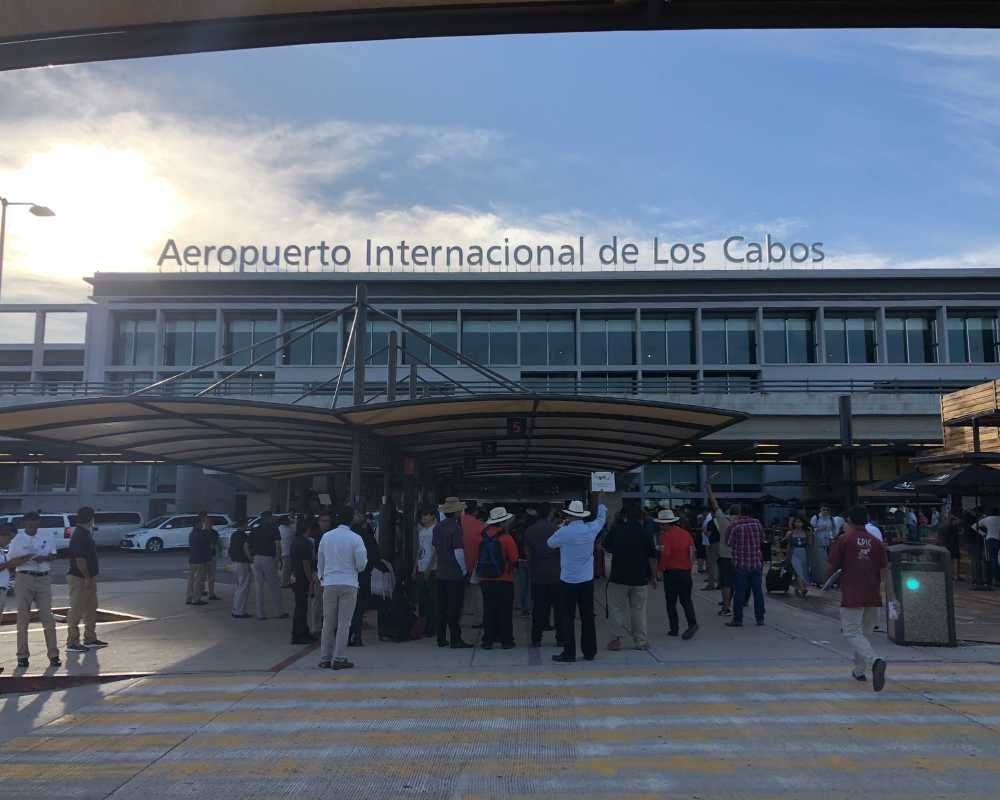 The same goes for the Pacific side Cabo San Lucas (i.e. Hard Rock or Nobu areas) vs accommodations in the center by Medano beach.
But one thing is constant: prices start from $75 USD for a private ride.
🚕 Cabo Airport taxi transfer: Depending on where your accommodation is, you need to reserve your airport transfer in advance. [Book Cabo Airport transfer]
There are shared transfers from the airport
If you are doing a solo Cabo travel and don't mind sharing transportation, there are many shared taxis at the arrival gate of Cabo Airport.
The only downside of this is that you have to wait for the van to be filled. The total cost of the whole van is around $120 USD (up to 7 people).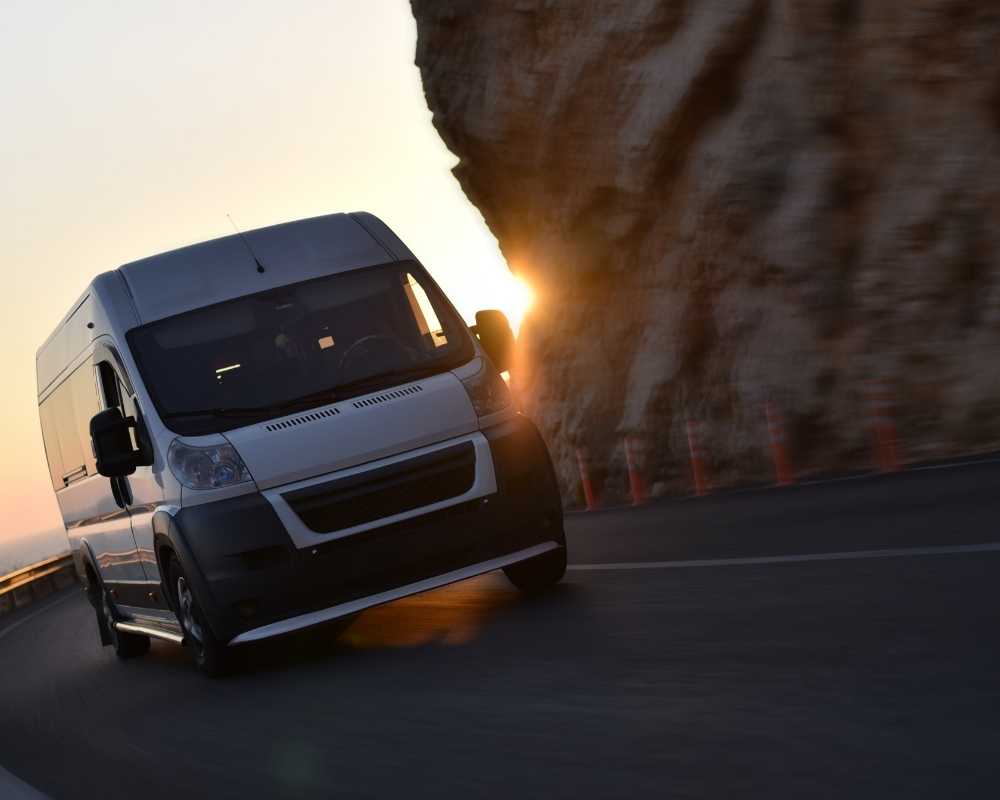 You don't have to book this in advance because you'll wait either way. Just talk to the taxi drivers outside the airport. The drivers can speak basic English.
🚌 Local tip: If you've been waiting too long, you can offer other passengers to split the cost of the van. If you are 3 people, that is around $35 per person (vs. $14 USD each per person).
You can take the bus from the airport
The cheapest way to get to your hotel from Cabo Airport is by taking the bus. This only costs 80 pesos ($5 USD). These busses are convenient and run frequently.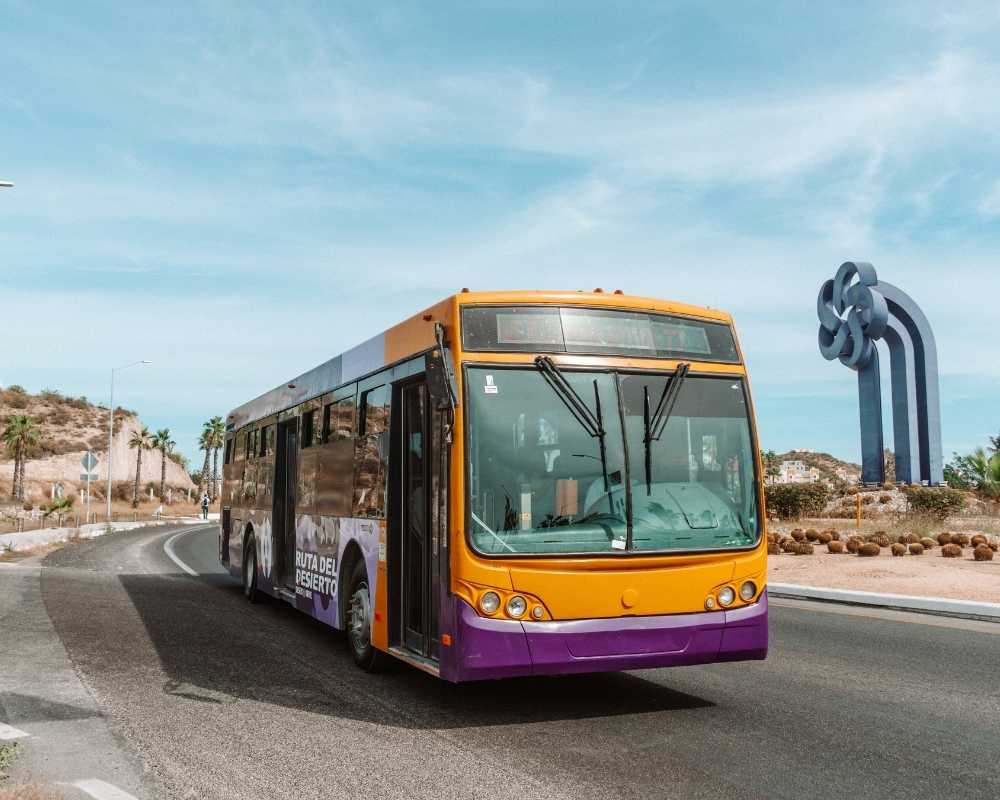 It's easy to locate the bus. The color is blue and purple, and you will immediately see them at the arrival gate bus stop.
The only downside is that the ride to Cabo San Lucas center can take up to 1.5 hours or more, depending on the traffic. Note that this is a public bus, and it stops frequently.
You can take an Uber to the airport but not from the airport
And this does not only apply to Cabo travel but all of Mexico destinations. There is an association of taxi companies that are allowed to operate in Mexican airports.
Usually, they have an airport permit (which is not cheap) so they are really strict about Ubers picking up travelers at the airport.
However, you should be able to take an Uber to the airport (around $65 USD), but this does not mean this option is cheaper. Note that the Uber app estimates traffic, so the fare costs vary.
Traffic in Cabo is unpredictable
Due to the influx and popularity of Cabo travel, the traffic in Cabo is unpredictable. Sometimes, you'll reach the airport within 30 mins (on a private car or taxi); sometimes, it can take 1-2 hours.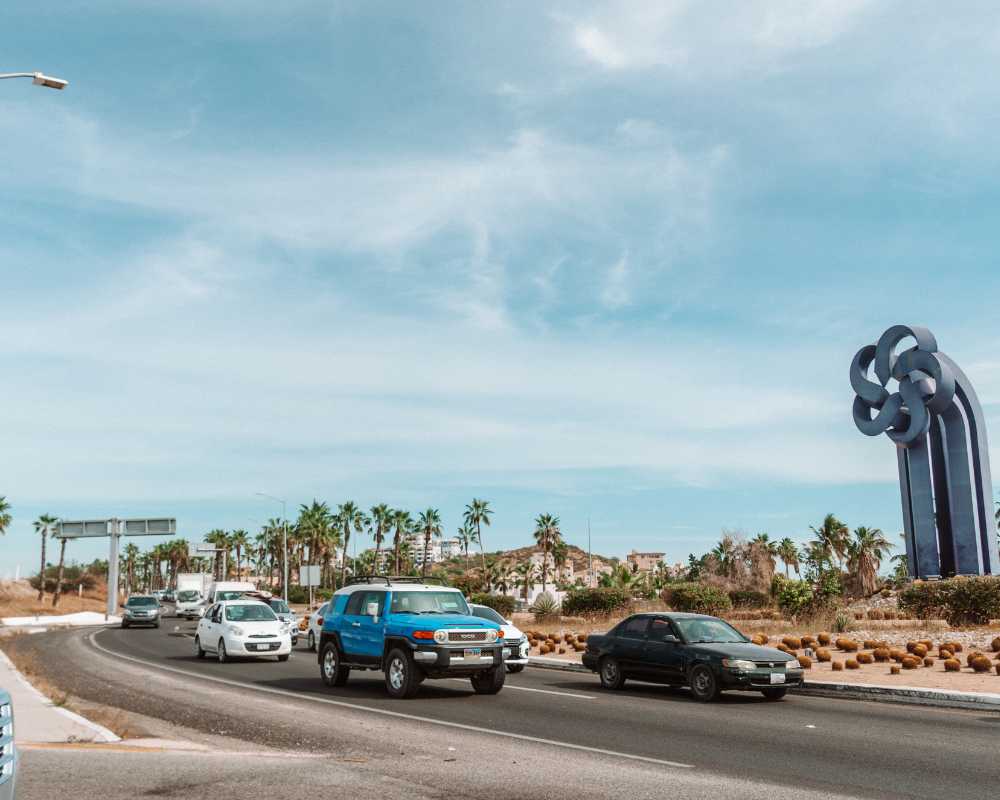 Many travelers miss their flights because of this unpredictable traffic. The key is to just always leave 2 hours ahead (no matter what anyone says) because there is no way to predict traffic.
The reason for this traffic is accidents. Without it, the trips to and from the airport are super quick, but if there's an accident, expect a crazy traffic jam that will be out of your control.
🛎️ Local tip: Your driver or receptionist at your hotel will always say that you don't have to leave early, but like you, they do not have the power to predict the traffic in Los Cabos. In this note, it is better not to take advice from anyone – just leave early!
Renting a car at the airport is cheaper
You will see many rental companies at the arrival gate, and agents will be standing there with promotional signs (i.e. $50 USD a day) rental.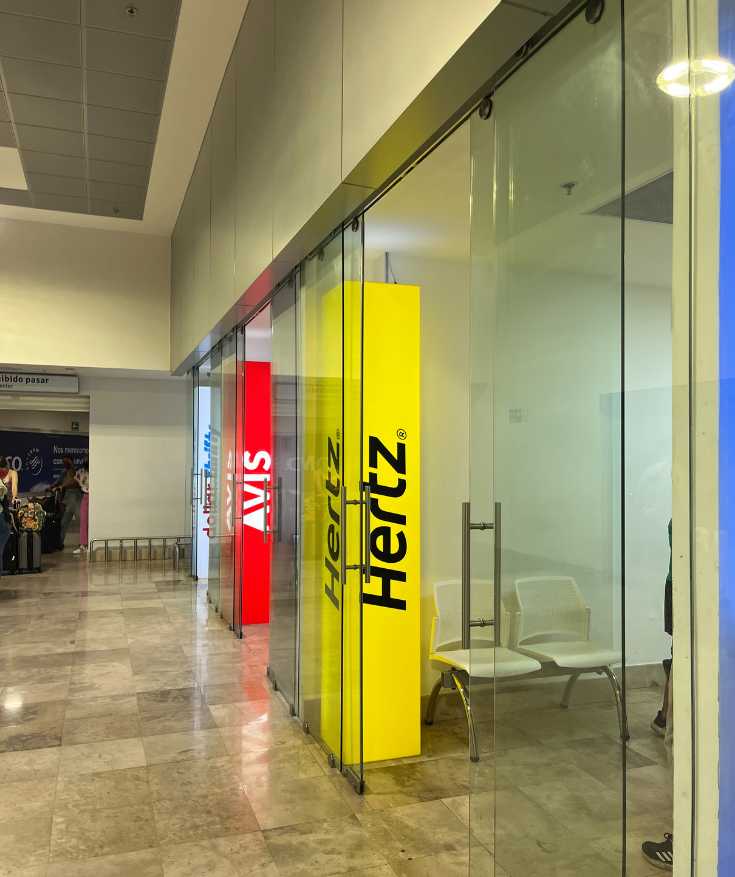 There are also many car rental companies in the center of the sub-cities but you will never find something below $75 USD. It's better to rent a car at Los Cabos Airport if you are after better rates.
The only downside is that there will be long lines at the airport to rent a car, so you'll get another 45 minutes to an hour delay.
💳 Golden tip: They will say that you need a credit card to rent a car, but what they can't explain well is that an international debit card works (and counts) as a credit card in Mexico.
Driving in Los Cabos is safe
Just make sure that you are confident in driving in another country. In Los Cabos, you must drive on the right and take over on the left to avoid accidents.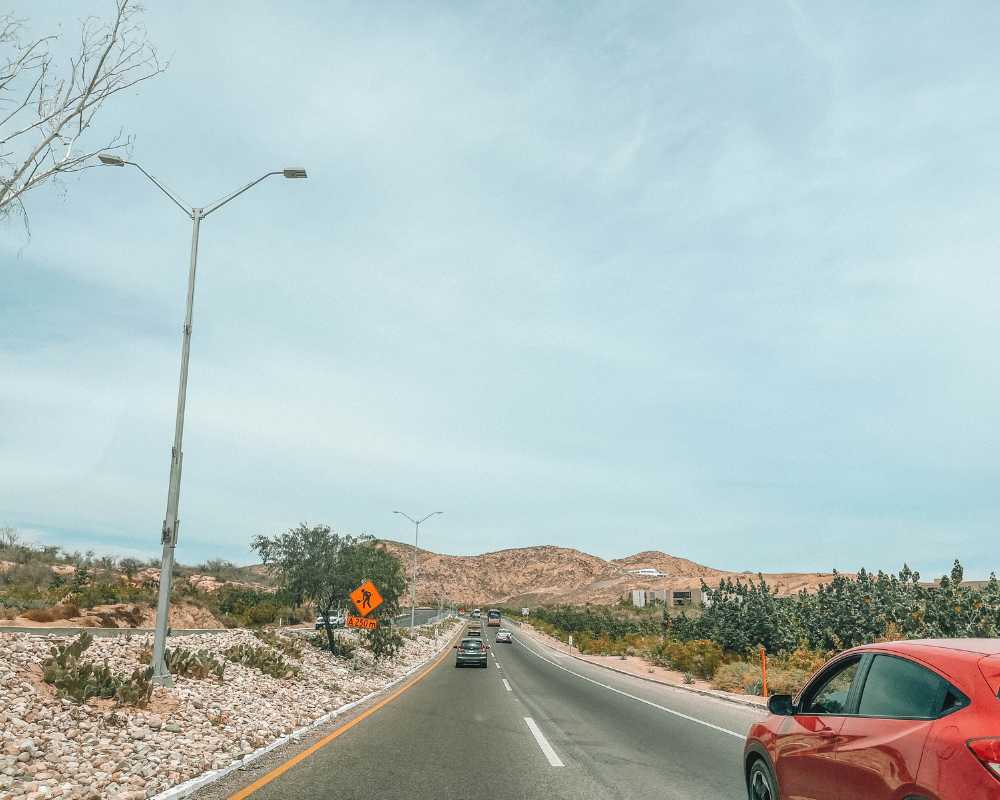 You should also turn your headlights on when driving on the Transpeninsular highway even during the day! If you've been to Cabo, you will see locals doing this and you're probably wondering why!
Cabo is the most expensive destination in Mexico
If you are regularly traveling to Cabo, you might already know that Cabo is more expensive than other resort cities in Mexico, but this time, expect your dollar not to go so far.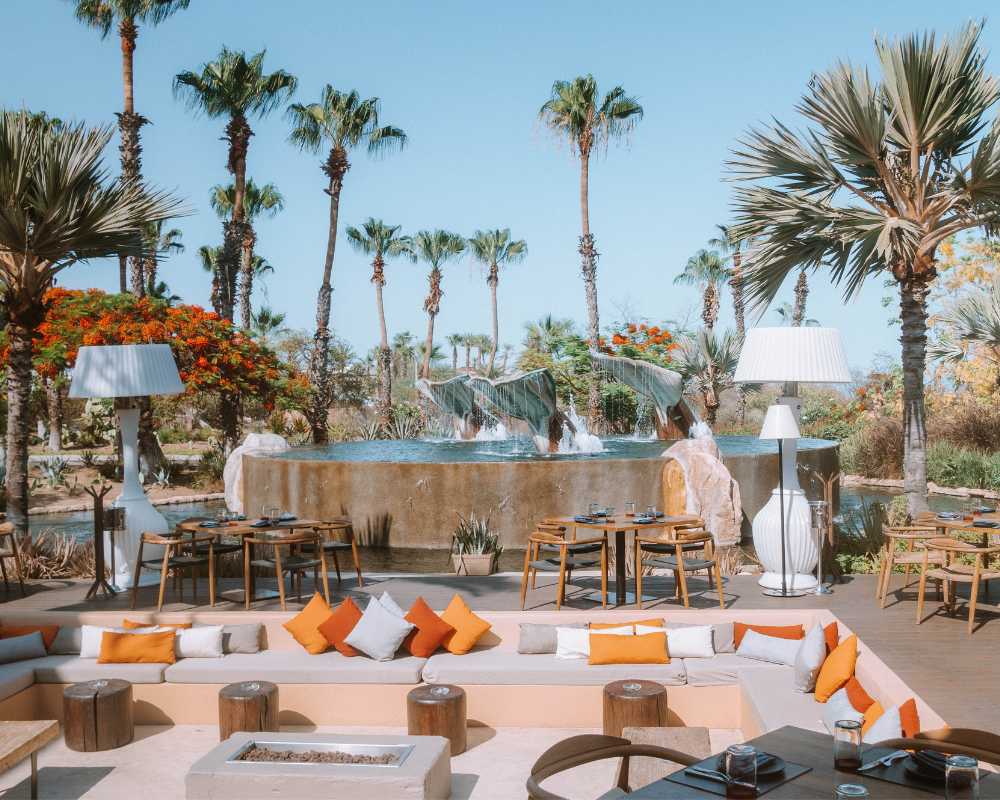 Think that you are traveling to California, USA.
💡 Fact: As of July 2023, the dollar exchange to the Mexican peso has dropped to 16.47 pesos per USD from the usual 21 pesos in the past years.
USD is accepted in Cabo
You don't have to exchange for Mexican pesos because you will only lose more (see USD drop above vs Mexican pesos).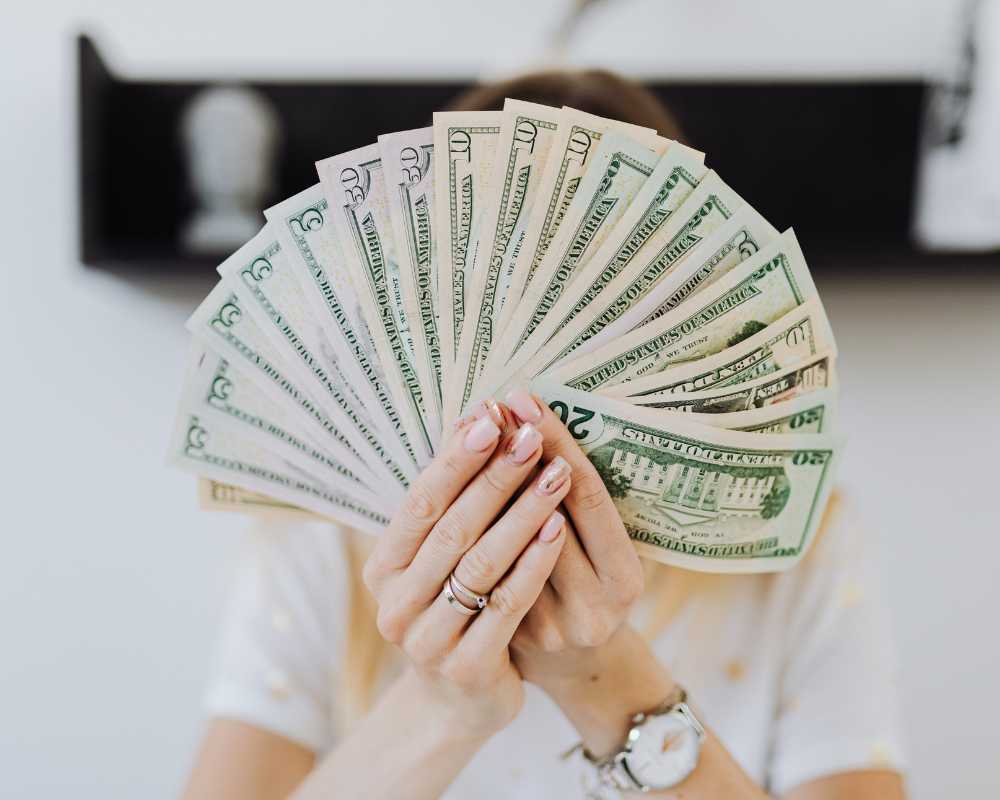 Even the taquerias or street food joints accept US dollars in Cabo! For Canadians, Europeans, and Australians, your currency is not accepted in Cabo so you must exchange US dollars at the airport.
Swim on the beaches of Cabo with precaution
You can swim on the 15 beaches in Cabo San Lucas but always be mindful of the waves and the current. The safest beach to swim in is El Medano Beach, the most-touristy of them all.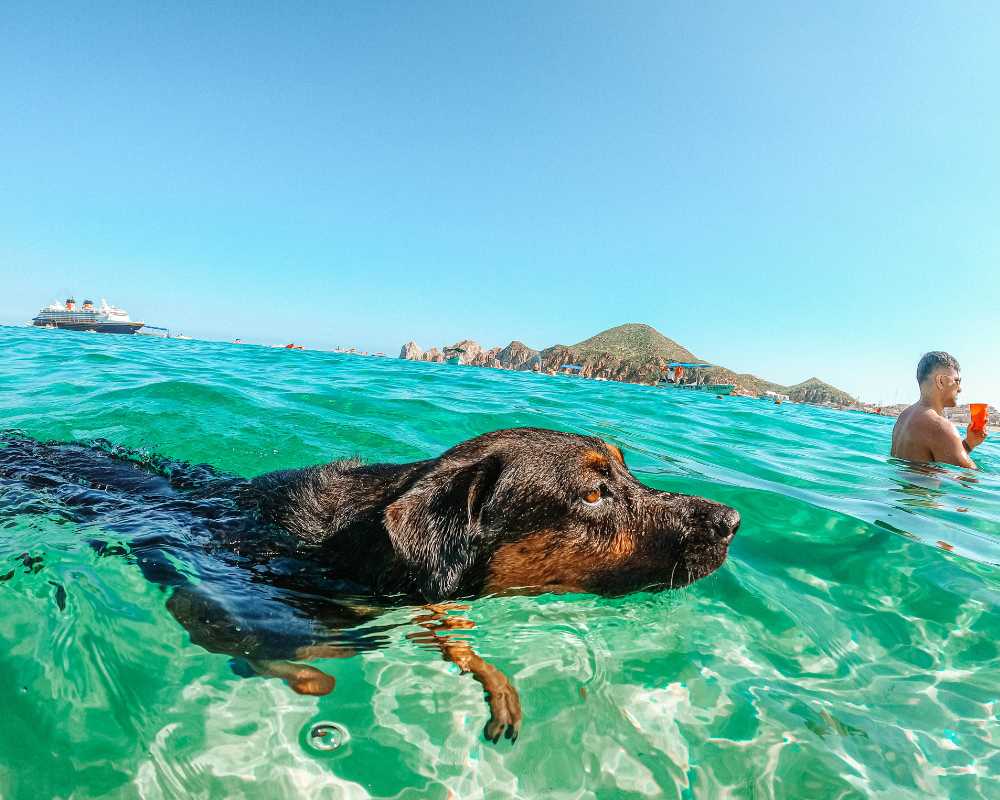 Cabo San Lucas is located on 2 different oceans: The Pacific and the Sea of Cortez. Please note that the Pacific has a stronger current (going north towards Todos Santos).
It is not advisable to swim on the Pacific side unless you are a good swimmer. Note that there are no lifeguards on any of the beaches so swim at your own risk.
Cabo San Lucas vs San Jose del Cabo
This is one of the most frequently asked questions when it comes to Cabo travel: should I stay in San Lucas or San Jose?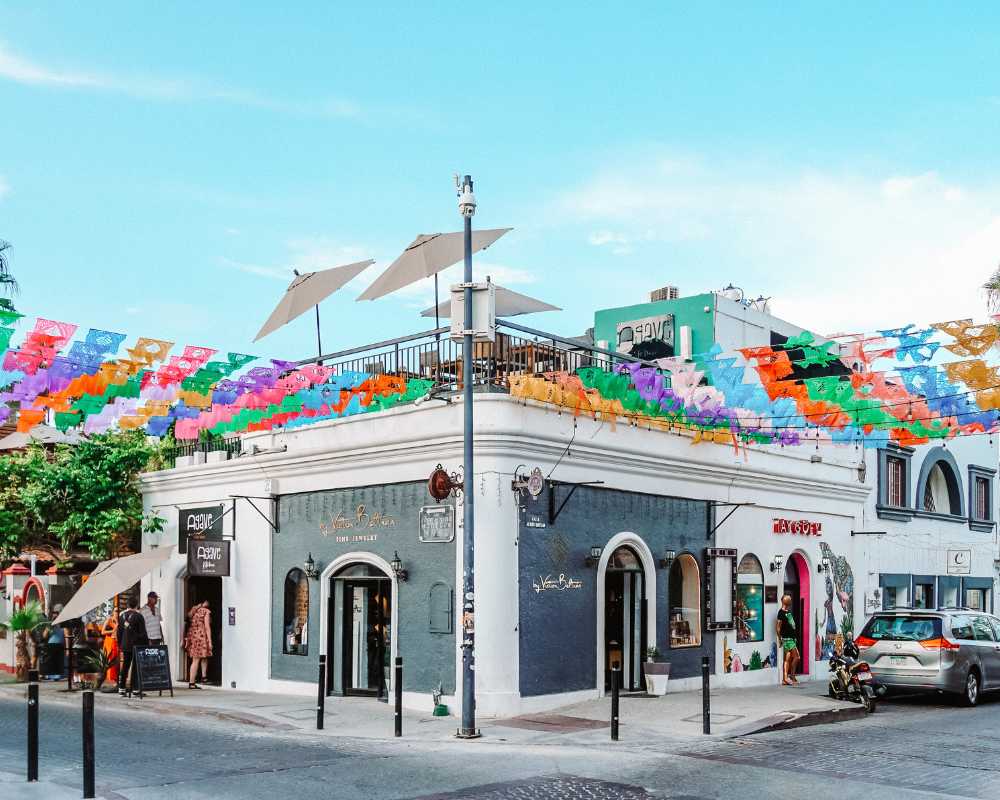 Simple answer: if you are looking to party, go out all the time, meet people, stay in Cabo San Lucas. If you are a quiet type of traveler and or traveling with kids, stay in San Jose.
The only difference between these two is that the Arch, which is one of the most visited attractions in the world, is in Cabo San Lucas. You can easily visit the arch for a day even if you are staying in SanJo.
The best time to visit Cabo is all-year-round
Cabo is already an all-year round destination so you don't have to really pick the best month for Cabo travel. The prices are the same any time of the year. We do not see any low or high season here.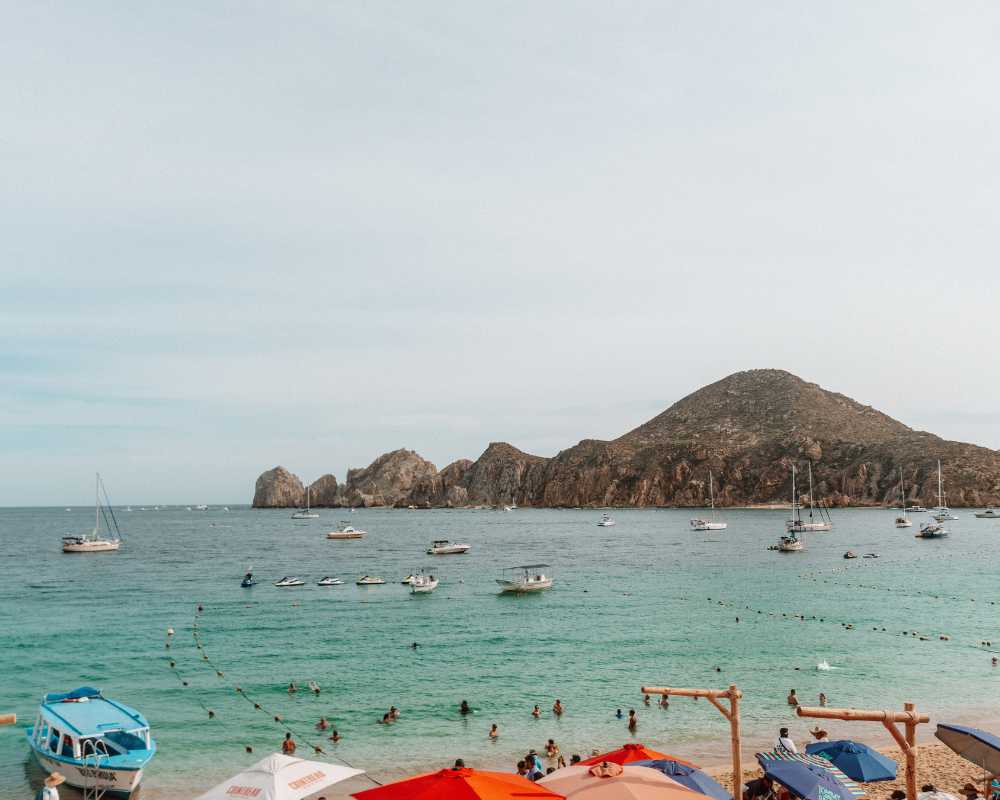 Of course, the high season of November to March is still more expensive because these are the months where Europeans and Americans escape the harsh winters from their homes.
The hurricane season falls on the month of September but to be honest, it only lasts 3 days. As someone living in Cabo, I wish there would be more rainy seasons because I love rain, but that doesn't happen!
We have 4 strong rains a year, and that's it.
The "Corridor" connects the two sub-cities and is lined with resorts
The "Corridor" (Corredor Turístico) is a 20-mile stretch of scenic coastal road connecting the two main Los Cabos areas: Cabo San Lucas and San Jose del Cabo.
Lining this corridor are many of Los Cabos' most luxurious and prominent resorts, known for their stunning ocean views, world-class amenities, and access to beautiful beaches.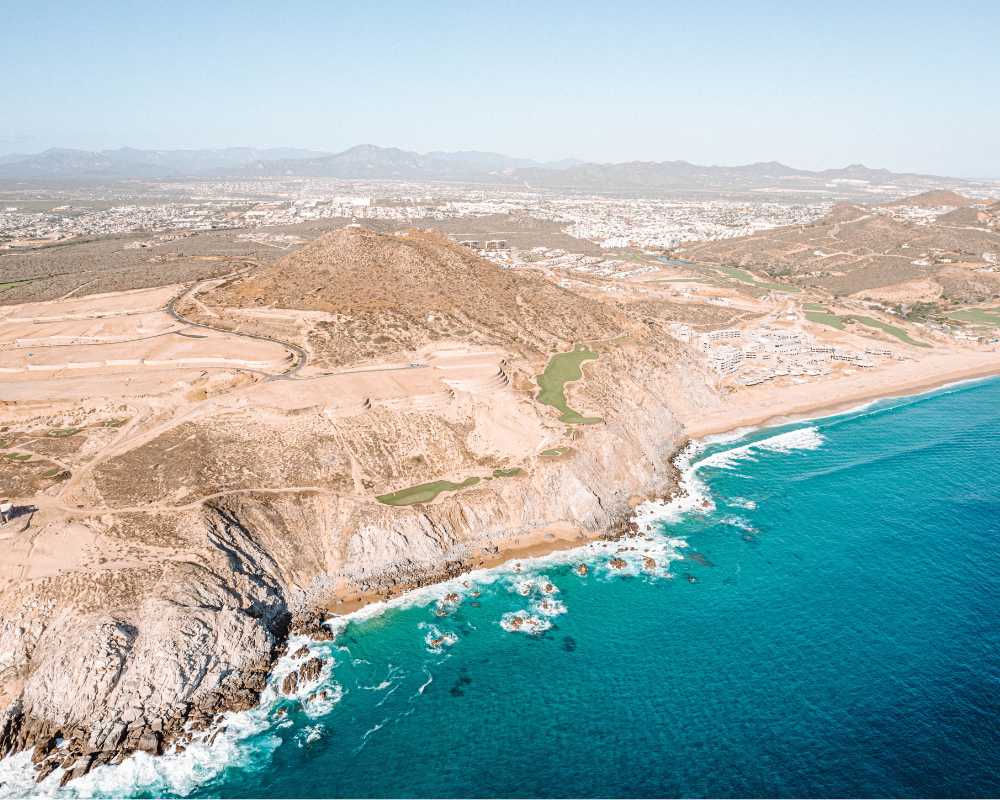 These include high-end properties like the One&Only Palmilla, the Hilton Los Cabos, and the Hyatt Ziva. The Corridor is also peppered with several excellent golf courses and fine-dining restaurants.
There are few towns or villages along the route, so it's primarily a resort and beach area with a very laid-back vibe compared to the bustling towns at each end.
🏊‍♀️ Tip: Many of the beaches along the Corridor are beautiful but not safe for swimming due to strong currents. Go to spots like Santa Maria Beach and Chileno Beach and have excellent conditions for snorkeling.
English is widely spoken in tourist areas
Los Cabos is a well-known tourist destination with many American and international visitors. As a result, English is generally understood and spoken in most hotels, restaurants, shops, and tourist attractions.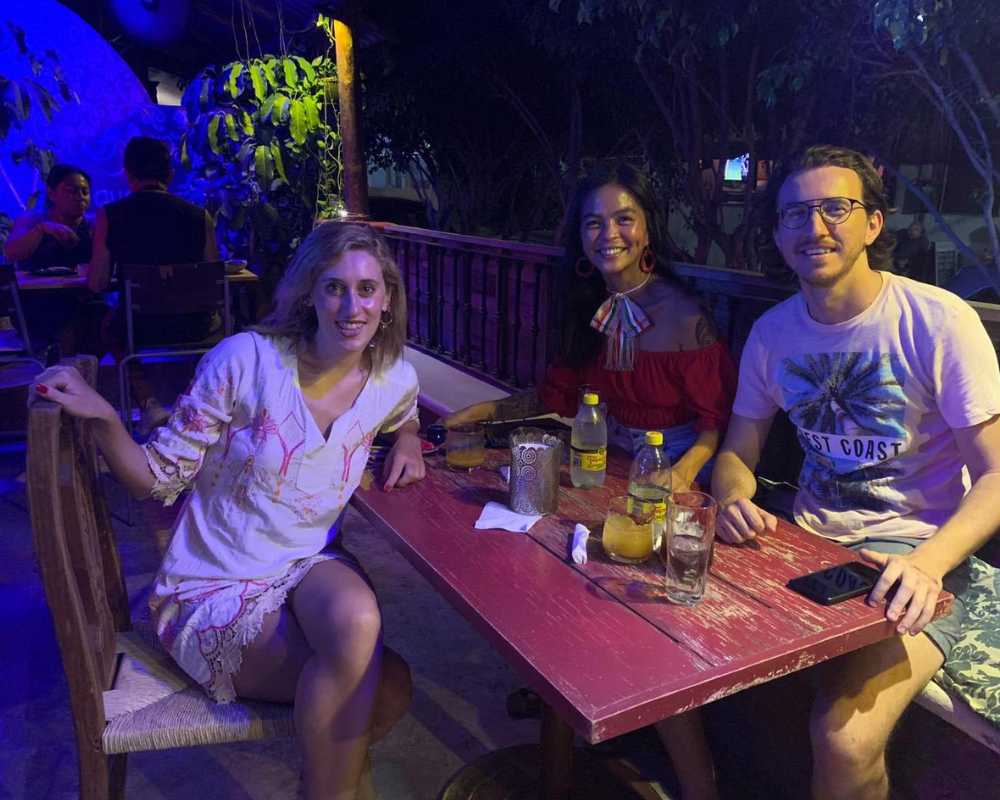 However, it's always appreciated if you learn a few basic Spanish phrases.
Language Tip: "Gracias" (thank you), "Por favor" (please), and "Buenos días" (good morning) are simple courtesies that can go a long way in enhancing your interaction with the locals.
Most resorts offer all-inclusive options
All-inclusive resorts in Cabo offer packages that include not only your accommodation but also meals, drinks, and sometimes activities.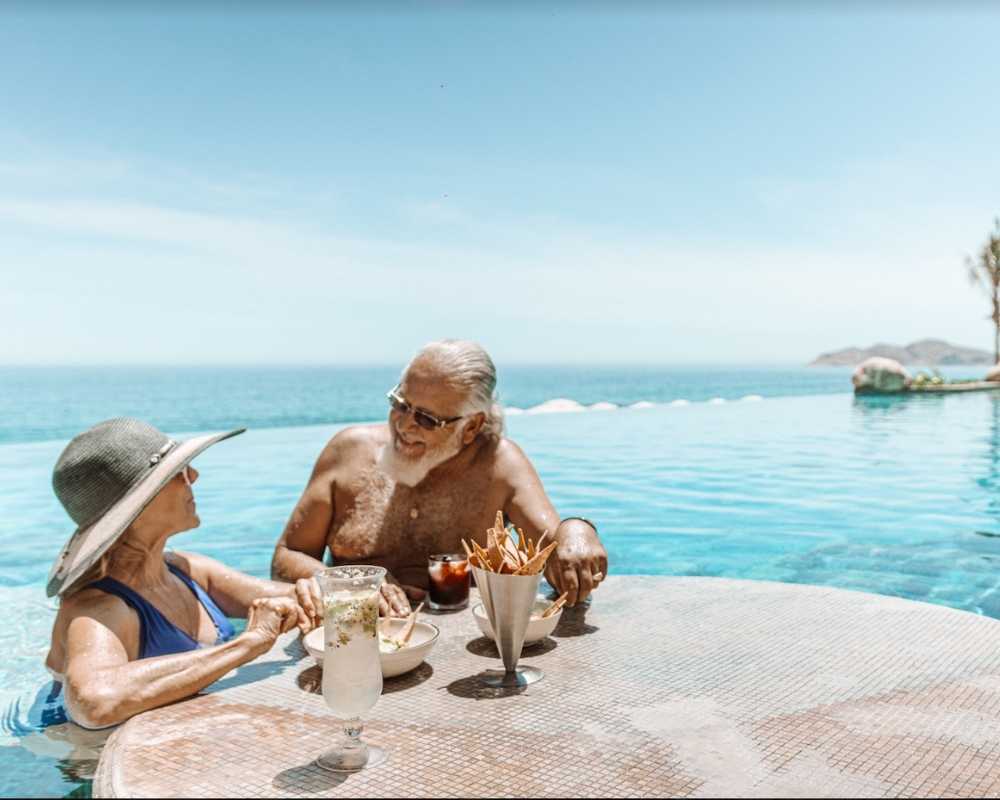 This can make your trip worry-free as you don't have to consider the cost of each meal or activity.
Pro Tip: Review what is included in your all-inclusive package before booking. Some packages might not include premium drinks or certain activities. Learn how to read so you won't be surprised when you arrive!
Not a resort-fan? There are Cabo hotels for less than $100 USD
The city has many accommodations, and prices can range from $30 USD to $500 USD per night. This will depend on where you want to stay and the amenities you want for your accommodation.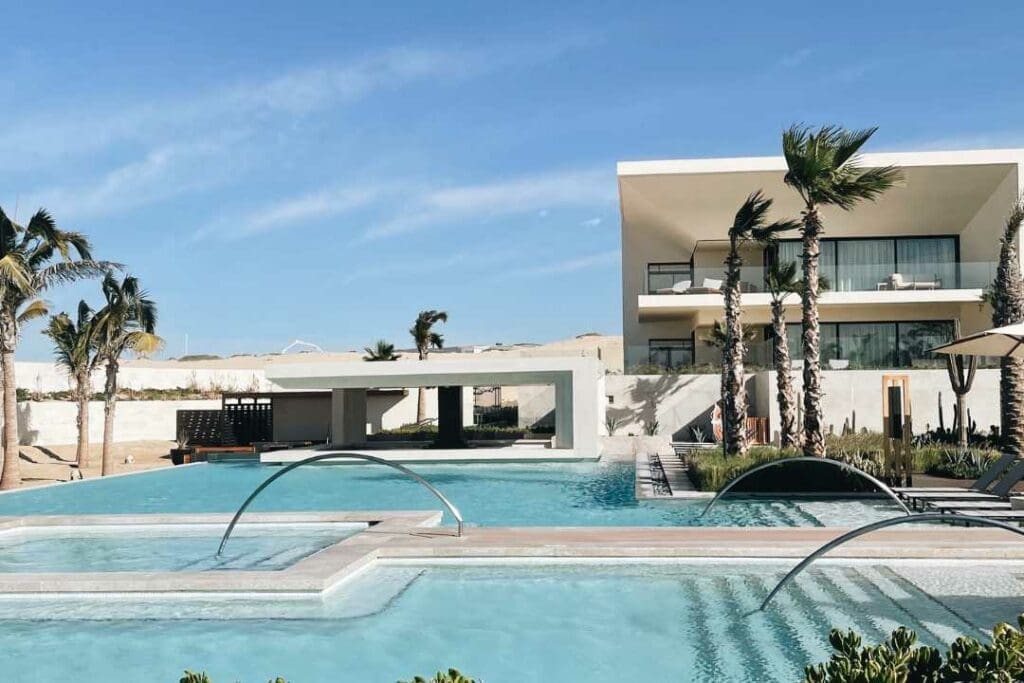 Budget hotels and hostels range from $30 USD to $100 USD per night, while mid-range hotels and resorts cost $100 USD to $300 USD per night.
You don't have to stay in a resort and spend a lot of money, specially if you plan to be out and about all the time.
🏨 Tip: Sun Rock Hotel and Medano Suites are our best recommendations!
Medano Beach is the main beach in Cabo San Lucas
El Medano Beach is a vibrant beach with various water sports, restaurants, and bars on the sand. It is also really safe to swim here.
Arrive at 10:00 AM to secure a good spot. After this hour, everything will be crowded.
🏖️ Tip: Sur is a beach club that charges $50 USD for you to use their beach beds with towels and umbrellas. A cheaper option would be Corazon Beach Club ($25 USD)
Chileno Beach and Santa Maria Beach are popular snorkeling spots
These are among the few swimmable beaches in Cabo, offering calm waters and abundant marine life.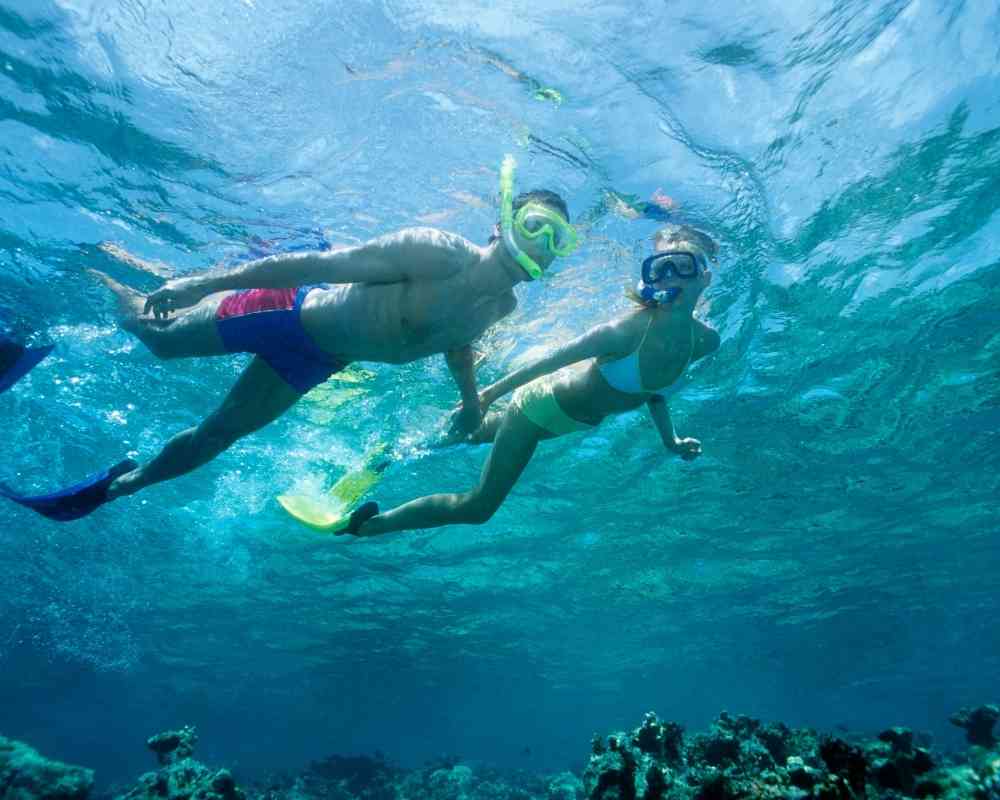 Snorkeling is best in the morning when the water is calmer and clearer. Also, these beaches can get busy, so try to visit on a weekday if possible.
🤿 Tours and info: If you don't want to go snorkelling or find these spots on your own, you can always join a snorkelling tour in Cabo. [Book Cabo San Lucas Snorkelling Tour]
The iconic El Arco (The Arch) is a must-see landmark
Located at the southern tip of Cabo, you can view it by boat. It's especially beautiful at sunset.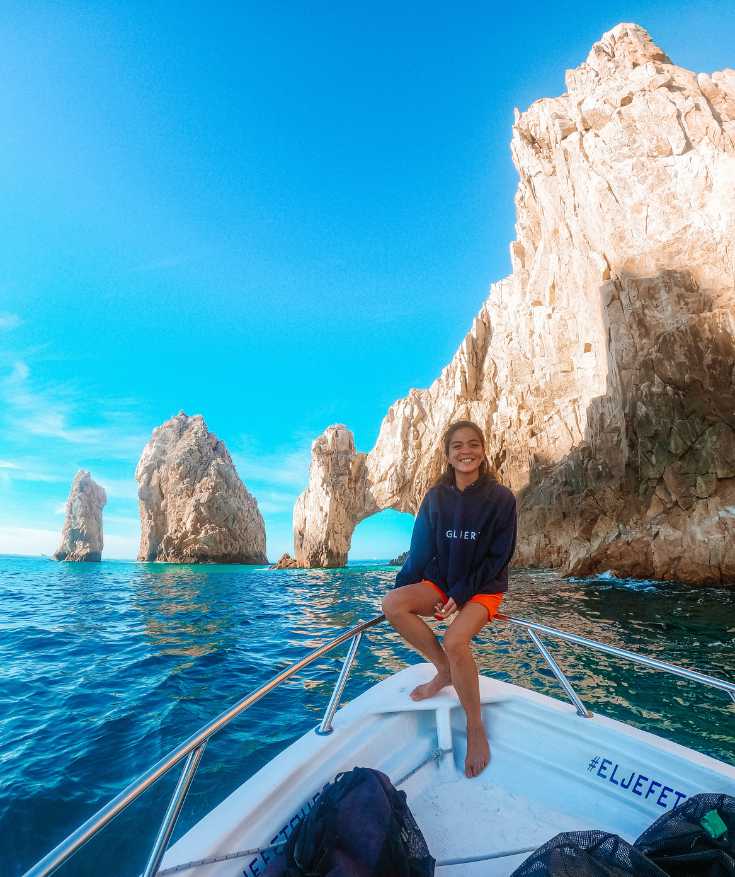 Opt for a shared water taxi or a group tour to visit El Arco, as private boat tours can be quite expensive. Also, some tours include a stop at the nearby Lover's Beach.
🛥️ Tours and info: There are many tours for the Arch (i.e. dinner cruise, snorkelling cruise, paddle boarding, etc). It depends on your preference. [See options for Arch of Cabo travel]
Lovers Beach and Divorce Beach are only accessible by water taxi
These beaches are secluded and can be reached only by boat. Lover's Beach is calm and great for swimming, while Divorce Beach is on the Pacific side and is unsafe for swimming due to strong currents.
The first trip of the boat goes out at 9 AM. These beaches are closed by 4:00 PM.
🗓️Local tip : Try to visit on a weekday when they're less crowded (from 9 AM – 12 PM). You can also book the boat transportation with us (without tour). Just get in touch!
The whale-watching season runs from December to April
Humpback and gray whales migrate to the warm waters of Baja California during this period. You will see all the whales all over Cabo, even from just sitting on the beach!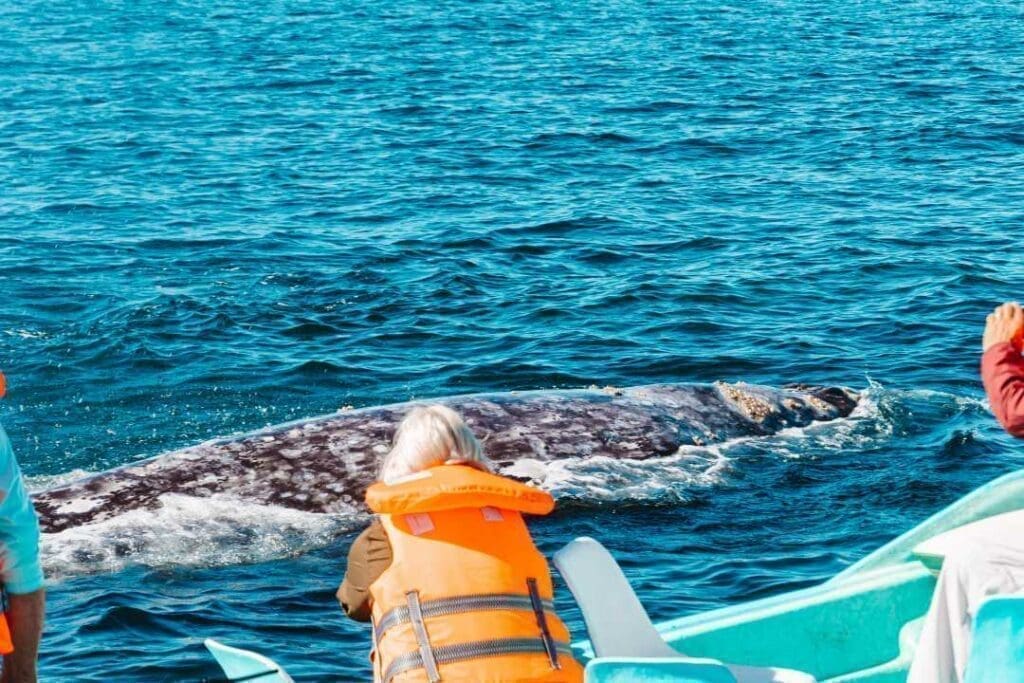 🌅 Pro Tip: Morning tours tend to have calmer seas and better visibility. Use reputable tour companies that respect marine life. [Book whale watching tours]
Sport fishing is a huge attraction
Cabo is known as the "Marlin Capital of the World". Cabo's waters teem with marlin, tuna, dorado, and wahoo.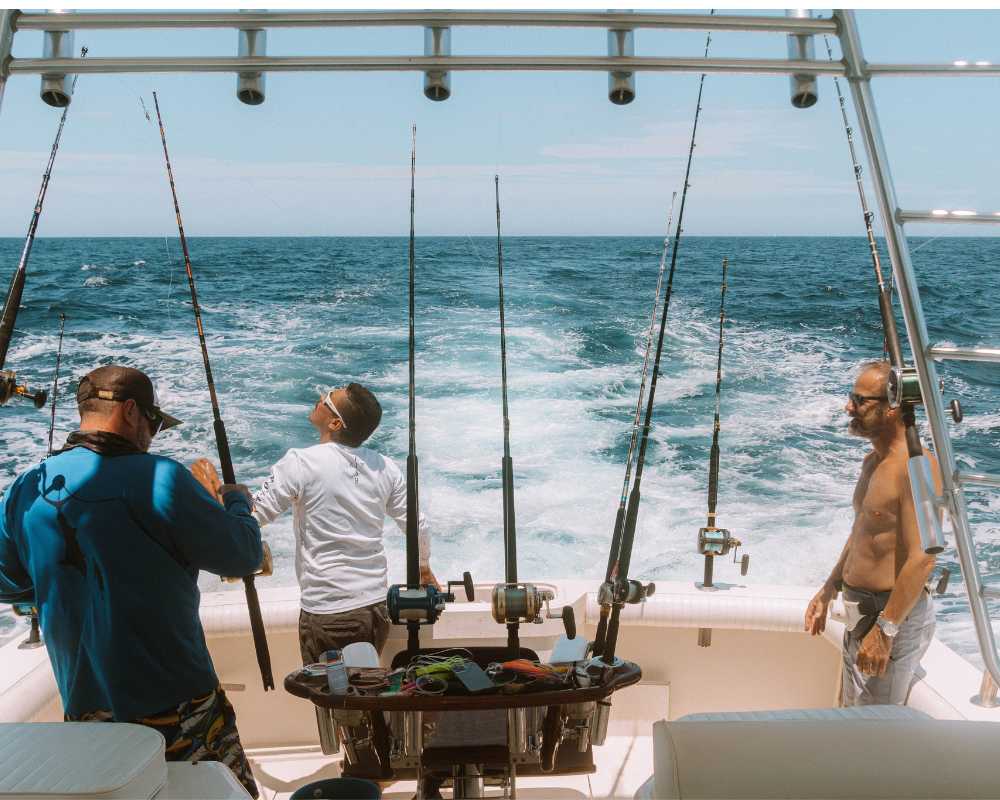 The annual Bisbees fishing competition is also held in Cabo (from October-November).
🎣 Pro Tip: Make sure to choose a licensed fishing charter and familiarize yourself with catch-and-release practices to preserve the species. You can also book this charter with us!
There's a bustling nightlife in Cabo
Clubs, bars, and restaurants keep the night alive. Check out popular spots like Cabo Wabo and Squid Roe, but also look for local hangouts to enjoy live music and authentic experiences.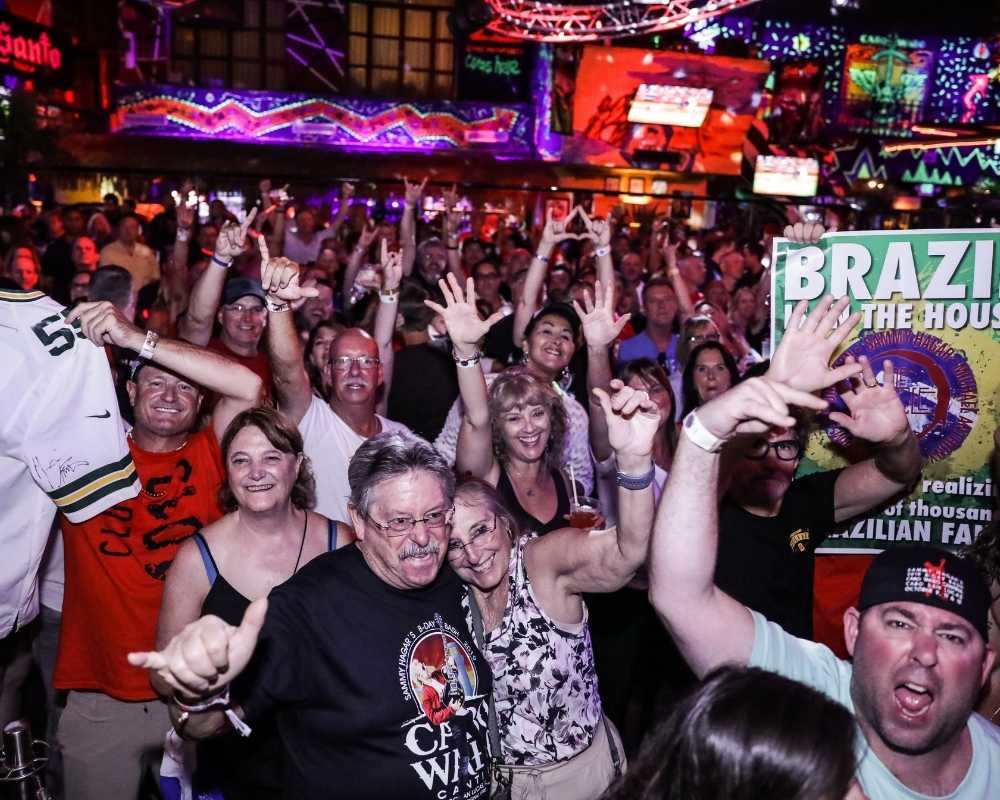 Don't miss the seafood. Never.
Cabo's cuisine is a seafood lover's delight. Try these dishes at a beachside stand or local restaurant for an authentic experience.
The marina area is a great place to find various dining options but note that this area is expensive and touristy.
🦞 Tip: Pezcabo is not in the tourist area, but it is the best place to try seafood! It's a local spot and it's definitely cheaper! [See all seafood restaurants in Cabo]
The town of Todos Santos is a short drive away.
The town of Todos Santos, a designated Pueblo Mágico, is only a 45-min drive away from Cabo San Lucas (about an hour from San Jose del Cabo).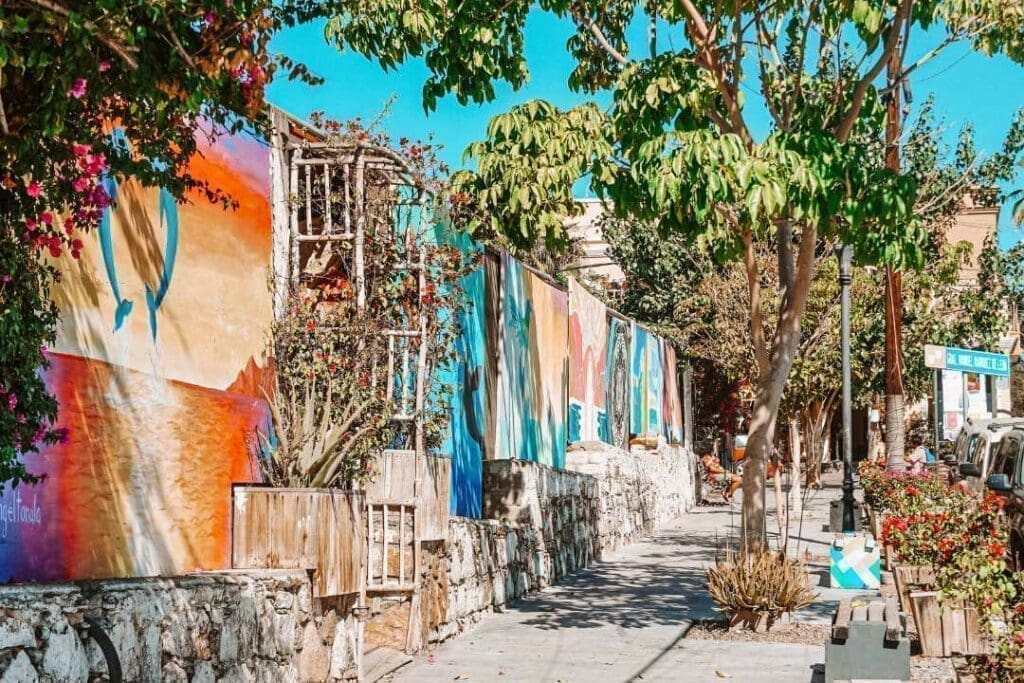 This charming town has art galleries, craft shops, and small eateries.
Tip: Time your visit with the town's Art Walk, which happens on Wednesdays from October to May.
The Cabo Pulmo National Park is about two hours away
Home to a coral reef, This UNESCO World Heritage site offers some of the best snorkeling and diving in Baja California. You can visit it for a day trip or you can also stay the night!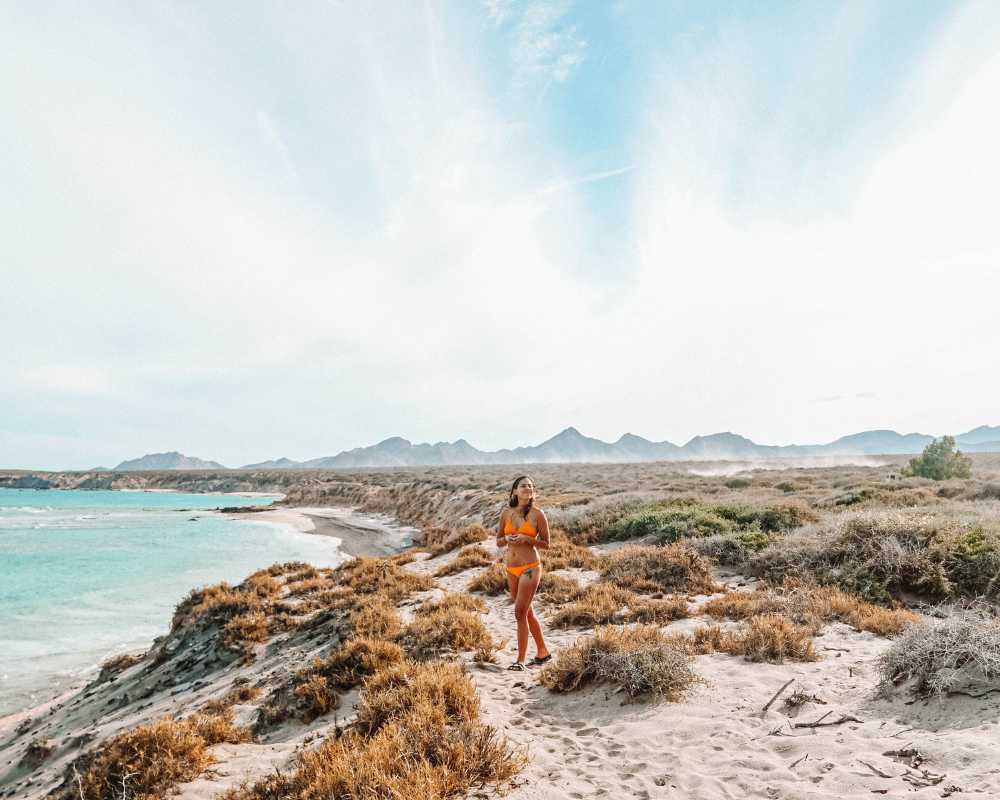 Note that this is an extremely remote and quiet place good for those who are looking for a quieter Cabo travel experience.
Of course, we can also arrange your Cabo Pulmo day trip should you decide to visit for a day.
Tip: You can camp here without a cost! Just bring your tent and spend the night. You don't have to bring food. It is remote but there are many restaurants around!
Don't drink tap water; bottled water is recommended
Tap water in Cabo isn't generally safe for visitors to drink. Most hotels and restaurants use purified water, but stick to bottled water for personal use.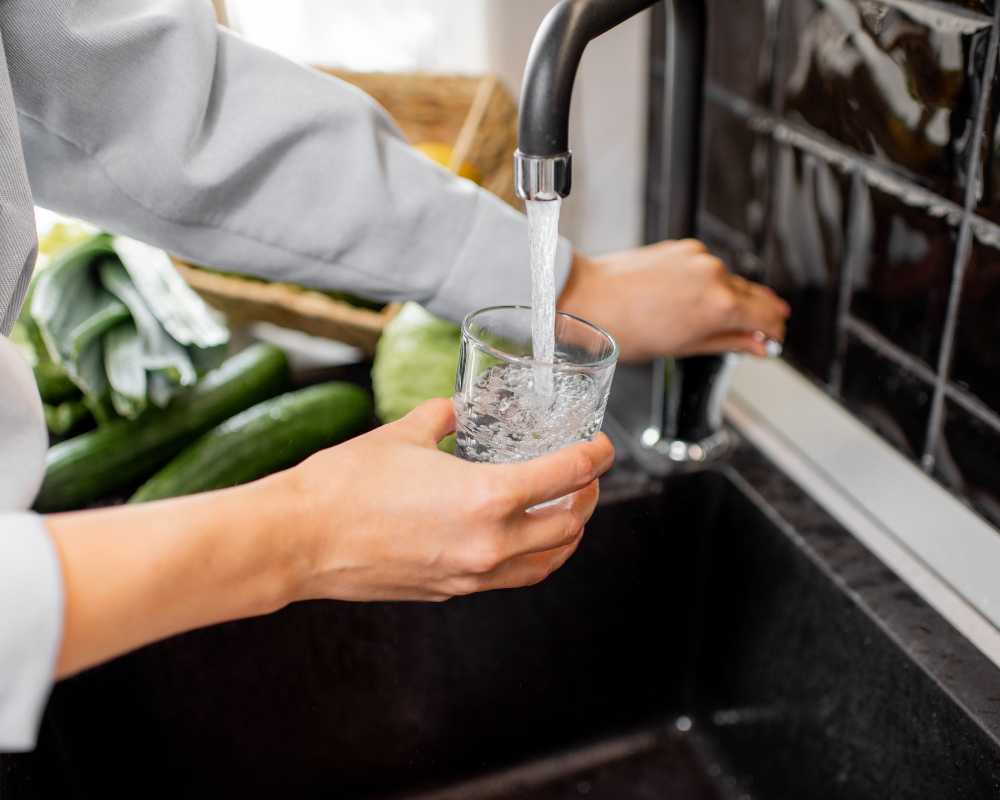 Check if your hotel provides complimentary bottled water. If not, buying it in bulk from a local grocery store is cheaper.
💡 Fun fact: Beer is cheaper in Mexico than water but please don't forget to hydrate! Cabo has a dry desert weather so make sure you always drink water.
San José del Cabo Art Walk occurs every Thursday
From Nobember to June, the San Jose del Cabo Art Walk features local art galleries, live music, and traditional dance performances.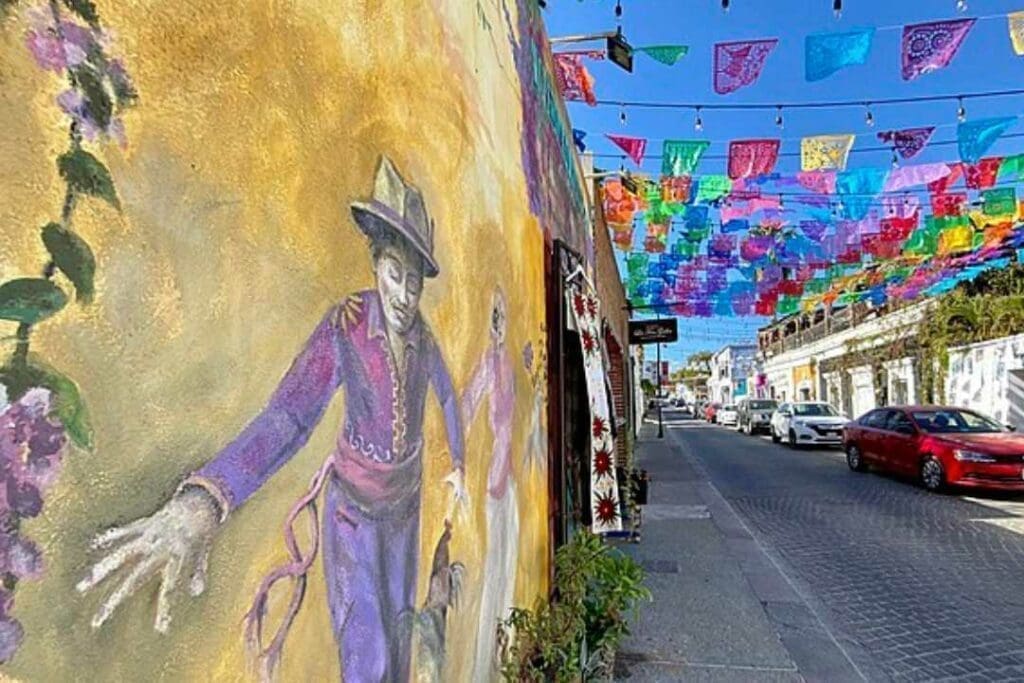 It's a beautiful opportunity to experience the local culture and art scene. Wear comfortable shoes, as you'll be strolling through the city's historic district.
🎨 Local Tip: The event is free, but consider bringing cash if you're interested in purchasing any artwork or tipping the guides.
Always negotiate prices with street vendors
It's common practice to haggle in local markets or with street vendors. Remember to negotiate with respect and a smile.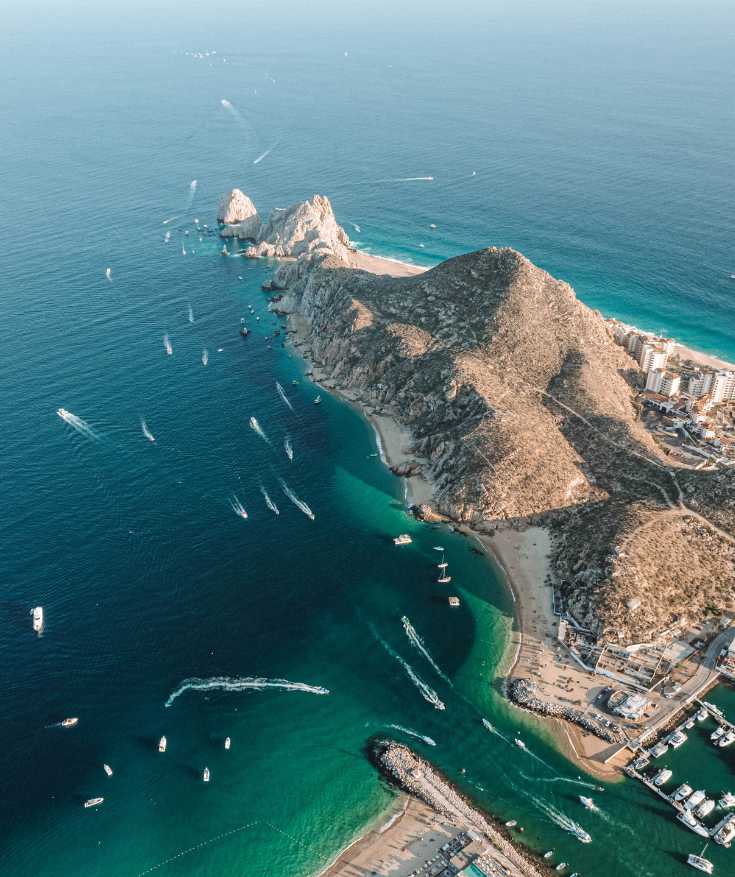 Start by suggesting half the asking price and work your way up from there. However, if the price is reasonable, it's good practice not to bargain too hard.
🙅 Local tip: You will be bugged by vendors everywhere you go. Instead of saying "no gracias," just keep walking and ignore them. The more you engage, the more they will sell.
Timeshare salespeople will often offer "free" gifts
These salespeople may approach you with offers of free tours, meals, or gifts, which usually require attending a sales presentation.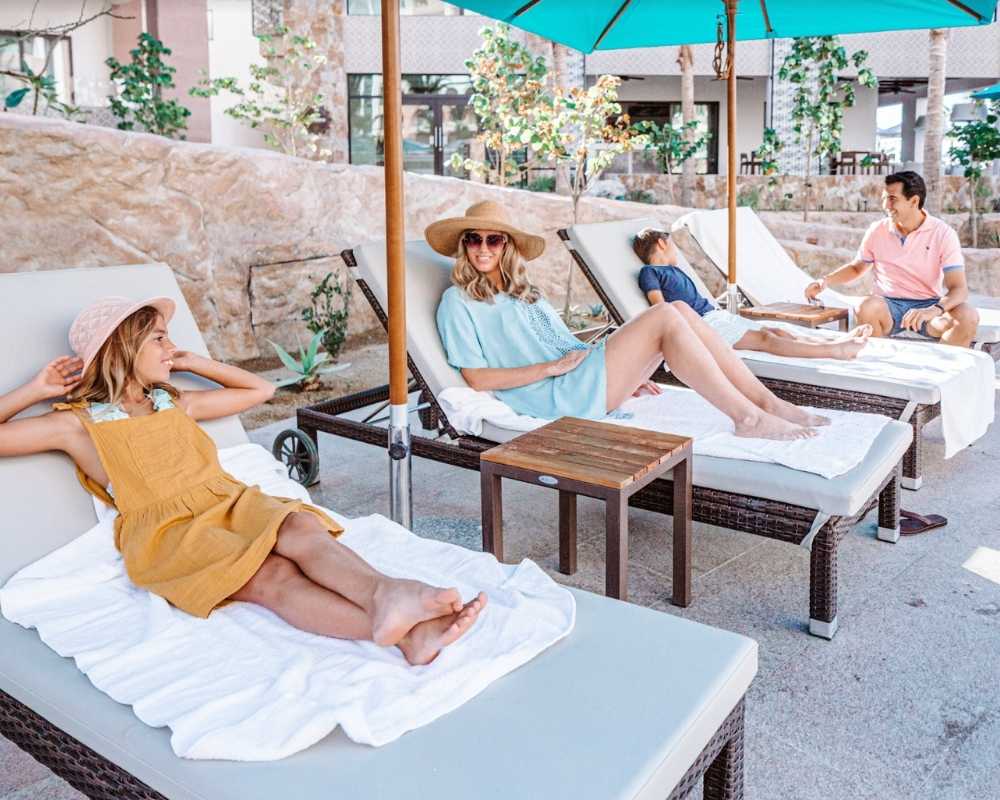 If you're not interested in buying a timeshare, it's best to decline these offers to avoid wasting your vacation time.
⌛ Local tip: If you really are interested in a timeshare in Cabo, get in touch with us and we will recommend a timeshare salesperson that will be honest with you. Do not just talk to any salesperson on the street.
The sun is stronger than you may be used to
Cabo has a desert climate, and the sun can be intense, especially between 10 am and 4 pm. Wear a hat, sunglasses, and use a high-SPF sunscreen. Also, remember to reapply it after swimming or sweating.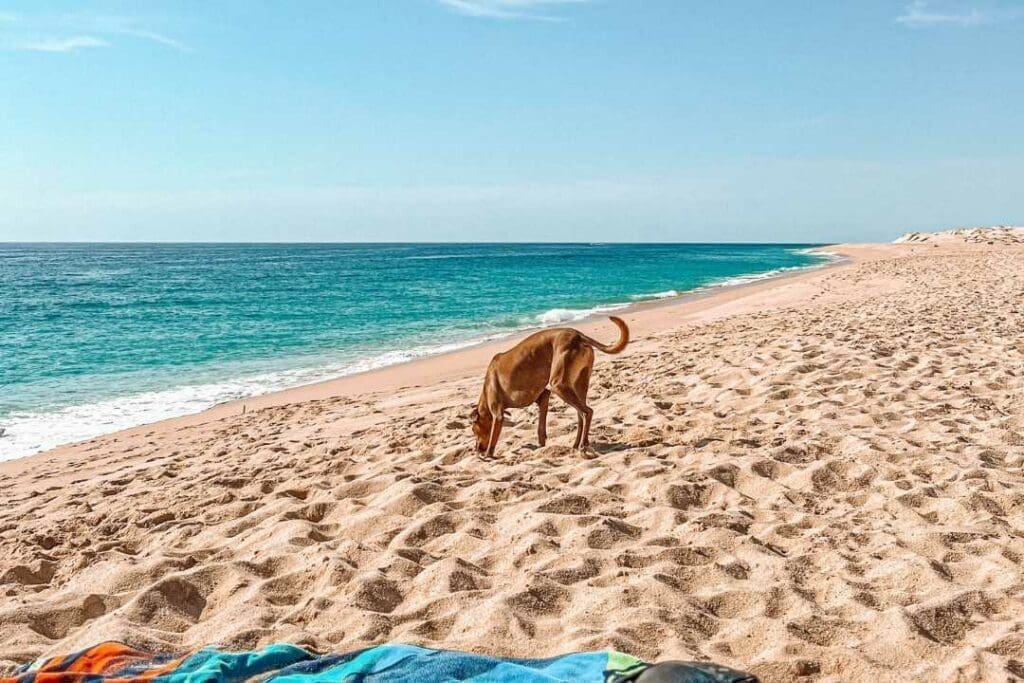 ☀️ Tip: You may not feel the sun during the winter months, but it is still incredibly strong.
Don't forget to tip
Tipping is customary in Mexico, typically 10-15% in restaurants. Tipping is standard practice for good service in restaurants, bars, and tour guides.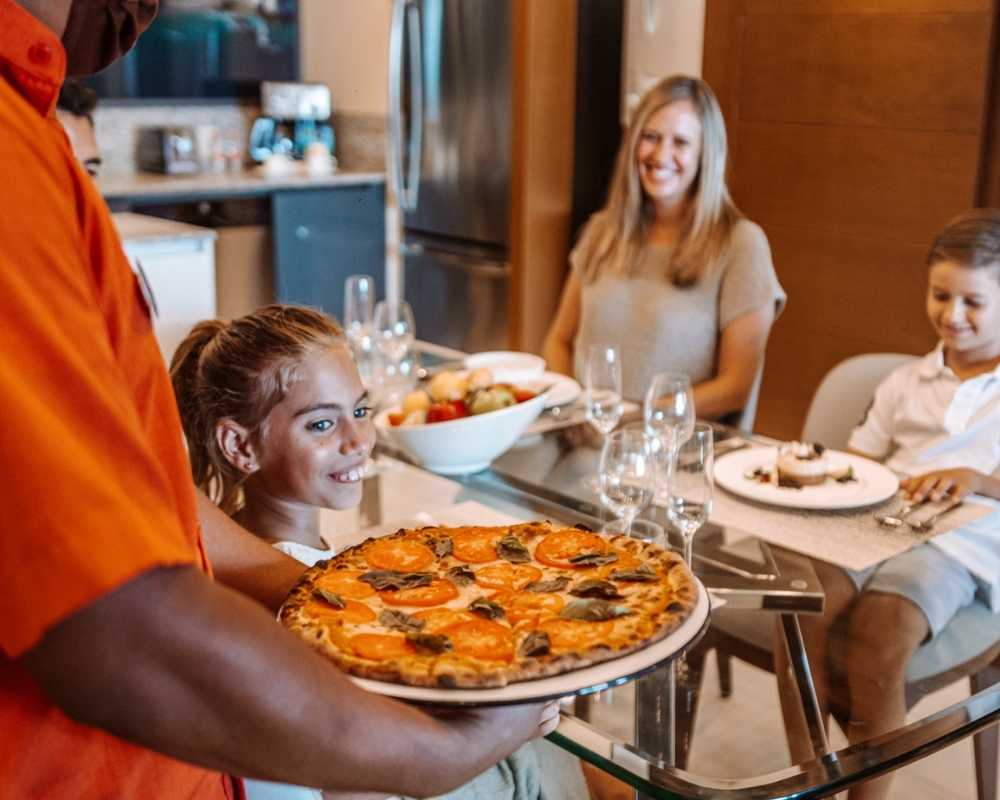 Tipping housekeeping staff at your hotel is also appreciated. Aim for about 50-100 pesos per day (around $7 USD).
ATV desert tours are a popular adventurous activity
These tours offer a thrilling way to explore the Baja desert landscape, including options for all skill levels.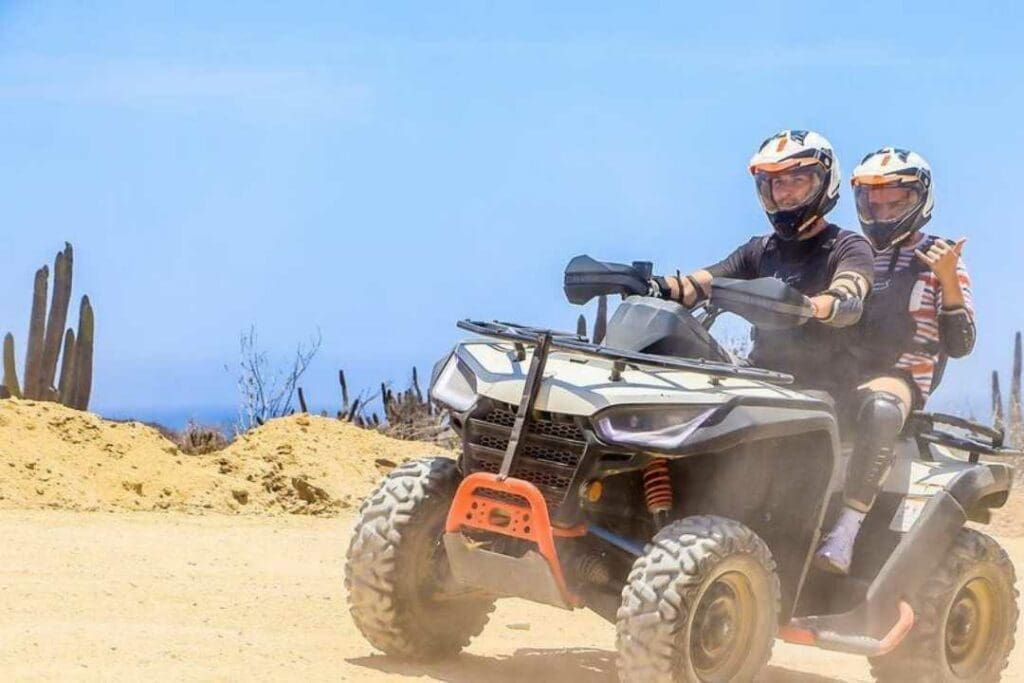 Dress appropriately with long pants, closed-toe shoes, and bring a bandana or scarf to protect your face from dust.
🧭 Tip: Always choose a reputable company that emphasizes safety. Ask us for reviews of sustainable and trusted companies! [Book Cabo ATV Tour]
Beware of riptides on beaches
Due to the confluence of the Pacific Ocean and the Sea of Cortez, many Cabo beaches have strong currents and are unsafe for swimming.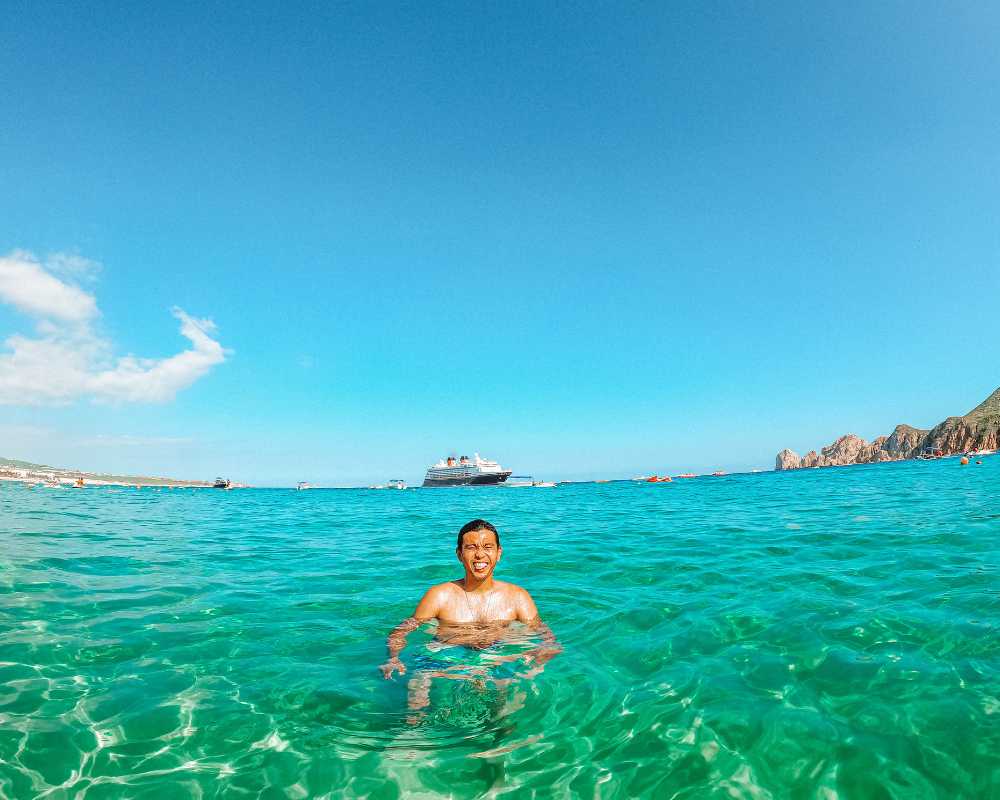 Stick to designated swimming areas and always heed local warnings. Medano Beach in Cabo San Lucas and Chileno Beach on the Corridor are two of the safer options.
Attend a traditional Mexican fiesta for a cultural experience
These events introduce Mexican culture with traditional music, dance, food, and drinks. Pro Some hotels and resorts host weekly fiestas. If yours does, it's a convenient way to enjoy this experience.
🪕 Tip: Check our best Mexican restaurants in Cabo guide to see where you can have this experience!
The sea can be surprisingly cold
Due to the California current, the sea is always cold in Cabo. This current carries cooler water from the north, which can make the sea cooler than you might expect, especially outside of the summer months.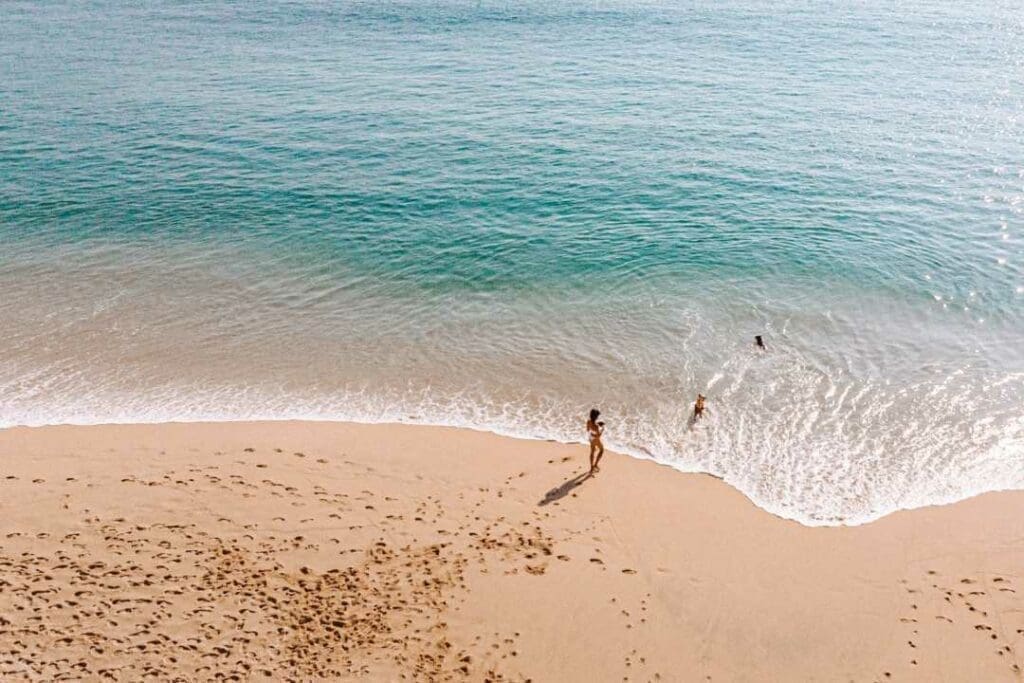 🥶 Tip: If you plan to snorkel or dive, consider wearing a wetsuit or rash guard during the winter months.
🇲🇽 Cabo Travel Guide
⁉️ FAQ: Cabo Travel
Trisha traveled to Mexico in 2018 and after a year, she found herself obtaining a 4-year residency visa in Mexico. She is the Editor-in-chief for our Living in Mexico Series which has helped over 3,000 Americans move to Mexico with ease. Trisha currently resides in Cabo San Lucas, Baja California Sur.