Vegetarians, you can survive your vacation in Sayulita! We put together a list of the best vegetarian restaurants in Sayulita, Mexico.
Being a vegetarian in Mexico seems quite questionable but in Sayulita, this is not impossible! Check out your food options in this Sayulita vegetarian restaurants guide – promise, you'll have a lot!
When we think about Mexico, being a vegetarian or vegan really doesn't fit but thankfully, here in Sayulita, these diets are slowly being catered to.
I must admit that there aren't a lot of options in Sayulita yet but what I can assure you is that the vegetarian food options in Sayulita are not limited to raw greens or vegetables.
There will be local Sayulita street food like burritos and burgers in the selection, too!
Plan your trip to Mexico with us! Get expert travel advice and customized trip-planning itinerary from our local experts on the ground.
🤲 Basic Spanish phrases for vegetarians/vegans
Most people in the restaurant industry in Sayulita can speak English but I sometimes feel like some of them pretend they understood what you are saying then they'll end up getting the wrong food.
Just to make sure you get your vegetarian/vegan meal correctly, here are some phrases you can use.
"I am vegan." – Yo soy vegano/vegana
"I am vegetarian." – Yo soy vegetariano/vegetariana
"No como huevos" – I don't eat eggs.
"No como carne." – I don't eat meat.
"No como queso." – I don't eat cheese.
"Sin leche, por favor." – Withoxut milk, please.
🥬 11 Sayulita vegetarian restaurants (including what to order)
#1: Burrito Revolution
📍 C. Jose Mariscal 10
🍲 What to order: Vegetarian Burrito
This is the best vegetarian burrito I tried in Sayulita and Mexico! Black beans, rice, mushrooms, bell peppers, and cheese are my go-to food when I can't cook at home.
For US$5, you can get a big burrito for sharing. Ask them to cut it in half because I doubt you'll finish it in one seat. This burrito is best for takeaways to the beach!
#2: Public House
📍 Calle Marlín 26
🍲 What to order: Beyond Meat Burger and Cauliflower Wings
Another regular on my list of Sayulita vegetarian restaurants (more of a weekly treat), is the Public House's Beyond Meat Burger. They really have the beyond-meat patties and they never fail!
You can add extras to your burger like blue cheese or avocado for vegans. This comes with a side you can choose, and it costs US$6.60.
I always order the burger with the cauliflower wings on the side – baked cauliflowers topped with real spicy wings sauce! You won't feel the difference because the texture is just like, hmmm… wings.
This is the most creative vegetarian/vegan food I regularly have in Sayulita. It's not just all greens tossed in a bowl, like what you usually get in most vegetarian/vegan places.
Serving is food and the roasted cauliflower only costs US$3.30. They also have choices for greek salad US$5.77 if you want something clean.
#3: Lots of pizza options
Sayulita is home to different pizza places and most of them serve vegetarian pizza. There are many Italian restaurants in Sayulita as well as Italian expats.
My favorite and consistent craving is La Rustica's Princesa. It has pesto as a base instead of tomato sauce.
It's topped with balsamic vinegar which gives it a sweet and sour flavor. If you're not a fan of red sauce (or want to try something different), the Princesa is for you!
If you are vegan and are looking for vegan dough, Pizza Venezia serves that with an additional fee of US$10.
Most pizza places in Sayulita will ask you to choose your own toppings and in Venezia, a big pizza only costs US$4.
For deliveries, you can try Pizzas Ron (I live next to it!). Other pizza houses include Tratorria Toscana (right by the selfie street) and El Italiano by Punta de Mita highway which also offers delivery.
#4: Loro Cafe
📍 Revolucion, C. Jose Mariscal 72b
🍲 What to order: Poke Bowls
Loro Cafe only opened in December 2019. This was the time I came back from my 2-month trip to Peru and Colombia so it was really delightful to have a new Sayulita cafe when I was back.
Loro Cafe serves lots of Asian favorites and they're all mostly vegan. Bibimbap, pad thai made with jackfruit, and samosa is my favorite.
They even have Japanese drinks like sake! I find the food options in Loro Cafe pretty "fair" in serving and taste but the menu is overpriced.
I understand that they may be getting the Asian ingredients outside Sayulita but US$7.50 as a starting price is a bit too much. However, this place caters to tourists which don't have a problem paying this price.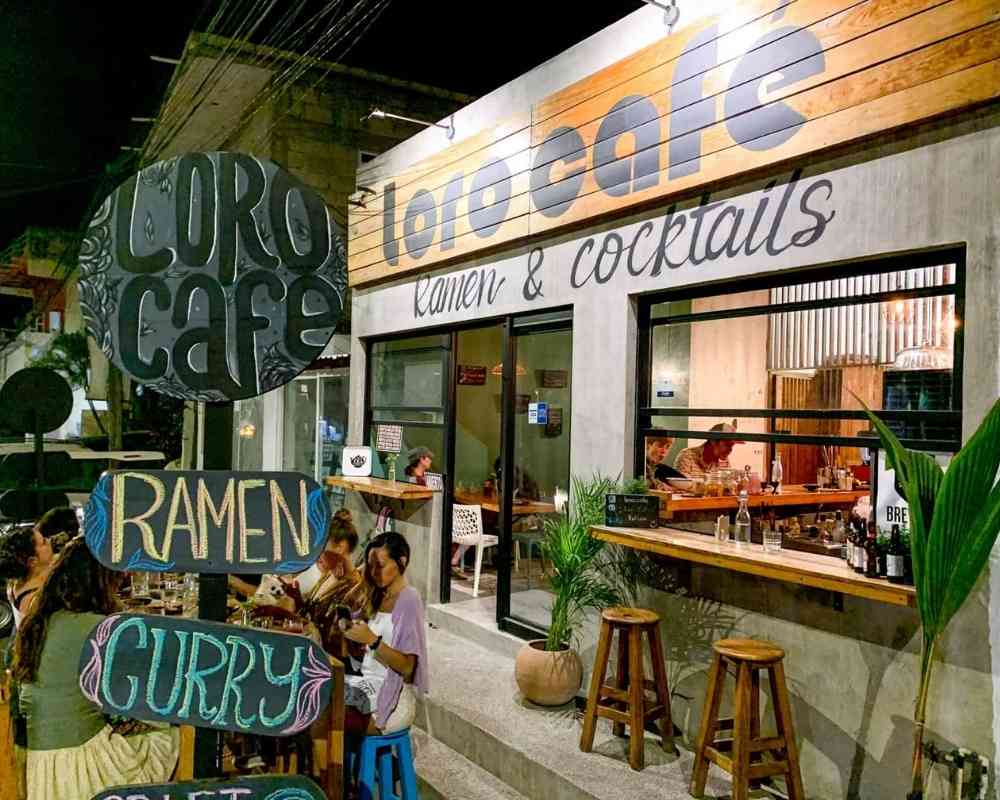 #5: Yeikame
📍 Calle Jose Mariscal 10
🍲 What to order: Enchiladas de Pipian
Just right beside Burrito Revolution is Yeikame, an old-school Mexican dining experience headed by a great Mexican woman chef.
Her recipes have been passed by generations in her family so if you want to try authentic Mexican enchiladas, this is the place!
I will probably volunteer here so she could share her recipes! If you ever wonder what pipian is, it is a type of mole that is made primarily with pumpkin or squash seeds instead of nuts (peanuts, pine nuts, or sesame seeds) which are common in mole.
It's not very common to find it in Mexican menus so if you see this anywhere, make sure to ask for it!
The only problem I see here is if you're a vegetarian and you don't speak Spanish, the servers always miss the part where you don't eat meat.
I've been served chicken here twice when I was perfectly speaking Spanish! They don't get it right away, plus the place is always busy.
So when planning a trip to Sayulita, always refer to the vegetarian vocab I supplied above. It's more than enough for you to survive!
#6: Organi-k
📍 Av. Revolución 21B
🍲 What to order: Acai bowls, rice bowls, smoothies
Organik was the first cafe I walked into when I arrived in Sayulita. It is very central and easy to locate: they're right next to the Sayulita bridge!
This place is usually packed for breakfast. Their coffee and smoothies are best-sellers though I come here for the ginger and turmeric shots.
Definitely love their smoothies (from US$3) and their Acai bowls from US$5. However, I do not really like their rice bowls as the layer of rice is too much for what's on top.
This is also something I can do at home so I don't really frequent this menu. They have a nice place to sit down, especially in the summer. No AC but the palapa roof makes the place cooler!
#7: El Itacate
📍 Calle Jose Mariscal 42
🍲 What to order: El Itacate
See the photo below? That's a quesadilla but instead of the traditional corn tortilla dough, this one is made with cheese!
I normally come here with a bottle of wine because it definitely fits the pairing. Warning – this is a really heavy meal because you have to eat this with a tortilla. Make sure to share!
Itacate is right next to Burrito Revolution and Yeikame so you surely won't miss it. If you haven't tried pulque in your life, this is also the best place to do it.
#8: Achara
📍 C. Jose Mariscal 33
🍲 What to order: Thai food – order them all!
Upon seeing Achara's menu, you will only find a few items that are labeled vegan/vegetarian but the good thing about Achara is they can adjust to your diet.
For example, when I order the pad thai, I always ask them to remove the chicken and shrimp. They are always accommodating and will ask me what I want to replace the meat with.
They will usually suggest carrots, bell peppers, and any other possible veggies you can add to your pad thai. It's really up to you! Achara's price ranges are quite high though.
#9: Naty's Kitchen
📍 Calle Marlín 13
🍲 What to order: Rajas Poblanas Tacos
I know I said I prefer to eat tacos on the street but Naty's is different because they serve the best vegetarian tacos in town! In fact, it is the only one!
Squash, carrot, rajas poblanas – their tasty vegetarian tacos menu will give you an interesting experience as the tacos we know are always with meat.
I must warn you that Naty's has a long line during lunchtime as they close at 3:00 pm. They even run out of vegetarian tacos before closing time so be mindful of the hours!
They also offer catering services. In fact, this is what I had served for my pool party birthday celebration last year so feel free to contact me and I'll give you Naty's number!
#10: Orangy Smoothies
📍 Av. Revolución 33
🍲 What to order: Rajas Poblanas Tacos
Can you believe we have a bar dedicated to just smoothies? Run by an English and Mexican couple, Orangy is an institution in Sayulita.
They are the only smoothie bar in town and man, their menu is straight to the point and delicious!
They also have a small selection of bowls compared to Organik so if you want a smaller vegetarian menu, you can easily pick what to have at Orangy.
They close at 4:00 pm though so make sure to visit before closing time. Their smoothies are fairly priced starting at $65 MXN ($2.68 USD).
#11: Terrenal
📍 Carretera Sayulita a Punta de Mita, C. Libertad
You probably won't cook while on vacation but as a vegetarian/vegan, I totally understand if you will. I've done this in countries where vegetarian food is hard to find and here in Sayulita, we have Terrenal, an organic grocery store!
They only don't sell soaps, vegetarian vitamins, or ecological products but they also have vegetables, spices, and many other things perfect for your daily vegetarian/vegan meal!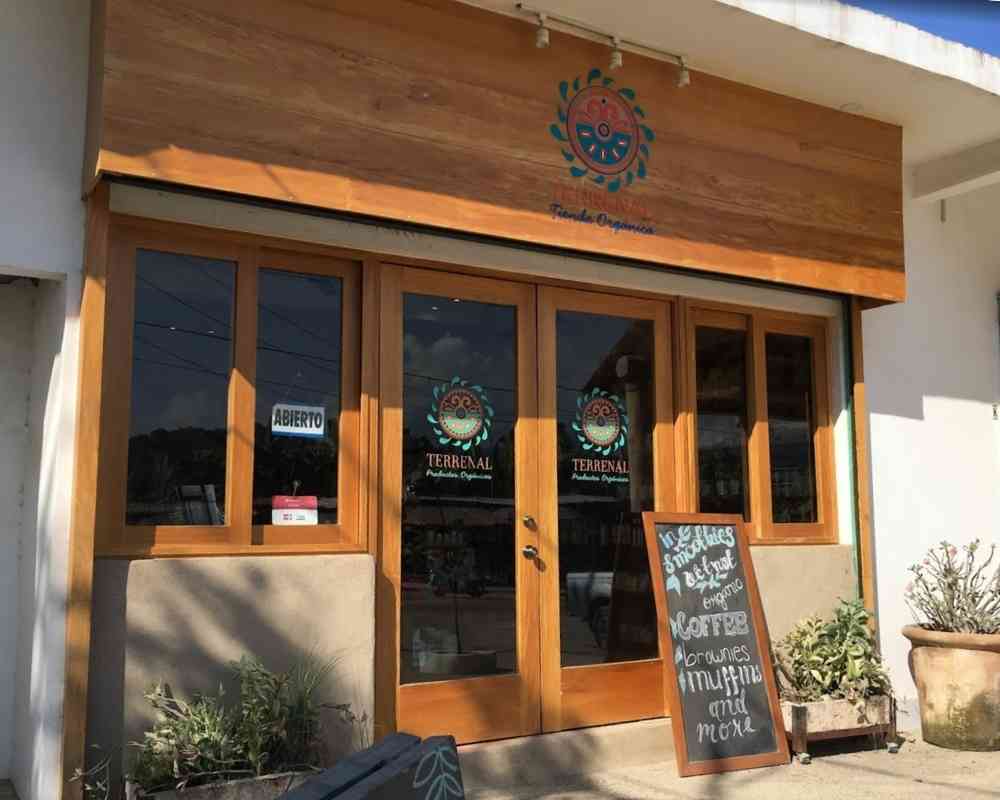 🇲🇽 Sayulita Travel Guide
Trisha traveled to Mexico in 2018 and after a year, she found herself obtaining a 4-year residency visa in Mexico. She is the Editor-in-chief for our Living in Mexico Series which has helped over 3,000 Americans move to Mexico with ease. Trisha currently resides in Cabo San Lucas, Baja California Sur.