Presenting the best Sayulita restaurants from our 2 years of living in this pueblo magico with detailed pricing, location details, and our favorite plates for each restaurant.
Mexico Insider started as Sayulita Insider so this town is very dear to us. We lived here for 2 years and had the privilege to collaborate with local businesses and communities.
Whilst Sayulita is a small town, it has become the best pueblo magico to visit for the last 3 years. Businesses kept popping up out of nowhere, especially restaurants.
The Sayulita restaurants culture keep changing so make sure to bookmark this post. We regularly update this article (what's closed, still open, or changed names/addresses) to make sure that you have an updated list for your Sayulita trip.
Let's get started! Here are our favorite restaurants in Sayulita, Mexico.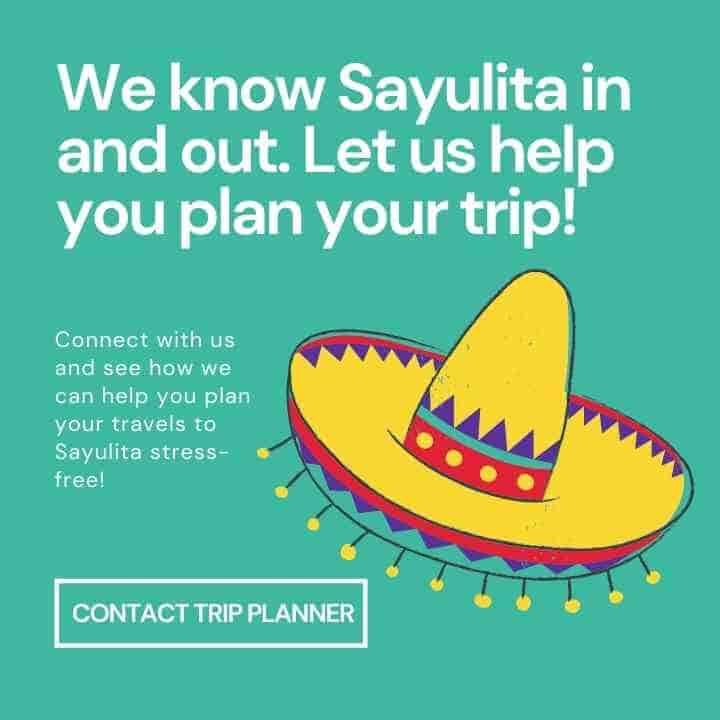 💵 Are Sayulita restaurants expensive?
Food in Sayulita range from US$7 – US$12 per person. The majority of Sayulita restaurants have this price. If you're planning your Sayulita travel budget, you can allot at least US$5 per meal ($15 per day). There are also lots of street food stalls that are not just tacos that are less than US$5. I also made some price points for the Sayulita restaurants in this post.
💲 : US$7 and below
💲💲: between US$7- US$12
💲💲💲: US$15 and up
🍲 Do Sayulita restaurants deliver?
All Sayulita restaurants can deliver. The only thing is that you need to pay extra 50 pesos (US$2.50) for the delivery fee. They will call a guy to pick up your order and it's a separate service. We do not have Uber Eats or Rappi in Sayulita.
It's really a small town so people go out and don't necessarily eat at home. Some Sayulita restaurants will tell you they DO NOT deliver but what you can do is to call the delivery guy, order from him, and he will go to the restaurant of your choice. The best Sayulita restaurants that deliver are Achara Thai, Don Pedro's, Marcolino, and all the pizza places!
🚰 Is it safe to drink tap water in Sayulita?
Do not drink tap water in Mexico at all costs. Your Airbnb/accommodation will provide clean drinking water for the duration of your stay. For ice in bars and restaurants, they use filtered water so you don't have to worry about that.
You might also like:
🌮 Best restaurants in Sayulita, Mexico
#1: Chocobanana
📍 Delfines 14
✨ All-day breakfast
💲 from US$7
Chocobanana is an all-day breakfast restaurant by the plaza. What you'd like to know is that Chocobanana is the most sustainable restaurant in Sayulita as they recycle and don't use plastic.
Try their signature choco banana to start. You may want to skip on the meat dishes because they are trying to sustainably source their meat as well.
#2: Organi-k
📍 Avenida Revolucion 21-B
✨ Vegan, Smoothies, Raw Food
💲 from US$8
Situated by the Sayulita bridge (and river), Organi-k has smoothies, acai bowls, and rice bowls. I particularly come here for their ginger and turmeric shot which is our favorite healing drink.
You will always see Organi-k with long lines as early as 7:00 am. The place is small so a lot of people who are early-risers (mostly surfers) make a smoothie run before sessions.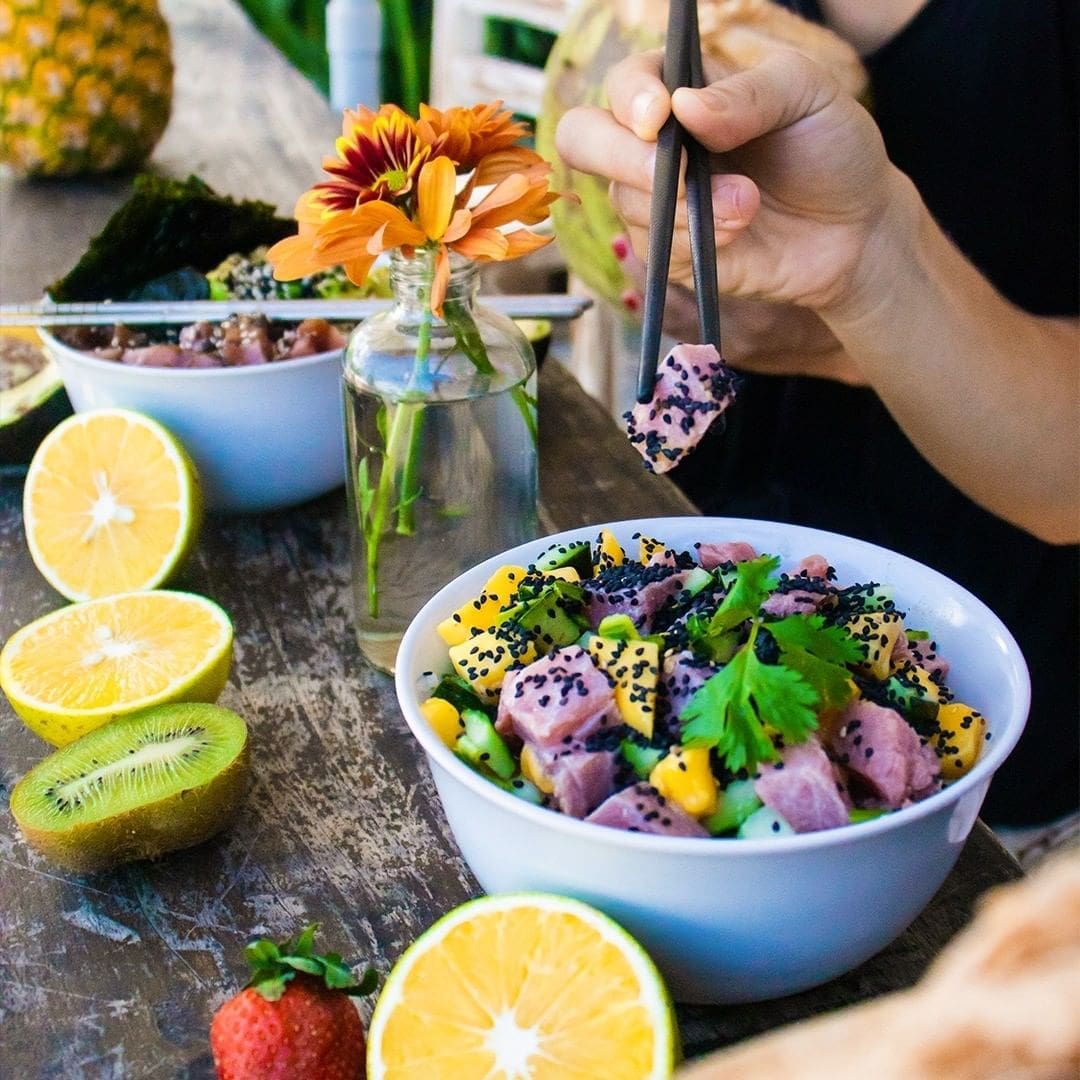 #3: Tierra Viva
📍 C. Marlín 10
✨ International
💲 from US$10
Tierra Viva is great for Sunday brunch as they have a wide variety of food on their menu. Sometimes, their menu can get very overwhelming but as usual, we will recommend those that we've tried. Tierra Viva specializes in gourmet dishes – with elaborate preparations and aesthetically balanced presentations of their food.
#4: Mary's Traditional Cuisine
📍 Av. Revolución 36
✨ Mexican
💲 from US$7
Their menu is packed with traditional Mexican cuisine that is presented simple, priced reasonably, and yet can make you feel the true food culture of Mexico. This curbside eatery is the best restaurant in Sayulita where you can get the Mexican experience that you will pay for less. The jalapeño poppers is highly recommended!
#5: Burrito Revolution
📍 Calle Mariscal 10
✨ Mexican
💲 from US$5
Listen up, vegetarians! This vegetarian burrito is always a favorite even for non-eaters. I find myself coming here when I am out of food choices in Sayulita because it's always worth it no matter how many times I have it in a week. There are many restaurants in Sayulita where you can find vegetarian burrito but this one is still the best.
#6: Don Pedro's
📍 Calle Marlin 2
✨ International
💲 from US$12
Don Pedro's has a very familiar vibe. When you come here, you will see lots of kids as they are also on the beachfront on the south side of town. Kids love their chicken nuggets and spaghetti from Don Pedro's kids' menu. Adults can enjoy a wide variety of food choices. Don Pedro's menu can be very overwhelming but here's a trick: go here on special occasions.
#7: Achara Thai
📍 Calle Jose Mariscal 33
✨ Thai
💲 from US$12
The head chef, Sam, spent years working in Thailand and I am thankful that he's able to give Sayulita a little zest by having a Thai food option. If you don't eat meat, Achara can customize your meals. They can replace your protein with tofu or any vegetable you like! They also have vegan soy sauce and vegan fish sauce.
#8: Yeikame
📍 Calle Mariscal 10
✨ Mexican
💲 from US$7
Just right beside Burrito Revolution is Yeikame, an old-school Mexican dining experience headed by a great Mexican woman chef, Maribel, who's also become so close to me because she's my landlord's best friend! Her recipes have been passed by generations in her family so if you want to try authentic Mexican enchiladas, this is the place.
#9: El Itacate
📍 Calle Mariscal 42
✨ Mexican
💲 from US$7
Itacate is also something you shouldn't miss. And I mean it. Here, you will find a lot of food options that involve cheese. Like this one pictured above which they call "Itacate," a taco-like dish that has cheese as a "tortilla" instead of the traditional corn tortilla. If you haven't tried pulque in your life, this is also the best place to do it.
#10: Sueños Creative Cuisine
📍 Calle Marlín 23
✨ Italian
💲 from US$17
In our recent visit to Sayulita, we were able to get to know Sueños Creative Cuisine, a new high-end restaurant in Sayulita that is suitable for date nights and dinners with big groups.
The menu at Sueños Creative Cuisine was curated by an Italian chef, so expect a culinary trip to Italy when you dine at Sueños. Almost ALL of the plates are extremely tasty.
This restaurant is more expensive (by Mexican standards) than the usual diners and joints in Sayulita but with the high quality of the food, every penny is worth it.
Sueños might be new in town but it's already setting a bar and a high standard for dining in Sayulita. There aren't many upscale places for fancy dining and Sueños is probably the first of its kind in town.
#11: Alas Blancas
📍 Delfines 219
✨ Seafood
💲 from US$8
Alas Blancas is a beachfront restaurant that specializes in seafood like ceviche, aguachile, and shrimp cocktail. They also have a wide variety of Mexican plates. This beachfront restaurant can be visited for breakfast, lunch, and dinner plus it's a good spot for day drinking!
For starters, we recommend the crispy calamari with tartar sauce (US$8) and the tuna sashimi (US$11). We always order shrimp coconut for mains as this is one of the best in town!
#12: Frente al Punto Beach Club
📍 C. Playa Azul 17
✨ American
💲 from US$10
Another beachfront Sayulita restaurant, Frente Al Punto Beach Club is particularly a favorite for families traveling with kids. This is one of the biggest restaurants in Sayulita with a spacious outdoor (and green) seating – a perfect spot for sunset viewing.
Most of the food served in Alas Blancas is American bar food. Feast on burgers, wings, and comfort food that both adults and kids can enjoy.
#13: La Katrina Restaurant and Bar
📍 Delfines 20
✨ Mexican, International
💲 from US$7
Located in the iconic Sayulita plaza (next to the church), La Katrina is a specialty restaurant that has all the Mexican bar food you are familiar with: burritos, nachos, and American snacks like buffalo wings.
This place is hidden and not many people notice it right away but this is the best spot for having a great view of the plaza and observing local life.
#14: L'Ulivo
📍 C. Pelícanos 155-F
✨ Italian
💲 from US$10
This Italian couple has been living in Sayulita for years and opened L'Ulivo to showcase the most authentic dishes from their country. Although Sayulita restaurants are ruled by Italians, L'Ulivo is our go-to place for pasta. They simply have a pasta menu that no other Italian restaurants in Sayulita have!
L'Ulivo has a small space and it is intended for intimate dining. The owners are always around to make sure that you get the best quality Italian food.
#15: Henshin Sushi
📍 North side, C. Miramar 13A
✨ Japanese
💲 from US$15
Henshin Sushi is located inside a resort but non-resort guests are also welcome to dine here. This Omakase restaurant does not have a menu and is the best way to surprise your senses.
Ask for the cocktail of the day before your feast. If cocktails are not your thing, opt for their Asian beers or a pitcher of Japanese sake.
#16: Kahlo Restaurant
📍 Av. Revolución 39
✨ Mexican
💲 from US$15
Kahlo Restaurant is very proud to brand itself as one of the most sustainable Sayulita restaurants with the goal of supporting the communities around Nayarit by sourcing local ingredients.
Expect to see a carefully curated Mexican food menu that is traditional in the state. Kahlo's main draw, is of course, their agave room where you can try different types of mezcal and tequila.
#17: El Pescador Poke Bar
📍 Delfin #16
✨ Asian, Seafood
💲 from US$8
Enter El Pescador Poke Bar through a small staircase right by the plaza. This place is hidden and one of the local gems. Food is cheap, comfortable, and you get to have a great view of the plaza life.
El Pescador Poke Bar specializes in raw poke bowls but they also have great Asian dishes. Our favorite (outside their bowls) is the chicken teriyaki with white rice!
#18: Cafe El Espresso
📍 Av. Revolución 51
✨ Mexican
💲 from US$8
A breakfast institution in Sayulita, Cafe El Espresso has been side by side with Chocobanana in serving all-day breakfast in Sayulita – a privilege that we locals enjoy from living here.
Cafe El Espresso reportedly has the best chilaquiles in town (we have yet to try it!) but we go here for really good coffee and flank steak breakfast. You won't miss this spot as it is right next to the plaza!
#19: Public House
📍 C. Marlín 26
✨ American
💲 from US$12
A sports bar and day drinking spot in the day turns into an elegant dining at night – Public House has many faces and is always a good idea any time of the day!
An upper-tier American bar food draws many foreigners to stay here (with or without a live game). Many vegetarians also love their cauliflower wings. Try it and you won't even notice the difference with the chicken wings!
#20: Aaleyah's Nachos and Wings
📍 C. Marlín 26
✨ Mexican
💲 from US$8
You will often see this packed with Americans and Canadians but they're not tourists – they are expats living in Sayulita who are fond of the owner, Josue, a happy-go-lucky Mexican who makes sure that everyone leaves Alleyah's drunk.
Aaleyah is a sports bar but the ambiance offers you a Mexican sports bar twist. What is really good about Aaleyah is that they don't just thrive on making people drunk but their Mexican food is one of the best (and cheapest) in town.
#21: La Rustica
📍 Av. Revolución 40C
✨ Italian
💲 from US$10
La Rustica is a well-known Italian restaurant that is favored by kids and families. There is a big menu of pizzas and pasta that travelers of all ages enjoy.
It may look small from the outside but this is one of the biggest spaces in Sayulita with a second-floor party venue, a coffee bar on the side, and spacious indoor and outdoor dining on the first floor.
#22: Pizza Venezia
📍 Av. del Palmar 50
✨ Italian
💲 from US$10
Hidden in the northside part of town, this pizza house is popular for their vegan dough which you can request for an extra US$10. Budget travelers can also get a customized pizza for only US$7 – add all the ingredients that you like and the cost is the same!
Pizza Venezia does not serve alcohol but they let guests bring a bottle of wine or beer. Just one block from Venezia is a small tiendita Mini Super Chewbacca where you can buy alcohol for cheap. Make sure to swing by for drinks before going to Pizza Venezia!
#23: Tropical House
📍 Av. del Palmar Norte 9
✨ International
💲 from US$10
Right next to Pizza Venezia is the legendary Tropical House – a space for expats and foreigners living in Sayulita who does not want to participate in the bustling Sayulita nightlife.
Tropical House has a courtyard set-up that works any time of the day. The food menu is big but they will have whatever you are craving. As for drinks, they don't have a menu but they will inform you that they have anything you wish to drink. They can even customize cocktails to your liking!
#24: Yambak
📍 Av. del Palmar Norte 9
✨ International
💲 from US$10
Yambak is well-known to be a party place. To be honest, none of us locals will come here for food but when we started doing it, we realized that Yambak can be also on par with other Sayulita restaurants when it comes to food!
They only do not serve bar food but if you find yourself day drinking here and getting hungry by sunset, don't move to another place. Try their gourmet dinner menu packed with carefully curated Mexican and International dishes.
🪅 Tip: Yambak also offers the iconic chilaquiles breakfast (made by a local chef) at a particular time of the day.
#25: Sayulita Cafe
📍 Av. del Palmar Norte 9
✨ International
💲 from US$10
Ever heard of Chile Relleno? It's a traditional Mexican dish of chili stuffed with beef, pork, finely chopped and vegetables. It is quite hard to find this dish in other Sayulita restaurants so better come here for this!
Sayulita Cafe is also a hidden spot and is only popular with locals. This second-floor restaurant will give you a great view of the main avenue in Sayulita and is one of the best people-watching spots. Make sure to choose the table by the terrace!
#26: Orangy
📍 C. Jose Mariscal 33
✨ Smoothies, Raw Food
💲 from US$10
A small smoothie shack owned by a Mexican and British couple, Orangy is pretty straightforward: raw food and smoothies that will definitely take your hangover out.
If you want a full meal, their filling acai bowl is a local surfer's favorite – it's packed with nutrients, it is raw, and it is very healthy.
Orangy is on our top 10 most sustainable Sayulita restaurants list. Sit down here, chat with the owners, and see how they sustain this business ethically.
✈️ Ready for your trip to Sayulita? If you need more information about the best Sayulita restaurants, we'd be happy to update this post – just leave your questions in the comment box below or join our communities where we answer questions for FREE.
🇲🇽 Sayulita Travel Planning
✈️ How do I fly to Sayulita?
The airport that serves Sayulita is Puerto Vallarta International Airport. Our recommended booking platform is WayAway.
🚑 Do I need travel insurance to travel to Sayulita?
YES, YOU DO! do not travel to Mexico without insurance. Check insurance plans on SafetyWing for as low as US$40 for full travel coverage.
🚗 How much is the car rental from Puerto Vallarta Airport to Sayulita?
The normal car rental rate from PV Airport to Sayulita is $25 USD per day. Check prices at Rental Cars Vallarta.
🏨 Where can I get deals on Sayulita hotels?
The best platforms for booking your hotel in Sayulita are Hostelworld (for budget travelers) and Booking.com for boutique hotels. You will find great deals on luxury hotels on Expedia.
☕ Readers who support Mexico Insider help us continue bringing you the most honest content about Mexico. Consider donating to our coffee fund if you like the content that we do.
Trisha traveled to Mexico in 2018 and after a year, she found herself obtaining a 4-year residency visa in Mexico. She is the Editor-in-chief for our Living in Mexico Series which has helped over 3,000 Americans move to Mexico with ease. Trisha currently resides in Cabo San Lucas, Baja California Sur.