Getting around Sayulita is way easier on foot. You don't need anything else but we've put together this Sayulita transportation guide for you to know your options when in town.
Welcome to Sayulita, traveler! First of all, you don't have to worry about getting around Sayulita since it is a walking town. If your accommodation is in the center and you love walking, then you will not need anything more than this.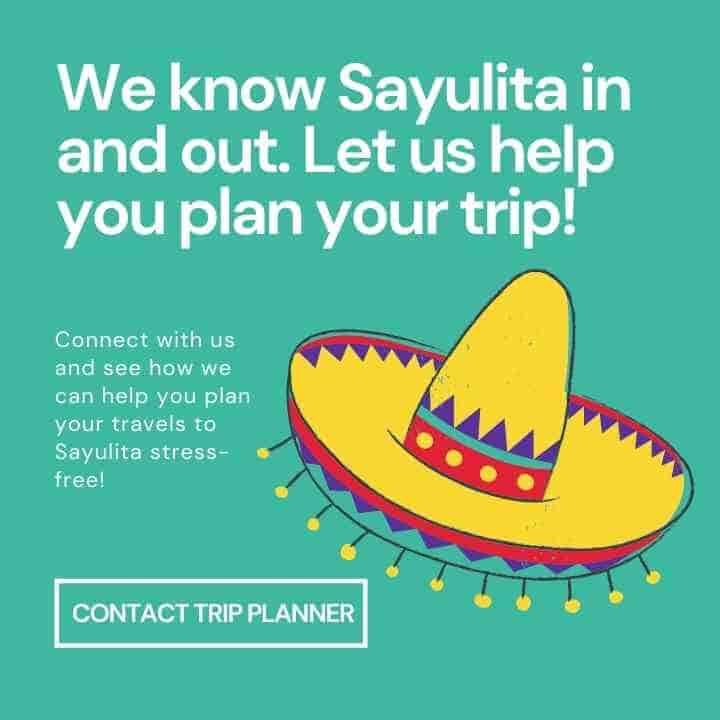 However, some accommodations are on steep hills (i.e. those villas overlooking the ocean). As someone who is not familiar with the Sayulita layout, our best advice is for you to ask your landlord or Airbnb host about the terrain of the property.
Airbnb hosts will disclose the road type where the property is located and will tell you if it's off-road, jungle road, or cobblestones. If this is the case, continue reading this Sayulita transportation guide – we've listed down everything you need to know about getting around Sayulita in this post.
You might also like:
🚕 Is there Uber in Sayulita?
Yes, there is Uber around Sayulita but it's a hit-and-miss. Most drivers only accept rides if it's going to Puerto Vallarta or another neighboring town but within Sayulita, the white taxis that are parked in the plaza are the better taxi transportation option.
🛣️ How far is Sayulita from Puerto Vallarta Airport?
On a private vehicle, the trip to Sayulita from Puerto Vallarta Airport is about 45 minutes. If you take the bus, it will take 1.5 hours as the bus stops at many small towns before Sayulita.
✈️ Getting to Sayulita from Puerto Vallarta Airport
The easiest way to get to Sayulita from Puerto Vallarta Airport is by a private taxi driver. Our local taxi driver costs $55 USD for a one-way ride and this is the cheapest option.
If you want a certified airport taxi driver who will pick you up at the immigration gate (holding a sign with your name), you can opt for the VIP taxi service that starts at $125 USD.
Taking an Uber to Sayulita from Puerto Vallarta Airport is also another cheap way but Ubers are not allowed to enter the airport premises. You will have to wait at the foot bridge outside the airport in order to meet your driver (5-min walk).
Getting on a public bus is also cheap but you have to cross the footbridge to hail the bus on the other side of the airport highway. The bus only costs $4 USD and the travel time can take up to 1.5 hours.
🚶‍♂️ Sayulita by foot
Sayulita is a walking town. You can completely stroll the whole center of Sayulita within 20 minutes (on foot). The streets are narrow (and are mostly one-way) so expect car traffic to be heavy.
The streets are also very safe and you will often see children all over town (whether crossing the street to go to school or playing in the plaza). Cars usually stop for pedestrians so you don't have to worry about safety while walking.
In order for you to know if your hotel in Sayulita is walkable to all the landmarks that you need to visit/be in, you can use Sayulita plaza as a reference for distance.
💳 Renting a golf cart in Sayulita
A golf cart is widely used in Sayulita and is the main mode of transportation for residents and expats. You will see a pool of golf carts around the streets of Sayulita and most of them are customized to fit Sayulita's cobblestone streets.
The daily rental rate for golf carts in Sayulita starts at $55 USD for a 4-seater and can go up to $100 USD for a 6-seater cart. Depending on the number of days of your rental, you can easily haggle for the daily prices.
At the moment, we are not recommending any golf cart company in Sayulita but you will see most of them lined up in the northside part of town, by Calle Miramar.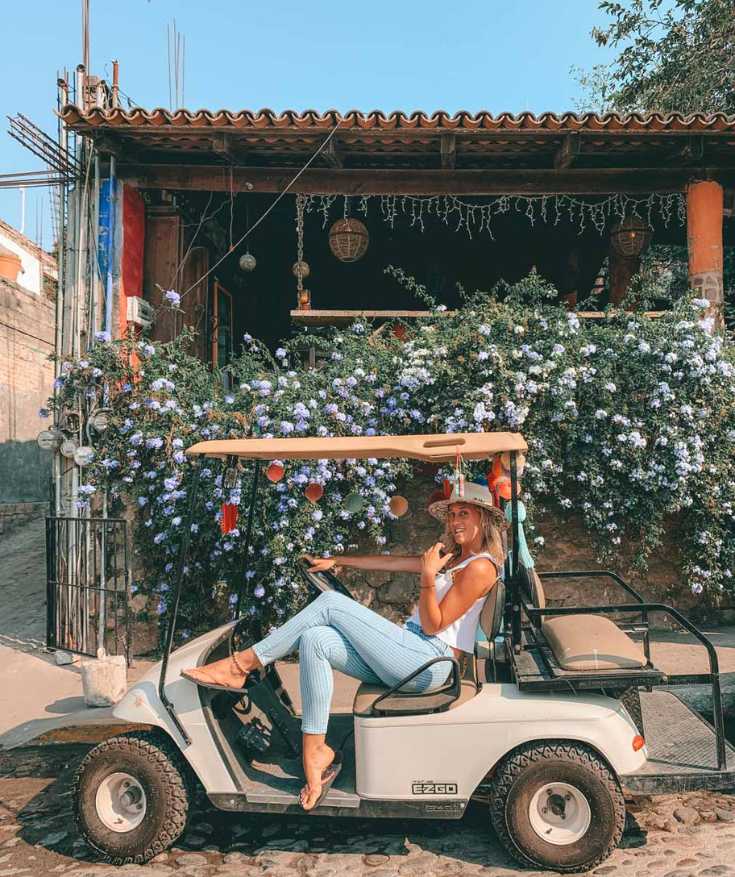 🚖 Getting around Sayulita by taxi
If your accommodation is not near the center, you can always take a taxi to your accommodation. The certified white taxis are parked by the plaza and cost $5 – $15 USD depending on where your accommodation is.
It's always easy to get a taxi by the plaza since they are always there but if, for example, your accommodation is remote (i.e. the jungle villas), it's not that easy to call a driver but get in touch with us and we will share some contact numbers of drivers who can pick you up at your accommodation to go to town.
The white taxis parked by the plaza can also take you to nearby towns such as San Pancho, Lo de Marcos, and Punta Mita. Expect to pay up to $50 USD per ride for these routes.
🚌 Getting around Sayulita by bus
There is a bus station in Sayulita where you can go and take a bus to Puerto Vallarta and other neighboring towns in Nayarit. The buses leave every 30 minutes and you don't even need to book in advance.
If you're going south, take the bus with a Puerto Vallarta sign. This bus will stop in Bucerias, La Cruz, Nuevo Vallarta, and finally Puerto Vallarta. It can take up to 1.5 hours to get to PV since this bus stops a lot.
If you're going north, to San Pancho, for example, take the bus with a sign that says "Lo de Marcos or San Pancho."
🚗 Getting around Sayulita by car rental
This is the best way to get around Sayulita and neighboring towns in Riviera Nayarit. The car rental company in Sayulita already closed so your best bet is to rent a car at Puerto Vallarta Airport upon arrival.
The daily car rental starts at $25 USD per day and the full tank for a Sedan is less than $50 USD. Renting a car to go around Sayulita is usually the option for surfers who want to explore the coast of Nayarit.
To rent a car at PV Airport, you will need to present a valid driver's license (anything from your home country is accepted) and a credit card to pay the deposit. The deposit depends on the number of days you are renting a car (i.e. $300 USD per week).
Having a car during your vacation in Sayulita is very convenient. However, with the narrow streets and small town layout, expect parking to be difficult.
There are many parking lots within the town (from US$5) but they are not open 24 hours. Most parking lots close at 8:00 PM so if you are spending the whole evening partying in the center, bringing a car might not be a good option.
✈️ Ready for your trip to Sayulita? If you need more information about this Sayulita transportation guide, we'd be happy to update this post – – just leave your questions in the comment box below or join our communities where we answer questions for FREE.
🇲🇽 Sayulita Travel Planning
✈️ How do I fly to Sayulita?
The airport that serves Sayulita is Puerto Vallarta International Airport. Our recommended booking platform is WayAway.
🚑 Do I need travel insurance to travel to Sayulita?
YES, YOU DO! do not travel to Mexico without insurance. Check insurance plans on SafetyWing for as low as US$40 for full travel coverage.
🚗 How much is the car rental from Puerto Vallarta Airport to Sayulita?
The normal car rental rate from PV Airport to Sayulita is $25 USD per day. Check prices at Rental Cars Vallarta.
🏨 Where can I get deals on Sayulita hotels?
The best platforms for booking your hotel in Sayulita are Hostelworld (for budget travelers) and Booking.com for boutique hotels. You will find great deals on luxury hotels on Expedia.
☕ Readers who support Mexico Insider help us continue bringing you the most honest content about Mexico. Consider donating to our coffee fund if you like the content that we do.
Trisha traveled to Mexico in 2018 and after a year, she found herself obtaining a 4-year residency visa in Mexico. She is the Editor-in-chief for our Living in Mexico Series which has helped over 3,000 Americans move to Mexico with ease. Trisha currently resides in Cabo San Lucas, Baja California Sur.