Welcome to Mexico Insider's Sayulita street food icon series! We launched this Youtube show in 2019 and have completed one season with 4 episodes of the best street food in Sayulita.
When we think about Mexican street food, taco is what always comes to mind, but in Sayulita, we have every possible Latin American street food you can imagine.
This town has diverse expats from South America. You will find the classic arepa being sold by a Venezuelan lady on the beach as well as street alfajor made by a true-blue Argentinian.
In this article, I will share with you all the Sayulita street food stalls to try together with a little story about their family businesses.
Plan your trip to Mexico with us! Get expert travel advice and customized trip-planning itinerary from our local experts on the ground.
💰 Is food in Sayulita expensive?
Restaurants in Sayulita are quite affordable. Decent meals start at US$7 and there are only a few luxury restaurants that have US$30 meals on their menu.
This Sayulita street food article idea came about when we received questions from young backpackers and solo travelers on a budget who are open to exploring affordable (and delicious) food options in Sayulita.
Sayulita is still way cheaper than Tulum when it comes to food put it is pricier than its neighbor, Puerto Vallarta.
🤢 Is street food in Sayulita safe to eat?
Most Sayulita street food stalls are family-run and I know these families, especially the Mexican moms who are meticulous about the food they cook in their homes.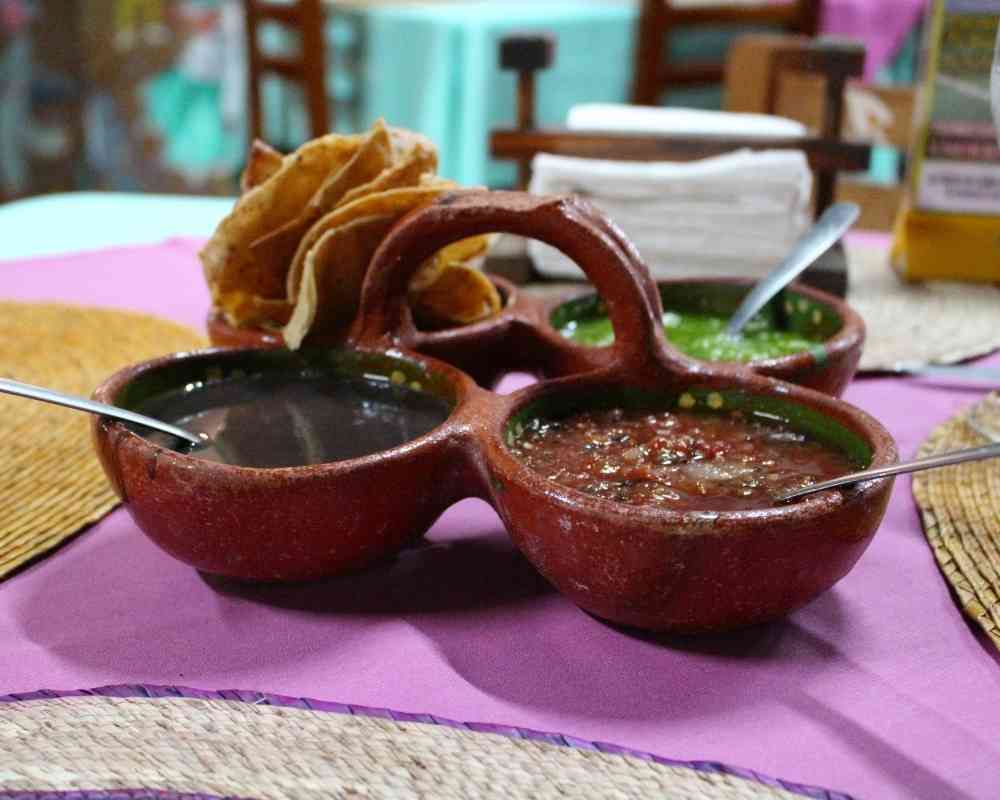 I believe what makes most foreigners sick with street food is the heavy Mexican salsas that are optional but since it is served by default, we tend to want to always try them.
🌿

Sayulita street food sustainability and ethics
While Sayulita has an active community fighting for environmental sustainability and ethics, Mexican street food still uses plastic and generates a lot of trash daily.
We want you to enjoy these Sayulita street food stalls but we also want to remind you to bring your own plates and cutlery when you go to these places.
🗺️ Map Sayulita street food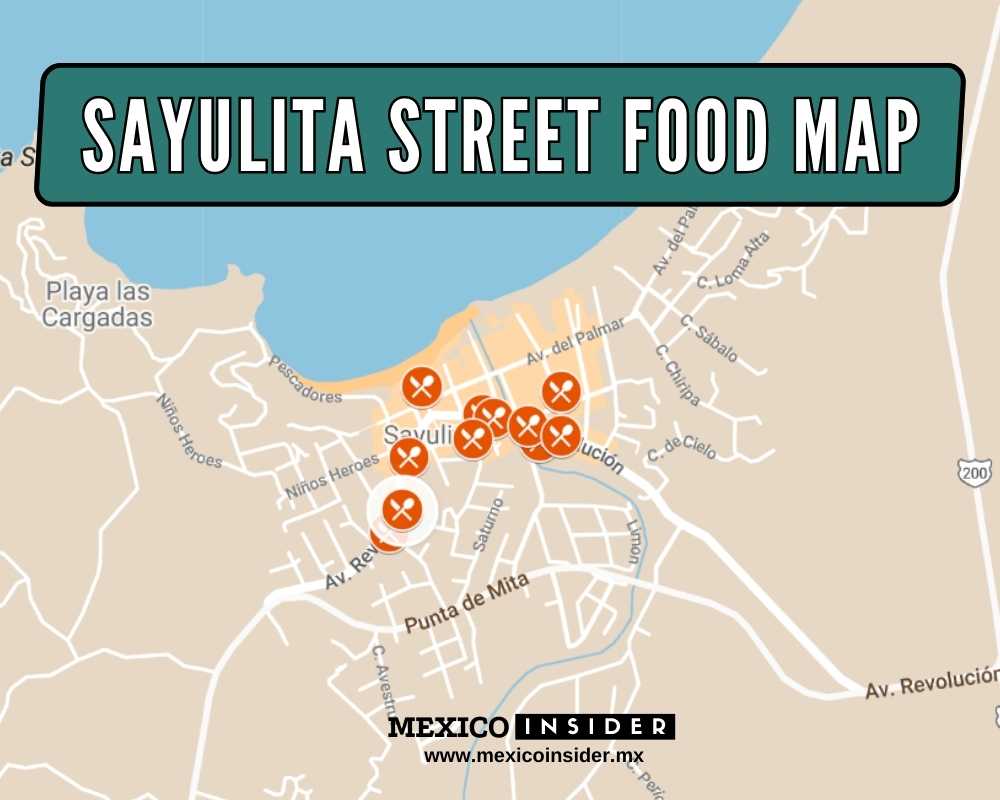 👉🏽 Open map of street food in Sayulita in full view
🌮 The best Sayulita street food stalls
Chilaqueen
Marcela and I met at a random Mexican party in Sayulita and that's when I got to know about her chilaquiles food cart. She is a licensed lawyer from Mexico City and decided to leave her job to live a simple life in Sayulita.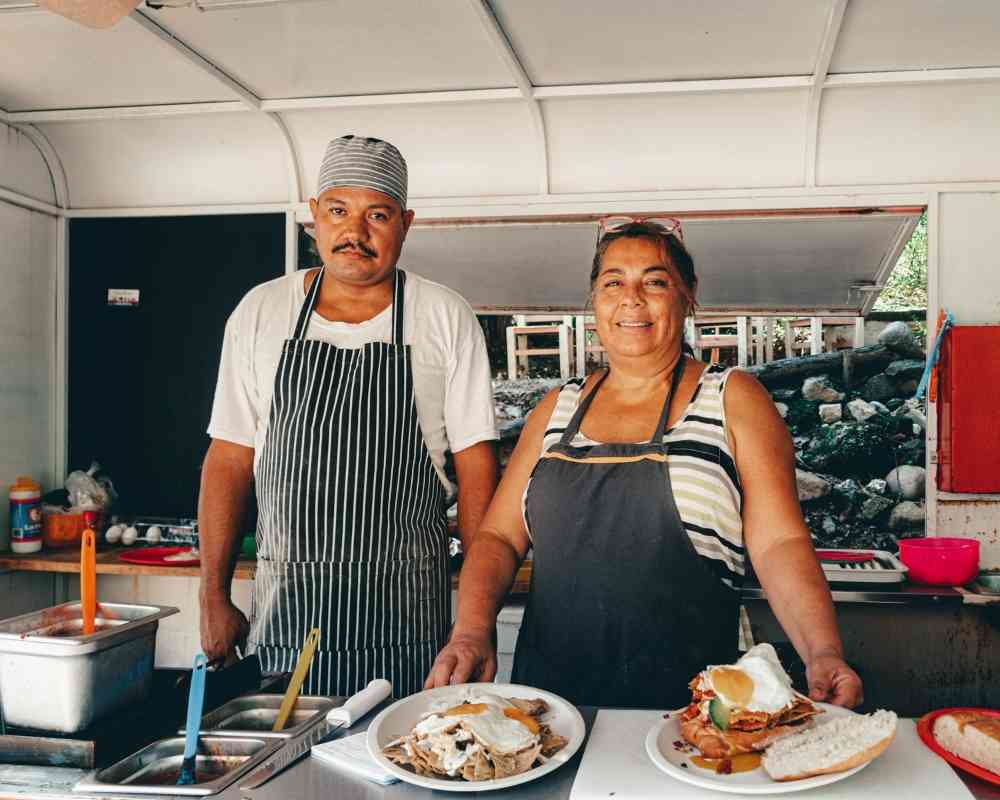 She opened Chilaqueen, which is a food cart with tables and chairs on the streets and she makes the best chilaquiles! Be careful though, she does not adjust the spice level for her clients.
She believes that when you come to Mexico, you need to adapt to how the Mexicans eat and cook. Spicy food is very iconic in Mexico but I'm sure she'll adjust it for you if you ask nicely.
Tacos Ivan
Tacos Ivan is the oldest family-run taqueria in Sayulita that has evolved from a street food stall to a dining taco restaurant. Their 2 branches by Yambak and by Avenida Revolucion are always packed and both are open till late!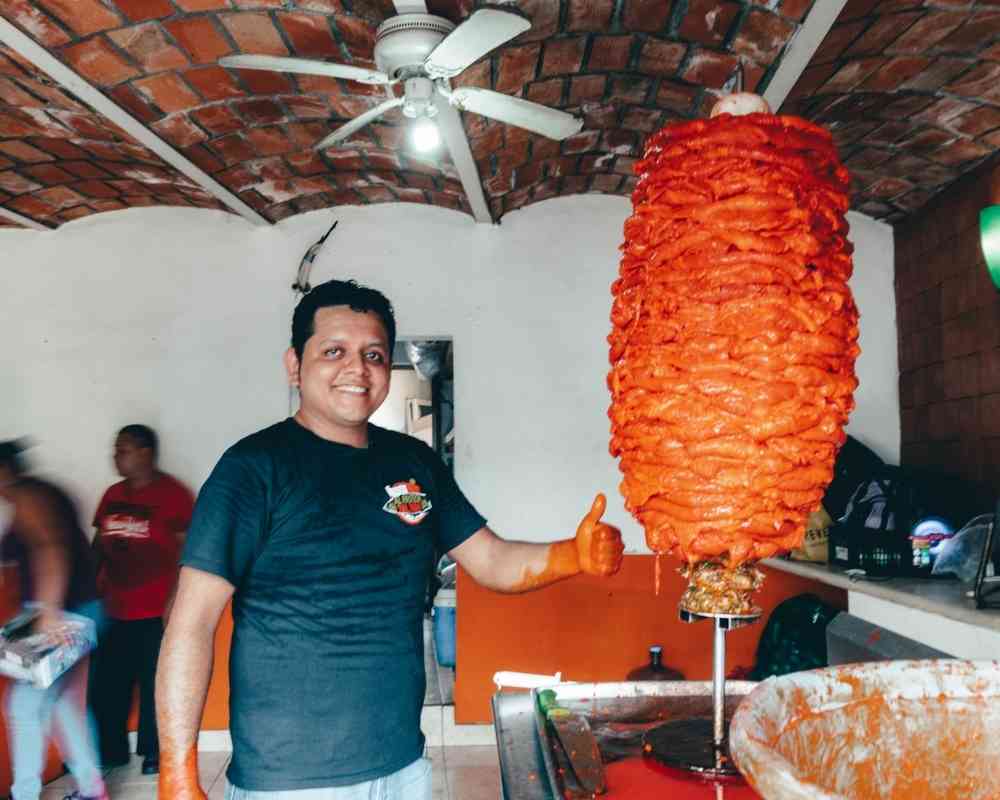 Their specialty is tacos al pastor which they make fresh daily by rolling the meat and seasoning it on a rotisserie. They also have a variety of tacos on their menu such as adobada, gringa, and suadero which costs less than US$2.
La Fogonera
Tamara, Radaii, and Jenny are professional chefs who left their life in Veracruz, Mexico to travel with their food truck. On their travels, they came across Sayulita, loved it, and never left.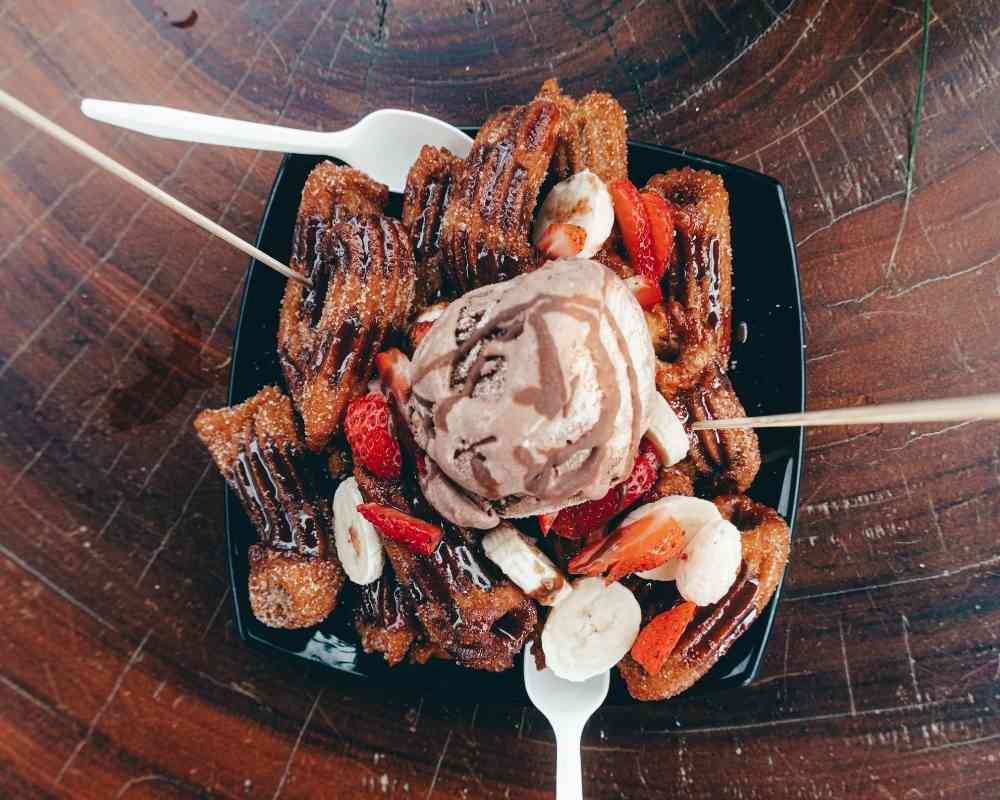 Their burgers are really cheap but it's very filling. I remember one time I visited them and they did not have artisanal bread – Tamara told me that she was only using the normal Bimbo burger buns that day and she refused to sell me any.
They always strive to serve the best food and this is what I really like about them. They are also so warm, humble hard workers – I hope you can support them!
✨ Local tip: After your sumptuous burger, make sure to order churros for desserts. It's a big plate for sharing and it's the best churros in town!
Marquesitas Sayulita
Marquesitas is a sweet delight originally from the state of Yucatan. Paco, the owner of the marquesitas food stall is originally from Yucatan.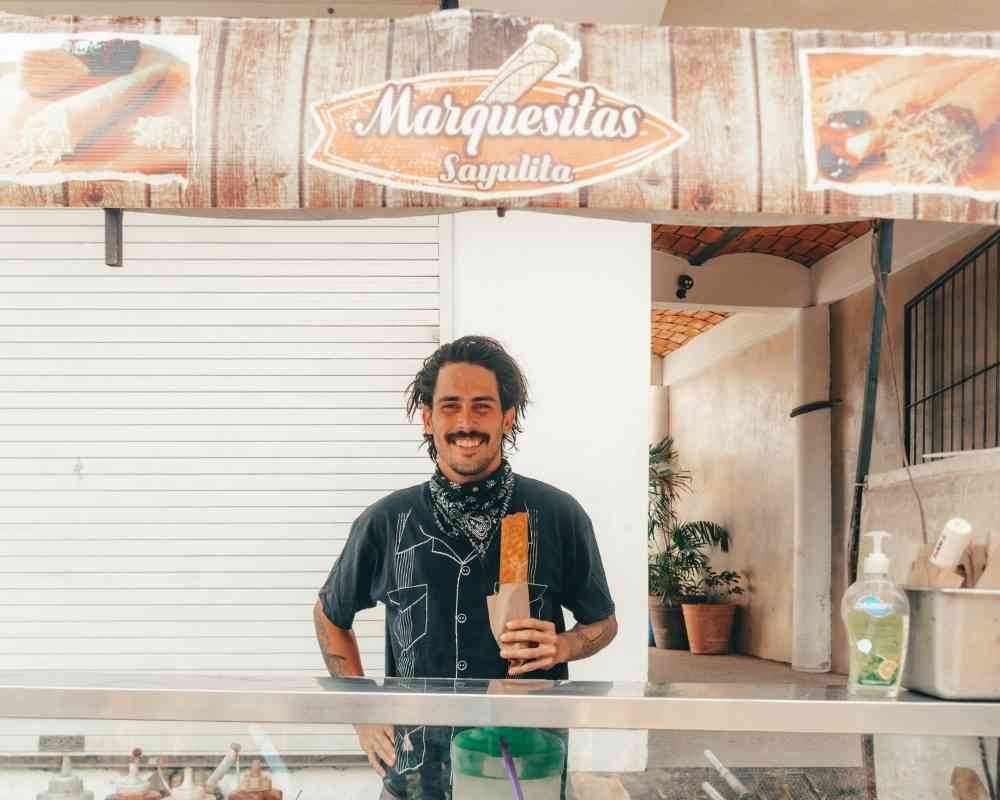 Together with his brother and sister-in-law, they brought this Yucatan favorite to Sayulita and it's the only one in town! If you haven't tried marquesitas, you need to find Paco's cart around town. He usually switches places and it's not that hard to spot!
Birria Fabiola
A hangover from a Saturday night out in Sayulita? Birria Fabiola is a family-run restaurant that only serves birria. Birria is a typical Jalisco dish that is a meat stew (goat, beef, or mutton) that is cooked for 10 hours.
I was able to witness how Fabiola and her family make their birria when I visited their home- it really is tedious and requires special hands!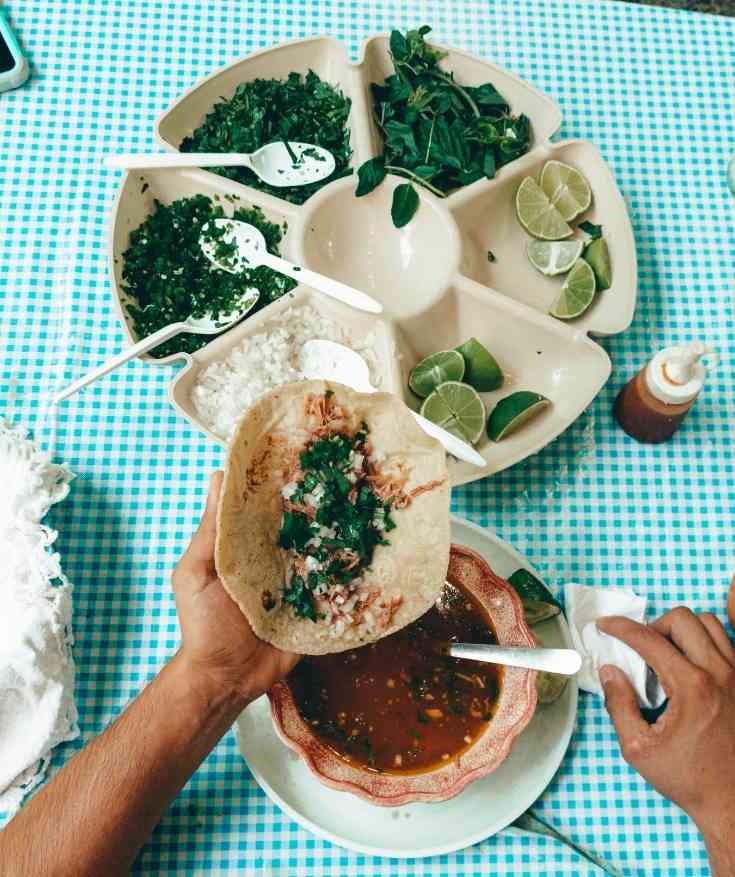 Since Birria Fabiola is not on Google maps, I am going to try my best to explain how to get to her. You have to go to Magaly's store on Punta de Mita highway.
Once there, you can easily spot Birria Fabiola (it's a garden-like set-up) or simply just ask Magaly where it is – she will point you in the right direction!
Make sure to come and get your birria before 11:00 am – they run out very fast since she's only open once a week!
Pollos Yolanda
Chicken on the grill is always a Mexican favorite, especially those who don't have time to cook during their lunch breaks. This makes Pollos Yolanda very popular during lunch breaks – the line here is always long!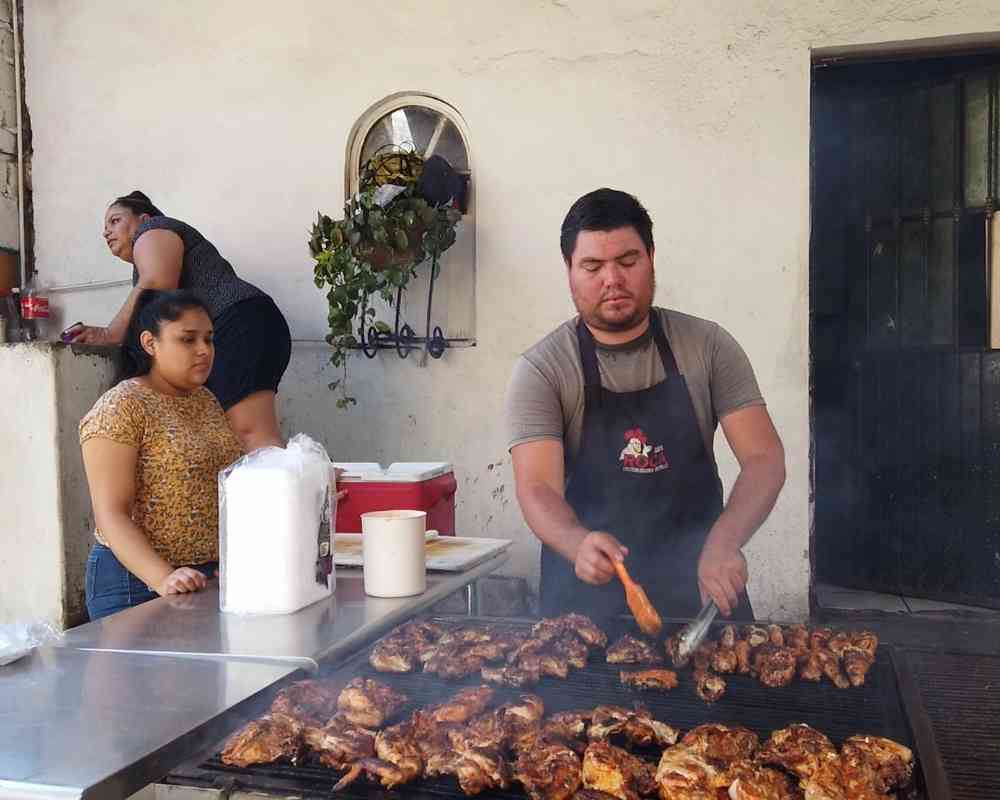 It is also located on a hill (where Yolanda's family lives). You will get to see a Mexican local home when you visit Pollos Yolanda as all of her family members are part of the business!
Sayulita's Friday Market
Every Friday, Sayulita's mercado del pueblo is open and there are lots of food options here. I make sure to have brunch here every week because you won't see these guys often – they don't have a permanent 'puesto' in town.
My favorite in the mercado is the paella and the choripan (chorizo sandwich). You can also buy artesanal breads, farm-produced vegetables fruits, and vegetables, spices, etc if you want to keep some for your home cooking.
Hot Churros
Churros is another Latin American favorite sweet that originated from Spain and the Middle East. In Sayulita, there is one street churros by the Hippie Market that we can't get enough of!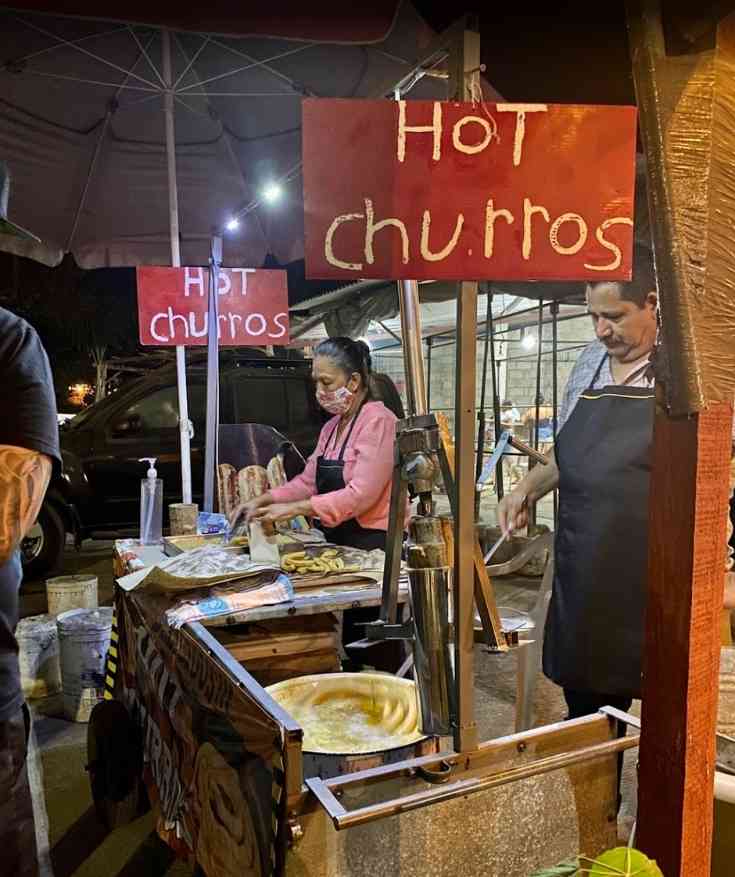 Whenever I think about having churros, this is the place I go to and they are usually open til late. The best thing about this street food in Sayulita is that they will cook the churros right in front of you.
My personal favorite is the cinnamon and the dulce de leche. I would also recommend trying it plainly (sugar only).
Si Hay Elotes
📍 Calle Playa Azul 2 (outside Pakeke)
Elote is corn in a cob char-grilled and usually topped with chili, garlic, mayo, and cheese. You can also choose to have it in a cup (usually called esquites in Mexico).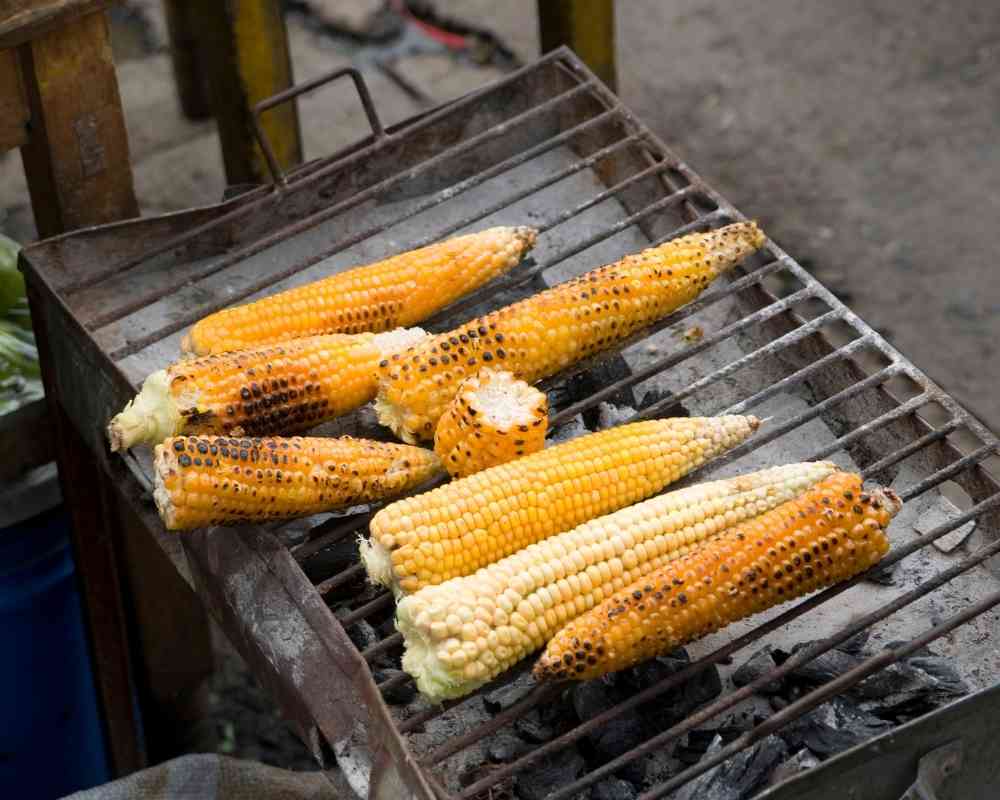 Although it is not my favorite, elotes and esquites are very popular during the summer months in Sayulita. Kids always eat them after school. It's sort of a healthier junk food as it is made from real corn.=
Gabi's Fish Tacos
📍 outside Subway in Jose Mariscal Ave
A popular puesto that is literally a hole in the wall is El puesto de Gabi. Gabi serves you herself her delicious fish tacos, battered and fried.
The taco is made with mahi mahi, also known as dorado or toro in Spanish, which means "golden" and "bull" respectively.
On top she puts lettuce, cabbage, and pico de gallo; then you can add the dressings you choose from several homemade salsas, chile-infused olive oil, red and green salsas, onion with habanero, and other options.
I sat down with Gabi and spoke to her about how she prepares her food, how she serves it, what her popular dishes were, and her personal favorites.
As it turns out Gabi also sells two types of ceviches: a fish ceviche and an aguachile ceviche. She prepared us one of each and they were quite good.
Aguachile is typical of the west coast of Mexico. It is a shrimp dish, usually served with tortilla chips or tostadas. The shrimp is served raw but cured in lime juice along with chili peppers, cucumber, onion, cilantro, and salt. It is customary to prepare aguachile with a mortar and pestle.
Gabi opens around 10 in the morning and leaves when all of the fish and shrimp in her cooler is gone. You can find her at the corner of Revolution and Jose Mariscal (in front of a tree commonly referred to as "the drunk tree" in honor of the borrachos that enjoy its shade).
Gabi is not also on Google maps but you can easily spot her when you go to Subway in Jose Mariscal Ave.
The Real Fish Taco
The Real Fish Taco is a semi-puesto just a stone's throw from the beach. It started as a stand-alone food cart, but due to its popularity, it later expanded to occupy a room in the building behind it.
Just steps away from the beach, you can recognize this food cart by the bright red letters proclaiming "FISH TACO MY AS$!!! Get a real one!" and a yellow awning it has been a Sayulita icon for over a decade.
It was the second participant in our True Value fish taco challenge, and our hosts Rodrigo and Julieta were impressed by the salsas, the location, and the quality of their signature dish, FISH TACO MY ASS!!!
Hamburguesa Papo's
Sayulita loves to party. Party-goers love late-night eats. After most restaurants close, dining options are reduced to late-night eateries.
Taco stands, bacon-wrapped hot dog joints, and hamburgueserías occupy that niche, serving hungry revelers on their way home to bed late at night.
One of those late-night eating spots recently won our "Best of the Best" competition for the best hamburger in Sayulita.
Diana, also known as Sujey Chavez, is the chef and proprietor of Hamburguesas Papo, a late-night staple at the southern corner of Revolución and Jose Mariscal.
Con Canela
A new unique addition to the Sayulita street food stalls, Con Canela is a mini-van located in Calle Playa Azul that sells waffles, crepes, and great coffee on the street!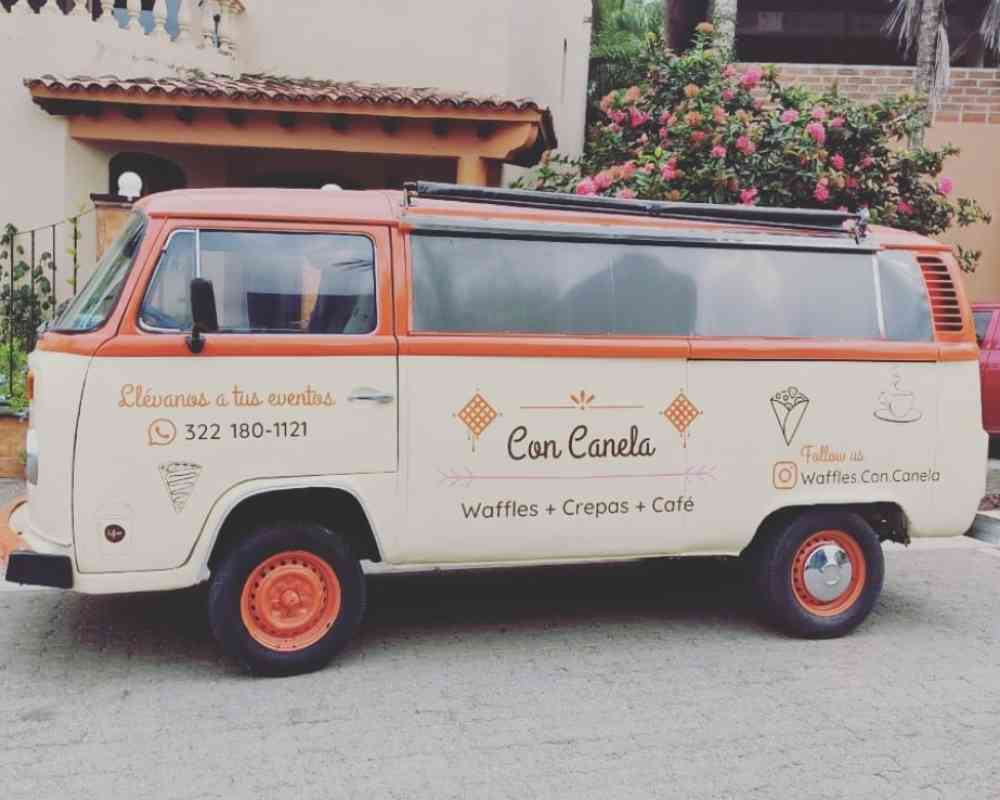 It is located in a more quiet area of town and they have a few chairs and tables set up outside the van. They also do a lot of events so it's great to have this van in your accommodation in Sayulita for brunches!
🇲🇽 Sayulita Travel Guide
Trisha traveled to Mexico in 2018 and after a year, she found herself obtaining a 4-year residency visa in Mexico. She is the Editor-in-chief for our Living in Mexico Series which has helped over 3,000 Americans move to Mexico with ease. Trisha currently resides in Cabo San Lucas, Baja California Sur.