Los Cabos is definitely one of the thriving resort cities in Mexico. In this post, our editors handpicked the best resorts in Cabo San Lucas, Baja California Sur.
Cabo San Lucas resorts is a popular vacation accommodation type in Los Cabos, Baja California Sur. Although there are many hotels in Los Cabos, staying in a resort is the smarter way, especially if you only have a weekend in Cabo.
Between San Jose del Cabo (SJC) and Cabo San Lucas (CSL), SJC has more resorts that are suitable for families but young people and/or couples on a honeymoon prefer to participate in the blaring Cabo San Lucas nightlife.
Resorts in Cabo San Lucas are complete which absolutely means that you don't have to leave the property if you need anything. It's like an adult's Disneyland, where everything is provided for.
Mind you, the food served in Cabo San Lucas resorts is excellent. I was quite impressed with how they maintained the quality of the food. Although I must tell you, many restaurants in Los Cabos are worth trying.
I recommend some of the resorts in Cabo San Lucas, including pricing, location, amenities, etc. I've stayed in most of these places so I will try my best to give you an honest review.
Of course, if you ever push through your trip to Cabo San Lucas, I would be happy to meet you for coffee and drink – I live here! Just get in touch!
Plan your trip to Mexico with us! Get expert travel advice and customized trip-planning itinerary from our local experts on the ground.
🆚 San Jose del Cabo vs Cabo San Lucas resorts
Travelers who particularly choose to travel to Cabo San Lucas (and not San Jose del Cabo) are up to one thing: they want to experience the Cabo nightlife.
Resorts in San Jose del Cabo are bigger and are way far from the center but they all have van services to take you to the popular spots. Most SJC resorts are also guaranteed all-inclusive.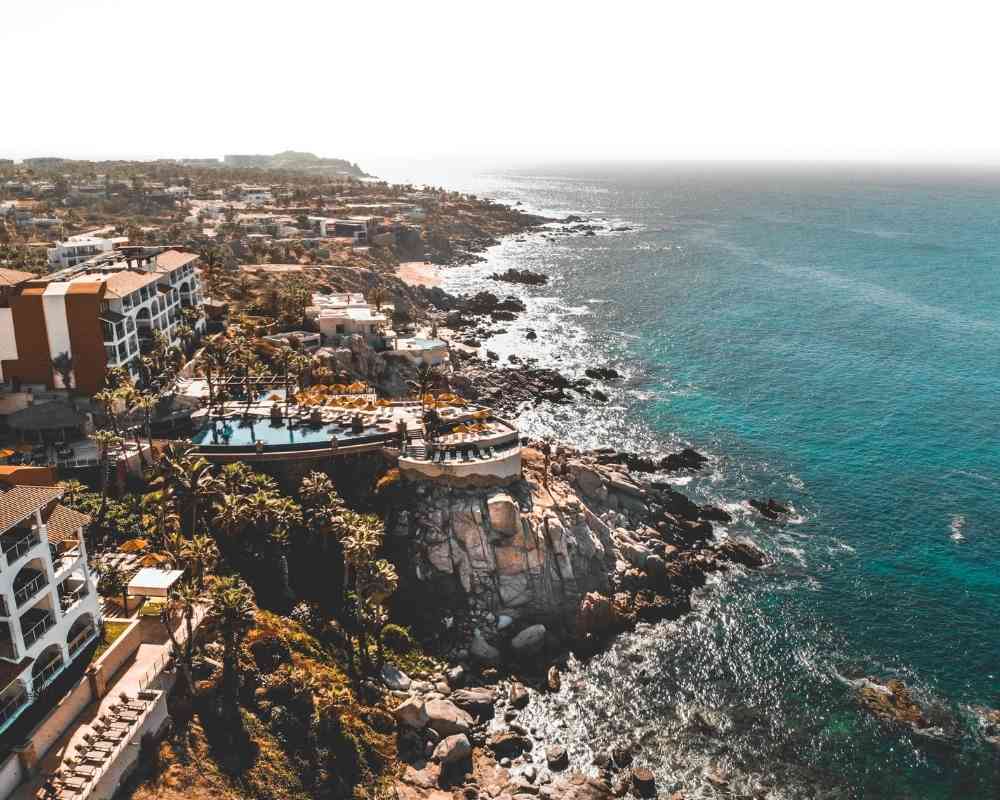 However, if you stay in a resort in Cabo San Lucas, you will be closer to the nightlife scene and everything will be within walking distance.
I would say that Cabo San Lucas is more for young travelers and San Jose del Cabo is for families traveling with kids. I do have a bias on CSL since I live here.
Still, I feel like both sub-cities are appealing to any traveler. You need to be clear about the purpose of your travel and/or what occasion you are celebrating.
🌟 Best Cabo San Lucas resorts
#1: Pueblo Bonito Montecristo Luxury Villas
📍 Address: Predio, Paraíso Escondido 1
💲 Price: from $881 USD
🌟 Rating: 9/10
Rent a luxury villa at Pueblo Bonito Montecristo that has ocean views and an infinity pool. Each of the 3 bedroom units has tubs and comfortable King-sized beds.
You need a car to stay in Pueblo Bonito but the resort also has a free van transfer to take you anywhere around the compound or even to the city center.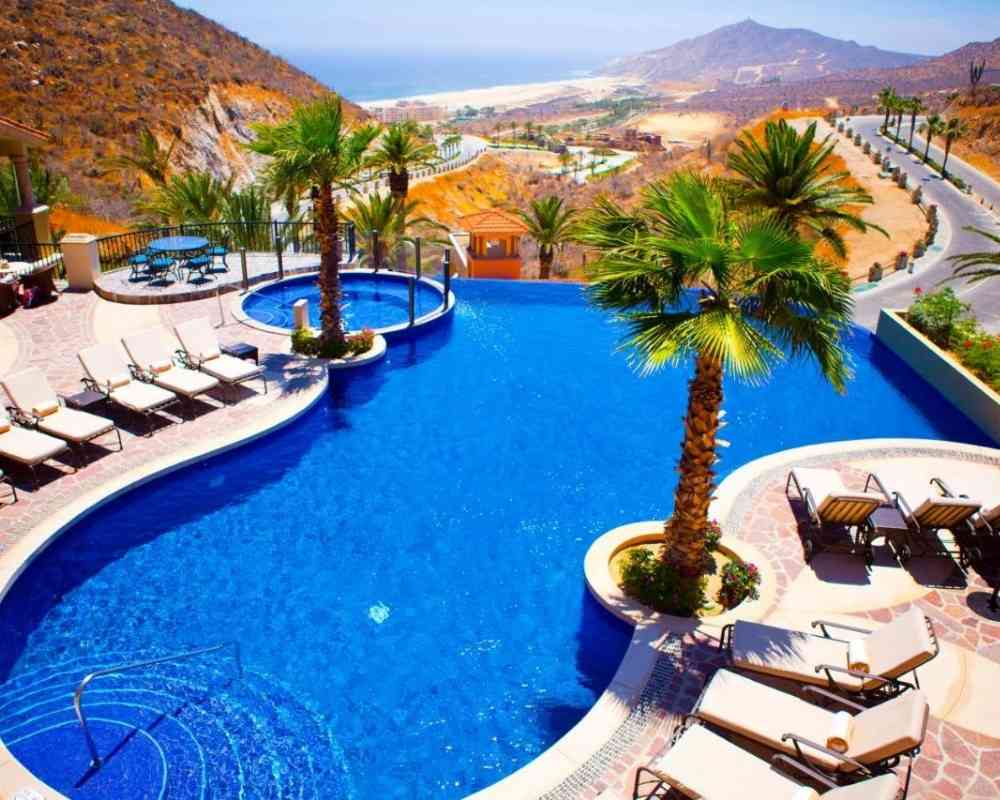 "The Villa my family and I stayed in was absolutely wonderful with an amazing view! Great restaurants, Incredible staff, especially our concierge, Raul, he went above and beyond to make sure my family and I were satisfied throughout our stay. The hospitality made me feel right at home! I will definitely come back again next year!"

Catherine, United States
#2: The Cape
📍 Address: México 1 Km 5
💲 Price: from $850 USD
🌟 Rating: 9/10
A high imposing glass building, The Cape is our favorite high-end resort in Cabo San Lucas. All rooms have a private balcony overlooking the ocean and they also have a big shore area for those who want to enjoy the beach.
For those who don't enjoy the beach as much, there are two swimming pools at the Cape with bars and restaurants at your service.
"Truly an amazing property with best staff from check in with Marco Vazquez to concierge Bree who was super helpful in planning an amazing sailing/snorkeling cruise, to the pool area with Jaime, the pool concierge and waiters Lenny, Aldo and Leo. It is the place to stay in Cabo!"

Sanders, United States
#3: Grand Solmar
📍 Address: Av Solmar 1A
💲 Price: from $550 USD
🌟 Rating: 9/10
Solmar has a great compound surrounded by the ocean and mountains. I discovered Solmar when I went on a sunrise hike within the property which you can do even if you're not a guest there.
Solmar has its own private beach access but sometimes doesn't allow guests to swim. Note that they don't really have lifeguards so swim at your own risk.
There are many pools on the property and each of them has its own bars. I didn't feel like it was super crowded when I stayed here in March 2022. You'll definitely have space and privacy because the property is big.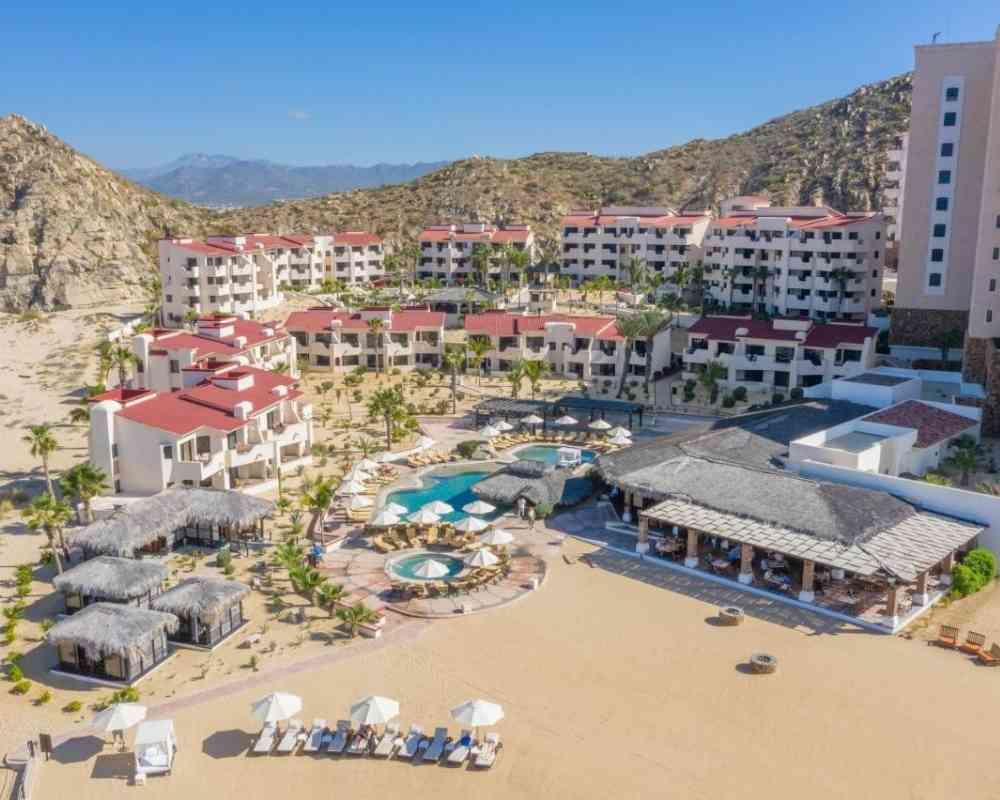 "Absolutely beautiful property right on the beach with the most beautiful views. Several pools to choose from with great pool service for cocktails or snacks, many dining options and all of the food was great . Rooms are very spacious with nice balconies and all have views."

Elisa, United States
#4: Hacienda Beach Club & Residences
📍 Address: Valentín Gómez Farias S/N
💲 Price: from
🌟 Rating: 9.5/10
Hacienda Beach Club and Residences is located in a gated community right by the marina. You can access the Cabo Marina within 2 minutes and it is just 10 minute walk from downtown Cabo San Lucas.
Hacienda is a smaller-scale and more exclusive Cabo San Lucas resort. It only has 6 different villas but all are spacious. This is also a residential area and is great for families traveling with kids.
"This place is fantastic! The property is beautiful, right on the beach, and the two bedroom suite was phenomenal. Staff was extremely attentive and went out of their way to help. Pools, hot tubs, restaurant, and bar all top notch. Guys at the activity center helped get many things going for us."

Tom, United States
#5: Hilton Grand Vacations Club La Pacifica Los Cabos
📍 Address: Carr. Transpeninsular Km 19.5
💲 Price: from
🌟 Rating: 9.3/10
The Hilton Grand Vacations Club La Pacifica is one of the Cabo San Lucas resorts with a good location. There is no age limit in the Hilton and there are also family rooms available.
This resort is located on a private beach but be careful when swimming as this beach is on the pacific side of Los Cabos. The rooms have ocean views and the facilities are really new.
"The staff, service level, food, amenities and cleanliness were absolutely incredible. The Hilton exceeded our expectations, we will absolutely be returning!!"

Christian, United States
#6: Marina Fiesta Resort & Spa
📍 Address: Paseo de la Marina Lotes 37 y 38
💲 Price: from
🌟 Rating: 8.1/10
Right in the heart of Cabo Marina (as the name suggests), Marina Fiesta Resort and Spa has views of the ocean and the famous Cabo Arch. There are restaurants on the property and special amenities include a gym, 2 swimming pools, and a pool bar.
You can access El Medano Beach, Luxury Avenue, and Cabo Marina within a 2-minute walk. This resort is in the center of Cabo San Lucas so you won't need to rent a car or take an Uber!
"The food was excellent. The staff went above and beyond. To be honest the pictures don't do this place justice. My wife and I had a great stay celebrating our anniversary. We will definitely be back!"

Antoine, United States
#7: Sandos Finisterra All Inclusive
📍 Address: Blvd. Paseo de la Marina S/N
💲 Price: from
🌟 Rating: 8.5/10
The Sandos Finisterra is one of the best resorts in Cabo San Lucas because of its prime location. You don't have to rent a car or take a taxi – everything is within walking distance!
With the number of activities and amenities inside this resort, you won't even think about leaving or exploring somewhere else. There are 3 outdoor pools, 2 tennis courts, a fitness center, and a kids club in this resort. This is one of the best options if traveling with children.
"The location and the landscape are at the top-notch in this area. You will never get bored with the views either on the marina/downtown side or on the ocean side. The Junior Suite is spacious enough and very comfy. A variety of choices in restaurants and bars are doing their jobs just right. The aerobics sessions in the pool and the evening shows are very enjoyable too."

Yasukats, United States
🏖️ Cabo San Lucas All Inclusive Resorts Adults Only
#8: Breathless Cabo San Lucas
✅ Best bachelorette party resort in Cabo San Lucas
💲 from US$660
Breathless is right in front of the Marina so expect to hear the hustle and bustle of the Cabo nightlife while staying here. We ranked Breathless as the top bachelorette party hotel in Los Cabos because of the easy access to parties, bars, and restaurants.
They have a top-floor infinity pool that is overlooking the arches of Cabo. Within the property, there are many restaurants and you can also access the restaurants next to it (El Medano Beach).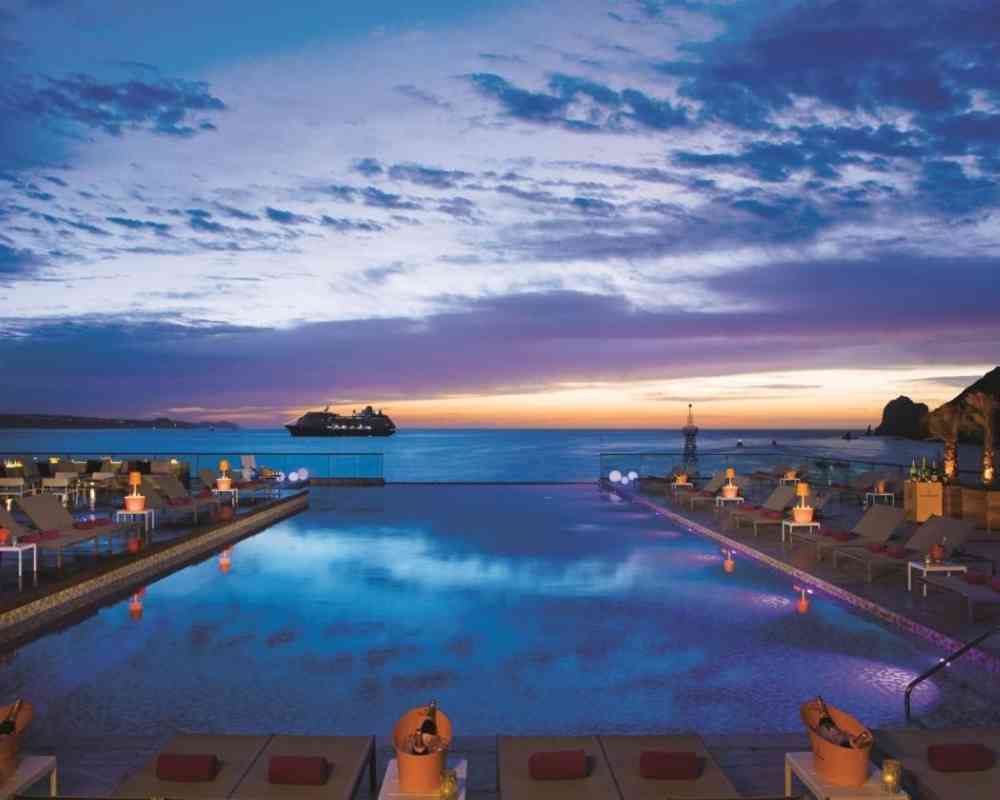 #9: Riu Palace Cabo San Lucas
✅ Best resort in Cabo San Lucas for solo travelers
💲 from US$300
With many branches all over Mexico, Riu Palace is a resort in Cabo San Lucas that we recommend for solo travelers. You can stay here on your own for as low as US$125 per night!
Riu is not close to the Cabo San Lucas nightlife but you will have everything you need inside this resort. It is also among our top all-inclusive resorts in Los Cabos.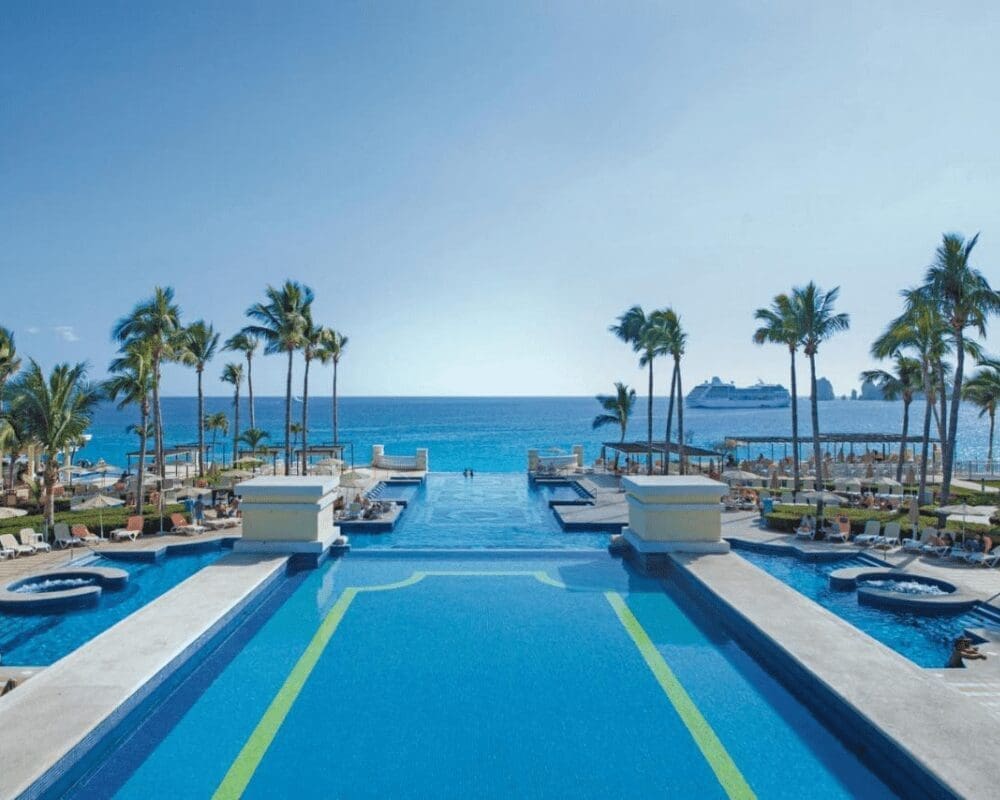 👪 Cabo San Lucas All Inclusive Resorts for families
#10: Hacienda Encantada
✅ Best resort in Cabo San Lucas for honeymooners
💲 from US$650
Hacienda Encantada has the widest shoreline and beachfront property in Cabo San Lucas. There is a bar with an infinity pool overlooking the Cabo arc. It is highly recommended for couples traveling for a honeymoon.
The number of restaurants inside Hacienda Encantada is impressive. There are different types of cuisine (Mexican and steaks being the most popular) and there are also daily sunset barbecue parties.
#11: Villa La Estancia
✅ Best family vacation resort in Cabo San Lucas
💲 from US$1,000
There are two Villa La Estancia properties in Los Cabos so don't get confused. The first property is a luxury resort and spa while the second one is a villa-type accommodation by El Medano beach.
There are over 10 room types to choose from, all of which are equipped with terraces and ocean views. Note that weekend rates can start at US$1,000 while the weekday rates are as low as US$300!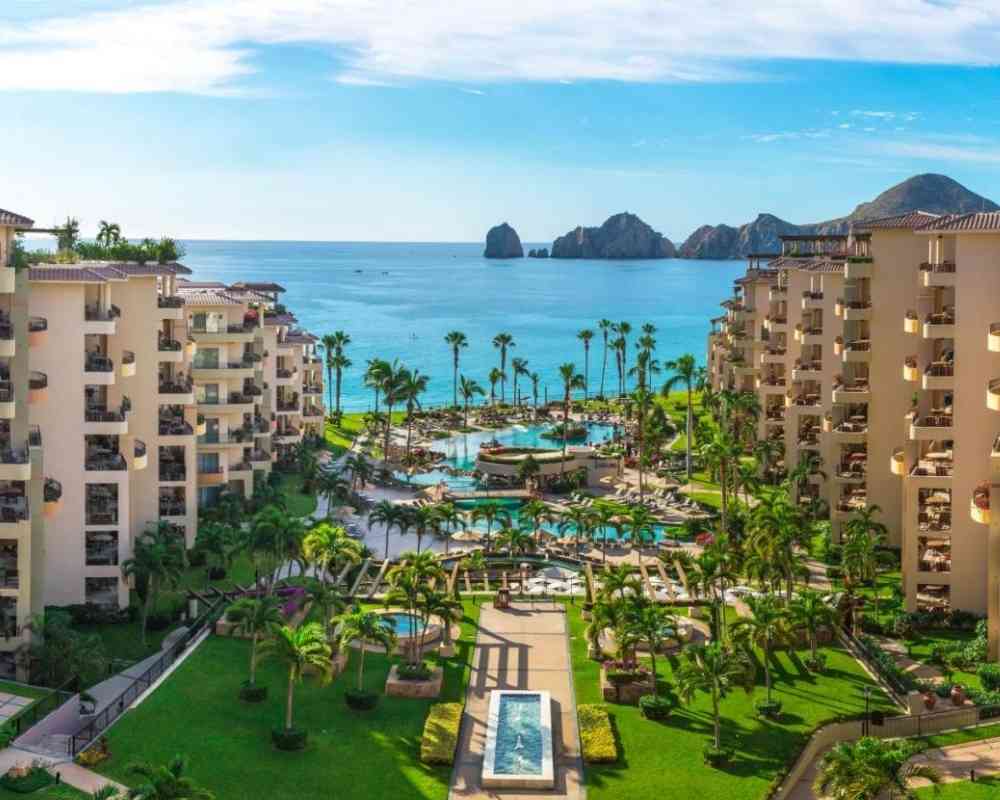 #12: Grand Fiesta Americana
✅ Best golf resort in Cabo San Lucas
💲 from US$650
Cabo San Lucas has been a golfer's favorite destination and there are many resorts in the area that has golf courses. Grand Fiesta Americana is a mini-resort that prioritizes (golfing) families traveling with kids.
The Grand Club double and the Superior Ocean View can accommodate families of 8 for as low as US$650. Within the resort, there are 6 outdoor pools and 4 outdoor jacuzzis that are facing the ocean.
#13: Villa La Valencia
✅ Best new resort in Cabo San Lucas
💲 from US$450
Villa La Valencia opened its doors to tourists in January 2022. This resort is brand new and has 5 restaurants on-site that serve Spanish and Mexican cuisines. Their restaurants are open to the public so you can dine here even if you don't stay with them.
Aside from the fantastic food experience, Villa La Valencia has a kids club, gym, bakery, and spa. They want to brand themselves as the best family resort in Los Cabos and they're on their way to achieving that!
#14: Casa Dorada
✅ Best resort in Cabo San Lucas for couples
💲 from US$300
The best thing about staying in Casa Dorada is they have units equipped with kitchens.
They've received many long-term travelers who stay for long periods of time and the majority of those love cooking their own food!
Ideally, when you have a resort vacation, you wouldn't want to cook but at least you have this long-term accommodation option in Cabo San Lucas.
You won't believe how many people are living in resorts (especially retirees). Casa Dorada's style is for you to make this your own home.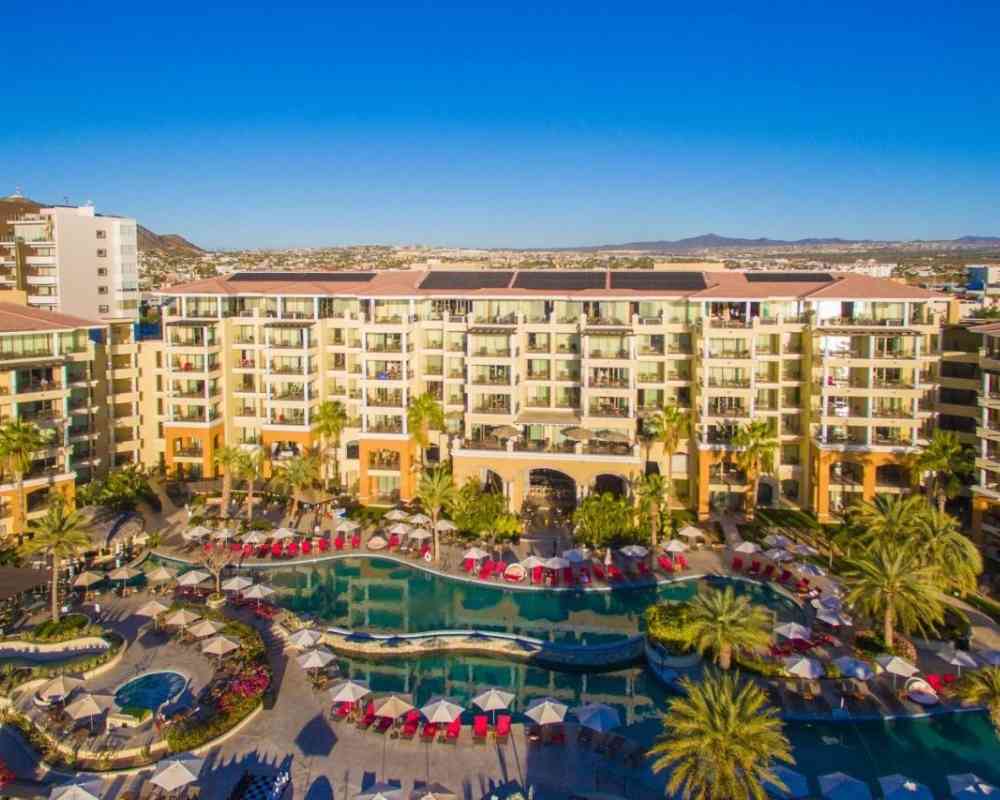 ⁉️ FAQ: Cabo San Lucas Resorts
🇲🇽 Cabo Travel Guide
Trisha traveled to Mexico in 2018 and after a year, she found herself obtaining a 4-year residency visa in Mexico. She is the Editor-in-chief for our Living in Mexico Series which has helped over 3,000 Americans move to Mexico with ease. Trisha currently resides in Cabo San Lucas, Baja California Sur.