Visiting Cabo soon? Here are the best beaches in Cabo San Lucas including non-touristy and local spots.
This Mexican haven is not just another beach destination; it's a mosaic of diverse beaches each offering a unique slice of coastal bliss.
From the buzzing Playa El Médano with its vibrant beach clubs and watersports to the secluded tranquility of Playa Bello, each beach paints a different picture of Cabo's allure.
Dive into the vibrant underwater world of Santa Maria and Chileno Bay, ride the famous surf of Monuments Beach, or witness the stunning fusion of sea and desert at Playa del Amor.
These beaches in Cabo San Lucas also include local spots and beaches where you won't see any tourists.
FYI, Cabo San Lucas is located on 2 different oceans: The Pacific and the Sea of Cortez. Please note that the Pacific has a stronger current (going north towards Todos Santos).
Plan your trip to Mexico with us! Get expert travel advice and customized trip-planning itinerary from our local experts on the ground.
🗺️ Cabo Beaches Map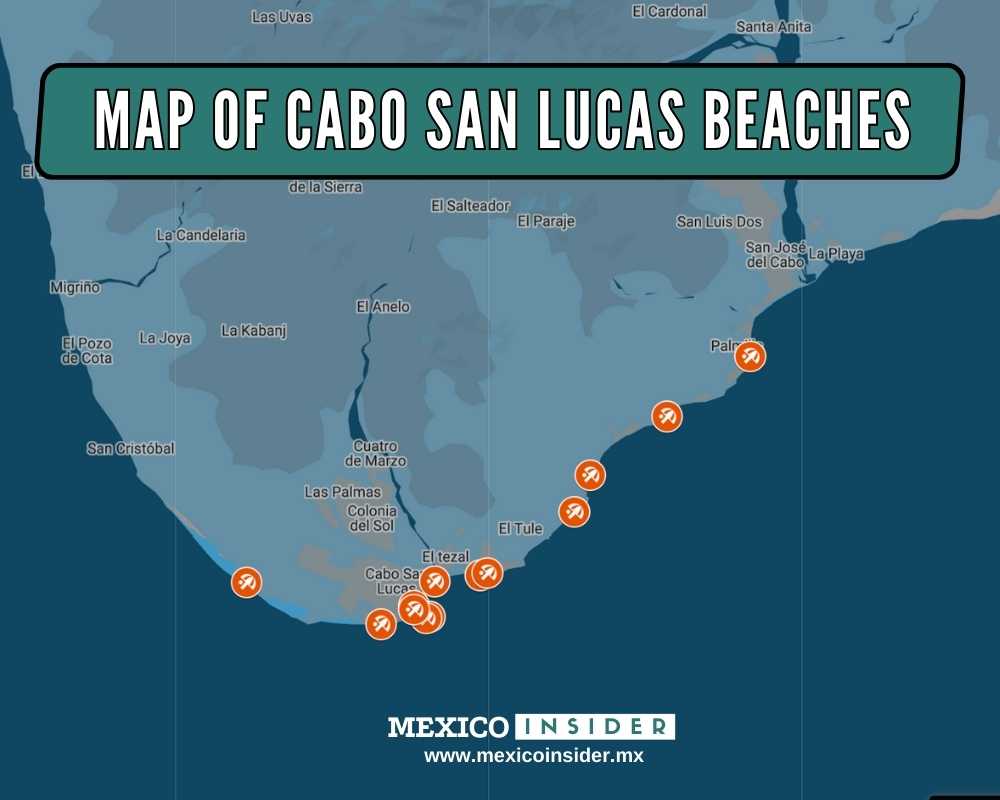 🏖️ Top beaches in Cabo San Lucas
1. Medano Beach
📍Cabo San Lucas, Baja California Sur
⛱️ Beach with bars
Medano Beach, locally known as Playa el Medano, is the most famous beach in Cabo San Lucas, not only because of its location but also because it is the main safe swimming beach in the city.
As the city's main beach, it is known for its lively atmosphere, bustling with beach bars, restaurants, and lots of water sports activities. Medano begins at the harbor's east side extending almost 4 kilometers of golden sand to Villa del Palmar.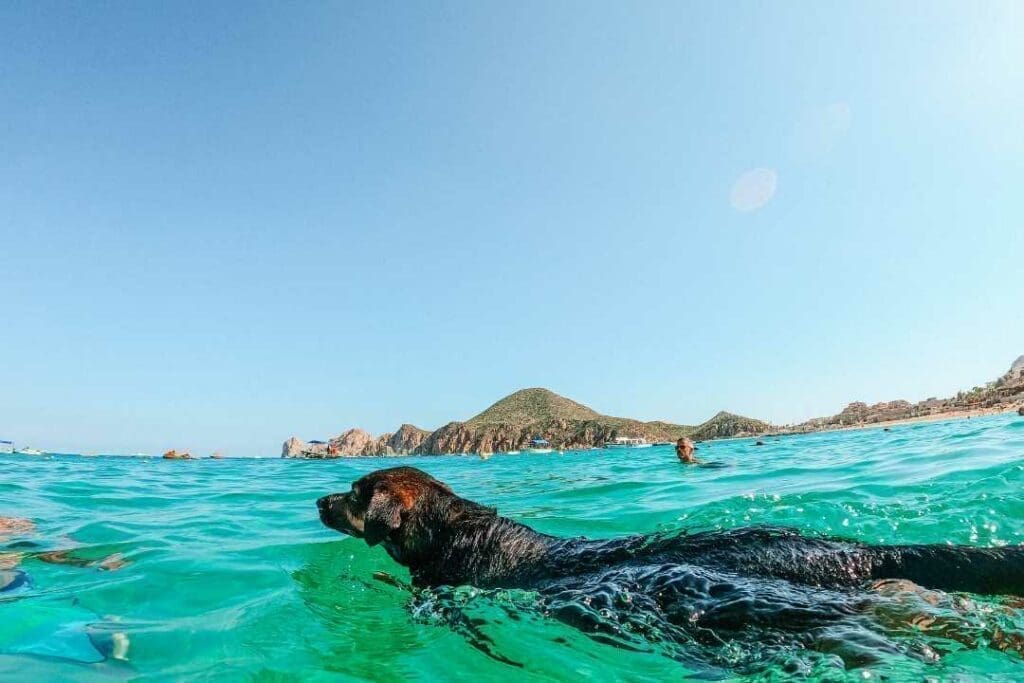 The beach is usually packed with tourists during Spring Break, but it is filled with visitors (locals and tourists) all year round, especially for those who want to enjoy the nightlife and beach life simultaneously.
✨ Tip: Many beach clubs are here, like Sur or Corazon Beach Club. These beach clubs have a minimum spend (from $25 USD). With this, you can get a beach bed and towels.
2. El Suspiro Beach
📍 Camino de acceso a Diamante
⛱️ Local beach, best for fishing
El Suspiro Beach, located in Cabo San Lucas, is a hidden gem. Often overlooked due to its more famous neighbors like Medano or Lover's Beach, El Suspiro offers an unspoiled haven for beach lovers seeking tranquility and beauty.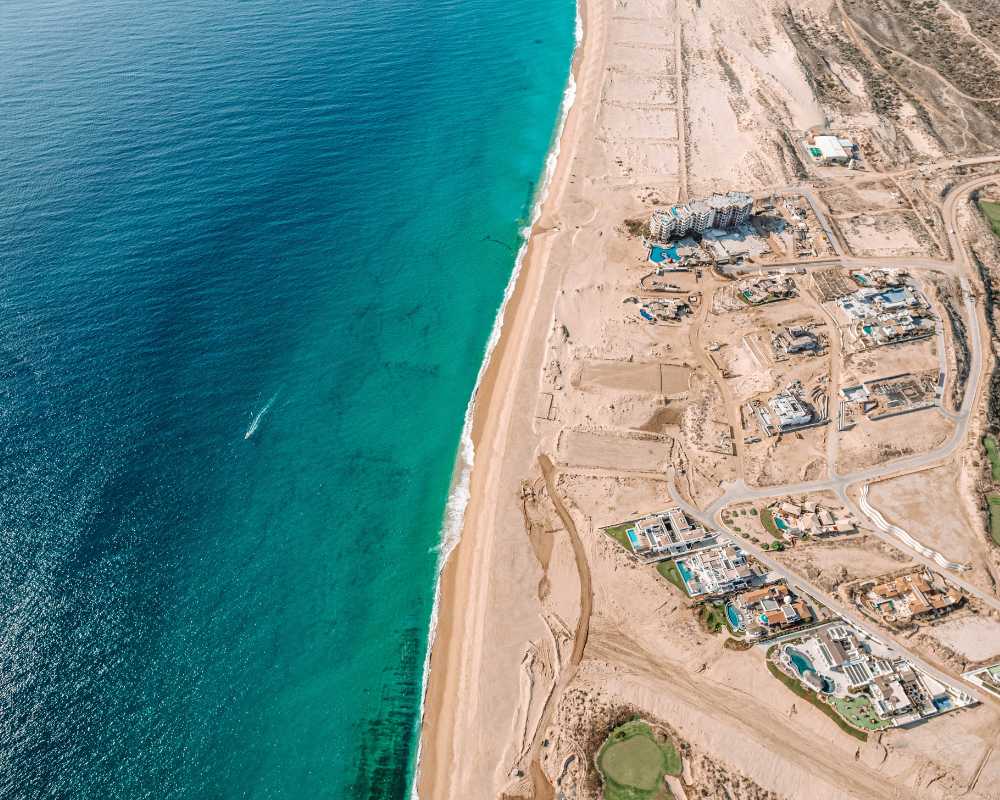 The beach is nestled between dramatic cliffs, creating an isolated and serene ambiance.
The sandy shore, sparkling azure waters, and rugged mountain backdrop create a picture-perfect panorama. It's an ideal spot for sunbathing, picnicking, or simply relaxing with a good book.
While the currents can be strong, making swimming potentially risky, the beach offers excellent opportunities for exploring tidal pools and observing diverse marine life.
It's also a favored spot for sunset viewing, with the sun descending over the Pacific creating a spectacular display of colors.
El Suspiro Beach is a little off the beaten path, providing a quieter beach day experience, perfect for those seeking a peaceful retreat from the bustling Cabo scene.
✨ Tip: Bring your own beach umbrellas and food. There are no stores here. You can also do a pizza takeaway from Pizza Nostra on the way to the beach.
3. El Farito Beach
📍 23453 Cabo San Lucas
⛱️ Quite spot south of Medano
Playa El Farito, situated on the southern tip of the Punta Palmilla peninsula, is a hidden paradise in Los Cabos. It offers a serene and secluded setting from bustling tourist spots for visitors looking to escape the crowd.
El Farito's crystal clear, shallow waters and vibrant marine life make it an ideal spot for snorkeling. You can spot various species of colorful tropical fish, and starfish.
With limited amenities, visitors should bring essentials such as water, snacks, and snorkeling gear. A visit to Playa El Farito offers a unique opportunity to explore the unspoiled natural beauty of Los Cabos.
✨ Tip: The beach is quite small with coarse sand, bordered by a rocky landscape. Swimming is safe near the shore, but be careful of sea urchins and sharp rocks.
4. Santa Maria Beach
📍 Tourist Corridor, 23455 BCS
⛱️ Beach in a cove
Santa Maria Beach is a hidden jewel in the Cabo San Lucas region. Tucked between rugged cliffs, this horseshoe-shaped bay offers serene beauty and abundant marine life, making it a popular spot for locals and tourists alike.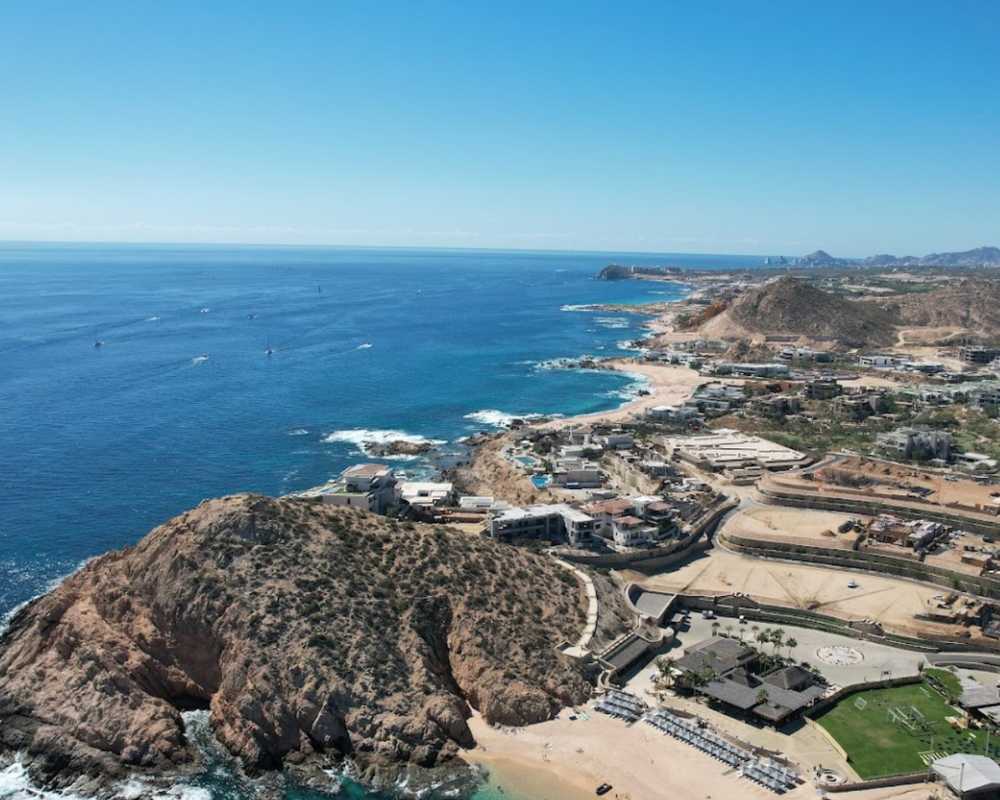 The beach's calm, clear waters are ideal for swimming and snorkeling. It's a part of a marine sanctuary, so visitors can explore a vivid underwater world teeming with colorful tropical fish.
The soft, sandy shore is perfect for sunbathing and picnicking, offering a peaceful environment to unwind.
Though it's relatively secluded compared to other Cabo beaches, Santa Maria offers amenities such as bathrooms and shade structures.
Despite its tranquillity, it can get busy, especially during peak tourist season, so arriving early is advisable. Santa Maria Beach offers an ideal beach day in Cabo with its natural beauty and aquatic life.
5. Palmilla Beach
📍 Tourist Corridor, 23405 Cabo San Lucas
⛱️ Family beach with umbrellas
Palmilla Beach is one of the most esteemed beaches in the Los Cabos region, known for its scenic beauty and family-friendly environment. Nestled in a protected cove in the upscale Palmilla neighborhood, it offers a peaceful retreat from the more crowded tourist spots.
The beach boasts soft, golden sand and clear, calm waters, making it perfect for swimming, sunbathing, and picnicking. The serene bay is also a popular spot for snorkeling, with its warm waters home to an array of vibrant marine life.
Despite its secluded feel, Palmilla Beach is equipped with essential amenities such as restrooms and parking. Lifeguards are often on duty due to its designation as a Blue Flag beach, a prestigious international certification that assures cleanliness and safety.
6. Monumentos Beach
📍 Tourist Corridor, 23455
⛱️ Surf beach
Monumentos Beach, located on the Corridor between Cabo San Lucas and San José del Cabo, is a haven for surfers. The beach is best known for its challenging left point break that draws surf enthusiasts from around the globe, especially during the summer swells.
In addition to its surf appeal, Monumentos offers a beautiful stretch of golden sand against a backdrop of stunning rock formations. While swimming can be dangerous due to the strong currents and rocky seabed, the beach is ideal for sunbathing, beachcombing, and enjoying the dynamic wave action.
The beach is adjacent to the luxury resort community of Punta Ballena, and it offers a view of the iconic Land's End Arch. While amenities are limited, nearby resorts and restaurants provide dining options. Remember, as with many surf spots, local etiquette is appreciated at Monumentos Beach.
7. Public Beach (Cabo Bello)
Playa Publica Cabo Bello, also known as Cabo Bello Beach, is a charming public beach located in the Cabo Bello neighborhood, just a short drive from downtown Cabo San Lucas. This lesser-known gem provides a quiet alternative to the often-crowded main beaches of the region.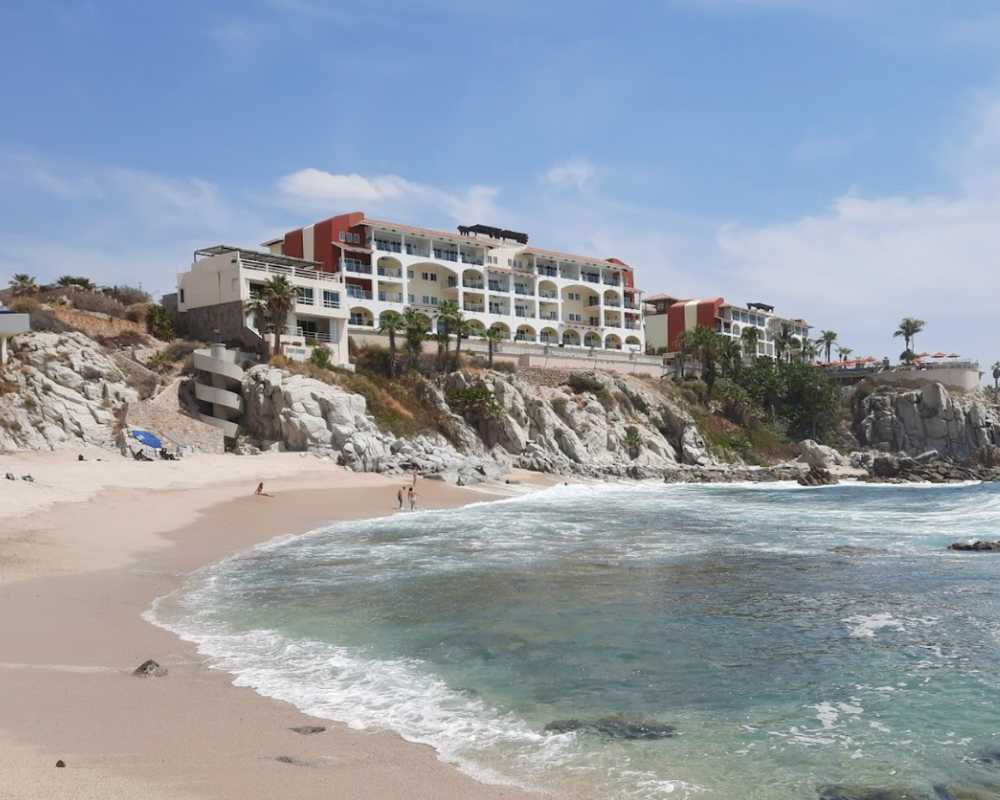 Cabo Bello Beach is situated in a small bay, its clear, calm waters making it an excellent spot for snorkeling and swimming. The beach's sea floor is a mix of sand and rock, providing a habitat for a variety of marine life. Snorkelers can expect to encounter colorful tropical fish, and sometimes even sea turtles.
The beach is relatively small, but it's perfect for a relaxing day of sunbathing and picnicking. While the beach has few amenities, its tranquil atmosphere and natural beauty make Playa Publica Cabo Bello a delightful escape. Please remember to carry out any trash to help keep this beach clean and pristine.
8. Lover's Beach
📍Playa de los Amantes, 23450 Cabo San Lucas
Another famous beach in Cabo San Lucas is Lover's Beach. Although unlike Medano Beach, which can be reached by land, Lover's Beach is only accessible by boat.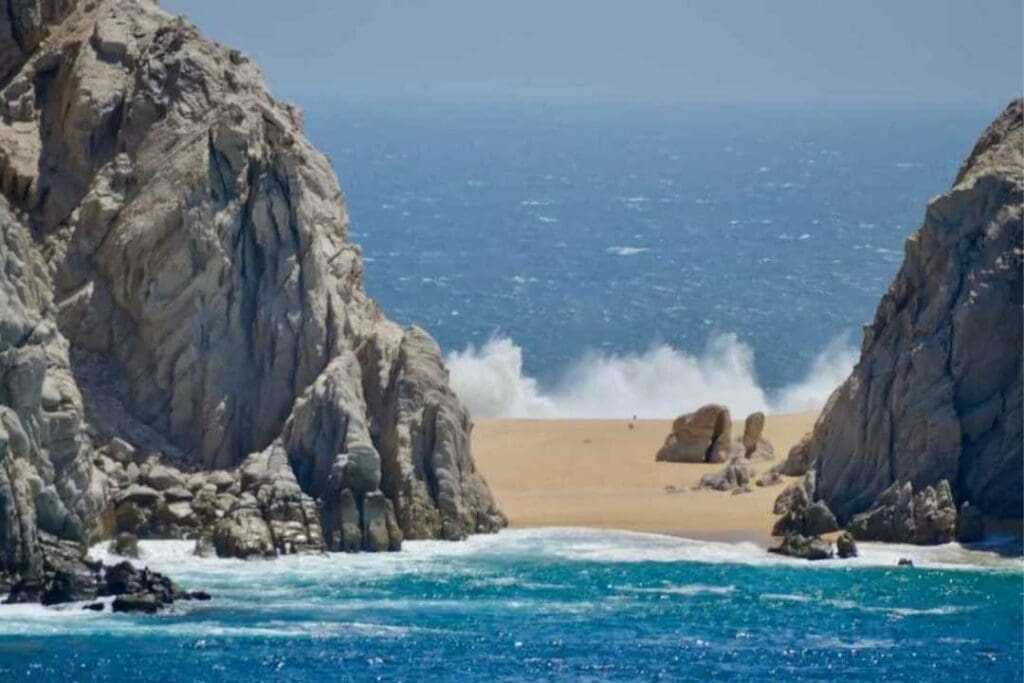 This remote Pacific beach is framed by an eroded granite rock and is located near the iconic Arch of Cabo San Lucas, making it the perfect place to visit during a tour. The beach is generally calm and ideal for swimming, paddleboarding, and kayaking.
9. Divorce Beach
📍Playa del Divorcio, 23450 Cabo San Lucas
A few minutes from Lover's Beach is Divorce Beach, also known as Playa del Divorcio. Meaning it can only be reachable by boat.
This stretch of clean white sand is great for those looking to enjoy a time to sunbathe and relax; however, this is one of the beaches of Cabo San Lucas that is not swimmable.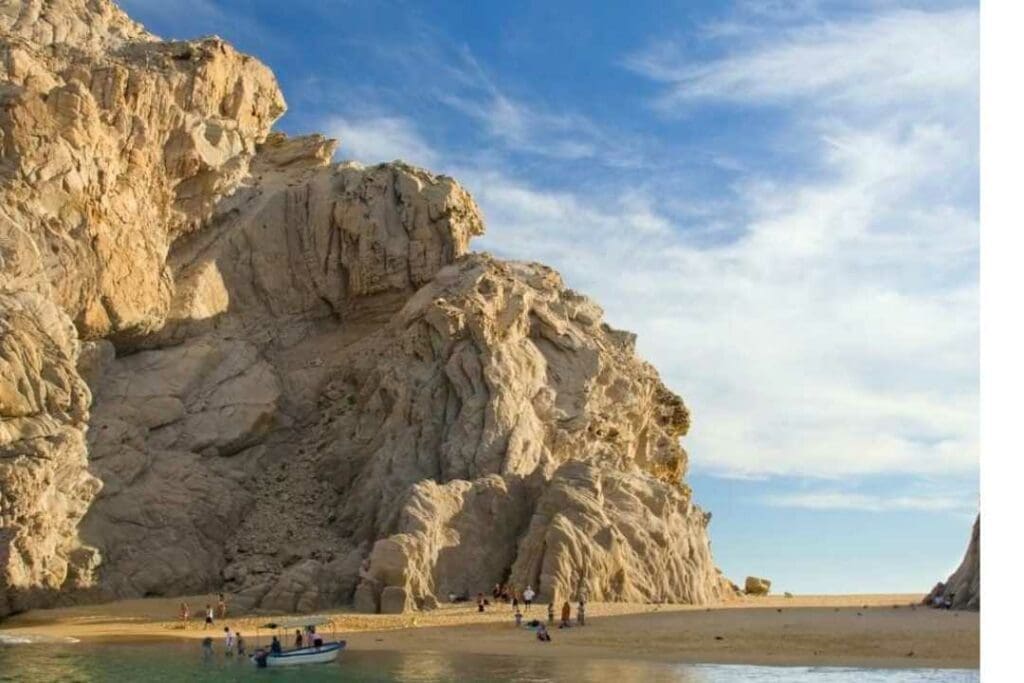 The area has strong currents, crashing waves, and rip tides, so swimming at the beach is impossible. Instead, you can walk along Divorce Beach's broad stretch of sand and enjoy its incredible view.
10. Chileno Beach
📍Cabo San Lucas, Baja California Sur
Chileno Beach is known for its beautiful clean water. Although almost all of the beaches in Cabo are clean, this one stands out as it was certified for being a blue flag beach because of its pristine water quality.
Chileno Beach has become one of the city's famous swimmable beaches. This is an excellent spot for snorkeling and other water sports activities.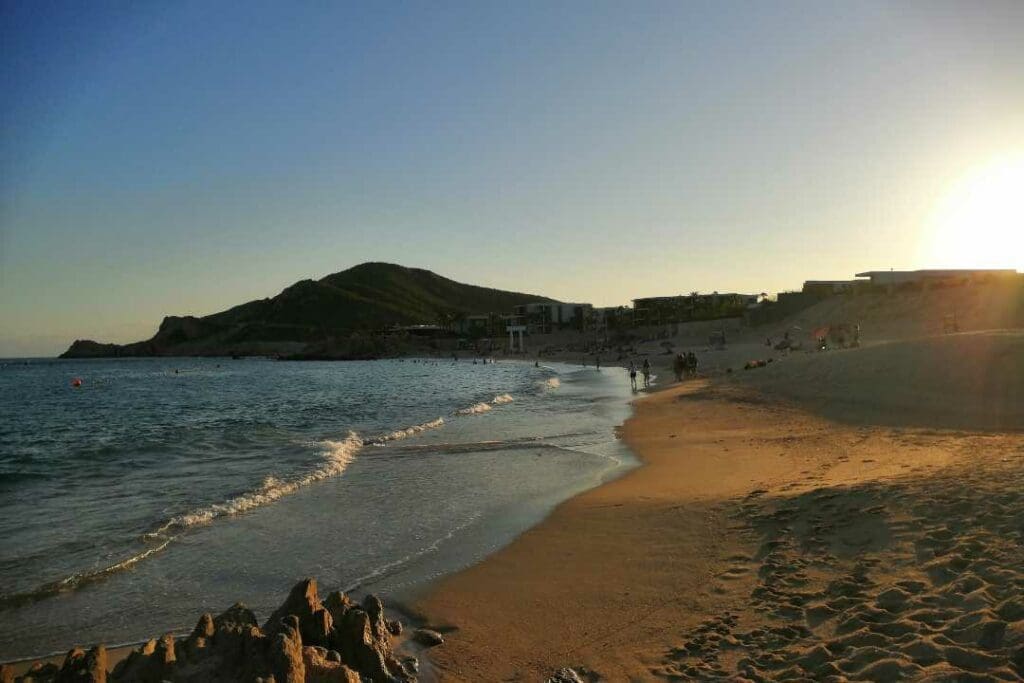 Compared to Medano Beach, Chileno is rather less busy because there are only a few vendors in the area. Still, it can get crowded on weekends, so it's best to visit early in the morning for a calming beach trip.
11. Cannery Beaches
📍Centro, Marina, 23450 Cabo San Lucas
The Cannery Beaches comprises two beaches; Playa Coral Negro and Playa Balconcito. And when you hear locals mention Playa Empacadora or Old People's Beach, don't confuse it with another beach since it's what they call the Cannery Beaches.
These beaches are one of the underrated and little-known beaches in the city. When in fact, it's very much accessible, bordering the entrance to the Marina. So, you can expect to see more locals relaxing here compared to being a tourist hub.
12. Pedregal Beach
📍Cam. de La Duna 245, Pedregal
Pedregal Beach is another off-the-tourist path beach in the city. You'll find it most of the time empty, so it's peaceful and tranquil. It can be accessed through the main entrance of Pedregal at Marina Boulevard, where you'll be going on a short trail.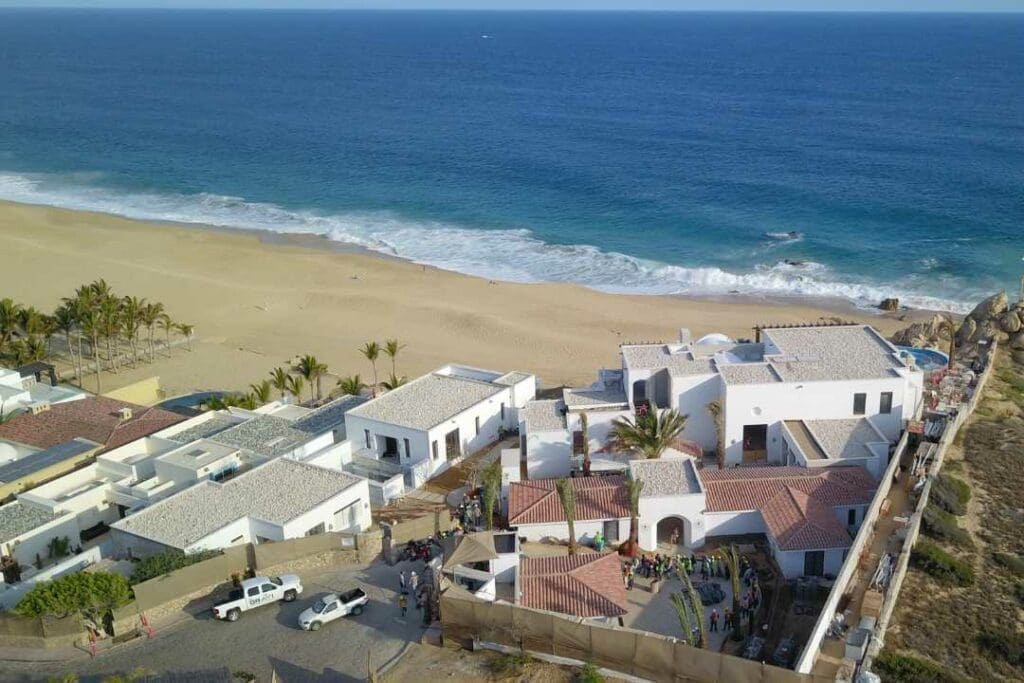 The beach is perfect for those who want to sunbathe or relax on the golden sands without the bustling vibe. Since the waves here are rough, it is not advisable to swim in the area as there are risks of being caught in riptides.
13. Playa Bledito
📍Tourist Corridor, Cabo San Lucas, Baja California Sur
Also known as Tequila Cove, Playa Bledito is another famous swimmable beach in the city. One of the highlights of the beach is the massive artificial breakwater, making it possible for people to swim in its waters safely.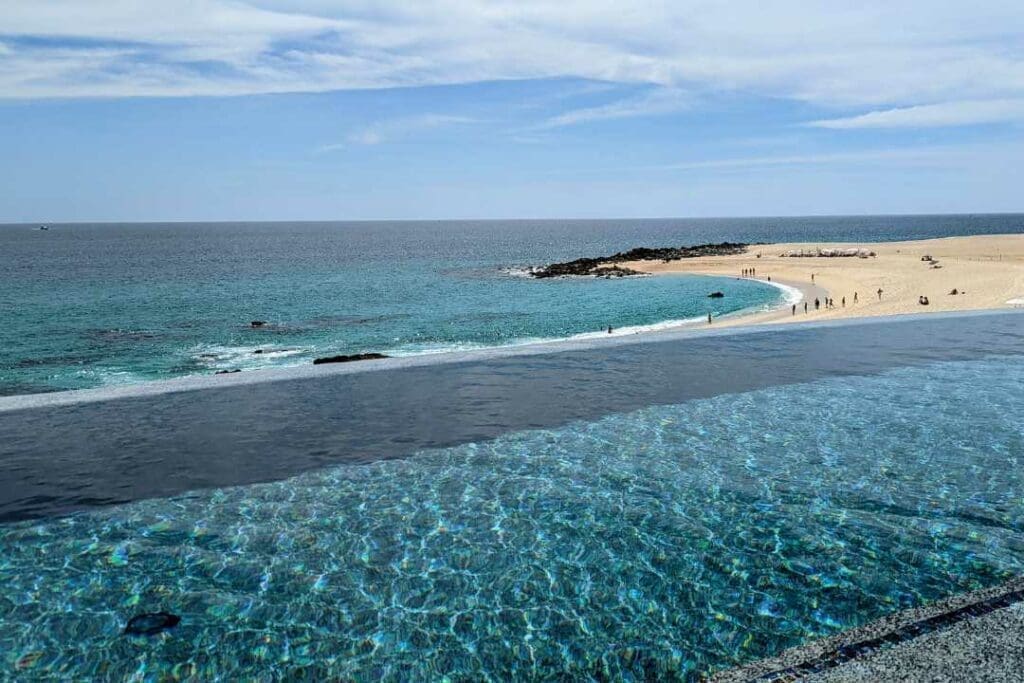 You can find the beach in front of the Hilton Hotel Cabo San Lucas, where an accessible path leads to the beach.
There are also available water activities here; however, it is only limited compared to other famous beaches in the city.
14. Playa Solmar
📍Marina, 23450 Cabo San Lucas, BCS, Mexico
Playa Solmar, or Solmar Beach, is a vast stretch of white sand beach facing the Pacific Ocean. It runs from the rocks at Land's End to the base of Pedregal. A few hotels and resorts are located here, including Hotel Solmar and Playa Grande Resort.
This beach is excellent for those who want to enjoy a morning or afternoon walk, sunset watching, and even whale spotting!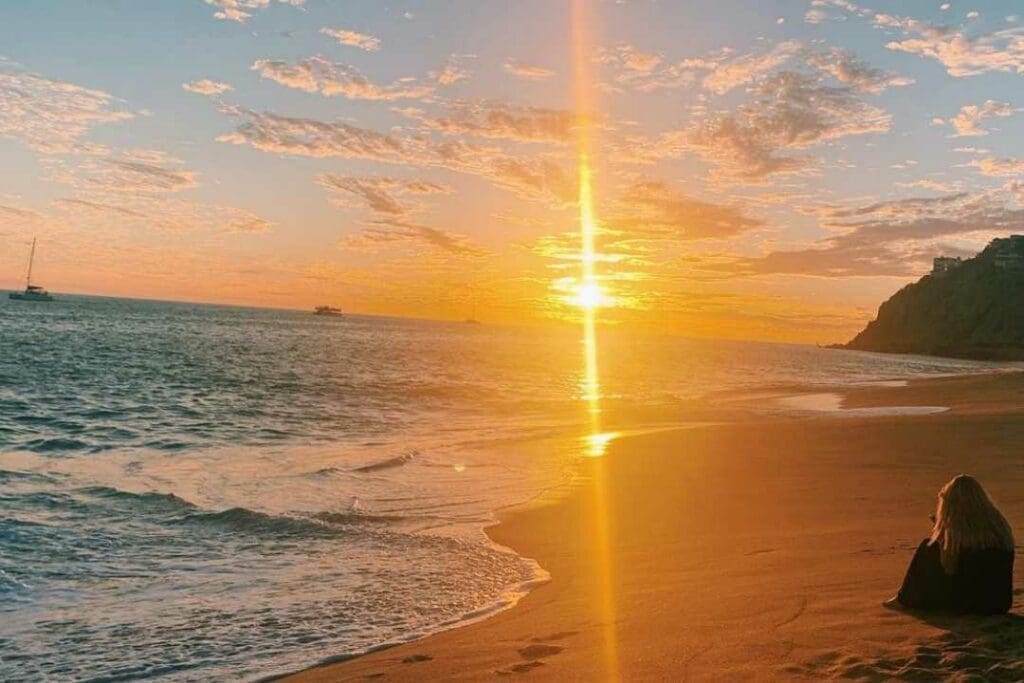 Although the beach has strong currents and waves, making it unswimmable, you can still enjoy relaxing here. Plus, this would be a great place if you are a pro surfer (or want to watch surfers hit the waves).
⁉️ FAQ: Cabo San Lucas Beaches
Can you swim on Cabo San Lucas beaches?
They're known for their distinctive rock formations, clear waters, and rich marine life, making them excellent spots for relaxation, swimming, snorkeling, and other water sports.
Although some of the beaches in Cabo San Lucas are not swimmable due to their depth and wave conditions, they still offer a great place to relax in the sand and take a spectacular ocean view.
🇲🇽 Cabo Travel Guide