Is Cabo worth visiting? To help you consider a vacation here, here are a few reasons to visit Cabo San Lucas.
Cabo San Lucas, located on the southern tip of Mexico's Baja California Sur, is known for its stunning natural beauty, excellent weather, and vibrant nightlife.
This popular tourist destination offers a diverse array of activities and attractions. Expect azure waters perfect for snorkeling, scuba diving, and fishing, as well as golden sandy beaches like Medano Beach that are ideal for sunbathing and water sports.
Land's End is another must-see natural formation with the famous Arch of Cabo San Lucas. Golfers will be delighted by the championship golf courses, while foodies can indulge in the region's fresh seafood and vibrant Mexican cuisine.
Add to this mix a wide range of accommodations—from luxurious resorts to budget-friendly hotels—and a lively nightlife scene, and you have all the ingredients for an exciting vacation.
The vacation cost in Cabo San Lucas can vary greatly depending on your preferences and budget. As a popular tourist destination, it offers a range of options for every budget.
If you choose a high-end resort, dine at upscale restaurants, and partake in premium experiences like private boat charters or guided tours, your trip can be quite expensive.
However, there are plenty of ways to enjoy Cabo on a budget. Affordable accommodations are available, particularly if you book in advance or outside peak tourist seasons.
Street food and local markets provide opportunities for inexpensive yet authentic culinary experiences. Many natural attractions can be enjoyed cheaply or even for free.
While Cabo can cater to luxury seekers, it's also entirely possible to have an enjoyable and budget-friendly vacation there.
Looking for more reasons to visit Cabo San Lucas? Read on and see our take!
Plan your trip to Mexico with us! Get expert travel advice and customized trip-planning itinerary from our local experts on the ground.
🙋 Is Cabo San Lucas worth visiting?
ABSOLUTELY! This is especially true if you appreciate a harmonious blend of natural beauty, vibrant culture, and a broad range of recreational activities.
Situated in Baja California Sur, part of Los Cabos, Cabo San Lucas is renowned for its beautiful beaches that offer a tropical paradise for those who enjoy water activities. One of the highlights that you can also look forward to is the iconic El Arco or Land's End.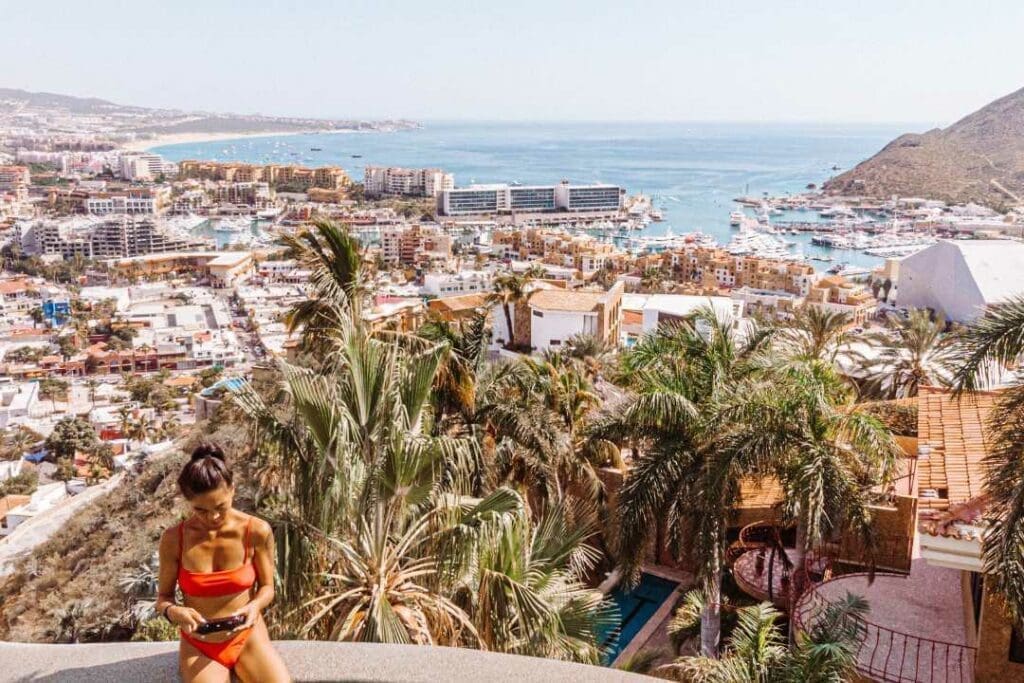 There are various reasons why Cabo San Lucas is worth visiting, and those we've mentioned above are just a peek at it.
And despite its reputation as a tourist hot spot, Cabo still offers a quieter, more culturally immersive experience. Since it is home to several luxurious hotels, you'll experience something new and different here compared to other Mexican destinations.
✅ 13 reasons to visit Cabo San Lucas
#1: Home to the Famous Arch of Cabo San Lucas (Land's End)
One of the best reasons you should plan a visit to Cabo San Lucas is the iconic landmark, The Arch of Cabo San Lucas.
Locally known as El Arco or the Land End, it is a stunning natural rock formation situated in a setting between spectacular mountains and pristine beaches.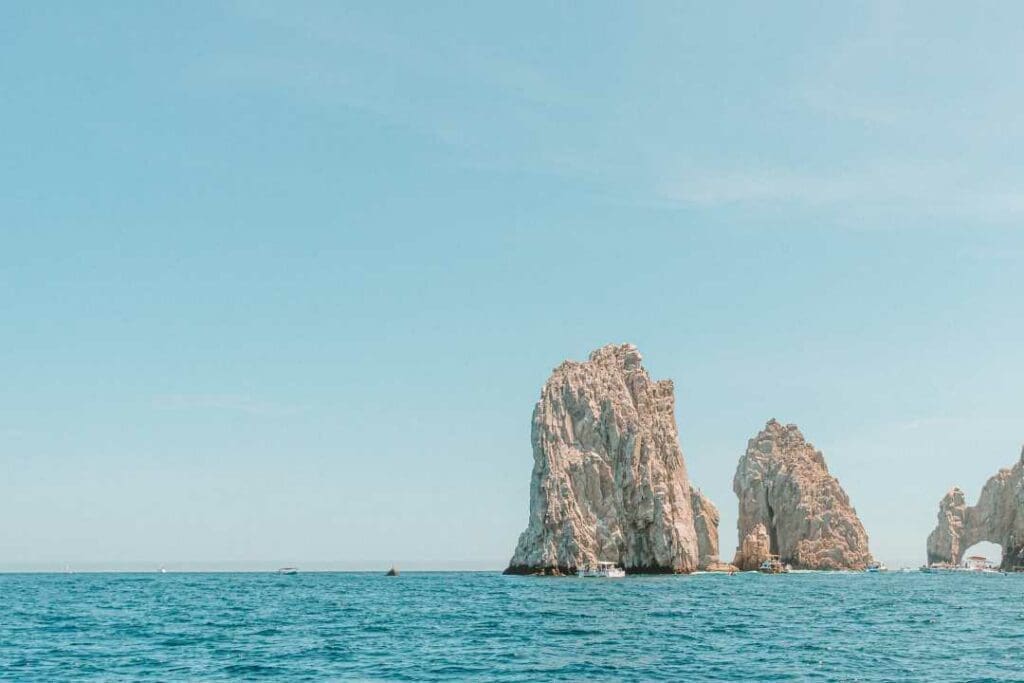 It is surrounded by crystal clear waters where the Pacific Ocean meets the Sea of Cortez, thus being a habitat for various marine species.
Getting to the Arch of Cabo San Lucas is relatively easy. Although only accessible by boat, you'll only need to ride one from the Marina. Various tours can take you to El Arco, offering multiple activities you can enjoy on the excursion.
#2: The beaches of Cabo San Lucas
Of course, a trip to Cabo San Lucas is definitely about its beaches! Cabo San Lucas is blessed with an abundance of beaches, lots of which are swimmable and accessible by the public.
Some famous include Medano Beach, known for its calm waters, beachfront resorts, and myriad water activities such as swimming, paddleboarding, and jet-skiing.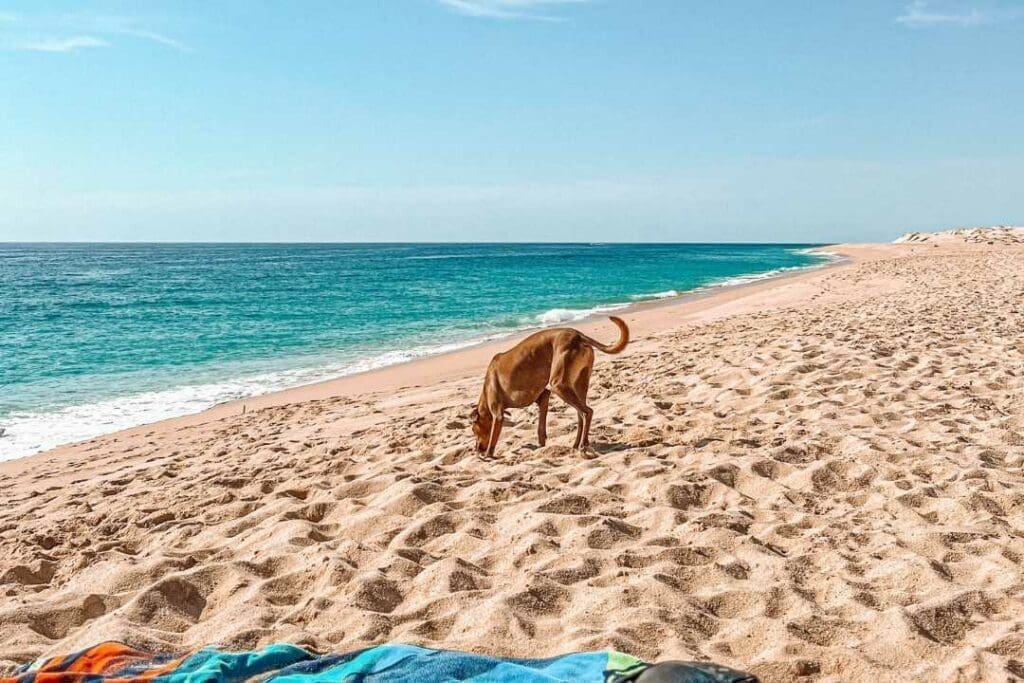 On the other hand, the other famous beaches, Lover's Beach and Divorce Beach, are nestled near the famous El Arco, offering a tranquil environment for relaxation and a perfect setting for a romantic escape.
And for those who seek a more adventurous time, Santa Maria Beach and Chileno Bay are prized locations.
#3: Cabo San Lucas is easily accessible
Not known to many, Cabo San Lucas is accessible, even if the airport is a few kilometers from the city center.
The San Jose International Airport (SJD) is the airport that services flights going to Cabo San Lucas. And plenty of direct flights come from the USA (and even Canada) to SJD.
With an international airport nearby, Cabo San Lucas become an accessible destination from many major cities across the globe. From the airport, there are several transportations you can take going to Cabo San Lucas, including public transport and car rentals.
#4: Weather is excellent all year
Cabo San Lucas is known for its near-perfect weather. With over 300 sunny days per year, the climate is generally warm and dry, making it a great place to enjoy activities and day excursions.
During the winter, it's still pleasant and attracts many tourists even if it's considered the cooler months in Cabo. This is also the prime season for whale watching.
On the other hand, Fall brings slightly cooler temperatures, and rainfall is a bit more common but typically short-lived.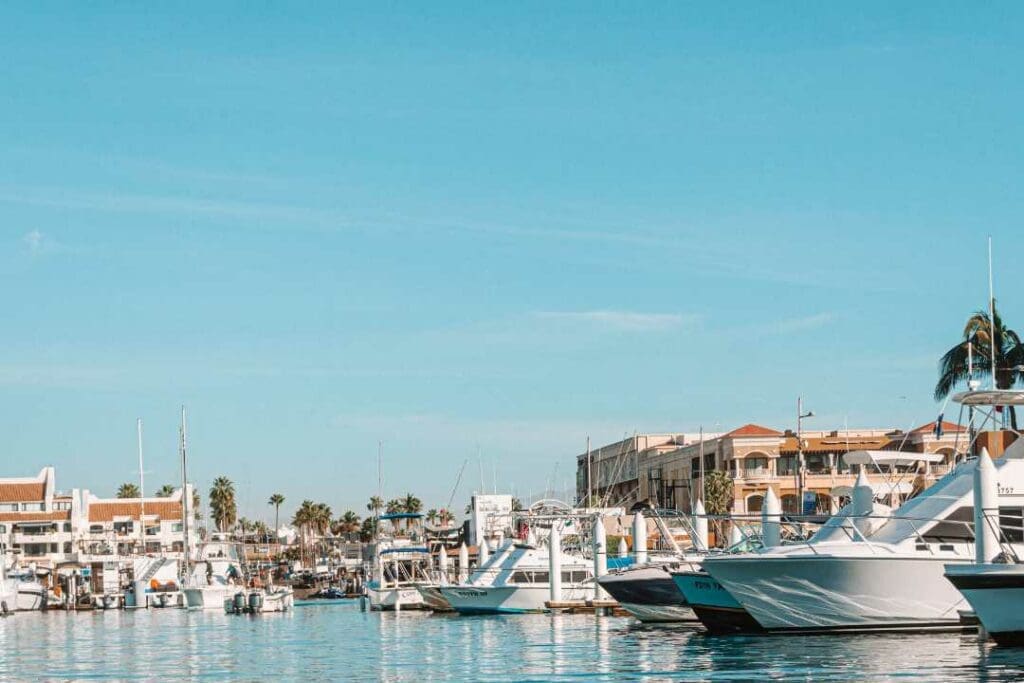 Meanwhile, during Spring and Summer, the weather is generally sunny and dry, and despite the heat, the ocean breeze makes it bearable.
So whether you visit Cabo San Lucas during any season, the weather is still excellent for enjoying the city.
#5: It has plenty of luxurious hotels
While there are other resort cities in Mexico that you can visit, Cabo San Lucas offers something different compared to them. The town boasts many luxurious resorts and hotels catering to those who want a luxury vacation.
So, if you are going on a honeymoon, a bachelorette party, or even a solo traveler who wants to explore Cabo San Lucas's vibrant life, you'll enjoy a visit here.
From ocean-view suites to private villas, the accommodations at Cabo San Lucas are designed to provide a comfortable and indulgent stay. Many of these properties also offer all-inclusive packages, providing access to top-notch dining, spa services, and exclusive amenities for you to enjoy.
#6: Lots of sailing and boat tours
Another reason why you should visit Cabo San Lucas is because of the numerous sailing and boat tours.
Whether you want to enjoy a romantic sunset cruise, take a thrilling speedboat ride, or go on a private yacht tour around the famous Arch of Cabo San Lucas, there are myriad options.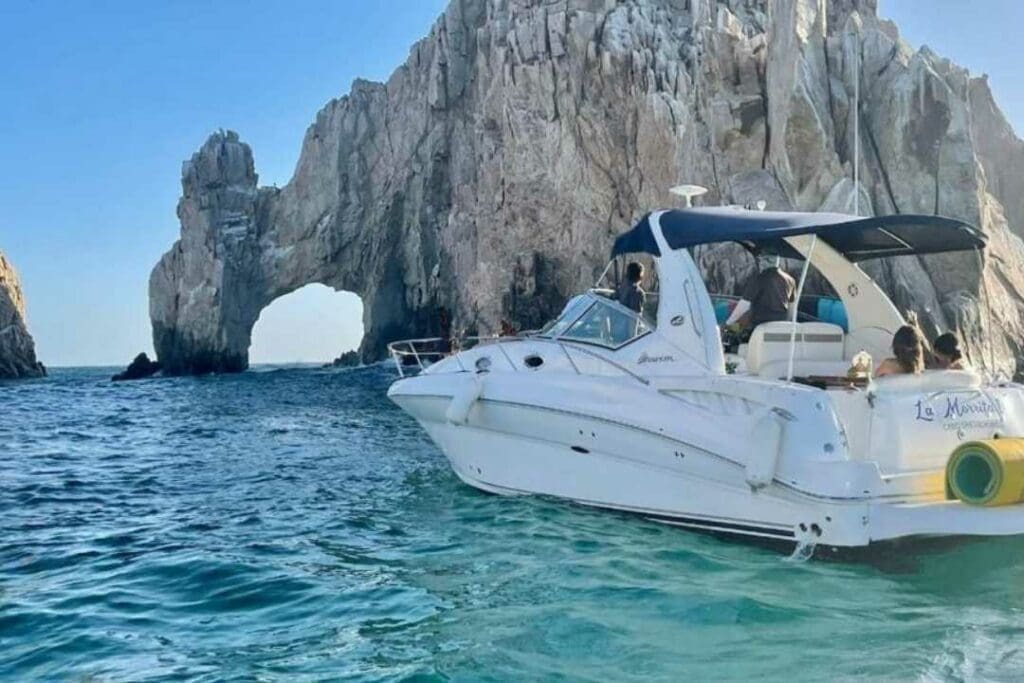 But aside from that, these sailing and boat tours often also include boat parties, wildlife spotting, snorkeling, and kayaking opportunities. So, you can always enjoy the breathtaking view of the Pacific Ocean or the Sea of Cortez while enjoying marine life or partying during a sunset cruise.
#7: Cabo San Lucas has a vibrant Nightlife
Although it may not seem like it, the nightlife in Cabo San Lucas is as vibrant as other famous tourist destinations in Cancun. You can find various establishments in the city, from chic rooftop bars to bustling nightclubs.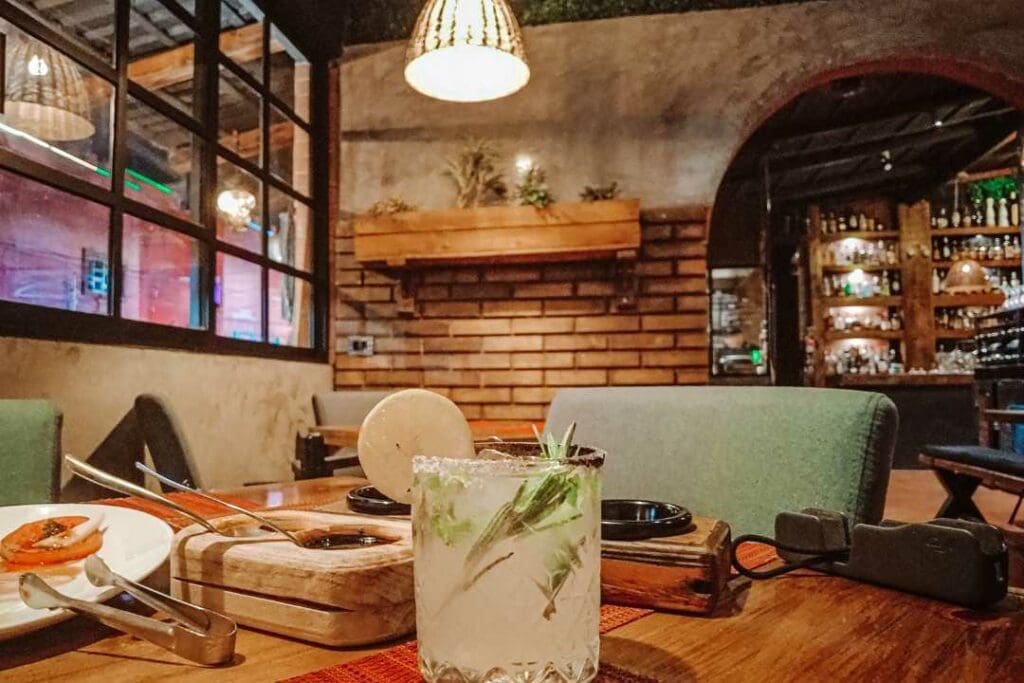 The only difference is there are areas in Cabo that are chill and laid-back, and most of the lively nightlife can be enjoyed near the Marina or at beach clubs. But this gives you a wide range of choices to suit every mood and preference, another reason to consider Cabo San Lucas for your next trip.
#8: Offers endless activities and excursions
Cabo San Lucas offers various tours to explore the local marine life, including scuba diving, snorkeling, and dolphin and sea lion encounters.
There are also other water sports activities like surfing, paddle boarding, and kayaking which you can enjoy on famous beaches or around El Arco.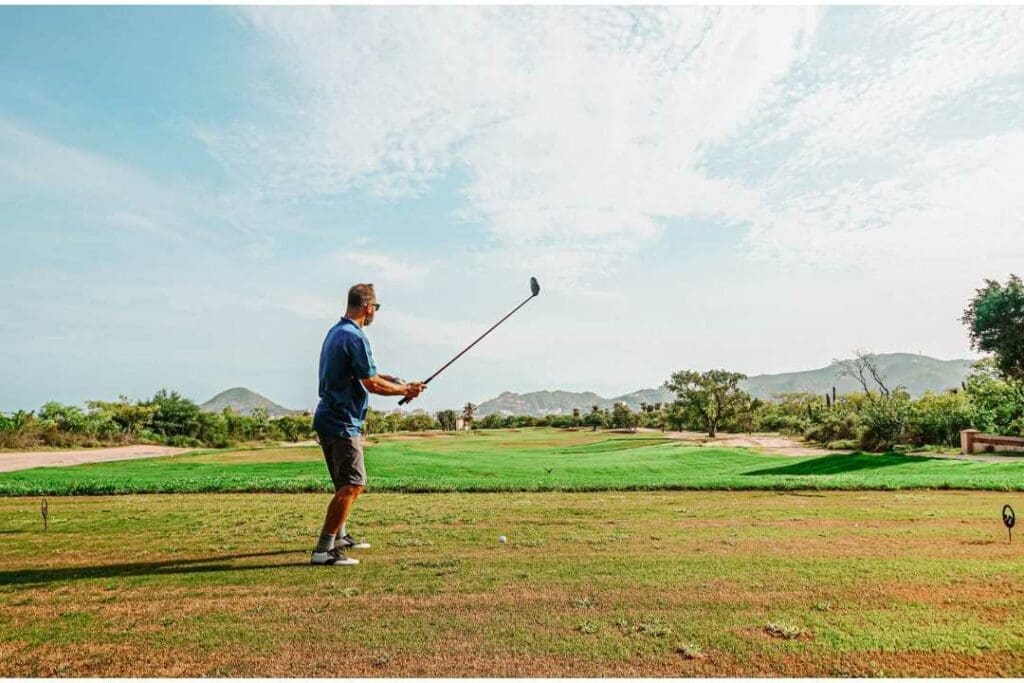 But beyond its beaches, Cabo San Lucas also offers many activities. If you want to enjoy other excursions like zip-lining, ATV tours, horseback riding, hiking, and golfing, you can do it while staying in Cabo San Lucas.
#9: So many nearby small towns to visit for day trips
If you want to explore Baja California Sur and see almost all of its cities, Cabo San Lucas is a perfect base point for day trips.
With its excellent location, there are plenty of nearby towns that you can visit, like Todos Santos and La Paz. There are road trip tours you can join to experience Baja California Sur in a short period.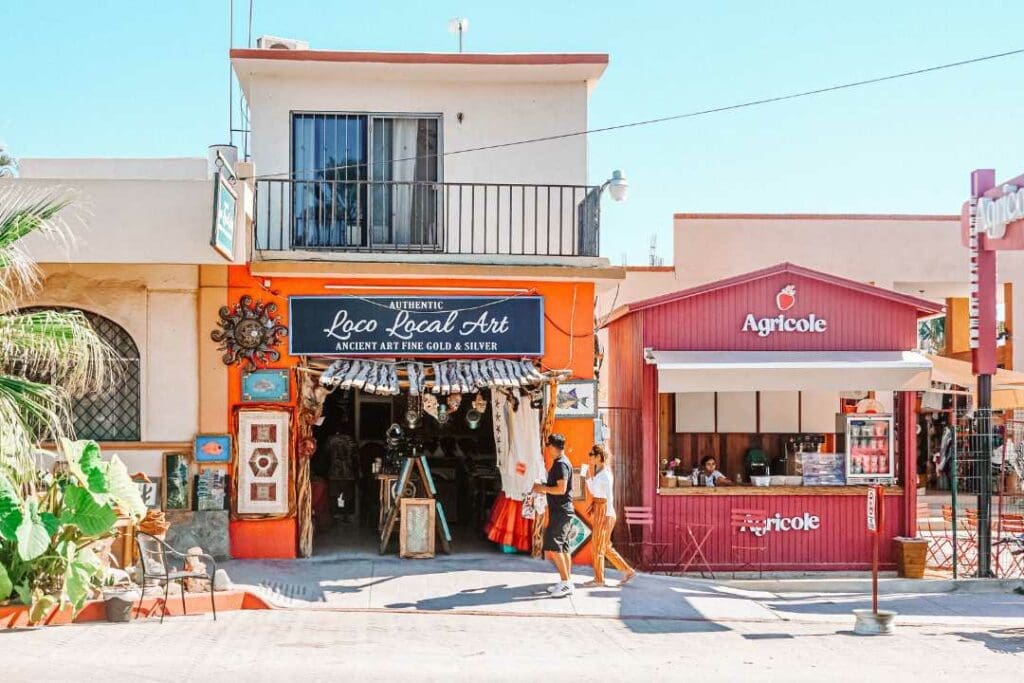 These towns have a quieter, more traditional feel and offer visitors a chance to experience local culture, art, and cuisine. They're also perfect day destinations for those seeking a break from the beach and a deeper immersion into Mexican life.
No time to plan? See our all-inclusive Cabo vacation packages, including customized tours!
#10: Cabo San Lucas is the Marlin Capital of the World
If you're a fishing enthusiast, then all the great reason to visit Cabo San Lucas! Renowned as the "Marlin Capital of the World," Cabo offers a unique experience to catch blue, black, and striped marlin.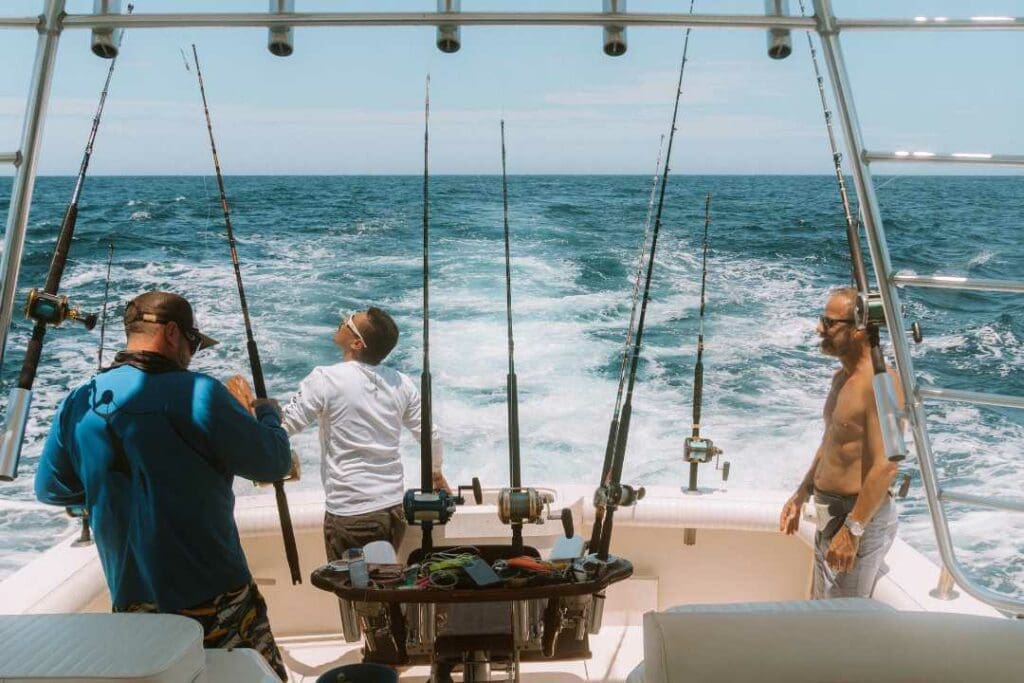 Numerous charter companies provide all the equipment and guidance needed for an unforgettable deep-sea fishing adventure. And even if you are not a seasoned fishing enthusiast, this is something new you can experience while in Cabo San Lucas.
#11: Whale-watching tours
Whale watching is one of the favorite activities that tourists come for when visiting Los Cabos. And this makes another reason to visit Cabo San Lucas.
This is one of the best places in the world for whale watching. Just make sure you plan and be informed that the best time to visit is from December to April to catch a glimpse of whales.
This is the season when whales migrate to the warm waters of the Baja Peninsula. Several tours offer the chance to see these majestic creatures up close in their natural habitat.
#12: Less crowded compared to Cancun
Cabo San Lucas and Cancun are two of Mexico's most popular tourist destinations, offering unique charm and appeal.
While both have beautiful beaches, vibrant nightlife, and offer many activities, Cabo San Lucas attracts fewer tourists than Cancun. This makes Cabo a more relaxed and serene holiday choice for travelers looking for a less crowded experience.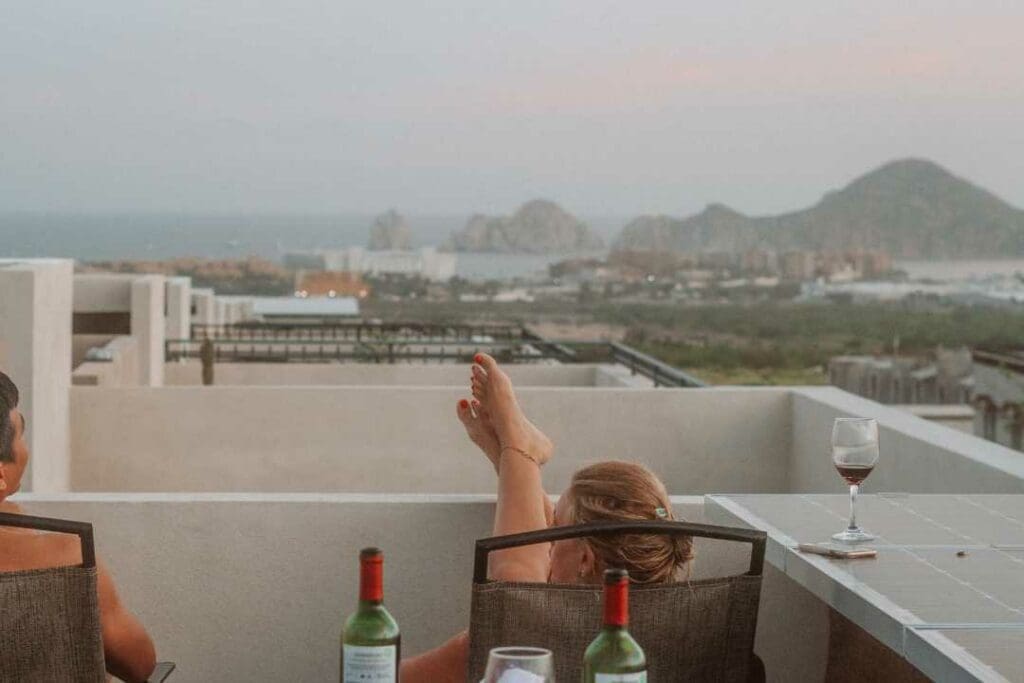 With its direct flights from numerous major cities globally, Cancun has become a prime spot for tourists, particularly those seeking an affordable beach vacation.
In contrast, Cabo, although easily accessible, with its tranquil ambiance, appeals more to luxury travelers, couples, and those looking for a quieter, more laid-back vacation experience.
But Cabo's smaller tourist numbers contribute to a more authentic cultural experience. With fewer crowds, visitors can delve deeper into the local lifestyle, explore hidden gems, and interact with the locals more organically.
#13: Diverse food choices
One great reason to visit Cabo San Lucas is its diverse culinary scene, reflecting the rich culture of the Baja Peninsula and other regions. Food lovers visiting the city will be delighted by the range of dining options available, suitable for every palate and preference.
At the heart of Cabo's gastronomy is its traditional Mexican cuisine. Visitors can indulge in local dishes and street food, offering authentic flavors. Given its location, plenty of restaurants specialize in seafood dishes.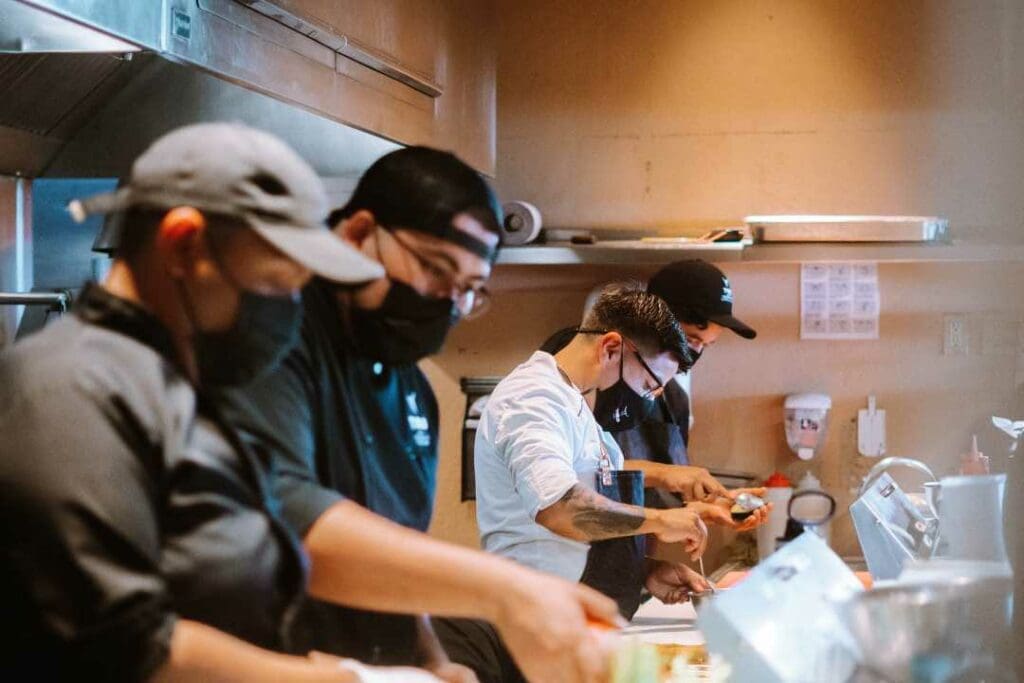 But at the same time, being a tourist hub, Cabo San Lucas also caters to international tastes. Numerous restaurants serve Italian, French, Asian, and American cuisines.
In addition, the city is increasingly embracing farm-to-table and sea-to-table concepts, focusing on using fresh, local, and sustainable ingredients. Overall, there's almost everything that Cabo San Lucas can offer when it comes to food.
#14: Direct flights from the USA
Flight durations to Cabo San Lucas (Los Cabos International Airport) can vary significantly depending on the city of departure in the United States.
Here are a few examples of approximate direct flight durations from major U.S. cities:
From Los Angeles, California (LAX): Approximately 2 to 3 hours.
From Dallas, Texas (DFW): Approximately 3 to 4 hours.
From Chicago, Illinois (ORD): Approximately 4 to 5 hours.
From New York City, New York (JFK): Approximately 6 to 7 hours.
Consider the time difference when planning your travel. Cabo San Lucas is in the Mountain Time Zone (MT), which may be ahead or behind your local time, depending on where in the U.S. you're departing from.
#15: We live here! This is our home!
Mexico Insider is based in Cabo San Lucas, so if you ever find yourself going on a trip here, feel free to contact us, and we can help you build a customized itinerary!
🇲🇽 Cabo San Lucas Travel Guide