This Puerto Vallarta Airport guide will provide essential information and insider tips for a seamless journey through one of the busiest airports in Mexico.
Puerto Vallarta Airport, officially known as Licenciado Gustavo Díaz Ordaz International Airport (IATA: PVR, ICAO: MMPR), is a major international gateway in Puerto Vallarta, Jalisco, Mexico. It is named after the former President of Mexico, Gustavo Díaz Ordaz, who served from 1964 to 1970.
The airport sits approximately 7.5 kilometers (4.7 miles) north of the city center and serves the Greater Puerto Vallarta area, including the nearby tourist destinations of Nuevo Vallarta, Punta Mita, and Sayulita.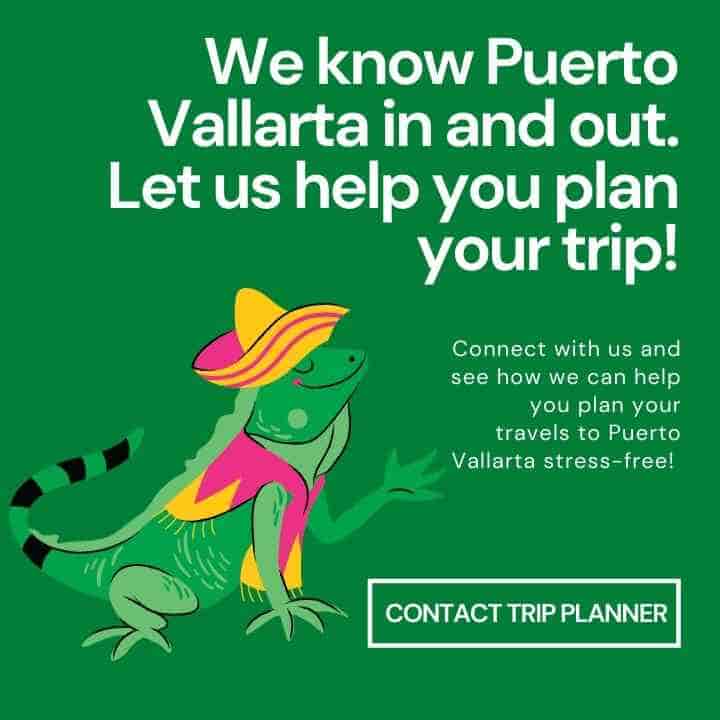 👉🏽 See also: The first-timers guide to Puerto Vallarta
In 2021, it handled over 5 million passengers, making it one of the busiest airports in Mexico. The airport has a single terminal building with two concourses, providing passengers various services, including restaurants, retail shops, and car rental services.
Several major airlines operate flights to and from Puerto Vallarta Airport, connecting the city with destinations across North America, Central America, and Europe. Some key airport carriers include Aeroméxico, American Airlines, Delta Air Lines, United Airlines, Air Canada, WestJet, Alaska Airlines, and Southwest Airlines.
These airlines offer a range of direct and connecting flights, with popular routes to cities such as Los Angeles, Houston, Dallas, Vancouver, and Toronto.
Seasonal and charter flights operated by airlines like Sunwing Airlines, TUI Airways, and Eurowings also provide services to and from European destinations, including London, Manchester, and Frankfurt, catering to the high tourist demand during the peak vacation season.
🧐 Questions about Puerto Vallarta Airport? Ask us on Tiktok.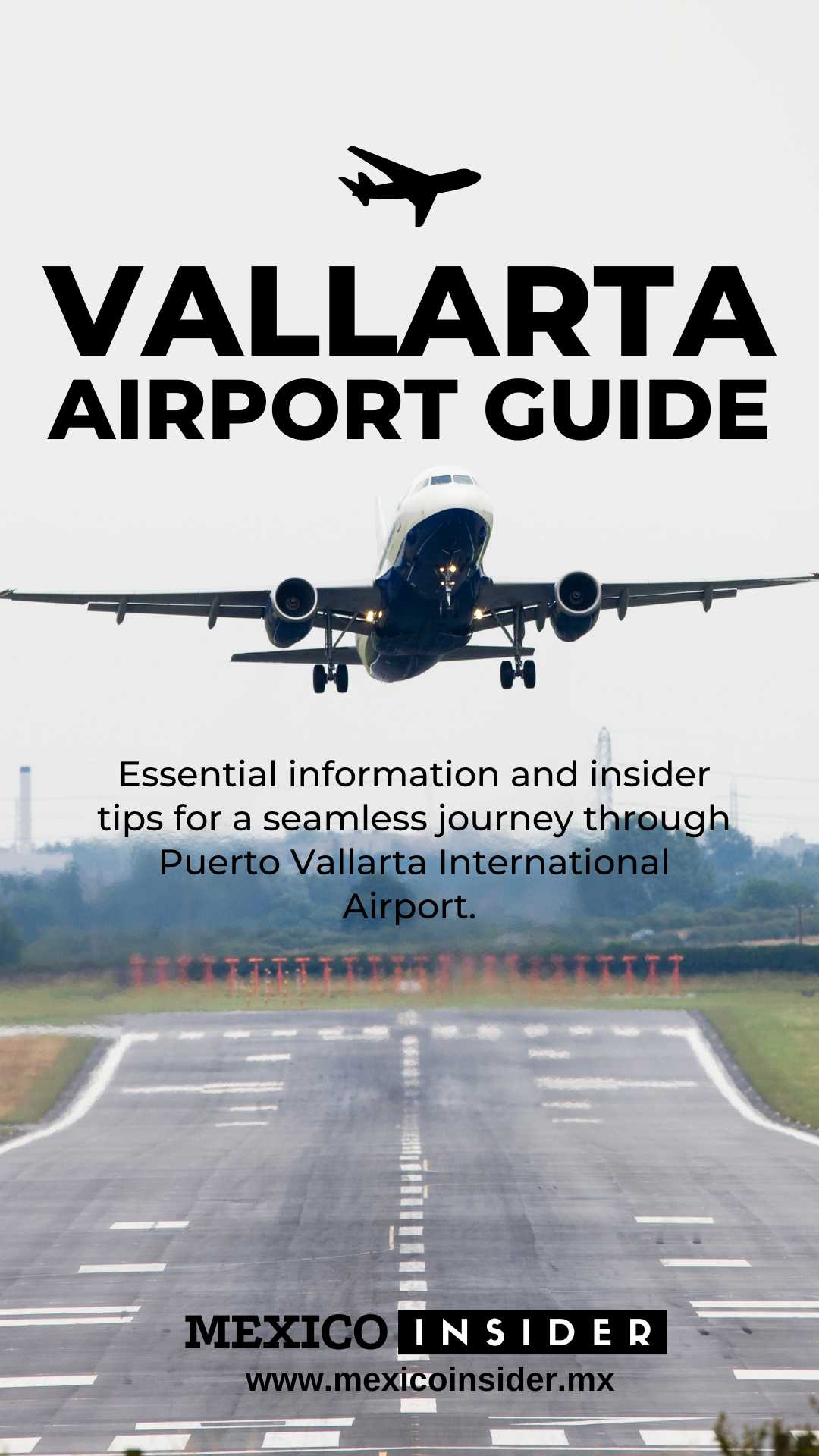 🔗 Puerto Vallarta Airport: quick links
🗺️ Puerto Vallarta Airport Map
🛬 Puerto Vallarta Airport code
The Puerto Vallarta International Airport, officially known as Licenciado Gustavo Diaz Ordaz International Airport, uses the code PVR.
🚕 Puerto Vallarta Airport transportation
We provide cheap transfers from Puerto Vallarta Airport to downtown at a meeting point. Please note that this does not pick you up from the immigration gate, but a meeting point will be provided via e-mail upon confirmation.
We also have VIP services where the drivers wait for you at the immigration gate with a sign – get in touch with us for a quote!
📶 Wifi at Puerto Vallarta Airport
Puerto Vallarta Airport (Licenciado Gustavo Díaz Ordaz International Airport) provides free Wi-Fi to passengers.
To access the Wi-Fi, you'll need to connect to the "GAP FREE WIFI" network, open your web browser, and accept the terms and conditions on the login page.
Remember that the Wi-Fi service has a limit usage time or data, and the connection speed could vary depending on the number of users connected at any given time.
It is still best to get a Mexican sim card or make sure that you called your provider from home to activate your roaming services.
🚗 Renting a car at Puerto Vallarta Airport
To reach downtown Puerto Vallarta, travel time from the airport is at least 18 minutes with approximately 6 kilometers of distance. And renting a car at Puerto Vallarta Airport is one of the most convenient ways to reach the city and explore its neighboring areas.
Now if you rent a car at the airport, there are certain factors you'd have to consider before availing of one.
First, you must rent from a reliable car rental company. Fortunately, various car rental companies operate at PVR, offering a wide range of vehicles to suit your needs and budget.
Upon checking available cars on your travel date, compare the prices and regulations between companies.
Car rental prices at Puerto Vallarta Airport can vary depending on several factors, such as the type of vehicle, rental duration, and the season.
On average, you can expect to pay between $25 USD and $50 USD for an economy or compact car, while larger or luxury vehicles may cost $60 USD to $100 USD or more per day.
It's also best to remember that these prices are subject to change and may not include additional fees, such as insurance, taxes, or extra equipment.
You will need specific requirements before you can rent a car in Puerto Vallarta. Among them are:
Driver's License: To rent a car in Puerto Vallarta, you need a valid driver's license from your home country. Some car rental companies may also require an International Driving Permit (IDP), so check the specific requirements when making a reservation.
Age Requirements: Most car rental companies in Puerto Vallarta require drivers to be at least 21 years old, although some may allow younger drivers for an additional fee.
Insurance: Rental car companies typically offer various insurance options, such as Collision Damage Waiver (CDW) and Liability Insurance. While these coverages are optional, purchasing them is strongly recommended for peace of mind.
Gasoline: Most rental cars are provided with a full gas tank, and you'll be expected to return the vehicle with a full tank.
Mileage: Some car rental companies in Puerto Vallarta offer unlimited mileage, while others may impose a daily limit. Again, it's always best to check with the rental company beforehand.
Driving Restrictions: It's also essential to be aware of any driving restrictions, such as prohibited roads or border crossings. Be sure to inquire about these rules with the rental company when picking up your vehicle.
To ensure a smooth car rental experience, it's best to book in advance, especially during peak tourist seasons. This will guarantee availability and help you secure a better deal on your rental.
🛋️ VIP Lounges at Puerto Vallarta Airport
At Puerto Vallarta Airport (PVR), there are VIP lounges for passengers seeking a comfortable and exclusive space to relax or work in before their flight. These lounges provide various amenities, including complimentary Wi-Fi, snacks, drinks, television, and reading materials.
Most of PVR's VIP lounges are accessible if you have a membership to an affiliated program, a specific credit card, or a one-time access pass.
Currently, there are four distinct VIP lounges: the VIP Lounge Puerto Vallarta National, the VIP Lounge Puerto Vallarta International, the VIP Lounge Puerto Vallarta Llegadas, and the Sherpa Masaje Express.
VIP Lounge Puerto Vallarta National is situated in the national departures area of Terminal 1, while VIP Lounge Puerto Vallarta International is located in the international departures area of Terminal 2.
On the other hand, the VIP Lounge Puerto Vallarta Llegadas is located to the left of the immigration and customs checkpoints. Another VIP Lounge within the PVR is the Sherpa Masaje Exoress, which has three locations in Terminal 1.
🏧 ATMs machines in Puerto Vallarta Airport
Puerto Vallarta Airport (PVR) offers various banking services to cater to your financial needs.
Some ATMs inside the airport are serviced by banks such as Yvesam, Scotiabank, Banorte, and HSBC. These ATMs can easily be located throughout the airport in national and international areas.
There is also a currency exchange service inside PVR, which Global Exchange provides. You can find their booth in three different locations inside Terminal 1; domestic arrivals, before security, and after security checkpoints.
All these banking facilities are reliable and trusted banks in Puerto Vallarta, ensuring that you'll have convenient access to cash and currency conversion during your travel.
🍻 Restaurants at Puerto Vallarta Airport
Wings
Wings are just one of the many restaurants inside Puerto Vallarta Airport. They serve classic chicken wings, offering a variety of sauces and sides.
Their menu also has other items such as salads and sandwiches, making excellent food to-go, especially in a rush.
Subway
Subway offers sandwiches, salads, and wraps made with fresh ingredients (vegetables, proteins) for a healthier option.
This is great if you want to customize your sandwich filling, as they let you choose what you want in your food immediately. Moreover, they also have coffee and cookies for your sweet cravings.
Starbucks Coffee
One of the go-to coffee shops, Starbucks Coffee, is also available inside the PVR.
So, if you need that caffeine fix or a quick snack before or after your flight, you can head to Starbucks. Plus, they have a spacious seating area for customers to wait a while.
Tacos Chabelita
Tacos Chabelita is a local restaurant chain that offers authentic Mexican street tacos. They offer a variety of meats, salsas, and toppings that you can add to your tacos. If you want to try authentic Mexican street food while waiting for your next flight, you should check out Tacos Chabelita.
Sbarro
You can visit the renowned fast-food chain Sbarro if you want some Italian food. They have an extensive menu list, mainly serving pizza, pasta, and salads.
Bar Corona
Aside from the classic fast food restaurants, there is also a more laid-back restaurant inside PVR.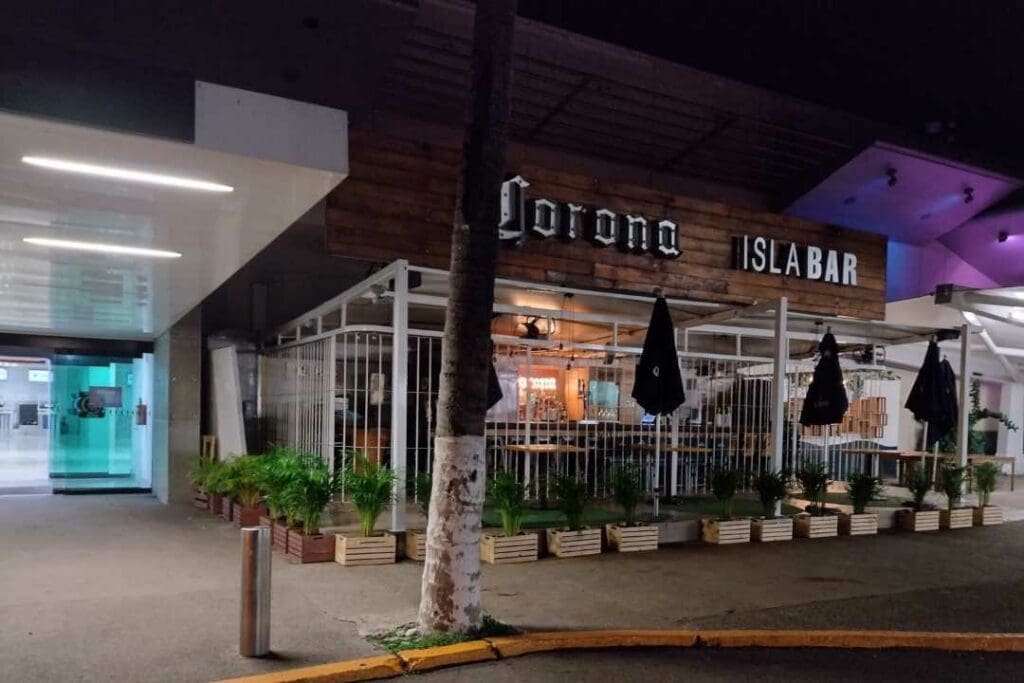 So, if you want to relax with a drink before your flight and have a few sips of beer, cocktails, and snacks, you should visit Bar Corona.
Carl's Jr
Carl's Jr offers a variety of burgers, sandwiches, and fries. You can get several kinds of burgers from here, depending on your preference. This restaurant is best if you are rushing and want your food to go.
Shops at Puerto Vallarta Airport
The Puerto Vallarta International Airport is the main gateway to one of the most popular tourist destinations in Mexico. And aside from the restaurants inside, you can also find a wide variety of shops offering traditional Mexican handicrafts, such as pottery, textiles, and jewelry.
There are also duty-free shops at the airport where you can find high-end luxury items such as perfumes, jewelry, and electronics. These shops offer tax-free prices, making them an excellent choice for those looking for a bargain.
Some shops inside the airport are Pineda Covalin, Dufy, Divers, and Cloe. Meanwhile, if you need to pick up some last-minute essentials, convenience stores sell snacks, drinks, and other travel necessities.
⁉️ Puerto Vallarta Airport FAQ
How early should I get to Puerto Vallarta Airport?
It is generally recommended to arrive at the Puerto Vallarta Airport (PVR) at least 2 hours before a domestic and 3 hours before an international flight. This will give you enough time to check in, go through security, and complete any necessary immigration or customs procedures.
However, consider arriving earlier during peak travel periods to account for potential delays or increased wait times. Also, allocate extra time if you travel with young children or have a connecting flight.
Are there two airports in Puerto Vallarta?
No, there is only one airport in Puerto Vallarta. The Licenciado Gustavo Díaz Ordaz International Airport, or the Puerto Vallarta Airport (PVR), is the only airport serving domestic and international flights. It is located about 6 kilometers downtown of Puerto Vallarta
and is the primary airport for the city and its surrounding areas.
How long does it take to get through customs at PVR?
On average, it can take anywhere from 30 minutes to over an hour to clear customs at Puerto Vallarta Airport (PVR). These can vary depending on several factors, such as the time of day, the number of arriving passengers, and the efficiency of the customs staff.
Also, it would be best if you remembered that the process may take longer during peak travel periods or holidays due to increased passenger traffic. So, to ensure a smooth experience, provide all your travel documents are ready.
What are the busiest days at Puerto Vallarta Airport?
The busiest days at Puerto Vallarta International Airport (PVR) can vary depending on the time of year, holidays, and special events. But typically, the airport tends to experience high traffic during peak tourist seasons, holidays, and weekends.
Peak tourist seasons in Puerto Vallarta include the months of December through April, when the weather is generally more pleasant. During this time, you can expect higher passenger traffic. But aside from that, weekends also tend to be busier than weekdays, as more travelers arrive and depart.
Trisha traveled to Mexico in 2018 and after a year, she found herself obtaining a 4-year residency visa in Mexico. She is the Editor-in-chief for our Living in Mexico Series which has helped over 3,000 Americans move to Mexico with ease. Trisha currently resides in Cabo San Lucas, Baja California Sur.