Nestled on the tip of Mexico's Baja California Peninsula, Cabo San Lucas harbor an enchanting seafood culture. Here are our recommendations for the best seafood restaurants in Cabo San Lucas.
The region's location, where the Pacific Ocean meets the Sea of Cortez, guarantees abundant marine life, transforming Cabo San Lucas into a seafood lover's paradise.
The local seafood gastronomy, a cornerstone of Cabo's culinary tapestry, reflects centuries-old fishing traditions and contemporary chefs' innovative flair.
Most establishments pride themselves on a sea-to-table philosophy, offering various dishes with the freshest daily catch.
Menus teem with locally sourced seafood: snapper, grouper, marlin, dorado (also known as mahi-mahi), and tuna, alongside shellfish like shrimp, lobster, scallops, and a variety of clams.
Baja-style fish tacos, ceviche, seafood paella, and grilled fish are staples.
Many restaurants also serve the delicacy known as 'chocolate clams,' the region's largest bivalve named for their brown color. These can be enjoyed raw, with a squeeze of lime, or traditionally baked in an earthen pit.
Culinary adventures extend to 'tiradito,' a Peruvian-style raw fish dish similar to sashimi, and aguachile, a ceviche variation marinated in a vibrant mix of lime juice and chili peppers.
Truly, Cabo's seafood scene offers a captivating blend of taste, tradition, and innovation. Below are the best seafood restaurants in Cabo San Lucas that you must visit.
Plan your trip to Mexico with us! Get expert travel advice and customized trip-planning itinerary from our local experts on the ground.
🗺️ Cabo Seafood Restaurants Map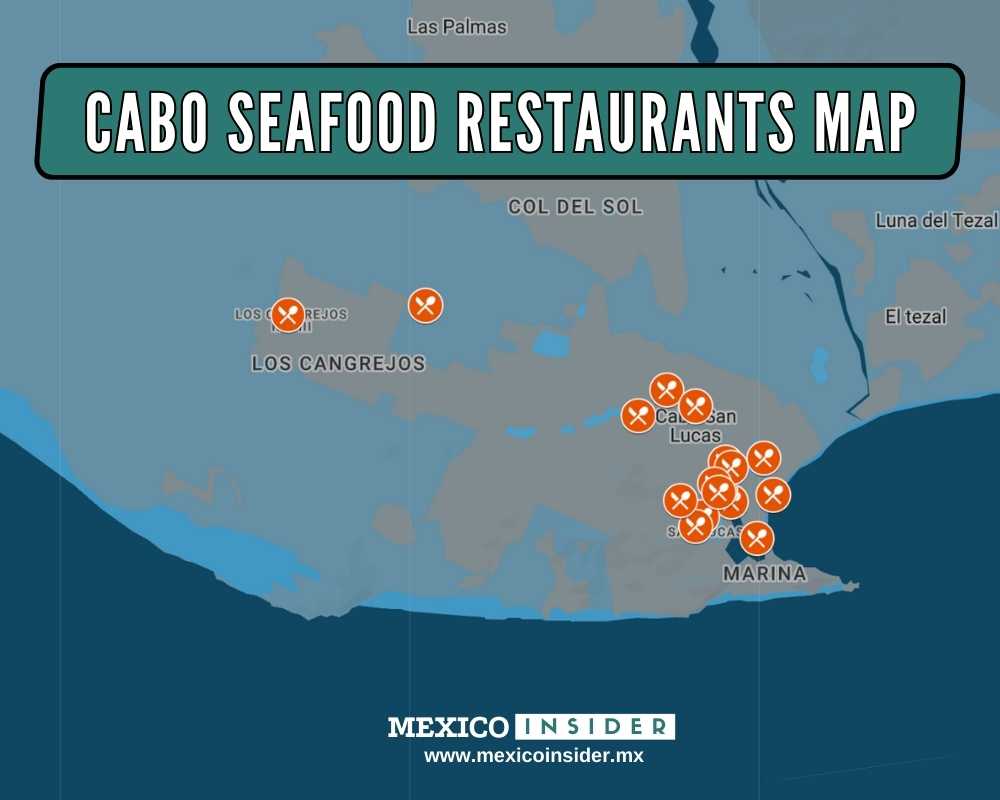 🦞 Seafood Restaurants in Cabo San Lucas
La Galeria
📍Plaza Bonita, Blvd. Lázaro Cárdenas
💲from $10 USD
La Galeria is a trendy seafood restaurant run by a multiple-award winner and celebrity, Chef Rodrigo Cabeza de Vaca.
Their menu mainly focuses on fusion and international seafood dishes. Moreover, the restaurant is located at the Marina of Cabo San Lucas, adding a great atmosphere with great Marina views.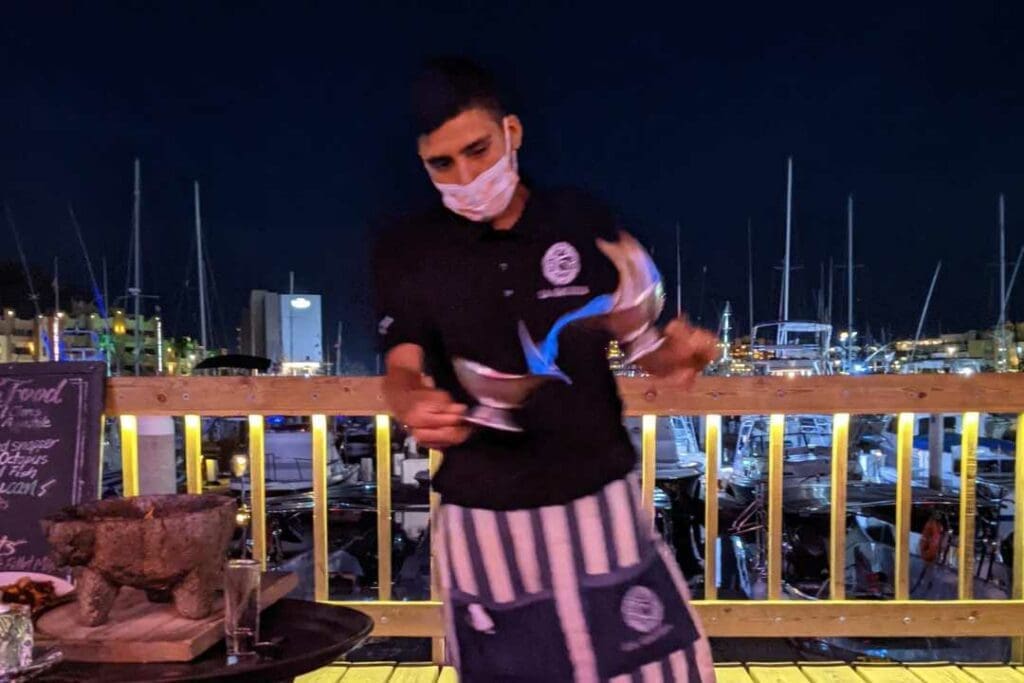 The presentation of the food here is artistic and served in moderate portions. When dining here, get their specialty dish: the two lobster tails and grilled shrimp. Meanwhile, for your drinks, you should try the passion fruit margaritas.
The prices of food and drinks at La Galeria start at $10 USD. Still, you'll need a budget of at least $30 USD when dining here to enjoy an entire course. And they do accept both cash and cards for payments.
Misiones de Kino
📍Vicente Guerrero, Centro, Ildefonso Green
💲from $10 USD
Misiones de Kino is a fine-dining restaurant that offers Mexican and Italian cuisine. The place has an open bar indoors and seating options in a relaxed setting.
You'll be surrounded mainly by a mix of Mexican features and boho elements in the area, making the atmosphere laid-back yet elegant.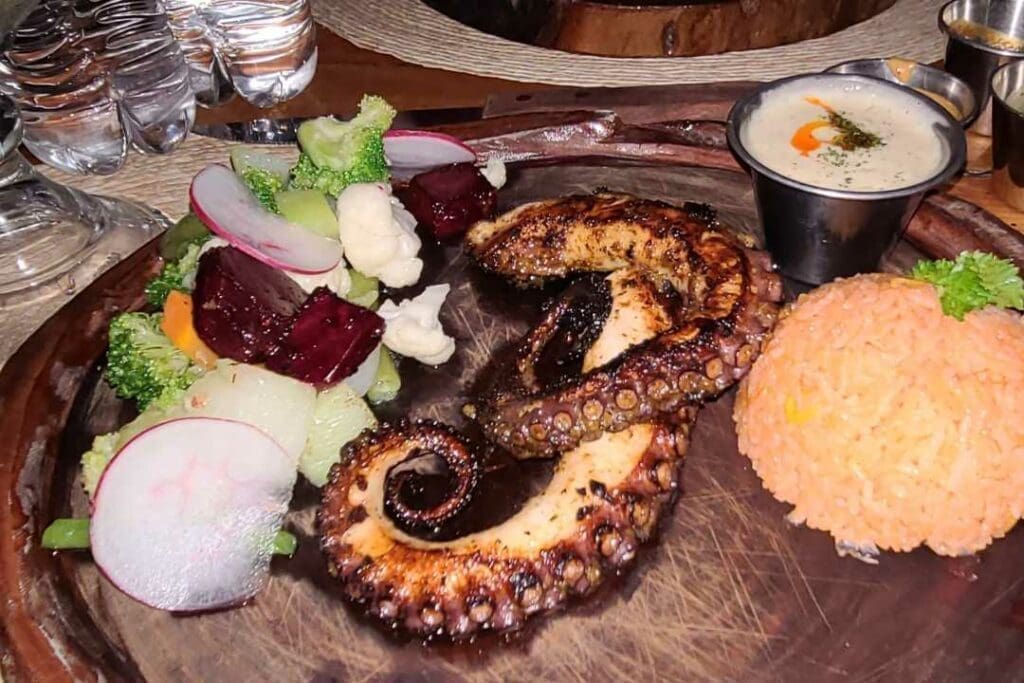 Each dish is plated intricately, and despite being a fine-dine restaurant, portions are still significant in quantity.
Misiones de Kino is most known for their seafood dishes, and one of its most recommended menu items is the fish on coconut sauce. You should also order the bacon-wrapped shrimp for an appetizer and finish with some margaritas.
Food and drinks at Misiones de Kino start at $10 USD. So, you'll need at least a budget of $30 to $40 USD to enjoy your dining experience here.
Mercado del Mar
📍El Medano Ejidal, 23479 Cabo San Lucas
💲from $10 USD
Mercado del Mar is a one-stop place for dining, drinking, and shopping. Situated in a prime location in the city, this seafood restaurant uses fresh off-water ingredients. Since they also have a market, you can purchase local ingredients and fresh seafood.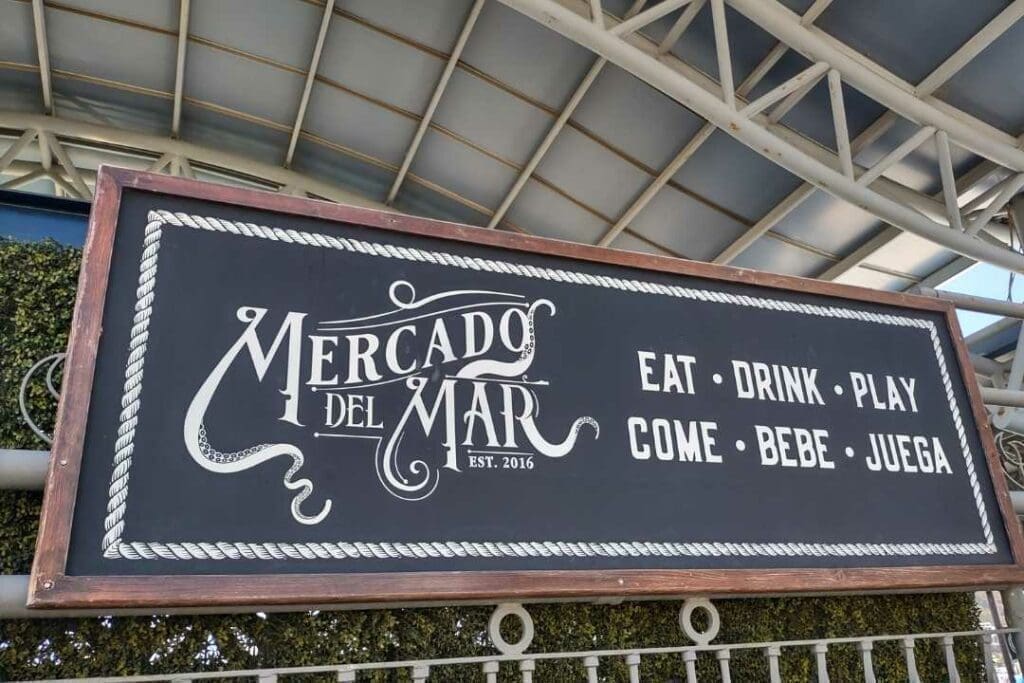 You have many choices from their menu, but getting a set of assorted grilled seafood is highly recommended. This already comes with different kinds of seafood that you can enjoy. Of course, do not miss out o getting a glass or two of margaritas too.
The price of food here starts at $10 USD. This gets you the freshest seafood you can encounter in Cabo. However, ensure you have some cash when dining here because they do not accept cards for payment.
Toro Guero
📍C. Adolfo López Mateos S/N, Mariano Matamoros
💲from $12 USD
Another great seafood restaurant in the city is El Toro Guero Seafood. It is a local eatery specializing in seafood dishes made from fresh catch and ingredients. The ambiance is casual, laid-back, and spacious enough to house several diners.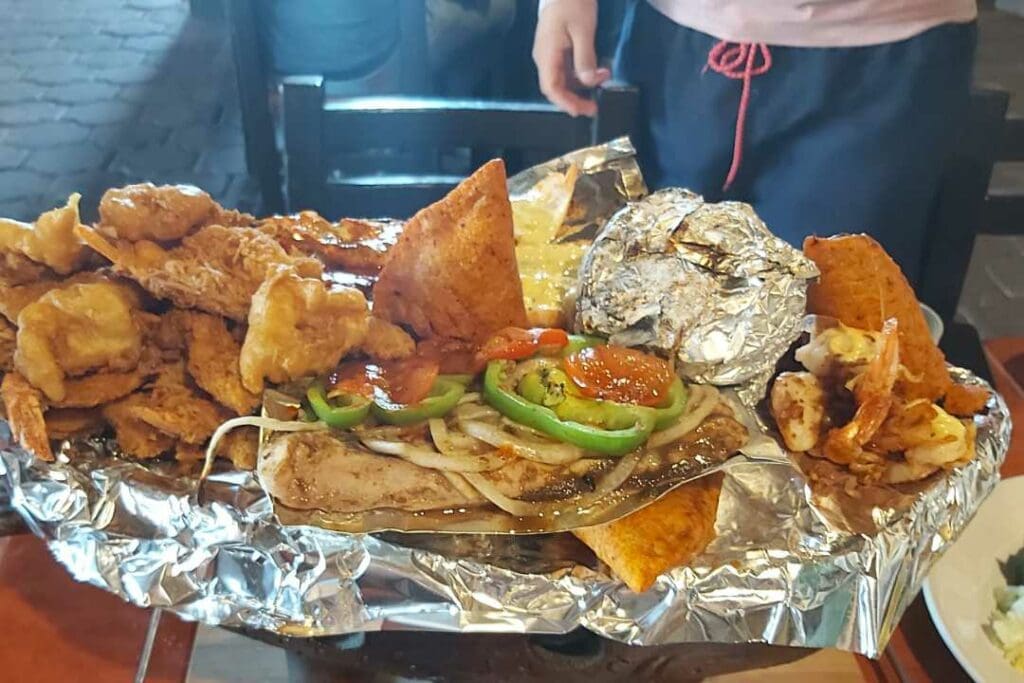 Their food at Toro Guero is served in large portions, which can be shared between two or three persons. One of their best-selling dish that you should not miss out on is the shrimp ceviche and fried fish. Another item to not miss out on is the callo de hacha.
The food here is affordable and reasonably priced, starting at $9 USD for a serving of two. Considering the portion size, this is already cheap
Aleta
📍Av. del Pescador, El Medano Ejidal
💲from $12 USD
Aleta is a beachside seafood restaurant that offers a great view of Medano Beach. They offer breakfast, lunch, and dinner services with different menu items.
The restaurant's atmosphere is relaxed and laid-back, with a patio and indoor and even beachside sand seating.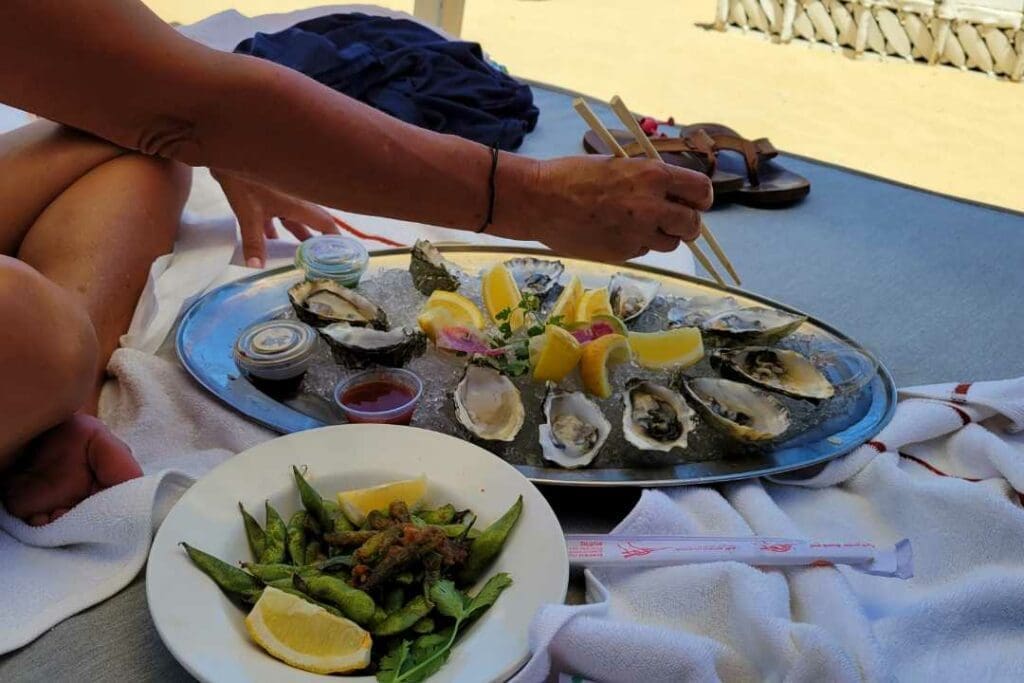 One of Aleta's best-seller is the smoked oysters that can be paired with their famous grilled octopus or lobster tails.
They also serve seafood dishes from around the world, including sushi. All these should come excellent with a glass of wine.
The food prices here at Aleta can range starting at $9 USD, while drinks start at $7 USD. You can also pay with a card and cash when dining here.
Pezcabo
📍Adolfo Ruiz Cortines S/N, Ejidal
💲from $9 USD
Pezcabo is a famous local seafood restaurant that has been a go-to among locals and travelers. The place is casual and straightforward, with several indoor seating available.
Since they do not accept early reservations, you should visit early as the place gets packed, especially at dinner time.
One among many dishes that have become a crowd favorite is the coconut shrimp. They also make an excellent classic ceviche, which will go well with a bottle of local beer.
Compared to other famous seafood restaurants in Cabo, Pezcabo is a little bit cheaper. The prices of food and drinks here start at $9 USD.
Las Tres Islas
📍Revolución de 1910 23469, Downtown, Juárez
💲from $3 USD
Another famous restaurant known for seafood dishes in the city is Las Tres Islas. This is one among many go-to places for locals.
It is tucked in the corner of Cabo's streets, where the vibe is casual and simple while living with a mariachi band playing for diners.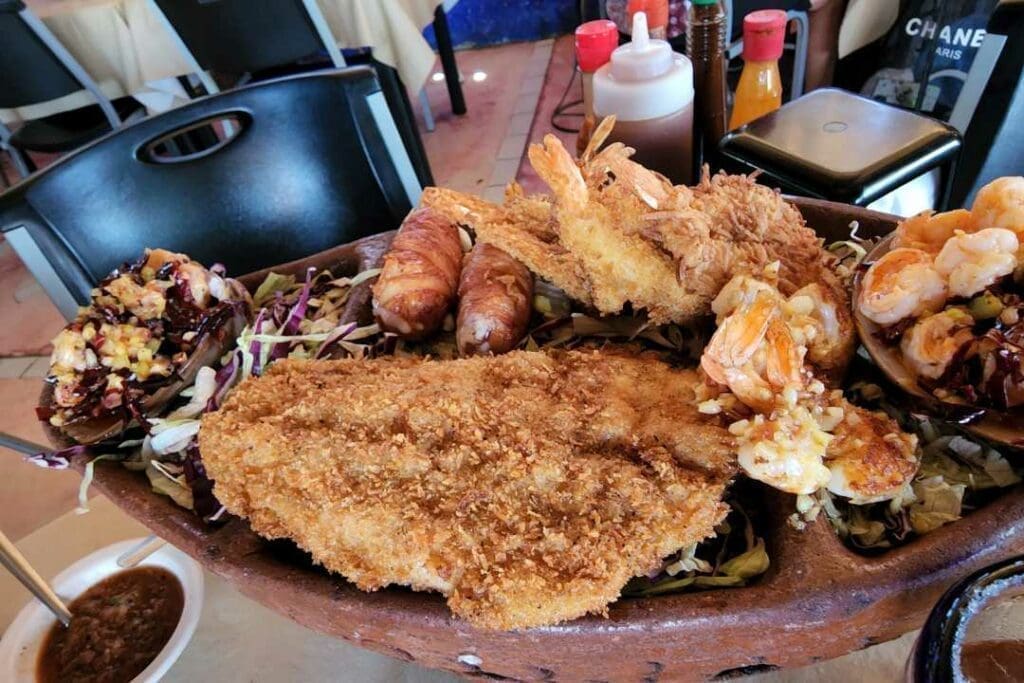 Specializing in seafood, one must-try in Mariscos Las Tres Islas is their Red snapper with salsa. Another recommended dish is the tacos gorbernador; pair it with a glass or two of margarita.
Drinks here start at $3 USD, while their food is reasonably priced at $7 USD or more. You should also bring cash when dining here as they do not accept cards as payment.
Mariscos Cabo Seafood
📍Av. Cotero, 23546 Cabo San Lucas, B.C.S., Mexico
💲from $8 USD
Mariscos Cabo Seafood is a known beachside restaurant situated inside a tropical-hut-like house. Here you can enjoy several seafood dishes made from fresh and quality ingredients.
The restaurant is in an open-setting space with an airy and spacious atmosphere.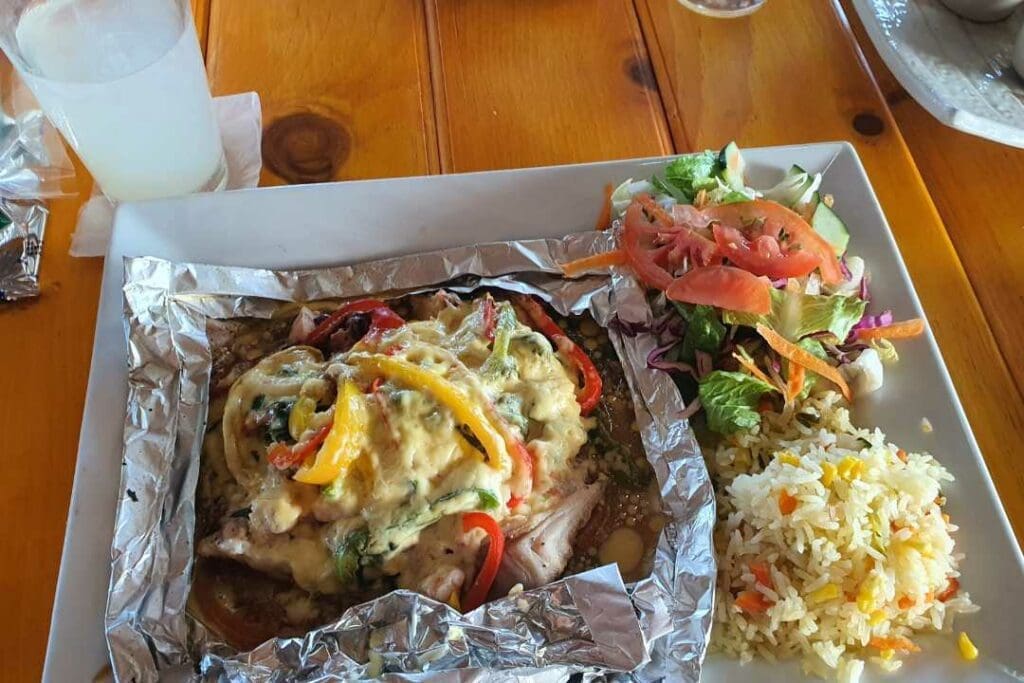 One of their best-sellers is the fresh grilled octopus served in large portions. Another crowd favorite is the fish tacos, perfect for families with kids or those who enjoy tacos.
To complete the experience, order clam ceviche with habanero.
Prices of food here at Mariscos Cabo Seafood start at $8 USD. They also accept both cash and credit card payments.
Wachinango's
📍Niños Heroes entre Zaragoza y Morelos Colonia Centro
💲from $6 USD
Wachinango's is a Hawaiian-inspired seafood restaurant in a tropical interior space. You'll be dining in open indoor seating, with a couch and counter seats available.
It is also decorated with colorful murals and artwork, adding to the restaurant's boho and tropical vibe.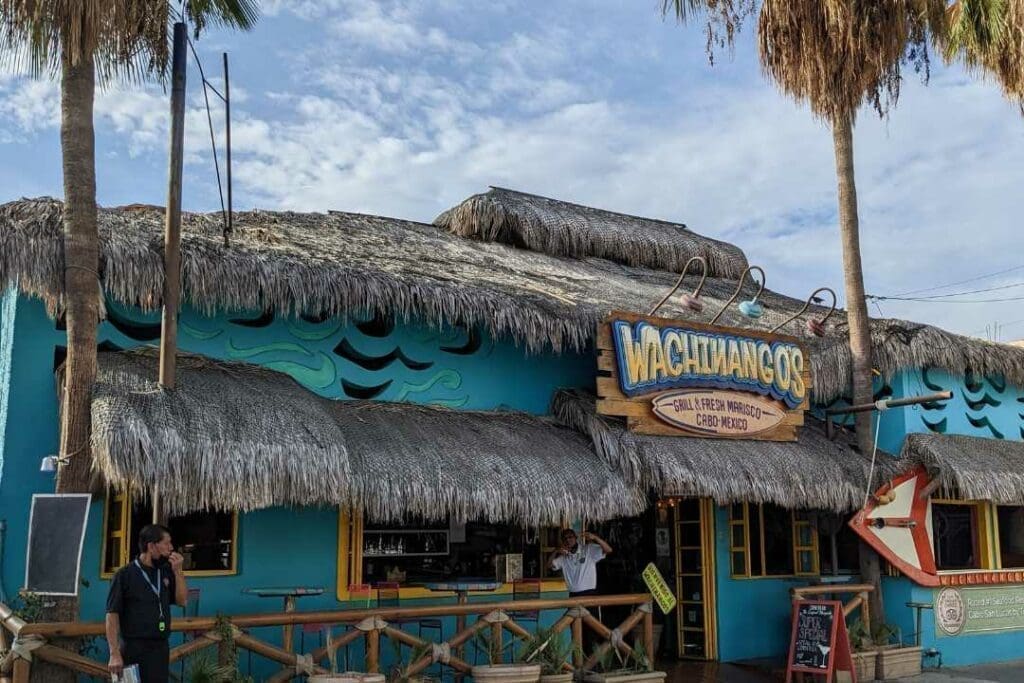 At Wachingo's, you should order some octopus tacos, which you can ask to be topped with fried taro and plantain.
Another great item on the menu is the red snapper, a favorite among local diners. All these can be paired with a good glass of margarita.
Depending on what you'll be getting, menu items can range from $6 USD to $30 USD. So, ensure you have a $20 USD budget per head.
La Roca
📍Av Solmar 1B, Centro, 23450 Cabo San Lucas
💲from $6 USD
Combining the traditional flavors of Mexico and international cuisine, the menu at La Roca has been known to offer some of the freshest and most unique taste of dishes to customers.
La Roca has an elegant and sophisticated ambiance, and inside, you'll get a great view of the ocean from the glass windows but also have the option to sit on their open-air patio.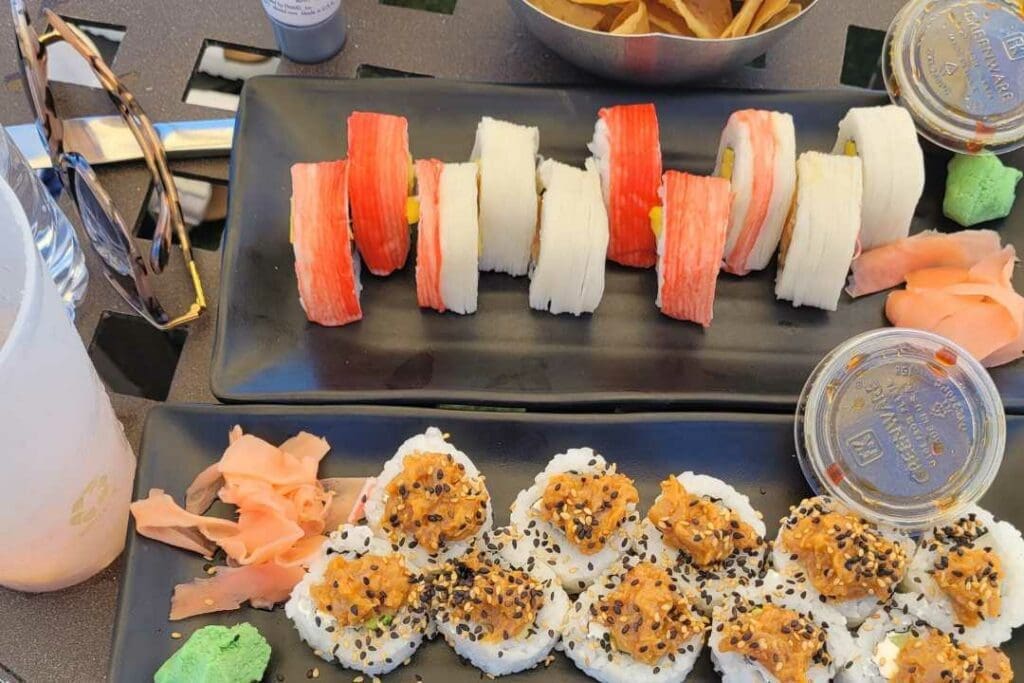 For your appetizer, getting La Roca's Mushroom Casserole is highly recommended. Meanwhile, their best-selling chile relleno should be great for your main dish.
If you want something different from the classic Mexican food, ordering sushi will not disappoint! You can choose from a flavored mimosa or their house wine for your drinks.
Drinks at La Roca start at $6 USD, while food costs $10 USD or more. They also accept credit cards for payment, aside from cash.
Maydan
📍Av. del Pescador S/N, Col. El Médano, Los Cangrejos II y ÌII
💲from $20 USD
Maydan is a fusion restaurant that serves diverse breakfast and lunch meals. It offers a great view of the Medano beach from the inside and outdoor seating.
In addition, Maydan is an in-house hotel restaurant that has become well-renowned because of its culinary experience, all supervised by chef Luis Bermejo.
One of their best-selling dishes is the grilled lobster, sold per piece and priced per gram. You can pair this with their famous Chicago Style Cheese Deep & Basil Pizza. They also have a wide selection of drinks, including margaritas, cocktails, and wine.
Maydan does not accept cash payments, so you must ensure you have your card before dining in. Food prices here start at $20 USD, slightly more expensive than elsewhere.
Las Mariscadas
📍C. Cabo San Lucas s/n, Centro
💲from $3 USD
Las Mariscadas is a local cantina in Cabo that is a favorite go-to place of both locals and visitors alike. The ambiance here is casual and lively, surrounded by plants and colorful ocean-related artworks.
They also have a spacious dining area, enough to house a big group of diners.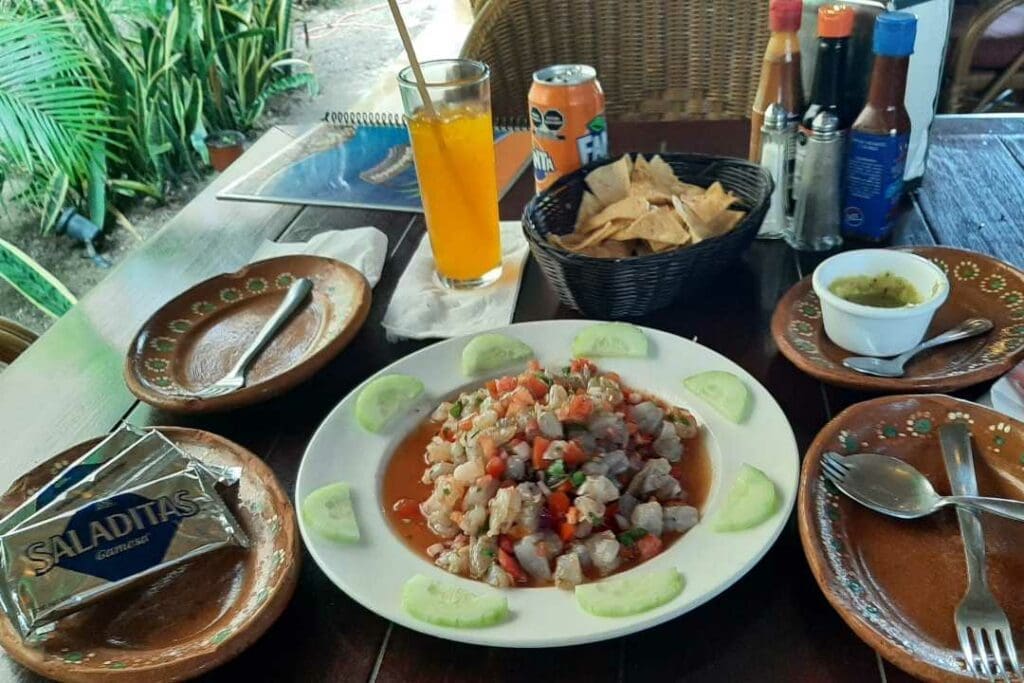 Among their extensive list of menus, the crowd's favorite is the coconut shrimp and some tuna sashimi. Another must-try is the lobster burrito which would come great with a glass of margarita or local beer.
The food prices at Las Mariscadas start at $6 USD, while drinks can be as cheap as $3 USD. They also accept both cash and card for payment.
Mariscos La Palmita
📍16 de Septiembre S/n, Downtown, Centro
💲from $6 USD
Mariscos La Palmita is another local eatery that is a go-to for the locals. The restaurant has an open indoor setting with a casual and laid-back ambiance.
You'll also be able to peak in their open kitchen while they prepare your food with quality and fresh ingredients.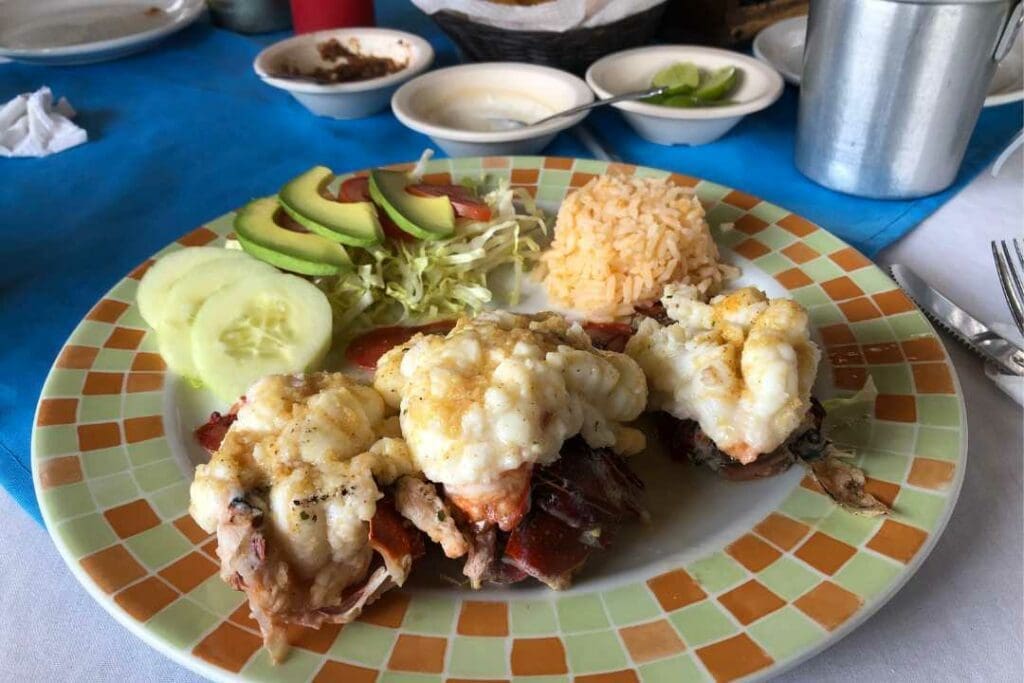 One of the most recommended dishes is the shrimp ceviche, which you can ask for raw or cooked.
Another must-try in Mariscos La Palmita is their marlin quesadillas, using freshly made tortillas. And, of course, you should also order some of their fresh juice or a glass of cold margarita.
You can only pay with cash here, so ensure you have one when visiting. To give you an idea, the food and drinks here cost $6 USD or more.
Mariscos Mazatlan
📍C. Narciso Mendoza s/n, Downtown, Centro
💲from $6 USD
Mariscos Mazatlan is one of many family restaurants in Cabo. They serve a wide selection of seafood menu and offer diverse cuisine but specialize in traditional Mexican food.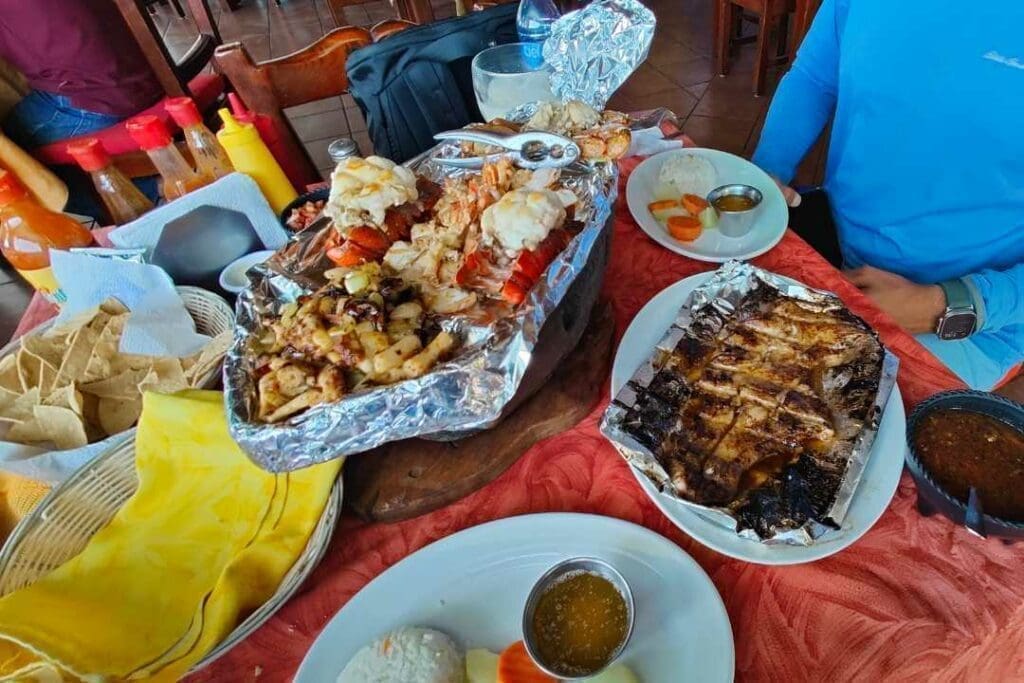 The food here at Mariscos Mazatlan is served in large portions, great for friends and family sharing. It is highly recommended that you try their Supreme fish & shrimp combo and combine it with agua chiles.
You can also order their large coconut shrimp served as an a la carte dish or on a platter.
Their menu items range from $6 USD to $79 USD. They also accept both cards and cash for payment when dining in.
Los Claros
📍Ignacio Zaragoza, Downtown, Centro
💲 from $2 USD
Los Claros is a small local eatery serving many different seafood dishes. It is a go-to place among locals and is highly recommended to travelers and tourists.
Expect the place to be fully packed during rush hours, so line up early since they do not accept table reservations.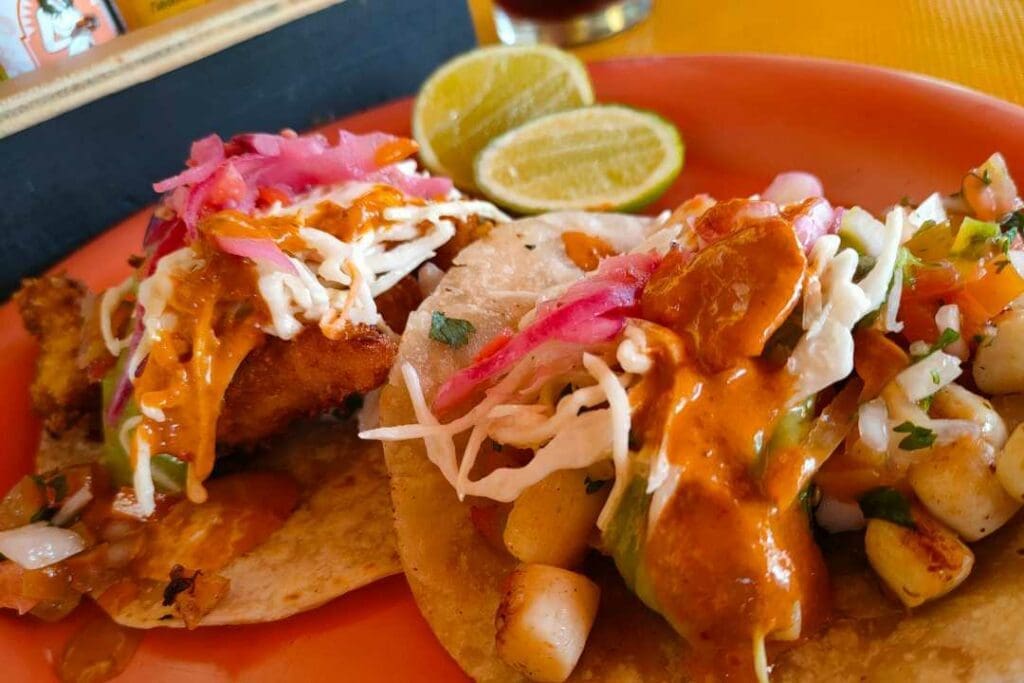 One crowd favorite is the shrimp quesadilla. But aside from that, you can also change your toppings from fried fish to carne asada.
If you enjoy spicy food, you should order their agua chile and pair it with local beer.
In terms of price, Los Claros offers cheaper food and drinks than other seafood restaurants in Cabo. Their menu items start at $2 USD and can go higher to $30 USD.
Mariscos El Torito
📍Janette Wilson, Downtown, Ejidal
💲from $7 USD
Mariscos El Torito is one of Cabo's most famous local seafood restaurants. It is a favorite lunch spot among locals, crowded with students, families, and tourists. Inside you'll sit in an open square area with wooden tables and chairs.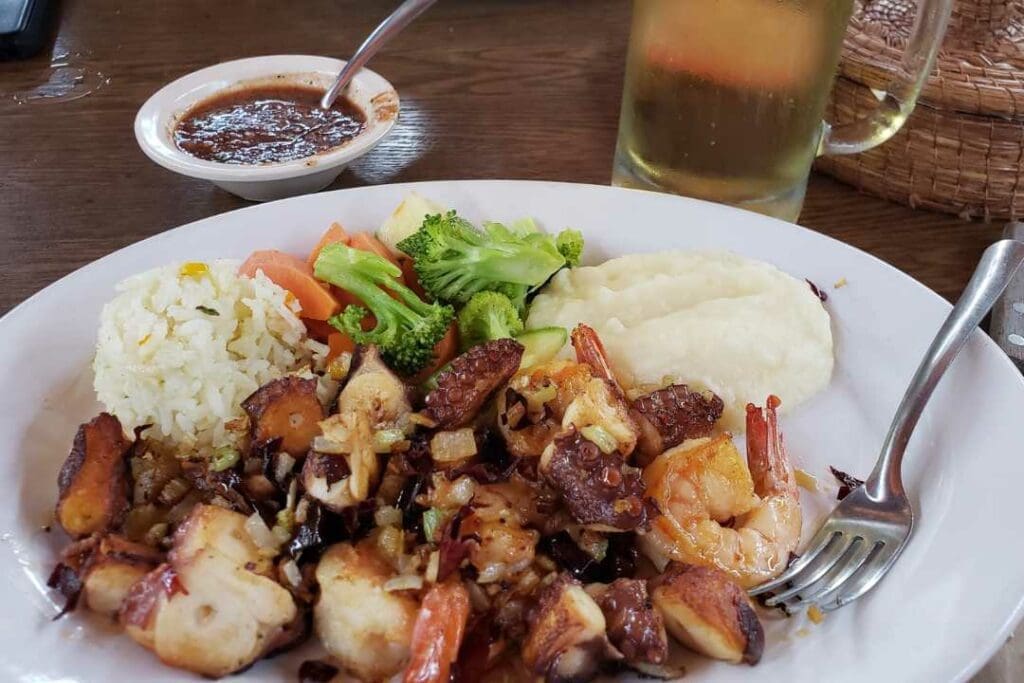 Some of the best-sellers at Mariscos El Toriot include the pescado zarandeado, a pre-Columbian recipe of butterflied whole fish. Another famous dish is the sopa de mariscos and ceviche.
You can already enjoy fresh and good quality seafood dishes at Mariscos El Torito for an affordable price. Food costs between $7 USD to $50 USD, while drinks are cheap as $3 USD.
El Pescador
📍Zaragoza Niños Heroes y Zaragoza, Ildefonso Green
💲 from $7 USD
El Pescador is a small local eatery with an open-air space perfect for day and night dining. They specialize in serving authentic
Mexican seafood dishes and a few mixed drinks. They do not offer reservations, so be early to get good seats inside or on their patio.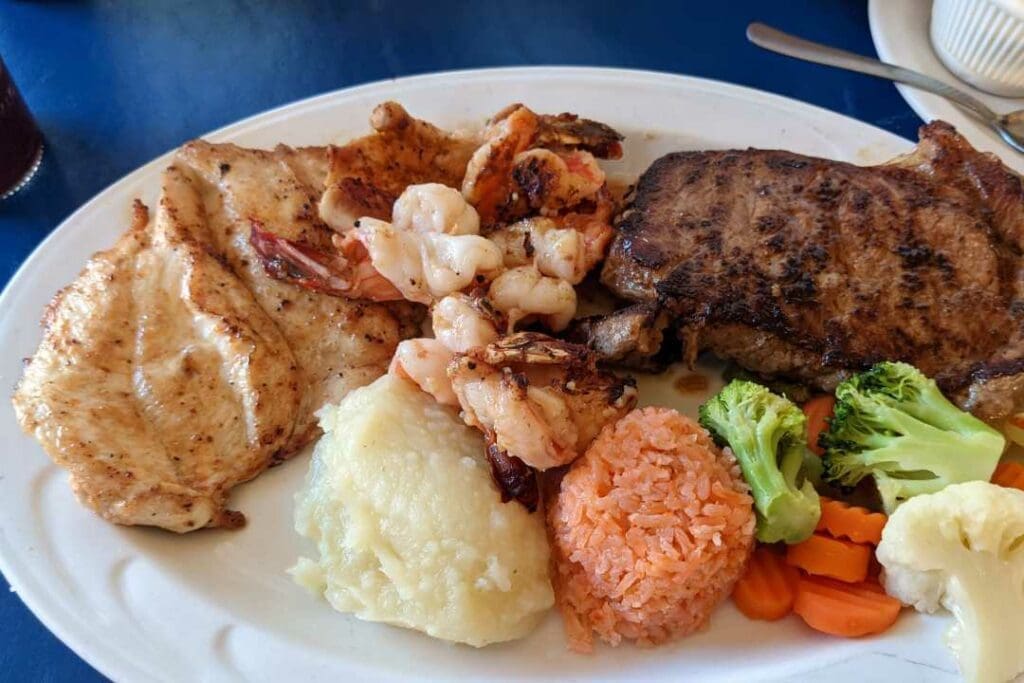 When dining here, you should order their El Pescador Combo, which includes all their famous dishes – fish fillet, lobster tails, shrimp, and scallops.
El Pescador is also renowned for its red snapper dish.
Prices of food and drinks at El Pescador range from $7 USD to $30 USD. You should also bring with you cash when dining here.
Mariscos Paseo del Centenario
📍23470, C. Cabo San Lucas 1910, Ildefonso Green
💲from $3 USD
Mariscos Paseo del Centenario is a modern local restaurant on an off-beaten path with a laid-back and casual atmosphere.
It is decorated with ocean-themed paintings and some Mexican elements and features. The place is also spacious, enough to house large groups of diners.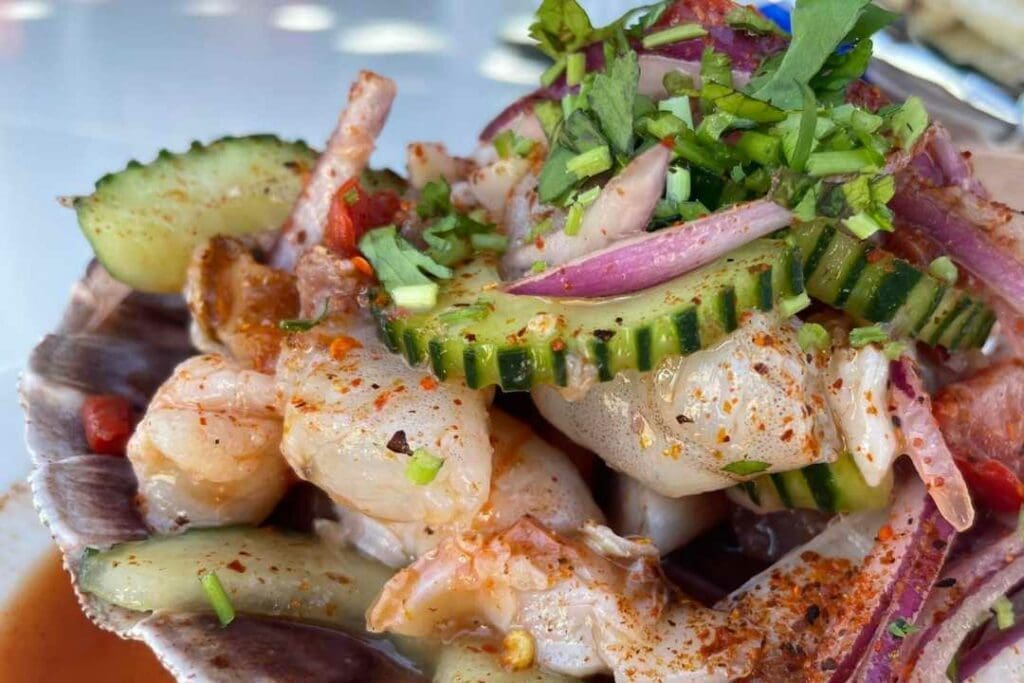 With Mariscos Paseo del Centenario's extensive menu list, one of their best-selling dishes is the bacon-wrapped fish stuffed with seafood.
Another food item you should try is fresh shellfish or Camarones.
Food at Mariscos Paseo del Centenario starts at $4 USD, while drinks can start at $3 USD. They also accept cash and card as payment.
🇲🇽 Cabo Travel Guide
Trisha traveled to Mexico in 2018 and after a year, she found herself obtaining a 4-year residency visa in Mexico. She is the Editor-in-chief for our Living in Mexico Series which has helped over 3,000 Americans move to Mexico with ease. Trisha currently resides in Cabo San Lucas, Baja California Sur.