Day of the dead in Mexico City is one of the biggest events in the capital. In this post, we will give you detailed information on how to plan your trip to CDMX for the day of the dead including events and parade schedule!
We usually jump between Oaxaca and Mexico City for day of the dead but if you chose CDMX this year, good choice! Expect it to be colorful, vibrant, and we hope you can pull an all-nighter!
I have to be honest: growing up celebrating day of the dead in Mexico City, this has been my family's favorite event and we do take it seriously.
You probably have booked your Mexico City day of the dead accommodations so I won't go into the details. But you'll still find the best neighborhood suggestions at the end of this post.
Here, I will share all the coolest day of the dead events in Mexico City but be warned: you really won't need a calendar for the day of the dead as there will be something happening in every corner of the capital.
🪅 Editor's Note: We regularly update this Mexico City day of the dead events so bookmark this page and come back closer to dates!
You might also like:
Plan your trip to Mexico with us! Get expert travel advice and customized trip-planning itinerary from our local experts on the ground.
🎊 Mexico City Day of the Dead Parade 2023
Interestingly, the concept of a large-scale parade for Day of the Dead in Mexico City gained traction after the release of the James Bond movie Spectre, which featured a fictional Day of the Dead parade.
The spectacle caught the imagination of people both locally and internationally, leading to the establishment of a real annual parade.
The parade is massive, featuring enormous floats, giant marionettes, and hundreds of performers. It travels through major streets, attracting thousands of spectators, both local and international.
One of the most exciting aspects is that the public can often participate in some way, whether by dressing up, joining organized groups, or simply enjoying the spectacle from the sidelines.
Below is the schedule and dates for the 3 big Day of the Dead parades in Mexico City:
October 21, 2023: Alebrijes Parade
⏰ 12:00 PM
📍 Zocalo Mexico City
Every year, the Museo de Arte Popular (Museum of Popular Art) hosts the grand alebrije parade. Alebrije is a popular folk art culture of brightly colored sculptures and mythical creatures. This sacred Mexican art is from the state of Oaxaca.
The parade will start at the Zocalo in Mexico City and ends in Paseo de Reforma. If you miss the alebrijes parade, they will be on display in the Angel de la Independencia (Angel of Independence) until November 6.
October 22, 2023: Catrinas Parade
⏰ 6:30 PM
📍 Angel de la Independencia
The Catrina is a famous Mexico day of the dead immortal icon. Every year, thousands of massive Catrinas grace the steets of Mexico City and spectators are also dressed as Catrinas.
The make-up session will begin at 11:00 AM on October 23. You will find the make-up artists betweem the Estela de Luz monument and Angel of Independence until 8:00 PM. Prices start at US$10 but it all depends on the style you want so make sure to grab some Catrina photos on Pinterest!
The parade commences at 6:30 PM at Angel of Independence in Reforma and will pass in Juarez Avenue, and ends in the Zocalo.
November 4, 2023: Grand day of the dead Mexico City Parade
📅 October 29
📍 Zocalo Mexico City
The grandest and the biggest of them all is the Mexico Day of the Dead Parade. This parade starts in the Zocalo and paves 8.7 KM for 5 hours.
The best spots to be a spectator for these parades are Paseo de La Reforma and Zocalo. The parade will start at approximately 12:00 noon.
🕯️ Day of the Dead tours in Mexico City
Please note that our day of the dead tours in Mexico City are spearheaded by local families so we need at least 7 days to reserve.
We don't want to overwhelm the community so we limit each tour to 15 people maximum. Here are our top 3 cemetery and local family home tours:
Traditional Day of the Dead in Mixquic
💲 from $109 USD
⏰ 3.5 hours
➡️ Book it here
Delve into the traditions of Mixquic Mexico City Day of the Dead tour, alongside a local family. Experience age-old ceremonies, lantern-lit processions, and the vibrant tapestry of memory and celebration.
Here are the highlights of this tour:
Visit Mixquic, a popular neighbourhood for day of the dead in Mexico City
Explore the remains of the chinampas
Visit local families and learn about their traditions
Go to a cemetery in Mixquic
Explore tzompantli
Enjoy pan de muerto, tamales, and hot chocolate with a family
Candles, Calaveras & City Secrets
💲 from $199 USD
⏰ 4 hours
➡️ Book it here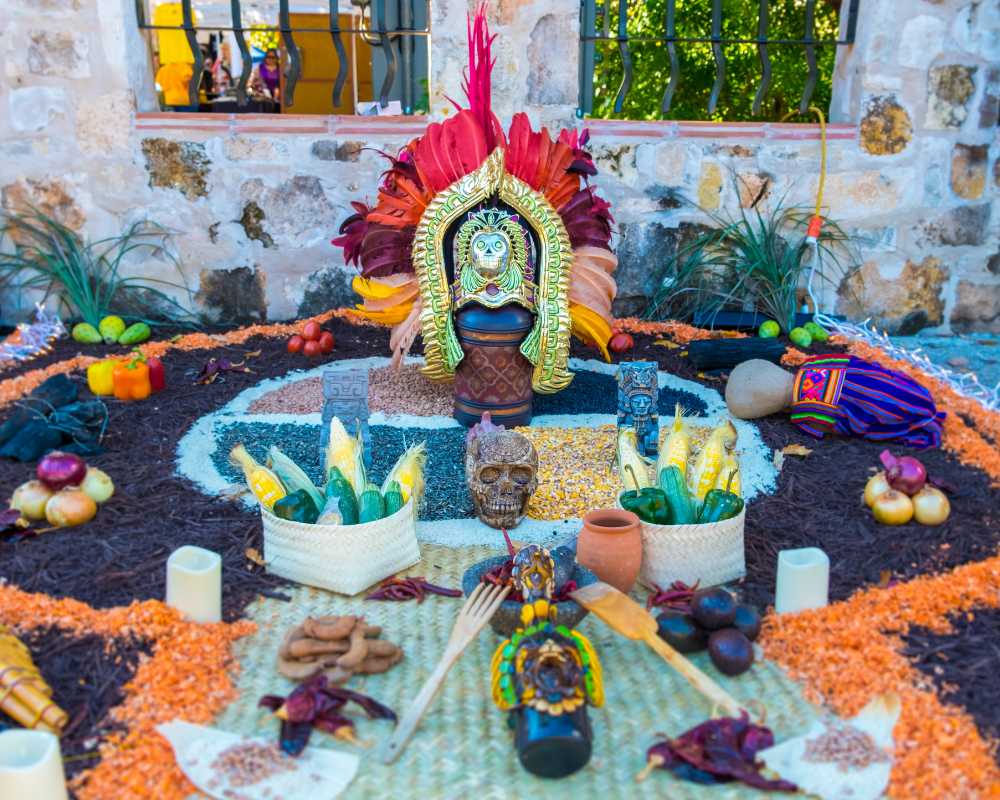 A local family hosts this magical Mexico City day of the dead activity. Dive into time-honored traditions, vibrant processions, and heartfelt ceremonies on this immersive tour.
Experience a cultural celebration like no other, where life and memory dance hand in hand. In this tour, you will:
Learn how to cook a tamal recipe with the host's family
Learn about the pre-Hispanic ritual of tamal
Create a Day of the Dead altar
Handicrafts-making for the altar
Learn about day of the dead traditions
🎉 Events during Mexico City day of the dead
1. Go to Tezozómoc Park in Azcapo
📅 October 29 – November 2
📍 Hacienda del Rosario
Tezozomoc Park is a large green area in Mexico City. This year, we are expecting many free activities and events in the park like art exhibits, their own day of the dead parade, an extensive display of altars, a costume contest, and of course, a food festival.
2. Cuauhtémoc Mexico City day of the dead parade
📅 October 22
📍 Alameda de Santa Maria
Cuahtemoc is one of the best neighborhoods to visit in Mexico City and this year, they are going to have their own day of the dead parade!
The parade starts at 10:00 AM in Alameda de Santa Maria. Aside from the parade, there will also be street food markets, artisanal markets, film viewing, and art activities in the neighborhood.
3. San Andrés Mixquic Day of the dead in Mexico City
📅 November 1 and 2
📍 Mixquic
Day of the dead in Mixquic is particularly popular with the Mexicans. During the week of the day of the dead, Mixquic turns into a magical and festive neighborhood highlighting a pre-Hispanic and colonial day of the dead traditions.
4. Monumental skulls of Tlahuac
📅 November 1 and 2
📍 Francisco Santiago Borraz, Santa Cecilia, Tláhuac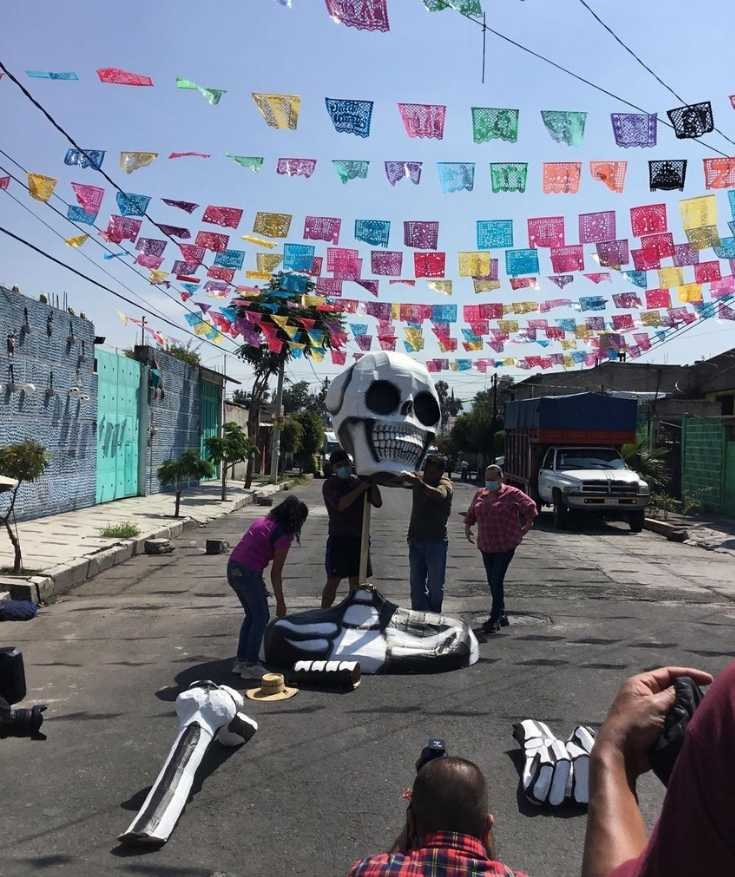 Also known as Calaveras Gigantes (Giant Skulls), this street in Tlahuac has yearly exhibitions of massive calaveras. This year, the collection will honor Jose Guadalupe Posada's garbancera catrina.
This is the most exciting open-air/outdoor exhibit for day of the dead in Mexico City and admission is free!
5. Mega ofrenda by UNAM
📅 November 1 and 2
📍Plaza de Santo Domingo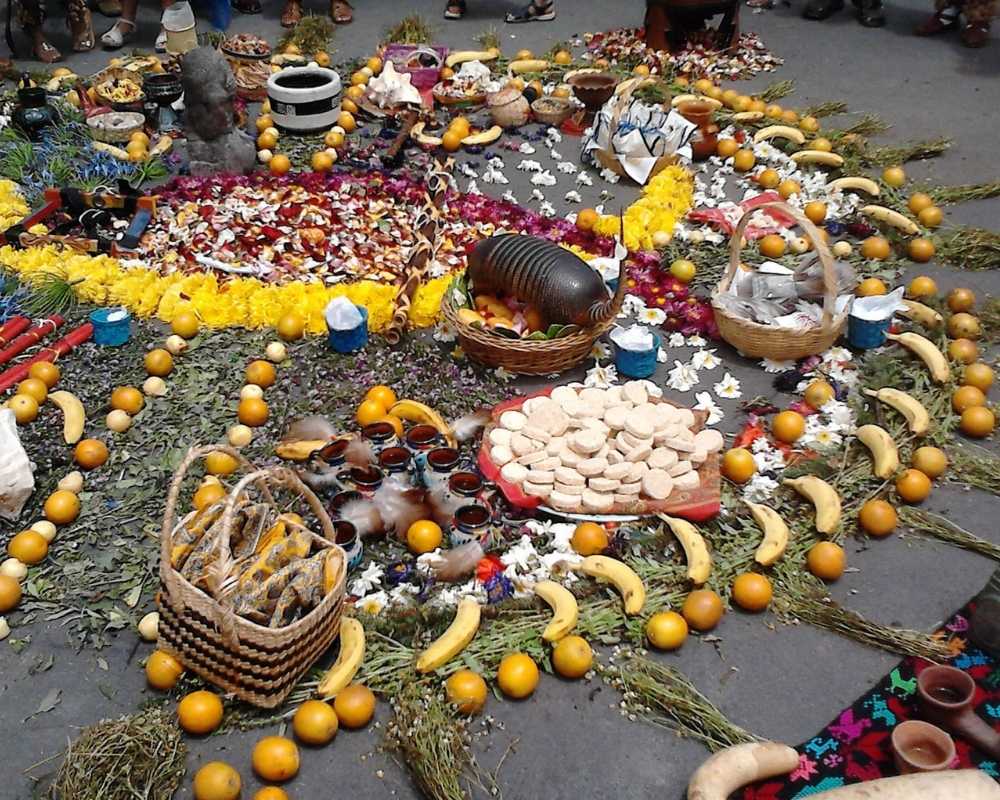 Ofrenda is the altar and is is very significant during day of the dead because this is specifically for their departed loved ones. There is no format in making the altar so you will see all of them differently.
The Mexicans get really creative with their altars and it's a joy to see! Ever year, the Universidad Nacional Autónoma de México (UNAM) spearheads the mega ofrenda. This year, 40 universities in Mexico City are expected to participate.
Students and professors put their best foot forward to designing the best altar as this is also an annual contest. The event will take place in Santo Domingo Plaza on November 1 & 2, from 10:00 AM – 9:00 PM.
6. Day of the dead in Mexico City Parade for pets
📅 October 30
📍5 de Febrero
See hundreds of dogs parade with their day of the dead costumes! The parade will start at 11:30 AM on Avenida 5 de Febrero towards the streets of Fray Juan de Zumarraga, Montevideo, Rio Bamba, Matanzas, and Buenavista.
Apart from the cuteness overload of pet costumes, there will also be live music, food, dancing, and art activities. Admission is free for the first 250 people so come early!
7. Calacas Fair at National Arts Center (Cenart)
📅 November 1 & 2
📍TBA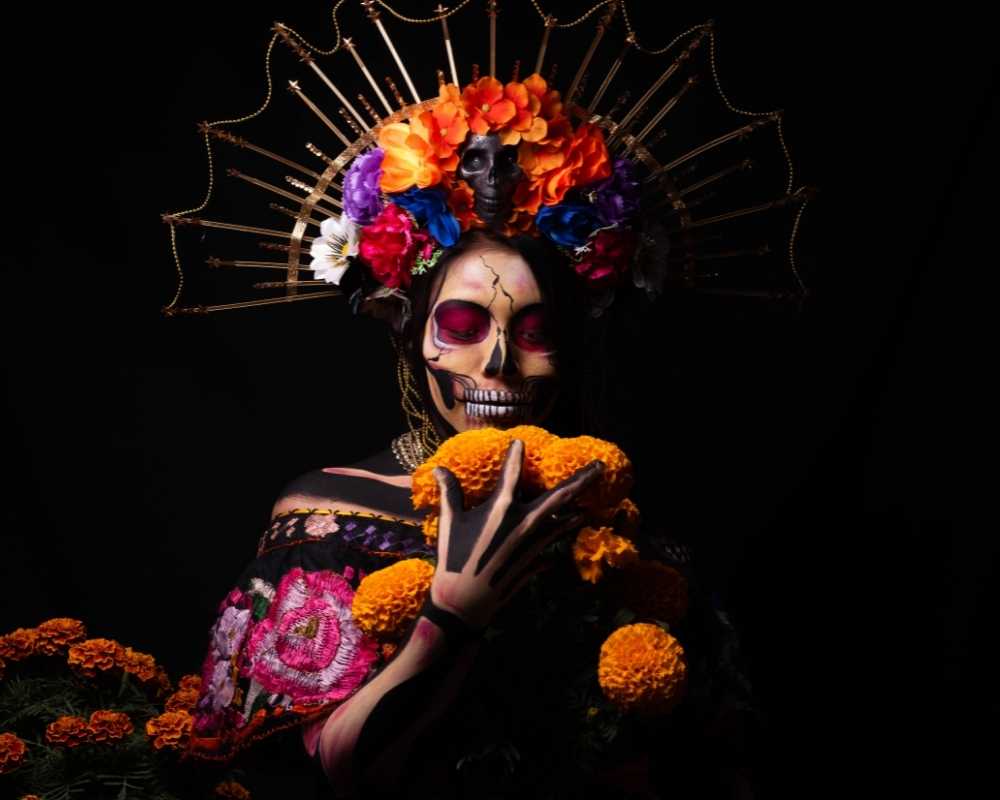 The National Arts Center in Mexico City announced that their Calacas Fair that will take place on November 1 and 2. Organized by Alaz y Raices, the Calacas Fair is another day of the dead activity to check out.
There will be markets, art workshops, and activities for both adults and children. As of today, the program of activities have not been released by Cenart but we will update this post once we hear from them!
8. Jurrasic Park at The Box
📅 October 1-31
📍Av. Paseo de la Reforma 157
An unusual activity famous for families and friends, The Box will have the Jurrasic Immersion for the whole month of October. This is an experiential activity where The Box installs their Jurassic Park masterpiece.
9. Six Flags Horror Festival
📅 September 15 – November 14
📍 Carr. Picacho-Ajusco Km 1.5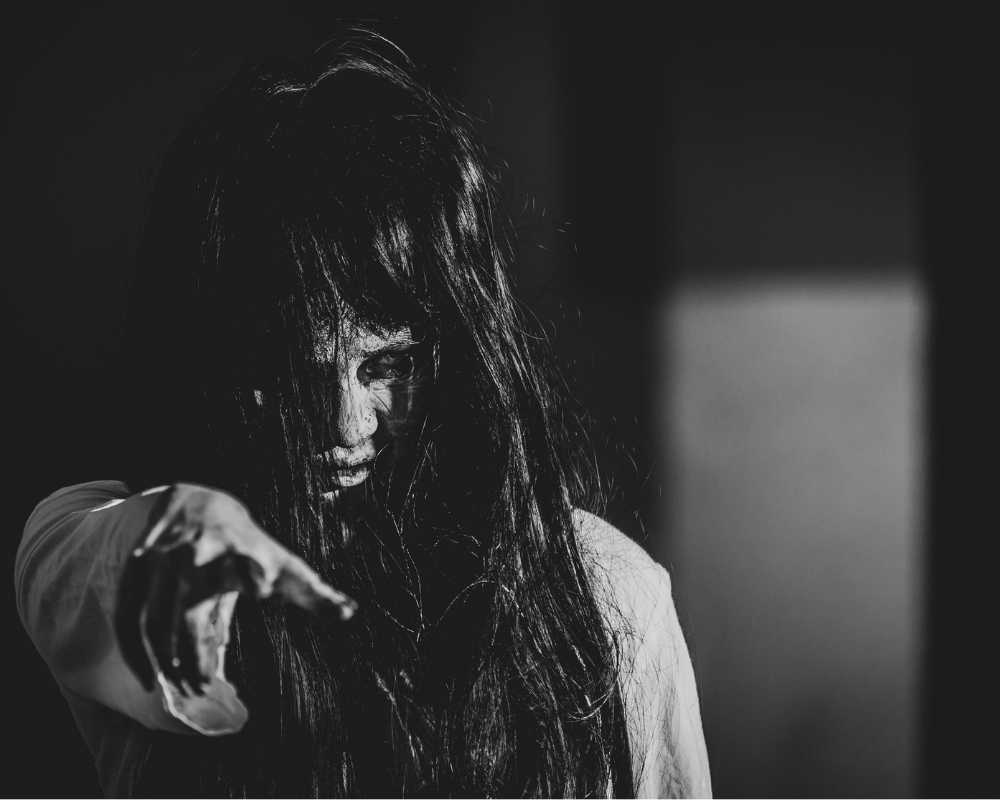 Six Flags is an amusement park in Mexico City and all those locals who grew up in the capital have fond day of the dead memories at this park. Six Flags holds this event every year and this year, they have added 10 more extreme horror attractions.
10. Get to know about La Llorona
📅 October 1 – November 27
📍 Pista Olímpica Virgilio Uribe, Xochimilco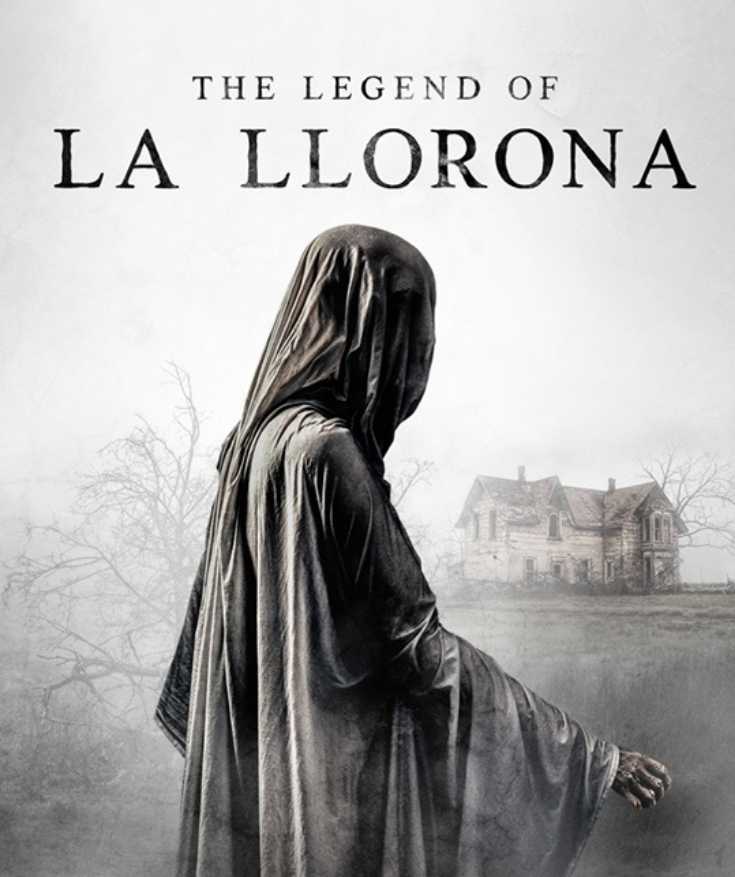 La Llorona (The Weeping Woman) is a mythical ghost of the prehispanic times. According to legends, La Llorona roams around the parks weeping for her children whom she drowned.
In Xochimilco, they have stage plays that will introduce you to this popular myth and you can watch this show while on a boat in Xochimilco!
11. Oracle Festival
📅 October 15
📍 Santa María La Ribera 100-int 7
The Oracle Festival and Magical Bazaar is also known as the festival of the witches. The event will have tarot reading booths, fairy tales, Wicca culture, and it is overall a magical experience, especially for those who are fascinated by witches.
The entrance fee is US$17 (250 pesos) and will take place on October 15 from 11:00 AM to 7:00 PM.
12. Visit haunted places with Tour Insolito
📅 October 29
📍 Secret haunted places
Tour Insolito is a company that does yearly visits to the most haunted places in CDMX. Spearheaded by paranormal investigators and experts, this is one of the days of the dead events in Mexico City that everyone is looking forward to!
13. Victoria Cempasúchil
📅 October 17 – December 21
📍 Calle James Sullivan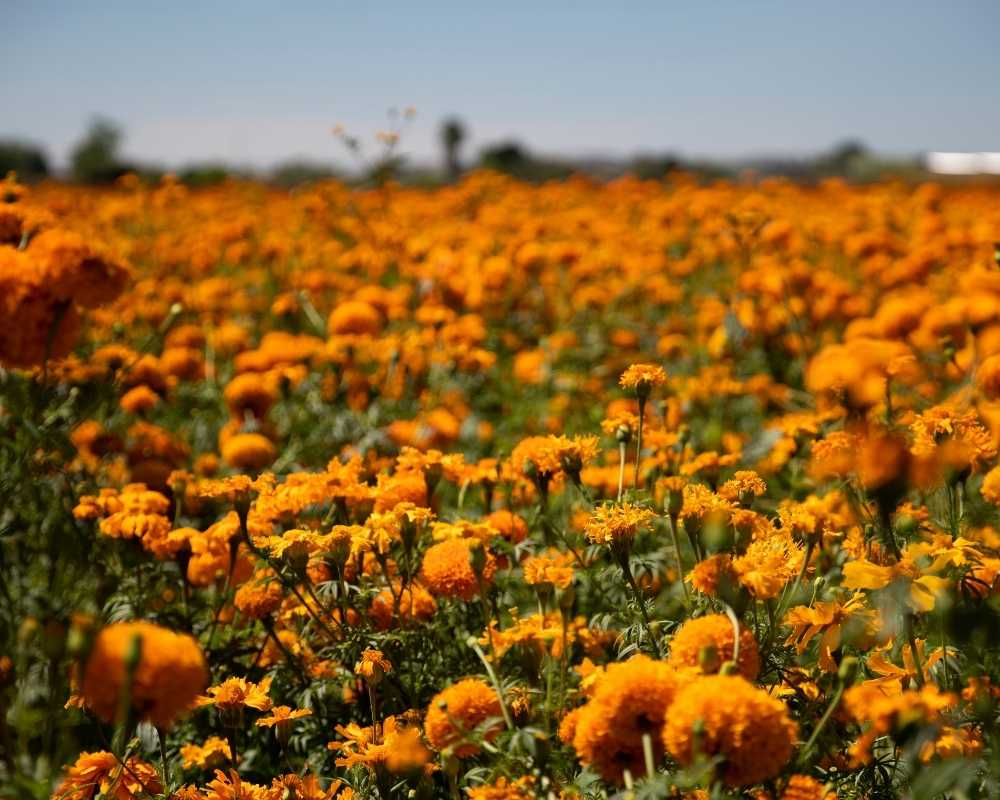 The Victoria Cempasuchil celebrates life and death through Mexico's historical traditions. Cempasúchil (marigold) is the traditional day of the dead flower and you will see them all over the city during day of the dead.
In this experience, you will get to visit personalized rooms filled with these flowers with hummingbirds guiding you through the whole immersion. Admission is US$15 and you can do this activity all week (Monday to Sunday).
14. Zombie March
📅 October 22
📍 Monument to the Revolution
Although zombies don't really have anything to do (nor related) with a day of the dead, Mexico City day of the dead events is a little bit more creative each year.
This year, there will be a big parade of zombies in Mexico City for Halloween fans. Make sure to wear your zombie outfit as you can participate in this parade!
The zombie march will take place on October 22. Activities will take place from 10:00 AM and the real march will start at 4:00 PM.
15. Festival of ofrendas and floral arrangements
📅 October 28 – November 2
📍 CDMX Historic Center
Every year, Mexico City holds a contest for the best ofrenda, altar, and floral arrangements. This year, the event will take place from October 28 – November 2.
The winning altars and ofrendas will be displayed at Mexico City's Historic Center and this is a great sight to see!
16. Aquelarre Fest at Teotihuacan
📅 October 29 and 30
📍 Club Campestre Teotihuacán
The Aquelarre Fest is a Witch Festival that takes place in the historical Teotihuacan. There will be costume contests, Wiccan brooms, and conferences about magic.
This is like a real-life Harry Potter event so don't miss it! Additionally, the pyramids of Teotihuacan turns into a magical festival of lights during day of the dead Mexico City.
17. Pan de Muerto and Chocolate Festival
📅 October 29 – November 2
📍 Calz. de Tlalpan 1721, San Diego Churubusco
Pan de muerto is the traditional Mexican bread that is commonly used in the altars during day of the dead. This year, the Churusbusco Convention Center will hold a big food and drink event to honor this Mexican food culture.
There are many types of pan de muerto and in this festival, you can learn how to make it or simply make your way through the booths tasting breads and chocolate drinks!
🪦 Visiting cemeteries in Mexico City during day of the dead
If you were not able to sign up for our local cemetery tours during day of the dead in Mexico City, you can visit the cemeteries yourself but note that these days are hectic.
Some of these cemeteries are also far from the center so you need to take an Uber – expect heavy traffic! Here's a list of cemeteries to visit in Mexico City:
While Mexicans are naturally welcoming in cemeteries during day of the dead, remember, your role is that of a privileged observer, granted access to a deeply personal and sacred cultural tradition.
Treat this opportunity with the utmost respect and consideration. Below are some tips and guidelines:
Dress modestly and appropriately
Wear modest and respectful attire when visiting cemeteries. It's advisable to avoid overly bright, flashy, or casual clothes. Instead, opt for something subdued and respectful, demonstrating your awareness of the solemnity of the occasion.
Be respectful of the ceremonies and traditions
Remember, the Day of the Dead is a significant cultural and spiritual event. It's not merely a tourist attraction. Be a respectful observer of the ceremonies and rituals. Maintain a respectful distance, and avoid interrupting or participating unless explicitly invited.
Maintain silence and decorum
Cemeteries are places of reflection, mourning, and remembrance. Maintain a level of silence, turning off your cell phone and avoiding loud conversations. Keep your voice low if you must speak, and avoid disruptive behaviors.
Ask for Permission Before Taking Photos
Photography can be seen as disrespectful during such a private and solemn occasion. Always ask for permission before taking photos, and respect the wishes of the families if they decline. Avoid using flash, and be mindful not to disrupt the ambiance.
Avoid Touching the Ofrendas (Offerings)
Ofrendas are meticulously arranged altars with offerings for the deceased. Avoid touching, moving, or taking anything from the altars. These are personal and sacred, and disturbing them is highly disrespectful.
Express Empathy and Compassion
If interacting with locals, be empathetic and sensitive. Express condolences and show interest in their traditions and the lives of their loved ones. Your sincerity and respect will likely be appreciated.
Educate Yourself Before Visiting
Take time to educate yourself about the significance of the Day of the Dead, its traditions, and customs. Understanding the cultural context will enhance your appreciation and enable you to navigate the ceremonies with sensitivity and respect.
Follow Local Guidelines and Instructions
Pay attention to any posted guidelines, and follow the instructions given by local authorities or community members. Compliance ensures the smooth flow of ceremonies and maintains a respectful environment.
💀 Day of the dead in Mexico City things to do
1. Candlelight Concerts in Mexico City
Candlelight is a new concept in Mexico City where the concert venue is filled with thousands of candles. Yep, no lights! There will be numerous candelight events in Mexico City for October and November.
Here are some of the Candlelight events you shouldn't miss:
2. Outdoor horror movie viewing
📅 October 29 – 30
📍 Ecoturistico Michmani Park
Bring a blanket, a picnic basket, lots of wine and sit at the Michmani Park for Noctubulante's yearly horrow movie screening! This is a great open-air activity where you can see the local life in Mexico City and of course, the day of the dead traditions.
This isn't that popular with foreigners yet so we want to share this super local activity with you. Hope you'll check it out! Tickets cost US$25 per person.
3. Dark dining in Mexico City
📅 October 12 – December 14
📍 La Imperial Parque Duraznos
La Imperial Restaurant recently launched a dark dining concept and it is one of the firsts in Mexico City. They will have a special menu for day of the dead so you may want to reserve your dark dining experience here.
FYI, you will be blindfolded for the entire dinner so it's best to do this with a partner or someone you know intimately. Test your senses and explore Mexican food without even looking at it!
4. Day of the dead photo sessions in Xochimilco
Every year, the tourism board of Xochimilco holds a photoshoot event by bringing tourists and travelers to famous day of the dead spots of Xochimilco. These are the following spots this year:
4. Calaverita Museum (only open once a year!)
📅 October 30 – 31
📍 20 de Noviembre #24, San Miguel, Tláhuac
For the last 14 years, this family in Tlahuac installs the Calaverita Museum and welcomes visitors from all over the world to showcase their calavera work of art.
This year, it will take place on October 30-31 from 9:00 AM – 2:00 AM. There will be food stalls, music, and many activities in the area.
We really advice you to visit this museum because it is only open two times a year! Admission is US$0.50 per person.
5. Cempasúchil farm race
📅 October 23
📍 San Luis Tlaxialtemalco
Every year, Xochimilco holds an annual marigold farm race where 600 participants run through a big area filled with cempasuchil. The race is about 8 kilometers. The race will begin at 8:00 AM and is open to the public.
6. Futurama Dark Cinema
📅 October 10 – November 4
📍 Cda. de Otavalo 15, Lindavista
Fan of horror movies? The Futurama Dark Cinema holds film viewings every day of the dead and these are the movies for this year:
October 10: The Ouija Board
October 11: Psychosis
October 12: Nosferatu
October 13: Nightmare on Elm Street
October 14: The Prophecy
October 17: It
October 18: The Shining
October 19: Scarie movie
October 20: The Ring
October 21: Mom
October 24: Creep
October 25: The Conjuring
October 26: The Lady in Black
October 27: Paranormal Activity
October 28: The Exorcist
October 31: The Curse
November 03: La Llorona
November 04: Carrie
7. Learn how to make pan de muerto
📍 Orizaba 219-local 3, Roma Norte
Travelers love Mexican recipes and every day of the dead, there are many pan de muerto cooking classes in the capital. This year, the biggest class will be hosted by Cardin Bakery in Roma neighborhood.
Cardin is a reputable and local bakery that the Roma residents frequent. If you don't want to attend the class, simply sit down here on another day and try their pan de muerto!
8. Asylum Horror House
📅 All weekends of October
📍Av. del Peñón 355, Moctezuma 2da Secc
Every year, the Asylum Horror House opens for one month at the Encuentro Oceania shopping mall. To access the horror house, all you have to do is to present a US$7 purchase from any stores in the mall. Just show a receipt/proof of purchase and you're in!
9. Halloween Escape Room in Roma
📍 Chapultepec Avenue 402 cabbage. Rome North, CDMX
Another interactive horror event in the Roma neighborhood, the escape room is based on Jamie Lee Curtis' Halloween Ends and is one of the locals' favorites – it's terrifying and adventurous, and it's for FREE! The Escape room is open daily from 11:00 AM to 9:00 PM.
10. Museo del Carmen costume contest for pets
📅 November 6
📍 Museo del Carmen
The Museo del Carmen (Carmen Museum) holds day-of-the-dead costume contests for pets every year. This year's theme is based on the legends of San Angel where pets have to portray the characters in this popular Mexican urban legend.
11. Night bike ride to celebrate the Day of the Dead
📅 October 29
📍 TBA
Mexico City is a bike city and almost every local uses this as a mode of transportation. Every year, there is a night bike ride that goes around for 20 KM around the city where people ride their bikes, skateboards, trolleys, etc with a day of the dead costume.
This event is FREE and you can easily rent bikes and scooters around Mexico City. The ride will start at 7:00 PM and end at 11:00 PM.
🛏️ Where to stay for day of the dead in Mexico City
Different neighborhoods offer different experiences, each with its own set of pros and cons. Here's a rundown of some of the best neighborhoods to stay in during Day of the Dead, together with the best hotels:
1. Roma
Roma is a trendy and bohemian area with a mix of old and new. Known for its artistic scene, Roma is a neighborhood where you can find alternative Day of the Dead celebrations, art installations, and themed parties.
Why stay in Roma for day of the dead:
Cool coffee shops and art galleries make for great leisure time.
More international feel but still offers Day of the Dead celebrations.
Walkable streets and easy access to other parts of the city.
2. Condesa
Condesa is adjacent to Roma and shares a similar vibe but is often considered a bit more upscale. The area is lush with parks like Parque México and has beautiful Art Deco architecture.
Why stay in Condesa for day of the dead:
Quieter than Roma but still vibrant.
Excellent dining options and chic bars.
Beautiful parks where you can see altars and sometimes community events related to Day of the Dead.
3. Polanco
Polanco is one of the wealthiest neighborhoods in Mexico City and offers a luxurious experience. While perhaps not as deeply traditional for Day of the Dead, you'll find high-end hotels and restaurants.
Why stay in Polanco for day of the dead:
High-end shopping and luxury accommodations.
International cuisine and world-class museums like the Soumaya Museum.
Quieter and cleaner, if you're looking for a more relaxing environment.
4. Downtown Mexico City (Centro Histórico)
The historical center is rich in culture and the true heart of the city. Here, you will find the Zócalo, which usually hosts a large and spectacular Day of the Dead altar.
Why stay in Centro Historico for day of the dead:
Traditional events and celebrations.
Proximity to historical sites like the Templo Mayor and the Metropolitan Cathedral.
Crowded but gives a real sense of the festival's importance in Mexican culture.
5. Coyoacan
Coyoacán offers a more traditional, small-town atmosphere, perfect for those who want to experience the Day of the Dead in a more authentic setting.
Why stay in Coyoacan for day of the dead:
The area hosts one of the most famous Day of the Dead markets where you can buy sugar skulls, paper marigolds, and pan de muerto.
Visit Frida Kahlo's Blue House, which is often specially decorated for the holiday.
The main square becomes a focal point for festivities, with numerous altars and traditional dances.
6. Juarez
Juarez is a diverse neighborhood, known for its thriving LGBTQ+ community, nightlife, and international flair. If you're looking for a modern take on Day of the Dead, Juarez offers a different but enriching experience.
Why stay in Juarez for day of the dead:
Nearby to both Roma and Condesa, offering a range of experiences.
Variety of international and traditional Mexican celebrations of Day of the Dead.
Great nightlife and modern vibe.
⁉️ FAQ: Day of the Dead Mexico City
Trisha traveled to Mexico in 2018 and after a year, she found herself obtaining a 4-year residency visa in Mexico. She is the Editor-in-chief for our Living in Mexico Series which has helped over 3,000 Americans move to Mexico with ease. Trisha currently resides in Cabo San Lucas, Baja California Sur.