Roma Norte is, in a way, one of Mexico City's epicenters, especially when it comes to culture, art, and food. Here's our guide to the 7 Roma Norte restaurants not to miss in the capital.
When it comes to picking out Roma Norte restaurants, you're very likely to get overwhelmed with all the options on offer.
Every corner of this quaint neighborhood is dotted with art galleries, bars, and eateries. Even though we'd recommend anyone visiting to simply walk around and see which restaurant catches their fancy, if you want to guarantee a great time and delicious food, you may want to start with these Roma Norte restaurants first!
From taco stands to casual locales and high-end dining inside mansions, there's a plethora of options when it comes to choosing the best restaurants in Roma Norte.
While listing every single dining option in this neighborhood would require us to write an entire book on the topic, this is a short list of our hand-picked favorites.
Please note that this list of Roma Norte restaurants is ever-growing as new places pop up and we explore more of CDMX!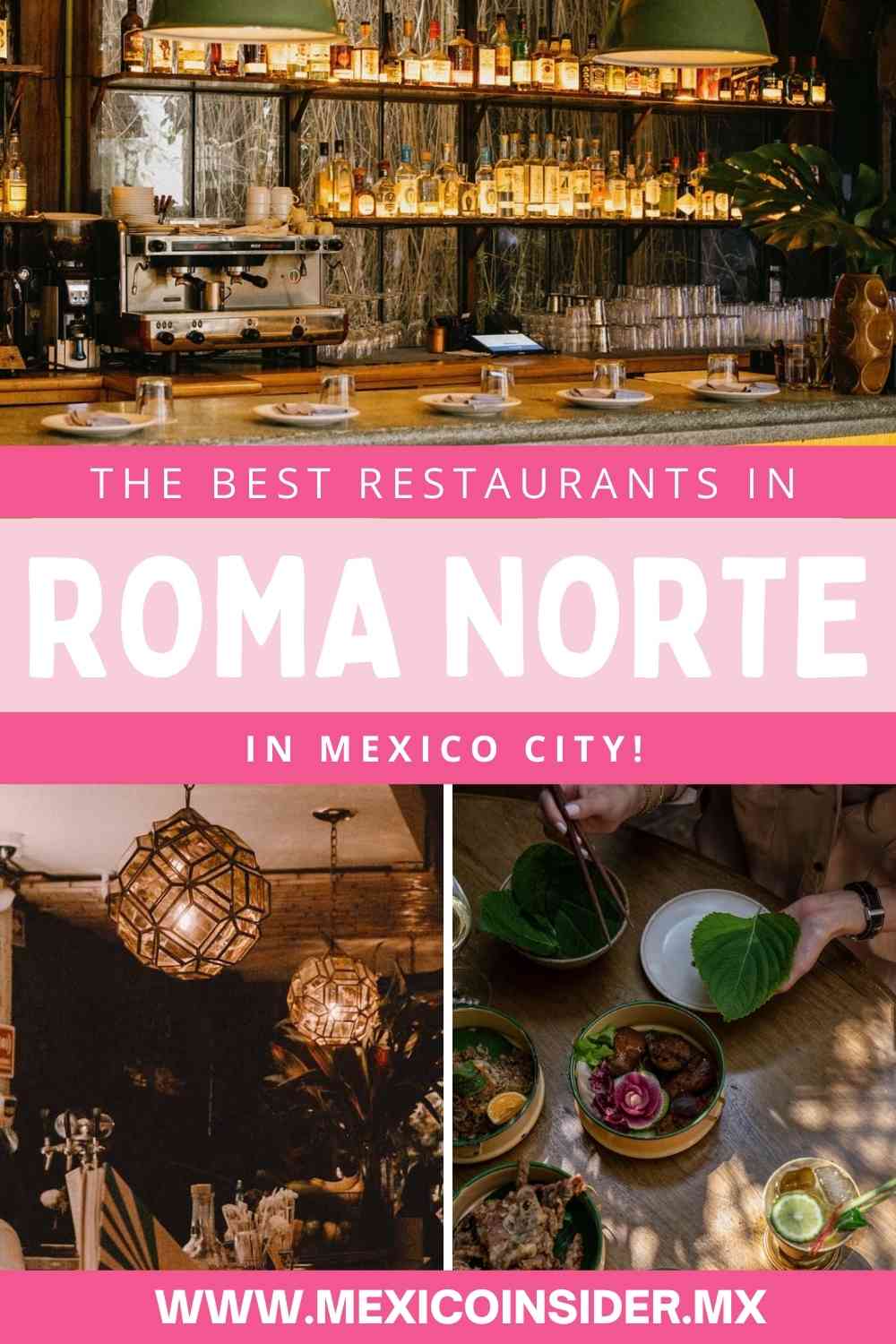 You might also like:
🌟 The 7 best Roma Norte restaurants
#1: Toledo Rooftop
Even though it's technically not in Roma Norte but in Juarez, Toledo Rooftop is right on the spot where both neighborhoods meet, so it's fair game to include it on our list of favorite Roma Norte restaurants.
This boho chic-style terrace is usually a go-to for a fun night out on weekends. During the day, however, it transforms itself into a green oasis in the middle of the city where you can head to sample Baja Med-style food from Baja California paired with delicious craft cocktails.
As a bonus, they also host monthly chef takeovers from various restaurants from all over Mexico City!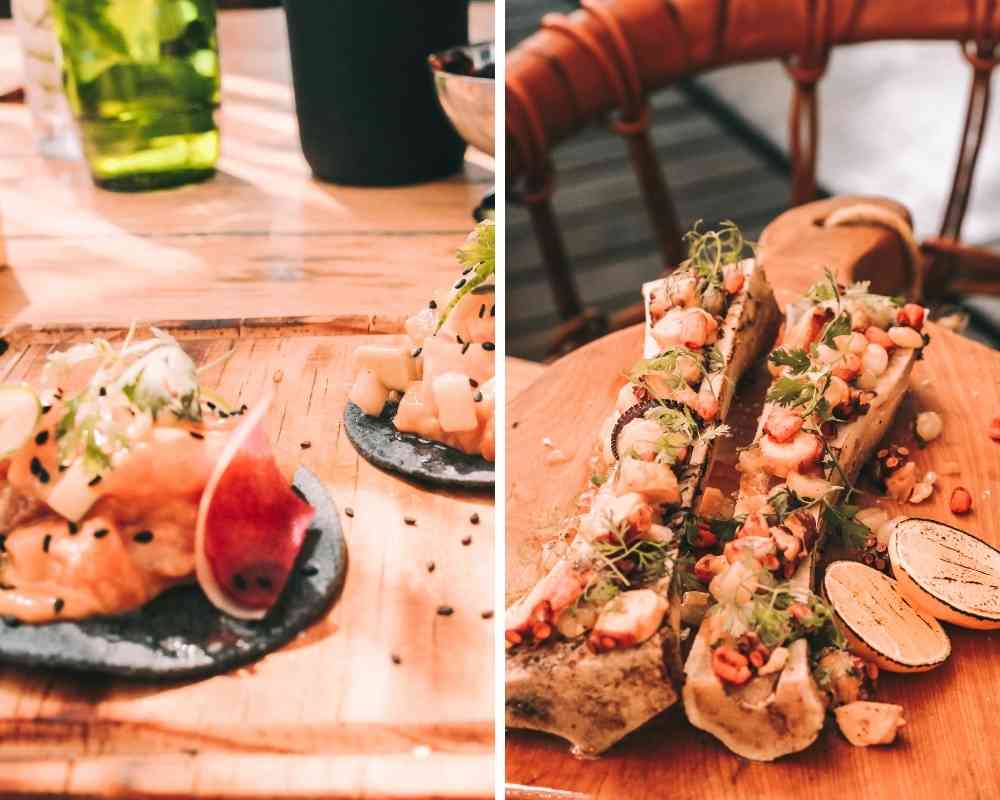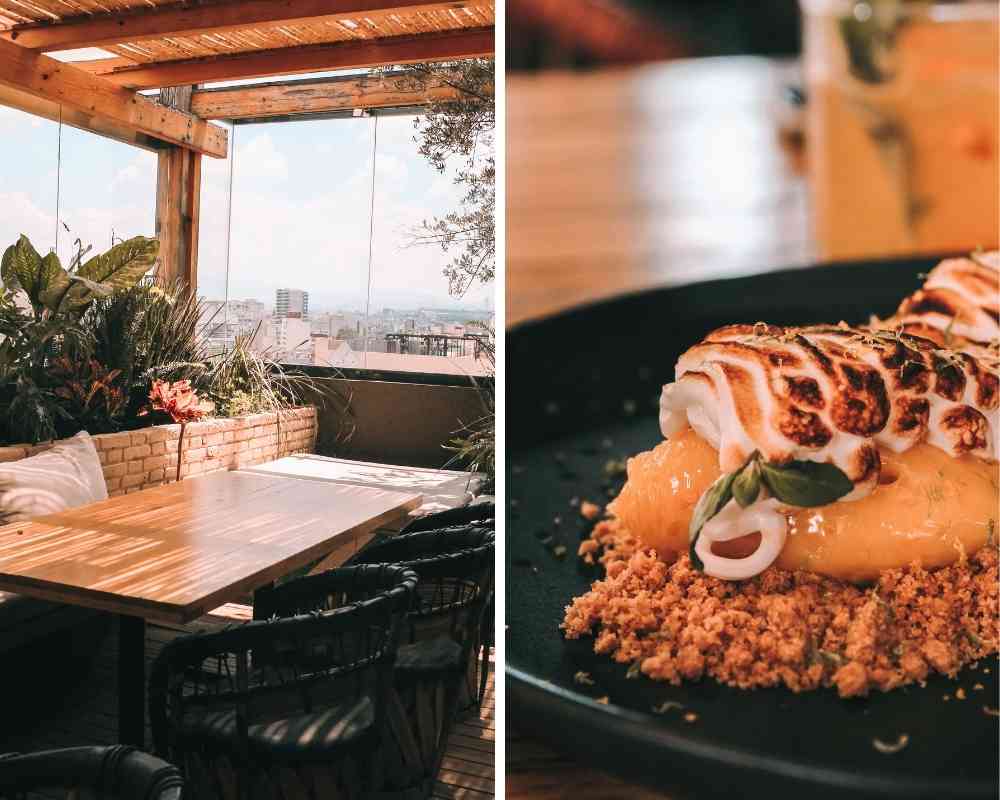 #2: La Zaranda Miravalle
If you are keen to try a different side of Mexican food, La Zaranda Miravalle offers a perfect place to do that right in front of one of the most iconic landmarks of Roma Norte, La Fuente de Cibeles.
Here, you'll be able to sample different dishes from the state of Nayarit, many of which are cooked using a prehispanic technique. Zarandeado seafood was originally smoked in mangrove firewood on a stretch of palm sticks!
No matter which zarandeado dish you choose to try, being here will make you feel as though you were transported right into the tropics through flavors, decoration, and music.
Friday and Saturday nights are ideal to visit, when live performers from different parts of Mexico and the Caribbean come to show off their craft.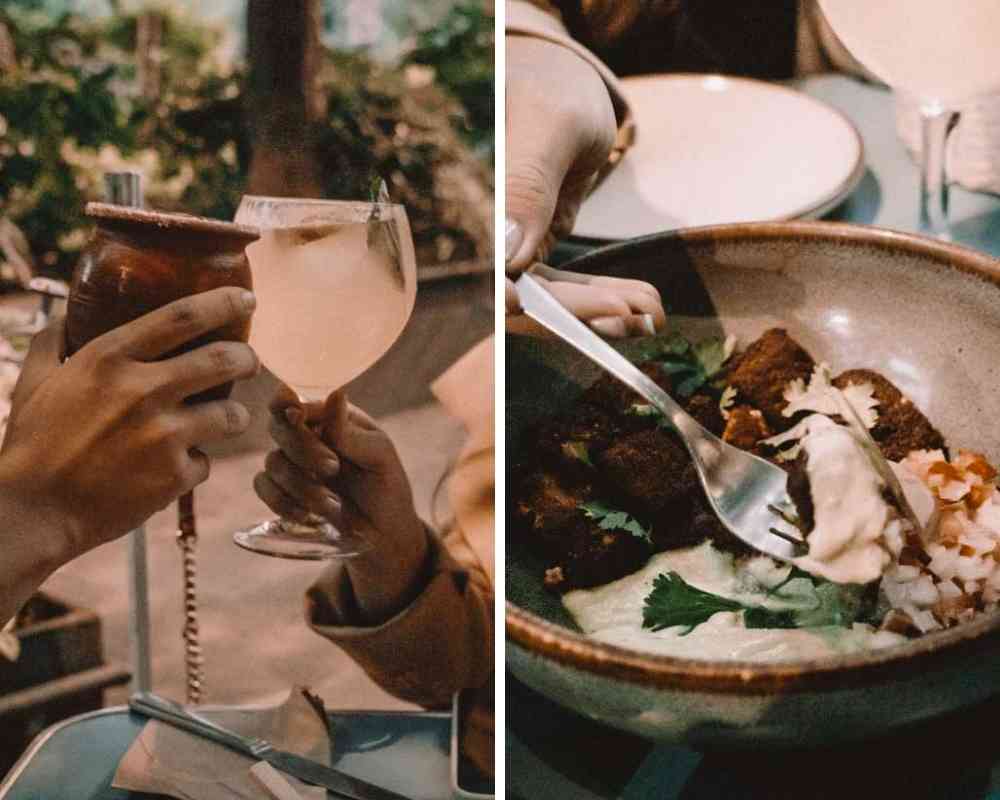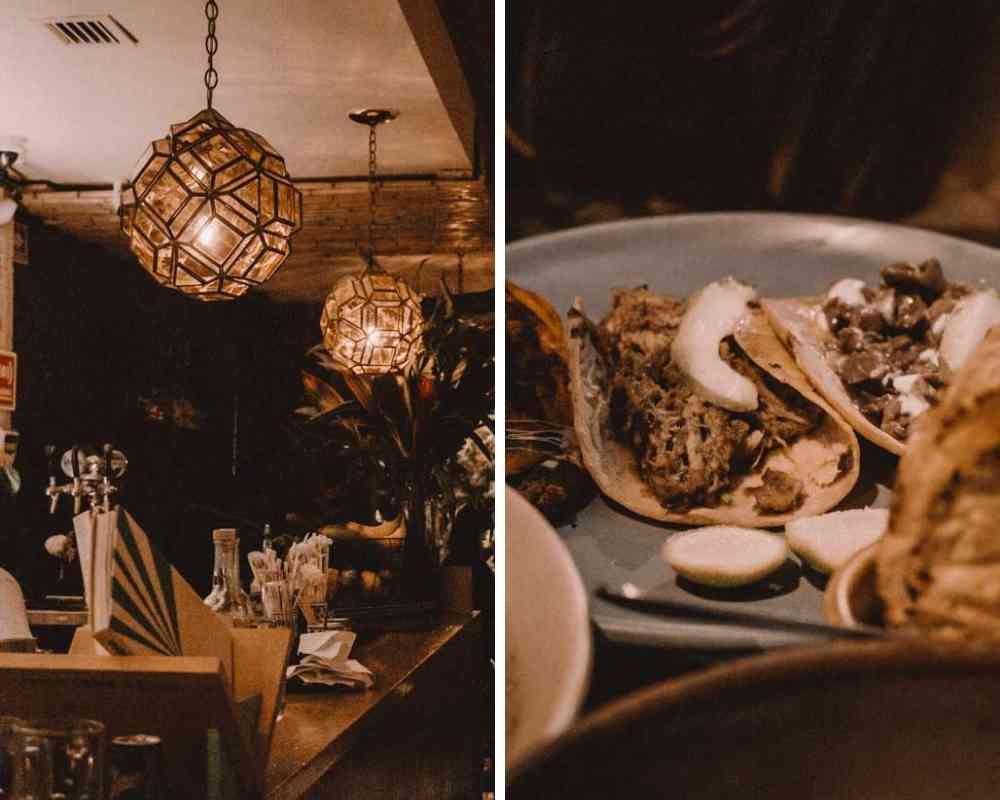 #3: Casa Prunes
Set inside a stunning Art Nouveau building, Casa Prunes' interior design brims with that Great Gatsby vibe.
The establishment is spread across several rooms, some of which are meant for mingling in a more bar-like setting while others offer a more intimate space.
Wherever you choose to hang out, though, interior design goodness is reason enough to pay this Roma Norte restaurant a visit (think pink walls, eclectic chandeliers, and a rotating bar, to name just a few of the things that make Casa Prunes' decor as splendid as it can get).
As for the menu, it changes every few months according to the season's ingredients, but there are a few never-changing favorites like the short rib Bourguignon.
Casa Prune is known for its zero-waste menu, meaning a lot of its dishes are made with leftover ingredients from the bar and they have their own in-house orchard!
#4: Madre Café
If the ultimate brunch experience is what you're after, Madre Café is guaranteed to please.
This gorgeous restaurant started as a garden-based establishment, but it has since expanded and they now also offer a rooftop experience. Whatever setting you decide to go for, however, you'll be in for an unforgettable experience.
Both restaurants are located on the grounds of an enormous 20th-century mansion. Breakfast is usually a favorite for Madre Café guests, but lunch and dinners are also a treat here.
Pasta, pizzas, burgers, and steak are their specialty, and they also have plenty of vegan options on the menu. Whatever you do, don't leave Madre Café without tasting a few of their carajillos – their specialty drink!
Even if you have tried carajillos in other parts of Mexico, the ones at Madré Café will still taste like something new to you because they come in all sorts of unusual flavors.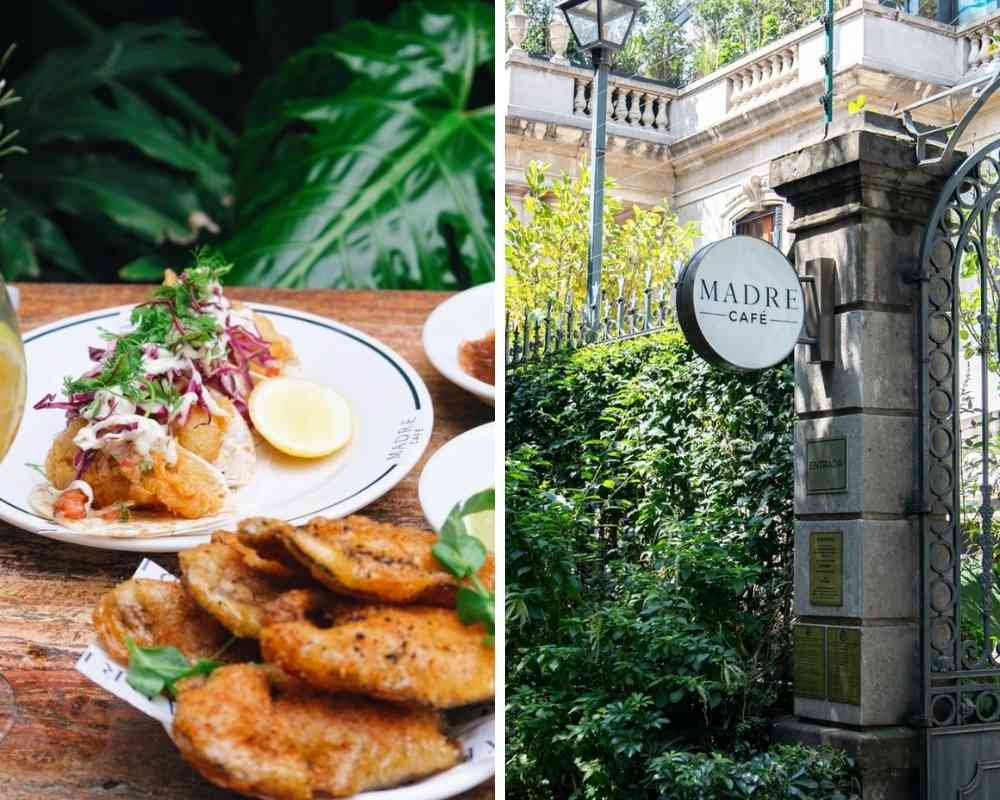 #5: Galanga Thai House
Perhaps the first thing that comes to mind when you think of food in Mexico isn't exactly pad Thai, but if your taste buds are aching for a change of flavors, Galanga Thai House is a perfect choice.
Owned by chef Thai Somsri Raksamran and her Mexican husband, Eleazar Ángeles, Galanga offers Thai flavors as authentic as they get.
From traditional street food to Thai royal cuisine, you'll find a plethora of dishes that will transport you back to Southeast Asia.
As a bonus, Galanga Thai House is set in the courtyard of a mansion and draped by greenery!
#6: Pizza Félix
Pizza Félix may not look like much at first, but once you enter the establishment, you'll feel as though you were transported into a little jungle oasis in the city.
As its name may have clued you in, Pizza Féliz is all about pizza… authentic Napoli pizza, that is (and yep, for pizza experts out there: they do follow ALL the codified rules required to make authentic ones!).
Pair yours with a bottle of Italian wine and you'll be in for an excellent evening at their cozy terrace.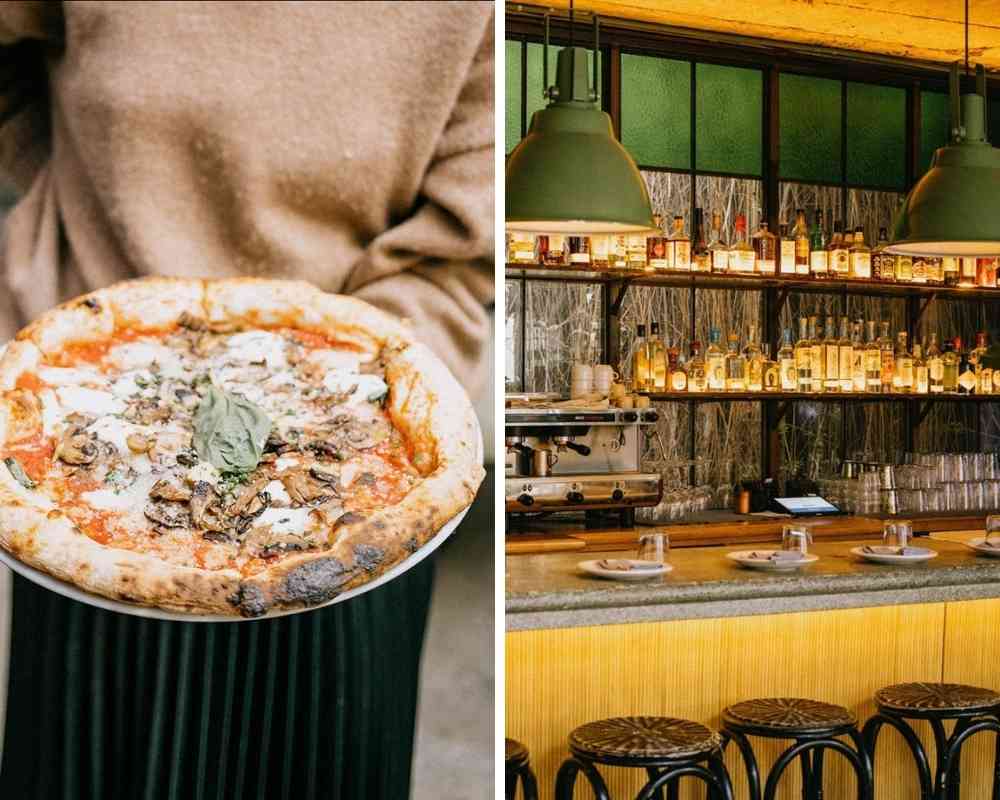 #7: Blanco Colima
Set inside a gorgeous house from the Porfirian era in one of the prettiest corners of Roma Norte (and that's saying a lot, considering every single corner of this Mexico City neighborhood is a treat to look at), Blanco Colima is one of the most beloved Roma Norte restaurants out there.
Perfect for those looking for an uber Instagrammable brunch spot or a chill night out with low-key music, this Roma Norte restaurant flawlessly fuses great gastronomy, art, and architecture in one single spot!
While here, you can choose to sit on the balcony overlooking the street or opt for a table inside for a more intimate experience.
Either way, aside from the ambiance, you'll fall head over heels in love with award-winning chef Gerard Bellver's concept of "Mexa-Spanish" cuisine, which mixes Mexican ingredients with refined Mediterranean techniques.
✈️ Ready for your trip to Mexico City? If you need more information about the best restaurants in Roma Norte, we'd be happy to update this post – just leave your questions below or join our Facebook community where we answer questions without a cost.
🇲🇽 Mexico City Travel Planning
🛫 Where can I book cheap flights to Mexico City?
Use the code MXINSIDER to get cheap flights to Mexico City upon checkout on WayAway.
🚑 Do I need insurance to travel to Mexico City?
Yes, you do! This is the number one requirement when traveling to Mexico. I use SafetyWing and I only pay $40 USD per month for my digital nomad travel insurance!
🛏️ Where can I find cheap hotels in Mexico City?
Budget travelers, use Hostelworld when looking for accommodations in Mexico City. A bed in a hostel dorm starts at $25 USD per night. Booking.com is best for boutique hotels while sustainable Airbnbs can be booked with Casai.
Daniela is a Mexican travel blogger who has been traveling the world for the last 7 years. She contributes content on Mexico Insider to showcase her beloved hometown, Mexico City.