Discover the perfect blend of history, culture, and contemporary style in this list of best hotels in Condesa Mexico City (with prices and reviews).
Condesa, one of Mexico City's most vibrant and historic neighborhoods, boasts an eclectic hotel collection that caters to every preference and budget.
Renowned for its beautiful art nouveau architecture, leafy parks, and thriving culinary scene, Condesa offers a unique mix of local charm and cosmopolitan flair.
Hotels in Condesa Mexico City are housed in restored historic buildings that provide an immersive cultural experience, while luxury properties offer world-class amenities.
These Condesa hotels are not just places to rest, but destinations in their own right, each echoing the neighborhood's artistic vibe.
Their close proximity to Condesa's bustling restaurants, vibrant nightlife, and unique shops makes them the ideal base for explorations.
Whether you're searching for design-forward interiors, traditional Mexican elegance, or sustainable eco-friendly lodgings, you'll find a place to call home in the heart of Mexico City's Condesa.
Plan your trip to Mexico with us! Get expert travel advice and customized trip-planning itinerary from our local experts on the ground.
🗺️ Map of hotels in Condesa Mexico City
🏆 Top 5 picks for best Condesa hotels
🏨 Best hotels in Condesa Mexico City
1. Uliv Condesa
📍18 Calle Laredo, 06100 Mexico City, Mexico
💲from $197 USD
➡️ Book it here

Uliv Condesa is a spacious apartment equipped with complete amenities.
The property has a stylish design, plants, tropical elements, and amenities, including a kitchen, a garden, a patio, and a terrace.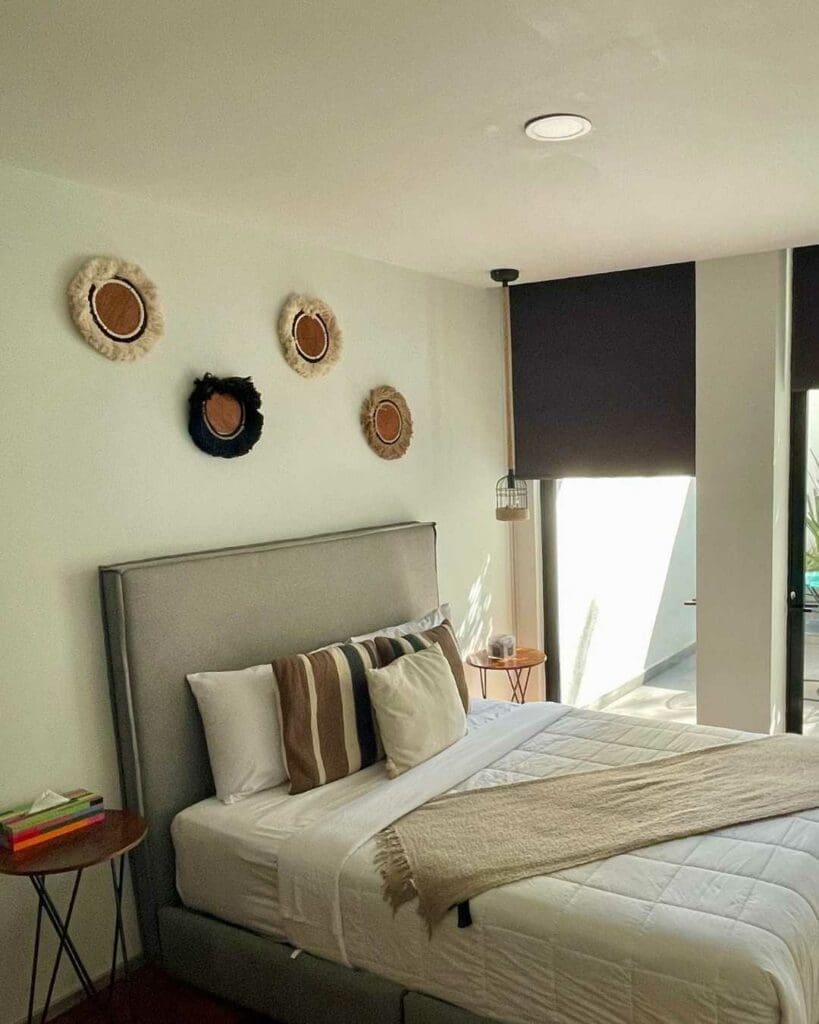 "I liked the neighborhood, the 24 hour friendly security staff, the host was extremely communicative, and the space was perfect for my vacation stay."

Genevieve [Read more reviews]
This accommodation offers guests free WiFi, BBQ facilities, and free private parking. They offer three bedrooms, two bedrooms, or a studio room with access to the abovementioned amenities.
Moreover, the apartment's location is excellent, near plenty of tourist attractions and great restaurants. Plus, the property has plenty of room for everyone to rest and chill after a long day of sightseeing and walking around.
2. Casa Mali
📍Av. Mexico 107 Hipodromo Condesa
💲from $255 USD
➡️ Book it here
A boutique hotel in the heart of Condesa, Casa Mali offers modern amenities and minimalist design to appeal to travelers who enjoy staying in small yet luxurious hotels.
Casa Mali's interior and architecture lean on showing how the old times can be combined with modern features.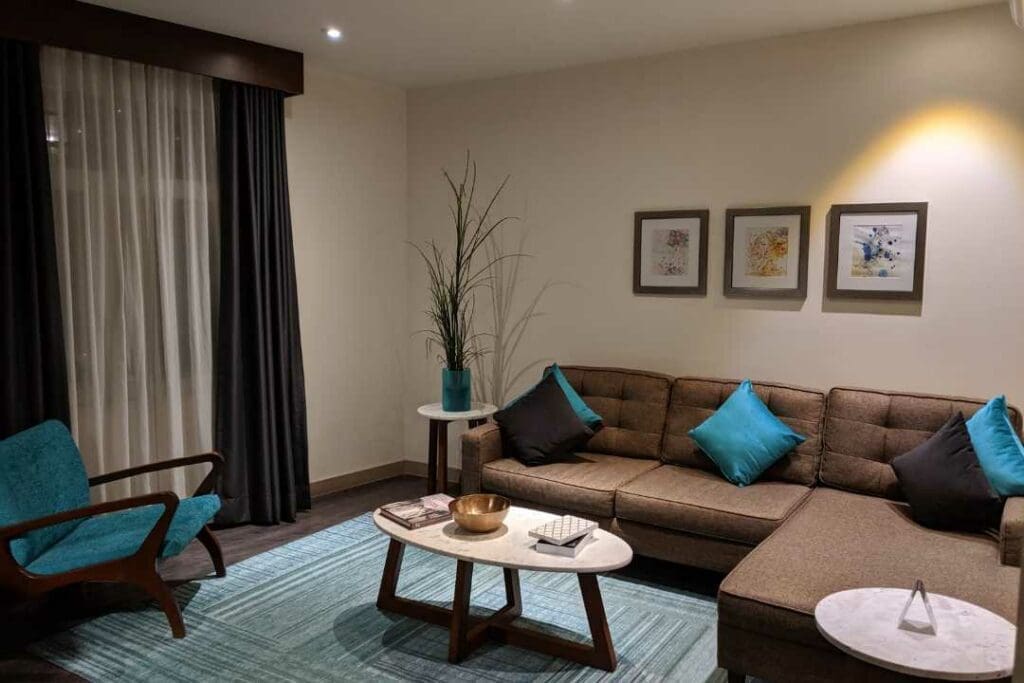 "Basically, everything. Great location, staying in this hotel, is like going back in time and experiencing how it was in the golden years in Mexico."

Alfredo [Read more reviews]
The rooms are decorated with contemporary decors, each room with unique details.
The hotel has a fitness center, a shared lounge, and a terrace. Moreover, they also offer a 24-hour front desk, airport transportation, room service, and free WiFi throughout the property.
3. Casa Luciana Condesa
📍416 Campeche Hipodromo Condesa, Cuauhtémoc
💲from $301 USD
➡️ Book it here

Casa Luciana Condesa is one of the newest boutique hotels in the neighborhood. It is conveniently located in the area, making it easier for guests to go around and enjoy the city's landmarks.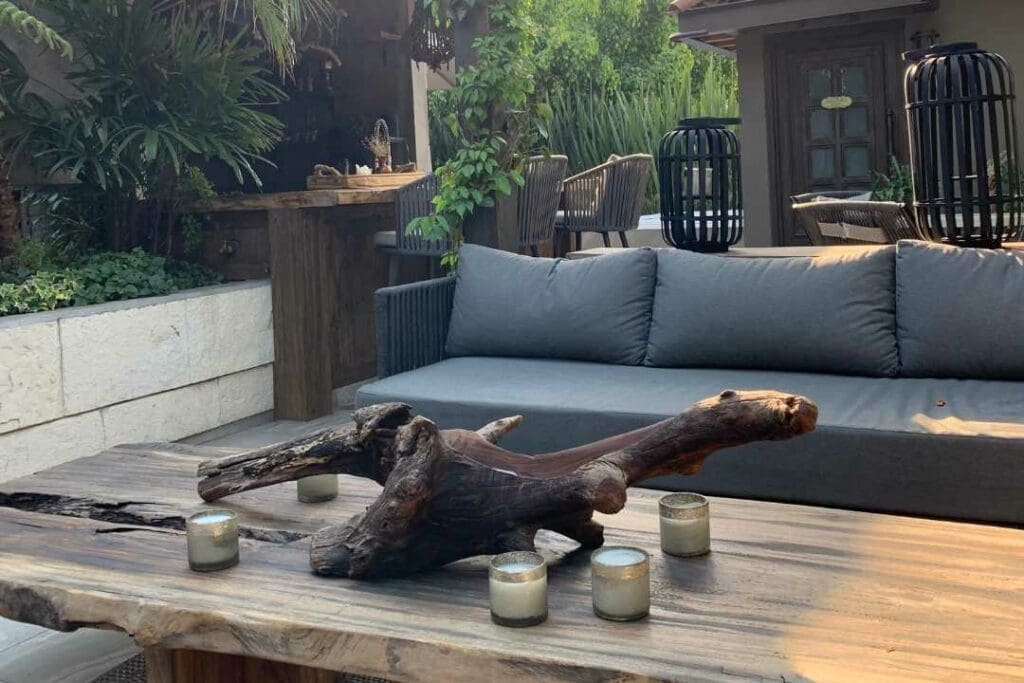 "Gorgeous hotel, with very comfortable and clean rooms. Located on a quiet street in beautiful Condesa."

Camille [Read more reviews]
So, if you're looking for an accessible hotel offering a relaxing ambiance and accommodating, look no further than Casa Luciana Condesa. This hotel offers spacious and luxurious bedrooms decorated with a modern monochromatic interior.
The property is surrounded by many tropical plants and elements, bringing you out of the urban setting. They also have amenities and facilities that you can enjoy, such as an outdoor pool and spa.
4. Felix Luxury Plus
📍Culiacán #4 Col. Hipodrómo Condesa, Del. Condesa Número de suite
💲from $159 USD
➡️ Book it here

Felix Luxury Plus is a hotel-like apartment fully equipped with everything you need during your stay. They offer three kinds of apartment units, from a 3-bedroom unit to a studio apartment.
All these units already have air conditioning, a wardrobe, a mini kitchen, a balcony, and a private bathroom. You can also use the property's free-use of bikes, private parking, and fitness center.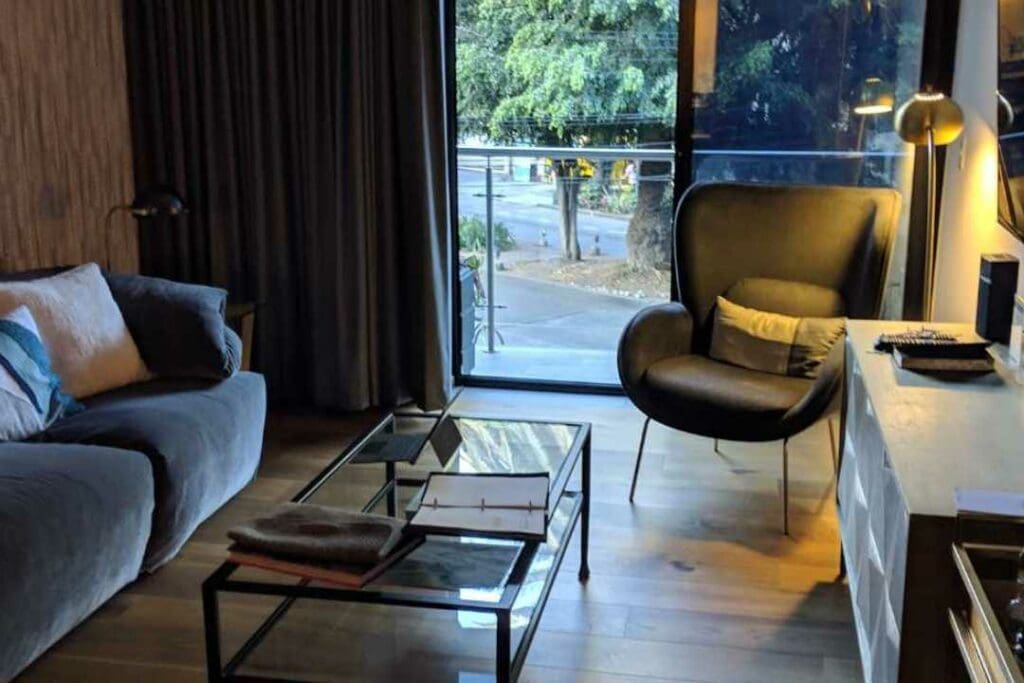 "This accommodation exceeded my expectations. Great location, the room (or rooms) are even better than what the pictures show. Great attention to detail in all senses!"

Jessica [Read more reviews]
Some services include a 24-hour reception area, airport shuttle, free Wi-Fi and luggage storage.
Additionally, it would be easy for you to visit and roam around city landmarks and tourist destinations since Felix Luxury Plus is located in a convenient area in the neighborhood.
5. La Palomilla Bed and Breakfast
📍Segunda Cerrada de Guadalajara 10
💲from $138 USD
➡️ Book it here

The La Palomilla Bed and Breakfast has an artistic and modern vibe, with luxurious amenities and all the modern conveniences.
It is perfect for travelers who want to enjoy a comfortable and homey experience inside an accommodation without spending so much.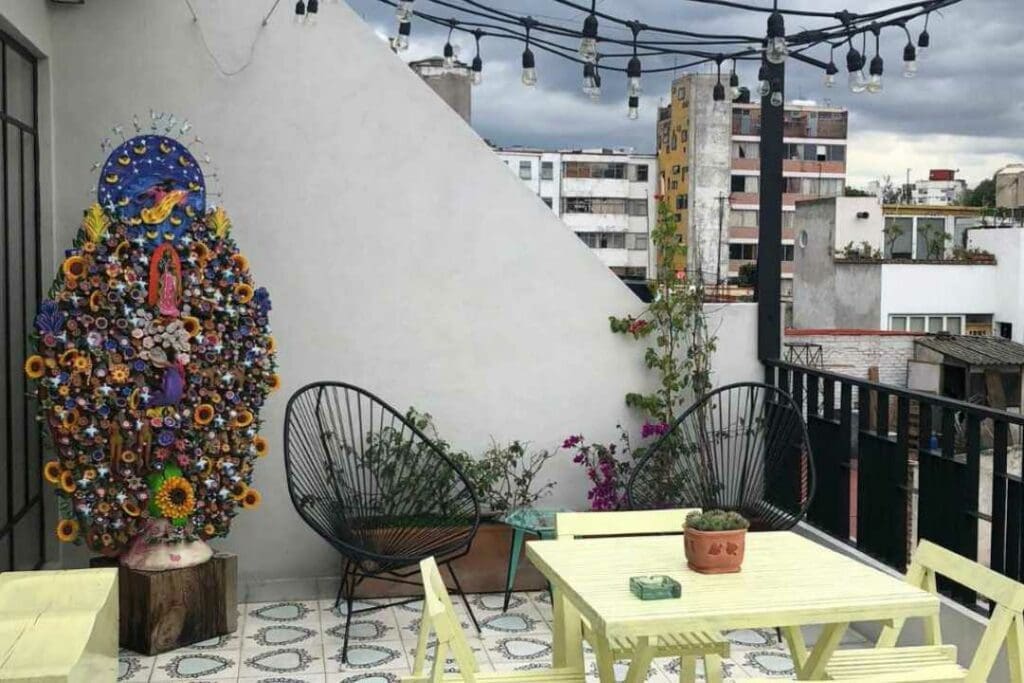 "I loved Palomilla. The room was spacious, and the bathroom was huge and modern. The beds were comfortable. The staff was friendly and helpful. The breakfast was delicious. I would stay again for sure."

Jenny [Read more reviews]
When checked in, you will have free access to all common areas, including the terrace, dining room, and kitchen. You can also borrow their free bikes when available.
In addition, all of their rooms come with a flat-screen TV with streaming (Chromecast device). There is also a continental breakfast at La Palomilla and common areas to relax or meet new friends.
6. Hotel Circulo Condesa
📍 Calle Ometusco 7, 06100 Mexico City, Mexico
💲from $141 USD
➡️ Book it here

This 4-star hotel is perfect for those who want to be close to all the city's famous spots while feeling like they're in an exclusive oasis. Hotel Circulo Condesa offers guests a modern and fresh feel with its rooms and amenities.
Some amenities that Hotel Circulo Condesa offers are free bikes, free private parking, a fitness center, a 24-hour front desk, room service, a business center, and use of laundry services.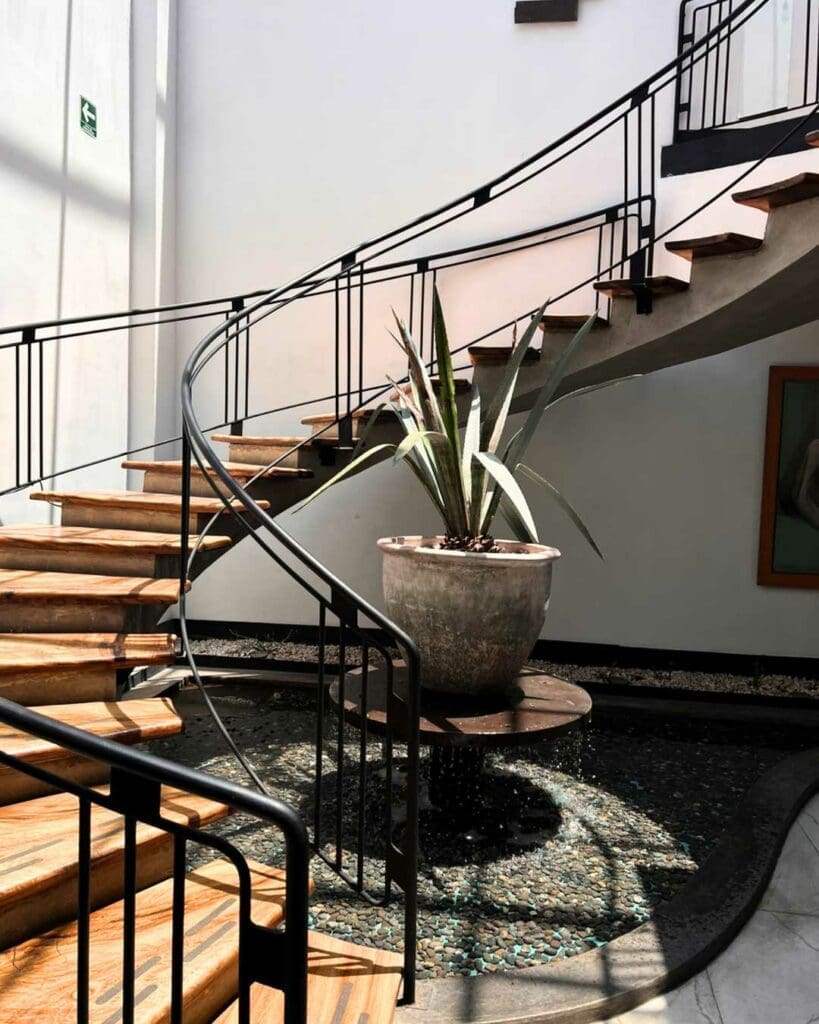 "Circulo Condesa was a great stay in the heart of the Condesa neighborhood. The staff were friendly, attentive, and helpful. The room was basic but well appointed and comfortable. We especially loved the bed and the balcony with the view."

Helen [Read more reviews]
They also have a currency exchange service inside the property, making it convenient for travelers and tourists like you.
Meanwhile, the hotel rooms have necessities such as a wardrobe, a coffee maker, and a private bathroom. Some rooms also offer a balcony to get a great city view.
7. Izta 54
📍54 Iztaccihuatl, 06100 Mexico City, Mexico
💲from $131 USD
➡️ Book it here

Izta 54 offers a unique blend of traditional Mexican architecture and contemporary design, which makes it a popular choice for tourists and business travelers. The property has a stylish design and a convenient location.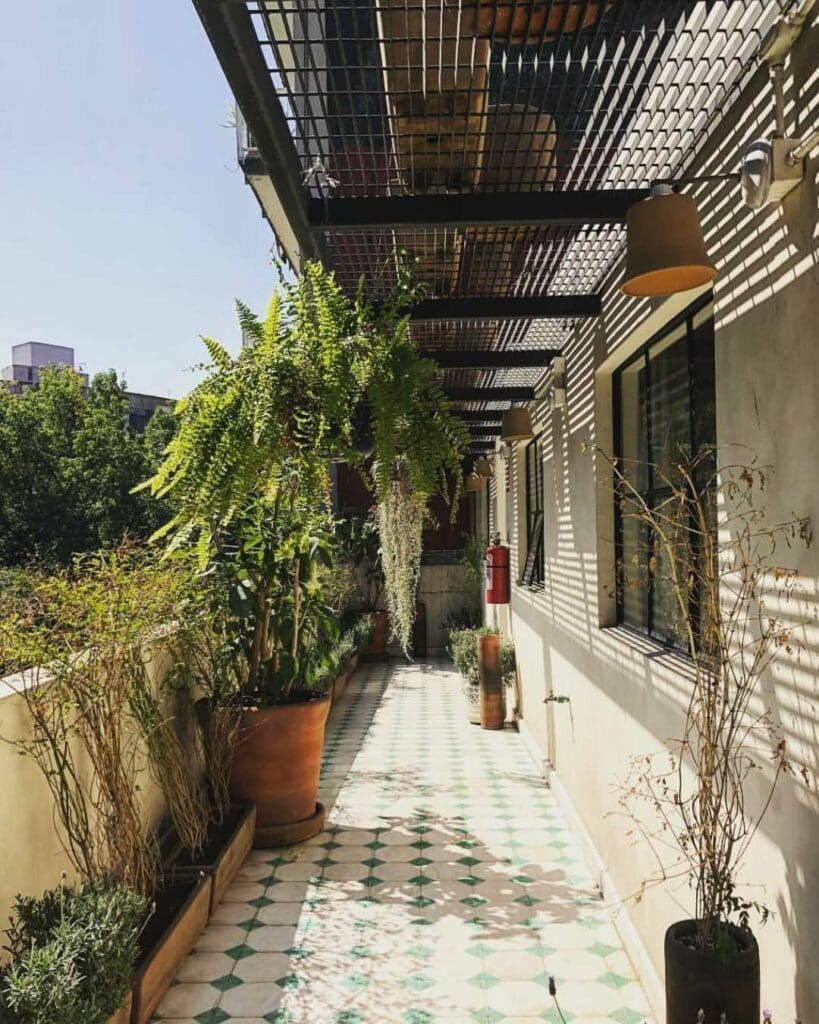 "Bed was huge and comfortable, staff was amazing and so helpful, included breakfast was delicious every single day!! Great location too!!"

Suzanne [Read more reviews]
In addition to its great architecture and interior, the accommodation offers an array of amenities, including a fitness center, a spa salon, and a 24-hour concierge service.
More importantly, the hotel has spacious rooms with elegant decor and spectacular views of Mexico City.
8. Casa Nuevo Leon
📍Nuevo Leon #120, Colonia Hipodromo Condesa
💲from $148 USD
➡️ Book it here
Casa Nuevo Leon's unique design blends traditional Mexican architecture with contemporary elements and ​creates a warm and welcoming environment perfect for exploring the city.
It offers an intimate and relaxing experience, ideal if you're looking to get away from the hustle and bustle of the city.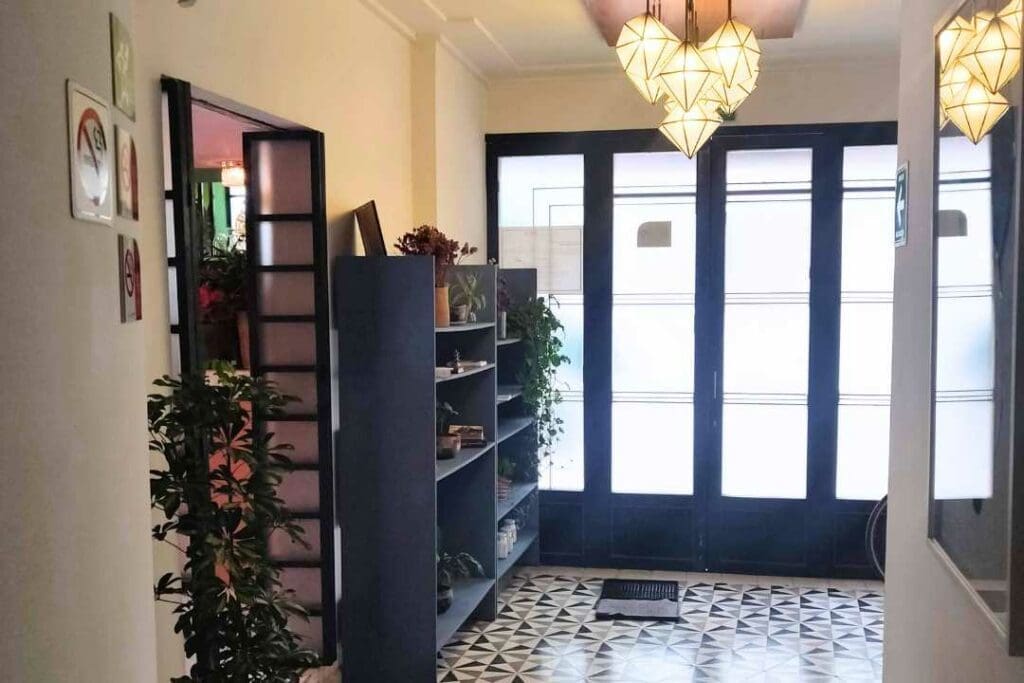 "Great location. Walking distance from several parks, coffee shops, and restaurants. And a great location to easily go to any other part of your the City."

Jocelyn [Read more reviews]
Some of the services that Casa Nuevo Leon offers include airport transfers, a 24-hour reception desk, and the use of free Wifi. The hotel also has an in-house restaurant and bar, which is open to serve breakfast to dinner meals.
The rooms are Casa Nuevo Leon is equipped with a flat-screen TV and a safe, private bathroom. Plus, some of these rooms even give you a city view.
9. Casa Cleo Luxury Plus
📍 32 Calle Mexicali, 06100 Mexico City, Mexico
💲from $188 USD
➡️ Book it here
Casa Cleo Luxury Plus offers several spacious and hotel-like apartment units in Condesa.
The property is a house-like structure but houses several units for tourist accommodations. It offers an intimate and comfortable setting with rooms equipped with all the necessities and decorated with modern and chic decor.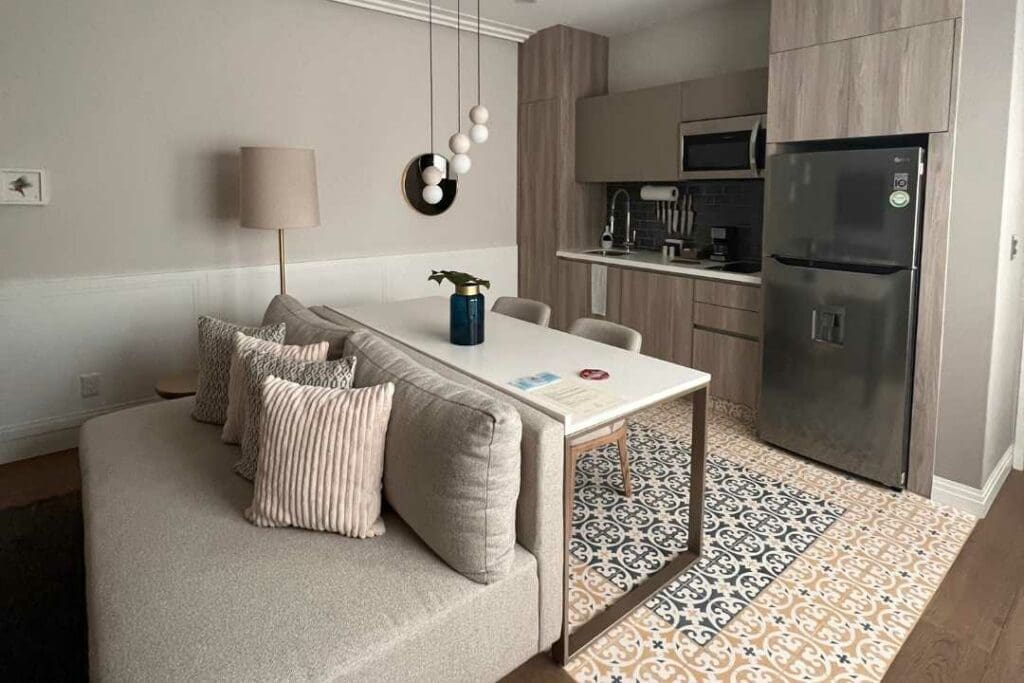 "The location was great! The room and property were always clean. I loved it! I will definitely stay here again."

Hirsch [Read more reviews]
All Casa Cleo Luxury Plus units have a seating area, a cable flat-screen TV, and a private bathroom. Some apartment units may also have a dining area and a balcony.
The property offers free use of bikes, parking, and a patio with stunning street views.
10. Condesa Cibel
📍 61 Acapulco, 06700 Mexico City, Mexico
💲 from $125 USD
➡️ Book it here

The Condesa Cibel is an apartment nestled in the busy streets of Condesa. It is located in a residential area, making the space feel more homey and friendly.
They offer several units that can accommodate up to 4 people in each room, which is great for both short-term and long-term stays.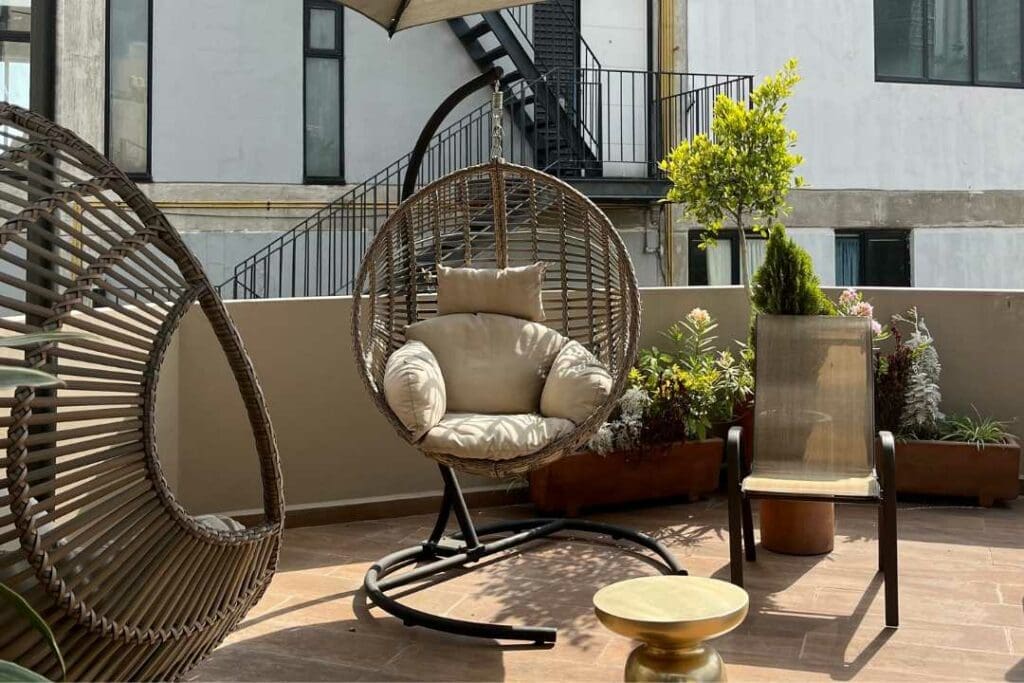 "The staff is kind and the location is perfect close to everything. Restaurants are close and is in a quiet zone, you have the metro station and a supermarket a couple of blocks away"

Torres [Read more reviews]
These units are spacious and well-designed, all with access to the property's amenities. On the 5th floor, they even have a rooftop patio or balcony with a great city view.
Furthermore, the location of Condesa Cibel is also a factor to consider as being surrounded by tree-lined streets; you can enjoy a walk to nearby attractions and restaurants.
11. AR 218 Hotel by Uliv
📍Alfonso Reyes 218, Condesa, 06100 Mexico City, Mexico
💲from $120 USD
➡️ Book it here

AR 218 Hotel by Uliv is a boutique hotel in Condesa that offers self-catering accommodation. With the feel of an apartment and guesthouse, the hotel has a light, airy and airy ambiance.
Each room's modern and eclectic design gives a soft and delicate feel. This is perfect if you want an intimate and comfortable stay in the city.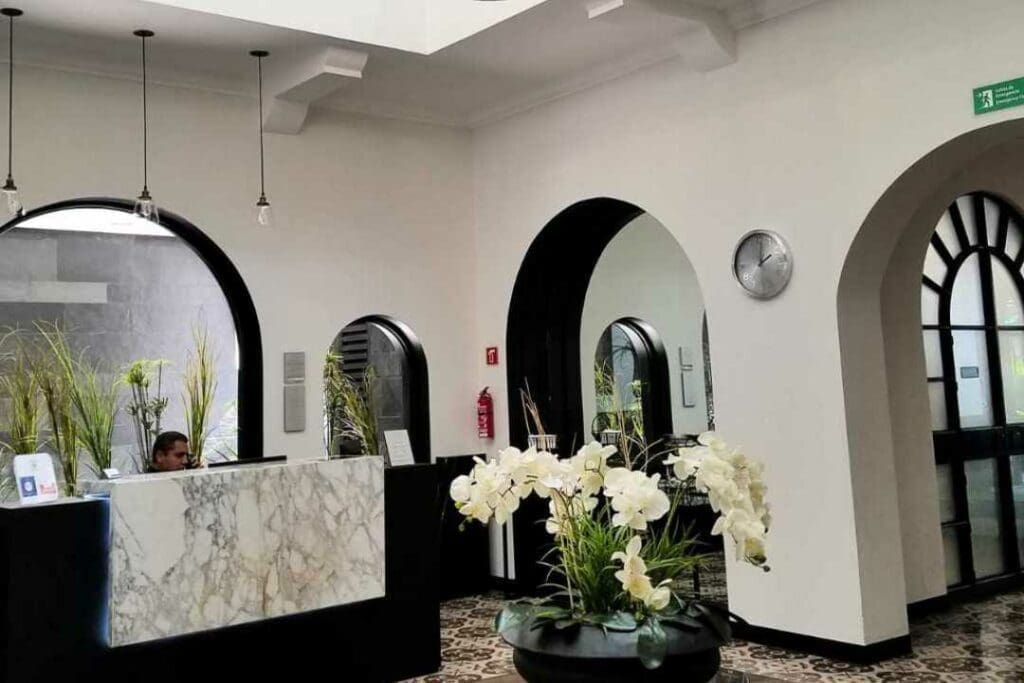 "This is my third visit to this property, I had something like a loft apartment with small kitchen and sitting area and very large bedroom space. Very well maintained and quiet. Location a few minutes walk to some great restaurants too."

Kevin [Read more reviews]
Each apartment at AR 218 has a flat-screen TV with cable channels, air conditioning, a private bathroom with a shower or bathtub, and a safe. Some even have their own Terrance and office desk.
The amenities and services you can use are dry cleanings, luggage storage, and ironing services. Plus, the location is near the Chapultepec Forest and the Museum, as well as restaurants and bars, making it an accessible accommodation for tourists.
12. Casa Sola by Kukun
📍 78 Antonio Sola, 06140 Mexico City, Mexico
💲from $128 USD
➡️ Book it here

Casa Sola is an apartment rental that has three different units available for you to choose from. With its modern decor, Kukun Antonio Sola provides what it's like to live in a contemporary Mexican home.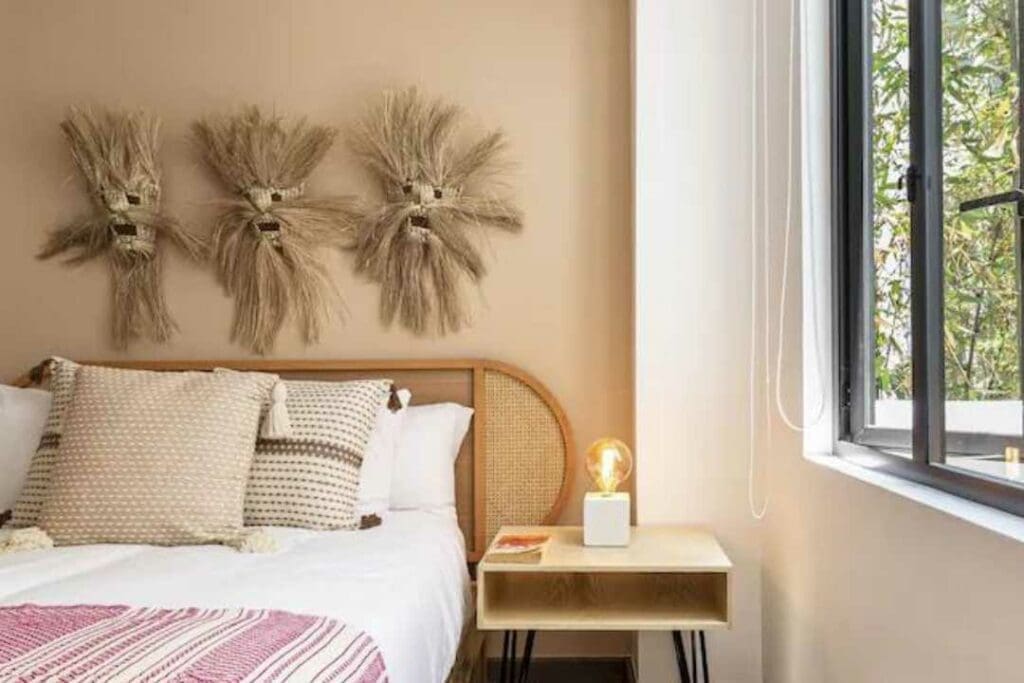 "Location was great, great amount of space and very easy to check in/check out! spotless, bright, and everything you could want in an apt while you stay for a short, or longer, stay!"

Penelope [Read more reviews]
Each unit has access to a view of the city and is equipped with a seating area, a washing machine, a fridge, and a private bathroom. They also come with a terrace or patio, a perfect space for relaxing or chilling.
13. Hotel Itto Condesa
📍Juan Escutia, 125 Colonia Condesa
💲from $100 USD
➡️ Book it here
Hotel Itto Condesa is a modern hotel offering a space for relaxation and comfort. The atmosphere is tranquil, both inside and outdoors, surrounded by plants and open spaces.
Their rooms are fully equipped with necessities, and some even have access to a balcony to offer great city views. They also serve a la carte breakfast meals when checked in here.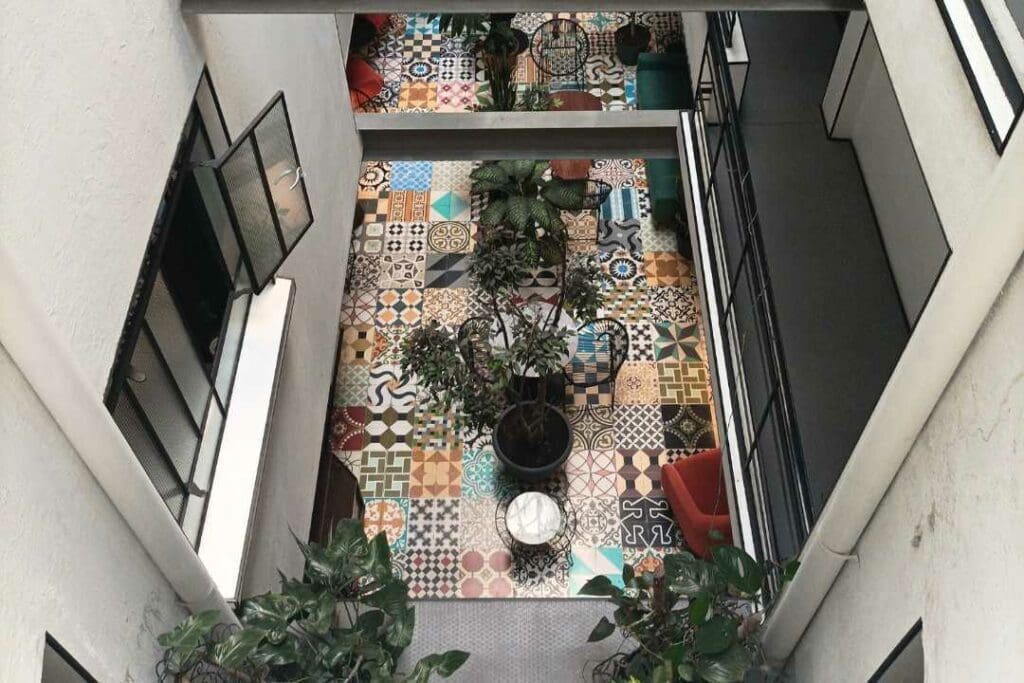 "The service was fantastic, the breakfast was excellent, the location was also so convenient. It felt like a home away from home."

Jose [Read more reviews]
Some establishments near the property are popular restaurants like the Taco Naco Restaurant, attractions, and landmarks like the Castel Chapultepec and the Rufino Tamayo Museum.
14. Condesa Square
📍 246 Sinaloa, 06700 Mexico City, Mexico
💲$112 USD
➡️ Book it here
Condesa Square is a modern and trendy boutique hotel that offers cozy accommodations to travelers. Tucked in the streets of Condesa, the property is surrounded by lush greens, adding to the laid-back vibe of the hotel.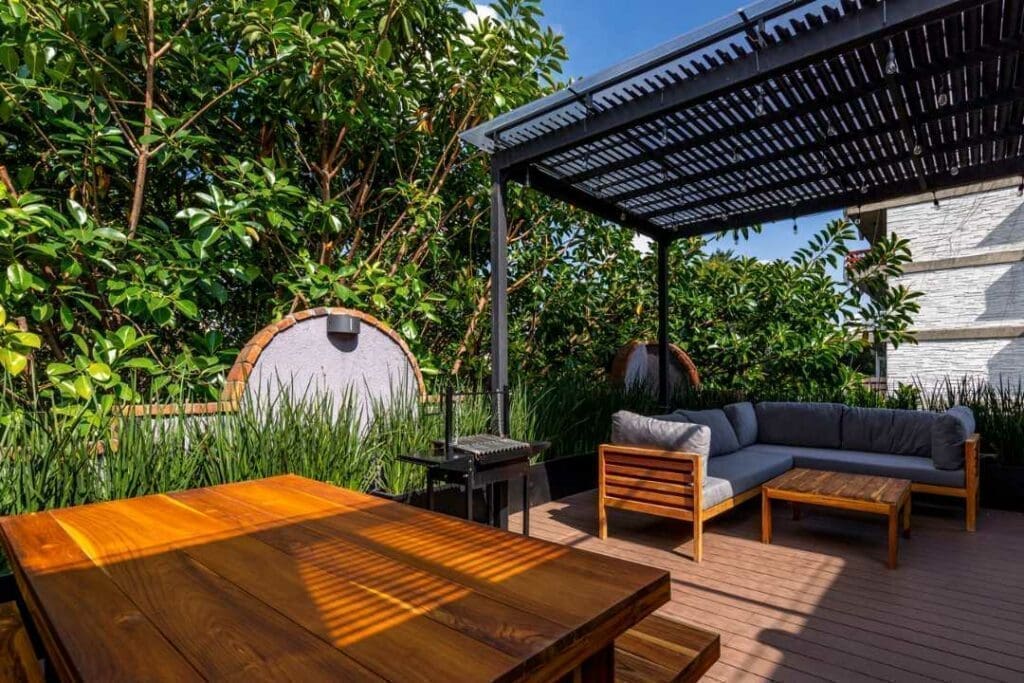 "Excellent location (heart of Condesa) and nice apartment. We had no street noise issues even staying with small child. Late check-in was smooth."

Sergei [Read more reviews]
Its accommodations come with a view of the city skyline, each equipped with a wardrobe, a small kitchen, and a private bathroom with a shower. The hotel also has a gym inside and offers free use of Wi-Fi to guests.
🛏️ Under $100 USD hotels La Condesa Mexico City
15. The Red Tree House
📍6 Culiacan, 06100 Mexico City, Mexico
💲from $98 USD
➡️ Book it here
Just from the name itself, you'll easily spot this accommodation in Condesa as it stands out with its red-painted building; inside the property, you will be surrounded by many plants, including a big tree in the middle of the patio.
Combining vibrant colors and tropical elements, you'll surely experience a tranquil yet fun vibe at The Red Tree House. And for as low as $98 USD, you'll already have access to a shared lounge, a garden, and a 24-hour front desk.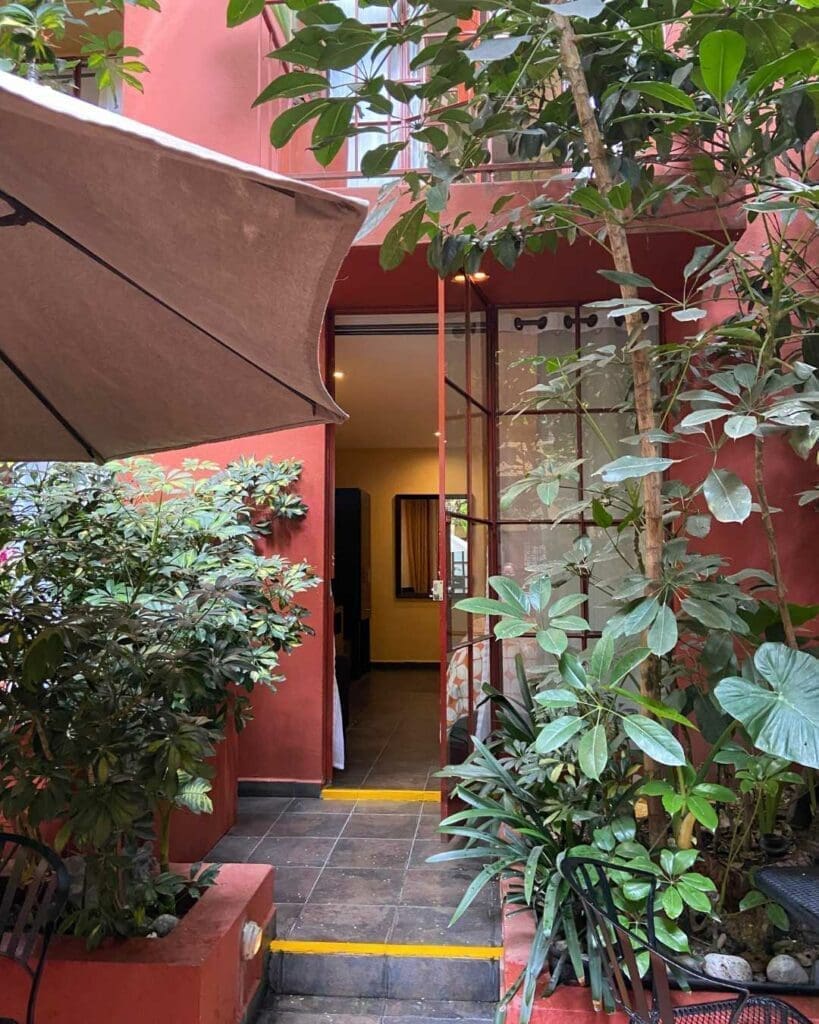 "Fantastic location, friendly staff, large and comfortable room. And best of all there is Romeo one of the pooches onsite who is so sweet and is a great ambassador. Coffee, breakfast, and happy hour is a nice bonus as well."

Kirk [Read more reviews]
Rooms here have wooden furnishings, air conditioning, cable TV, free Wi-Fi, and a balcony. Plus, during your stay at this hotel, you can bring your pet along, and they can enjoy both the shared garden and the relaxing atmosphere.
16. Casa Decu
📍 10 Culiacan Culiacan #10,Col. Hipodromo Condesa, Del. Cuauhtemoc
💲from $96 USD
➡️ Book it here
Casa Decu is a 4-star hotel that offers a contemporary style with antique tiles and abundant natural light.
The rooms at Casa Decu are decorated with unique original art pieces that help to create an atmosphere of relaxation and tranquillity. They are also complete with everything you will need during your stay.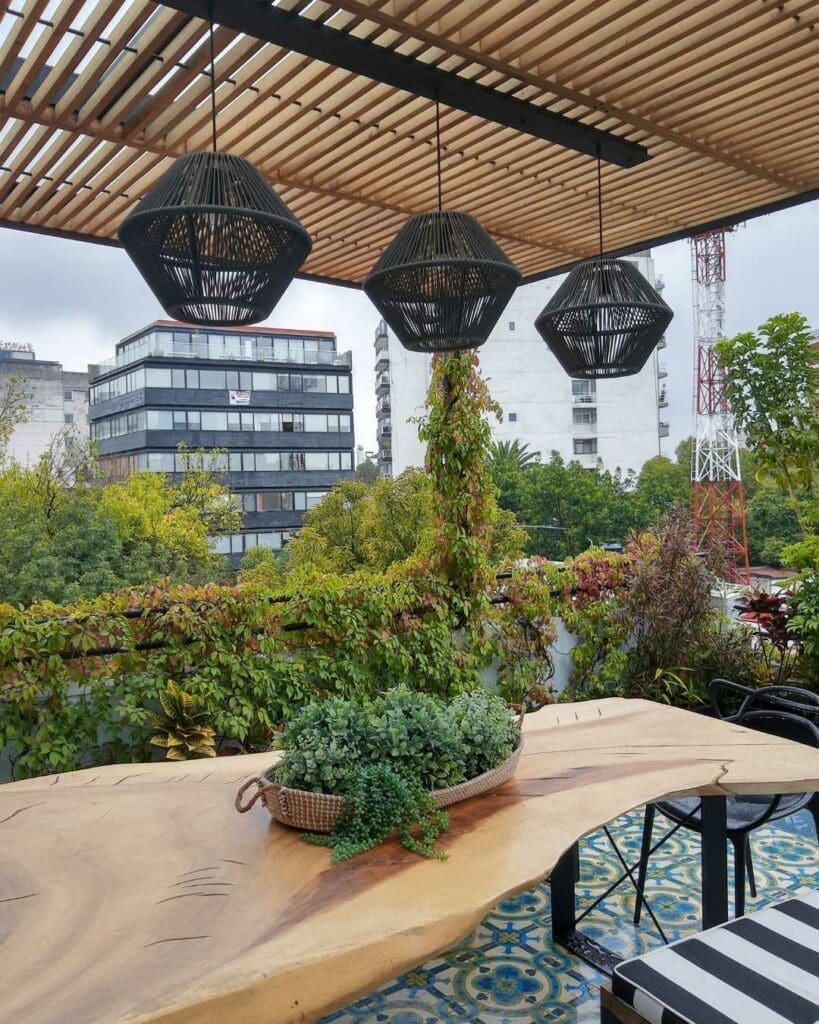 "Great style—I loved the decor of Casa Decu. It was very clean and well appointed with amenities. The staff was lovely—very kind and helpful. The roof deck is beautiful, and good coffee available in the morning is a really nice treat

Suzane [Read more reviews]
Casa Decu has a rooftop terrace that offers views of the cityscape and the old district. Other services and amenities include gyms, wifi use, and an in-house restaurant.
17. Don Jacinto Stay and Sip
📍 Zamora 13-a, La Condesa, Mexico City
💲from $60 USD
➡️ Book it here

Don Jacinto Stay and Sip offer modern bohemian-style accommodation in the middle of Condesa's urban and historic streets. It has all your amenities, from a shared lounge, terrace, and free Wi-Fi.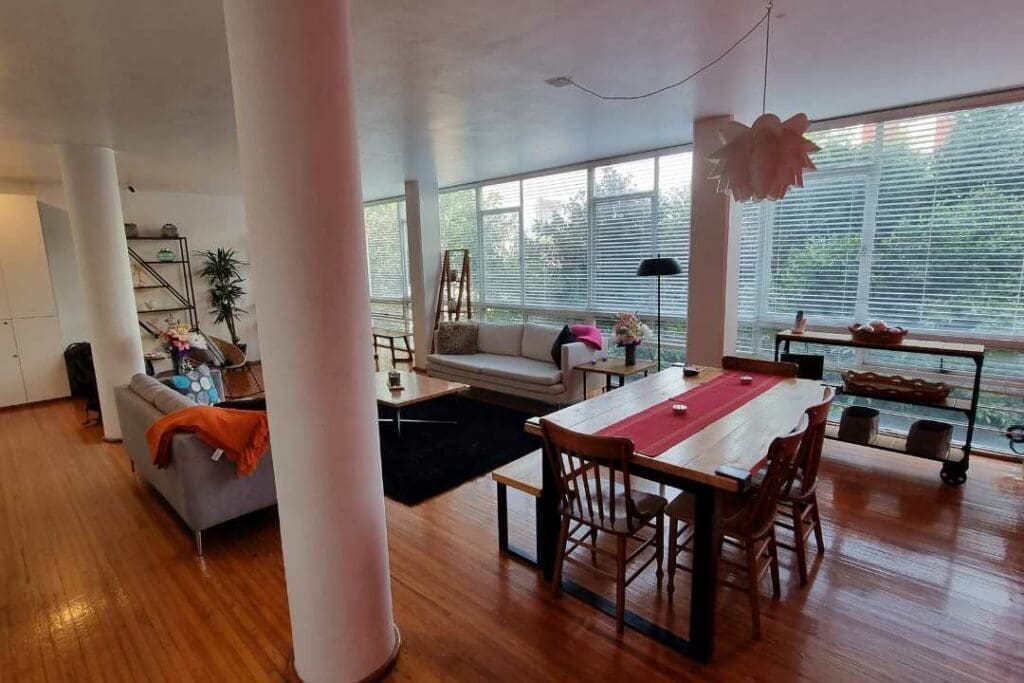 "Very simple check in and out with a friendly and communicative staff! Secure feeling facilities, comfortable room, bed, and quiet enough. Good internet!"

Sean [Read more reviews]
If you are a solo traveler who wants to enjoy a comfortable stay yet is on a budget, this is one place to consider.
The staff here are accommodating and can even help you with your day itinerary. And since it is near famous attractions and restaurants, you'll find it easy to go around the city.
18. Mi Zona Lodging Condesa
📍 53 Alfonso Reyes B1402, 06170 Mexico City, Mexico
💲from $89 USD
➡️ Book it here

Mi Zona Lodging Condesa offers guests modern and comfortable accommodation that makes guests feel right at home. This apartment has two bedrooms, a living room, and a terrace with a great city view.
"Wonderful property in a fantastic area, and the staff were super responsive and helpful. Absolutely loved our stay."

Photo: Mi Zona Lodging

Rebecca [Read more reviews]
And for only $89 USD, you can already enjoy all the amenities on the property, including a children's playground and an indoor pool.
This accommodation is perfect for families planning to explore the city and wanting to relax in an intimate and private place after a long day.
19. Casa Nou
📍Culiacan Culiacán 66, 06100 Mexico City, Mexico
💲from $64 USD
➡️ Book it here

Casa Nou is a 3-star hotel boasting an elegant, modern ambiance with a sleek and chic interior.
If you want to enjoy a stay in Condesa and are on a budget, Casa Nou can provide what you will need. All of their rooms already come with a private bathroom and air conditioning.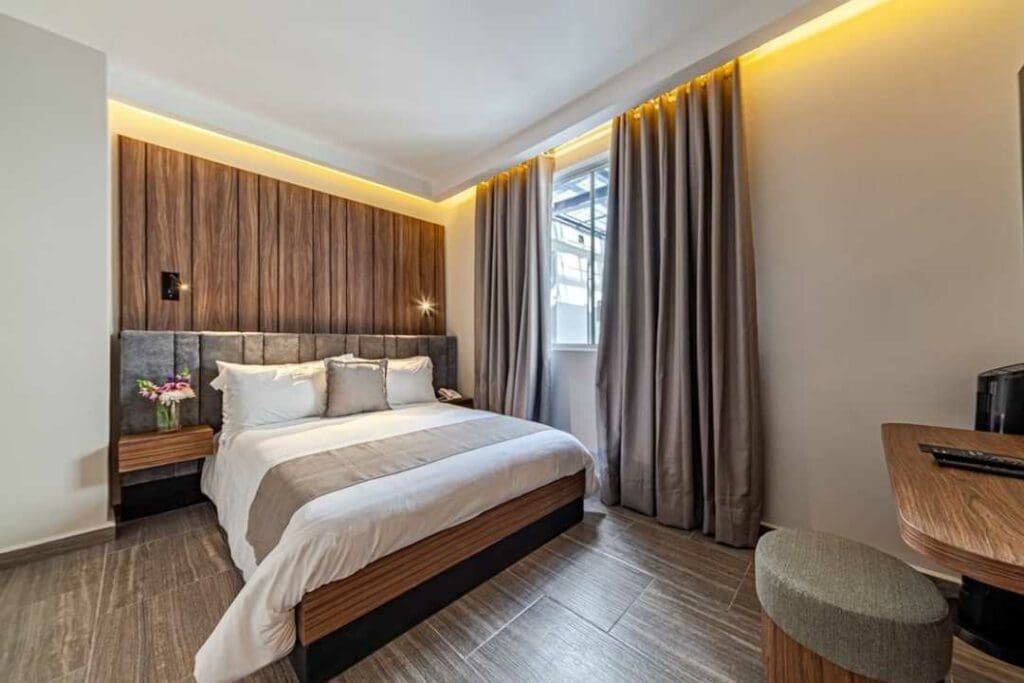 "Great location with a lot of nice restaurants within walking distance; very clean and comfortable rooms (stayed in 2 different rooms; staff were helpful."

Jacqueline [Read more reviews]
The hotel also offers complimentary breakfast, free wifi, and 24-hour security.
Plus, the location of Casa Nou is near famous attractions and restaurants in the neighborhood, making your trip hassle-free.
⁉️ FAQ: La Condesa hotels Mexico City
Trisha traveled to Mexico in 2018 and after a year, she found herself obtaining a 4-year residency visa in Mexico. She is the Editor-in-chief for our Living in Mexico Series which has helped over 3,000 Americans move to Mexico with ease. Trisha currently resides in Cabo San Lucas, Baja California Sur.