Discover the rich traditions, vibrant colors, and deep-rooted history of Mexico's Day of the Dead. This comprehensive guide explores how this unique celebration honors life and transcends the boundaries of death. Learn about sugar skulls, ofrendas, and much more.
Day of the Dead, known as "Día de los Muertos" in Spanish, is a rich cultural festival in Mexico that celebrates and honors the lives of the departed.
Held annually from October 31 to November 2, it is NOT a mournful event, but rather a joyous one, filled with remembrances and respect.
Rooted in indigenous Mesoamerican beliefs, this tradition blends Catholic elements introduced by Spanish colonizers with older rituals, resulting in a unique multi-day holiday.
Altars, or ofrendas, are created in homes and cemeteries, adorned with photos, favorite foods, and personal belongings of the departed, along with marigold flowers, sugar skulls, and candles.
These offerings are meant to welcome the spirits believed to return to the world of the living during this time.
Parades, music, traditional foods, storytelling, and art are integral to the festivities. The Day of the Dead is a time of communal unity, where the line between life and death blurs, and people gather to remember that death is a natural part of the human cycle, not something to fear.
In 2008, UNESCO recognized it as an Intangible Cultural Heritage of Humanity.
See also:
Plan your trip to Mexico with us! Get expert travel advice and customized trip-planning itinerary from our local experts on the ground.
🌕 Brief history of Mexico day of the dead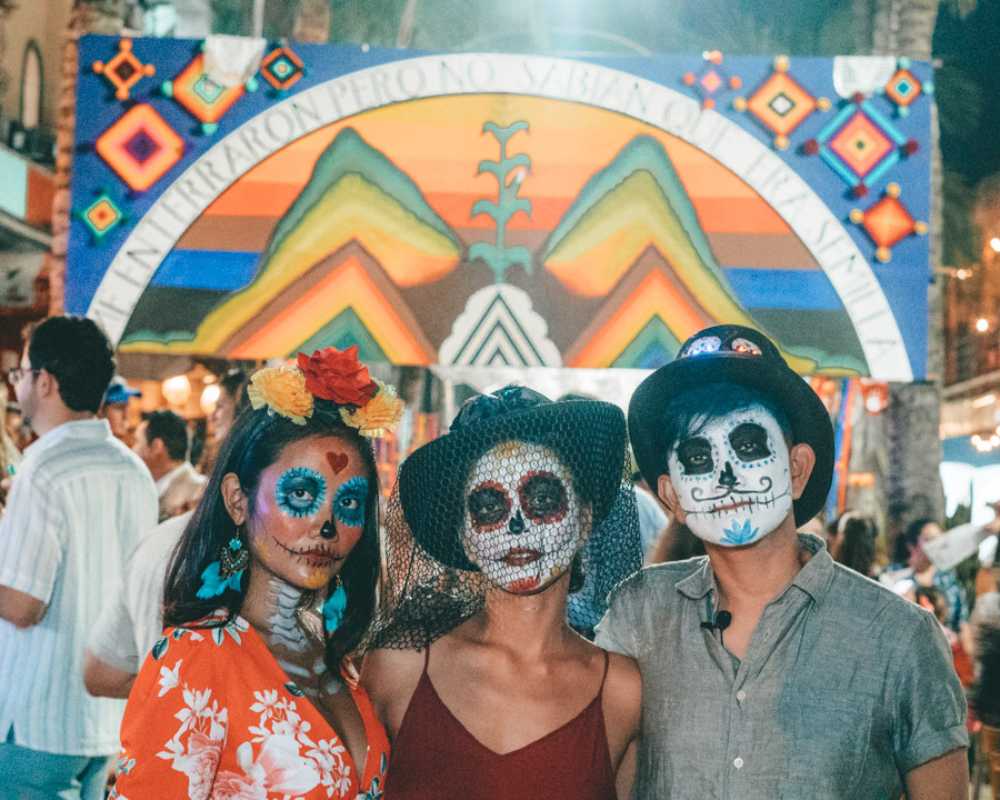 The history of the day of the dead trace back over 3,000 years to the Aztec civilization, which held a month-long festival honoring Mictecacihuatl, the Queen of the Underworld.
During this period, families would offer tributes to their deceased ancestors, a practice that evolved over time but remained intact despite Spanish colonization in the 16th century.
The Spanish conquistadors attempted to eradicate indigenous practices, but the resilience of native beliefs led to a blending of cultures.
The result is the modern Day of the Dead, a syncretic holiday that coincides with the Catholic All Saints' Day and All Souls' Day on November 1st and 2nd, respectively.
💀 5 facts about Day of the Dead
1. Origin in Indigenous Traditions
The Day of the Dead, or Día de los Muertos, has its roots in indigenous Aztec traditions that date back 3,000 years.
The Aztecs held a month-long festival to honor Mictecacihuatl, the Queen of the Underworld. When Spanish colonizers arrived in the 16th century, the celebration was melded with Catholic All Saints' and All Souls' Days to create the modern version we recognize today.
2. Celebration of Life, Not Mourning
Contrary to some Western perceptions of death, the Day of the Dead is not a somber occasion but rather a festive one. Families come together to celebrate the lives of their loved ones who have passed away.
They believe that the spirits of the deceased return to the world of the living for one night to join in the celebrations, which include food, drink, and music.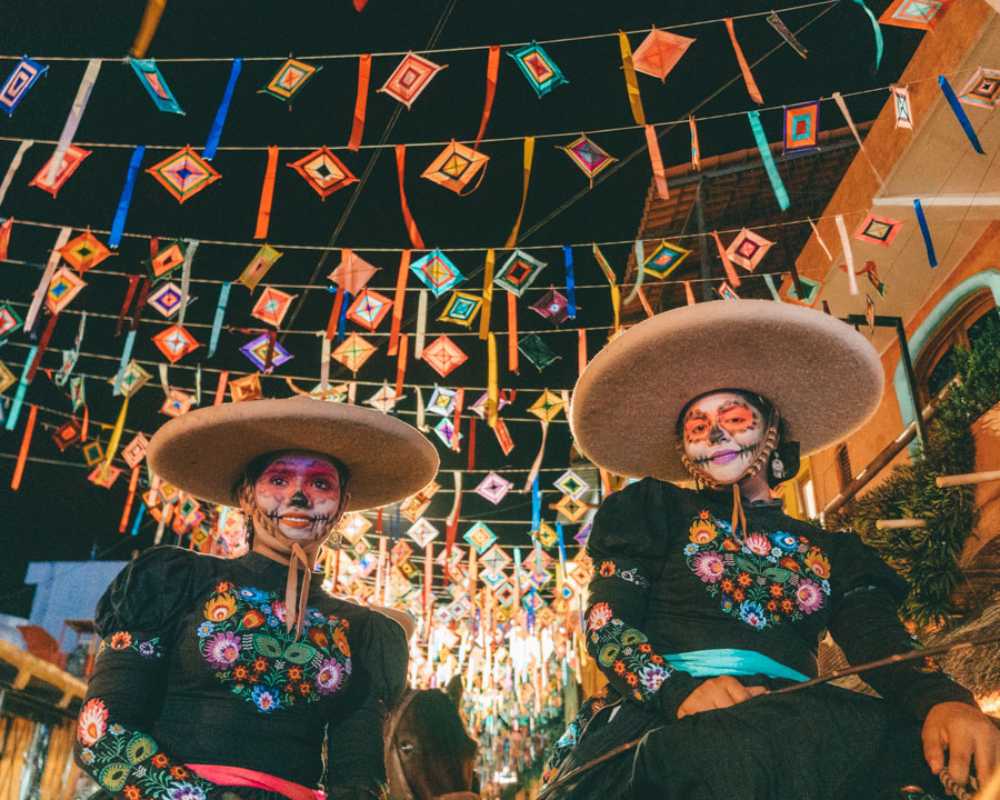 3. Importance of Ofrendas
One of the central aspects of Mexico's Day of the Dead is the creation of "ofrendas" or altars. Families build these altars in their homes or at cemeteries to welcome back the spirits of their loved ones.
The altars are adorned with candles, photographs, and mementos, as well as offerings of food and drink, including the favorite dishes of the deceased.
4. Symbolic Marigolds
The marigold flower, or cempasúchil, is a significant symbol in Day of the Dead celebrations. The flower's vibrant orange color and strong scent are believed to help guide the spirits back to the world of the living.
Marigolds are often used to decorate altars and graves, and petals may be laid in a path leading to the ofrenda to help the spirits find their way.
5. Culinary Traditions
Food plays an essential role in the Day of the Dead festivities. "Pan de muerto" (Bread of the Dead) is a traditional pastry that is shaped like skulls or crossbones and is a common offering on altars.
Families also prepare tamales, sugar skulls, and other favorite foods of the deceased. The act of sharing a meal is not only a communal activity but also a way to remember and honor loved ones who have passed on.
⚰️ Why do Mexicans celebrate day of the dead?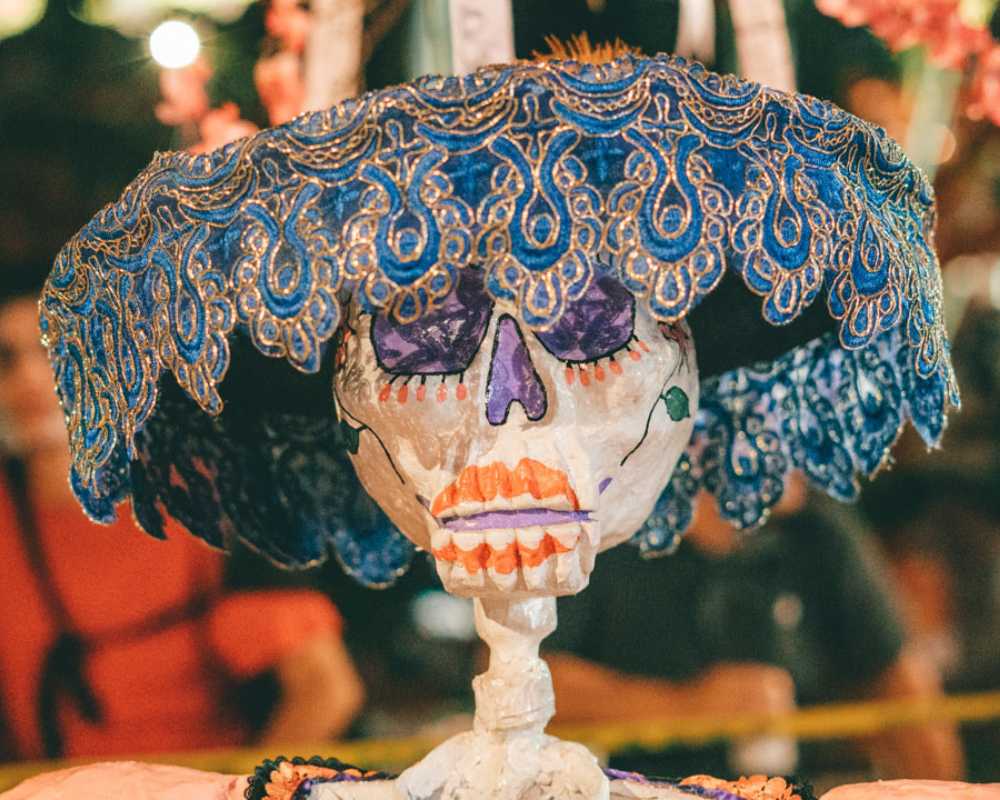 One of the core beliefs why Mexicans celebrate the Day of the Dead is that the spirits of deceased loved ones return to the world of the living for a brief period.
Families take this time to reunite with the spirits of their ancestors, parents, children, or friends who have passed away, providing them with their favorite foods, drinks, and other offerings.
In many Western cultures, death is often viewed as an end or a loss, while in Mexican culture, death is seen as a natural part of life.
The Day of the Dead enables people to openly discuss and reflect upon death, thereby reducing the fear or taboo associated with it.
By celebrating the lives of those who have passed away, the event serves as an affirmation of life itself.
🗺️ Map of best Mexico Day of the Dead destinations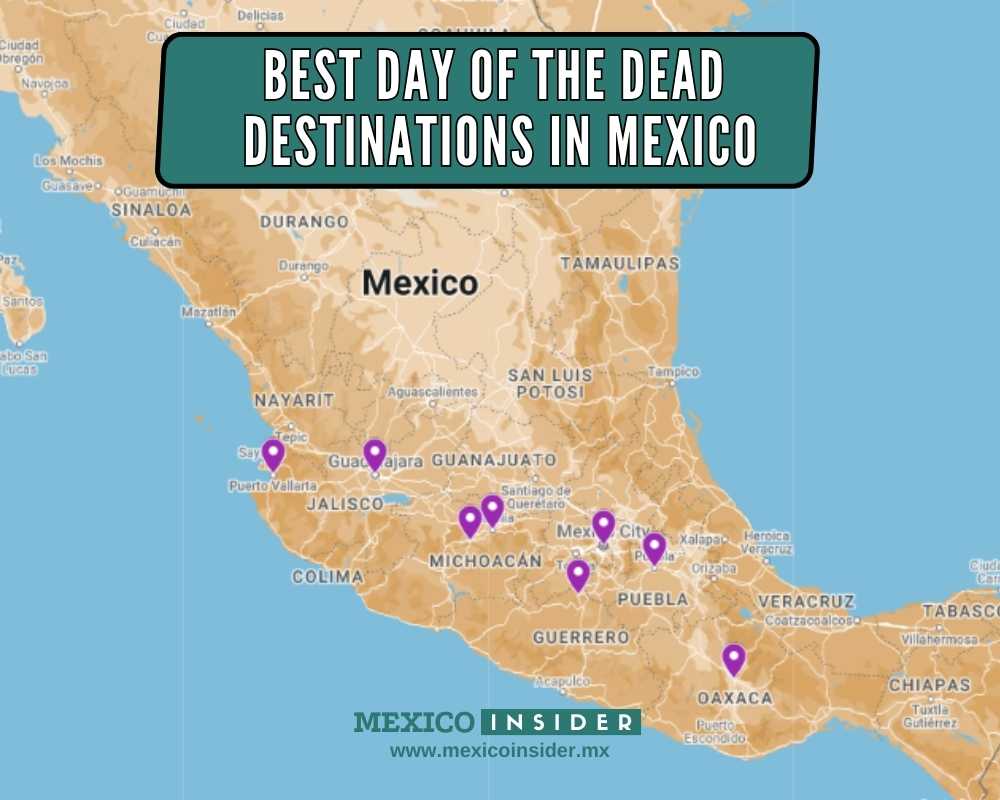 👉🏽 Click here to open the Mexico Day of the Dead destinations Map in full view
📍 Where to celebrate Day of the Dead in Mexico
Looking to travel to Mexico to celebrate Day of the Dead? We interviewed 11 top travel experts about their favorite Dia de los Muertos destinations and these are their recommendations with travel tips:
#1: Oaxaca City
by Claire Martin from Go South West England
After living in Oaxaca for five months, I knew that it was somewhere I wanted to stick around for Dia de los Muertos.
My Mexican flatmate recommended we create our own ofrenda; I'd suffered a bereavement that year so it was especially poignant to celebrate in that way.
We then ventured up to the Zocalo, in the heart of the city, to witness the parade, a beautiful festivity of figures with skeletons and music.
Sugar skull figures were sold at the many market stands, and there was a vibrant atmosphere as everyone celebrated the lives of their lost loved ones.
Well-known as one of the best Mexico Day of the Dead destinations, accommodation in Oaxaca books up months in advance – I was fortunate enough to have an apartment in Oaxaca already, and I scheduled my lease to run out just after Muertos when I returned home to Bristol!
But I would have booked four to six months early to ensure a place.
My money-saving tips would be to stay in a hostel rather than a hotel (Casa Angel is wonderful) and to eat the street food – you're in Oaxaca, so the street food is exemplary everywhere!
#2: Guadalajara
By Lynli Roman of Wanderbig.com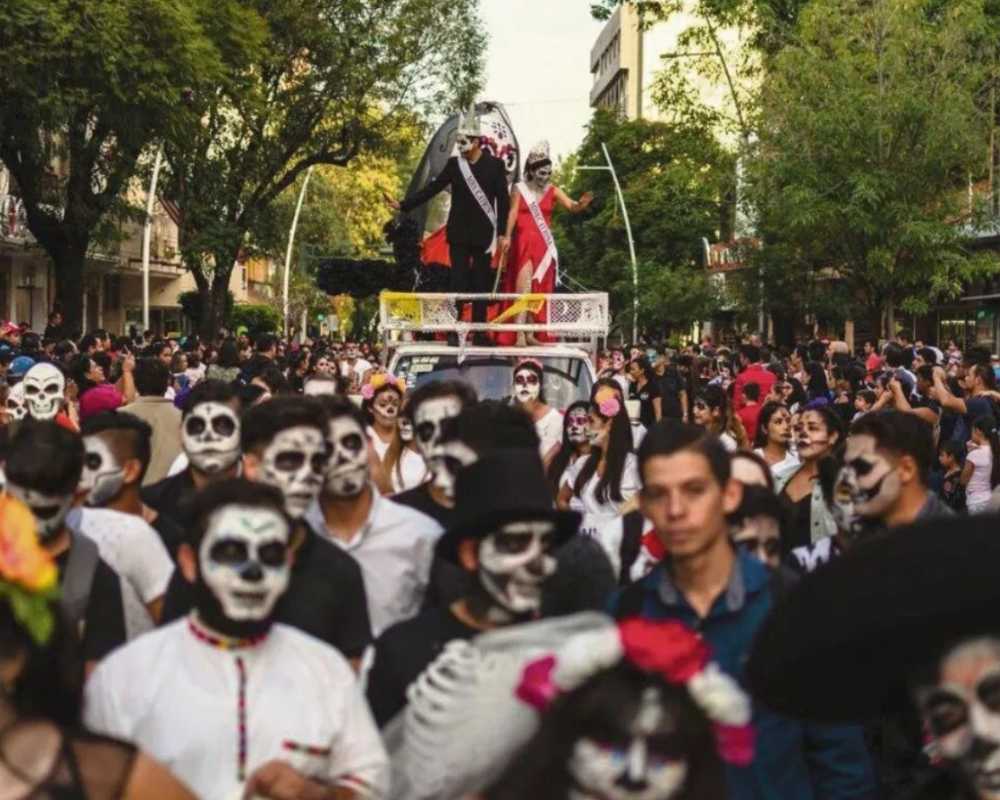 I was drawn to Guadalajara for Day of the Dead celebrations because of the unique opportunity to experience the festival in a part of the country with fewer tourists.
While tourist crowds can make parades hard to see in Mexico City, Guadalajara's 2-hour parade permitted me to stand shoulder to shoulder, front row, with locals.
The city's rich cultural heritage, vibrant art scene, and lively festivities set it apart from other destinations like Mexico City and Oaxaca.
In Guadalajara, the city center is transformed for the festival. Each block of the downtown offered unique opportunities to observe or participate in Day of the Dead events.
From a dance competition in the main square to a food festival a few blocks away, and from a live stone-carving contest to a massive parade, Guadalajara's festival offered many unique experiences to learn from.
Because Guadalajara is located in the Mexican state of Jalisco, which the US state department recommends avoiding, it's affordable and easy to book!
I booked my trip to Guadalajara as a last-minute excursion following a stay at the Cabo Azul Resort in Los Cabos.
Guadalajara is generally safe for visitors who remain in the city center and return to their hotels by early evening. Guadalajara also provides extra security during festival weekends.
#3: Taxco
by Kristin from Tiny Footsteps Travel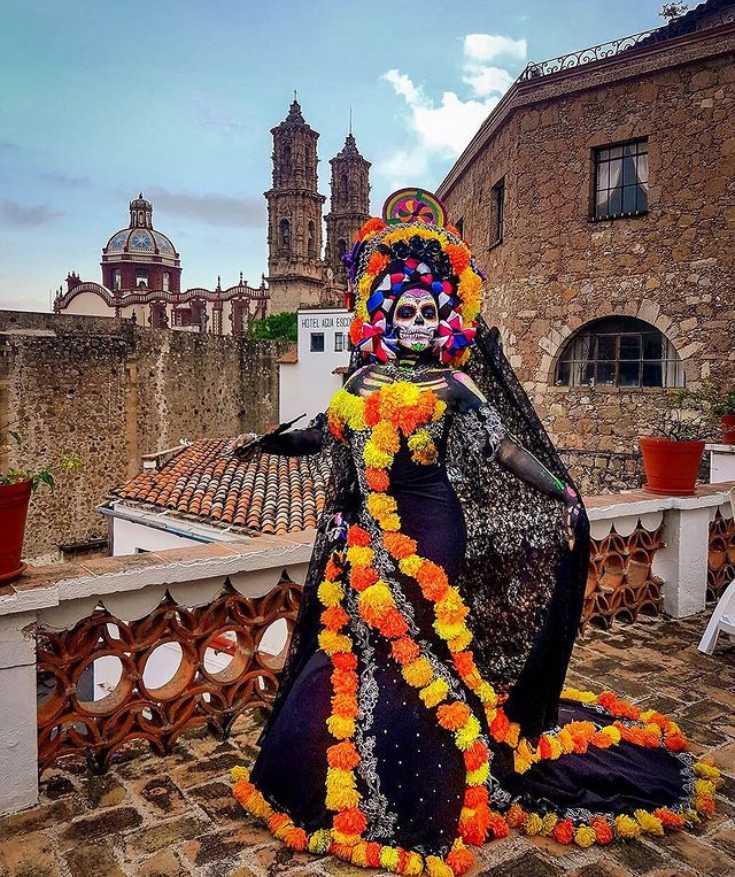 I chose to celebrate Day of the Dead in Taxco, because it was one of my favourite colonial cities that I'd visited the year before while living in Mexico as an exchange student.
I fell in love with Taxco because of its beauty and history. Situated at over 1,700 metres above sea level, with its mountainous range, old architecture and narrow cobbled streets, Taxco (pronounced "taks-koe") is known as the 'city of silver' because of its history in silver mining and production.
Located less than 3 hours south of Mexico City, I knew it would be a special scenic setting for celebrating the annual All Souls Day, also known as 'Day of the Dead'.
I liked the idea of celebrating in a smaller city vs a large one for my first Mexico Day of the Dead experience.
To celebrate Day of the Dead in Taxco, I spent hours walking through the markets that are set up for the celebration, admiring what the different vendors were offering.
There were a variety of chocolate skeletons, candy ghost lollipops and decorative plastic skeletons to hang in cars.
There were orange marigolds everywhere throughout the town. I finished off the evening by watching the special "Festival de las Catrinas" parade, which takes place every year in Taxco for the Day of the Dead in the central plaza.
People dressed in elaborate skeleton costumes and face paint were parading down the streets to music.
The vibrancy of the Day of the Dead celebration in Taxco warmed me to see families coming together to celebrate life and remember their ancestors.
I booked the trip to Taxco for the Day of the Dead two months in advance, however, this was before the popularity of the Mexico Day of the Dead caught on in the U.S.
I would probably book it further in advance if it were today (3-4 months.) My money-saving tips are:
You can fly to Mexico City directly from most North American Cities. I flew direct from Toronto, my hometown.
Take the bus to Taxco (as opposed to a private tour) if you feel comfortable. The cheapest tickets currently are through the busline Futura
Select the early morning departures if you can! The early morning departures offer the quickest rides that will get you to Taxco from Mexico City in under 3 hours and are also cheaper! The later-in-the-day departures take an average of 4-5 hours and cost a little bit extra.
#4: Puebla
by Sharon from The Roads Beyond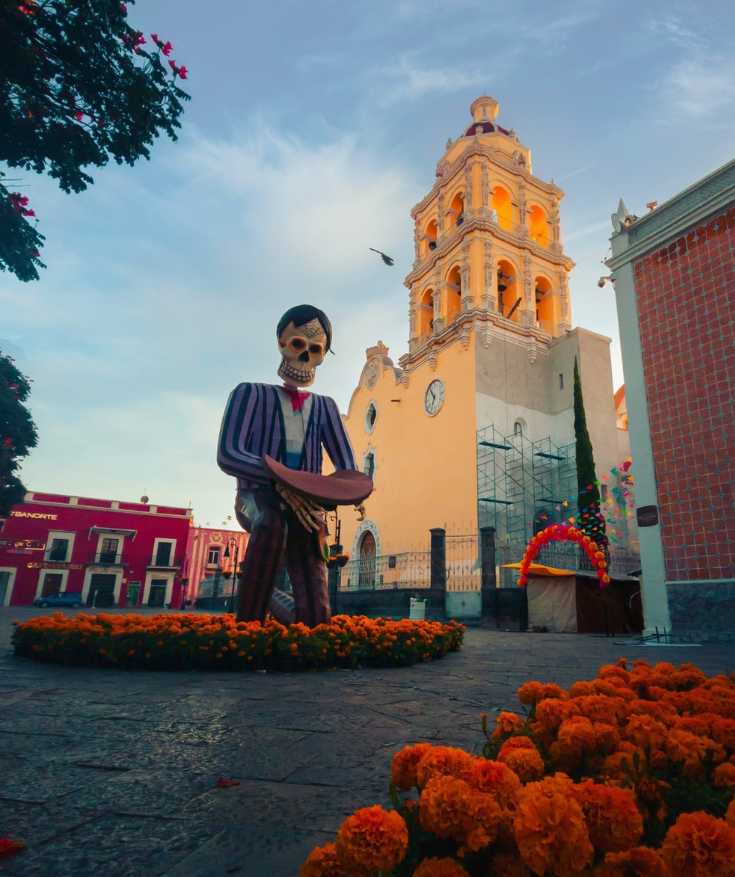 We have similar Day of the Dead traditions in Peru (from Lima to Cusco), but they aren't as big as in Mexico.
When planning to visit Mexico during the Day of the Dead, I was looking forward to experiencing authentic traditions and not seeing overly crowded and expensive destinations during these dates. Puebla was the perfect place for that.
The streets in the center were beautifully decorated with altars and flowers. The ambience was lively; there was a Catrina parade, and you could get your face painted as one.
On the other hand, visiting the small towns around Puebla was a different and magical experience. Especially, Huaquechula.
As you walk around the city on November 1st, you will see flowers leading to altars inside certain houses. This means that someone died in the family the previous year.
You can enter the house, pay your respects at the altar and leave a candle. Then, you can join other visitors in the dining room, where the family will serve you food prepared for the occasion, like tamales or a stew.
I booked my trip around 5 months in advance! I recommend staying in Lomas de Angelopolis, a trendy neighborhood on the outskirts but easily accessed by Uber to any point of the city.
#5: Morelia
by Daria from The Discovery Nut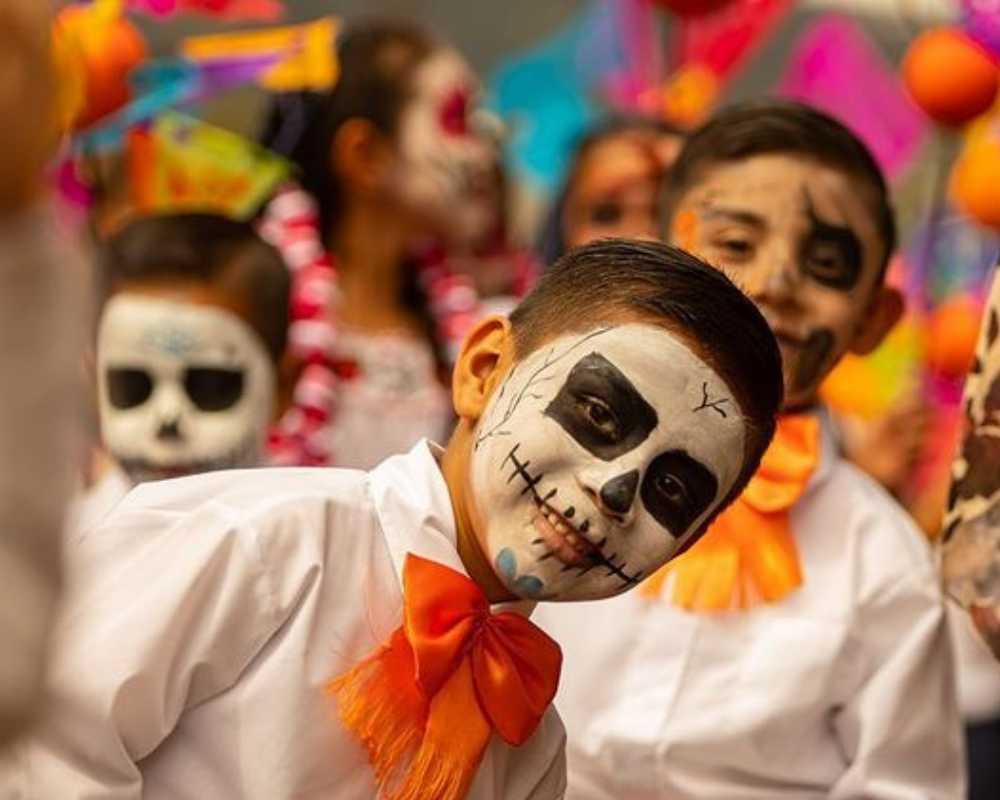 I chose Morelia to celebrate the Mexico Day of the Dead because it's a hidden gem with gorgeous colonial architecture, fascinating history and plenty of cool places like Patzcuaro, Janitzeo and Santa Clara Del Cobre.
Here, you can enjoy a local flair, try regional dishes from Michoacan and shop for handcrafts in artisan markets.
Morelia is still unknown to most travelers. Mexico Day of the Dead celebrations don't attract as many tourists as in other popular destinations like Oaxaca or San Miguel De Allende, so it's a perfect place to experience authentic Mexico.
I celebrated the Day of the Dead in Morelia by doing traditional Catrina make-up and taking photos around the city.
I arrived in Morelia a day before the Day of the Dead celebrations, and most of the festivities were wrapped up by that time except for the main celebration on the Day of the Dead.
I travelled to Morelia from Mexico City and booked my trip only a few months in advance.
Morelia is one of the most popular destinations in Mexico for domestic travelers. You can catch one of the daily buses that will get you to Morelia in a couple of hours.
#6: Tulum
by Sara Rodriguez from Travel Mexico Guide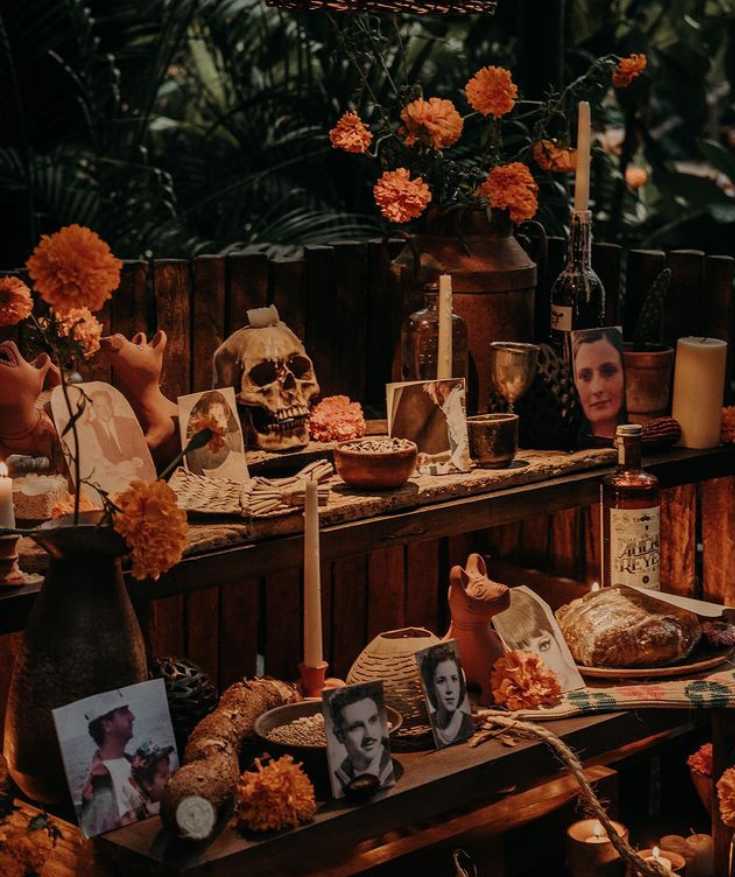 If you travel to Tulum during the Day of the Dead, you can experience this festive event firsthand by immersing yourself in its traditions and activities.
The main street in Downtown Tulum is decorated with brightly colored paper flags, called papel picado, and yellow marigold flowers.
You can enjoy music played by local bands while watching the traditional parade performed by locals dressed in their Day of the Dead costumes with their faces painted like skulls and Catrina masks.
I chose Tulum to celebrate the Mexico Day of the Dead to experience how this authentic festivity was observed in the Riviera Maya.
I was so lucky to be with local people. I created an ofrenda with a family and lighted candles for those who had passed away before enjoying an evening feast featuring Mexican delicacies such as Pan de Muerto, tamales with mole poblano, sugar skulls, and tequila.
It was one of the most magical moments I have witnessed in Mexico!
I booked my trip to Tulum 3 months in advance to find the best prices on flights and accommodations. To save money, I split my stay in two.
The first week in Downtown Tulum and the last two days in the hotel zone. During my trip, I used to eat at taquerias to try the typical Mexican food and save money (having tacos for breakfast in Tulum is very cheap!).
#8: Tijuana
by Alexa from 52 Perfect Days
For Southern Californians looking for an authentic and unique cultural experience, a day trip to Tijuana to observe Día de los Muertos is a perfect option to see the beautiful and moving celebration to honor the lives of loved ones who have passed away.
In Tijuana, two interesting locations to visit on Mexico Day of the Dead are the Mercado Hidalgo and Panteon Numero Uno.
Mercado Hidalgo, a market filled with colorful stalls selling everything from fresh produce to traditional crafts, is transformed into a homage of sugar skulls, papel picado (decorative cut paper), and marigold garlands during this holiday.
You can purchase traditional sweets, such as pan de muerto (bread of the dead), or participate in workshops to learn how to make sugar skulls and other Day of the Dead crafts.
Panteon Numero Uno, one of Tijuana's oldest cemeteries, is also a beautiful place to visit during the Day of the Dead celebrations.
Families gather here to clean and decorate the graves of their loved ones, often staying throughout the night to sing, dance, celebrate their favorite foods and share stories of those who have passed away.
The atmosphere is reverent and joyful, as people come together to honor and remember the lives of those who have left this world.
My tips are to park on the U.S. side of the border and take a taxi directly to the Mercado or Panteon Numero Uno. If this is a day trip, there is no need to plan in advance.
If you prefer an overnight stay in Tijuana, I'd book a hotel at least 30 days in advance.
#9: Patzcuaro
by Rai from A Rai of Light
Día de los Muertos is celebrated across Mexico, but what cemented my decision to celebrate the day of the dead in Pátzcuaro is their renowned Noche de Muertos parade.
This unmatched procession sees locals dressed in elaborate costumes and masks as they dance through the decorated streets to honor their departed loved ones.
Along with its colorful traditions and vibrant celebrations, this charming town in Michoacan is one of the Pueblos Mágicos. I was keen to spend some time absorbing its indigenous and colonial identity.
In addition to the Night of the Dead parade, I participated in this sacred and joyous time by gathering marigold flowers and sugar skulls to add to the altars.
Oh, and by partaking in the traditional food that included pozole soup, tamales, and sweet pan de muerto!
I did my Mexico Day of the Dead travel plans 3 months in advance as I was living in Costa Rica then. This way, I ensured that accommodation and any transport options would be sorted.
Even though it is possible to find last-minute options, accommodation around Pátzcuaro is usually booked a year in advance.
I was not willing to risk missing out on experiencing this celebration. And I am glad I did because it was an incredible experience.
#10: Mexico City
by Victoria from Guide Your Travel
I chose Mexico City to celebrate the Day of the Dead because of its rich cultural history and the opportunity to see the traditional altars, parades, and offerings that are crucial to the celebrations.
I participated by visiting some of the city's cemeteries, attending the parade, and seeing the colorful and elaborate altars set up throughout the city.
I booked my trip about four months in advance to secure the best deals on flights and accommodations.
As for money-saving tips, I found that staying in a hostel or Airbnb was much more affordable than a hotel, and taking public transportation was a great way to save money on taxis and other transportation costs.
However, since the Day of the Dead is such an important day in Mexico, you have to expect slightly increased living costs, especially for accommodation.
In addition, I also budgeted carefully for meals and activities and researched free or low-cost events and attractions in advance.
#11: Puerto Vallarta
by Lora from Take Me to Puerto Vallarta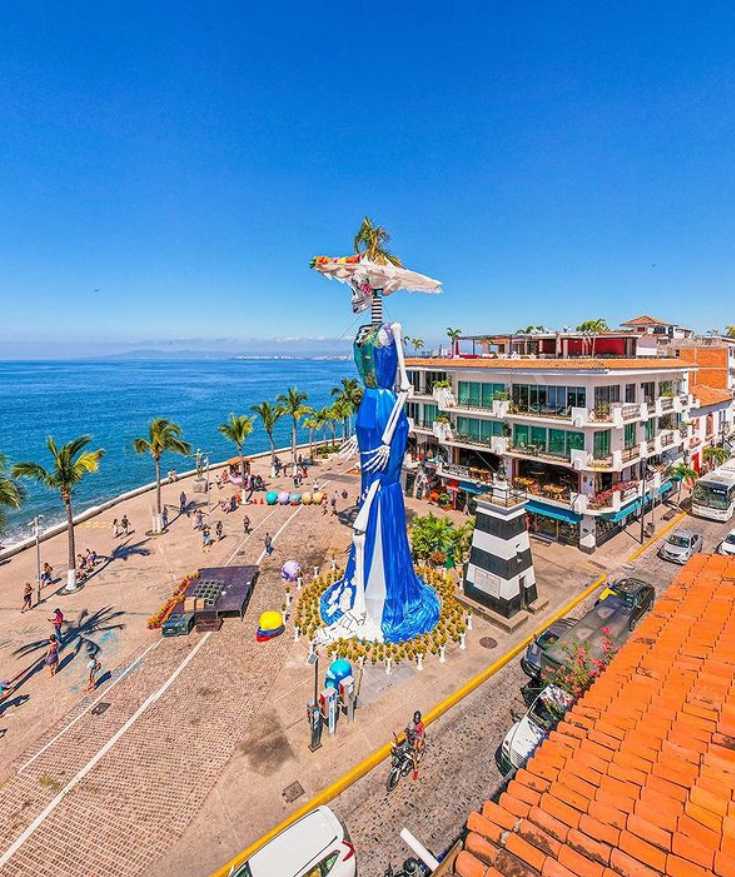 While there are many destinations across Mexico to celebrate Day of the Dead, Puerto Vallarta offers a unique experience with its record-breaking Cartinas, parades, and stunning surrounding landscapes.
Since I live in Puerto Vallarta, I wanted to see what it was like to participate there before going to other parts of Mexico to celebrate.
In 2022, Puerto Vallarta broke the record for the tallest calavera catrina on the Malecon, a mile-long stretch of boardwalk along the coast.
It was a unique sight, along with the colorful parade featuring elaborate costumes, music, and dance. There was also face painting with local artists, food vendors, and street performances, which made for such a fun experience where it was easy to meet locals and other travelers.
Day of the Dead coincides with the start of high season, so booking accommodations in Puerto Vallarta at least a month in advance is best to get a decent price.
You can save money by staying in more local neighborhoods like Versalles and Fluvial rather than Centro or Zona Romantica.
Puerto Vallarta has a good bus network that can take you from these neighborhoods to downtown in 20 minutes for 10 pesos.
🕯️ Mexico Day of the Dead traditions
Mexico Day of the Dead is marked by several unique traditions intended to honor and celebrate the lives of departed loved ones.
These practices may vary across different regions but largely share common elements. The traditions associated with the Day of the Dead reinforce the idea that death is not an end but a continuation of life's journey.
Below are some of the Day of the Dead traditions in Mexico:
1. Ofrendas
A central tradition is the construction of altars, known as ofrendas, in homes and at gravesites.
These altars are thoughtfully adorned with photos of the deceased, their favorite foods, and personal items that held significance to them in life.
These offerings are complemented by traditional elements such as marigold flowers (cempasúchil), candles, sugar skulls, and pan de muerto, a special bread made for the occasion.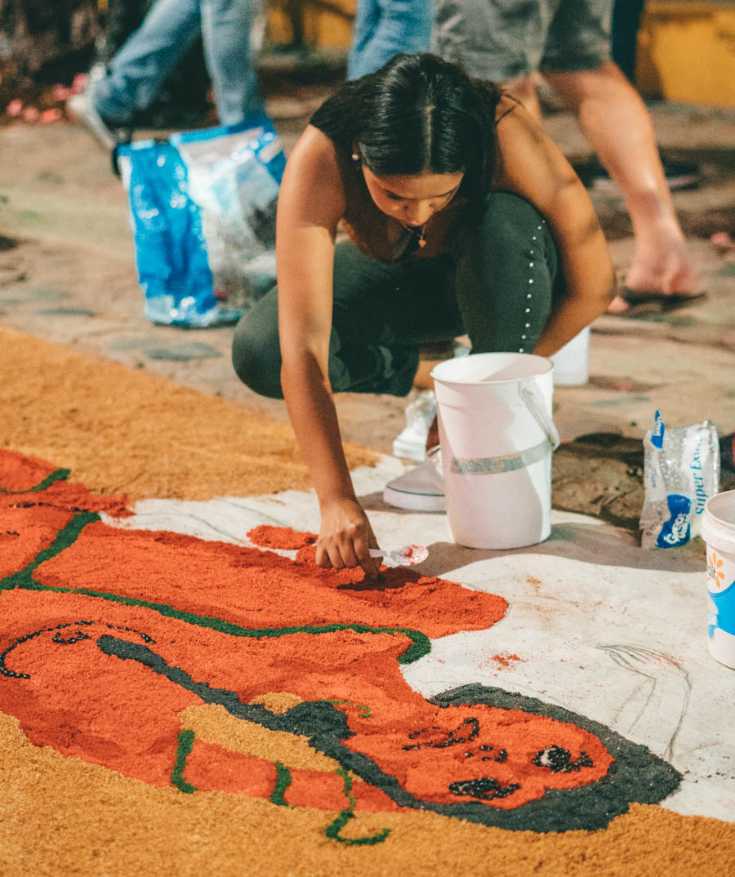 2. Marigolds
Marigolds play a significant role and is the official flower of the Day of the Dead festivities. These bright, orange flowers are believed to guide the spirits to their respective altars with their strong scent and vibrant color.
Likewise, sugar skulls, or calaveras, are colorful candies that playfully represent death. Each sugar skull often has the deceased's name written on its forehead, serving as a sweet tribute.
3. Pan de muerto (bread of dead)
The pan de muerto, or "Bread of the Dead," is another significant component. It is a sweet, round loaf of bread often decorated with dough shaped like bones and dusted with sugar.
This special bread is not only an offering for the spirits but is also enjoyed by families and communities during the celebration.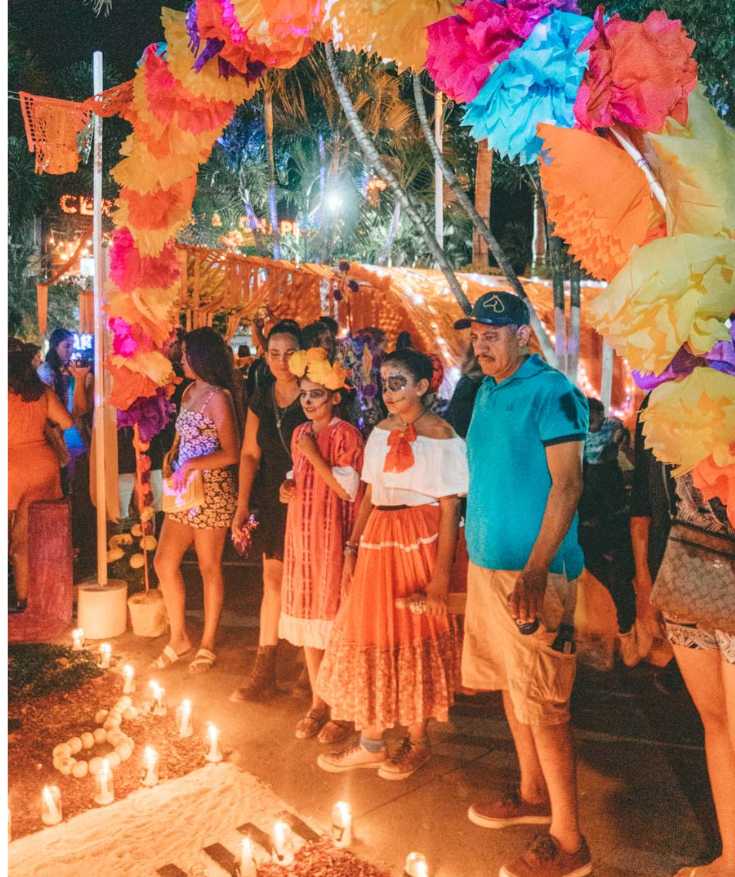 4. Cemetery visits
In addition to these household traditions, family members come together to clean and decorate the gravesites of their loved ones. This typically involves laying out ofrendas, scattering marigold petals, and lighting candles.
It is also a time for storytelling and reminiscing about the lives of those who have passed away, reinforcing the bonds of family and community.
5. La Calaca (Skull)
Furthermore, la Calaca, or the skeleton figure, is a ubiquitous symbol of the Day of the Dead. This figure is seen in costumes, food, and crafts and is often depicted joyously or humorously.
This underscores the celebratory and life-affirming nature of the festival.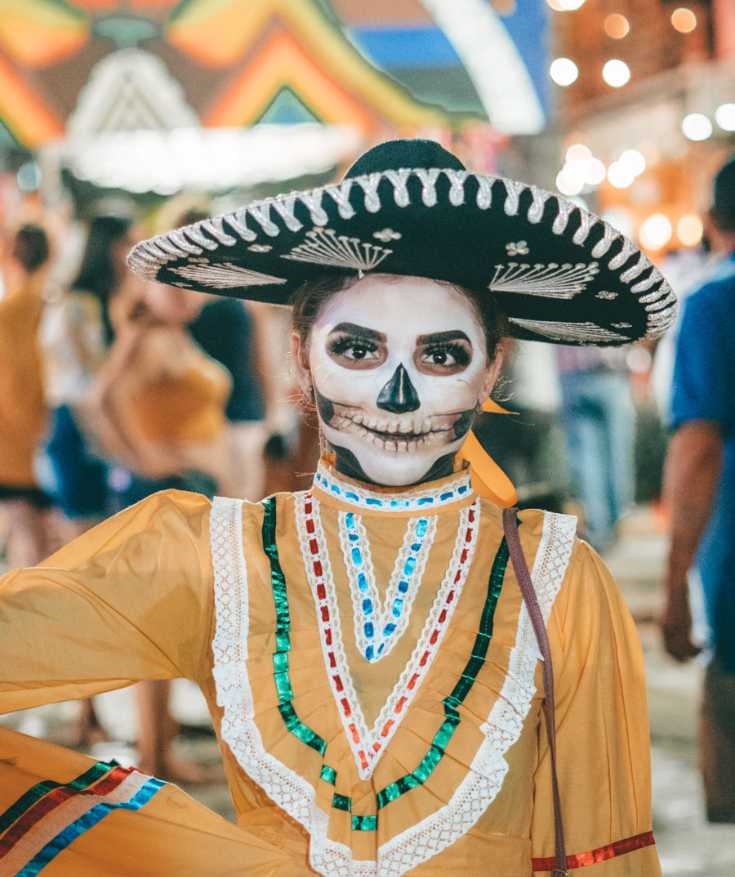 6. Parades and festivities
Finally, many towns and cities in Mexico host vibrant parades and processions. These public festivities feature music, traditional dances, large skeleton puppets, and participants dressed in colorful, skull-themed attire.
Prayers and songs are often shared at home altars and gravesites, incorporating elements from both indigenous and Catholic practices.
7. La Catrina
La Catrina is a relatively modern symbol, originating from a zinc etching by Mexican illustrator José Guadalupe Posada in the early 20th century.
Popularized further by Diego Rivera's artwork, La Catrina is often depicted as a well-dressed female skeleton, wearing extravagant hats and elegant clothing.
She serves as a social critique, reminding people that regardless of social status, everyone meets the same end in death.
Today, La Catrina is seen as a quintessential representation of the Day of the Dead, gracing everything from murals to costumes.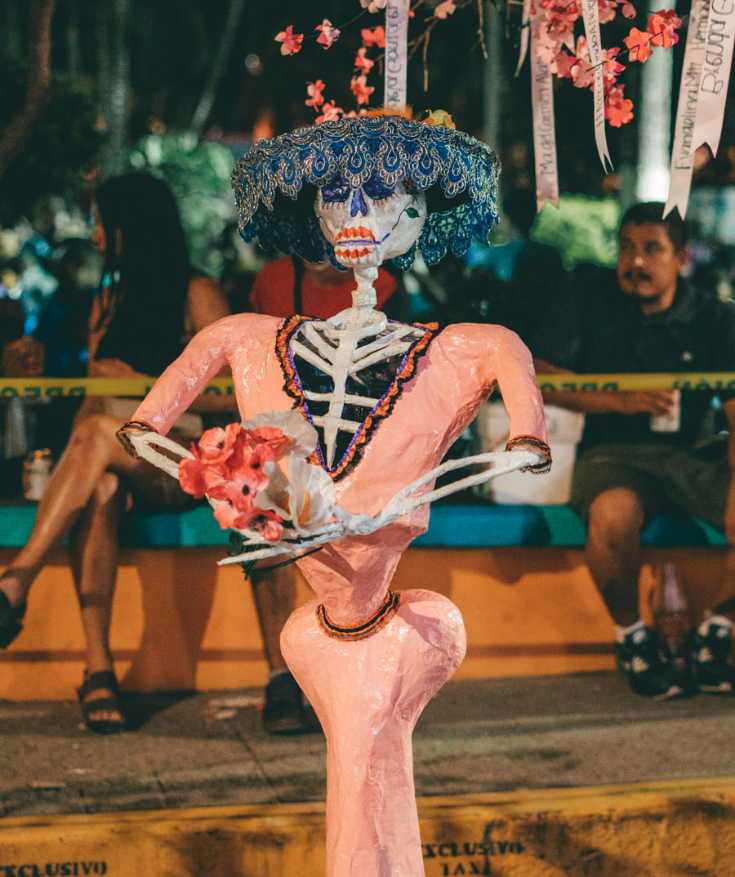 8. Mictecacihuatl
Mictecacihuatl is rooted in ancient Aztec mythology. Often called the "Lady of the Dead," she was the queen of Mictlan, the Aztec underworld.
During a month-long Aztec festival that predated the Day of the Dead, Mictecacihuatl was honored as the guardian of the bones of the deceased.
She represents the more spiritual and ancestral aspects of the holiday and serves as a cultural link to Mexico's indigenous past.
9. Saint Death (Santa Muerte)
Although not traditionally associated with the Day of the Dead, the figure of Santa Muerte has become more prevalent in recent years. She is a folk saint representing death, often portrayed as a skeletal figure in a robe.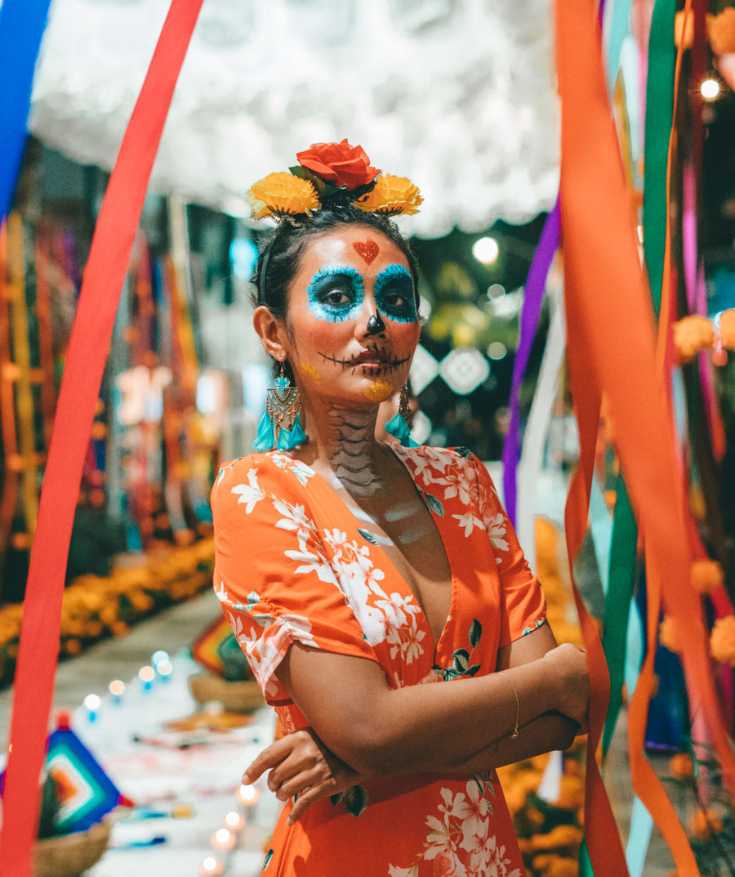 10. La Llorona (The Weeping Woman)
La Llorona, or "The Weeping Woman," is a prominent figure in Mexican folklore and Latin American culture, often told as a cautionary tale or ghost story.
The legend varies by region, but the core narrative usually revolves around a woman who, out of jealousy or anger, drowns her children and then spends eternity searching for them.
Overcome with grief and guilt, her spirit is said to wander near waterways, wailing and crying for her lost children.
11. Significance of dogs during day of the dead
In the context of the Day of the Dead (Día de los Muertos), dogs hold a special significance that traces back to ancient Mesoamerican beliefs.
According to these traditions, dogs serve as guides for the deceased as they journey through the afterlife.
In particular, the Xoloitzcuintli, or Xolo, an ancient Mexican dog breed, is often associated with this role.
🌼 What's in a Day of the Dead altar?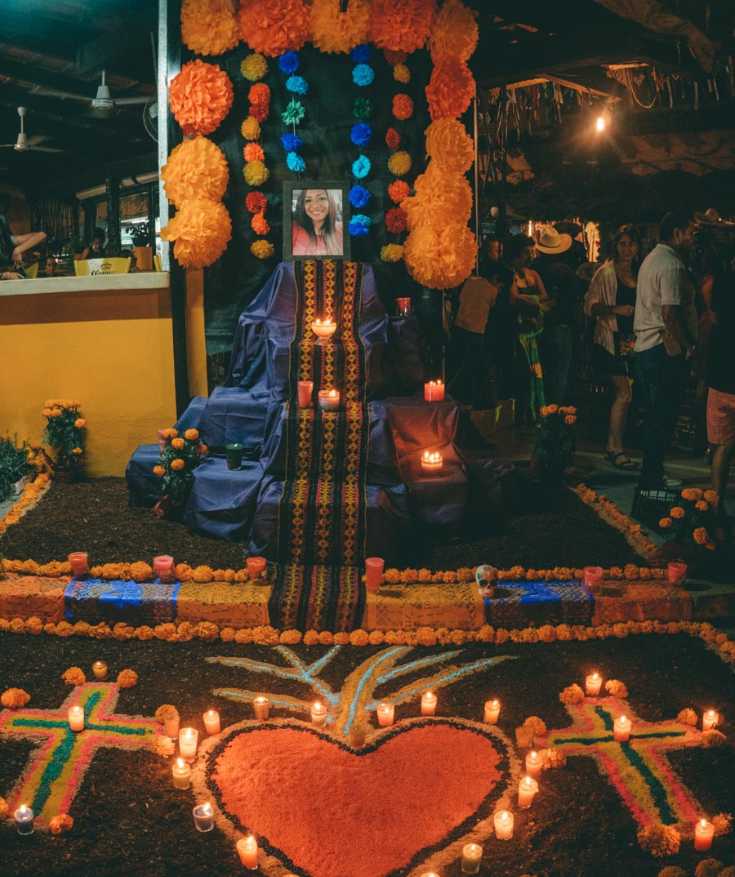 The altar is very significant during day of the dead because this is specifically for their departed loved ones. There is no format in making the altar so you will see all of them differently.
The Mexicans get really creative with their altars and it's a joy to see! Below are the most important things that should be in the altars:
📷 Photos of the departed loved ones. You can even print yours and bring them during your trip. Just make sure to ask if it's okay to place your picture in their altars.
🎊 Confetti: Purple for Christian mourning and orange for pre-Hispanic mourning
🕯️ Candles (lots of it!): The candles are believed to be the light to guide the souls back to their loved ones. It also symbolizes faith.
💦 A glass of water: The moment the souls arrived, they will be tired from their journey so the first thing to give them is water. Well, others put beer and mezcal as well.
🌼 Flowers: The famous cempasuchil (marigold), cockscomb, and the Mexican white flower which we call flor de nube.
💀 Sugar skulls represent the deceased. And they're too cute! You will find them in many souvenir shops in Mexico even if it's not day of the dead.
🫓 Pan de muerto (literally translated to dead bread, I don't even know if it's correct). This bread is super traditional during day of the dead season! Even Starbucks features them at this time of the year.
🎇 Copal: you will see this all-year-round in any Mexican market. During DOTD, it is believed to purify and ward off bad spirits.
🍲 Food: Usually, Mexicans put the favorite food of their departed loved ones on the altar.
⁉️ FAQ: Day of the dead in Mexico