Nestled in one of the city's most affluent and culturally rich districts, these hotels in Polanco Mexico City are the epitome of luxury and convenience.
Staying in hotels in Polanco Mexico City provides immediate access to high-end boutiques, upscale dining experiences, and renowned art galleries.
Delve into Mexico City's contemporary side by exploring the chic streets of Avenida Presidente Masaryk or the art-filled halls of the Soumaya Museum.
Take a tranquil stroll through the lush landscapes of Chapultepec Park or admire the unique architecture of the National Auditorium.
Polanco Hotels present the perfect base for exploring Mexico City's upscale charm, providing an exquisite blend of modern comfort and local culture.
Plan your trip to Mexico with us! Get expert travel advice and customized trip-planning itinerary from our local experts on the ground.
🏆 Top 3 hotels in Polanco Mexico City
🗺️ Map of Polanco Hotels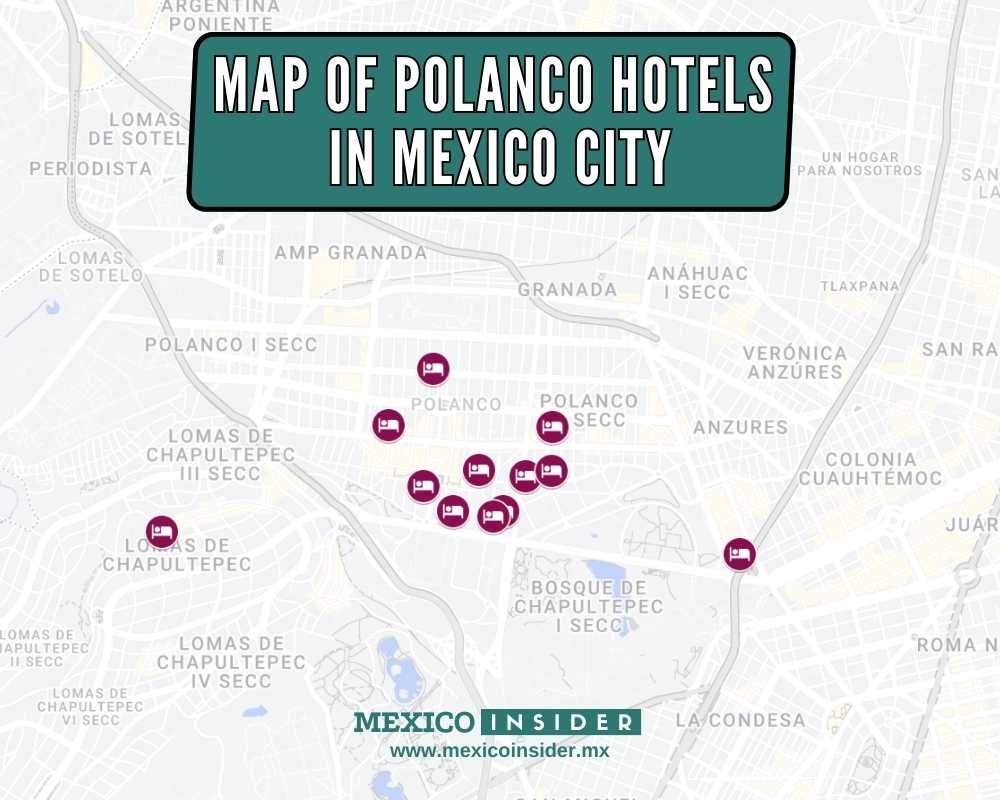 🏨 Best hotels in Polanco Mexico City
1. Suites Archimedes 33
📍 33 Calle Arquímedes Polanco
💲 from $74 USD
➡️ Book it here
Suites 33 Archimedes is a small luxurious boutique hotel that offers large, private living spaces and top-of-the-line amenities and services.
The atmosphere here takes you away from the city's urban life, surrounded by many modern and tropical elements.
"Good location, 7/24 security, close to core CBD of Mexico city and the street Masaryk, staff very friendly, service good, and must to mention that they have laundry and dryer on the top floor for guests use for free!"

Wei [Read more reviews]
Each of their room is elegantly designed and yet minimal with decorations. Most rooms already have a living room, kitchen, and private bathroom.
In addition, these suites have breathtaking views of Mexico City or landmarks like the Chapultepec Castle.
The hotel also has a fitness center, free private parking, and a rooftop lounge that every customer can access. What makes them stand out is they are pet-friendly!
2. Pug Seal Polanco
📍 Anatole France 307
💲 from $288 USD
➡️ Book it here
Pug Seal Polanco is a posh and stylish hotel located in the neighborhood of Anatole France of Polanco. The interior is closely likened to a modern and chic mansion, with lots of colors and wallpapers used as the interior.
The neighborhood where it is located is also known for its colorful and vibrant vibe and at the same time, clean and safe streets.
"We loved the unique and funky design elements, the stately oversized room and shower, the amazing chef-prepared breakfast, and most importantly, the friendliness and helpfulness of the awesome staff!!"

Adam [Read more reviews]
Their rooms are styled with trendy and colorful decors, and each of them is spacious and unique. They also offer luxurious amenities like private pools and gardens, free bikes, free parking, a playground, and a rooftop terrace.
Moreover, the hotel is located near famous Polanco Restaurants and attractions, making it a convenient and accessible accommodation.
3. Uma Casa
📍105 Monte Himalaya Lomas de Chapultepec
💲from $251 USD
➡️ Book it here
If you're looking for a tranquil and cozy place to stay in Polanco, consider checking out Uma Casa Polanco.
The place's interior focuses on creating a space that gives off a tropical and jungle vibe, which is uncommon in the city.
At the same time, it also has modern and contemporary decorations, balancing out the hotel's vibe.
Read our review of Uma Casa Mexico City, with awesome photos that we took all over the property!)
Uma Casa is a small hotel with only a few rooms available. This makes it another factor to consider as you'll not feel crowded in the area as there are only a few people staying here.
Rooms are decorated with plants and light colors and are already equipped with a wardrobe and private bathroom.
This property offers a shared living room lounge, a rooftop terrace, and a lush garden. They also have an in-house restaurant that serves breakfast to dinner menus.
4. The Wild Oscar
📍 Lamartine #516, Polanco
💲from $270 USD
➡️ Book it here

The Wild Oscar is a boutique hotel that offers stylish and comfortable suites with all the necessary amenities.
All rooms have a private bathroom; some may have a balcony and living room. But, all the suites can get a great view of the neighborhood's busy street.
"The staff were amazing, the premises were immaculate, and the location was very safe."

Anna [Read more reviews]
What makes The Wild Oscar different is it offers private residential accommodations, which will also have access to the hotel's facilities and services, including a restaurant bar, social and work areas, WiFi, and spa services.
It is conveniently located near some of the city's top attractions, including funky art installations and hip nightclubs in Polanco.
Aside from that, Wild Oscar is also close to many restaurants and nightlife options in Polanco.
5. Hyatt Regency
📍Campos Eliseos 204, Colonia Polanco
💲from $146 USD
➡️ Book it here
The Hyatt Regency of Polanco features an impressive design and luxurious amenities, including a pool, wellness center, convention areas, conference rooms, and event places.
This makes it not only an excellent accommodation for tourists but for business travelers as well.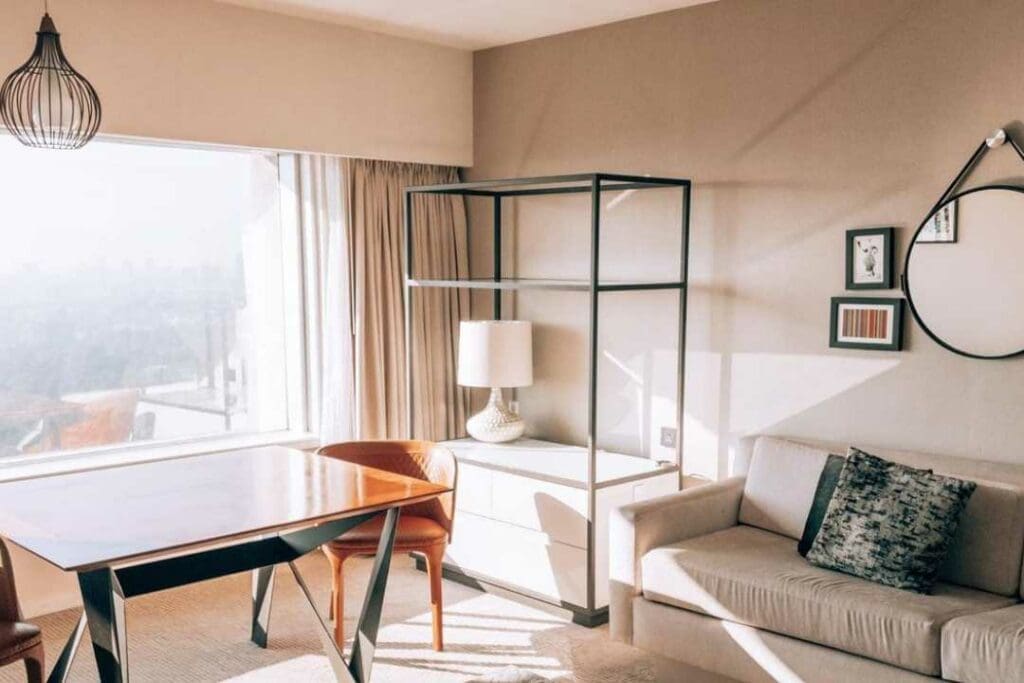 "We loved our "club" room 35th floor view of the park and the daily breakfast buffet on the 40th floor"

Campbell [Read more reviews]
This hotel provides elegant modern rooms with an air-conditioned and bright contemporary décor and city or park views. They also offer Wi-Fi connection which is free of charge in the rooms and in public areas.
The location of Hyatt Regency is near many famous attractions, great Polanco cafes and restaurants, and neighboring areas. They can also help you book your transportation when going on day trips.
6. Casa Polanco
📍 84 Luis G. Urbina
💲from $497 USD
➡️ Book it here

Casa Polanco is a 5-star hotel that offers guests world-class amenities while maintaining its intimate character.
The hotel has been a landmark building for most locals and tourists, having an architecture of an old mansion surrounded by lush tropical plants.
Once you enter the property, you will find it calming and tranquil, with white paint and green lush plants surrounding it. You will also see many contemporary, modern, and wooden finishes inside.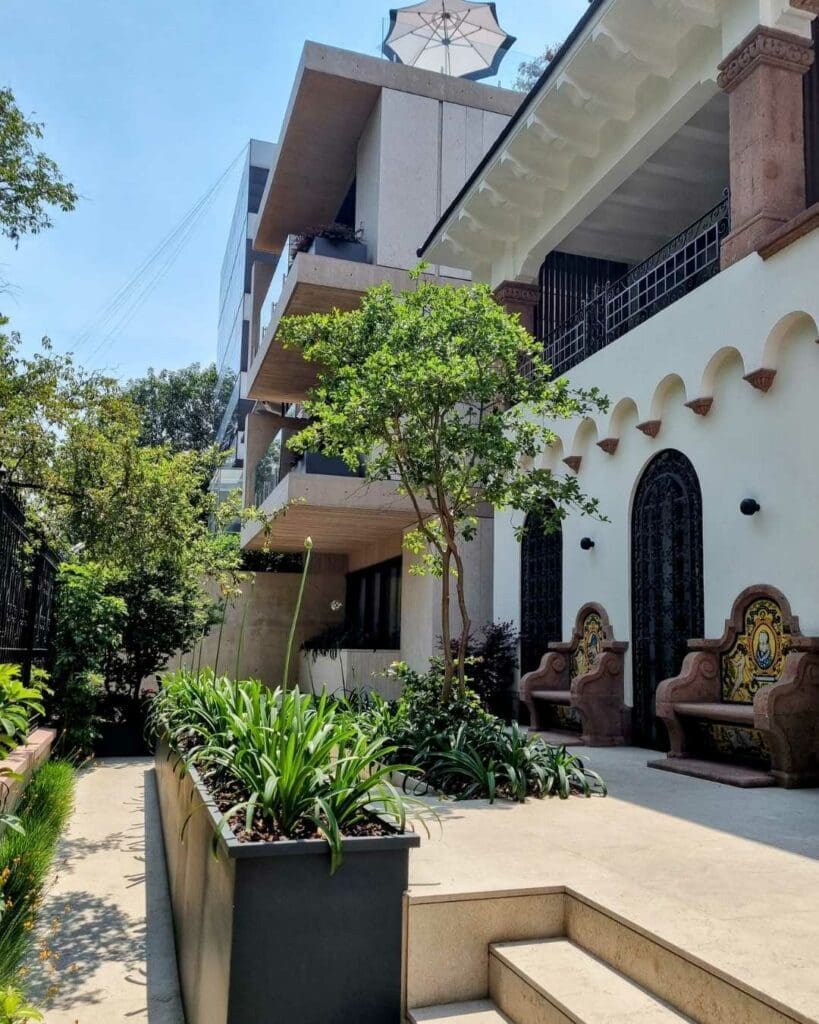 "What a gem! There are not enough complimentary adjectives to describe this wonderful hotel. The staff, headed by the amazing Regina cannot do enough for you!"

Susan [Read more reviews]
The rooms at this hotel have sleek and contemporary rooms with meticulous attention to detail. Each already has air conditioning, a wardrobe, a minibar, and a private bathroom.
Some may come with a terrace, while others offer a window offering a view of the city.
Other notable facilities of Casa Polanco include an elegant spa, a dramatic indoor pool, and a state-of-the-art fitness center.
The hotel's restaurants also offer inventive international cuisine and a bar where guests can socialize or relax in the sun.
7. The Alest Hotel
📍 45 Eugenio Sue, 11550 Mexico City, Mexico
💲from $348 USD
➡️ Book it here

The Alest Hotel is a small luxury hotel that offers a few spacious suites to guests. The architecture of the building is inspired by modern French design and the hotel's interior.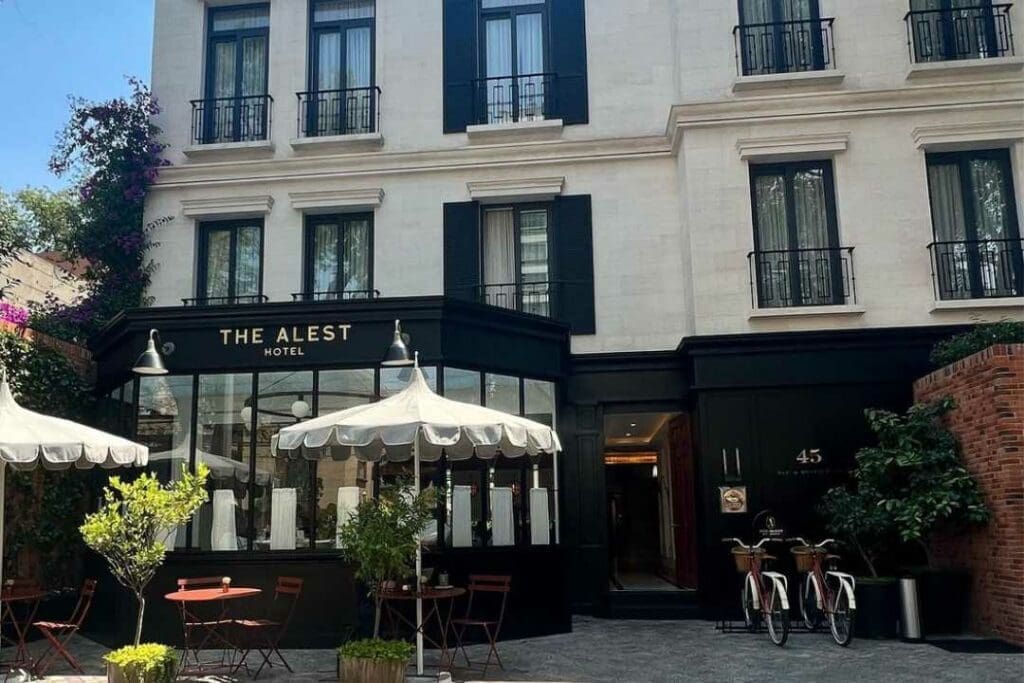 "Beautiful decor, spacious rooms, great breakfast. Very comfortable beds and pillows, quiet at night. Wonderful location near important avenues in Polanco and close to restaurants and bars."

Ludvina [Read more reviews]
They have an in-house restaurant and a bar in the vicinity. Their rooms are equipped with complete necessities, including a private bathroom and minibar. Some even have a terrace and balcony.
In addition to all these, Alest Hotel offers an airport shuttle service, a 24-hour front desk, and free WiFi. You can also avail of their complimentary breakfast meal when staying here.
8. Utopic by Uliv
📍263 Campos Elíseos, 11550 Mexico City, Mexico
💲from $252 USD
➡️ Book it here

Utopic by Uliv is a modern and chic hotel that provides many amenities. The ambiance here is modern and contemporary in one of the city's prestigious areas.
Some of the facilities in the hotel are a spa, a gym, a pool, and a rooftop terrace with stunning views of the cityscape. The property also has several dining options serving international cuisine and local dishes.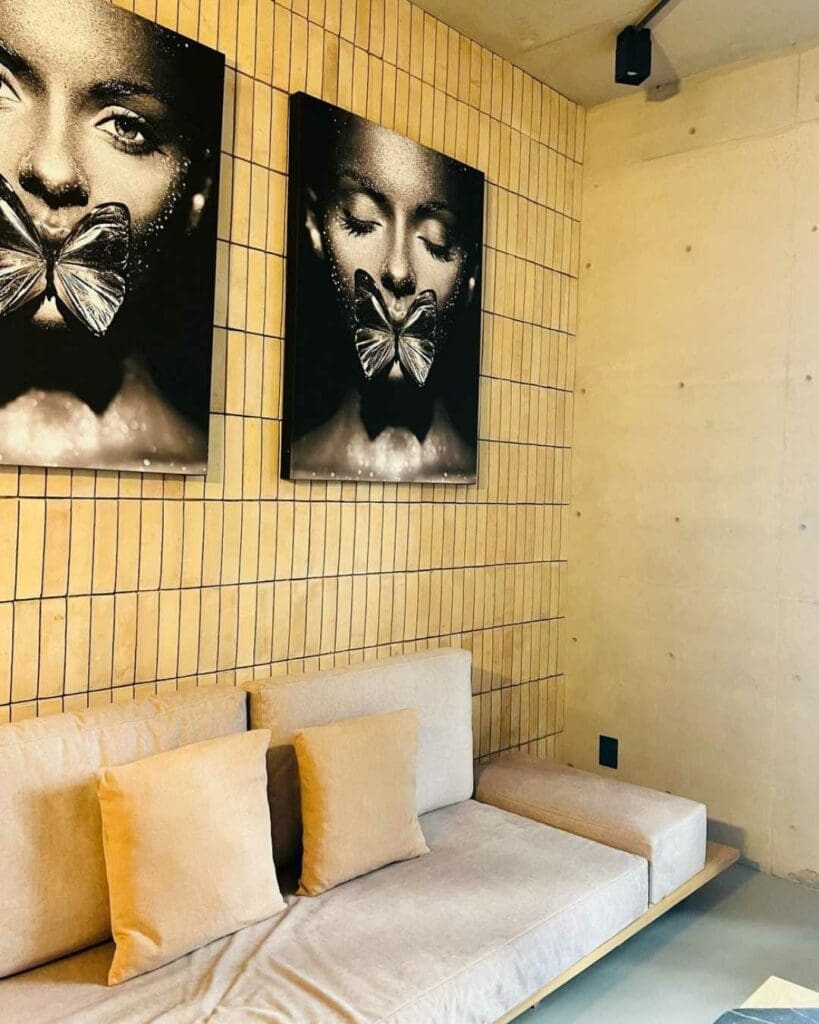 "Everyone was very accommodating. The concierge went above and beyond to help celebrate a milestone birthday for my husband. I can't say enough good things about this hotel. We enjoyed every minute"

Anne [Read more reviews]
What makes Utopic by Uliv popular is its location. It is near many elegant shopping venues, world-class spas in Polanco, restaurants, cafes, and nightclubs.
9. Intercontinental Hotel Mexico City
📍Campos Eliseos, 218, 11560 Mexico City, Mexico
💲from $272 USD
➡️ Book it here
Nestled in the center of Polanco, Intercontinental Hotel Mexico City is ideally located where it is accessible and conveniently near the city's main attractions. This hotel has a modern and stylish interior with several amenities.
Among the many facilities at the Intercontinental Hotel Mexico City are a fitness center, an indoor pool, a spa, and numerous restaurants.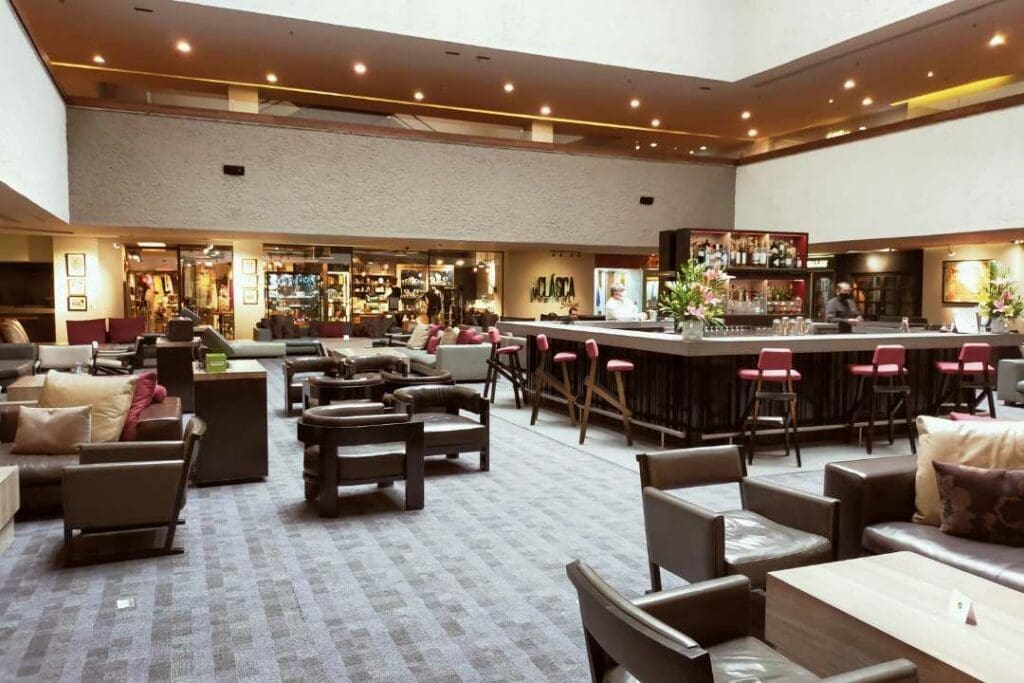 "Everything. I mean, the staff was amazing. The best service of several times that I have been visiting Mexico city's hotels. We had options for eating without leaving the hotel. I would love to recommend this hotel if you want to spend the best time in Mexico city. Actually, I shall come back soon. For sure!"

Sahili [Read more reviews]
They also have a rooftop terrace that offers spectacular views of the city. Meanwhile, in the hotel's lobby bar, you can enjoy cocktails and live music after a relaxing dinner.
The rooms here at Intercontinental Hotel each have access to a great view of the city. They also come with private bathrooms, some with bathtubs and their own minibar and living room. And for as low as $272 USD.
10. Grand Polanco Residencial
📍Isaac Newton 119 Colonia Polanco, 11570 Mexico City, Mexico
💲from $167 USD
➡️ Book it here

Grand Polano Residencial is one of the most affordable luxury hotels in Polanco. And yet, it does not fall behind with its top-class facilities and amenities.
It is home to some impressive amenities and services where guests can enjoy 24-hour room service, free use of bikes, parking, and a fitness center.
Moreover, the hotel also offers an impressive array of facilities, including a business center, a library, a spa, and a pool.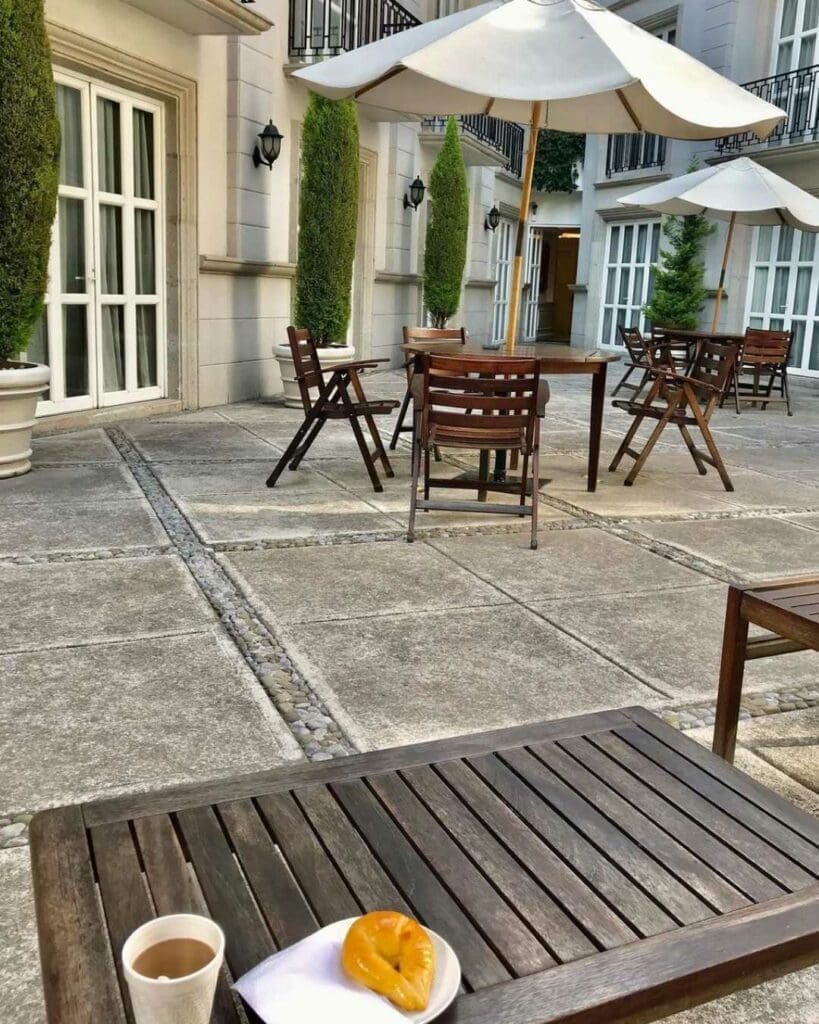 "Excellent property in the heart of the Polanco district, easily walkable to many wonderful restaurants and of course, Chapultapec park and its museums. We loved the security, beauty, and quiet of Polanco Residencial, and of course the spacious suite with its comfortable beds — it was a wonderful place to retreat after a busy day spent exploring CDMX."

Laura [Read more reviews]
With the place designed to look like a French white building, you will be surrounded by calming whites and wooden furniture.
In their shared patio, you will also see a few garden plants that add to the tranquil and elegant atmosphere of the hotel. With all these, you'll get your money's worth staying here.
11. Wyndham Garden
📍Leon Tolstoi 22, 11590 Mexico City, Mexico
💲from $92 USD
➡️ Book it here

Wyndham Garden at Polanco is another luxurious and modern hotel in the neighborhood. This five-star property offers an intimate atmosphere with all the modern amenities you need during your stay.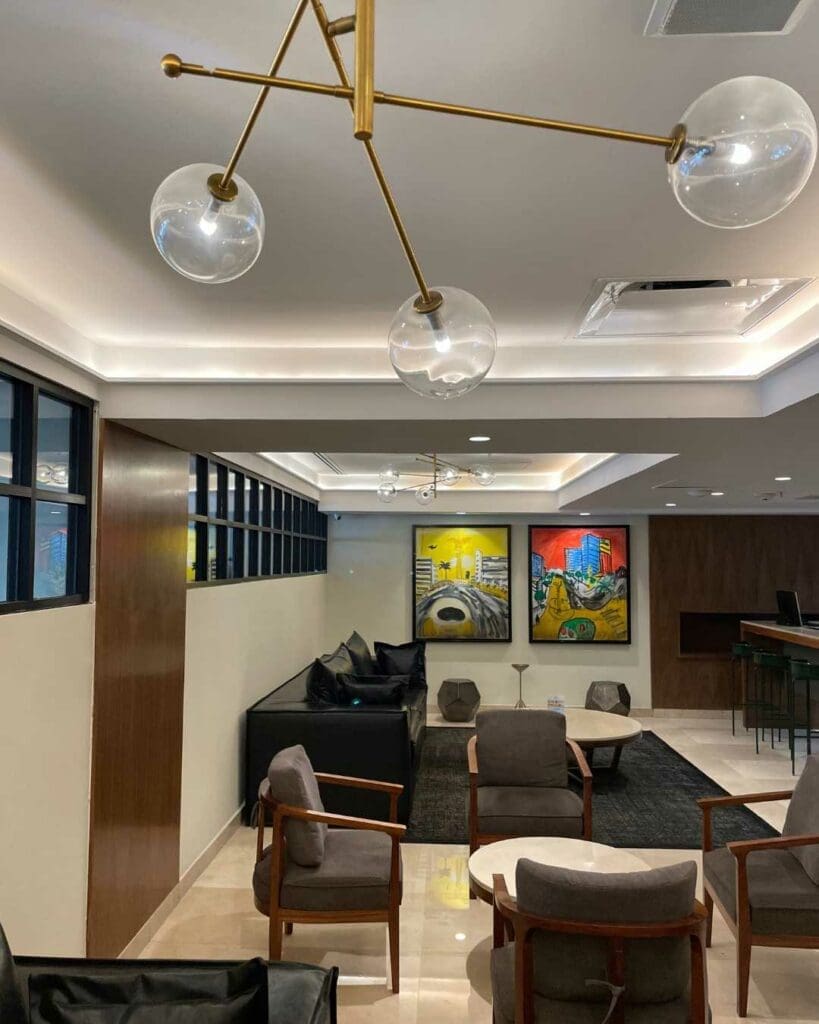 "The view from living suite was absolutely amazing. We had unobstructed views of the Chapultepec castle and the Chapultepec park. It was awesome. If you book ask for a high floor facing the park. The suites are very large with a dining room and living room."

James [Read more reviews]
The hotel features spacious rooms with LCD TVs, free Wi-Fi, and comfortable beds.
They also have an in-house restaurant, Barista Cafeteria, where you can enjoy a casual meal before or after you go around the city. Aside from this, Wyndham Garden has a fitness center and spa.
If you want to explore famous restaurants and cafes in the neighborhood, Wyndham Garden is nestled between many shopping centers and attractions.
12. Residence L'Heritage
📍 Alfredo de Tennyson 79 Colonia Polanco
💲from $131 USD
➡️ Book it here

Residence L'Heritage is a 3-star hotel offering guests a comfortable yet sophisticated space. They have several available suites and a few facilities and amenities inside the property.
The hotel has an outdoor patio and garden perfect for relaxation or taking in the city's sights. Meanwhile, their rooms have a flat-screen TV, air conditioning, and internet access.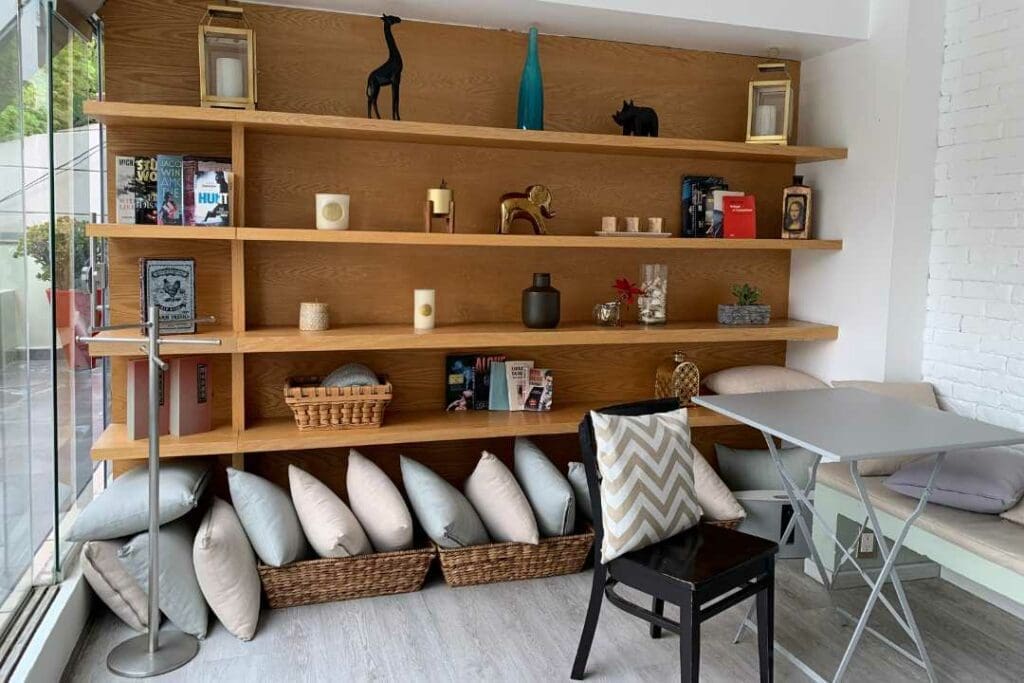 "Friendly staff and very helpful. Great location. Easy to find. Room was clean, AC would have been nice. In-room fridge not working, but not a big deal. Breakfast that was included was fresh and very tasty. Nice patio area on 4th floor."

Cornelis [Read more reviews]
Aside from these, you will also have access to a terrace, gym, free limited parking. This hotel is conveniently located in some of the city's best restaurants and shopping venues.
13. Camino Real Polanco
📍 Mariano Escobedo No. 700
💲from $131 USD
➡️ Book it here
The Camino Real Polanco is an excellent option for anyone seeking a luxurious stay in Mexico City, featuring an attractive architectural profile combined with pre-Hispanic reminiscences.
The hotel is spacious and well equipped, with features similar to a museum. Camino Real Polanco's rooms have air conditioning, a safe, a desk and a bathroom with a shower.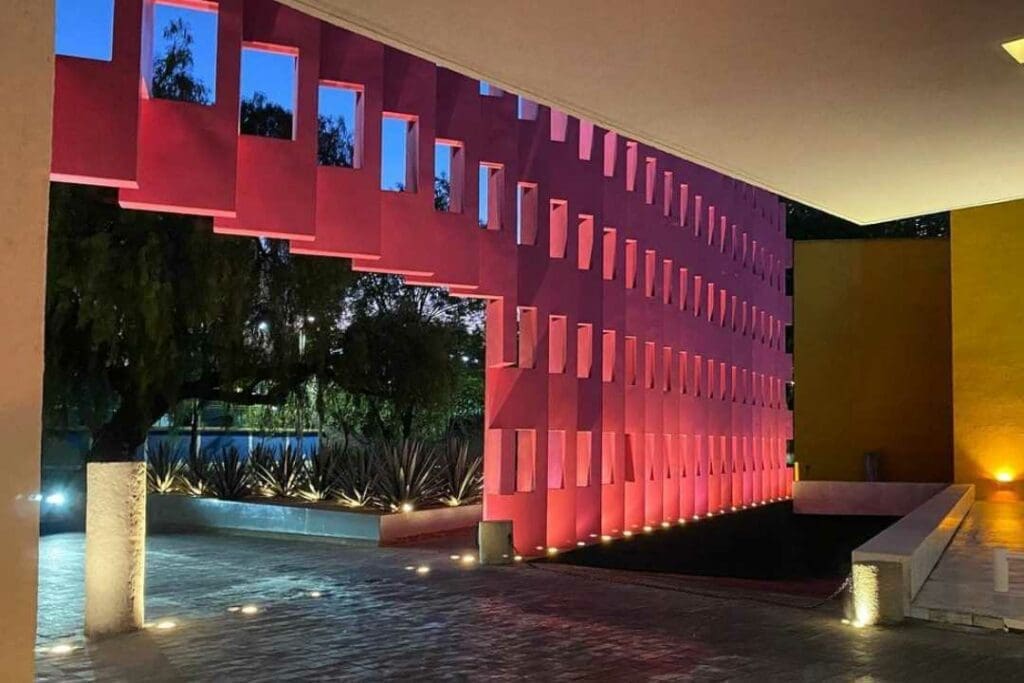 "I have already reviewed the hotel in detail for my other stay, a few days after this one and all I can say is that Camino Real Polanco offers a five stars service without pretentions, without useless ceremonies, it just does."

Robert [Read more reviews]
It also features a fitness center, pool, and an excellent regional Mexican restaurant. Meanwhile, if you want to relax after a long day, you can access their spa and service for a massage or stay in their garden to chill.
Trisha traveled to Mexico in 2018 and after a year, she found herself obtaining a 4-year residency visa in Mexico. She is the Editor-in-chief for our Living in Mexico Series which has helped over 3,000 Americans move to Mexico with ease. Trisha currently resides in Cabo San Lucas, Baja California Sur.