Extremely unique things to do in Mexico City with kids that are not part of the obligatory tourist circuit. Go check out this list!
As a mom who lives in Mexico, I've been asked many times if there are many things to do in Mexico City for kids.
It doesn't seem like the city is very well known for its nightlife, but traveling here with kids offers an immersion into a world where ancient civilizations, like the Aztecs, merge seamlessly with modern-day urban life.
Well, to be honest, my list does not include many of the tourist circuits but more the places where locals go (like theme parks).
Browse away, and if you need any help in organizing your family trip to Mexico City, get in touch with us, and we'll do that for you!
Plan your trip to Mexico with us! Get expert travel advice and customized trip-planning itinerary from our local experts on the ground.
🗺️ Map of things to do in Mexico City with kids
🧭 Unique things to do in Mexico City with kids
1. Teotihuacan with kids
You will see Teotihuacan in many things to do in Mexico City with kids articles as it is a popular spot in the capital. While it is possible to visit with kids, I believe it is more suitable for children 10 years and above.
Teotihuacan has almost no shade, so bring a hat, sunglasses, and sunscreen. Due to the dirt and steps, the site is also unsuitable for strollers.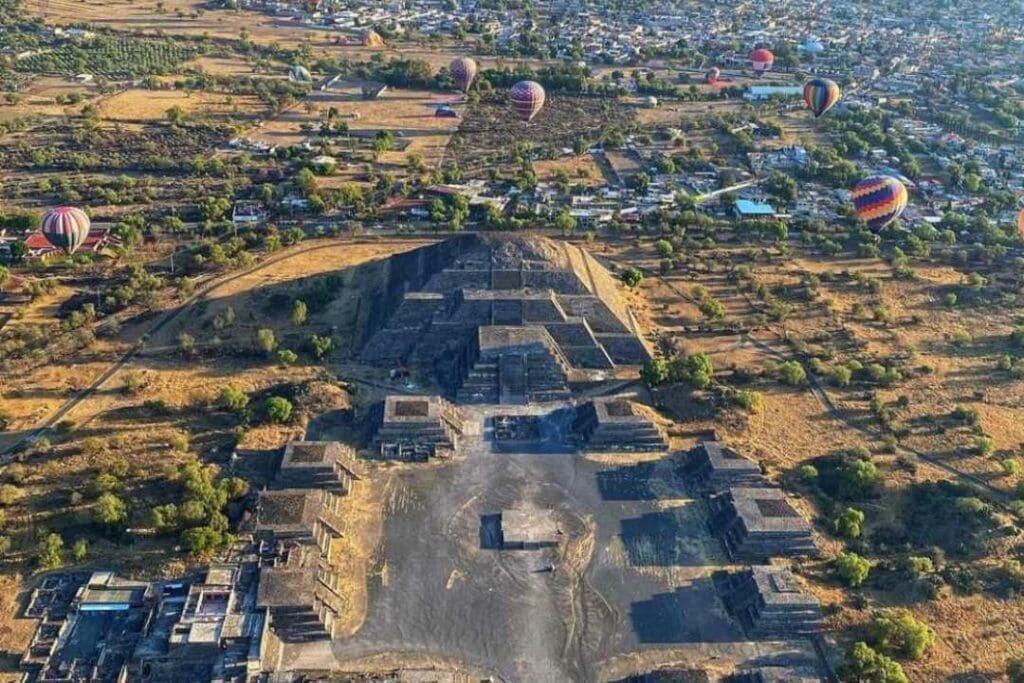 It is best to use a carrier if you are visiting Teotihuacan with very young children.
The Teotihuacan pyramids can be steep and unsafe for children or people carrying babies. But bigger kids might find it especially exciting!
There are kid-friendly tour options that can make the trip easier and more interesting for younger travelers. It's best to opt for a private tour so you won't be rushed.
Get in touch with us, and we'll arrange your Teotihuacan trip for your family!
2. Iztapasauria Dinosaur Theme Park
Iztapasauria is a dinosaur theme park in Iztapalapa, Mexico City, and admission is FREE! The park has many different kinds of dinosaurs and is like going into Jurassic Park.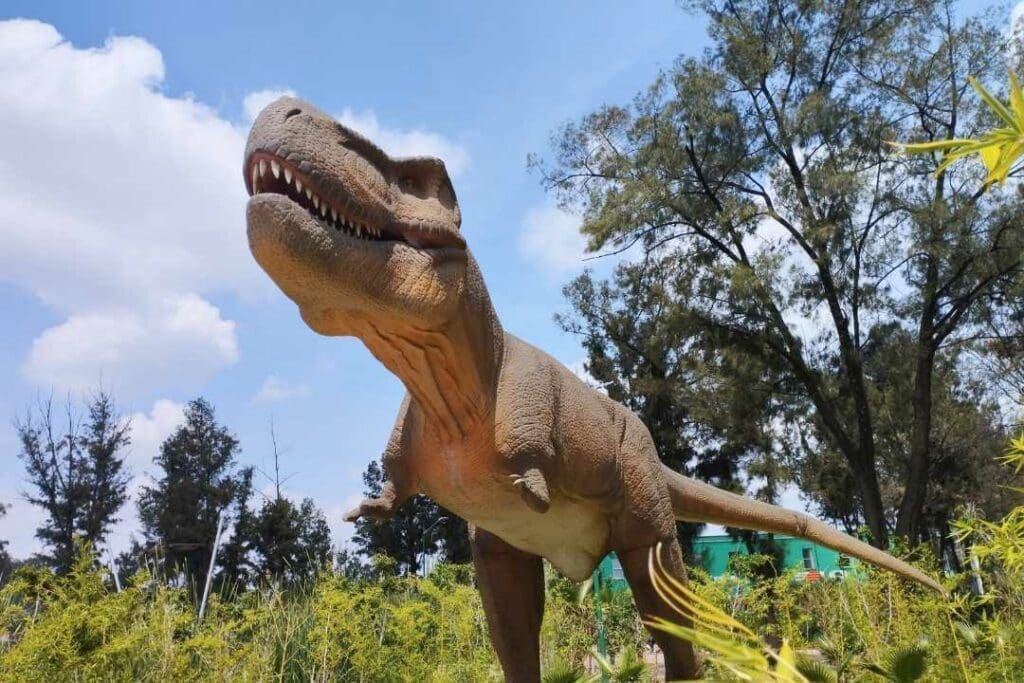 Artists from the Cardboard Workshops of the Iztapalapa Houses of Culture use cardboard to make the Velocirraptor, Triceratops, Alosauros, and Omeisaurus dinosaurs in the park.
3. Six Flags
Six Flags Mexico is the most popular theme park in Latin America. This big amusement park has more than 50 family-friendly games and activities.
In places like Bugs Bunny Boomtown and Cowboy Village, the park has gentle rides like carousels and baby cars for younger kids.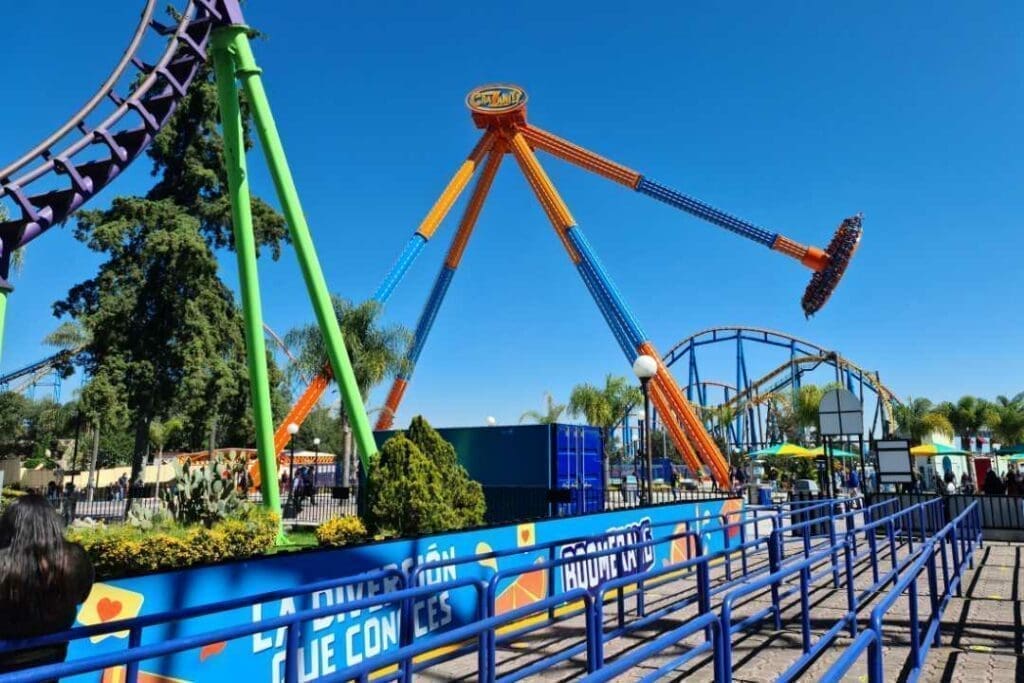 Six Flags Mexico has a lot of exciting rides and attractions for kids of all ages, like its famous roller coasters. They also hold an annual day of the dead event where the park turns into a hunted amusement park!
Below are the attraction ticket prices for Six Flags Mexico:
Full-day ticket: 600 pesos ($41 USD)
Summer pass (Gold): 1,250 pesos ($74 USD)
Platinum Pass: 1,600 pesos ($94 USD)
Diamond Pass: 2,200 pesos ($129 USD)
4. Frida Kahlo Museum with kids
One of the most popular and must-visit places in Mexico City is the Frida Kahlo Museum. And yes, children can go to the Frida Kahlo Museum!
The museum is good for families and has taken steps to make sure kids feel welcome. For example, the museum's website has a part called "Explorando con Frida" just for kids.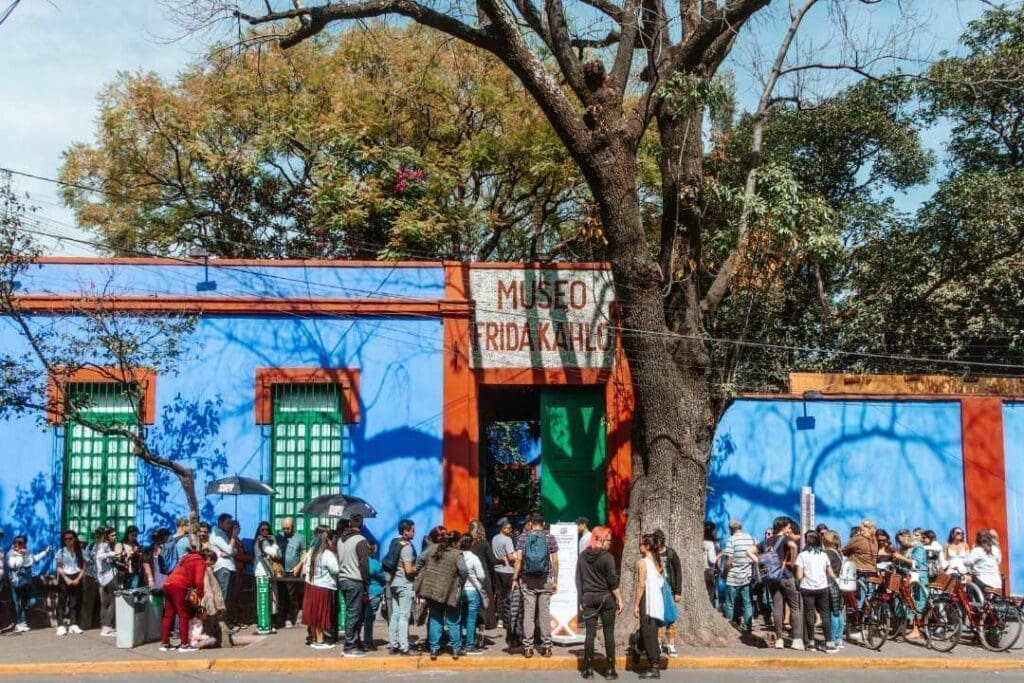 Dramatized tours and special events for people with intellectual, visual, hearing, or motor disabilities are available at the museum.
Strollers are allowed, but leaving them in the yard is best because getting around the house with one might be hard. The museum also lets kids under the age of 12 in for free!
Please note that tickets should be booked 1-3 months to ensure your spot (for adults). [Pre-book Frida Kahlo Museum tickets]
5. Planetario Luis Enrique Erro
Planetario Luis Enrique Erro is one of the most entertaining things to do in Mexico City with kids. The planetarium has many displays and shows that can preoccupy children for a few hours.
Educational expositions like the natural position of the sun, the moon, other planets, stars, and the Milky Way can be found inside the planetarium.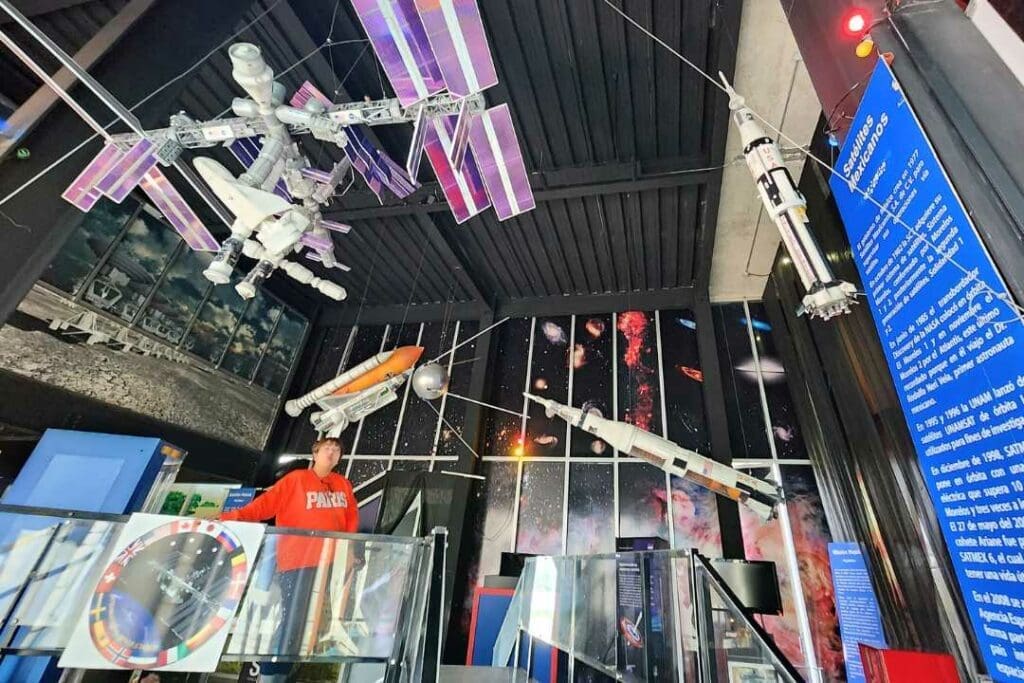 The planetarium also has a digital dome where kids can learn about the human body, Mexican history, culture, and nature!
The dome takes you on an immersive experience as it will make you feel like you are flying through space.
The planetarium has different shows at different times and on different days, so check the schedules before visiting.
The museum is open from 10 AM – 5 PM on Tuesday to Sunday. Children under 12 years of age and students who can show a valid ID only pay 30 pesos ($1.77 USD) to enter.
The entrance fee to Planetario Luis Enrique Erro for adults is 40 pesos ($2.36 USD).
6. Xochimilco with kids
The brightly painted boats called trajineras that float along the canals are the main draw in Xochimilco. It's one of the cultural things to do in Mexico City with kids!
Children will likely enjoy the boat ride, the lively atmosphere, and the music from the mariachi bands that float by. But there are a few things to remember when taking kids to Xochimilco.
The boat ride can take several hours, so make sure your kids are ready. Also, trajineras are usually safe, but you should always watch your kids to ensure they don't lean over the sides.
You should also know that going to Xochimilco can be a bit of a trip, especially if you use public transportation.
Some families might find hiring a cab or using a ride-sharing service easier. As usual, you can book this with us, and we'll arrange a transport and tour.
7. Zoológico de Chapultepec
Zoológico de Chapultepec is part of Chapultepec Park, which has many family-friendly activities.
The zoo has animals worldwide, such as the first pandas to be raised in captivity outside of China. Kids will probably like seeing these cool animals up close!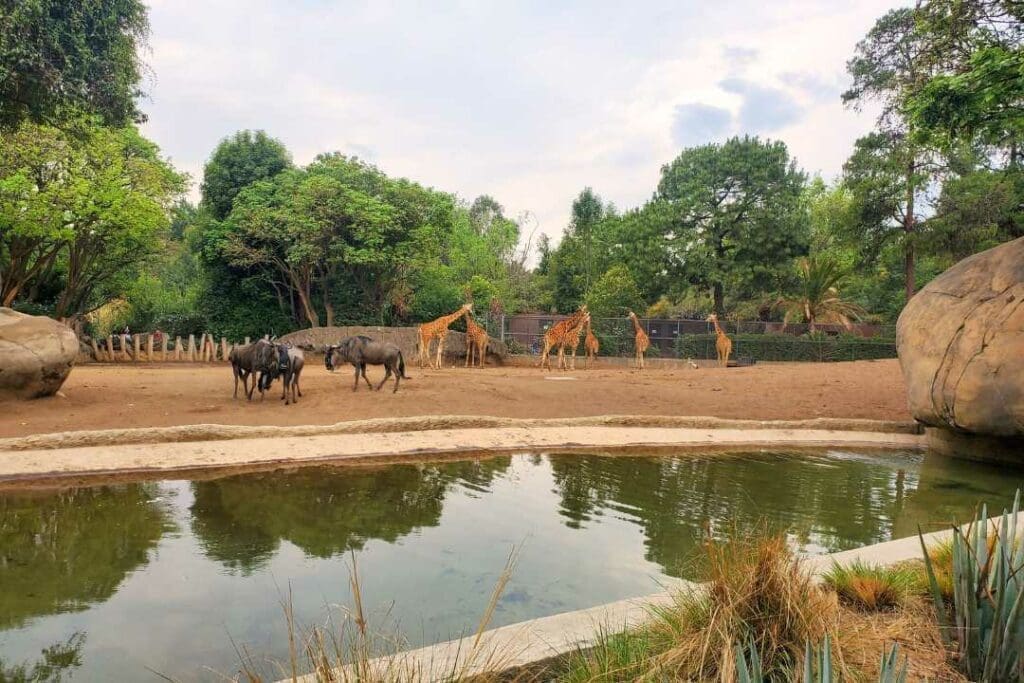 The zoo is open from 9 AM to 4:30 PM, Tuesday through Sunday. Admissions in the zoo is FREE. Within the park, there are many food sellers, but make sure to bring water.
As with any crowded public place, keep an eye on your children at all times. Using sunscreen and hats to protect against the sun is also a good idea.
8. Papalote Kids Museum
Also located in Chapultepec Park. the Papalote Museo del Niño (Papalote Children's Museum) is one of the best things to do in Mexico City with kids.
The museum is a "please touch" zone where you can touch everything. Kids can walk up a man-made tree, test their senses in the dark labyrinth, lie on a bed of nails, and more!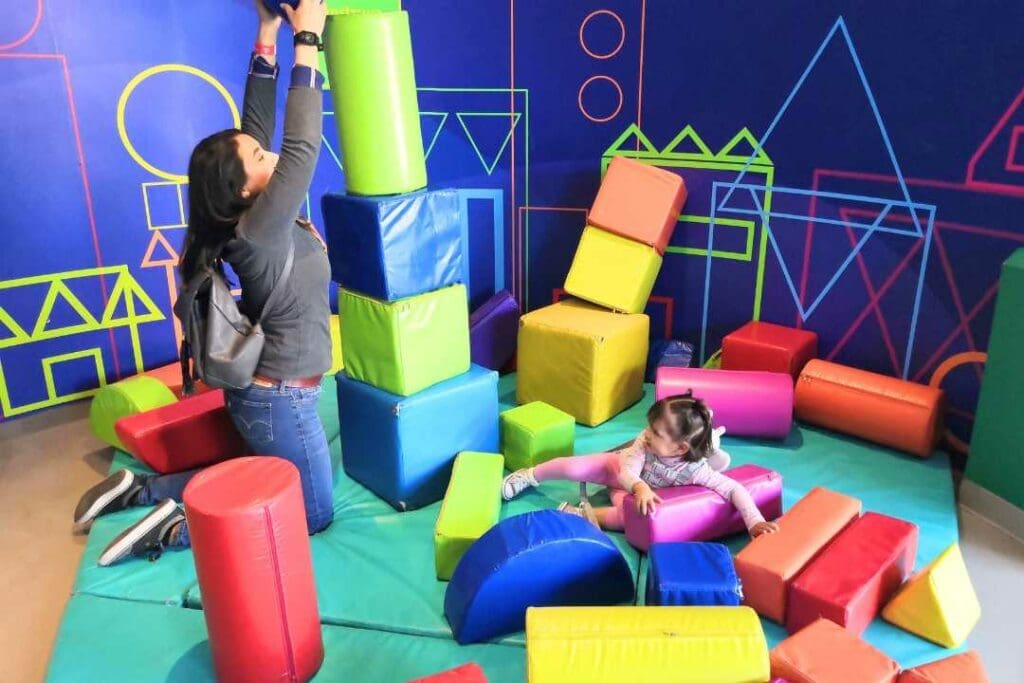 While there are food options available at the museum, packing your own snacks can be a good idea, especially if your kids have specific dietary needs or preferences.
The entrance fee to the museum is 159 pesos ($9 USD).
9. Parque La Hormiga
Parque La Hormiga (Ant Park) is in the middle of Chapultepec Forest. It is known for its many playgrounds and open areas, which make it one of the great things to do in Mexico City with kids.
There are at least 18 playgrounds in the park, and many are fenced. This lets kids play easily and lets you know your kids are safe.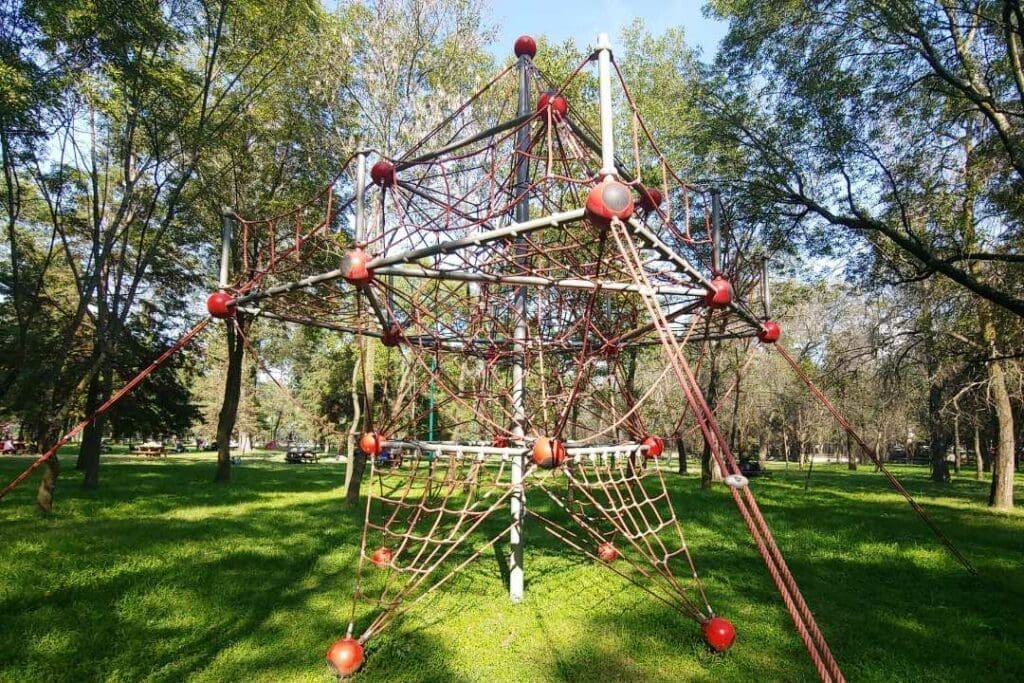 It covers 3.8 hectares and has different kinds of games for kids based on their ages and places to rest. The city made this park with the goal of giving children a place to play and live healthily by being outdoors.
10. Anthropology Museum with kids
Taking your kids to the National Museum of Anthropology can be fun and informative. And you should bring them there – it's mandatory when in Mexico City!
The museum is famous for its large collection of pre-Columbian Mexican art and anthropology displays. It shows the history of Mexican civilizations, where your kids can learn about Mexico in an interactive way.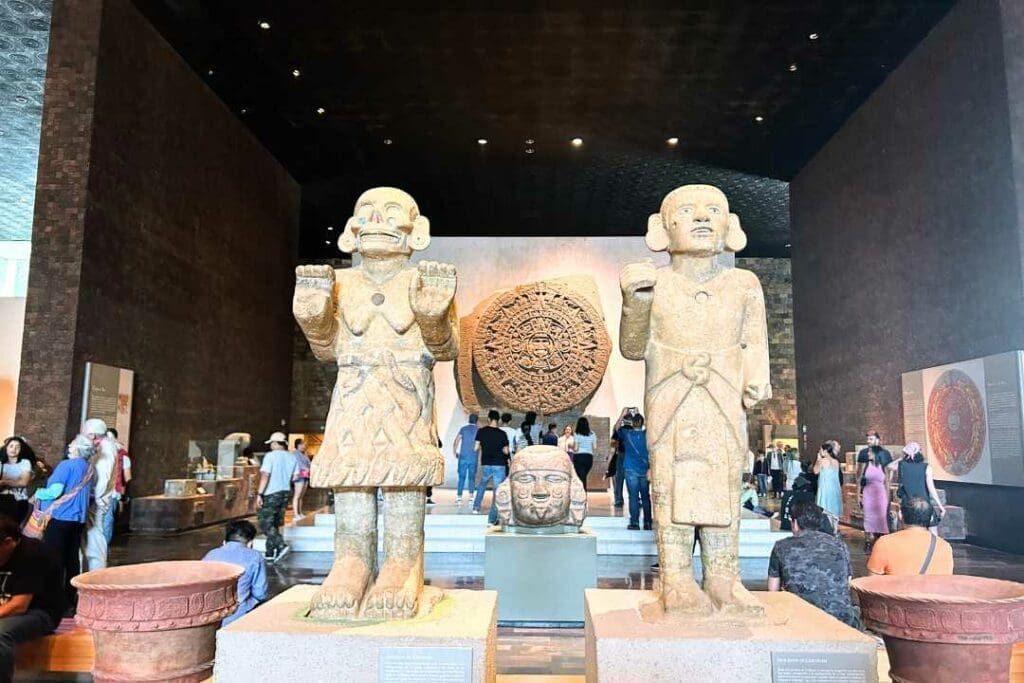 Admission is 90 pesos ($5 USD) and free admission to children under 13 years of age, including students who can provide a valid ID.
On Sundays, admission is free to Mexican citizens and foreigners residing in Mexico (with a valid residency permit).
You may also book this tour with us here. Feel free to request a private tour for families traveling with kids, as this option is more convenient.
11. GoKartmanía (Plaza Carso)
GoKartmana at Plaza Carso gives adults and children a thrilling race experience. There are 3 branches all over the city, but Plaza Carso is the easiest to get to (for tourists).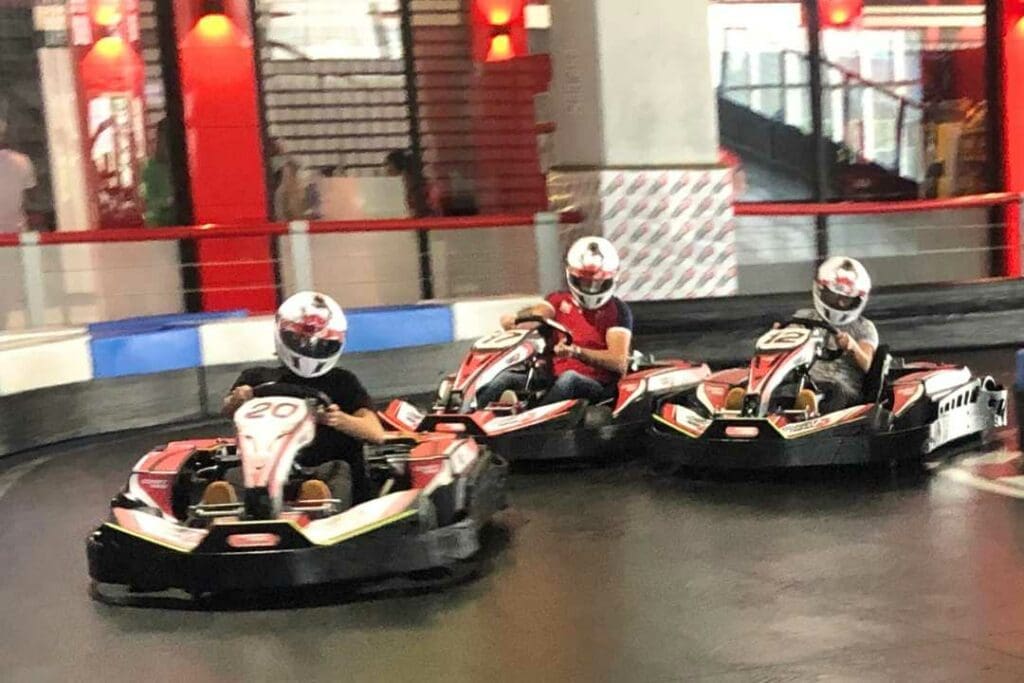 The Carso branch also has carts for toddlers from 7 years old. The price to go on a ride is about $25 USD (for 1 race) and can go up to $100 USD for 10 races.
12. Hasbro City
Hasbro City is one of the most unique things to do in Mexico City with kids. It is the first place in the world with mechanical games, entertainment, and hands-on activities.
Attractions include well-known Hasbro brands like Monopoly, Transformers, and My Little Pony. Other attractions and games include Power Rangers, Battleship, and GI Joe Challenge.
Plus, there is a Play Doh Plaza and Transformers VR, too! You can easily spend a full day here to tire your kids!
Basic full-day ticket starts at 399 pesos ($23 USD), Regular at 349 pesos ($21 USD) at Premium at 499 pesos ($29 USD).
13. MiniMundos Theme Park
The Theme Park "Mini Worlds" (Parque Temático "Mini Mundos") in Tlalnepantla, Mexico City is a round the world travel experience for families visiting Mexico City.
The park has 38 models of important landmarks worldwide, such as the Eiffel Tower, the Pyramids of Egypt, The Vatican, and many more!
This allows children to learn about the landmarks and cultures of different countries. The park is highly praised by locals as they find it really beneficial to children's learning and adults can learn so much as well!
14. Barco Utopia
Barco Utopia (Utopia Ship), a building in Iztapalapa, Mexico City, is both educational and fun. The spot is in the shape of a ship and is the most important part of the Utopia network.
Barco Utopia has the only interactive virtual aquarium in Mexico City where you can feel that you are swimming in the water (but you're not wet).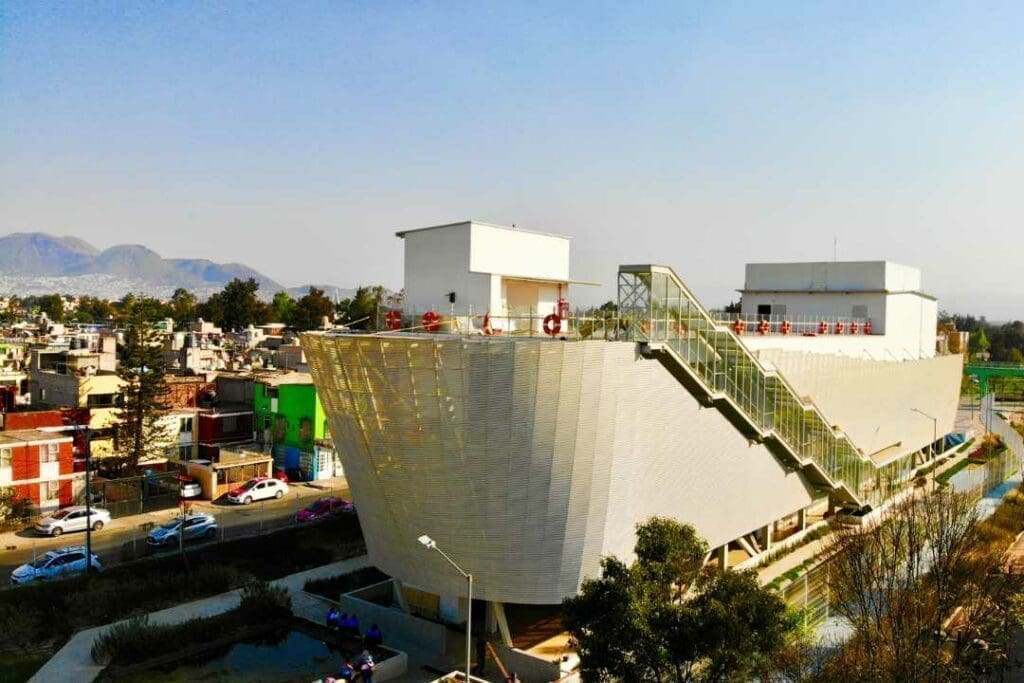 It's a fun and educational journey for kids and grown-ups alike. It is popular with locals because of all the hands-on exhibits and activities for the family.
15. Acuario Inbursa
The Acuario Inbursa is one of the biggest aquariums in Latin America. It is home to more than 14,000 animals from 350 species such as sharks, penguins, axolotls, and different kinds of water creatures.
The tank takes up 3,500 square meters and holds 1.6 million liters of water!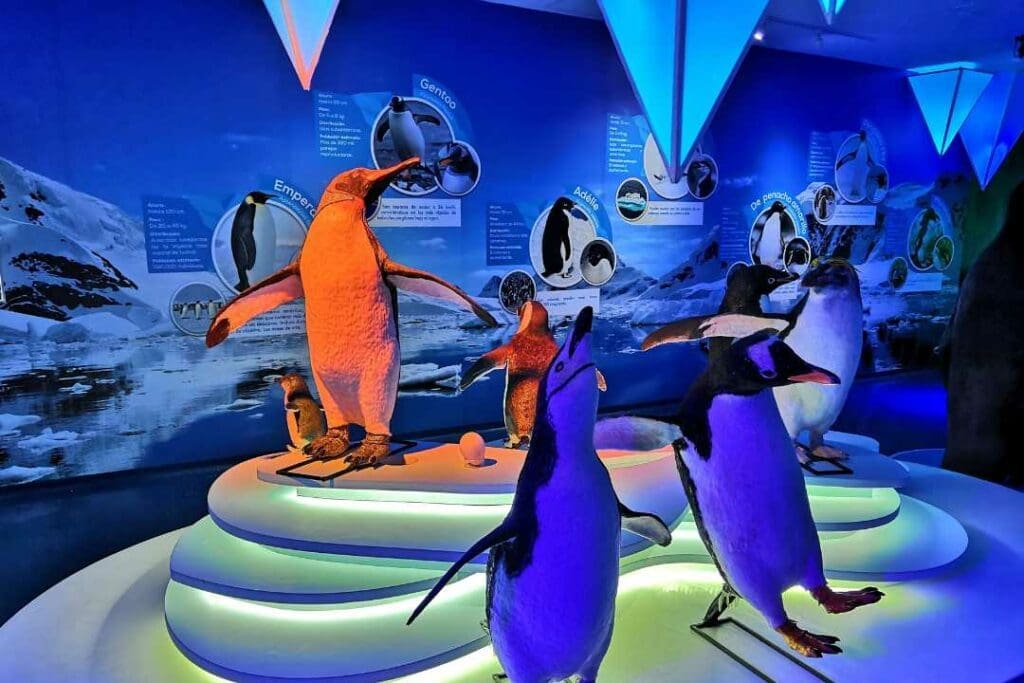 There are 48 different exhibits to check out and the best thing is not it is only not for entertainment but also to educate us (both adults and children) on how to protect and care for our marine environment.
Tickets for Acuario Inbursa start from 280 pesos ($16 USD). You can purchase online here.
16. Museum of Natural History
The Museum of Natural History (Museo de Historia Natural) is a well-known museum in Mexico City, located in the second part of Chapultepec Park.
The museum has a wide range of exhibits that are well put together in four parts that are housed in four domes. As the name suggests, both adults and children can have a rich learning experience about natural history.
The admission fee for children ages 3-12 years old is 16 pesos ($0.94 USD) while senior citizens and children under 3 years of age get in for free. General admission to adults costs 34 pesos ($2 USD).
17. Jump-In
Jump-In is an indoor trampoline park where you and your children can, well, spend a few hours jumping! This entertainment center has more things to do than just trampolines.
Other activities inside the center include wall climbing, a football area, a drop slide and many more! You may check the full attraction lists here.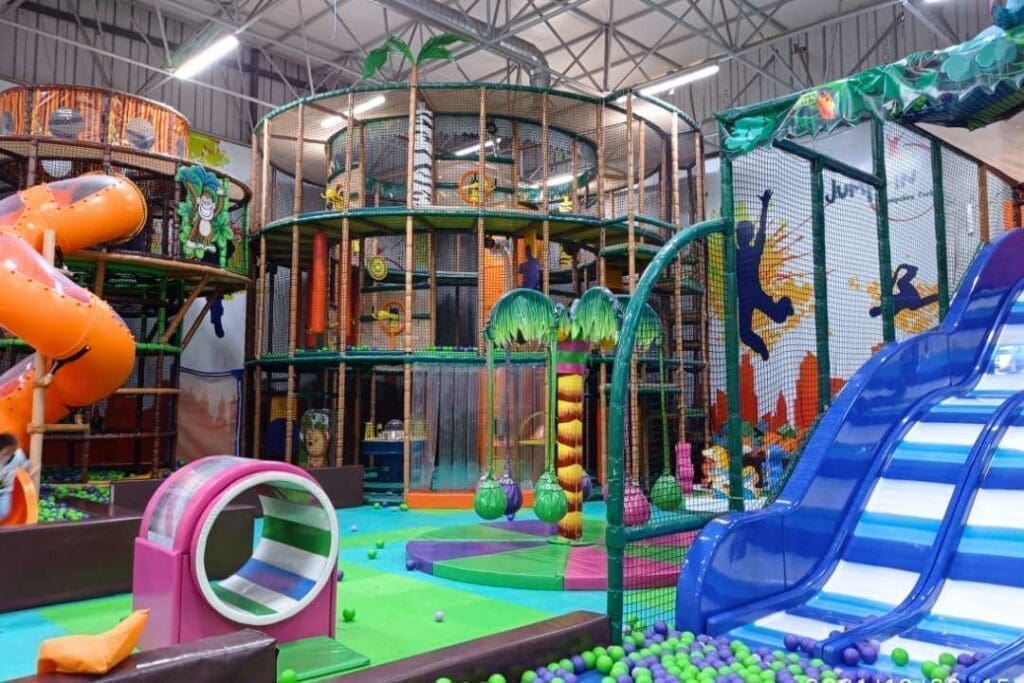 There are more than 5 branches of Jump-In all over Mexico City and they do not have the same attractions, so check which branch you like the most.
Packages start at 200 pesos ($12 USD).
18. Universum
Universum is a famous science museum in the National Autonomous University of Mexico (UNAM) that has 13 themed rooms.
From math to biology, it gives people of all ages an engaging, hands-on way to learn about science which makes it fun, engaging, and easy to understand.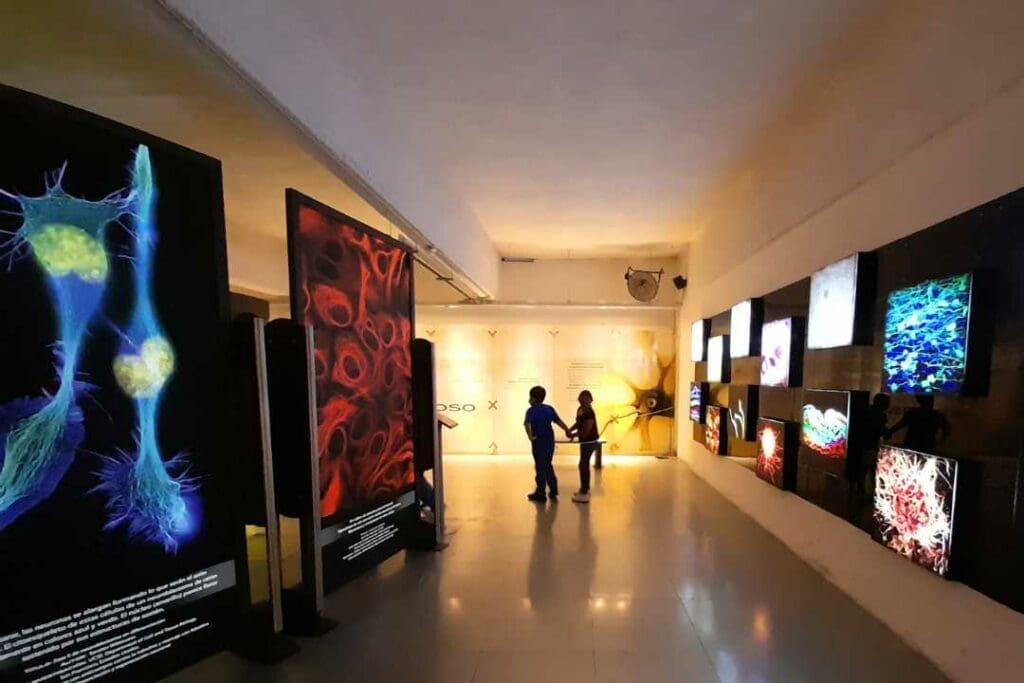 One of the best things about Universum is its planetarium, which lets visitors learn about the universe in a fascinating way. There are also detailed displays like the human brain which is really amazing to see!
Even though it might not be the most famous museum for international tourists, it is very popular with locals.
The general admission is 90 pesos ($5 USD) but some rooms may charge an extra cost.
19. Rancho Mágico
Rancho Mágico is a popular amusement park about 25 to 40 minutes outside Mexico City ( towards Cuernavaca).
Aside from being popular with locals, it is also the biggest area packed with things to do in Mexico City with kids.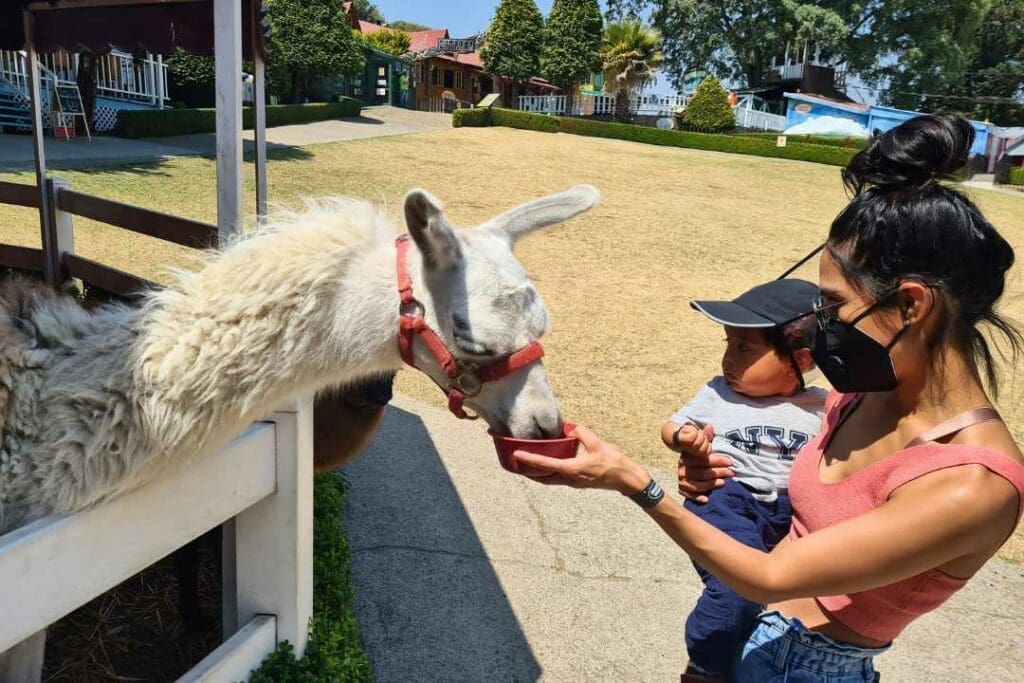 Inside the park, you will find a zipline for kids (about 90 cm to 1.35 m), a bolodrome (a favourite!), and an Extreme Cable Circuit for older children.
There are also cooking classes, art classes, and different workshops that you can participate in.
Tickets and packages start at 239 pesos ($14 USD) and can go up to 659 pesos ($39 USD), depending on what you want to experience.
Children below 85 m are free of charge. You can only buy tickets to Rancho Magico online.
Trisha traveled to Mexico in 2018 and after a year, she found herself obtaining a 4-year residency visa in Mexico. She is the Editor-in-chief for our Living in Mexico Series which has helped over 3,000 Americans move to Mexico with ease. Trisha currently resides in Cabo San Lucas, Baja California Sur.