When I was living in Puerto Vallarta, hiking to Colomitos Beach was always my favorite weekend activity with my dogs! In this post, I will share with you how to get there without a guide.
Colomitos Beach (Playa Colomitos) is located in Puerto Vallarta, Mexico. It's about a 30-minute drive (north) from the Malecon and it's easy to get here by Uber or taxi.
Tourists often do it by themselves although there are certified guides you can hire to visit Colomitos. In this article, I will share with you all the ways – how to get there including the trails, hikes, etc.
If you like easy hikes that will lead you to a beautiful hidden cove, then make sure to go to Colomitos beach when you visit Puerto Vallarta.
Honestly, there are already many beaches in Puerto Vallarta that you can visit but what I love about this is the Colomitos hike!
It's also very local as most of the people who come here are Mexicans. They come here for the weekend and bring their food, drinks, and even hike with big speakers!
Get access to our local travel experts who can help you with your hassle-free vacation in Mexico! Click here for more info.
🦮 Are dogs allowed in Colomitos beach?
ABSOLUTELY! The path to Colomitos is super pet-friendly. I adopted my dogs in Sayulita so they are very outdoorsy and can go to trails and hikes without a leash.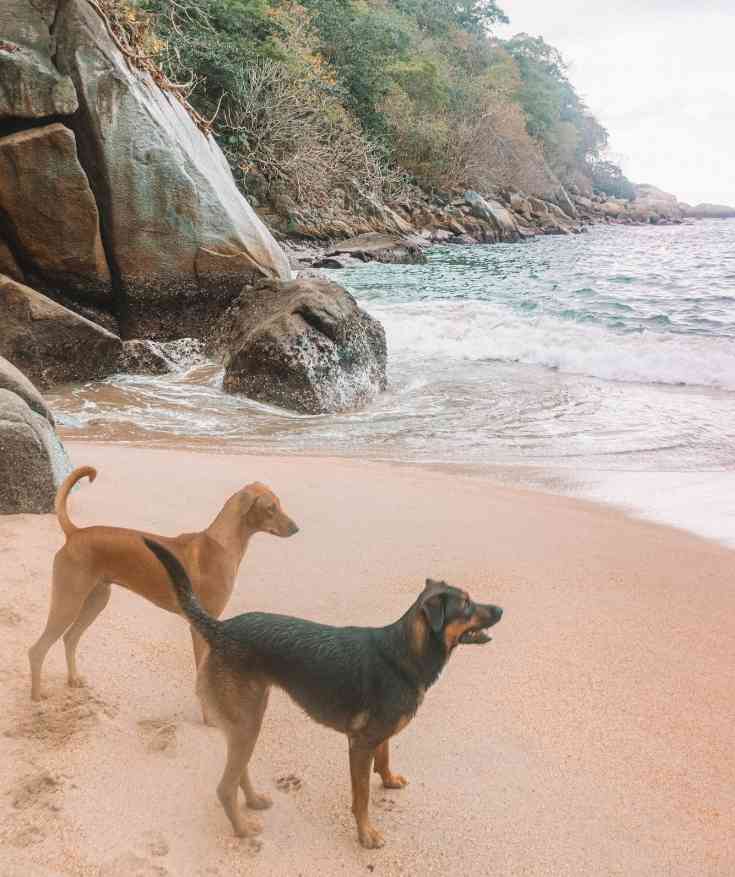 There was a part of the trail where I had to carry them over a barbed fence but it wasn't that difficult. Your pets will enjoy the Colomitos hike and there are barely any other dogs on the trail so you don't have to worry about them!
🛣️ How to get to Colomitos beach
Colomitos guided tour
💲 from US$46 per person
👉🏽 Book your Colomitos beach tour
If you don't want to do it yourself, the easiest way to get to Colomitos is by signing up with a tour guide. The guided tours cost $140 USD per person and include pick-up/drop-off to and from your hotel.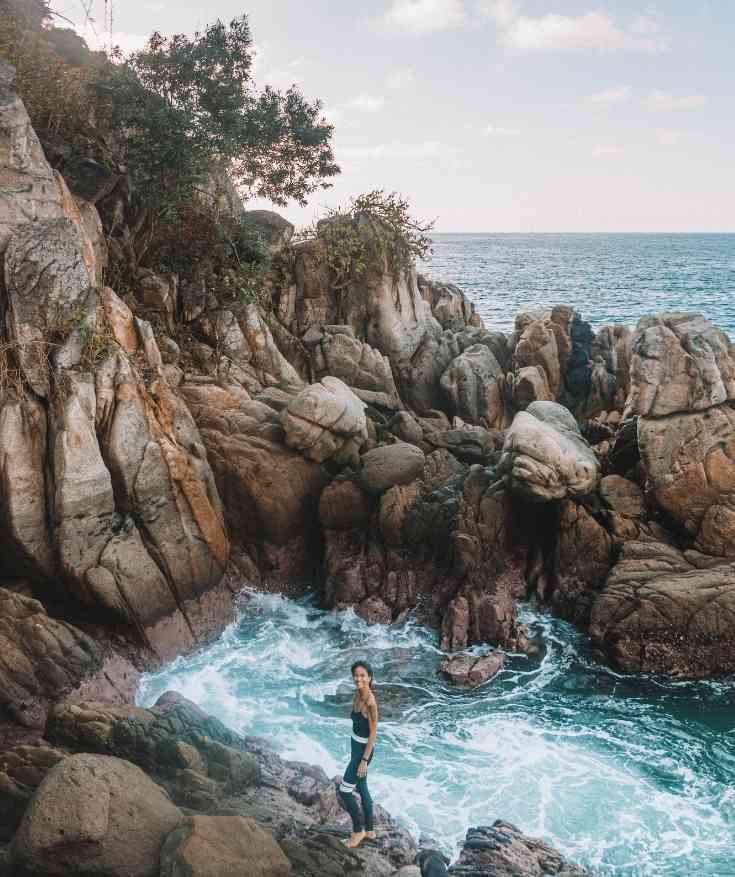 The guide will lead you all throughout the Colomitos hike and take you back to your hotel safely. You will also have a few hours to hang out on the beach.
Getting to Colomitos by taxi
💲 from US$25 per car (4 pax, Sedan)
👉🏽 Book your private driver
Another easy way to get to Colomitos is to just hop on an Uber. I am not sure how much the price is since I have a car but it shouldn't be more than $30 USD. Make sure to put 'Boca de Tomatlan,' not 'Colomitos' on the Uber app.
Uber is widely used in Puerto Vallarta. Some can even take you all the way to Sayulita and San Pancho. Alternatively, my taxi driver friend can pick you up and bring you to Colomitos.
Just get in touch with me and I will make an intro! He is also a PV local so he can give you a mini-tour of PV.
Renting a car in Puerto Vallarta
💲from US$25 per day (Sedan)
👉🏽 Book a rental car in Puerto Vallarta
There are many car rental companies in Puerto Vallarta's malecon but I can't really recommend any. Renting a car in Mexico is easy and usually costs $20 USD per day.
However, you will be charged a security deposit. In my experience, booking it online is cheaper than going to the office to inquire.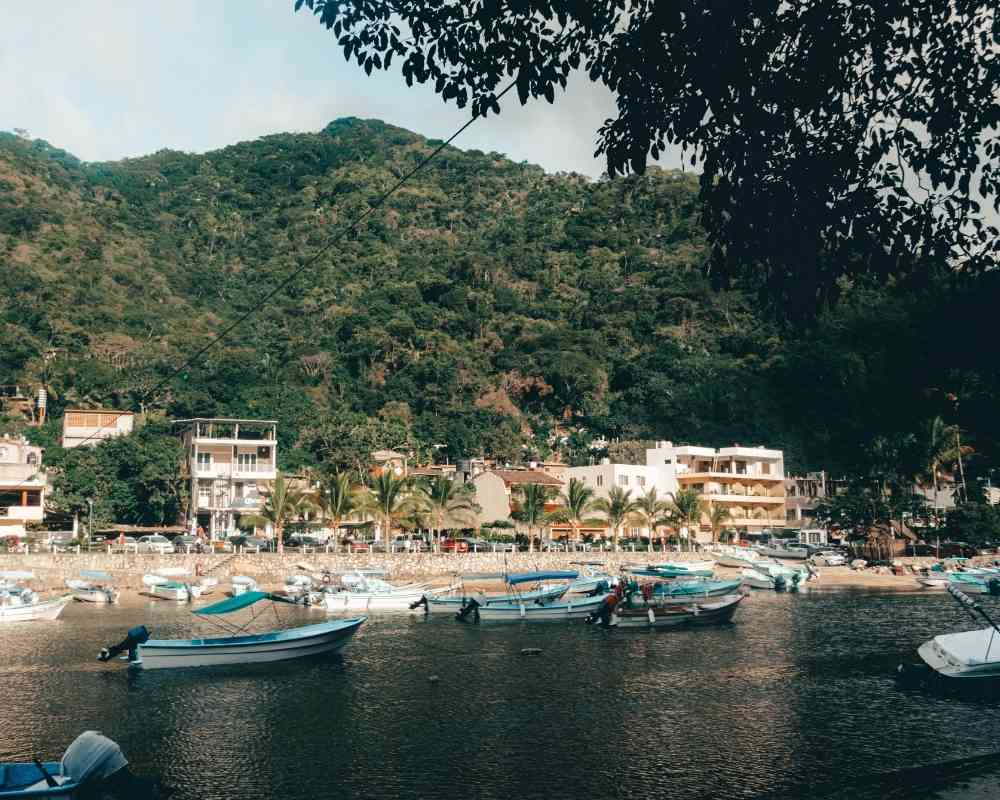 The car will be yours for 24 hours so it will be a great opportunity to explore other beaches of Puerto Vallarta as well. Even better, drive all the way to Sayulita or San Pancho! The parking fee in Boca de Tomatlan is $2.50 USD.
Getting to Colomitos by bus
You can take the bus near Costa Linda Suites in Zona Romantica. There is a bus stop at Calle Hortensias which is a public bus so it leaves frequently.
You don't need to buy your tickets in advance. The bus ticket price is $10 MXN ($0.50 USD) and the ride will take 30 minutes.
This bus will have at least 9 stops but Boca de Tomatlan is a famous stop. Make sure to tell the driver to let you know when you already reached Boca.
Getting to Colomitos by boat
For those who don't want to hike, you can easily get to Colomitos with a boat ride (which is also what I am suggesting to readers for going back to Boca de Tomatlan after the hike.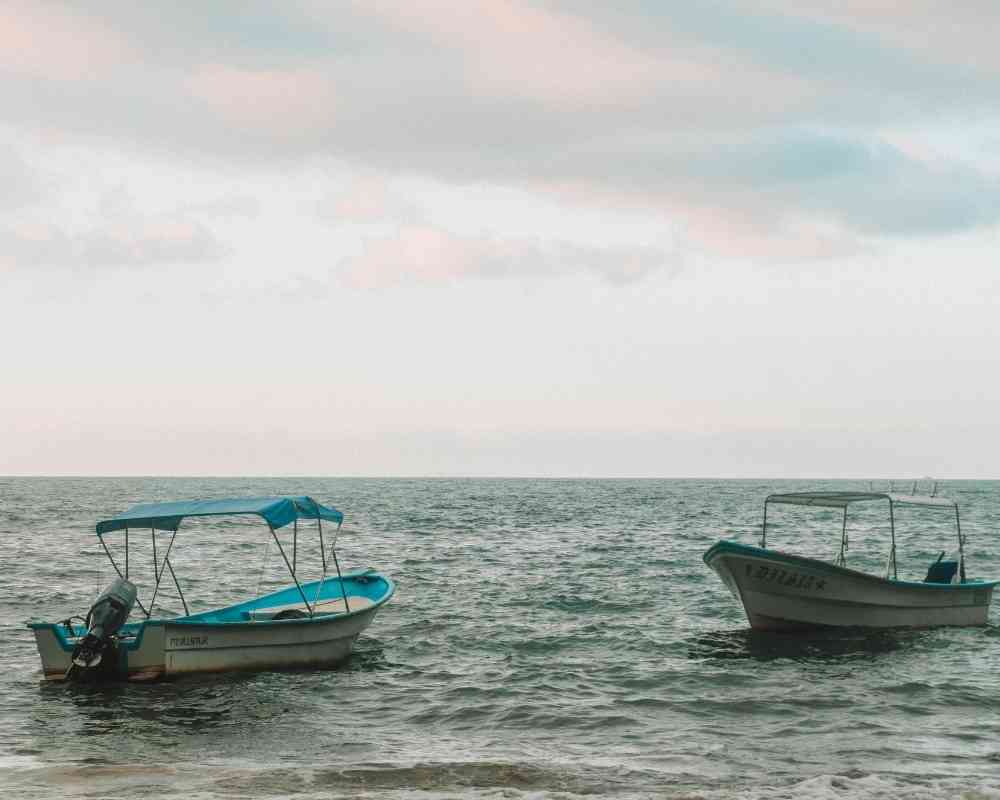 My trusted boatman (Jimmy) can always take you on his boat not just to Colomitos but in other islands such as Quimixto and Yelapa. This ride is less than $5 USD and you will find many boatmen when you are already in Boca.
🏖️ Boca de Tomatlan
Boca de Tomatlan is actually another great spot to hang out in. The beach here is pretty and there are many restaurants in this area.
This is also where the boats to Yelapa and other nearby island trips in Puerto Vallarta. Whenever we go to Colomitos, we spend a few hours in Boca de Tomatlan to eat and hang out at the beach.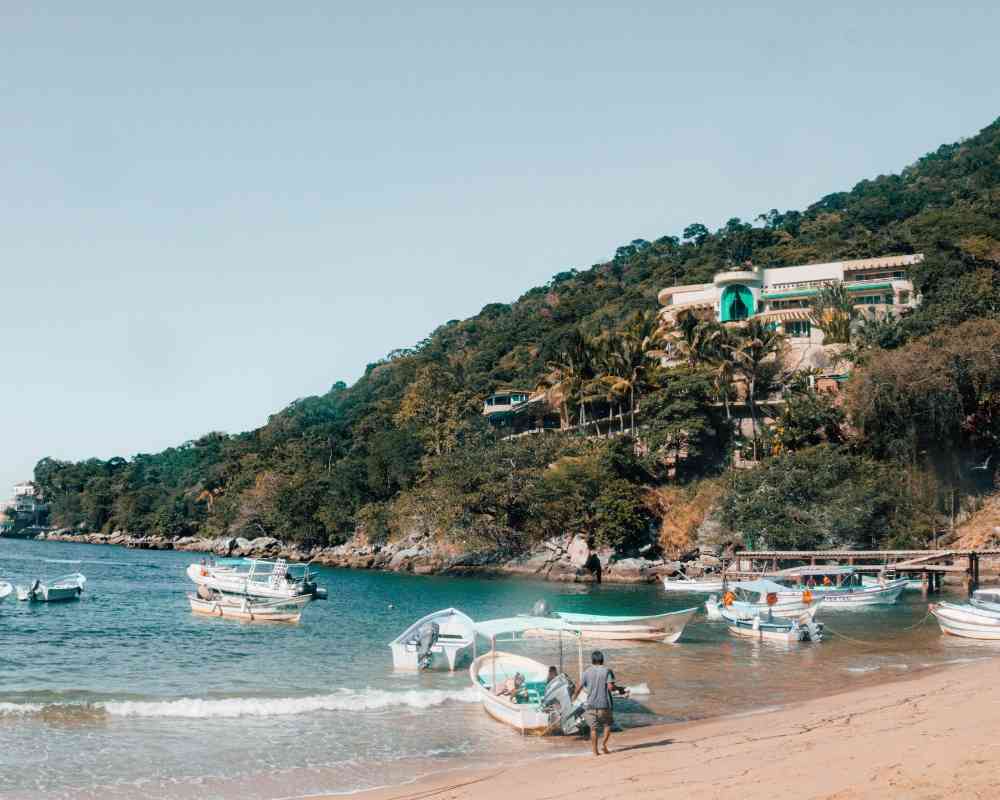 There used to be a restaurant in Colomitos called Ocean Grill Vallarta but it was always closed when I visited. With this, I just make sure I eat a big meal in Boca before the hike.
There are several beachfront restaurants in Boca de Tomatlan all lined together so feel free to choose whatever. They'd end up selling the same Mexican dishes anyway.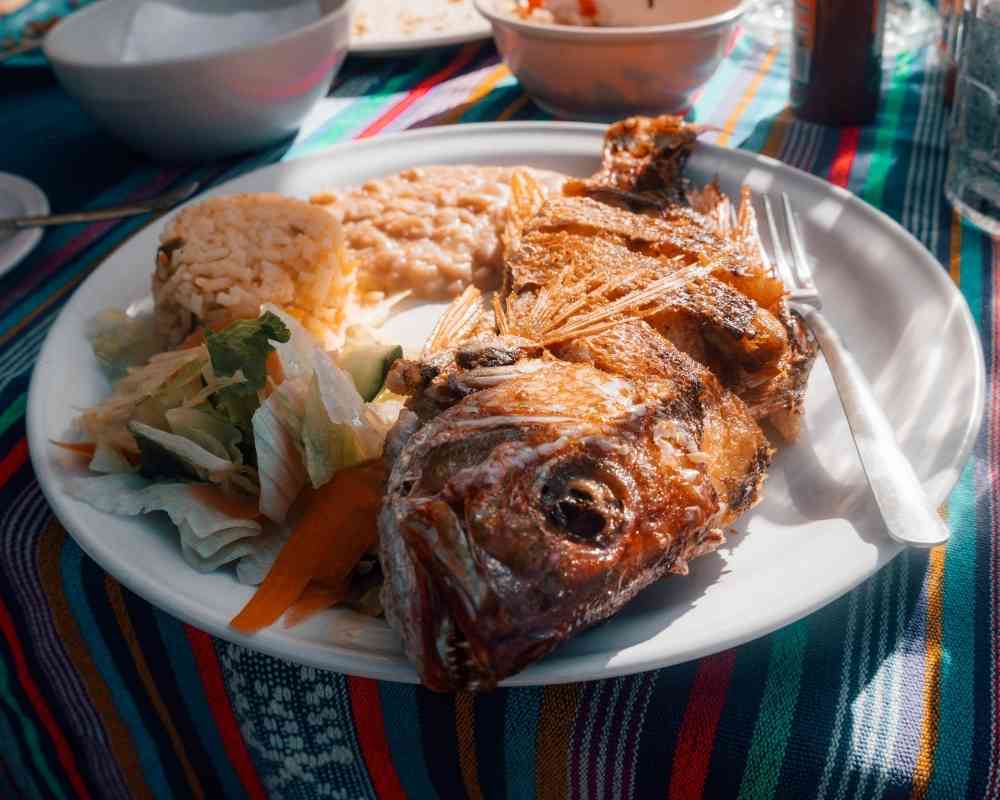 I always order fried fish (mojarra frita) because I know that their seafood is fresh daily. Boca de Tomatlan is a fishing village and you can also buy fish from the fishermen here.
I would suggest coming here for lunch and staying for 2 hours before you start the Colomitos hike. This way, you will have a chance to explore Boca de Tomatlan as well.
🥾 Colomitos hike: what it looks like
You will start the hike in Boca de Tomatlan. There are usually signs to Colomitos but you will start at the parking lot where you will see a bridge leading to the trail.
From there, you will go through a cliff neighborhood where Mexicans live. There may be turns but there will always be people hanging outside their homes and you can ask them for directions. They are very friendly!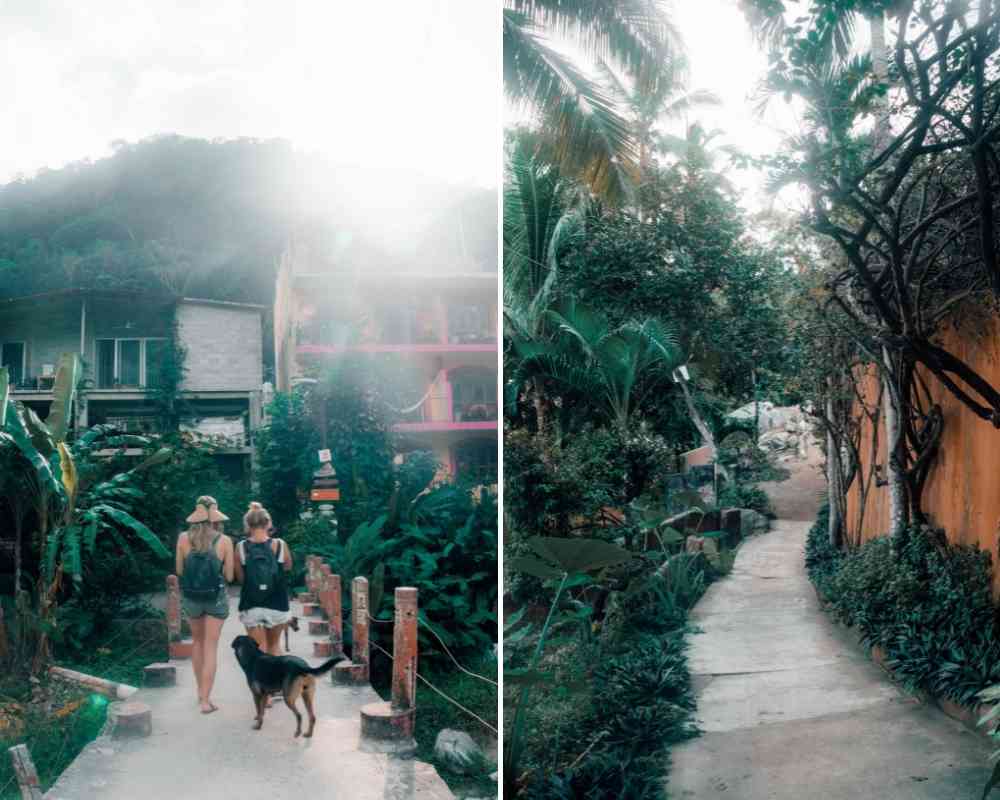 Just watch out for other dogs there especially if you have your pets with you. Some attacked one of my dogs and it was super stressful!
After passing through this neighborhood, everything is just straight. Some paths are downhill but they are not difficult to walk on. You don't even need proper shoes to do it!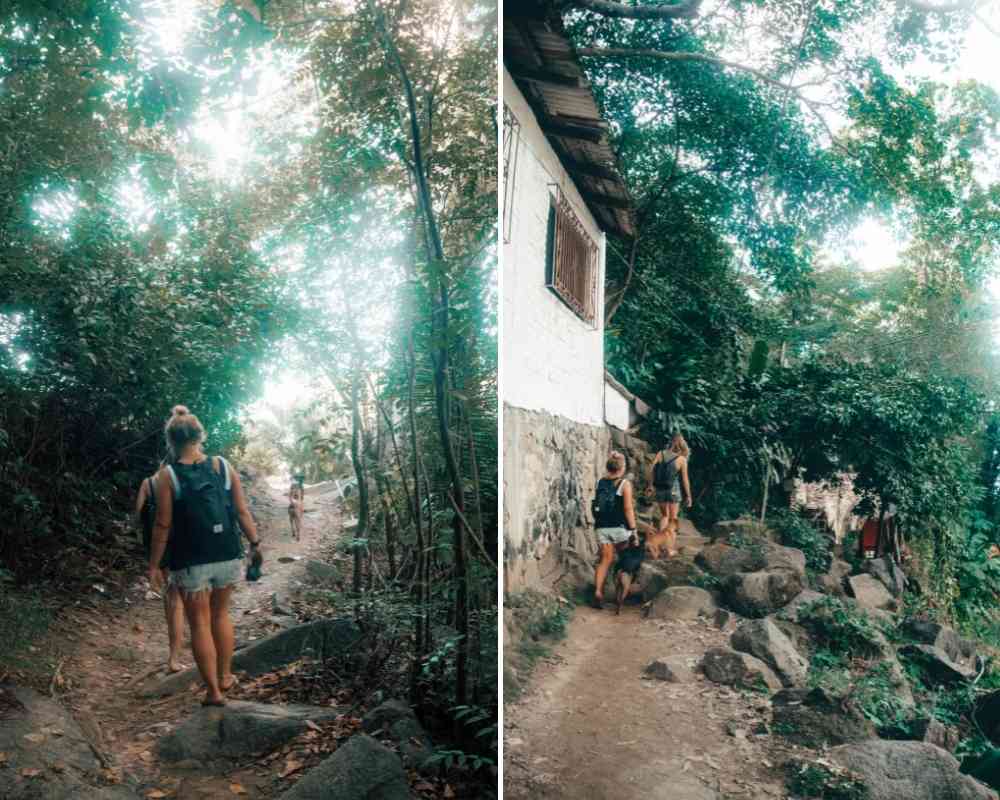 There will be a few view decks and beautiful spots to stop and take pictures. From here, you will see great views of Boca de Tomatlan on your right. This area of PV is really beautiful!
This hike is only 30 minutes but it took us about 45 minutes to get to Colomitos because of the many stops we made. Finally, you will enter a downhill jungle and from there, you will see Colomitos.
The small bridge crossing from the jungle to Colomitos is actually where the restaurant is located. If you do this hike and see that the restaurant is open, please let me know so I can update this post!
I've read many reviews online that Colomitos is too crowded but whenever I am there (see the drone video at the beginning of this blog post), I always feel comfortable and don't feel like it's too crowded.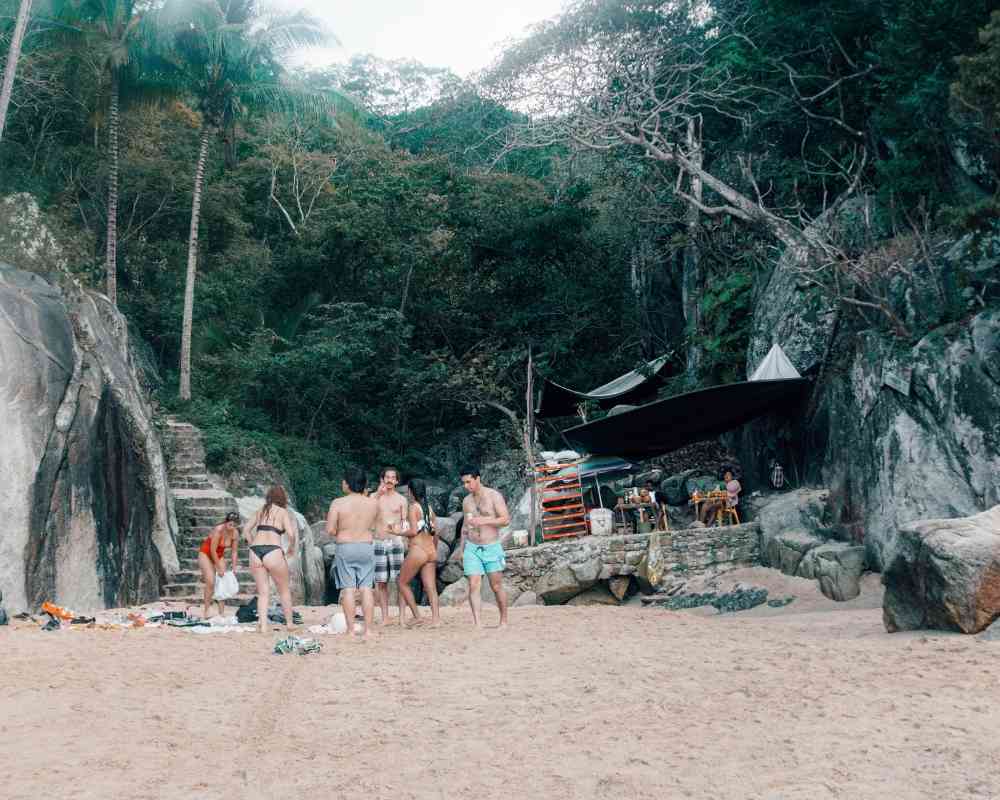 Sure, there will be loud music and partying. That's pretty much a default in Mexico but I never saw it packed. Probably because I always go on a weekday.
There is a small hut in Colomitos that sells any types of drinks if you didn't bring any with you. Lastly, there is a short cliff hike on the beach where you will see great views of the Colomitos cove.
📝 Colomitos Beach day trip summary
Here's a summary of how to hike Colomitos beach:
First, go to Boca de Tomatlan from Puerto Vallarta downtown. You can spend a few hours here for lunch.
Start your Colomitos hike. The hike will take about 40 minutes
After spending the afternoon in Colomitos, take the boat back to Boca de Tomatlan. This is recommended if you want to see the sunset from here. You don't want to hike back when it's dark.
🛏️ Where to stay in Puerto Vallarta
There are many hotels in Puerto Vallarta but many visitors opt for an all-inclusive stay in resorts. If you're not the type, here are some of my recommendations for affordable accommodations in PV that are in the center:
For budget travelers, all Puerto Vallarta hostels are mostly by the Malecon. Super well located and starts at US$15 per night (bed in a dorm).
✈️ Ready for your trip to Puerto Vallarta? If you need more information about visiting Colomitos beach, I'd be happy to update this post – just leave a comment below!
Trisha traveled to Mexico in 2018 and after a year, she found herself obtaining a 4-year residency visa in Mexico. She is the Editor-in-chief for our Living in Mexico Series which has helped over 3,000 Americans move to Mexico with ease. Trisha currently resides in Cabo San Lucas, Baja California Sur.