These Cancun boat tours are categorized according to duration (full/day and half day), best Cancun boat trips for families, and options for party cruises in Cancun.
If there is one thing Cancun is known for, it's definitely the numerous boat trips going around the Caribbean Sea. The cruises are not limited to the Cancun area when you do these Cancun boat trips.
Most of the Cancun boat tours sail to Isla Mujeres, Contoy Island, and Puerto Morelos – 3 of the most beautiful islands of Quintana Roo.
If it's your first time in Cancun, the Isla Mujeres catamaran cruises will be your best option (see details of the different packages for Isla Mujeres below).
Most of the Cancun boat trips are also for adults and have unclear information if children are allowed on board, so we also included the best boat tours to take with kids.
Lastly, we know you love party boats, so we included a few booze cruises in this article.
🧐 Questions about Cancun Mexico? Ask us on Tiktok.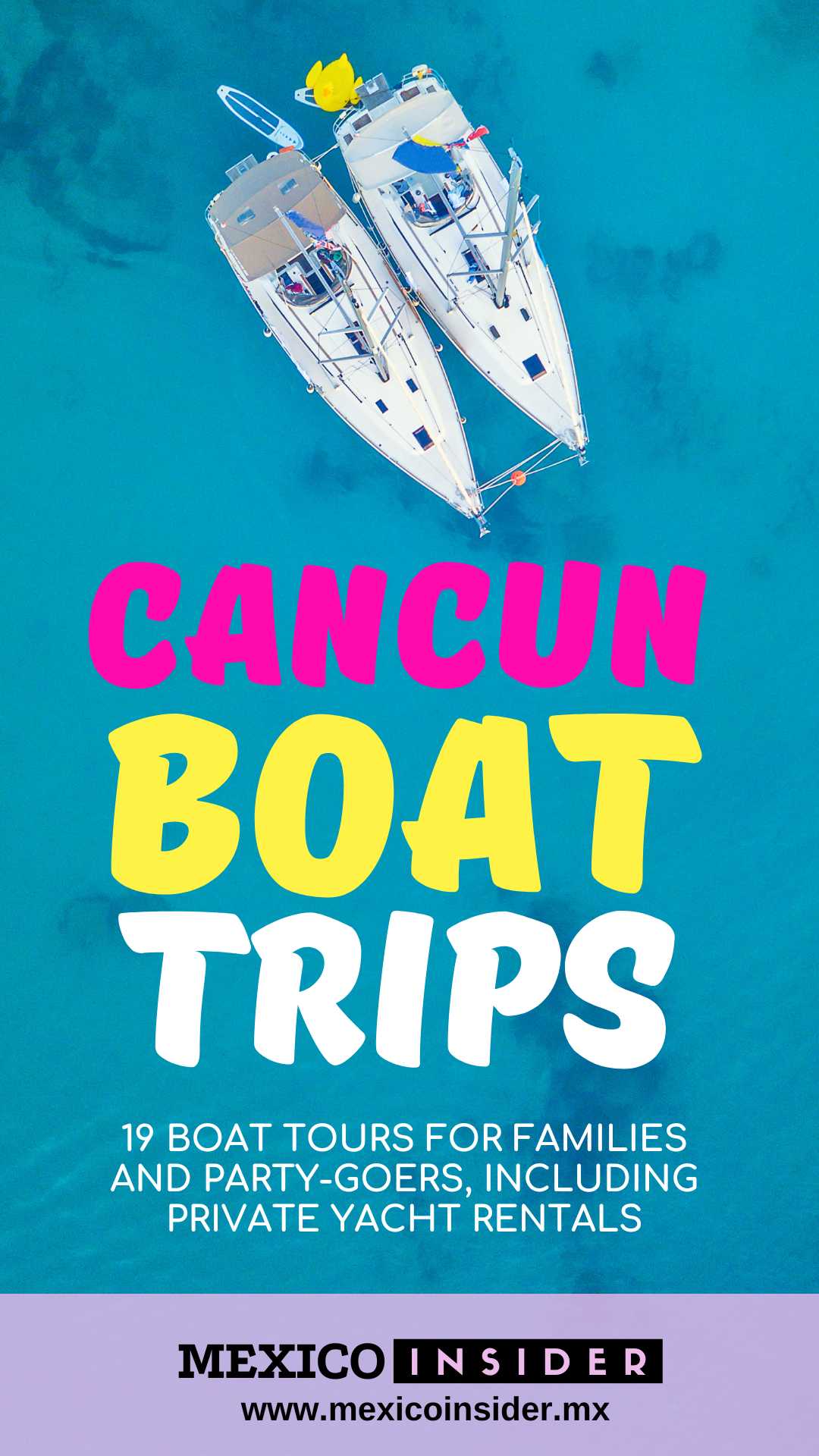 🗺️ Cancun boat tours map
Below is a map of the Cancun boat tours where you can see the areas you will be visiting. There may only be a few on this map, but you can open it on Google Maps for a larger view (satellite view recommended) to see the surrounding areas.
🛥️ Half-day and short Cancun boat tours
#1: Riviera Maya cruise with light dinner and open bar
⏰ 2 hours
💲 from $89 USD
On this Riviera Maya Cruise, you will explore some of the world's most beautiful waters with a knowledgeable crew who will provide unparalleled service.
All kinds of vessels are available for rental, including premium catamarans, sailing boats, or yachts equipped with air conditioning or an open deck.
During your tour, discover hidden coves along the coast or relax on board with a cool drink in hand. Refreshments such as beers and soft drinks can be purchased from the bar (at an additional cost).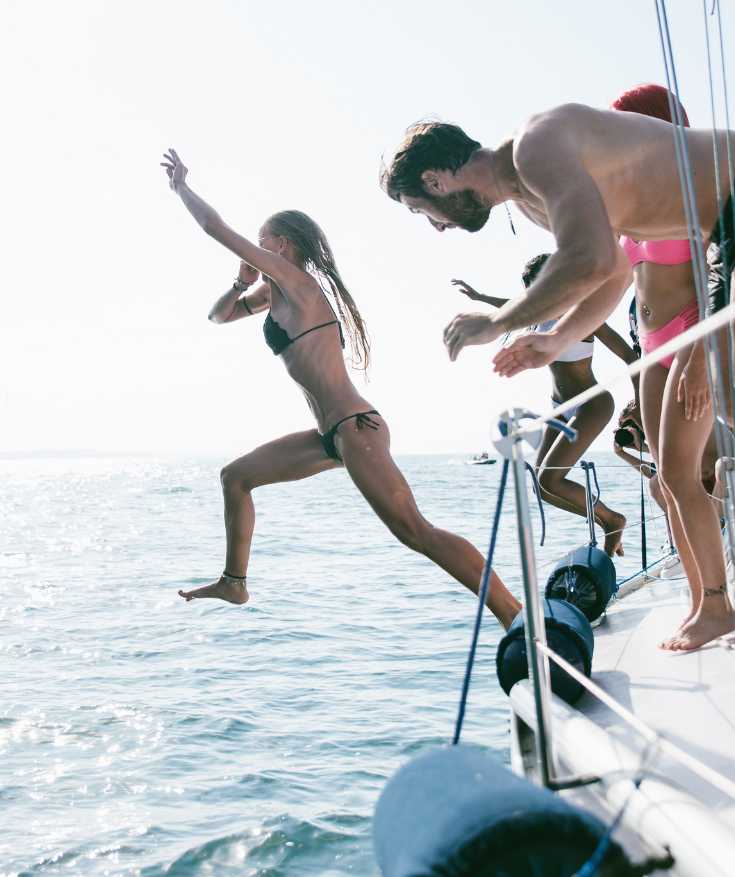 Cruise beyond the horizon to witness a stunning Mexican sunset while sipping tequila or mezcal accompanied by tacos and guacamole prepared fresh on board.
Observe playful dolphins jumping in the blue waters below and experience paradise aboard one of these luxurious boats.
Enjoy exploring new destinations with your private yacht charter that allows you to customize every detail of your trip – from itineraries to meals – for up to ten hours per day!
#2: Half-day to Isla Mujeres from Cancun boat trip
⏰ 5 hours
💲 from $80 USD
This sailing experience begins at Puerto Juarez, a beautiful fishing village outside Cancun. You'll board the catamaran, a two-level sailboat, and spend the day admiring the stunning views of Isla Mujeres and its crystal-clear waters.
On this tour, you'll also have the opportunity to snorkel around an array of colorful fish, explore hidden bays, and get close and personal with dolphins! There will also be ample time for swimming and sunbathing on a private beach.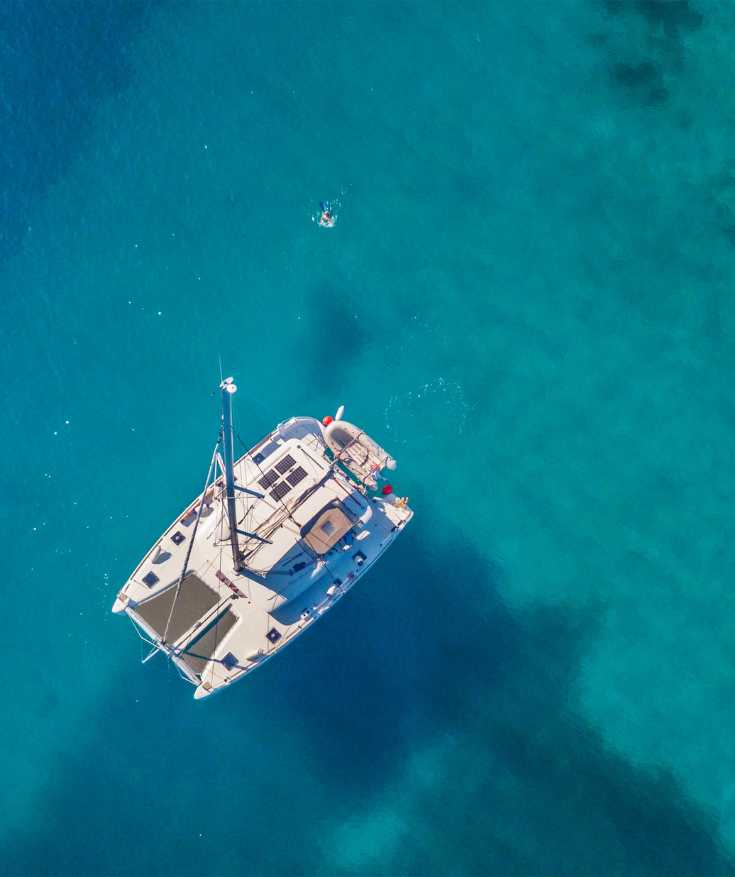 Additionally, you'll enjoy a delicious meal onboard prepared by our friendly crew members. As the day winds down, you can relax in our spacious lounge area, which offers cozy seating and plenty of shade.
The boat has two levels allowing guests to comfortably move around while they admire stunning views of turquoise waters and white sandy beaches that decorate this paradise spot.
#3: Speed boat and snorkeling
⏰ 2 hours
💲 from $59 USD
The jungle tour begins with a brief introduction and safety instructions before you embark on your two-hour journey from Puerto Juarez's marina.
You will then drive along Cancun's beachfront in the comfort of an air-conditioned bus, where you can take in the city's beautiful sights.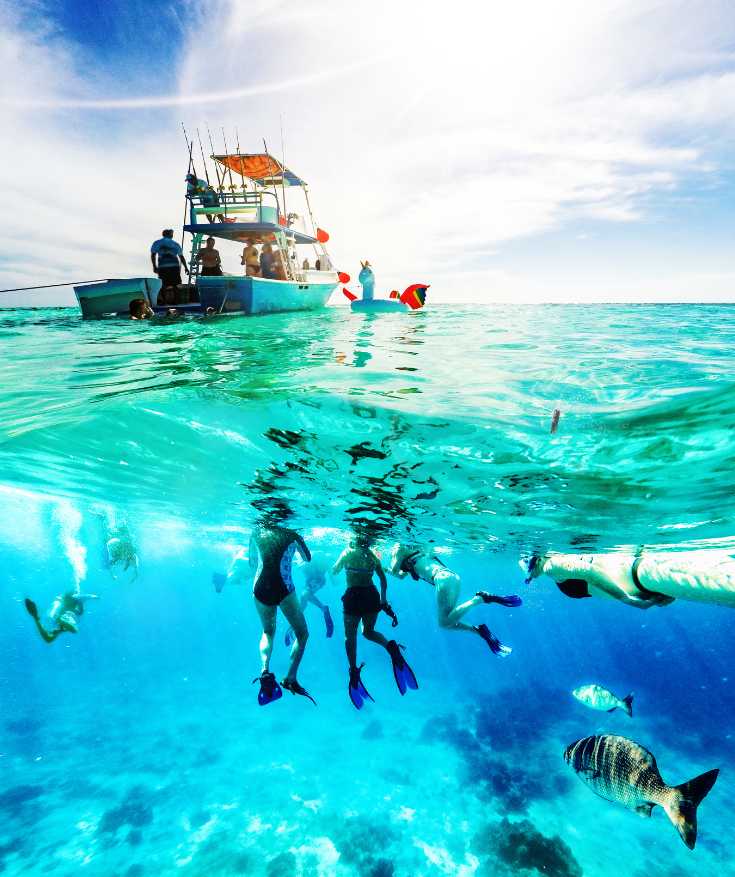 From there, you will head to the jungle, hop onto a small motorboat and explore hidden cenotes, mangrove forests, and amazing wildlife that inhabit these unique ecosystems.
Once back at sea level, you will hop aboard a luxury speedboat for a thrilling ride across the Caribbean waters. Watch for dolphins as you cruise along – they often follow alongside boats!
After your speedboat ride, you will start the snorkeling activity In Isla Mujeres. Here, you can observe coral reefs up close, swim alongside colorful fish, or admire sea turtles feeding on seagrass beds.
#4: Puerto Morelos on catamaran
⏰ 4 hours
💲 from $85 USD
This Cancun boat trips begins in Puerto Morelos and takes guests on an exciting journey to a secret sandbar. On arrival at the secret sandbar, you can swim in crystal clear waters and relax on white sand beaches.
You will also explore the island's coral reefs offshore and observe hundreds of colorful fish swimming below them while they snorkel above.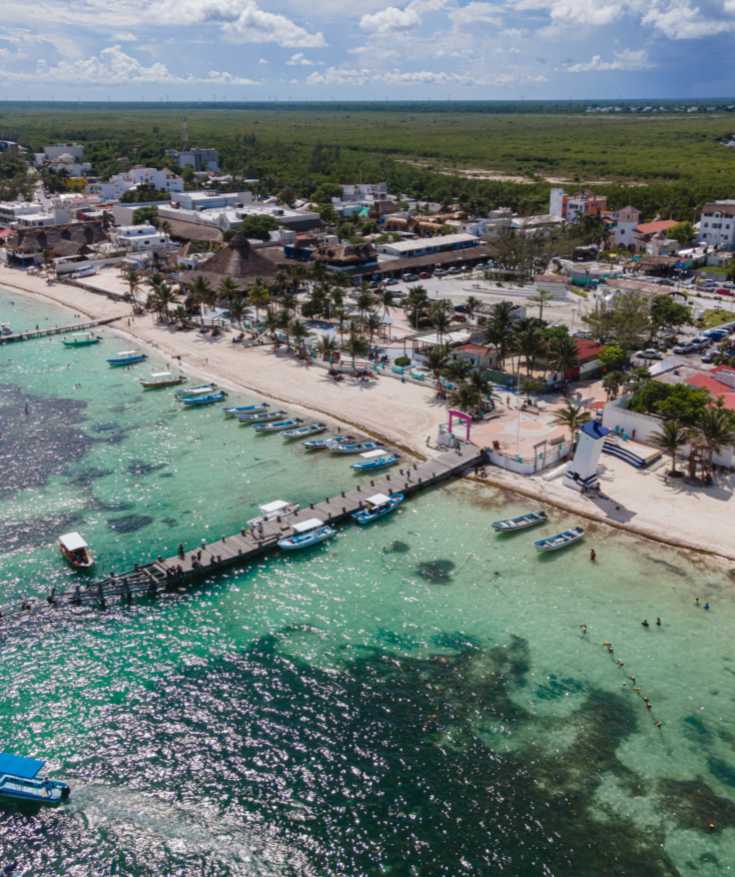 This Cancun boat tour also includes lunch onboard with fresh fish and seafood specialties. You will see breathtaking views at sunset as you sail back toward Puerto Morelos.
With its stunning views, delectable cuisine, and adventure-filled itinerary, visiting Cancun on this catamaran secret sandbar sail is one of the top Cancun boat tours.
#5: Half-day catamaran sailing
⏰ 5 hours
💲 from $69 USD
This half-day catamaran sailing leaves in the afternoon and lasts 4 hours (til sunset). You will sail along the Nichupte Lagoon's canals or to Isla Mujeres for a swim and snorkel in the crystal-clear waters.
You can expect to board a beautiful catamaran with an experienced captain who will take you around its tranquil canals, secluded islands, hidden lagoons, and secret coves.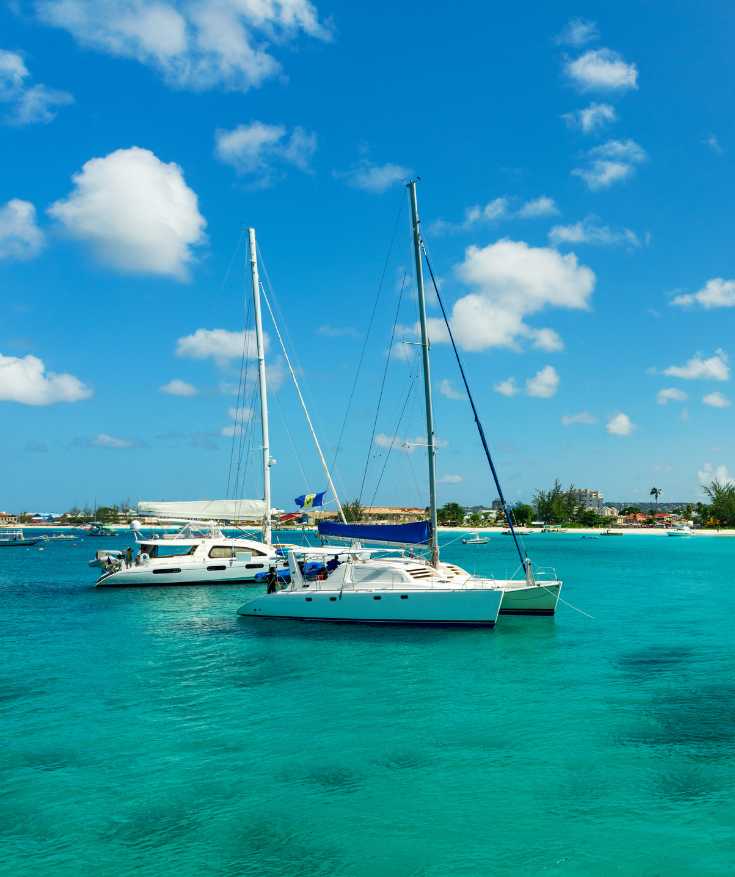 During the tour, you can watch for dolphins and sea turtles off the coastline (seasonal). You can relax on the white sand while enjoying a delicious lunch on the beach.
The crew can also arrange optional activities like paddle boarding, kayaking, or fishing. To complete your half-day adventure, you can cool off with complimentary beverages as you sail back towards Cancun's Marina.
#6: Luxury Catamaran and Snorkel (Lunch & Open Bar)
⏰ 5 hours
💲 from $129 USD
Start your day with pickup at an area hotel and head to Puerto Morelos, where you will board your Cancun boat tours.
The catamaran has a spacious deck where you can lounge around or dip in the warm Caribbean waters as you sail in comfort toward Islas Mujeres.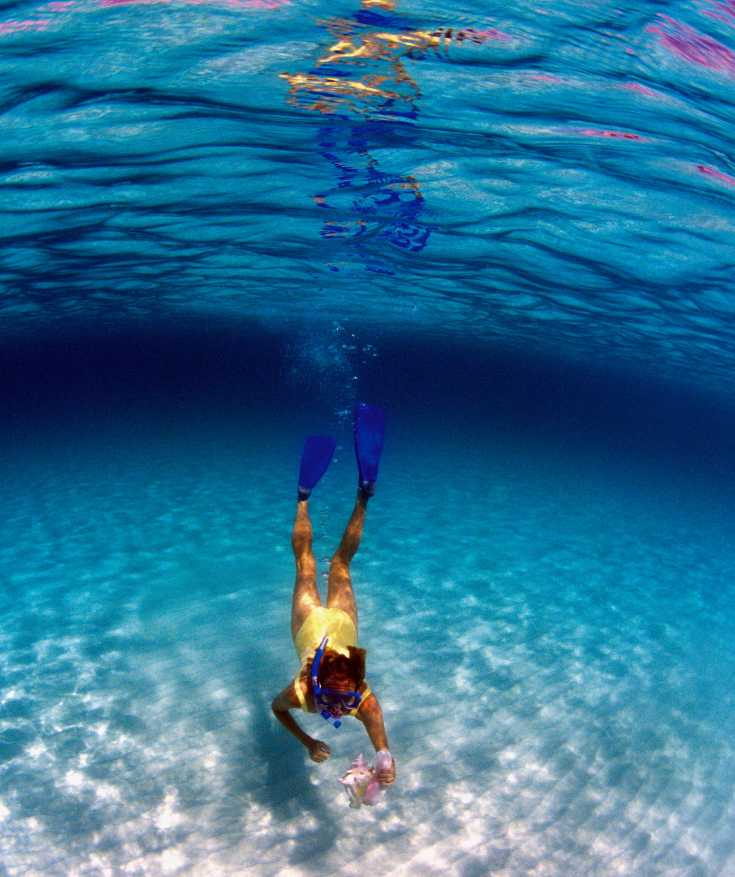 Along the way, you will see some spectacular scenery with chances of seeing dolphins during the season. When you arrive at Islas Mujeres, you will be snorkeling/swimming and have free time to explore the island.
You will be provided with lunch on board and beverages such as beer and soft drinks included in the price of your Cancun boat tour package before returning to Puerto Morelos late afternoon.
⛵ Best full-day Cancun boat tours
#7: All-inclusive Isla Mujeres
⏰ 6 hours
💲 from $129 USD
Transportation, meals, beverages, and equipment are included on this all-inclusive boat tour to Isla Mujeres from Cancun.
The day will begin cruising across the sea while getting an up-close look at some of the area's diverse marine life and bird species.
Once you reach Isla Mujeres, you can explore the island's tranquil beaches or participate in exciting water sports such as swimming, snorkeling, and kayaking among coral reefs teeming with vibrant colors and exotic sea creatures.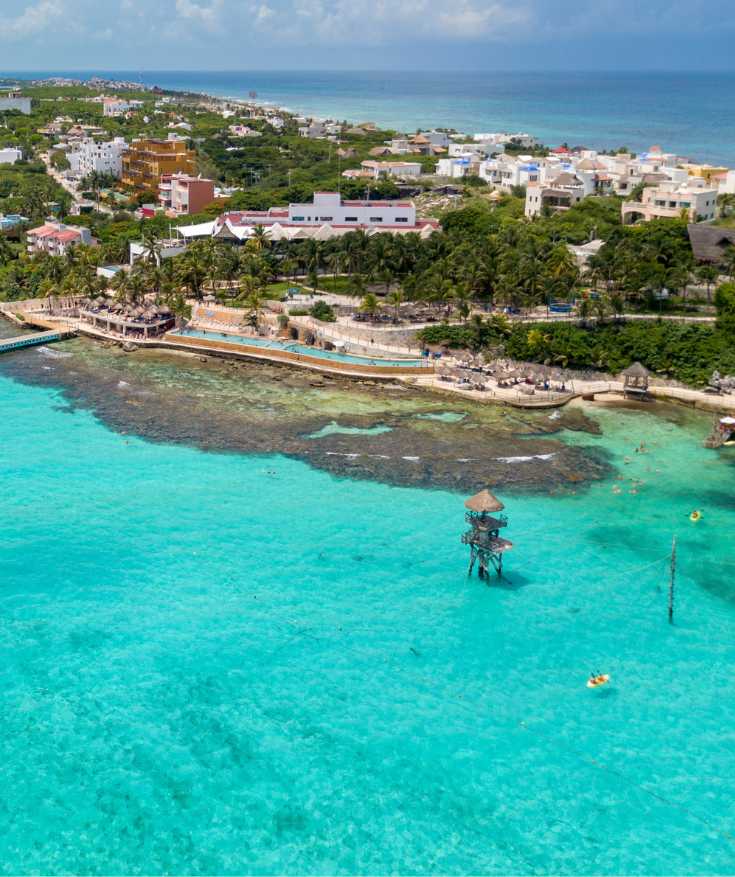 You can also opt to relax on board with drinks and delicious snacks. You don't need to go around Isla Mujeres if you don't want to.
Afterward, you will be served a delicious buffet lunch of regional dishes. If time allows, you can even shop for souvenirs at local stores before returning home.
#8: Catamaran sailing experience in Isla Mujeres
⏰ 7 hours
💲 from $69 USD
This tour of Cancun and Isla Mujeres will start with a scenic drive from your hotel in Cancun to Isla Mujeres, passing through the high-end resorts of the Caribbean Sea.
Upon arriving at Isla Mujeres, you'll board a luxurious catamaran that will take you on an incredible journey around the island's coastline and many beaches.
On this journey, you'll have the chance to marvel at the stunning turquoise waters, passing by beautiful coves and coral reefs that are teeming with colorful marine life.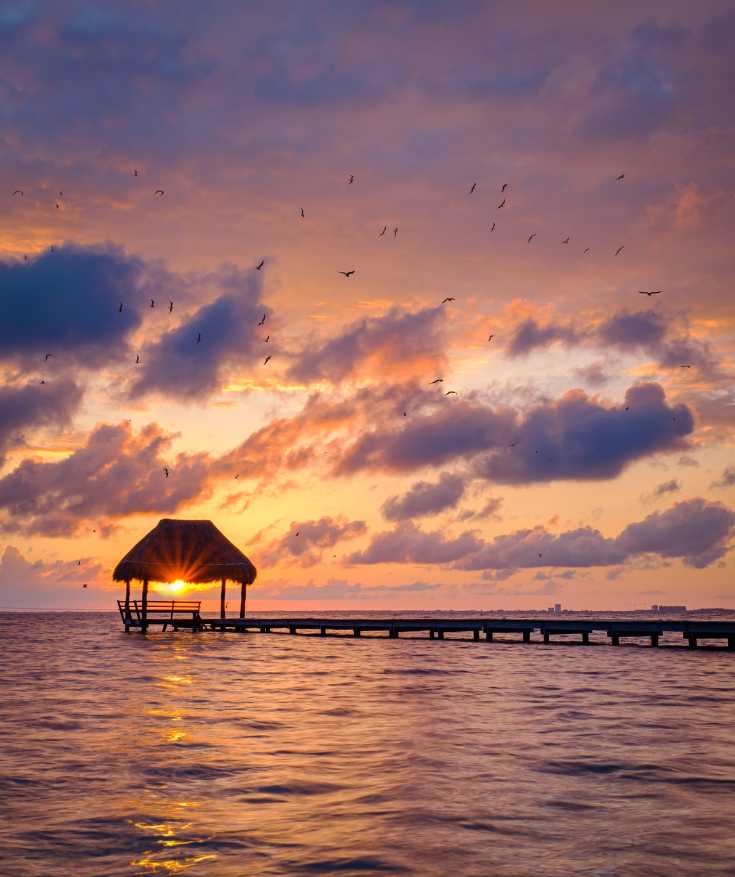 You'll even have the opportunity to go snorkeling in some of these areas and explore this unique underwater world.
Afterward, you'll arrive at Playa Norte, one of Isla Mujeres' most popular beaches, where you can relax or swim before heading towards Garrafon Natural Park.
Here, you will have time to enjoy plenty of activities, such as kayaking or zip-lining, while taking in breathtaking views of the lush vegetation and crystal clear waters.
The tour also includes a stop at El Garrafón aquarium, where visitors can observe sea animals like turtles, starfish, and sharks up close.
The day will end with a delectable lunch at one of Isla Mujeres' best beachfront restaurants before beginning your return to Cancun in the afternoon.
#9: Swim with whale sharks
⏰ 7 hours
💲 from $144 USD
This swim with whale sharks in Cancun is a fantastic way to experience the magical beauty of the underwater world in Cancun.
On this tour, you'll visit one of the best spots for swimming with whale sharks and have a chance to observe these gentle giants up close. The tour takes place at Isla Mujeres, a small island off the coast of Cancun renowned for its incredible marine life.
The experienced guides know the best locations for whale sharks. They will also provide detailed instructions on how to swim safely with these majestic creatures.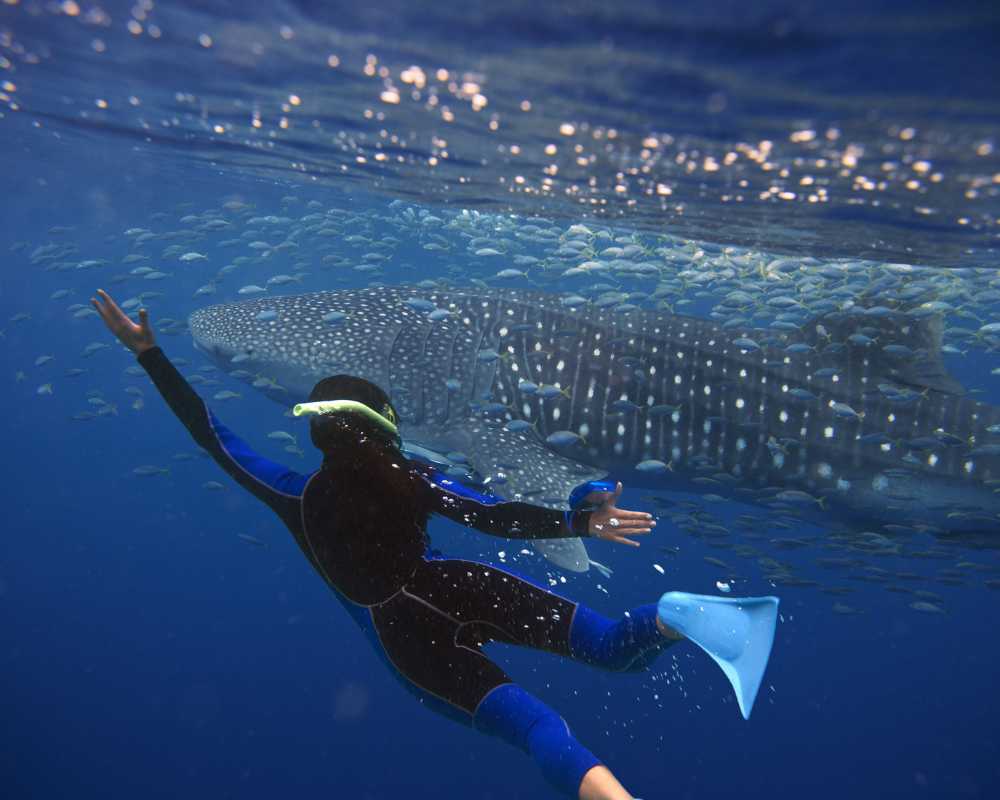 The tour also includes round-trip transportation from multiple locations in Cancun and light breakfast snacks and drinks onboard the boat. You'll also be provided with all necessary equipment, such as snorkel masks and fins.
After arriving at Isla Mujeres, you'll get an introduction to snorkeling and start your adventure immediately! The tour lasts around 5 hours, depending on whale shark sightings and weather conditions.
At the end of your Cancun boat tours, you'll have plenty of time to relax on board while enjoying a delicious lunch prepared by local chefs before returning to Cancun.
#10: Cancun boat tours to Isla Mujeres
⏰ 7 hours
💲 from $61 USD
On this Cancun boat tour, you will explore the crystal-clear waters and spectacular reefs of Isla Mujeres, just a few miles off the coast of Mexico's Yucatan Peninsula.
You will see sights of tropical wildlife, pristine beaches, and lush rainforest canopies. You will also have a delicious ceviche lunch and fresh drinks while snorkeling in one of the island's top spots.
Afterward, relax on board with music and great company before continuing your journey to Playa Norte for sunbathing and swimming.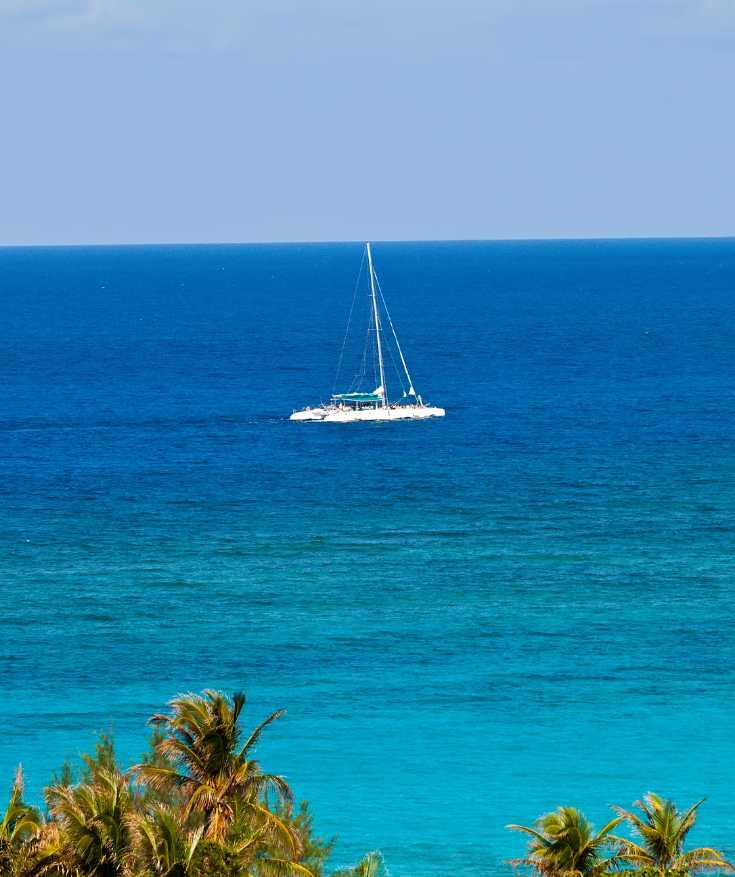 On your return to Cancun, you will see El Garrafon National Park on the way, home to stunning rock formations and an abundance of coral gardens.
Immerse yourself in the culture of this charming Mexican paradise as you learn about local customs and visit a traditional Mayan village.
With this Cancun boat tours, you can explore Isla Mujeres in comfort and luxury at a very affordable starting price of $61 USD.
#11: Luxury Cancun boat tours to Isla Mujeres
⏰ 7 hours
💲 from $60 USD
This luxury Cancun boat tours will take you to the spectacular seas of Quintana Roo and visit two of the most beautiful islands in all of Mexico – Isla Mujeres and Contoy Island.
The tour includes a stop at Manchones Reef, where you can snorkel in crystal-clear waters with abundant marine life. You can also relax on the boat's private beach or take a refreshing dip in its freshwater pool.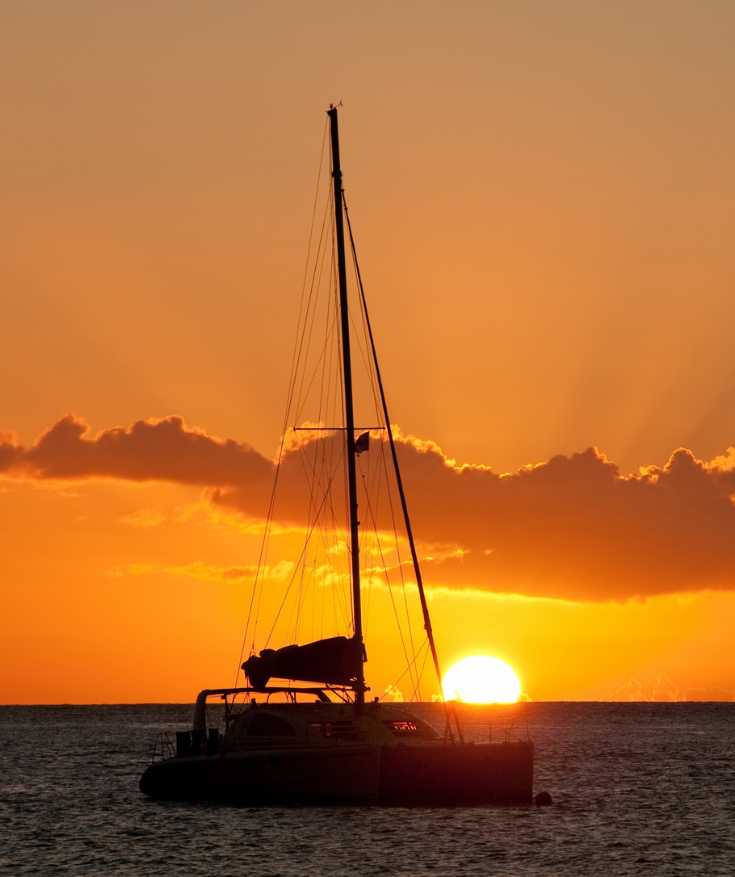 Mexican snacks will be provided on board. Once you arrive at Isla Mujeres, you can explore its many attractions, such as the Garrafon National Park, or go shopping for local souvenirs.
Amenities on board include comfortable sunbeds, kayaks and paddle board rentals, and full bar service.
🎉 Party Cancun boat tours for adults
#12: Cancun party cruise to Isla Mujeres
⏰ 7 hours
💲 from $80 USD
This Cancun party cruise begins with a pick-up at your hotel in Cancun. You'll be chauffeured to the marina, where you'll board an incredible catamaran for a voyage towards Isla Mujeres.
Along the way, you'll have the opportunity to take in the stunning views of the Caribbean Sea and its turquoise waters, relax on board, and dance to Mexican music.
Once you arrive at Isla Mujeres, you'll be taken on an exploratory tour of one of Mexico's most beautiful islands. With its tranquil atmosphere and breathtaking scenery, this is a must-see destination for any traveler visiting Cancun.
After the tour, you'll have time to explore the island's beautiful beaches, try local cuisine, or go snorkeling in crystal-clear waters.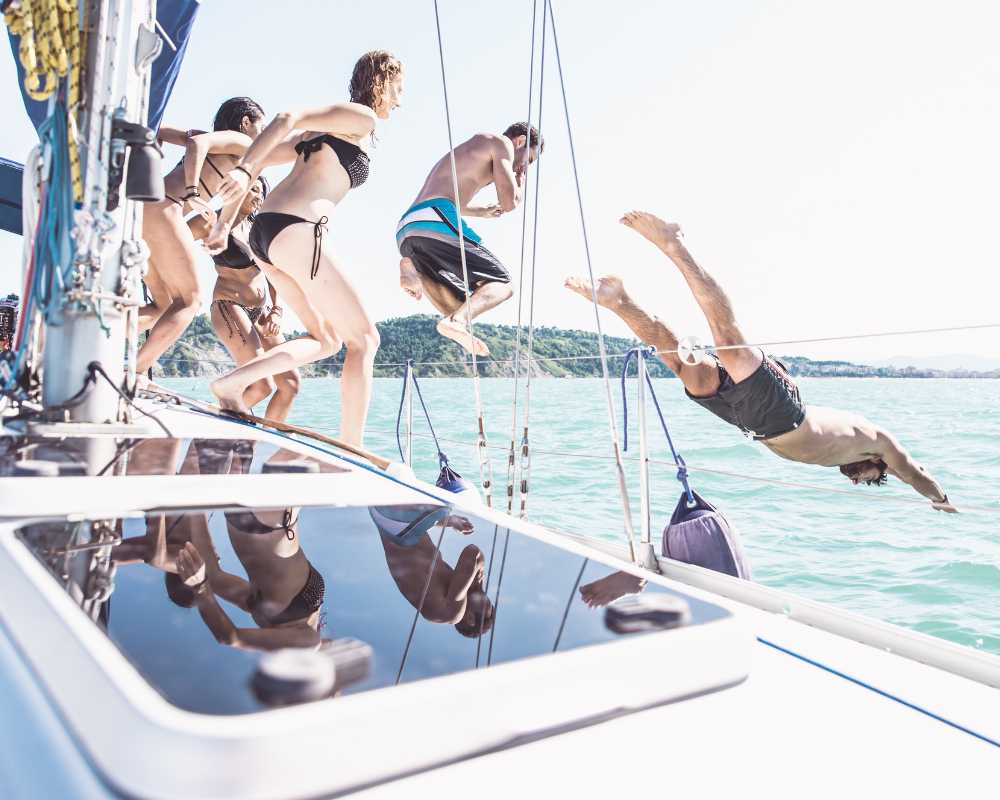 Next is a visit to MUSA (The Underwater Museum of Art), which consists of over 500 extraordinary life-sized sculptures submerged beneath the ocean's surface.
It's an awe-inspiring experience that will leave you mesmerized by these incredible works of art crafted from natural materials that are ecologically friendly and designed to promote reef conservation.
After MUSA, it's time for fun in Playa Norte – one of Isla Mujeres' best beaches! Here you can enjoy swimming in warm Caribbean waters or lie back and relax on the stunning white sand beach while soaking up some sun.
You will then return to Cancun via boat so you can continue exploring all this vibrant city has to offer!
#13: Hip Hop sessions boat party
⏰ 3.5 hours
💲 from $95 USD
Experience a unique party on the Caribbean Sea, where you can enjoy hip-hop, reggaeton, and other musical styles. The Rockstar Boat Party Hip Hop Sessions is perfect for solo travelers who want to meet other travelers in Cancun.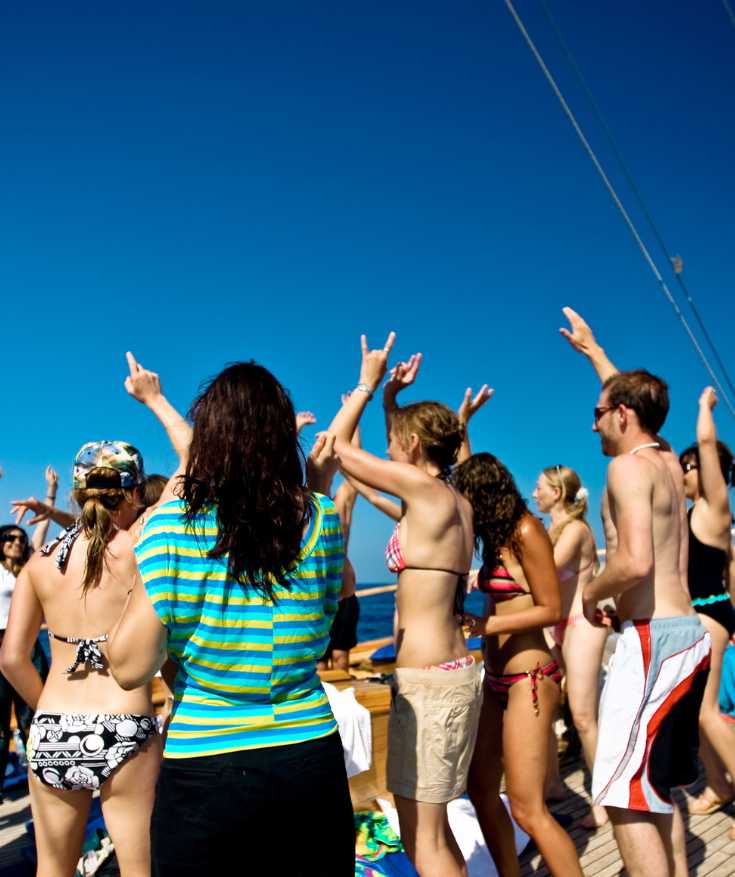 You can soak up the sun on the deck during your voyage or take a dip in the sea from the back of the boat. There will be DJs spinning all day long, BBQing on board, and lots of drinks (both alcoholic and non-alcoholic).
There are also plenty of activities, like kayaking and snorkeling. You can also combine your Cancun boat tours with swimming with dolphins!
#14: Snorkeling and dancing catamaran cruise with lunch
⏰ 8 hours
💲 from $67 USD
This snorkeling and dancing catamaran cruise with lunch is one of the best ways to meet other travelers, especially if traveling solo.
On this Cancun boat tours, you'll experience an exciting day on the water, swimming in the crystal-clear waters of the Caribbean and getting up close to some of the most spectacular marine life in Mexico.
You will explore beautiful coral reefs with vibrant marine life, including colorful tropical fish and sea turtles. You might spot a playful dolphin or two if it's a good day!
You'll also be treated to an incredible sunset party featuring live music from DJs and performers from around Cancun!
The tour includes snorkeling gear and access to our catamaran deck, where you can chill out after a fun day in the sun. After your cruise, you'll have time to enjoy dinner at one of Cancun's delicious restaurants before returning home.
At night, things get even more exciting with the beachside dance party! Here, you'll be able to listen and dance to live music from local DJs and performers across Cancun.
🛳️ Cancun boat tours with kids
#15: Pirate show and dinner Cruise
⏰ 3 hours
💲 from $38 USD
On this pirate show and dinner cruise, you will get on a replica pirate ship, complete with canons and other decorations that give it an authentic feel.
Once aboard, you can expect to be entertained with music, dancing, and other live entertainment from the Captain Hook Pirate Show.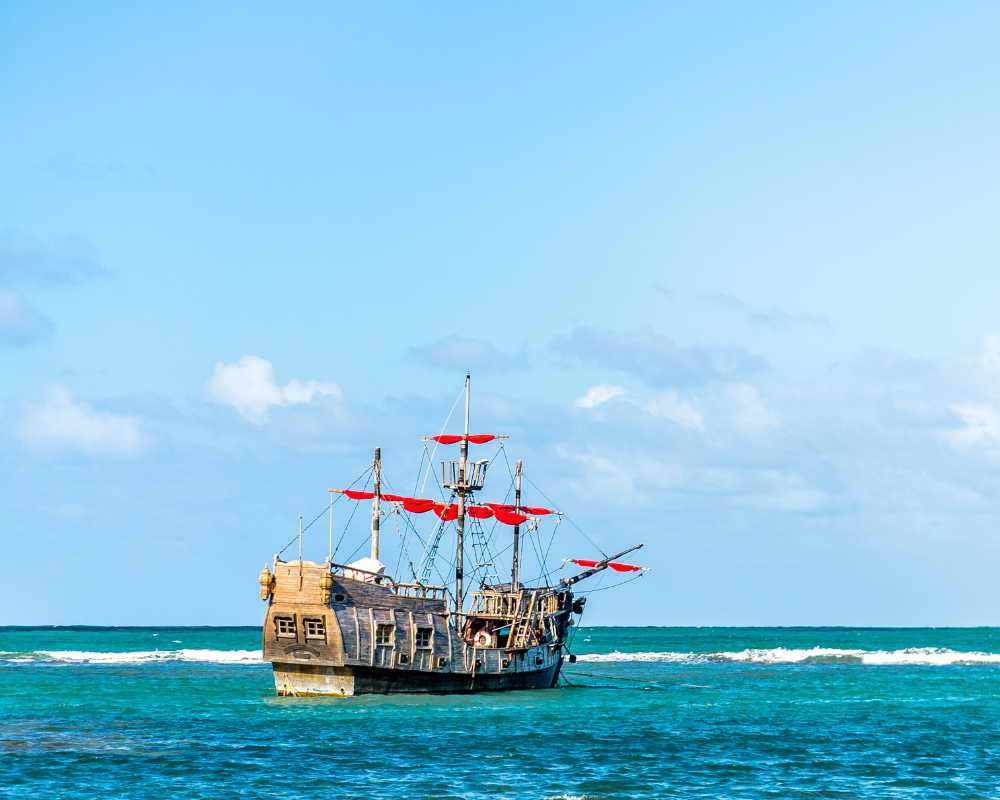 You will have traditional Mexican cuisine from an onboard buffet during the show. After dinner, guests can enjoy a night-time swim in the Caribbean before returning to shore.
The tour also offers visits to some of the area's most picturesque spots, including Isla Mujeres and El Meco Archaeological Site, for those who wish to learn more about the region's history and culture.
#16: Jetski and parasailing experience
⏰ 3 hours
💲 from $38 USD
Explore the Caribbean Sea and Isla Mujeres on a jet ski and parasail above it for stunning views. This exciting tour includes round-trip transportation from your hotel or cruise port to the marina.
At the marina, you'll receive safety instructions and training from certified guides before taking off on your jet ski. Then, you can drive your jet ski over crystal-clear waters at 50 Km/hour speeds.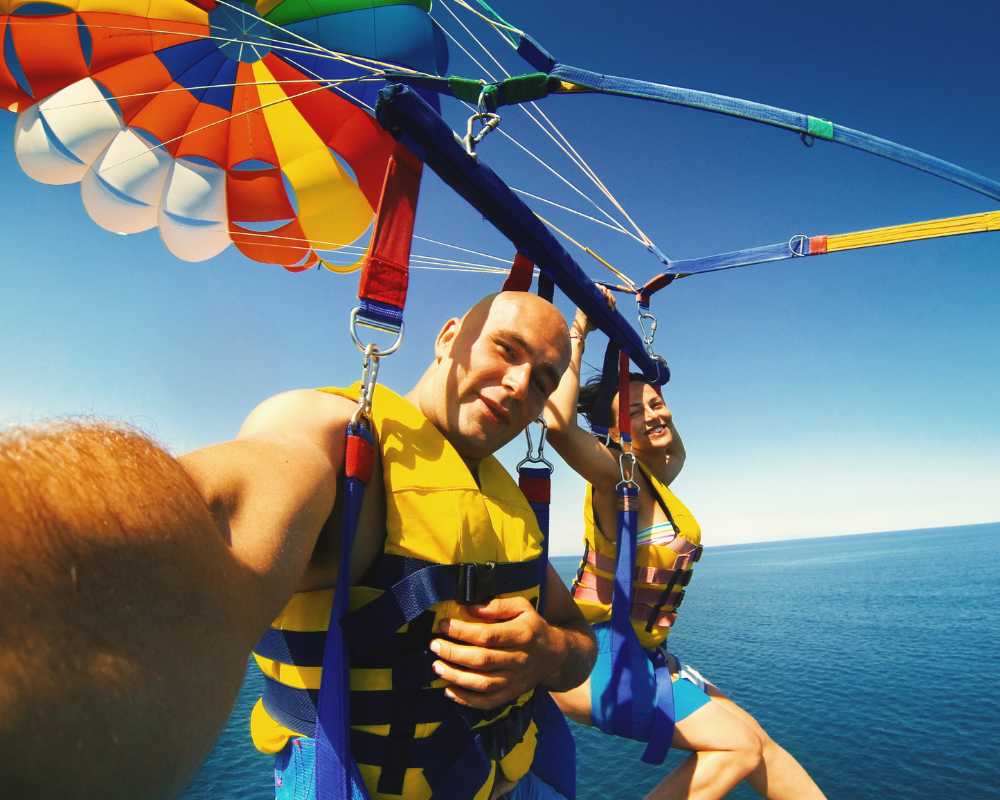 You can also enjoy parasailing for 15 minutes in the open air above the sea to get a bird's eye view of Cancun's beaches and reefs.
Afterward, you can relax as you return by boat to the marina, where your transport will be waiting to take you back to your hotel or cruise port.
⚓ Private Cancun boat tours
#17: Private 46 ft yacht rental
⏰ 2-6 hours
💲 from $560 USD per group
⚓ 15 people (max)
You will cruise along the stunning coastline for breathtaking views, visit Cozumel to explore its beautiful coral reefs, or take a relaxing dip in one of the many secluded coves.
With a capacity of up to 15 passengers, your party can enjoy sunbathing on the deck or enjoying drinks from the bar while admiring panoramic views of Cancun's shoreline and turquoise waters.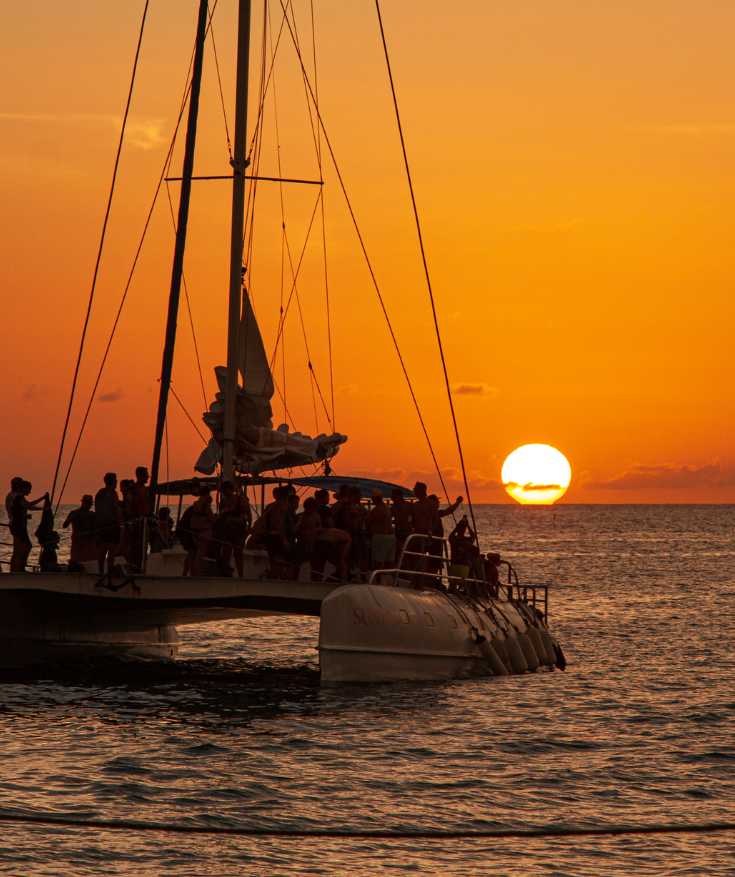 Complimentary snacks, beverages, and top-quality amenities will be available throughout your journey. Experience snorkeling and diving in some of the most vibrant reefs in Mexico with knowledgeable guides who can provide insight into the area's diverse marine life.
Discover hidden coves for dolphins and turtles, or sit back on deck and soak in stunning sunsets as you glide through calm waters.
#18: Private cruise to Isla Mujeres
⏰ 2-7 hours
💲 from $570 USD per group
⚓ 9 people (max)
This private cruise to Isla Mujeres can host up to 9 people to enjoy Cancun's natural beauty, so it's perfect for a group of friends or family.
You will go on board a comfortable modern catamaran equipped with shaded seating areas and bathrooms. You will be accompanied by an experienced captain who will tell you about Cancun's history and natural resources as you sail along its coastline.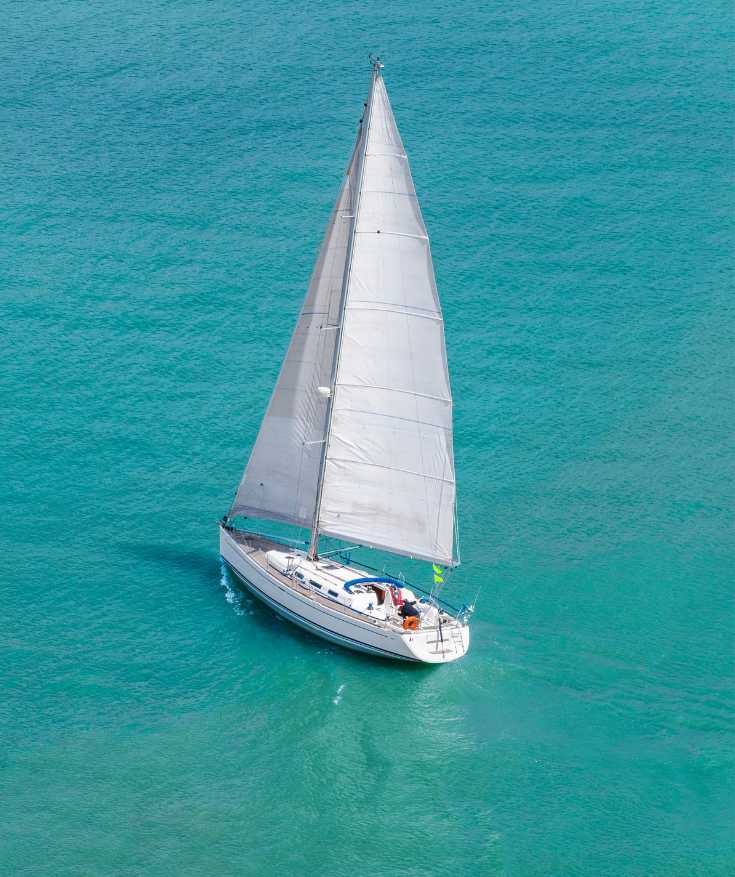 The tour also includes snorkel gear to explore Cancun's shallow reefs full of vibrant coral and tropical fish.
You'll have plenty of time to relax on the catamaran and grab drinks from the open bar stocked with beer, soft drinks, water, and other refreshments.