Why is Cabo expensive? I also asked the same thing when I decided to live here. However, the cost of traveling in Cabo vs. the cost of living in Cabo is different, and in this post, I will share everything you need to know to plan your Cabo travel budget.
Simple answer: this is an American's favorite destination. There are many direct flights coming from the USA. Almost all major airports in the US fly straight to Cabo!
Tourists who travel to Cabo only stay for a weekend. Honestly, it's still cheaper than most US cities but I feel like it's slowly becoming similar to the prices in Los Angeles, CA.
Look, Cabo is expensive by Mexican standards. If you are living in New York, LA, or San Francisco, you'll still find Cabo cheaper.
'Expensive' is also subjective and personal because you'll definitely get what you pay for in Cabo. Beaches and nature surround us. From living in many places, these things come with a price.
You can eat quality street tacos for US$1, then stay in an all-inclusive hotel for US$500 the next. It really depends on your travel style and what you want to do during your vacation.
Plan your trip to Mexico with us! Get expert travel advice and customized trip-planning itinerary from our local experts on the ground.
💵 Can you use US dollars in Cabo?
ABSOLUTELY! When I first moved here, I felt like I am in a completely different country. Coming from mainland Mexico, I've never seen restaurant menus or tour prices that are written in US dollars.
In Cabo, everything is in US dollars; even locals use it in the busses or supermarkets. I was amazed and shocked, but I still use the Mexican peso in Cabo.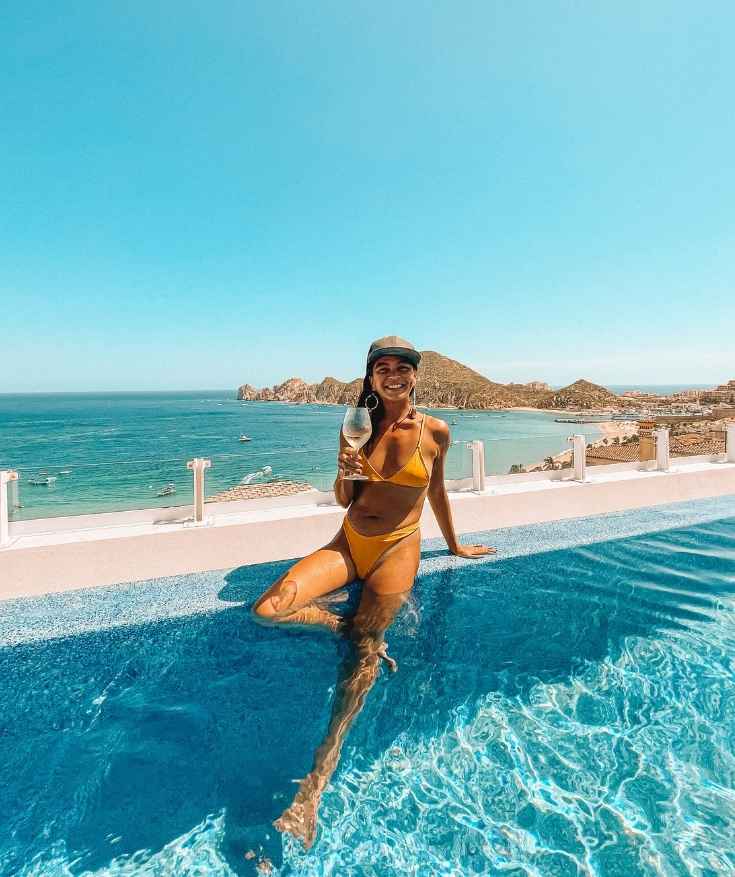 There are many USD ATMs in all corners of Cabo San Lucas. All-inclusive resorts also have their own machines. Withdrawing cash here is not as difficult as the small towns in the south.
You won't have to worry about it! However, please know that if you use US dollars in Cabo, the conversion rate is lower. If the current conversion rate is 20 Mexican pesos per USD, they will only exchange 17 pesos per USD if you choose to pay this way.
🤑 Is Cabo more expensive than Cancun?
The costs in Cabo are about the same as Cancun however, it varies. Food in Cancun is more expensive than Cabo. You can eat out in Cabo for US$7.50 while in Cancun, it's US$12.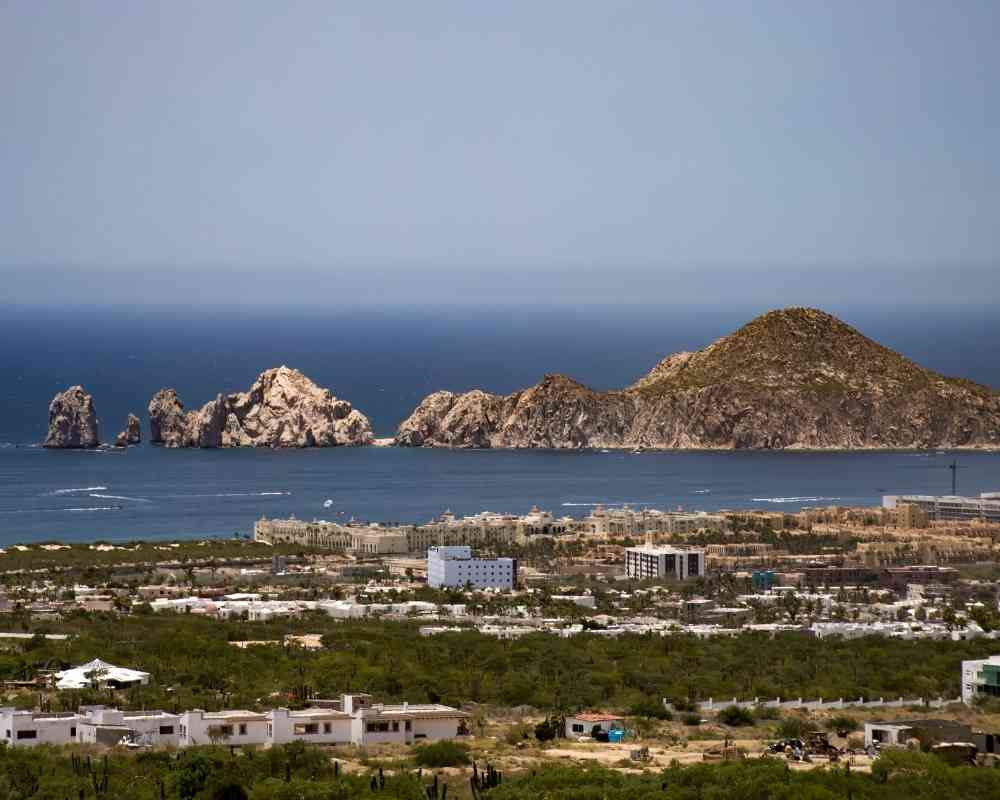 Since the spending is about the same, tourists often opt to vacation in Cabo because the flights are shorter. As you know, Cabo is in the north of Mexico and super close to California while Cancun is in the far south of the country.
I see very little difference with the flight prices from the US (to both Cabo and Cancun) but the flight time to Cabo is shorter.
💰 How much money do you need for Cabo?
I honestly can't say anything about this because your budget for traveling to Cabo is up to you. However, my only piece of advice is that you only need to worry about accommodation expenses.
It doesn't matter if you are a budget traveler, a honeymooner, or traveling with family. You will pay the same for food and tours. When it comes to accommodation options, this is where we all differ.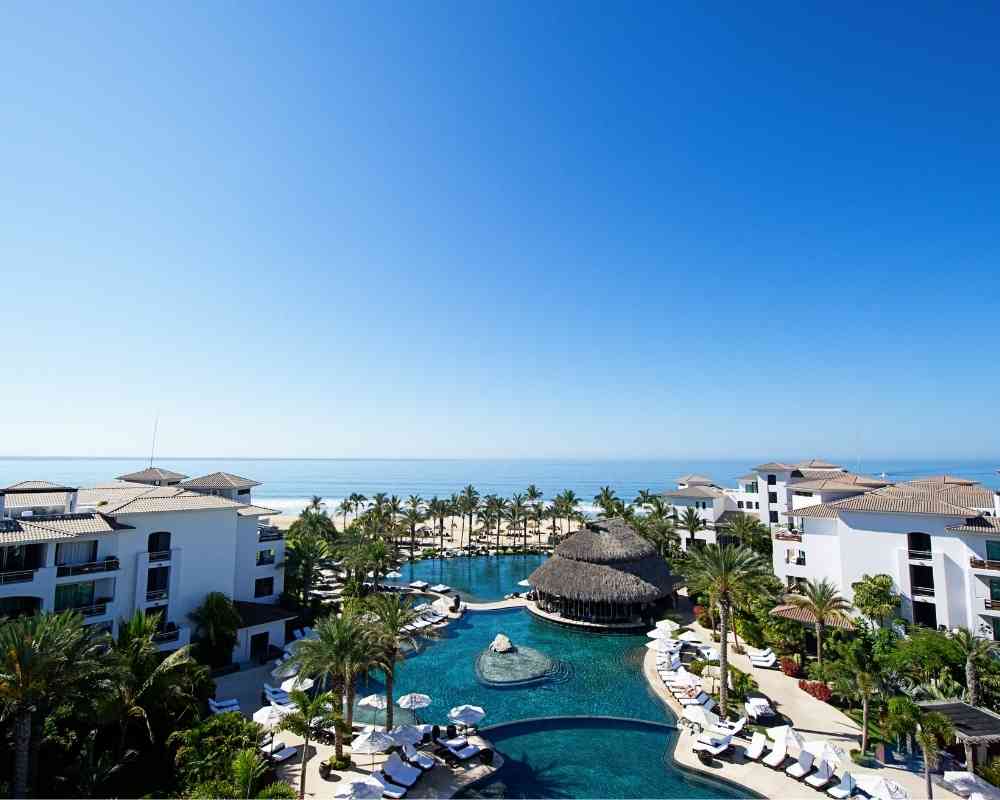 In this post, I will also share the different price points of accommodations and what you will get for every accommodation type. To give you a gist, all-inclusive resorts in Cabo start at US$585 (2 people), hotels are at US$108 (2 people) and hostel dorms are at US$19 per person.
Overall, how much money you need for Cabo will depend on the accommodation that you will choose. For food, expect to pay US$15 – US$25 per meal in restaurants. A street taco is US$1 and the tours start from US$25.
☀️ When is the best time to visit Cabo?
Personally, Cabo is good for me all year round. I didn't see a lot of difference between the low and high seasons here. I feel like Americans always go here no matter what!
But anyway, let's talk about some facts. It may be a favorite destination for many Americans but June to October is extremely hot here.
It's not hot for me since I live here but for many of my American and European friends, they hate coming to Mexico during the summer! The only good thing about visiting in the summer is that everything is cheaper than usual.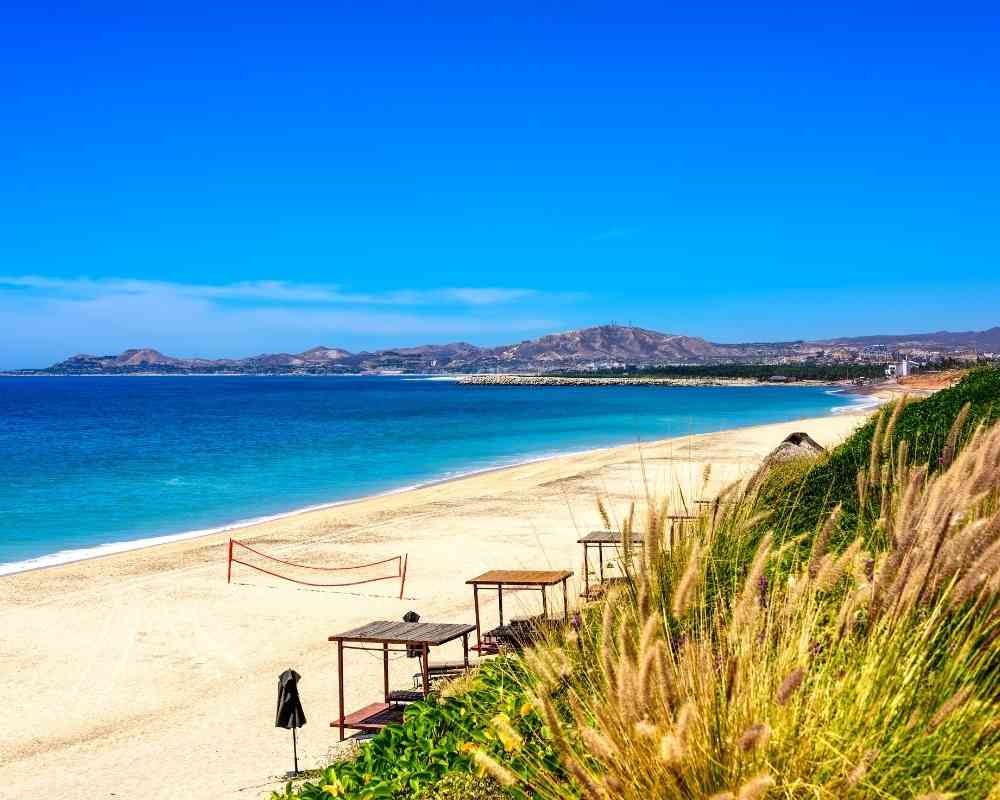 The high season is from November to May when we experience great weather and the sun is always out. Cabo is a famous destination for big American holidays like Thanksgiving.
These months won't be hot for you, I promise! It's actually cold for me so I wear a jacket and pants during the evening. December, January, and February have chilly nights so bring a jacket just in case!
💸 Is Cabo expensive? Let's discuss the prices
🛏️ Accommodation costs in Cabo
Hotel prices in Cabo can range from US$30 to US$500 per night. It really depends on where you want to stay so I am going to discuss them one by one.
For all-inclusive resorts, they are usually in the San Jose del Cabo (SJC) area about 30 minutes via Uber to Cabo San Lucas (CSL). Many vacationers opt for this type of accommodation. Not to mention that SJC is also super close to the airport.
However, if you want to enjoy and experience the Cabo nightlife, you have to go to Cabo San Lucas. Uber works and you only pay US$10-US$15 per ride.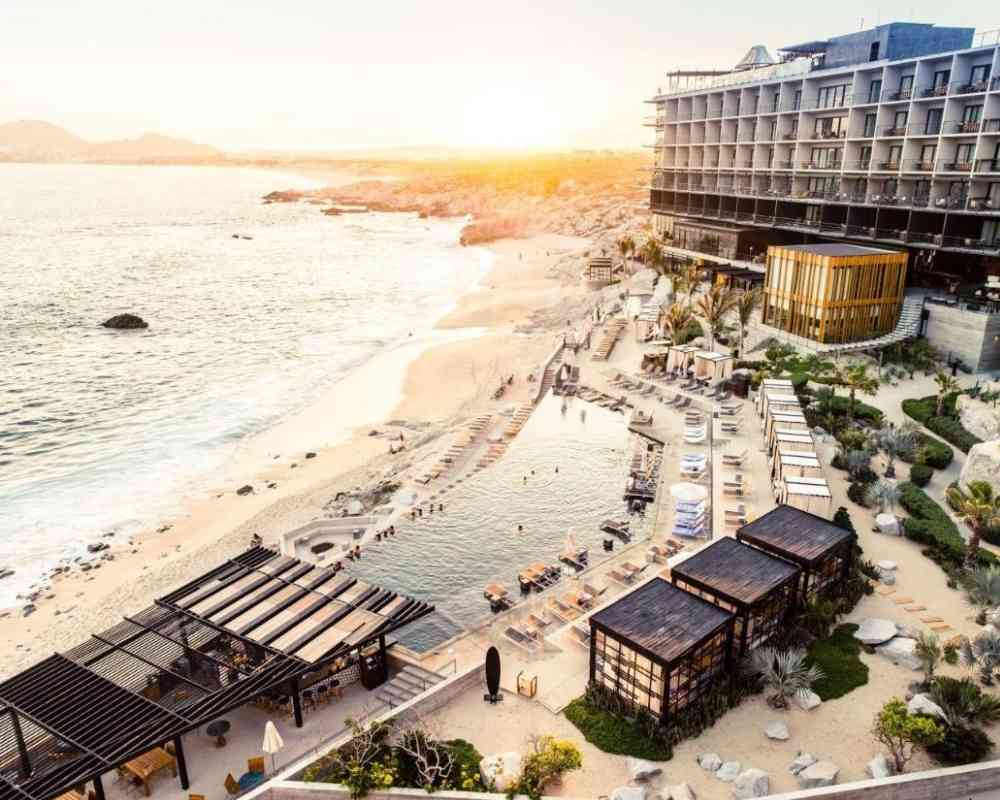 Unfortunately, if you choose to stay in San Jose del Cabo, the nightlife and activities are very minimal. SJC is also not as walkable as CSL. You need a car to get around the town of SJC. The layout is very different.
San Jose del Cabo is home to the resorts. If you are traveling with family, it's way easier to opt for an all-inclusive. I have a lot of clients who hire me to arrange their trips to Mexico because they don't want to be the leader of the band organizing everything!
There are also a few resorts in Cabo San Lucas that are located in the marina so I will share each location of the recommended all-inclusive resorts here. The only difference is that resorts in SJC have their own beaches while in CSL, not all of them have it.
To give you an idea of the all-inclusive prices, here are some of the resorts I have experience in. Please note that the prices below are for the high season.
Hacienda Encantada: from US$549 per night (3 people)
👉🏽 Check prices at Hacienda Encantada
Hacienda Encantada has the option for an a la carte. You don't have to avail the of all-inclusive access. After all, this is in Cabo San Lucas and is only a 10-minute drive to the city center. They also have hourly shuttles that go downtown for free.
This is a good option if you want to stay in an all-inclusive but still see downtown. Hacienda Encantada has its own beach view where you can see the famous arch of Los Cabos.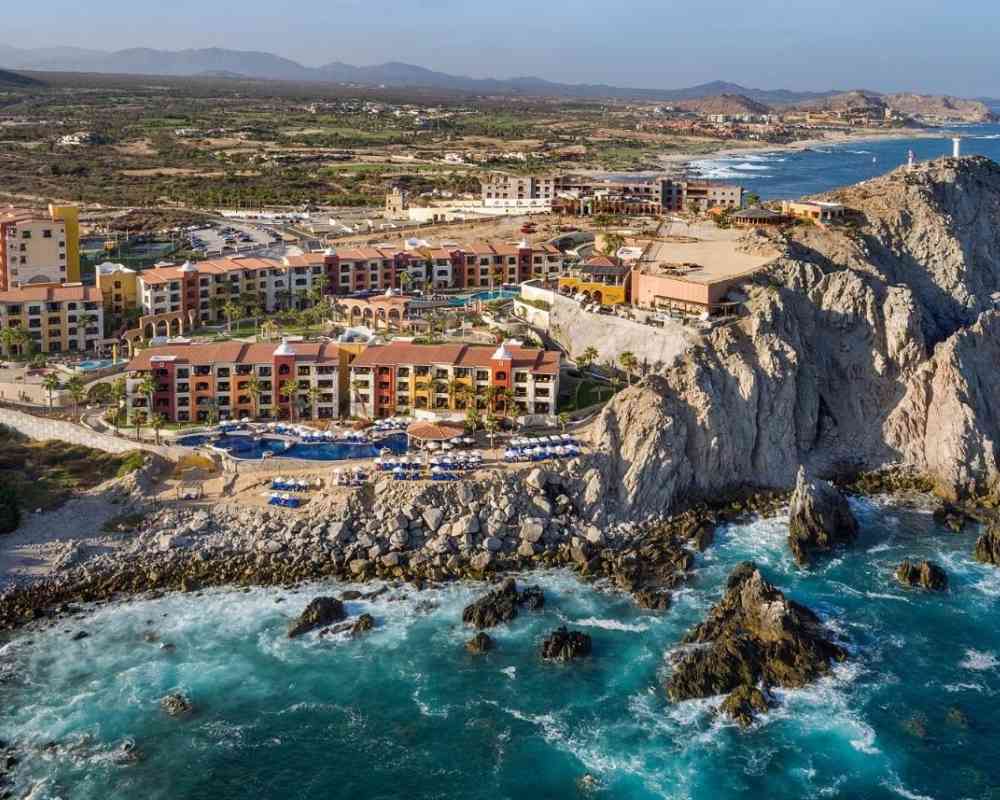 A Master Suite for 3 starts at US$549 per night for an all-inclusive stay. This accommodation only has 1 king bed and 1 sofa bed so this is a great price for a family of 3.
A basic room for 3 that is also all-inclusive starts at US$336 per night. This is the room without the ocean view and is a very basic hotel room but has 1 king bed and 1 queen bed.
Another bonus that I like about staying in Hacienda Encantada is that you can also get free meals in the restaurants they own in the Marina! They have a full list and you can access all of them for free!
Hotel Tesoro Los Cabos: from US$585 per night (2 people)
👉🏽 Check prices at Hotel Tesoro Los Cabos
This hotel is right by the Marina Cabo San Lucas so if you stay here, you will be super close to the center – no need to take an Uber! The Marina is the most famous landmark in Cabo San Lucas where all the bars, restaurants, and nightclubs are.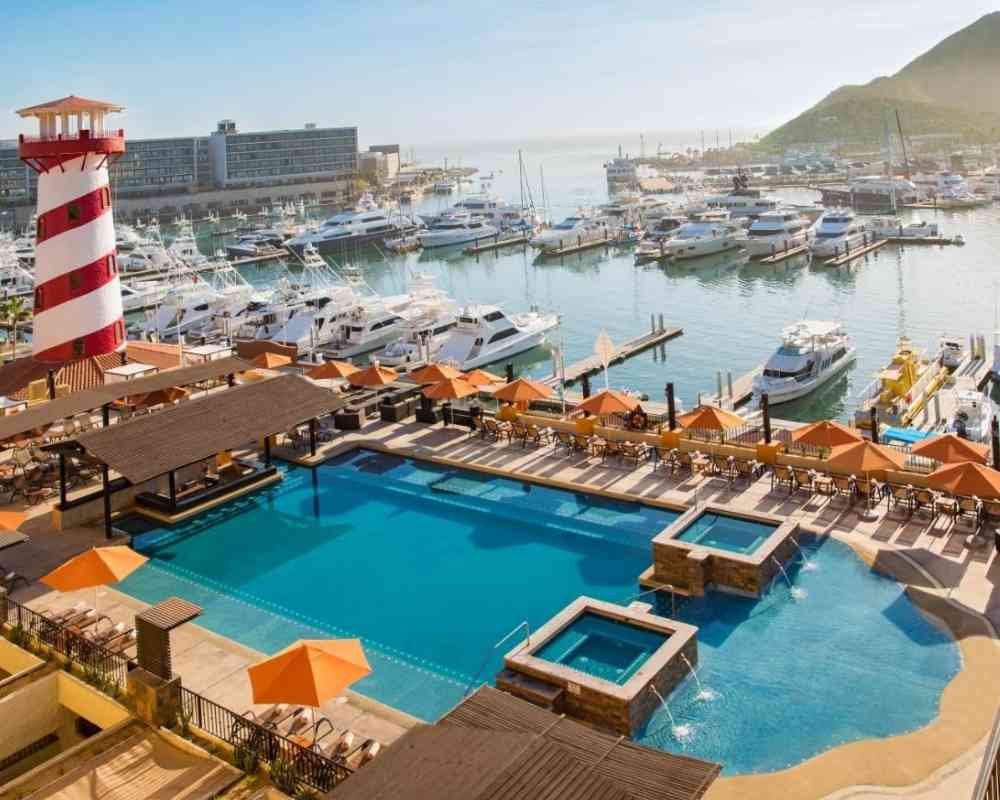 The all-inclusive rate at Hotel Tesoro Los Cabos is higher than Hacienda Encantada but take note that you are also paying for accessibility here. When you stay in this hotel, you can walk everywhere!
A room for two that has the marina view starts at US$585 per night (all-inclusive). This resort also has a pool that is overlooking the marina. It's one of the best spots in town!
Studio at Marina Los Cabos: from US$108 per night (4 people)
👉🏽 Check prices at Studio at Marina Los Cabos
Now this one is for those who are traveling Cabo on a budget but still want to have the best location. This condo is right in the Marina (like Tesoro) but it's only studio space good for two people.
If you ask me, this one is the best in value. I stayed here for a month and the owner gave me a discount! This studio has 2 full king beds and they said it can house 4-5 people.
Honestly, there's only one bedroom so even if there are 2 king beds, I wouldn't really stay here with 4 people. 2 is enough. However, if your group is really on a budget and opts to spend money on other things. this is a great option for you!
Hotel Los Patios: from US$54 per night (2 people)
👉🏽 Check prices at Hotel Los Patios
Okay, do not be shocked. US$54 for 2 people seems to be really cheap for Cabo but if you know where to look, you can definitely travel here for cheap. You just need to know the right contacts!
Hotel Los Patios is super famous for budget travelers because it's right in the heart of Cabo San Lucas and it has a pool, too! This is most popular with travelers who are always out and about and are only in the accommodation for sleeping.
It's actually very decent and highly rated for this price. Whenever friends visit me in Cabo, I don't really host them in my house because I work at home – it's hard for me to host even friends!
I always send them to Hotel Los Patios because it's cheap and really amazing for what it is.
Super-saver for backpackers: from US$19 per person
Now I also have friends who are traveling by themselves. These are not vacationers or short-term travelers. As a digital nomad, I meet a lot of people who ask me if it's possible to stay in Cabo San Lucas on a budget. Nobody believes it is!
There are a lot of decent hostels in Cabo San Lucas for solo travelers. My favorite is Cabo Inn. I stayed here for a week and actually ended up moving to the apartment in front of it because I was looking for a long-term.
Cabo Inn is also just a 3-minute walk to the marina! There are dorms in Cabo Inn but they are popular for their cheap private rooms at US$40 per night.
Sofia Hostel is also popular with backpackers. A bed in an 8-person dorm costs US$19 per night. These dorms are super nice and are very private.
Young people love this type of accommodation where there are many opportunities to meet other people. Unfortunately, these are the only cheap accommodations in Cabo since budget travel is not really popular here (yet).
Food prices in Cabo
I love Cabo's food scene! It's one of the best in Mexico! Of course, I go to the supermarkets because I live here but I also eat out at least twice a week.
I had this goal of trying all the restaurants in Cabo but it will take me a year for sure. There's a lot! To give you an idea of the food prices in Cabo, below are ideas:
Restaurant prices in Cabo
The average cost per meal in Cabo is around US$15 – US$25. I love eating steaks so a great steak in Cabo (USDA approved) is about US$35 – US$50.
For popular Mexican seafood dishes like ceviche and tostadas, you can get them for US$12 in a beach bar but some restaurants sell them for US$20. Another favorite is fresh oysters which are priced at US$1- US$2 per piece.
Street food and taco prices in Cabo
To be honest, Cabo is not very big on street food. The taquerias are actual restaurants, not like the normal food stands you see in Mexico City.
A taco in Cabo costs US$2 per piece. Lazaro Cardenas is the street where you will find all the best taquerias in Cabo. I don't have a favorite in that street but I love going for birria tacos at Los Paisas (in front of Cabo Land).
Beer prices in Cabo
Some days, you just want to lay on the beach without going to a beach club. What you need to do is simply buy a 6-pack beer at the Oxxo which costs US$6 (Corona, Pacifico, Victoria or similar).
If you order a beer at a beach bar, it costs US$4 per bottle. In super local places that are not on the beach, a bottle beer is half the price (US$2).
Alcohol prices in Cabo
A glass of wine in a beach bar (beach front with view) is around US$5 and this is the cheapest. For wine, really, expect to pay US$10 per glass and about US$50 per bottle.
I know you all love tequila when going to Cabo. Your favorite Don Julio at a bar costs US$7 per shot and it's not very strong so most people I know take double shots.
Transportation costs in Cabo
Uber is widely used in Cabo. If you are staying in San Jose del Cabo, you can go to Cabo San Lucas downtown for US$15 – US$25 (one-way). The busses are less than US$5 per ride and cost US$4 to go all the way to the airport (1.5h ride from downtown Cabo San Lucas.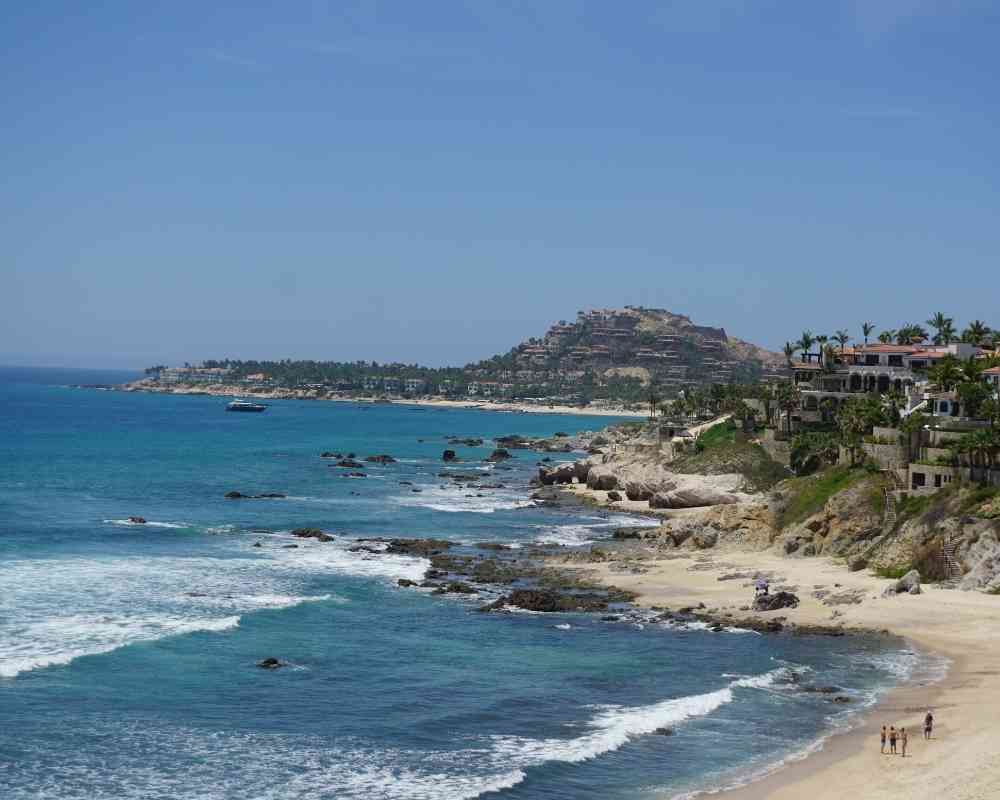 We also have a pedicab in Cabo which is a tourist trap since they cost more than the Uber. But foreigners and tourists like to take it for the experience. It could be a great way to see the city.
Tour prices in Cabo
Now, for the tours, it really varies. The most popular tour in Cabo are those that involved water activities. A private catamaran for 3 hours can fit 14 people and costs US$1,500.
If you want to do an ATV tour in the desert, the price is US$130 per person. Some cruises that include snorkelling and lunch costs US$89 per person. The famous camel ride is at US$95 per person.
As for tours to the arch, a glass-bottom boat costs US$35. For those who want to parasail, it's US$60 per person. There are many things to do in Cabo and you can check that in my other Cabo posts where I also included the prices.
Flight prices to Cabo
The average flight price from the US to Cabo is US$300 but it depends on the season. Last month, I was trying to book a flight from Houston to Cabo (a week before Thanksgiving) and it was US$500 one-way!
It still depends where you are from but the following cities have direct flights from the US to Los Cabos:
Atlanta via Delta Airlines (3h 42m)
Dallas via Delta Airlines (2h 51m)
Denver via Frontier Airlines (3h 31m)
Houston via United Airlines and Spirit Airlines (2h 58m)
Las Vegas via Frontier Airlines (4h 28m)
Los Angeles via Alaska Airlines, Spirit Airlines, Delta Airlines, and American Airlines (2h 28m)
New York City via American Airlines, United Airlines, and JetBlue Airways (5h 21m)
Minneapolis via Sun Country Airlines (4h 29m)
Phoenix via American Airlines (2h 11m)
Salt Lake City via Delta Airlines (3h 06m)
Seattle via Alaska Airlines (4h 38m)
💲 Cabo money and costs
Currency, budget, cash, etc
The currency in Mexico is called the Mexican peso. To date, US$1 is equivalent to $20 MXN.
Please note that Mexico also uses the dollar sign for their peso so when you look at prices in Cabo, they always put "US" at the end.
💰 Money exchange in Cabo San Lucas
Cabo uses USD so you don't have to exchange money for Mexican pesos. But if you feel like your USD will go a longer way when exchange in USD (it really does) you can exchange money at Los Cabos International Airport upon arrival.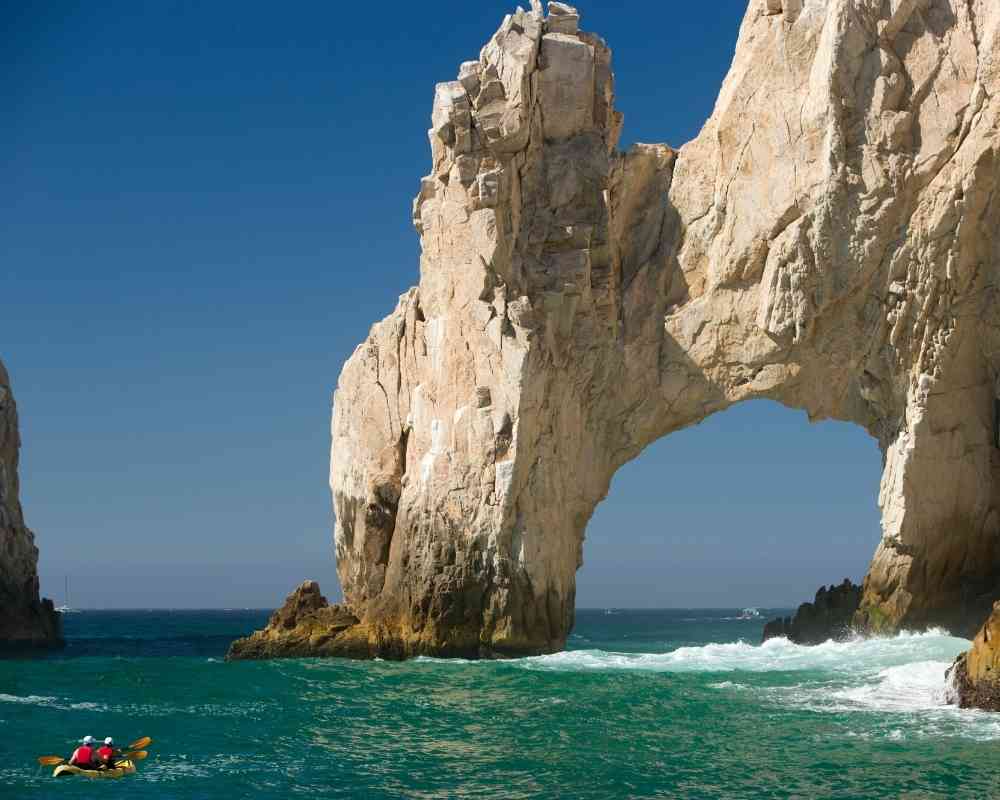 If you want to physically exchange USD in Cabo (to peso), you can go to Sterling Money Exchange in Plaza Gali and San Jorge Casa de Cambio which has many branches in Cabo.
Many friends of mine prefer to exchange in actual banks but the lines are super long and the rates are so low. Believe me, I have 3 banks in Mexico and it's always a lot of work to do bank errands! Mexican banks are not so efficient.
🏧 ATM withdrawals in Cabo
There are many USD ATMs in town and you can also take out in Mexican peso using your debit card. The usual withdrawal fee is US$5 but it depends on your bank.
This is super crazy but withdrawal fees in all airports in Mexico (even if the bank is the same as downtown) costs double! Don't withdraw at the airport if you don't want to be charged double (unless you really have to).
The USD ATM machines in Cabo are in every corner and they're literally just machines. My brother visiting me from Sacramento found it so sketchy to withdraw USD in a freaking machine in the middle of the street but I told him it's safe and it's the Mexican way.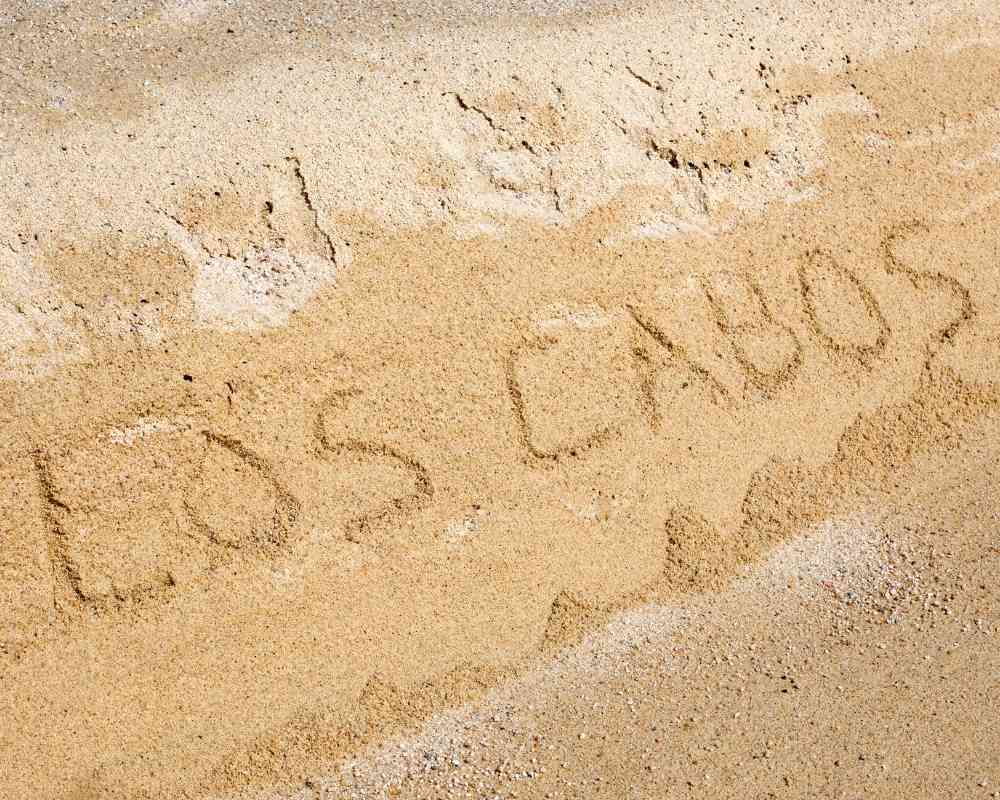 If you want to withdraw from a real Mexican bank, they don't dispense USD. They don't even dispense USD for USD account holders like me.
I always need to go to the counter to withdraw USD in BBVA and Banorte. Mexico has a difficult banking system but I live here so I need to adapt.
These Mexican banks will dispense Mexican peso and the best ones are BBVA, Banorte, HSBC, and Santander. You will easily spot them all over town.
💳 Credit/debit cards
Credit and debit cards are accepted everywhere in Cabo. Even the taco restaurants accept them so don't worry. They will always ask you if you want to be charged in MXN or USD.
I always put the local currency for my US credit card since it has better rates and conversions. In Mexico, they will also ask you if you want to use the "tap" option but I still go old school and use the 'insert card' option.
I've had very bad experiences with tapping (my card number was stolen and was used without asking for a passcode) so since then, I avoid using tap and asked my bank to deactivate it.
💵 Tipping in Cabo
If you didn't like the service, 15% will do but if you liked the service, you can tip up to 25%. Honestly, service in Cabo is top class. You'll never see anything like it in Mexico.
The servers are well-trained and even with that training, they are still paid a crazy low US$7 per day salary. Their livelihood is very dependent on tips!
🇲🇽 Cabo Travel Guide
Trisha traveled to Mexico in 2018 and after a year, she found herself obtaining a 4-year residency visa in Mexico. She is the Editor-in-chief for our Living in Mexico Series which has helped over 3,000 Americans move to Mexico with ease. Trisha currently resides in Cabo San Lucas, Baja California Sur.