Is Oaxaca worth visiting? Should you go to Oaxaca City instead of Mexico City? Here are 16 reasons to visit Oaxaca City on your next trip to Mexico.
Welcome to one of our favorite cities in Mexico! Oaxaca is a vibrant and culturally rich city in the southern region of Mexico, known for its stunning colonial architecture, rich indigenous heritage, and delicious cuisine.
Oaxaca is also home to many fascinating museums, galleries, historical sites, and a thriving arts and crafts scene, making it a great destination for history and culture enthusiasts.
👉🏽 See also: The first-timers guide to Oaxaca City
The surrounding area offers outdoor activities like hiking, exploring the nearby ruins, and visiting local villages to learn about the region's traditions and customs. If you're looking for an authentic Mexican experience that goes beyond the typical tourist destinations, Oaxaca is a great choice.
Here are some reasons to visit Oaxaca City, and if you need more, check our Oaxaca City articles to see if this is the right destination for you.
Quick links: reasons to visit Oaxaca City
🙋 Is Oaxaca worth visiting?
As one of the most diverse cities in all of Mexico, Oaxaca is definitely worth visiting! Located in Southern Mexico, Oaxaca is a vibrant and culturally vibrant city home to various attractions.
Travelers can stroll around the city, taking in the colonial architecture, visit the bustling markets to sample local delicacies, or explore the numerous museums and cultural centers that showcase the region's rich heritage.
But, if you were to ask locals and travelers, one of the biggest draws of Oaxaca is its cuisine, renowned throughout Mexico and beyond. From traditional street food to fine dining restaurants, Oaxaca offers a range of delicious food options.
On top of that, the city is also home to a rich cultural heritage reflected in festivals, traditions, and indigenous communities. You can even experience these celebrations and practices of the Zapotec and Mixtec people while they explore the city of Oaxaca.
Overall, Oaxaca is a city that offers almost everything you'd want to see in a town. Oaxaca City is a must-visit destination of its rich history and culture to its incredible food and beautiful scenery.
🎉 Is Oaxaca very touristy?
On average days, Oaxaca City is less touristy than other Mexican destinations. However, during the high season from June to August and the holiday season (November to early January), many tourists flock to the city to celebrate events and see tourist spots in the area.
The city of Oaxaca is particularly popular with tourists who visit its historic center. So expect the downtown and streets of Oaxaca to get crowded during this time of the year.
Moreover, the city is also known for its festivals and celebrations, including the Day of the Dead, which attracts visitors worldwide.
There are many neighboring spots outside the city, like Monte Albán and Mitla and the Hierve el Agua waterfalls, that travelers visit with Oaxaca as their starting point. And while Oaxaca might not be as touristy as other Mexican tourist destinations, you'll still need to be ready with high travel costs (accommodation, flight tickets, etc.) during the peak season.
🎊 What is so special about Oaxaca?
Oaxaca City is well-known for its world-class gastronomy, gorgeous architecture, and abundant natural beauty.
The city takes pride in its art scene. Oaxaca has colorful streets, bright buildings, intricate mosaics, and traditional street art. It is also home to many galleries and museums that showcase the region's art and cultural heritage.
All these makeup for why it is hailed as one of Oaxaca's most popular things to do to walk around and explore the center.
Another reason why Oaxaca is unique is because of its rich history and indigenous roots. The city is surrounded by several ancient ruins and artifacts, including the Zapotec ruins of Monte Alban, which date back over 2,000 years.
Meanwhile, what sets Oaxaca City apart from other Mexican cities is the cultural traditions that have been kept for a long time. With many solid indigenous communities, you can learn about the city's rich history through the region's art, music, dance, and festivals.
And, of course, the city is also renowned for its diverse Oaxacan cuisine, featuring an array of traditional dishes like mole negro, tlayudas, and chapulines (grasshoppers). All these make Oaxaca a special place to visit.
✅ 16 reasons to visit Oaxaca City
#1: The colorful streets
Oaxaca has been a favorite among travelers because of its colorful streets filled with vibrant buildings and wall art murals. Every street and alleyway in Oaxaca is bursting with life and color, where buildings are adorned with intricate designs and vibrant hues.
Because of this, it is a favorite activity in Oaxaca to stroll sound the center on a bike or maybe join a walking tour around the city. This way, you get a glimpse of almost all corners of Oaxaca.
When looking for street art in Oaxaca, you should not be visiting the actual historic city center of the city; instead, check out Jose Lopez Alvarez, where you'll find an array of colorful street art.
Continue your journey and visit Aldama Street, where you'll find the earthquake memorial and some magic mushroom art. But don't stop there! A visit to the famous Berriozabal Street is a must, as this is where the memorial for the missing 43 students is.
#2: Oaxaca food is the best in the world
Regarding food, Oaxaca City is hailed as Mexico's culinary gem. And while many would say that there is a lot of good food around the country, a few originated from the Oaxacan Cuisine.
Oaxaca food is the best because of its flavors, fresh ingredients, and centuries-old cooking techniques used in creating the dishes. Plus, unlike anything else, they use diverse ingredients like cactus paddles, fried grasshopper, herbs, and spices.
If you've ever heard of the famous Mexican Mole, they originated from Oaxaca and even created a few varieties from which locals and visitors can choose.
Among their best street food are Tlayudas, Mexican-styled pizza, and memelas, made using a thick, round corn tortilla from freshly ground masa or corn dough. You should also try the chapulines (roasted grasshoppers), a popular street food in Oaxaca.
#3: Oaxaca is cheaper than other Mexican destinations
Compared to other major tourist sites in Mexico, Oaxaca is considered a relatively inexpensive city.
Oaxaca is cheaper than other Mexican destinations because it is less heavily marketed to international tourists. And while it is still a popular destination, it has a different level of tourism infrastructure and commercialization than other destinations.
This means that travel costs tend to be lower in Oaxaca. For instance, Oaxaca's food, transportation, and hotel cost is typically lower than famous tourist destinations like Mexico City.
For example, hostels around Oaxaca cost around $10 USD, while Mexico City costs around $17 USD. At the same time, the average meal in a cheap restaurant may cost about $5 USD in Oaxaca, while it will cost you $8 USD in Mexico City.
So, if you are looking for places to visit in Mexico that will not blow your budget, Oaxaca is the place to stay. It is a budget-friendly destination compared to other cities in Mexico!
#4: There are many art museums in Oaxaca
Oaxaca has become an art hotspot with several galleries and museums in the city. And with its rich cultural heritage and abundance of talented artists, the city has been a haven for many art lovers and enthusiasts.
One of Oaxaca's most famous art museums is the Museum of Contemporary Art. It showcases an impressive collection of contemporary art pieces from Mexican and international artists.
Meanwhile, you may want to check out cultural museums in Oaxaca. In that case, visiting the Santo Domingo Cultural Center, which houses several museums, including the Museum of Oaxacan Cultures and the Regional Museum of Oaxaca, is a must.
Another notable museum in the city is the Rufino Tamayo Museum, which houses an impressive collection of the famous Mexican artist Tamayo, including iconic paintings and sculptures.
These are just a few museums you can visit in Oaxaca, especially if you stay for a few days. Ultimately, you can always check out other museums in the city, depending on what interests you.
#5: Too many colorful festivals and events
Many locals and travelers look forward to festivals and events held in Oaxaca. The city is known for its rich cultural heritage and traditions, shown through various festivals and events.
So, if you're looking for a destination that celebrates life to the fullest, Oaxaca City should be at the top of your list!
To give you an idea, one of the most anticipated festivals in Oaxaca is the Day of the Dead (Dia de Muertos), held every November 1 to 2. Unlike many present-day rituals around death, the Day of the Dead is not a sad funerary event.
Another notable festival in the city is the Guelaguetza. This takes place in July, celebrating the state's indigenous cultures and featuring music, dance, and traditional costumes.
Other festivals you can look forward to are the Noche de Rábanos or Night of the Radishes, which takes place on December 23. Meanwhile, Oaxaca has a festival celebrating the traditional Oaxacan beverage, tejate, during the Feria del Tejate.
Overall, you'll see lots of dancing, colorful costumes, gastronomic fairs, and music festivals during these celebrations.
#6: Day of the Dead in Oaxaca
The Day of the Dead, locally known as the Día de los Muertos, is a colorful celebration every November 1 to 2.
This holiday is a time to honor and remember loved ones who have passed away, and it is celebrated throughout Mexico and other parts of the world. And in Oaxaca, the Day of the Dead is one of the main reasons the city is such a popular destination for travelers.
During this annual event, the streets of Oaxaca come alive with music, laughter, and traditional foods as families and friends gather to pay homage to their ancestors.
Families and communities create altars, or ofrendas, to honor their loved ones who have passed away. These altars are typically adorned with flowers, candles, photographs, and other offerings, such as food and drink.
In addition to altars, locals prepare months ahead to develop comparsas (theatrical parades), celebrations in cemeteries, and live performances around the city.
One of the most famous processions in Oaxaca is the comparsa de Muertos or the procession of the dead. This procession features giant and colorful puppets that represent the spirits of the deceased, and it is a spectacular sight to behold.
And whether you're a local or a visitor, this celebration is an unforgettable event that showcases Oaxaca and Mexico's rich cultural heritage.
Knowing all that, Oaxaca can be pretty crowded during this time of the year. So it's best to plan ahead and book your accommodations as early as possible. The same goes for booking tours and reserving restaurants, especially if you want to lessen the hassle of waiting in line or commuting from one place to another.
#7: Oaxaca is for every type of traveler
Oaxaca City is a hub of diversity, offering everything for each type of traveler. It provides good cuisine and has many attractions, events, and activities linked to cultural heritage and traditions.
If you are a solo traveler looking for a place to explore alone, you must visit Oaxaca. Not only is it safe for solo travelers, but it is also an accessible city to explore, resulting in many international tourists and nomads visiting the city.
With this, you can quickly meet co-travelers along the way or even meet the friendly locals of Oaxaca. Meanwhile, for couples who are looking to celebrate their honeymoon or want to have a chill vacation together, Oaxaca is a destination that offers immersive activities and experiences.
You can hike to see the Hierve el Agua or visit the nearby town to do handicrafts together.
But that does not end there. Oaxaca City is also a famous family-friendly destination where you can book tours of different types — private day tours to see Hierve El Agua, Teotitlan del Valle, and much more!
#8: Oaxaca is kid-friendly
One of the reasons why families love visiting Oaxaca is because it is a kid-friendly destination! There are so many fun things to do in the city that more than three days might be needed for a family to tour the city and its neighboring towns.
First of all, Oaxaca is hailed as one of the safest places in Mexico, and accordingly, there is no drug-related crime in this part of the country. Thus, kids can enjoy a day roaming around with their parents without worrying about crime.
And since Oaxaca is a walkable city, the streets are safe for kids as only a few cars are plying the road.
Now if you are wondering what activities you can do in Oaxaca, you'll be surprised by how many attractions and things you can do in the city.
There's so much to see, from ruins and museums to parks, murals, and restaurants! And one of the best things to do in Oaxaca with your children is to visit the ruins of Monte Alban. You can book tour services or rent a car to drive there.
You can also visit and see all the 17 museums of Oaxaca. This is a great way to bond and, at the same time, learn about the cultural and historical heritage of Mexico.
#9: There are many great restaurants in Oaxaca
We cannot stress enough that Oaxaca City is a destination for all food lovers and enthusiasts. Not only is it home to many traditional Mexican cuisines, but it is also a food paradise with a rich culinary heritage and diverse food scene.
With this, the city is home to many great restaurants that offer a diverse range of traditional and modern dishes made with locally-sourced ingredients. From rooftop restaurants to upscale, local eateries, cafes, and market stalls, you'll find something that will fit your preference.
One of the few most notable restaurants in the city in the city is Casa Oaxaca. It is located in Oaxaca's historic center and is managed by Chef Alejandro Ruiz, recognized as one of Mexico's best chefs.
And because this restaurant is always fully booked, make sure to get a reservation in advance so you can get a table on their rooftop terrace where you can catch a great view of the Templo de Santo Domingo de Guzmán.
Meanwhile, if you're looking for something more local, check out Tejate at the Benito Juarez Market. They sell one of the best tejate, Oaxaca's traditional drink in town. Overall, you can check out many famous restaurants and food stalls in Oaxaca. You have to look for the best one based on your taste.
#10: Visit Oaxaca for the mezcal!
If you want to try authentic mezcal and plan a trip to Mexico, then it's another reason to visit Oaxaca City. The city is renowned for producing traditional mezcal, a Mexican spirit made from agave.
Oaxaca is home to hundreds of species of agave, which explains why mezcal production here is abundant. Plus, mezcal has a long history and deep cultural significance in the region.
When you visit Oaxaca, there are quite a few mezcal tours that you can join. One is going on a mezcal tour in a local palenque, where you'll learn more about the agave plants used in creating mezcal.
You can also visit a mezcal distillery where you'll see the whole process of mezcal production and, at the same time, try for yourself some of the different mezcal flavors. This does not take much of your time and is priced starting from $77 USD.
Aside from going on tours, you can taste mezcals in Oaxaca's local bars and restaurants. Usually, these drinks are available for a single serving, as they are best paired with the local Oaxacan dishes.
Meanwhile, if you're looking for a place to buy some mezcal to bring home, there are lots of them around the downtown or the local markets of Oaxaca.
#11: Vibrant nightlife
If you're wondering if Oaxaca has a vibrant nightlife, the answer is YES!
In Oaxaca City, the Zocalo, often known as the city's main square, is the center of nightlife. Locals and tourists visit the place, where several establishments have live music and DJs where people can dance and sing.
Moreover, the city is also filled with various bars and clubs that offer a wide range of entertainment options and alcoholic beverages that will suit your preference. Los Danzantes Oaxaca, The Barracuda, and Txalaparta are just some fantastic bars and clubs you can visit in Oaxaca.
#12: Good coffee
If you are a fan of coffee, then you don't want to miss the fantastic coffee scene in Oaxaca City. Accordingly, coffee beans are farmed and cultivated in the Sierra Norte Mountains, so the city produces quality beans.
And if you are looking for a coffee shop to work at or maybe chill for a cup of coffee, there are a few of which you can visit in the city. Most of the time, cafes in Oaxaca are quaint, small, and outdoors. You'll also see most of them inside historic buildings or in courtyards.
One cafe that is a must-visit is Cafe Brujula. It is a coffee shop situated inside an extensive library courtyard. They have free wifi for their customers and are known to serve great lattes.
Meanwhile, if you are a digital nomad and want to work in a cafe in Oaxaca, you will need a place with power outlets and fast wifi. I suggest you visit Muss Cafe, which is an industrial coffee shop that gets you a fantastic view of the city. And for as low as $5 USD, you can already have a drink for yourself.
#13: Easy to meet fellow travelers
If you are a solo traveler looking for a destination that offers a vibrant social scene and a bustling atmosphere, then Oaxaca City is the place to visit.
Oaxaca City is known to be the most ethnically diverse city in all of Mexico, meaning various cultures contribute to its tradition, food, and more. And because of this, the city became a popular destination among solo travelers worldwide.
Oaxaca is a haven for solo travelers because of its culturally diverse environment and because it is a safe and easily navigable destination. Many backpackers and digital nomads visit the city for the long term, so it's not difficult to meet fellow travelers here.
Staying in Oaxacan hostels makes it easier for you to connect with other people. You can check out Hostel Central Oaxaca and Casa Angel Youth Hostel, two of many foreign hostels.
In addition, many travelers use Oaxaca City as a stopover before moving on to other Mexican destinations. This makes it a great place to make connections and several friends to explore the city with them.
And if you are wondering if it's safe to couch-surf in Oaxaca, the answer is yes. If you feel comfortable and at ease with Couchsurfing, you can do this in Oaxaca. Oaxaca is a safe city, and locals and foreigners living here share their spaces with travelers like you through Couchsurfing.
#14: Oaxaca is a walkable city
Oaxaca City is just one of many walkable cities in Mexico. And for a good reason, everything in Oaxacais centered in its downtown area, a Unesco World Heritage site.
With the Oaxaca Center having several historical sites and many restaurants, art galleries, and museums packed into 247 blocks, you can still easily roam around it for only 20 to 30 minutes of walk.
This is due to the city's grid pattern, typical of Spanish city planning. In addition, the streets in Oaxaca are narrow, making it difficult for car parking, encouraging tourists and locals to walk around the town instead of driving from one place to another.
#15: Oaxaca street food that's on Taco Chronicles on Netflix
If you're looking for a solid reason to visit Oaxaca City, this one's something to note. On the popular Netflix show "Taco Chronicles," Oaxaca street food has been featured several times, showcasing various kinds of dishes in each of the episodes.
The show has been on Netflix since 2019, and each episode explains and shows where each Mexican dish originated and how it entered the international scene.
There are currently three volumes to the show, and during the first season, they introduced six famous Mexican dishes, including pastor, carnitas, canasta, asada, barbacoa, and Guisado.
For the next volume, they featured more dishes such as suaderom, cochinita, cabritom american taco, burrito, birria and pescado.
All these are actual Oaxaca street food. And that only means that Oaxaca has made it to the international food scene, which gives you enough reason to travel to the city.
#16: So many markets in Oaxaca!
Do you know where to do your shopping and groceries while in Oaxaca? Well, it's not something you should worry about. Oaxaca has several local markets where you can taste the local flavor and shop for souvenirs.
Almost every day of the year, most of these markets are accessible. Besides shopping, you can enjoy the sounds of the local artists, fresh produce, and the aromas and flavors of food in these Oaxacan marketplaces.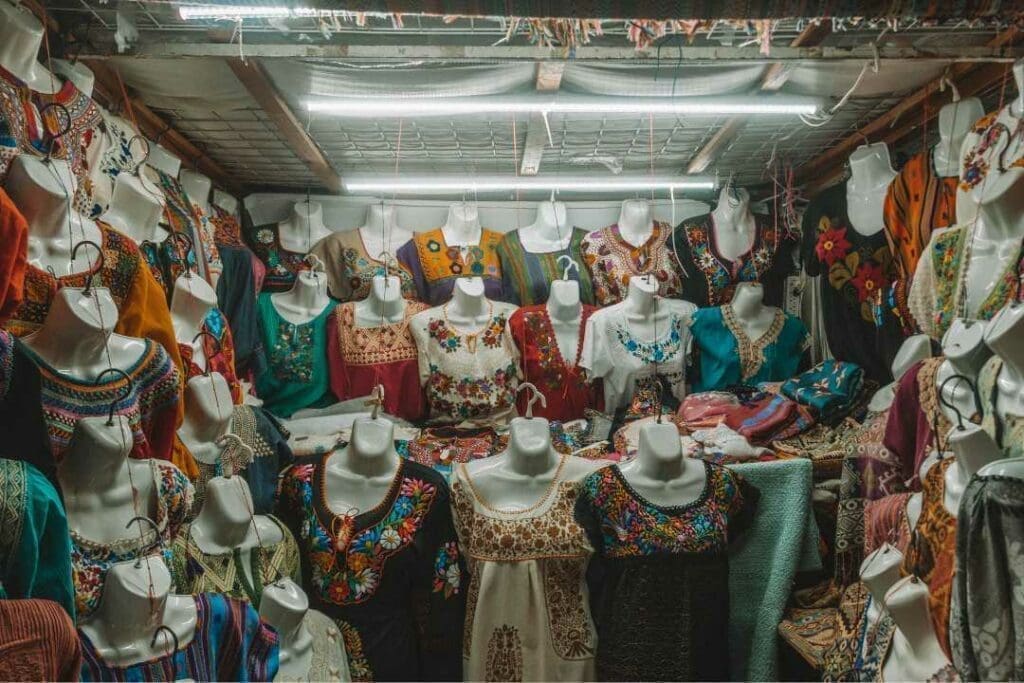 One of the most-visited markets in Oaxaca is the Mercado Benito Juares. Here you can find almost everything that the locals of Oaxaca produce – from clothing and textiles to mezcals and fresh produce.
Meanwhile, if you want to taste the local delicacies and experience how to eat like a local, you have to go to the Mercado 20 de Noviembre in the middle of Oaxaca City. It is a traditional market with extensive selections of fresh fruits, veggies, and even a huge food hall.
Of course, it's also a must to see Mercado Central de Abasots, the largest market in Oaxaca. It is located on the outskirts of town, spanning over 800 acres, where you can find the best Oaxaca foo.
These are just some of the 17 markets in Oaxaca that you can check out. You can also add La Casa de las Artesanias de Oaxaca and Mercado de Artesanias de Oaxaca to your list if you want to check out artisan goods.
🇲🇽 Mexico Travel Planning
✈️ Where can I book cheap flights for Mexico?
The best platform for finding cheap flights to Mexico is Kiwi.com. Another option is WayAway, a platform that gives you cashback for every booking.
🏥 Do I need travel insurance to go to Mexico?
YES, YOU DO. Do not travel to Mexico without insurance. SafetyWing and Ekta Traveling are the best insurances for Mexico (from $0.99 USD per day).
🧭 What's the best tour booking platform for Mexico?
Check out our curated tours and see unique excursions that you won't find somewhere else! Our itineraries are original and we did these tours ourselves. Our tours also support local communities in Mexico.
🚙 Is it safe to rent a car in Mexico?
YES, IT IS SAFE! Just make sure you book with trusted rental car platforms in Mexico like Discover Cars and Rentalcars.com.
🚗💨 I'm moving to Mexico. Can you help me with my move?
ABSOLUTELY! Our local immigration experts on the ground can help you move to Mexico with ease, at any location that you please! See our Mexico relocation services for more details.
Trisha traveled to Mexico in 2018 and after a year, she found herself obtaining a 4-year residency visa in Mexico. She is the Editor-in-chief for our Living in Mexico Series which has helped over 3,000 Americans move to Mexico with ease. Trisha currently resides in Cabo San Lucas, Baja California Sur.