The most common question I get from living in Cabo: what are the best hotels in Cabo for a bachelorette party? I've planned many bachelorette parties in the past because my city is famous for it. I'll give you tips on how to find the best accommodations in this post!
Cabo is the most popular destination for bachelorette parties. When I first moved here, I was really amazed to see many girls partying in the center. Later on, I understood why.
There are many things to do in Cabo (adventure and outdoor wise). You can easily bring your girls for a booze cruise around the famous Cabo Arch. All the resorts have bars. Downtown is full of life every night.
There isn't a single thing in Cabo that does not scream 'party' and I've actually never seen it in other parts of Mexico that I've lived in. While there are many party towns like Tulum or Sayulita, the layout of Cabo is best for proper partying.
Plan your trip to Mexico with us! Get expert travel advice and customized trip-planning itinerary from our local experts on the ground.
💵 How much does a bachelorette party in Cabo cost?
In this post, I will only be talking about the best hotels in Cabo for bachelorette party costs. You can always refer to my Cabo bachelorette party planning guide if you want to know about other costs.
I also just gave 5 options here so that you won't go crazy about choosing the best hotel. It can get so overwhelming so put some explanations here that are easy to understand.
The accommodation costs in Cabo range from $293 USD – $3,000 USD, depending on your group size, accommodation type (villa, room, suite, etc), and if it's a la carte or all-inclusive.
For the brides-to-be, I also included affordable options in each hotel for you to have your own suite!
✅ Things to consider when booking a hotel for your bachelorette party in Cabo
It is very painful to plan a bachelorette party but I tell my clients the same thing. There is an impression that it will be hard to reserve or talk to logistics with the staff at Cabo hotels regarding your bachelorette party (or simply reserving rooms for your group) but don't worry – hotel staff in Cabo are highly trained.
I actually never seen that kind of service in any part of Mexico. They all speak English very well and it is one of the requirements to be able to work in the service industry in Baja California. After all, this is an American's favorite destination.
Second, the size of your group. I've had clients in the past that had to stay in different hotels because one place cannot accommodate them all but this only happens during the very crazy seasons.
It's best for you to know when is the best time to visit Cabo or at least plan the bachelorette party in advance. Ideally, 6 months is a great time period to plan it. Then you'll also have time to save for the trip!
Other factors to consider are very personal such as budget, bringing kids, traveling with pets, etc. But I'll leave that to you. For now, let's focus on where to stay and if you ever need help with logistics, you know I'll be here!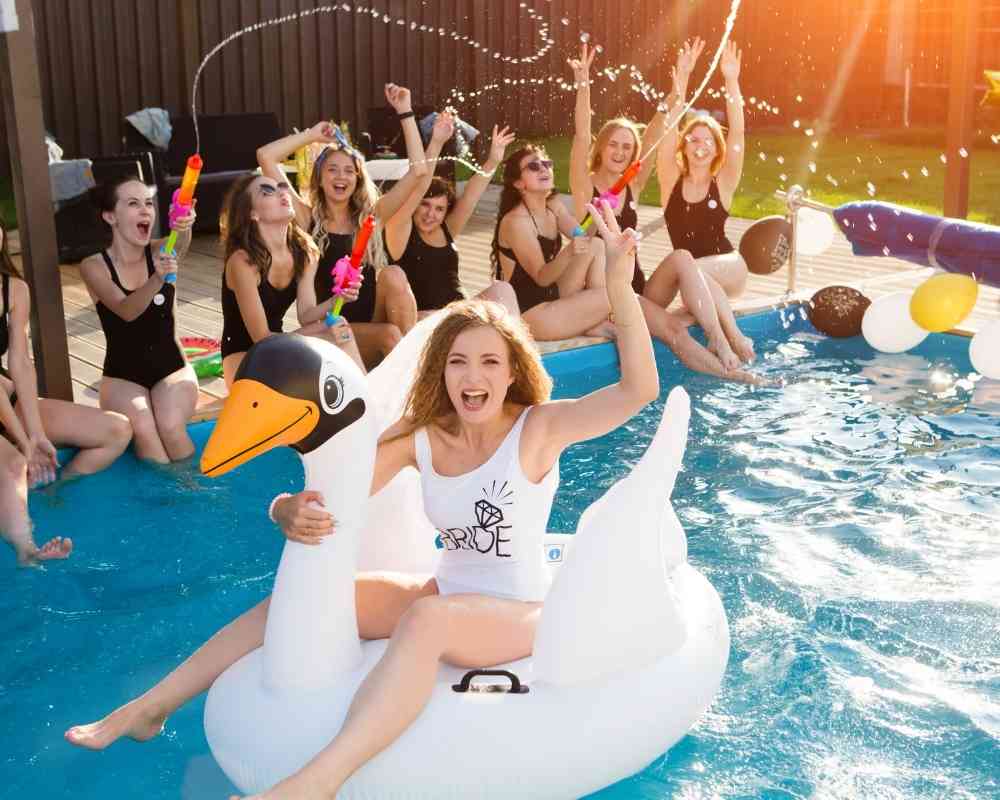 🏩 5 best hotels in Cabo for Bachelorette party
#1: The Cape: from $869 USD
🚘 20 min drive to the center
👉🏽 Check prices at The Cape
💗 What to love: The Cape is a beachfront property that has fantastic views of the famous Cabo Arch. Rooms have private balconies where you can hear the waves crashing while you sleep. Simply music to the ears!
It also has a bar where you and the girls can spend one afternoon of day drinking. The outdoor spa is one of the best things to do here for your Cabo bachelorette party. I promise you girls will enjoy it!
💲Prices at The Cape: For a group of 6, you can avail of the Superior Suite that starts at $3,129 per night (breakfast included). A one-bedroom villa for the bride to be costs $1,029 USD per night.
You also have an option for more affordable and smaller rooms like the Junior Suite which is $869 USD per night or a King Suite for $100 USD more. Both are for 2 people but only have one bed.
For girls who want to share a room with 2 queen beds (with an ocean view!), you can split $819 USD per night between two people.
📍 Location: They have a free shuttle that goes to the Cabo Marina every hour (and back). However, you can take an Uber which will take 20 minutes and will cost around $15 USD (Sedan).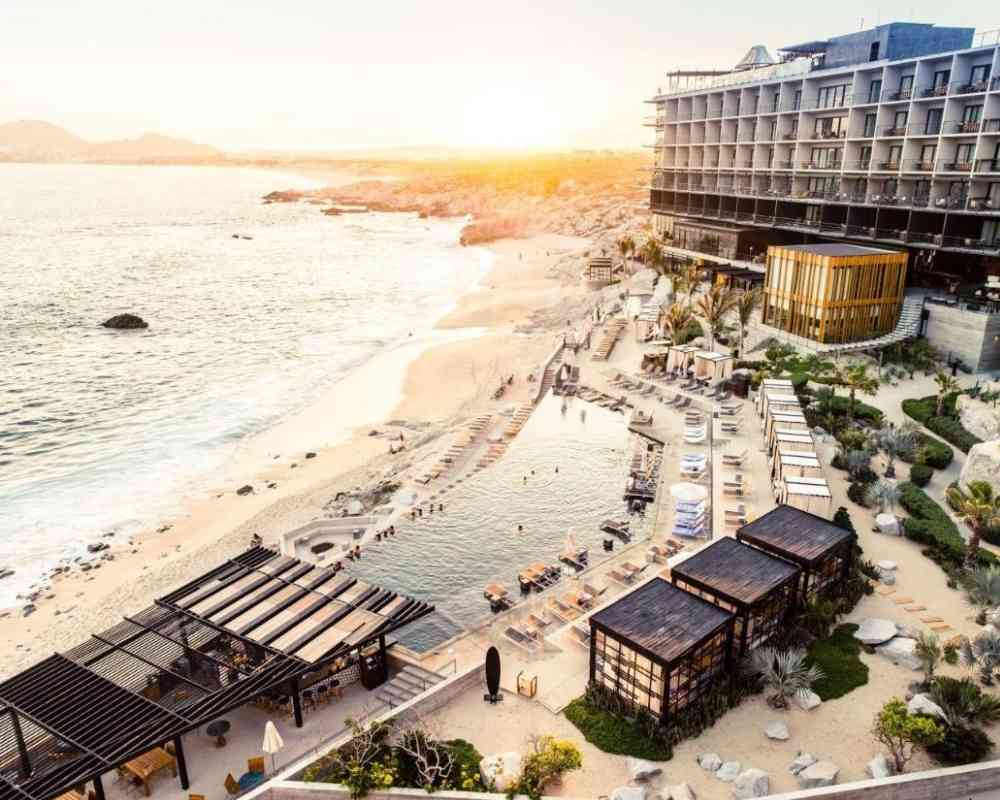 #2: Hacienda Encantada: from $249 USD
🚘 20 min drive to the center
👉🏽 Check prices at Hacienda Encantada
💗 What to love: You've probably seen me recommend this all-inclusive resort in most of my Cabo travel tips but I really love this resort because you can do everything here without going out! They have everything!
Okay, if you're doing a Bachelorette party in Cabo, I would recommend you to go out and experience the Cabo nightlife but if you're the type who only wants to spend her bachelorette party with friends, this place is for you!
They have an option to avail of the all-inclusive price and the a la carte price. But I would recommend you to avail the all-inclusive because they have restaurants by the Marina Cabo San Lucas that are included in the price!
Hacienda Encantada has a pool bar with a view of the arch, so many restaurants (honestly, I tried them all during my 3-night stay), and they also have a spa!
💲 Prices at Hacienda Encantada: A luxury suite for 3 people starts at $249 USD (a la carte) and $396 USD (all-inclusive). This suite has 1 King bed and 1 sofa bed and is good for the ladies traveling with their kids.
For the bride-to-be, you can get the Master Suite all to yourself for $325 USD per night breakfast or $452 USD for the all-inclusive price. Their Master Suite has a balcony with great views!
📍 Location: They also have the shuttle that goes to the marina and same with The Cape, the distance to downtown is 20 minutes. Uber is not allowed for pick up but the golf cart of the resort can take you to an Uber pick-up point.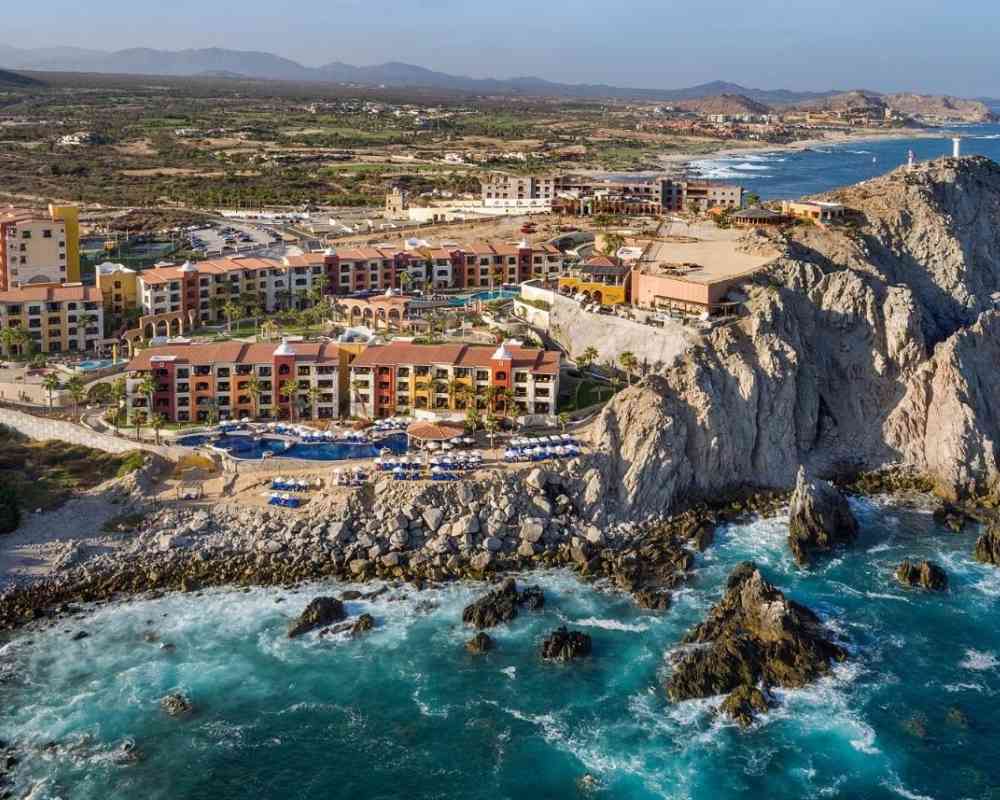 #3: Nobu Hotel: from $591 USD
🚘 40 min drive to the center
👉🏽 Check prices at Nobu Hotel
💗 What to love: One of the best hotels in Cabo for bachelorette party is Nobu, simply because it has the hotel format and it's quite affordable.
Nobu is more boutique-ish and is the true style of Baja California Sur – imagine Bali in Mexico but in the desert. Within the premises, there's a restaurant, fitness center, and a swimming pool by the beach!
This is also a great place for your girls who are traveling with kids as many guests rated this as kid-friendly. They don't have a children's center where you can leave your kids while partying but they have activities for kids.
💲 Prices at Nobu Hotel: A deluxe double bed for 4 starts at $591 USD per night. Take note that Nobu is not an all-inclusive hotel but this room has 2 King beds that would be comfortable for 4.
If you want a bigger room for 4, take the Deluxe King oceanview room for $669 USD. Oceanfront villas start at $1,105 – $2,000 USD. There are 5 villas in this category but they are only for 2 people.
📍 Location: Ideally, this is one of the best hotels in Cabo for bachelorette party if you don't want to socialize downtown and only wants to spend the weekend in Cabo with your crew.
This hotel is about 40 minutes away from the bustling city center. You can still have one big party night (let's say Saturday) and Nobu can arrange your ride downtown.
#4: Welk Resorts Sirena del Mar: from $268 USD
🚘 15 min drive to the center
👉🏾 Check prices at Welk Resorts Cabo
💗 What to love: This one has the best cliff view in town and has a private beach. The outdoor pool is the best place to set up your welcome party but note that this is a big resort so expect other people to share the pool with.
But still, it is one of the great value hotels in Cabo for bachelorette parties. I honestly find the prices here cheaper than other resorts there isn't an all-inclusive option.
💲 Prices at Welk Resorts Sirena del Mar: For as low as $268 USD, you can get a deluxe one-bedroom villa with 1 king bed and a sofa bed. They recommend this for 4 people but for the price, I think each of your girls can have their own rooms!
The deluxe ocean view villa is only $335 USD per night but again, it's only a one-bedroom. I recommend this room for the bride-to-be! If y'all want to be together, you can avail the penthouse luxury villa that is at $890 USD per night and has 2 bedrooms.
📍 Location: Welk Resorts Cabo is only a 15-min drive to Marina Cabo San Lucas so rest assured you can easily go downtown!
✨ in the center
👉🏾 Check prices at Breathless Cabo
💗 What to love: I wanted to offer you an option where you don't need to drive and you can just walk anywhere. Breathless is the best place as they have a rooftop pool and they are in the middle of all the action!
They have a few good restaurants in the building but their roof deck pool with bar is my favorite! They also have a beachfront bar if you want to lounge on the sand.
💲 Prices at Breathless Cabo: Breathless is an all-inclusive resort so you don't have to worry about anything. A basic all-inclusive package starts at $895 USD for 2. This is already a good suite because it has a balcony!
For upper-tier rooms at Breathless (oceanview), prices start from $1,000 – $1,500 USD for 2 people. What I meant by 'upper-tier' is that these rooms have their own living rooms. Breathless Cabo only accepts adults (no kids, sorry!).
📍 Location: Breathless is located on my favorite dog beach, El Faro which is right next to the marina and about a 3-min beach walk to Medano where all the beach parties are happening. You won't be needing a car or Uber when you stay at Breathless!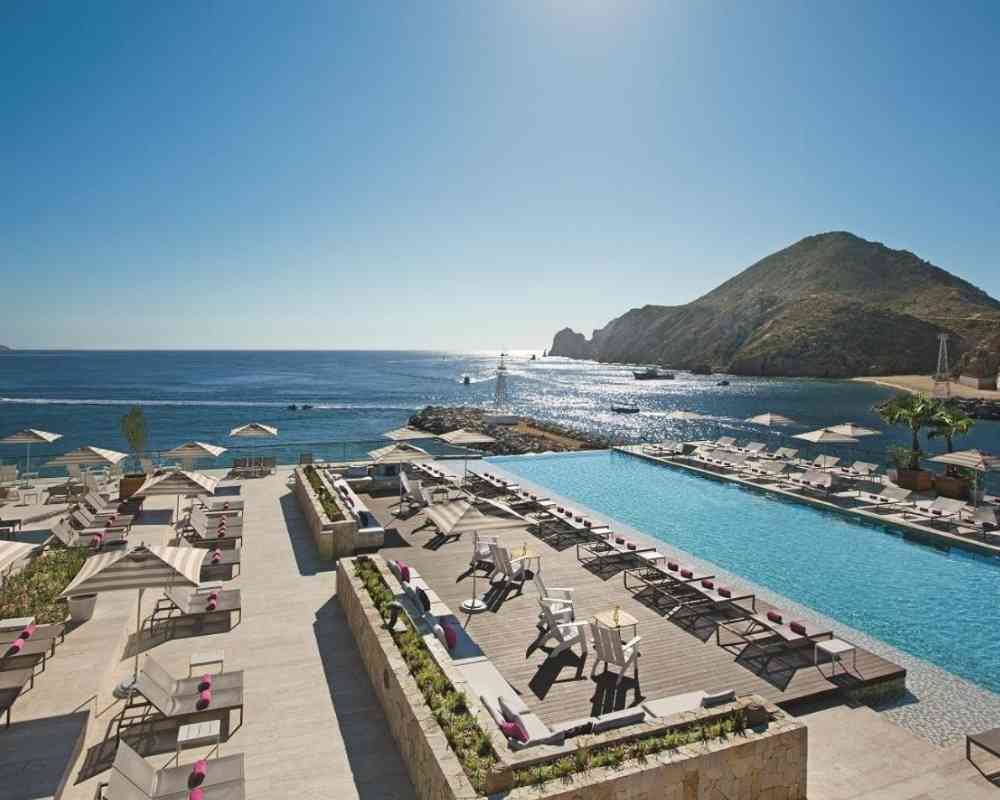 🇲🇽 Cabo San Lucas Travel Guide
Trisha traveled to Mexico in 2018 and after a year, she found herself obtaining a 4-year residency visa in Mexico. She is the Editor-in-chief for our Living in Mexico Series which has helped over 3,000 Americans move to Mexico with ease. Trisha currently resides in Cabo San Lucas, Baja California Sur.