Choosing Sayulita wedding venues can be a daunting task, especially if you don't know the layout of the town well. The good news is this small town in Riviera Nayarit is one of the best places to get married in Mexico.
Welcome to the quintessential paradise for a dream destination wedding: Sayulita. Located on the picturesque Nayarit coastline, this vibrant and charming fishing village boasts of a unique blend of traditional Mexican charm, stunning natural beauty, and laid-back surf vibes.
It's no wonder that more and more couples are falling in love with the idea of saying 'I Do' in this tropical paradise.
But why choose Sayulita for your destination wedding? This beach town is more than just its breathtaking views and sun-soaked beaches.
From the authentic cultural experiences, world-class culinary scene, an array of adventure activities, to easy planning and a sense of togetherness it fosters, there are plenty of reasons to take your vows in Sayulita.
Explore why Sayulita has become the go-to choice for couples planning a wedding through these best Sayulita wedding venues.
Plan your trip to Mexico with us! Get expert travel advice and customized trip-planning itinerary from our local experts on the ground.
💲 How much do Sayulita wedding venues cost?
Destination weddings are costly. You already know that. I hate to break it to you but it won't be that much cheaper compared to having a wedding in the US.
The wedding costs in Sayulita depend on many factors like the number of guests, catering, etc – there is a huge list to take care of and normally, wedding planners and event companies in Sayulita won't really give a fixed quote.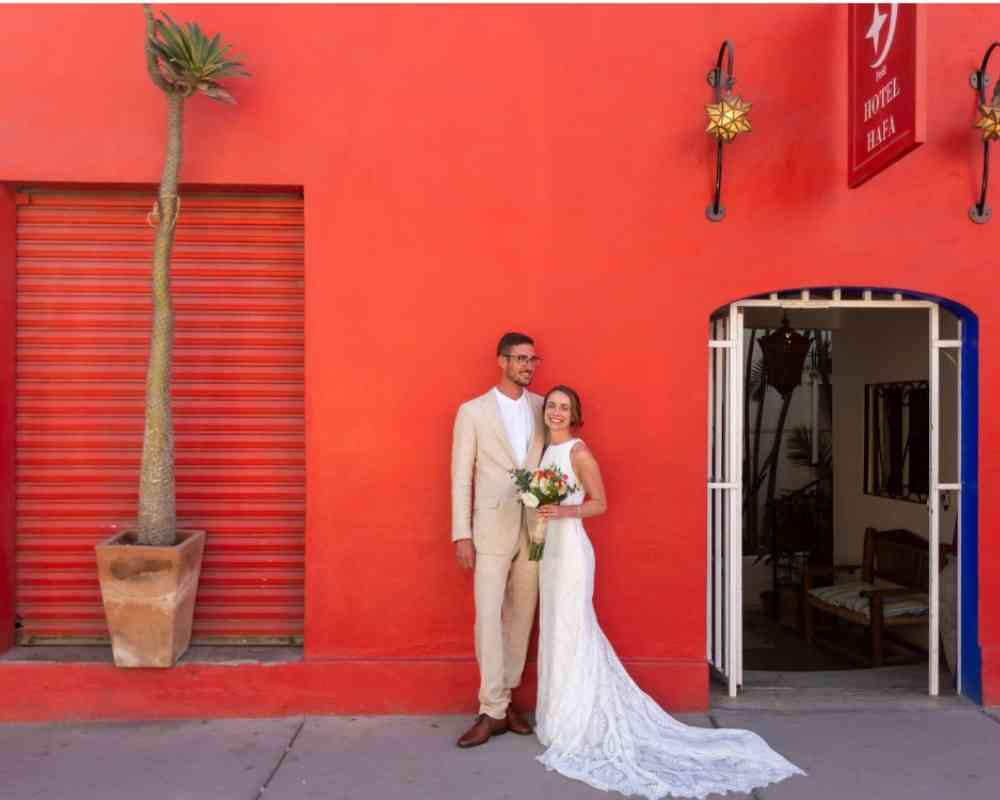 You will have to sit down with your planner but the trick is to tell him/her about the money you are willing to spend for your wedding.
We had the chance to do an event at Don Pedro Palapa and the cost of the venue (just the place) is US$3,000 for 3 hours (150 pax limit).
👰 12 wedding venues in Sayulita Mexico
#1: Don Pedro Palapa (Brisa Mar)
📍 Calle Los Muertos
📞 +52 329 291 3090
With a wide space on the cliff that can hold up to 200 people, Don Pedro Palapa is the best wedding venue in Sayulita. It's an open-air set-up with a view of Punta Sayulita on the left and Los Muertos Beach on the right.
There will be a fantastic sunset view to start your wedding ceremony. You have to bring everything (sounds, lights, tables, chairs) as this is only a venue rental. We have a few people to recommend – just get in touch!
#2: Villa Amor Sayulita Wedding
📍 Camino a Playa los Muertos S/N
📞 +52 329 291 3010
A Villa Amor Sayulita wedding is super popular as their venue is private, on a cliff, and overlooking the ocean. You can also house your guests at the Villa Amor Boutique Hotel – no need to go far!
They give discounts if your wedding falls on a weekday and the weekend rates are almost double. There are many areas within Villa Amor where you can hold your ceremony but the cliffside view is recommended.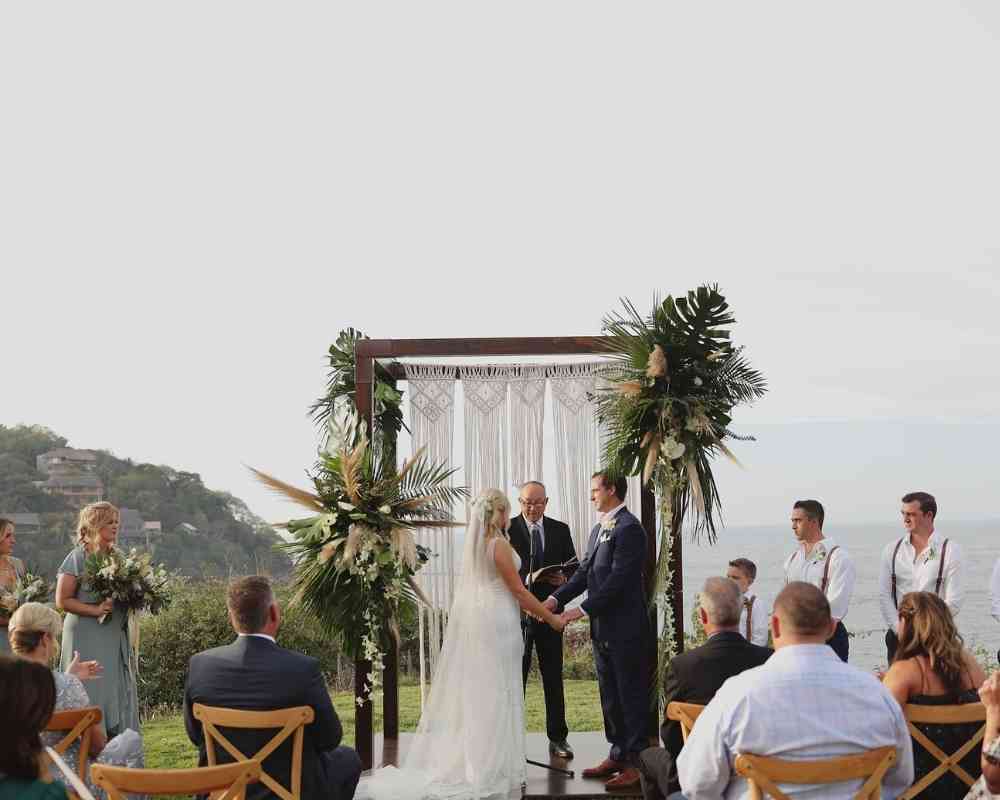 #3: Chica Locca Boat Wedding
📞 +52 322 180 0597
Now if you want to be a little informal, you can rent a boat/yacht/catamaran. There are over 10 yachts to choose from and each of these big boats can hold up to 300 people.
There are also sailboats and small vessels if you plan to have an intimate wedding. The boats cruise for hours through the beaches of Sayulita and the Bay of Banderas. This is the best wedding venue/style for ocean lovers!
Should you choose this wedding style, Chicca Loca offers an all-inclusive wedding package where you don't have to plan anything. They will take care of the food, music, and everything that you need.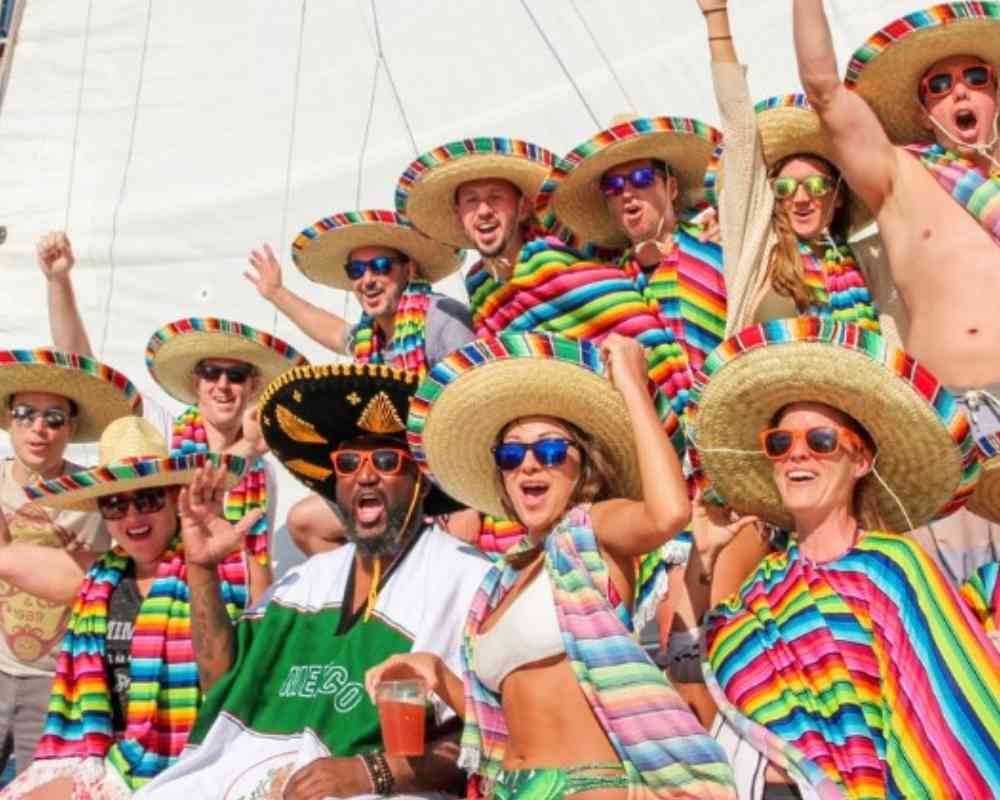 #4: Villas Rana Verde Weddings
📍 Av. del Palmar 262
📞 +52 329-291-3914
Villas Rana Verde offers their wedding venue in Sayulita for US$1,500. You can do your ceremony, wedding rehearsal, and even your bachelorette party at this place!
There are 4 ocean view pools within the venue plus several big gardens to choose from. You can also house your guests here. There are 3 big villas that can hold up to 25 people.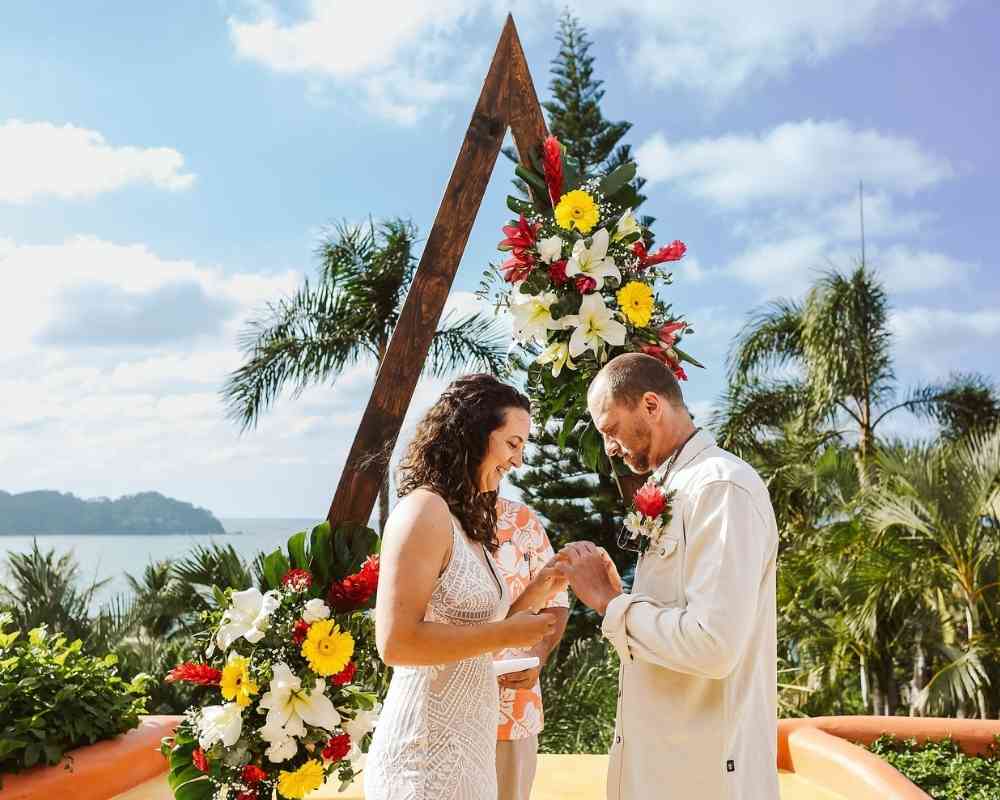 #5: Villa Valentin Weddings and Retreats
📍 C. Palapa 12, Ojo de Agua
📞 +52 331 999 1553
Villa Valentin can host up to 130 wedding guests while up to 18 people can stay in their villas. The huge palapa roof is where ceremonies are held. There is also a bar and children's pool!
This wedding venue in Sayulita has both jungle and ocean views and is just a 3-minute drive from the town's center. The cost of renting Villa Valentin is US$2,000 (per event).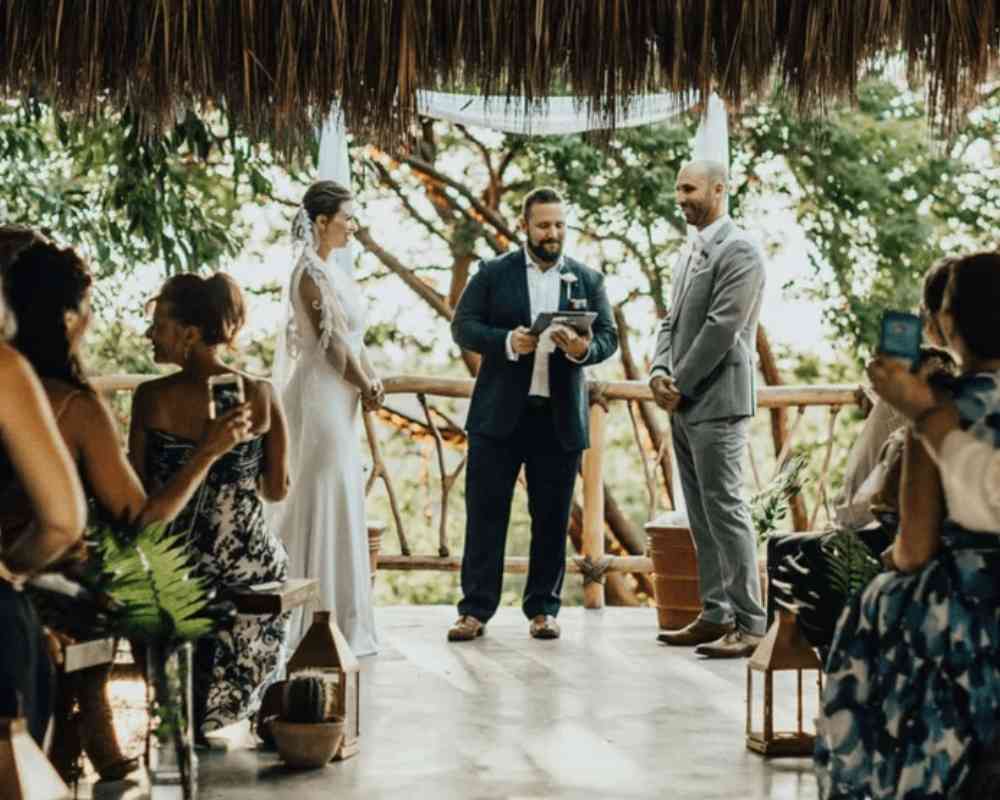 #6: Villas Piedra Blanca
📍 Calle Nanzal 7
📞 +52 331 753 9675
Villas Piedra Blanca is a big estate with many villas and infinity pools facing the ocean. There are also grassed areas where you can set up tables, chairs, and a dance floor for your wedding.
It is located on the quiet part of Sayulita's northside and can accommodate up to 80 people. This is also a private and gated property where guests can park their cars. You don't have to worry about privacy here!
Guests can also stay at Villas Piedra Blanca. They have 3 different villas with 4, 6 and 7 bedrooms. Pets and children are also allowed on this property.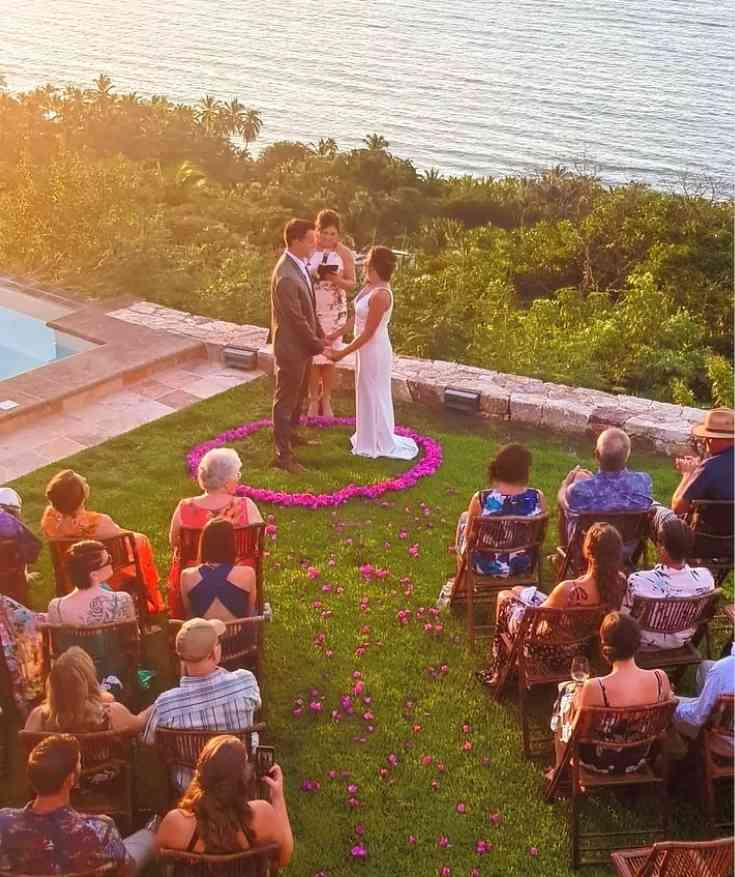 #7: Casa Nawalli
📍 Calle Miramar 13
📞 +52 322 211 8905
Full catering is included when you choose Casa Nawalli as your wedding venue in Sayulita. This place is ideal for those who want to host less than 100 guests (but more than 50). The garden courtyard here is gorgeous for your ceremony!
On regular days, Casa Nawalli also hosts retreats and welcomes guests to their boutique resort. There are only 7 rooms at Casa Nawalli that can accommodate up to 12 people.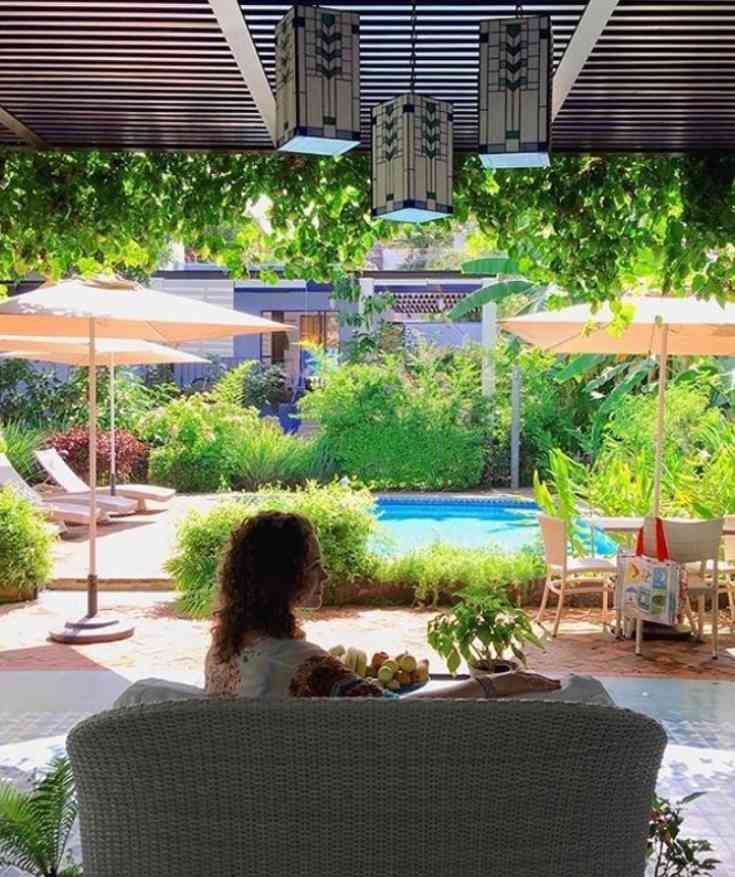 #8: Frente al Punto
📍 Calle Playa Azul 17
📞 +52 322 274 4013
Frente al Punto is located on the Sayulita main beach where the crowds usually go but this wedding venue in Sayulita is gated so you'll still have privacy for your ceremony.
This place is very spacious and has more grass areas than roofed areas. There is a palapa bar and restaurant that can also assist in food catering. You can also hire the entire Frente al Punto staff for your event!
We would say Frente al Punto is the biggest wedding venue in Sayulita and can hold more than 200 people.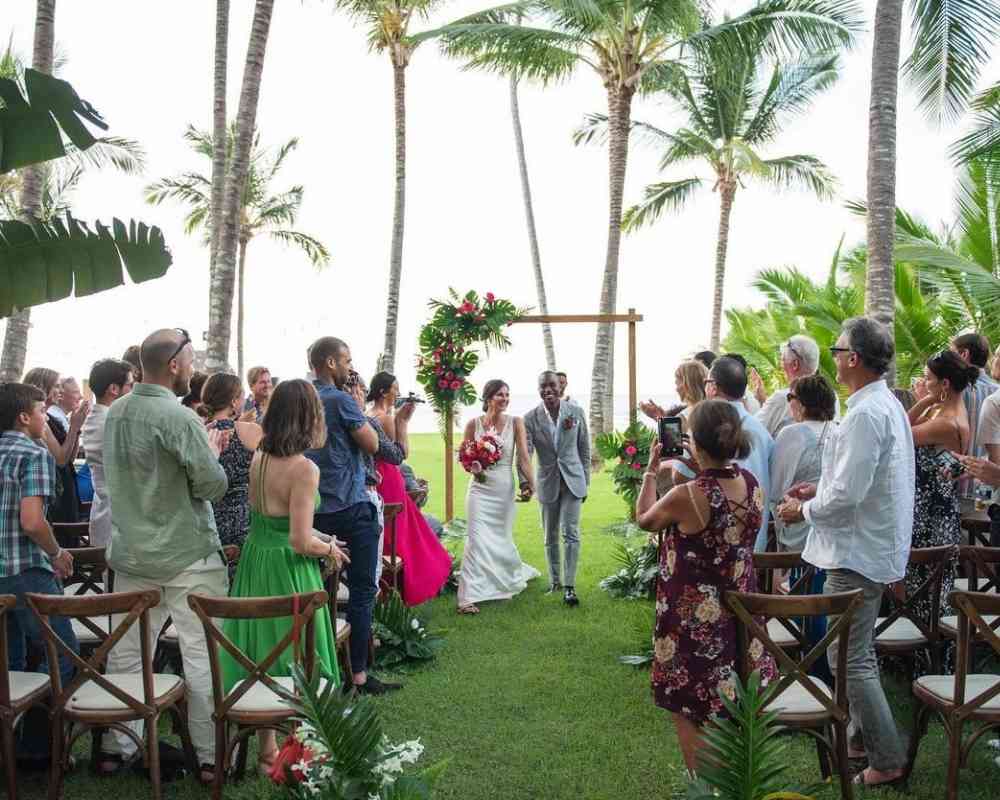 #9: El Oasis
El Oasis has 5 houses with a total of 10 bedrooms that can accommodate up to 35 people. Two of these houses have 1 bedroom while the luxury casas have 4 and 2 bedrooms.
The common area has views of the jungle and the view of the Monkey Mountain. There is a huge palapa area for the ceremony, a pool area, and a garden filled with avocado and palm trees.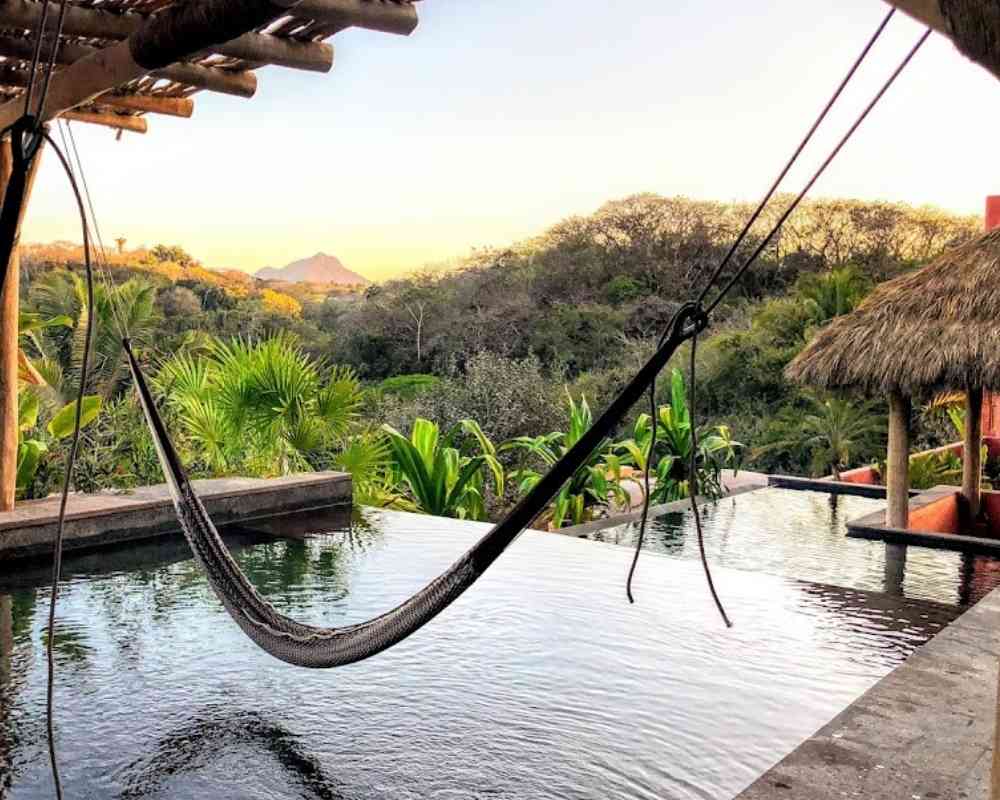 #10: Hacienda Antigua
📍 Úrsulo Galvan
📞 +1 805 801 8304
Hacienda Antigua has a spacious courtyard on a 12-acre ranch, about 20 minutes drive from Sayulita. It has ocean and jungle views with different areas to hold your wedding ceremony.
The good thing about choosing Hacienda Antigua as your wedding venue is that it already has all the amenities for events like a good sound system and catering.
This is not located within Sayulita but it is also not hard to arrange van transports for your guests that are staying in Sayulita. Otherwise, check out some accommodations in Lo de Marcos.
#11: Teitiare Estate
📍 Calle Norte 200
📞 +52 329 291 3923
Teitare Estate is one of the best Sayulita wedding venues if you prefer to do it on the beach. There are also other elegant areas in the estate if you don't want a sandy wedding.
They only offer rental venues so you have to bring everyone and everything if you want to do your wedding here. For accommodations, they have hillside jungle rooms with ocean views.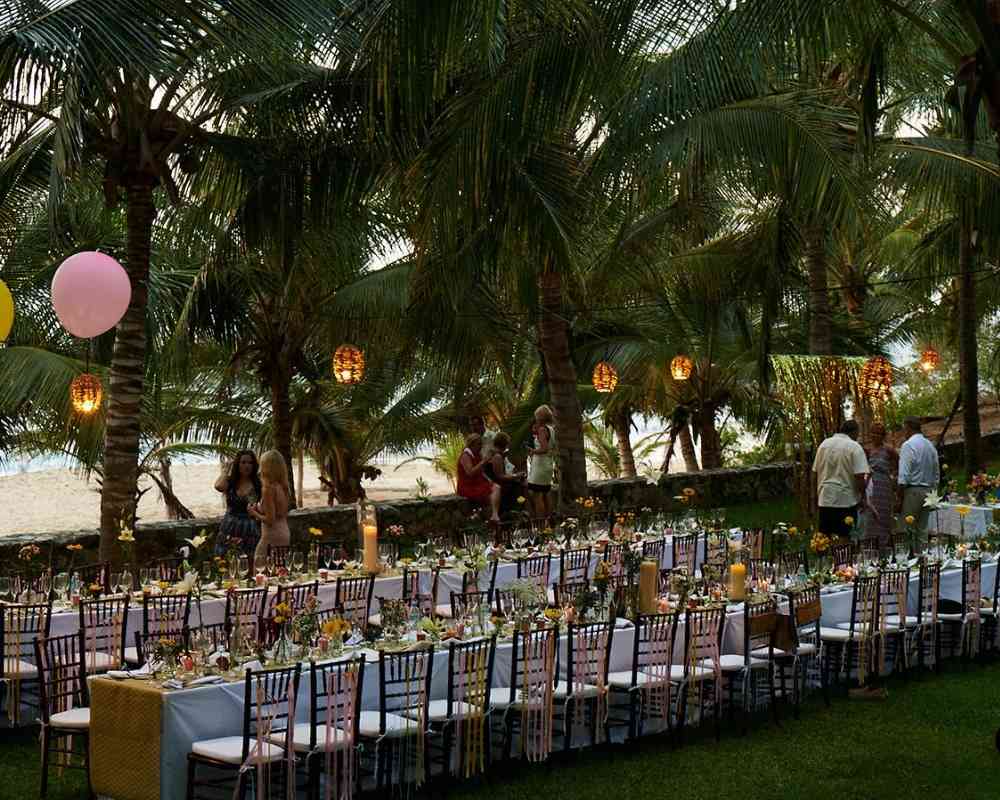 #12: Villa del Oso
📍 Av del Palmar, Pedregoso 201
📞 +52 322 135 5150
Villa del Oso can accommodate 120 people for events. This is a spacious venue and though they only offer venue rental, they have a concierge that can help you find the best wedding planners. They work closely with a few locals in Sayulita.
Their rates depend on the number of guests:
US$2,500 (75 pax)
US$3,500 (more than 75)
If your wedding is from November to May, you can house your close friends and family at Villa del Oso for a minimum of 5 nights (high season rates).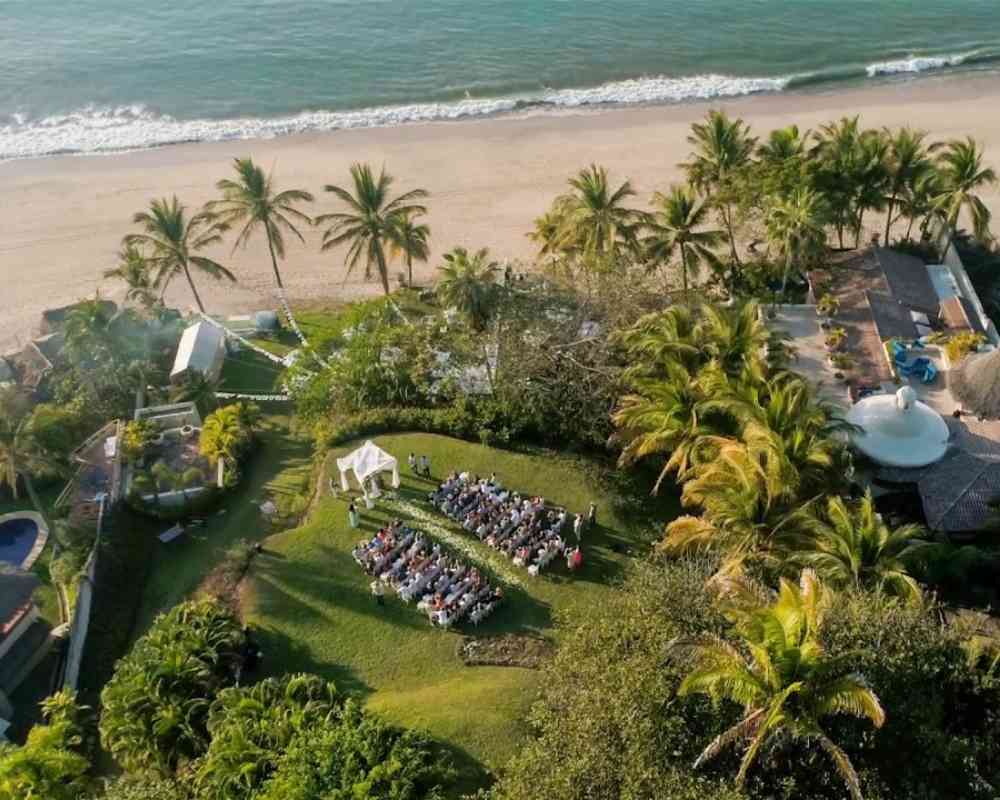 🇲🇽 Sayulita Travel Guide
Trisha traveled to Mexico in 2018 and after a year, she found herself obtaining a 4-year residency visa in Mexico. She is the Editor-in-chief for our Living in Mexico Series which has helped over 3,000 Americans move to Mexico with ease. Trisha currently resides in Cabo San Lucas, Baja California Sur.