The Asian food culture is not that big here yet, but here are our few selections of the best Asian restaurants in Cabo San Lucas.
Generally, in a city with diverse culinary influences like Cabo, you can expect to find a range of Asian restaurants, encompassing various regional cuisines.
These could include Japanese sushi and teppanyaki places, Chinese dim sum restaurants, Thai curry and noodle houses, Indian tandoori and curry spots, and even fusion establishments that blend elements from multiple Asian culinary traditions.
Given the international tourist base in Cabo, some of these Asian restaurants might offer a fusion of styles, combining traditional Asian cooking methods and flavors with local Mexican ingredients or incorporating Asian elements into dishes that cater to more Western tastes.
These restaurants might range from upscale dining establishments, where top chefs create innovative Asian-inspired dishes, to more casual eateries or street food vendors offering simple, traditional Asian dishes.
Plan your trip to Mexico with us! Get expert travel advice and customized trip-planning itinerary from our local experts on the ground.
🗺️ Map of Asian restaurants in Cabo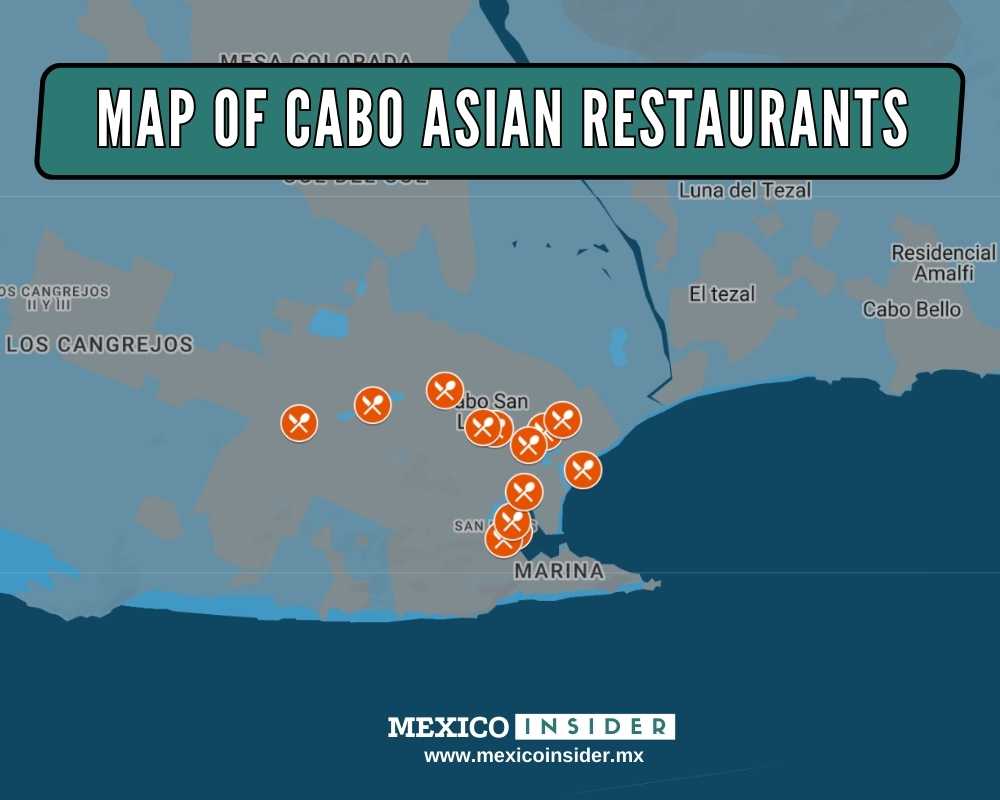 🍛 Best Asian restaurants in Cabo San Lucas
Funky Geisha
📍Acuario, Playa El Medano, Zona Hotelera Lote 2
💲from $13 USD
Funky Geisha is a trendy Asian restaurant with a lively and upbeat atmosphere, making it famous among locals and tourists.
The atmosphere combines traditional Asian elements with a modern twist, featuring a mix of tropical and elegant decorations.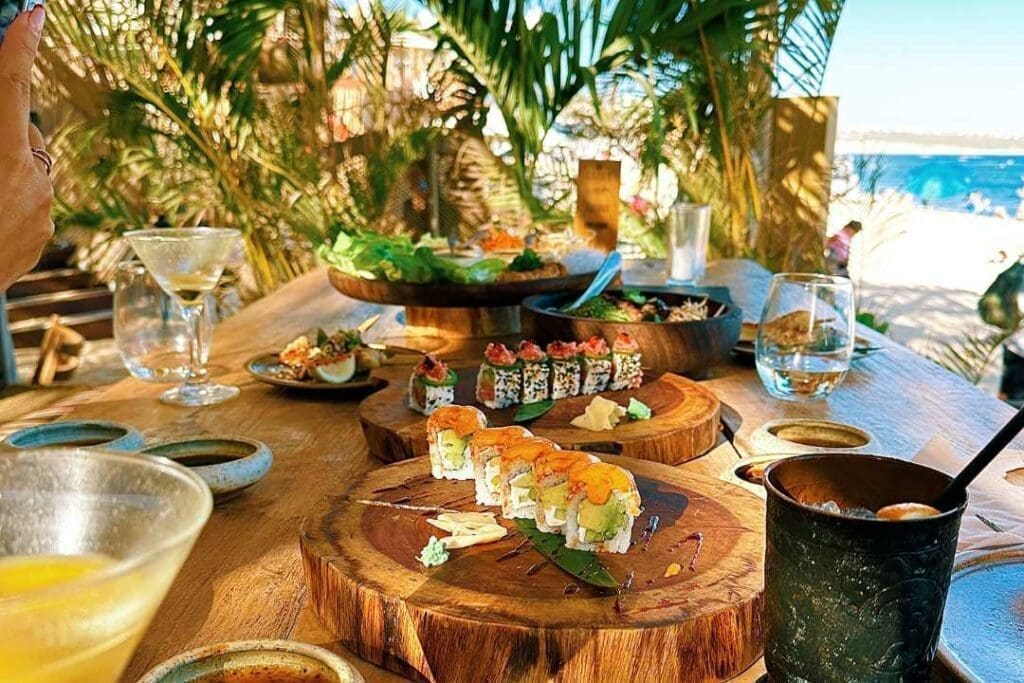 The restaurant is best known for its Mongolian beef bowl that already includes a primary and side dish.
Another favorite food item on Funky Geisha's menu is sushi rolls, which are best paired with a cocktail of your choice. They even offer Shisha Experience for adults.
The prices at Funky Geisha are reasonable, with most drinks ranging from $10 USD to $30. Meanwhile, food starts at $13 USD, and if you wish to try their shisha, it starts at $55 USD.
Nicksan
📍Plaza de la Danza, Blvd. Paseo de la Marina, Centro
💲from $12 USD
Nicksan is a restaurant that offers a mix of Japanese-Spanish fusion cuisine. It has a bright and arty space with a vibrant ambiance.
Inside, you will be welcomed with couch seating and counter seats that give you a view of an open kitchen, just like in traditional Japanese restaurants.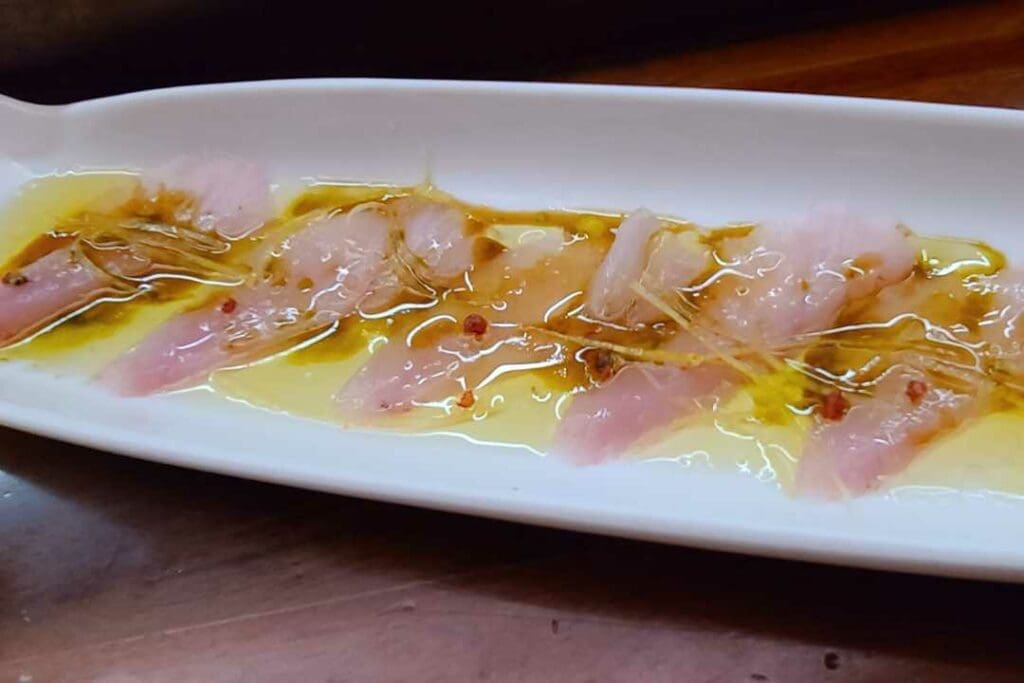 One of the best-sellers on the menu of Nicksan is their special sushi rolls that include various kinds of sushi.
The bakes scallops with crab meat are also a must-try, especially if you enjoy a creamy taste on your seafood. Other popular dishes include crab rolls and tuna cake.
Prices at Nicksan are on the higher side, given that their menu feature local, sustainable, and seasonal ingredients. Most dishes range from $20 USD to $40 USD, while drinks start at $12 USD.
Chubby Noodle
📍Camino del Conejo y centro, Calle Miguel Hidalgo
💲from $7 USD
Chubby Noodle is a local Asian fusion restaurant that serves various kinds of Asian food. The restaurant combines traditional Asian flavors with modern twists and also incorporates local flavors to cater to the local's tastes. It features a casual atmosphere, minimal art murals, and a laid-back vibe.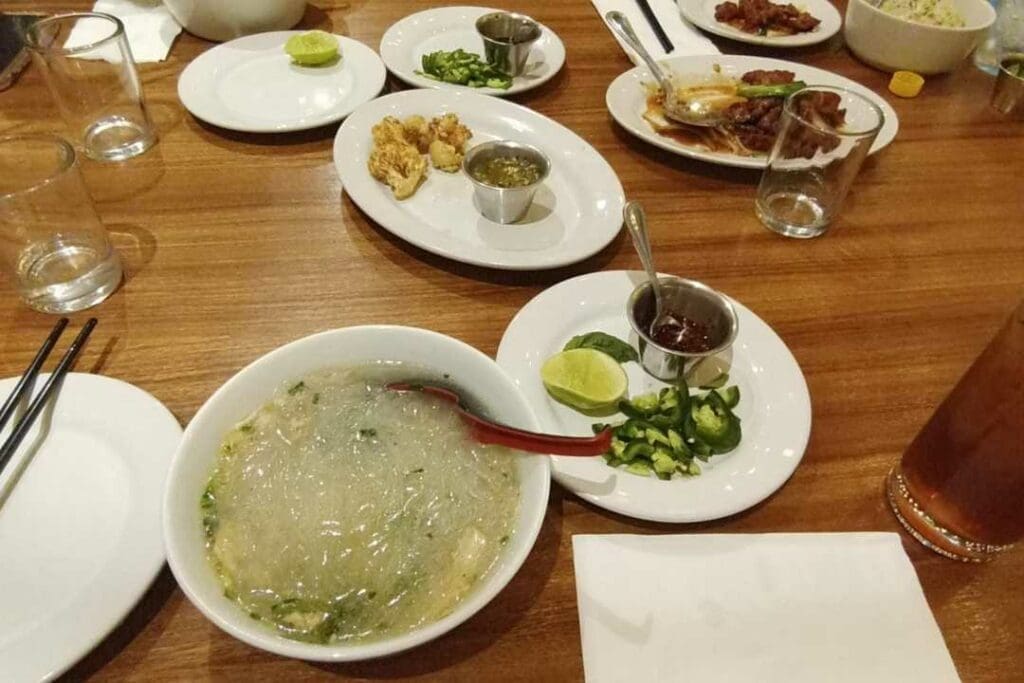 Chubby Noodle has an extensive menu list, and you'll find different kinds of famous Asian food here. Their best-sellers include the Chow Mein and Firecracker Chicken, and Diners often order these along with some udon or shrimp curry.
Food at Chubby Noodle ranges from $10 USD to $30 USD. Meanwhile, their drinks start at $9 USD but sometimes offer promos such as $7 USD margaritas.
Wok & Go
📍Leona Vicario Local 4, Juárez
💲from $2 USD
Wok & Go is a fast-casual Asian restaurant with a minimal and casual atmosphere. It is located in a small shop inside a building, with a few seats available so it's highly suggested that you visit early to avoid waiting in line.
As a stir-fry and noodle bar, their menu allows diners to customize their dishes with fresh ingredients, sauces, and proteins.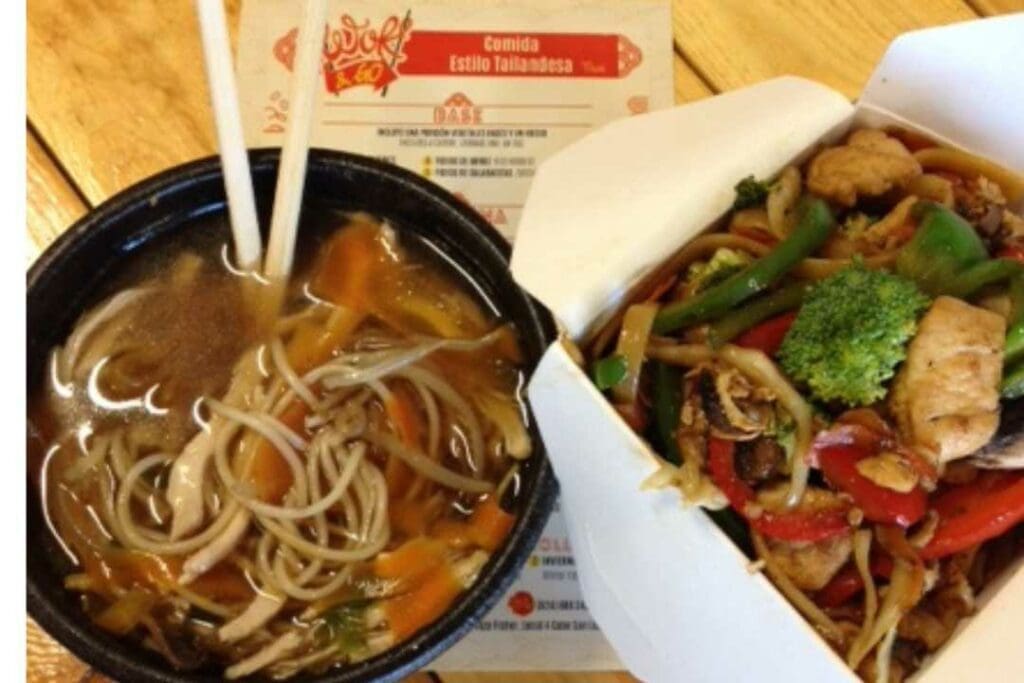 Among the best-sellers at Wok & Go include the beef and chicken wok and camaron combinado.
Their menu also offers vegetarian and gluten-free options, such as the Wok Vegetariano, making it an excellent spot for those with dietary restrictions.
The restaurant accepts various payment methods, including cash and credit cards. Meanwhile, the food and drinks at Wok & Go are affordable, starting at $10 USD, and beverages at $2 USD.
Sushi Go
📍Gral. Juan Álvarez, Ampliación Juárez
💲from $3 USD
Coming from the name itself, Sushi Go is a Japanese sushi restaurant with a cozy and modern dining area. While the restaurant shares some similarities with other Asian restaurants in Cabo, what sets Sushi Go Cabo apart is its focus on creating innovative and creative sushi rolls.
As mentioned, the menu at Sushi Go Cabo features a variety of sushi rolls. But, among the long menu list, their Salmon roll is the most famous.
If you want something different, give the Tampico roll a try. They also have other items on the menu, such as the Go Spicy Noodles, a crowd favorite.
Compared to other Asian restaurants in Cabo, the prices of food and drinks here at Sushi Go are relatively low. Starting at $3 USD, you can already have a drink, while rolls start at $8 USD.
Daikoku
📍Interior de, Plaza Nautica, Blvd. Paseo de la Marina S/N, Centro Marina
💲from $3 USD
Keeping the traditional Japanese vibe, Daikoku was built to look like an authentic Japanese restaurant, serving their traditional cuisine.
The restaurant features a conventional teppanyaki-style dining experience, where guests sit around a hot grill and watch as skilled chefs prepare their meals with flair and precision.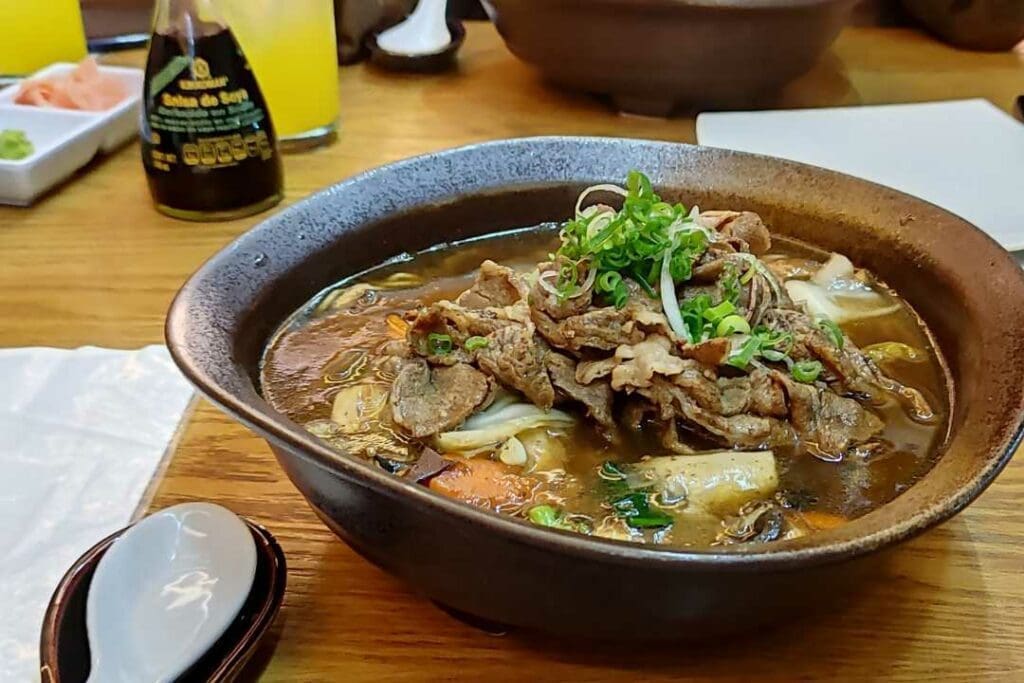 Their menu includes ramen, fried dishes, teppanyaki, and sushi. The best-seller is the Special Kaisen Ramen attendee Furai.
You should also take advantage of the paired Spicy Roll. All these can be paired with a glass of wine or Cognac.
Food and drinks at Daikoku are not that expensive, with prices starting at $3 USD. Although, a budget of at least $40 USD is suggested to enjoy your dining experience.
Sakagura
📍Solaz, a Luxury Collection Resort in Los Cabos
💲from
Sakagura is an upscale and elegant Japanese restaurant located on the seaside. The restaurant features a sophisticated and refined atmosphere, with soft lighting, modern decor, and a tranquil ambiance that sets it apart from other Asian restaurants in Cabo.
They specialize in creating gourmet Japanese cuisine using the freshest ingredients from the region.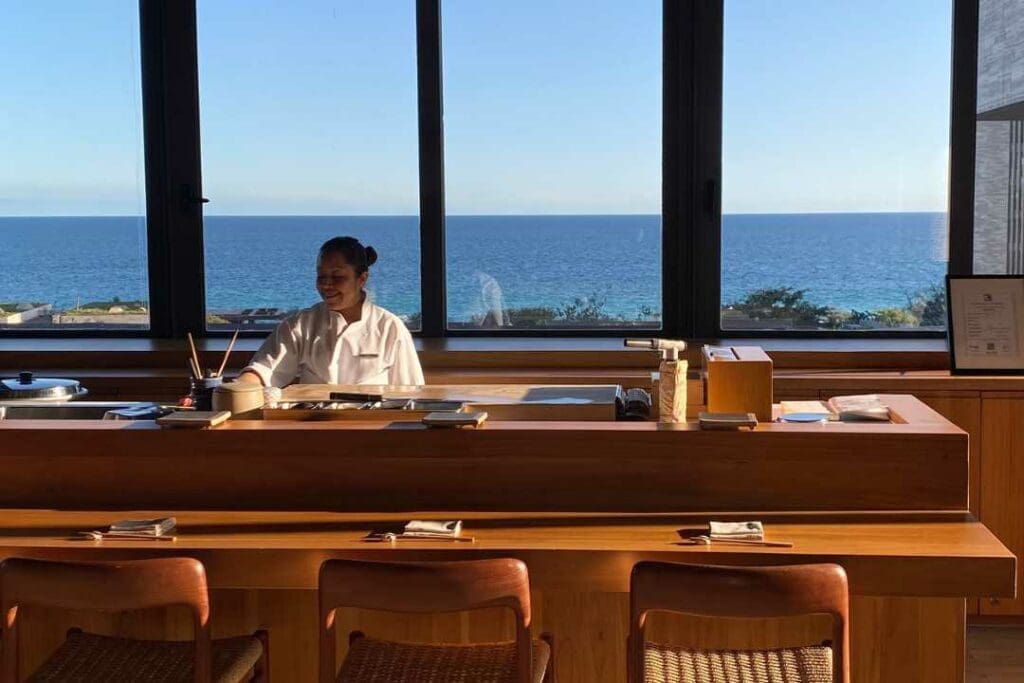 The menu at Sakagura is focused on high-quality sushi and sashimi, with various fresh and flavorful options.
One of their best-sellers is the tuna avocado roll. Other dishes they have, which you should also try, are the Tozasu toast with white fish and Tiramisu for dessert.
Arts and Sushi
📍Boulevard Marina SN, Local 2A, Plaza Bonita, Centro
💲from $5 USD
Situated near the Marina, Arts, and Sushi is a Japanese restaurant that takes pride in its sushi menu. As you are seated inside the restaurant, you will see the Marina from the glass windows, while the patio seating gives you an open-air dining experience.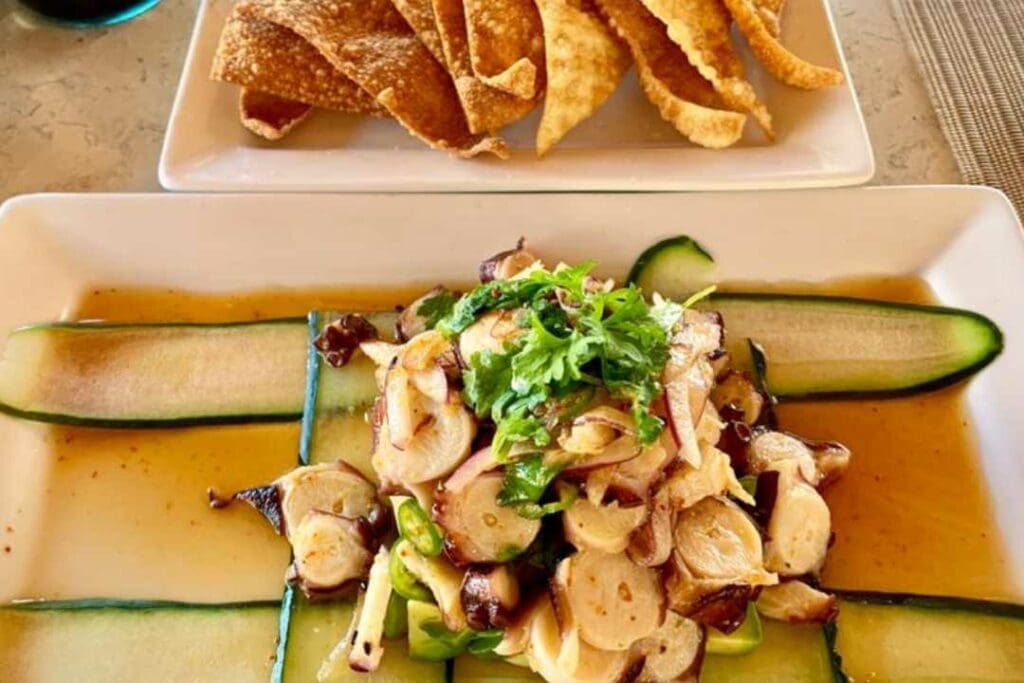 One of their best-selling menu item at Arts and Sushi is the Spicy Cabo Roll. Their signature Ceviche is also something you will enjoy and can be ordered with Shrimp fried rice.
All these are prepared using freshly caught seafood, which you will see sometime being brought inside their kitchen.
Prices of food and drinks at Arts and Sushi are reasonable since they use fresh and quality ingredients. For $8 USD, you can already enjoy a sushi roll, while drinks start at $5 USD.
Panazia
📍Paseo de La Gaviota s/n, El Medano Ejidal
💲from $6 USD
Panazia is a restaurant in Cabo that offers a combination of Asian and Mexican cuisine. Using various techniques from Asia and Mexico, Panazia takes pride in its unique take on the food they serve.
The restaurant is spacious, decorated with modern and contemporary decorations.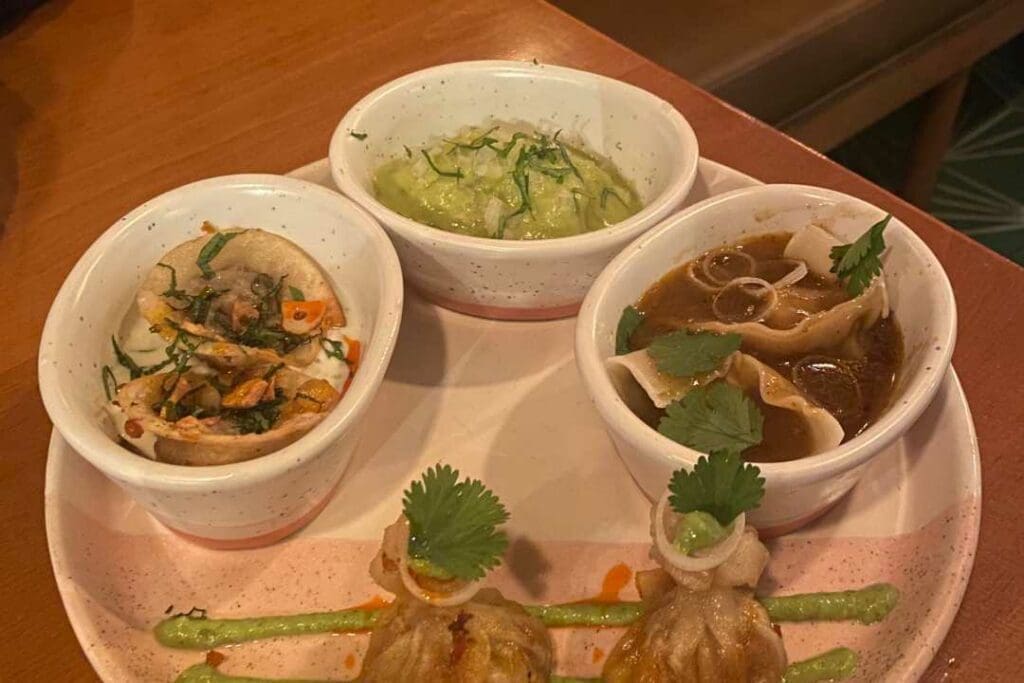 They offer an all-you-can-eat dining, where fresh oysters are a favorite.
They also have an ala carte menu, and one of their best-selling dishes is the wontons, best paired with some pad thai.
The price of the all-you-can-eat buffet varies depending on the time of visit and season. Meanwhile, their food and drinks start at $6 USD, and you can pay with cash or a card when in Panzia.
Rich Taste of India
📍Edificio CAXCAN, center, Downtown, Francisco Villa 3106
💲from $4 USD
The Rich Taste of India is one of the few Indian restaurants in Cabo. It is famous for serving authentic Indian cuisine, and the restaurant offers a warm and relaxing area for diners.
They offer indoor and outdoor seating, each with a unique vibe.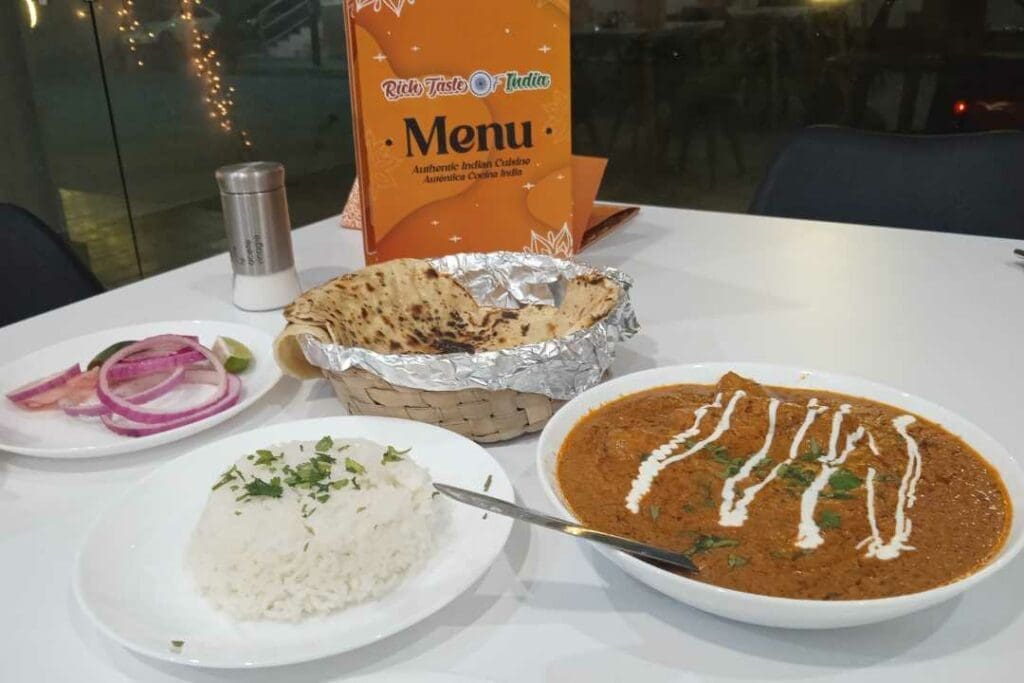 The menu at The Rich Taste of India includes various dishes inspired by India's culinary traditions.
Their samosa chaat and masala with garlic naan are the most sought food by locals and travelers. Aside from these, it would be best to take advantage of their butter chicken.
Most of the dishes at Rich Taste of India range from $4 USD to $20 USD. The restaurant also accepts various payment methods, so you'll have no problem using your credit card.
Don Gallo Fideos y Ramen
📍Calle Manuel Doblado, Centro
💲from $2 USD
Don Gallo Fideos y Ramen is a small restaurant in a local's home serving homemade Japanese food. The place has a good atmosphere and many seats, yet spacious and comfortable.
The portion of food served at Don Gallo Fideos y Ramen is just enough to keep you full. Some of the best-sellers include the Don Gallo Ramen and Pollo Fritos Japones.
They also have many drink choices, but trying their drink of the day is a must to give you an element of surprise (changes daily).
Meanwhile, the Don Gallo Fideos y Ramos prices are affordable and reasonable, especially since it's a local restaurant. Food costs $4 USD, while drinks are as cheap as $2 USD.
Kai Sushi
📍C. Cam. Al Faro Viejo, 23472 Cabo San Lucas
💲from $5 USD
Kai Sushi is a small sushi restaurant situated on the non-so-busy streets of Cabo. Locals usually visit the place because of its homey ambiance and since it's away front he touristy area.
Not only that, but they also take pride in creating authentic sushi rolls and other Japanese dishes.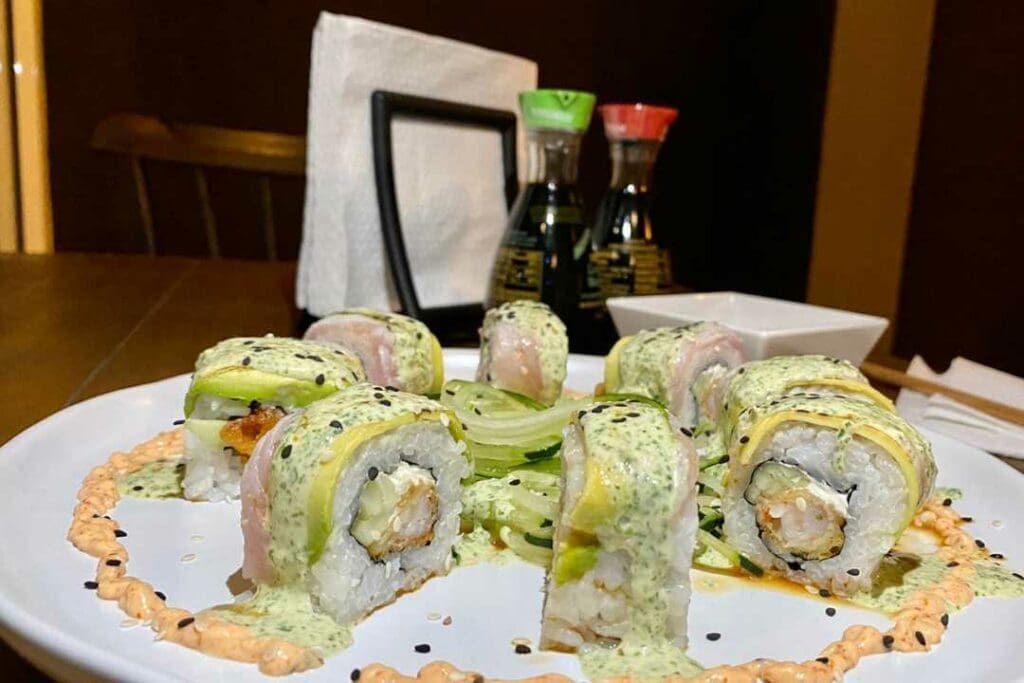 One of their best-selling dishes is their serranito tuna sashimi. You should also take advantage of their salmon avocado roll, a crowd favorite.
They also serve drinks like local beer and juices, which you can pair with your food.
Menu prices start at $5 USD, while drinks cost $2 USD or more. You'll need at least a budget of $30 USD to enjoy three meals at Kai Sushi.
Wasabi Kudasai
📍Arrecife mz 59 lt 20, Auroras
💲from $9 USD
Another well-known Japanese restaurant in Cabo is Wasabi Kudasai. The restaurant has a casual ambiance, perfect for family dinners and catching up with friends over authentic Japanese food.
You don't need to make a reservation when dining, but you'll need more patience when lining up during peak hours.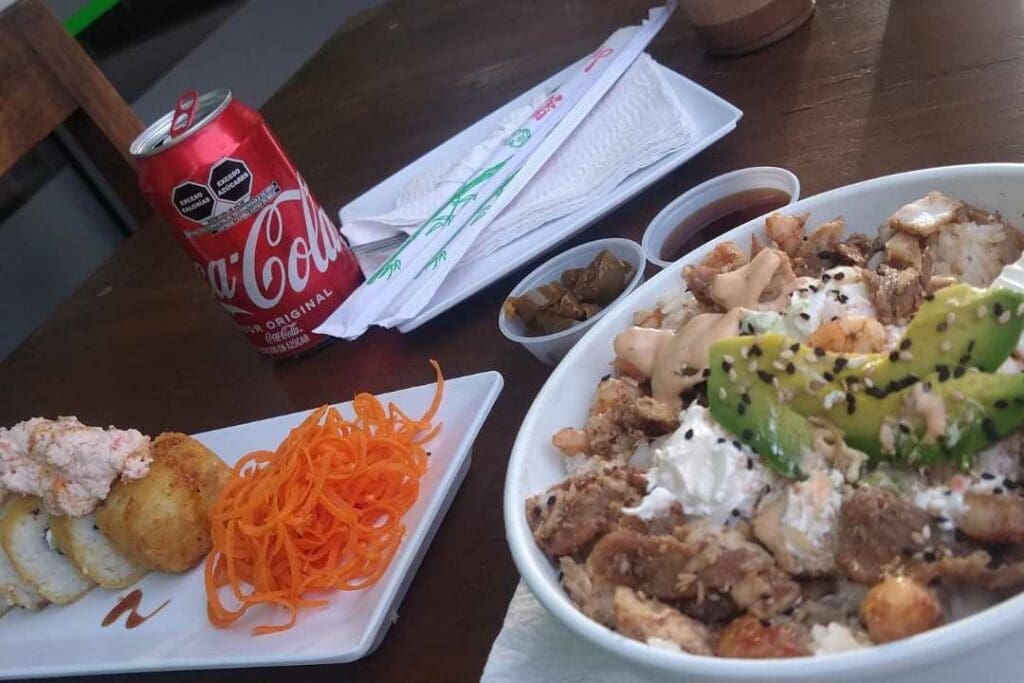 Their servings here at Wasabi Kudasai usually come in large portions, and one of their best-sellers is the yakimeshi and shrimp rolls. The fresh sashimi is also recommended!
The Prices at Wasabi Kudasai are expensive because food is served in large portions. One sushi roll starts at $10 USD, while other dishes range from $9 USD to $25 USD.
Rollo Club
📍Alikan y 12 de Octubre E, C. José Ma. Morelos y Pavón Local 3
💲from $7 USD
Rollo Club is another sushi restaurant among the many others that serve authentic Japanese dishes. While the place is small and quaint, you can feel the rustic vibe of the restaurant, decorated with classic rock and retro-style features. If you wish to dine here, they accept walk-in customers, so there's no need to make an early reservation.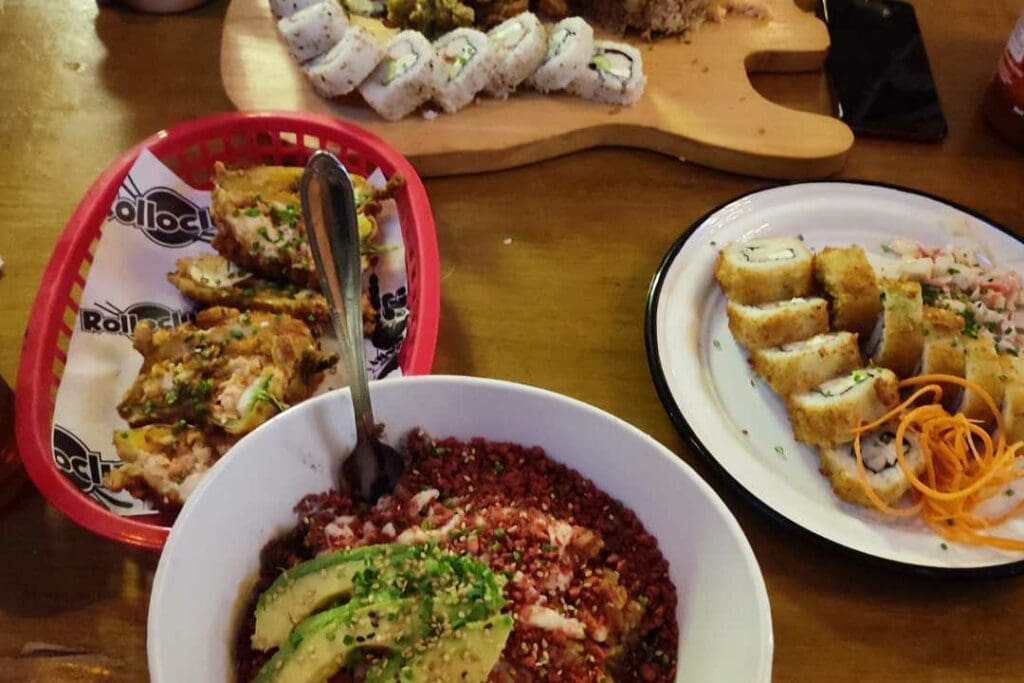 They have various options for you regarding sushi and other Japanese food. One dish that stands out is the classic sashimi roll, made with fresh catch seafood every day. Another must-try is their yaki monkey, which you can top with fried plantains.
Rollo Club offers relatively cheap food starting at $7 USD compared to other sushi restaurants. The restaurant also accepts cards and cash for payment.
Pink Sushi Bar
📍Ave Lopez Mateos, Ignacio Zaragoza E
💲from $5 USD
Pink Sushi Bar is a favorite Japanese restaurant among many locals who wants to take away party trays of sushi and other Japanese food.
The restaurant also has that bistro vibe where the lights are dim, and yet the place looks lively and cozy.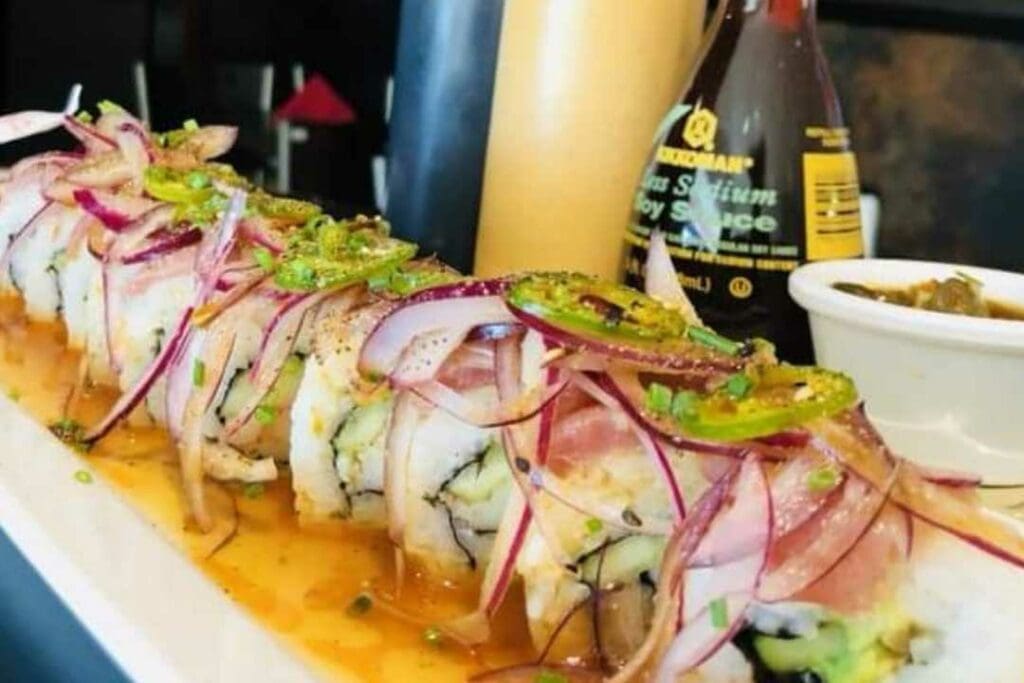 When visiting Pink Sushi Bar, it's best to try their most recommended dish, yakimeshi. Another famous sushi roll you should try is the Ranch Roll and Kalus Roll, and you can pair these with a glass or two of Sangria.
Sushi rolls price starts at $9 USD, while drinks start at $5 USD. You'll need a budget of at least $25 USD to $30 USD if you want to enjoy a great meal at Pink Sushi Bar.
🇲🇽 Cabo Travel Guide