These best tours in La Paz Mexico are complete with detailed pricing (per person or group) plus honest reviews from real customers including personal experiences on our local La Paz tours.
La Paz Mexico is the capital city of Baja California Sur lies on the Gulf of California (Sea of Cortez), about 12 meters above sea level. This Mexican city has a hot and dry climate.
A destination popular to Mexican nationals, tourism in La Paz is at a boom. Many locals prefer La Paz as a weekend vacation destination since 3 days is enough to visit this beach city.
We put together a list of the best tours in La Paz Mexico including boat tours and our Editor's pick for the best La Paz tours. Browse away and let us know your favorite!
🙋 Questions about La Paz Mexico? Talk to an expert trip planner.
You might also like:
💡 Did you know? The capital city of Bolivia is also called La Paz. It is a popular tourist destination so don't confuse these two cities. When researching for your trip, it is better to write "La Paz Mexico" so you can get the right information about the correct destination.
🌟 What is La Paz Mexico known for?
La Paz Mexico is known for the turquoise blue waters of the Sea of Cortez that La Paz shares with Baja California Sur. Here, expect to go on boat tours and many other water activities.
Expats move to La Paz Mexico because it is still one of the most Mexican cities with an affordable cost of living compared to Los Cabos or Todos Santos.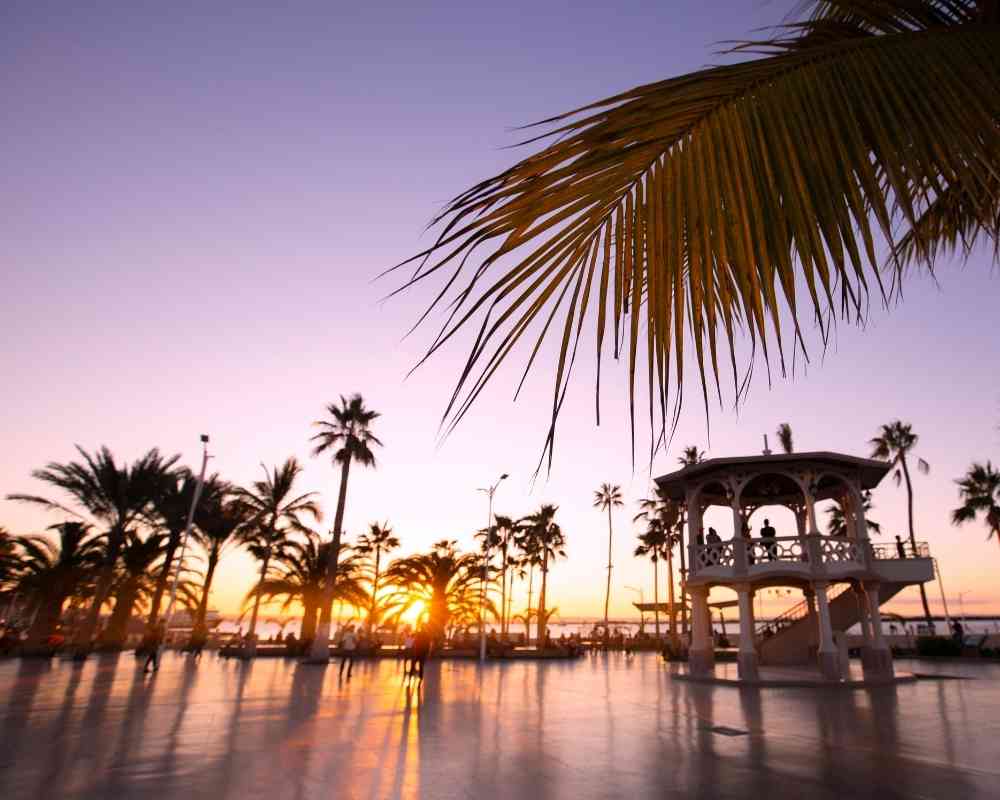 ⁉️ Is it worth visiting La Paz Mexico?
ABSOLUTELY! La Paz can be a good alternative for adventurers or travelers who aren't fans of all-inclusive resorts. It really is a great alternative to Los Cabos as the terrain is particularly unique and fit for outdoor enthusiasts.
🏅 Top-rated La Paz tours
#1: Espiritu Santo Island La Paz tours
#2: Mexican Spirits Tasting and Pairing Experience
⏱️ Tour length: 8 hours
💲 Price: from $107 USD per person
🌟 Rating: 4.9/5 stars
The Mexican Spirits Tasting and Pairing Experience is hosted by the Mexican Spirits Club. The activity lasts for 1.5 hours, enough to get you acquainted with ten types of artisanal distillates from different Mexican states, such as Jalisco, Oaxaca, Guerrero, Sonora, and Baja.
Discover Mexican culture through tequila and mezcal in this spirit-tasting and pairing activity hosted by. Learn about the process of spirit-making and how to pair them with foods.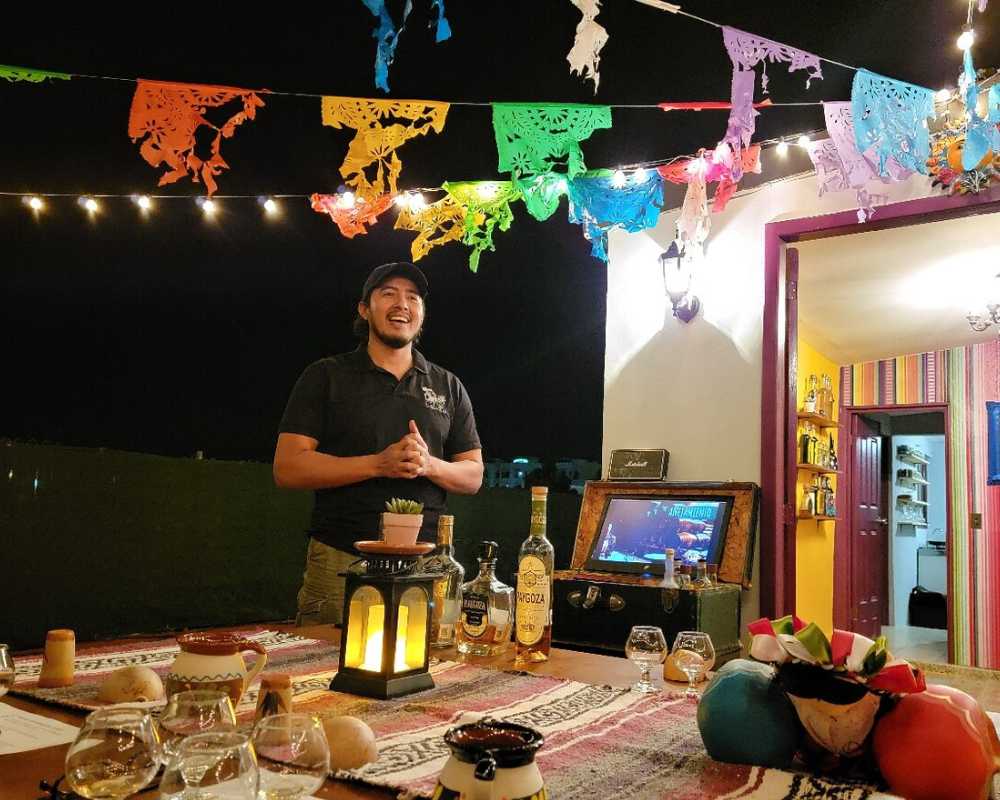 "Best tequilas and mezcal I have tríed in La Paz. The Tasting and pairing is extraordinary! The crew was great, fun and knowledgeable. I work in the mixology industry but have never experienced something like this. Visit for sunset the view is fantastic."

TripAdvisor Reviewer, United States
#3: Sandboarding in the Mogote Dunes
What is it: Mogoto Dunes (Dunas del Mogote) are considered a hidden treasure of La Paz. It's a 37.8-km loop trail that is great for off-road driving and sandboarding.
Why go here: Learn the sandboarding sport safely in three dune areas. You don't have to have previous experience to take this tour. You'll enjoy riding on the sleds or surfing down the steep dunes with custom-made sandboards.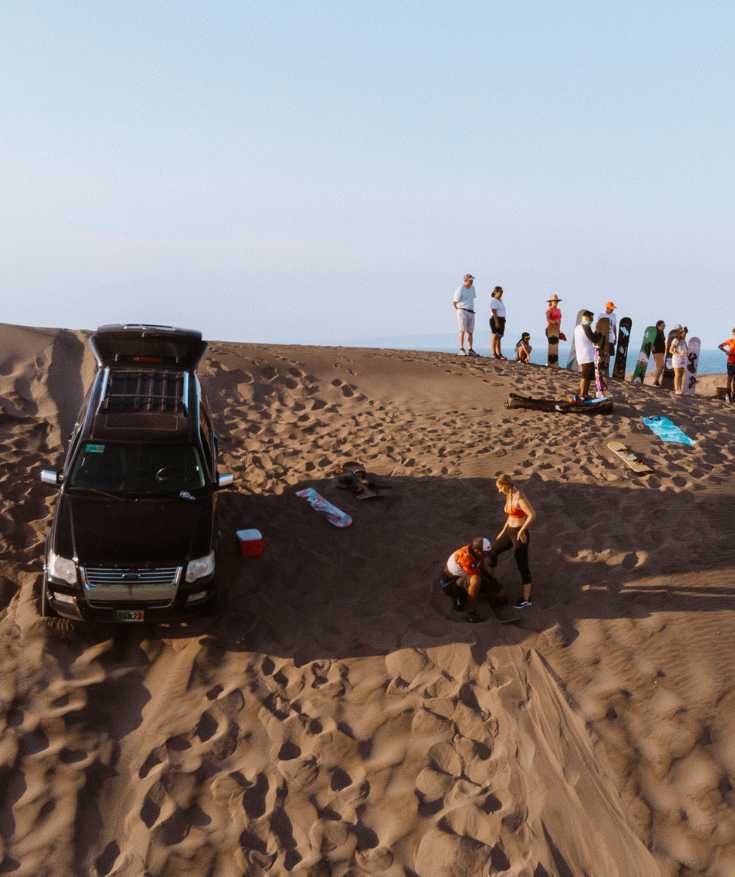 "It was fun to try sandboarding for the first time. It's more difficult than it looks especially the the last dune we tried! Careful with the thorny bushes, you can easily run into them! The views are spectacular!"

Diana B., United States
#4: Go Harpoon fishing
⏱️ Tour length: 8 hours
💲 Price: from $523 USD per group
🌟 Rating: No reviews
Harpoon fishing is a fishing method in which a harpoon (a long spear-like instrument) is used to hunt large fish and mammals. In this Harpoon fishing La Paz tour, experience a fully regulated fishing activity without prior experience required.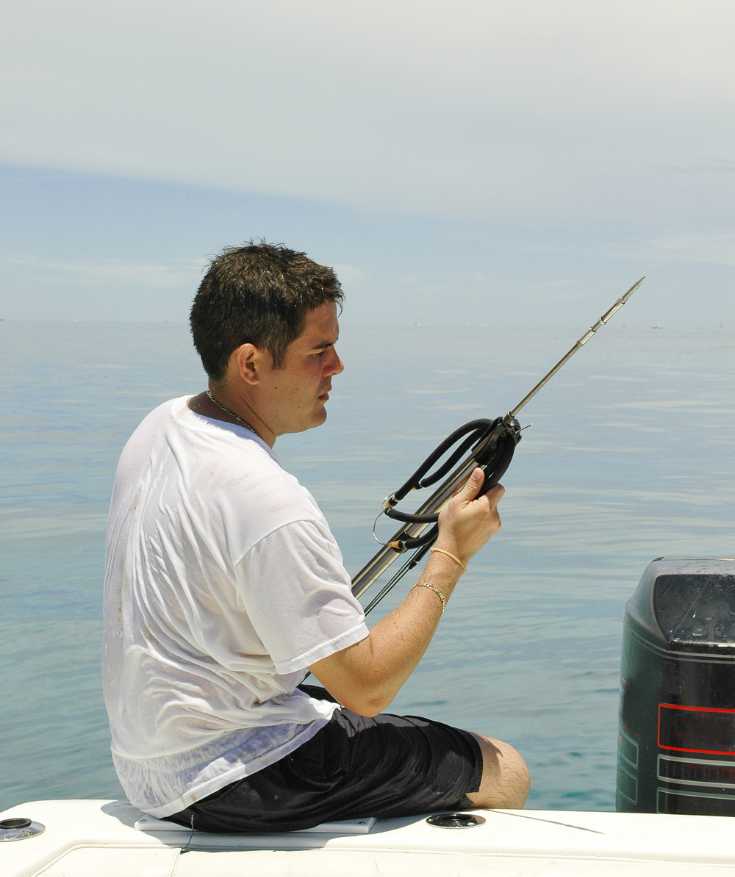 #5: Hike, kayak, or snorkel on Balandra and Pichilingue
⏱️ Tour length: 7 hours
💲 Price: from $117 USD per person
🌟 Rating: 5/5 stars
Balandra beach is located on the eastern side of Baja California Sur peninsula. It is accessible to the public and the water here is very shallow so the tourists can walk across the bay to the other side. Playa Pichilingue, on the other hand, is popular with families known for soft, white sand and blue waters.
On this adventure, you'll be taken on a 9-km will hike on the rocky and sandy terrain of Balandra. You'll be guided through a desert patch, rocky hills, cliffs by the ocean, sandy beaches, and intertidal zones. Next, you'll have lunch and have a chance to go kayaking and snorkeling in Pichilingue.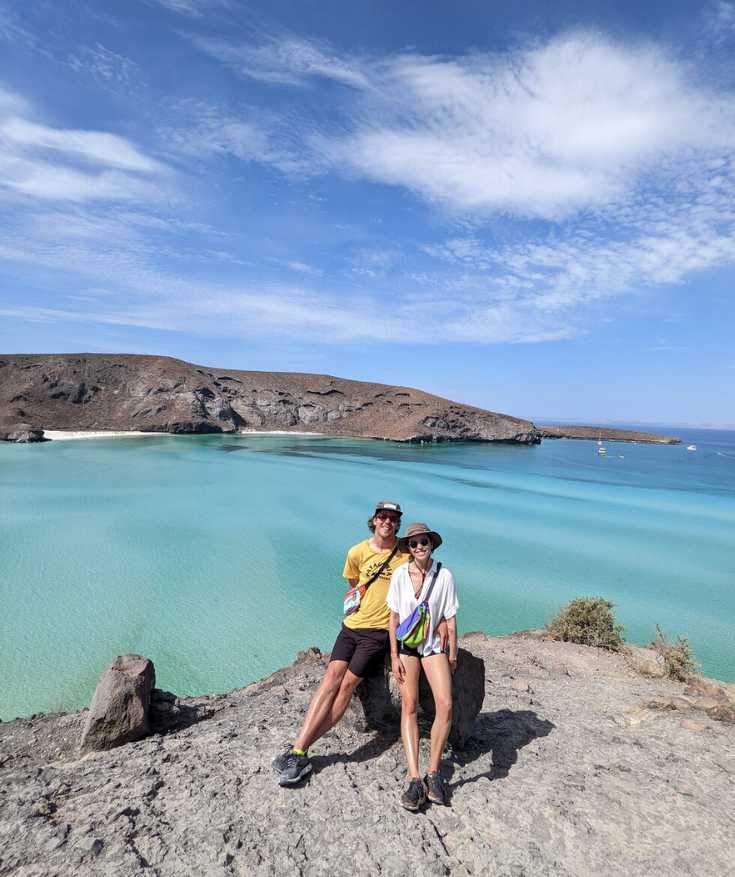 "Fantastic tour! The hike was spectacular and unlike any other hiking experience I've had before (over desert rock/gravel, across empty beaches, through intertidal areas with overhanging rock). The kayak and snorkel were also lots fun and the corals and fish are amazing. What really makes the tour special are the great guides. Daleth and Lorenza were sorry friendly and knowledgeable and even more professional."

Bennett, United States
#6: La Paz and Todos Santos City and Beaches Tour
⏱️ Tour length: 8-10 hours
💲 Price: from $260 USD per group
🌟 Rating: 5/5 stars
Todos Santos is a vibrant and lively village founded as a Mission in 1724. It is a major sugar-cane producer in La Paz with numerous attractions such as beautiful churches, museums, theaters, cultural centers, and other historic buildings.
La Paz and Todo Santos City and Beaches tour is an open and flexible day tour designed to allow customers to decide the terms of the tour, such as where to eat, the time allotted to spend for each site, and when to end the tour.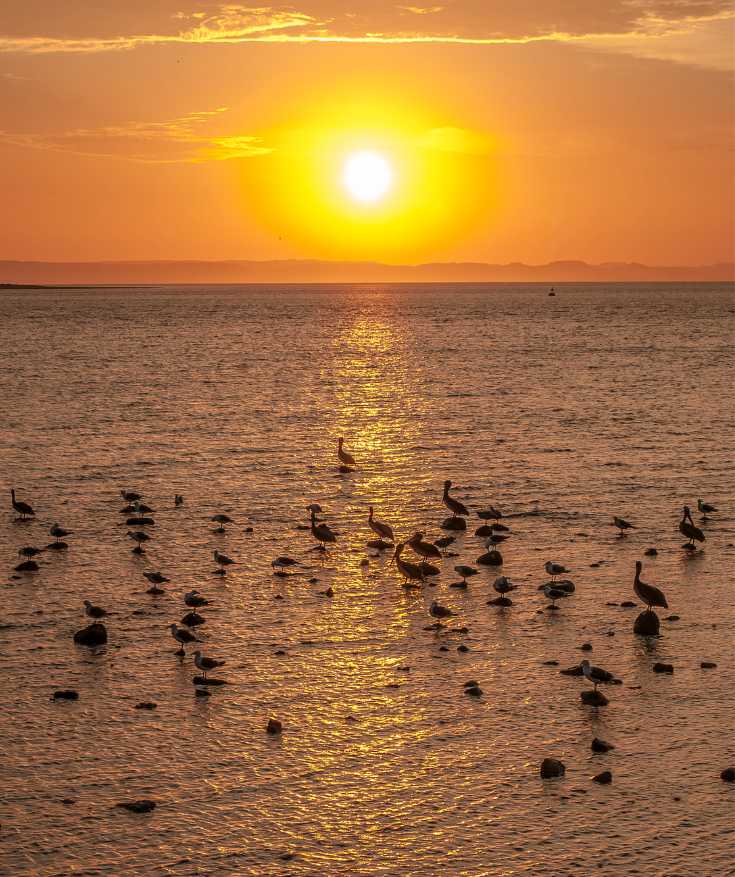 "The tours for Espiritu and the Whale Sharks were canceled due to high winds so I'm grateful was able to go on this tour even though I'm just one person. Miguel is a great guide and was able to show me Todos Santos, Cabo including the boat ride to the arch, a local seafood lunch, and we even had time for me to jump i to the ocean at Playa Cerritos on the way back. Wonderful and fun, long day! Thanks so much!"

Josephine, United States
#7: La Paz ATV Adventure
⏱️ Tour length: 8-10 hours
💲 Price: from $186 USD per group
🌟 Rating: 5/5 stars
An all-terrain vehicle (ATV) is an off-road vehicle often used for recreation, ATVs are one of the most popular La Paz tours.
You will have fun exploring the desert around the city of La Paz on this half-day, private ATV adventure. Choose your vehicle and ride through the rugged trails, down to the Mogote dunes. All necessary equipment and instruction are provided.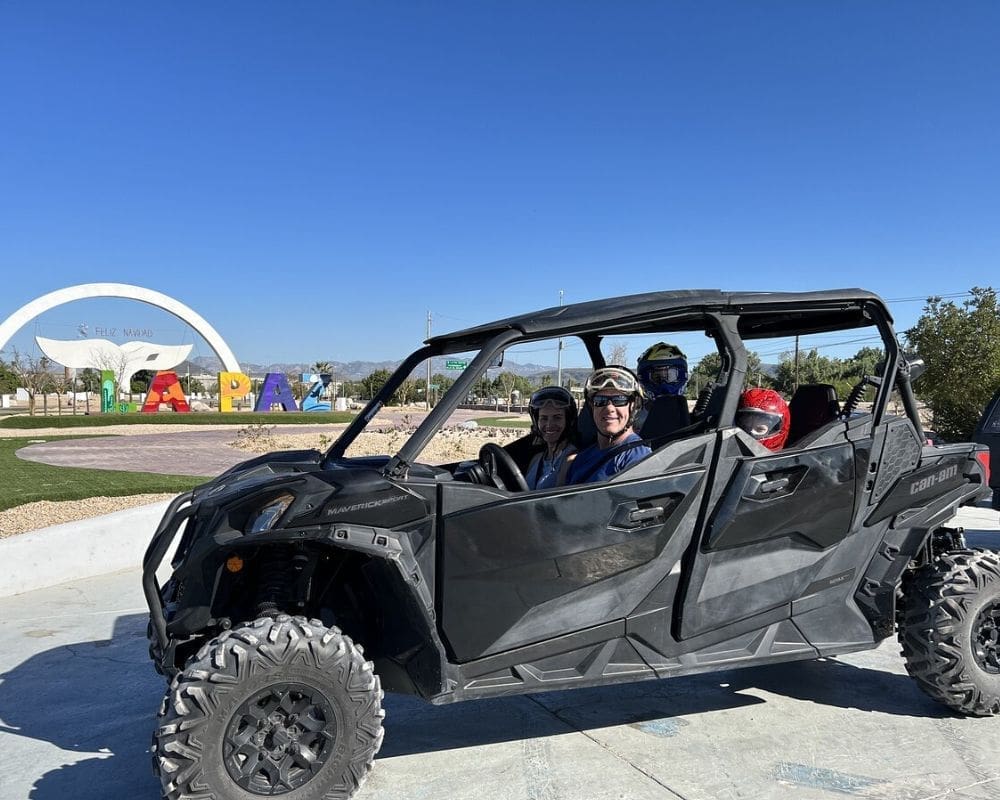 "Had a fun time off roading yesterday in the mountains, desert and beaches surrounding La Paz. My guide Yair was awesome and knew a lot about the local history and geology. Riding in the Mogote dunes was especially fun! There are three vehicles to choose from: an ATV, a UTV and a dirt bike. I made a good decision upgrading to the UTV which has a roof. Once you get out in the desert and dunes you'll be glad you had a roof to keep the intense sun off of you."

Stephen C., United States
#8: Horse riding to the beach with breakfast
⏱️ Tour length: 5 hours
💲 Price: from $200 USD per person
🌟 Rating: 5/5 stars
Rancho San Lorenzo is a working ranch and a 1,000 acres animal sanctuary situated between the Coyote mountains and the Sea of Cortez.
Try horseback riding to the beach at Rancho San Lorenzo and enjoy the sea and desert views. You will have plenty of opportunities to see animals, such as rabbits, foxes, and deer, as well as some ranch animals like goats, donkeys, horses, and ostriches.
You will also get to dip and cool down at Tecolote Beach and enjoy delicious food cooked by the ranch's resident chef.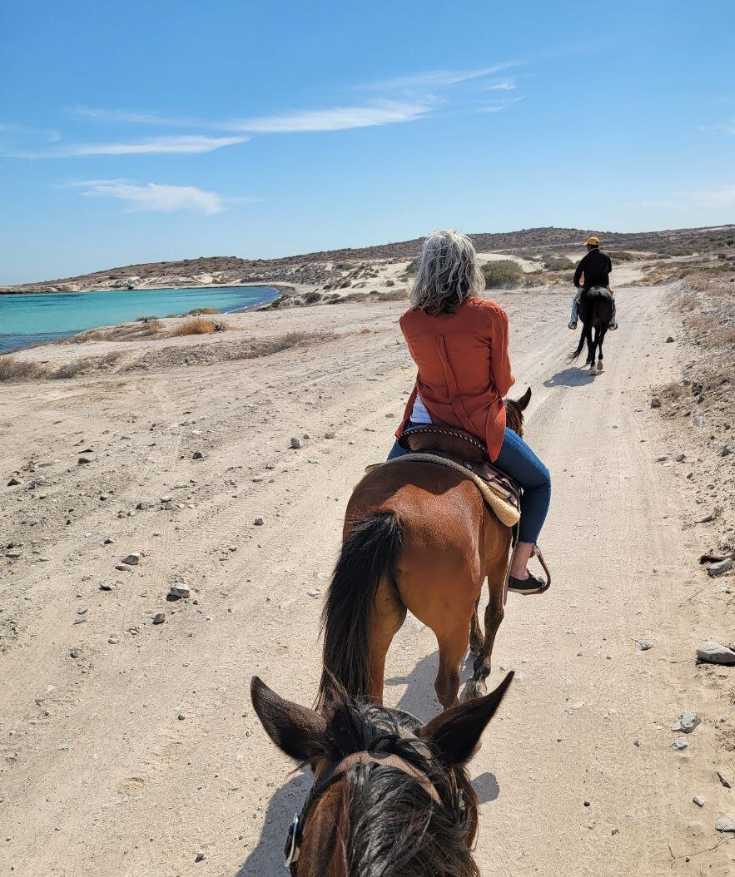 "We loved the team, the horses, the views, and the most delicious breakfast I have had in years. So much care was put into our experience, it was truly a day to remember! Can't wait to come back for the sunset ride next!"

Matthew, United States
#9: Half day private tour of the beaches of La Paz
⏱️ Tour length: 6 hours
💲 Price: from $101 USD per person
🌟 Rating: No reviews
La Paz has some of the best beaches in Mexico that are quite popular with tourists and on this tour, you will have an opportunity to visit some of them.
Join this half-day private tour to visit Balandra Beach, Playa de Tecolote, Pichilingue Beach, Playa El Tesoro, Caimancito Beach, and El Coromuel Beach.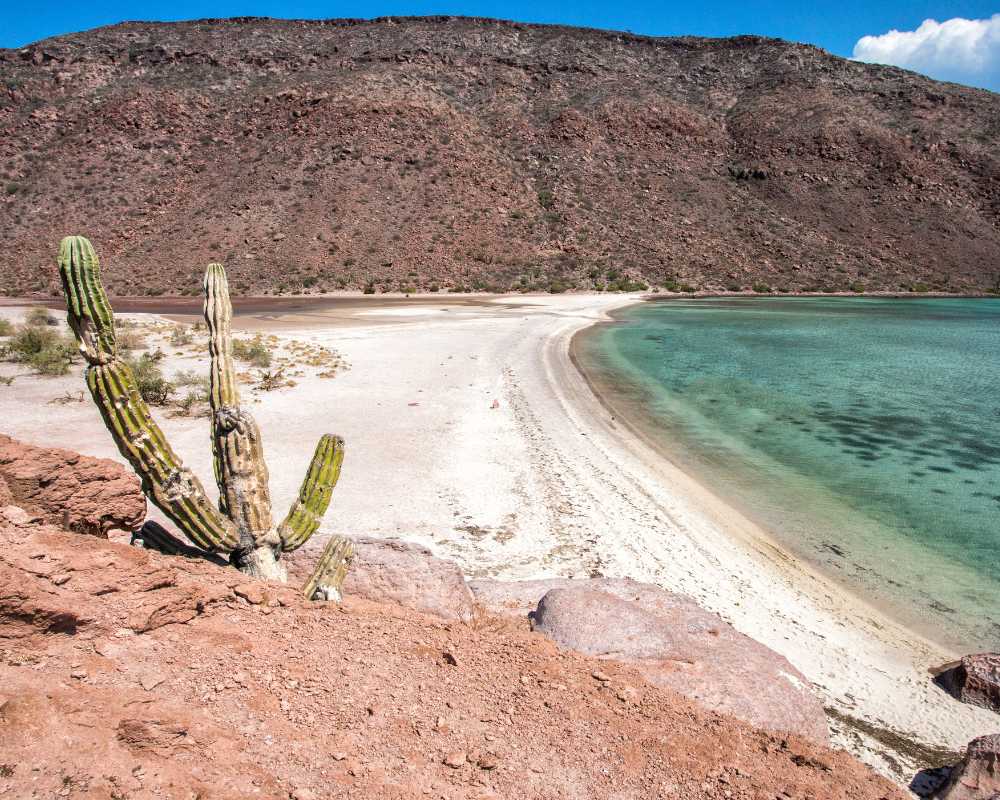 #10: Birdwatching in La Paz
⏱️ Tour length: 4 hours
💲 Price: from $100 USD per person
🌟 Rating: No reviews
Birding or birdwatching is one of the best things you can do in La Paz. If you love birds, this activity will be right up your alley.
You will get to observe shorebirds such as Wilson plover, yellow-crowned night heron, mangrove warbler, endemic thrasher, California gnatcatcher, reddish egret, yellow-footed gull, clapper rail, and many more.
🛥️ La Paz boat tours
#11: Transparent boat tour to the Mushroom Rock
⏱️ Tour length: 2 hours
💲 Price: from $50 USD per person
🌟 Rating: No reviews
The Mushroom Rock (El Hongo) is a rock formation that is reminiscent of a mushroom, recognized as the symbol of La Paz.
The transparent boat offers the surreal experience of checking out reefs, fishes, and other incredible wildlife under your feet.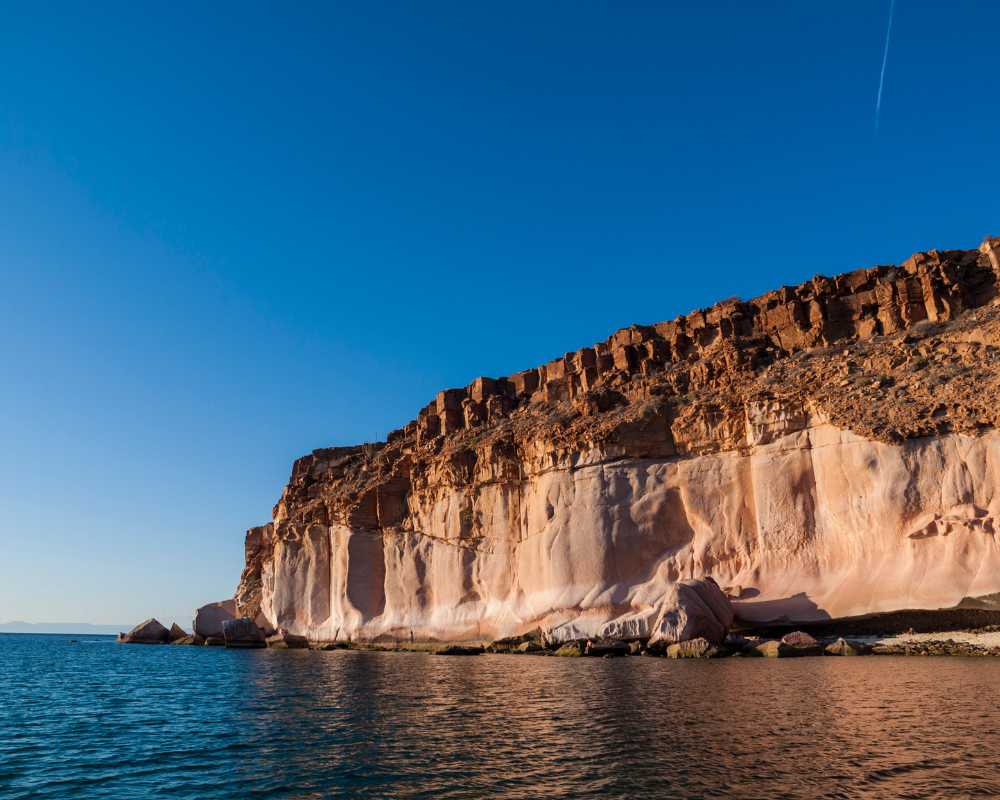 The tour includes cruising through El Tesoro, Pichilingue, San Juan Nepomuceno Island (a.k.a. Isla Gaviotas), and El Merito Island checking out the adorable sea lions at Lobera (San Rafaelito) and holding that mandatory photoshoot with the Mushroom Rock.
#12: Luxury Yacht Cruise to Balandra Beach and Isla Espiritu Santo
⏱️ Tour length: 8 hours
💲 Price: from $1,290 USD per group
🌟 Rating: 5/5 stars
This is a luxury yacht cruise that passes through Balandra Beach and Espiritu Santa Island. It's an intimate experience good for two to eight people.
You will have a private luxury yacht cruise experience without breaking the budget. The cruise includes visiting one of the top-rated beaches in the world, Balandra Beach, and a UNESCO World Natural Heritage Site, Espiritu Santo Island.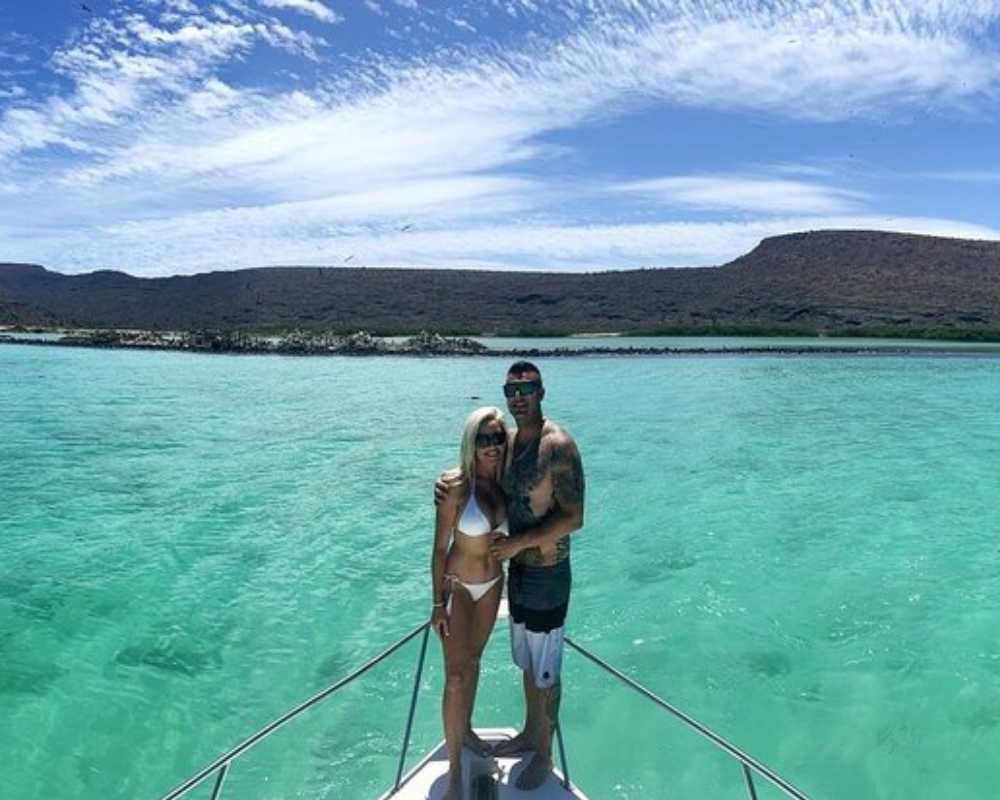 "My friends and I rented this yacht for a birthday and our experience was just absolutely incredible. Lester waited for us in the marina and saved us a parking spot right next to the entrance. The crew was amazing, they were always asking us if we were okay or if we needed another drink or more food. They made ceviche and also went down to the ocean to get us fresh oysters! They set up a little table with the cake and helped us sing happy birthday. Lester was great, the crew was great. 100% recommended."

Daniela, United States
#13: Whale Shark Swim Adventure in La Paz Mexico
⏱️ Tour length: 2.5 hours
💲 Price: from $88 USD per person
🌟 Rating: 5/5 stars
The whale shark is the largest known surviving fish specie. It's a slow-moving, filter-feeding carpet shark with an estimated life span of estimated whale shark lifespan of 80-130 years.
It swims in the open waters of the tropical oceans. They pose no threat to humans as they eat mostly plankton and small fishes.
In this La Paz boat tour, you will have a rare opportunity to swim with these gentle giants on the Sea of Cortez. Likewise, you will be able to go snorkeling in these waters.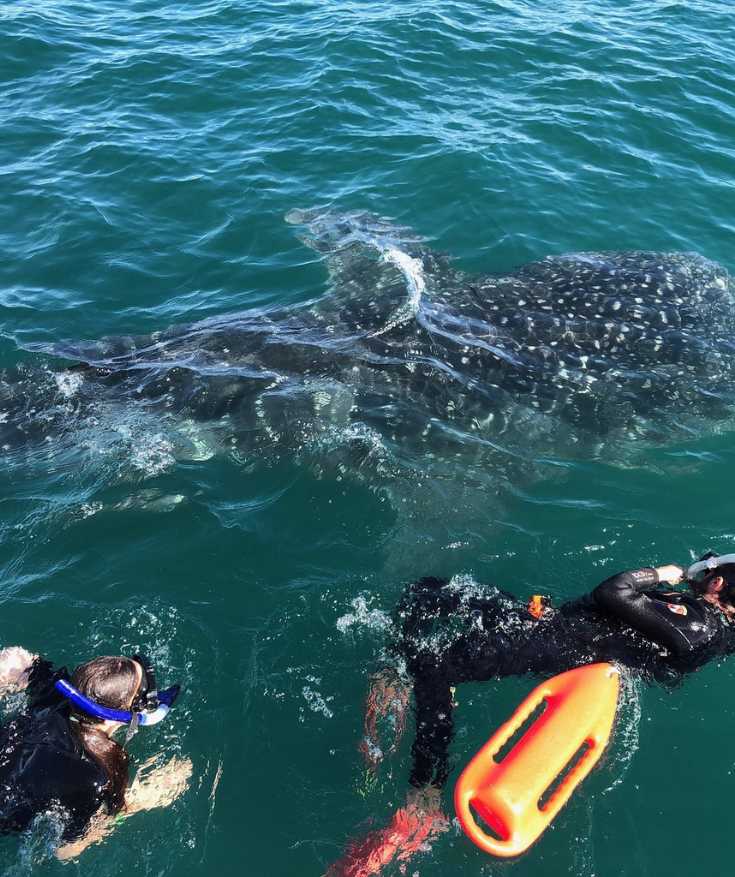 "Our guide, Armando, was very friendly and informative. We were able to get so close to the whale sharks..this is a must-do experience! Tip: if you are prone to sea-sickness, take some medicine beforehand. The waters were choppy on the day we went."

Kyle, United States
#14: Private Kayaking Adventure around the Mangroves and La Paz Bay
⏱️ Tour length: 2.5 hours
💲 Price: from $40 USD per person
🌟 Rating: 5/5 stars
This is a kayaking experience around the 6-kilometer mangroves of La Paz bay. The trip from the beach to the mangrove area takes more or less 25 minutes.
You will enjoy the view of mangroves as you kayak and paddle on La Paz Bay. your kayak and paddle. You may even see dolphins along the way if you're lucky.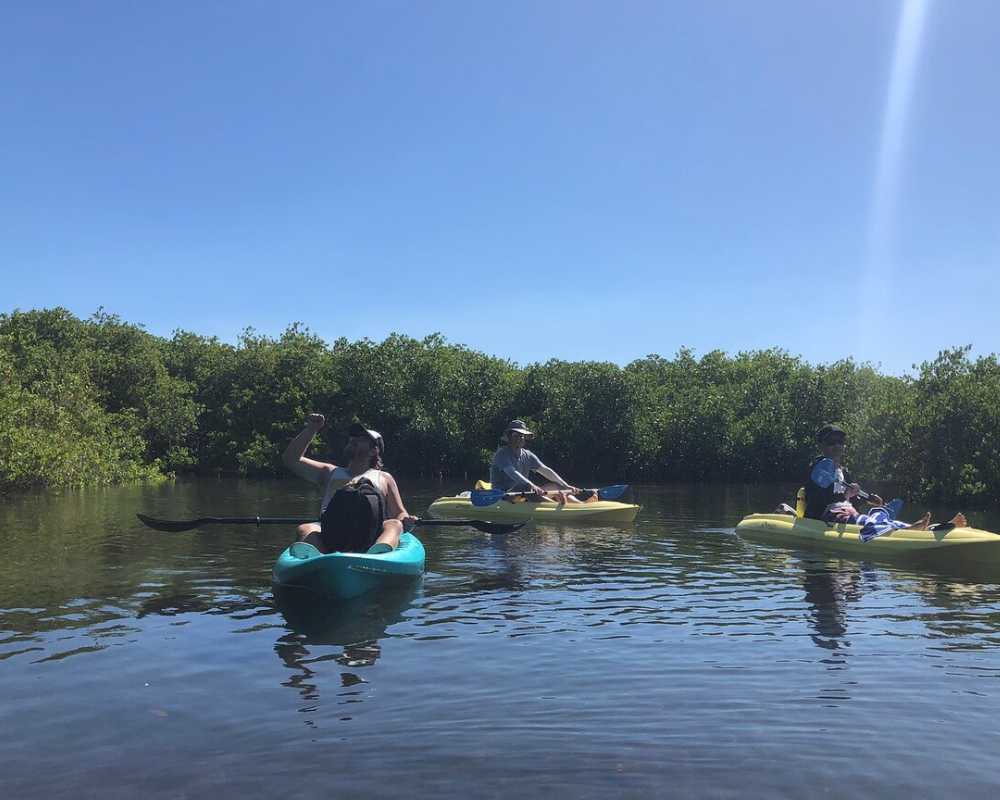 "We just got back from a fantastic private kayaking tour of the mangroves and La Paz bay. Lalo, our tour guide, gave us lots of great info about the birds and fish we saw, and gave us plenty of time to relax in the cool water while sipping beer and eating snacks. The mangroves were so peaceful and beautiful, and we had them all to ourselves. I highly recommend this experience and I highly recommend Lalo, too!"

TripAdvisor Reviewer, United States
⛔ Full disclosure: This La Paz boat tour has at least 2 different groups who said that they felt unsafe during the tour because of the lack of life vests and strong currents. Book at your own risk.
#15: Sea of Cortez Combo tour
⏱️ Tour length: 7 hours
💲 Price: from $1,500 USD per group
🌟 Rating: 5/5 stars
The Sea of Cortez Combo is a private tour, which includes sightseeing around La Paz, sailing to the sea to go swimming and snorkeling, and a trip to Balandra beach.
If you want to have a full day of fun activities while exploring La Paz, this tour is for you. You will get to do different things in a day such as sightseeing, sailing, getting the opportunity to swim with whale sharks, learning about the ecosystem of La Paz, and lastly, enjoying lunch and snacks, and drinks on the beach.
"Once-in-a-lifetime tour. A must see in La Paz. The guides are extremely knowledgeable and took great care of us during our tour. The lunch was fantastic and we had a blast. If only we could have stayed longer. Worth every penny!!"

Anna, United States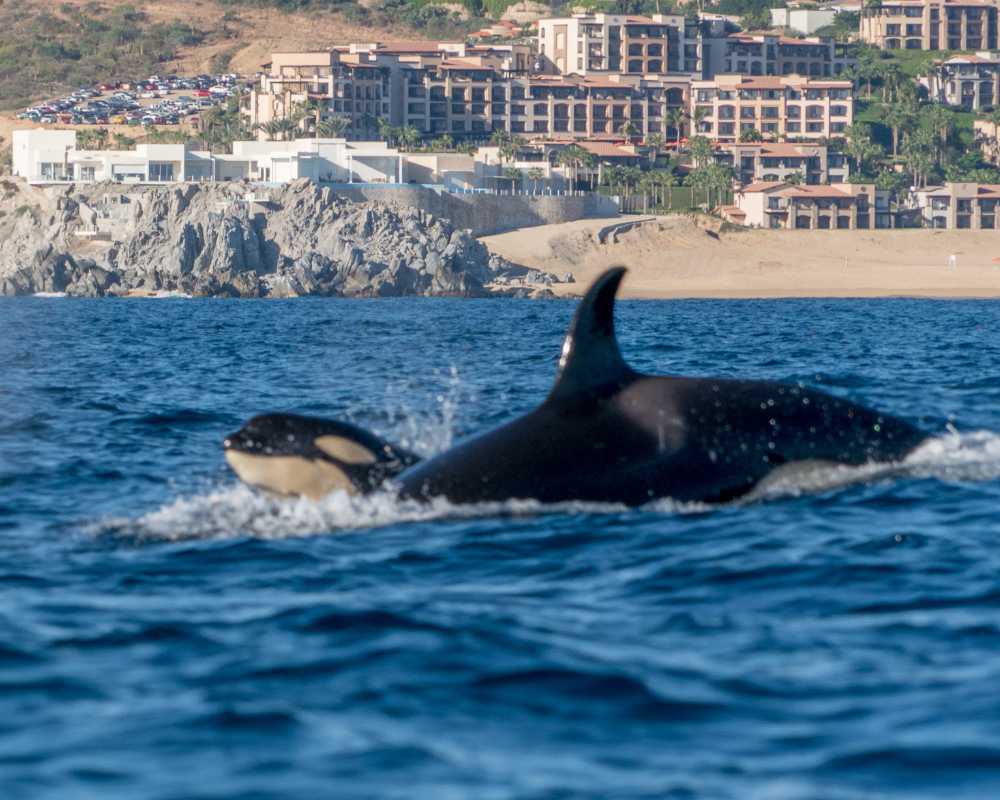 #16: Sloop Sailboat tour
⏱️ Tour length: 9 hours
💲 Price: from $1,068 USD per group
🌟 Rating: 5/5 stars
A sloop is a sailboat with a single mast, usually with one headsail in front of the mast and one mainsail aft of (behind) the mast.
Experience sailing on a sloop while enjoying the beautiful views of the Sea of Cortez. The activity includes a visit to Balandra beach, food and drinks, and a chance to try maneuvering the sailboat with the guidance of the boat's captain.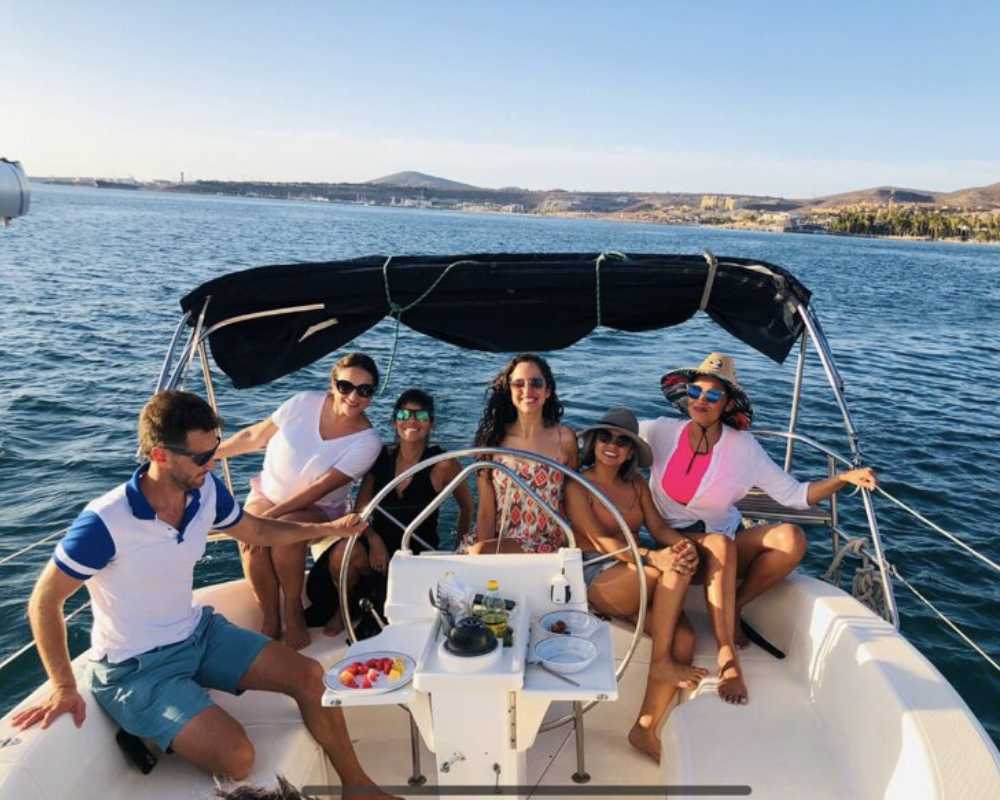 "There are unique experiences in life that are not forgotten, for me, celebrating my birthday with Navega-Charters is one of those. The attention of Captain Yoel and his crew is impeccable, in addition to teaching me the principles of sailing, they gave me the helm and I was able to feel first-hand the strength and freshness of the wind with an incomparable view: the sea. In addition, the atmosphere is very enjoyable, a good playlist, fresh food and a toast at sunset. Thank you for your attention, I will definitely be back!"

Alejandra, Mexico
#17: Fishing on the way to Balandra Beach
⏱️ Tour length: 8 hours
💲 Price: from $600 USD per group
🌟 Rating: 5/5 stars
This activity will let you experience fishing with the guidance of the boat's captain as you sail the seas to Balandra beach.
If you enjoy fishing or if it's something you've always wanted to try, then this tour is for you. You will be guided by the boat captain with over 30 years of fishing experience. Moreover, you will be able to swim and snorkel on the beautiful beach of Balandra.
The whole trip was so much fun, as always the turquoise water and the desert scenery were stunning! Saw lots of wildlife, turtle, manta ray, tonnes of different fish snorkeling, jellyfish, sea lions, sadly no dolphins (oh well next time), but caught some rooster fish so a bonus. The crew were awesome, especially Frankie, he was super knowledgeable about the ocean and he made sure the kids and adults alike were having a great time. The ceviche and drinks were on point! Frankie even dove for clams for us, serving them up fresh and delicious !!! Amazing 👏 The boat was lovely, very clean, maintained and had all tge necessary amenities….overall a wonderful experience and I definitely recommend lover's lips yachts and I will definitely book again next time family comes to visit us.

TripAdvisor Reviewer, United States
#18: Sunset on a Sailboat in Malecon
⏱️ Tour length: 3 hours
💲 Price: from $612 USD per group
🌟 Rating: No reviews
This three-hour sailboat experience in Malecon is perfect for catching the beautiful sunset. Jump on the sailboat and enjoy watching the sun's setting on the horizon.
From the boat, you will also have a good view of the boardwalk, the historical monuments, and the natural attractions of La Paz.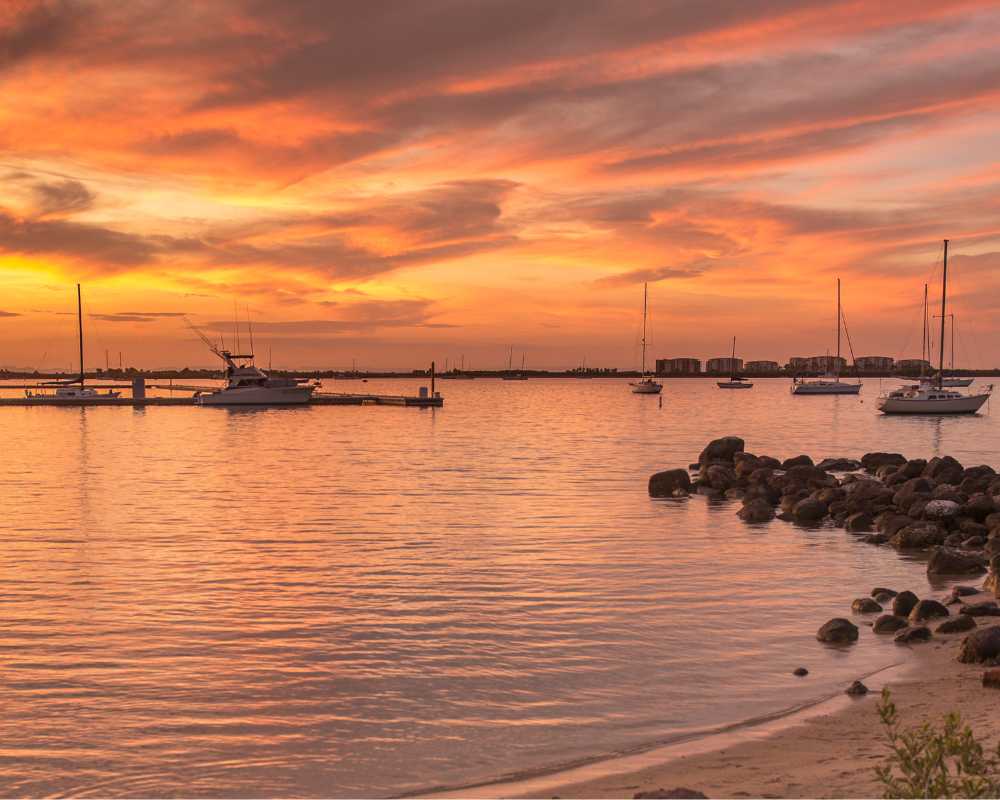 ✈️ Ready for your trip to La Paz Mexico? If you need more information about La Paz tours, we'd be happy to update this post – – just leave your questions in the comment box below or join our communities where we answer questions for FREE.